Looking for the perfect beach getaway in the paradise of Mykonos? You're in luck – this island's coastline is dotted with Instagram-worthy beaches. These are my faves.
The struggle to pick just one of the best Mykonos beaches is real, and that's why this guide is your new best friend.
What's a vacation to Mykonos without a trip to the beach? Okay, that's a trick question.
Beyond the other buzzworthy things to do in Mykonos, skipping the beaches would just be wrong (on so many levels, to be honest).
From party-hard spots to chilled out beaches – if you're anything like me, once you've found your beach paradise, you'll want to stay forever.
On that note, let's go beach-hopping!
Best Beaches in Mykonos
Platys Gialos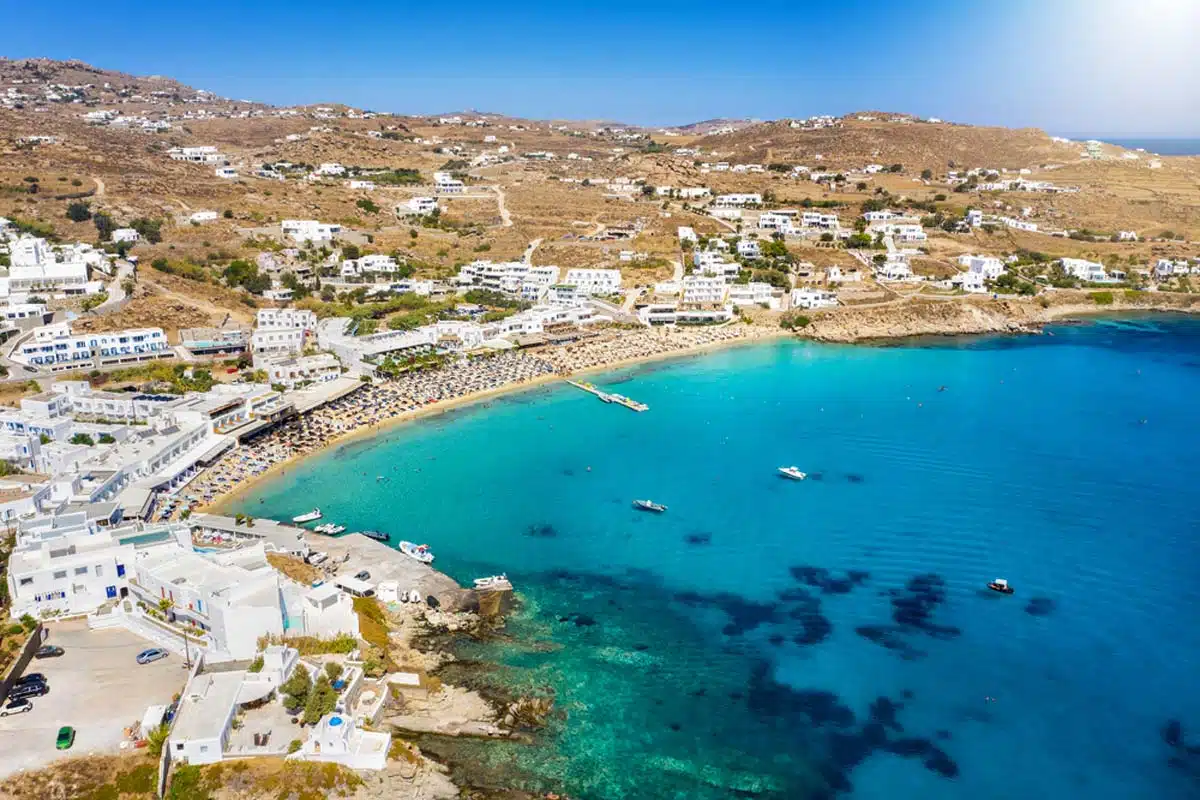 Tick, tick, tick – Platys Gialos would tick every box if there were a checklist for what qualifies a beach as perfect. That said, it's also not the island's best-kept secret.
Although tucked away in a cove, its nearly endless shoreline draws some of the biggest crowds on the island. Located on the southern coast of the island, it's the perfect start for a beach-hopping tour.
The picturesque waters blending with perfect white sands create an idyllic scene. Pair that with the many bars and restaurants on its shores, and you have a cosmic recipe for perfection.
Some of the island's premier hotels, such as the uber-luxurious Mykonos Dove Beach Hotel, are also located here. So book your sun lounger, grab a drink or two, and soak up the Grecian sun.
Paradise Beach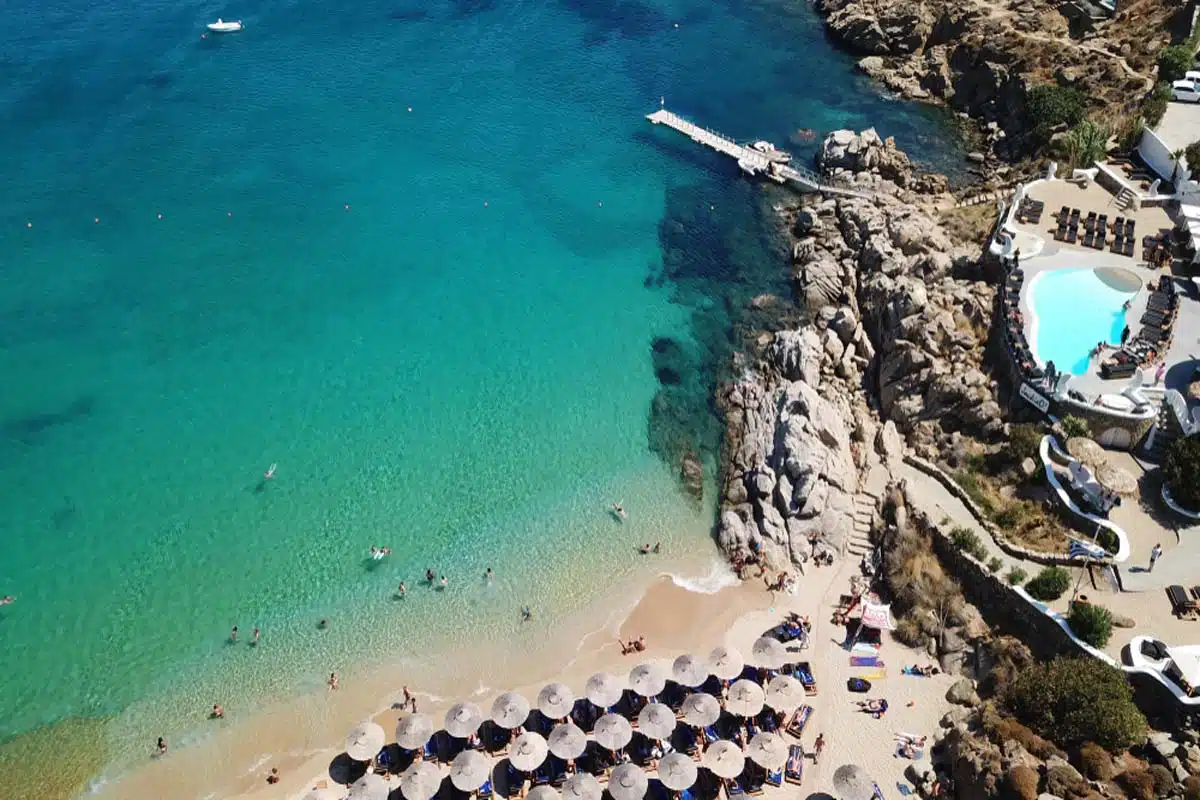 Party-lovers and beach-hoppers rejoice! Paradise Beach in Mykonos is as close to Nirvana as you can on the island. Attracting the young — and young at heart — since the seventies, this is where the beach party scene of the island initially started.
The pebbly shoreline of Paradise Beach delivers peaceful mornings, but as soon as the music from the two main beach clubs starts, so does the party. After sundown, the music gets louder and the beach comes alive.
Many international DJs have called the clubs here home, and the famous Cavo Paradiso sits overlooking the entire coastline. Come to the beach and stay for the party as Paradise is home to some of the best beach clubs in Mykonos.
Psarou Beach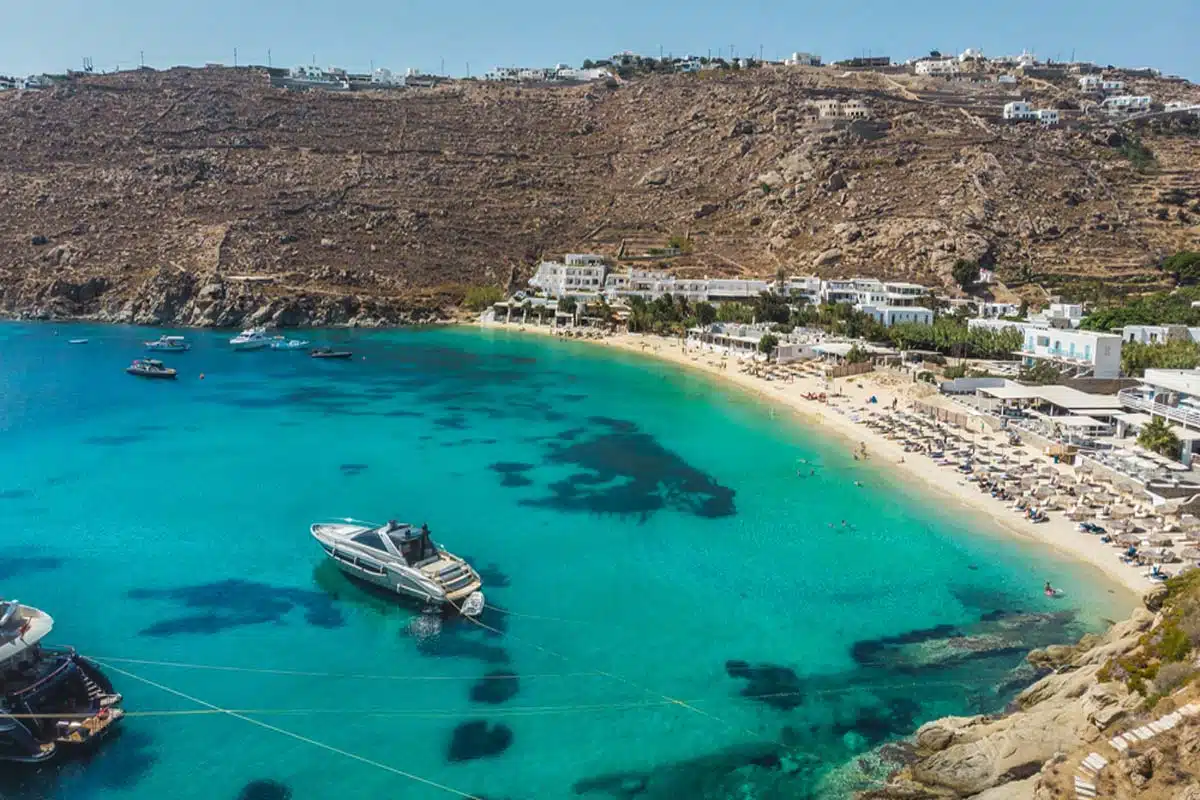 Want to know where the rich and famous lounge when in Mykonos? With crystal clear waters and an unparalleled location, Psarou Beach is an internationally prized destination. Here you'll spot luxurious yachts adrift on the water and celebrities basking in the sun.
Due to this, the beach is super exclusive, and the hype is enormous. During summertime, there's even a waiting list for the beach. Yes, a waiting list.
But it's worth it. The vibrant and trendy setting of the beach hosts many renowned restaurants, such as Nammos. Accommodation here features the crown jewels of hotels, including Mykonos Psarou Place and Alissachni Mykonos.
Super Paradise Beach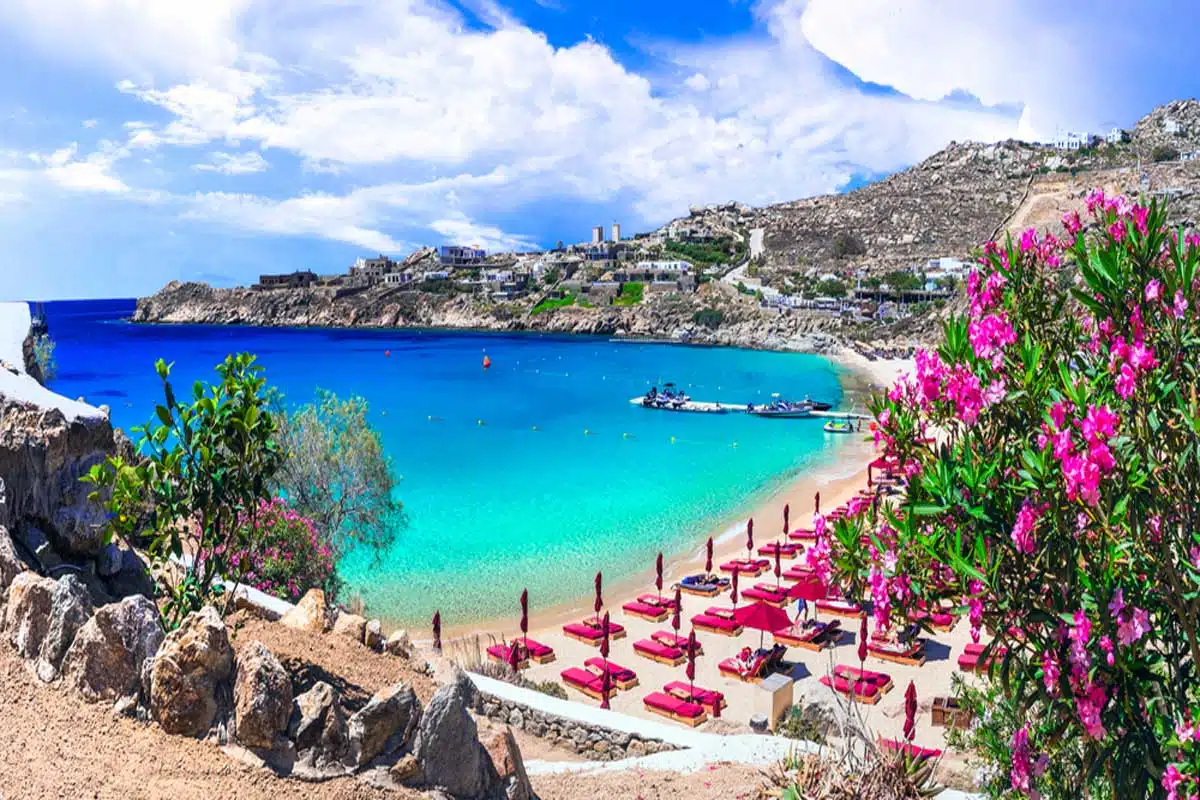 If the prospect of a golden beach kissed by mesmerising turquoise waters sounds extraordinary, it's because it is. I mean, the word 'super' is literally in the name of this famous Mykonos beach.
Sitting around Paradise Beach's bay, the party scene continues, and you'd hardly ever find a silent moment. But, on Super Paradise, that's precisely what you want — an epic coastline set to the sound of modern music.
There isn't an inch of this beach that doesn't feature sun loungers or beach club grounds, two of which — JackieO' Mykonos and Super Paradise Beach Club — are world famous. Along with Elia, Super Paradise beach ranks as one of the most gay-friendly in Mykonos.
Paraga Beach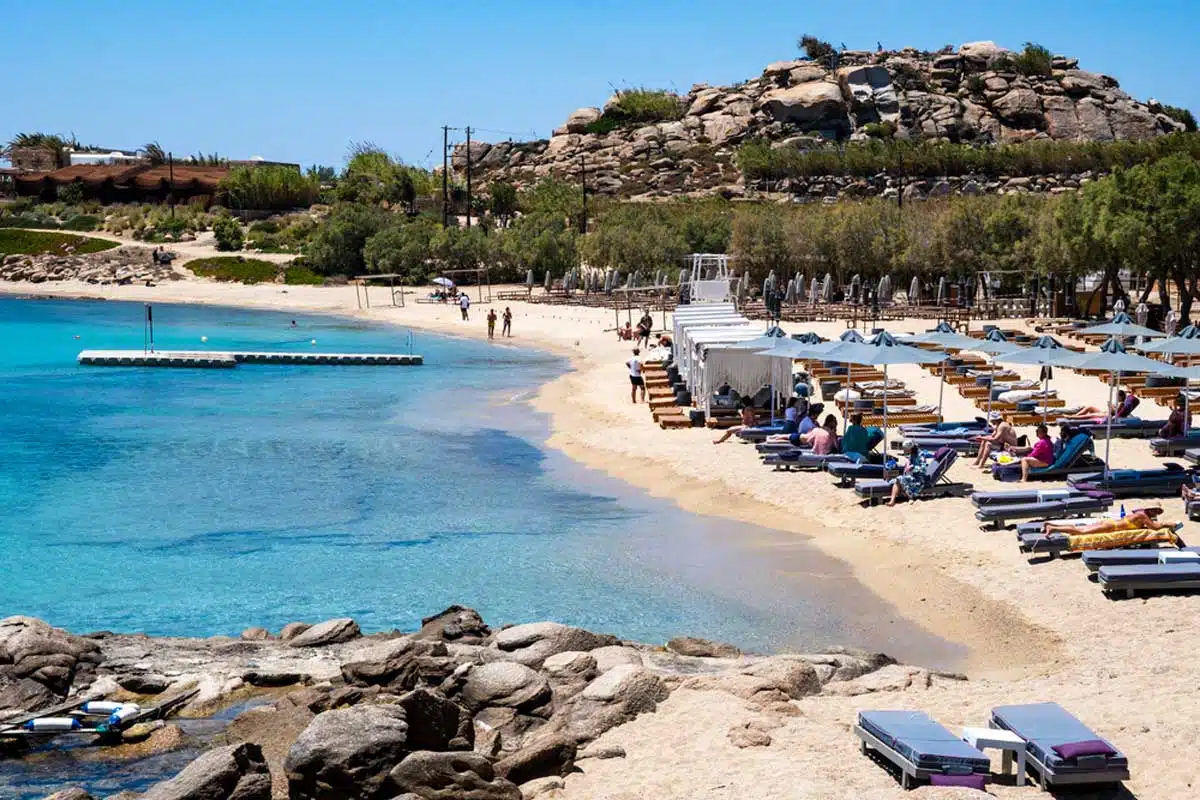 The smaller brother beach of Platys Gialos, Paraga Beach, is an excellent alternative if you want a more laid-back time. It's within walking distance from a few other of the most famous beaches in Mykonos and benefits from being quieter at night.
One of the best things to do here is dive off the floating pier that skirts the small beach, then indulge in the vibrant and chic restaurants. SantAnna and Kalua are the two main hotspots and dish up world-class cuisine and tantalising drinks.
Due to its location, you can also look forward to stunning views of Cape Drapanos and the Island of Delos. Oh, and it's also one of the best nudist beaches in Mykonos, if that floats your boat.
Elia Beach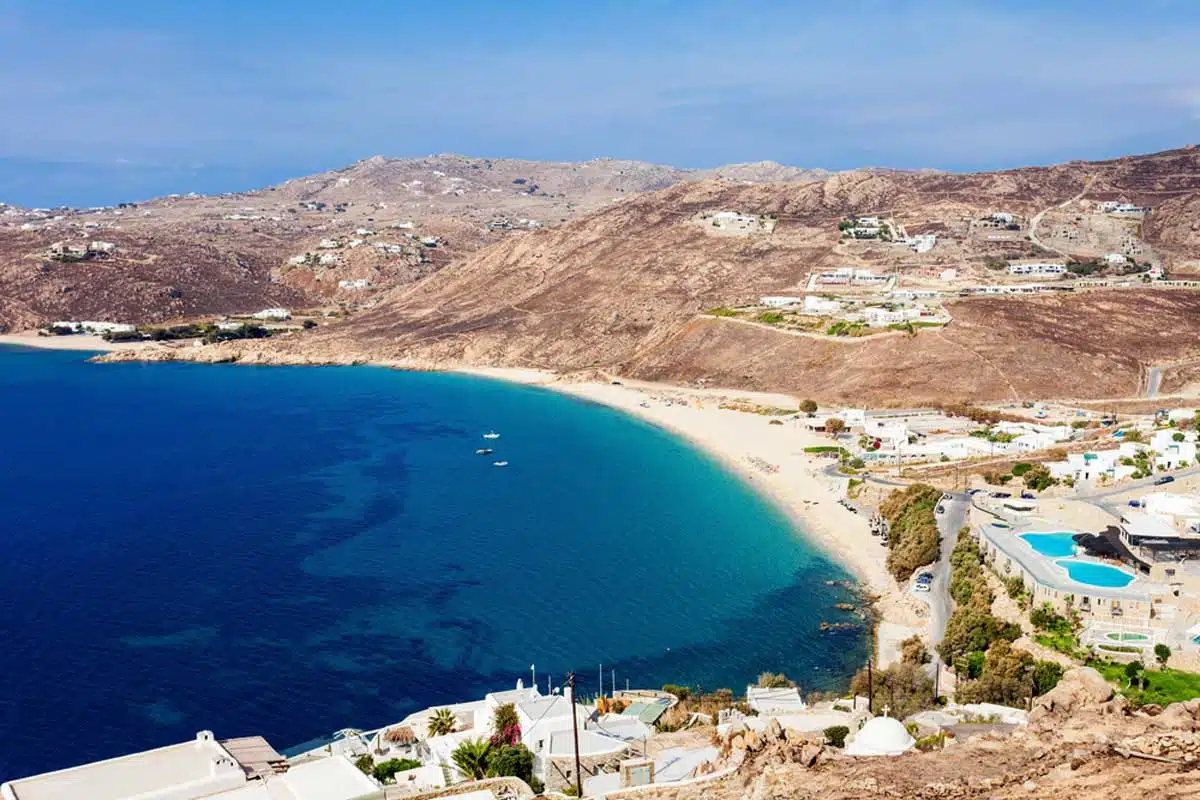 Okay, but where do the non-partiers go for a beach breakaway? The answer is Elia Beach. You'll find a tranquil and breathtaking coastal retreat on the largest sandy beach on the island. Elia is, quite frankly, one of the nicest beaches in Mykonos.
You might think that due to it being the biggest beach, it would attract the most people, but the opposite is actually true. This is the last stop on the caique boat shuttle from Platys Gialos, which means most people just skip it. You definitely shouldn't, though.
Home to the Elia Mykonos Resort, those who visit here will find the best Mediterranean cuisine with picturesque Cycladic houses as a backdrop.
Elia is also known as the best gay beach in Mykonos, and while the entire island is LGBTQIA+ friendly, Elia has a particular spot in the community's hearts.
Kalo Livadi Beach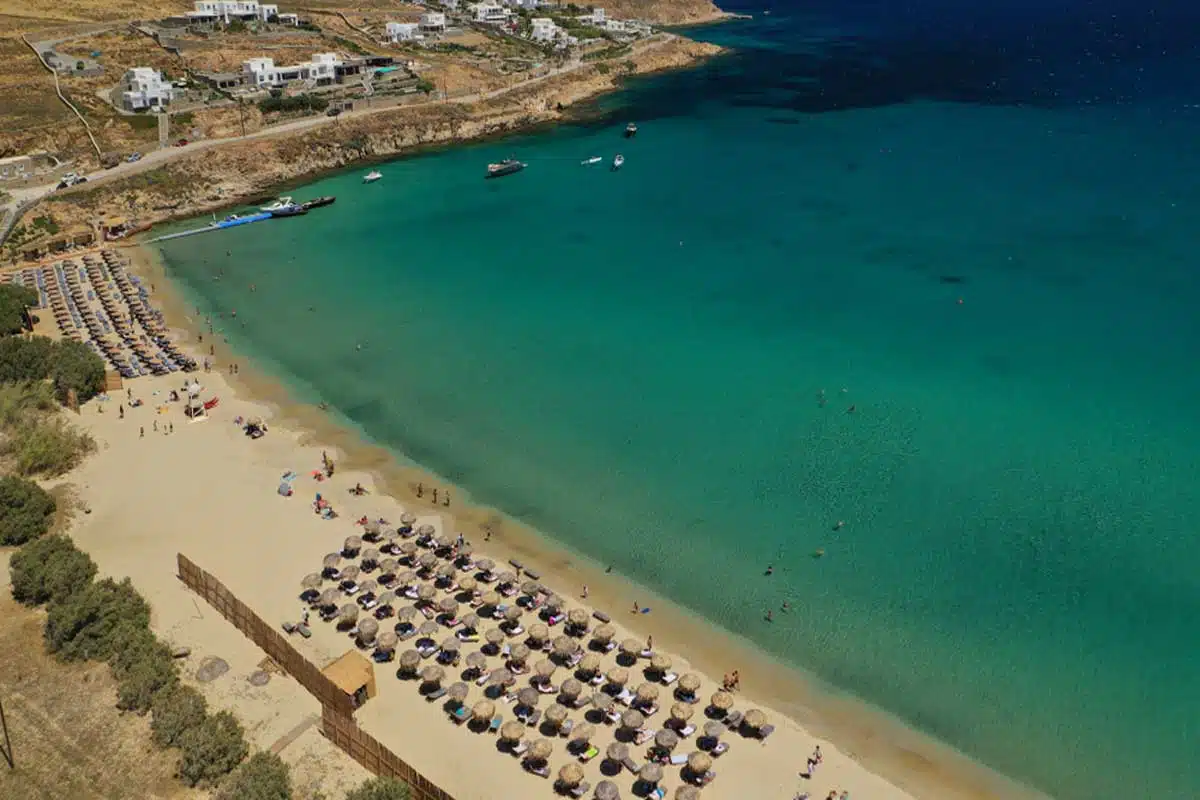 Another best beach in Mykonos is Kalo Livadi, surrounded by rocky hillsides and a spectacular showcase of coastal beauty. The waters here always seem calmer than any other beach because of the sheltered cove they lap into.
Many beachfront restaurants dot the coastline here, and all feature outdoor terraces, perfect for a cocktail (or two). And if you want to spend a few hours or more here, you can rent sunbeds and parasols at a far more reasonable price than at other beaches.
Here you'll find Mykonos Bliss, an adult-only hotel with unparalleled sea views, and the Radisson Blu Euphoria Resort. The latter has the best private suites with views stolen from a photographer's paradise.
Kalafati Beach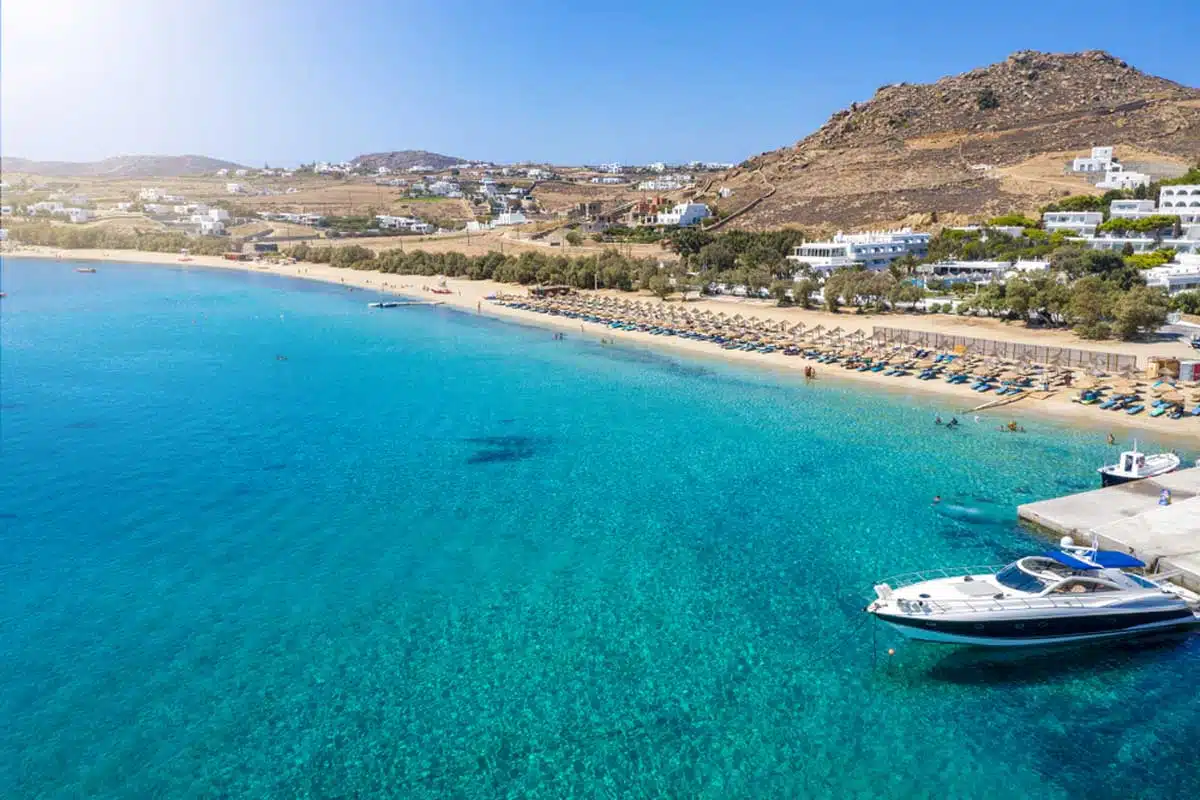 Known locally as Agia Anna, this beach is a favourite amongst locals – and you'll fall madly in love the second you set foot here. It's a far less crowded beach, and you can find more open stretches of sand on Kalafati.
There are the standard sunbeds and parasols, but also exotic and contemporary wooden lounges built into the beach. Divounia Bay is next door, making this a lazy haunt for most beachgoers.
Kalafati is more of a hidden gem when talking about Mykonos beaches, so don't skip its almost untouched atmosphere. The Wild Hotel on Kalafati has its own private beach, though it sits atop a stunning cliffside.
Panormos Beach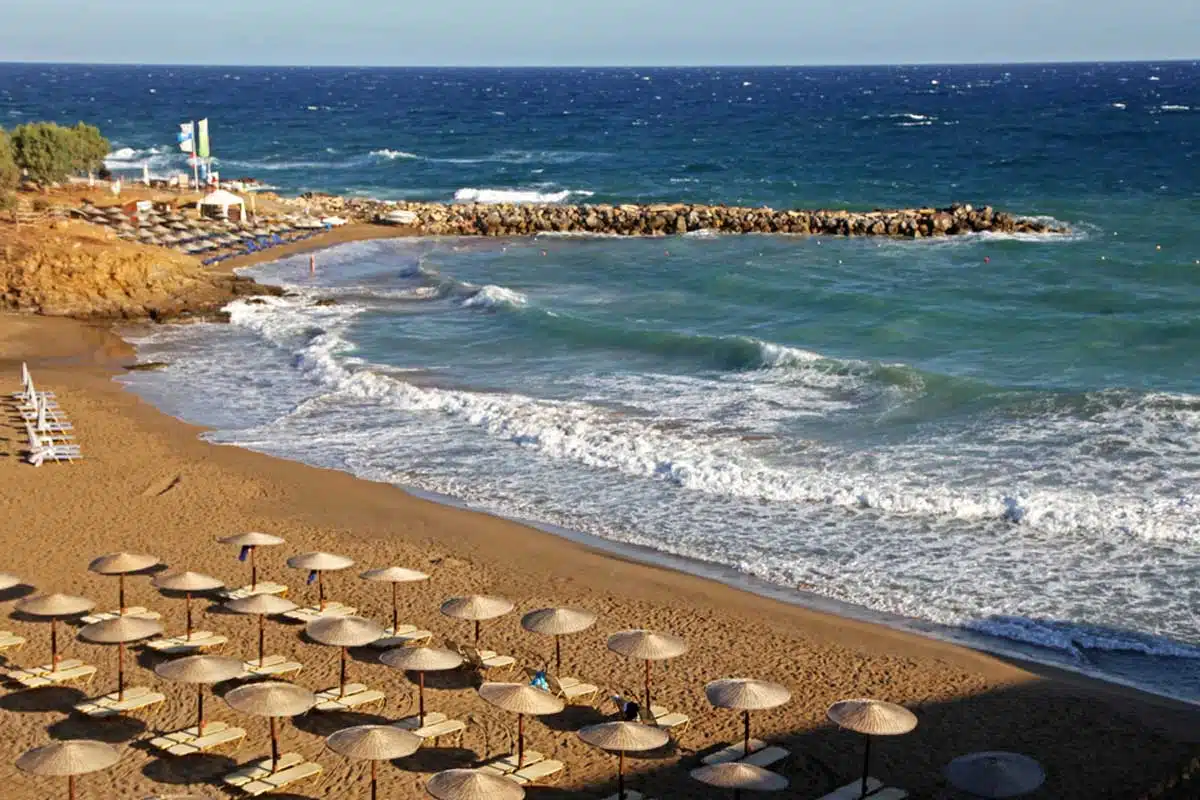 While most of the best beaches in Mykonos sit on the island's south coast, Panormos is the highlight of the north coast. It's also only accessible by car, which gives it an air of seclusion that suits it perfectly.
Here you'll be walking amongst luxurious beach clubs one minute and an open stretch of scenic and serene sand the next. And while this sounds good, the near-mythical beach parties here make Panormos legendary.
Agios Ioannis Beach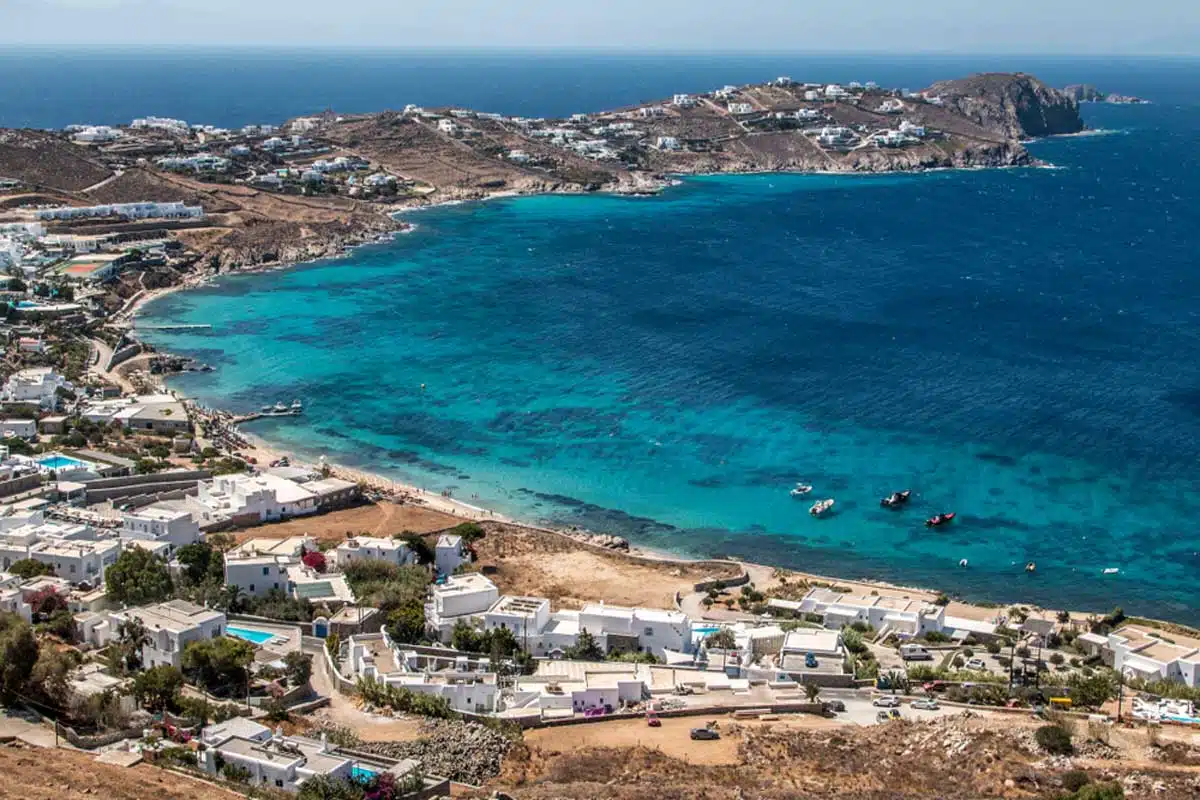 You know those snapshots you see on Instagram of whitewashed houses with blue-painted balconies on a hillside? Yeah, those are on Agios Ioannis. More specifically, the Cycladic town of Diakoft.
The beach here is stunning, and the waters are shallow and perfect for some proper rest and relaxation. Although it is a quieter beach setting, Agios Ioannis is home to several traditional tavernas.
What more could you want with delicious drinks and unique views of the Island of Delos?
Lia Beach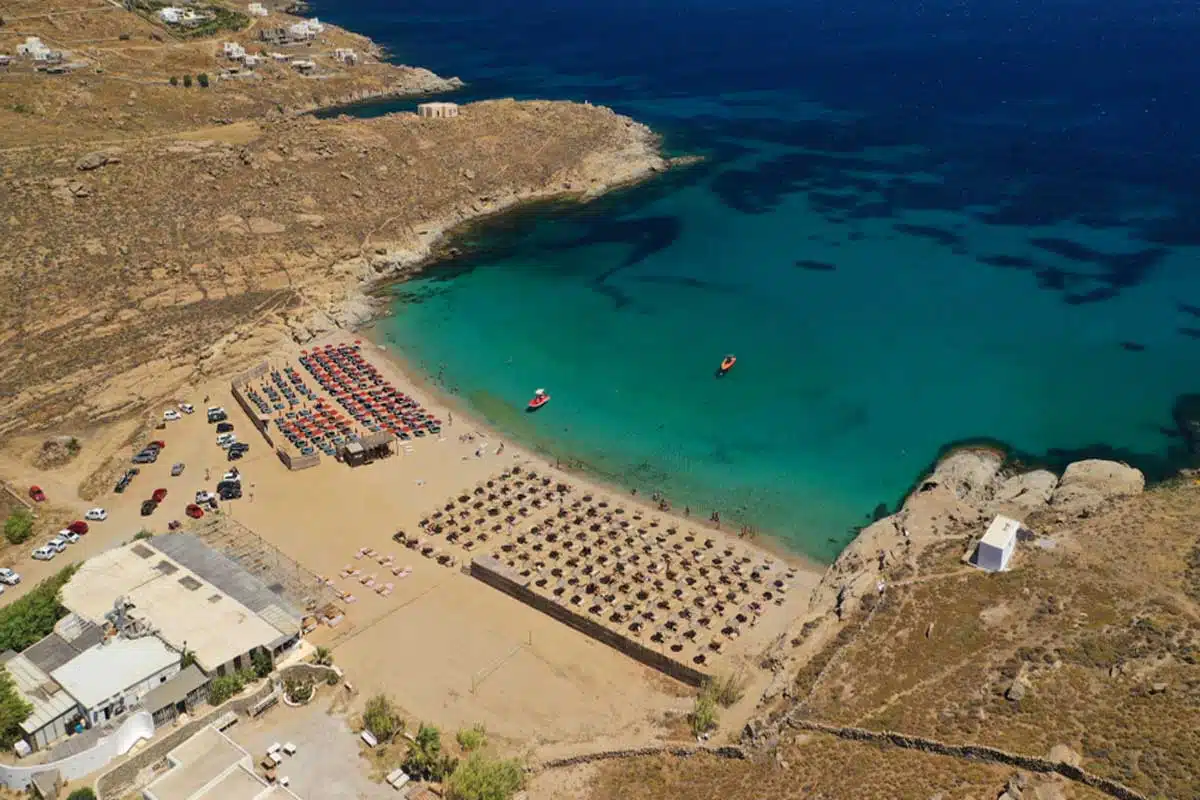 Located quite a distance from the main tourist attractions of Mykonos, Lia is where you spend the day after an epic beach party. The cove of this beach forms an almost perfect rectangle, ensuring the water is a blue hue out of this world.
Calm waves here are perfect for snorkelling and scuba diving. But, if you're not in the water here, you should sunbathe as the sun catches Lia at the perfect angle all day.
And if Lia needs more reason to brag, it received global attention bearing the title of one of the best beaches in Greece. That's quite an achievement.
Ornos Beach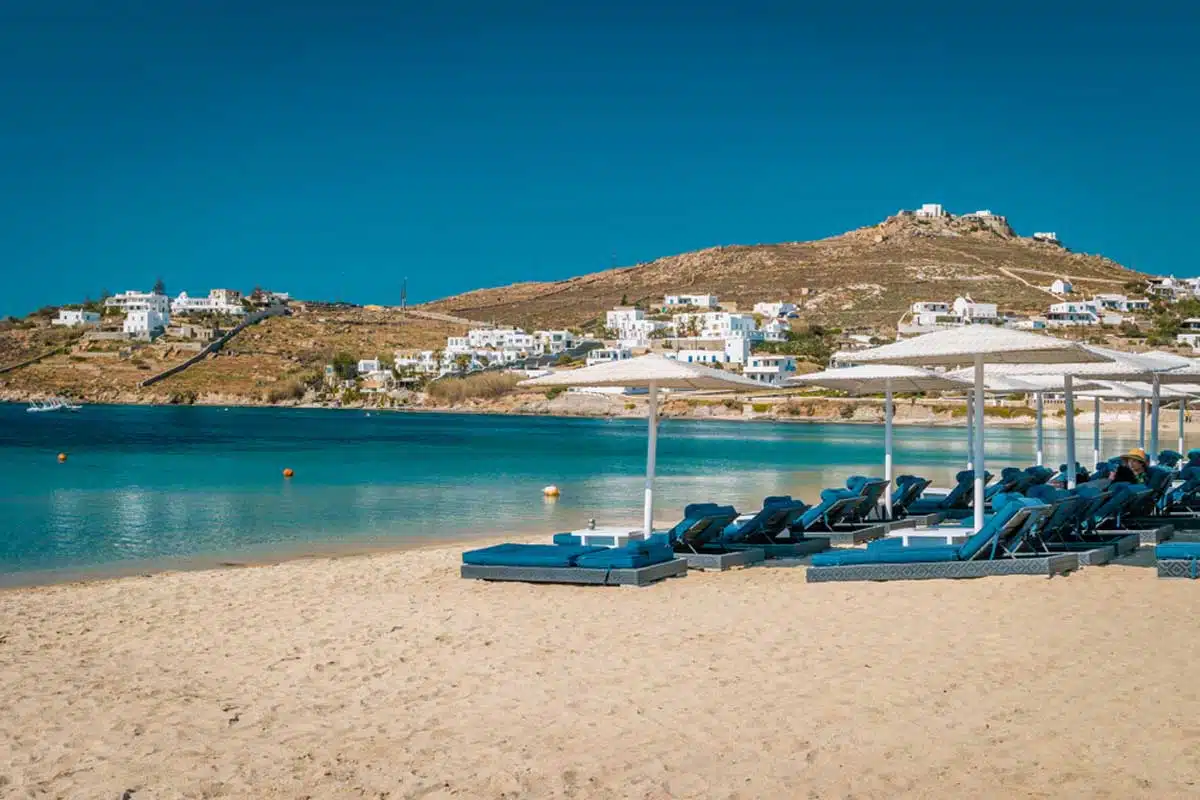 Wrapped around a tiny former fishing village, Ornos is one of the most popular beaches in Mykonos. Almost everyone that comes to the island adds this beach to their itinerary, and so should you.
It features some of the best beachfront amenities and is very close to Mykonos Town, which results in massive crowds. There's loads to do with a scuba diving school and windsurfing centre on the beach.
You'll find the much-talked-about Buddha Bar and many other coastal restaurants, bars, and snack bars. It's also a favourite amongst couples as the romantic Mykonos Ammos Hotel, and Kensho Ornos are right on the shores.
Agios Stefanos Beach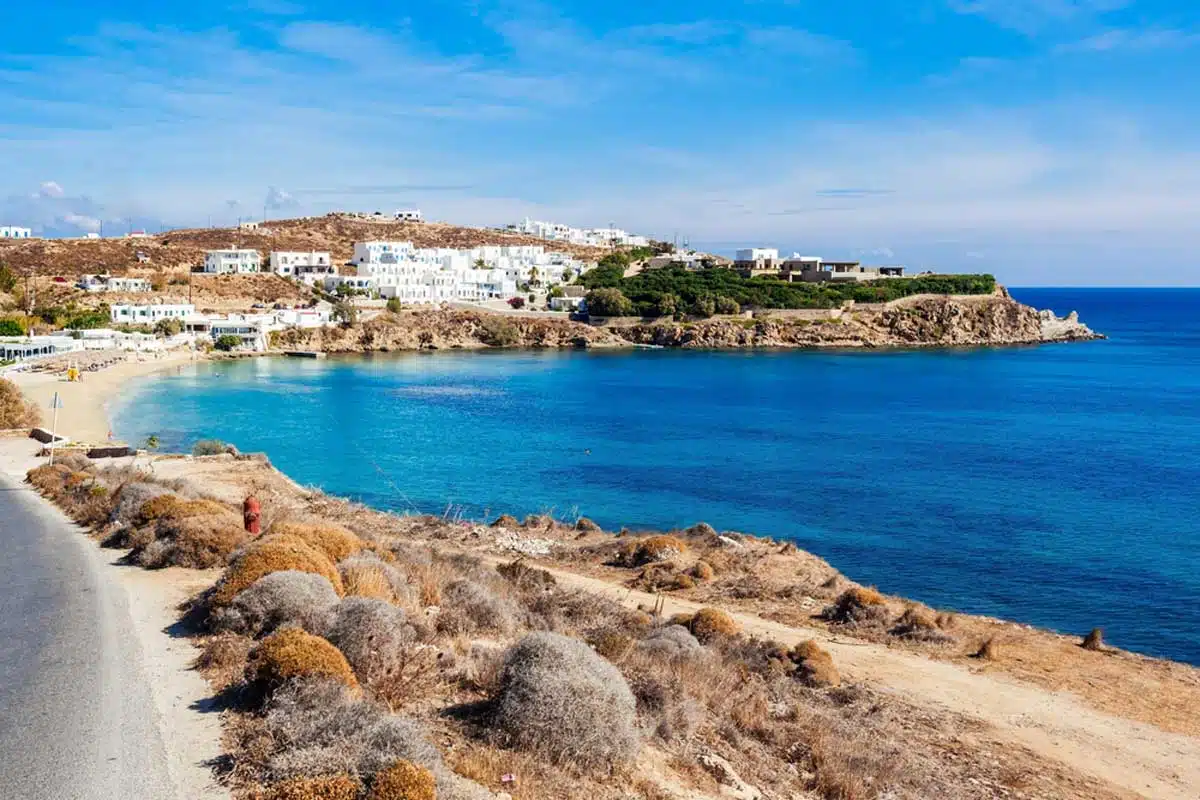 The closest beach to Mykonos Town, the shallow and calm waters of Agios Stefanos are famous for its sunsets and romantic vibe. You can judge the romantic side for yourself, but the sunsets are mind-blowing.
It tends to get crowded quickly, usually in the afternoon until after sunset, but I cannot make this any clearer — Agios Stefanos' sunsets are incomparable.
A number of restaurants and bars also sit on this beach, and as far as accommodation goes, you're in good hands. The Grace Mykonos Hotel has the best location for catching the setting sun.
At the same time, Rocabella Mykonos Hotel is a stylish designer hotel where you can relax poolside as the sun sets in the distance.
Practical Tips for Making the Most of Mykonos' Best Beaches
The most practical way to get around is either by rental car or scooter, although buses and the beach caique boat shuttles are available. They do, however, get crowded and cramped very quickly.
One of the best ways of exploring Mykonos' beaches is through the many popular guided Mykonos tours. These elevate your entire experience. Trust me on this one.
The best time to visit any of the Mykonos beaches would be from June to September. These are the summer months, so expect more crowds and higher prices.
The best time to visit if you want to avoid the crowds is during April, May, or October. These are the off-peak months. The weather is still warm and mild, so your beach days will be just as fun.
Pack beach essentials like sunscreen, hats, and the perfect beach towel. A pair of sunglasses also come in handy against the Grecian sun.
Be sure to visit more than a few beaches on your trip. Include both party beaches in Mykonos and the quieter ones to get a holistic Mykonos experience.
Mykonos Beaches: Map