Planning an Arizona road trip and don't know where to start? Don't worry – that's why I've written this bangin' guide to 9 jam-packed days in Arizona.
You've already taken the first (and hardest) step — choosing one of the best possible playgrounds for the ultimate road trip. Arizona, the Grand Canyon State.
Now, sit back and let me do all the work for you.
While most come for the extraordinary hikes in the Grand Canyon or the epic scenery of Sedona, there is so much more to Arizona. There are seven National Forests (yes, seven), endless small historic towns, epic monuments, a plethora of wildlife, and lots of wine.
With that said, this ultimate Arizona trip itinerary is your golden ticket to the most unforgettable journey, so let's get going.
Handy Tips for Planning Your Arizona Road Trip Itinerary
Top Tips for Your Arizona Itinerary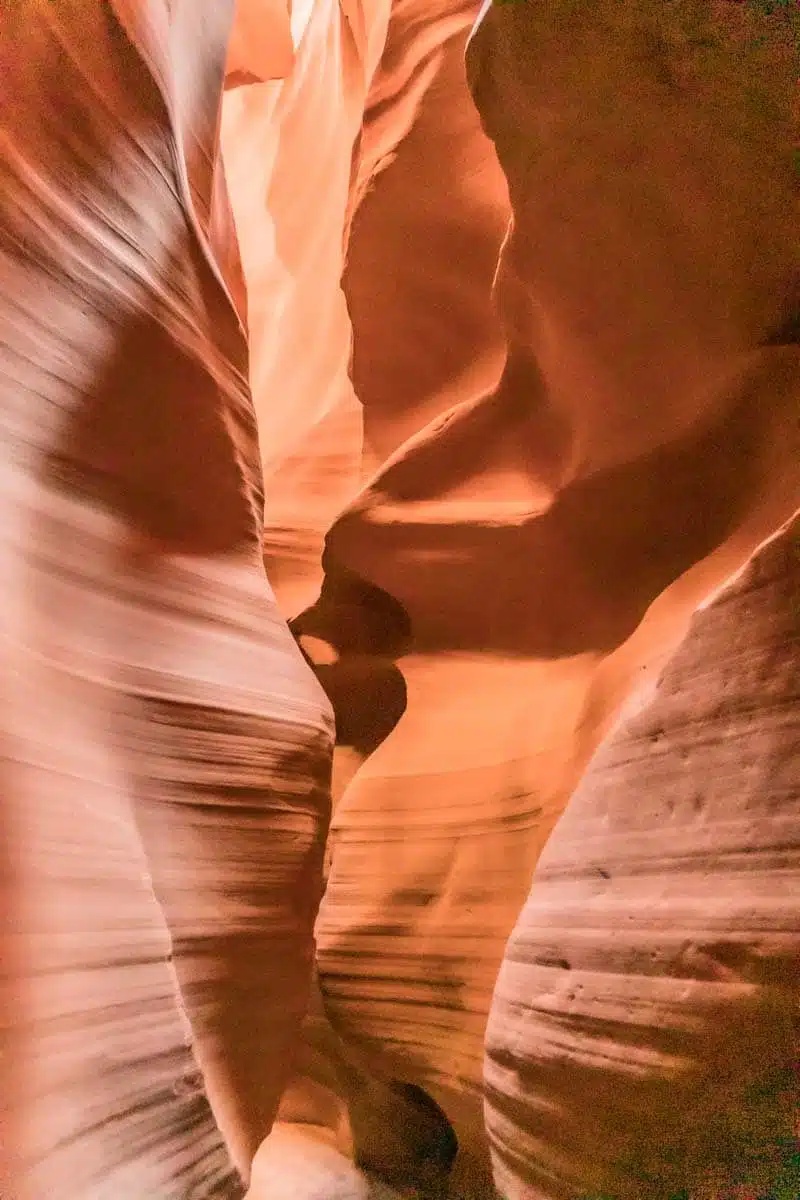 Book your accommodation in advance, especially at the Grand Canyon and Sedona. These places fill up incredibly quickly.
Be weather conscious. Summers in the state are scorching, with the late summer months bringing monsoons.
Arizona is prone to sudden and raging wildfires. Beyond those, the desert heat can be dangerous, so stay hydrated.
What to Pack for Your Arizona Road Trip Itinerary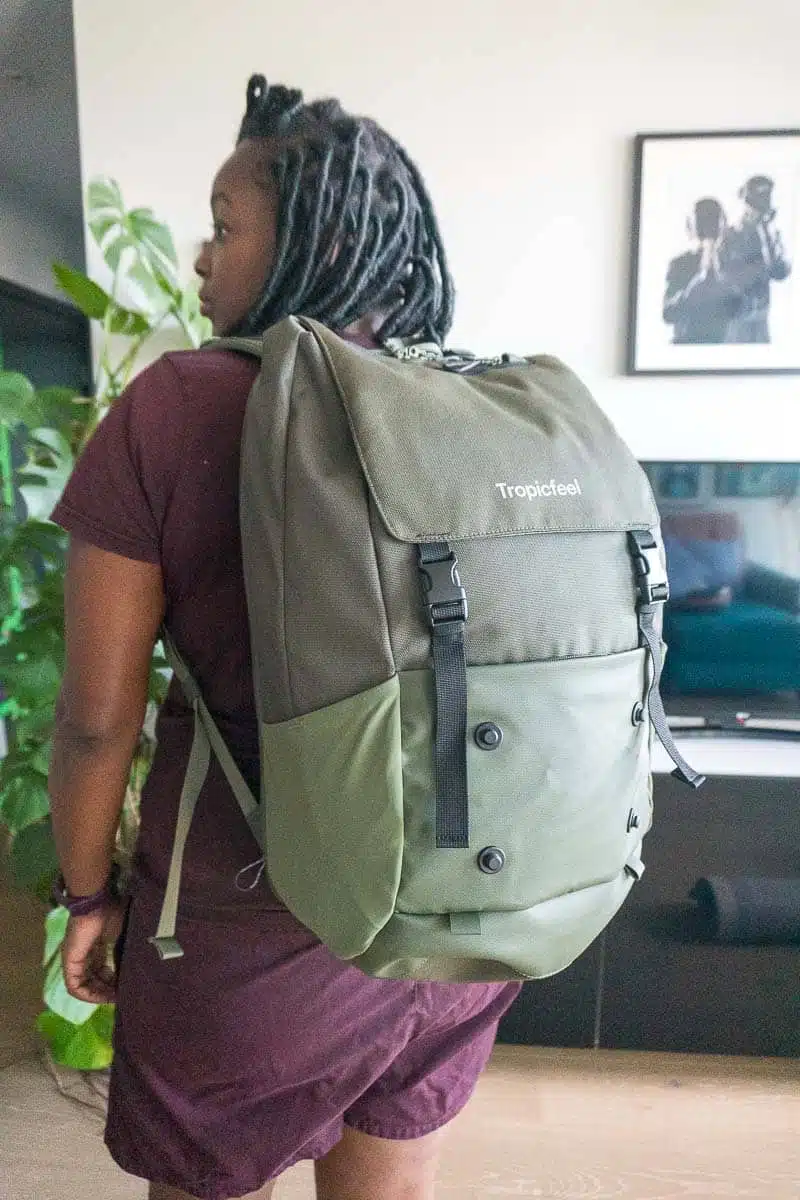 The right shoes for hiking and outdoor exploring— like my favourite Tropicfeel canyon shoes.
A separate pair of all-purpose shoes. The Allbirds tree runners are perfect for urban adventures and those long car rides.
Hiking essentials – including hiking poles, and a hydration pack.
Sunscreen / sun cream and a hat
Reusable water bottle so that you can fill up on the go (and save the planet – yay!)
All other road trip essentials – don't forget a camera to capture some epic shots.
Useful Resources
Skyscanner – Handy for finding great deals on flights to and from Phoenix.
Booking.com – The best place to find brilliant accommodation in each place (whether that's hotels, hostels, or camping, for the most competitive price.
Get Your Guide – Guided tours led by knowledgeable and friendly guides. Private and group options available.
Getting Around on Road Trips in Arizona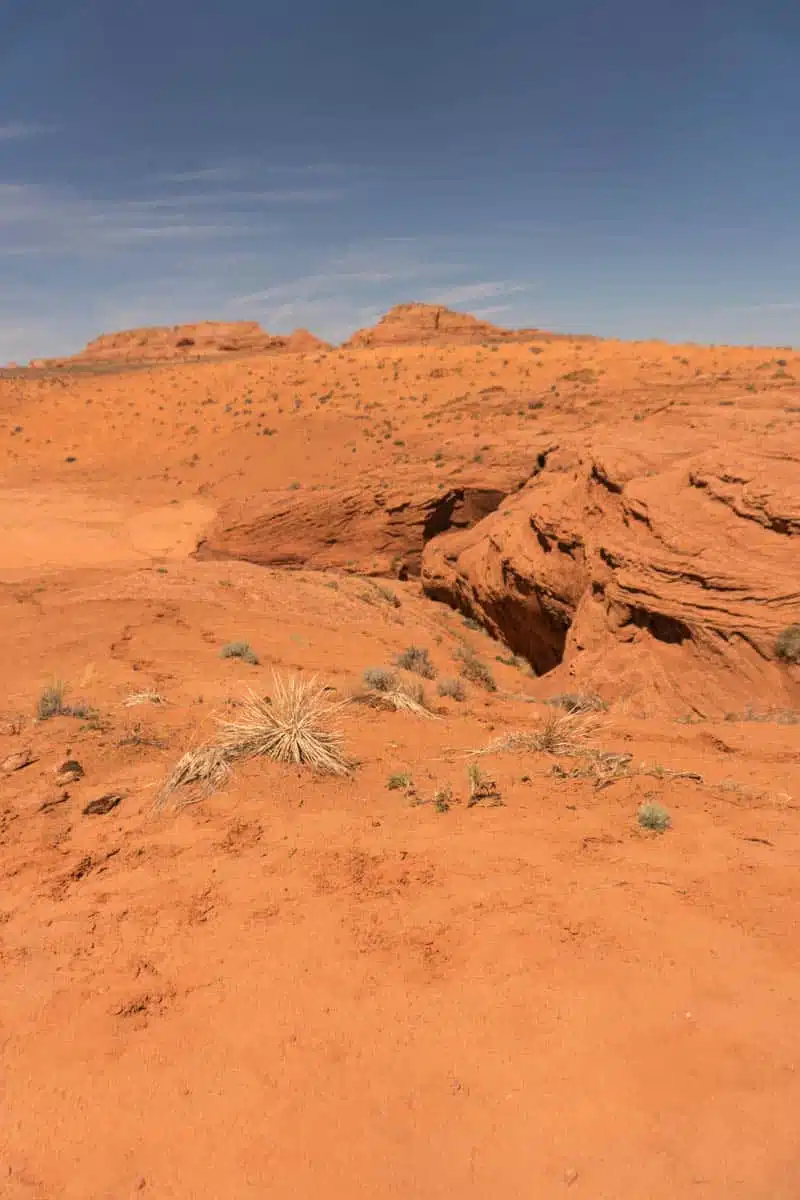 It wouldn't be a road trip through Arizona without a car, am I right? However, a word of caution, car rental prices do differ.
Regardless, here are the best car rental agency options for Arizona road trips:
Top Tip: Opting to pick up a car from Phoenix-Mesa Gateway airport can be cheaper than from Phoenix International – sometimes by enough to justify paying for an Uber between the two.
Arizona Road Trip Itinerary
Arizona Road Trip Days 1 + 2: Phoenix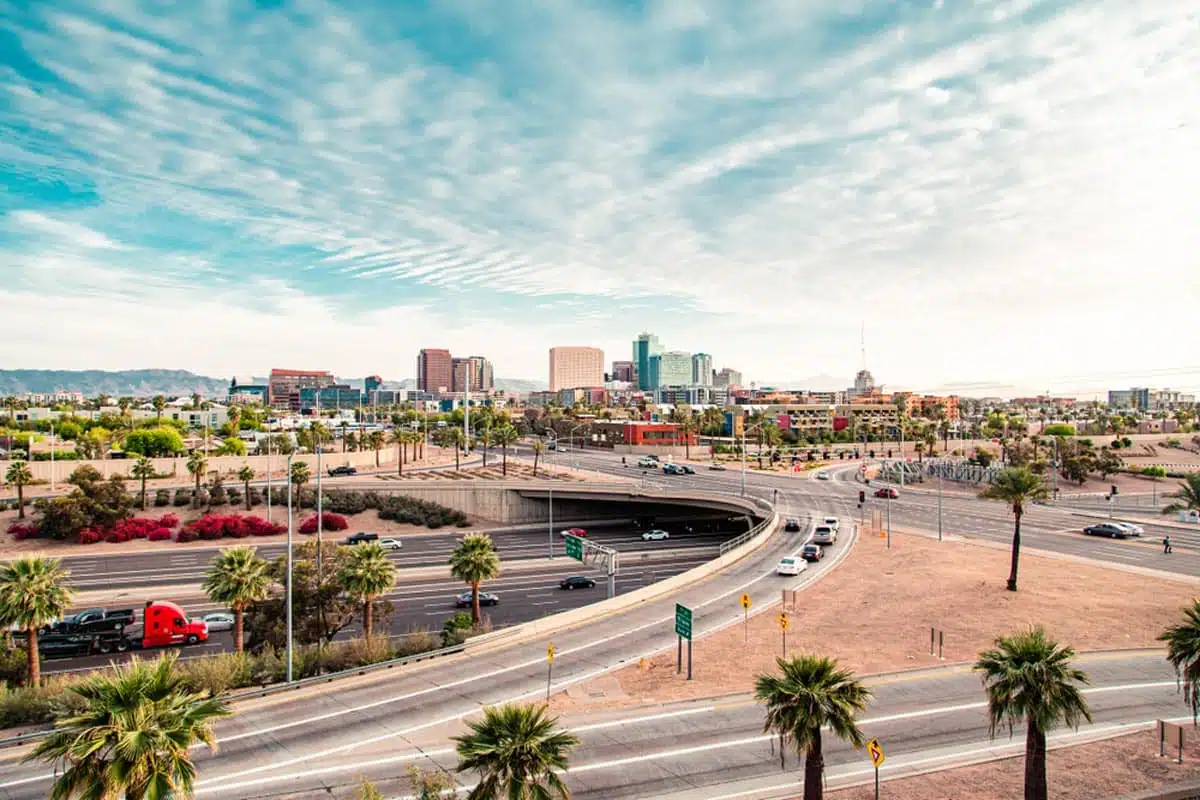 Ready to kick off 9 days of fun? Of course you are. As the capital city of Arizona, it's only fitting that your adventure starts in Phoenix.
Phoenix is the most populous city in the entire US. And, as that's the case, the city brims with attractions and activities.
You'll find luxury spa resorts, outdoor adventure opportunities, world-class cuisine, and an otherworldly nightlife scene in the Valley of the Sun (as the locals call it).
Let's go.
Epic Things to do in Phoenix During Your Arizona Itinerary
Spend a Morning in South Mountain Park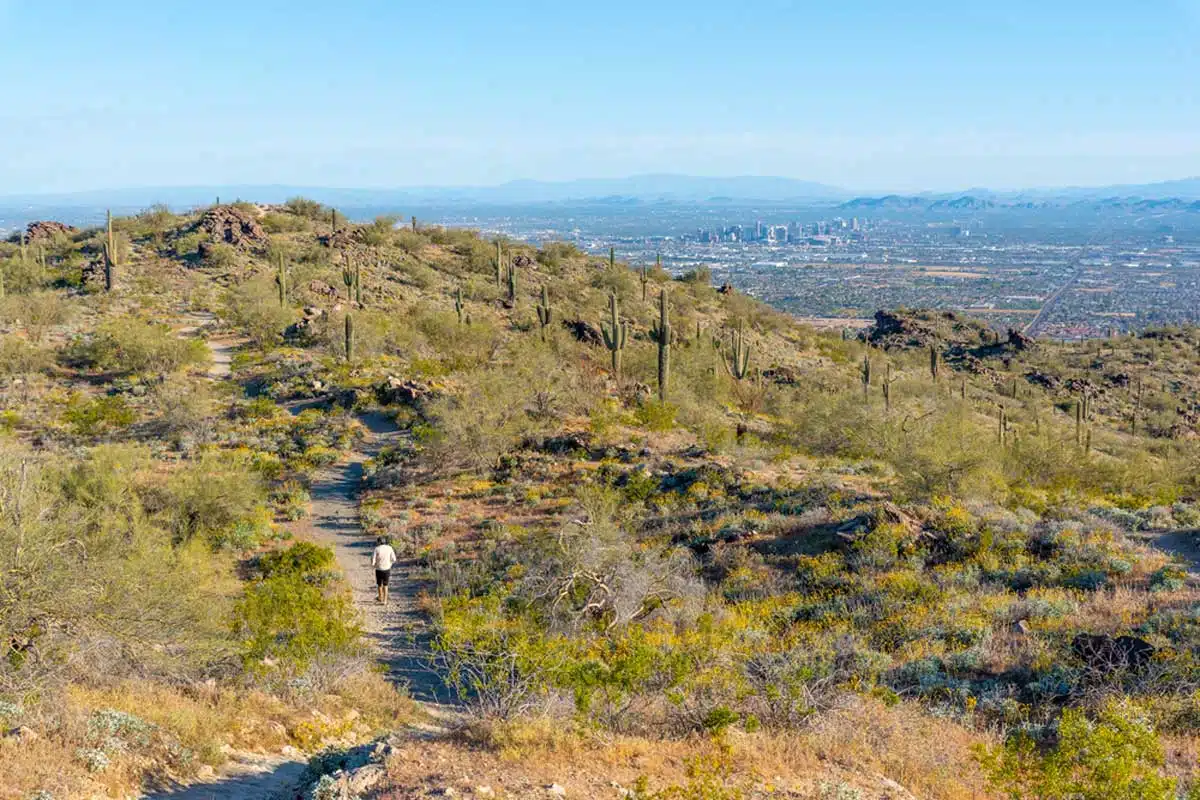 There's no easing into it with this itinerary – we're making the most of the time we've got!
South Mountain Park ticks all the right boxes – it's one of the largest urban parks in the entire world and has plenty to show for it. It covers enough mountainous landscapes to include three ranges with a lot of outdoor activity potential.
The best way to start a morning in Phoenix is with a hike (of which there are plenty), or better yet, a horseback ride through the park.
Time it so that you can catch the sunrise from Dobbins Lookout, the highest point in the park that serves up stunning views of Phoenix set to the rising sun.
Explore the Roosevelt Row District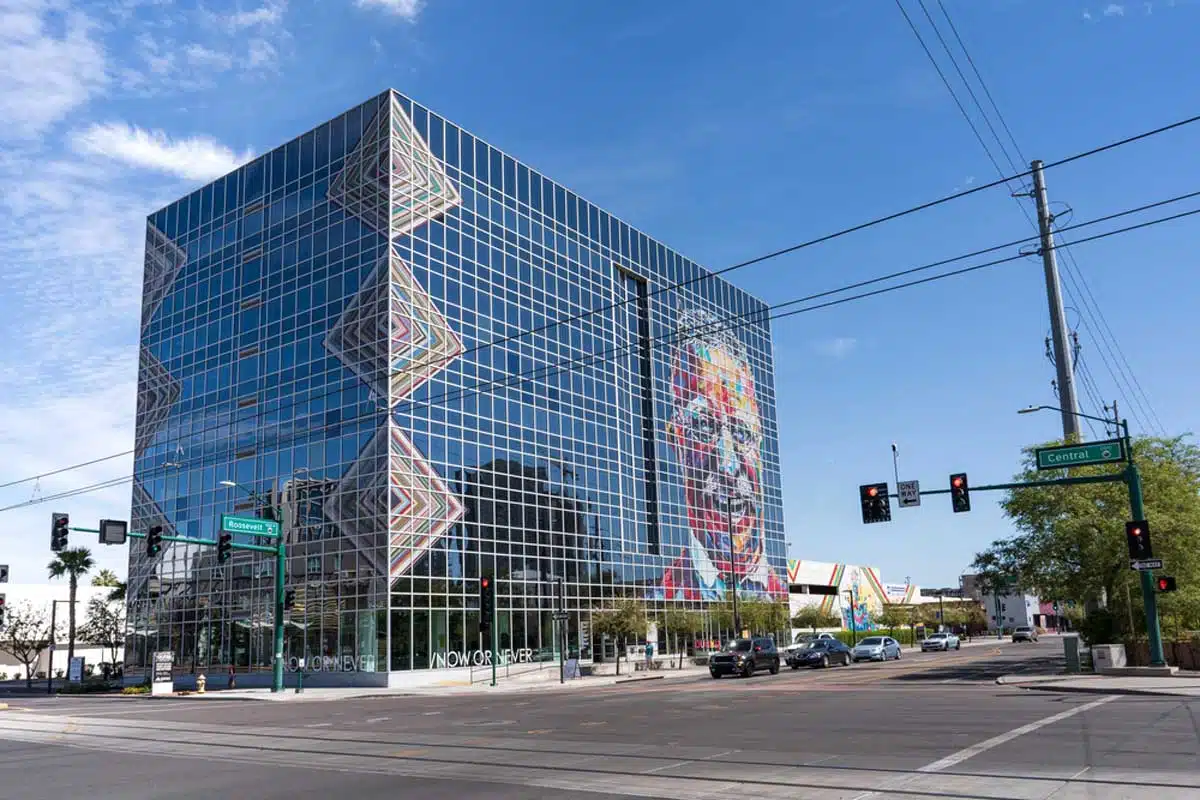 We'll get into the politics of gentrification another day, but what I do know is that this once decaying and dangerous part of Phoenix has been totally transformed in the last decade. It's now home to a rejuvenated hub for the arts, cuisine, and retail.
You'll find charming and unique art galleries throughout the district, each worth a visit. And, if you're keen to splash some cash, indulging in some midday retail therapy at the many boutique stores is a great way to start the afternoon.
It's also very pedestrian-friendly, so a walking tour of this area is a great idea. It will allow you to see the many expertly-painted murals that line the streets and some of the innovative art studios (you should know by now that I LOVE street art).
Delve into the City's Museums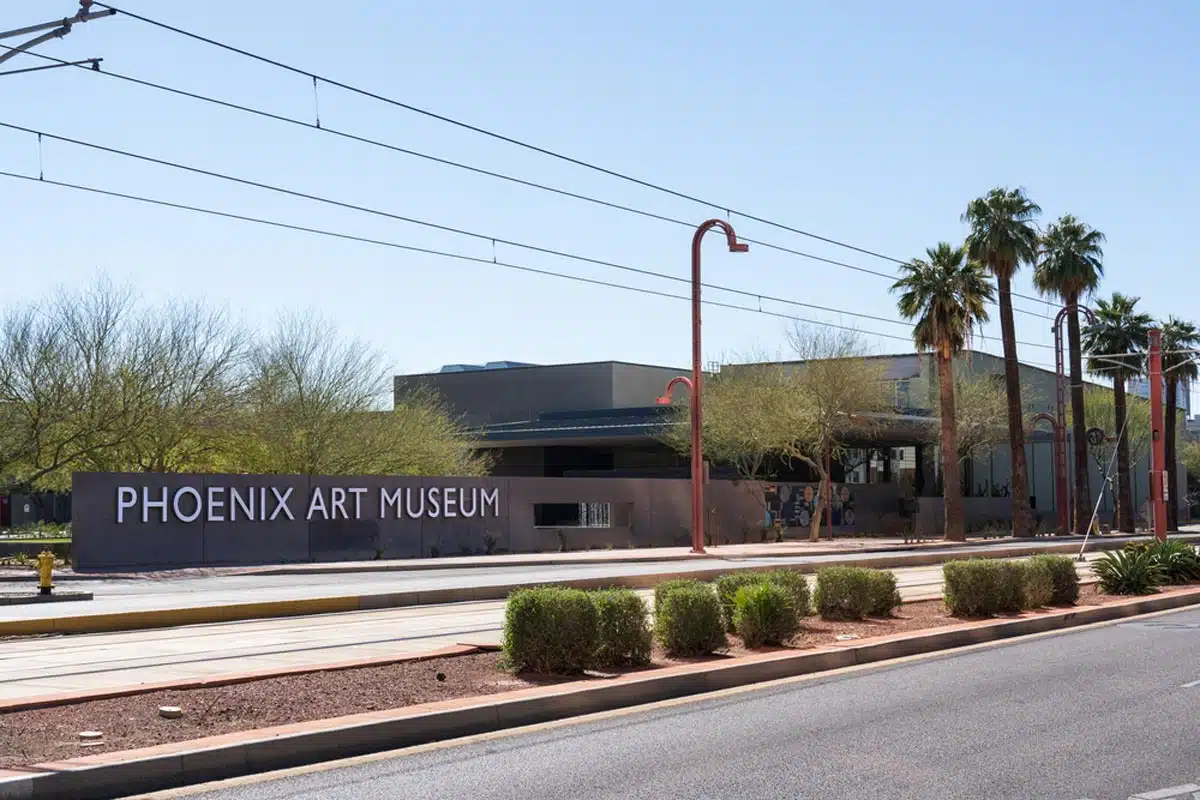 The Phoenix Art Museum, although not as massive nor well-known, will make you fall in love with art. There are regular and rotational exhibits throughout the year, and you'll find works by Georgia O'Keeffe, Picasso, and more here.
Then there is the Heard Museum, which dedicates itself to preserving and advancing American Indian Art. Showcasing a massive collection with more than 40,000 pieces, it's a must-visit.
Are you looking for a unique museum experience? Visit the Hall of Flame Fire Museum. It's a tribute to the historic state firefighters throughout the decades and features a collection of sentimental memorabilia.
Experience Phoenix's Nightlife
Before I first visited Phoenix, I'd heard a lot of buzz existing around the nightlife of the city. But nothing prepared me for visiting IRL. And what is a good night without starting it with great food? Nothing, IMO.
Luckily, Downtown Phoenix has you covered.
Farish House serves the best in French cuisine, while The Larder + The Delta elevates Southern cuisine. Or, for a quick bite, Ghost Donkey served delicious Mexican plates in bite-sized portions.
You can head to The Van Buren, The Rhythm Room, or Copper Blues for some live music and some booze – dancing a night away in Phoenix is a euphoric experience.
Getting to Phoenix
Phoenix Sky Harbour is a great international airport – domestic and international flights occur daily and are easily accessible. American Airlines, Finnair and British Airways all offer direct flights from multiple destinations.
Suggested Stay for Phoenix on your Road Trip in Arizona Itinerary
Hyatt Regency Phoenix – A four-star luxury hotel in the heart of downtown Phoenix, it features everything you could expect from a modern hotel. Its excellent location makes it the perfect choice for your stay.
Alternatively, check all accommodation in Phoenix
Arizona Road Trip Day 3 + 4: Sedona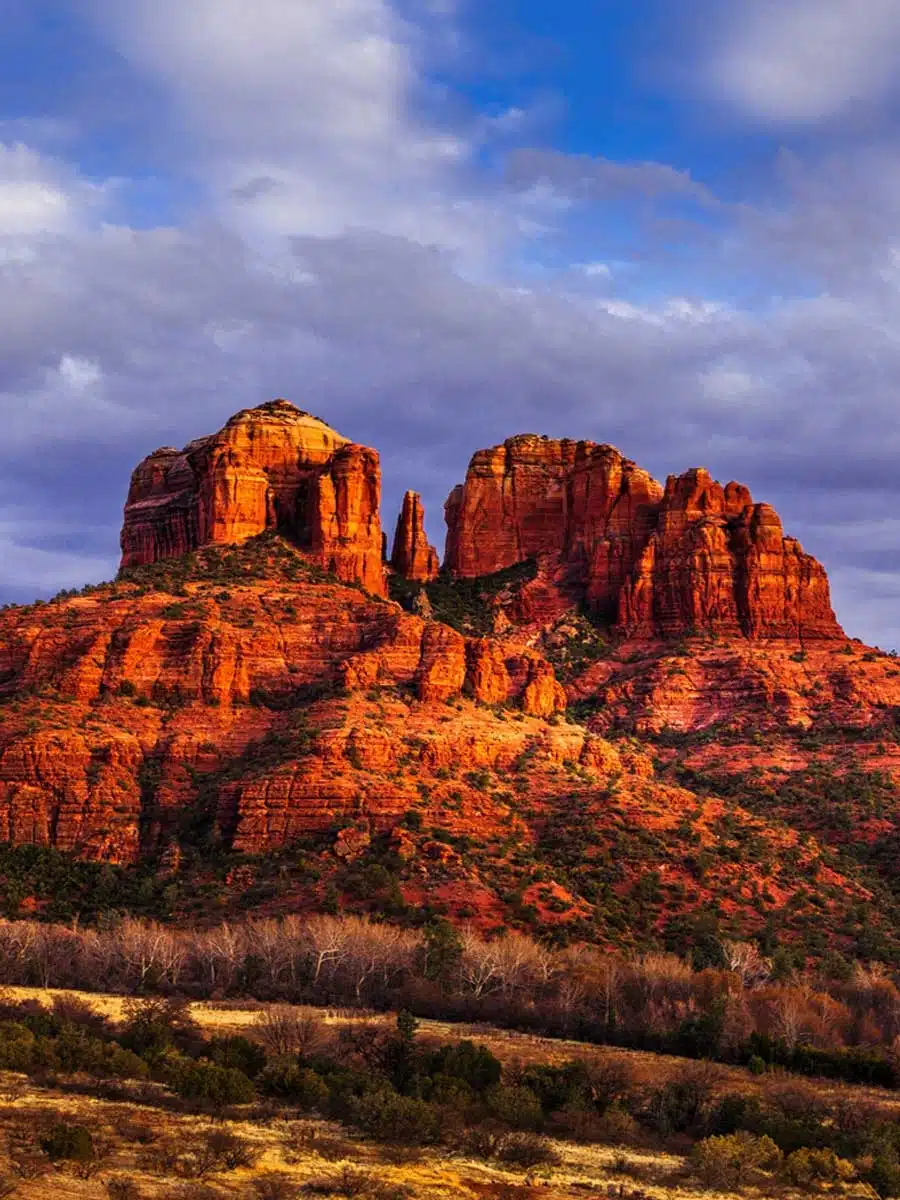 Next up, it makes sense to wind your way over to Sedona. Personally, this is my favourite destination on an AZ road trip.
Characterised by breathtaking red buttes, steep canyons, and luscious pine forests, it's the perfect place to find serenity within nature.
Famous for the vibrant and growing arts community in and around Sedona, this town is a feast for the eyes. Beyond that, the spa and wellness scene here is something of note. The kicker for me is the beautiful backdrop of Red Rock State Park.
Let's not forget the immense number of tours to Sedona, the Grand Canyon, and other Arizona hotspots.
Exciting Things to do in Sedona
Hiking in Sedona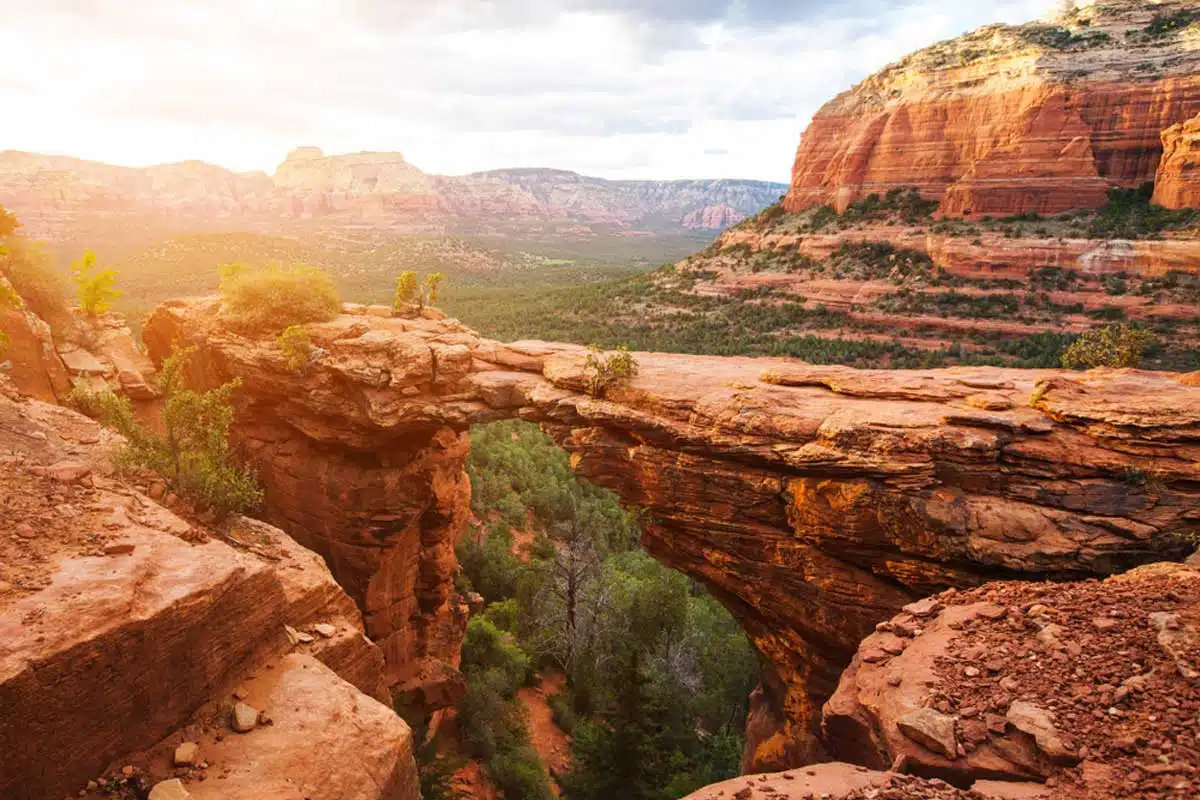 A visit to Sedona without working on at least one or two hikes is crime – the entire region of Sedona includes more than 100 hiking trails.
Cathedral Rock Trail is popular as it views Sedona's token red rock formations. It's a bit on the strenuous side but still doable for the vast majority of people. An alternative is the Airport Mesa Loop which also rewards you with stunning panorama views.
If these seem too strenuous, you could always opt for a Sedona Jeep Tour. This takes the walking out of it but delivers equally-impressive views.
Go on a Wine Tour
Wine and Arizona? Seems like an odd combination, I know. But the Verde Valley, which lies near Sedona, provides the perfect climate for some of the best wineries and vineyards in the country. Multiple tours to some of these wineries happen daily.
The beautiful location of the vineyards and the atmosphere in and around the wineries make for an excellent half-day or full-day excursion. Alcantara Vineyards, Page Springs Cellars, and Oak Creek Vineyards are standouts.
Treat Yourself to a Spa Session
Sedona is where most people come for rest, relaxation, and rejuvenation. In the past, it has even been comically called the city of spiritual healing – take advantage of this because things kick up a notch again tomorrow.
The Mii Amo Spa (Enchantment Resort) offers a facial and body wrap infused with Sedona Clay, A Spa For You uses polarising gemstones to align your chakras during a deep tissue massage, and Inner Journeys offers guided meditations and full-body deep tissue massages.
Visit The Out of Africa Wildlife Park
African wildlife in Arizona? Yes. Yes. Yes. I know zoos are a touchy subject, but this one is conservation-focused.
Out of Africa is one of those places you'll visit that will remain with you forever. Animals at the park include a Southern White Rhino, Spotter Hyenas, a Black Leopard, and a Sable Antelope.
What makes this park so unique is its conservation efforts and personal touch. Each animal has a unique name given at birth, and the park offers visitors so many ways to interact with them safely that you won't ever want to leave.
Getting to Sedona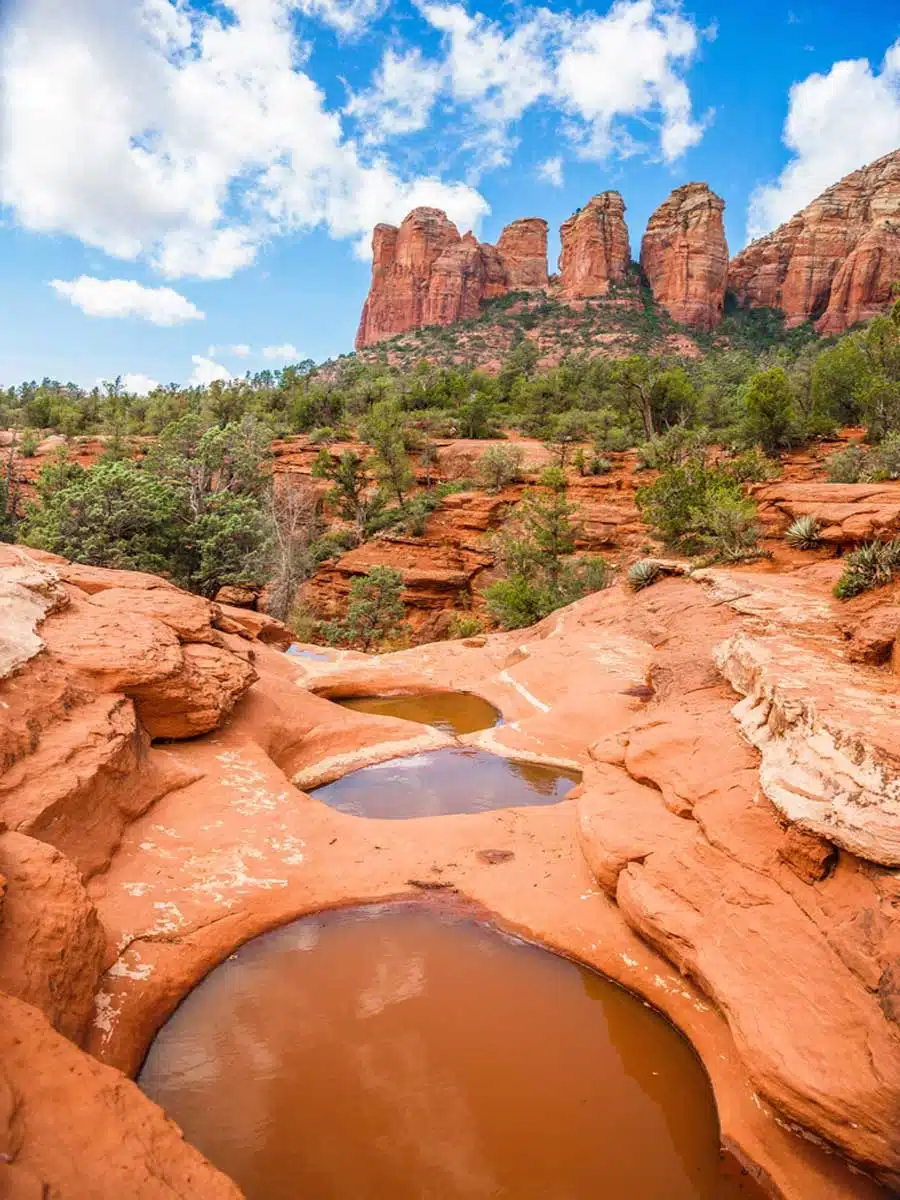 To get to Sedona from Phoenix is a ±2-hour drive up Interstate 17 (American Veterans Highway), with a turnoff on Highway 179 into Uptown Sedona.
Suggested Stay for Sedona on Your Arizona Itinerary
Hilton Vacation Club Sedona Summit – Situated right on the Sedona Plateau, this is an excellent property featuring various room and suite types. The property also has four heated swimming pools and six hot tubs, 'cause one's not enough, right?
Alternatively, check all accommodation in Sedona
Arizona Road Trip Days 5 + 6: Grand Canyon National Park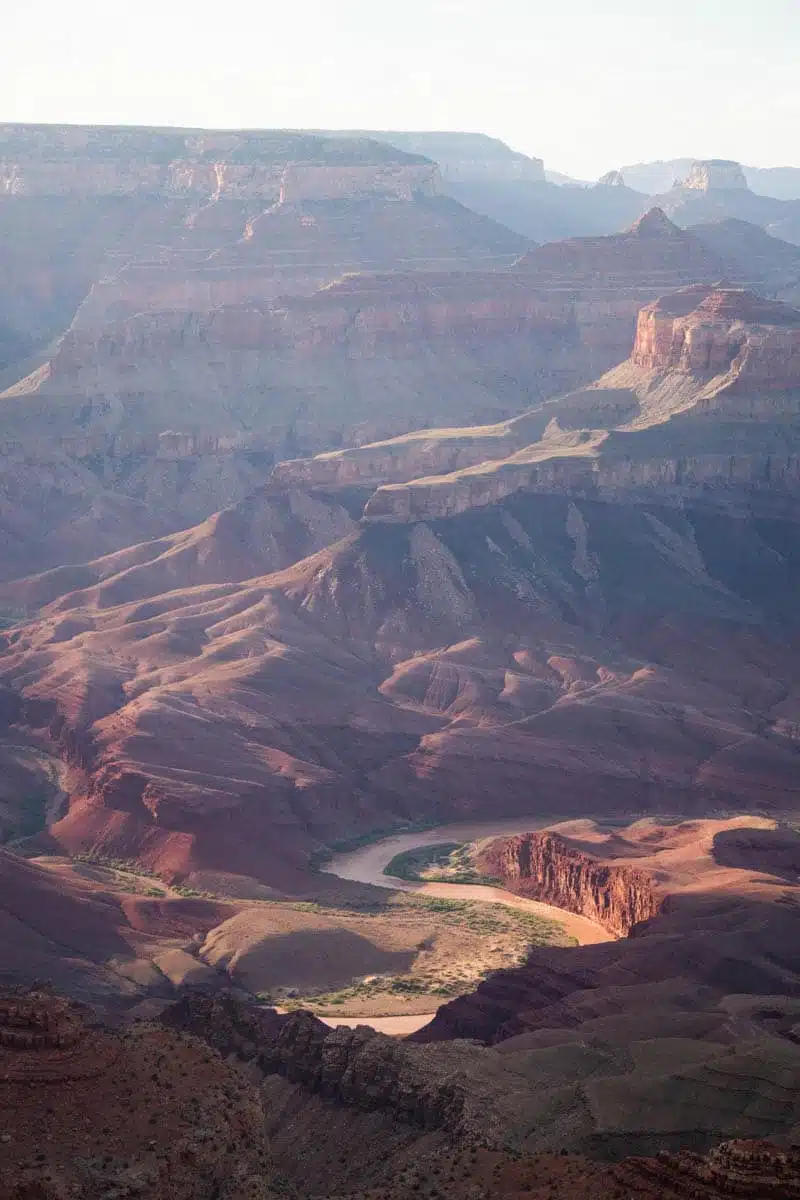 Here we are – the part you've, no doubt, been waiting for. Arizona is also known as The Grand Canyon State. So, of course, this natural wonder has to feature on any itinerary for the state.
Carved by The Colorado River for decades, it's one of those places that is an easy entry to an ultimate USA bucket list. During one of my many 2-day Grand Canyon adventures, I totally fell in love.
Adventurous Things to do in Grand Canyon National Park
South Rim Trail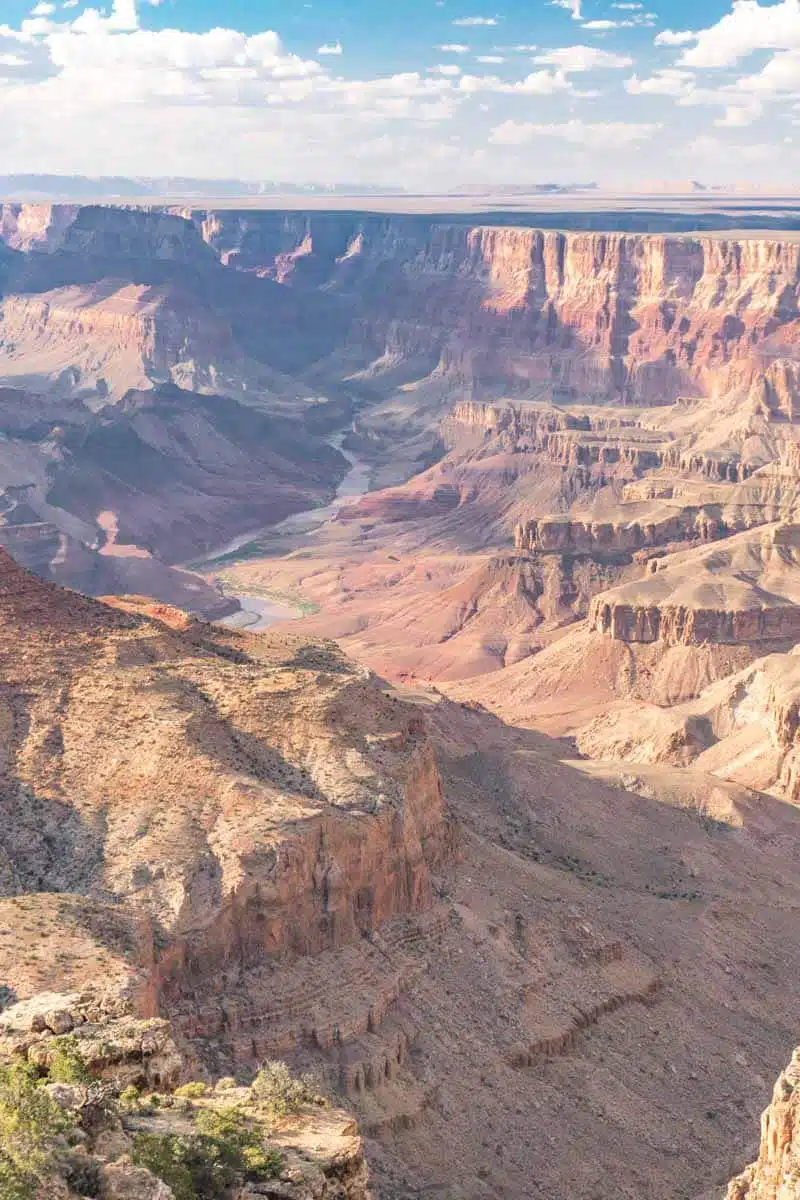 When the park is so mammoth, where on earth do you start? South Rim, I say. The South Rim of the canyon is by far the most popular part for many who visit. And while the sheer number of canyon hikes can be dizzying, the South Rim Trail is simply a must.
It's a 21km long trail, but don't run scared. Most of it is either paved or features very well-laid out dirt pathways.
You can grab some of the most stunning views of the canyon along this trail. Trust me on this one – it's one of the best Arizona road trip attractions.
You can also opt for a shuttle ride to cover some sections of it, meaning that you won't need to walk all the way. Keep your camera handy, though.
Go for a Helicopter Ride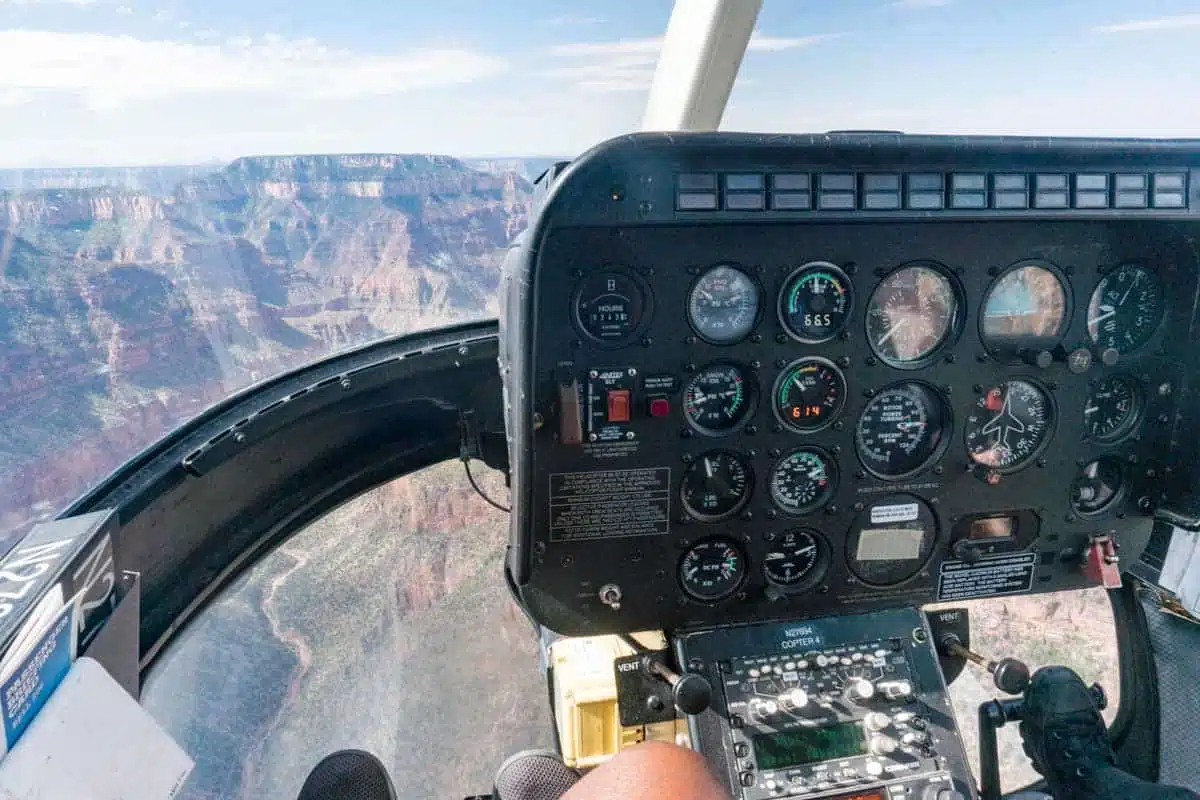 I might be biased because I opted for a helicopter tour of the North Rim of the canyon and loved every minute of it. But, the epic views, the thrilling experience, and the memories make this one of the best things to do in The Grand Canyon.
You can opt for either a 30 or 60-minute flight, and there's even a helicopter tour with an optional hummer addition to the tour as well.
Either way, my tip is to pay the extra $50 for a front-row seat in the helicopter (you can thank me later).
Bright Angel / Kaibab Trail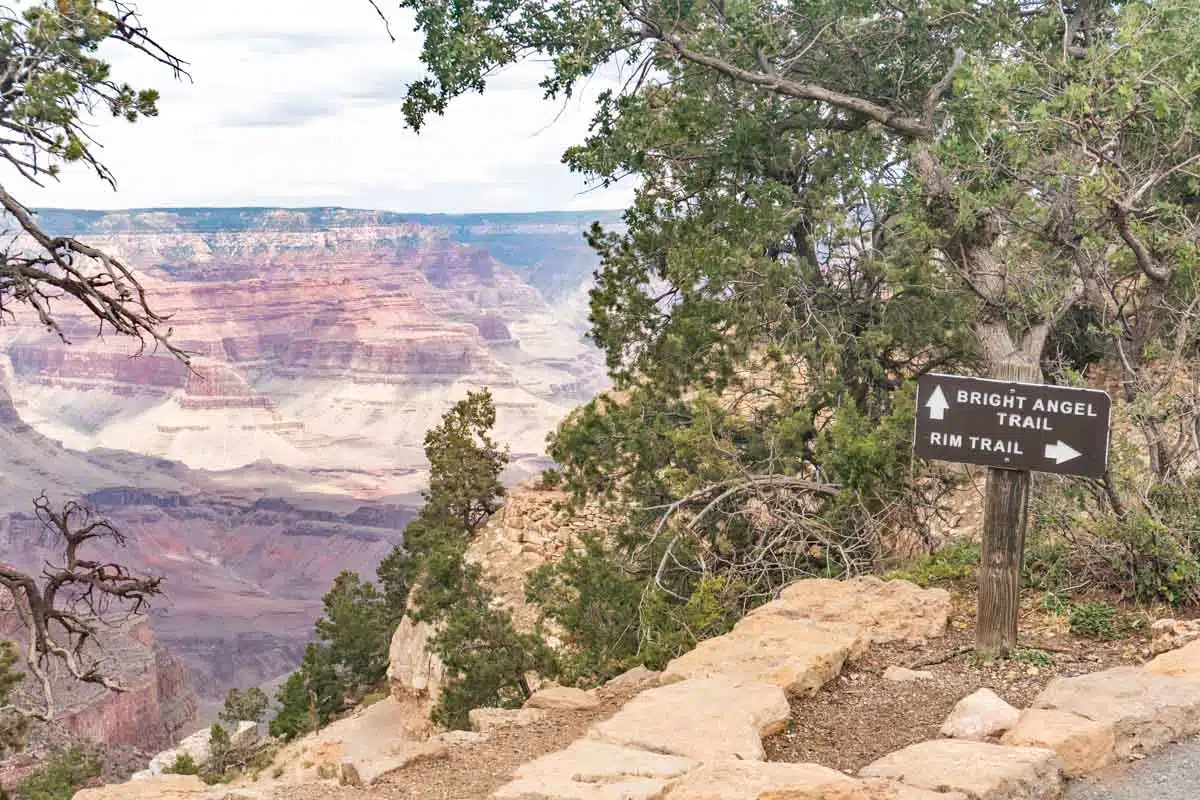 The Bright Angel and Kaibab Trails are constantly battling for the top spot amongst hikers. Based on which you choose, you can settle the argument for yourself.
The Bright Angel Trail will lead you to exceptional views from Indian Village to Plateau Point but with fair warning: It is a long trek, bring lots of water.
On the other hand, Kaibab can encompass an entire day. It will undoubtedly deliver epic scenery and some of the best canyon views.
Drive Down Desert View Drive
This is one of those stretches of road that has a special place in the hearts of many. Route 64 winds along the canyon's edge; thus, it's the token spot for two things. Stunning sunrises and epic sunsets.
There are many points along the drive where you can bask in mother nature's canvas at the canyon. Yaki Point, Grandview Point, and Navajo Point are notable favourites.
Getting to The Grand Canyon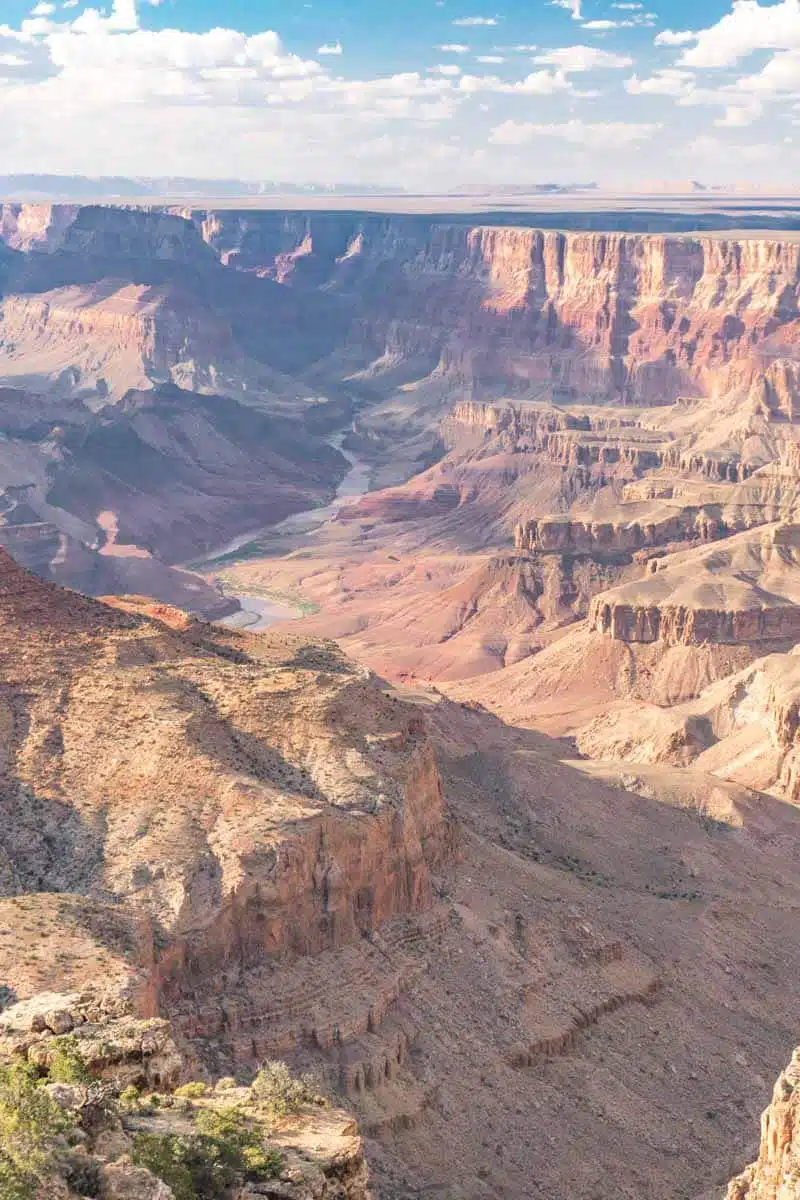 The drive from Phoenix to the Grand Canyon will take about 3 to 4 hours. Interstate 17 leads out of Phoenix towards Kachina Village.
Just outside of Kachina, turn off left onto Interstate 41 through Flagstaff and William. Take Route 64 out of Williams straight to Grand Canyon Village.
Suggested Stay for Grand Canyon on your Arizona Itinerary
Yavapai Lodge – This is your go-to accommodation inside Grand Canyon National Park. It's within the park and offers a wide range of room types that recently had an upgrade. Ideally located in the park, so getting around is a breeze.
Alternatively, check all accommodation at the Grand Canyon
Arizona Road Trip Days 7 + 8: Page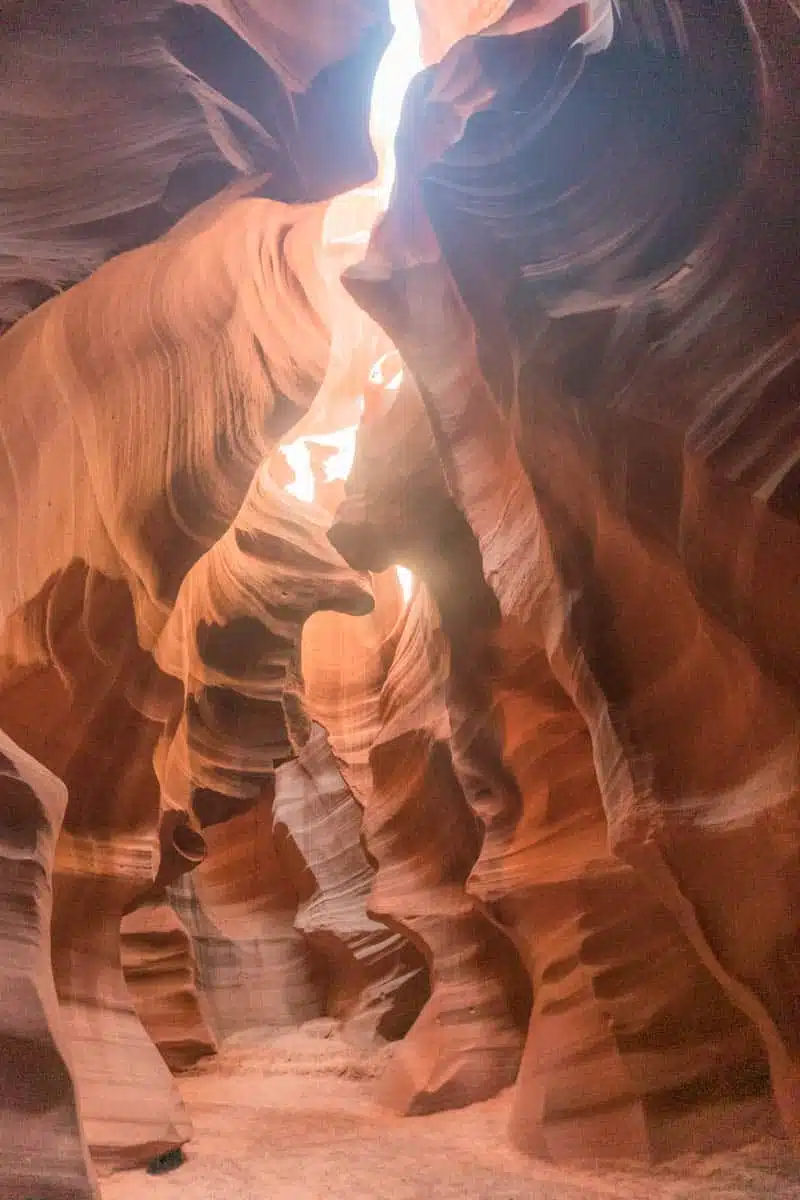 Situated on the southern shores of Lake Powell, Page is a relatively small city in Coconino County. Its various opportunities to enjoy the outdoors draws almost everyone to this scenic city.
From the massive Glen Canyon National Recreation Area to the Vermillion Cliffs National Monument and Monument Valley, it's paradise.
Unique Things to do in Page
Explore Antelope Canyon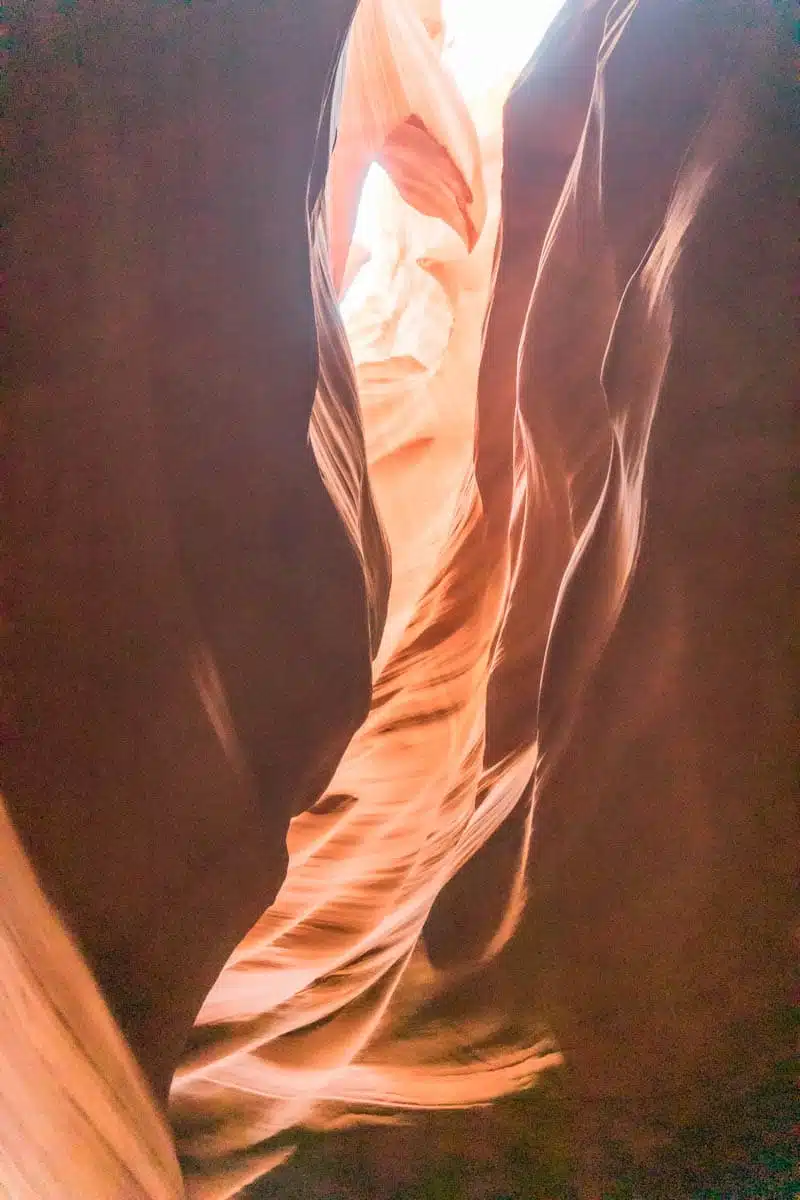 Unlike other places in Arizona, Antelope Canyon is a slot-style canyon that winds around along pathways of sheer natural beauty. The surrounding sandstone cliff walls, shaped by millions of years of erosion by wind and water, create a miasma of beauty.
The best part to explore would be the Upper Canyon, but if the season doesn't allow for it, the Lower Canyon or Canyon X is equally suitable for tours.
Immerse Yourself in the Sunset at Horseshoe Bend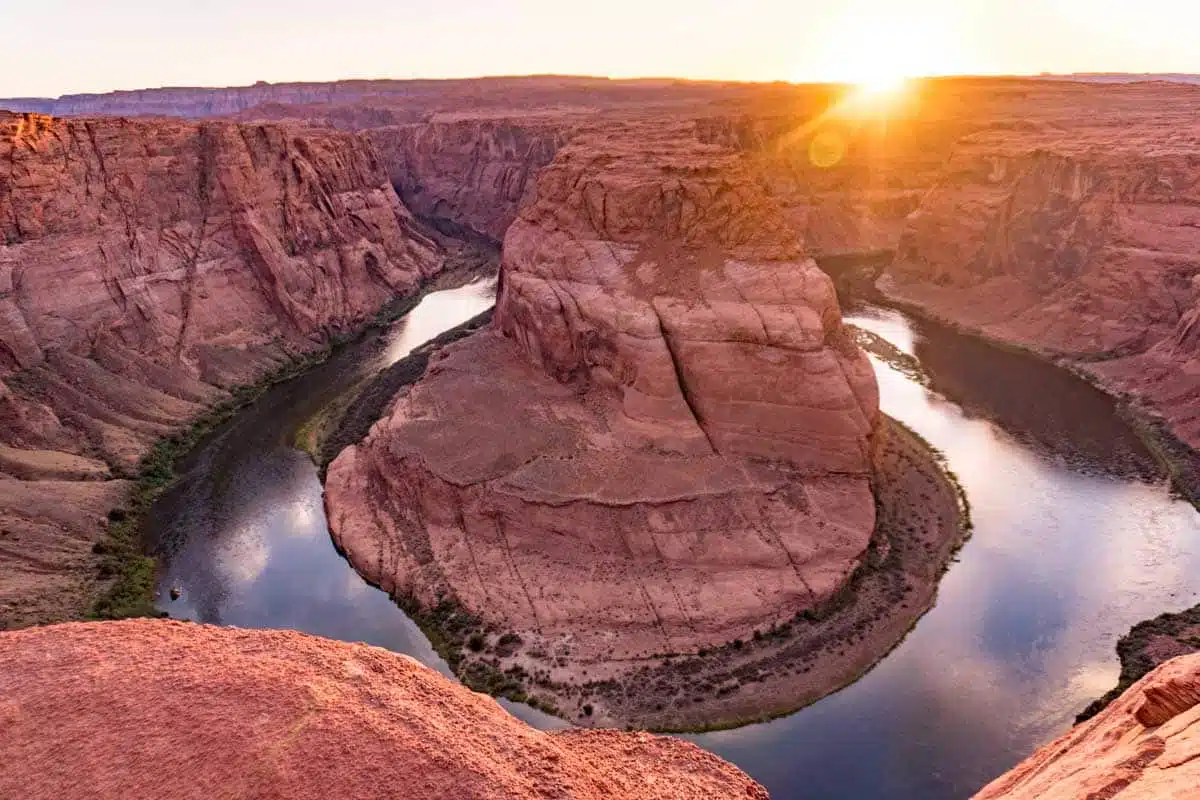 Gah! I just can't get enough of beautiful sunsets – this tour of Horseshoe Bend allows you to experience orange hues set against the shades of the red mountain rising in the centre.
While a sunrise here might be fantastic, a sunset at Horseshoe Bend is out of this world. You're guaranteed some epic snapshots of the picturesque sunset from the many viewpoints. You're going to want to, trust me.
Take a Tour of the Glen Canyon Dam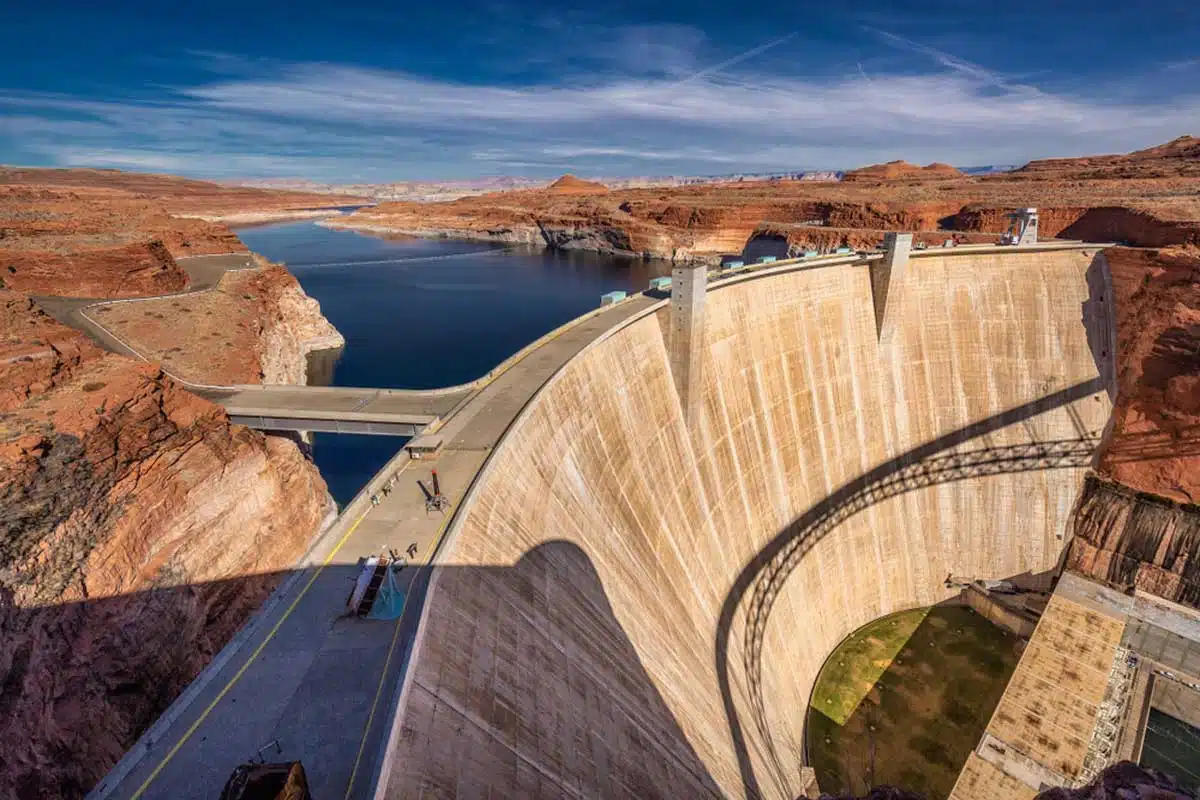 Built on the Colorado River, the concrete arch-gravity dam is a sight to behold. It sits 200 metres high and provides stunning views of Page and the surrounding area. Opt for a guided tour of the dam.
Head on a Day Trip to Monument Valley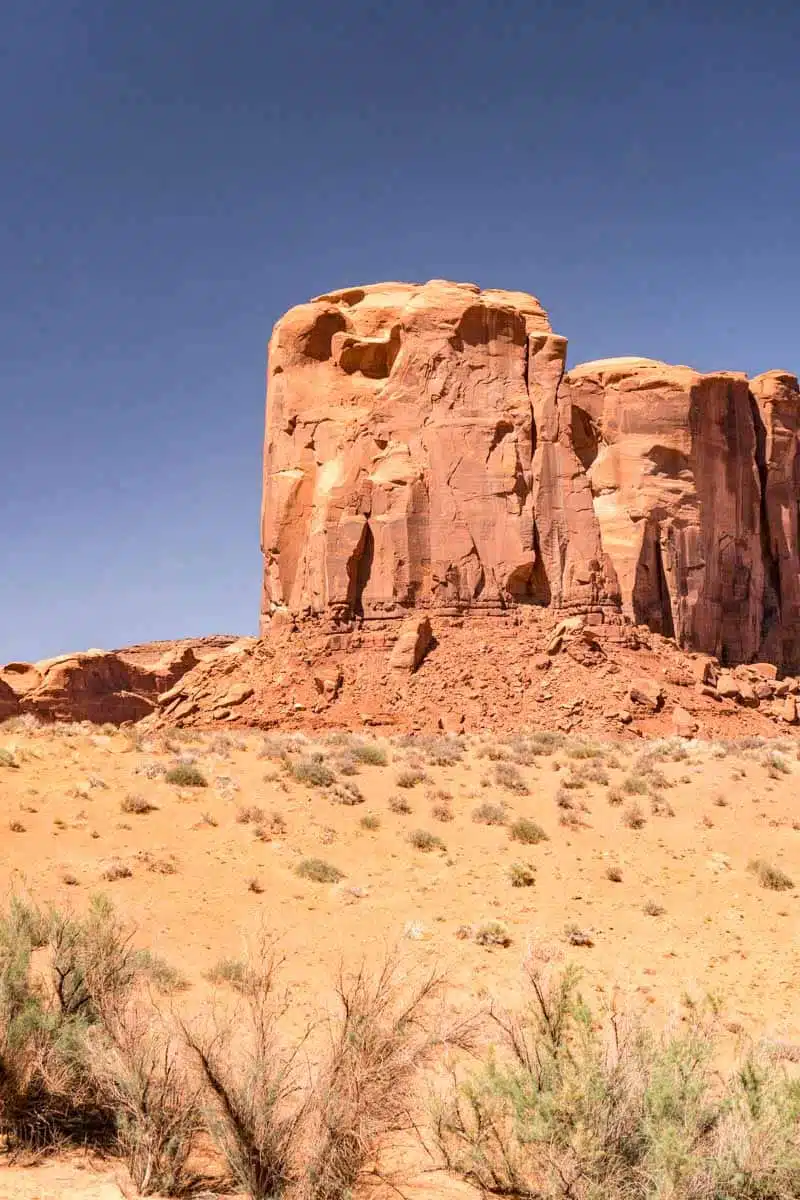 Monument Valley is, in essence, a 27km loop road that leads through a valley within the Navajo Nation.
Characterised by massive sandstone buttes that dot the landscape, the unique formations, varying collections of sheer cliff sides, and desert terrain are a sight to behold.
Some start at 120 metres, while others extend as high as 300 metres. Carved out between them are many roads, also used for guided tours that allow you to take in every bit of this awe-inspiring valley.
Getting to Page
You'll head out of Phoenix on Interstate 17 and drive until you turn off Highway 89. Turn off Route 98 just past Willow Springs, head to Lechee, and then arrive in Page. The trip will take you about 4 hours.
Suggested Stay for Page on your Arizona Road Trip Itinerary
Baymont by Wyndham Page Lake Powell – This three-star hotel in Page is the perfect mid-range budget option that is a mere 5 minutes drive from the famous lake it takes its name from.
Alternatively, check all accommodation in Page
Arizona Road Trip Day 9: Phoenix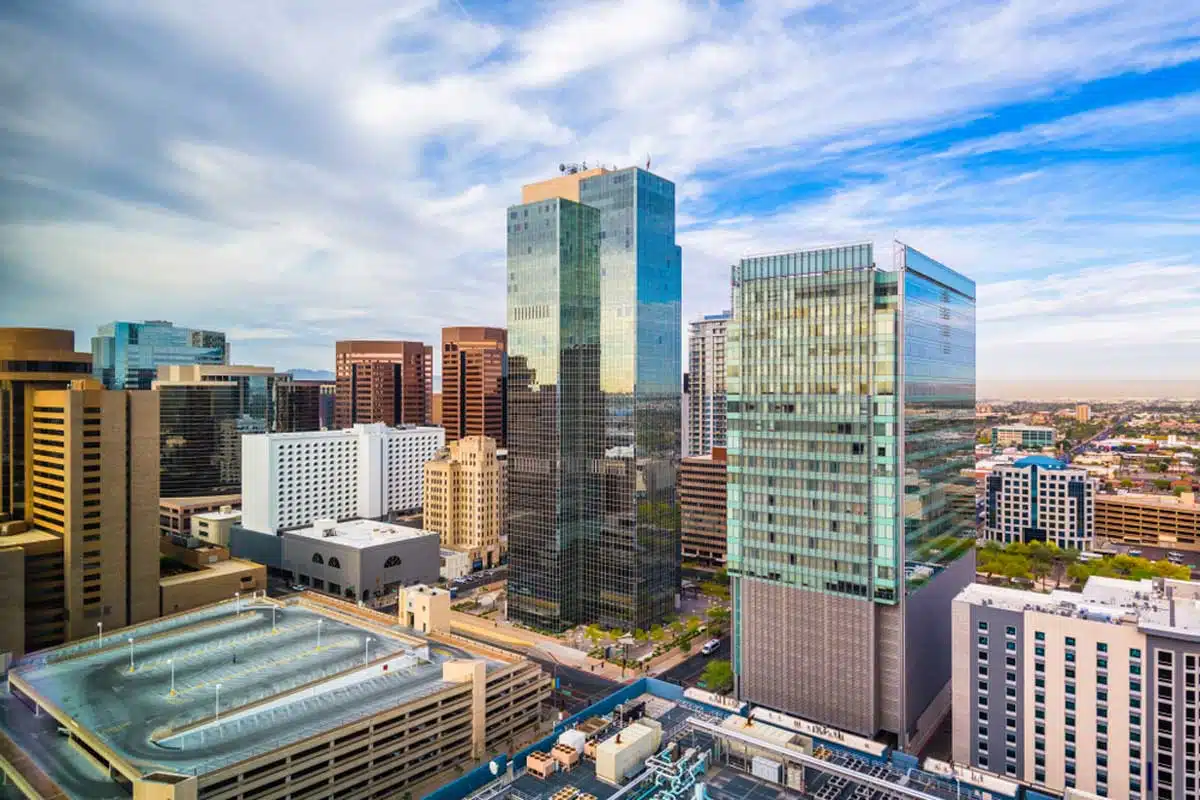 Back to Phoenix we go for the final day – there's still so much to see, after all. This also makes it a breeze to catch a flight home, or head onto your next destination.
Visit the Desert Botanical Garden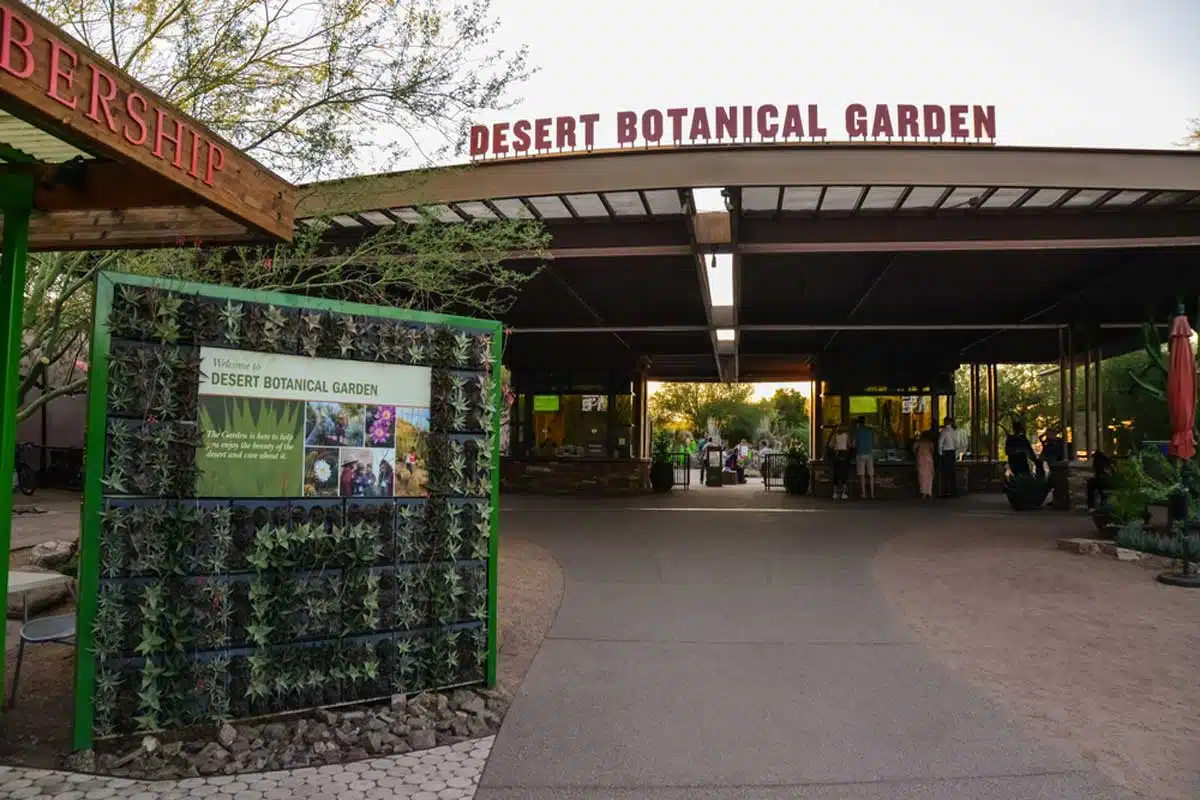 The last place I expected to find a botanical garden was in the desert. But how wrong I was – the Desert Botanical Garden proves that every biome deserves conservation.
Home to thousands of species of cacti, flowers, and trees from around the world, you can spend time getting in touch with mother nature — the perfect escape from the red mesa that is Arizona.
Dine at Cibo Restaurant
To cap off your final day in Phoenix, dinner at the famous Cibo Restaurant is a must. It's a classic pizzeria that serves up classics and new fusion-styled pizzas and pasta.
The casual setting creates a very laid-back atmosphere, perfect for ending a magical trip to Arizona.
Oh, and they serve a delish Nutella crepe. You're welcome.
If You Have More Time on Your Arizona Road Trip Itinerary
Saguaro National Park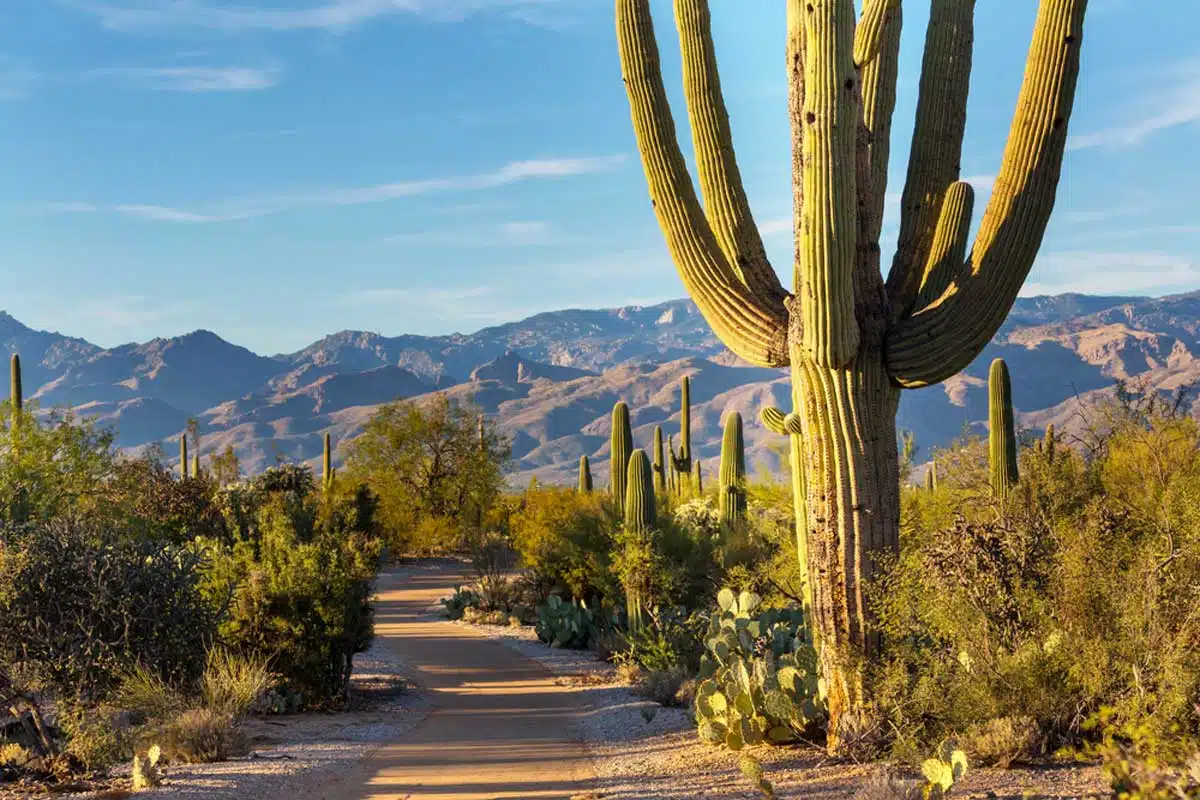 Located in southern Arizona, Saguaro National Park is located near the city of Tucson and is known for its massive showcase of the largest cacti species, the saguaro.
You can camp in the park, hike along its many trails, or go backpacking along some of the more elusive pathways.
Suggested Stay: Best Western InnSuites Tucson Foothills Hotel & Suites
Tucson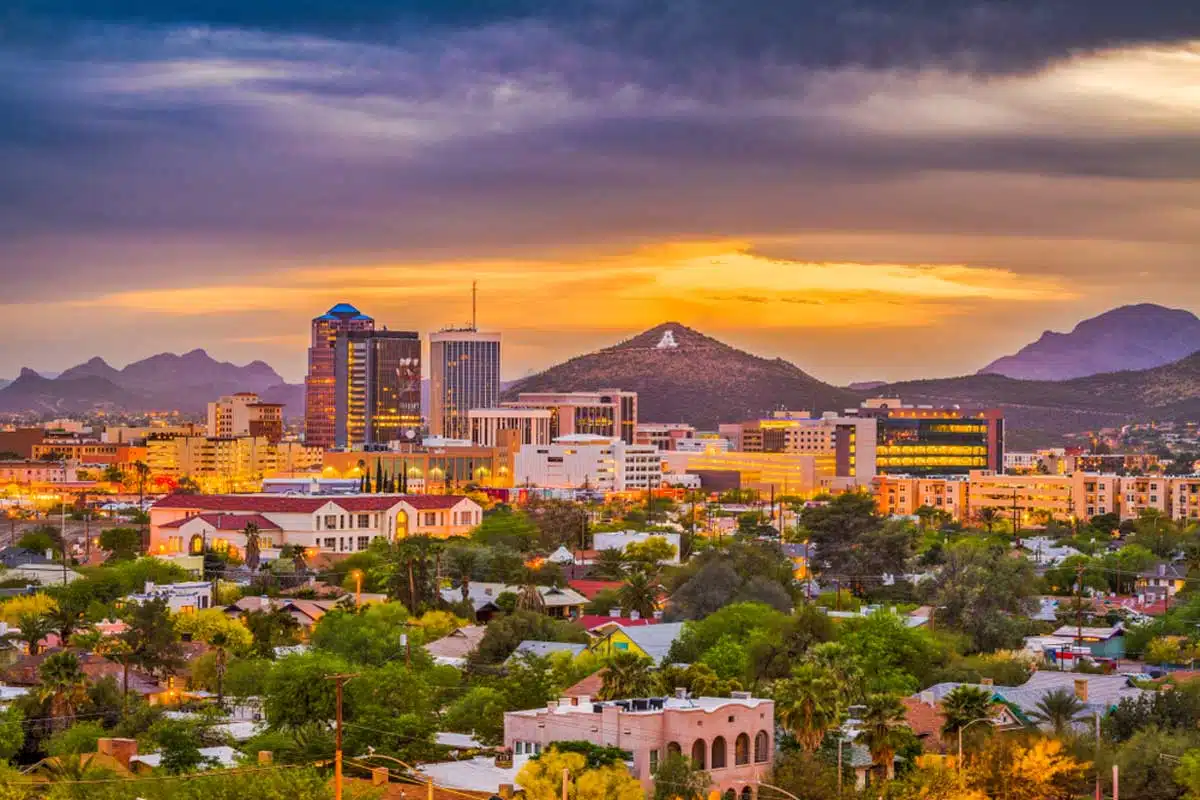 The second largest city in Arizona, Tucson, is worth a visit. It exhibits a blend of culture, cuisine, urban adventures, and stunning natural scenery.
Tackle an experience of the Sonoran Desert, treat your tastebuds to some fantastic Southwestern cuisine, or indulge in hobbies such as photography and astronomy.
Suggested Stay: Casino del Sol Resort Tucson
The Petrified Forest National Park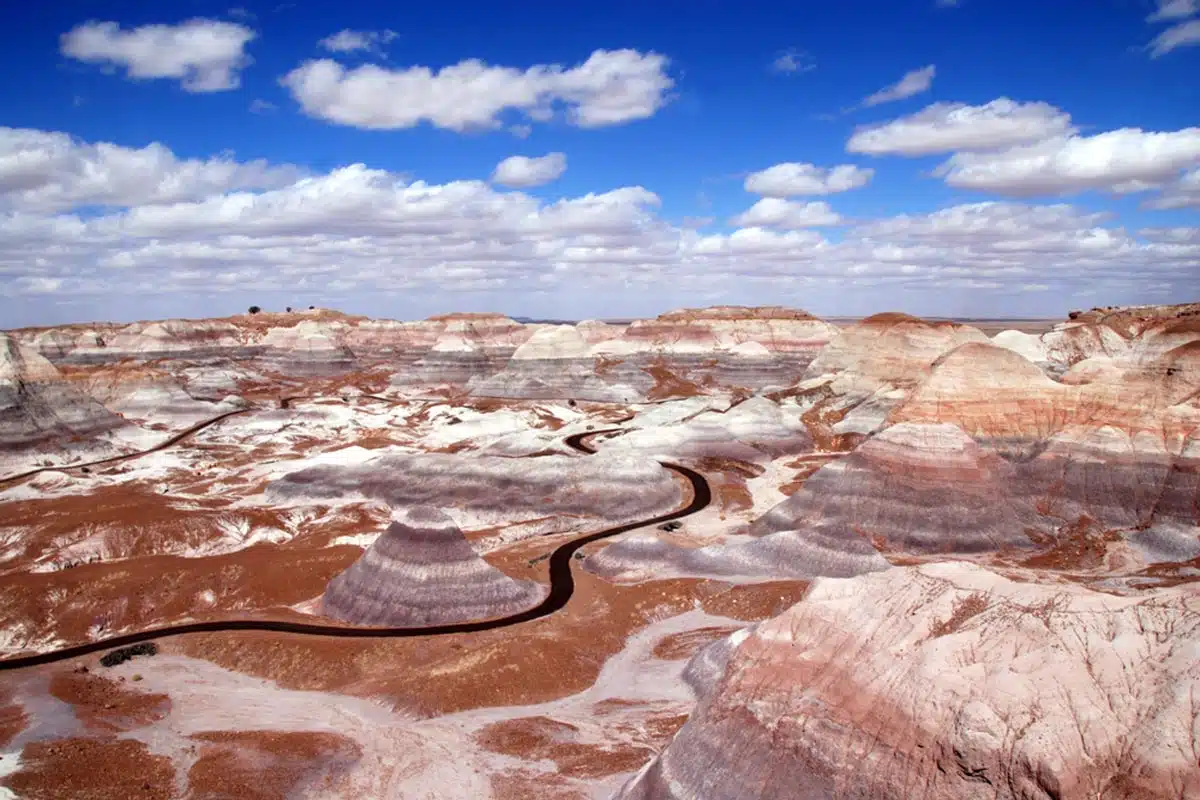 You'll find this unique natural wonder in northwestern Arizona. Explore the southern Rainbow Forest, which showcases a nearly limitless display of petrified wood. Or head to the Rainbow Forest Museum to learn more about this paleontological occurrence.
But, the real prize is at the centre of the park; the petroglyphs of Newspaper Rock and the ruined village of Puerco Pueblo.
Suggested Stay: La Quinta Inn & Suites by Wyndham Holbrook Petrified Forest
Seligman (Route 66)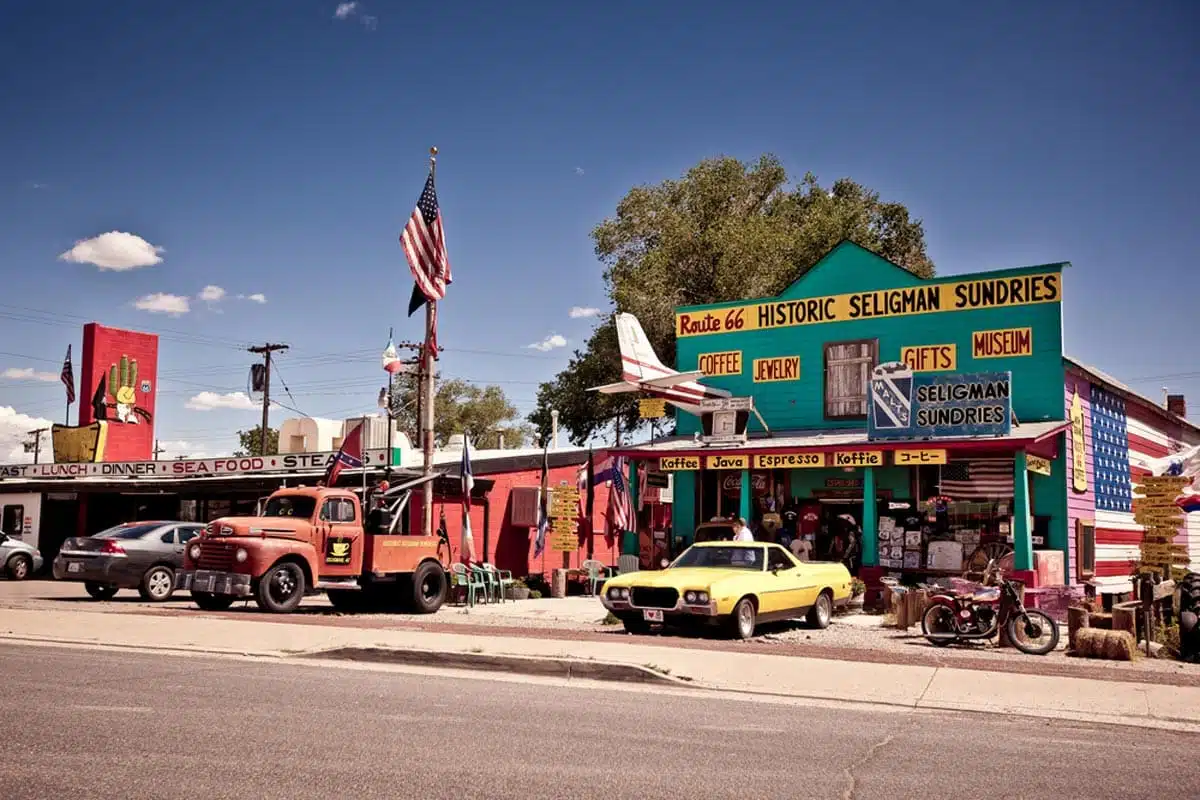 If you love classic Americana, this vibrant and quirky town seems captured in time. It sits firmly on the historic Route 66 (some even say it started here) and is perfect for a slice of old American history. The gift shop is of particular interest.
Suggested Stay: Historic Route 66 Motel
Arizona Road Trip Itinerary – Map
Love This? Save and Share on Pinterest