Horseshoe Bend is one of Arizona's best-known sights. Planning your visit? Here's what you need to know.
It's not often that I use words like spectacular or breath-taking on this site… but there's no denying that Horseshoe Bend is both. A dramatic curve, carved by the mighty Colorado River – there's a reason that it's on many an Arizona bucket list.
But how do you visit? And what do you need to know before you do? I've got you covered with this in-depth guide.
Why Visit Horseshoe Bend?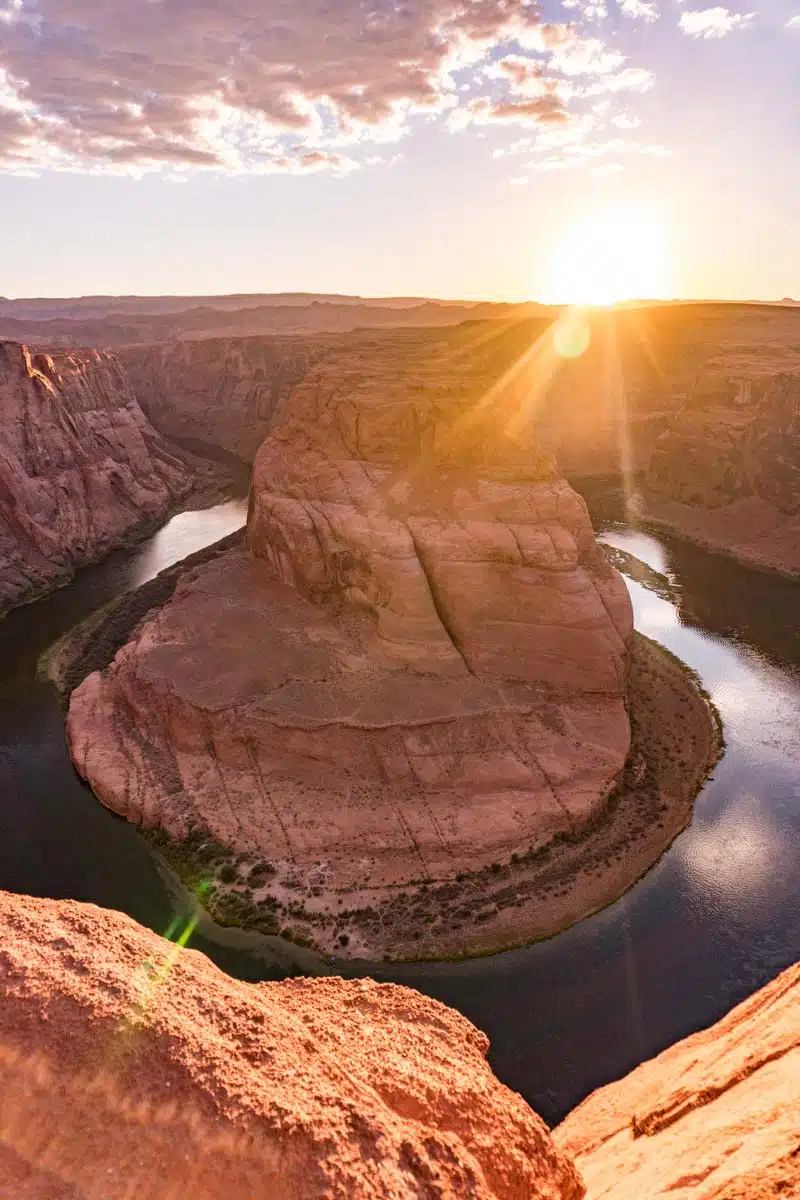 Is Horseshoe Bend worth visiting? Definitely! It may not have Bryce Canyon's hoodoos or some of the other huge draws of the Mighty Five, but it's a sight to behold all by itself.
This canyon carved over centuries by the Colorado River meandering over the sandstone in the shape of a sharp "U" is a majestic spectacle of nature.
Horseshoe Bend is roughly 1,000 feet deep with a 270º bend that the river has been slowly carving for about 5 million years. A great peak rises from the belly of the canyon, snuggled in the middle of the "horseshoe".
You can't truly appreciate it until you're right on top, looking over the edge with that weird sensation in your belly and an awe-inspired "Woah" escaping from your lips.
Top Tips for Visiting Horseshoe Bend: What You Need to Know
Where is Horseshoe Bend?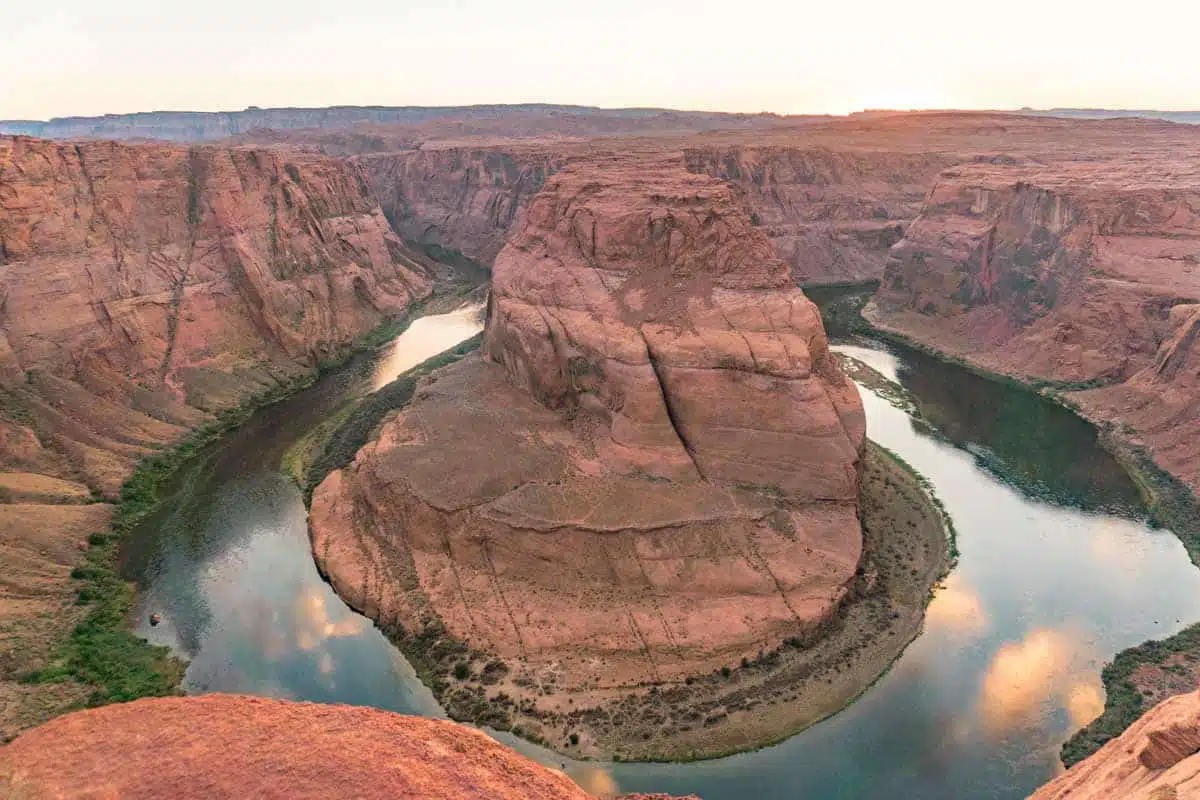 Horseshoe Bend is a landmark in Glen Canyon National Recreation Area near the city of Page, Arizona, about 9 miles ahead of where the Grand Canyon National Park (which has more than its fair share of its own spectacular views) begins.
The parking area is just outside Page, and the land south of the parking area, trail, and overlook belongs to the Navajo Nation.
You have to do a (relatively short and very easy) hike from the car park to the Horseshoe Bend viewing point – more on that below.
Horseshoe Bend: What Can I Expect on the Hike?
The hike from the car park to the Horseshoe Bend viewing platform is about 1.5 miles round trip over a well-laid out path.
Although it is a very easy hike, there isn't much shade apart from two designated pavilions. The first part is also uphill, so wear proper shoes and bring lots of water.
There's also a railing at the viewing platform at the overlook for safety after a downhill walk, but you won't find any other railings along the trail (don't worry – you really don't need them, the boardwalk is just to stop you from having to slog through the sand of the Arizona desert).
Things to Know Before You Go: How to Visit Horseshoe Bend
If you plan on going in the hot summer months, please bear the following in mind. There's no water source at Horseshoe, so bring enough water to keep yourself well-hydrated. Instead, bring too much rather than too little, because it gets hot.
Also, wear a good pair of covered walking shoes (I love the Tropicfeel Canyon shoes for hiking in as they're super-comfy and supportive) because the sand gets melt-your-soles hot, and any opened-toes sandals or shoes are sure to invite the wrath of sandy fire upon your feet. Wear sunscreen, bring sunglasses and a hat, and take weather warnings seriously.
Sand storms, summer showers, high winds, and intolerable heat are all possibilities, and you wouldn't want your experience marred by the weather.
Best Time of Day to Visit Horseshoe Bend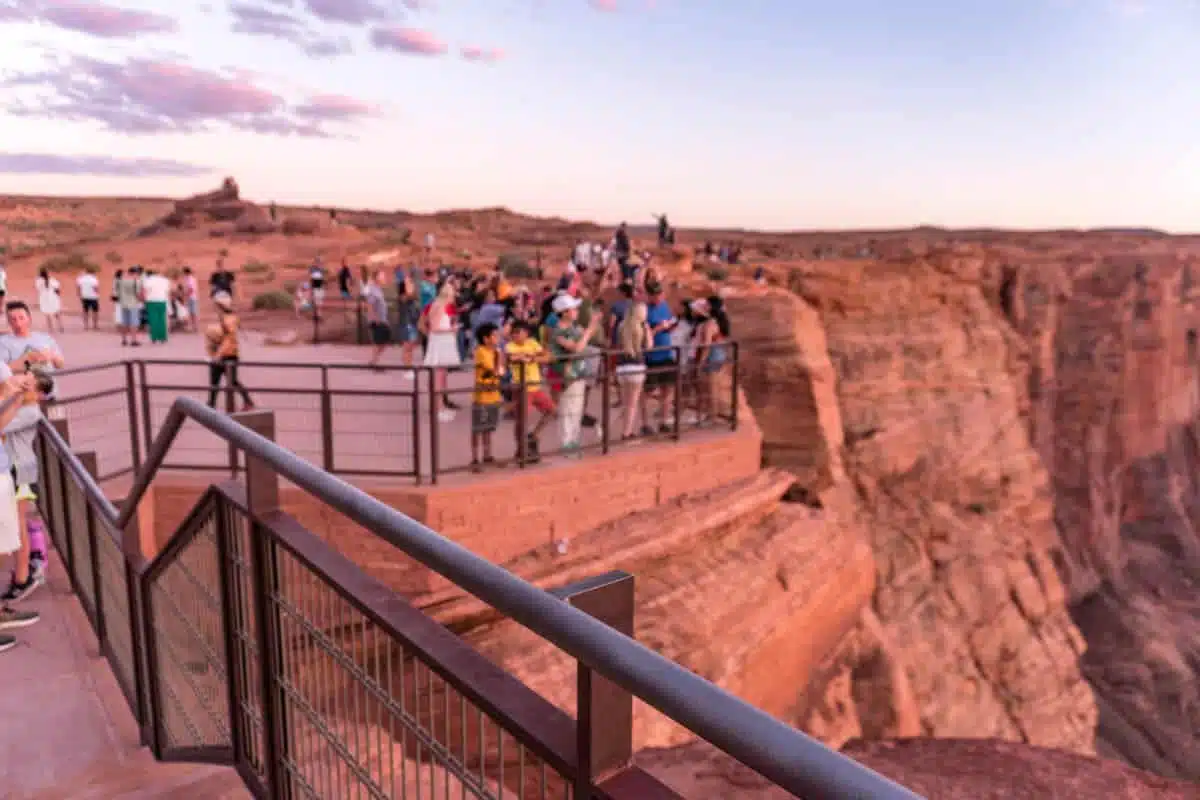 The best time to be sitting at the lookout point is at sunset, when the sun hits the horizon behind the canyon and lights up the sandstone in gorgeous fiery tones. The heat of the day has also generally dissipated by then, so it's more pleasant to walk the trail.

The peak times that Horseshoe experiences are between 9 am to 11 am and 4:30 pm to 6:30 pm. If you want a little more elbow room, plan to be there outside those times.
Best Month to Visit Horseshoe Bend
When it comes to Horseshoe Bend, the best time to visit is in the shoulder month of October. It's still warm-ish, and there are far fewer crowds to compete with when it comes to getting that fantastic sunset view.
If you still plan on visiting during the summer, bear in mind you're in the desert, and the trail is in direct sun all day.
Planning Your Visit to Horseshoe Bend
Visiting Horseshoe Bend Independently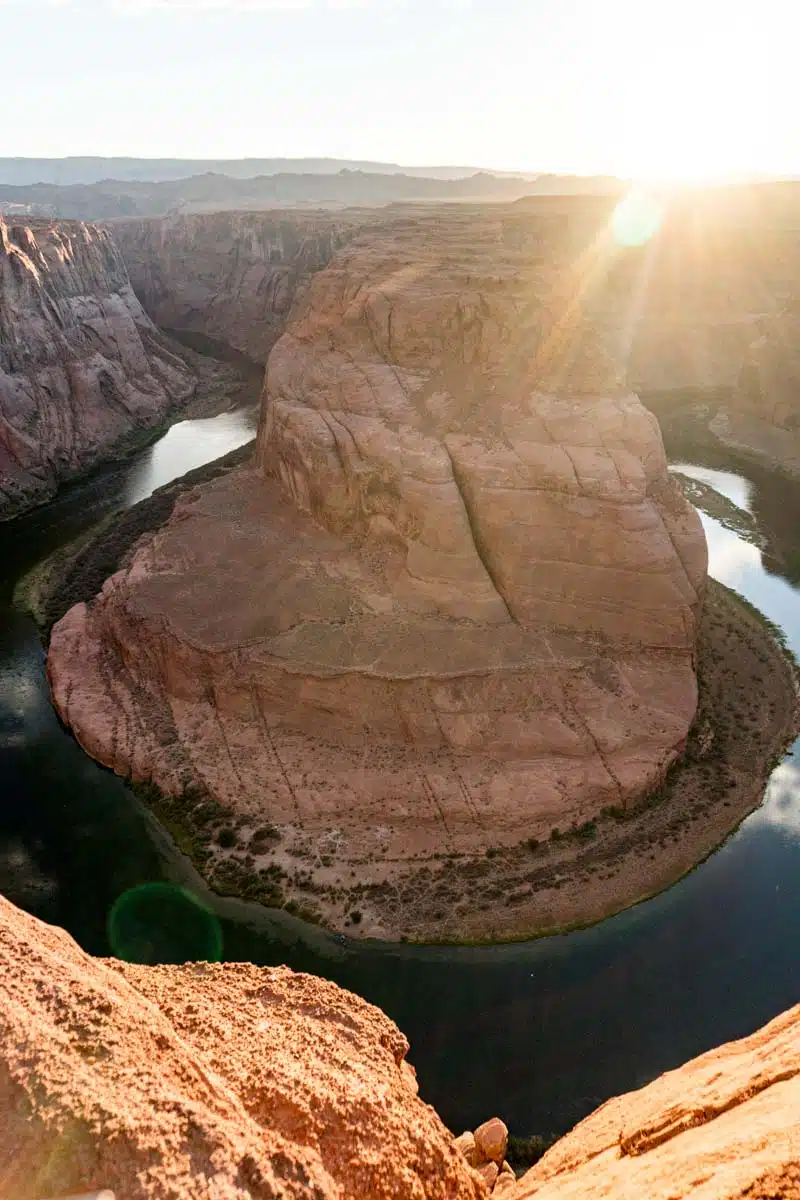 If you're wondering how to get to Horseshoe Bend, it's not all that hard. Once you get to Page, Arizona, there's a designated parking lot for visitors to Horseshoe Bend five miles south of the city.
Travel on HWY 89 to marker 545, and you won't be able to miss it. From there, just head out onto the trailhead that leads to the overlook point for your out-of-this-world experience, and head back once you're done.
Visiting Horseshoe Bend On a Tour
Can you visit horseshoe bend without a tour? Of course you can, but the question is if you want to. Tours offer a whole different perspective on a place. If you'd rather go with an organised group of people, I highly recommend this day tour from Vegas.
You'll follow the lead of an experienced Navajo guide with plenty of fun facts and interesting observations to share about the area and its history. You can be sure they'll take you off the beaten path and show you the best sights that Horseshoe Bend and Antelope Canyon offer.
Get picked up from Las Vegas in an air-conditioned van with stops along the way for coffee and an opportunity to stretch your legs in the scenic vistas of Arizona and Utah. Your payment includes lunch and snacks and the entry fee to Antelope Canyon. There really are no downsides to this once-in-a-lifetime experience.
Book Your Antelope Canyon & Horseshoe Bend Tour from Vegas
Horseshoe Bend: Address
Horseshoe Bend is about five miles south of Page, Arizona.
Horseshoe Bend: Opening Times
The site is open year-round as long as the sun is up. They don't allow parking or camping overnight.
Where to Stay for Horseshoe Bend
Best Western View of Lake Powell Hotel (Mid-Range)
Classic white with warm brown accents typify this hotel in Page. Wake up to complimentary breakfast and surrounding views of the Glen Canyon Rim before heading off to Horseshoe Bend, only 10 minutes away. The rooms have free Wi-Fi, 46-inch flat screens, and air-conditioning, so you'll be in utter comfort. There's also a swimming pool and fitness centre available.
Check rates and availability on Booking.com
Hyatt Place Page Lake Powell (Luxury)
This modern hotel with clean lines and chic decor offers the best creature comforts: air-conditioning, a pool, a fitness centre, and free Wi-Fi. When you're feeling peckish, pop into the in-house restaurant or simply enjoy the delicious complimentary breakfast based on American cuisine. After your trip to Horseshoe, enjoy an evening tipple at the bar.
Check rates and availability on Booking.com
Horseshoe Bend: Map
Love This? Save and Share on Pinterest