Nothing beats strapping on your boots and hitting up stunning Redwood National Park hikes. If you're a keen explorer looking for your next adventure, here's where to start.
So, you're tackling Redwood National Park on foot and looking for the best hikes, right?
You're in luck. One of the reasons that I love Redwood National Park so much is because it truly has a hiking trail to suit absolutely everyone.
Don't believe me? It offers everything from 20 minute jaunts to see monstrous trees to multi-day trails that test your endurance, and absolutely everything in between.
Not only that, but the landscape spans fairytale-esque glens to coastal paths that uncover some of the best beaches on the east coast. And all of this is set to the backdrop of towering redwoods.
Sounds crazy, right? But that's what you can expect when tackling the best Redwood National Park trails. Get ready for some real fun amongst giants.
Best Hikes in Redwood National Park
Stout Grove Trail
Length: 0.7 miles (1.1 km)
Time: 15 minutes
Difficulty: Easy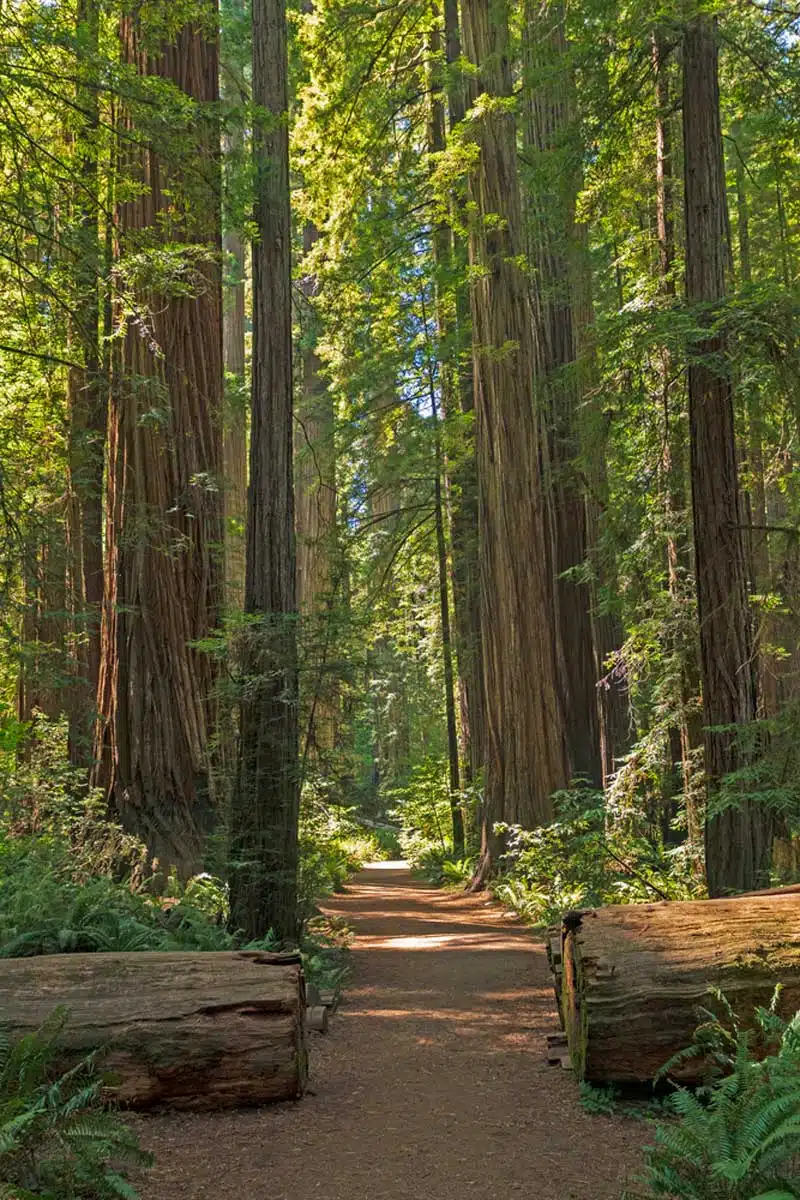 Who said that hiking needed to be difficult? Certainly not me.
Resting in the Jedediah Smith Redwood State Park is this short and easy Redwood hiking trail. As you pass the Smith River, the well-worn path leads you through towering trees — some of which have fallen.
The sound of flowing water creates a tranquil environment, while the rippling pattern of the Redwoods bark is a pretty impressive sight for the 'Gram.
Top Tip: If you're visiting in summer, take on the trail between 4 pm and 5 pm. This is when the sun breaks through the canopy and dapples the trees and ferns below with golden light.
Simpson-Reed Trail
Length: 0.9 miles (1.4 km)
Time: 20 minutes
Difficulty: Easy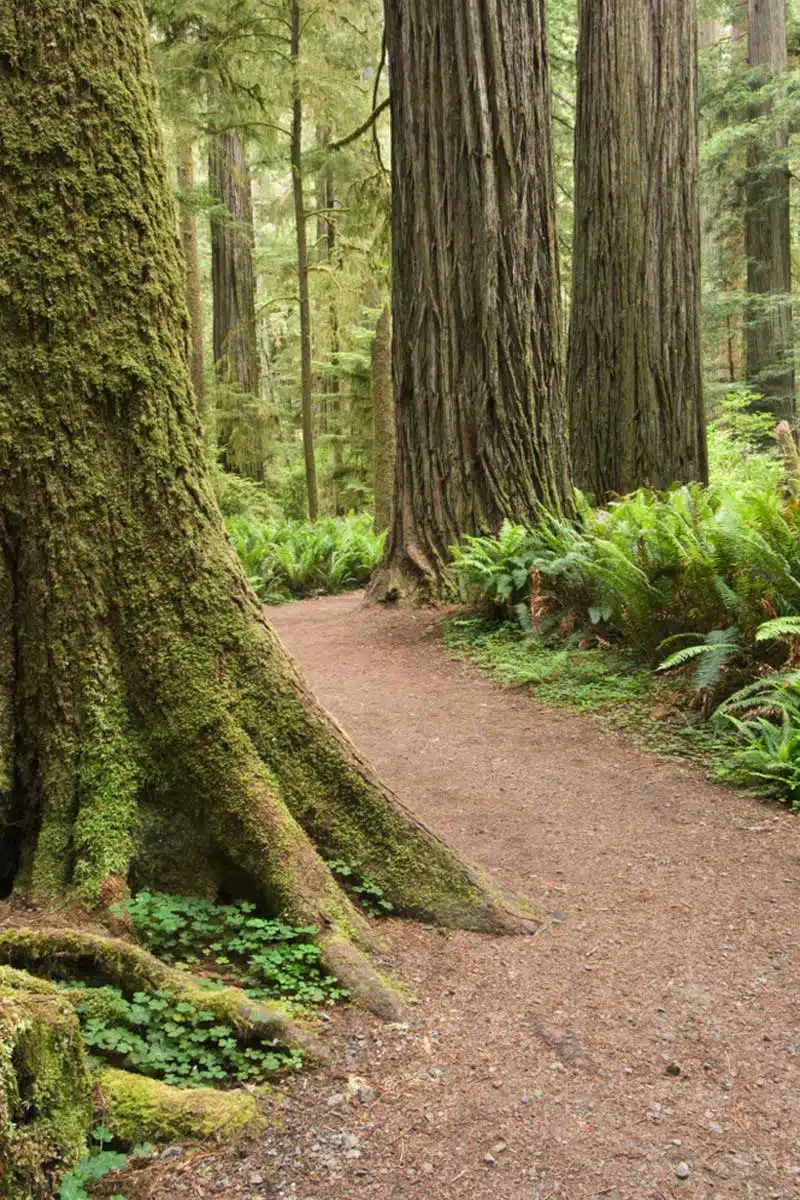 Another one of the best trails Redwood National Park has to offer also happens to be in Jedediah Smith Park. It's also hard to miss, with the trail marked along Highway 199.
If you've only got time to tackle one trail, make it this one. Why? It has it all, from a majestic footbridge along the Paterson Memorial Trail section to the dense jungle-like atmosphere. But the most iconic part of the hike is a broken top dark tree near the end of the trail.
That said, if you want more beauty — yes, there's more — then Metcalf Grove's stunning stone benches will delight you (and will be a welcome respite).
Fern Canyon Trail
Length: 1.1 miles (1.8 km)
Time: 30 minutes
Difficulty: Easy
Prepare to feel like you're stepping back to a land where dinosaurs roam the Earth on this short but stunning loop.
The Fern Canyon Trail is another short but sweet hike in Redwood National Park, boasting 50-foot canyon walls painting a picture of emerald green you'll not see anywhere else.
Watch (and listen) as the faint trickle of streams cascade down the rock face and seven unique fern species dot the canyon with colour.
Top Tip: You must apply for a Fern Canyon hiking permit online and beforehand.
Yurok Loop Trail
Length: 1.2 miles (1.9 km)
Time: 30 minutes
Difficulty: Easy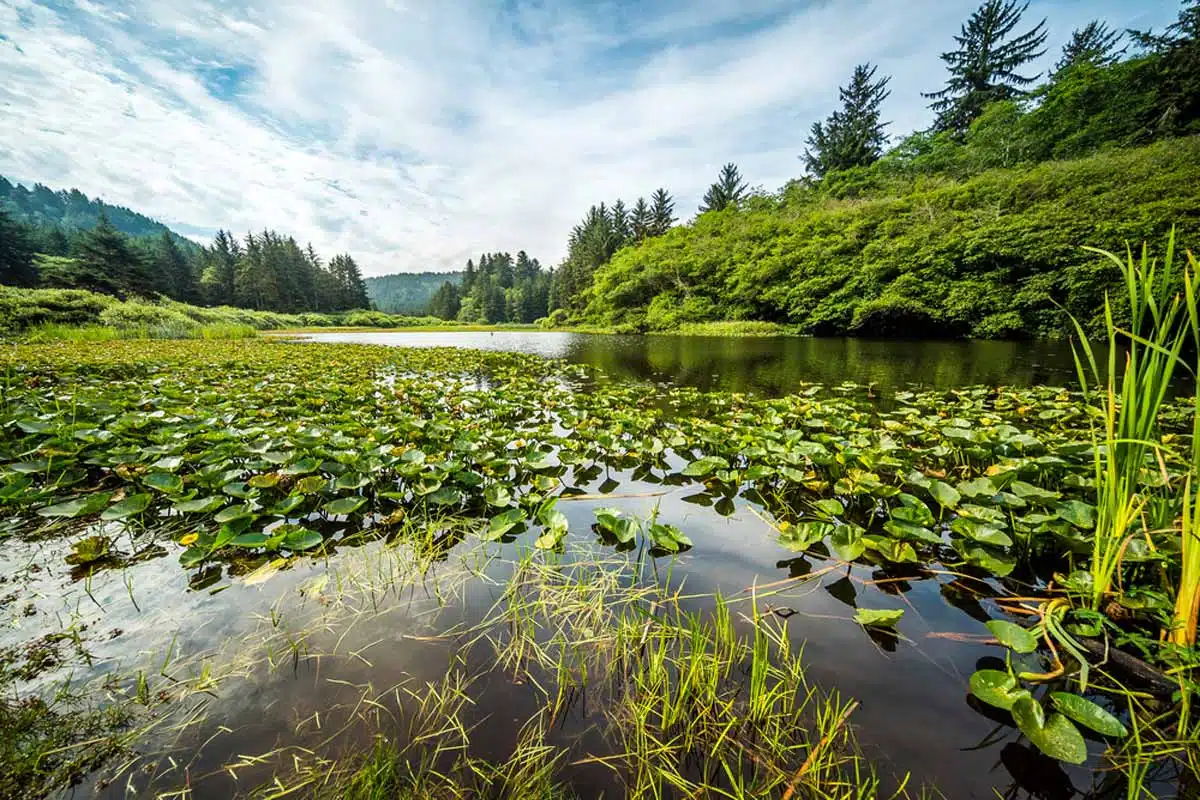 With so much emphasis on the trees, it's easy to forget some of the best hikes Redwood National Park offers are along the coast. Case in point: the Yurok Loop Trail right along Highway 101.
If it's the magical ocean views you seek, the first half of the trail leads straight to the northern tip of the peninsula. The grassy knolls then become a dense spruce forest. And if you visit in summer (June to August), the wildflowers are a magical sight.
Again, this trail isn't very tricky at all, and takes a swift 30 mins of hiking to complete.
Lady Bird Johnson Grove Trail
Length: 1.5 miles (2.4 km)
Time: 35 minutes
Difficulty: Easy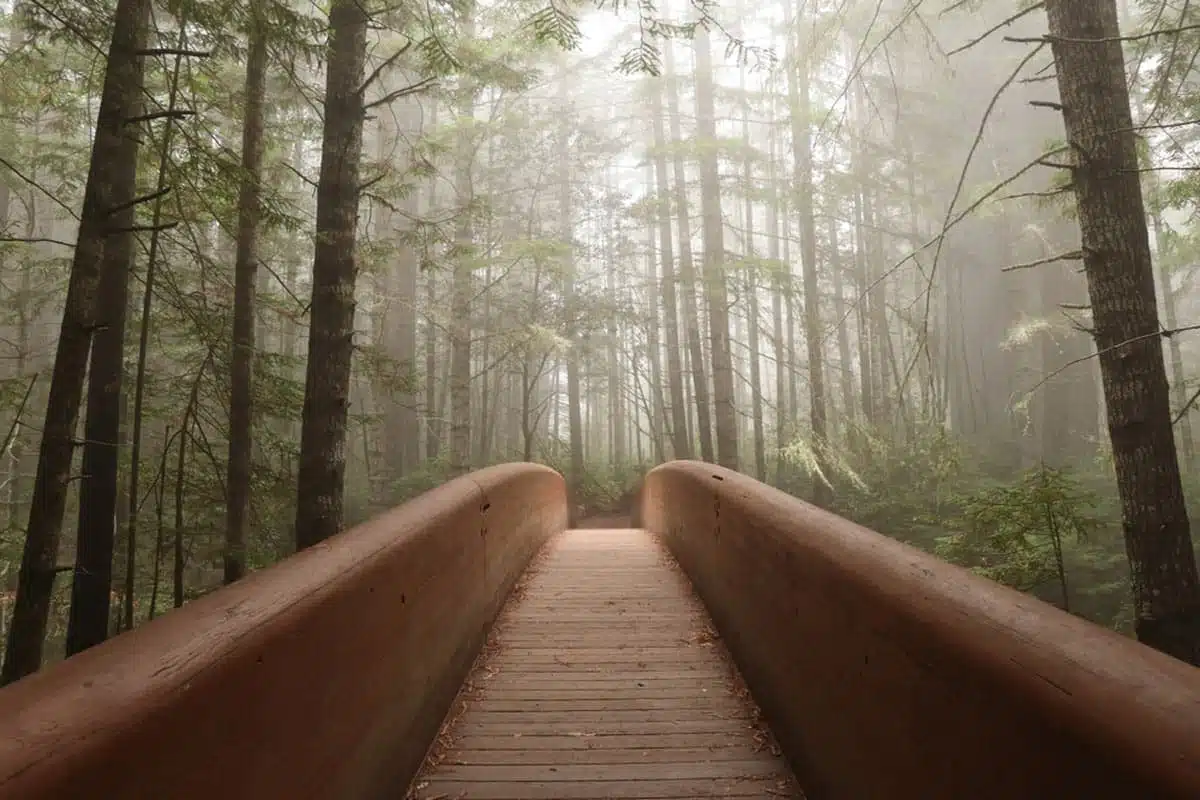 Want to take on the most popular Redwood National Park hiking trail? That is, without a doubt, Lady Bird Johnson Grove, which sits 1200 feet above sea level.
Fair warning: the air is thinner this high up, so you'll want to pace yourself. But with an elevation gain of just 101 feet (31 metres), it's a relaxing and easy hike that shouldn't give you too much bother.
Admire the misty scenery at the large footbridge and the hoards of rhododendrons that bloom in early June. But the best part of the hike must be the large cluster of redwoods just after the Berry Glen Trail fork.
Trillium Falls Trails
Length: 2.6 miles (4.3 km)
Time: 1 hour 15 minutes
Difficulty: Medium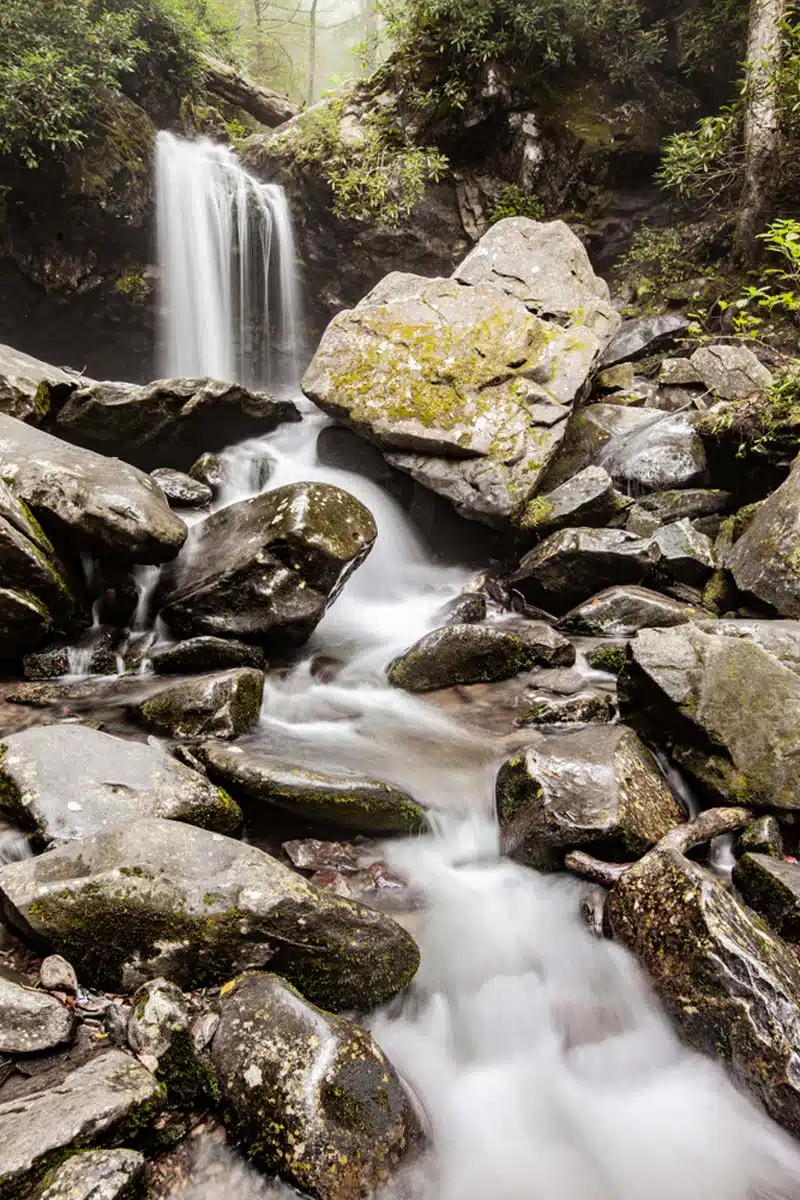 Okay, there have been a LOT of easy hikes in Redwood National Park, so it's time to dig into something a bit more challenging. With an elevation gain of 449 feet (137 metres), this trail near Orick is a thigh burner. But you know how it goes – no pain, no gain.
As you meander past an old sawmill site, the rays of light piercing the canopy create a truly mystical atmosphere. The first half is a steep, winding climb up and past the ever-flowing Trillium Falls, while the second fall is slightly downhill as you walk alongside Prairie Creek.
Grove of Titans
Length: 1.7 miles (2.7 km)
Time: 40 minutes
Difficulty: Easy
With the name Grove of Titans, you would be forgiven for thinking this trail is a monster. But you would be wrong – this will always be one of the best short hikes in Redwood National and State Parks.
It's an out-and-back trail near Crescent City that'll give you a true picture of how big redwoods can get. The Chesty Puller (not sure who comes up with these names, but they are hilarious) is the first gigantic redwood you'll come across, while the 25-foot diameter of the Lost Monarch is an impressive and humbling sight to behold.
The entire path is well-marked, and for a distinct detour, there's a spur trail that leads to the Screaming Titans (again, excellent name).
Elk Prairie Trail
Length: 3.2 miles (5.1 km)
Time: 1 hour 10 minutes
Difficulty: Easy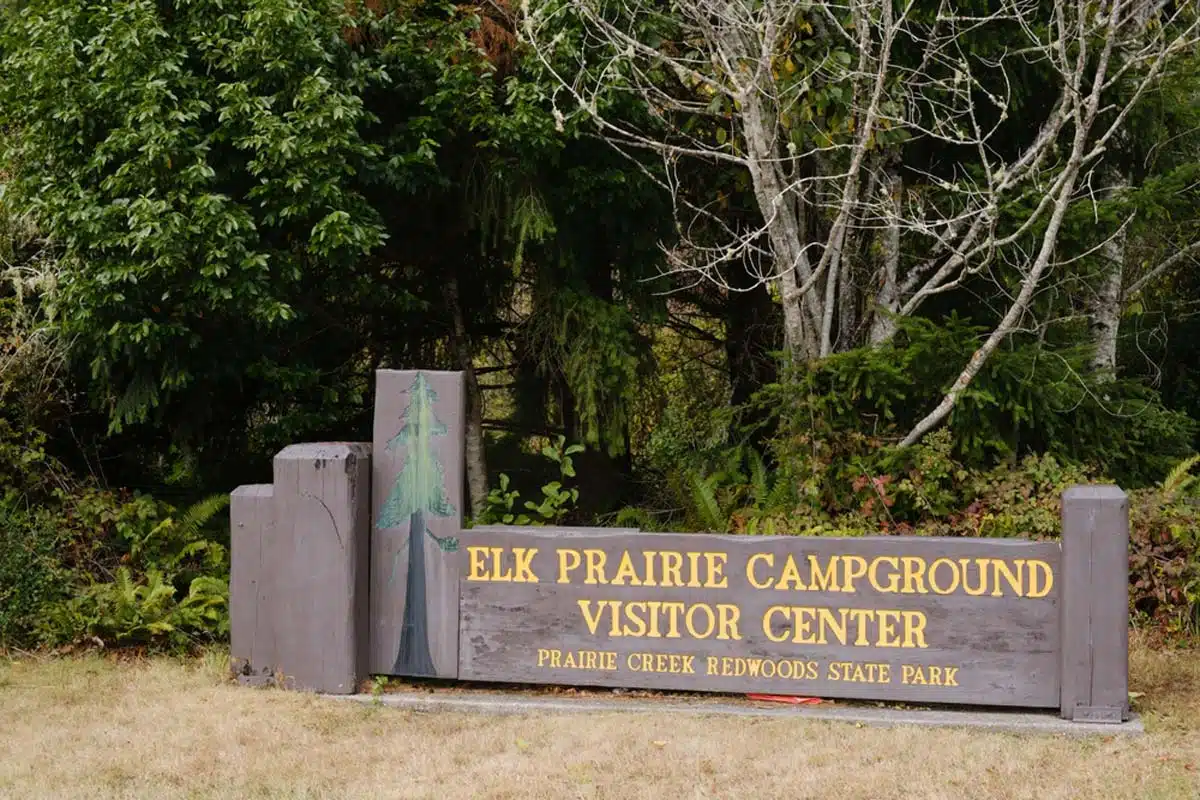 You're bound to bump into stunning wildlife when hiking Redwood National Park. And there's no better place for this than the Elk Prairie Trail. While you'll pass some humongous redwoods on this trail, the real reason to visit is its large grassy field.
If you visit in August, you're likely to spot large Roosevelt Elks rutting, and boy, is it a sight you'll want to catch with your own eyes. This is a relatively busy trek, but there are some lovely little picnic nooks for a quiet escape.
Prairie Creek, Big Tree and Cathedral Trees Loop
Length: 2.9 miles (4.7 km)
Time: 1 hour
Difficulty: Medium
How about tackling three of the best Redwood hikes simultaneously along this stunning loop trail? Start by walking alongside Prairie Creek as you admire the thick vegetation in the Murrelet State Wilderness.
At the halfway point, you'll meet up with Big Tree, California's 16th-largest coastal redwood. The second section of the trek is steep as you walk along the Cathedral trees route, where several massive redwoods have fallen over the years.
It's a fun trail, as pathways are cut out through these gigantic trees. Though it's the still-standing giants that impress the most – remember to charge your camera!
Coastal Trail
Length: 70 miles (112 km)
Time: a week if doing the entire hike
Difficulty: Hard
The Coastal Trail is easily the most epic expedition you can do in the park. Of all the Redwood National Park's best hikes, you don't see more ocean views and forest vistas than this out-and-back trek.
It's segmented into seven distinct sections, each of which you can complete in a day. Or, you can opt to take on the entire thing across a week and feel ridiculously smug afterward. Totally up to you.
The most challenging part is the six-mile (9.6 km) stretch along the Last Chance Section. This hike also allows you to experience the best redwood camping spots, so it's a real win-win.
Tall Trees Grove Loop Trail
Length: 3.6 miles (5.8 km)
Time: 2 hours
Difficulty: Medium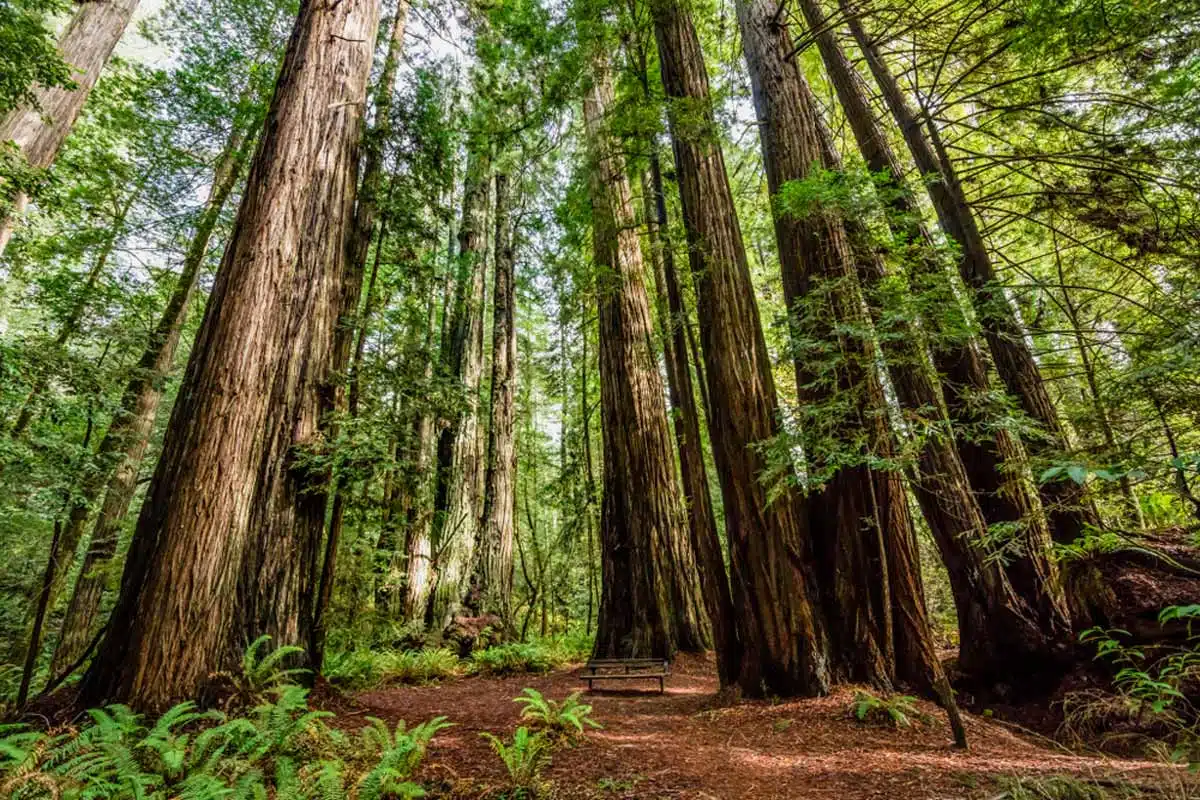 Of all the best hikes at Redwood National Park, I doubt you'll find taller trees than on this steep loop trail. The Tall Trees Grove Loop is a real thigh worker, with an elevation gain of 780 feet (238 metres).
Its most iconic landmark is 1.4 miles (2.3 km) into the hike at Libbey Tree, a 368-foot (112-metre) giant amongst giants. Although it's fairly challenging to hike, you'll be able to stop and catch your breath at the sight of these mammoth trees.
Boy Scout Tree Trail
Length: 7 miles (11.4 km)
Time: three hours
Difficulty: Medium
Despite its cutesy name, the Boy Scout Trail is another gut-busting trek through the vivid coastal forests of the redwoods. Don't be put off once you start breaking a sweat; the further you walk through this incandescent neck of the woods, the larger the redwoods get.
There are also two fairytale-like footbridges and three fallen trees with a path cut through them – the most notable is at the end of the trail, the Fallen Giant. It's also a popular trail for spotting fir trees, a maple-filled gully and burls (double-trunked redwoods).
In other words, let your inner childhood scout come out and play.
James Irvine Trail
Length: 10.4 miles (16.7 km)
Time: four hours 30 minutes
Difficulty: Medium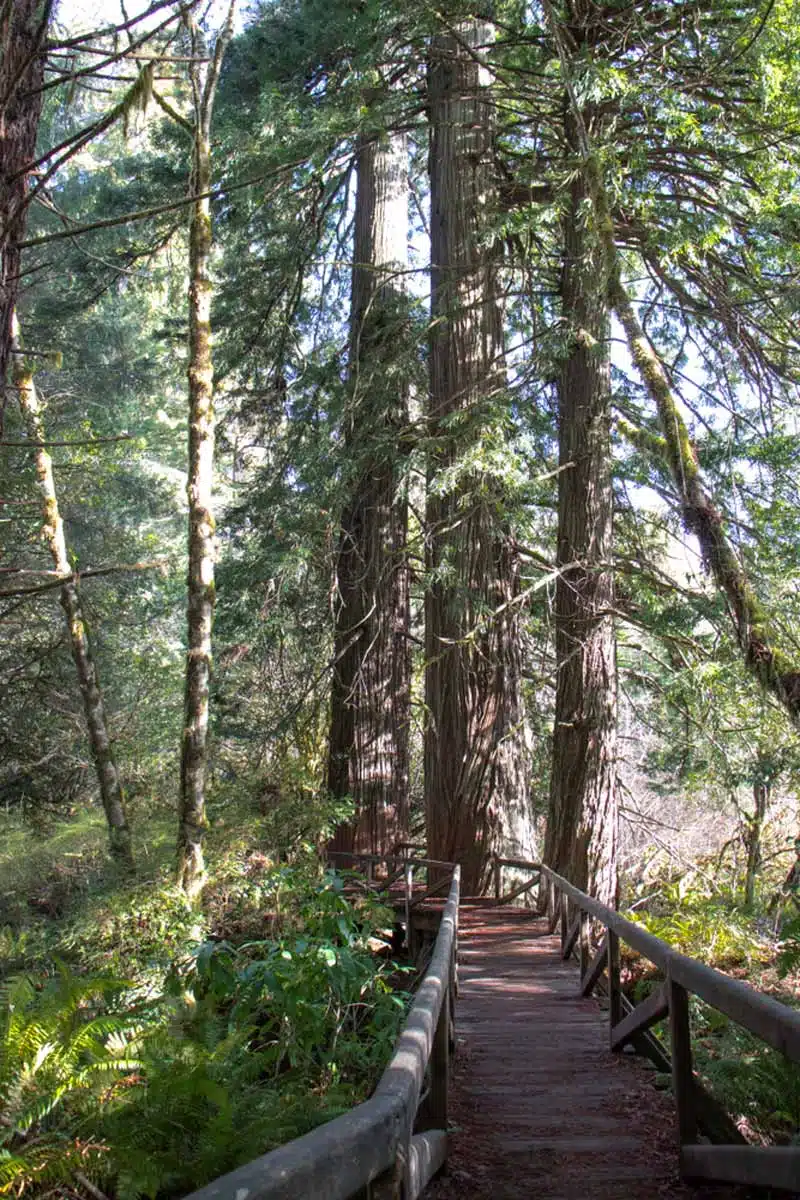 If you're looking to test your uphill endurance, take on this out-and-back trail with an elevation gain of 1420 feet (433 metres). Most of the steep incline is at the start of the James Irvine Trail, and after about 1.8 miles (three km), the trail peters down to a fairly gentle walk.
It leads to the stunning Fern Canyon, which should be on everyone's USA bucket list. It's a relatively quiet trail, so you'll likely hear the echoes of the Varied Thrush as its song bounces through the forest.
Damnation Creek Trail
Length: 3.4 miles (5.5 km)
Time: 2 hours 15 minutes
Difficulty: Hard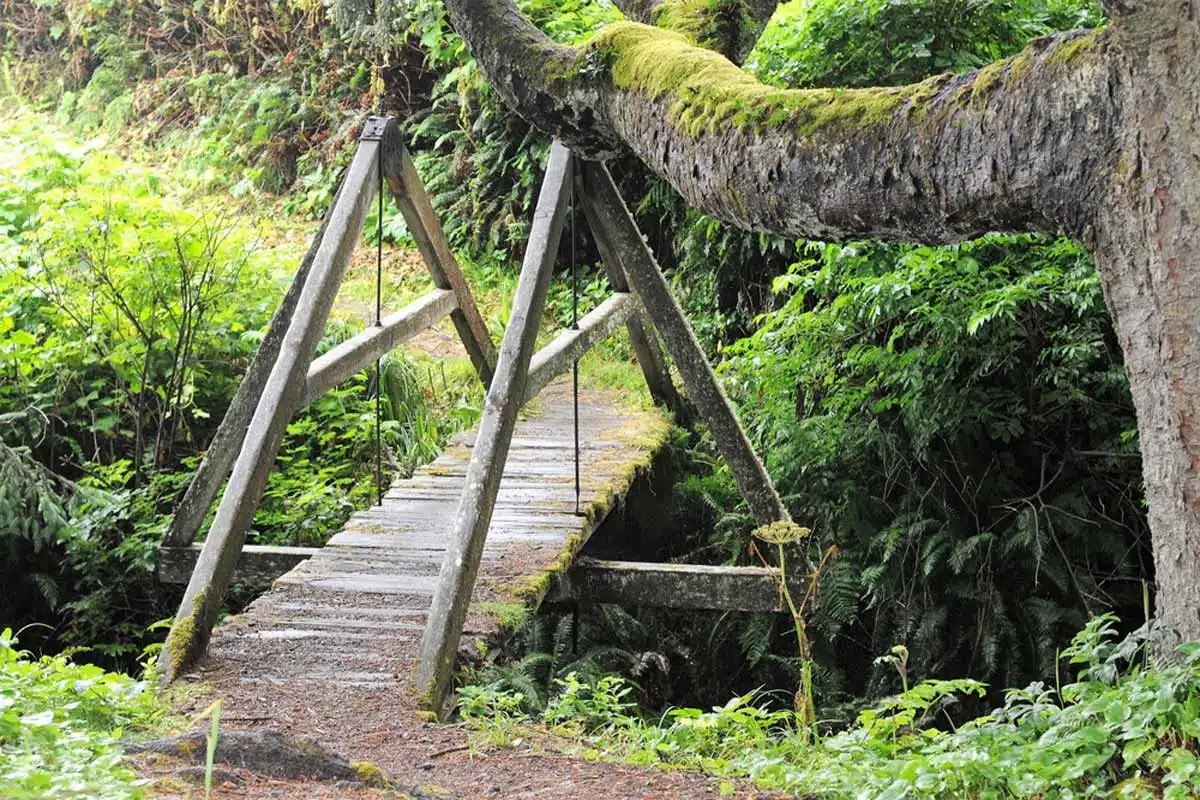 It may be shorter than some moderate trails, but don't let the Damnation Creek Trail mislead you. The first half of this 1190-foot (363-metre) elevation gain hike is downhill as you head towards the coast.
This is a notoriously foggy trail, which creates a genuinely eerie atmosphere amongst the towering redwoods.
The trail leads to the perfect picnic spot along a rocky beach, where you should fill up. Trust me. All the hard work hits on the arduous climb back to the parking lot and having plenty of energy makes things a lot easier.
Hidden Beach and False Klamath Rock Trail
Length: 7.6 miles (12.2 km)
Time: 3 hours 30 minutes
Difficulty: Hard
Take the lengthy Hidden Beach and False Klamath Rock Trail for one of the best Redwood National Park hikes along the coast. Stunning coastal views are to your left, while the moody redwood forest creates an otherworldly atmosphere to your right.
But there are some hidden gems along the way – well, if the name hasn't given things away already…
Hidden Beach is a fine grey-sand destination you'll want to explore. And False Klamath hides a pristine Lagoon Pond nestling within a dense forest. It provides a full scope of the Californian coast.
Redwood Creek Trail
Length: 15.7 miles (25.3 km)
Time: 5 hours 40 minutes
Difficulty: Hard
If you think of yourself as a serious hiker, and none of these hikes have got you excited yet, have no fear. The Redwood Creek Trail is an out-and-back trail that will take up the majority of your afternoon.
And, from towering redwoods and lush fern ground cover to the picture-perfect scenery at Redwood Creek Crossing, you're in for a real treat.
The path also takes you past Bond Creek and Creek 44, with the opportunity to venture into Tall Trees Grove. Remember, this will add a further 3.6 miles (5.8 km) to an already lengthy trek, so keep your limits in mind.
Besides, you can always explore Tall Tree Grove on another hike the next day!
Best Redwood Hikes: Practical Tips
If you're visiting multiple parks, save some cash with the America the Beautiful Pass. You'll get full access to all the best hikes in Redwood National and State Parks without fuss.
The American black bear still roams the forests of California, so you'll want to watch out for them. They are most active in spring and summer, so take bear spray hiking in the Redwoods. If you encounter a bear, keep calm and slowly walk away from it while keeping it within your line of sight.
Remember your essentials. It gets wet in the Redwoods, so bring a waterproof hiking trainer, an outer shell and a quality travel backpack for all your supplies. If you intend to do day hikes, a water bottle, and a water purifier are great additions.
Check the weather before heading out. The trails aren't ideal after heavy rain – especially in winter.
Redwood National Park Hikes: Read Next
Love This? Save and Share on Pinterest