Plan the ultimate adventure in one of America's most beautiful national parks with this guide. Discover my top picks for the best things to do in Redwood National Park.
Did you know redwoods reach, on average, an astronomical height of 377 feet (114 metres)? So it's only natural to have equally high expectations when planning your redwood trip.
No trip to California is complete without walking amongst the giant redwood trees of Redwood National Park. Known for towering ancient trees and breathtaking vistas, skip a trip to see the redwoods and you'll regret it.
Have no fear – with over 130,000 (52 km sq) acres of protected land, there's no shortage of activities and attractions to explore. These are the ones you shouldn't miss.
Looking for the coolest places to stay when tackling any redwood excursion? Anchor Beach Inn in Crescent City is close to all the action.
Top 5 Things to Do in Redwood National Park
Hike Through Stout Grove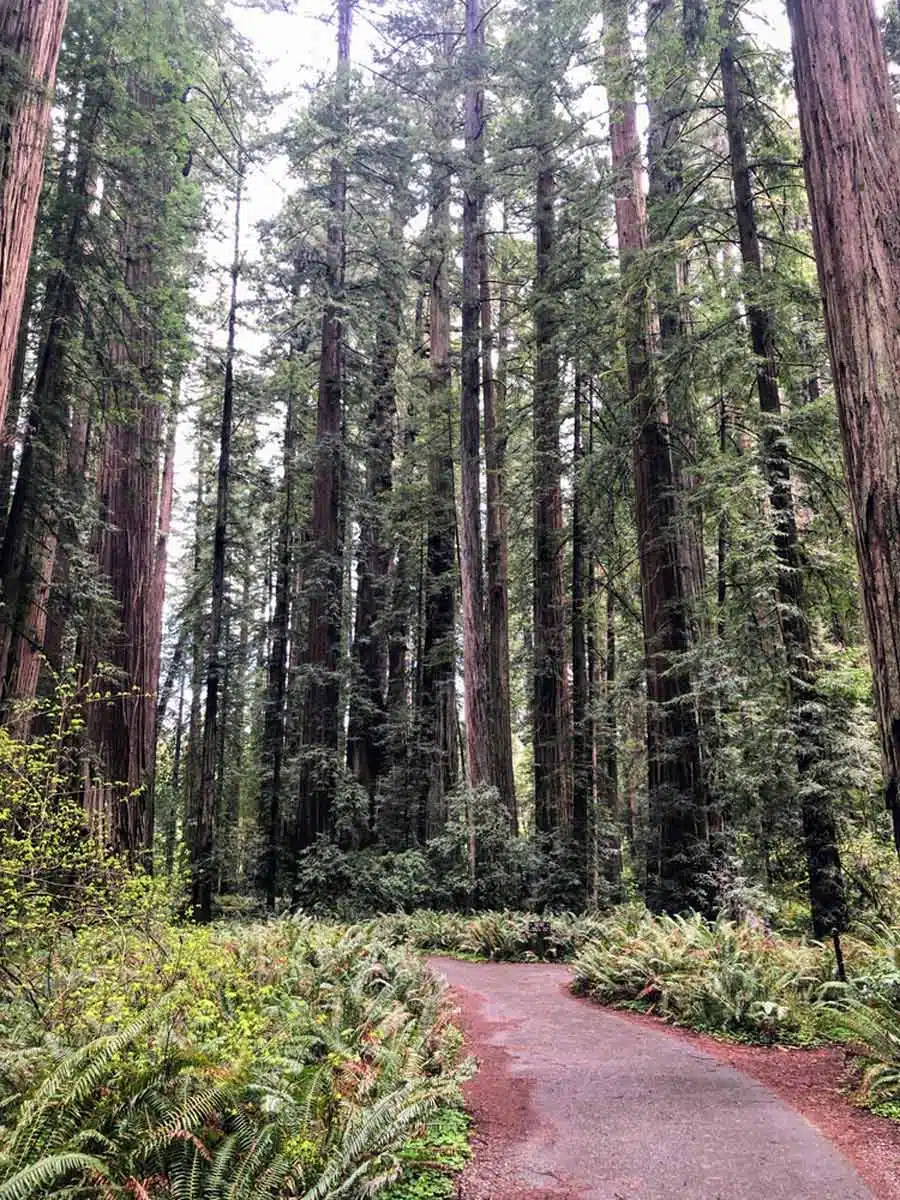 There's no doubting the absolute beauty of the old-growth redwoods that dominate the park's landscapes. But, if you're even the slightest bit into photography and capturing that prize-winning shot, hiking through Stout Grove is one of the ultimate things to do at Redwood National Park.
Sitting within Jedediah Smith Redwoods north of Crescent City, the grove might be small but astonishingly gorgeous. The hike is about seven miles roundtrip; if you rush it, you can do it in just over an hour.
But I recommend taking your time. A kaleidoscopic blend of fallen trees in between towering giants creates an epic and dramatic scene that'll cement why this is one of the most photographed spots in the park.
Get in Touch with Nature in Tall Trees Grove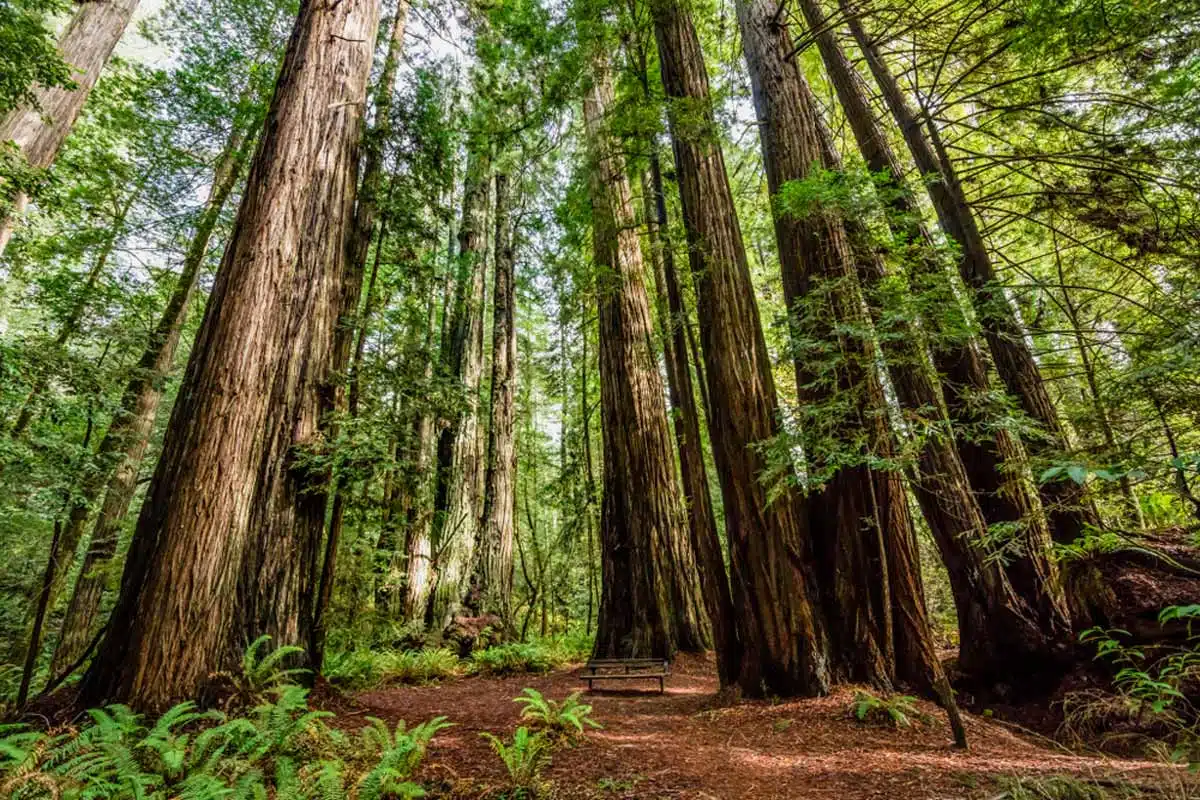 Losing yourself in a national park might sound like lunacy, although, sometimes, you have to be a bit crazy to appreciate the best things to do in the redwoods. You need to know that Tall Trees Grove is the most difficult to reach of Redwood National Park's main attractions, but it's worth it.
You'll also need a free pass for 24 to 48 hours to visit the grove. Why? Well, strict regulations are in place for visitors to protect the trees. The short hike of about four miles is picturesque, and if you're looking for a mild challenge, it couldn't be more perfect.
Explore Lady Bird Johnson Grove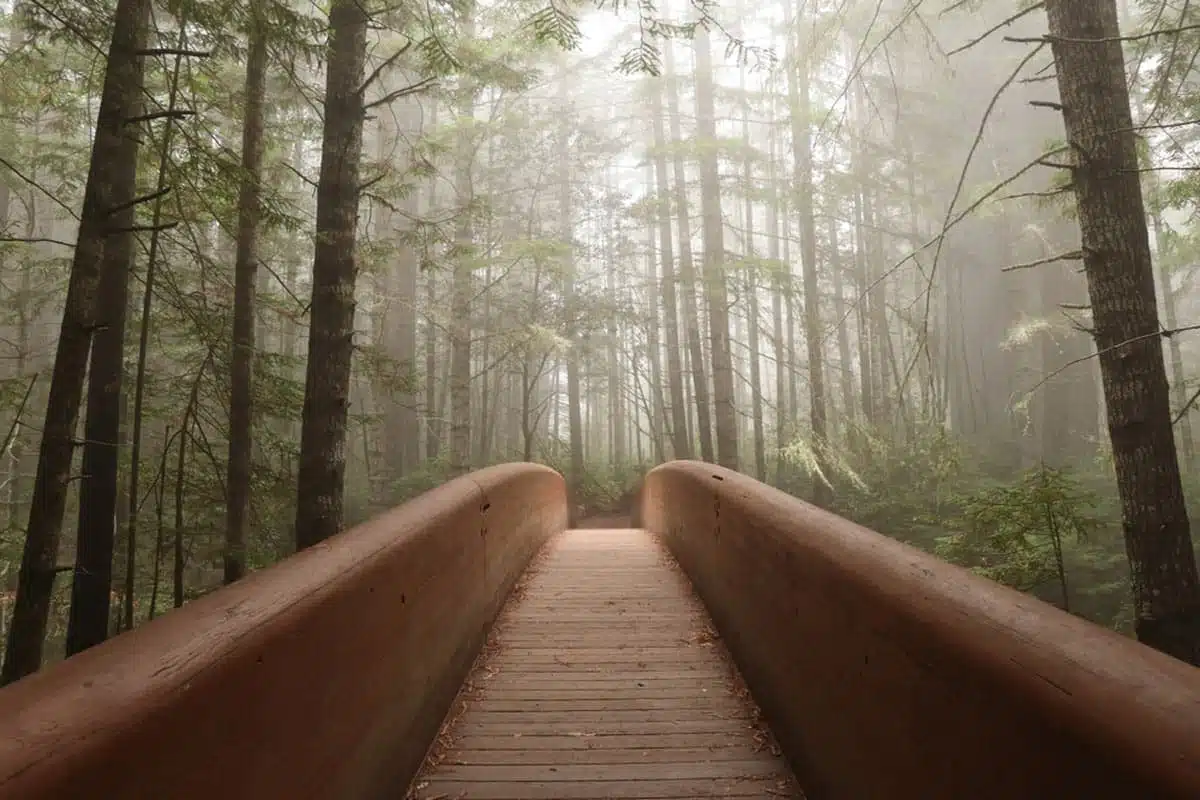 Another grove? Yes, most definitely. As one of the most famous redwood groves in the entire world, it's not just a pretty sight. If you're visiting Redwood National Park, including this sensational section is a no-brainer.
Although, it's that and then some. The former first lady of the US, Lady Bird Jonhson, dedicated Redwood National Park, and this part of it, as a majestic ode to her eco-activism.
Another unique feature of this grove is that it's the only one located uphill. This elevation gives the forest a misty, often clouded appearance that sets the mesmerising scene.
Camp Among the Redwoods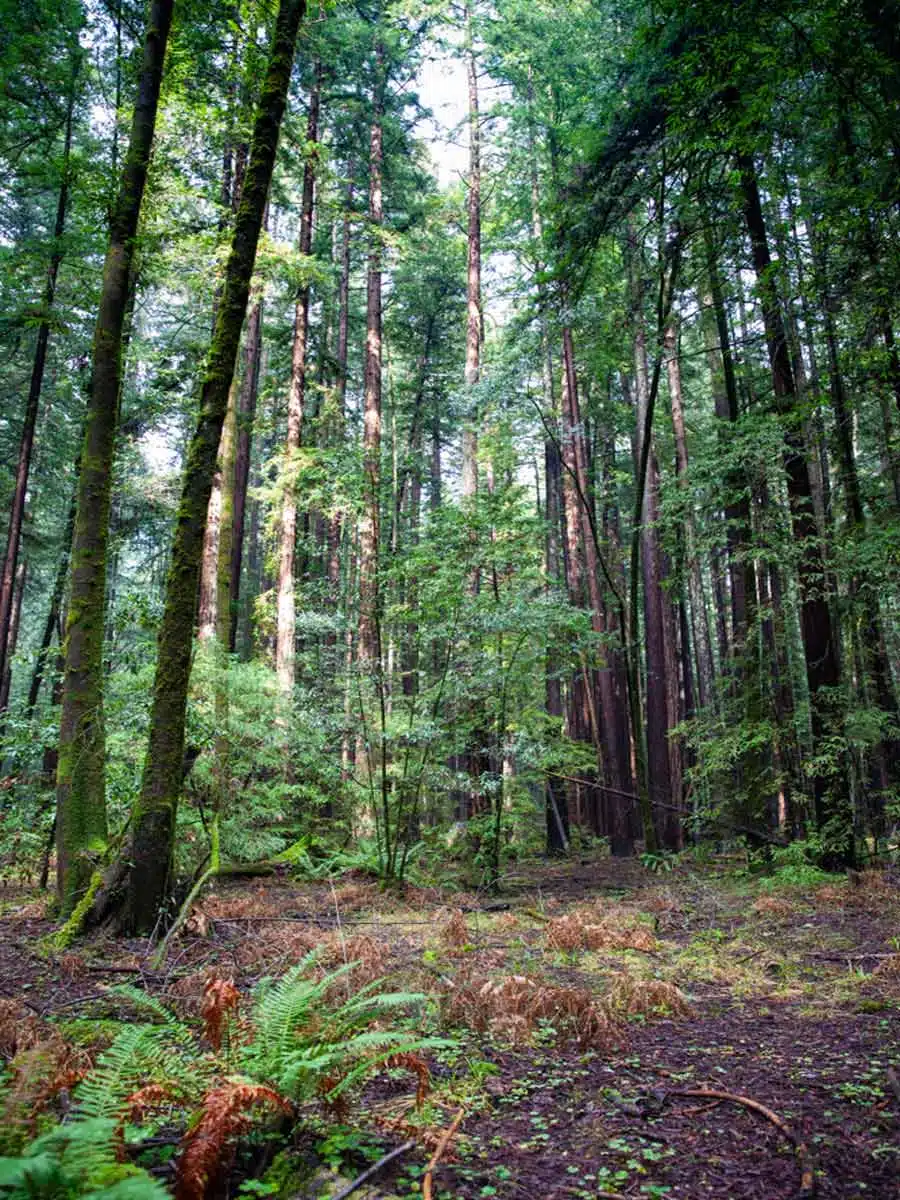 If you're looking for an easy answer to what to do in Redwood National Park, camping underneath the park's magnificent tree canopy should be top of your list.
Thankfully there are ample campgrounds to choose from, whether you're up for a backcountry experience or fancy more developed camping.
Which one's the best? Choose between the likes of Patrick's Point, Jedidiah Smith, Gold Bluffs Beach, Mill Creek and Elk Prairie. My favourite is Patrick's point, but I'll let you decide for yourself.
Top Tip: Shocking absolutely no one, camping spots in and around Redwood fill up quickly, so pick your site and book in advance.
See the Roosevelt Elk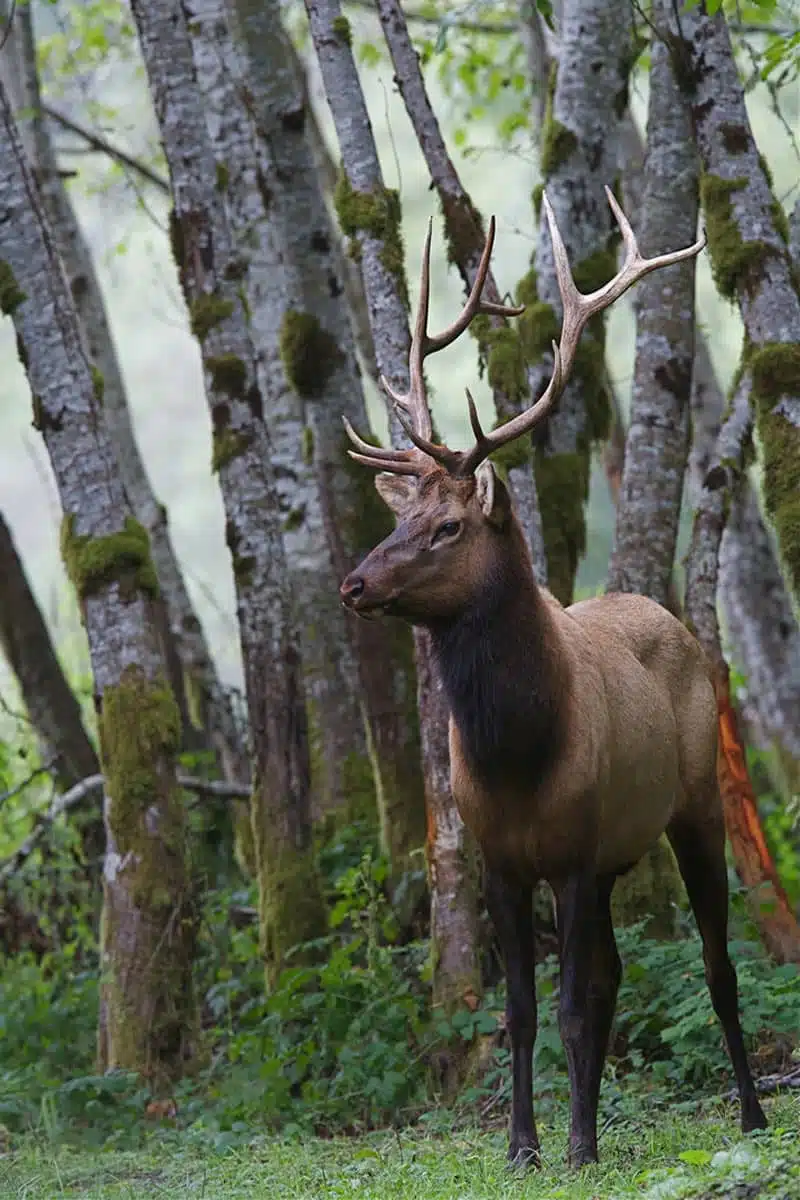 Hunted almost to extinction, spotting the Roosevelt Elk population of Humboldt County is one of the most fun things to do in Redwood National Park.
Their numbers have grown because of extensive conservation efforts, and you can see them in a few park sections. The most popular area you should visit to see them in their natural glory is Elk Prairie along the Newton Drury Scenic Parkway.
You can also hike within the prairie to tick two things off your national park bucket list. Another favourite hangout for the Roosevelt Elk is along Elk Meadow off Highway 101 on Davidson Road.
Read Next: 35 Brilliant Things to Do in California
Brilliant Things to See & Do in Redwood National Park
See the Coastline from the Klamath River Overlook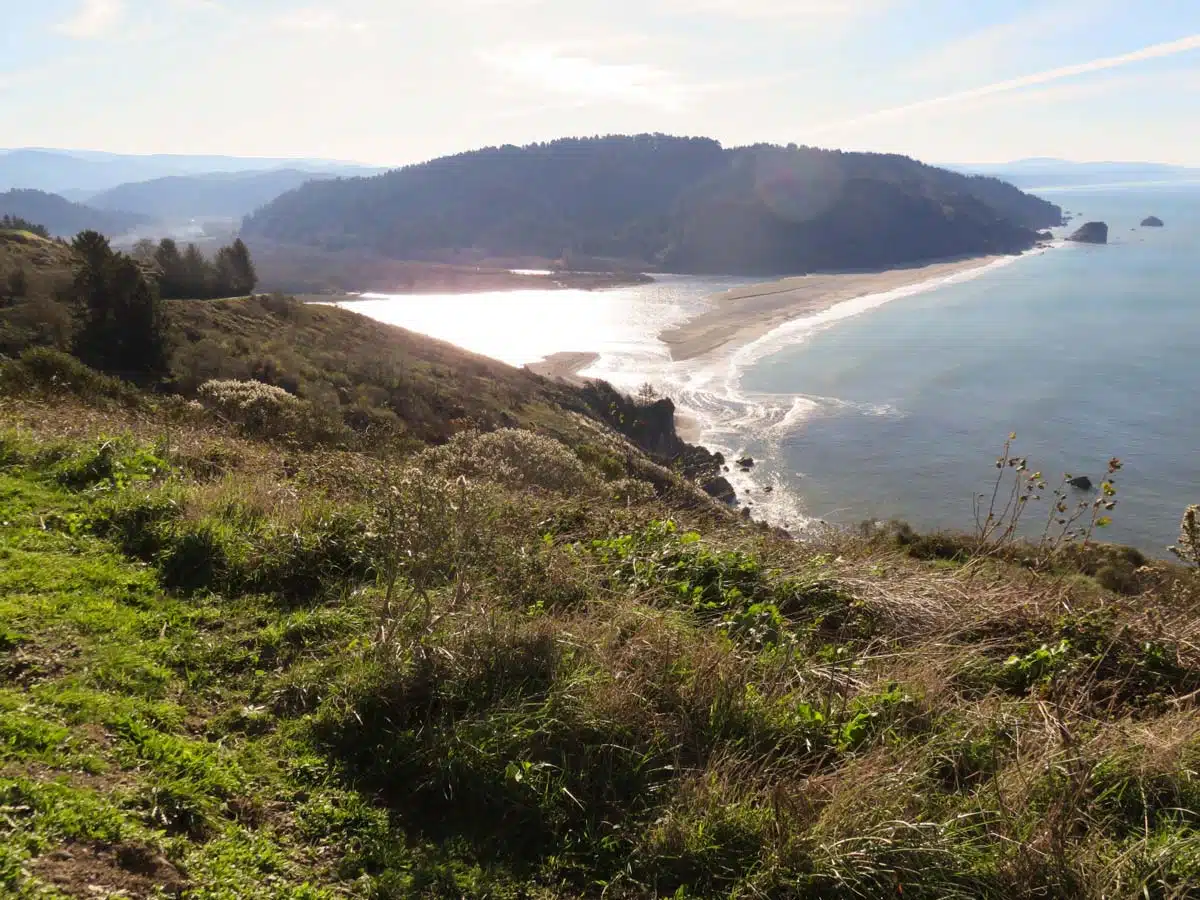 The park is most famous for its redwoods, no doubt about that, but there's a breathtaking coastline that fringes it. Right where the Pacific meets Klamath River, you'll find unreal sights from an overlook fitting the bill for the coolest place to see in Redwood National Park.
Beyond the scenery (which is fantastic), the vantage point also offers the best whale-watching you could imagine. Especially in March, April, November and December, catching views of the annual whale migration is unimaginably spectacular.
Drive the Scenic Route on The Avenue of Giants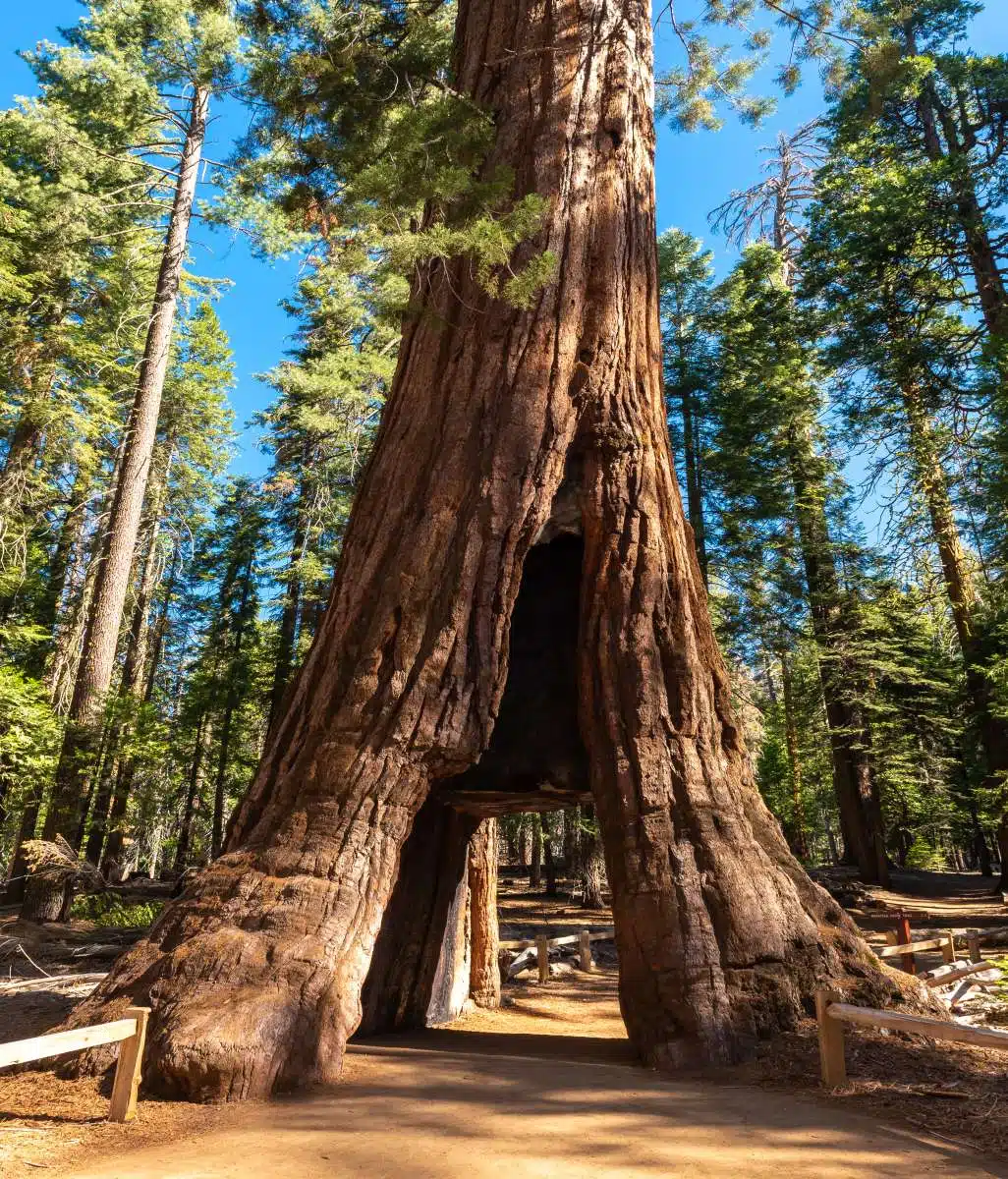 If you've never heard of The Avenue of Giants, chances are you've seen at least a few buzzworthy Nat Geo pictures of this near-ethereal 31.5-mile drive. Weaving through Humboldt Redwoods State Park, it's a standout thing to do near Redwood National Park.
Although the stretch of road that makes up the avenue isn't that long, there are many stops along the way to fill at least one day. These include Redwood Creek Overlook, Gold Bluffs Beach and Fern Canyon.
Catch the Sunset from the Redwood Creek Overlook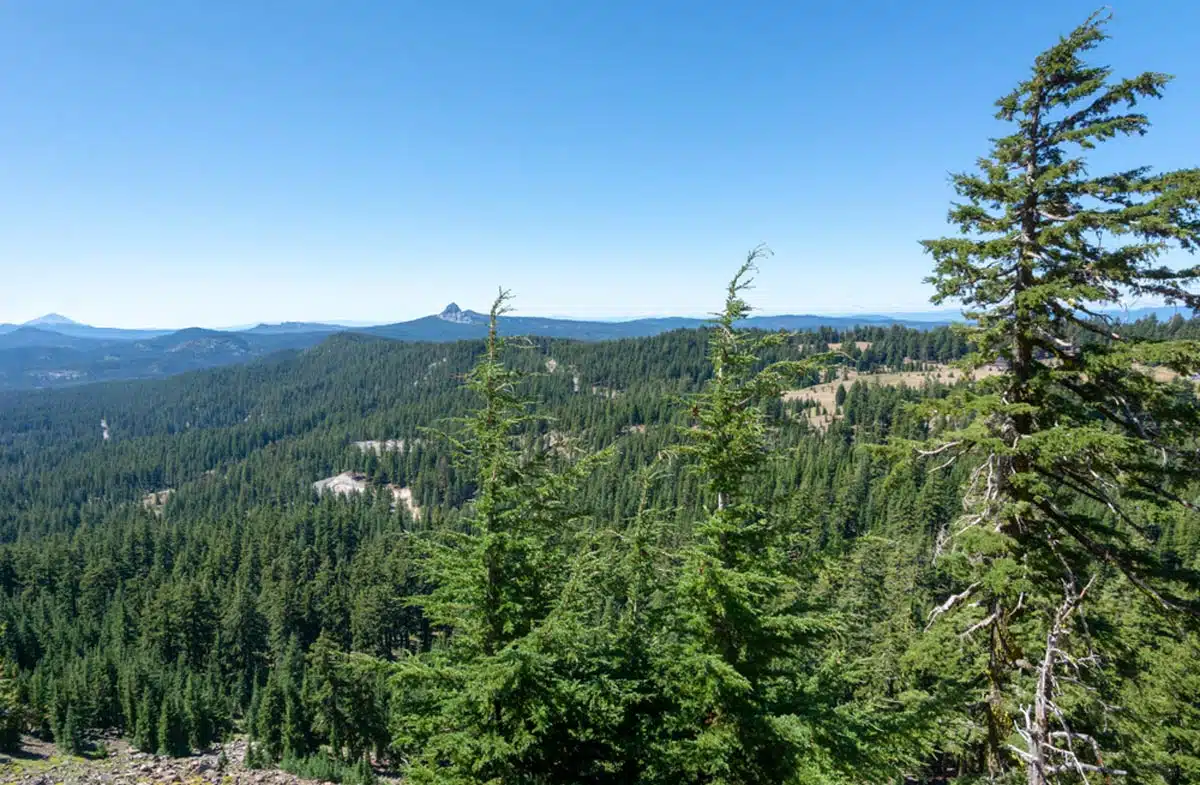 Speaking of Redwood Creek Overlook, if you're a sunset-chaser, you're in for one of the best you've ever encountered. It's arguably the best spot in the whole region to watch as the Californian sun dips below the horizon, making it a once-in-a-lifetime experience.
What elevates (get it?) this overlook is the evening fog that slowly rolls into the forested valley below out toward the ocean. Gazing out to the heart of Redwood National Park, it's right here if there were ever a spot to bask in what Mother Nature is capable of.
Head to Enderts Beach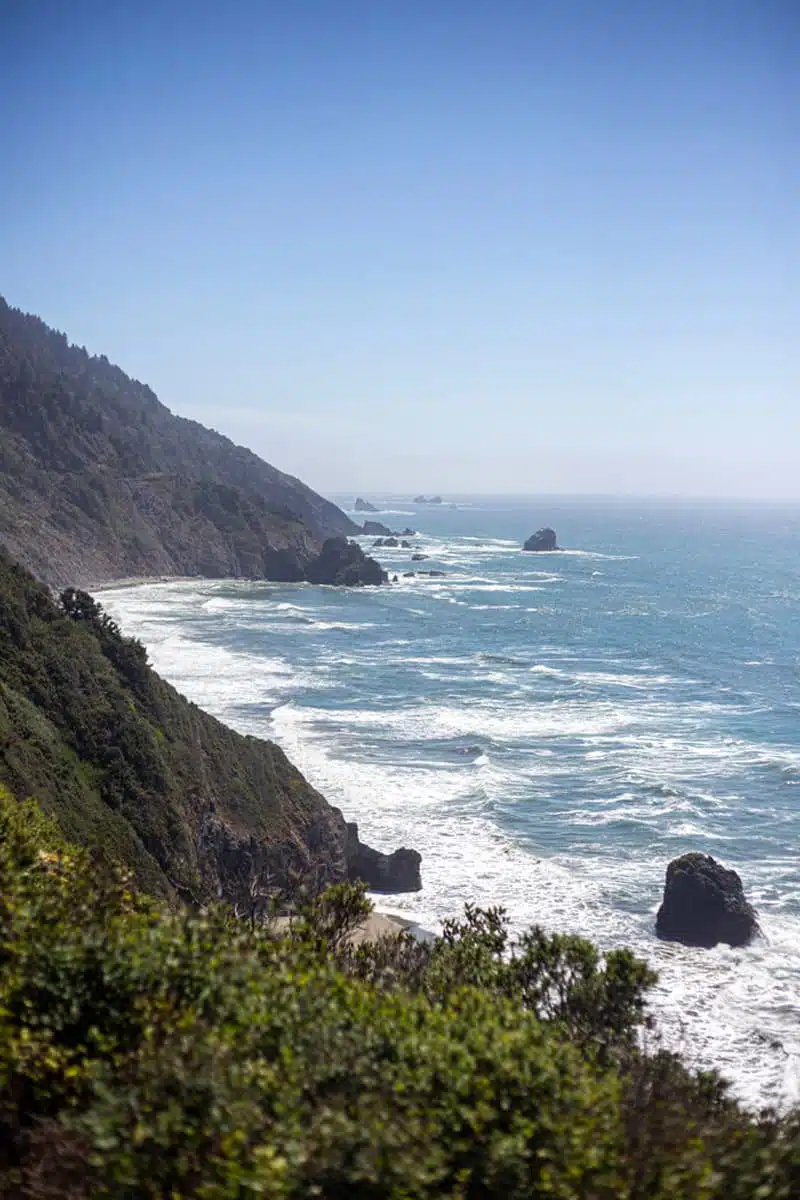 Now, admiring the magnificent coastline that meets the area is one thing. Descending down through tree tunnels and wild berry fields onto the beach itself is a whole different thing.
Indulge in one of the most fun things to do in Redwood National Park and head to the driftwood-filled Enderts Beach.
Aside from the eye-catching natural rock arches along the beach, you'll also find numerous tidepools that teem with various sea creatures. Cute, quirky, and colourful starfish call these pools home but remember only to look, not touch.
Venture into Fern Canyon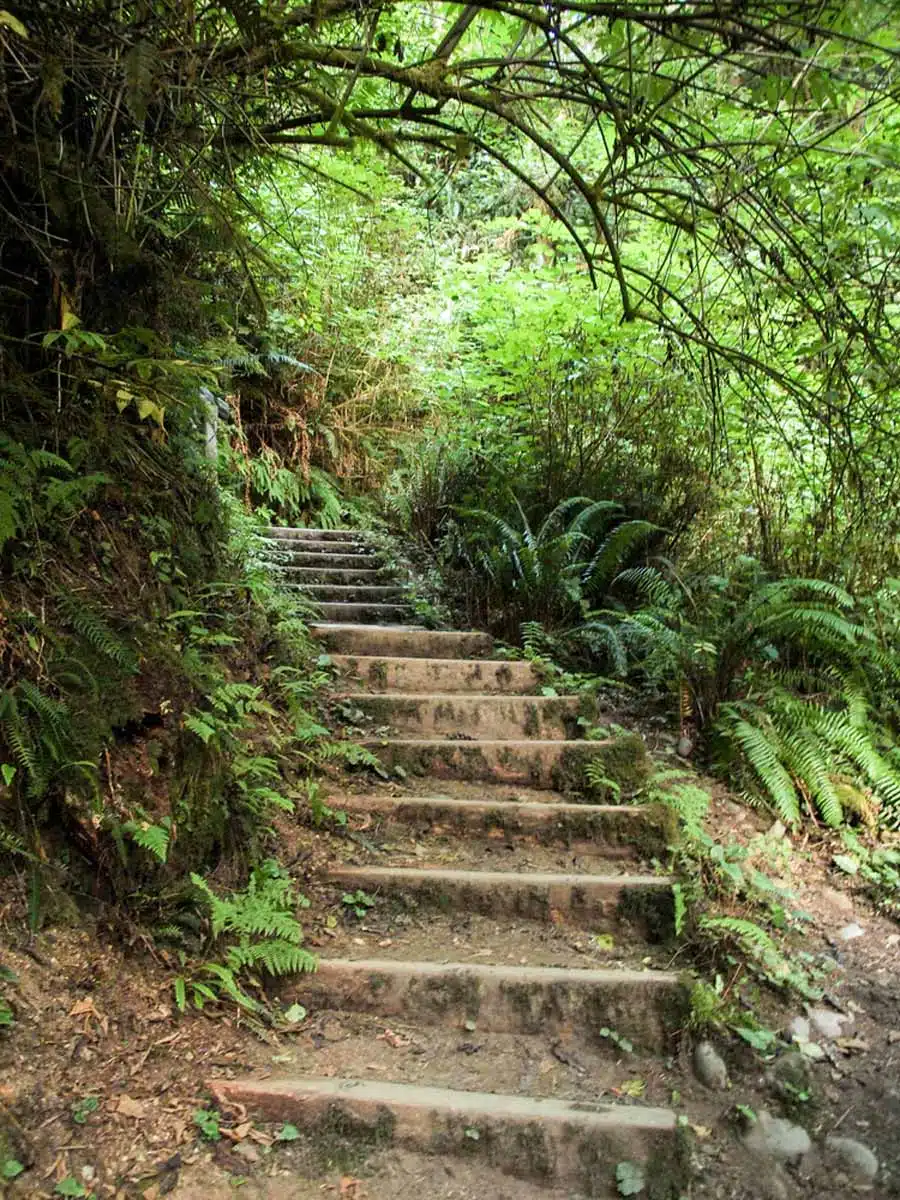 It's no secret that the redwoods of Redwood National Park and the many State Parks that surround it are ancient, but if you're after something prehistoric, Fern Canyon beckons. Gigantic ferns cover the 50-foot canyon and are so characteristic of the times that it even features in Jurassic Park 2.
It's an easy 1.1-mile roundtrip loop trail through the canyon with thousands of lush ferns dripping from wall to wall, split by a soothing and gentle creek. And if you're camping in Gold Bluffs Beach, you're only a few minutes walk from it.
Read Next: The Best Summer Road Trip Ideas
Unique Things to See & Do in Redwood National Park: Hidden Gems That Are Off the Beaten Track
Visit the Willow Creek-China Flat Museum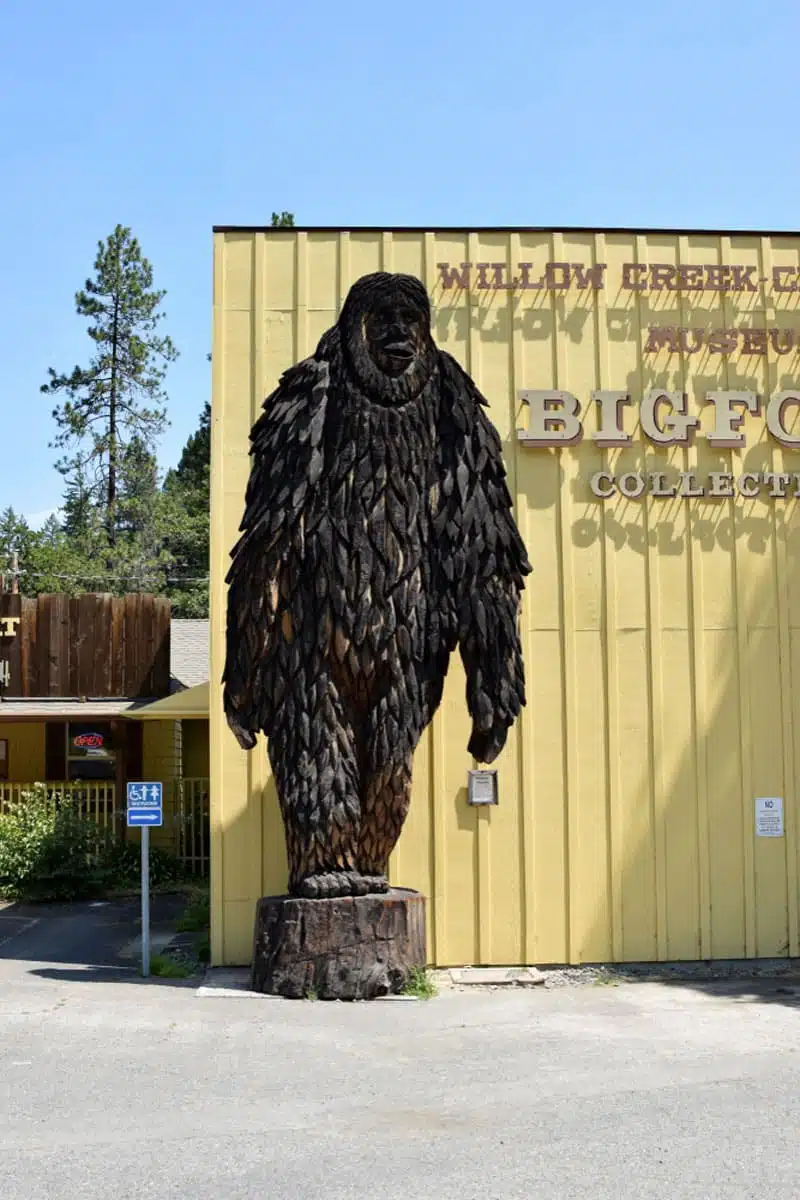 While this isn't technically a museum dedicated to the legendary Bigfoot, it does devote itself to the history of the region most call "Bigfoot Country" – Humboldt and Trinity County. Understandably its Sasquatch exhibit counts as a must-see, with everything from casts, photos, maps and tracking research of the mythical creature.
Right next to the museum is a small research facility where concurrent updates occur on new information regarding Bigfoot from the region. You can wander around and gain some insight to decide whether he is out there or not.
Delve into History at Battery Point Lighthouse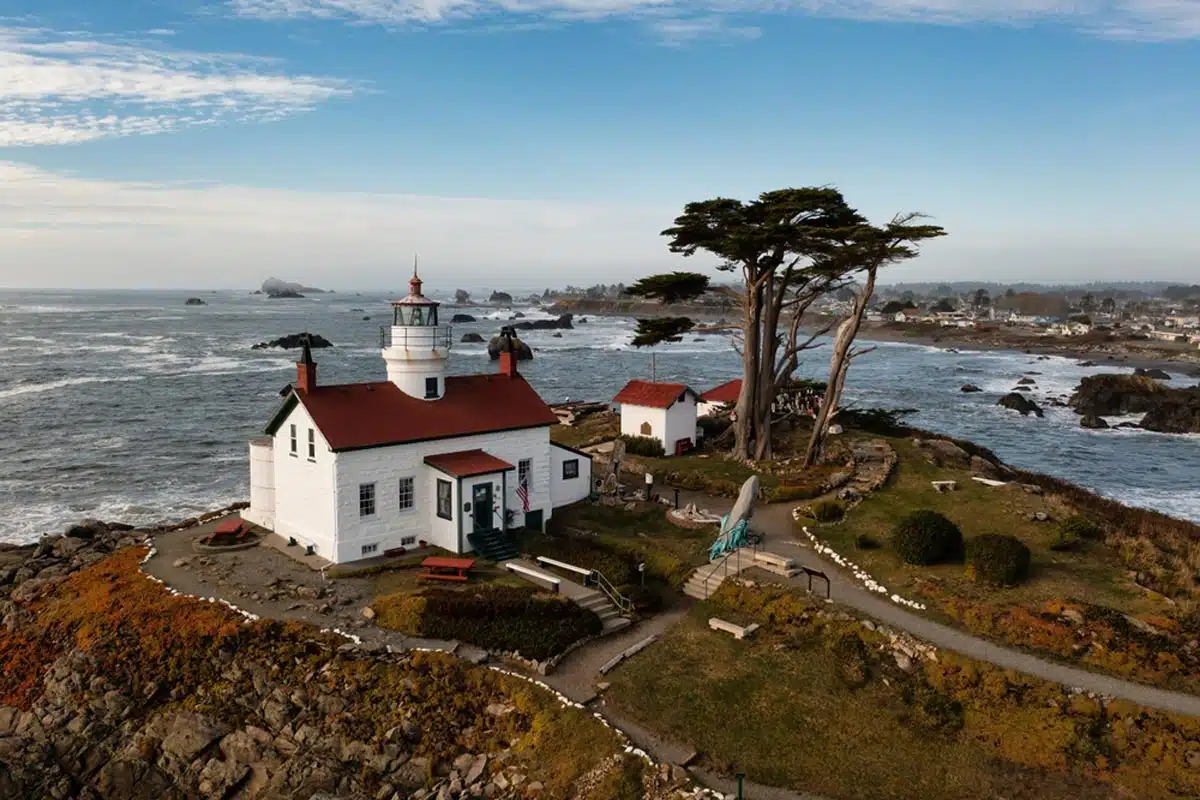 One of the first lighthouses on the Californian coast, Battery Point is both historic and unique for its island location. This means you can only reach the lighthouse during low tide, but it is worth planning your time correctly.
After admiring the lighthouse, the accompanying museum, which the Del Norte County Historical Society operates, is a fun little pitstop as well. This tiny museum started out as the former lighthouse keepers' home, but today it features vintage odds and ends you won't find anywhere else.
Ride Trees of Mystery
A hard-to-miss spot along Highway 101 from Northern California to Oregon, thanks to the huge 50-foot Paul Bunyon statue, Trees of Mystery is a cheesy but worthwhile stop. The amusement park opened 67 years ago and focuses on raising funds to conserve the area.
Some highlights include a gondola ride, a quirky interpretive trail and a stunning canopy trail. The main event is getting that Instagram snapshot with ol' Paul himself, but lines for this tend to get very long.
Backpack Along the Lost Coast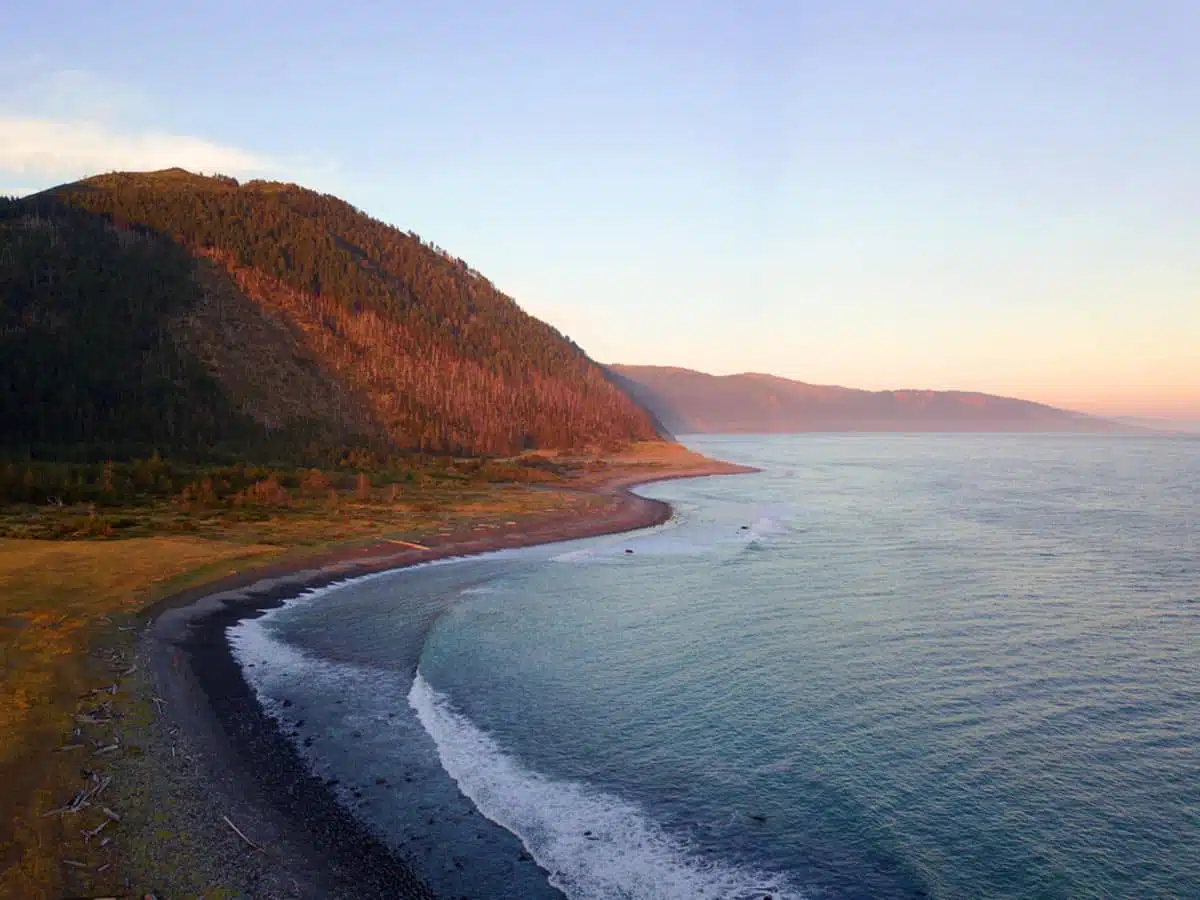 Ask any backpacker where their dream destination is, and you'll probably get a swift and decisive answer – The Lost Coast. It's easy to see why.
Starting at the quaint town of Ferndale, heading along Black Sands Beach, and running parallel to the Avenue of the Giants, few spots in the world can compare.
If you're after genuine wilderness hiking, the Lost Coast offers that and some. Take note that you'll need a King Range Wilderness Permit if you plan to overnight camp on the coast.
Things to do in Redwood National Park: Practical Tips for Your Trip
Where Should I Stay in Redwood National Park?
Anchor Beach Inn (Mid-Range)
A mid-range 3-star property in Crescent City, the Anchor Beach Inn is the perfect option if you want to stay close to the park and other attractions and not break the bank while doing so. Rooms are simple but spacious and clean – what more do you need?
Best Western Plus Humboldt Bay Inn (Luxury)
Located in Eureka, the closest major city to Redwood National Park, the Best Western Plus offers affordable luxury and is close to the city's historic Old Town. This is my top pick when it comes to staying near Redwood National Park.
Things to Do in Redwood National Park: Map