California is a beachgoer's paradise, where the rugged Pacific meets miles of gorgeous coastline. Embrace the allure of the Golden State and discover the best beaches in California with this insider's guide.
California is home to over 800 miles of beautiful coastline, with beaches of many different shapes and sizes stretching all the way from San Diego to the Oregon border.

And, with more than 400 public beaches and plenty of hidden gems in between (some of which you can only access when the tide is low), choosing the best beaches in California is a pretty difficult task.

Explore the endless coast with my pick of some of the many incredible beaches in The Golden State.
Searching for somewhere to stay near California's best beaches? Shutters on the Beach in Santa Monica is an excellent option near the iconic stretch of coast.
Best Beaches in California
Santa Monica State Beach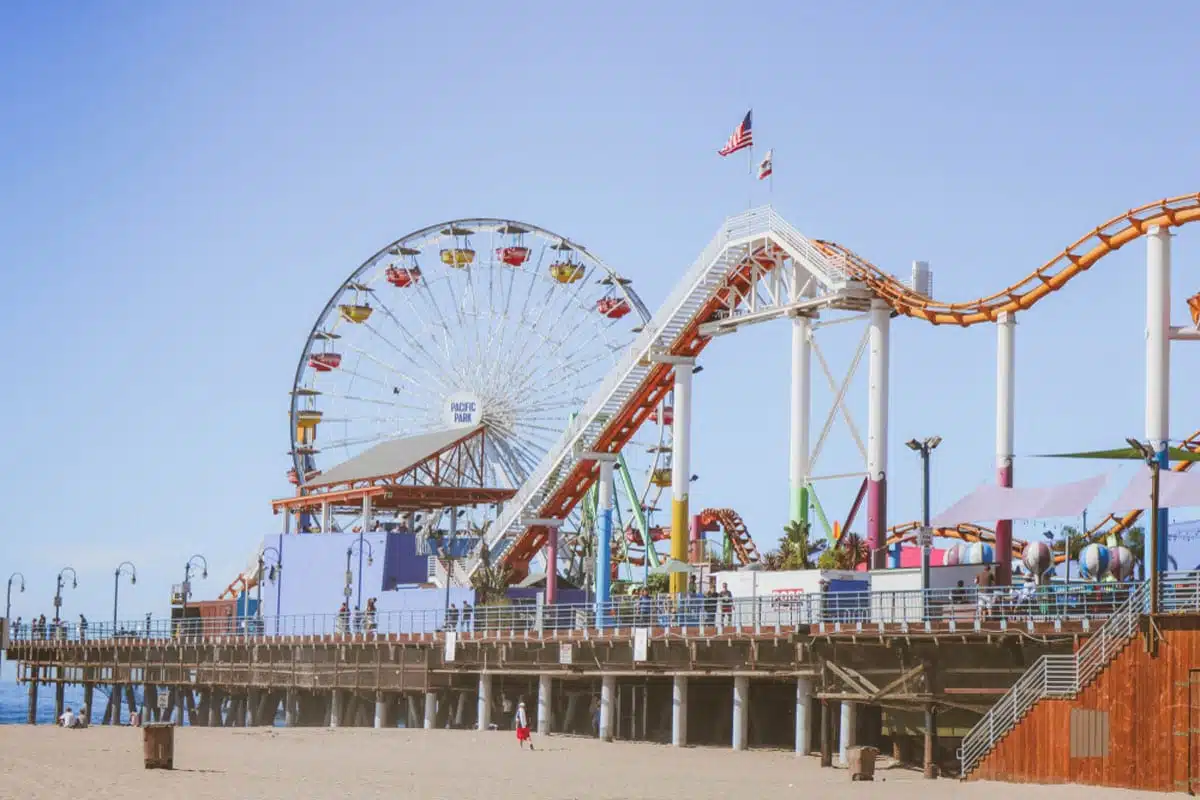 Los Angeles is sprawling (for real), so it's no surprise that some of the best beaches in California are within city limits. Enter Santa Monica State Beach on the Western edge of the City of Angels. Simply put, this beach offers the quintessential Cali experience.

You'll see beautiful people of all ages jogging, biking, skateboarding, playing volleyball or splashing in the water. Sandcastles, surf-ups and picturesque sunsets are the vibe at this SoCal beach.
I'll be honest, though – the main attraction of this Cali beach is the Santa Monica Pier, which extends over the water and is home to an amusement park, aquarium and arcade.
Don't skip the Ferris Wheel in Pacific Park at the end of the pier; it's way more fun than it should be. Time your ride for sunset and thank me later.
Top Tip: Once you have finished being a beach bum for the day, head over to the Third Street Promenade where you'll find plenty of places to grab a sundowner.
Baker Beach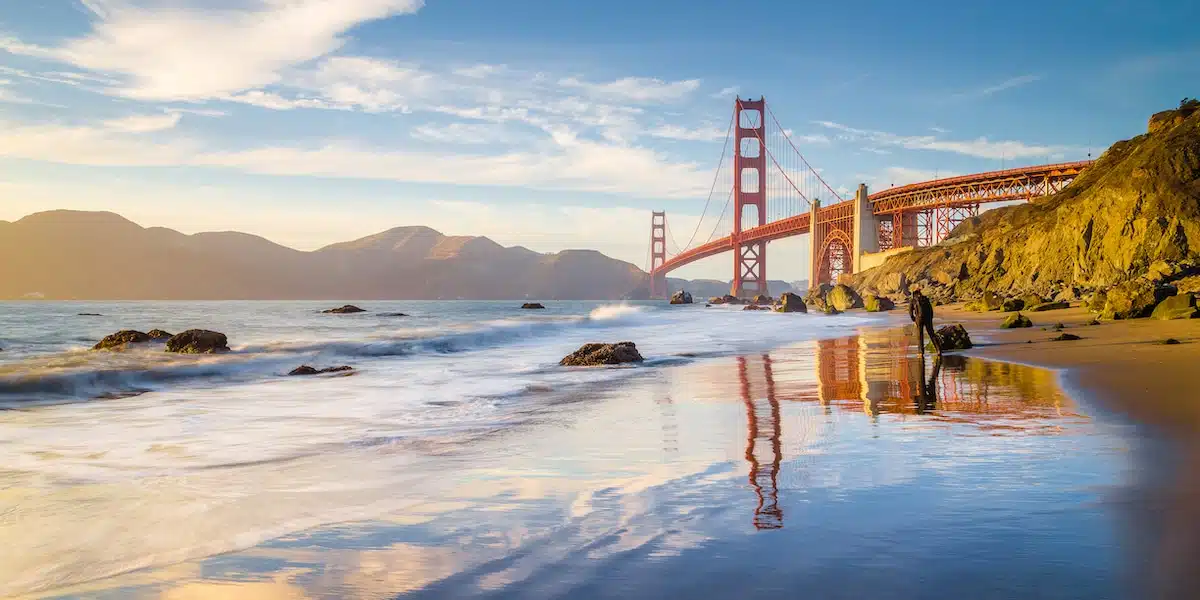 San Francisco is famous for a lot of things…
Excellent restaurants, creative cocktail bars, steep climbs (on what feels like every single street), and some of the best views from any city in the USA are only a few things that make it one of my fave places. Ok, maybe not the hills, but they're a necessary evil for those truly amazing vistas.

SF is also home to some seriously underrated beaches, with Baker Beach at the edge of the absolutely gorgeous Presidio being one of them.

If you time the weather right (fog and unfairly chilly temps roll in like clockwork in the summer), you'll find one of the most scenic places to lay your beach towel anywhere in the world.

Up-close views of the Golden Gate Bridge and a sneak peek of the truly special Marin Headlands offer a romantic backdrop for one of the best beaches in California for couples or solo adventurers with a camera.
Pope Beach
Planning a coastal drive to capture California's beautiful scenery along the Pacific first-hand? You might miss one of the best beaches in North California.

Why? Because this beach is about 100 miles from the ocean, on Lake Tahoe's stunningly clear blue waters.

It's generally too cold to swim for more than a few minutes, but the sunny beaches, clean air and views of the nearby Sierra Nevada Mountains make it one of the best beaches in California.
Glass Beach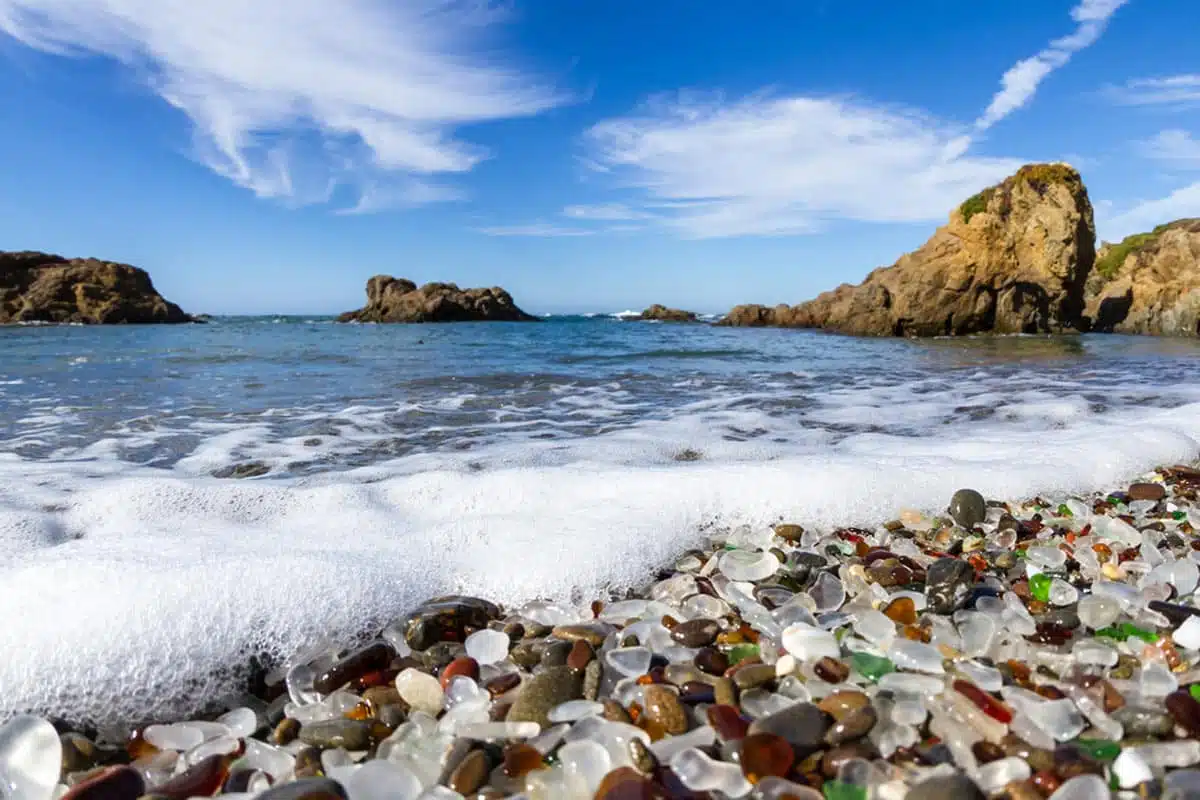 Head to the charming town of Fort Bragg to check out Noyo Harbor, mushroom ice cream (the candy caps taste like maple syrup) and one of California's most infamous coves, Glass Beach.

This beach along the Northern California coast is unique in that it's home to beautiful gem-like pieces of glass scattered along the shores.

The origin story is a bit of a bummer (decades of dumping trash and bottles into the ocean). But nature often has a way of turning things around. The glass broke into smaller pieces, the waves smoothed out the edges and the beaches were gifted aquamarine, white and amber "stones."
Top Tip: It's a beautiful location to photograph for its unique scenery, but be aware that because of illegal collecting, it's no longer what it used to be.
Trinidad State Beach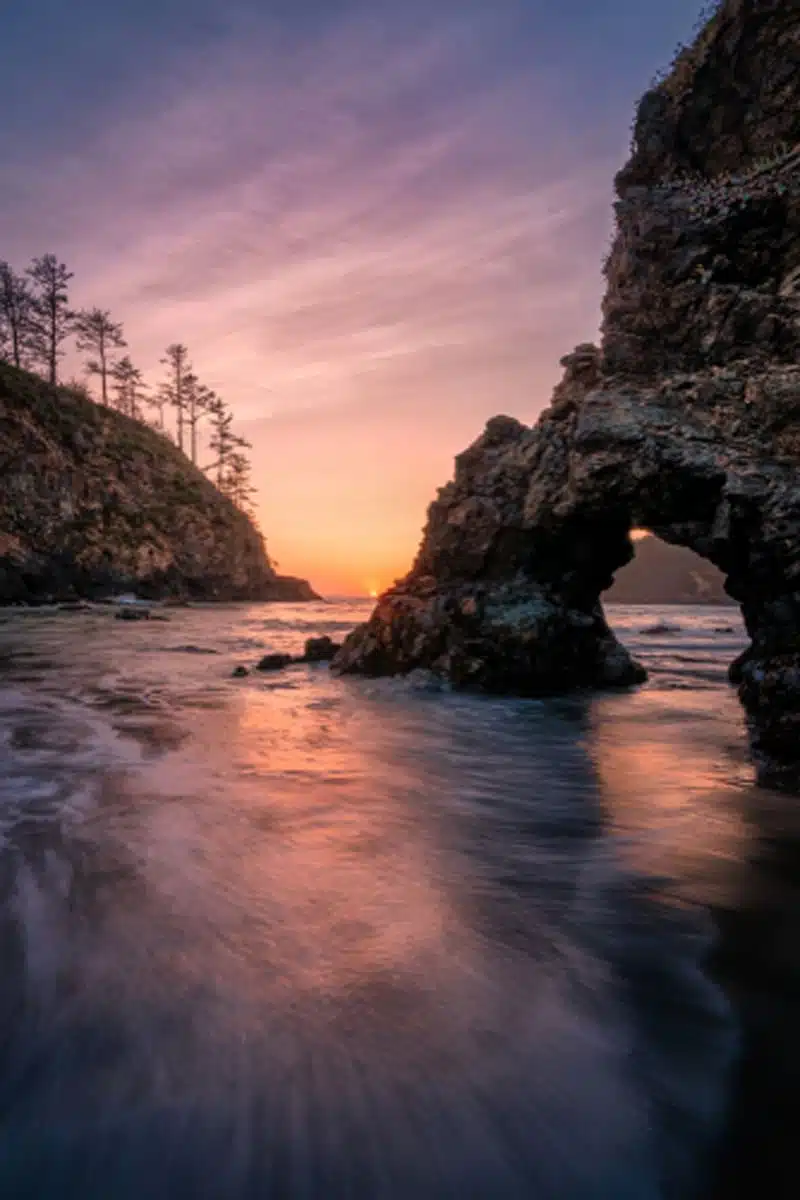 California Beaches are famous for images of surfing, sunbathing,and strolling along in flip-flops.

But there's also a rugged, wild beauty along the Pacific Coast, and Trinidad is the perfect example of one of the best beaches in Northern California.

You'll need to take a short hike to the Humboldt Coastline, But when you see the pine tree-topped sea stacks emerging from the greenish-blue waters, you'll quickly realise why this is one of the best beaches in California for photography and scenic sunsets.
Stinson Beach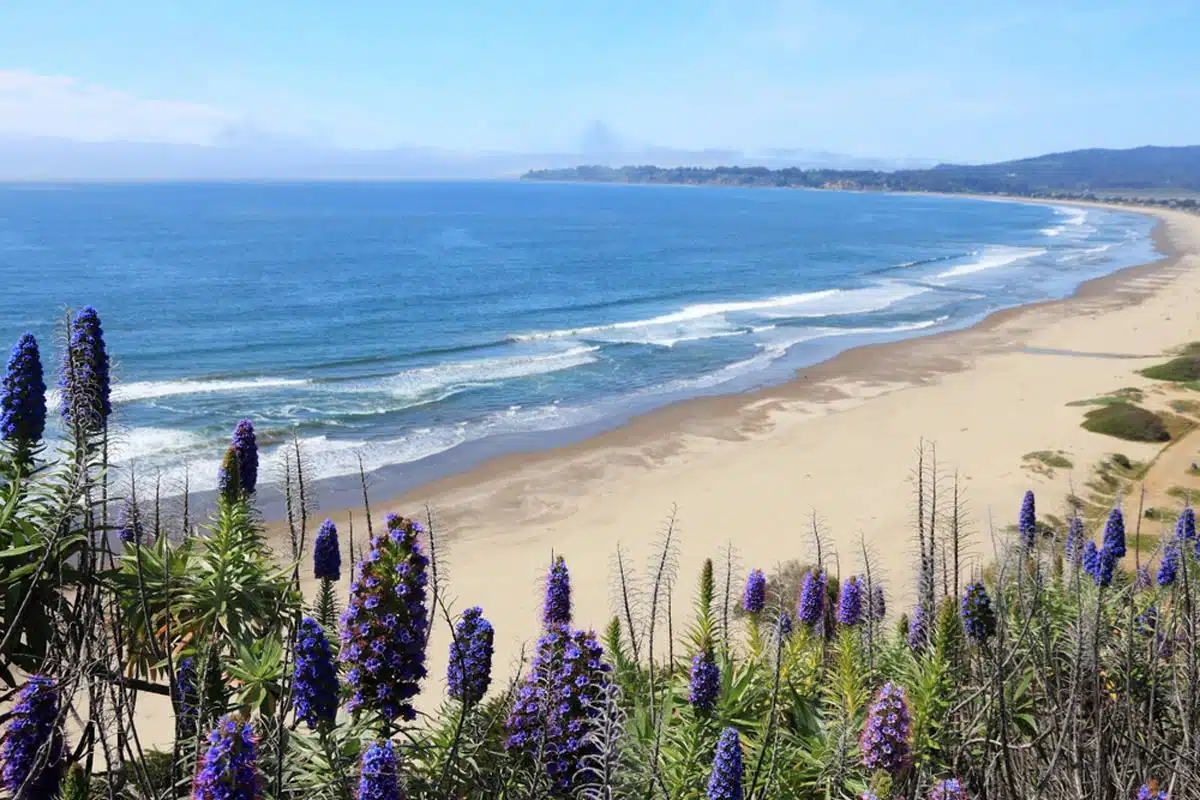 Drive about an hour from San Francisco in the idyllic suburban – and rural – area of Marin County and you'll find a white sand beach that may have you second-guessing your GPS (are we in California or Mauritius?).

With 2.5 miles of soft, sandy real estate, it's a perfect place to hang out with friends, take a stroll or swim.
Top Tip: Because the unique geography of San Francisco makes it notoriously cold in the summer, beaches near the city get busy early and often. Plan ahead and go early to snag one of the parking spots nearby.
Venice Beach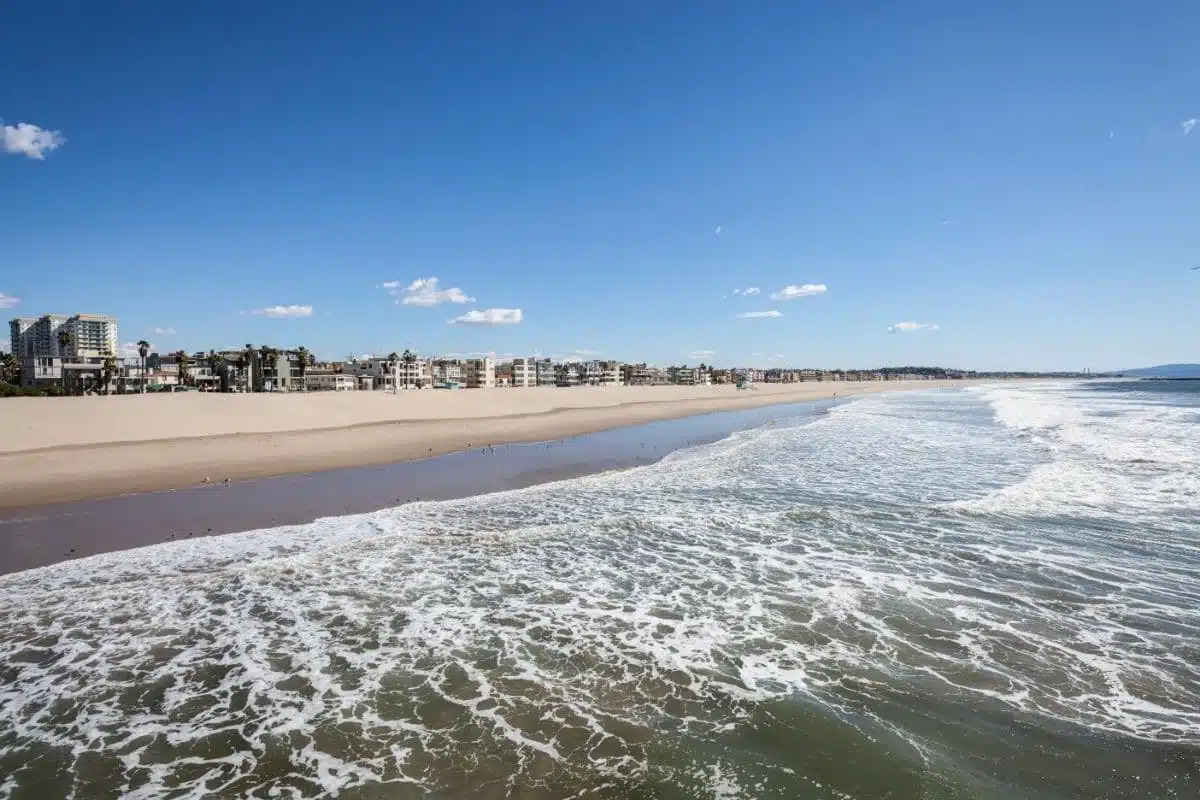 When Abbot Kinney helped design Venice Beach over 100 years ago, he drew inspiration from the namesake town in Italy.

How? The Venice Canals stretch across several blocks with bridges and pathways, making it a nice place for a stroll. But trust me, the vibe here is much different than the Queen of the Adriatic.

Think sand, surf, skateboards and LA cool. It's a beach where you want to be seen, or watch those others who do – including the famous muscle beach where weightlifters have famously flexed their muscles al fresco for decades.
Pacific Beach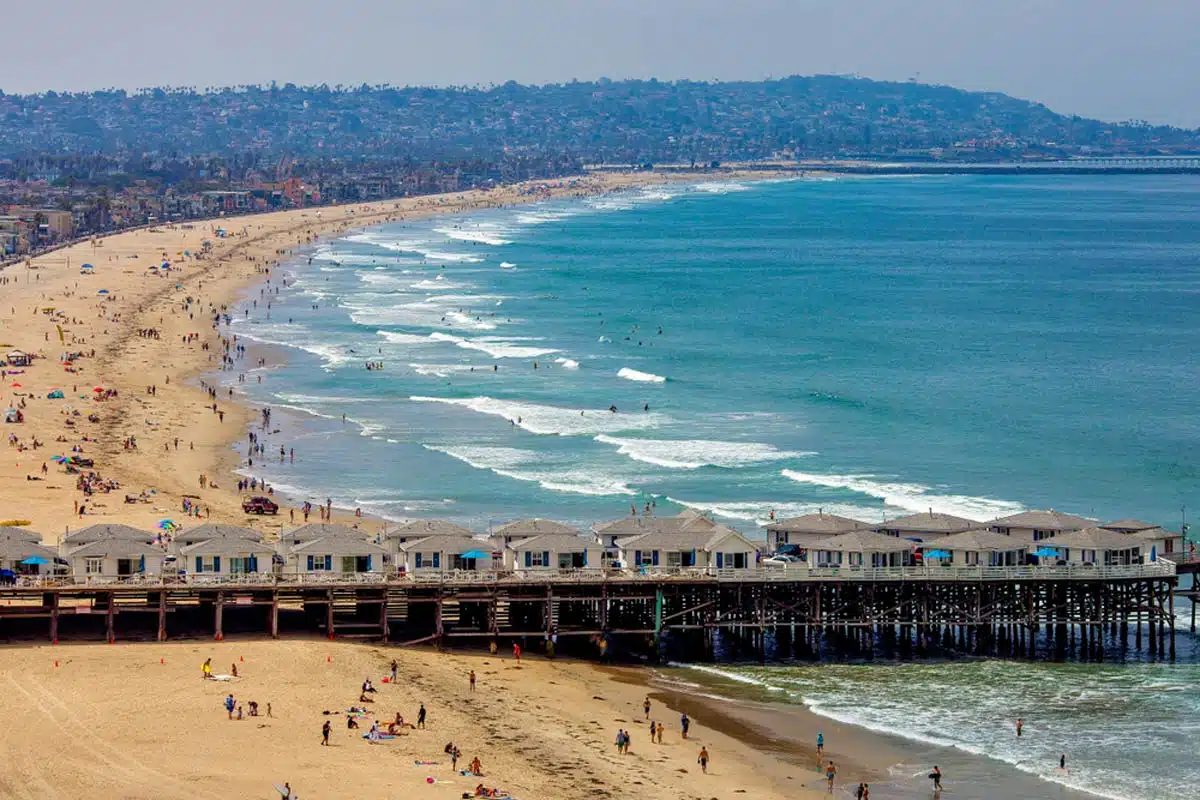 Do I have a favourite beach in Southern California? Yes and no. Pressed to choose just one is a tough task, but Pacific Beach (or PB) is easily top 5.

It almost feels like San Diego is built around this beach. Not so much from a city planning lens, but the culture, cuisine and party scene of SD is felt through every inch of the 3+ miles of the boardwalk.

And when you're done swimming or suntanning, make sure to skateboard, bike or walk your way down the pathway of beach houses, bars, and restaurants all the way to Mission Beach.

Speaking of, the unpretentious Mission Beach is a great spot, too, and home to the famous Big Dipper Roller Coaster, so it's a perfect pairing.
Laguna Beach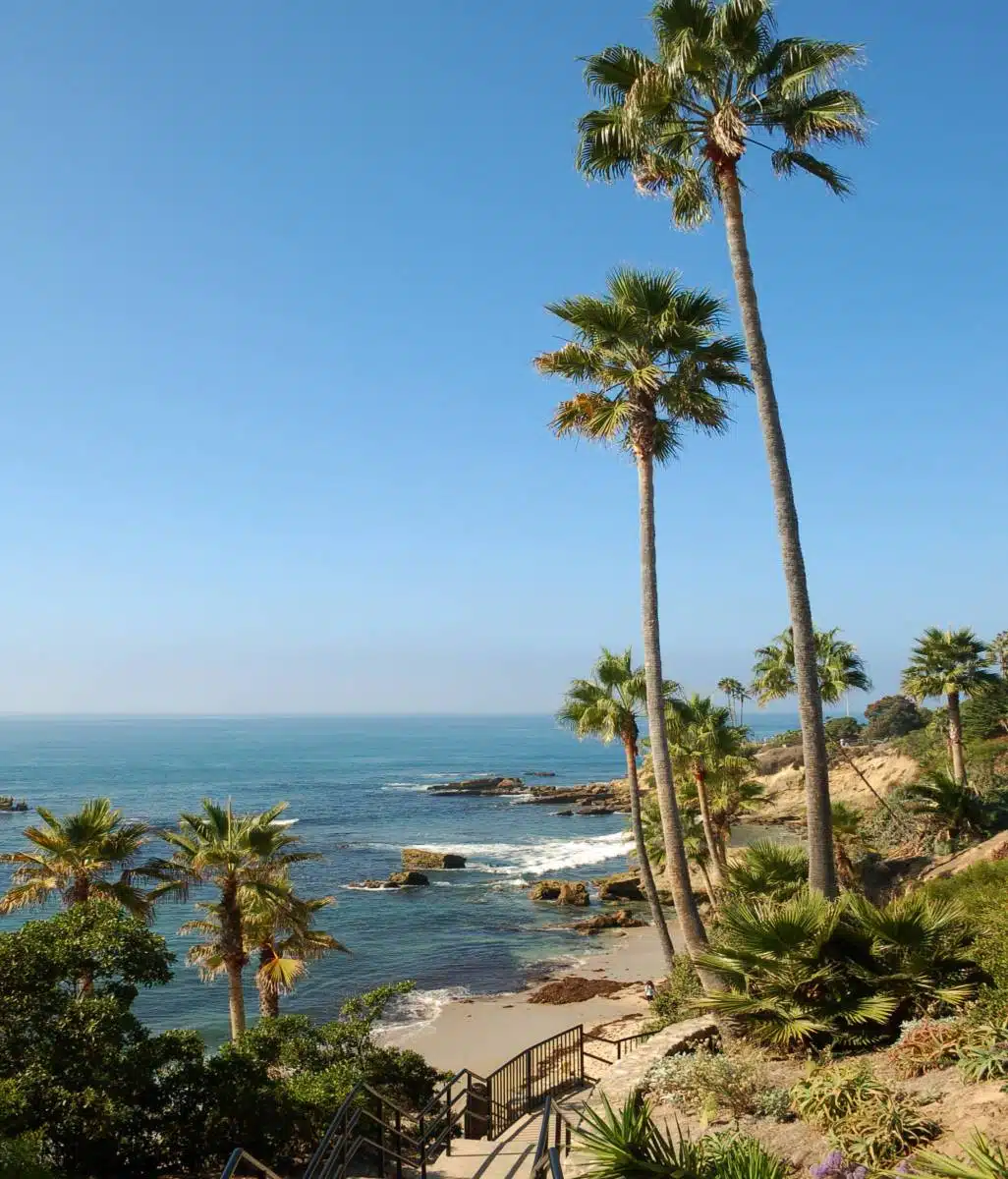 Let's be honest. There probably isn't a more famous stretch of coastline that quite puts your finger on than the home of one of Southern California's best beaches, Laguna Beach.

More film and TV production crews capture the sandy shores, hidden coves and coastal bluffs by aerial shots than I can count. But there's a reason for this – it's insanely beautiful.

And if you take the time to explore the seven miles of coast, you'll realise why so many locals and tourists fall in love with the boutique art galleries, restaurants and shoreline along this stretch of the Pacific Coast.
Technically Laguna Beach is made up of dozens of smaller beaches, but if you head to the popular Main Beach Park, you'll find one of the best dog beaches in Southern California. Sounds perfect?
Top Tip: The city regulates when you can bring your dog during the busy summer stretch. Check their website before inviting your four-legged travel companion.
Natural Bridges State Beach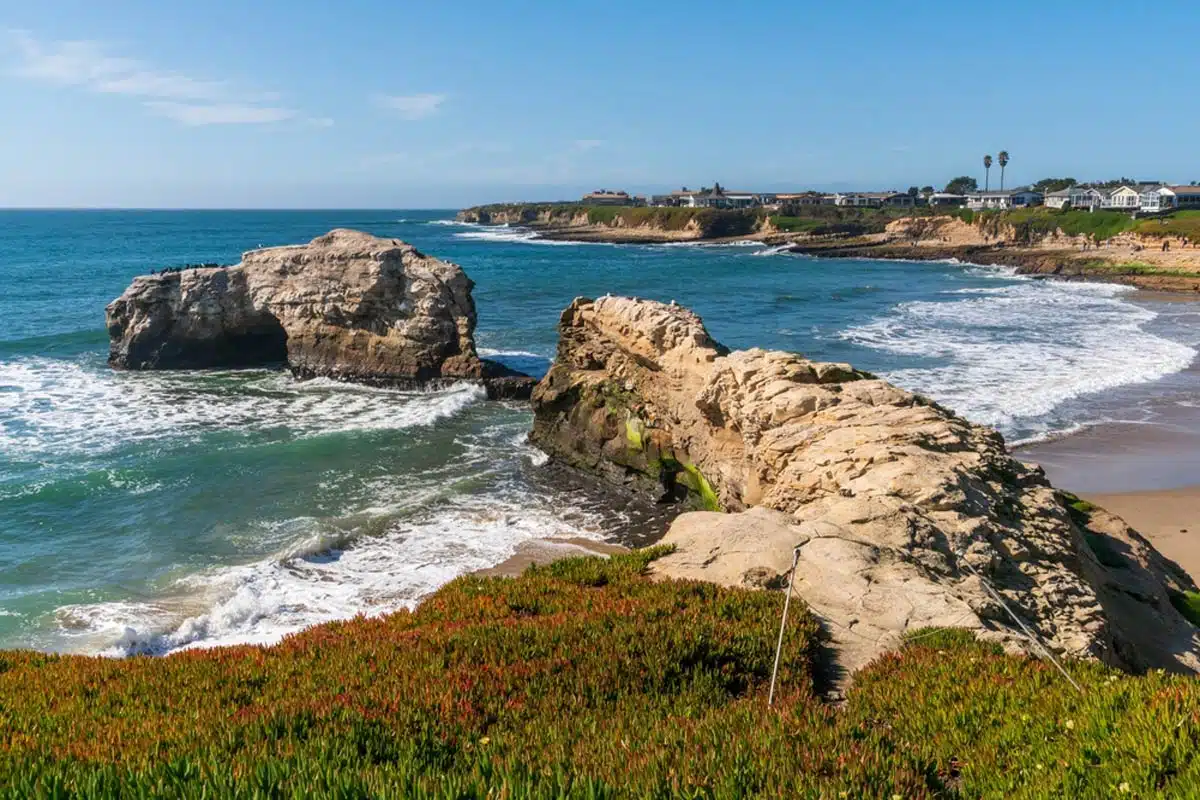 If you find yourself in Santa Cruz (make it a point to take a trip to this laid-back time capsule along the Central Coast if you're in Santa Barbara), you won't want to miss Natural Bridges State Beach.

While you'll find better swimming beaches down south, this is one of the best beaches in California for photography, tide pools and whale watching.

The star of the show year-round? The large natural bridge forms the quintessential backdrop for beachside photos, no matter the occasion.
Top Tip: Charge your phone – you'll be snapping a lot of photos.
Pismo Beach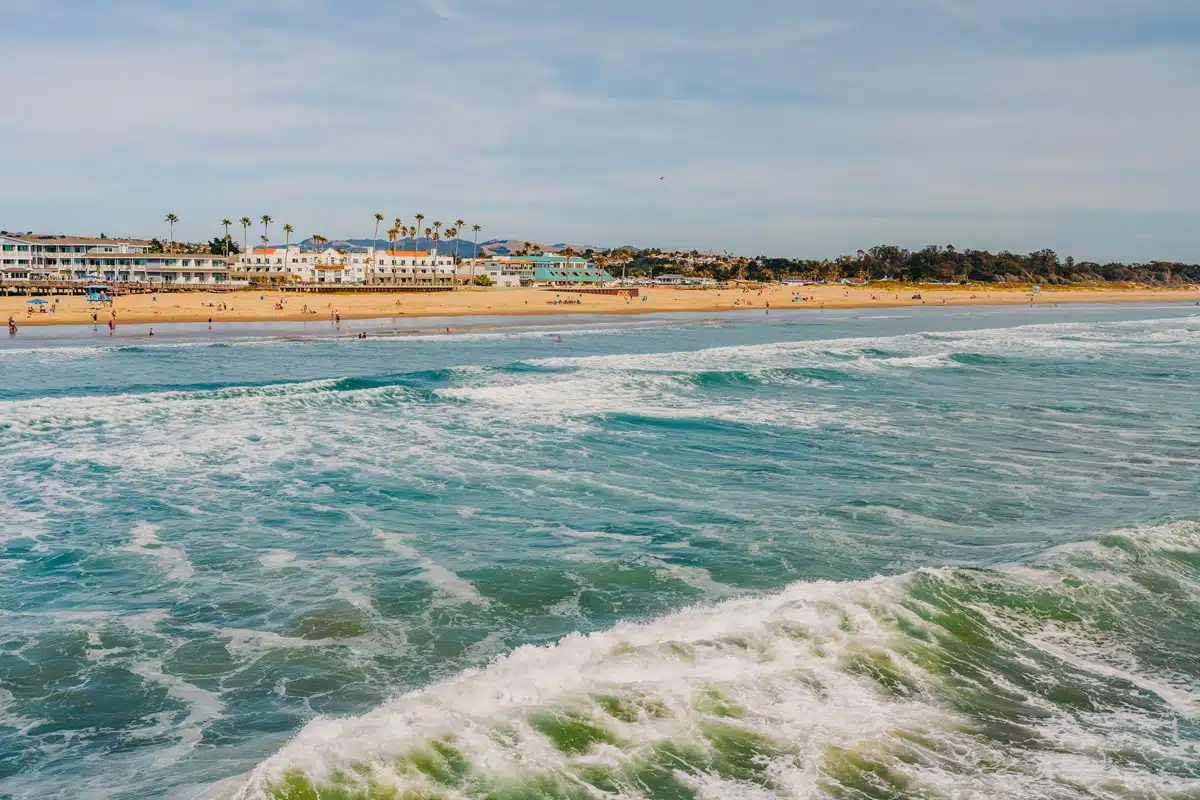 Situated along the picture-perfect Central Coast, Pismo Beach is a contender for the all-around best beach in California.

Don't believe me? Pick a spot along the miles and miles of golden sands, rolling waves and sunny skies in this relatively sleepy (and seriously charming) beach town. You'll quickly get the picture.

Surfing, swimming and stretching out on the sand are a few things to do at this Central Coast standout. It's also one of the best beaches in California for couples, teeming with romantic restaurants and sunset views along the shores.
Top Tip: Spend a few days in Pismo Beach, and take a bike tour of nearby wineries. I love Sonoma and Napa Valley, but if you want to try some exciting wines near one of the best beaches in California, head to Pismo.
Coronado Beach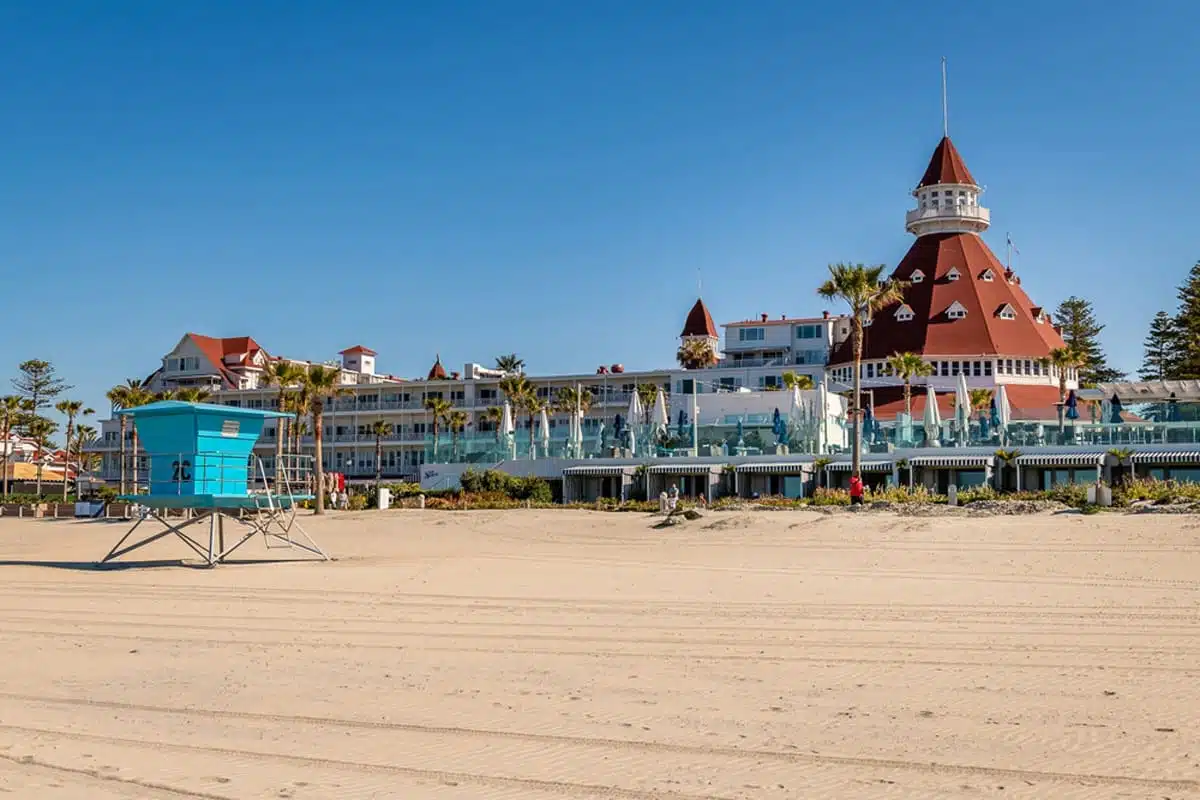 Head over the Coronado Bridge from San Diego to experience one of the best beaches in Southern California.

Several stretches of white sand give locals and tourists a perfect landing spot for those (frequent) warm, sunny days SD is famous for.

And, if you're looking for the best dog beaches in California, look no further. Coronado Dog Beach is an excellent place to let your dog run off-leash into the water along the stunning sands and shores.
Arroyo Burro Beach County Park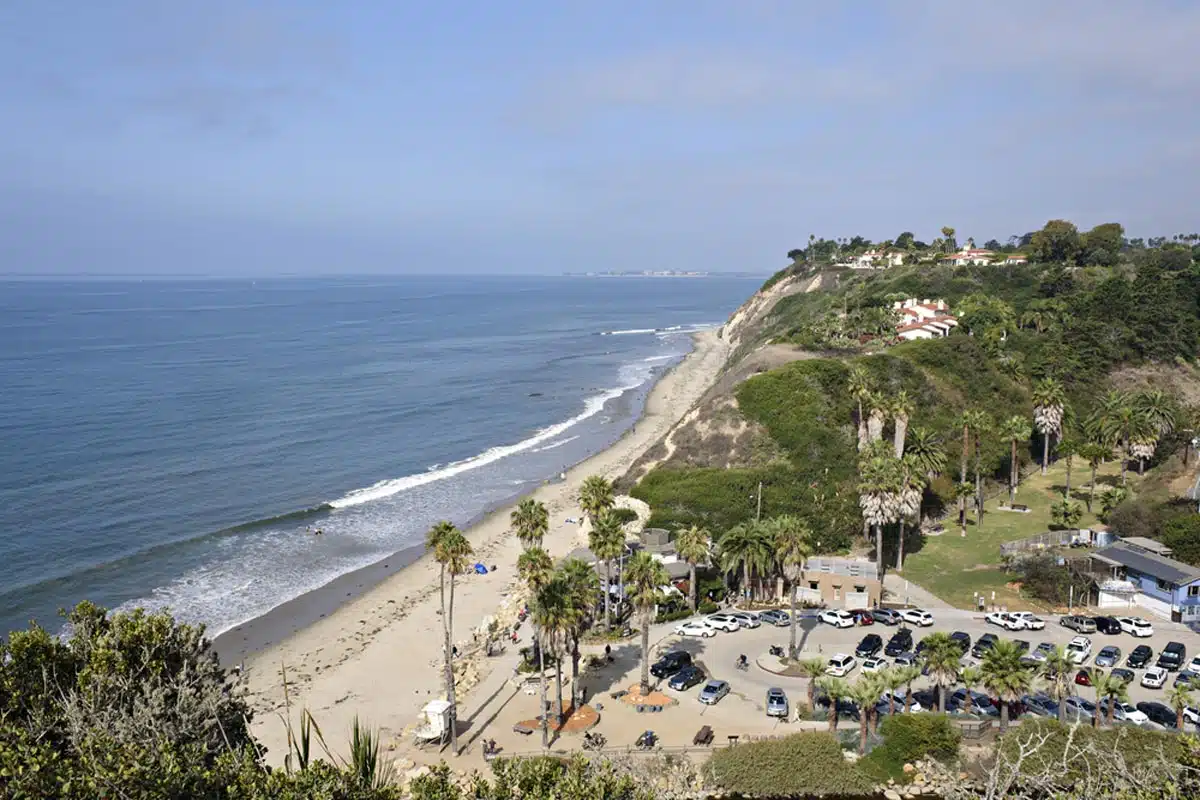 Many visitors head to San Diego, Los Angeles or San Francisco without driving between the famous cities. Big mistake.

California has so many incredible cities in between, and Santa Barbara is one of them. So when visiting SB, check out Arroyo Burro Beach for one of the best all-around beaches in California.

You'll enjoy free parking (it fills up fast), excellent tide pools, relatively calm waters and lifeguards during peak season.

Best of all, there's a bustling (and delicious) restaurant on your way out – try Boathouse at Hendry's Beach for some great seafood in a lively setting near one of the best beaches in California to swim.
Malibu Lagoon State Beach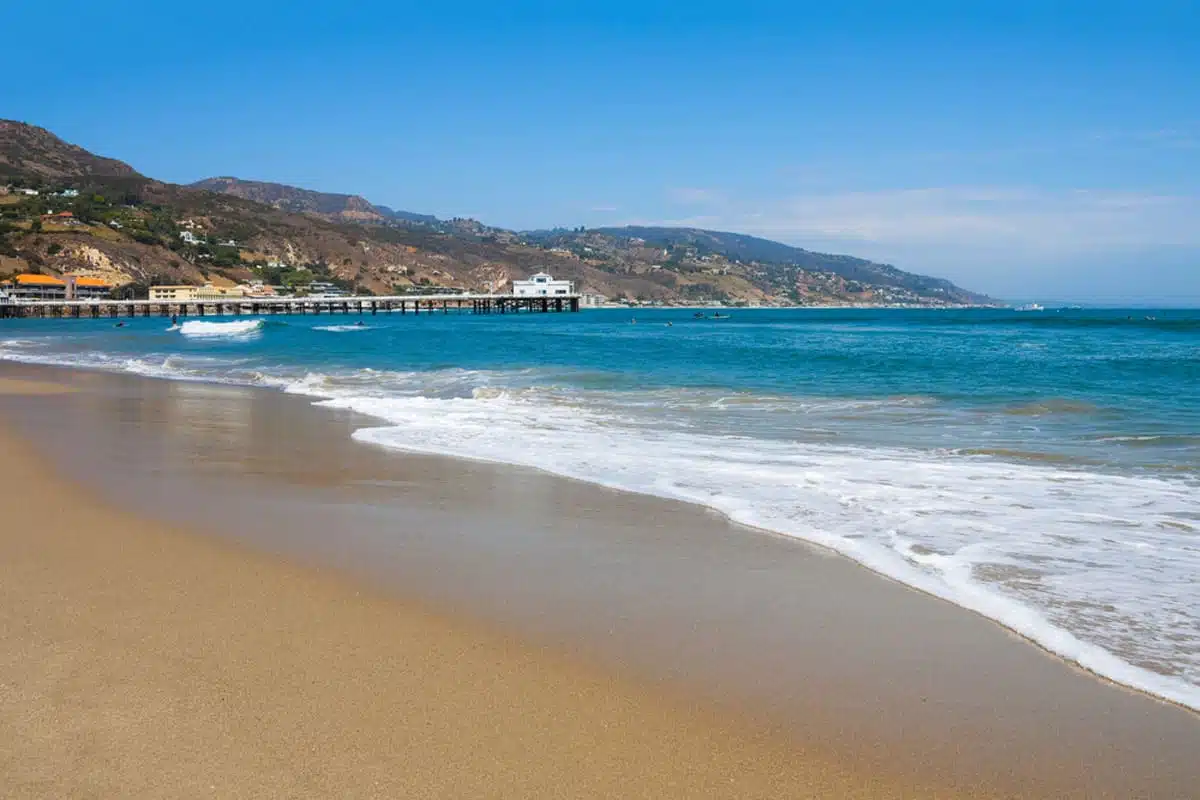 If you're taking a West Coast USA road trip, Malibu is a perfect starting point for your drive north.
Ideally, you'll want to begin your trip to California with San Diego and work your way up if you've never been. But heading north on the PCH from Malibu has a magical feel I just can't describe.

Before you leave the world-famous stretch of coastline in northern L.A., be sure to spend some time at Malibu Lagoon State Beach. Specifically, you'll want to hit up Surfrider Beach and check out the skilled amateurs and pros who make this area famous.

Walk around the long stretch of sand and lagoons, stop by the pier, or head up to the nearby bluffs to see Grey Whales in late winter and early spring.
Sand Dollar Beach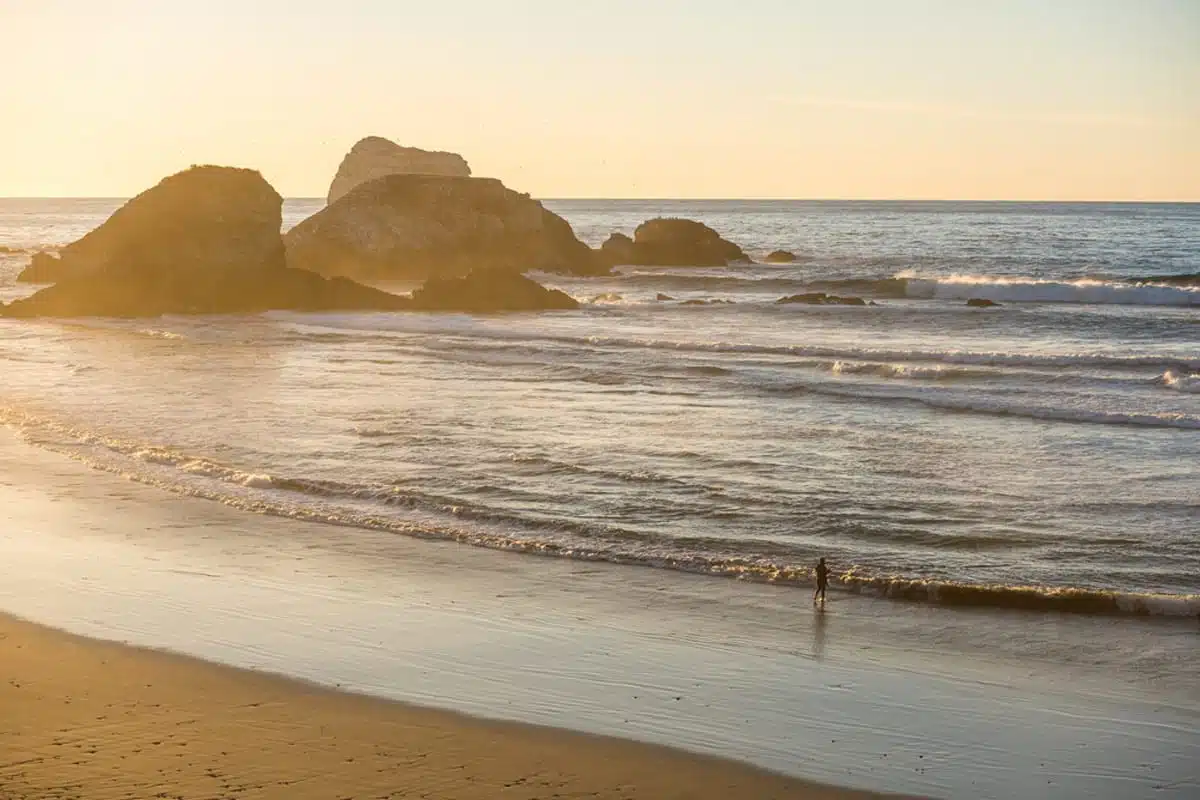 Looking for the best beaches to visit in California? Sand Dollar Beach in Big Sur is my favourite swimming beach in the area and a contender for the state's best.

Why? The long stretch of sand and surf is a popular location to surf, swim, fish and beach comb.

Keep your eyes peeled for sand dollars; they're not that easy to find here. But you may see rare stones if you walk to Jade Cove nearby.
Huntington Beach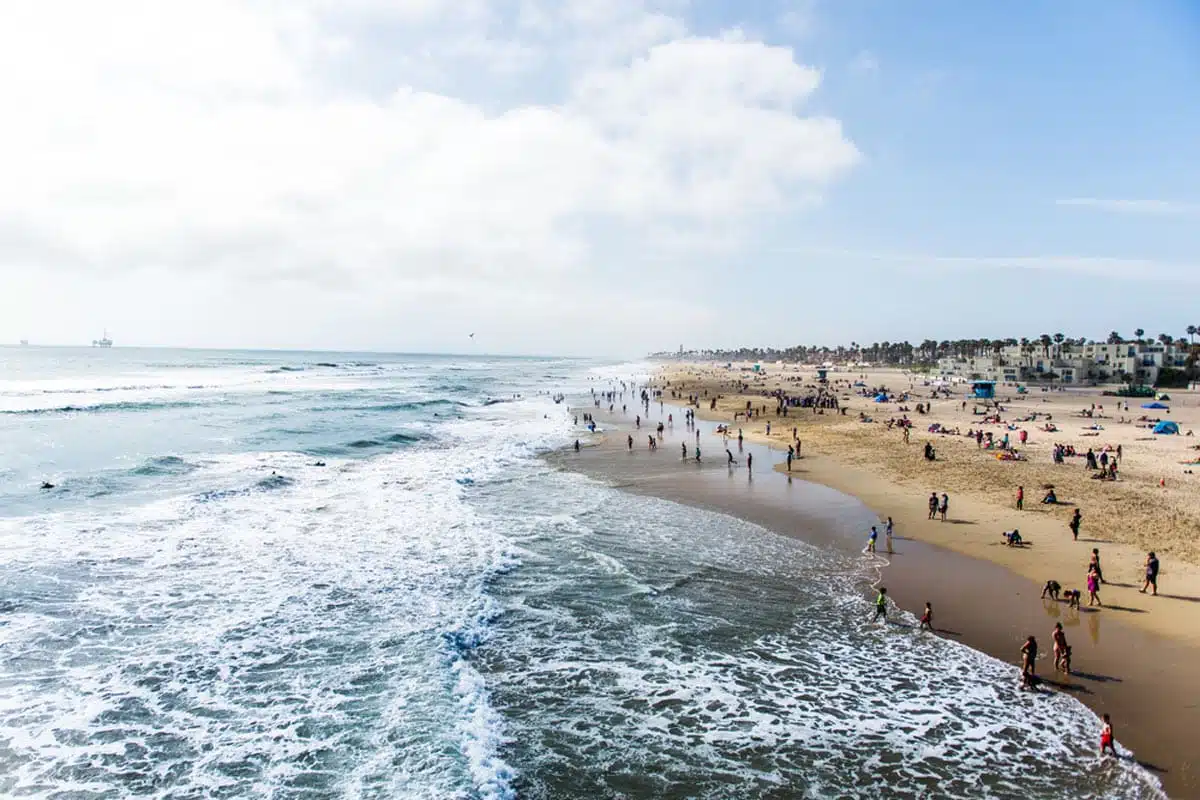 Naming the best surfing beach in California? That's grounds for a hot debate, but Huntington Beach is famous for the rolling waves next to the iconic Huntington Beach Pier that have attracted beachgoers for decades.

You can find some decent swells in the spring, but winter is generally the best. Time the tides right and you'll enjoy some pretty impressive surf sessions here.

But the vibrant local scene isn't only in the water. The soft sands, sunny afternoons and bustling Main Street and pier make this an incredibly vibey place any time of year. All in all, it's one of the best beaches in Southern California.
McWay Beach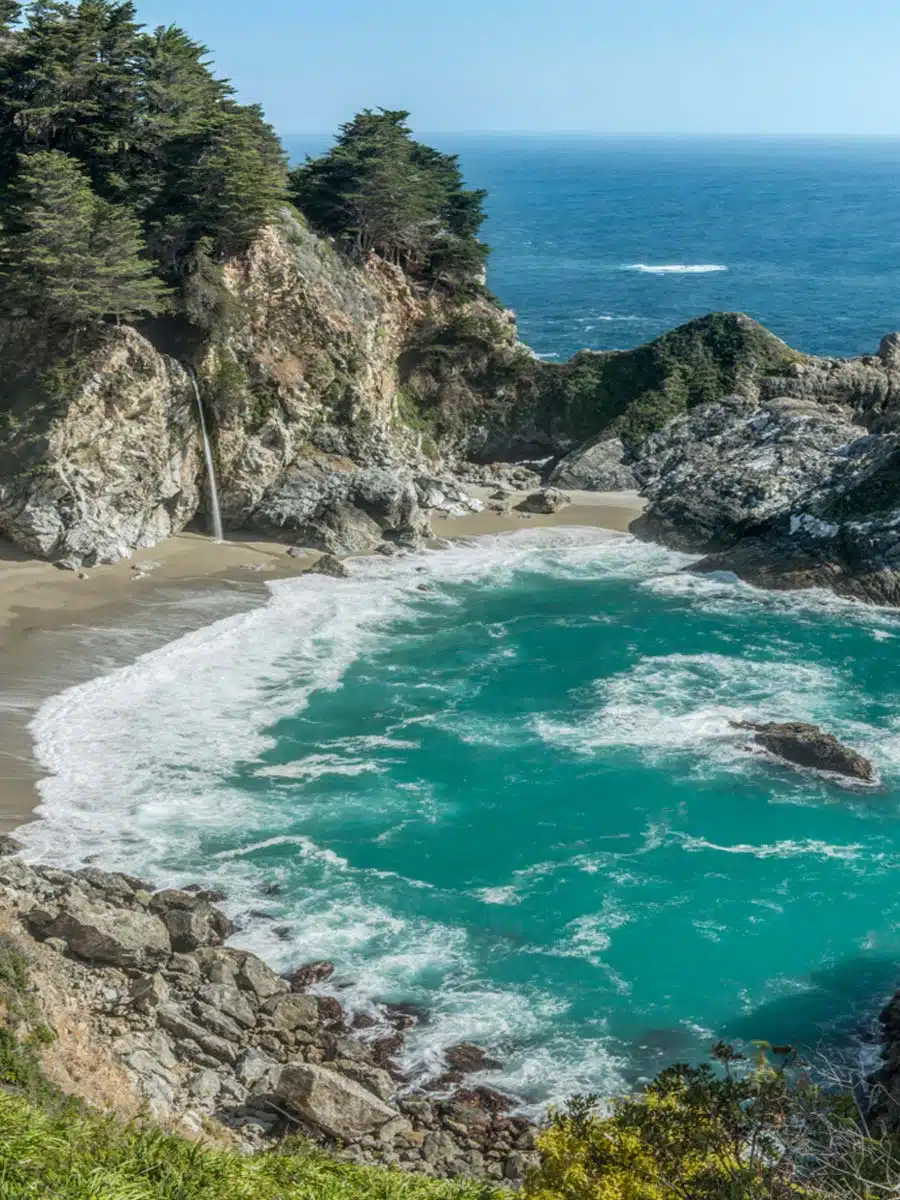 Big Sur isn't just home to many of the best beaches in Central California; it's also a place where you'll likely have them to yourself.

But you'll probably share the views of McWay Beach in Julia Pfeiffer Burns State Park with a few other campers, day trippers, or locals because of the tidal falls here (think waterfalls spilling directly onto the golden sands and cyan waters). It's a pretty magical sight.
Top Tip: Don't pack your beach towel or swim trunks for this beach; climbing down to this one-of-a-kind California landmark is illegal, so you'll need to enjoy it from above.
Practical Tips for Exploring California's Beaches
Focus on one area if it's your first trip to California. Each region has dozens of stunning beaches to explore.
If you have more time, or it's not your first trip to The Golden State, take a drive along PCH and stop every chance you get. You'll find unexplored coves and stretches of sand that make this one of my favourite states in the USA.
Dress in layers, even in Southern California. Once the sun begins to set, you'll want long sleeves.
California Beaches: Map
California Beaches: Read More West Coast Guides