Planning a three-day trip to San Diego? You'll need this epic three-day itinerary by your side.
I'm not going to beat around the bush here. San Diego is an urban playground with a stunning coastline and endless fun. But, deciding what to do and where to go might be slightly jarring. If only you had the help of a seasoned San Diego trip planner.
If only…
Wait a minute. You do.
After laying bare the best hikes in San Diego and curating the ultimate list of San Diego things to do, you're in the right hands. Now, enough chit-chat. We've got an adventure waiting.
Let's go, San Diego!
Where to Stay: Stay in the heart of Downtown San Diego at the Westin Gaslamp Quarter. It's modern, luxurious, and in the middle of the trendiest part of the city.
Handy Tips for Planning Your San Diego Itinerary
Group Tours or Independent Travel?
Let's get the admin out of the way – a common question with most San Diego itineraries is whether it's better to plan and execute it independently or explore via guided group tours.
Ultimately, the choice is yours.
Independently is better if you want the freedom to explore at your own pace. But I'll stress that when using a planned itinerary (like this one), you get to totally curate your own trip to San Diego.
That's not to badmouth group tours at all. For example, this San Diego Harbor Cruise or Hop-on Hop-off Narrated Bus Tour blends the exciting thrill of city highlights with a structured approach. It takes much of the intricate planning out of your hands.
What to Pack for Your San Diego 3-Day Itinerary
The fact is, most travellers easily fall prey to overpacking or (in rare cases) underpacking. Everyone's been there, so naturally, having some well-thought-out packing list ideas is helpful. I got you.
Here's my 3-day itinerary in San Diego must-pack essentials:
Where to Stay for Your 3 Days in San Diego
The Westin San Diego Gaslamp Quarter
A stunning 4-star hotel in the trendy Downtown San Diego area, the Westin San Diego Gaslamp Quarter offers modern and well-equipped rooms.
Centrally located to numerous attractions and highlights, the property boasts two on-site restaurants, a spa, and a fitness centre. Thanks to all of this, it's no wonder it's such a fantastic place to stay for a 3-day in San Diego itinerary.
Check Rates and Availability at The Westin San Diego Gaslamp Quarter
Hotel Del Coronado
One of the classiest accommodation options in San Diego, the Hotel Del Coronado is both historic and opulent. It boasts stunning ocean views, a lush garden, and rooms with either a private terrace or balcony.
Other on-site features include a restaurant and bar located on the beachfront.
Check Rates and Availability at The Hotel Del Coronado
Omni San Diego
If you're looking for the intersection of modern styling, world-class service, and contemporary architecture, the Omni San Diego is your next home-away-from-home.
Situated in Downtown San Diego, it features three on-site restaurants and individually decorated suites, and it's pet-friendly.
Check Rates and Availability at The Omni San Diego
Useful Resources
Getting Around San Diego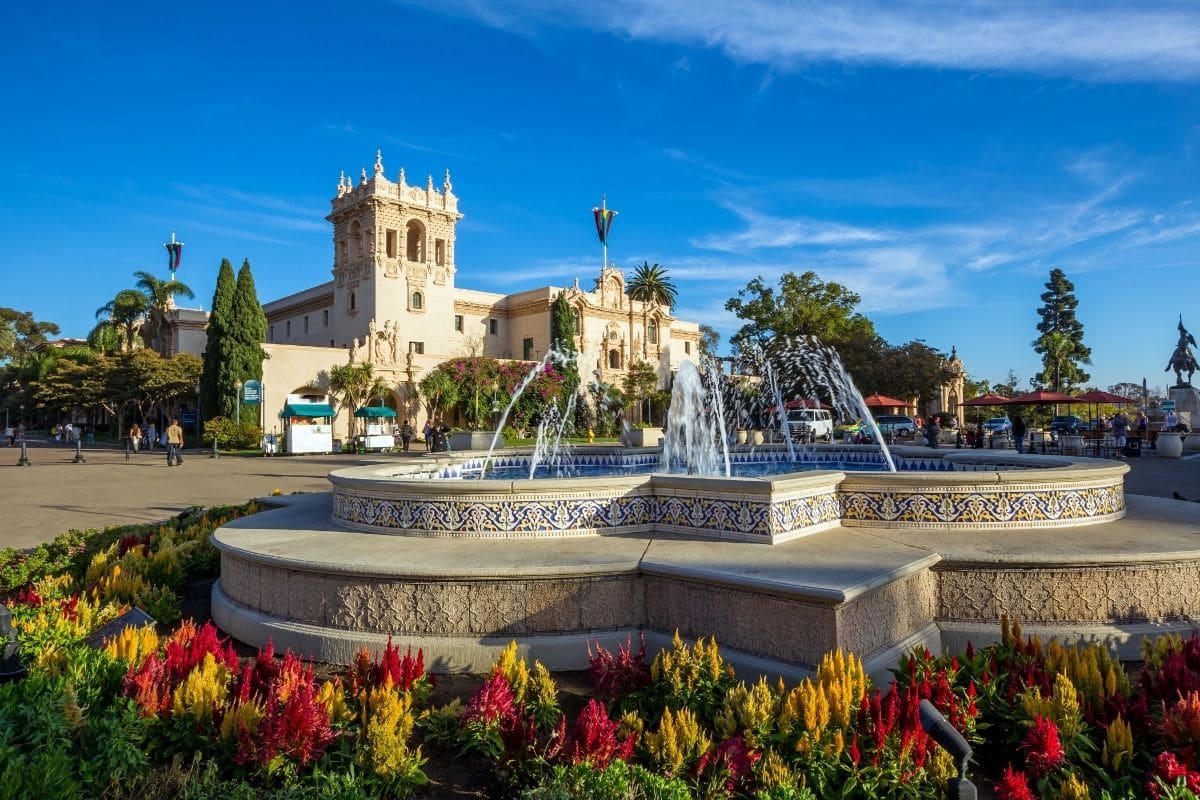 Ok, one last thing before I let you loose with this killer itinerary, I promise.
Let me be clear: while some regions of the city, such as Downtown San Diego, are walkable, the city stretches out quite a bit.
Why does that matter? Most importantly, you'll need a rental car to reach beyond its walkable centres. Use services like Rentalcars.com to make getting a car easy and hassle-free.
However, popular public transport methods like the San Diego Trolley and Coaster Train run between city hubs. While other options like Uber and Lyft make are also available.
Tip: For easy access and free entry to many of San Diego's attractions, invest in the San Diego CityPASS or the Go City San Diego Pass.
3-Day San Diego Itinerary Itinerary
San Diego Itinerary Day One: Explore Iconic San Diego Highlights
Let's kick off the first day of your San Diego itinerary with the jewels atop the crown of this Cali treasure. Its iconic highlights range from Balboa Park, San Diego Zoo, and Gaslamp await.
Morning Adventure in Balboa Park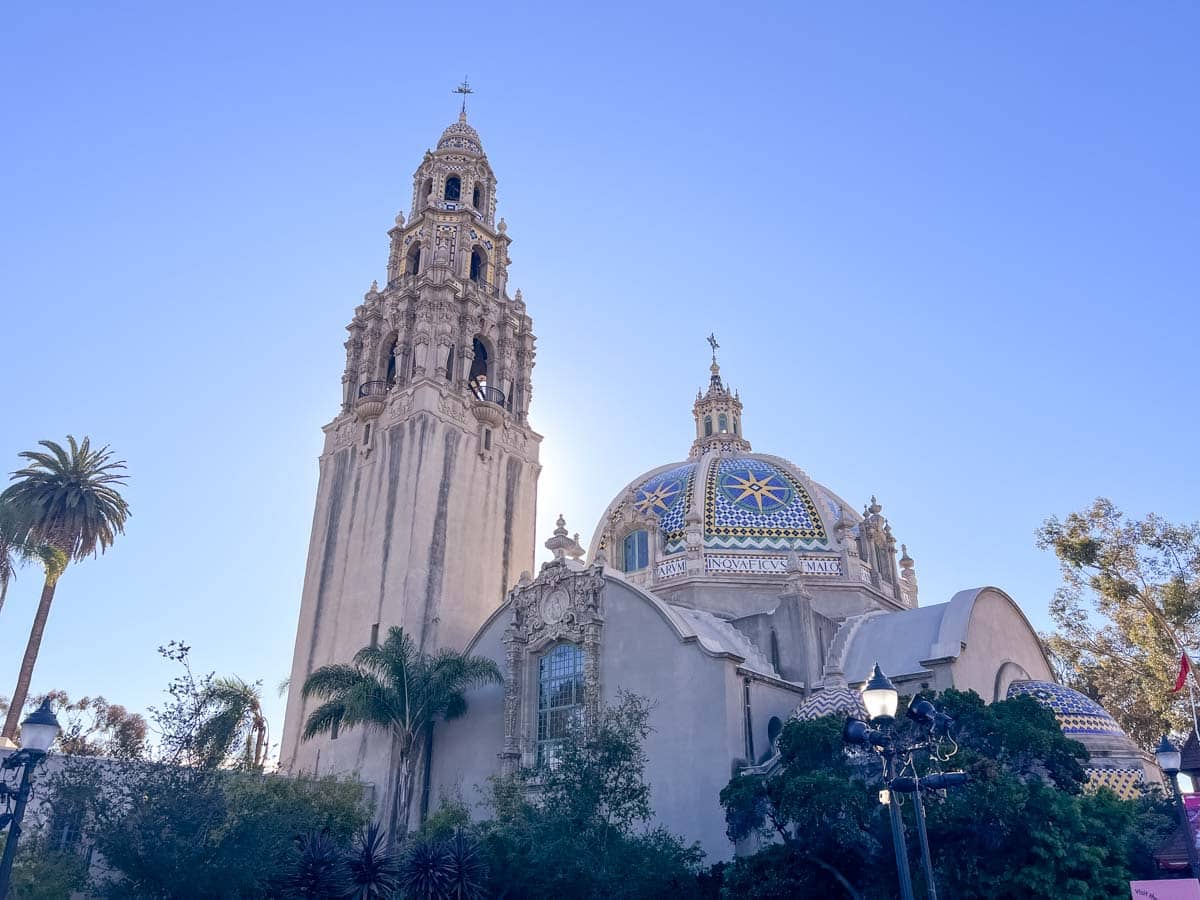 It's easy to get lost in the cultural oasis of Balboa Park, but I'll be honest, that wouldn't be a bad thing. The 1,200-acre icon features more than just sprawling greenery and is the perfect spot for starting your day.
Throughout, you'll find shops, museums, and restaurants. Begin your day by exploring one of the most picturesque gardens in the park—the Balboa Park Cactus and Rose Garden. San Diego's roses bloom all year, so it's a feast for the senses.
Discover Epic San Diego Museums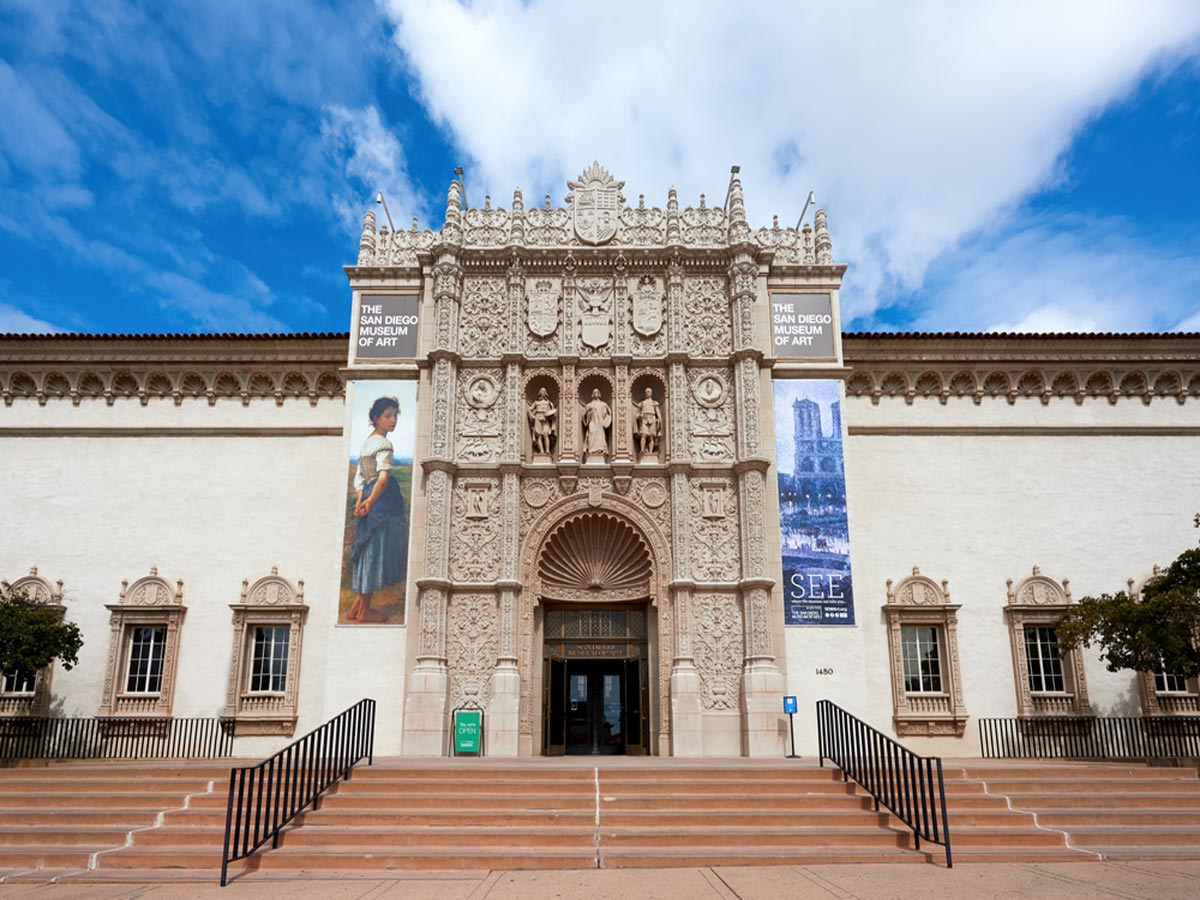 Cmon culture seeker, after sampling the natural gems of Balboa Park, it's time to discover its massive collection of museums. A whopping 17 impressive museums call the park home. It might be hard to pick your favourite (I'm still trying), but there are surefire standouts.
The San Diego Air and Space Museum is a thrill ride of aviation history. The San Diego Museum of Art features artistic collections totalling 20,000 pieces dating back to 3,000 BC.
Or head to the San Diego Museum of Us, where you'll find exhibits on everything from human relations to mythical monsters and cannibalism (yikes).
Experience The San Diego Zoo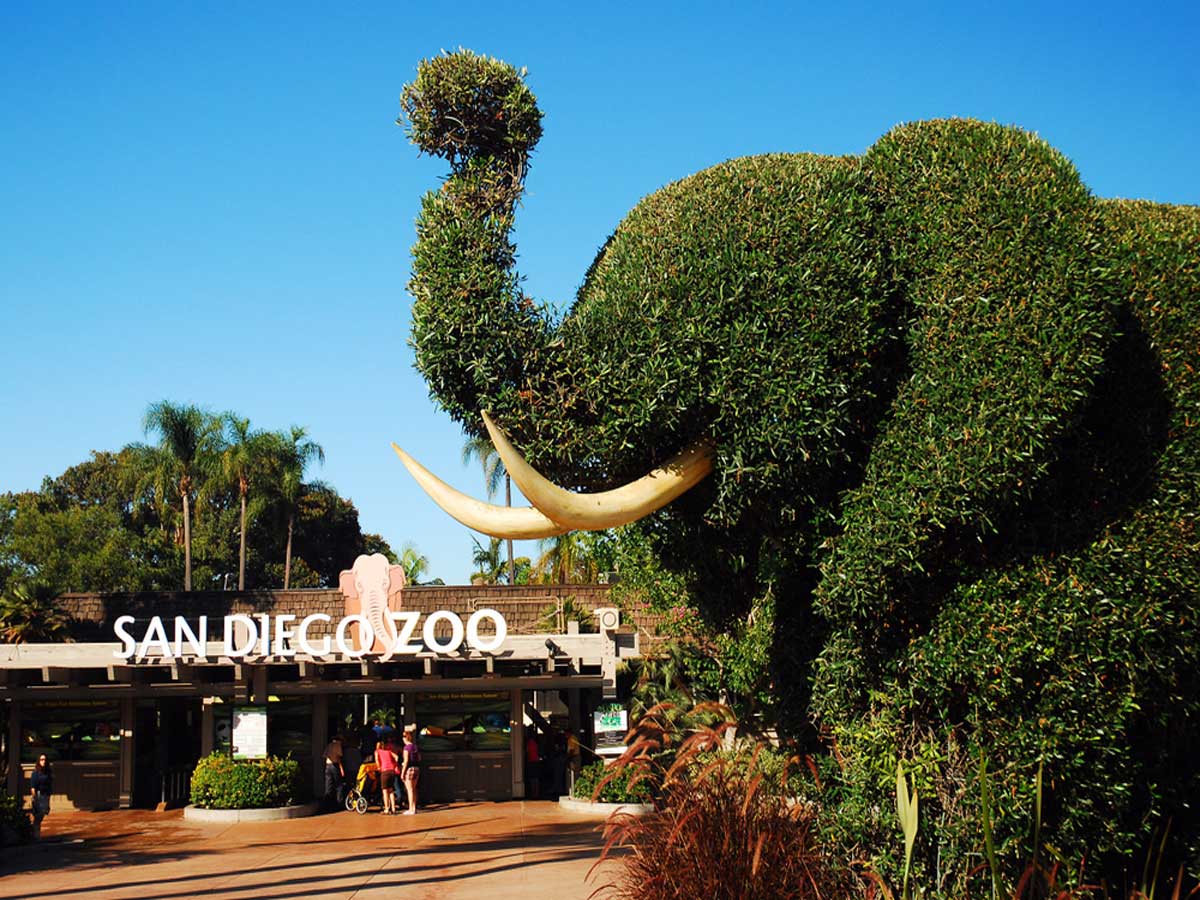 Next up is probably one of San Diego's biggest attractions. One of the most famous zoos in the US, this is a must-visit. Sitting in Balboa Park and covering 100 acres, it showcases lush, naturalistic habitats and unique animal encounters.
I dare you to not fall in love with a place that brings together roughly 4,500 animal species. Beyond that, it features exhibits such as the Polar Bear Plunge, Elephant Odyssey, and the thrilling San Diego Zoo Safari Park.
Tip: Get your skip-the-line ticket to the San Diego Zoo for easy access without queueing your way into the zoo.
Enjoy Yourself in the Gaslamp Quarter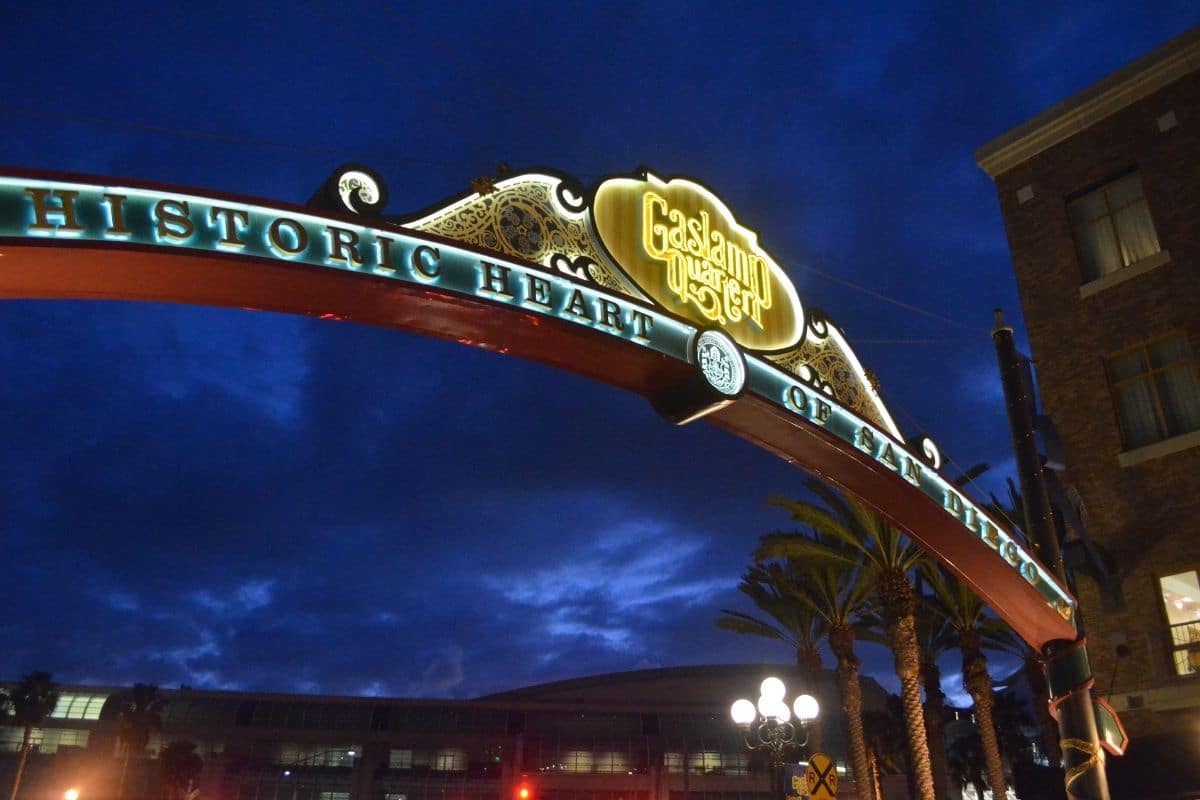 To end day one of your San Diego trip itinerary, it's time to hit the brightly lit streets of the Gaslamp Quarter. I am SO jealous.
The 16-block beating heart of Downtown San Diego boasts more than 100 restaurants, bars, nightclubs, rooftop bars, and comedy clubs.
This is where you go to eat, drink, and party, with most roads closed to traffic at night, allowing bars and restaurants to open outdoor seating. Surrounded by eclectic Victorian architecture blended with vibrant and modern hangout spots, you'll find it hard to leave.
Tip: Dive into the night with this Brothels, Bites, and Booze Gaslamp Quarter tour.
San Diego Itinerary Day Two: Dive Into San Diego's History
Day two in San Diego is about the city's history and attractions. Prepare for seaside adventures at Seaport Village, visit the amusing (pun intended) Belmont Park, and indulge in the city's rich past.
Oh, I almost forgot — some wine and dining is a staple for your second day.
Early Morning in San Diego Seaport Village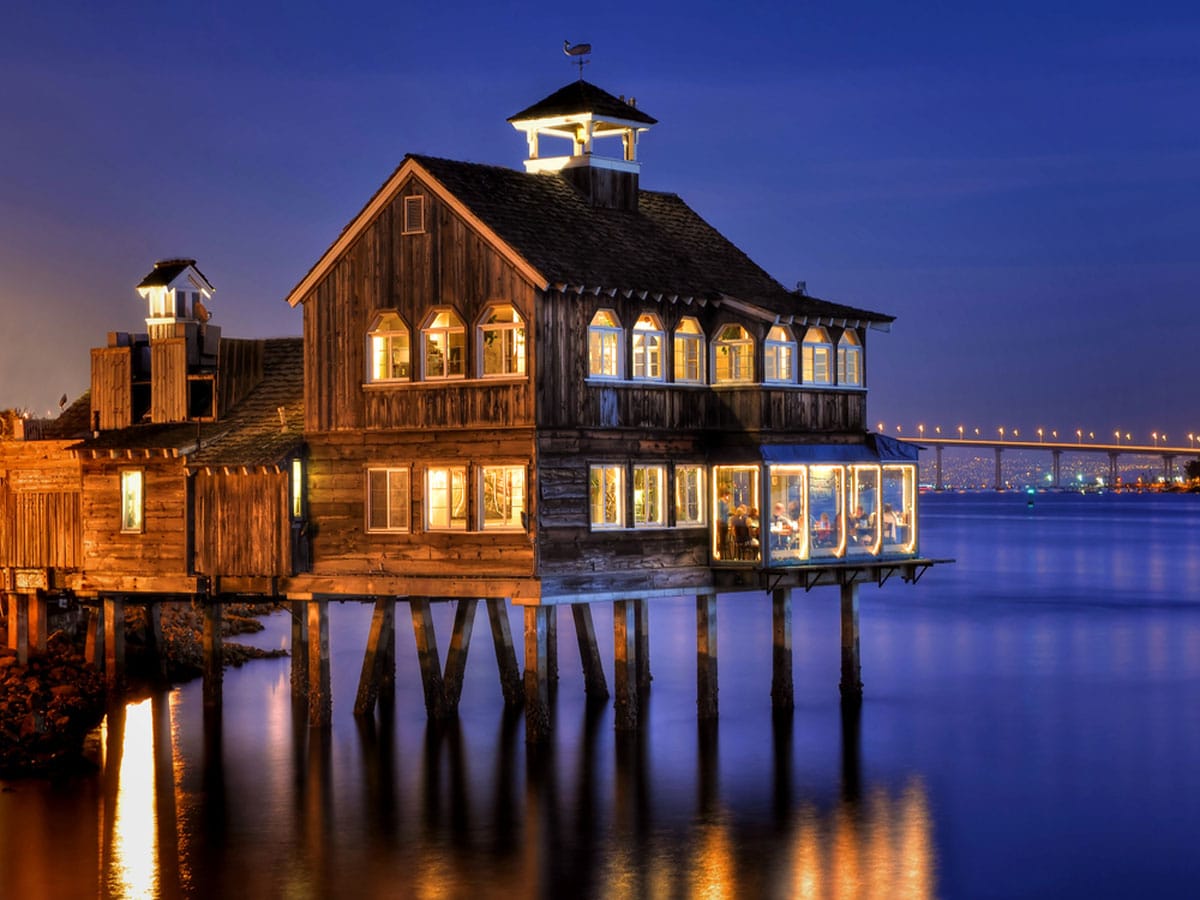 You can't plan 3-days in San Diego without a visit to Seaport Village. Opened in 1980, this 14-acre neighbourhood sits on the banks of the San Diego Bay. Indulge in shopping at its 50 boutique stores and grab breakfast at one of the many cute restaurants and lounges.
The best bit of Seaport Village? You can head over to the Embarcadero Marina Park for some aquaphilic fun. Have breakfast, and then head over to the USS Midway Museum. As the longest serving Aircraft Carrier in the 20th century, the ship is now a museum visited by one million people annually.
Tip: Grab this USS Midway Museum entry ticket to skip the queues.
Visit Old Town San Diego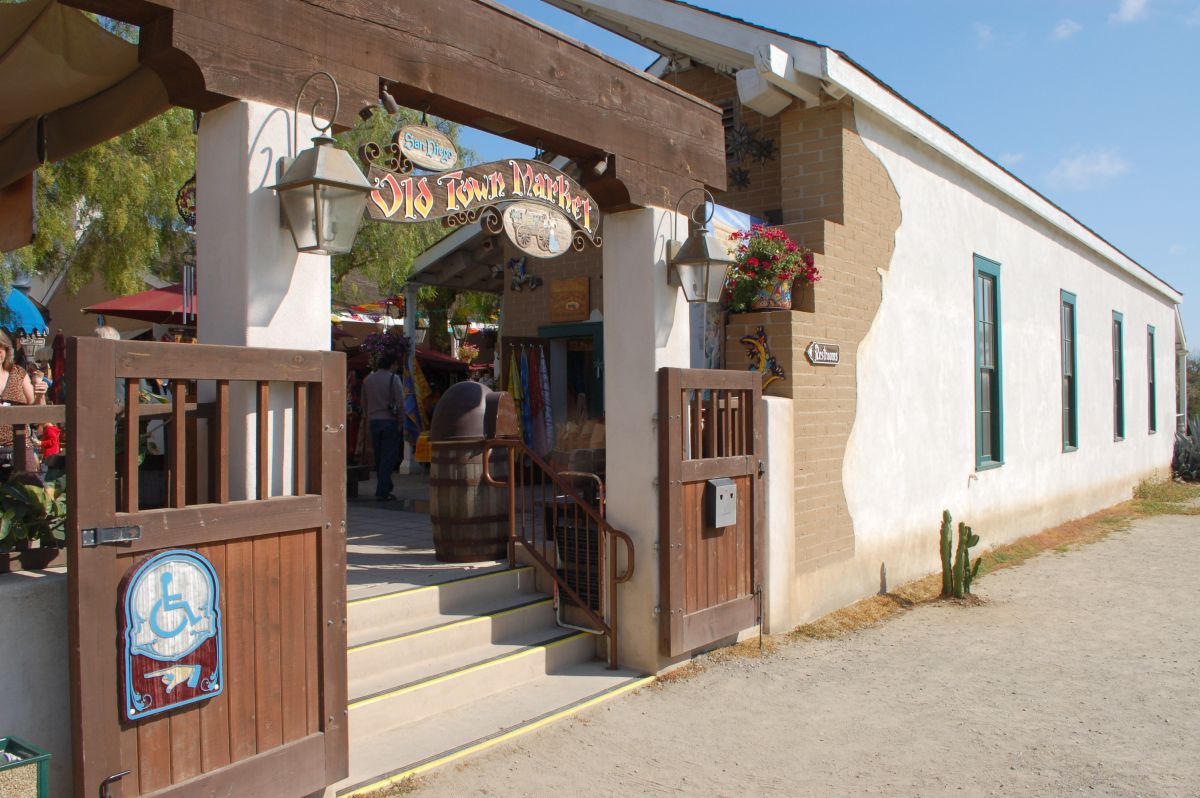 If you're eager for a glimpse into the past of San Diego (and, trust me, you really should be) a trip to the Old Town San Diego State Historic Park is a must. It's a grand display of the rich Spanish influences of the city.
Treat your tastebuds to a meal at one of the many killer Mexican restaurants, or check out one of the boutique stores that sell trinkets – a perfect souvenir.
Or get lost in nature in one of its many gardens. If you're a history buff, there are 35 historical sites here for your curious mind.
Get Amused at Belmont Park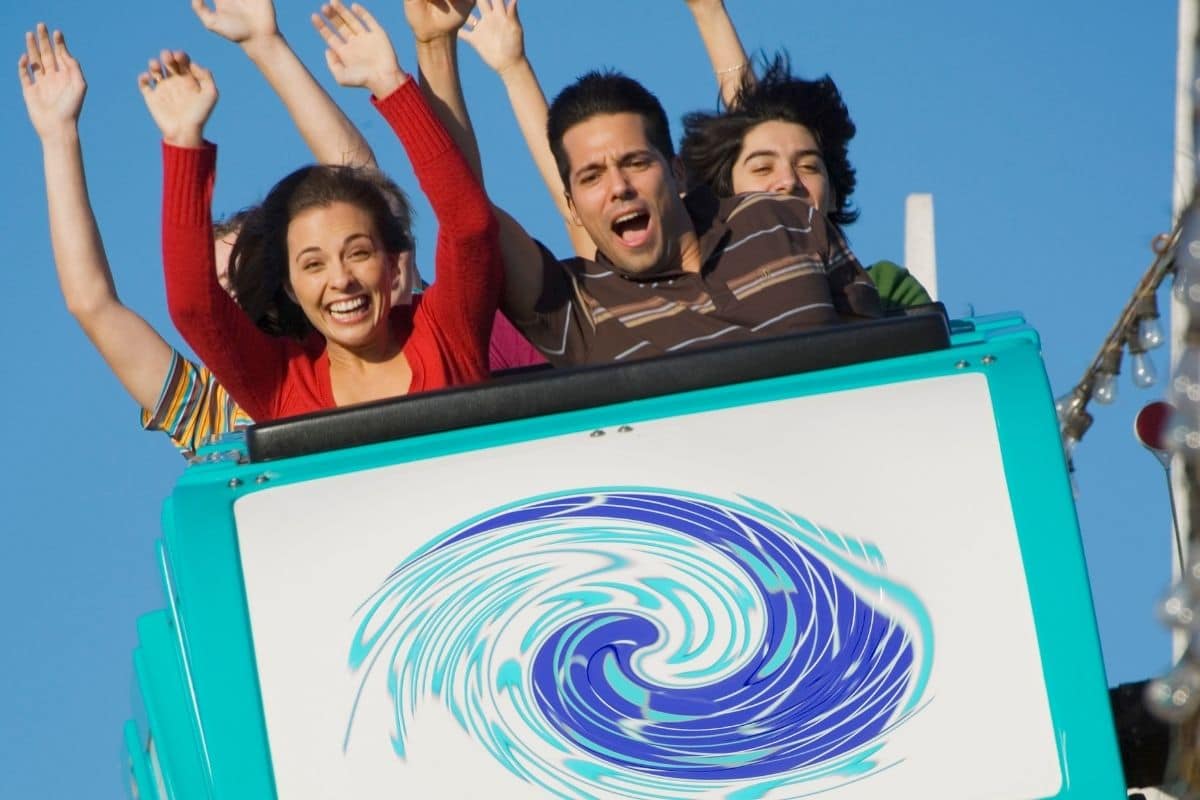 Adrenaline junkies, unite! Your next destination is the fun (and historic) Belmont Amusement Park. Sitting on the waters of Mission Beach, the park opened in 1925 and it's only a short 11-minute drive from Old Town.
Popular rides include the Giant Dipper and the Beach Blaster, which are sure to fire up your daring spirit. But, if you're not ready to take the plunge, Belmont also offers a sprawling boardwalk brimming with restaurants on the beach.
Tip: At Belmont Park, you can pay for only the rides you want or opt for this unlimited ride pass for access to every attraction in the park.
Shop, Wine, and Dine in Little Italy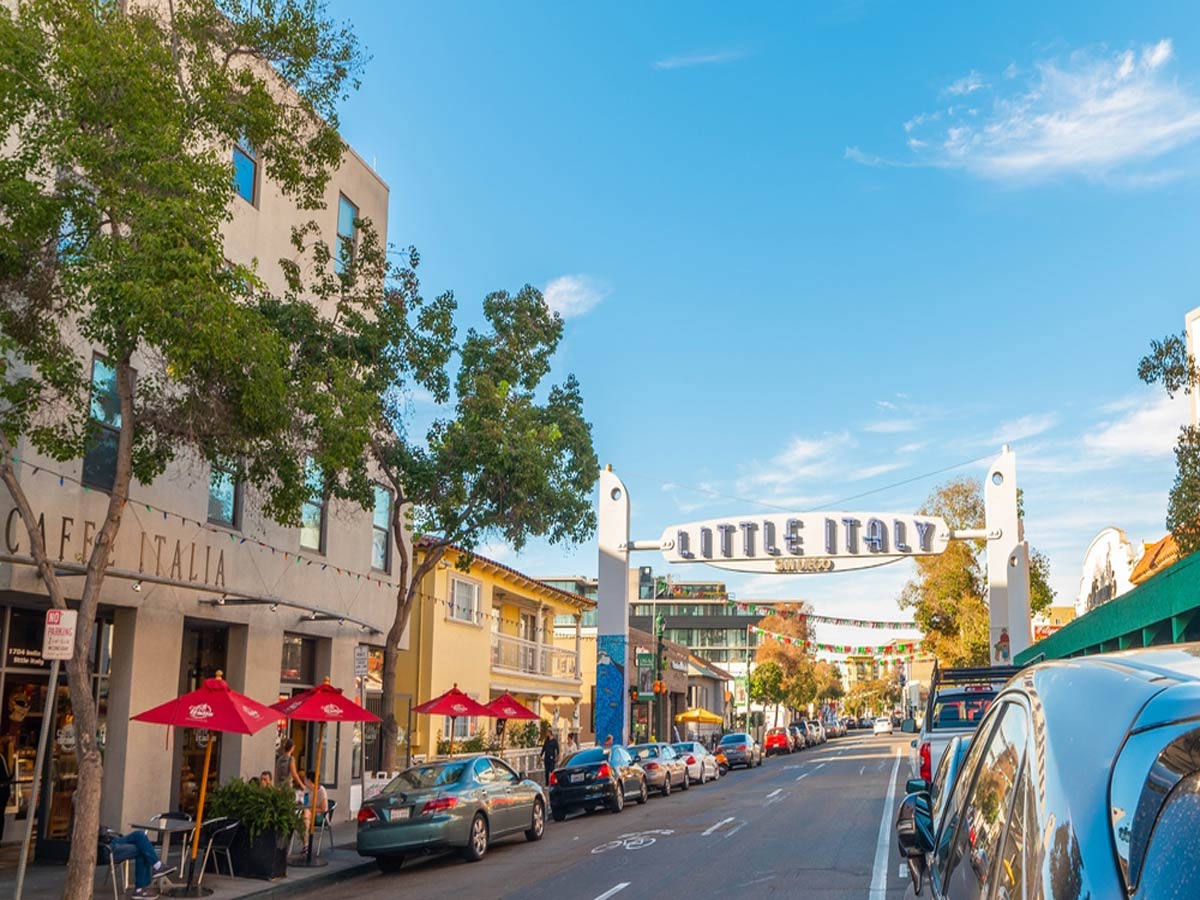 Name a better way to end day two in San Diego than a little Italian flair. You can't.
After getting your pulse racing at Belmont, it's time to head to Little Italy. Depending on how long you spend at Belmont, this will be your afternoon and evening destination.
A vibrant neighbourhood filled with the best of Italy tucked away in San Diego, it's an excellent place for some shopping. And if you're after some Instagram snaps, this is a fantastic place to get the job done.
To cap off the night, dine at any of the enticing eateries in Little Italy, such as the Kettner Exchange or Juniper & Ivy.
Tip: Keen to explore the best of Little Italy, book this Little Italy Food Walking Tour.
San Diego Itinerary Day Three: Discover San Diego's Coastline
And here we are, the final day of your three days in San Diego.
Now, while there have been many urban jungle escapades, it's high time to dip your toes into the city's coastline. Starting the day in Torrey Pines and ending at the Cabrillo Monument, it's going to be a blast.
Morning Trip to Torrey Pines State Reserve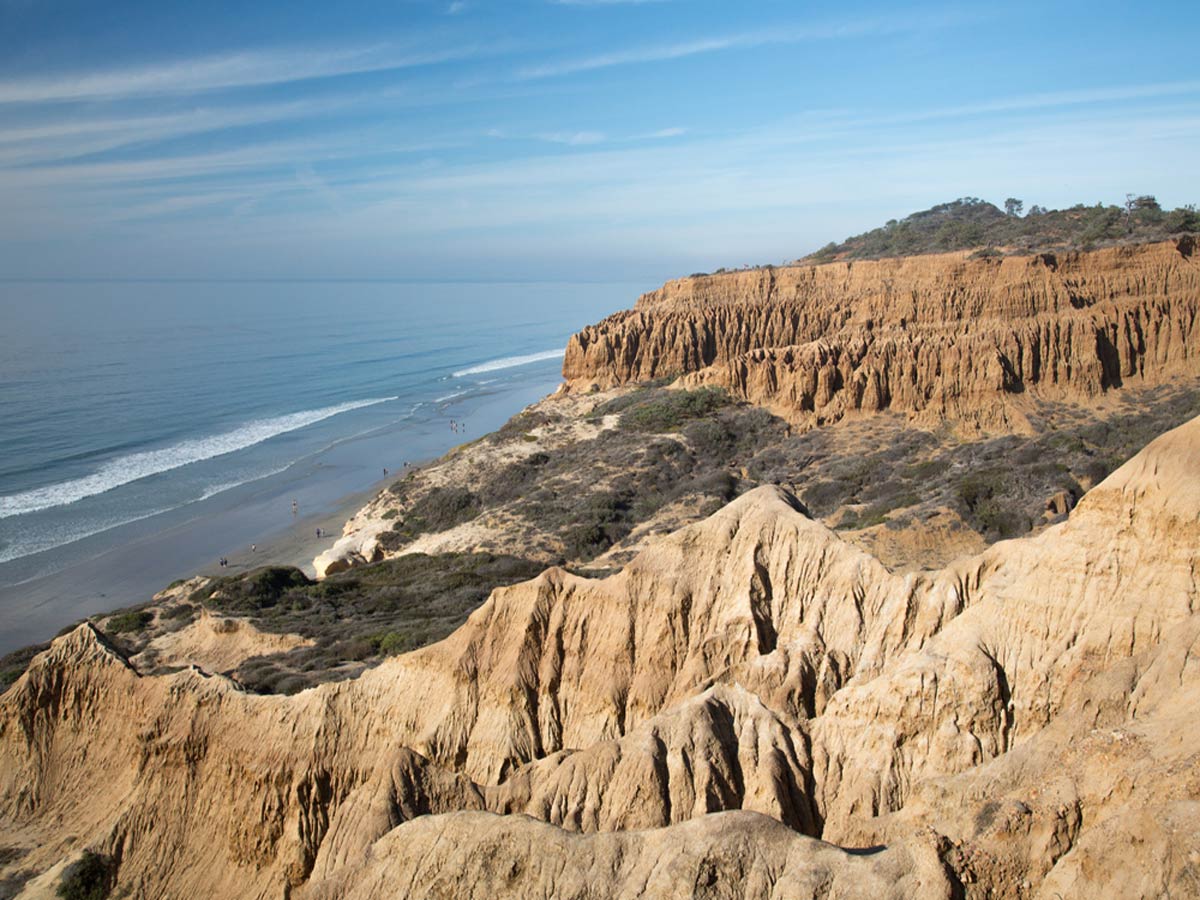 Often visitors call this the northernmost attraction in San Diego, and it's an aptly-coined title. This 2,000-acre State Reserve holds natural beauty few places could even dream of, and you'll agree when standing atop its cliffs overlooking the Pacific Ocean.
Located in La Jolla (more on that anon), you can indulge in some of the most visually stunning hikes in the region. Alternatively, early morning beach-bumming is also a fantastic choice. Or take to the skies with some hand-gliding from the Torrey Pines Gliderport.
Explore La Jolla Caves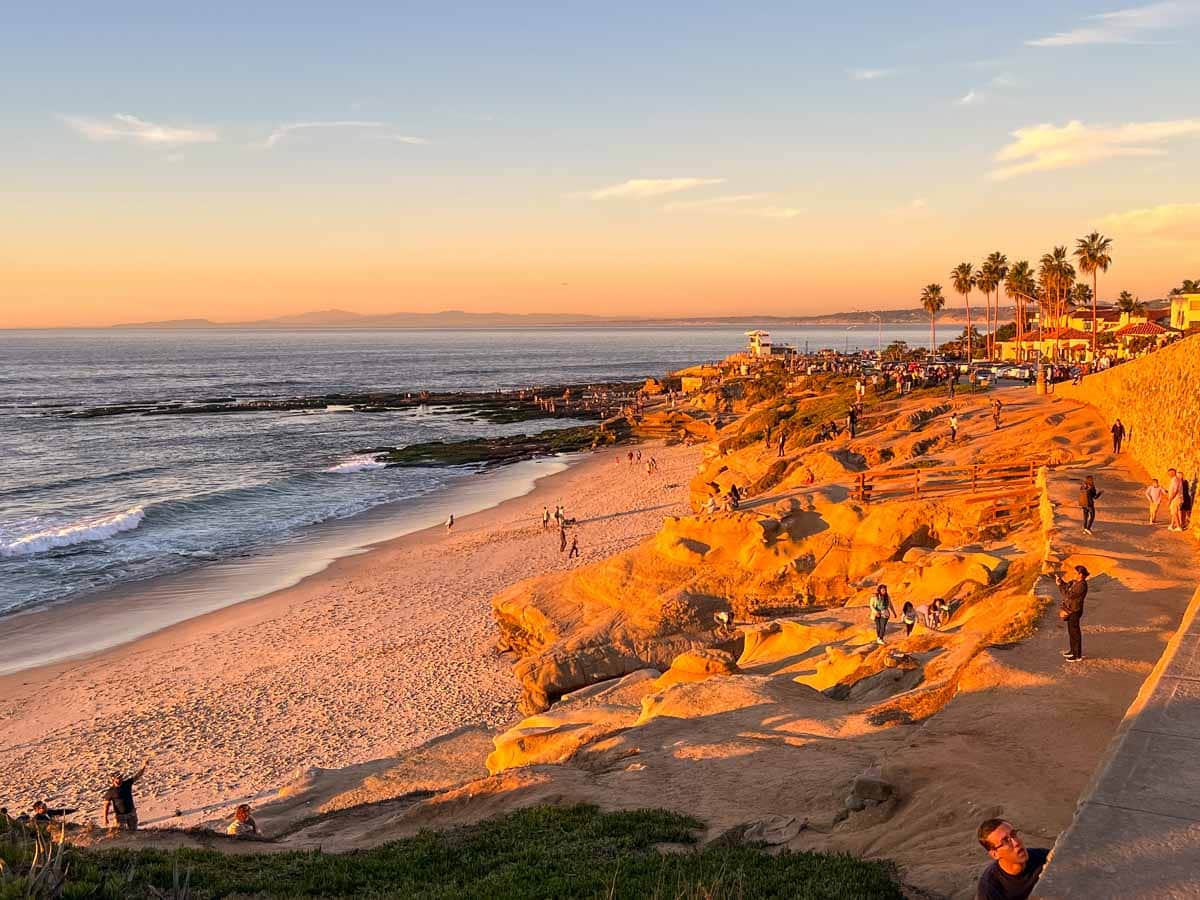 A hop, skip and a jump away from Torrey Pines, you'll find the captivating La Jolla Cove and its many caverns. If you want to stick to the beach, go for it at the La Jolla Shores beachfront. But, if you ask me, the genuine fun for the daring lies in cave exploration.
"What if I'm not that thrill-seeking?" Fear not — luckily enough, one of the most memorable parts of a trip to La Jolla isn't its caves. You can view the joyous and always playful seal and California sea lion colonies off-shore from the beachfront and some designated spots.
Tip: For a truly unique experience, head out on this sea cave kayaking tour around La Jolla Cove.
Explore the Cabrillo National Monument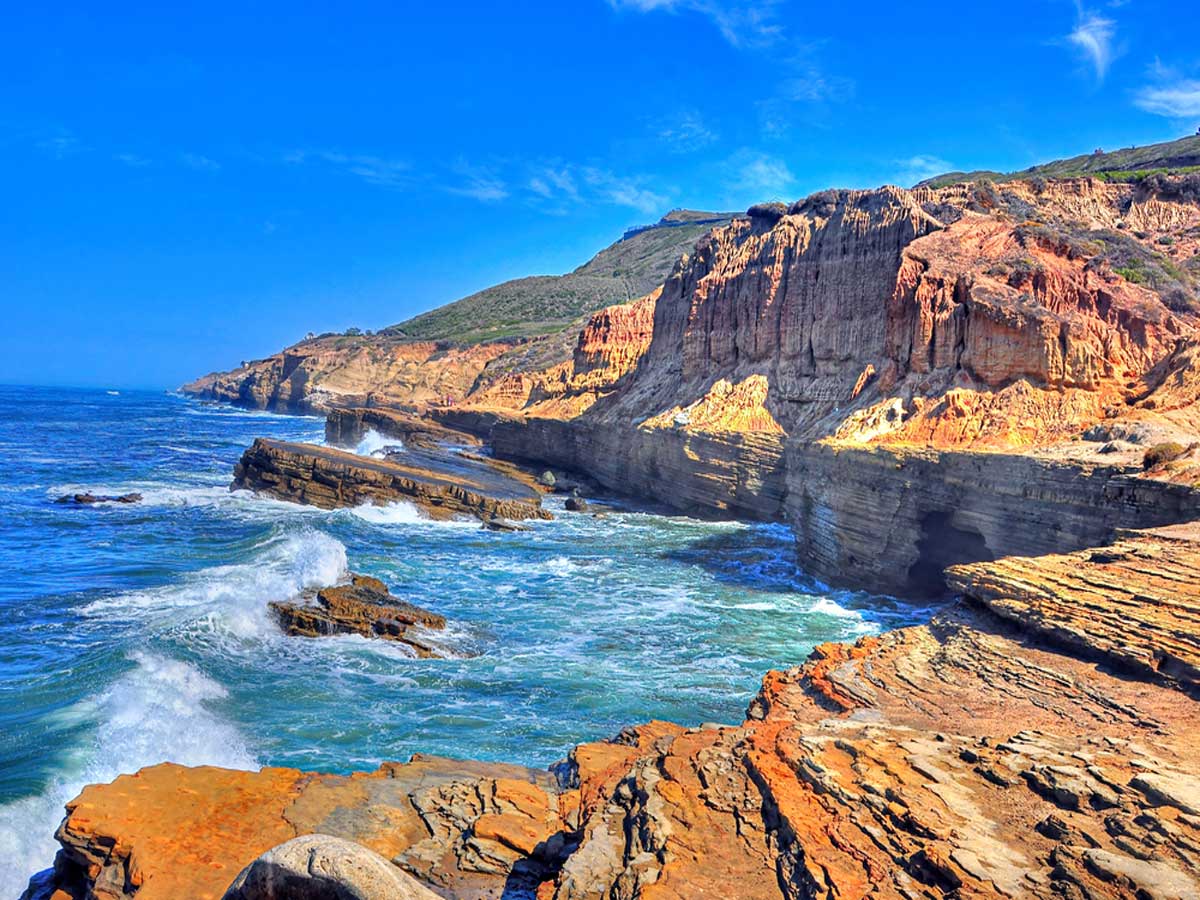 Easily one of San Diego's prettiest places, the Cabrillo National Monument is well worth the buzz it gets.
It's a breathtaking cliffside area that's more than just another stunning part of the coastline. Here you can view historical reenactments on summer weekends or watch migrating grey whales during winter.
Then there are other highlights, like the famous Coastal Trail Hike, which takes you to the Point Loma tidepools. It's a short 0.9-mile out-and-back trek with picturesque views.
Before you head to your last destination, end your time here by stopping at the Old Point Loma Lighthouse, one of San Diego's best landmarks.
Tip: This is the perfect spot to head out on a sightseeing dinner cruise with live music entertainment.
Watch Dusk Approach at Sunset Cliffs Natural Park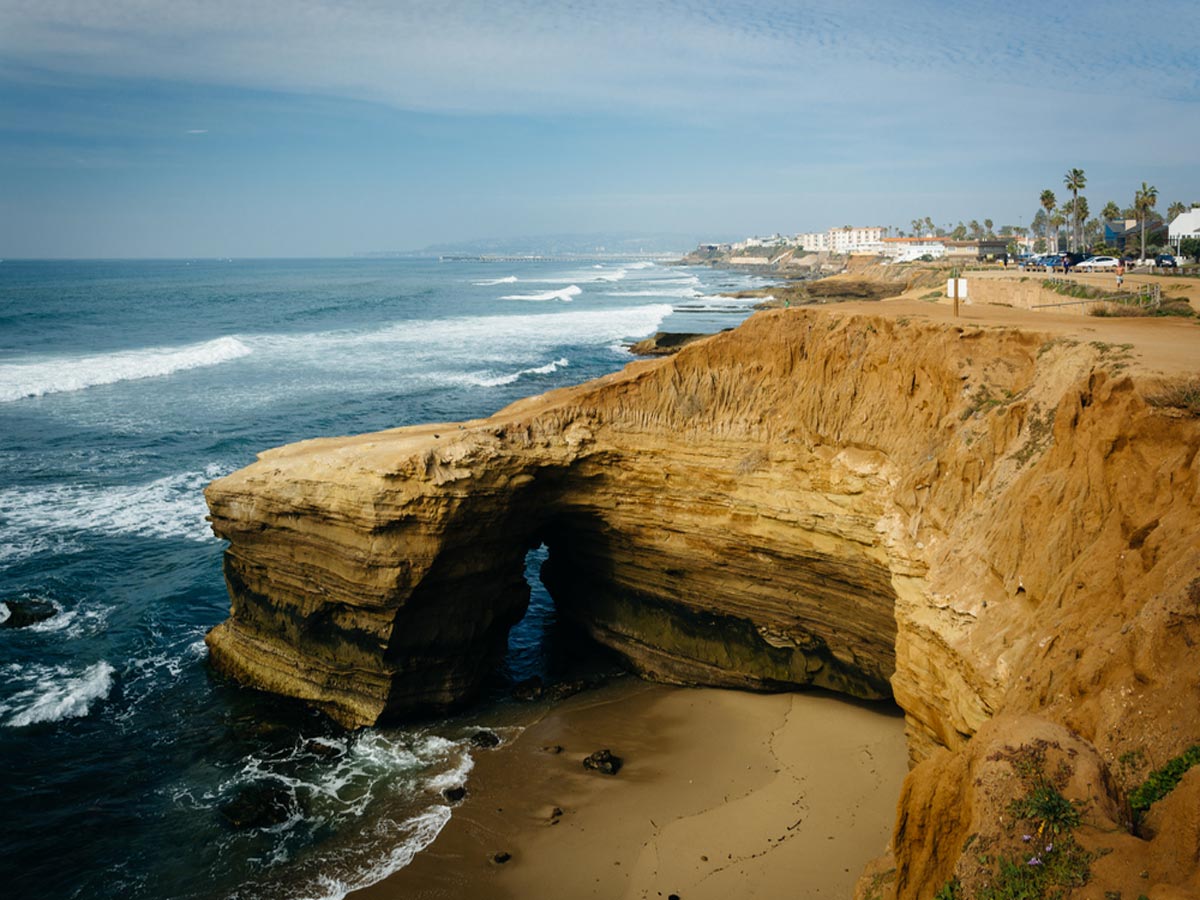 Within the treasure trove of the San Diego coastline, you'll find the breathtaking Sunset Cliffs Natural Park.
First up, it's the ideal spot for a seaside picnic with epic views of the Pacific Ocean. Though, afterwards, you should head out on one of its walking trails along the bluff.
Of course, if you're an avid birdwatcher, this is an excellent place for you as many native bird species migrate here annually. Or, if you don't mind getting a bit wet, many staircases lead directly into tidal pools from the cliffs which you can explore during low tide.
And once done, gaze at the cascading hues of the setting sun over the Pacific and wave goodbye to an epic three days in San Diego.
San Diego Itinerary – Map
San Diego Itinerary: Read Next