Ready to discover the best things to do in Mauritius? Add these attractions to your bucket list and thank me later.
It's no secret how much I love Mauritius.
Tucked away in the stunning Indian Ocean, there's pretty much everything to love about this lush island.
Dramatic waterfalls thundering into verdant basins? Tick. Jaw-dropping beaches fringed by crystal waters glittering in the sun? Tick. De-frigging-licious cuisine? Tick, tick, tick.
I've just returned from my second trip to Mauritius – what an adventure! From snorkelling with sea turtles to forays into deserted islands, it was nothing short of bliss.
That's all very well and good, but this isn't about me, it's about you – namely how to help you plan a bangin' Mauritius trip. The first in a series of in-depth Mauritius travel guides, we're going to take a jaunt through the island's must-see spots and must-try activities to help you explore.
Prepare yourself for vast natural wonders, balmy sea waters, colourful marine life, and more. Read on to discover the best things to do in Mauritius.
Need a place to stay? Check out my full review of Outrigger Mauritius here.
Top 5 Things to Do in Mauritius
Explore the Seven Coloured Earth Geopark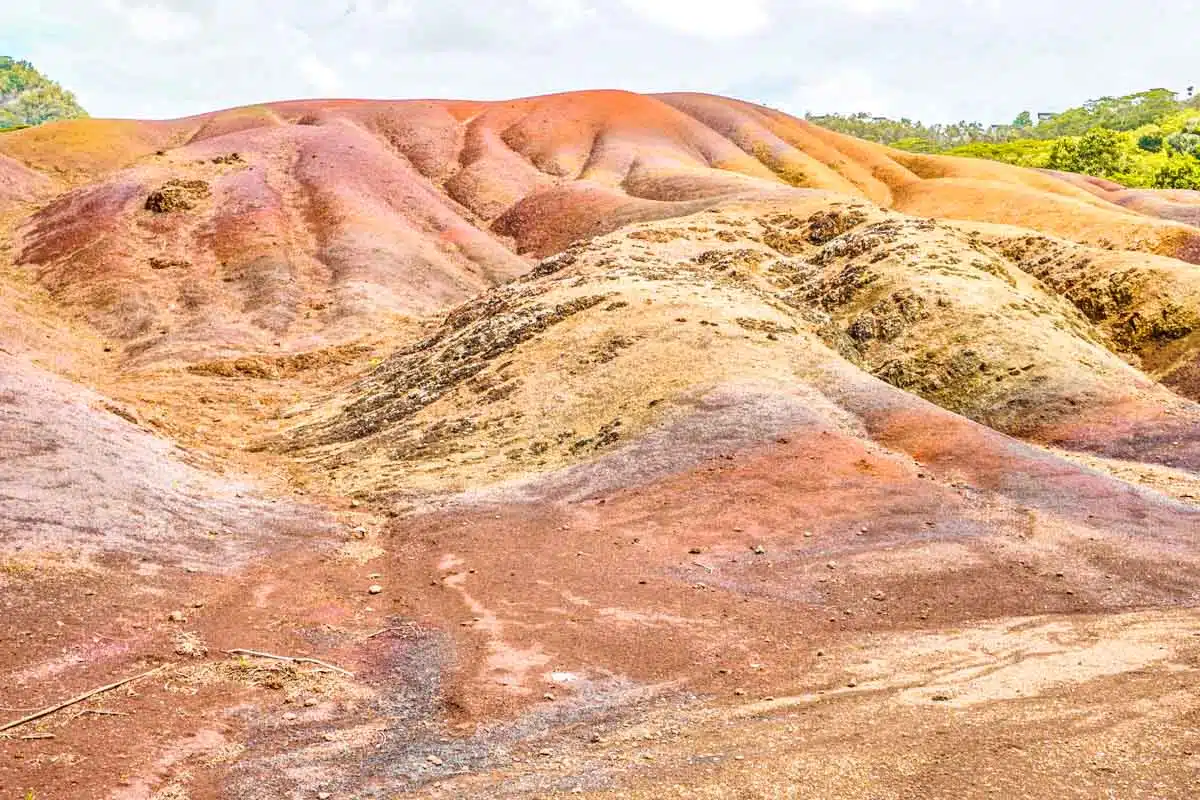 If you were looking for the ultimate inspiration on what to do in Mauritius, this is it. The Seven-Coloured Earth Geopark is as gorgeous as it sounds.
Picture wind-carved dunes in shades of vivid magenta, red, purple, yellow, blue, and orange surrounded by a ring of lush green vegetation: it's a rainbow captured in the sand.
But don't even try to count the seven colours, because as the shades mix along their borders, you will find dozens of multi-hued variations. There are viewing decks on either side, so you can walk around to get all the best perspectives.
Afterward, stroll to Tortoise Park alongside the kaleidoscopic dunes and check out some 150-year-old giant tortoises for some pretty epic selfies.
Marvel at the Chamarel Waterfall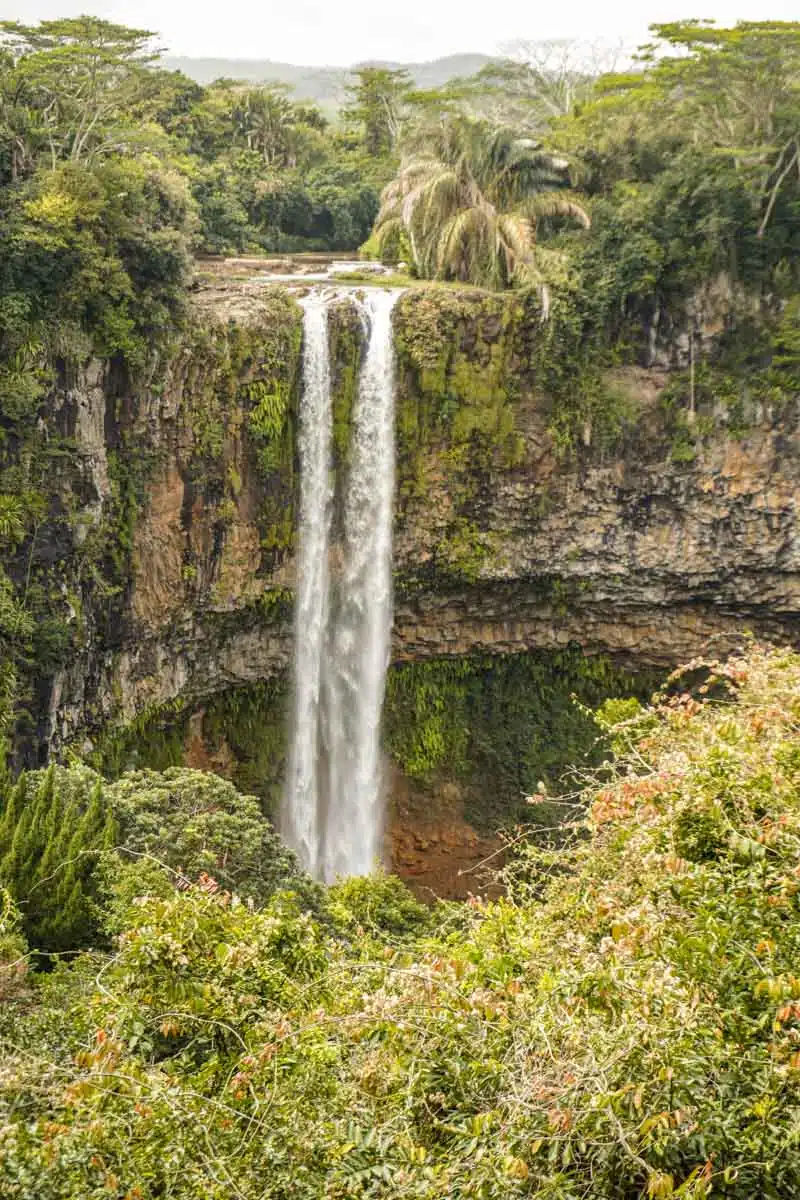 Not far from Seven Coloured Earth, you'll find another of the best places to see in Mauritius: Chamarel Waterfall. It's the highest single-drop waterfall on the island, about 100 metres from the ground.
Listen, I'll be honest: it's no Niagra Falls. It's rather on the skimpy side by comparison, but seeing it split and drop into the greenery-covered gorge is a sight to behold.
It's easy enough to reach the viewpoint by car, but for an extra special experience, why not hike to the base of the waterfall's pool and opt for a swim in this tropical paradise?
It'll take you three hours to hike the round trip, and you'll need to scramble over rocks and wade through rivers to reach it. But that honestly just makes it even more enticing. It's one of the more adventurous things to do in Mauritius, but one of the most rewarding.
Top Tip: This eco-tour will take you to the waterfall pool for an experience like no other.
Swim With Sea Turtles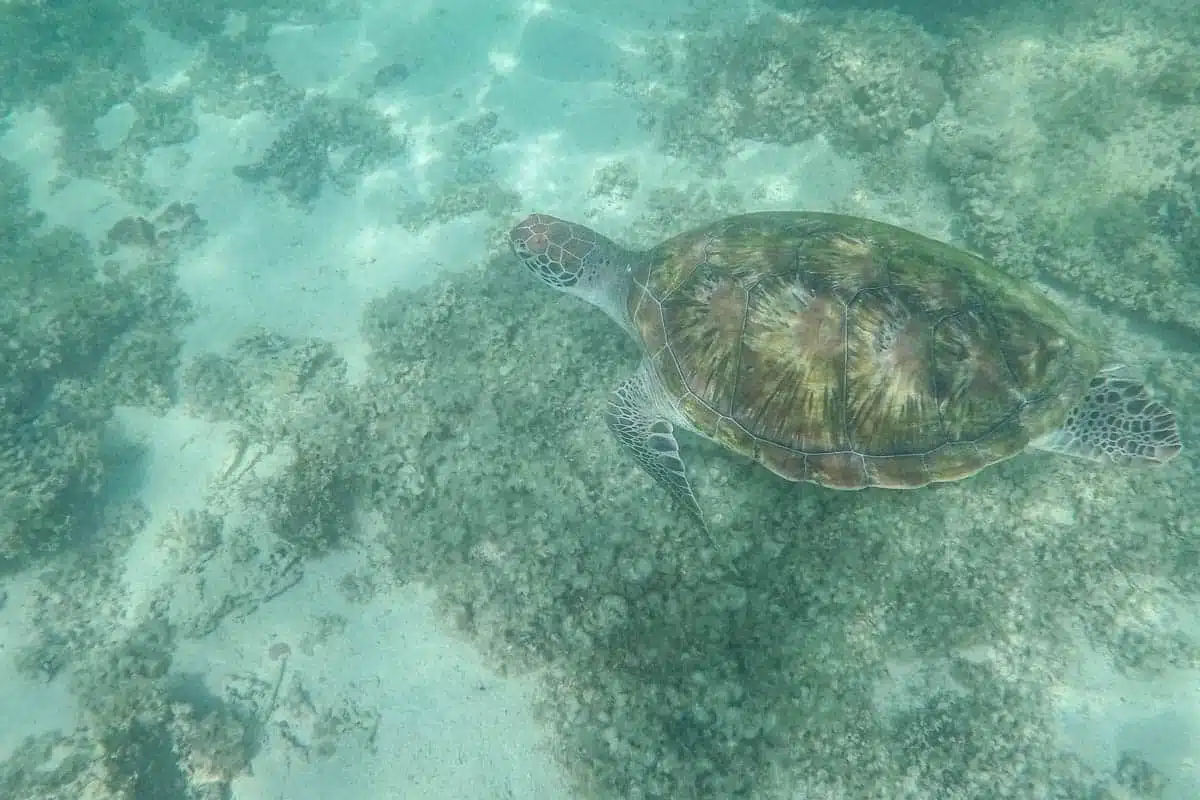 Not going to lie – I hate to play favourites when it comes to trip activities, but swimming with the sea turtles was a stone cold favourite from my most recent trip!
Skimming over cerulean waters, we stopped near a small cluster of boats to plunge beneath the surface in search of the turtles.
I was a bit unsure of whether we'd actually see anything because y'know… nature being a capricious beast and all that.
Anyway, I won't draw out the suspense – no sooner had I dropped beneath the surface and adjusted my goggles, did I see two of these graceful creatures gliding around in the waters just past my feet.
There are two types of turtle that call Mauritius their home – the Hawksbill Turtle and the slightly larger Green Turtle. Top spots for seeing them include Pointe aux Piments in the north of the island and Bain Boeuf Public Beach.
Top Tip: Don't be misled by the disappointingly-named Turtle Bay – the turtles after which it was named in the 17th century have long left the bay.
Spot the Underwater Waterfall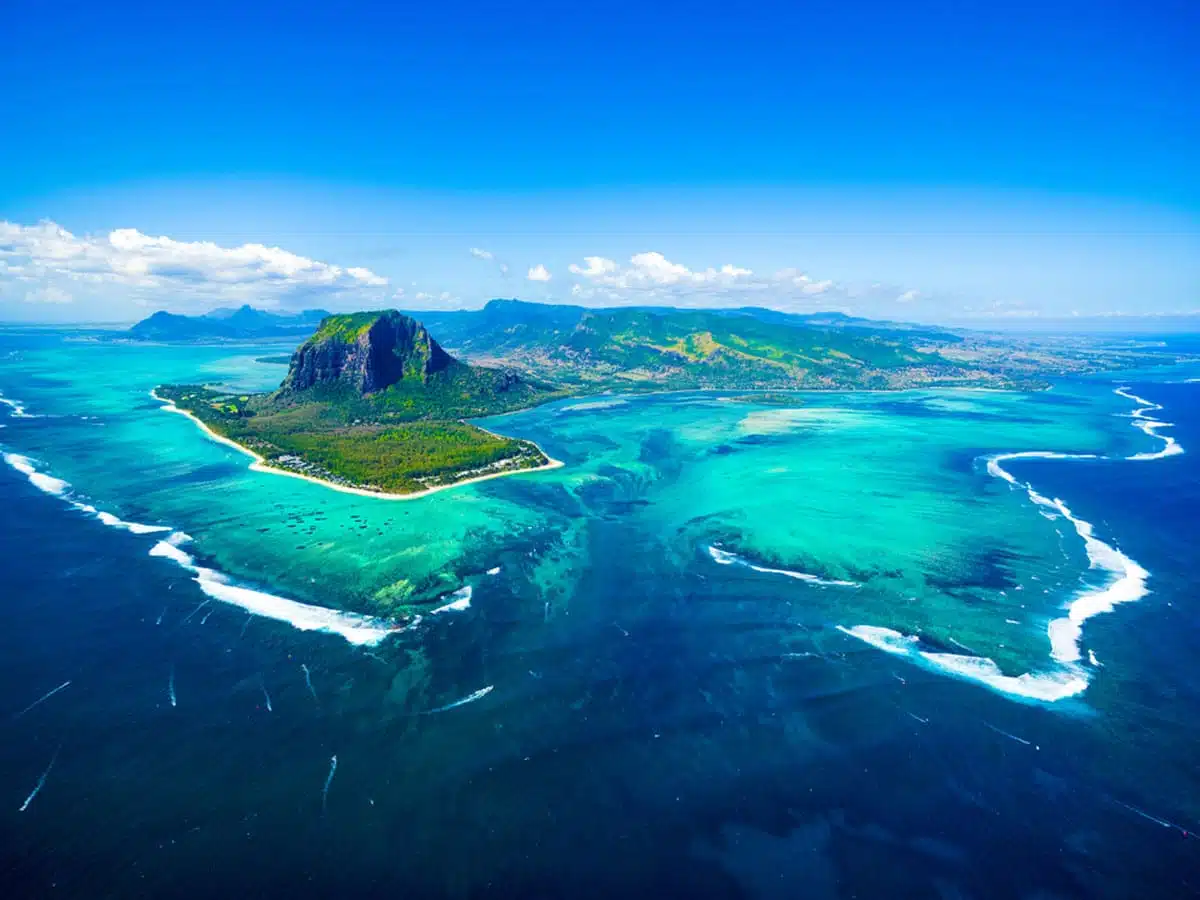 Mauritius might boast its fair share of waterfalls but, if you ask me, this is the most unusual offering. The Underwater waterfall is a wonder of nature, but it isn't as dangerous as it appears, so don't worry.
In fact, it isn't a real waterfall at all, but a masterful illusion of sand and silt being constantly washed over an ocean shelf. The gentle underwater slope that suddenly drops an impressive 2.5 miles creates multiple shades of blue.
The changes in colour plus the shape of the sands encourage the illusion that there's a powerful waterfall beneath the crystal clear waters pouring endlessly into an abyss. Located by the Le Morne Peninsula, it's one of the truly unique things to see in Mauritius.
Top Tip: You can only see the waterfall illusion from up high, so grab a ride on a helicopter or climb Le Morne for the best views.
Spend a Day in Port Louis
How could you not visit the Capital of Mauritius while you're there? Port Louis has something to offer everyone, whether it's a quest for street food from African, Indian, Chinese, and European cuisine or high-end shopping at Caudan Waterfront.
But there are other notable attractions, too. Visit the 19th-century Fort Adelaide for 360º views of Port Louis, or the Madurai Mariamman Temple embellished with intricate carvings, vibrant colours, and statues of Hindu Deities.
Museums are also plentiful in the area – The Natural History Museum and Blue Penny Museum will have the knees of history buffs quaking with excitement.
After you've seen it all (impossible, but you can try), relax beneath the banyan trees at Les Jardins de la Compagnie or enjoy a cocktail or three at one of the restaurants that line the waterfront.
Top Tip: This street food tour of Port Louis will blow your mind (and your tastebuds).
Brilliant Things to See & Do in Mauritius
Indulge in a Drink or Two at Chamarel Rum Distillery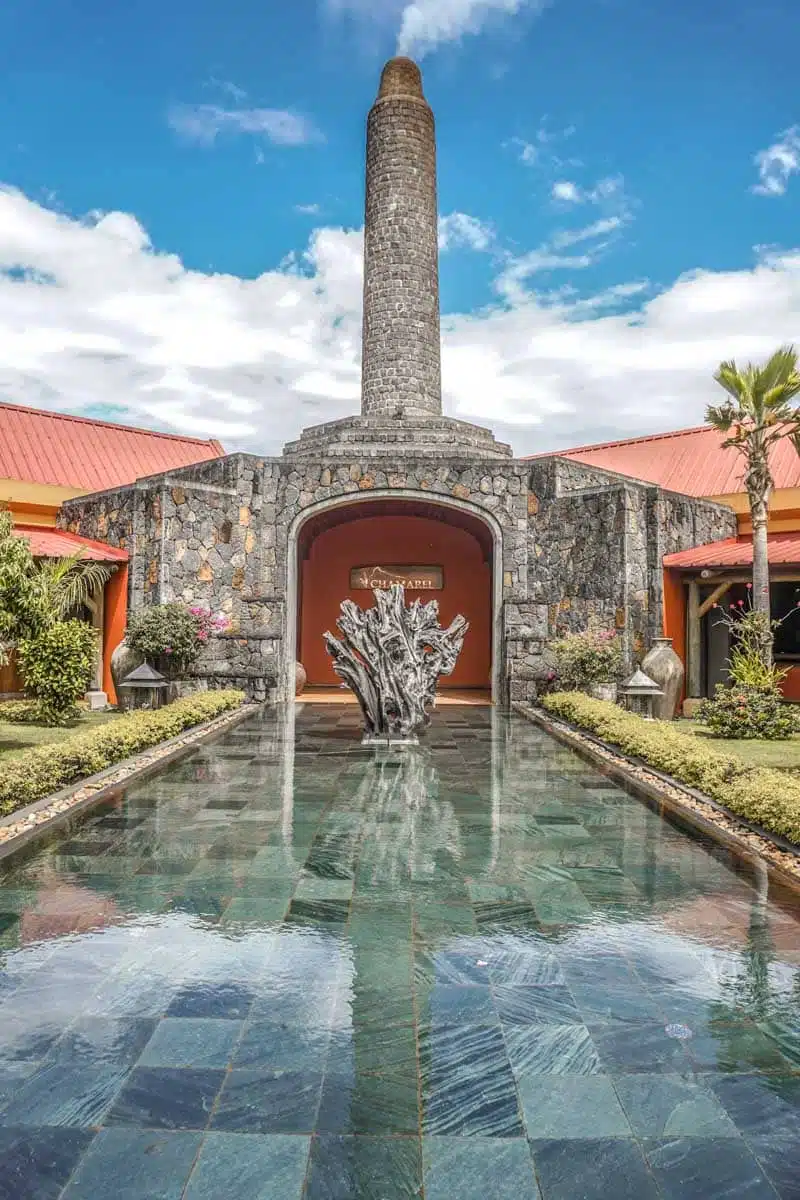 Set in a charming chalet, the Chamarel Rum Distillery (or Rhumerie de Chamarel) should be high on your Mauritius itinerary. And if it isn't, it soon will be – I promise.
Take a guided tour of the distillery to learn about the rum-making process, and then get down to some rum-tasting business and enjoy all the flavours.
After these boozy delights, stick around for lunch at the restaurant and enjoy the mellow feeling in your limbs from that alcoholic sugar-cane goodness. It's one of the fun things to do in Mauritius, whether you're a rum aficionado or a novice. And, by the end, everyone will be a pro.
Top Tip: This full-day tour of the Southwest includes a trip to Rhumerie de Chamarel.
Go Swimming with Dolphins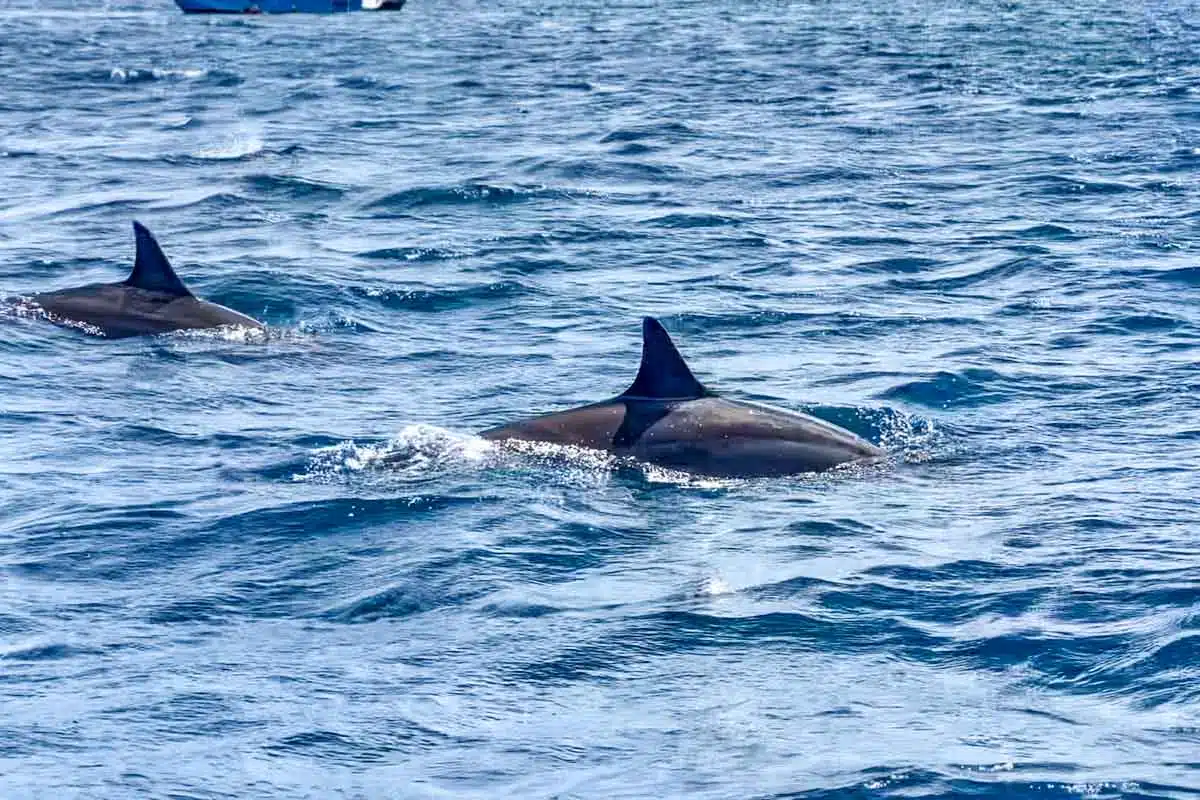 Ever dreamt of swimming with a pod of dolphins? I mean, who hasn't? Mauritius is the place to make it happen.
Home to both Spinner Dolphins and Bottlenose Dolphins, opportunities for dolphin spotting and swimming abound across the island.
You'll need to do a bit of planning for this one (read: either book onto a group or private dolphin swimming tour).
We hired a private guide, which meant that he was able to take us to just the right spots to find the playful creatures and we were able to move from location to location at our leisure.
Top Tip: Book a private swim with dolphins on this tour
Head to Black River Gorges National Park
Black River Gorges is the biggest and (dare I say it?) most beautiful national park in Mauritius. It's certainly one of the best places to go in Mauritius for a revitalising bask in nature. And, you should all know by now that I'm a little bit of a fiend for the outdoors.
Lush rainforests and sparkling-green hills are home to more than 300 species of plants, not to mention boars, birds, monkeys, deer, and giant fruit bats. Bring those hiking shoes and enjoy over 37 miles of hiking trails, with plenty of picnic areas to stop at and have a snack.
Make sure to see Alexandra Falls, Gorges Viewpoint, Macchabée Viewpoint, and — last but not least — Piton de la Petite Rivière Noire, the highest mount in Mauritius.
Top Tip: Take a trek through the park on this hiking tour to get up close and personal with flora and fauna.
Flop and Drop on One of Mauritius' Stunning Beaches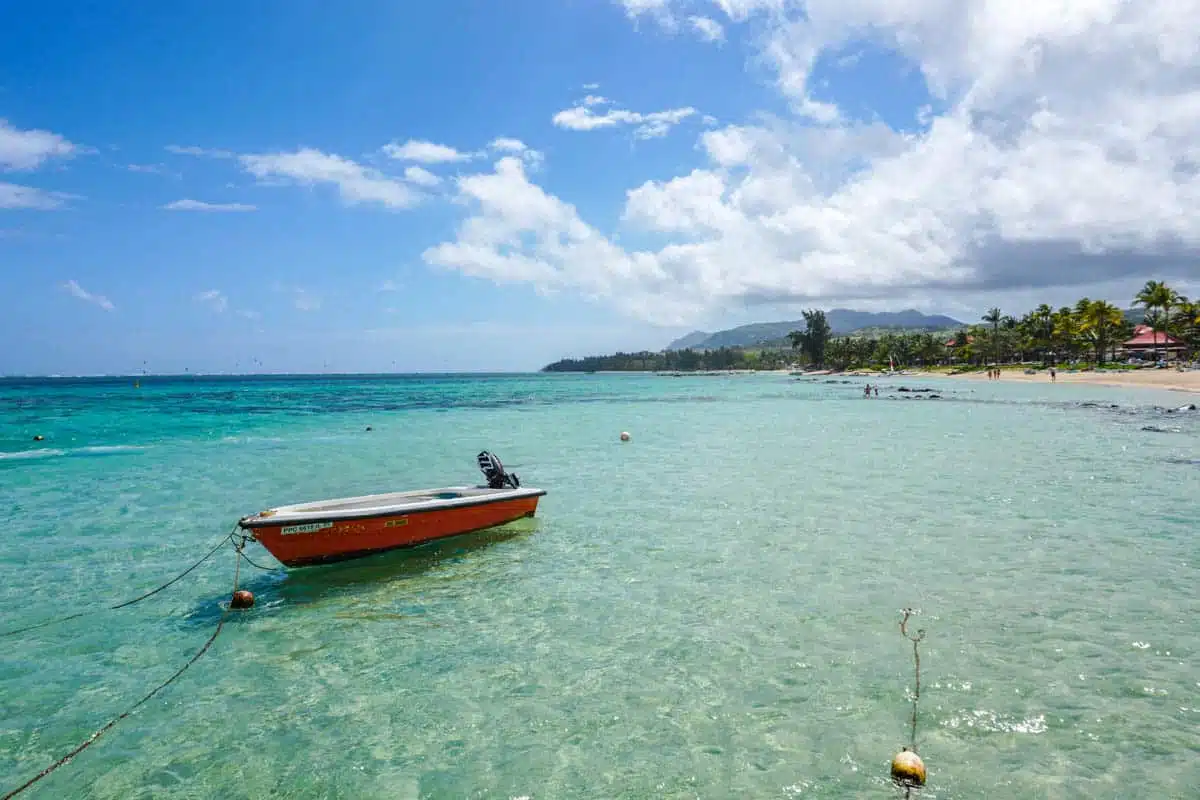 I'll bet that if I ask you to name the top five things that Mauritius is known for, its beaches will be in the number one spot.
With good reason too – Mauritius boasts a surfeit of stunning beaches – the kind that make you want to flop, drop and worship mother nature in all her glory the moment you clap eyes on them.
Top spots you shouldn't miss include Flic en Flac Beach, Grand Baie, Le Morne, Tamarin and Trou Aux Biches.
Wander Along the Caudan Waterfront
Located in Port Louis, this strip of tourist paradise deserves its own mention. It's the oldest shopping centre in Mauritius and sits along the edge of the harbour in the city.
It's a lively place for locals and travellers, with boutique stores, hotels, a cinema, restaurants, and more. There's also an arts and crafts market perfect for picking up unique souvenir trinkets, majestic fountains, and huge monuments.
Take a stroll, enjoy a fresh seafood lunch, and check out the popular umbrella-covered promenade that Instagrammers drool over (myself included). It's practical and pretty — definitely something for the eyes to ogle if you're wondering what to see in Mauritius.
Top Tip: This dodo tour with lunch takes you on a walk through Port Louis and along the Caudan Waterfront.
Hike Le Morne Brabant
Rising 550 metres above the sea, Le Morne is an intimidating mountain and a UNESCO World Heritage Site. Historically, it's famous for being a shelter for runaway slaves.
Nowadays, it's a gorgeous scene that offers a somewhat challenging hike that's worth the calf-numbing climb. It takes about two hours to reach the top, passing through lush trees, sand, and rocky terrain.
Of all the Mauritius hikes, this one may be the most rewarding, if only for the view from the top. You can even see the underwater waterfall from here – reason alone to tackle the hill. I promise it's worth it.
Top Tip: This guided sunrise hike up Le Morne is bound to amaze. Bring your camera.
Embark On a Ile aux Cerfs Boat Trip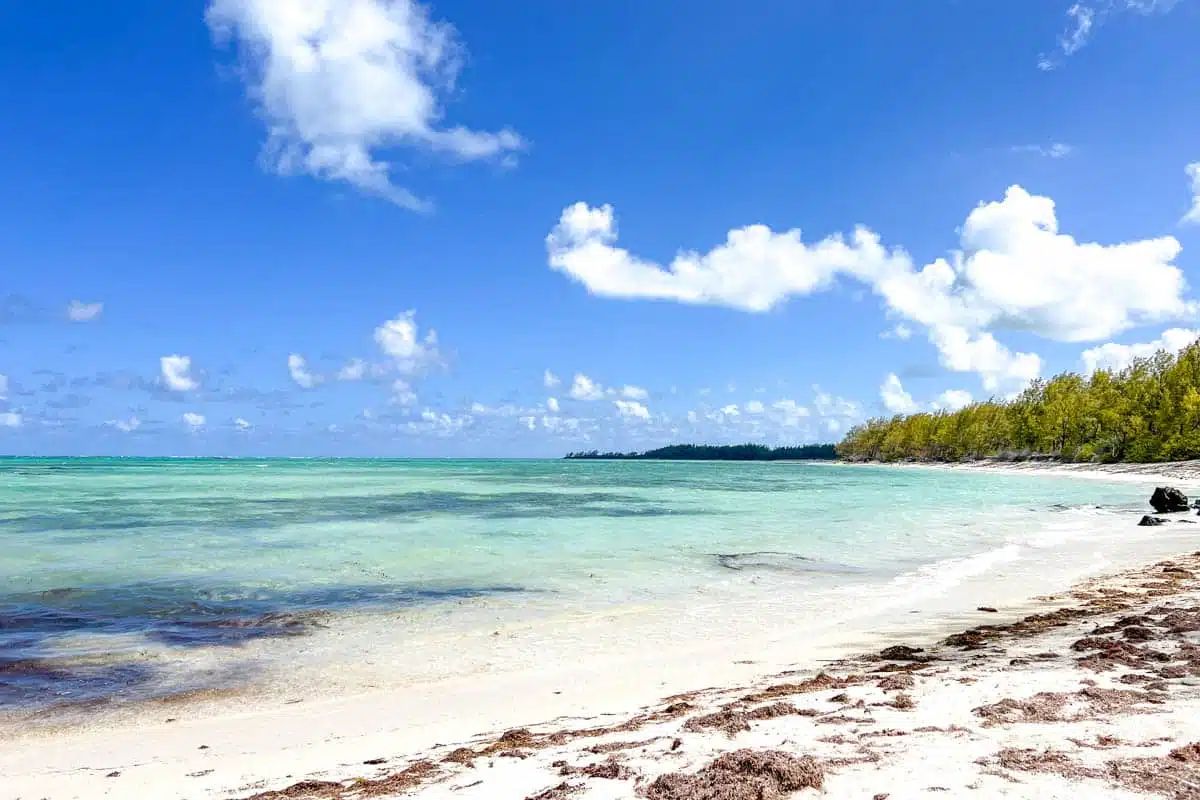 Mauritius is a large island with smaller islands surrounding it, including the haven that is Ile aux Cerfs. If you're looking for things to do in Mauritius, island hopping isn't a bad idea.
In fact, it's a pretty epic one.
Ile aux Cerfs is one of my favourite islands nearby – it boasts white sandy beaches with shallow turquoise waters and even a golf course designed by Bernhard Langer.
But don't worry if you're not a golfer. Instead, hit the waters of the lagoon and parasail, water ski, wakeboard, and race in speed boats for some adrenaline-pumping rushes.
Top Tip: This full-day tour cruise to Ile aux Cerfs, including a BBQ lunch, is incredibly convenient.
Take a Tour of Aapravasi Ghat
Built in 1849, Aapravasi Ghat was an immigration depot to receive indentured labourers after the abolition of slavery during the British-initiated "Great Experiment." The immigrants mainly came from India but also from Madagascar, East Africa, China, and Southeast Asia to work the sugar cane fields.
Today the gate still stands. And what stems from a horrible history has resulted in something wonderful in Mauritius – you can now enjoy an incredible mix of food culture on the islands.
Thanks to its historical significance, the Aapravasi Ghat in Port Louis has been a designated UNESCO World Heritage Site since 2006 and is one of the top places to visit in Mauritius.
Top Tip: Entrance is free, and you can book a free guided tour in advance.
Stroll Around Pamplemousses Botanical Garden
Also known as Sir Seewoosagur Ramgoolam Botanical Garden, Pamplemousses Botanical Garden is just a short ride from Port Louis. Dating back to the 18th century, it's the oldest botanical garden in the Indian Ocean, which is pretty impressive on its own, if you ask me.
If you're looking for a bit of a respite from your Mauritian adventures, then this is one of the finest places to visit in Mauritius. Enjoy tropical trees and plants, giant palms, and even some giant inhabitants: giant tortoises roam freely, and huge bats sleep amongst the trees.
The most popular giants in the park, though, are the giant water-lilies. There's a pond full of them that every Instagrammer hunts down for an iconic pic. Whether you're a social media maven or not, you won't want to miss this sight.
Top Tip: This full-day Instagram tour will take you to some of Mauritius's most beautiful photographic hotspots, including the Botanical Gardens.
Go Snorkelling in the Tranquil Waters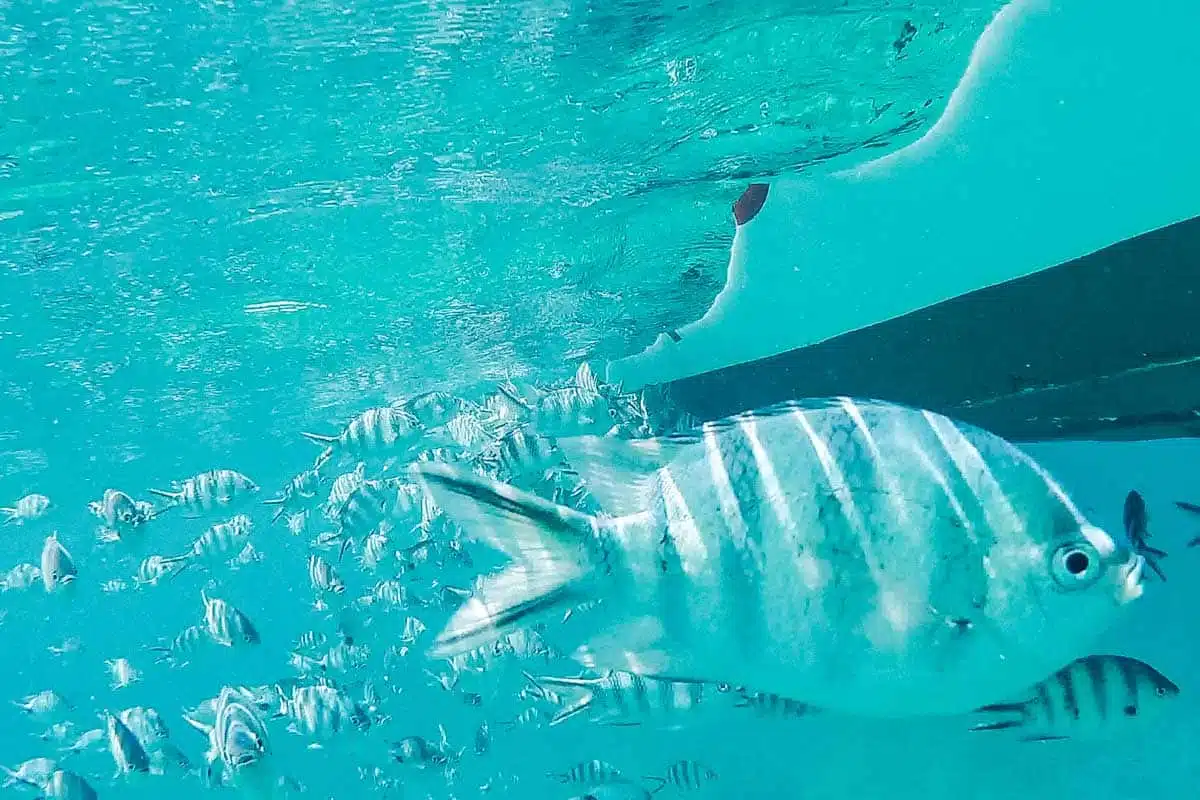 The island is home to plenty of glorious marine life, making snorkelling an obvious choice for cool things to do in Mauritius. Tropical fish like white-spotted boxfish, blue-barred parrotfish, and striped moorish idol are all on display.
The beaches of Flic en Flac and Trou Aux Biches have some sublime snorkelling sites with vibrant coral reefs. And if you go to Pointe Aux Piments, you might just spot sea turtles too.
Blue Bay Marine Park is one of the most popular places to snorkel (and my favourite, in case you were wondering), as the water depth is only 5–6 metres, and the waters teem with angelfish, damselfish, clownfish, and parrotfish.
Top Tip: This half-day snorkel tour in Blue Bay with a Creole lunch is sublime.
Unique Things to See & Do in Mauritius: Hidden Gems That are Off the Beaten Track
Admire the Ganga Talao
Also known as the Grand Bassin, Ganga Talao is a sacred lake — the significance of which is comparable to the Ganges River in India.
How? Well, in the 70s, a priest brought some water from the Ganges and mixed it with the waters of Ganga Talao, creating an irrevocable connection between them.
It's a crater lake with temples and large statues lining its shores. The most impressive is the Ganga Talao Hall, though you'll find equally impressive statues of Lord Shiva and Mother Durga keeping watch over its entrance.
The Statue of Shiva alone is a whopping 33 metres high, dwarfing you below.
Top Tip: This full-day tour stops by Grand Bassin. Be respectful, as this is a religious place sacred to people of many faiths.
Head to Bois Cheri Tea Gardens and Factory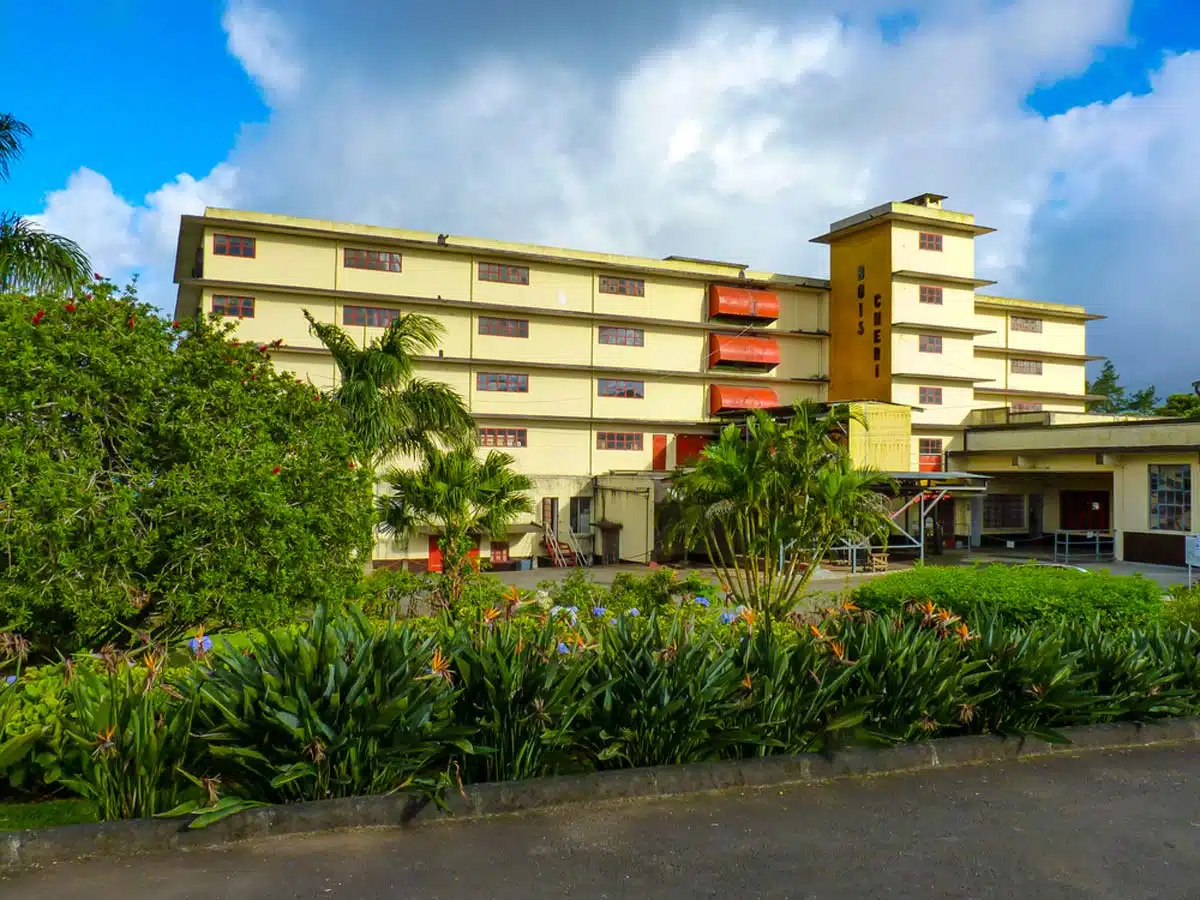 In need of an activity that's a little bit more highbrow? Situated on La Route du Thé (Mauritius Tea Route), the Bois Cheri Tea Gardens are the largest and oldest tea plantation on the island.
A trip here is one of the more unique things to do in Mauritius, but it's worth the venture as you embark on a tea-making journey.
Take the guided factory tour to learn about the process of making tea, from picking leaves to drying, flavouring, and packing them. To finish your visit, stop by the museum and then indulge in a tantalising tea tasting with the south of Mauritius laid out before you.
Want to make the most of your trip? Take this delicious and informative tour of the tea and sugar plantations of Mauritius.
Browse Port Louis Central Market
Ready to discover authentic Indian culture? Head for the old Central Market at Port Louis. Enjoying its lively atmosphere with vibrant colours and hunger-inducing smells is one of the best free things to do in Mauritius – as long as you're not tempted to buy anything, that is.
Good luck with that! The stalls in this 18th-century market offer everything from spices and vegetables to home-style street food like Dholl Puri. Several stalls near the front even sell souvenirs like carved coconut shells and knick-knacks.
The street-life scene here is a haven for photographers who live for this kind of authenticity. So whip out your camera and capture Mauritian life at its most vivid.
Top Tip: Haggling is a must in Mauritius. Start as low as 40% of the offered price and see what bargains you can get. Don't be shy — it's a local tradition, and sellers overprice accordingly as they expect to negotiate.
Visit Saint Aubin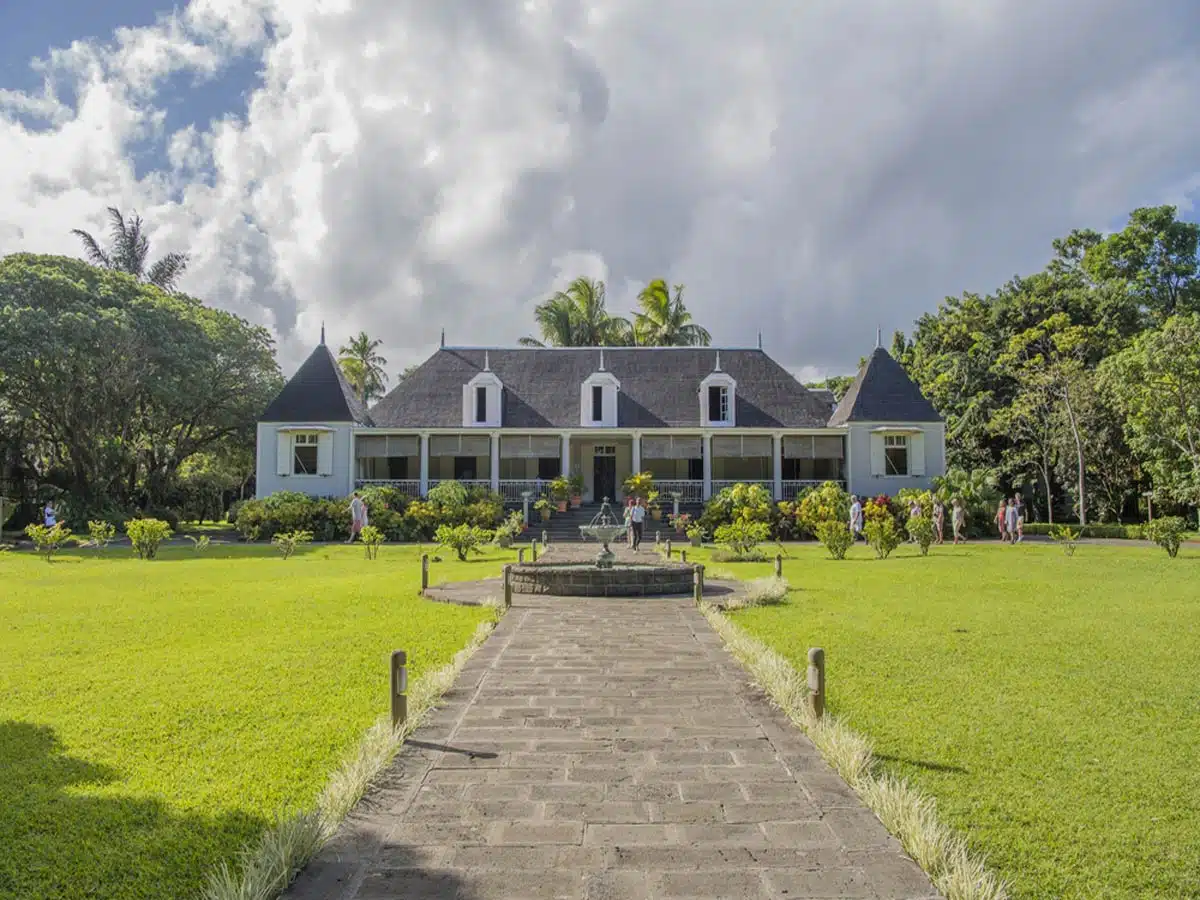 Also called La Maison de la Vanille, Saint Aubin is a delightful destination and one of the top things to do in south Mauritius for those in the know. A beautiful colonial house from 1819, Saint Aubin is the most picturesque of the estates along the Tea Route.
It's now a restaurant and museum where you can find the Vanilla and Rum House. Expect rum tastings, a tropical spice garden, and a mini farm complete with a petting zoo — that's all before I even mention the quad biking that's available.
You'll adore this slice of rum-tinted heaven.
Things to Do in Mauritius: Practical Tips for Your Trip
How Long to Visit in Mauritius?
Mauritius isn't your standard 3–5 day trip. Instead, plan for 7–10 days so you can get in enough of the attractions and activities and find time to relax on the beach, too. This isn't a holiday you want to rush, after all.
Best Time to Visit Mauritius?
Mauritius only has two seasons: summer and winter. But the climate is typically mild, with pleasant swimming temperatures year-round. April to June is the best time to go in winter, and September to December is best to avoid peak crowds.
Note that you'll probably still experience that famous tropical humidity, especially in December when it begins to peak.
Where Should I Stay in Mauritius?
Outrigger Mauritius Beach Resort (Mid-Range)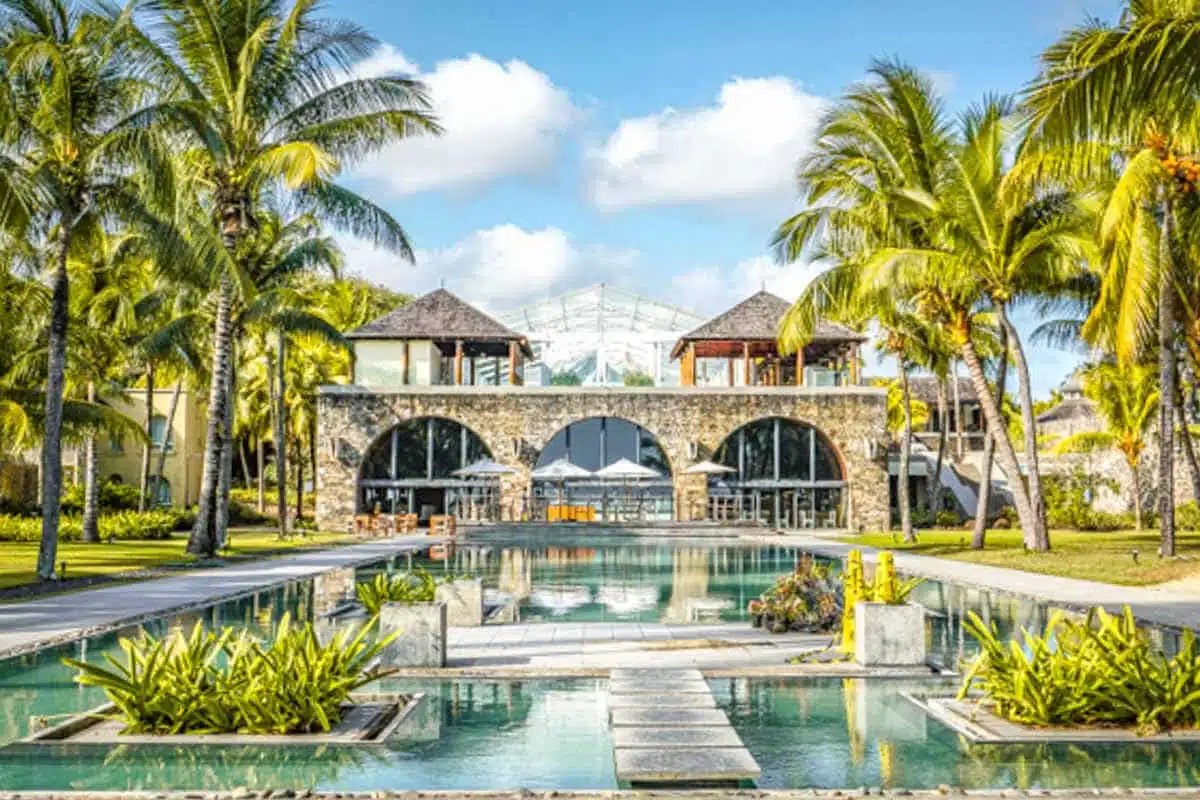 I've personally stayed at Outrigger Mauritius and can guarantee that it's a little piece of paradise with four pools and four restaurants for the choosing — not to mention ocean views from every room.
A tennis court and fitness centre will cater to athletic travellers, while the Navasana Spa offers relaxation on a luxurious level. And don't even get me started on the gorgeous decor!
Check Rates and Availability on Booking.com
The Westin Turtle Bay Resort & Spa (Luxury)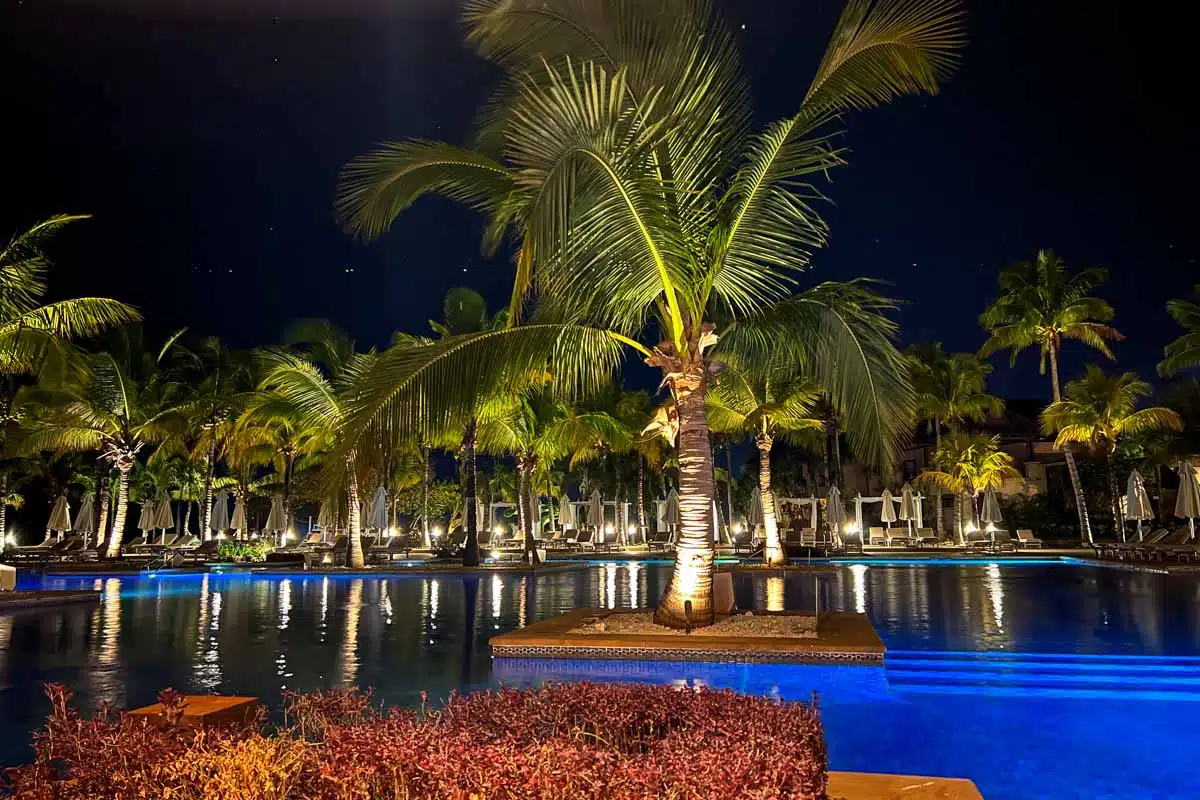 For some indulgent luxury, the Westin Turtle Bay Resort & Spa is just off the beach, offering panoramic views of the Indian Ocean. Rooms are air-conditioned and have patios or balconies to best enjoy the views, and the on-site restaurant is at your service.
There are plenty of complimentary beach activities and water sports to keep you occupied, as well as two swimming pools, a fitness centre, and a spa.
Check Rates and Availability on Booking.com
Recommended Tours in Mauritius
Things to Do in Mauritius: Map
What to do in Mauritius: Read Next
Love This? Save and Share on Pinterest