Wondering when to visit Mauritius for the ultimate vacation? I've got you covered with this handy guide to visiting the island.
Alright pals, I just got back from a bumper trip to Mauritius and I'm here to spill some secrets. Mainly, when the best time to visit just so happens to be.
In case you've been kept in the dark, Mauritius is an island country located in the Indian Ocean. It's ridiculously beautiful (as I'm sure you can see for yourself), boasting beautiful beaches and tropical climate.
And, if that wasn't enough, the island is home to a stunning – and fairly unspoilt – coral reef and plenty of wildlife as well.
Sure, when it comes to enjoying the island's natural beauty, any time of year is great. But when booking your hotel, packing your bags, and planning your itinerary, there are certain things you need to remember.
Excited? You should be. Keep reading to find the best time for a Mauritius holiday.
When's the Best Time to Visit Mauritius? At A Glance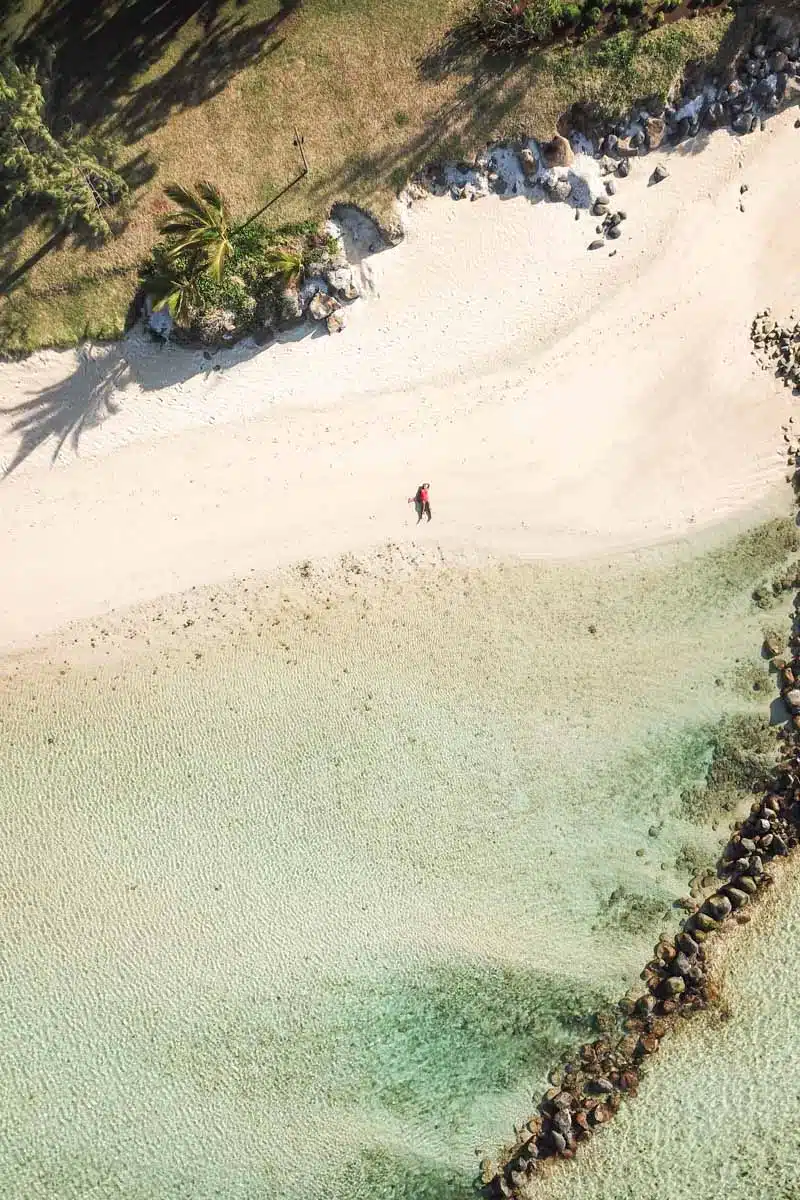 Mauritius is ideal in the sense that it boasts a warm climate all year round (see why I love it so much?). The winter is mild – although there can be occasional rain showers – and the summer is hot and humid.
From November to March, summer temperatures average around 24-29°C (75-85°F). The wet season runs from December to February, while the dry season runs from May to August.
I'll warn you, the crowds in Mauritius can be overwhelming from mid-December to mid-January and during school holidays (take it from someone who just returned mid-December).
April to June is generally a good time for those who want to avoid the large tourist throngs, and prices tend to be lower during these months as well.
The Best Time to Visit Mauritius
What is the Best Month to Visit Mauritius?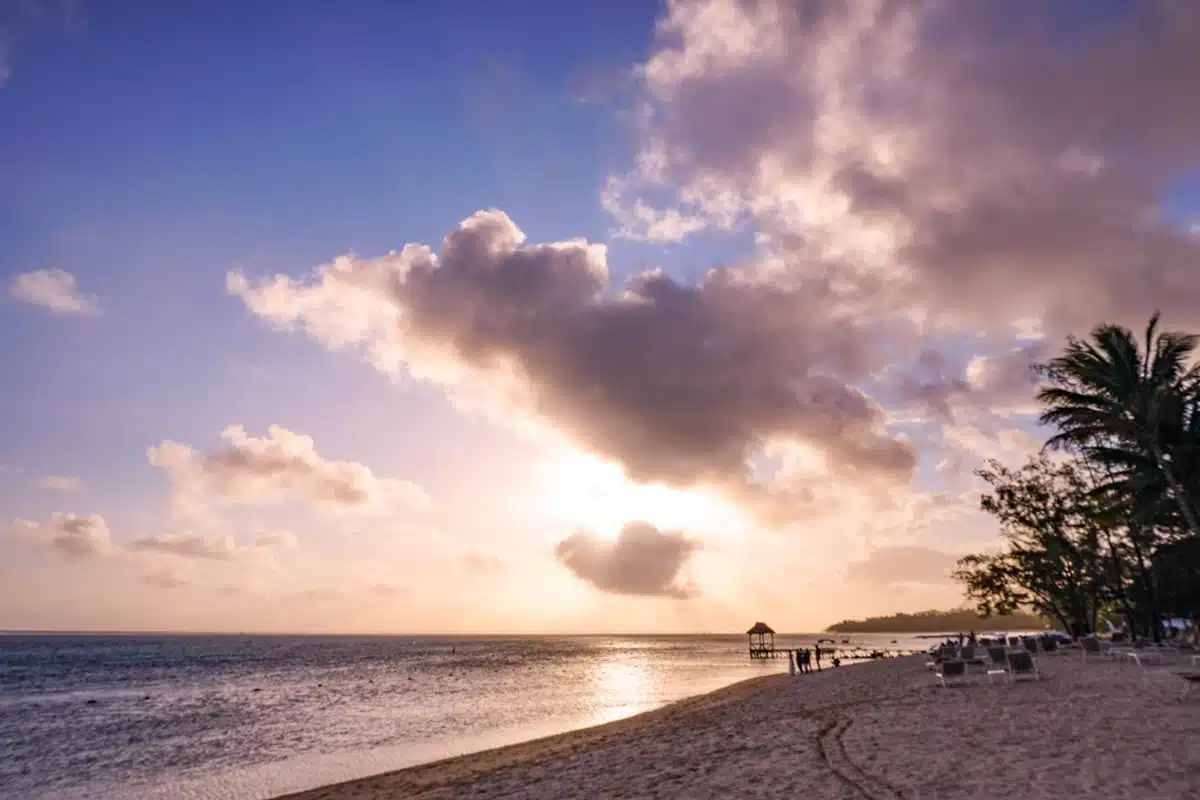 First up, some geography: There are nine districts of Mauritius, but four main corners of the island.
For most of the island, the best time to visit is from April to June or September to November. During this period, temperatures are pleasant and the monsoons have not yet started. Plus, the crowds are still relatively small.
The climate doesn't change much from one part of the island to the next, but there are contrasts depending on which coast you visit.
West Coast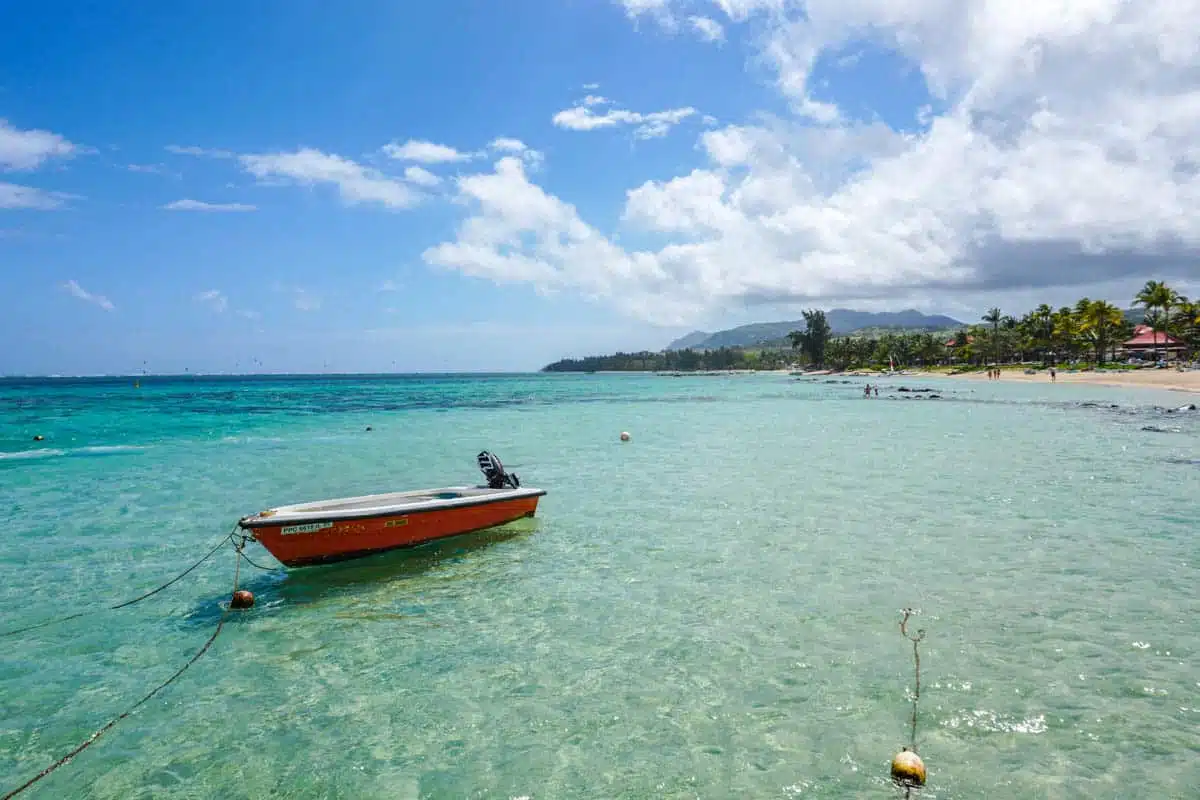 For visitors looking to explore the beaches on the west coast (known for its crystal-clear waters and green lagoons, FYI) this region has some of the best weather in Mauritius.
And it's exceptionally warm and wonderful from October to April.
East Coast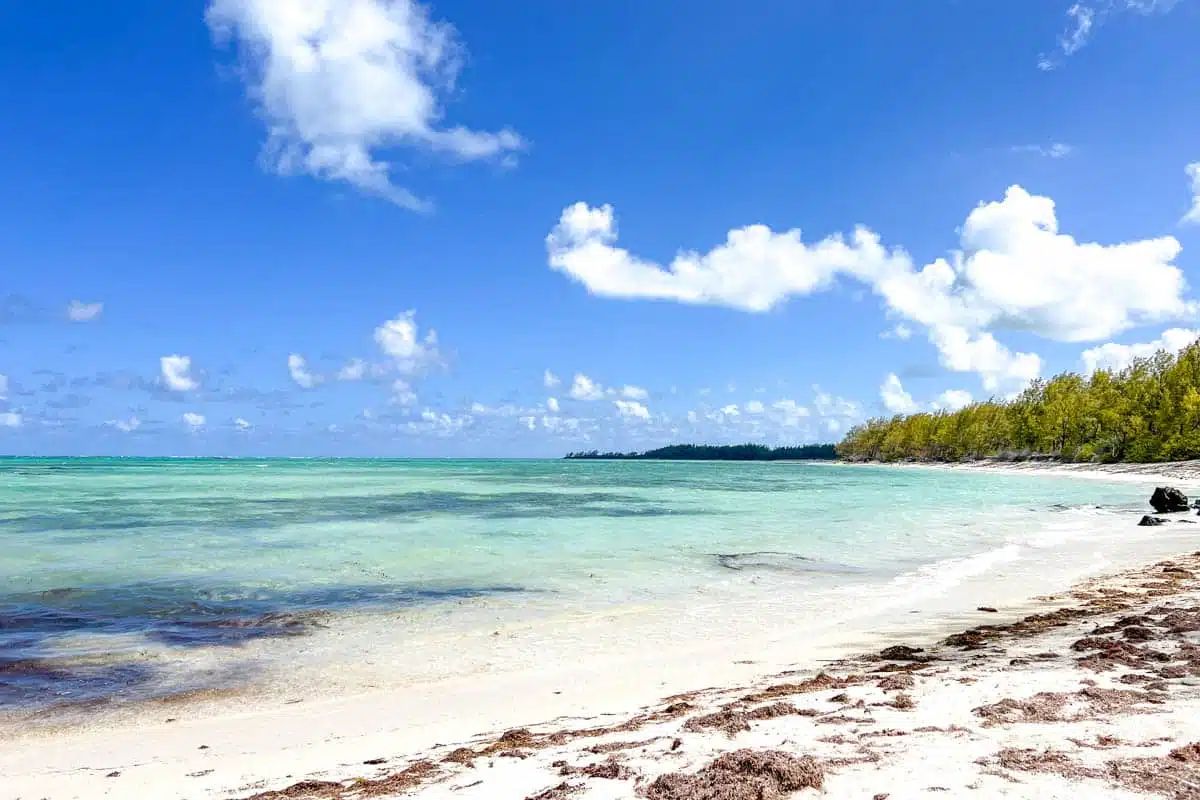 The east coast has stunning views and white-sand beaches, but it's also on the windiest side of the island. This can make it hard to enjoy beach days, but June to August are ideal months here for surfers.
South Coast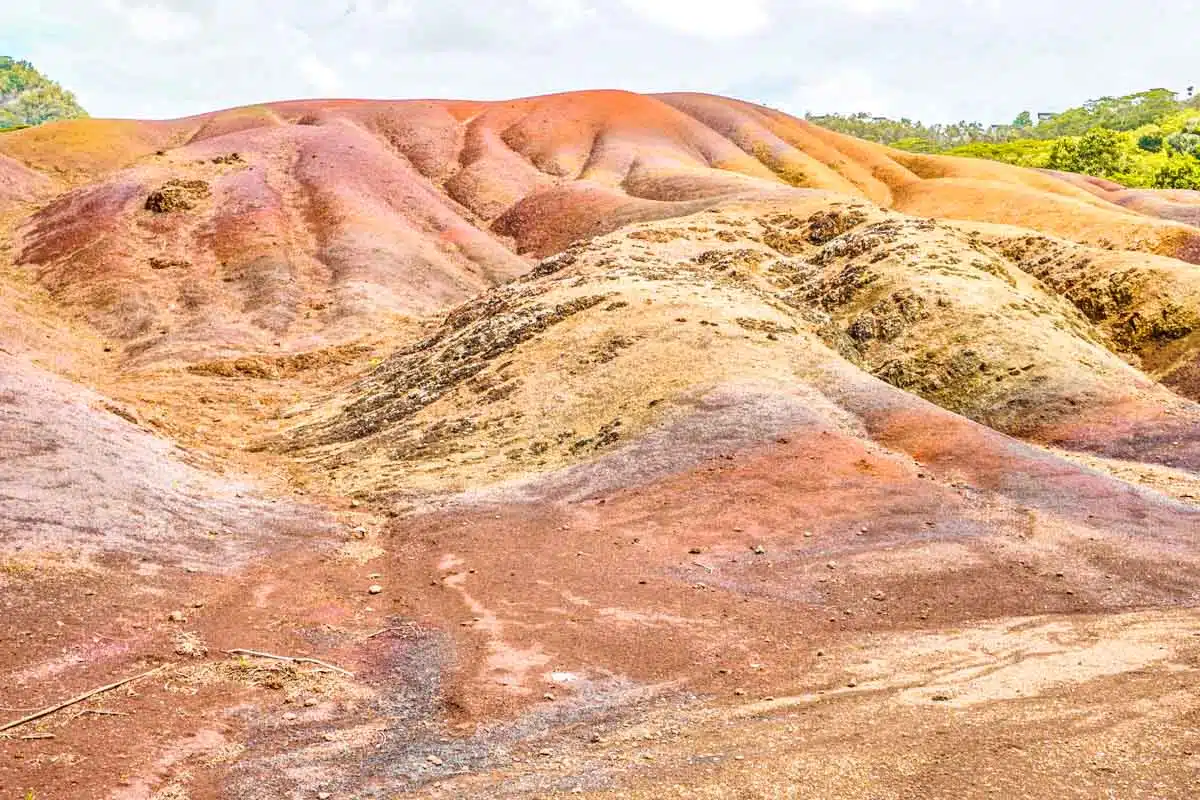 The south coast is a great place to visit any time of year, with temperatures staying pleasant most of the time. But it's best to avoid the months from June to August if you want sunny days and clear skies.
This is also a windy area of the island, so those months still experience rough winds and choppy waters.
North Coast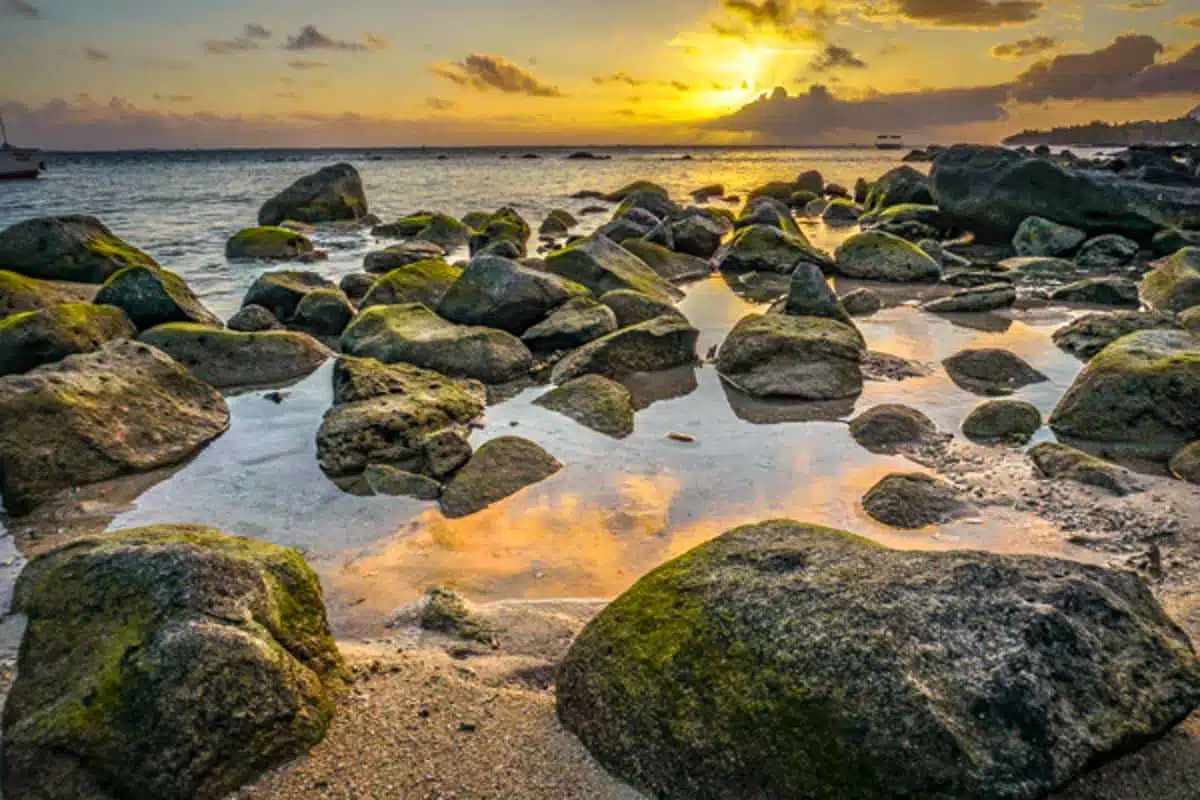 It's no secret that the north coast is home to some of the most beautiful beaches in Mauritius, but it can also get very hot during summer. Take it from me – it's best to visit between October and April when temperatures are mild and the skies are clear.
When's High Season in Mauritius?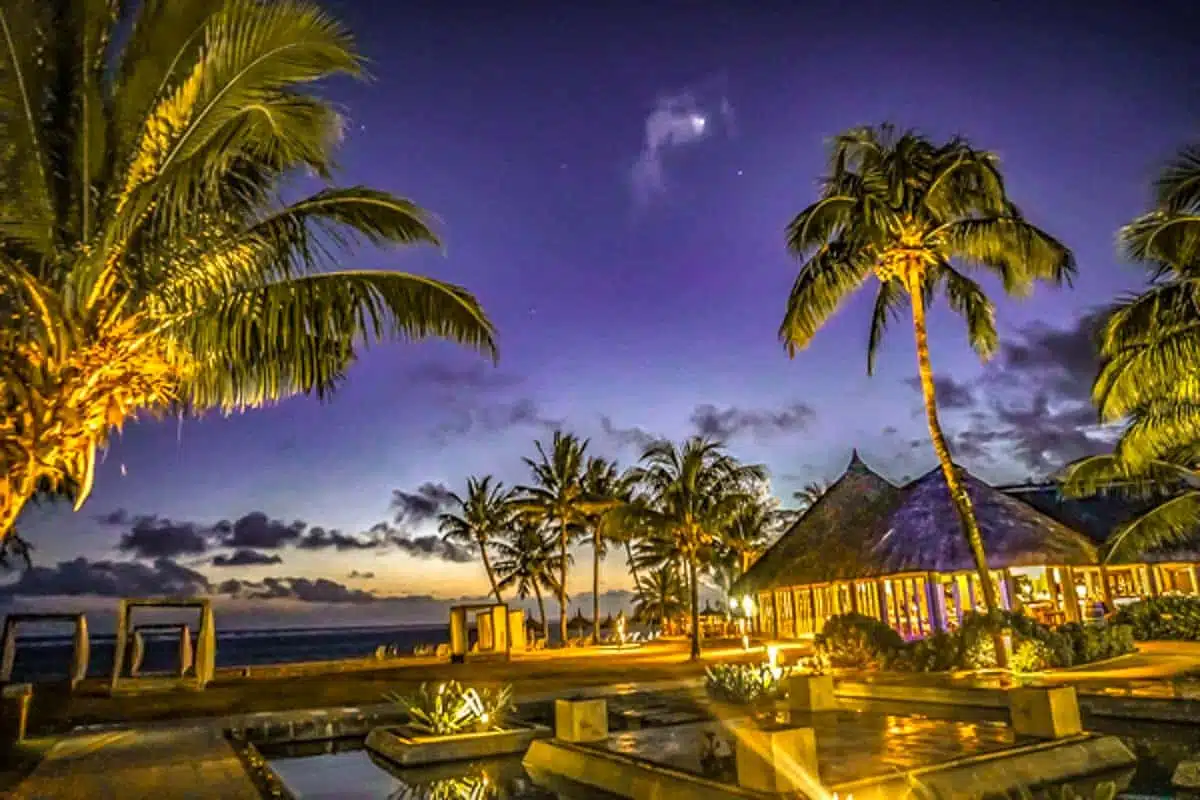 High season in Mauritius is from October to April when the weather is warm and sunny. December is the busiest time of year with tourists flooding in, so prices will be higher, but you can still find great deals if you book early.
The Cheapest Time to Visit Mauritius 
The cheapest time to visit Mauritius is generally from January to March – this is the rainy season.
There is a risk of cyclones, but the weather hazards make for lower costs on the island. If you plan around the weather, you can still enjoy a vacation during this time.
Best Time to Travel to Mauritius on Honeymoon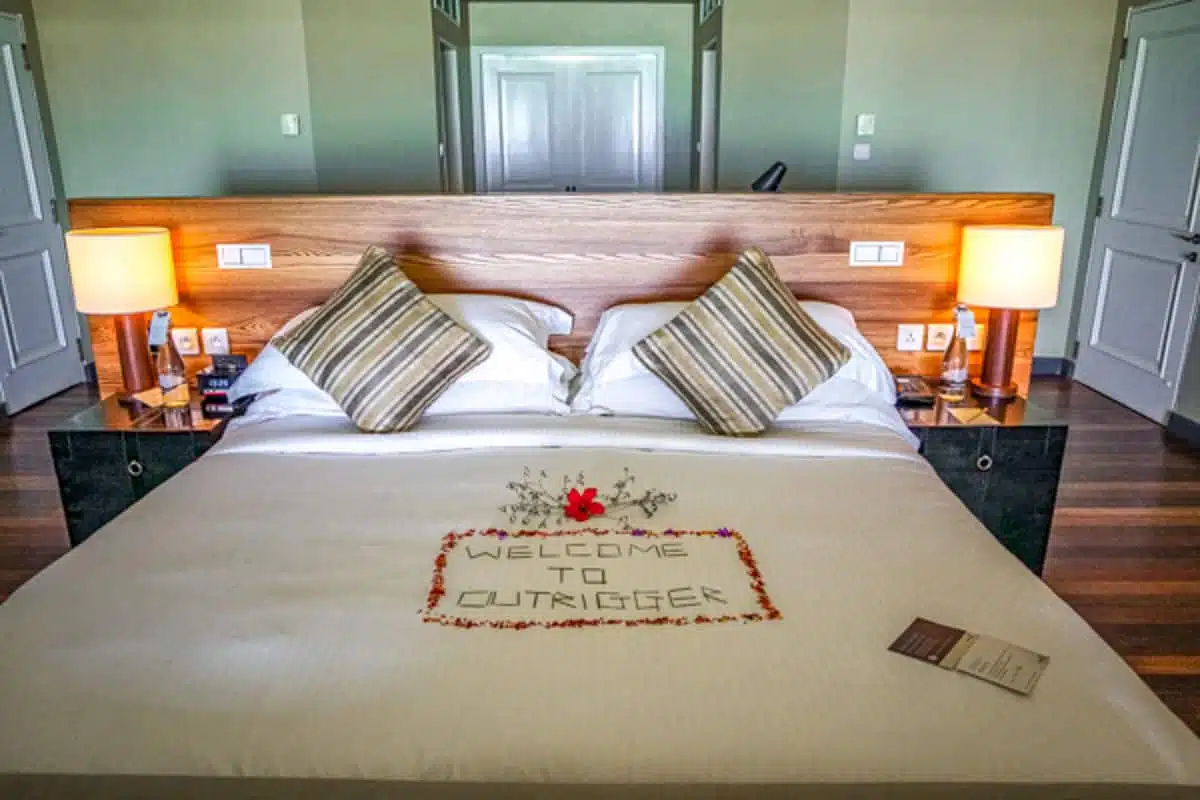 The best time to go to Mauritius on a honeymoon is from May to December, when the climate is mild and the temperatures are warm. This period is perfect for enjoying romantic sunsets on the beach or participating in outdoor activities like trekking or watersports.
When is the Best Time to Visit Mauritius to See Whales?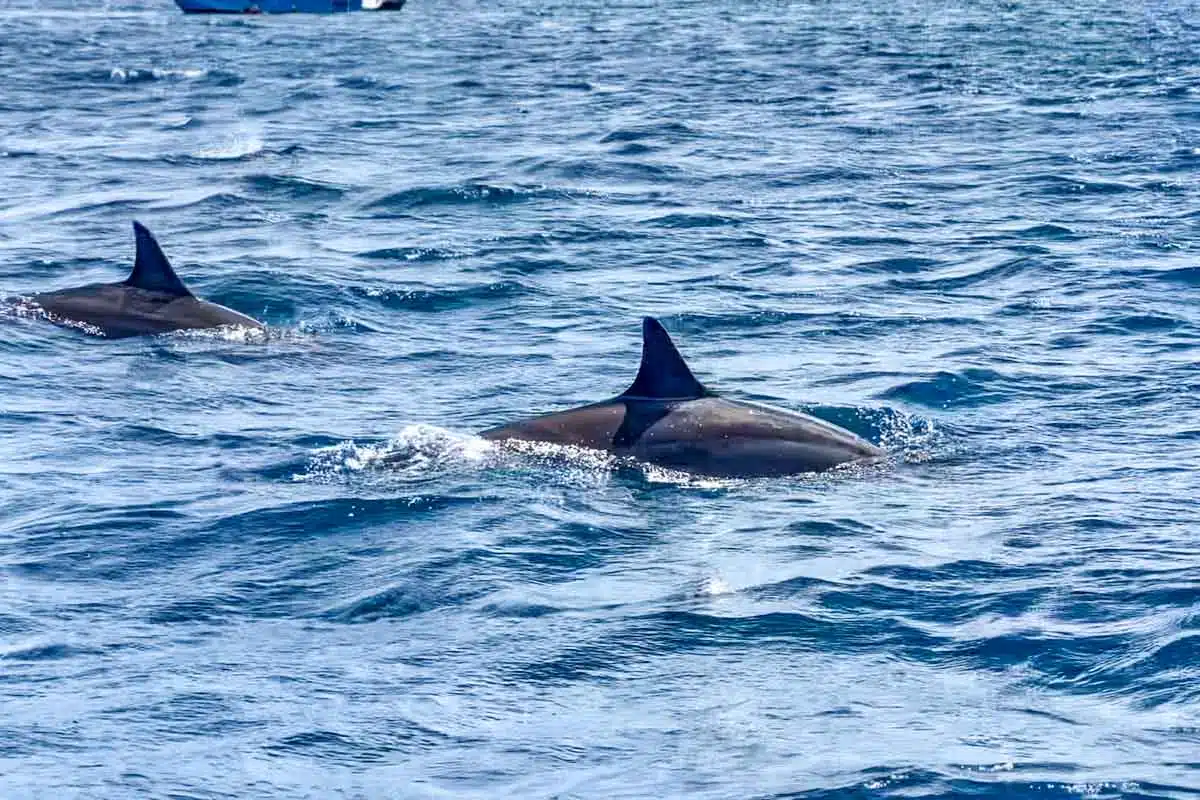 So, you want to spot whales? I've managed to see them pretty much every time I've visited (the ultimate flex, I know).
You can see whales in Mauritius all year, but they are most active from June to November when the waters are warm. I'll share my secret – the best place to spot them is off the west coast of Mauritius near Port Louis.
Rain Season in Mauritius
Rainy season in Mauritius runs from December to April. The weather can be unpredictable during this time, and cyclones will make their way to and near the island. Typically, the wettest month is February.
When Should You Go for a Beach Break?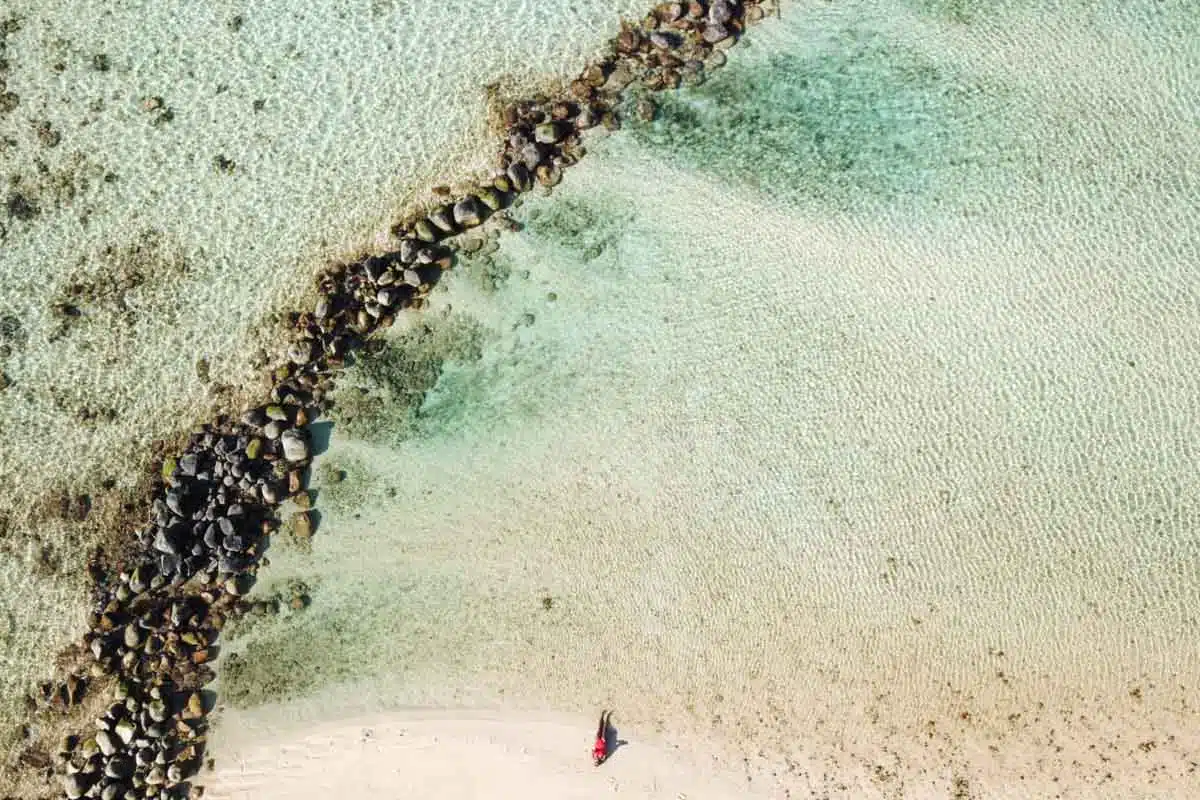 So you're dreaming of lounging on the beach in Mauritius? Lucky you. The best time for beach lovers looking to escape the crowds is from April to June; temperatures are mild and rainfall is at a minimum.
Better yet, during these months, you can relax on the beaches without the disturbance of too many tourists. Total serenity awaits you.
Mauritius by Season
Unlike more northern countries, Mauritius only truly experiences two seasons: winter (dry and cool) and summer (wet, warm, and humid). Let's take a closer look.
Summer in Mauritius
October – April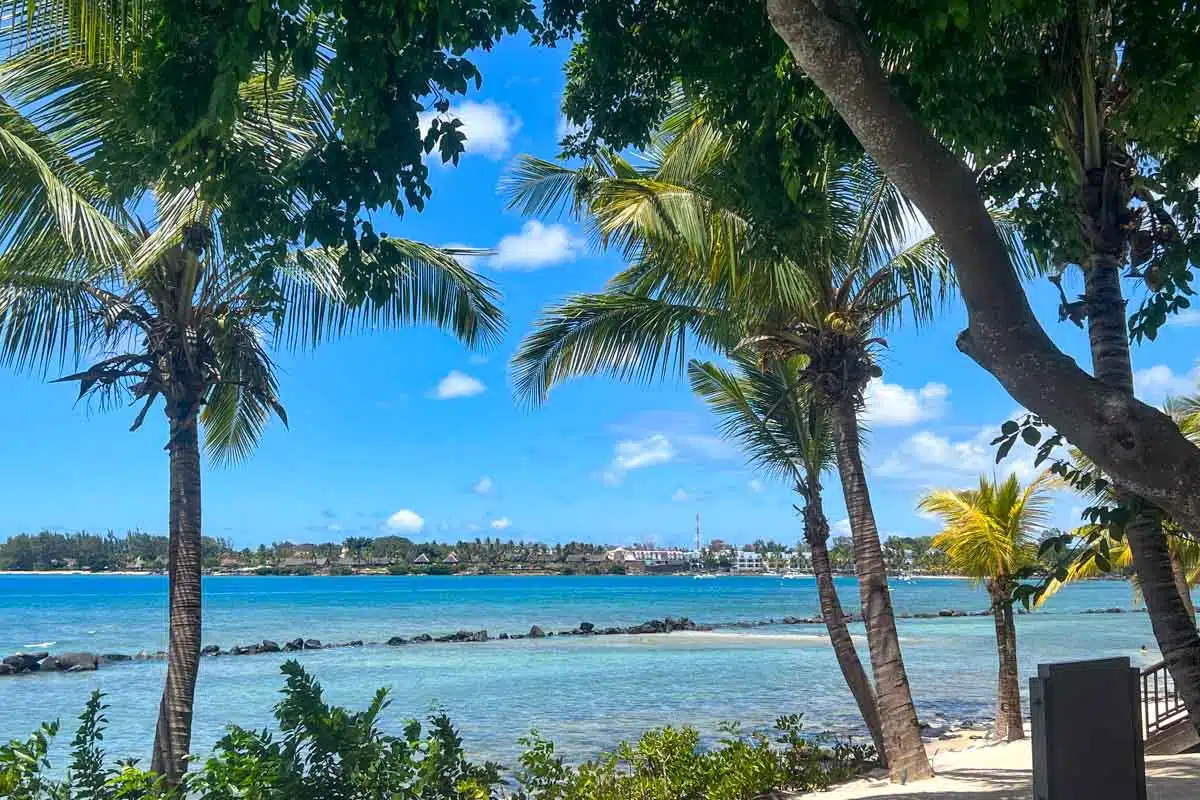 Mauritius' summers mean hot and humid days, but the temperatures remain comfortable for beach activities. Note that the wet season runs from December to February and can make it difficult to plan outdoor activities.
Key Events and Things to Do in Mauritius in Summer
C Kite Festival
Diwali
Porlwi by Light
Enjoy the beaches
Visit nature reserves
Dive with sea turtles
Pros to Travelling to Mauritius in Summer
Warm weather
Beautiful beaches (and the weather to enjoy them!)
Abundance of activities
Cons to Travelling to Mauritius in Summer
High humidity
Rainy season from December to February
Busier beaches and tourist attractions
Winter in Mauritius
May – September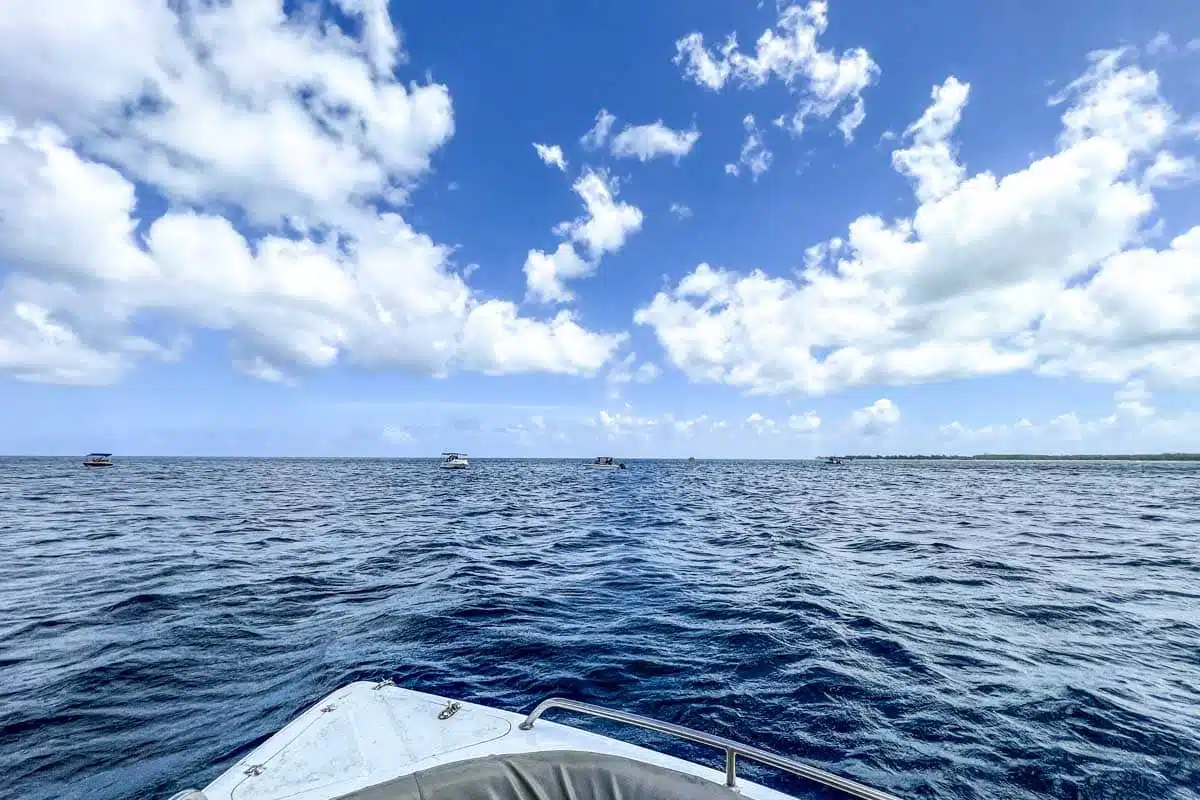 Winters are colder and drier, with occasional rain showers. This is a fantastic time of year for beach holidays or sightseeing, as the weather is more predictable.
Prices are usually lower during this time, and there are fewer tourists, so it's an excellent option for those looking for a quiet getaway.
Key Events and Things to Do in Mauritius in Winter
Dragon Boat Festival
Tropica Dingue
Dodo Trail
Watch a tennis tournament
Go kitesurfing
Pros of Travelling to Mauritius in Winter
Cooler temperatures
More predictable weather
Lower prices for accommodation and travel
Quieter beaches and tourist attractions
Cons to Travelling to Mauritius in Winter
Cooler temperatures (especially at night)
Fewer activities in the evening due to shorter days
Less variety of fruits and vegetables available in winter
When to Travel to Mauritius: Practical Tips + Tricks
Book flights and accommodation in advance if travelling during peak season (December to March). And make sure to look out for deals on flights, accommodation, and tours during low season.
Wear sun protection and bring mosquito repellent, as both can be essential during hot summers.
Pack versatile clothing for all weather and keep an eye on the weather forecast, as storms can appear suddenly.
Read More Mauritius Guides