On the hunt for the best beaches in Mauritius? The search is over – these are the 12 best spots for a tropical escape.
Whether you're a total beach bum (guilty) or prefer to dive straight into the ocean, Mauritius has a breadth of beaches to suit each and every traveller.
Don't believe me? You should – I've worked my way around the majority of them on recent trips.
But it has to be said that sipping an ice-cold Pina Colada as you watch the sunset beyond the golden horizon is synonymous with the island (just me?). And with plenty of spectacular beaches to pick from, finding the perfect sundowner spot can be challenging.
But don't you worry. I've done the difficult thing of narrowing it down to the 12 best beaches in Mauritius. Each has a unique charm, and seeing as Mauritius is so small, you can easily enjoy all these pristine coastlines.
Looking for an incredible place to stay? Read my Outrigger Mauritius Beach Resort review.
Best Mauritius Beaches
Flic en Flac
Best for Breathtaking Sunsets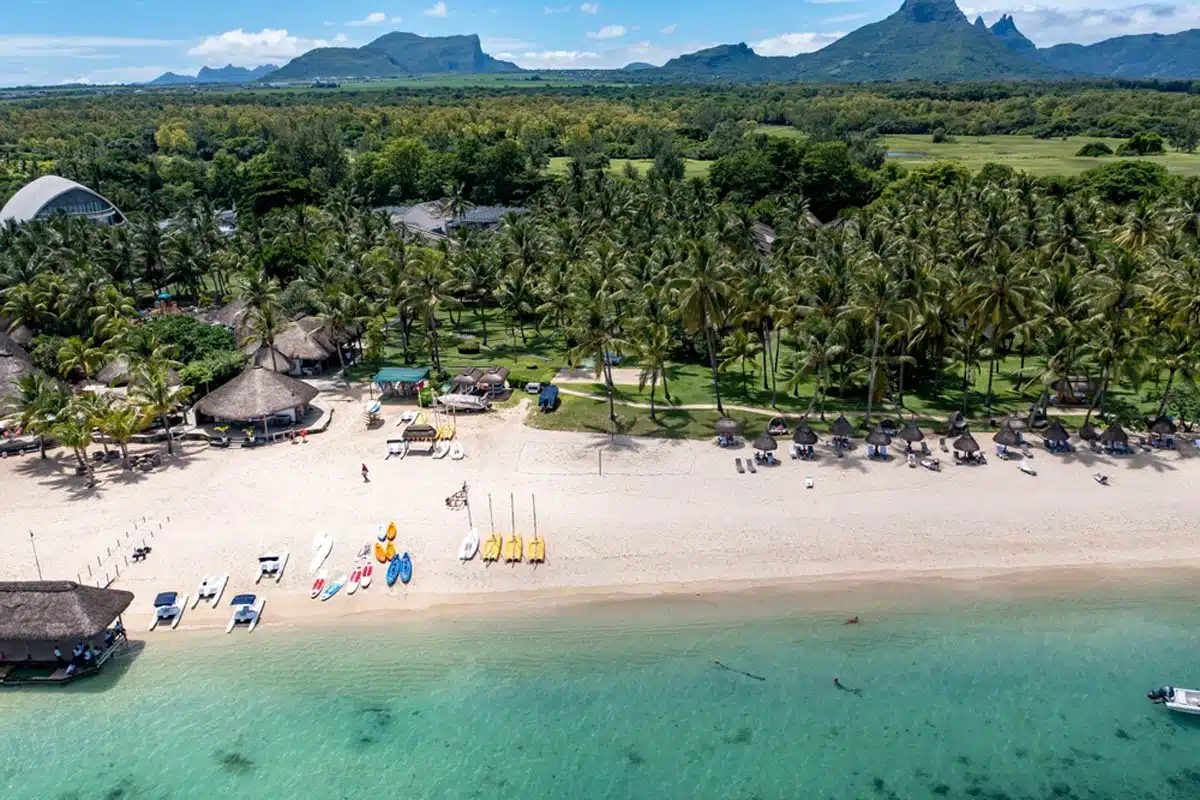 Looking for a gorgeous white-sand beach with some of the best sunsets in the world? It'a a no-brainer. Flic en Flac is the place to visit.
It's roughly an hour's drive from Port Louis (16.3 miles), but it's stunning and well worth the trip.
Its name translates to free and flat land, and you can easily see why with calm azure blue waters on a pristine beach. The sunsets here are magnificent, lighting up the entire coastline in pink, purple, and orange hues.
I'll warn you that it's not the most elusive beach in Mauritius, and you'll likely be surrounded by plenty of other tourists. But, that's because it's the best.
Want my advise? Head there early, rent a sun lounger and umbrella for the day and, when hunger strikes, grab a bite to eat at the Buddha Bar.
Le Morne
Best for Kitesurfing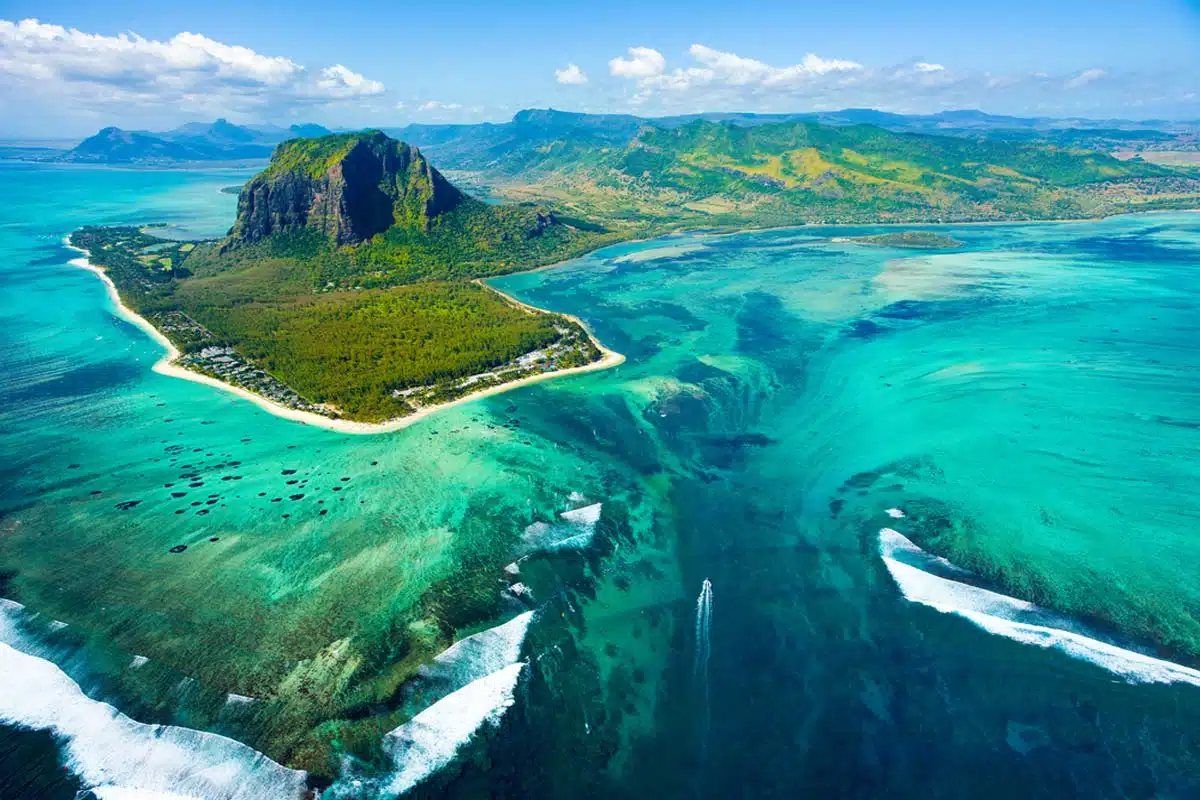 Next up, my favourite Mauritius beach spot. If you're the adventurous sort looking for some thrills, head to Le Morne on the southwest coast. It's an hour and 20-minute drive from Port Louis (27 miles).
It's hard to miss, as the iconic Point de Vue Sur la Plaine du Le Morne mountain dominates the landscape.
Aside from swimming in the blue waters and surfing the glorious waves, there's also plenty of history to explore. Discover the UNESCO site, Le Morne Brabant, or unearth the underwater waterfall of Mauritius just off the coast.
And for some tasty treats after a day of exploring (I guarantee you'll be ravishing), head to the beachside restaurant La Plage.
Top Tip: Join this Le Morne Brabant guided hike to explore the region and admire the beach from a new perspective.
Tamarin Beach
Best for a Unique Beach Experience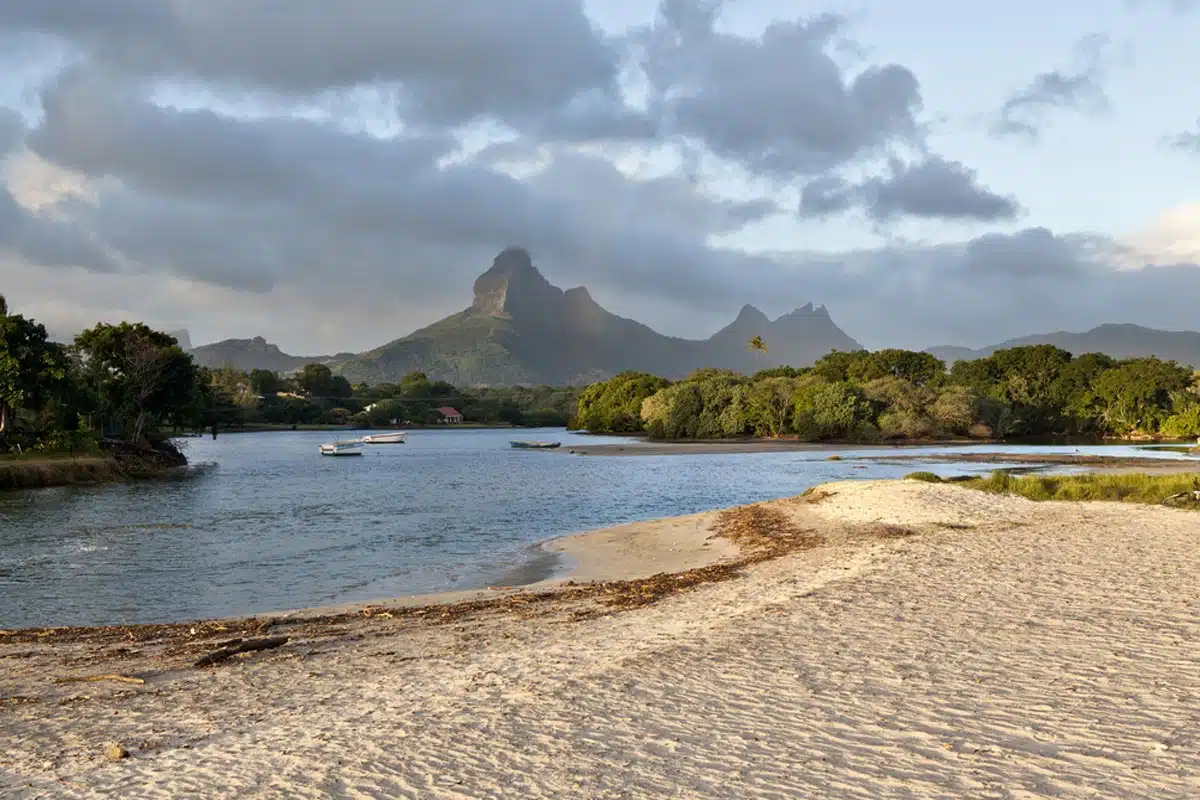 Most Mauritius beaches have soft white sand, but not Tamarin. No no no – this spot is blanketed with soft grey sand. Unlike its northern neighbour, Flic en Flac, Tamarin is a notorious surfing spot thanks to the southern swells from the Indian ocean.
It's one of the smaller beaches in this guide, but it's also relatively quiet, so you can happily waste away the day in peace. If you're hungry, I suggest heading to Crazy Fish for some delicious marinated tiger shrimp.
It's a breathtaking little destination with equally beautiful sunsets to Flic en Flac. But be careful of the currents flowing from Riviere Tamarin; they can be powerful.
Top Tip: Make time to visit Chamarel Waterfall. It's a short 30-minute drive and a lovely excursion from Tamarin Beach.
Trou Aux Biches
Best for a Resort Stay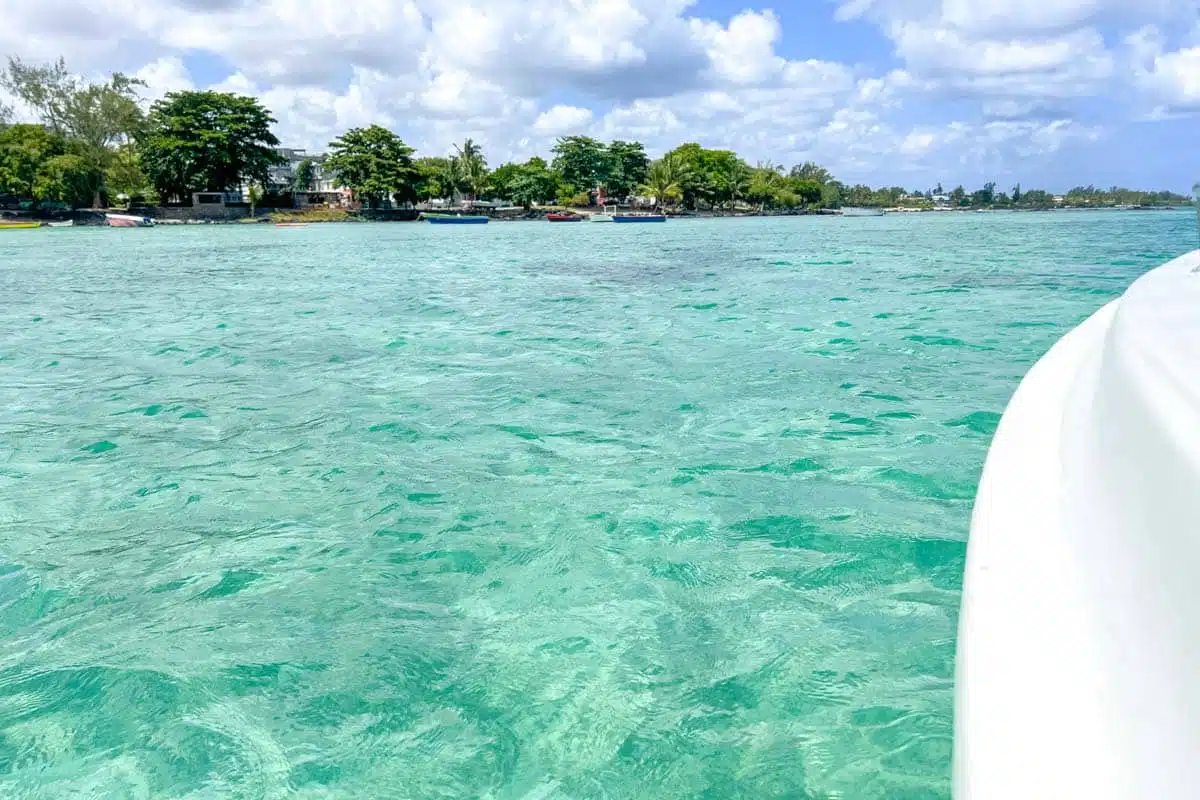 The south might be more wild with rugged beauty, but go north and you'll find the stunning resort town of Trou Aux Biches — 30 minutes from Port Louis (11.4 miles). This soft-sand beach is tropical paradise, with swooping palm trees dominating the beach line.
What sticks out is the Trou Aux Biches Beachcomber Golf Resort, which hugs the beach. You can also visit the resort's fantastic restaurant that serves delicious Mauritian-inspired cuisine. Highly recommended, even if you're not staying there (though, you should).
The water is extremely gentle, so it's also a fantastic snorkelling spot with coral reefs less than 1,600 feet from the shore. It's a popular Mauritius beach, but it's a whopping 1.2-mile-long, so it'll be easy finding a spot to settle down for the day.
Grand Baie
Best for Blue Waters and Nearby Amenities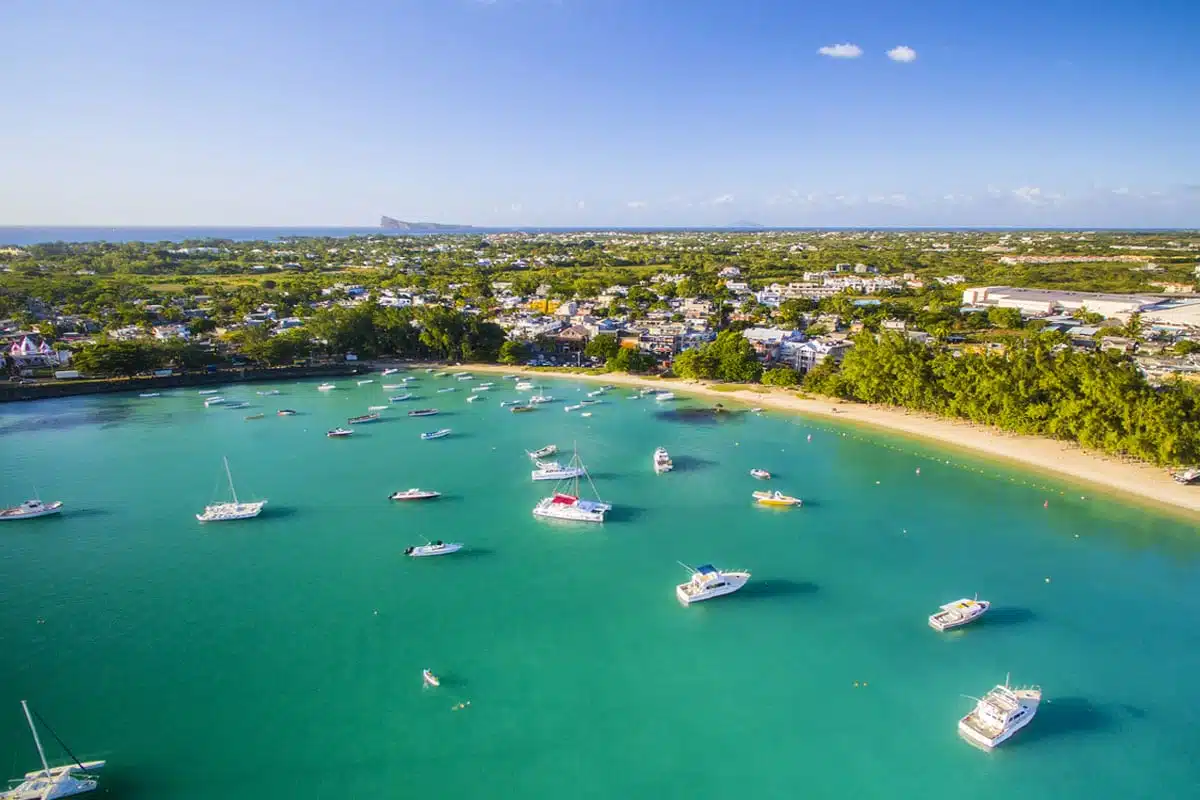 If you want to visit a protected swimming destination with azure blue waters, catch some sun at Grand Baie. It's at the heart of the bay in the northern region of Mauritius, some 4.6 miles from Trou Aux Biches.
Breathtaking ocean views are only some of what you'll see. Sunset Boulevard is a fantastic place to rent a boat for the day to explore Grand Baie's glorious coral reef and see the town from the water.
And if you're in the partying mood, Grand Baie has several bars and nightclubs for you to enjoy. The vibe at Banana beach club Mauritius is particularly bouncin'.
Top Tip: Join this catamaran cruise from Grand Baie to explore the northern islands of Mauritius and see the beach in a new light.
Mont Choisy
Best for Space and Soft Sand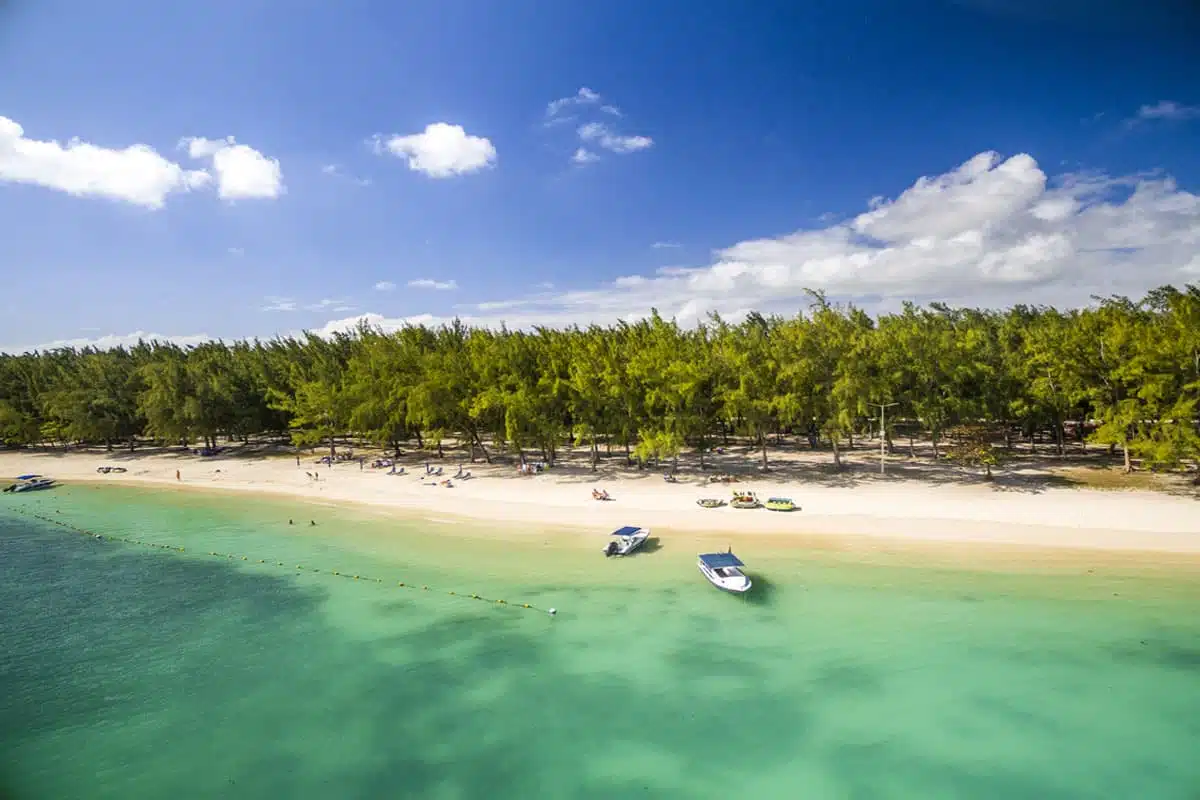 Wedged between Grand Baie and Trou Aux Biches, you'll find a secluded beach on Mont Choisy. It's just under a mile long and is one of the island's quietest and most well-kept secrets, thanks to the many resorts that use it as a private beach.
Although it's a private beach, you can still visit it if you dine at Canonnier Beachcomber Resort and Spa. It's even more prestigious because the Mont Choisy area has a serious drive for sustainability. So you can visit with a clean conscience. Just remember to clean up afterwards.
The beach itself has fantastic soft sand and calm waters. And if you want a stunning photo, head to Panoramic Spot on the beaches northside.
Pereybere
Best for Calm Waves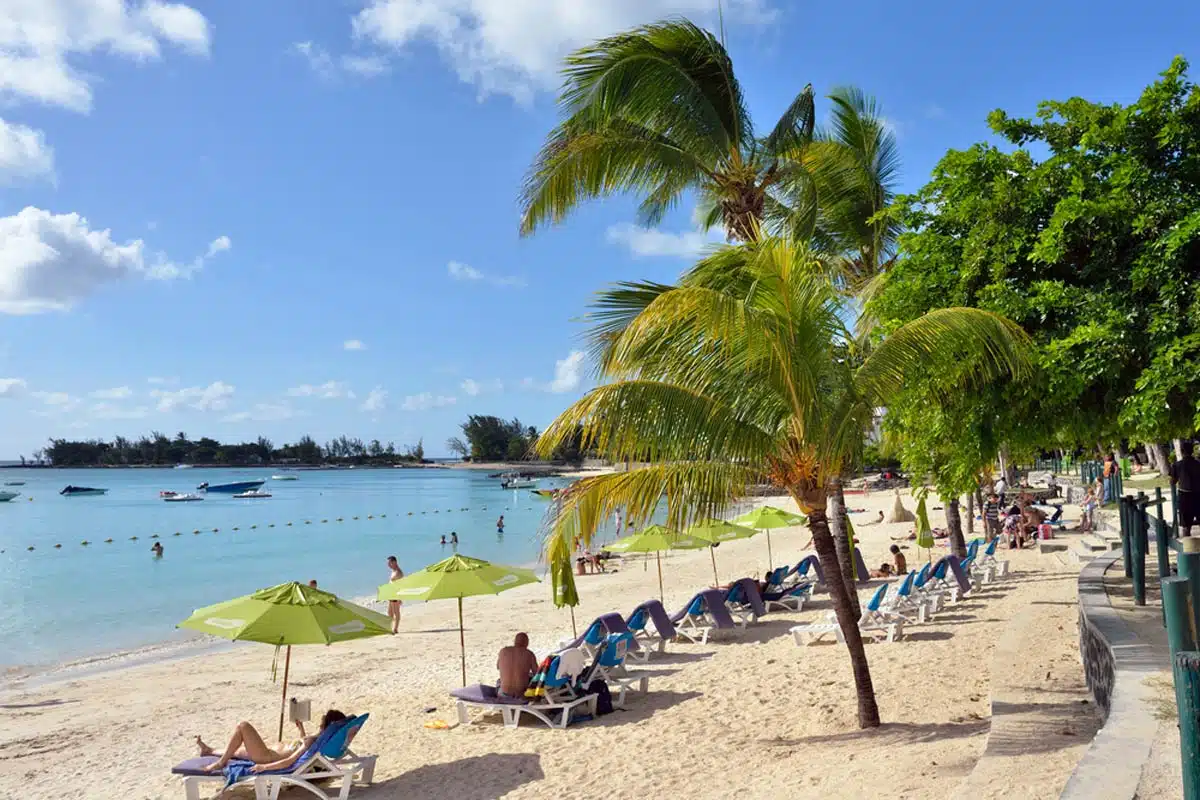 Another beauty is Pereybere Beach, just north of Grand Baie, with calm waves and even more laid back vibes. You'll find sun loungers and umbrellas already set up on the beach at $12 per day — trust me when I tell you it's worth the extra bucks to stop sand from getting everywhere.
Like many of the beaches in Mauritius, the sand is golden and glorious, while the water is warm and inviting. The only logical thing to do while at Pereybere is to grab a cocktail (or four) at The Cloud Rooftop Lounge. Here, you'll get breathtaking beach views as the sun sets in the distance.
And for a glimpse of the northern isles like Gunners Quoin and Flat Island, take a stroll to Pointe d'Azur. Remember your camera.
Gris Gris
Best for Breathtaking Ocean Views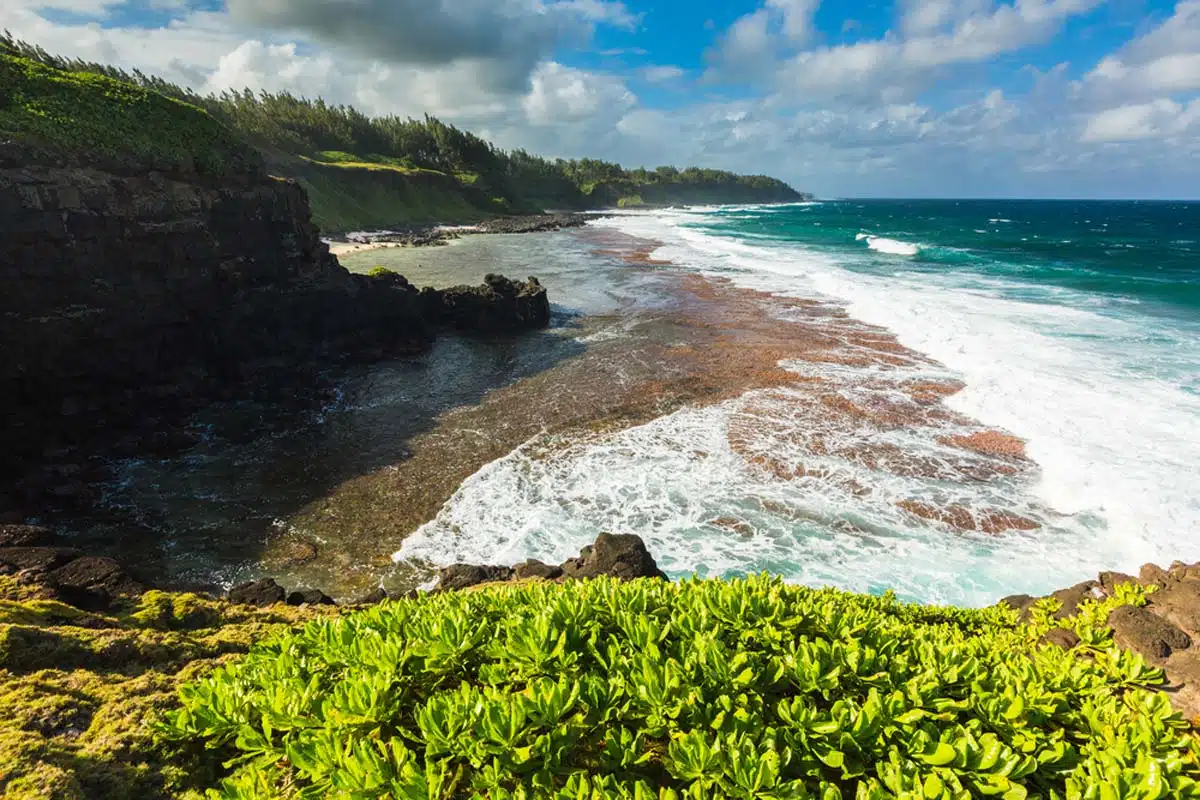 The waves are a bit stronger on the southern shores of Mauritius, but that doesn't take away from the beauty of Gris Gris. This small, relatively untouched beach is 35 minutes from Le Morne (16 miles).
Large cliffs cascade into the ocean below, with a small stretch of sand between these large peaks. This is a dramatic setting that you'll quickly fall in love with.
Although it's not the best beach for swimming (stick to Flic en Fan), it's a fantastic place to explore the surrounding wildlife with plenty of hikes nearby. One of the best is Roche Qui Pleure.
Bel Ombre
Best for Vibrant Nightlife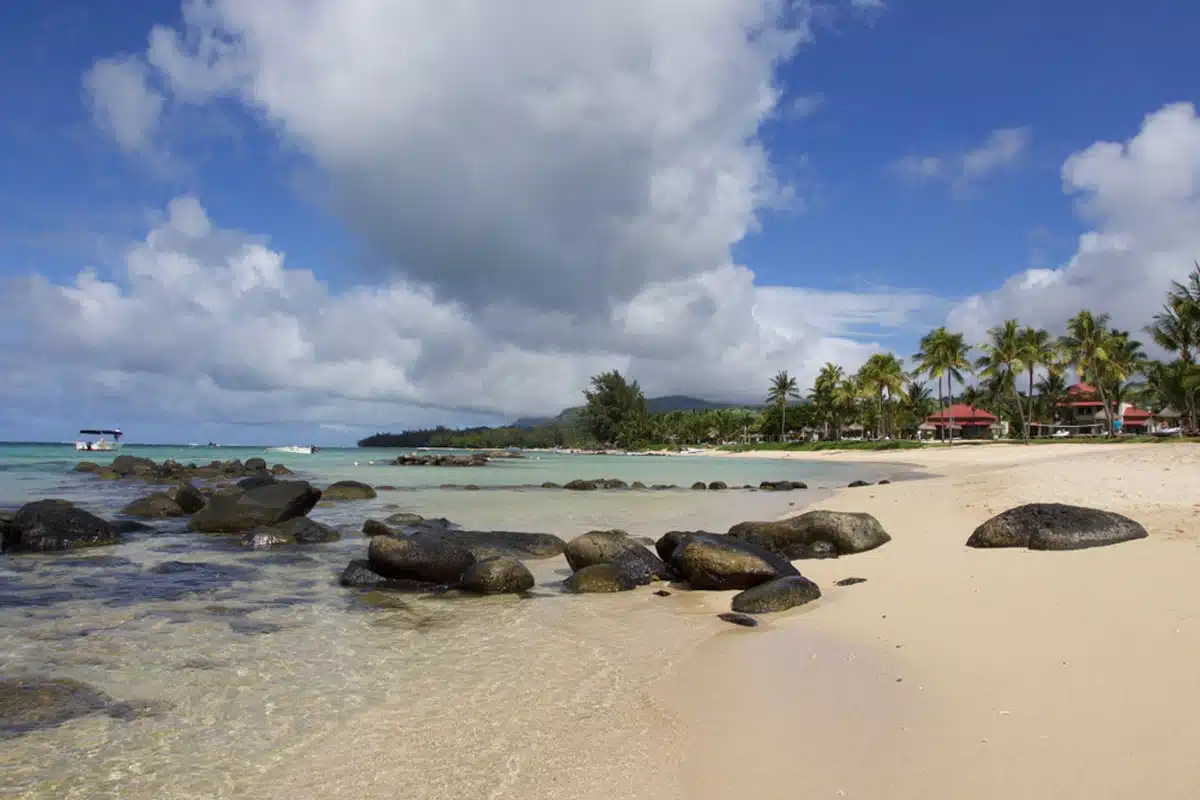 Staying in the southern region, you'll find the effervescent Bel Ombre beach, 12 minutes from Le Morne Brabant (5.3 miles). It has soft white sand and inviting turquoise water — I don't think I've ever seen water this pretty before.
There are some large boulders along the shoreline, so be careful when swimming. Though, the water is super clear, so you'll see the boulders anyway. Although there aren't any sun loungers and umbrellas to rent, one amenity out here draws in the crowds…
C Beach Club is hands down the trendiest spot in Mauritius. You're bound to have an unforgettable time here, from the opulent restaurant inside to the pumping outdoor pool parties.
Blue Bay
Best for Snorkelling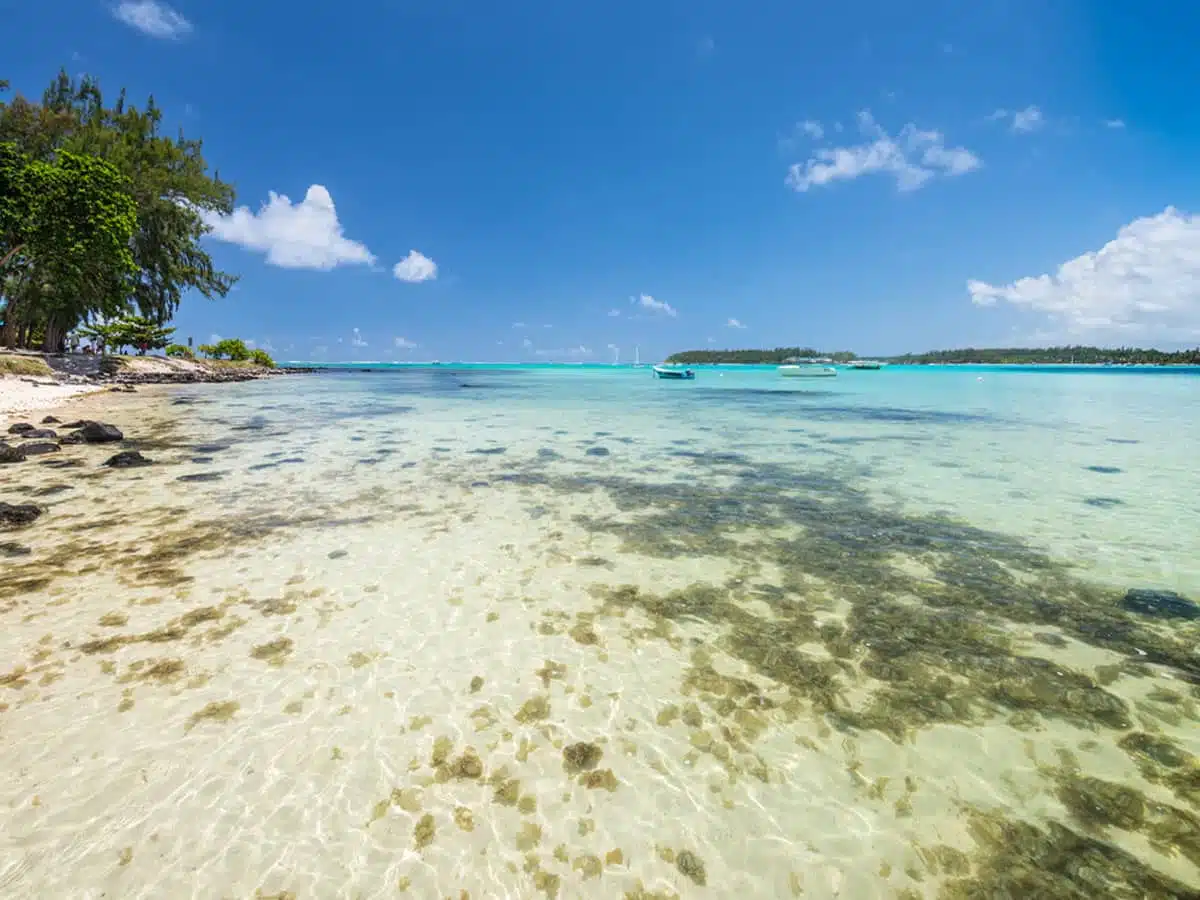 If you want to explore breathtaking coral reefs, take a short 11-minute drive from Mahebourg (3.7 miles) to Blue Bay Beach. It's a well-known resort town, so why not spend a few days relaxing on the sand? A gripping crime novel is optional, but highly recommended.
But the star of the show is Blue Bay Marine Park, where you can enjoy the best snorkelling experience on the island. You'll spot vibrant wildlife like the convict surgeonfish and parrotfish swimming amongst the coral gardens. And in between snorkelling and admiring the marine life, fill your belly at The Spot Cafe.
Top Tip: Join this Blue Bay snorkelling trip to explore the diversity of the region's coral gardens.
Belle Mare
Best for Swimming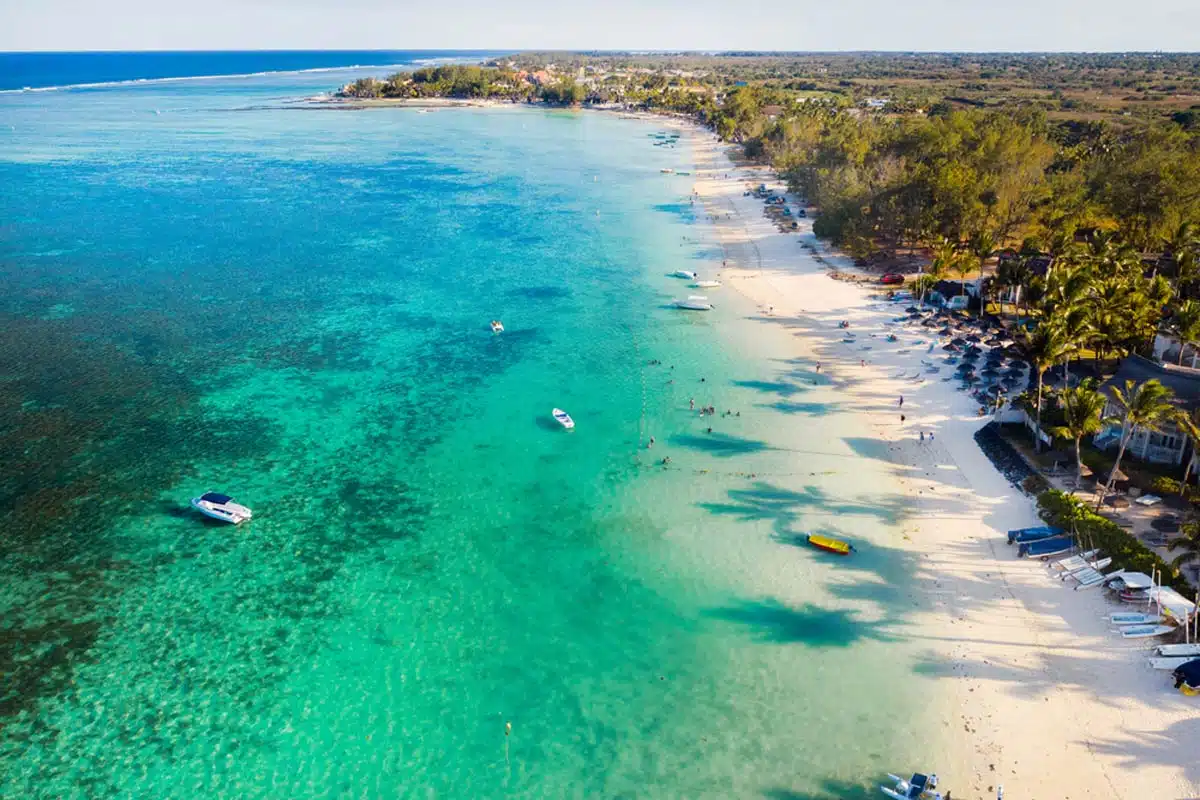 If you're looking for a pristine swimming spot, the eastern beach of Belle Mare should be on your list. It's a short 12-minute drive from the nearest town of Central Flacq (4.7 miles) and provides 1.5 miles of fluffy sand, gentle waves, and a relaxing atmosphere.
You'll find a few sun loungers and umbrellas along the beachfront, with a dense thicket of palm and poplar trees.
The Flight SA 295 Memorial is also along this coastline. And, if you want the best Mauritian food in the area with mesmerising views to boot, go to The Plantation.
Remember to take a dip in the sea. It is one of the best swimming spots in Mauritius, after all.
St. Felix Beach
Best for Nature Lovers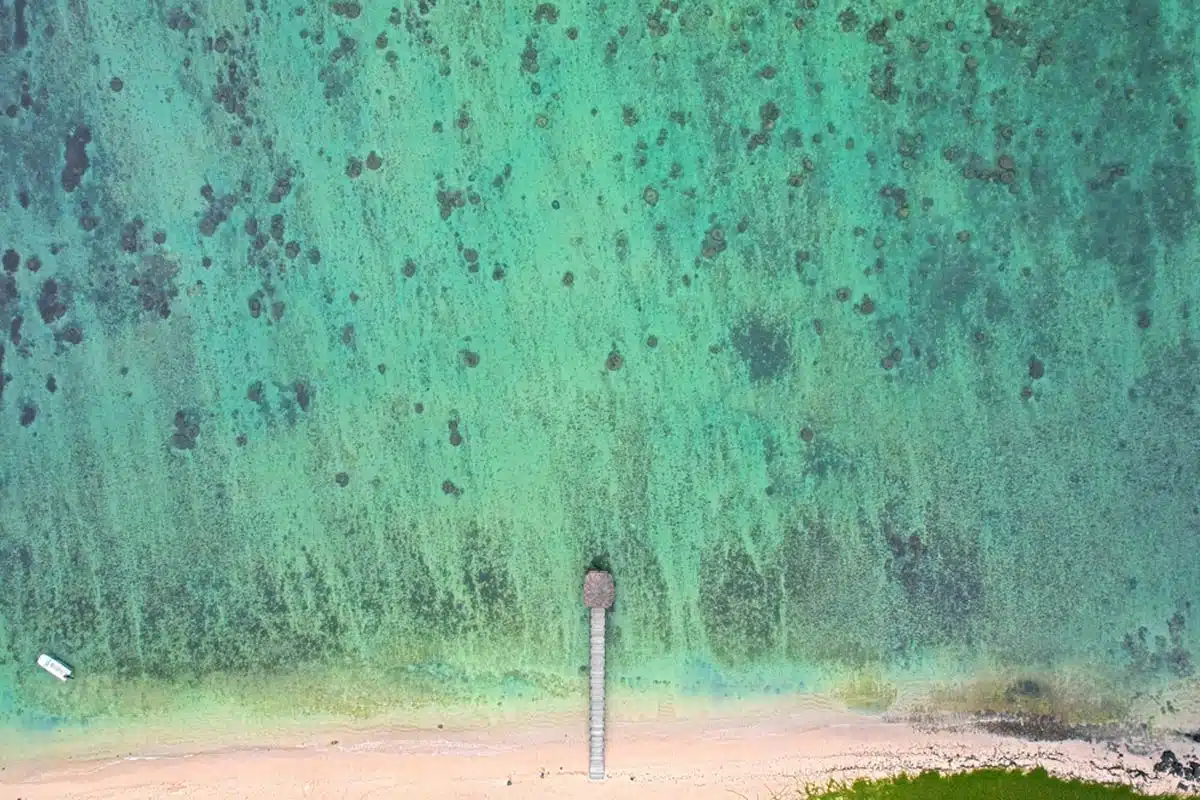 At first glance, St. Felix appears to be like any other beach in Mauritius, with a picturesque promenade and soft sand. But one thing that's not spoken about is how close it is to all the best nature reserves on the island.
The Riviere des Galets is west of the beach and flows from the Black River Gorges National Park (8 miles away). While the Heritage Nature Reserve is only 2.3 miles from the beach, where you can admire landmarks like Baie du Jacotet.
And after a day of exploring, relaxing on St. Felix beach is easily the best thing for you.
Top Tip: Join this south coast highlights tour and see top landmarks around St. Felix Beach, like Alexandra Falls and the Trou Aux Cerfs crater.
Practical Tips for Exploring the Best Beaches on Mauritius
When to Visit Mauritius Beaches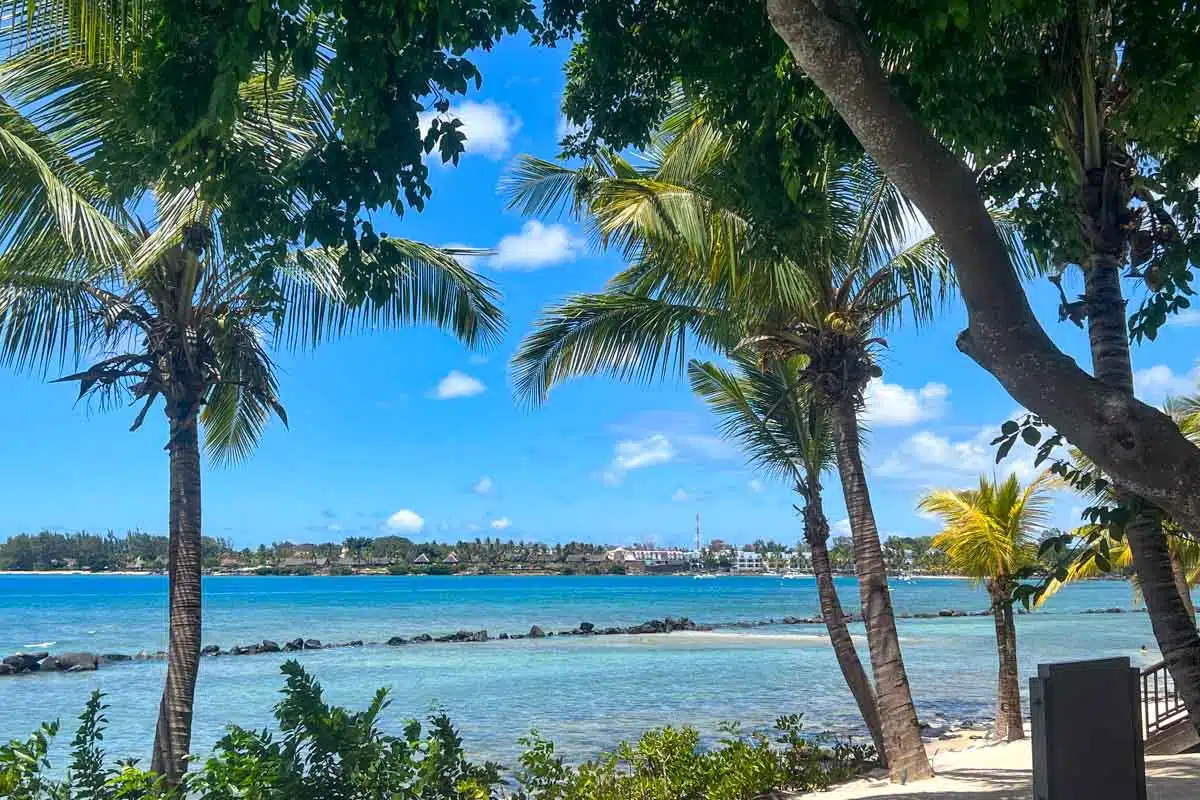 It's difficult to say when the best time to visit Mauritius is as each time of year offers something slightly different. However, for the warmest waters (AKA most pleasant time to swim and surf), visit between October and December.
Where to Stay in Mauritius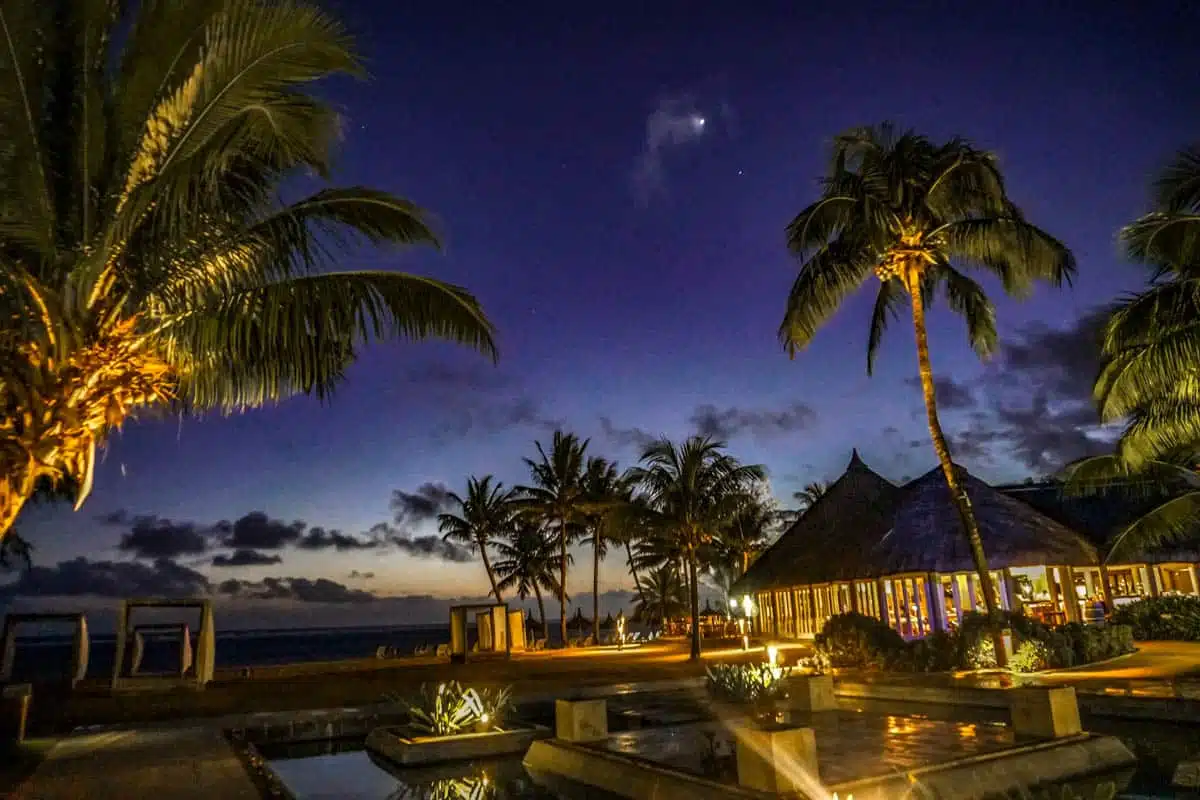 While I love staying in Le Morne, beach-lovers will probably want to stay near Flic en Flac.
How to Get to Beaches in Mauritius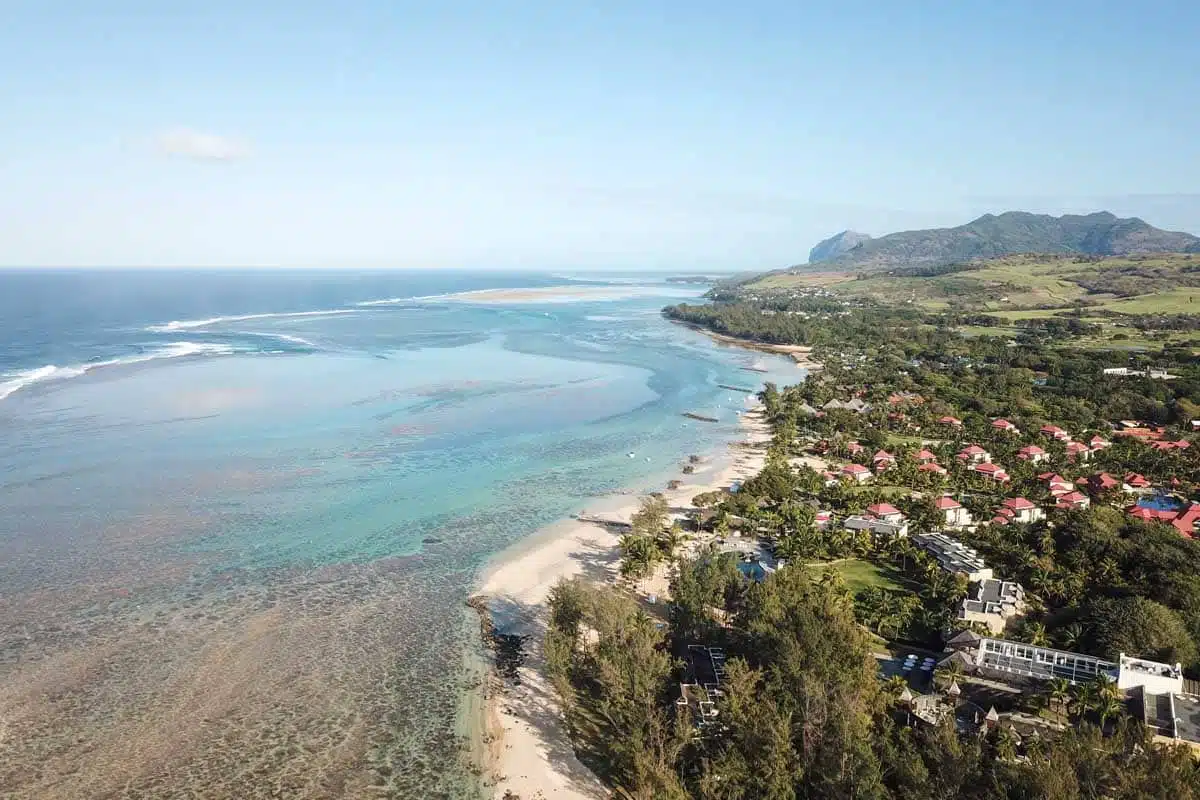 Although the island is relatively small, I recommend renting a car, as public transportation can often be unreliable. And nobody wants to be stuck waiting for a taxi, with sand in all kinds of questionable crevices.
Beaches in Mauritius: Map
Mauritius Beaches: Read Next
Love This? Save and Share on Pinterest