Strap on your boots and get ready to discover why you need to hike the scenic Hidden Valley in Joshua Tree National Park.
Don't get me wrong – there are so many incredible Joshua Tree hikes to choose from. But the Hidden Valley offers one of the best scenic routes in the park.
Not only is it easy to hike, but it's also quick, meaning it's great to do no matter how long you visit. Add to this a simple-to-locate trailhead and a brilliant picnic area for a post-hike pitstop, and it's a no-brainer.
Read on for everything you need to know about this epic trail.
Hiking the Hidden Valley Nature Trail Joshua Tree: In Detail
The Hidden Valley Joshua Tree Trailhead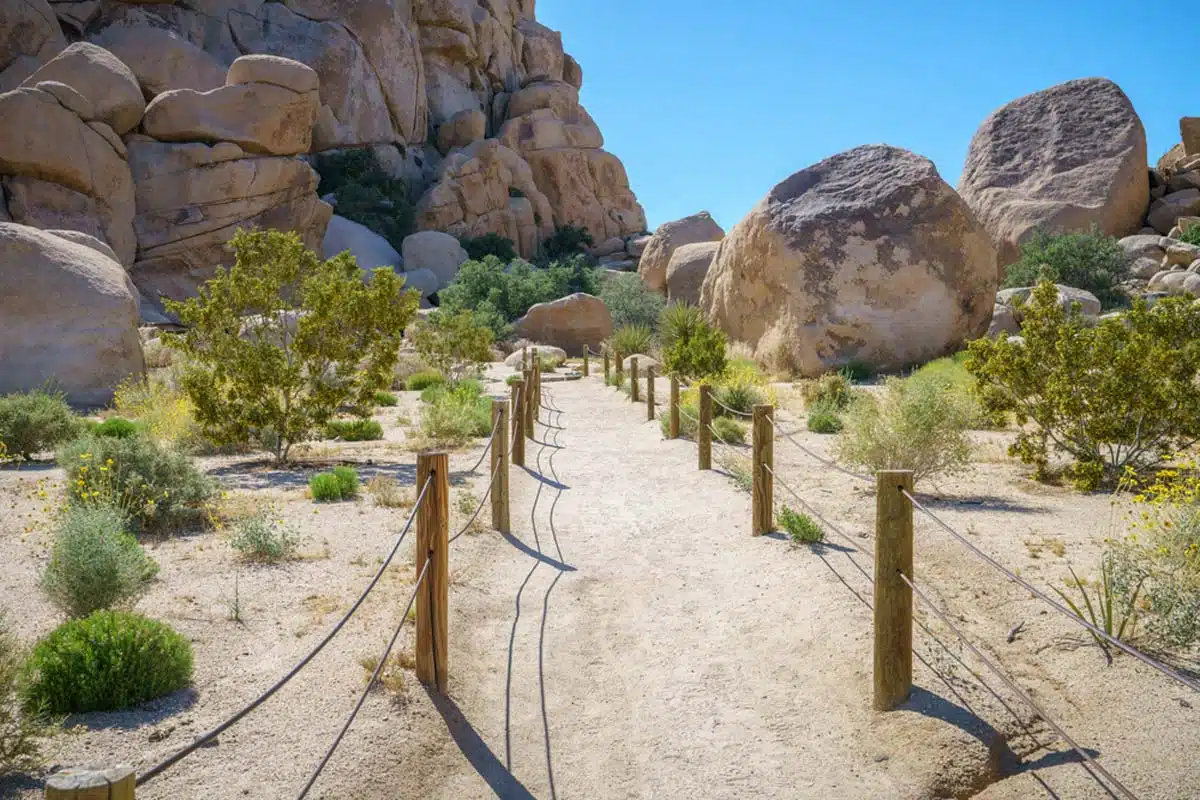 First up, you'll want to find the trailhead. Which, surprisingly, isn't too difficult. You'll see directions to it on the roads no matter which way you drive.
But, I'll make it even easier for you by letting you know that the Hidden Valley trail starts near the camping ground of the same name. There's a car park and picnic area as you arrive.
On the trail, you'll see a few signs pointing you in the right direction among the plants and rocks dotted along the way. There are also information boards identifying the greenery and critters you can find on the trail.
The Hidden Valley Joshua Tree Hike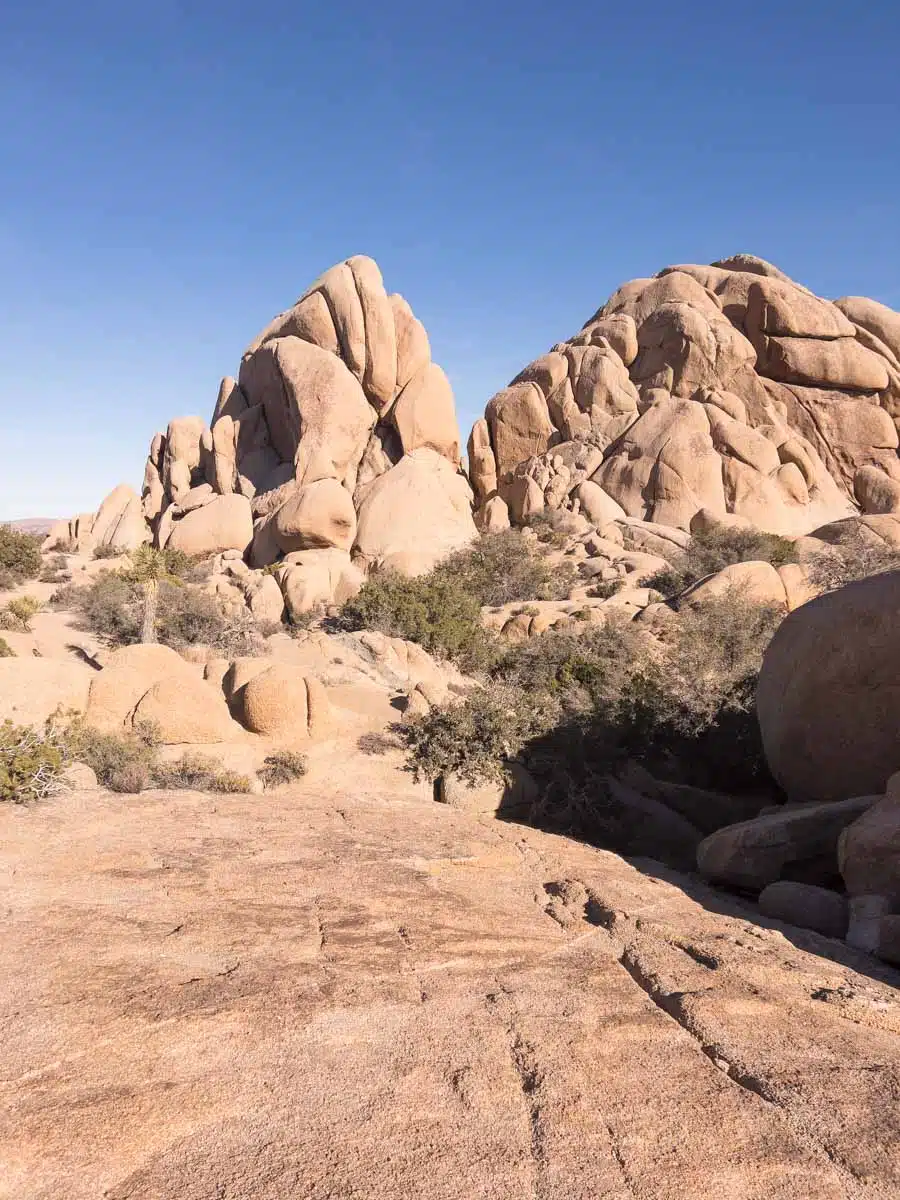 Unless you're a hardcore hiker, you'll be glad to know The Hidden Valley hike in Joshua Tree is one of the more accessible trails in the park.
Early on in your hike, you'll come across a split that goes in two directions. Don't fret, you can choose either way because it's pretty easy and a loop trail.
Along the route, you'll see towering boulders and a sandy desert floor similar to the ones found on the Skull Rock Trail. The terrain is primarily flat, but there is a slight elevation gain of 100 feet. It often curves between the smooth boulders and has a few steps you'll need to climb.
Hidden Valley Picnic Area in Joshua Tree Park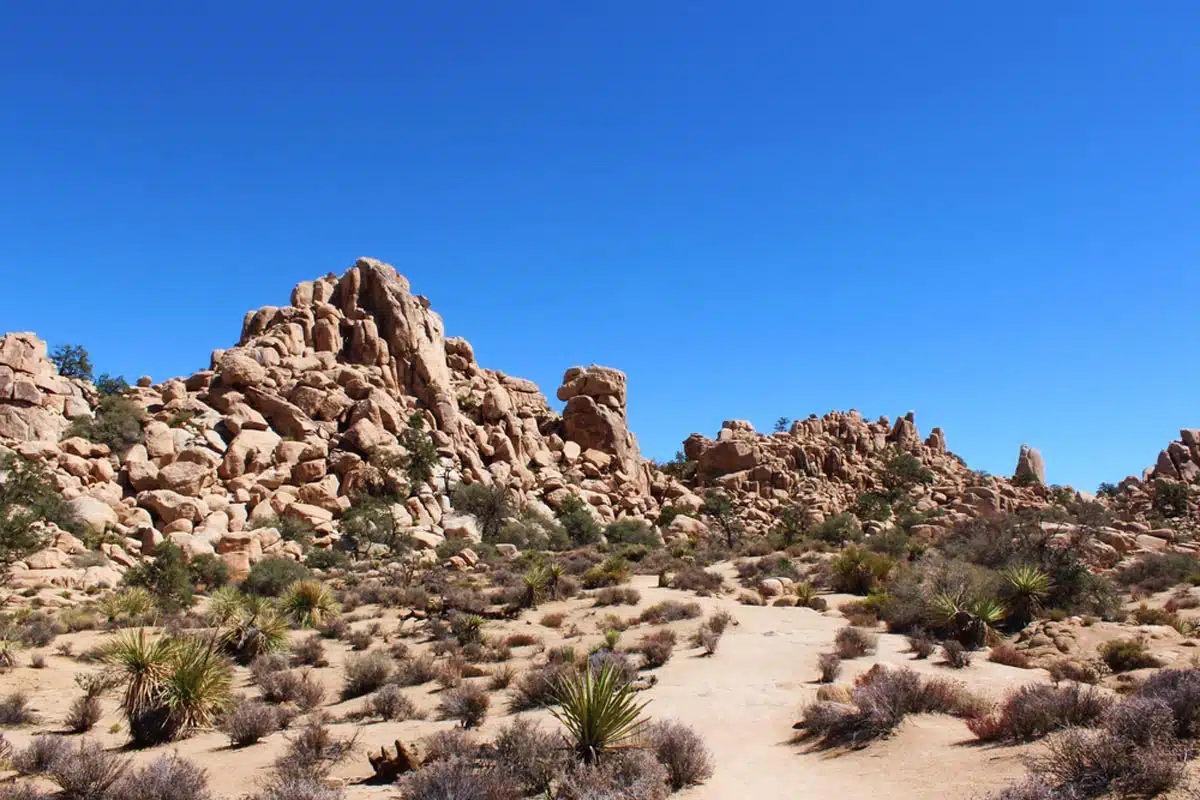 If you're anything like me, your stomach will start rumbling partway through the trail and you'll spend the last half of the route dreaming of lunch. Which is why you'll want to locate the picnic area ahead of time.
Luckily, the picnic area is just a few steps from the trailhead. It has some tables, grills, and bathrooms ideal for a post-hike cool-off. The added shade from the rock formations and Joshua trees also helps with keeping you cool.
Note: Always store food in hard-sided containers and clean up crumbs after eating. You should also never feed wild animals.
Practical Tips for Hiking the Joshua Tree Hidden Valley Trail
Now, I don't want to scare you but, as with many trails in this park, there's the possibility of coming across a rattlesnake. Always watch where you step, listen closely, and follow this handy guide on preventing snake bites.
Try to get to the trail early — especially on weekends. The Hidden Valley Trail is quite popular among novice hikers and rock climbers. And who can blame them? The hike offers scenic views of the park's beautiful landscapes and is open year-round.
The park has no cell service, so I suggest you pick up a paper map like this one for all hikes in the park. Enjoy going old school.
The Hidden Valley Trail Joshua Tree: FAQs
Hidden Valley Joshua Tree Map
Hidden Valley, Joshua Tree: Read Next