There are plenty of incredible hikes in Joshua Tree, but the Skull Rock Trail might just be the best.
Joshua Tree National Park has hundreds of pretty boulders to boast about – I mean, most national parks do, if I'm being honest. But Joshua Tree is the only one that can claim a boulder that is almost perfectly skull-shaped.
And that's worth a look, in my book.
Skull Rock in Joshua Tree National Park is a hotspot for both serious hikers and casual meanderers, thanks to its unique shape.
It may not be the most challenging of hikes, but thanks to oodles of boulders prime for scrambling and exploring, it's a popular hike for adventurers. The rock formations make for pretty scenic views as you traipse along the trail as well.
Enough preamble: are you ready to take a deep-dive into Skull Rock, Joshua Tree? Strap on your comfiest hiking shoes and let's get started.
Hiking the Skull Rock Trail: In Detail
Skull Rock Trailhead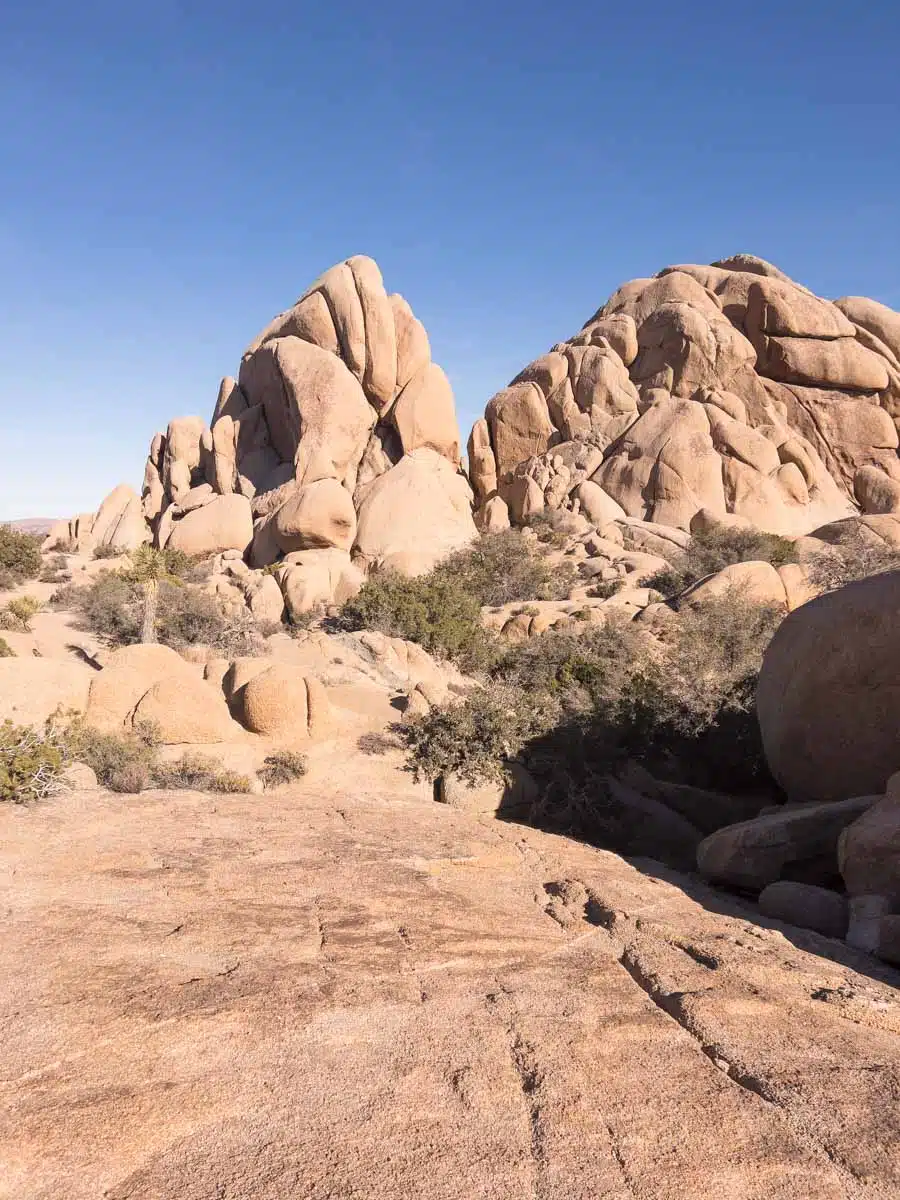 Excited? You should be. The trailhead for the Skull Rock Nature Trail is on Park Boulevard near the Jumbo Rocks Campground and is a counter-clockwise route.
Fair warning: There are parking options on both sides of the road, but spots can be a rare commodity in spring and on weekends when there are more visitors.
Still, elbowing your way through the crowds for a parking space is worth it, I promise.
The Skull Rock Trail Hike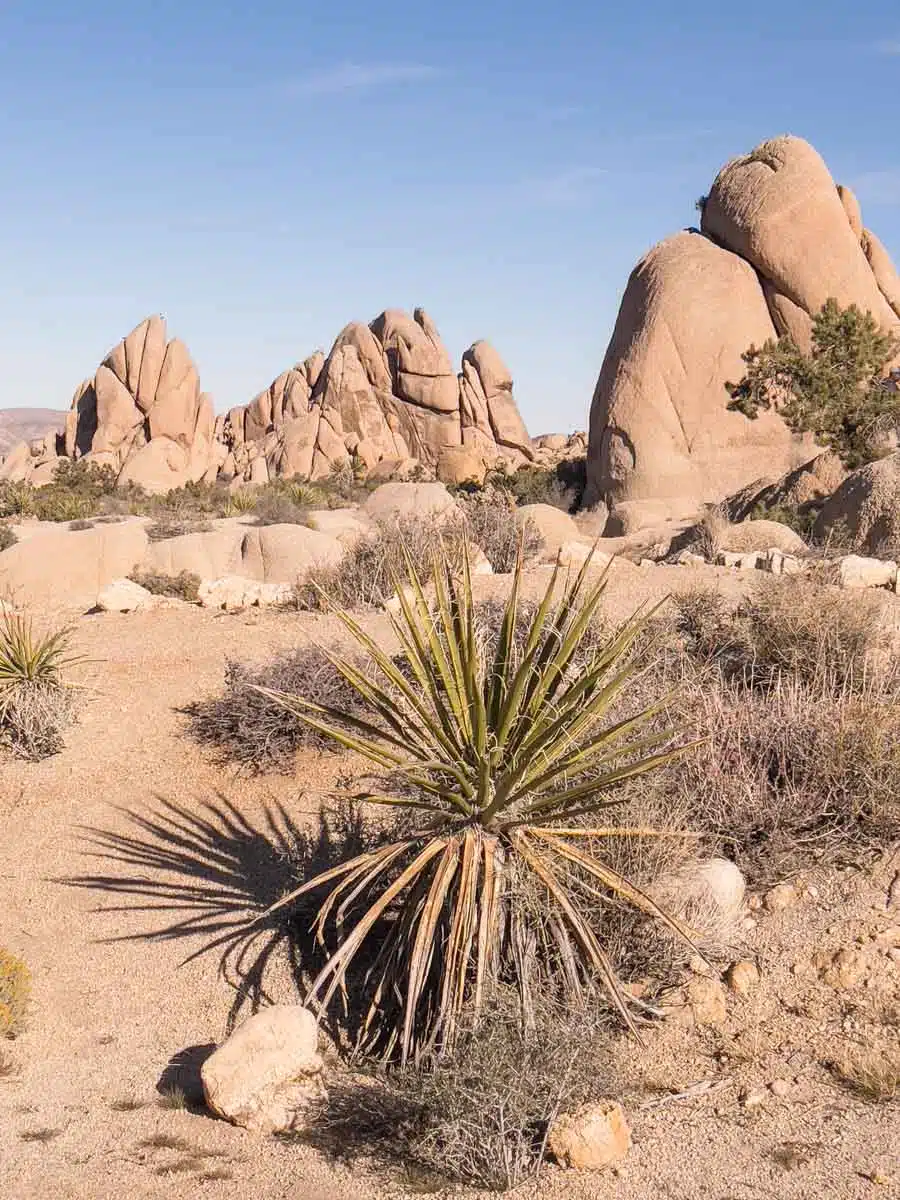 Begin the Skull Rock Trail by passing through a large boulder field on either side, then you'll make a left turn and trek along a sand and gravel wash. If you're hiking during spring, you'll find a glorious selection of desert wildflowers blooming on either side of you.
Cat's Claw Acacia and Desert Almond (look for the spiny balls hanging from trees) are predominant in the sandy areas. You'll meander around large boulders that many hikers stop to climb (and why not?). And you'll even have to squeeze past a particularly big one that sits in the way of the trail for about 0.2 miles.
Continue to the left and climb a ridge where the wildflowers will really explode (this is where you whip out your camera). The trail reaches its high point here at about 0.7 miles into the trek before you'll begin your descent to the road.
You'll cross Park Boulevard at this point and hike along the trail that follows beside the road and past the amphitheatre at Jumbo Rocks Campground. Head towards the left at the "Skull Rock" sign to continue your journey.
There are more placards on this side of the trail explaining the local flora and fauna indigenous to the desert ecosystem. You'll see California buckwheat, desert pines, and Mojave yucca (my favourite!) on the ridge lines, and even some oak woodlands amongst the boulders.
The trail is sandy for the most part here. But, once you begin to reach the end of the hike and the iconic stone formation that brought you here, the last stretch eases onto the paved road surface.
Skull Rock and the Trail's End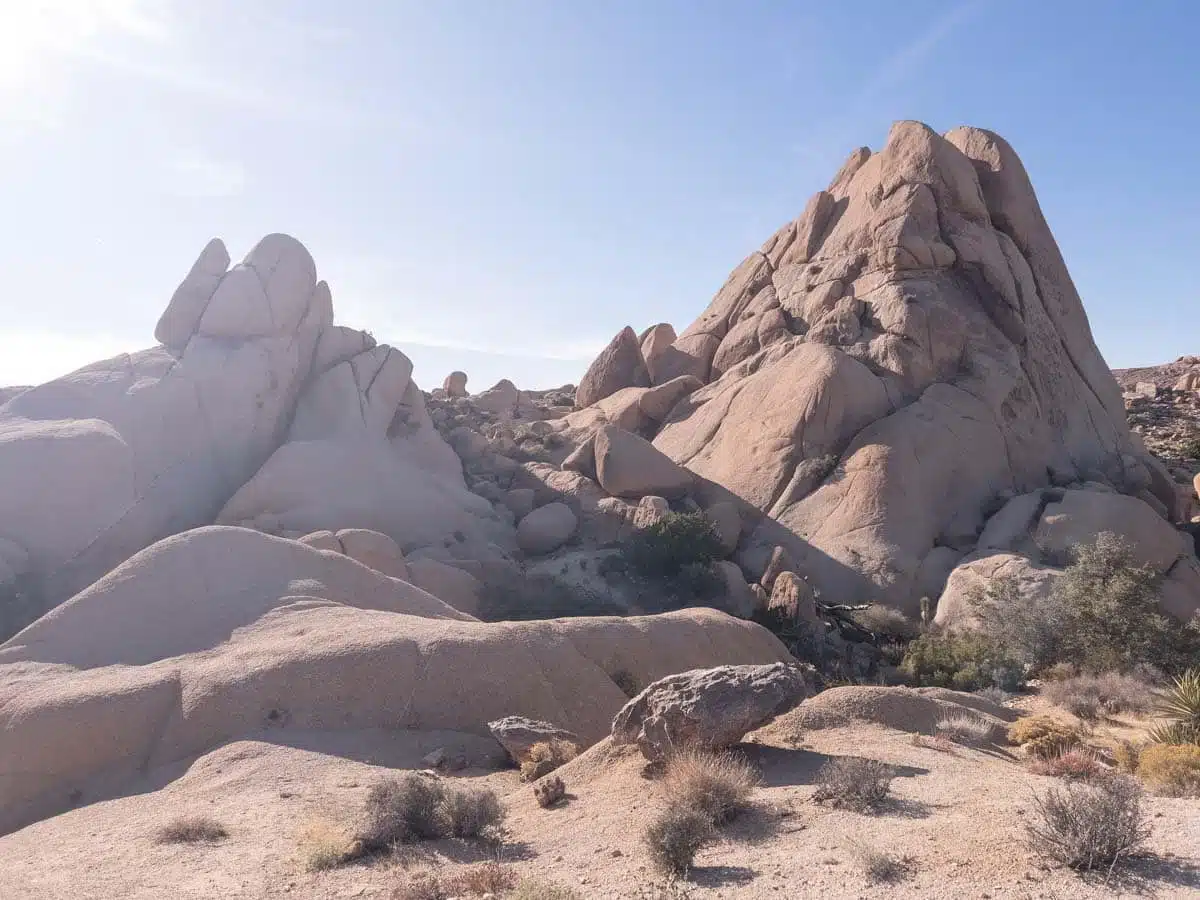 Towards the end of the Joshua Tree Skull Rock trail, you'll find what you've been looking for just off to the right. You can't really miss the large unworldly protrusion, to be honest.
There's something vaguely alien about Skull Rock, with its slightly conical forehead, enormous eye sockets, and large, weird nose (no offence). You can walk right up to it for closer inspection and a fun selfie.
But if you really want to get a cool perspective of this unique formation, scramble up the rocks on the opposite side of the trail. From there, you'll have a view of what appears to be a ruffled giant emerging grumpily from its bed of boulders as though something woke him up too early.
And he's not happy about it.
After your epic photoshoot, head just a little bit further and you'll find yourself back where you started near the Skull Rock trailhead.
Practical Tips for Hiking the Skull Rock Trail, Joshua Tree National Park
Parking spots along Park Boulevard are in short supply, so it's best to arrive early if you aren't staying at the Jumbo Rocks Campground. This is especially true on the weekends, so set your alarm clock and get there quickly.
Wear a pair of good hiking shoes with breathability and grip. Don't forget to bring high-SPF sunscreen to protect your skin and a water bottle to keep hydrated.
The Skull Rock Hike Joshua Tree National Park: FAQs
Skull Rock Trail Joshua Tree Map
Skull Rock Joshua Tree: Read Next
Love This? Save and Share on Pinterest