Planning a trip to the mesmerising countryside of California? Discover the best time to visit Joshua Tree National Park to experience an unforgettable adventure.
Long time readers of The Discoveries Of might know that I have long ached to spend some time in Joshua Tree National Park – and I'm delighted to confirm I finally got to visit.
In fact, delighted doesn't quite cover it; I've got my smug face on, if you couldn't tell.
As I schlepped my way through this Californian desert, I admired the sun poking out from under the horizon, painting Keys View in a golden glow. Oh yes, getting up at 5am was certainly worth it.
So, you're sold. I know. But when is the best time to go to Joshua Tree? This isn't an easy question to answer, as each season provides a unique experience.
So before you plan the ultimate California road trip, let me tell you when to visit Joshua Tree and why.
When's the Best Time to Visit Joshua Tree?: At A Glance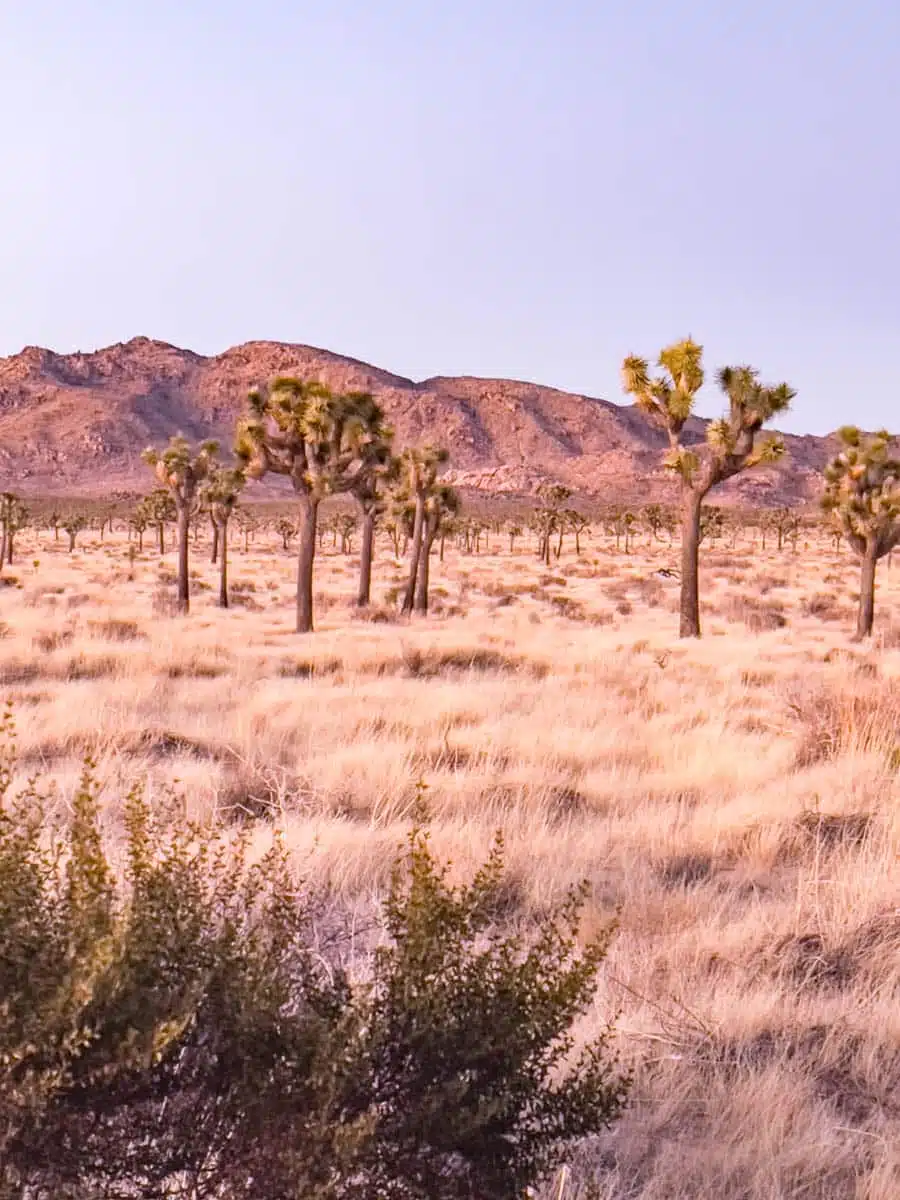 As each season in Joshua Tree provides a bespoke experience, this isn't a straightforward answer. But I'll try my very best to help you out.
As a general rule of thumb, March to May and September to November tend to be the "best".
I say "best" tentatively because I don't want to ignore the beauty of summer and winter. So I'll let my diplomatic nature kick in and tell you what each season offers, from the snow-topped hills in winter to the wildflowers in spring.
The Best Time to Visit Joshua Tree
What is the Best Month to Travel to Joshua Tree?
In the Low Elevation Regions
It's simple really: If you want to admire the breathtaking wildflowers in the lower elevation regions of the park, visit in February. Wildflowers tend to bloom in the eastern area of the park around this time.
In the High Elevation Regions
If you want a slightly warmer climate and wildflowers, April is the best time to visit Joshua Tree. During this month, the higher elevation points in the southwest — like the Cottonwood and Hexie Mountains — are great for wildflower spotting.
In the Northern Region
Explore Hidden Valley in the Northwestern region of the park to see the iconic Joshua trees. November is a fantastic time to visit this region for cooler hiking weather.
But if you want to see snow-capped mountains in this desert region, I highly recommend visiting in January.
When's High Season in Joshua Tree?
The high season in Joshua Tree is between March and May, and it's obvious why. Between these months, you have the highest chance of seeing the wildflowers that make Joshua Tree a magical part of California.
The weather is also pleasurable as it's not too hot yet – so you can still enjoy plenty of hikes like the epic Skulls Rock offering. It's also an excellent time for the avid rock climber (not me, but you do you).
The Cheapest Time to Visit Joshua Tree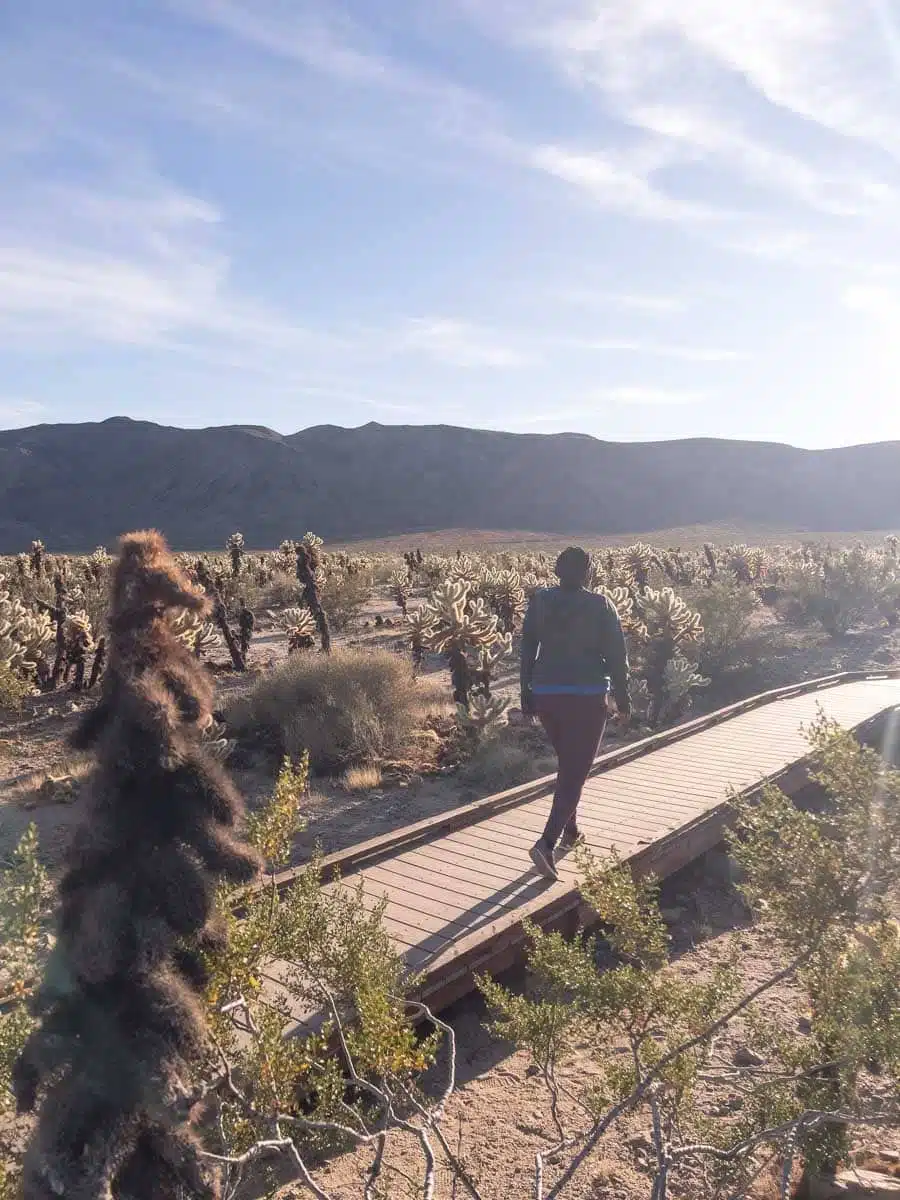 The season in which you'll find the best deals for accommodation in Joshua Tree and tours is September. This is because all the wildflowers will have gone (boo), but all is not lost – the summer heat is still very much around, with average temperatures of 35°C (95°F).
Best Time to Visit Joshua Tree for Stargazing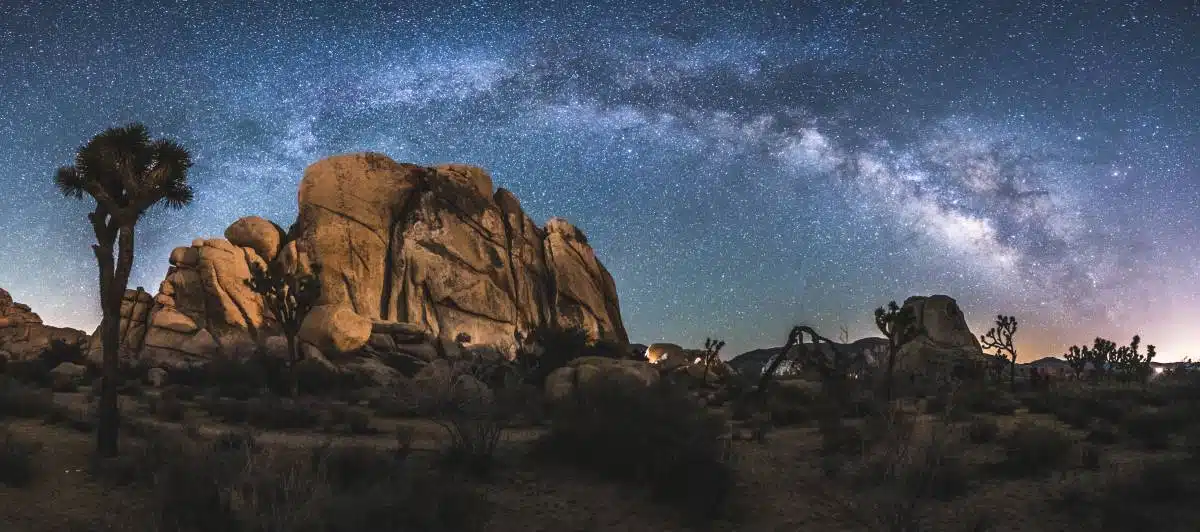 Now, I love me some stars.
And it's safe to say that this breathtaking California park gets even more awe-inspiring after dark, as it's an International Dark Sky Park. Thanks to clear skies and the darkest nights, the Milky Way becomes a dazzling display you can't miss.
The best time to go to Joshua Tree for stargazing is between late spring and summer. There's a much higher chance of having clear skies as it's the dry period, and the nighttime climate is lovely and cool.
To See Wildflowers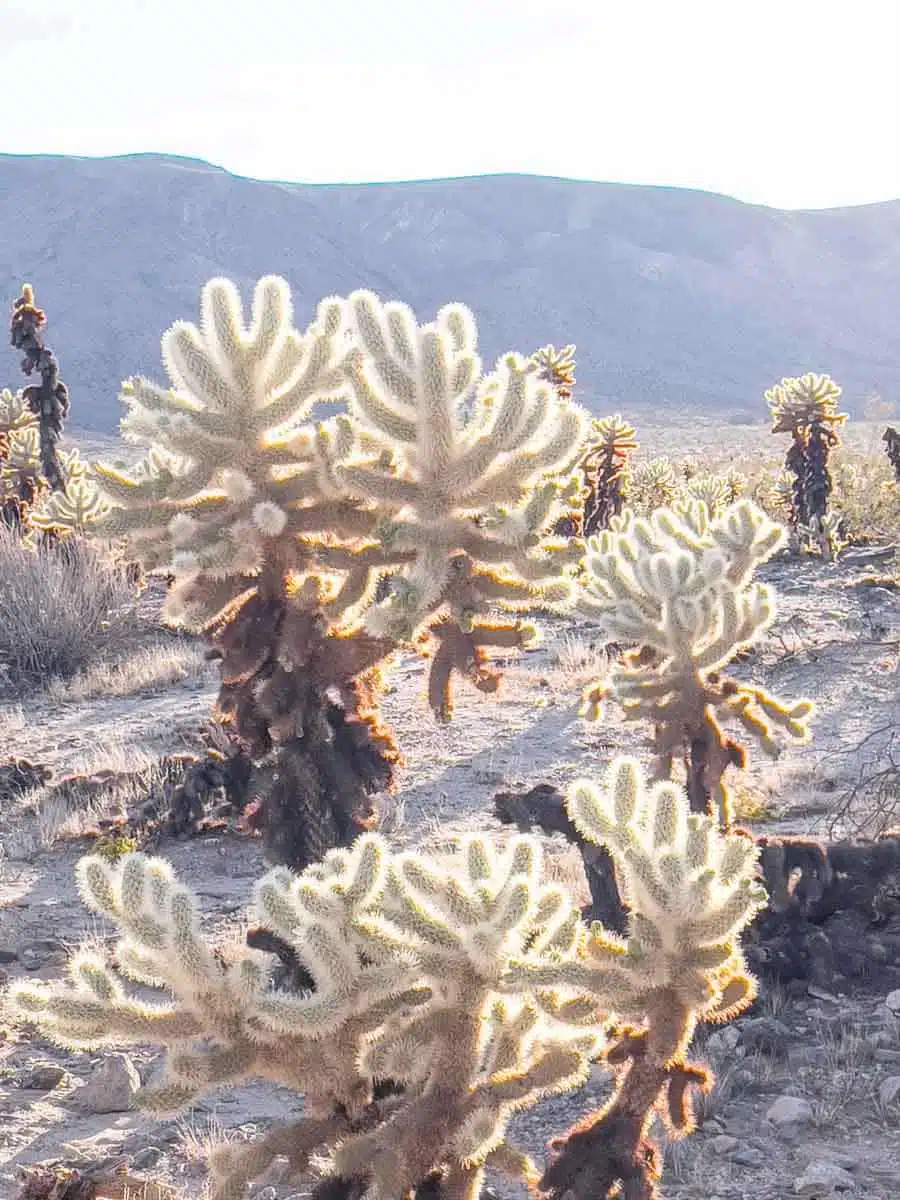 Wildflowers are one of the prettiest sights in the park, as a desolate desert turns into a beautiful display of colour. The rains in late winter and early spring bring these flowers to life.
It's also possible to see these flowers as late as June. But generally, the best time to witness this natural phenomenon is between February and May.
To See Joshua Tree Music Festival
One of the unique things about Joshua Tree is that it hosts a music festival bi-annually. You can enjoy live music and breathtaking scenery for four days, usually in the second week of May and October.
And it's not just music you can enjoy, with artwork on display and yoga sessions available. It takes place during these months as the temperatures are favourable. And you can always explore the park before or after the festival.
To See Keys View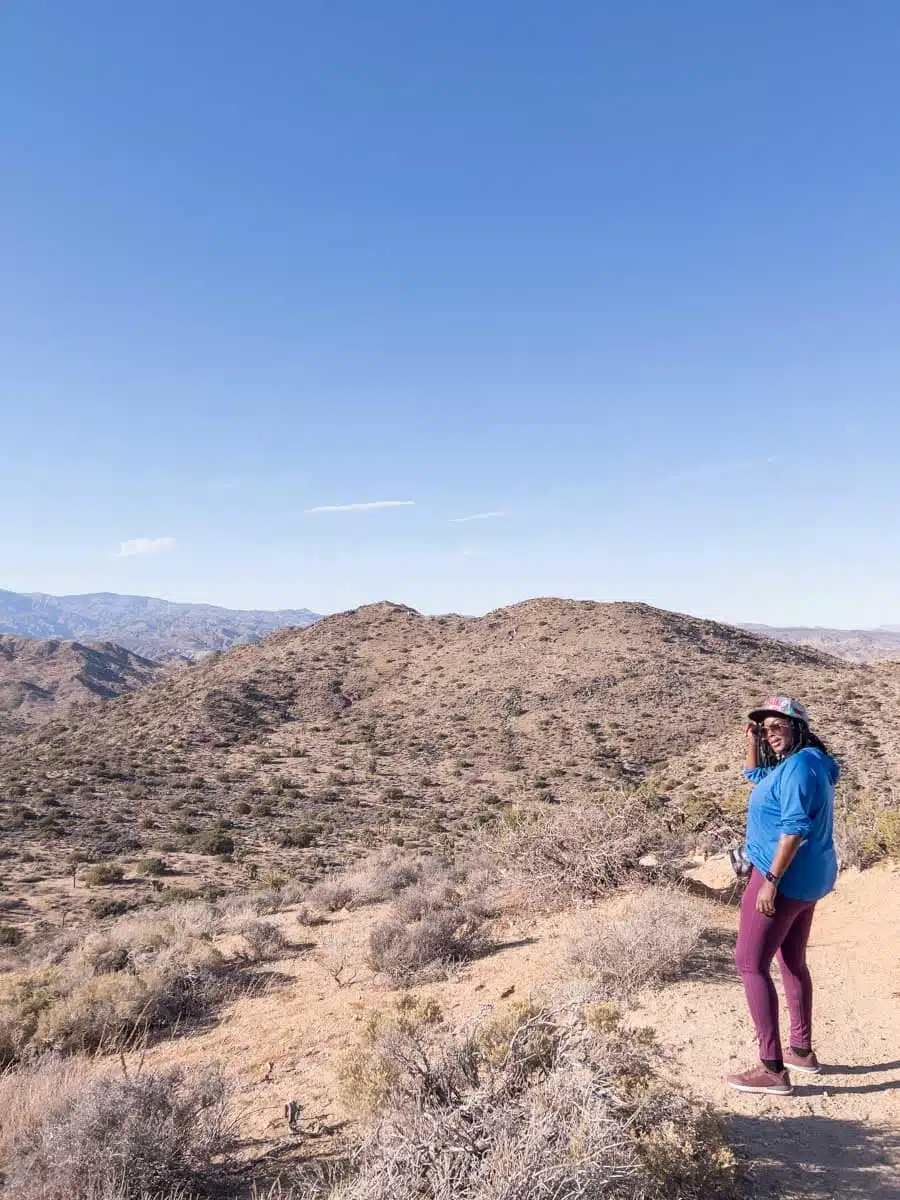 Keys View has one of the best views of the park, and the 2-mile loop trail to get there is amazing. Atop Little San Bernardino Mountain, you'll be able to admire views of the Bermuda Dunes and Coachella Valley.
It's an unforgettable spot, and I recommend enjoying the hike in spring or autumn to avoid the summer heat (when I visited, it was still warm but not unbearably sweaty).
You're also likely to have clear skies during this time, perfect for snapping unforgettable photos.
Top Tip: Hike the trail at sunrise for an epic photo opportunity.
Joshua Tree by Season
Spring in Joshua Tree
March – May
Key Events and Things to Do in Joshua Tree in Spring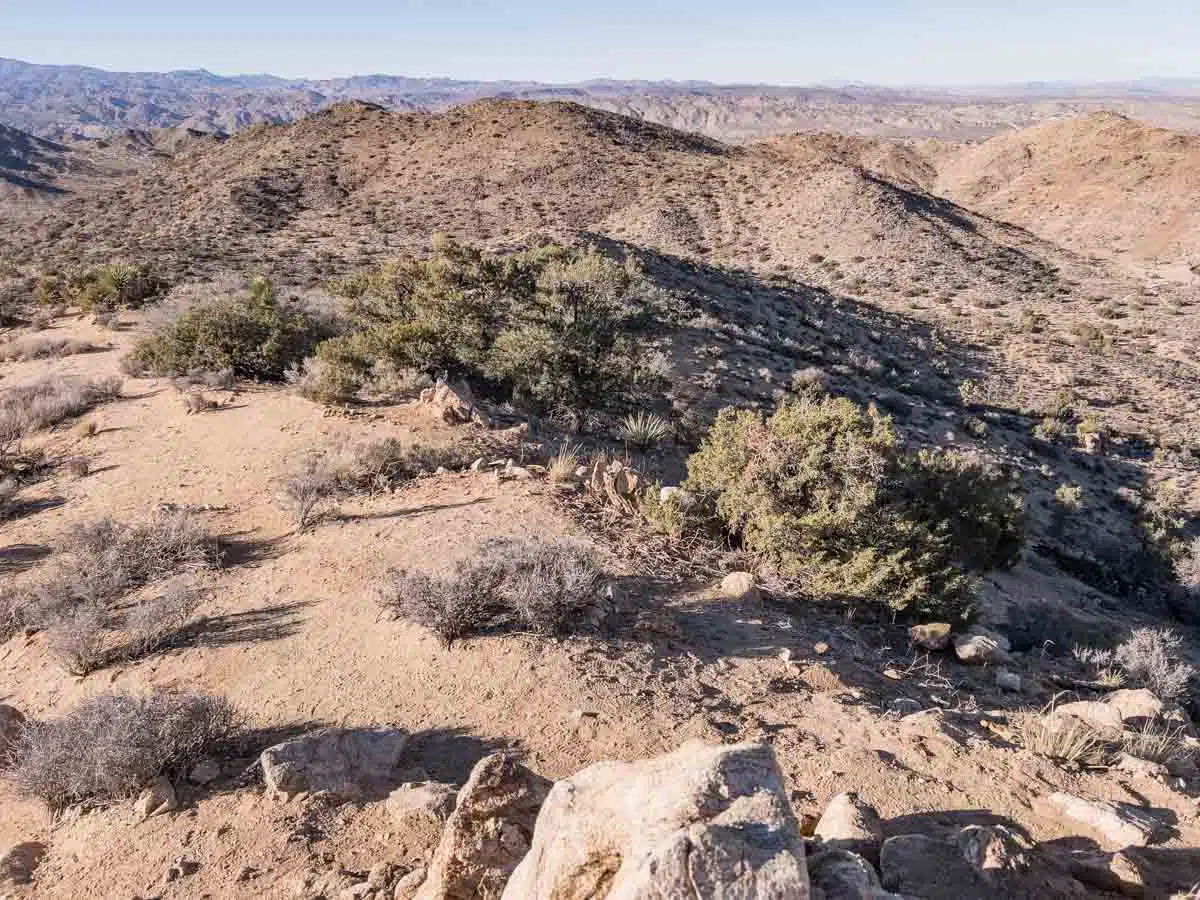 One of the best activities – which, if you've been paying attention, you all know about by now – is admiring the wildflowers across the park. One of the best places to see the breathtaking flowers is Pinto Basin in the park's southern region.
The warm climate also makes it a fantastic time for hiking. Try out the short but beautiful 0.7-mile Discovery Trail or lesser known 6.5-mile Black Rock Canyon Panorama Loop.
And the action doesn't end there, with the Joshua Tree Music Festival taking place in May. Late spring is also a fantastic time to stargaze at Skull Rock, as clear skies are more common.
Pros to Travelling to Joshua Tree in Spring
The best weather of the year.
High chance of seeing birdlife thanks to the blooming flowers.
Perfect for photo-worthy sunsets.
Cons to Travelling to Joshua Tree in Spring
The busiest time of year to visit the park.
An expensive season to visit Joshua Tree.
Sunrise is early and averages at 5:50 am.
Summer in Joshua Tree
June – August
Key Events and Things to Do in Joshua Tree in Summer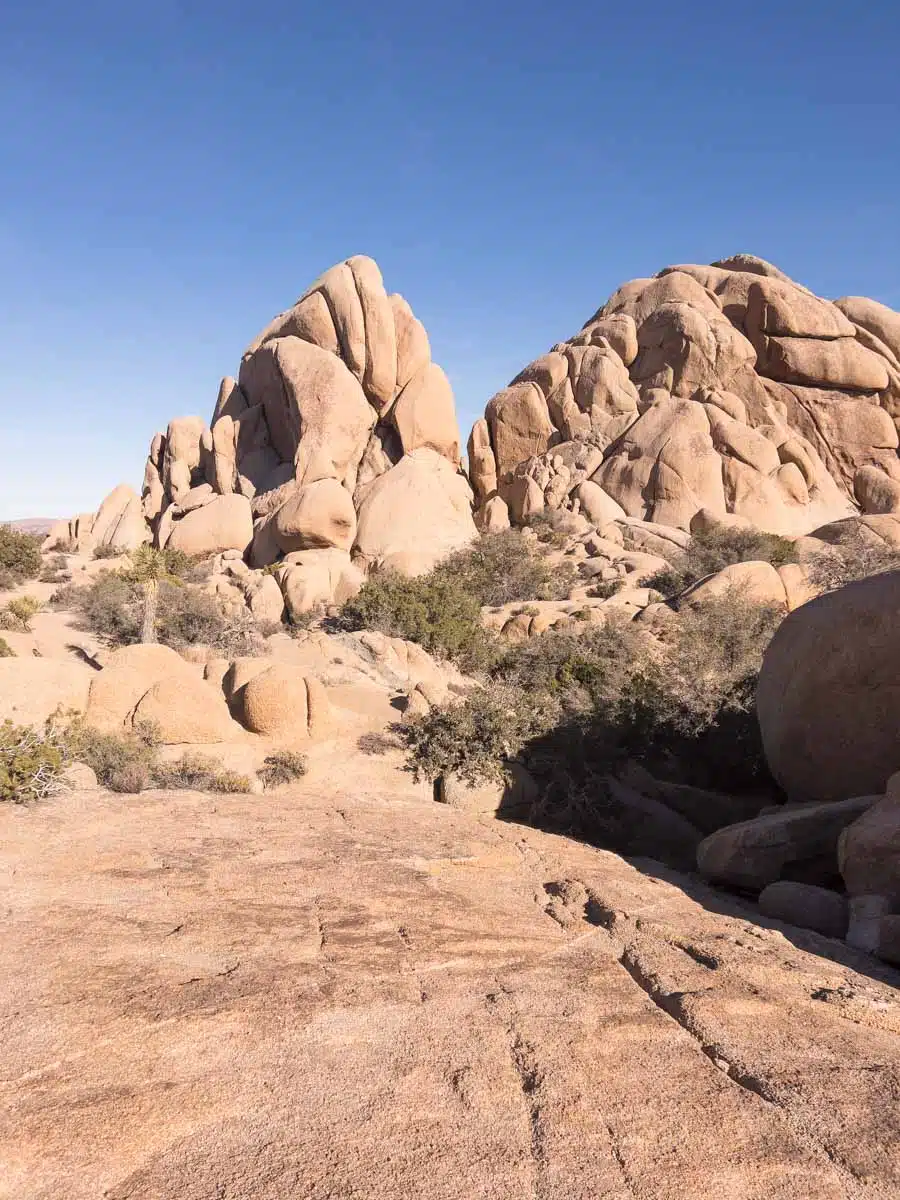 Unfortunately, many park hikes close during the summer due to the heat. But there are still some fantastic things to do in the park. For starters, stargazing is spectacular as you'll never really have cloudy skies – I recommend heading to Cap Rock.
A scenic drive along Geology Tour Road is a great way to explore the park – just make sure the car has air-conditioning (even in the autumn, this was a saviour). Along the 18-mile road, you'll pass sites like Jumbo Rocks, Indian Cove, and Black Rock, to name a few.
Summer is also a great time to explore Joshua Tree Town. It's also a fantastic idea to explore Cottonwood Springs Oasis with all its palm trees and a small stream.
Top Tip: I highly recommend getting this Joshua Tree self-driving audio tour.
Pros to Travelling to Joshua Tree in Summer
Cheaper time of year to visit.
There are fewer crowds.
Cons to Travelling to Joshua Tree in Summer
It's too hot to hike.
It's very dry in summer.
You can only explore in the late afternoons or early mornings.
Autumn / Fall in Joshua Tree
September – November
Key Events and Things to Do in Joshua Tree in Fall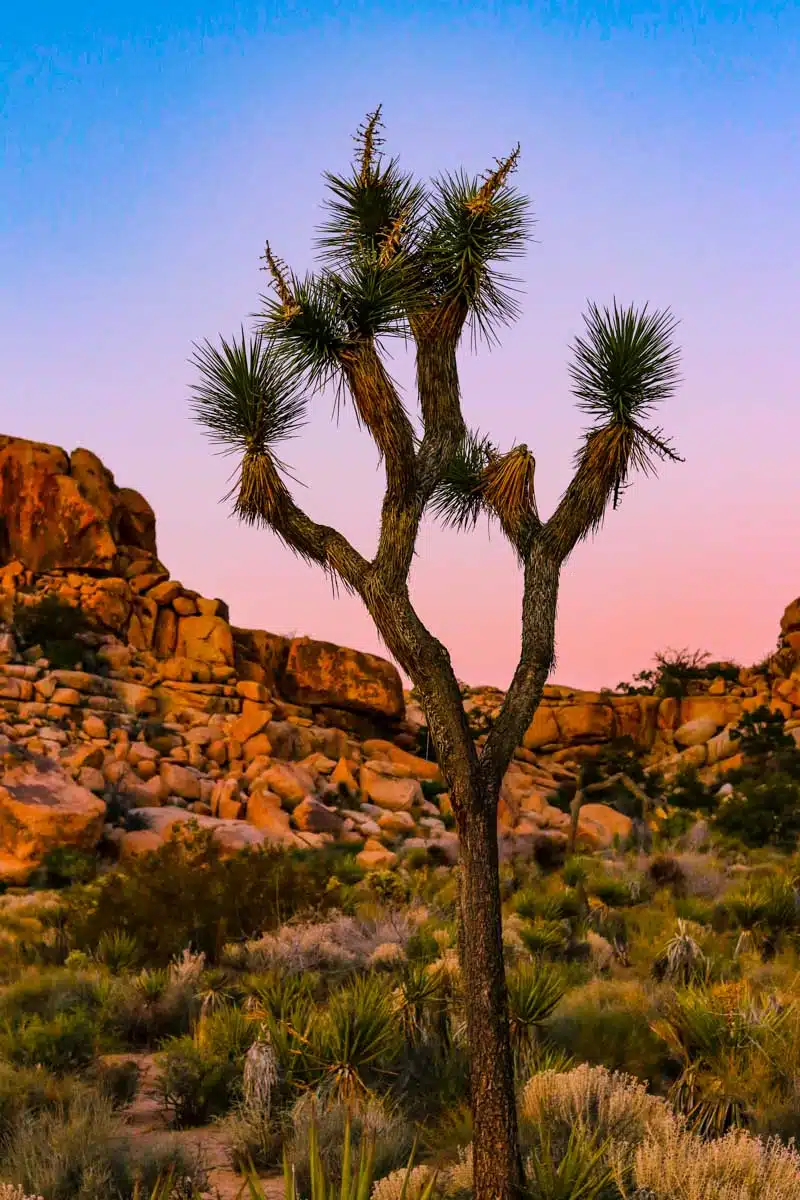 Although September is still hot, the weather subsides by October, and you can enjoy hiking again.
Some of the top hikes in the fall include 1.1-mile-long Barker Dam, where you can see some bighorn sheep, and the Split Rock Trail, a 2.5-mile hike amongst unique landmarks like Face Rock Spur.
For music junkies, you can also enjoy the Joshua Tree Music Festival in October – it's sure to be a party. It's also a great time to explore Hidden Valley and Ryan's Ranch Homestead site.
Pros to Travelling to Joshua Tree in Fall
The weather is pleasurable again.
There are loads of activities to enjoy.
It is slightly cheaper than in spring.
Cons to Travelling to Joshua Tree in Fall
September is still scorching.
Accommodation sells out quickly.
Winter in Joshua Tree
December – February
Key Events and Things to Do in Joshua Tree in Winter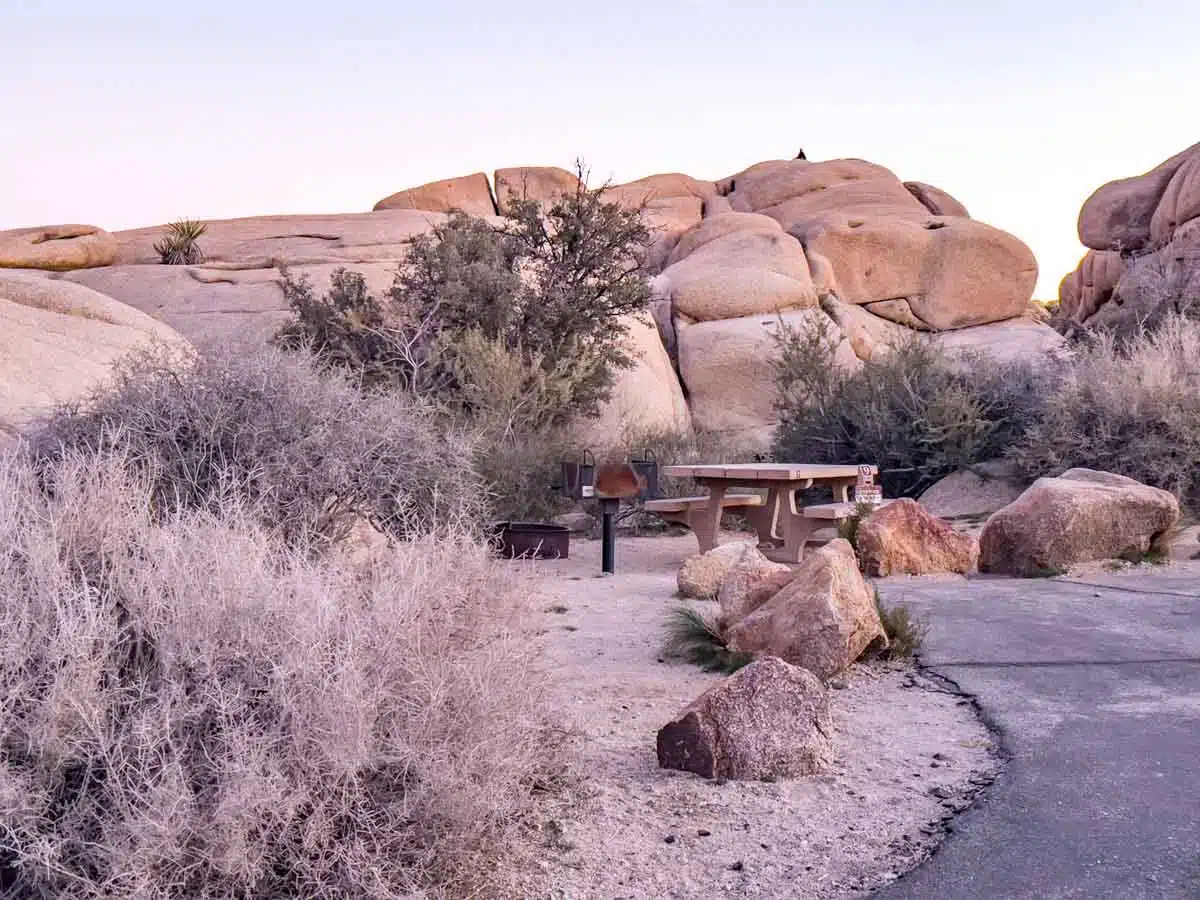 Winter is the season for rock climbing and bouldering in the park. The top climbs include Double Cross at The Old Women and The Eye at The Cyclopes, both in Hidden Valley.
It's also a great time to catch an iconic sunrise, with the first rays piercing the sky around 7 am. For an unbelievable photo opportunity, head to the Cholla Cactus Garden for sunrise.
This is also the wet season in Joshua Tree, so you can expect to wake up some mornings with a light sprinkling of snow. It's a fantastic sight and something best seen from Keys View.
Pros to Travelling to Joshua Tree in Winter
All the hiking trails are open.
Midday temperatures are lovely, averaging around 15°C (60°F).
You can see snow in the desert – that's crazy, right?
Cons to Travelling to Joshua Tree in Winter
Nights get below freezing, around -1°C (30°F).
Less sunlight in the day, with sunset around 4:45 pm.
It can get surprisingly busy.
When to Travel to Joshua Tree: Practical Tips + Tricks
How Many Days Do You Need in Joshua Tree?
I recommend spending at least three days exploring everything Joshua Tree offers.
Do You Need a Car in Joshua Tree?
Yes, you need a car as there are no park shuttles. You'll also need to fill up on fuel before entering, as there is no gas station inside the park.
Travelling to California: Read Next