Ready to hit the slopes at the best ski resorts in California? From popular spots like Mammoth to lesser-known gems like Badger Pass – these are the places you shouldn't miss.
When it comes to ski resorts, California might not be exactly the first place that pops to mind. But only a couple of hours from the pristine beaches are snow-drenched mountains, sunny skies, and fresh powder for days.

So even if you're typically a beach bum, you can have the best of both worlds and slip over to a ski resort in California for your fill of winter frivolities. You don't have to embark on a California road trip to accomplish it, but it just adds to the fun if you do!
Check out the best ski resorts in California below for some of the freshest powder the West Coast offers.
Best Ski Resorts in California
Mammoth Ski Resort
Best for Experienced Skiers and Snowboarders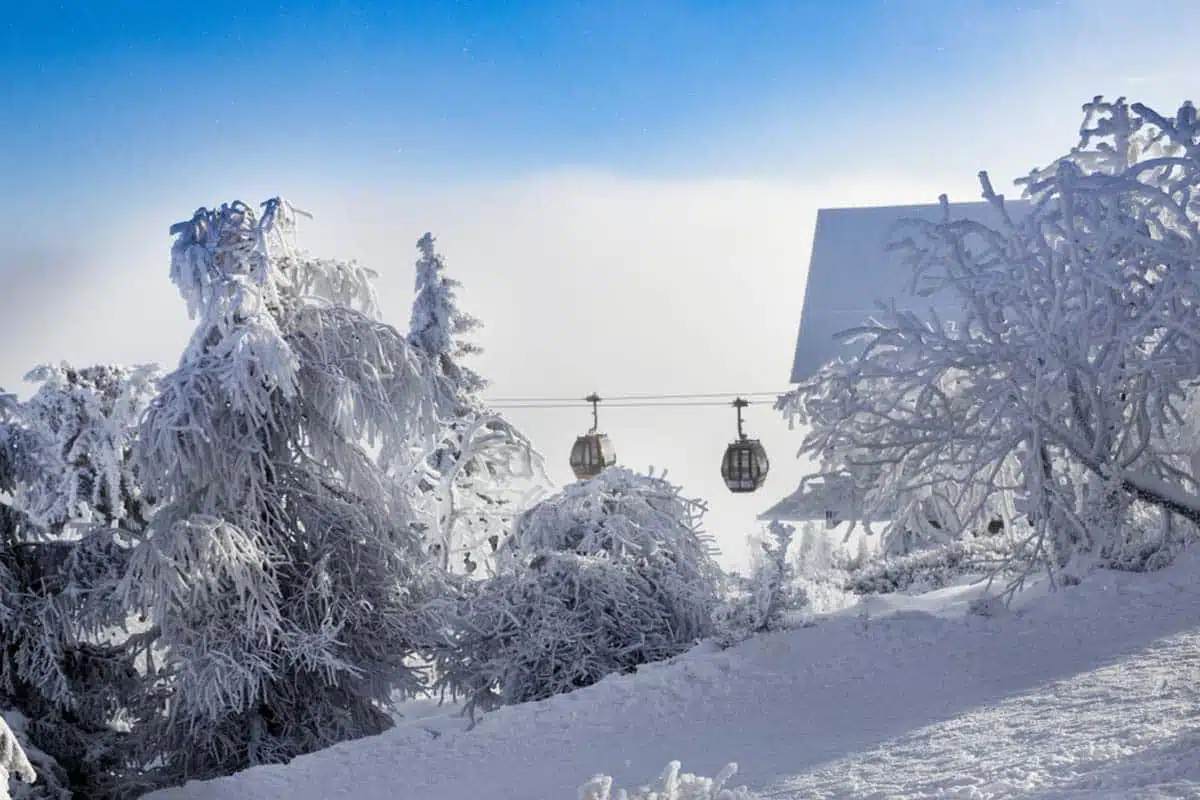 Set in the Sierra National Forest, there's cool sunshine and powdery snow aplenty — perfect for snowboarding and skiing to your heart's content.
The peak is more than 11,000 feet in elevation and boasts an average snowfall of 400 inches a year, so it's one of the first ski areas to open each year.
More than half of the runs are advanced and expert level, so experienced skiers will have the best time here. Freestyle skiers will also have a ton of snow-covered fun with nine terrain parks and 40 different jump opportunities.
Suggested Stay: The Mammoth Creek Inn
Heavenly Mountain Resort
Best for Intermediate Skiers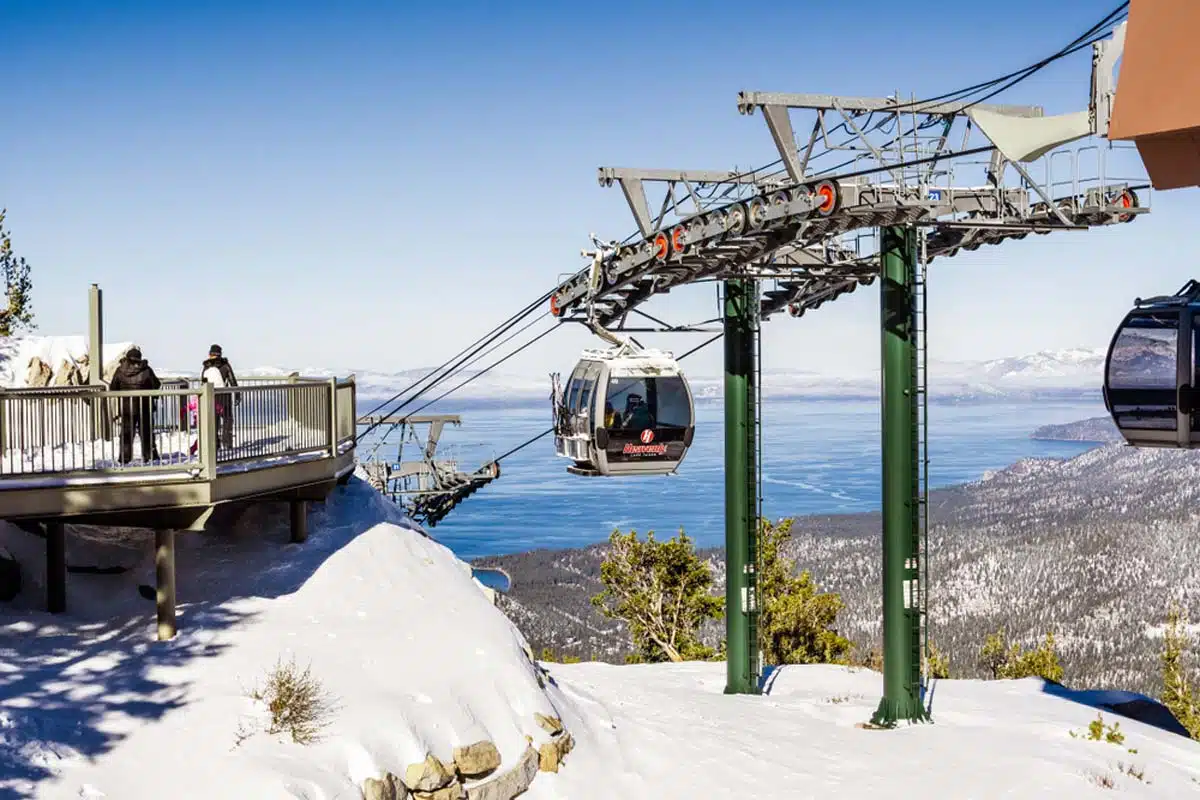 The largest ski resort in the Lake Tahoe area gazes adoringly over the sparkling lake and its surrounding snow-capped mountains for a true winter wonderland feel.
The Scenic Gondola Ride is free to all who want to enjoy the view, but skiers will rejoice at the 97 runs, the longest of which extends for five miles.
There's a decent variety of intermediate slopes and classes for beginners, but the double-black diamonds have expert skiers enthralled with 1,600-foot chutes. There's a terrain park for freestylers, too.
Suggested Stay: Charming Mountain Cabin
Palisades Tahoe
Best for All Levels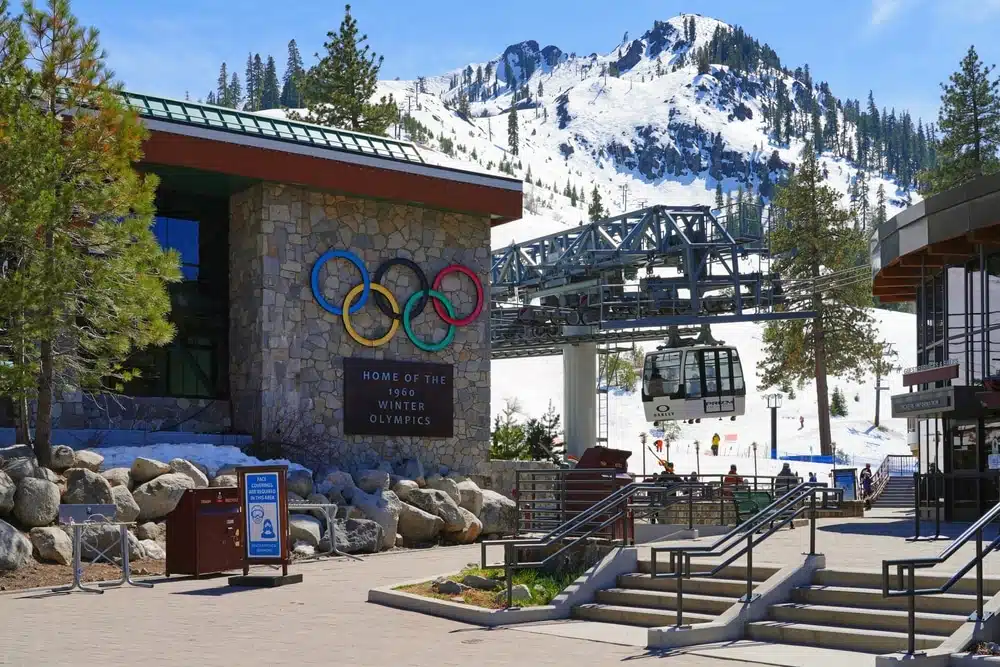 You wouldn't expect California skiing to involve a pine-dotted snow-covered landscape with Lake Tahoe shimmering in the distance, would you?
Palisades Tahoe is one of the best ski resorts in northern California as a ticket here allows access to Alpine Ski Resort, too, boasting a combined 270 runs. 43% of the runs are blue for intermediates, 25% are green (perfect for beginners), and 32% are black diamond runs for the pros.
So no matter your level, you're well-catered for.
When you're not hitting the slopes, The Village at Palisades Tahoe is a big draw with top-notch restaurants and lodging options. Definitely one of the best things to do at Lake Tahoe!
Suggested Stay: The Village at Palisades Tahoe
Northstar California
Best for Families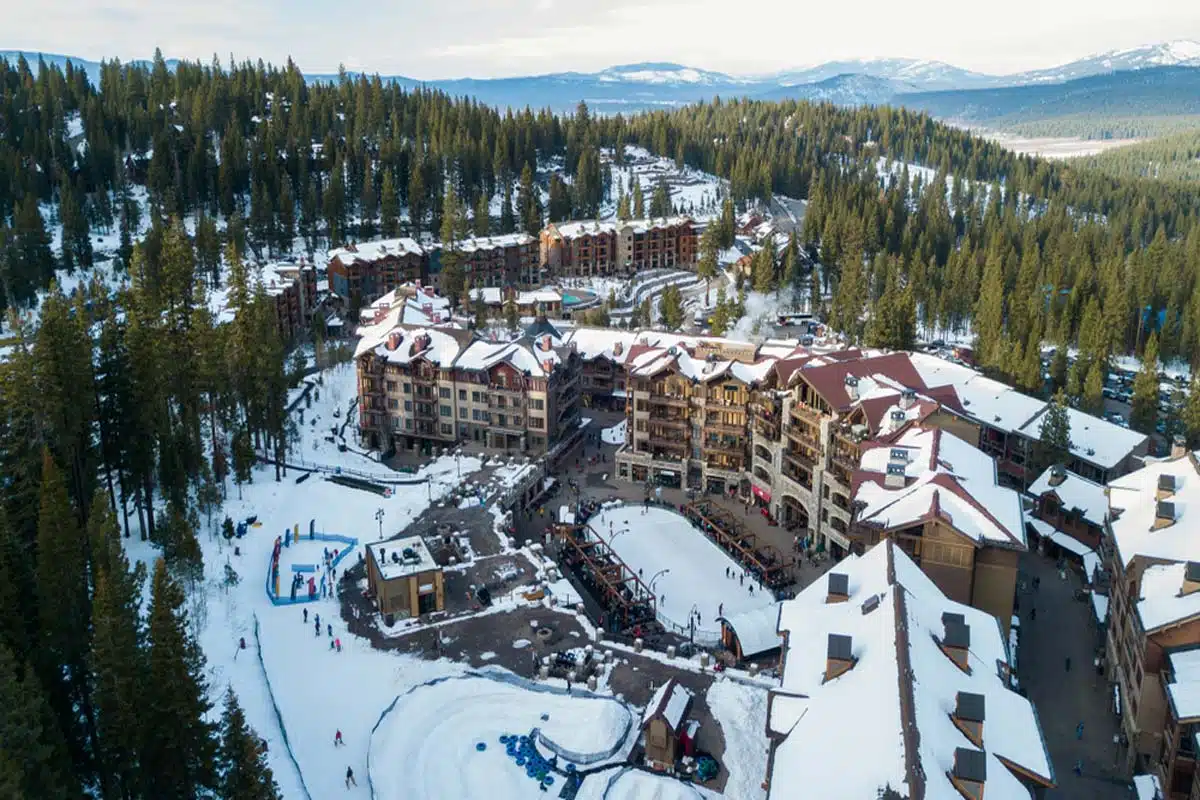 This is one of the best ski resorts for families in California. The 100 runs often have incredible views and mingle with pristine pine forests for that magical country-ski experience.
More than half of the runs are for intermediates and the longest stretches for 1.4 miles. Don't forget to stop by the Alpine-style village at its base for shopping and dining.
Suggested Stay: Northstar California Resort
Kirkwood Resort
Best for Advanced Skiers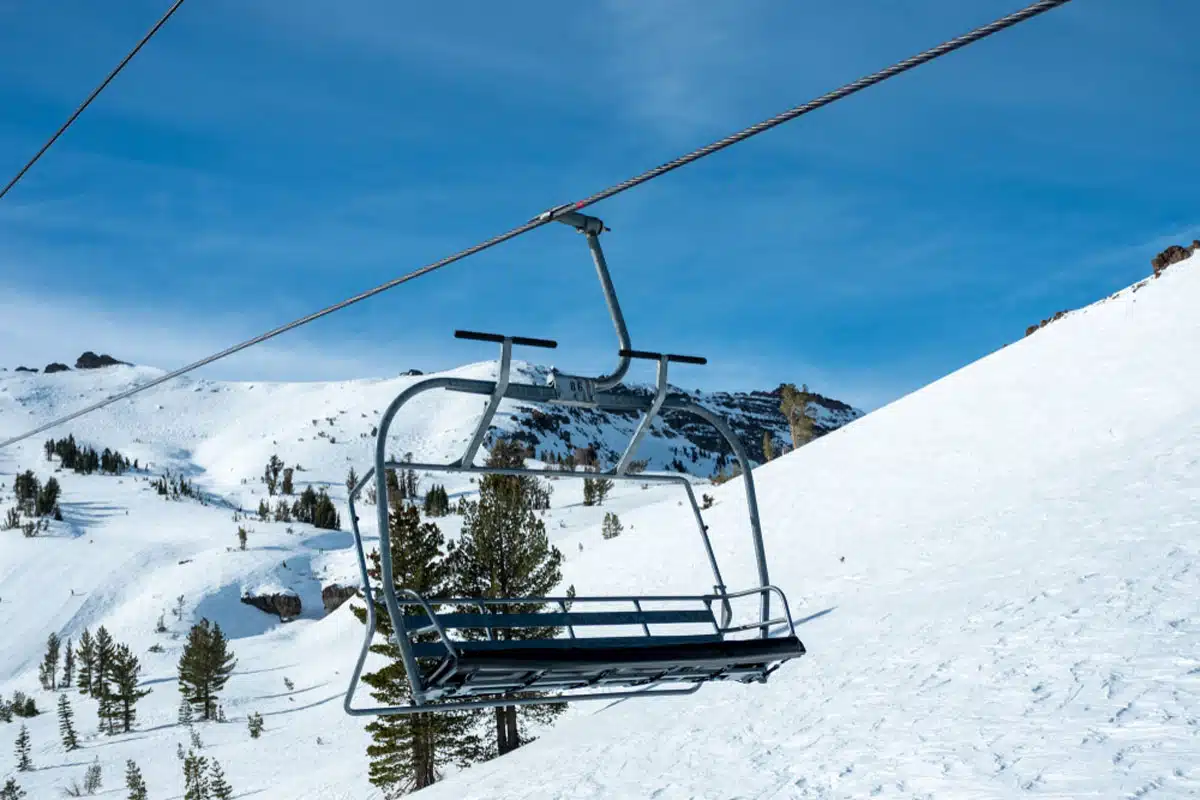 This peaceful gem is more remote than the bigger, more popular resorts, giving it that authentic country feel.
It has some of the finest powder conditions in the Tahoe area because of the high elevation (between 7,800 to 9,800 feet), so you have more control while skiing, even the steep runs.
Most runs here are either advanced (38%) or expert (20%), and even the intermediate slopes are more challenging than average.
Suggested Stay: Kirkwood Resort
Sugar Bowl
Best for Historic Ambiance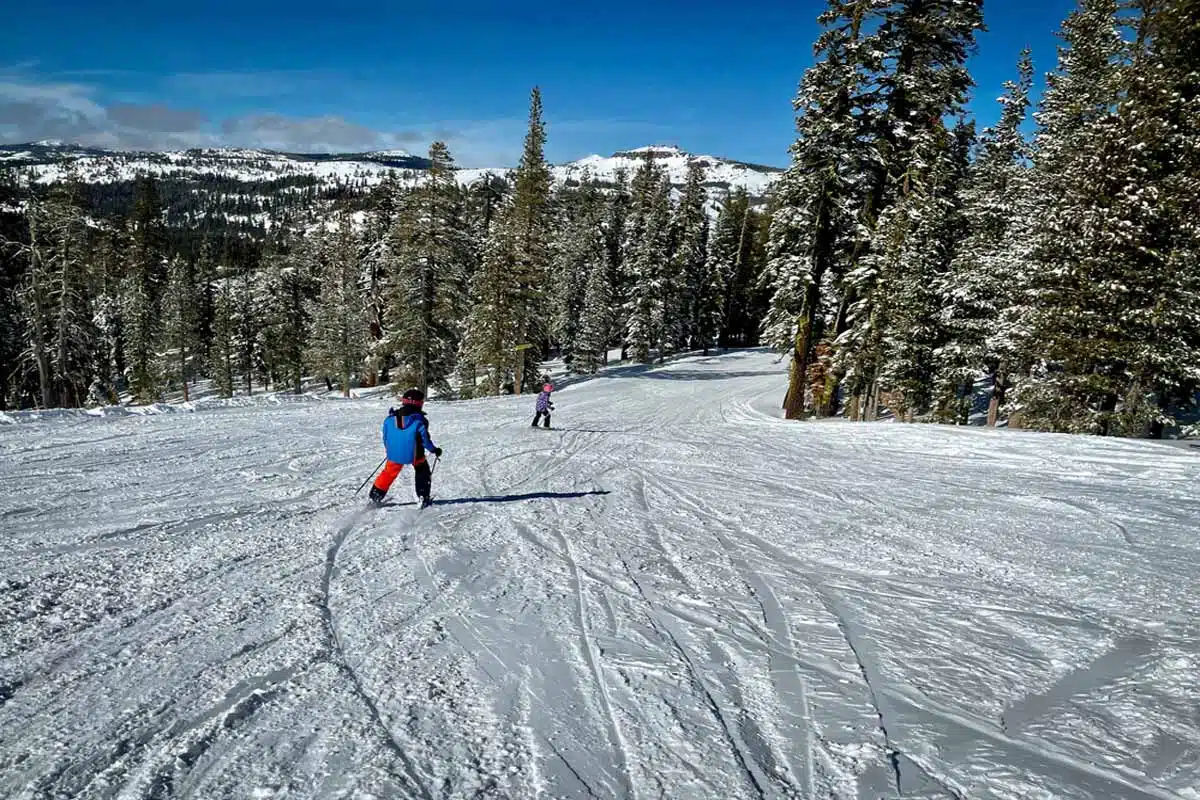 Established in 1939, this resort is small, historic, and charming in a European manner. Its location in a cosy nook on the side of the mountain protects the slopes from the winds, making for a guaranteed pleasant skiing experience.
The 103 runs, which are mostly intermediate, cover four mountain peaks and wind through pine forests, offering spectacular mountain vistas at every turn. There are some bunny hills for beginners, and group lessons are available.
Suggested Stay: Deluxe Donner Lake Hideaway
Big Bear Mountain Resort
Best for Proximity to Los Angeles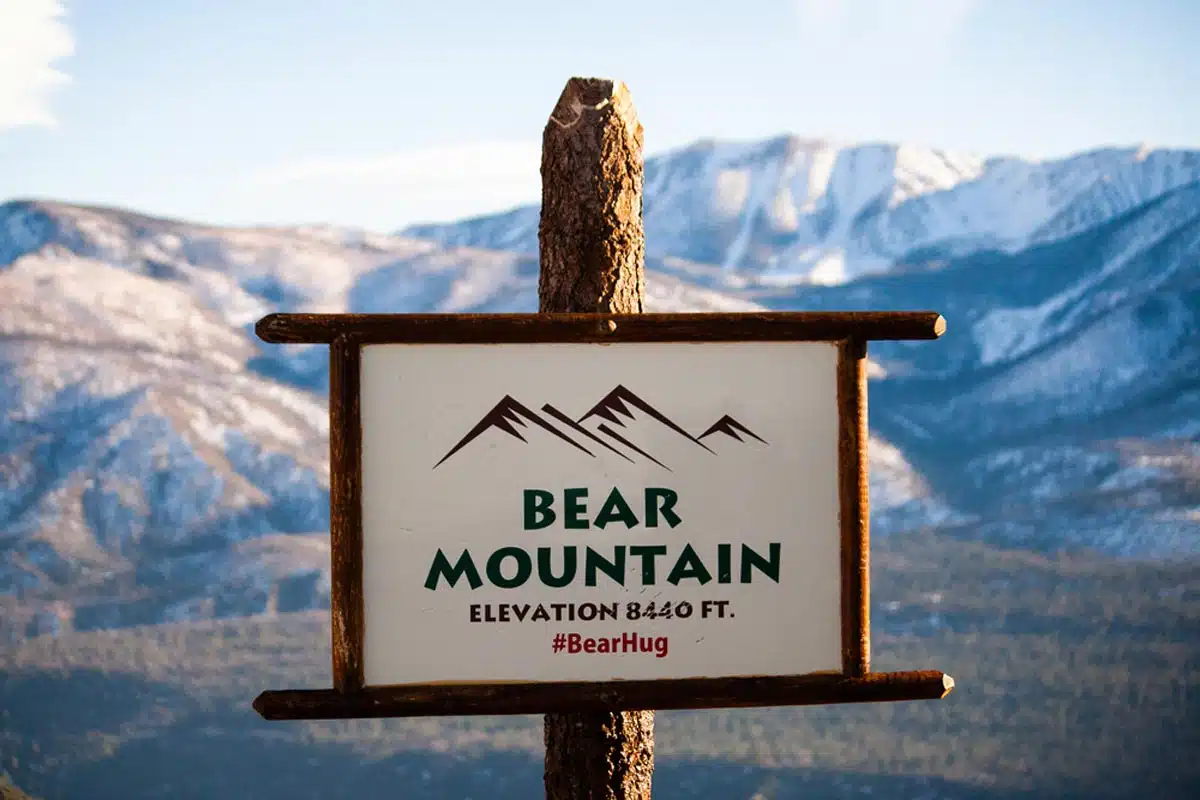 This is one of the best ski resorts in southern California, that's only a 2-hour drive from LA. It's split into two major areas: Bear Mountain and Snow Summit.
Bear Mountain's known for its state-of-the-art facilities and size, whereas Snow Summit is more family-friendly, and its terrain parks are some of the best in California. If you want to go snowboarding in California, Big Bear is the place for it.
Suggested Stay: Endless View Lodge
Mt. Shasta Ski Park
Best for Snowboarding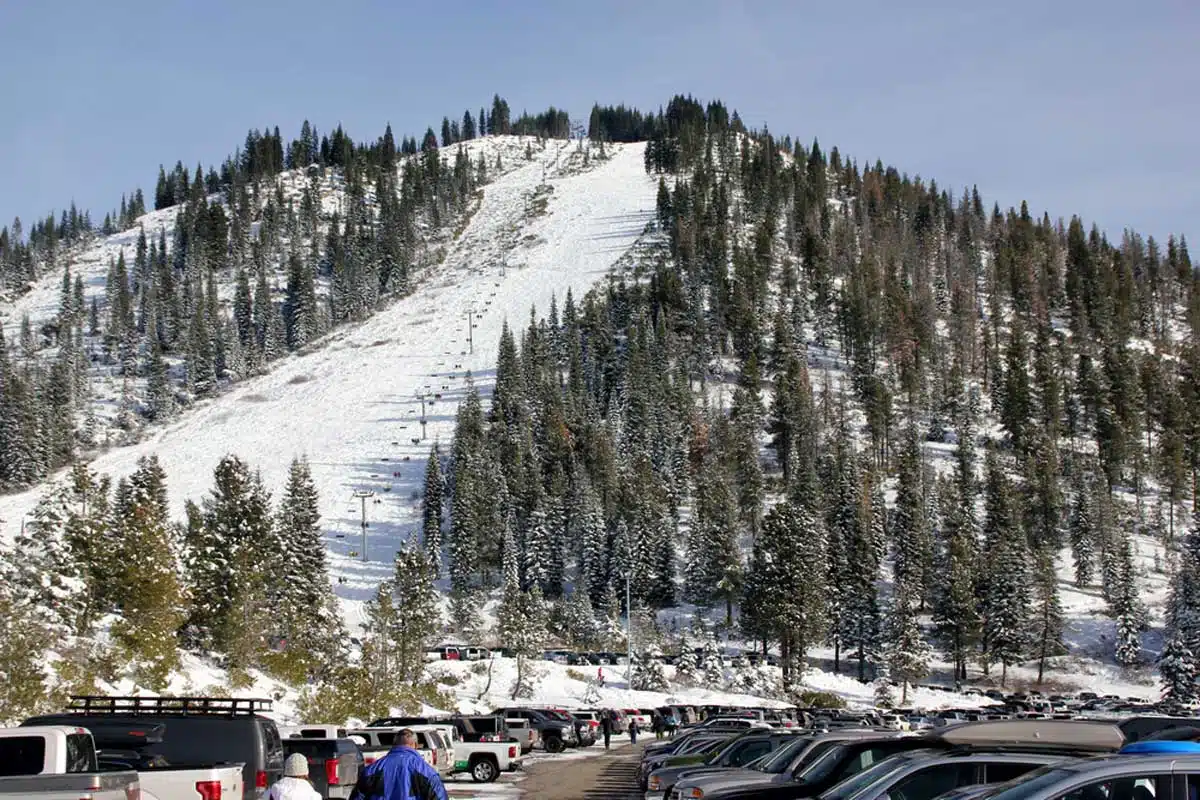 This volcanic peak might be a great ski spot with 38 downhill ski trails catering mostly to intermediates, but it also boasts some tubular snowboarding options.
There's Silvertip Terrain Park for beginners and Revolution Terrain Park for the more advanced boarders. Cross-country skiers will enjoy the 14 miles of Nordic trails and a 2.5-mile snowshoeing hike.
Suggested Stay: Log Home on 40 Private Acres
Mt. Baldy Resort
Best for Black Diamond Runs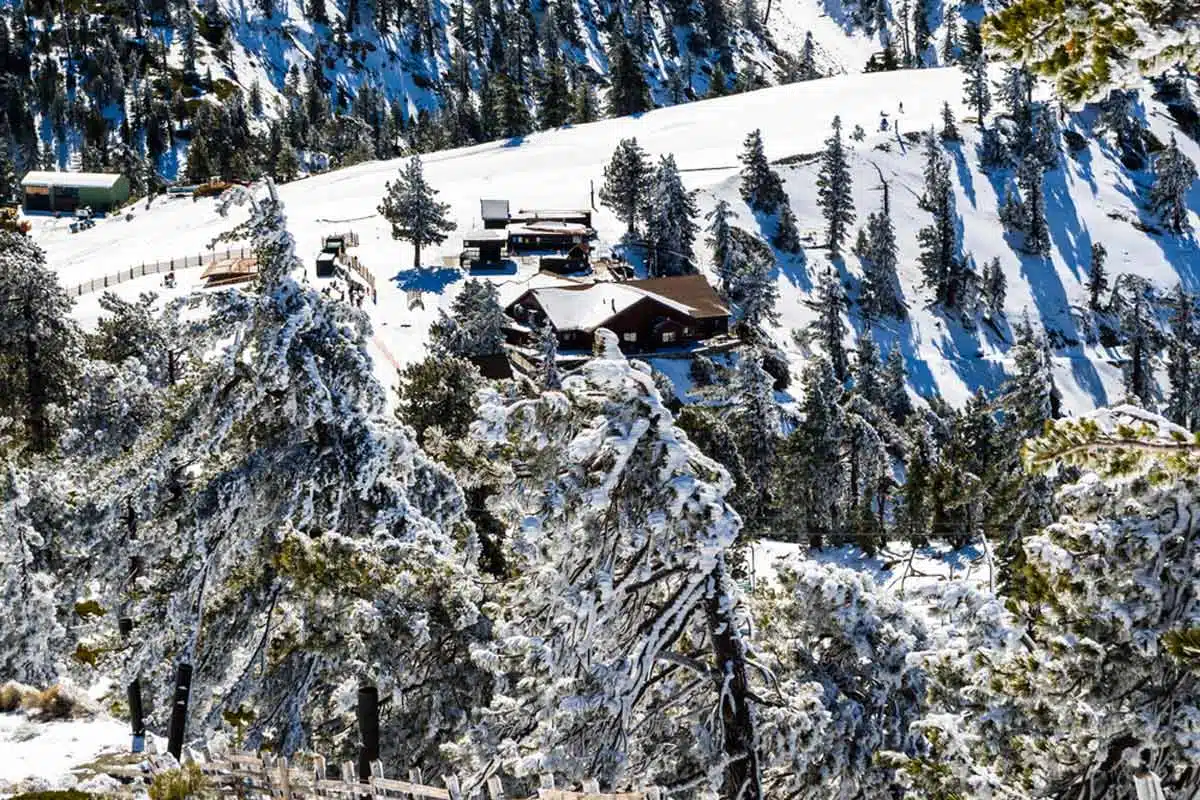 Only 50 miles from the city, Mt. Baldy is a ski resort near Los Angeles that's a favourite with expert skiers. While it has a learning centre for kids and adults, it's dominated by advanced-level black-diamond and double-black-diamond runs.
There are a handful of beginner and intermediate trails, but if you're looking for the best ski resorts in California for beginners, this isn't it.
Suggested Stay: Cosy Cottage with Grill
Mountain High
Best for Unique Views
Eighty miles outside of LA in the Big Pines region, this award-winning resort is a popular spot. It encompasses three ski resort areas.
The East Resort has the longest runs and incredible views of the Mojave Desert (talk about juxtaposition), while North Resort has 70 acres of beginner-friendly runs.
The West Resort has some technical runs for contests. Overall there are 60 trails to choose from over 290 acres.
Suggested Stay: Grand Pine Cabins
Badger Pass
Best for Budget Skiing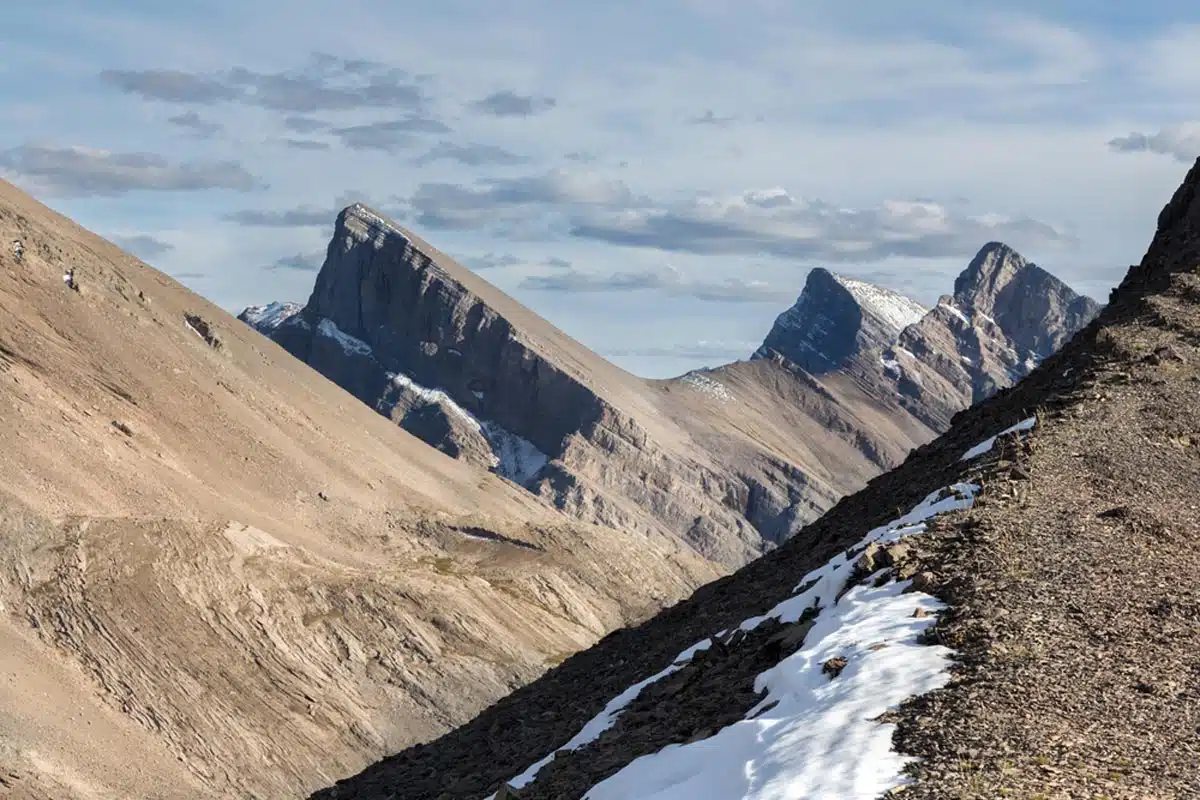 Cali's oldest ski resort is located in the Central Sierra mountain range near Yosemite National Park. It's also one of the more affordable and less crowded resorts.
Don't worry, it still offers great alpine ski slopes and a terrain park for cross-country skiers, snowshoeing, and snow tubing.
Suggested Stay: Inside Yosemite Mountain Beauty
Boreal Mountain
Best for Night Skiing
With an average of 500 inches of snow annually, Boreal Mountain is usually one of the first resorts to open. It offers 380 acres of snow with 41 runs and a terrain park with a mini pipe, jump line, and handrails. It's the only resort in Tahoe to offer night skiing until 8 pm.
Suggested Stay: Donner Lake Inn B&B
Practical Tips for Skiing in California
Buy a ticket in advance. Some of these resorts get full pretty fast, and you wouldn't want your vacation spoiled by missing out on an entrance ticket.
Drive safely. Once you get to the mountains, the weather can change dramatically. Be prepared to shift from driving on warm tarmacs to snowy roads.
Pack the right clothes. Moving from the warm beaches to the snow-clad mountains might give your body a bit of a jolt, so bring those layers and throw on as needed.
California Ski Resorts: Map
Ski Resorts in California: Read Next
Love This? Save and Share on Pinterest