Get ready to discover Death Valley's abandoned ghost towns – catch a glimpse of America's past.
The land of extremes – a place frozen in time where only memories of a once glorious past remain. Welcome to Death Valley.
My apologies for overselling it a bit. Heck, who am I kidding? There's no such thing as overselling such a fantastic destination. As the hottest, driest, and lowest national park in the USA, surprisingly, there's a lot to see.
Now there might not be any more gold in them thar hills. But there sure are a lot of ghost towns.
So, put on your prettiest cowboy hat, and let's explore.
Tip: Add a visit to Death Valley to your next California road trip for an unreal experience.
Why Visit The Ghost Towns of Death Valley?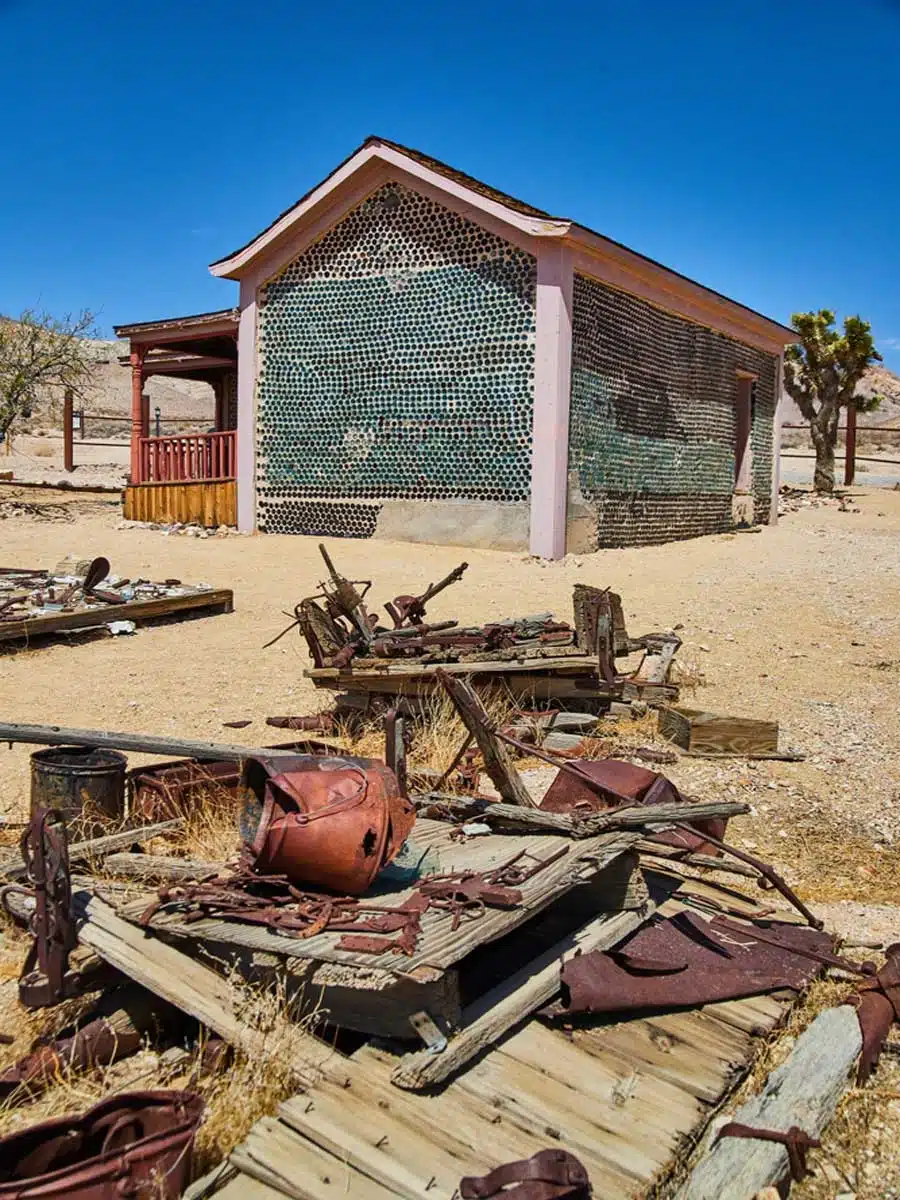 Beyond the unforgettable (and unforgiving) landscapes of Death Valley, visiting its ghost towns is the best blast from the past you'll ever experience.
Visiting here provides apparent bragging rights that you dared to go where few do. Besides, a trip through these crumbling wasteland homesteads is a scene from the best Indiana Jones movie.
And, if you ever felt a tinge of curiosity (or excitement) when you see a "Point of Historic Interest" sign, I can't imagine why you'd skip an adventure like this.
The History of Death Valley's Ghost Towns
Now I want you to imagine the year 1848: A group of prospectors tackling an exhausting journey through what we now call Death Valley quite literally stumble upon a tiny golden nugget. What happened next is what we know as California's gold rush.
It wasn't just gold they found, oh no. Beyond rich deposits of this mineral, soon enough, mines for silver, copper, lead, borax, and zinc shot up within the dry Eastern California region.
Tapped dry over the following 140 years, the epic boom of 1850 became a loving memory. Death Valley started to live up to its name as the rush began to wane. Without the allure of riches beyond belief, there was seemingly no reason for the towns throughout the region to even attempt to prosper.
However, some villages and mines continued operations until the economic panic of 1907. Soon after, most closed, and inhabitants deserted the towns.
Death Valley Ghost Towns to Visit
Panamint City (California)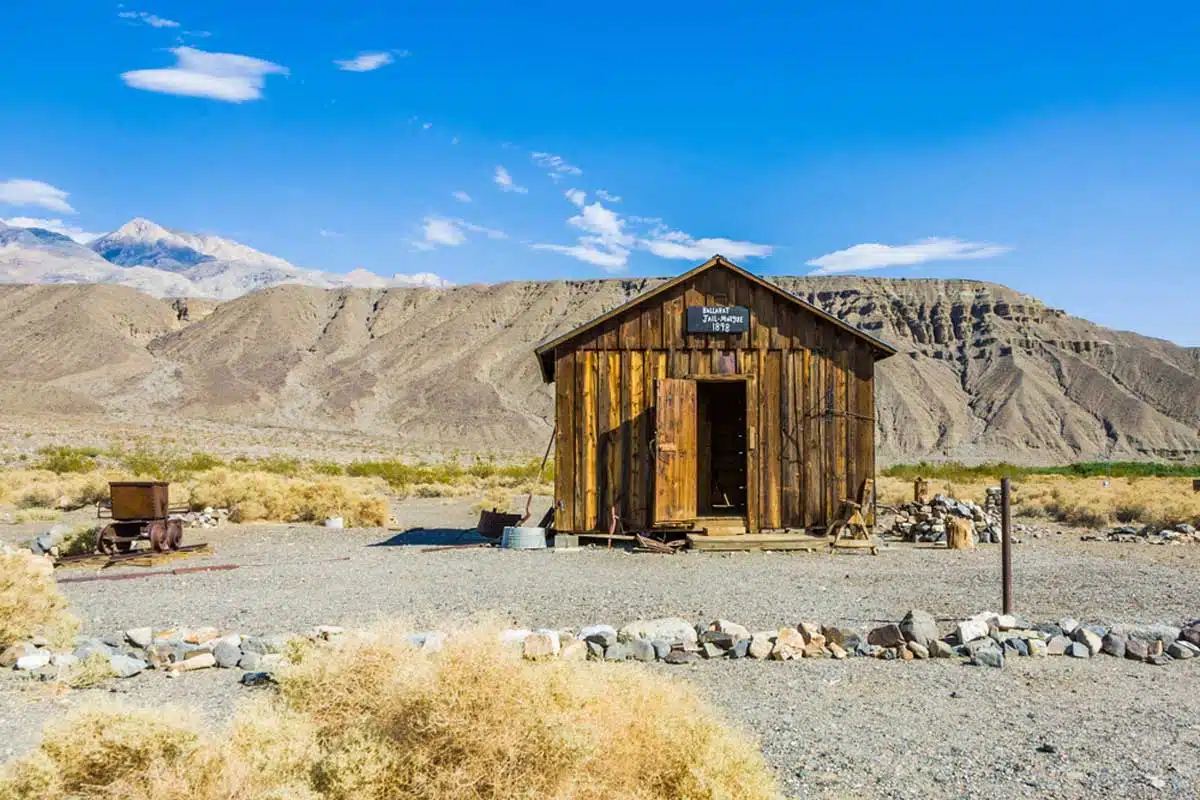 Close to the city (and I'm using that word lightly) of Ballarat, but still within Death Valley's borders, is Panamint. A very remote ghost town even by 1800s prospector standards. Famous for its silver and copper, it soon shot to popularity.
A frenzy of miners, bandits, and eager politicians descended upon the town in 1872, and at its height, a total of 2,000 people called it home. But, following a series of devastating floods, the city's inhabitants abandoned it by 1983.
Getting here is no easy feat. You can't reach Panamint by road but only through a 5-mile hike through Surprise Canyon, with about 4,000 feet of elevation gain. If you make the trek – and I urge you to, it's pretty spectacular – you'll see the town and a collection of sculptures made from old mining equipment.
Chloride City (California)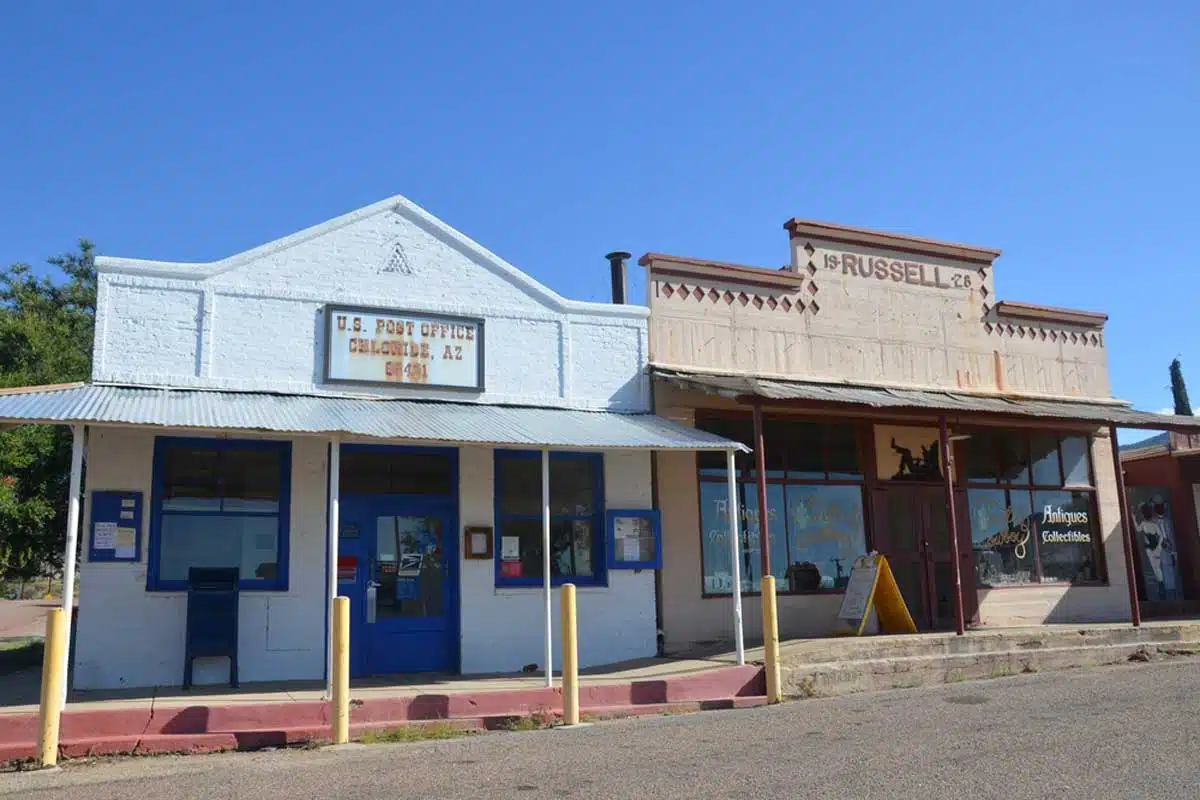 Like Panamint, Chloride is another Death Valley National Park ghost town within the park's borders. Also quite tricky to get to, this town never saw the same boom as the rest of Death Valley, even considering its large number of silver deposits.
Dating back to 1871, it's one of the oldest historical sites in the valley, but because of its location and lack of infrastructure, mining efforts stopped in 1873. A slight uptick in these efforts happened in the early 1900s but soon halted.
To reach Chloride, you'll need a 4×4 vehicle with high clearance and the grit to travel along a narrow unmarked dirt road of 17 miles. Along Daylight Pass Road, a small sign 3.6 miles east of Hells Gate points south towards Chloride.
Darwin (California)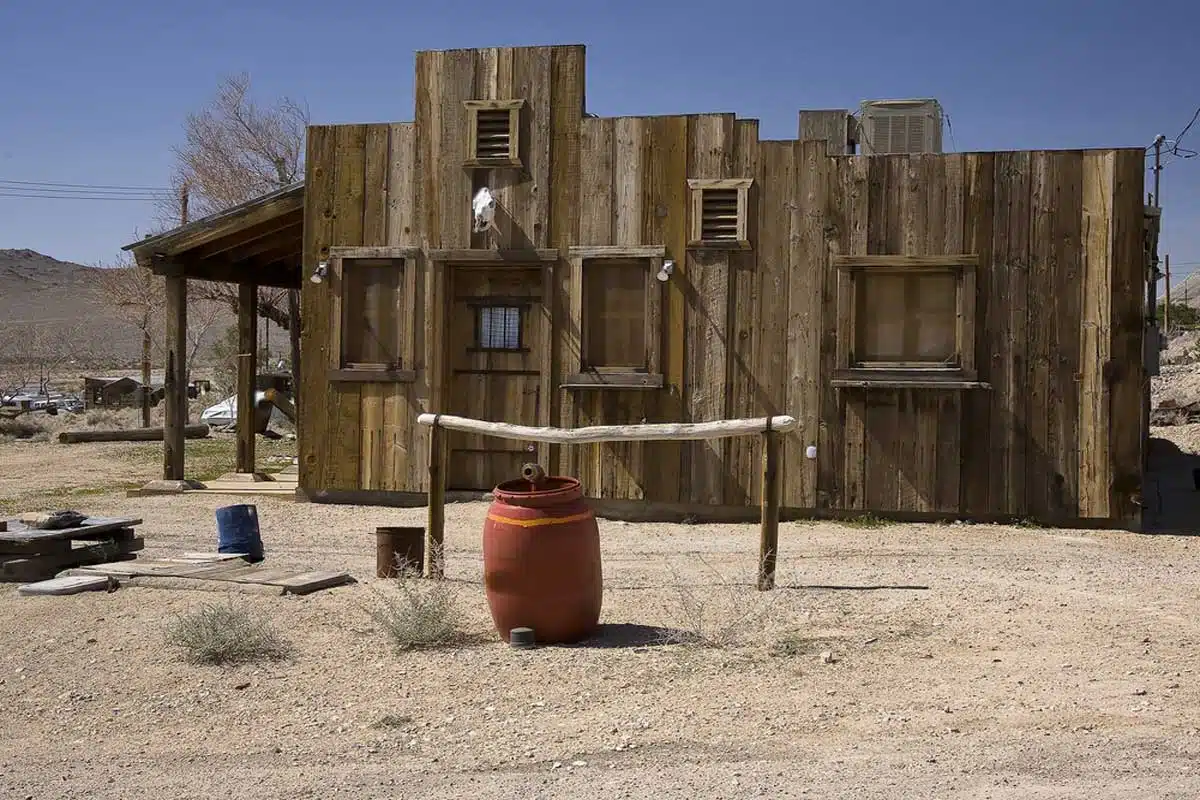 So technically, Darwin isn't inside the park, but it is one of the best ghost towns near Death Valley so I think you'll forgive me.
This little gem sits right outside the western reaches of the park and is easier to visit than Panamint and Chloride, about 30 minutes from Panamint Springs.
Named after prospector Darwin French, the adjacent canyon and falls north of the town share the name, Darwin. After silver and lead mining began in the region, the town sprung up in 1875 with the building of a singular post office. Fun fact, it's still in operation today.
Darwin today has 36 inhabitants, making it one of the few ghost towns in and around Death Valley to have residents still. Here you can visit the folk art stores and open-air museum, which these 36 people run.
Ballarat (California)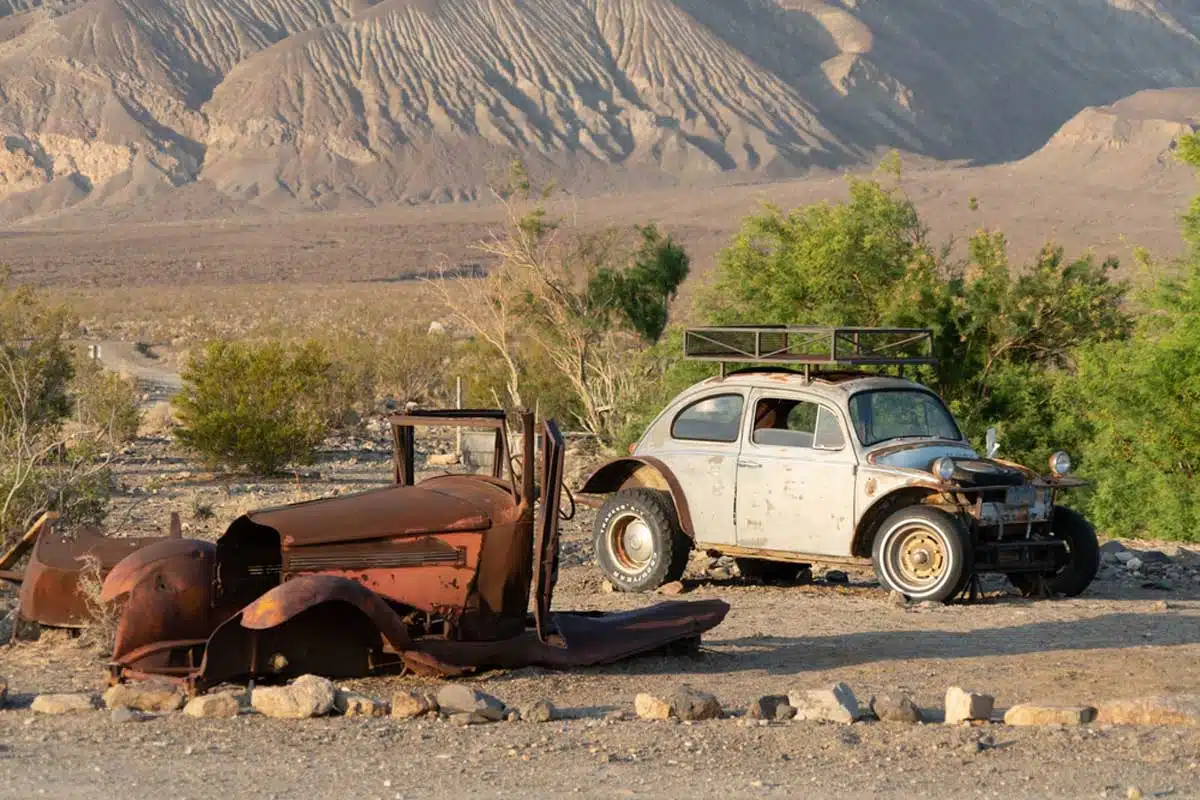 A tiny boomtown at the foot of the Panamint Mountains, Ballarat rose to fame at the tail end of the 19th-century rush of 1896. Sitting on the western edge of Death Valley National Park, although not much mining happened here, it was an important supply station.
At the height of its glory, Ballarat included a few saloons, a post office, a morgue, and a jail. Supplying the region with water (and whiskey), it became a hub for entertainment. But in 1917, the post office as the final official building closed.
When you're in Ballarat ghost town in Death Valley, you can visit the general store, run by the town's last remaining resident — Rocky Novak and his (very cute) dog. Or visit the final hideout for Charles Manson – of the cultish murder variety – nearby at Barker Ranch.
Rhyolite (Nevada)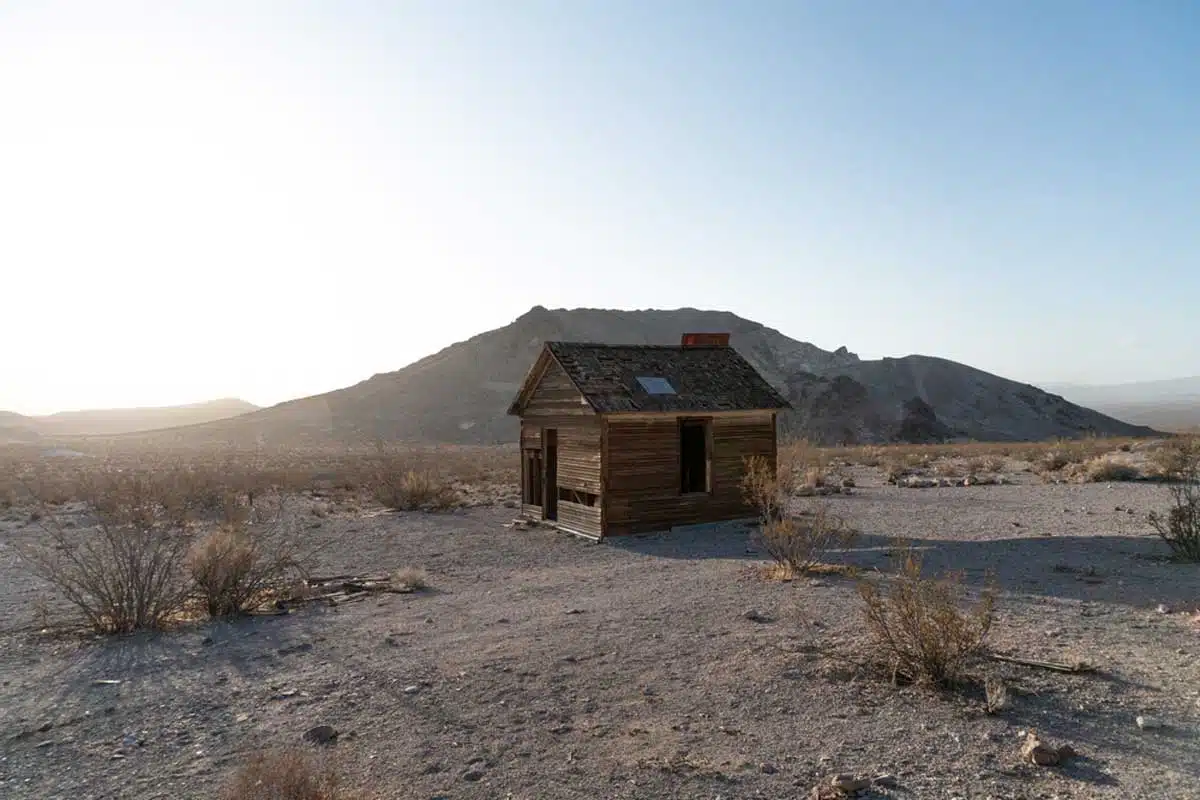 Probably one of the most significant boom towns in Death Valley sits within the Nevada side of the park. Rhyolite ghost town in Death Valley at its peak featured a public bathhouse, 50 saloons, and 19 lodge houses.
Its kickoff happened in 1905 and, in just under two years, the town's population reached nearly 5,000. It grew so famous that Charles M. Schwab moved into town, and soon after, Rhyolite boasted water mains, electricity, and telephone lines.
Unfortunately, as ore deposits dried, the town was finally cut off in 1914. Today you can explore the Tom Kelly bottle house, the oldest and largest in the US, or the Goldwell open-air museum.
Getting here is relatively easy as the town is about 4 miles from Beatty, Nevada, along a well-marked road.
Gold Point (Nevada)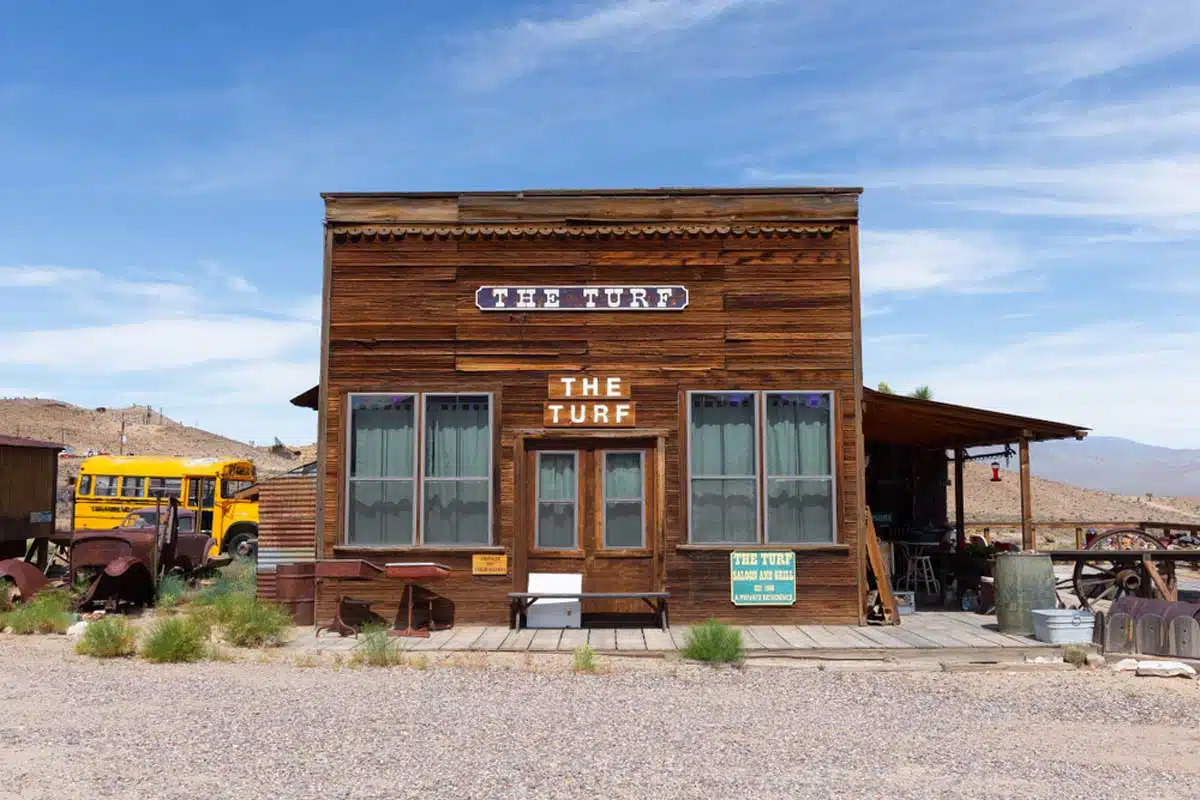 Few ghost towns near Death Valley, or even inside it, have quite the story like Gold Point.
Boasting a genuine resurrection story, Gold Point initially found life in the early 1860s as a silver mining camp. It peaked in 1920 with a population of 2,000 and numerous saloons, hotels, and stores.
Then as per the norm, the town teetered into decay, but in the 1970s, two friends arrived and bought up as much land and property as they could. Their efforts paid off, and along with the remaining townsfolk, they restored and saved much of the town.
Now, when travelling through the town, you can visit the post office (also a museum), opt for a self-guided tour, or stay overnight in historic cabins. Getting here is also easy because it lies just as you enter Death Valley from Nevada, about one hour from Beatty.
Tip: Find out what else besides ghost town hunting are the best things to do in California.
Practical Tips for Exploring Death Valley's Ghost Towns
Keep a close eye on your fuel gauge – trust me on this one. There are several petrol stations within the park, but vast stretches of the open road lie in between.
Death Valley is a harsh and unforgiving region, so always carry an over-supply of water. Have a large reserve of bottled water in your vehicle; when hiking, more is more.
Although it might be hard to imagine (sense the sarcasm), Death Valley has abysmal mobile reception, meaning your GPS might lose signal. Bring along an old-school map. You'll thank yourself.
Death Valley Ghost Towns: Map
Death Valley Ghost Towns: Read Next