Explore with this in-depth 3-day Joshua Tree itinerary and discover the magic of one of California's most stunning terrains.
It's no secret how much I love Joshua Tree National Park. The broad expanses of this desert playground are home to weirdly-shaped rocks, stunning vistas – not to mention more hiking trails than you could ever hope to tackle in one trip (or five).
I spent some time in Joshua Tree on my most recent trip to California and all I can say is if you haven't been already, just go!
The meeting point of the Mojave and the Colorado Deserts, Joshua Tree National Park is a landscape of contrasts.
Boasting the colourful plains of the Mojave, studded with the trees after which the park is named on the one side, and the arid vistas of the much drier Colorado desert on the other – there's plenty to explore.
A bit too much perhaps…Spreading out over 3,200+ km2, Joshua Tree is something of an unwieldy beast.
If you're planning your trip and you're unsure of what to see and do during your Joshua Tree itinerary – you're not alone. It's great that there's a wealth of things to do, but it can be a little overwhelming.
That's where I come in with this step-by-step 3 day Joshua Tree itinerary: everything you need to know to help you discover this gorgeous national park.
Pack your bags peeps – we're going for a ride!
Handy Tips for Planning Your Joshua Tree Itinerary
What to Pack for Your Joshua Tree Itinerary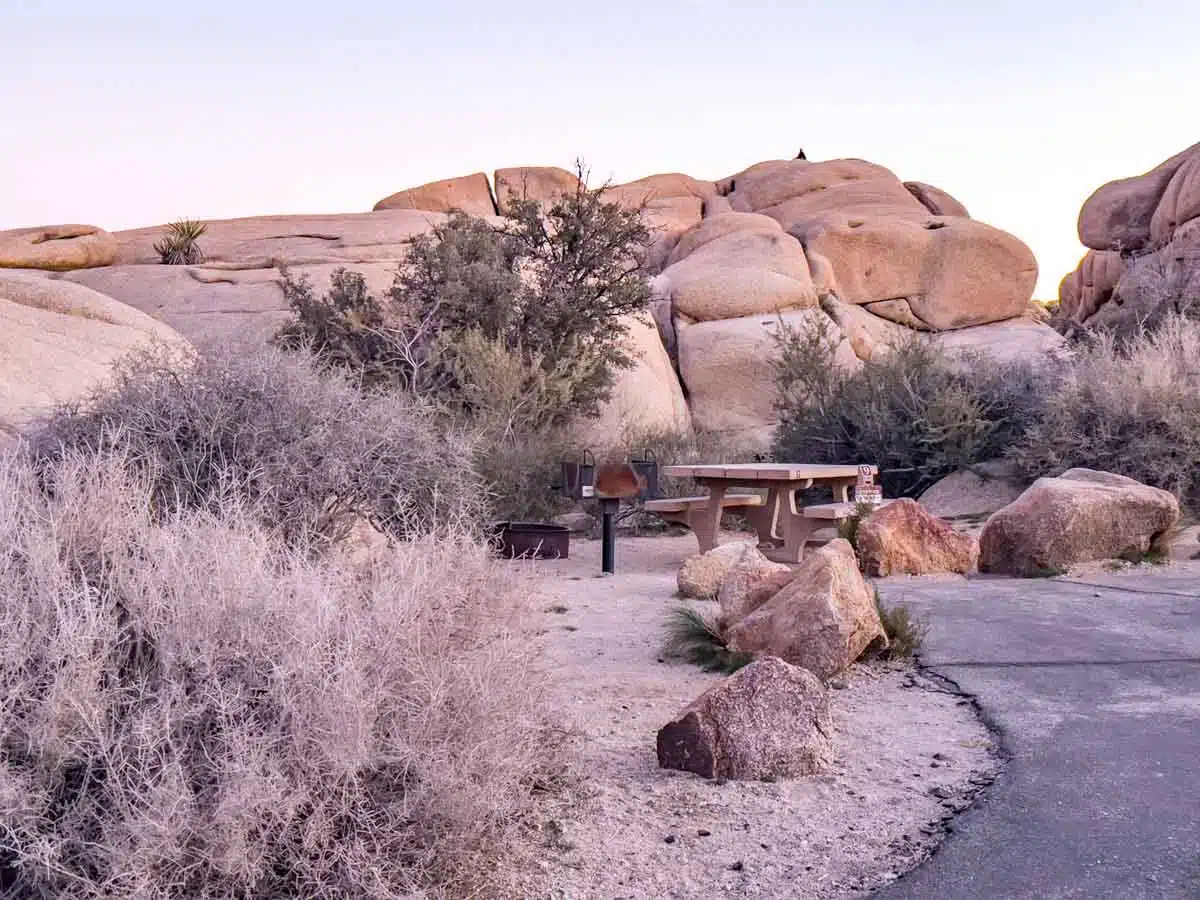 However freeing it is to explore Joshua Tree, one thing to plan well is what you pack for your trip.
Considering the fact that any trip into Joshua Tree is *literally* venturing into the untamed and harsh desert, it follows that there are some packing list essentials you can't afford to leave at home:
Where to Stay for Your 3 Days in Joshua Tree
Center Street Villas
Set within the quaint town of Joshua Tree, the 3-star Center Street Villas offers everything you could want for your trip. Each unit has a private patio, a fully-equipped kitchen, and access to numerous hiking trails.
Inn at Palm Springs
If you prefer not to leave modern city-slicking luxury at home, staying at the Inn at Palm Springs is a great option. Palm Springs is an hour's drive from the park. And at the Inn, you can expect a budget-friendly property with spacious rooms and convenient features, including an outdoor pool.
Useful Resources for Joshua Tree
To make your trip to Joshua Tree as effortless as possible, here are some crucial and valuable travel resources to keep in mind.
Getting to Joshua Tree
When flying internationally and locally, there are a few airports to choose from. The first is Los Angeles International Airport (LAX). It's about a two-and-a-half-hour drive from the northern entrance of Joshua Tree. It's the more busy option, and traffic can be hectic.
Alternatively, you can fly to Palm Springs International Airport (PSP). At about a 50-minute drive from the park, it's the quicker and less congested option.
Check flights to Joshua Tree on Skyscanner
Information About Joshua Tree
Regardless of how long you spend in the park, even if you're only planning a day in Joshua Tree, having as much info as possible is a good idea.
Stay updated with weather forecasts, potential hazards on hiking trails, and other safety warnings on the National Park Service website.
Accommodation in and around Joshua Tree
When it comes to accommodation, whether you prefer hotel living, a private apartment with exclusive features, or rough-and-tough camping, Joshua Tree offers a lot of variety. Inside the park, glamping is the cream of the crop. Outside, you'll find a property for every price tag.
Here are my recommendations for booking services:
Getting Around in Joshua Tree
Once you're in (or near) Joshua Tree, what's the best way to get around?
Unlike other national parks, you won't find the same level of transportation infrastructure here as you would in, for example, Yosemite.
As there is only one shuttle inside the park (yup, just one), your best bet is to use your own vehicle or rent a car. Popular rental companies I'd recommend are:
Three Days in Joshua Tree National Park Itinerary
Day One Joshua Tree Itinerary: Barker Dam, Desert Queen Mine, Skull Rock, Arch Rock, and Cholla Cactus Garden
Your first day in Joshua Tree will help you find your feet (so to speak) – plunging straight into the desert landscape, with some rave-worthy sights along the way.
Top Tip: Today is BIG on hikes, so if you're not feeling up to it, I'd suggest cutting the Skull Rock hike – you can still park by the side of the road and hop out to see Skull Rock – you just won't have to do the hike to get there.
Explore Barker Dam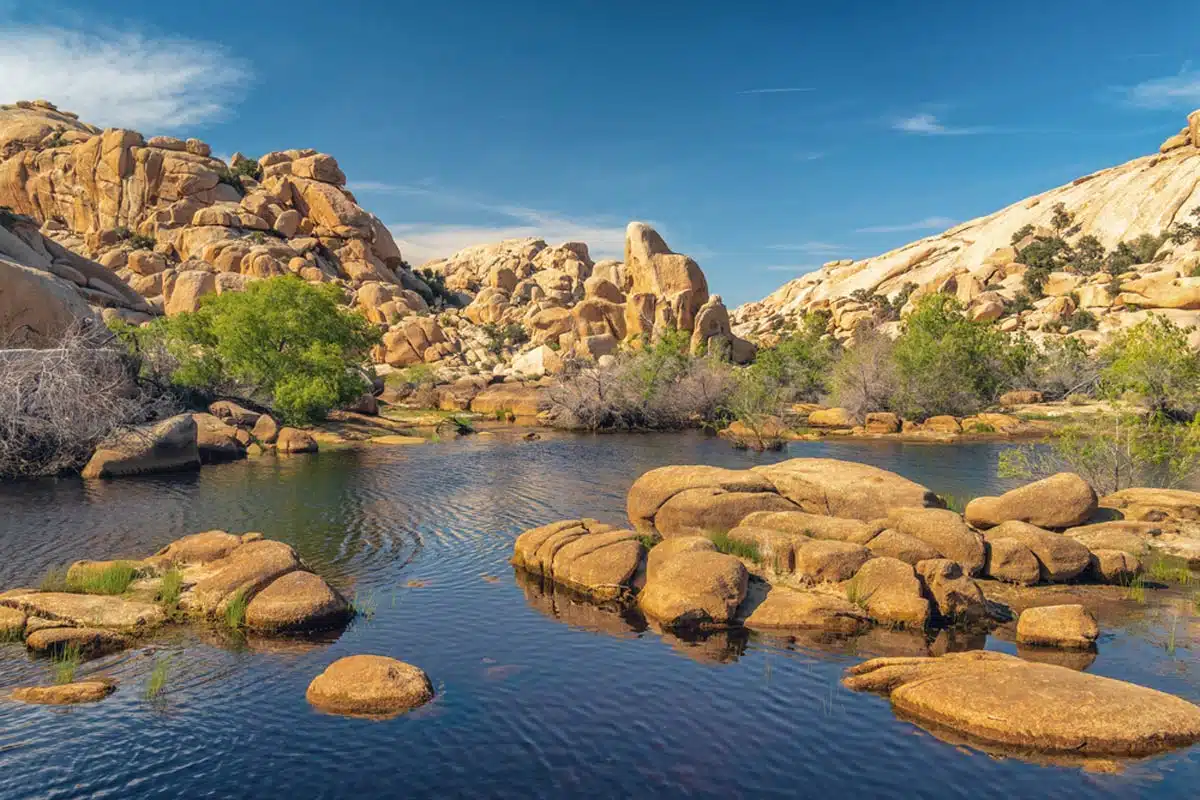 Let's kick off day one in the park's northern regions at Barker Dam.
Spending some time hiking in Joshua Tree is an absolute must, so tackling the easy 1.1-mile Barker Dam Loop Trail is a no-brainer.
Set off into the desert landscape to discover the Barker Dam, built in the early 1900s by cattlemen about halfway along the route. I recommend taking the short detour half a mile off-trail to see some ancient petroglyphs too.
Visit The Desert Queen Mine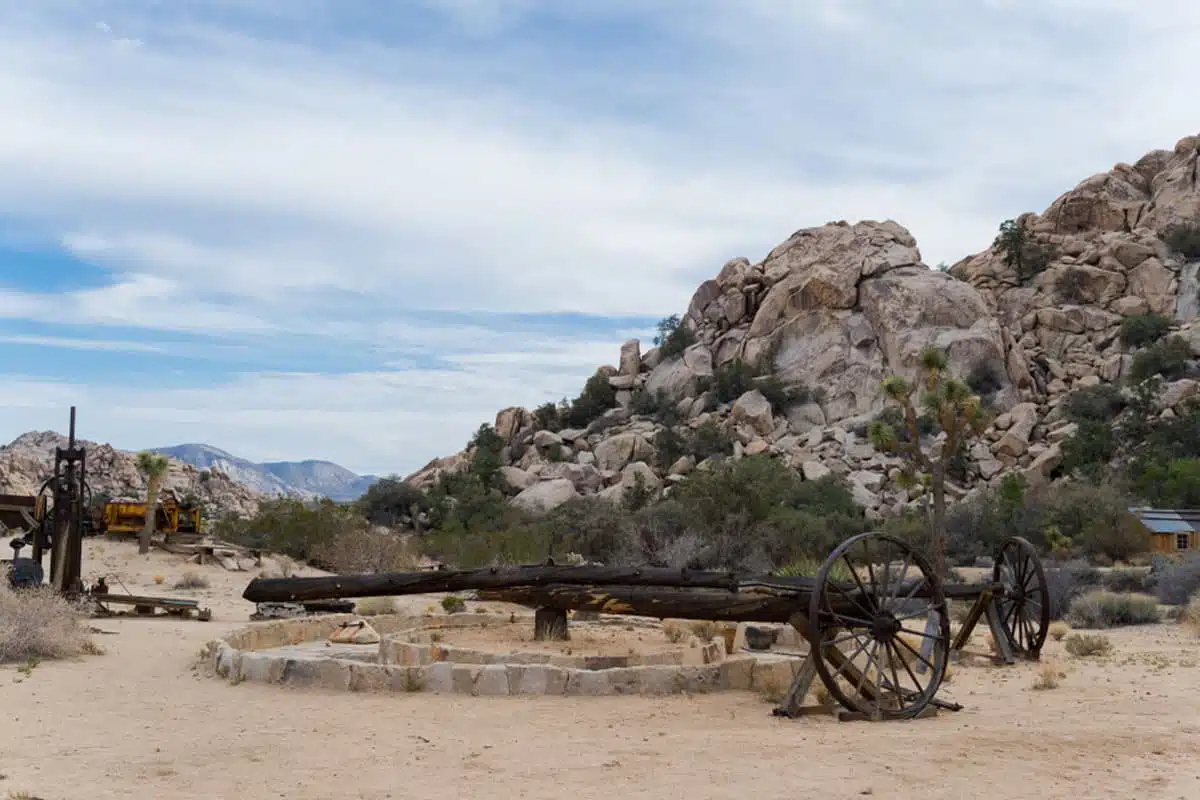 An abandoned mine along Desert Queen Mine Road? Sounds like a plan! The Desert Queen Mine is the next spot on your Joshua Tree itinerary.
Close to Barker Dam, this short 0.7-mile out-and-back hike is an enjoyable outing that delivers stunning views from the overlook.
If you're not content with seeing the mine from the overlook, why not venture across the canyon to get a closer look? Doing so extends your hike by another 0.5 miles as you stroll past old mining machinery and shafts used in the late 1800s.
Go Alien-Hunting at Skull Rock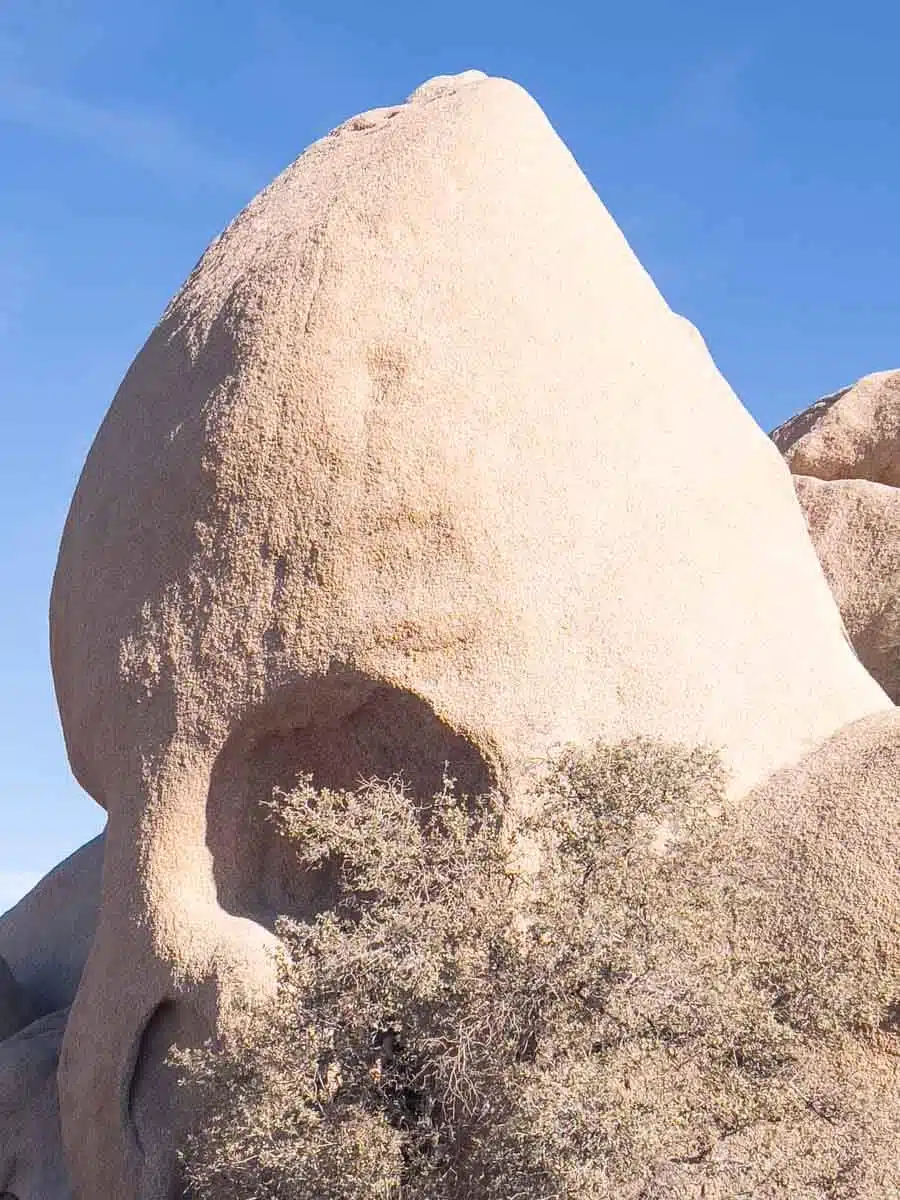 Joshua Tree is packed with surreal spots and Skull Rock is no exception.
It is one of the most visited parts of the park (read: the rock itself is bound to be thronged by the masses) – so I'd suggest doing the Skull Rock circular hike to make the whole experience a bit more chilled.
There's no need to guess how it got its name – the ghoulishly-shaped rock resembles a giant alien peeking out from the arid landscape. Beyond just looking very cool, it's a great place to catch your breath and get some Instagram-worthy snapshots.
Hike the Arch Rock Trail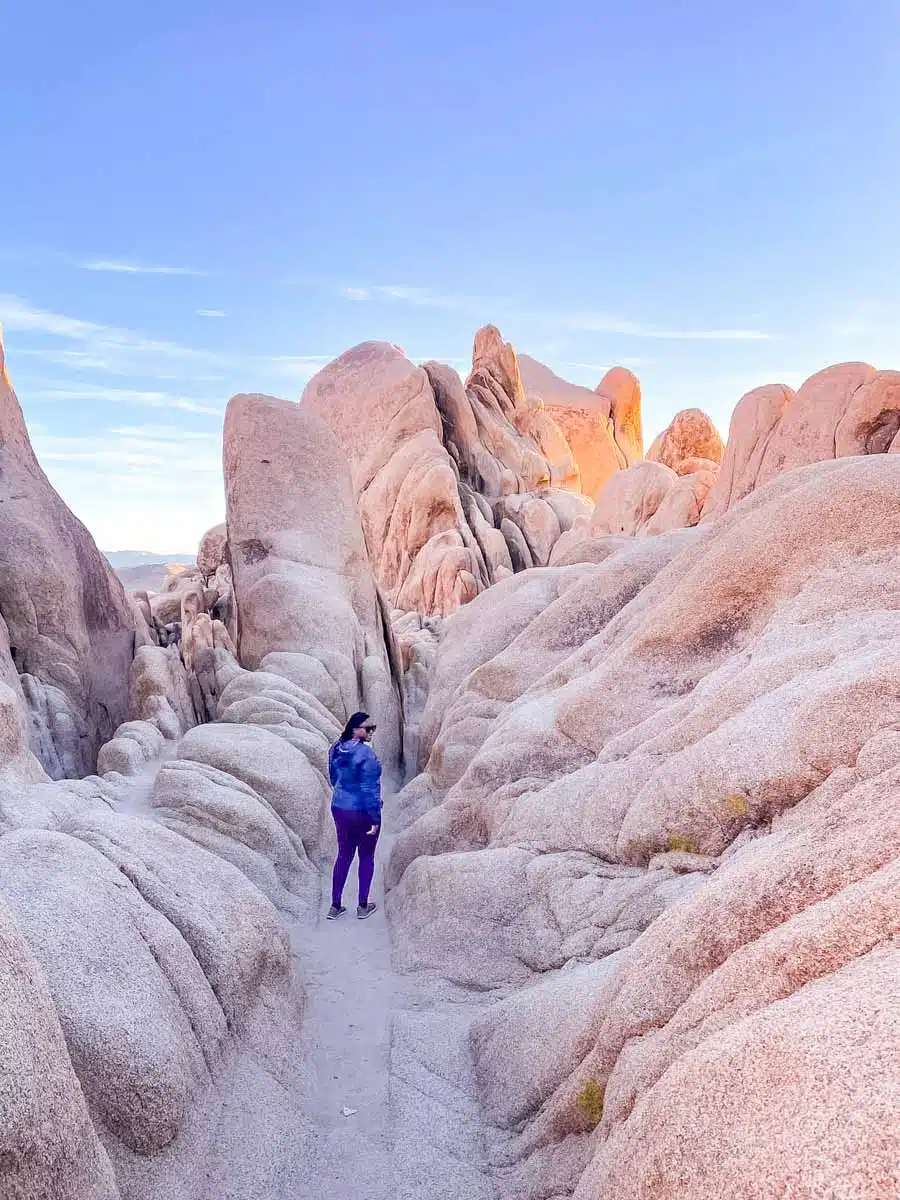 One of the best hikes in Joshua Tree, the famous Arch Rock Trail, has become a rite of passage for visitors to the park.
This short, 1.3-mile out-and-back trail begins at the Twin Tanks/Arch Rock parking lot.
Prepare yourself for some uninhibited scrambling because you are going to clamber over some rocks baby!
Strike off along the trail, wending your way through massive granite formations (climb atop for some epic snapshots), before finishing at the foot of the 30-foot-wide arch. I'll level with you – Arch Rock is cool, but for me, the surrounding maze of smooth boulders in all kinds of weird shapes were the real star of the show.
If you're feeling more adventurous, there is a short detour from the Arch Rock Trail to Heart Rock. It's a 15-minute trail to the right of the junction just before you reach Arch Rock.
Watch the Sunset at Cholla Cactus Garden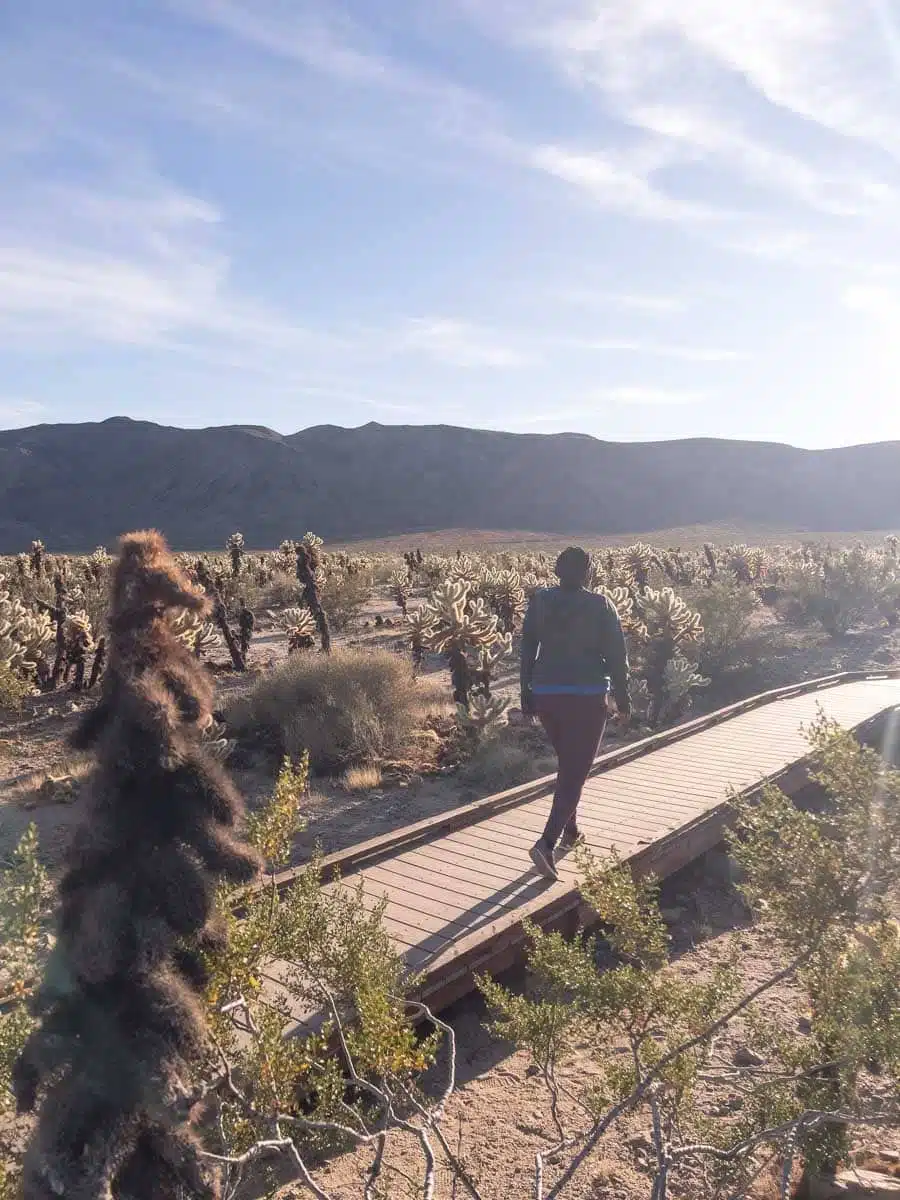 You can't come to Joshua Tree and not make your pilgrimage to see the spiky teddy bear-shaped cholla dotting the landscape. They are an iconic part of the park, after all.
So what better way to finish the first day of your itinerary than in a spot where hundreds upon hundreds of them stick out among the terrain? The Cholla Cactus Garden is a 0.25-mile platformed nature trail where you can see them in all their glory. Epic sunset photos here are a must.
Day Two Joshua Tree Itinerary: Ryan Mountain, Hall of Horrors, Skull Rock, and Keys View
The second day of your Joshua Tree itinerary covers several of the park's more distinct attractions paired with a breathtaking sunset.
Explore the Terrain of Ryan Mountain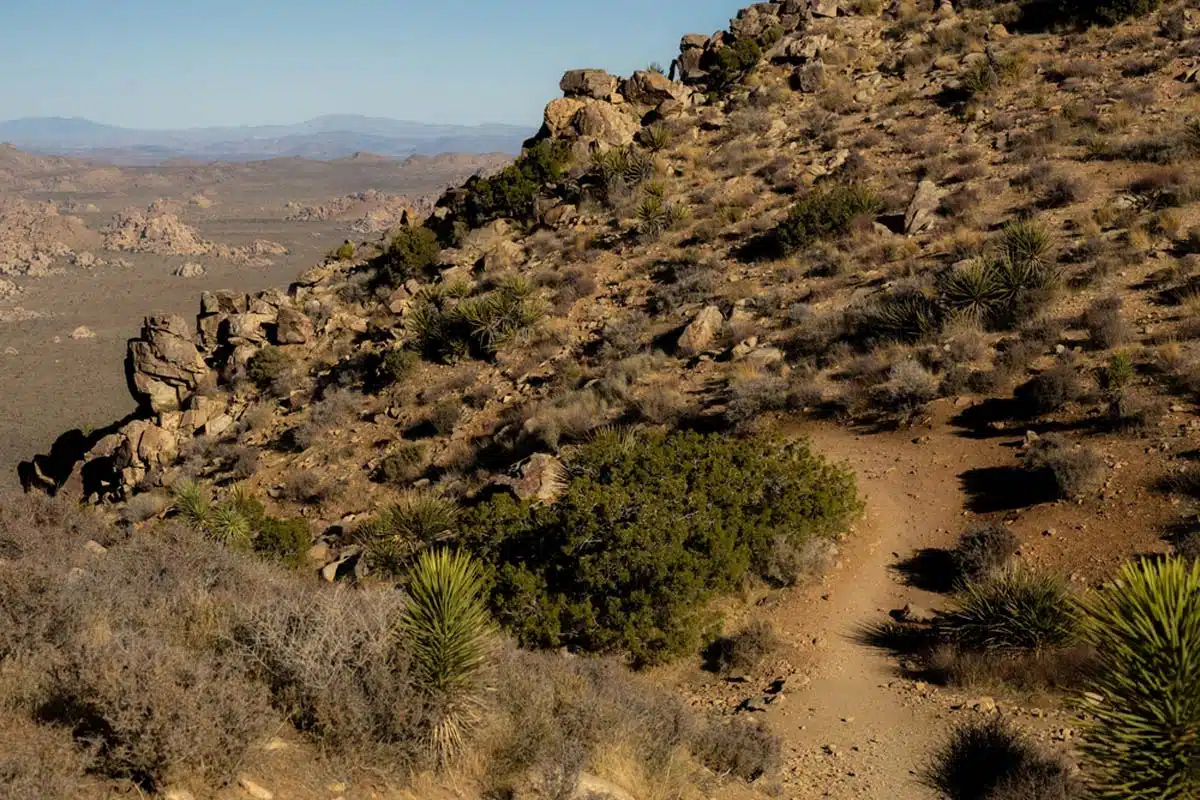 Another early morning hike, the Ryan Mountain trailhead, begins about half an hour from the town of Joshua Tree.
Most Joshua Tree 2-day itineraries start with this gem, so it's an excellent way to kick off your second morning of exploration.
This moderately difficult 2.9-mile out-and-back trail takes you on a route with dozens of the iconic Joshua Trees. With an elevation gain of 1,062 feet, the summit boasts sweeping views of the park below.
Dive Into the Hall of Horrors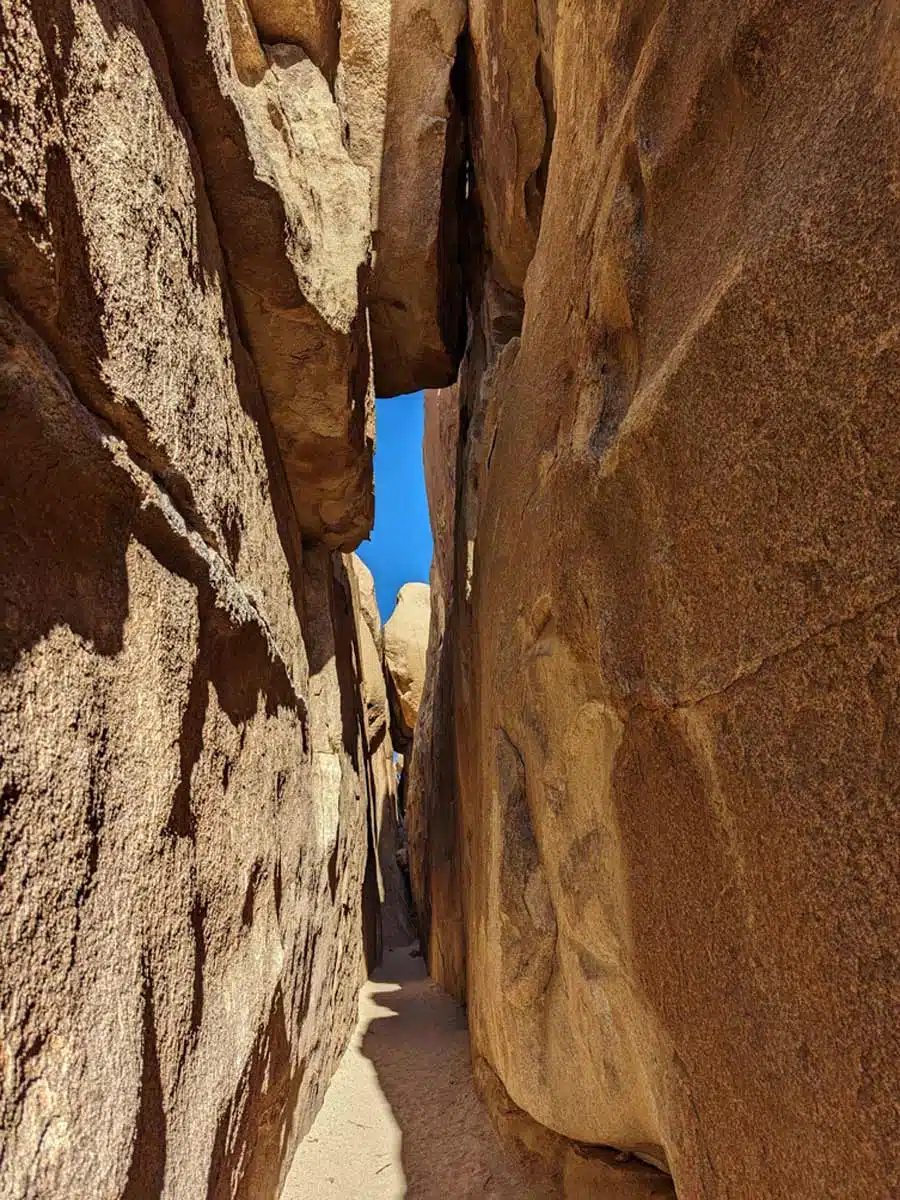 I'll admit, it does have an ominous name, but the Hall of Horrors is merely a slot canyon.
It's a few minutes' drive from the Ryan Mountain parking lot. Get there via a loop trail about half a mile long; it's visually stunning, with giant boulders galore.
The actual Hall of Horrors slot canyon sits just off the loop trail. Although it requires some scrambling (yes, please), it does deliver a thrilling excursion with stunning views.
Surrounding the Hall of Horrors, you'll find two other rock clusters worth scrambling over.
Hike at Lost Horse Mine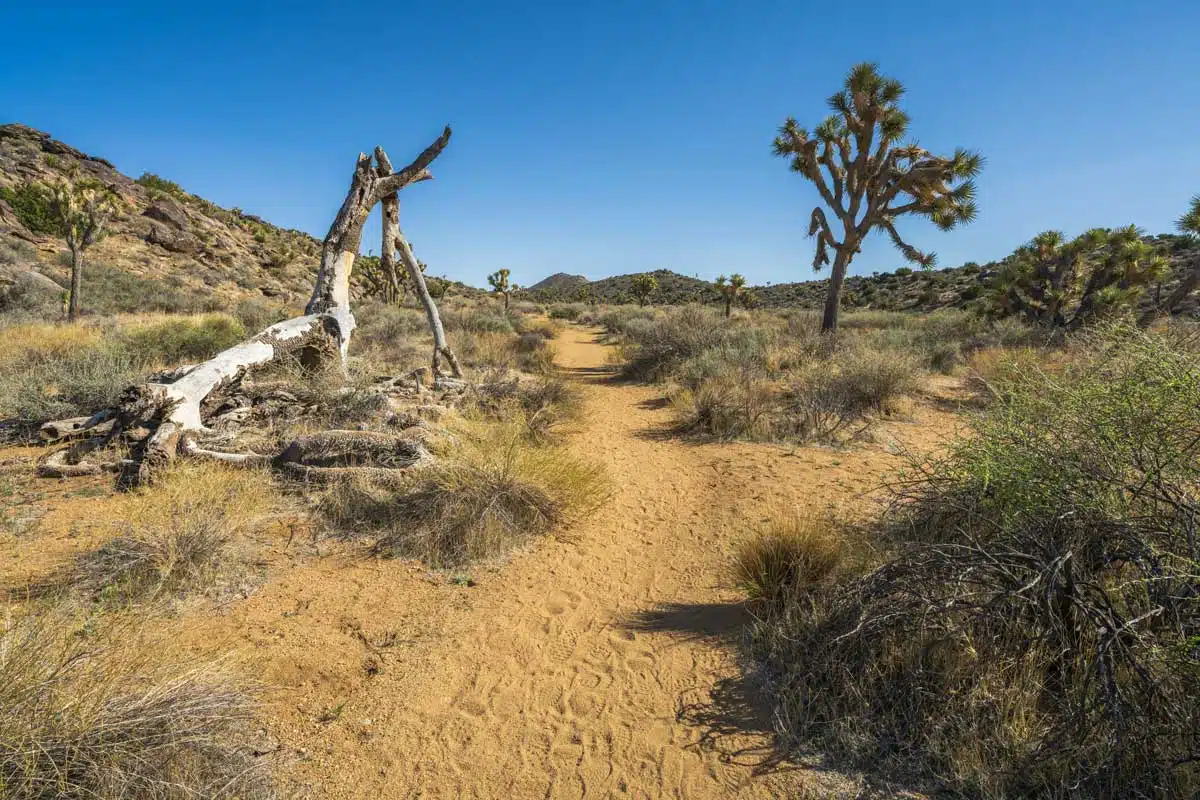 The Lost Horse Mine Trail is the perfect way to round off your penultimate day exploring the park.
It's quite a bit longer than most other hikes, clocking in at 6.5 miles and lasting for about three hours.
Adding to its magnetic allure is the stunning scenery you'll see and the intimate look at the mine the trail leads to. One of the more prominent mines in the area, the ruins of its operations dot the landscape for most of the path.
Sunset at Keys View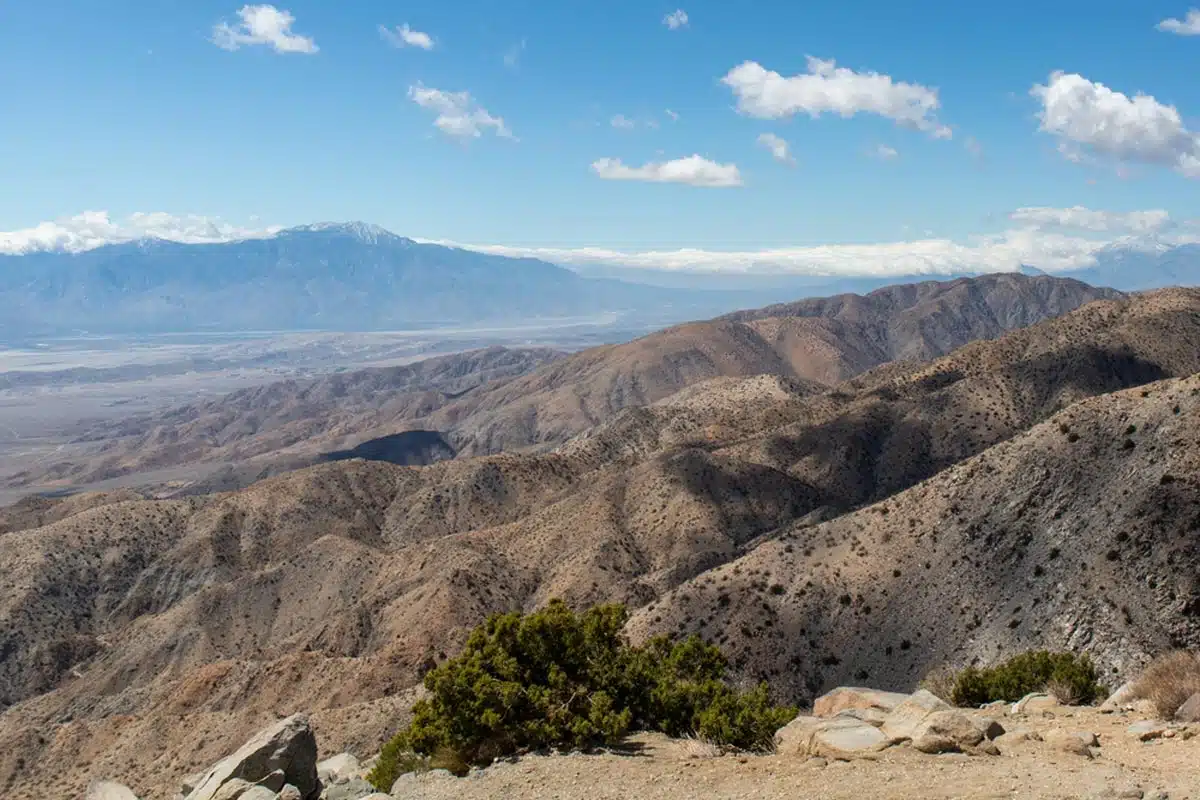 Remember the Barker Dam alllllll the way from day one? We're heading back to the Barker Dam parking Lot, but this time we're setting off for Keys View.
As the highest point in the park, it's a euphoric experience to gaze at the sunset from its summit. The best part? You won't need to hike to catch the scenery.
A short paved loop trail leads from its parking lot to the viewpoint. Once there, embrace the setting sun as you stare out across the Coachella Valley and, on clear days, the Salton Sea in the distance. It's no wonder some 2-day itineraries in Joshua Tree end here (this one doesn't, though).
Day Three Joshua Tree Itinerary: Lost Horse Mine, Integratron, and Joshua Tree
Welcome to your third and final day in Joshua Tree National Park (and around it). Including one more hike, a strange interaction with relaxation, and a trip to the town of Joshua Tree.
High View Nature Trail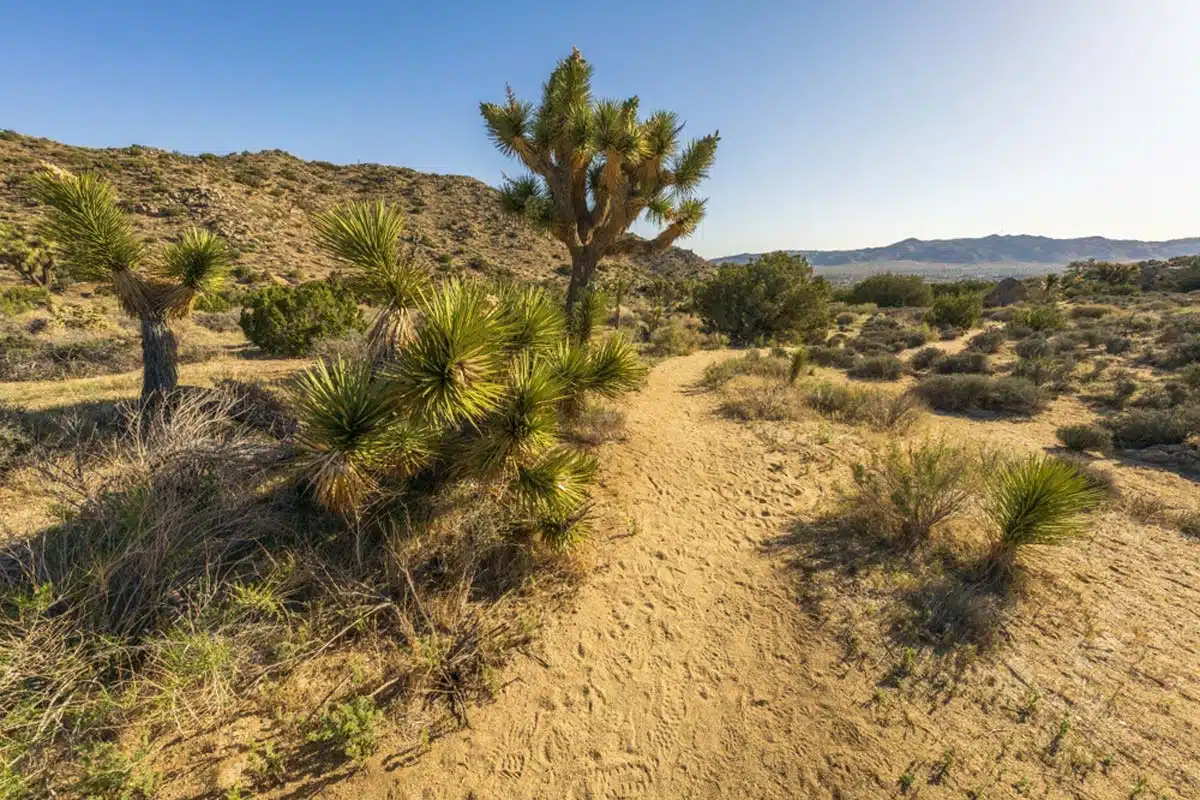 Today's hike is in a completely different part of Joshua Tree National Park – in the less-visited section near Yucca Valley.
The High View Nature Trail was one of my favourite hikes in the park, not least because it was one of the quietest AND delivered hard on the views.
I'll be honest here, the cost of those views is burning legs for the upward trajectory of this 1.3 mile schlepp… but then you reach the top and forget all the sweating and aches it took to get there because the panorama spread out before you is nothing short of incredible.
After that, it's a hop, skip and a gambol back down to the car park.
Get Lost in Sound at Integratron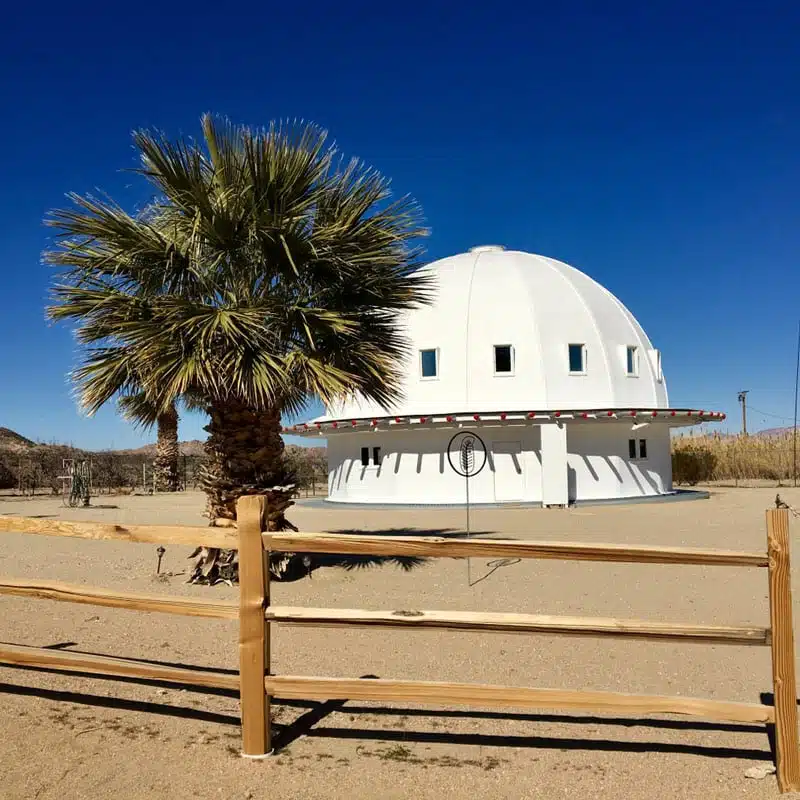 After your final morning hike in the park, it's time to head out of its borders.
Driving for about 20 minutes north past the town of Joshua Tree, you'll end up in Landers; the location of Integratron. What the hell is Integratron? I'm glad you asked.
Founded by ufologist George Van Tassel, this is an otherworldly (pun intended) experience. A 60-minute "sound bath" aimed at relaxation and rejuvenation, you're in for some sonic healing.
It involves 25 minutes of crystal bowl sounds played around your body, followed by 35 minutes of seclusion in a "sound chamber." This engages your hearing to the tune of calming recorded music.
Spend the Evening in Joshua Tree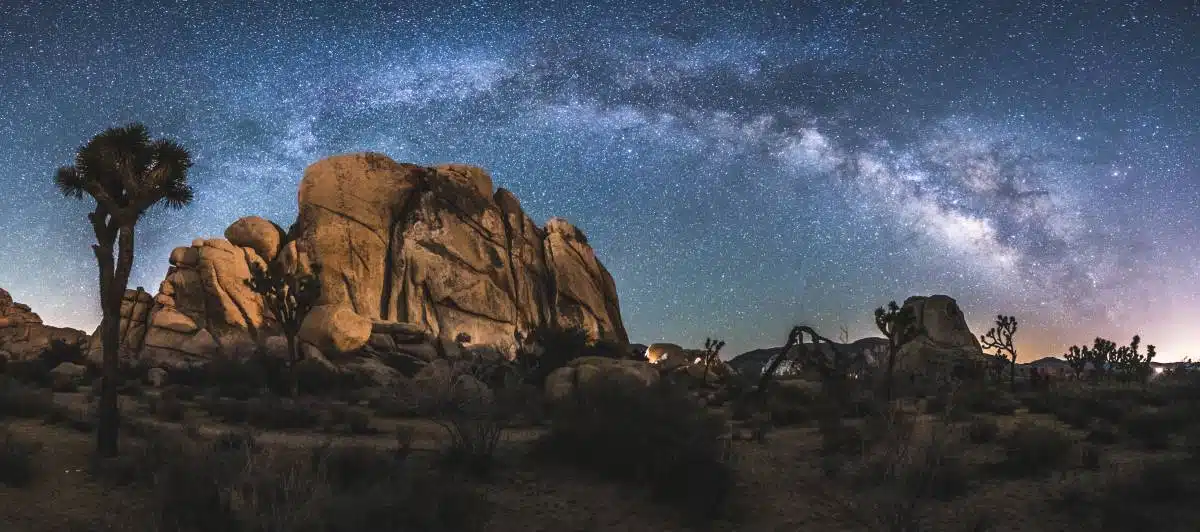 After your healing session, it's time to hit the streets of Joshua Tree (the town). Arriving here in the late afternoon, you can visit some of the local museums.
Opt for the Noah Purifoy Desert Art Museum for an outdoor affair, or head to the world-famous Crochet Museum.
End the evening in this charming town with a few culinary hotspots.
The Joshua Tree Saloon & Grill, which is actually older than the park itself, serves up the best fish tacos. While Pappy and Harriet's dish up authentic mesquite wood-grilled meat and fish options.
3 Days in Joshua Tree Itinerary – Map
3 Days in Joshua Tree: Read Next