Discover the best hotels near Antelope Canyon. An in-depth guide to where to stay on your Antelope Canyon trip.
Picture this: you follow a winding path carved between deep canyon walls – turning a corner to see beams of light pierce the gloomy darkness, bathing the walls in a golden hue.
Okay, can you picture it? That's Antelope Canyon in all its glory.
Look, I'm pretty sure I don't need to sell you on why you need to visit Antelope Canyon, but rather help you with the details of how you do.
Want to know where to stay near Antelope Canyon? While there aren't any hotels at the canyon itself, there are plenty of good picks in Page the surrounding area. Let's dive right in.
Best Hotels Near Antelope Canyon: At a Glance
Best Hotels Near Antelope Canyon, Arizona
Best Western View of Lake Powell
££
Lake Powell, Page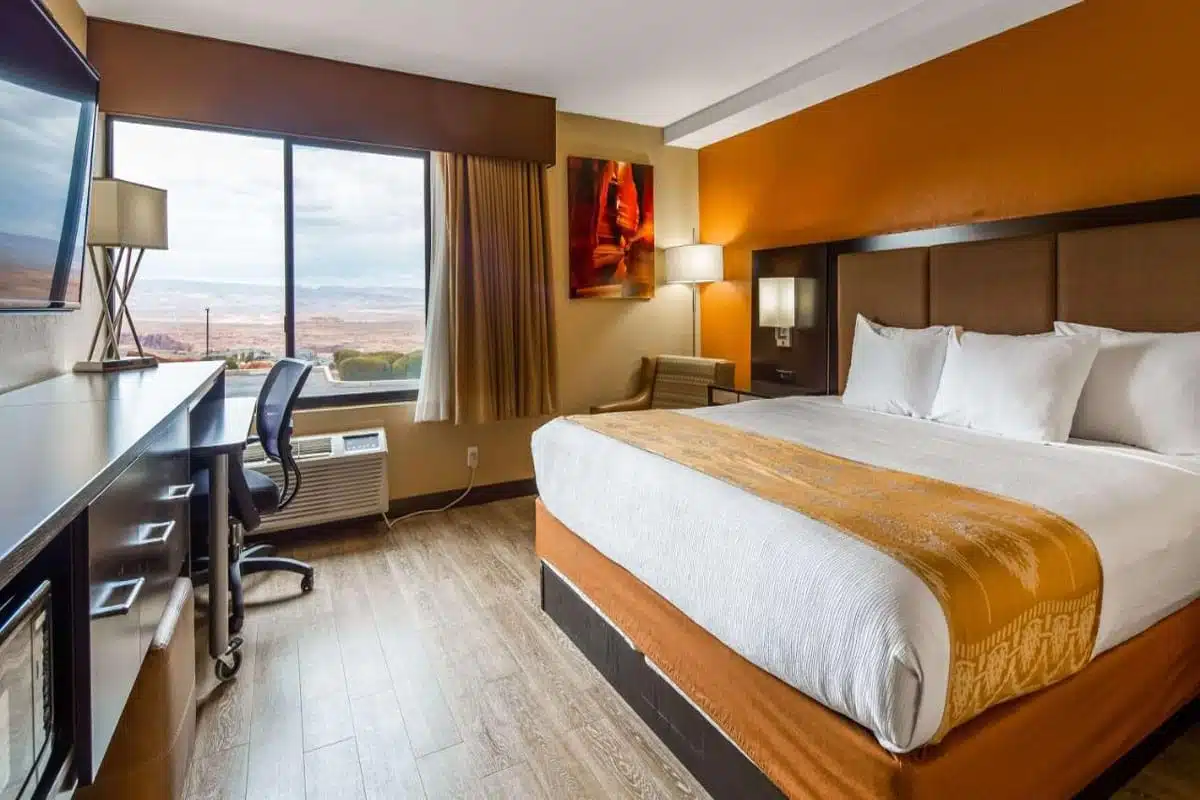 With breathtaking views of the city and a 10-minute drive from Antelope Canyon, the Best Western View Hotel is a fantastic option. Take in the sights of Glen Canyon Rim from your room, and indulge in a hearty breakfast every morning.
Now I know what you're thinking, what makes this Antelope Canyon accommodation any different?
The sun terrace is the perfect place to relax after a long day of exploring. And aside from the wonderful pool and wellness centre, there's also a golf course, bike tours, and billiards room.
I think it's safe to say the Best Western View Hotel is one of the best places to stay near Antelope Canyon.
Best Western Plus at Lake Powell
££
Lake Powell, Page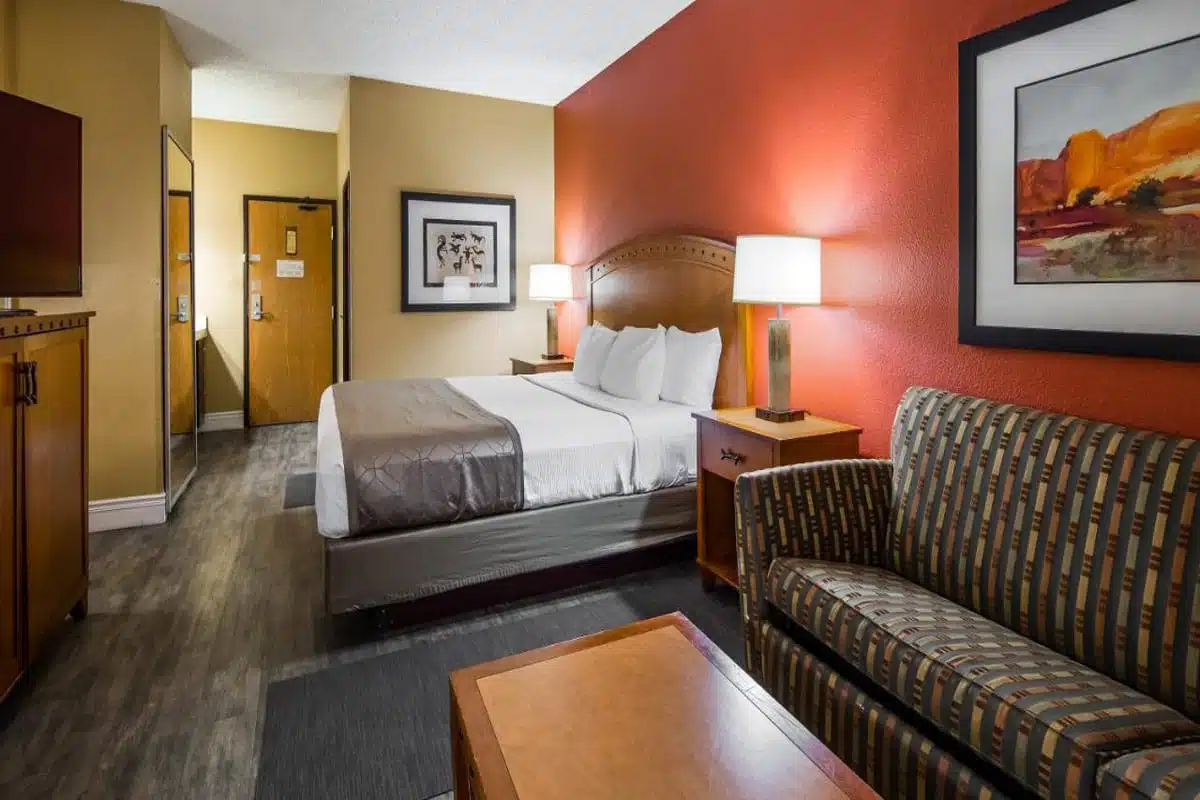 From one side of the road to the other, the Best Western Plus Hotel is another lovely lodging near Lake Powell. It's close to Antelope Canyon – just a short 10-minute drive.
Start your day with a feast at the breakfast lounge. After that, you can embark on some of the wonderful hikes in the surrounding area. If you want something a little more relaxing, take a look at the art gallery in the hotel.
You can take your pick from a cosy room with everything you need or splurge on a spacious presidential suite with a fully kitted kitchen. And after a hot day, the crystal clear pool is always there for a refreshing dip.
Comfort Inn & Suites Page
££
Lake Powell, Page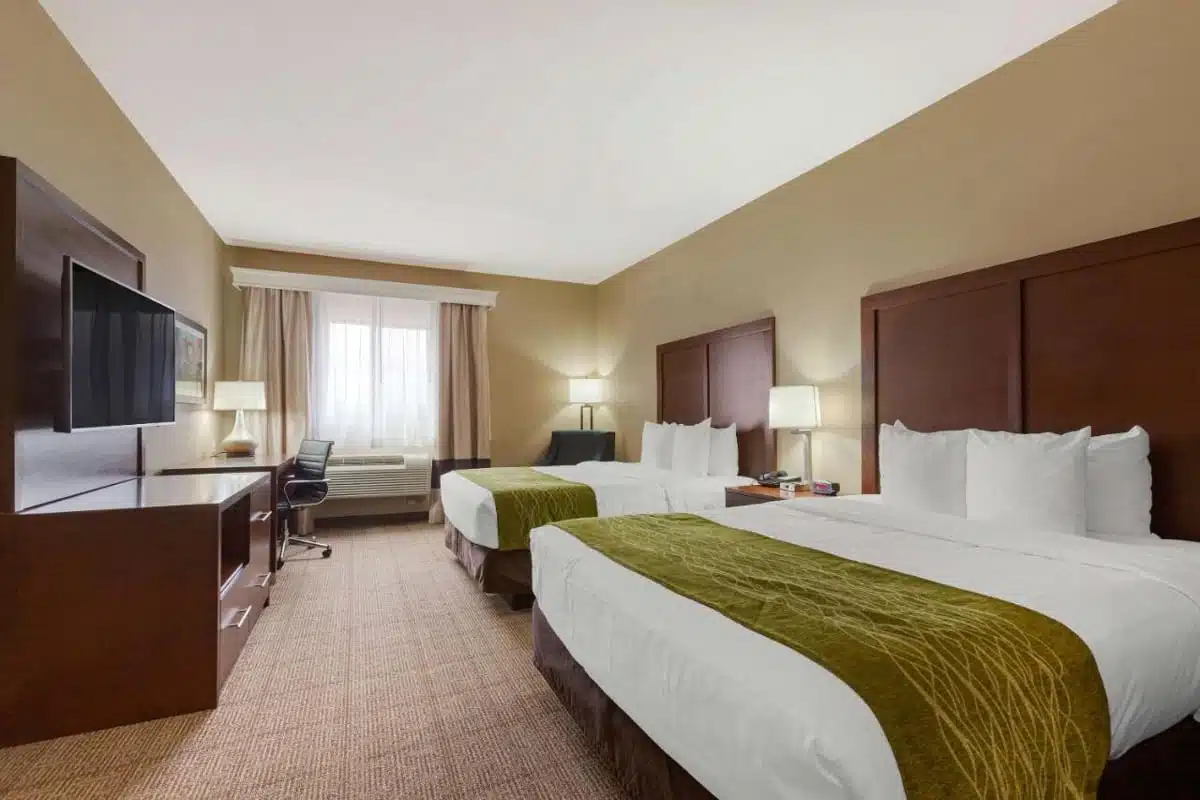 If you want a relaxing and reasonable-value stay, look no further than the Comfort Inn and Suites Hotel. This is another one of those hotels around Antelope Canyon that only requires a 10-minute drive from the geological landmark.
Not only is there an indoor heated pool, but there's also a hot tub for you to soak up some bubbles. The hotel also provides quick access to the Colorado River, where you can fish, hike, or enjoy some exhilarating water sports.
And to top it all off, the fuelling complimentary breakfast is the perfect way to start your day.
Country Inn & Suites by Radisson
££
Page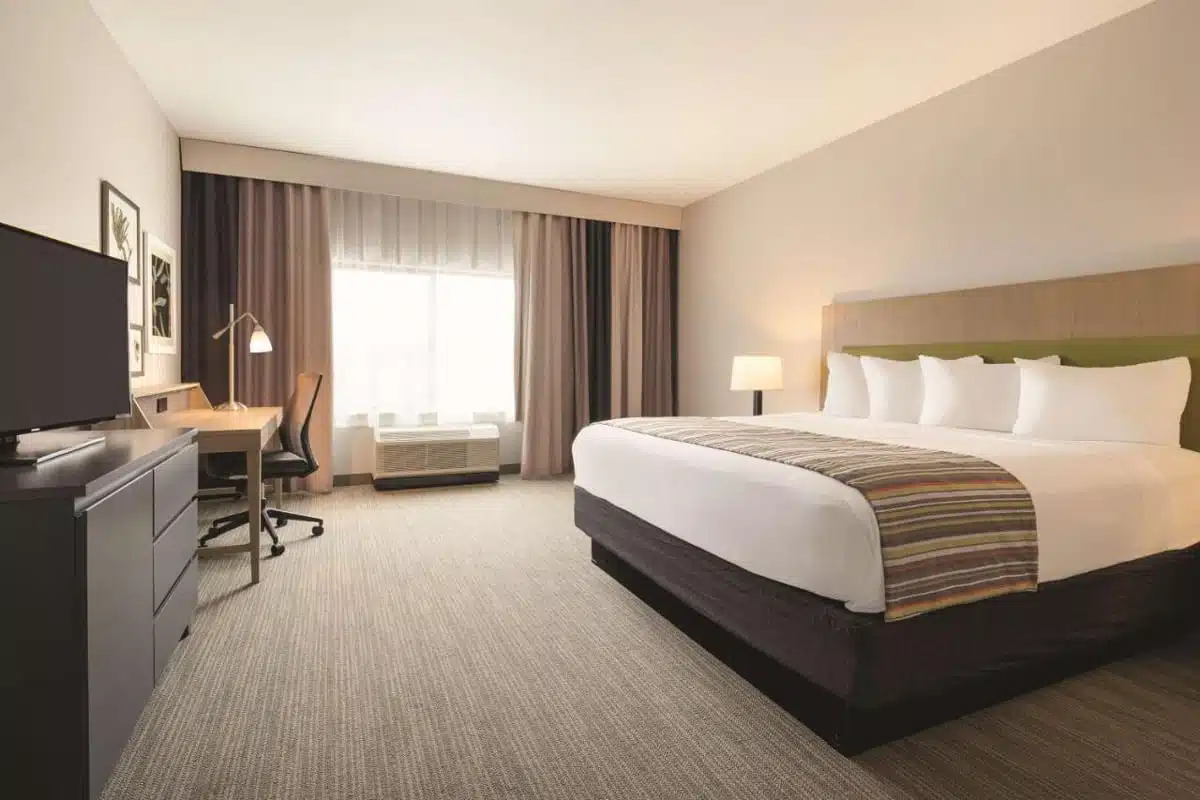 Looking for luxury hotels near Antelope Canyon? Well, the Country Inn and Suites by Radisson is a fantastic option at a reasonable price.
The minimalist style of this hotel provides elegance, and the unique features such as a business and fitness centre are lovely touches.
As for the rooms, the clean white linen pops against the grey-toned walls and wooden flooring. Each room is spacious, so you can kick back and relax, but if you're feeling chatty, there's also a bar with a shared lounge.
Hampton Inn & Suites Page
£££
Page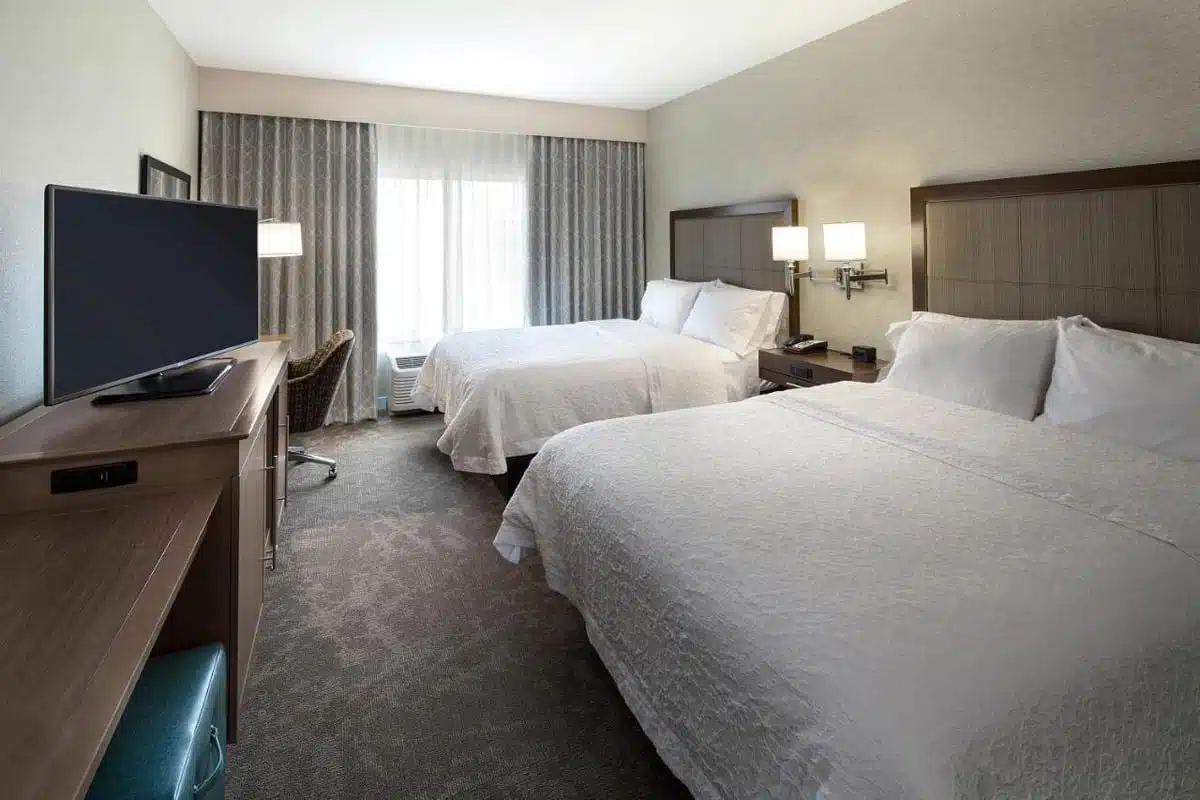 This list is not short of Antelope Canyon luxury hotels. The Hampton Inn and Suites, is a fantastic place to stay while in the area. Although there is a 15-minute drive to get to Antelope Canyon, the quality of the accommodation is second to none.
Aside from the usual luxury features like an indoor heated pool and hot tub, you can take advantage of the complimentary drinks, snacks, and travel necessities on offer.
The rooms provide spacious accommodation in a comfortable and plush environment, with soft carpeted flooring. And after a tiring day, there's nothing better than admiring the stars in front of an outdoor fireplace.
Rodeway Inn at Lake Powell
£
Lake Powell, Page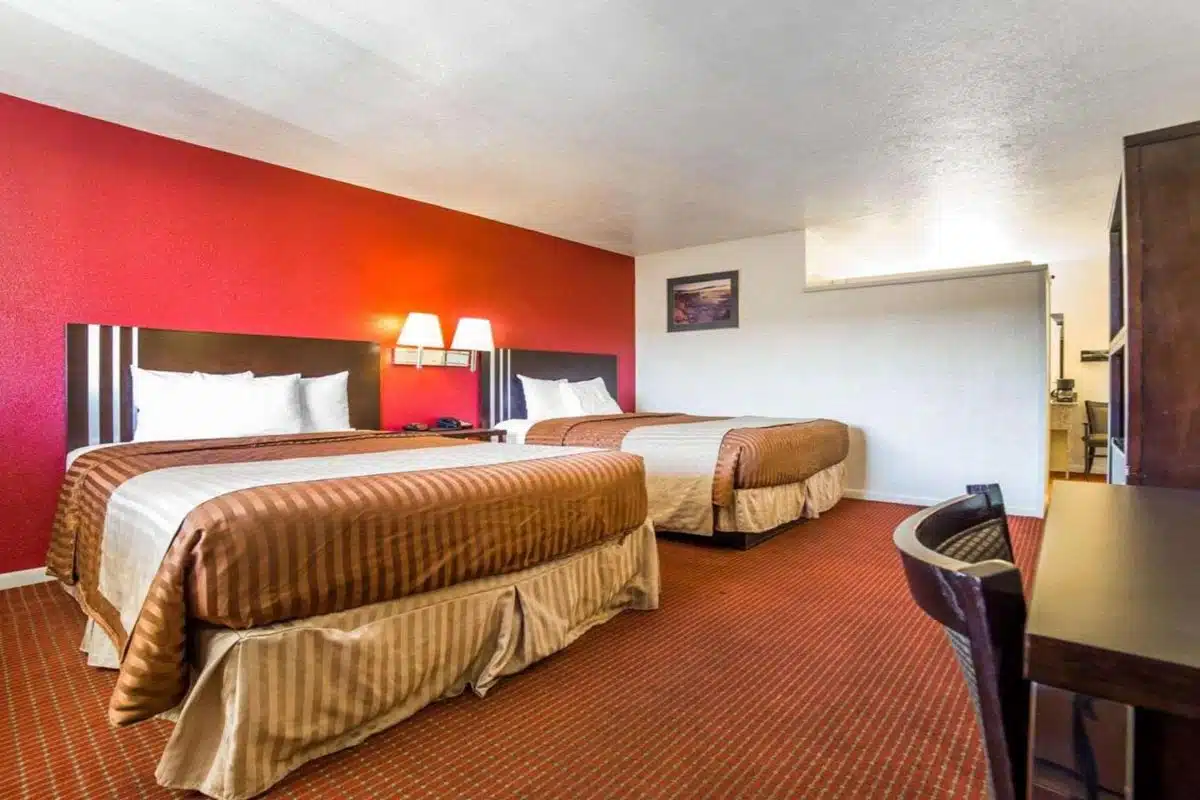 In Antelope Canyon, Arizona, hotels are not few and far between. But, if you want affordable lodging for a short trip, then Rodeway Inn is the place to stay. Only a 9-minute drive from Antelope Canyon, this simple yet elegant Inn provides a beautiful bean-shaped pool for relaxation.
Each room has a cosy atmosphere, with rich red carpets fit for a queen. The Inn can also organise tours for guests, so you won't have to worry about a thing. There is no food service here, but you're close enough to fantastic restaurants like the Great Wall and Little Caesars.
Sleep Inn & Suites Page
££
Lake Powell, Page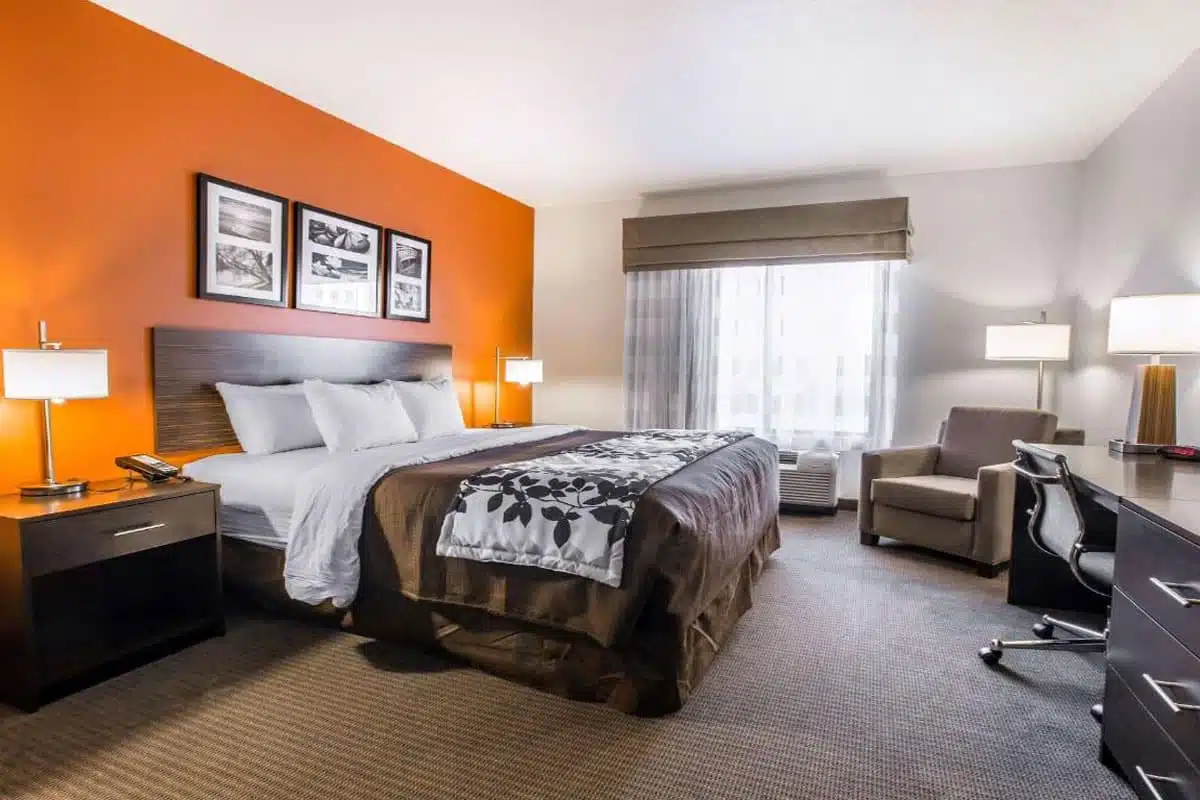 You can rest in comfort knowing the Sleep Inn and Suites provide luxurious stays at a very affordable price. Each room has a breathtaking feature wall in a colour that replicates the sandstone you'll see at Antelope Canyon, which is a short 13-minute drive away.
If the indoor pool and hot tub don't convince you to stay, try the delicious and complimentary continental breakfast. Well, I think that's a pretty good deal, and let me not forget that Butterfield SteakHouse is only a 5-minute walk away.
Super 8 by Wyndham
£
Lake Powell, Page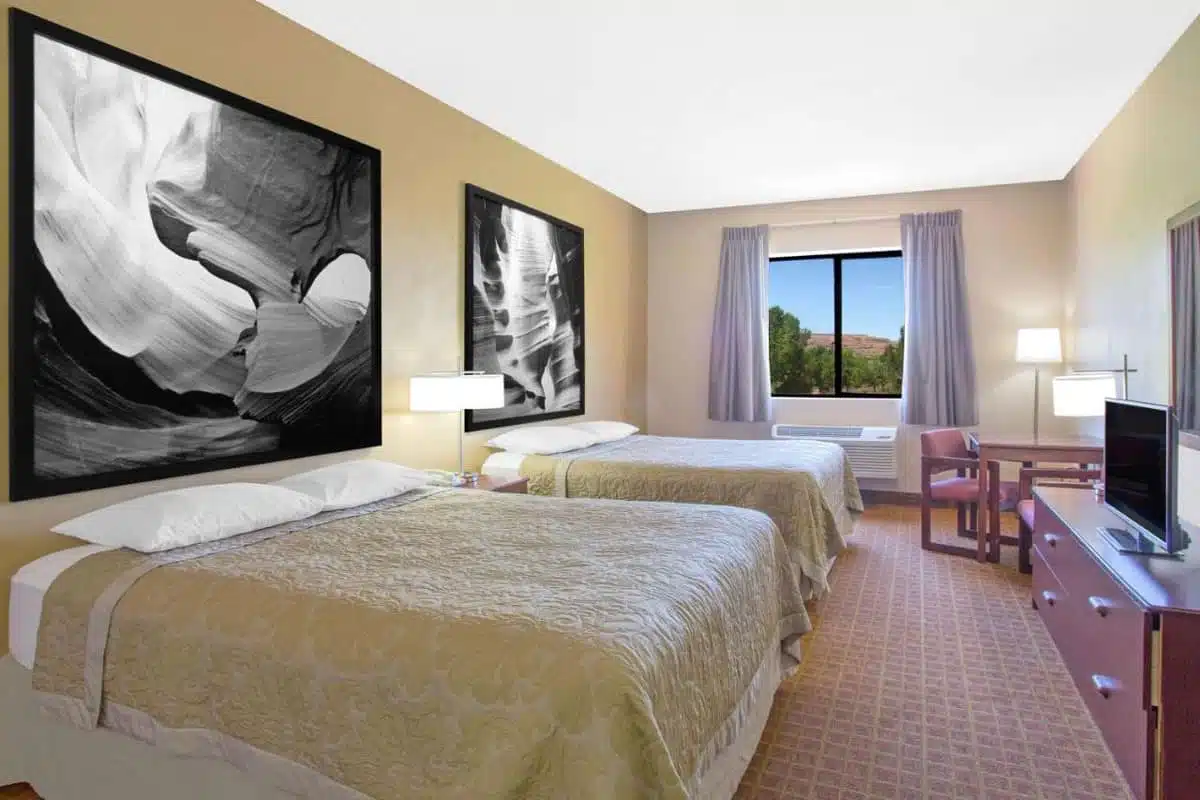 Don't think we're at the end just yet. Super 8 by Wyndham is a modern hotel with all the bells and whistles to make your stay unforgettable. It's one of the cheapest accommodations on the list and one of the few Antelope Canyon pet-friendly hotels in the area.
With a short 11-minute drive to Antelope Canyon and a 5-minute drive to Horseshoe Bend, you couldn't place this hotel any better. Although there is no restaurant at the Super 8, many fantastic options are nearby, such as the Canyon King Pizzeria or Mandarin Gourmet.
Tip: See Horseshoe Bend from the sky on this Lake Powell Helicopter Tour.
Shash Dine' EcoRetreat
£££
Page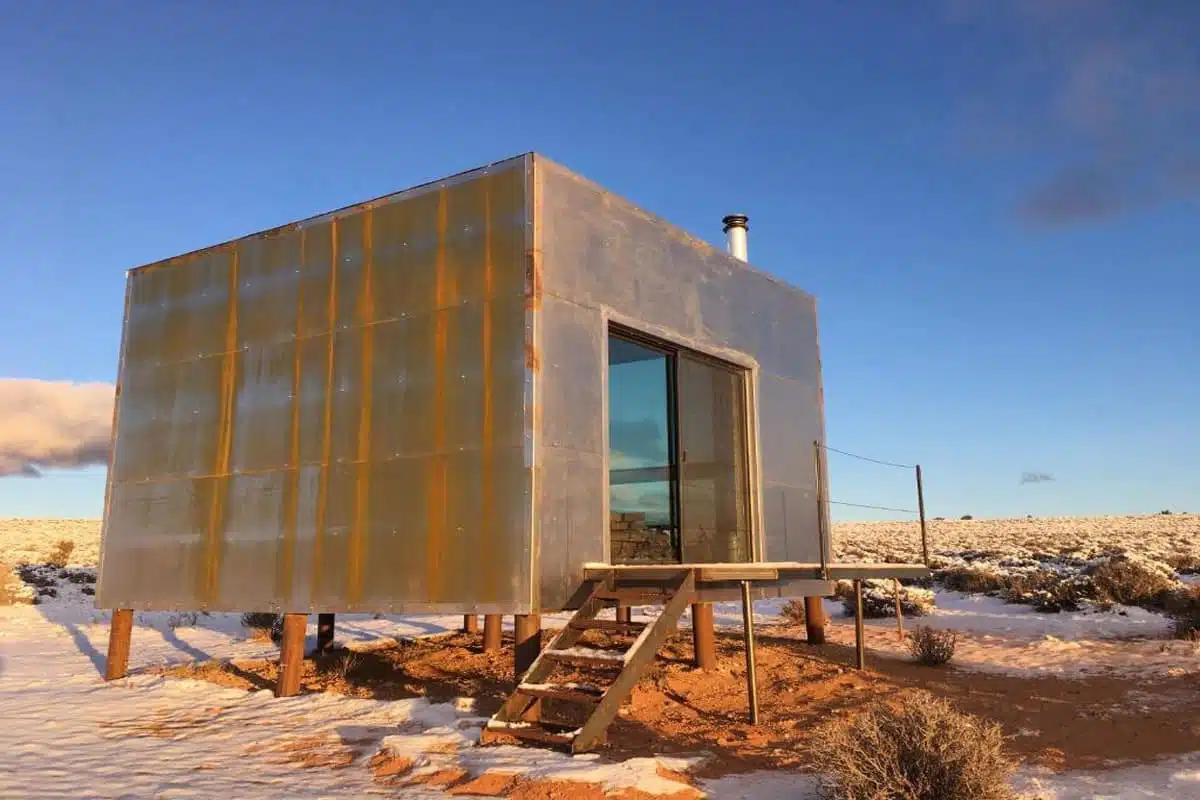 Now, for something off the beaten path. The Shash Dine' EcoRetreat is a modest accommodation with a whole lot of heart. Now you have to travel for 20 minutes to reach Antelope Canyon, but the sheer beauty of this hotel is excellent.
Imagine staying in an old wagon-turned-hotel room under the stars or a box-shaped room with everything you could need. Each room has its unique quirks, and the divine breakfast will make you wish you could stay longer.
Under Canvas
£££
Big Water, Utah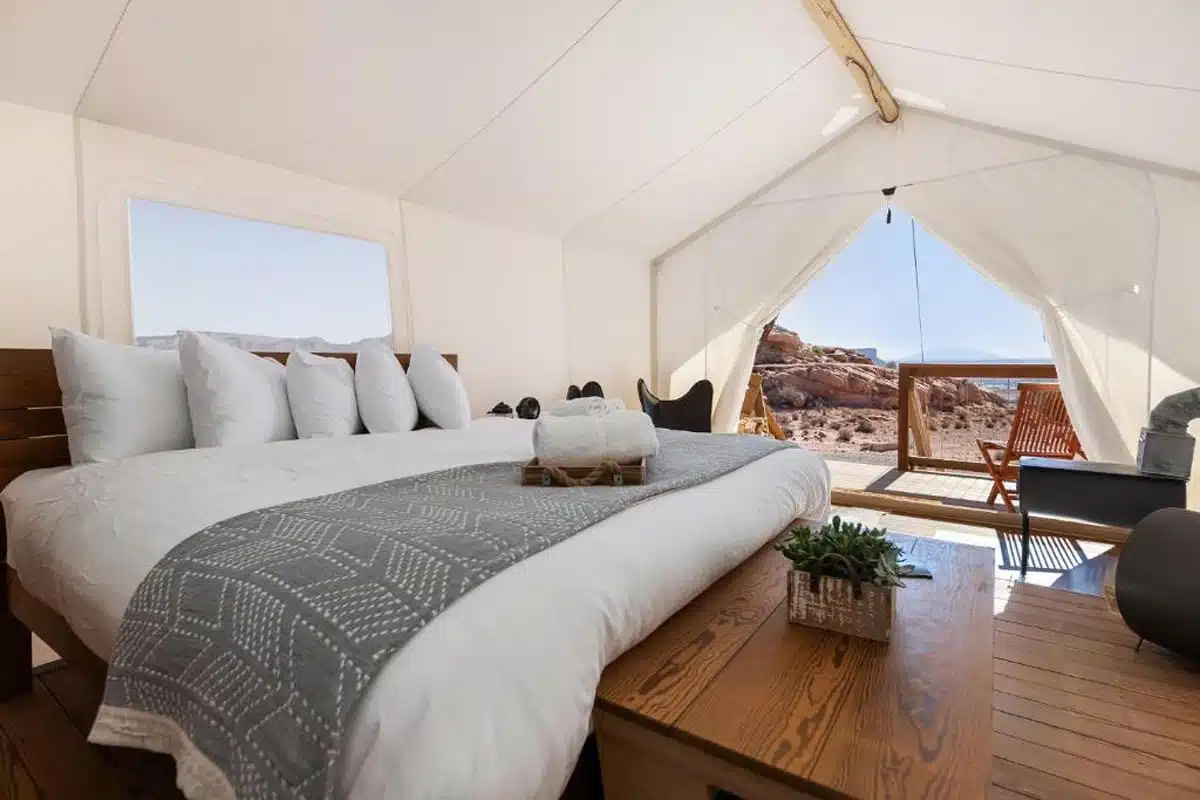 Keeping it rustic, Under Canvas in Utah provides a bespoke glamping experience that'll make you fall in love with nature. This is the furthest accommodation from Antelope Canyon – a 30-minute drive – but the views are second to none.
Picture the milky way casting an unforgettable painting in the sky as you sit around a fire and tell old folk stories. Then wake up to a delicious all-American breakfast in the morning. There are 50 permanent tents here, each with its own sun terrace, so you can take in the starry nights and rising sun in all their glory.
Best Hotels in Antelope Canyon: Frequently Asked Questions
Practical Tips to Consider Before Booking Your Antelope Canyon Hotel
Antelope Canyon is in a desert region with drastic weather changes. Pack light clothes during the day and warmer clothes for the night.
Use an online booking system. I love booking.com as it provides the best and most affordable options at your fingertips.
Arrive with a plan. It's always good to know your next move; this is where my 9-day Arizona road trip itinerary will come in handy.
Antelope Canyon Accommodation Guide: Map