Planning the ultimate Palm Springs hiking holiday? The dreamy desert oasis is blessed with a number of epic trails – these are the very best.
Palm Springs isn't just the playground of the rich and famous… It's filled with plenty of hikes that us normal folks can embark on too.
From expansive canyons to stunning cacti gardens, there are so many trails waiting to be explored. And I guarantee you'll love the desert city as much as I do.
Strap on your boots and get ready to discover the very best hikes in Joshua Tree.
Best Hikes in Palm Springs
Tahquitz Canyon Trail
Length: 1.9 miles (3 km)
Time: 1 hour
Difficulty: Easy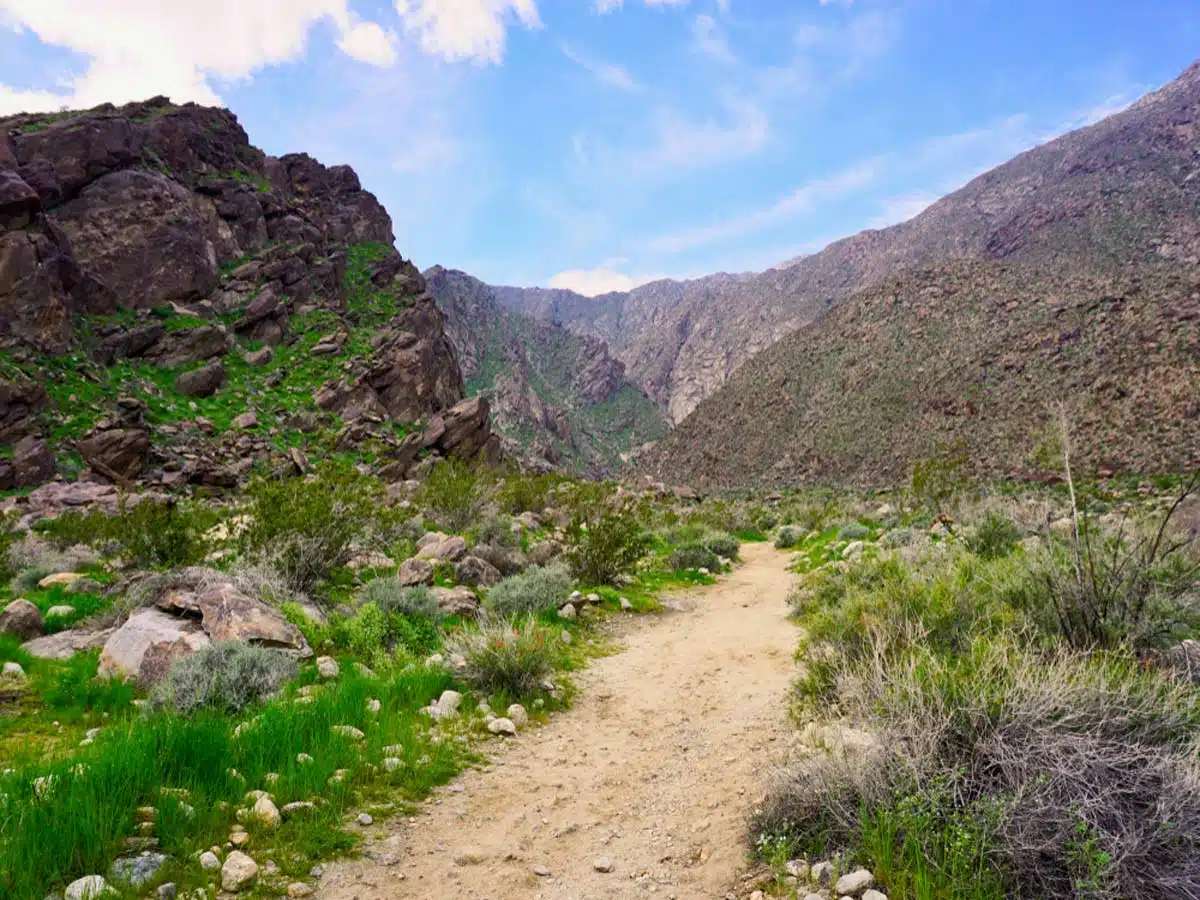 For those seeking hard treks, stay with me. However, if you're looking for a laidback stroll past streams and lush greenery, embark on this figure-eight-loop trail.
Thanks to its unique shape, you can tackle this easy trail in either direction, but I recommend beginning on the right fork.
This trail is jam packed with adventure as you cross Tahquitz Creek on an easy rock rope. Along the hike, you'll pass some fantastic sites, like one of the oldest villages in the Agua Caliente tribes.
You can also catch glimpses of rock art that date back thousands of years in the bedrock. And the occasional sycamore tree provides gentle shade as you admire the breathtaking scenery.
Andreas Canyon
Length: 1 mile (1.6 km)
Time: 30 minutes
Difficulty: Easy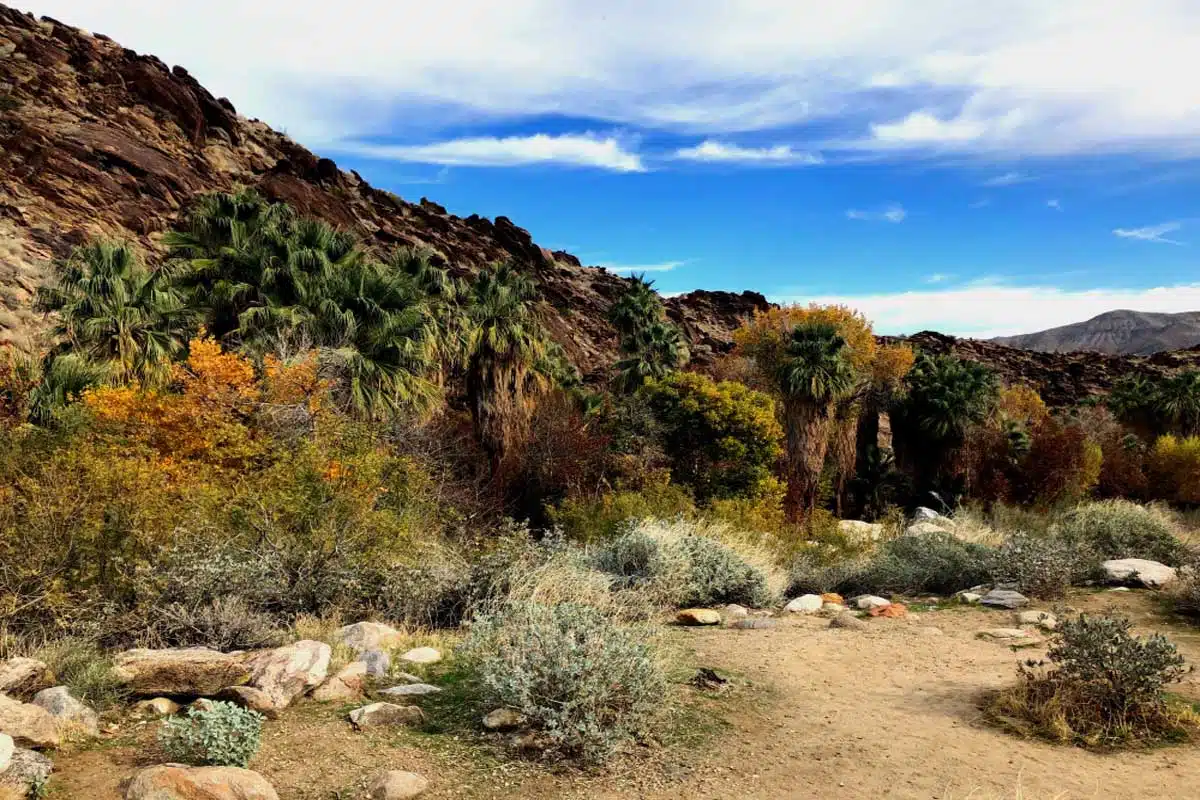 Bird lovers, keep your binoculars at the ready during this loop trail. It's a well-known bird sanctuary, as it's one of the wettest regions in Palm Springs – you'll see everything from hummingbirds to Cooper hawks here.
The walk is short, but you can easily spend hours admiring the diverse birdlife. You'll regularly get cooling gusts of wind from Andreas Creek, which hugs the trail.
Towering rock formations at the top of Andreas Canyon dominate the landscape. You may even get lucky (to be honest, I'm not sure that's the right word) and spot some turkey vultures eyeing their next meal atop the rocks – eeeeek.
Palm Canyon East Fork Trail
Length: 2 miles (3.2 km)
Time: 1 hour
Difficulty: Easy
This next option might just be my favourite, which is quite the accolade as I love so many Palm Springs' hikes. The trail takes you along a stream with impressive California Fan Palms. It's an out-and-back option, which you can enjoy with a gradual decline of 300 feet on the way back.
The Fan Palms stick out against the rocky gorges as you walk along the path. And the cool water offers spots to rest during the hike. Some rather funky metamorphic rock formations ordain the sides of the canyon and provide some exciting photo opportunities.
All in all, this is a relaxing hike – which you need once in a while – that provides bespoke views of Palm Springs' iconic trees.
Top Tip: If you love Palm Canyon, extend this hike into a harder 15-mile out-and-back trail.
Desert View Trail
Length:1.5 miles (2.4 km)
Time: 50 minutes
Difficulty: Easy
The Desert View trail offers a new perspective of California from Mount San Jacinto peak. During this loop trail, you'll pass through the dense pine forest along the side of the mountain.
There are five notches where you can admire the desert landscape below. I'll be honest, notch one and two don't have great views, but the valley opens once you reach the third notch.
Don't forget to snap a photo with the large rock in the background – it looks like a shark fin coming out of the mountainside.
Top Tip: You'll need to use the Palm Springs Aerial Tramway to access this hike. So book your tramway ticket in advance to avoid the crowds
Suggested Map
Cholla Cactus Garden
Length: 0.2 miles (0.4 km)
Time: 10 minutes
Difficulty: Easy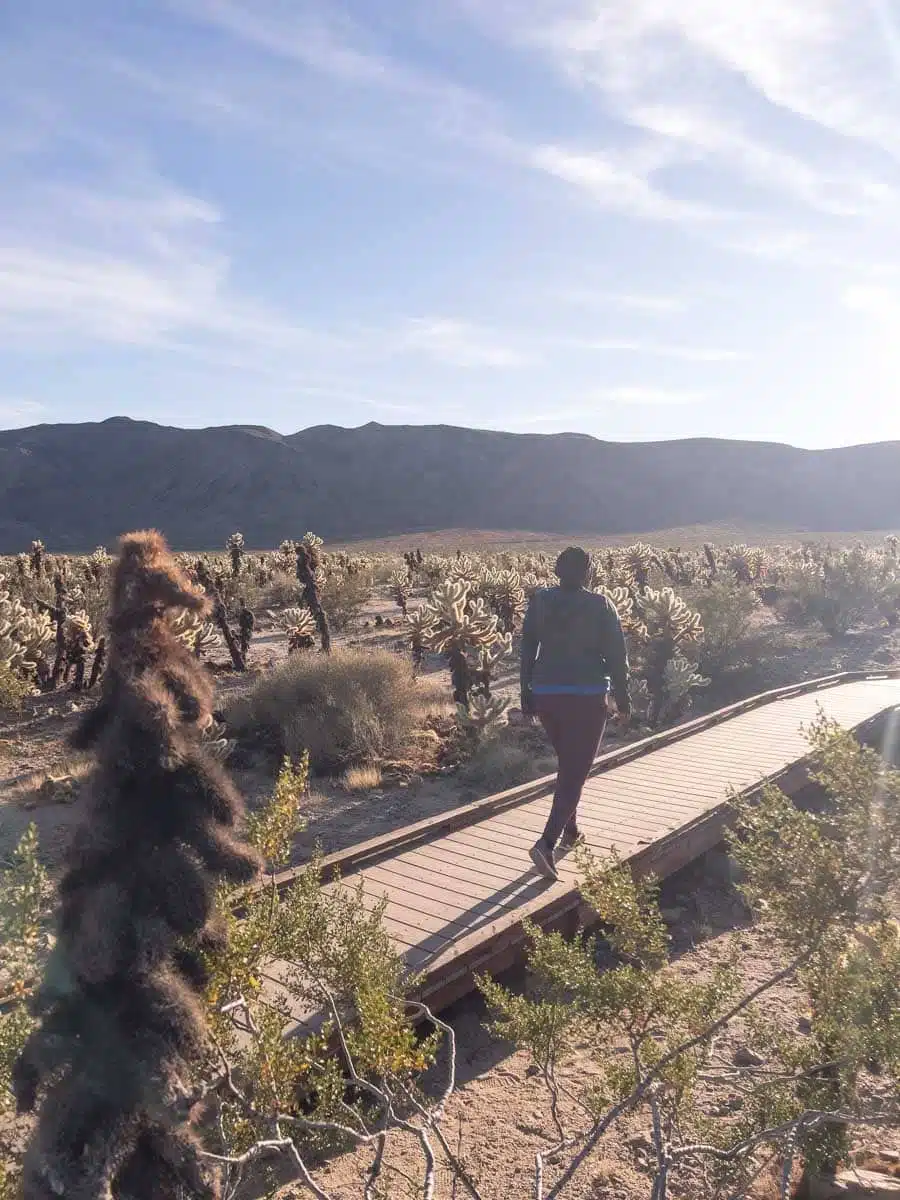 My favourite hike that's not really a hike. For an unforgettable day trip from Palm Springs, visit Joshua Tree National Park and walk this short loop trail. It'll take no longer than 10 minutes to complete, but walking amongst the field of cacti is something you simply can't pass up.
Get there early, so you can capture some Instagram-worthy sunrise shots. I don't recommend wandering off the trail, though, as these prickly plants tend to get stuck to people's clothes.
That said, exploring the Cholla Cactus Garden before the other hikes in Joshua Tree is a must.
Top Tip: If you visit between February and May, you can see wildflowers like Brittlebush and Desert Lavender amongst the Cholla cacti.
Victor Loop
Length: 2.7 miles (4.3 km)
Time: 1 hour 15 minutes
Difficulty: Easy to Medium
Hiking newbie? This is one of the best hikes near Palm Springs for a relatively new hiker looking to test their skills. The trek takes you through the different extremes of a desert region, from the dry canyon ridges to the oasis of Palm Canyon Creek.
You can take on this track in either direction, but I recommend starting on the left-hand side. This way, you'll get the difficult section done early.
You'll also reach the creek around the halfway point, where you can enjoy some cool water to the face and some shade.
Indian Canyon Hike, Palm Springs
Length: 3.6 miles (5.8 km)
Time: 1 hour 30 minutes
Difficulty: Medium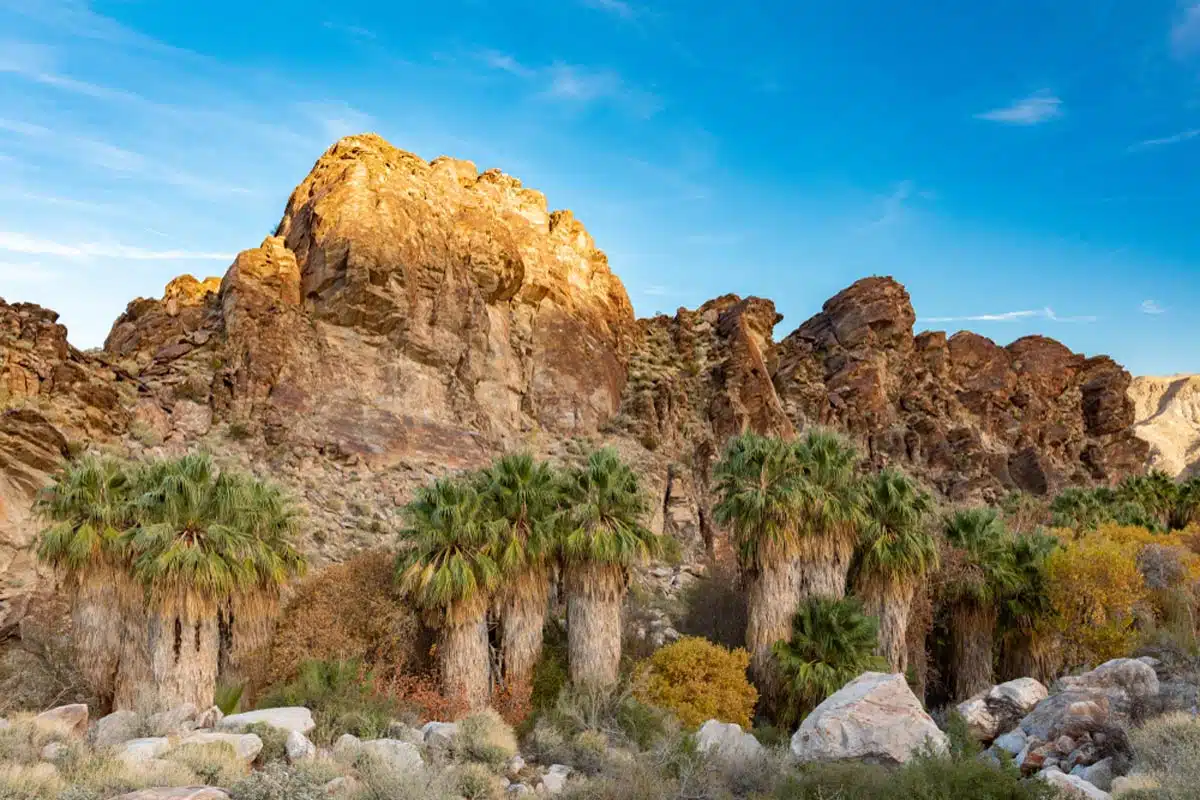 I've started you off with a few easier options, but the Indian Canyon hike is where things get a bit more tricky – mainly due to the elevation gain of 508 feet. The occasional stream pops up along the walk, but you'll mostly admire the rugged valleys of Indian Canyon.
It's also one of the few dog-friendly hikes in Palm Springs, so your furry family can join in the fun. You'll come across some ominous caves alongside the hike and get the occasional Fan Palm that provides some much-needed shade.
Ladder Hike, Palm Springs
Length: 4.4 miles (7.1 km)
Time: 2 hours 15 minutes
Difficulty: Medium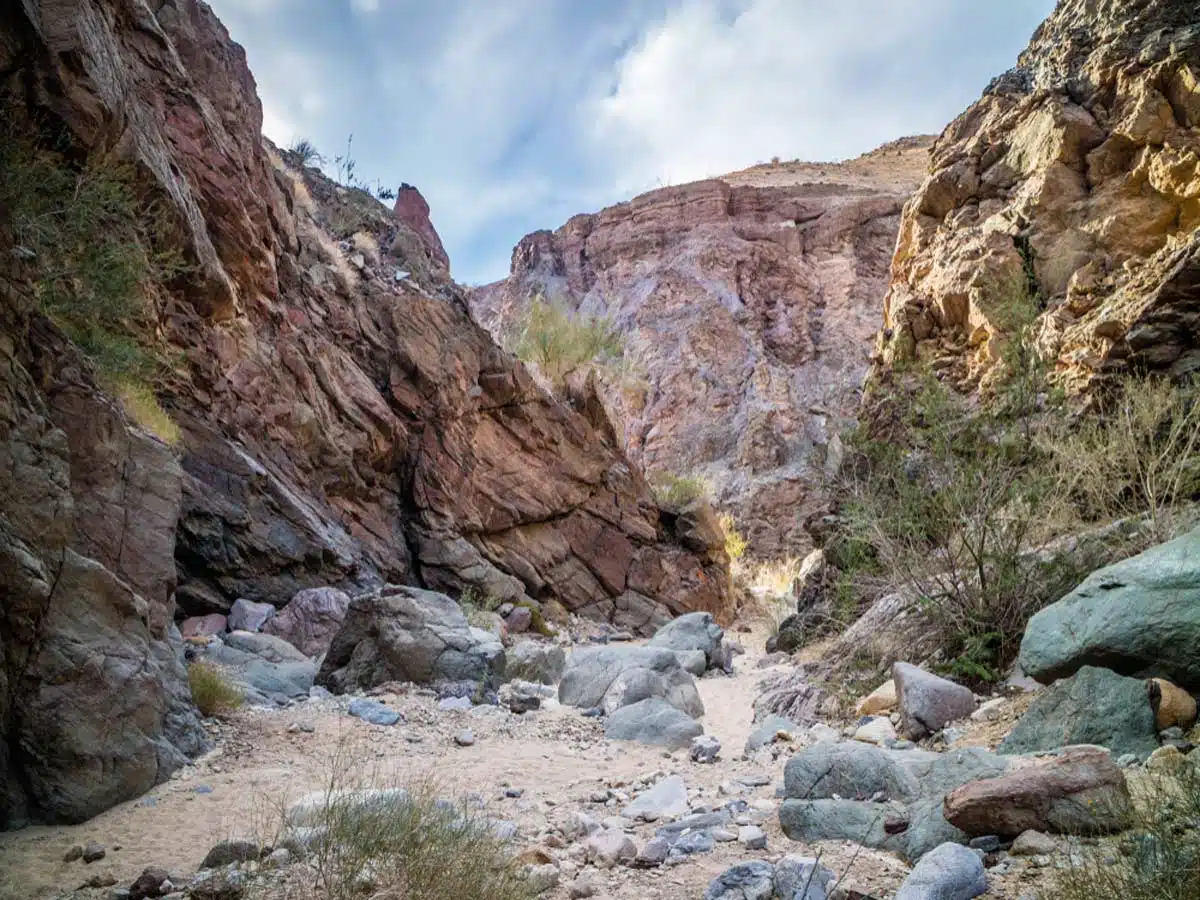 If you're afraid of heights, this hike isn't for you. But, if you want an adrenaline-pumping trail, you've got to try this one. You can explore this trail in either direction, but it's best to go clockwise, so you're climbing up the ladders rather than down them.
The trail takes you between the towering walls of a slot canyon, where you'll traverse six ladders along the way. And the fun doesn't end there, as the second half of the hike takes you through Big Painted Canyon.
Willow Creek Trail
Length: 5 miles (8 km)
Time: 2 hours 30 minutes
Difficulty: Medium
Fancy unforgettable mountain views and a refreshing forest walk? Thought so – hike the Willow Creek Trail. The elevation gain is 971 feet, so expect your thighs to start burning around the halfway point.
If you take this loop trail in a clockwise direction, you'll enjoy a gradual incline as you hike towards Round Valley. It's a popular camping and bird-spotting trail, so there'll be plenty of people along the hike.
You then hike downhill towards Hidden Lake, where pristine waters are a welcome site. The last part of the hike follows Long Valley Creek back to the trailhead.
The Berns Trail
Length: 5.4 miles (8.7 km)
Time: 3 hours
Difficulty: Medium
This is another lovely hike in Mount San Jacinto State Park with an impressive elevation gain of 1,489 feet. It starts as an out-and-back trail, so the only way is up. The route takes you along the semi-arid valleys of San Jacinto up to Cahuilla Peak.
Once you reach Cahuilla Peak, you can enjoy the short looped section of the trail around the valley side before heading back down. Although there's no stream to cool down on the way, this hike is well worth the trip, purely for the views.
The South Lykken Trail
Length: 8.8 miles (14.2 km)
Time: 5 hours
Difficulty: Medium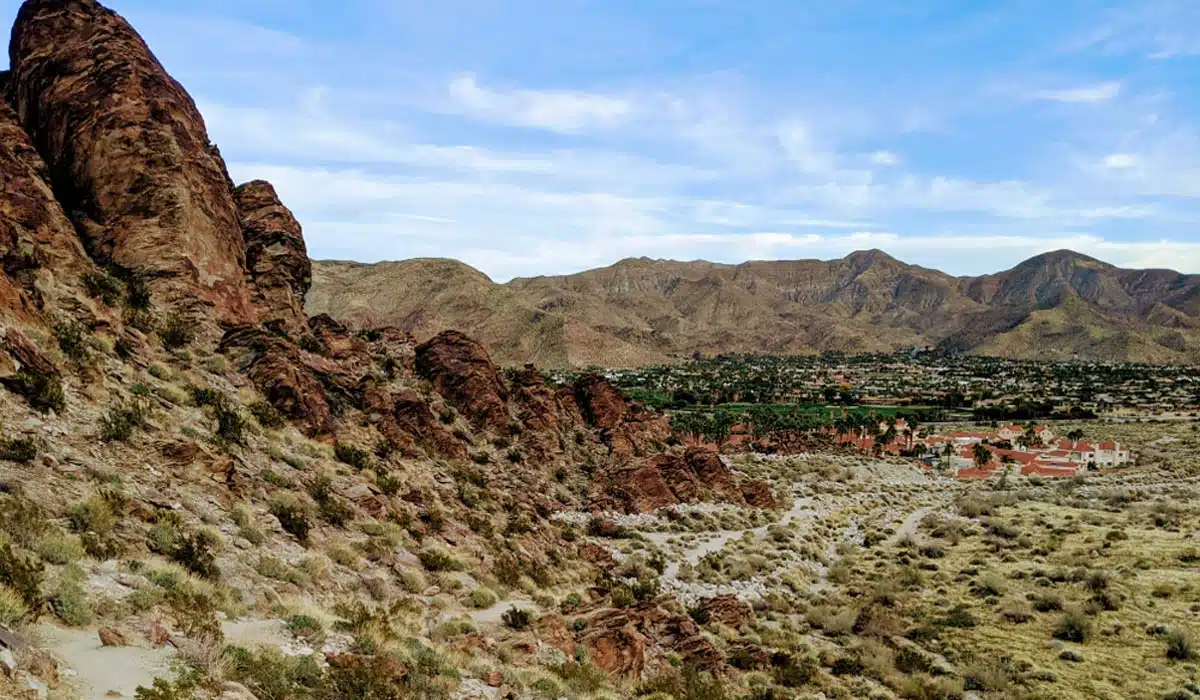 Enjoy this South Lykken out-and-back trail for a longer day hike that's still moderately challenging. It's not the shadiest of walks, but if you wear lots of sunscreen and a sunhat, you'll have a great time.
Trek along the eastern side of Agua Caliente, where Bighorn sheep are a relatively common sighting. A snap for the 'Gram is a good idea, too.
The elevation gain is a hefty 2,217 feet, so start bright and early to miss the midday sun and catch a lovely sunrise.
Araby Trail
Length: 4.1 miles (6.5 km)
Time: 2 hours 40 minutes
Difficulty: Medium to Hard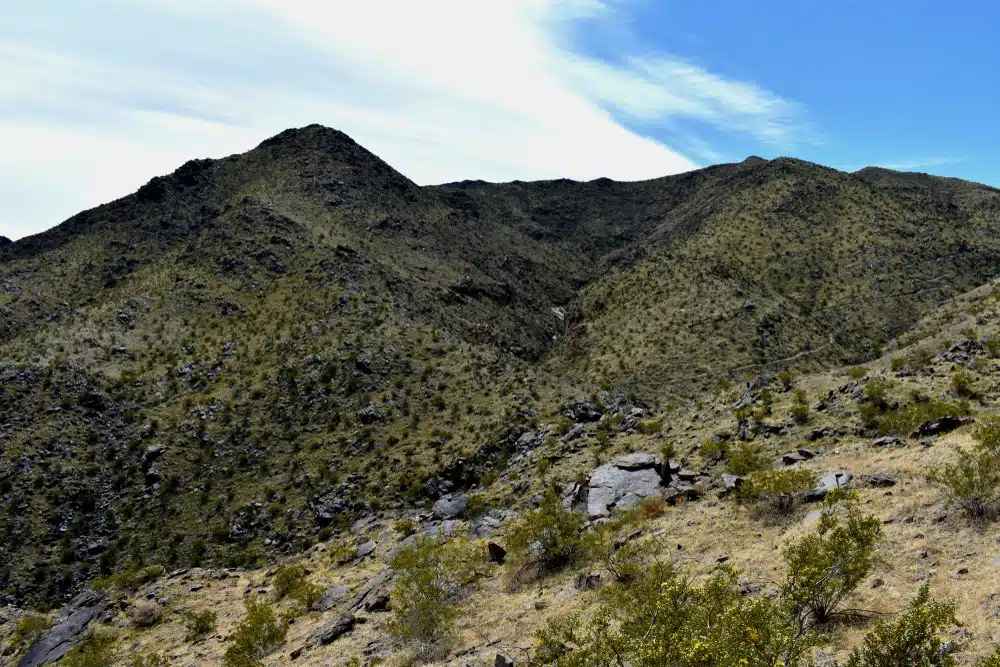 Although it's a short hike compared to other challenging trails, Araby has an insane elevation of 1,404 feet. This means the average gradient of the path is steep – so make sure you have boots with good grip.
It's an out-and-back trail, so the only way is up, but at least you'll have some reprieve on the way down. There are no streams along the way (bring plenty of water), but once you reach the summit of Cahuilla, you'll fall in love with the views.
The Cactus to Clouds Hike
Length: 21.1 miles (34.1 km)
Time: 13 hours 15 minutes
Difficulty: Hard
A Palm Springs hiking list wouldn't be complete without an epic day hike, and the Cactus to Clouds trail is probably the most impressive of the bunch.
Besides, why take a tram to the mountaintop when you can hike the path with the greatest elevation gain in the U.S. at 10,764 feet?
This hike is only for the most experienced hikers, so you need to know your limits. You'll pass some iconic landmarks like Flat Rock and Round Valley along the way. If you don't want to trek up, you can take the tramway to the top and hike down or vice versa.
Wellman's Divide
Length: 6.6 miles (10.6 km)
Time: 3 hours 30 minutes
Difficulty: Hard
Although this is technically a part of the Cactus to Cloud trail, you can always just hike this section. It's still a challenging hike, with an elevation gain of 1,558 feet, but it's a bit more manageable for those looking to put their hiking skills to the test.
This loop trail takes you through Round Valley and up to the iconic Wellman's Divide. At this summit, you can admire the pristine pine forests below.
And at the end of the hike, grab a bite to eat at the Peaks Restaurant – the views are majestic.
The Palm Springs Museum Trail
Length: 1.5 miles (2.6 km)
Time: 1 hour 30 minutes
Difficulty: Hard
Although very short, this is one of the most strenuous hikes in Palm Springs. It's a steep climb from the Palm Springs Art Museum to the picnic tables along the Skyline Trail.
Still have some energy at the summit? Hit the trail's pull-up bar and snap some iconic photos of you gyming it out at the top of a mountain. Pretty badass, if you ask me.
Word of warning: The rocky path with an elevation gain of 833 feet makes this trail so tricky.
Palm Springs Tram Hike (San Jacinto Peak)
Length: 11 miles (17.7 km)
Time: 5 hours 45 minutes
Difficulty: Hard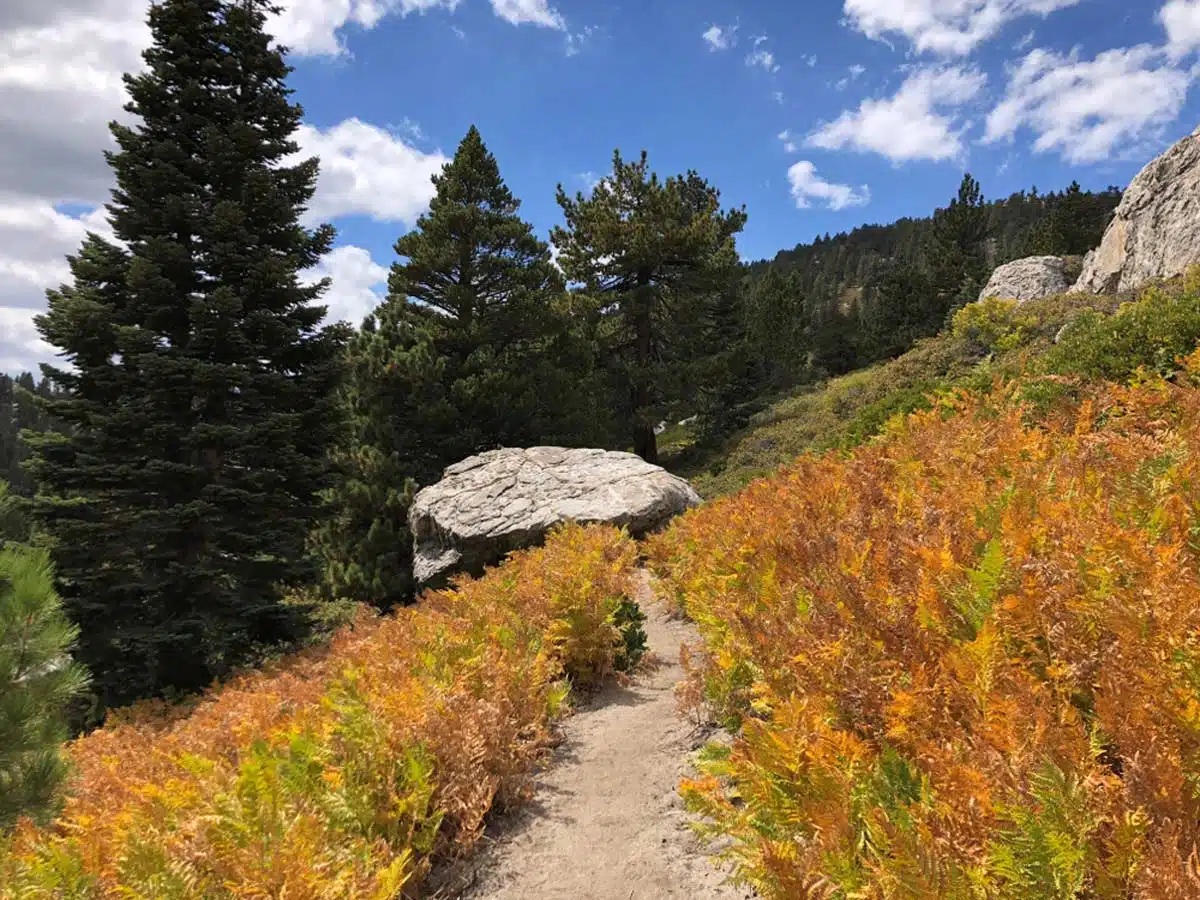 Feeling brave? This next hike is a tricky'un.
Take the Palm Springs tramway up the mountain to cut the Cactus to Clouds trail in half. From here, it's a heart-pumping 11-mile trek through pine forest and rocky terrain to the San Jacinto Peak.
Take my advice and hop on the tram up for unforgettable views of the rocky mountain and the rolling landscape below (not to mention, less effort on your legs).
Then it's a refreshing hike amongst towering pine trees before zigzagging your way to the summit. You'll feel on top of the world once you reach Southern California's second-highest peak.
Best Palm Springs Hikes: Practical Tips
Palm Springs is notorious for its wildlife, including bears and rattlesnakes. These dangerous animals hibernate during winter but are active between spring and fall. As a rule of thumb, always hike in groups and make lots of noise along the way. The noise will scare the bears and snakes away, while the larger crowds are more intimidating for bears. Carrying bear spray during your hikes in Palm Springs is also a good idea.
To make your hike comfortable, remember to have a good pair of hiking boots, a shady sunhat, a quality daypack, some strong sunscreen, and a handy water bottle.
Check out my guide to the top Palm Springs things to do for more inspo.
Hiking in Palm Springs: Map
Palm Springs Hikes: Read Next