Planning a getaway to Palm Springs and wondering where to stay? Have a look at these top picks of Palm Springs Airbnbs.
Boasting mid-century residential architecture, natural hot springs, and sunny weather, it's no wonder that Palm Springs is one of my favourite places to visit in California.
You'll be glad to know that the beauty of the city is reflected in its accommodation offerings too – from spaceships in the desert to mid-century apartments oozing with style, there are so many quirky places to stay.
And with so many things to do in Palm Springs, you may just stay longer than you initially anticipated.
When looking for accommodation listings, check out the new kid on the block: Plum Guide. This Airbnb alternative offers luxurious stays and ultimate relaxation.
Here are my top picks for accommodation in Palm Springs on Plum Guide and Airbnb…
Best Airbnbs in Palm Springs, CA: At a Glance
Top 12 Best Palm Springs Airbnbs
Desert Dome: Spaceship in the Desert
Situated in the warm Palm Springs plains, this three-bedroom apartment surrounded by windmills has stunning views of the Valley. The geodesic dome gives you 360-degree views of the mountains and Coachella Valley.
Each bedroom has a queen bed, walk-in shower, and expansive windows, giving you uninterrupted panoramic views. Set the room ambiance to suit your mood with an indoor fireplace and air conditioning system.
Other amenities you can indulge in include a hot tub, an outside patio, and a kitchen with stainless steel equipment.
Is it the most unique Airbnb Palm Springs has to offer? I think so.
Location: North Palm Springs
The dome sits in Northern Palm Springs, just a stone's throw away from Joshua Tree National Park and Downtown. You can explore a series of shopping boutiques and specialty restaurants.
Stardust Oasis: Colourful Living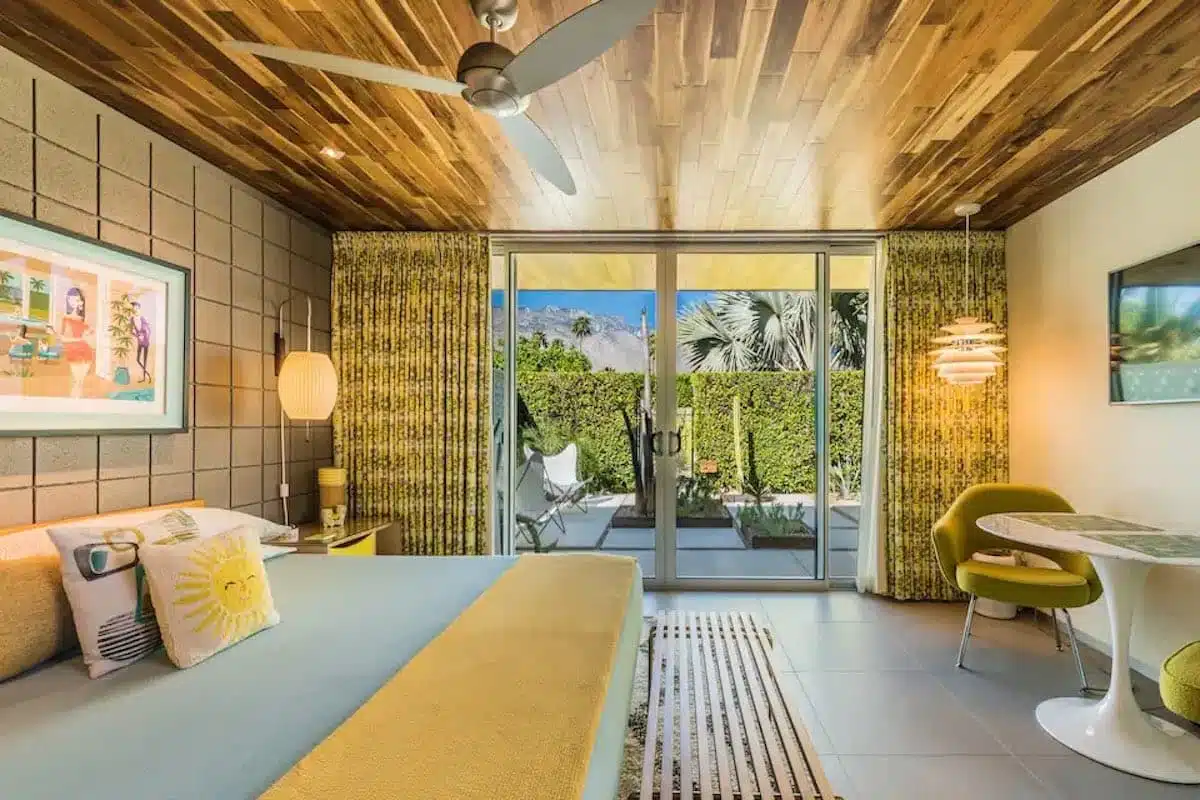 This mid-century Palm Springs Airbnb features contemporary furniture with colourful decor. The one-bedroom Palm Springs Airbnb with pool features a lush green backyard, and a fully equipped kitchenette.
You'll find a zen garden finished with lounge seats, a water fountain, and an outdoor shower by the patio.
Location: Ruth Hardy Park
Located just a few minutes away from the airport, Stardust Oasis is a perfect getaway for non-Californians.
Twenty-One Palms: Classic Mid-Century Getaway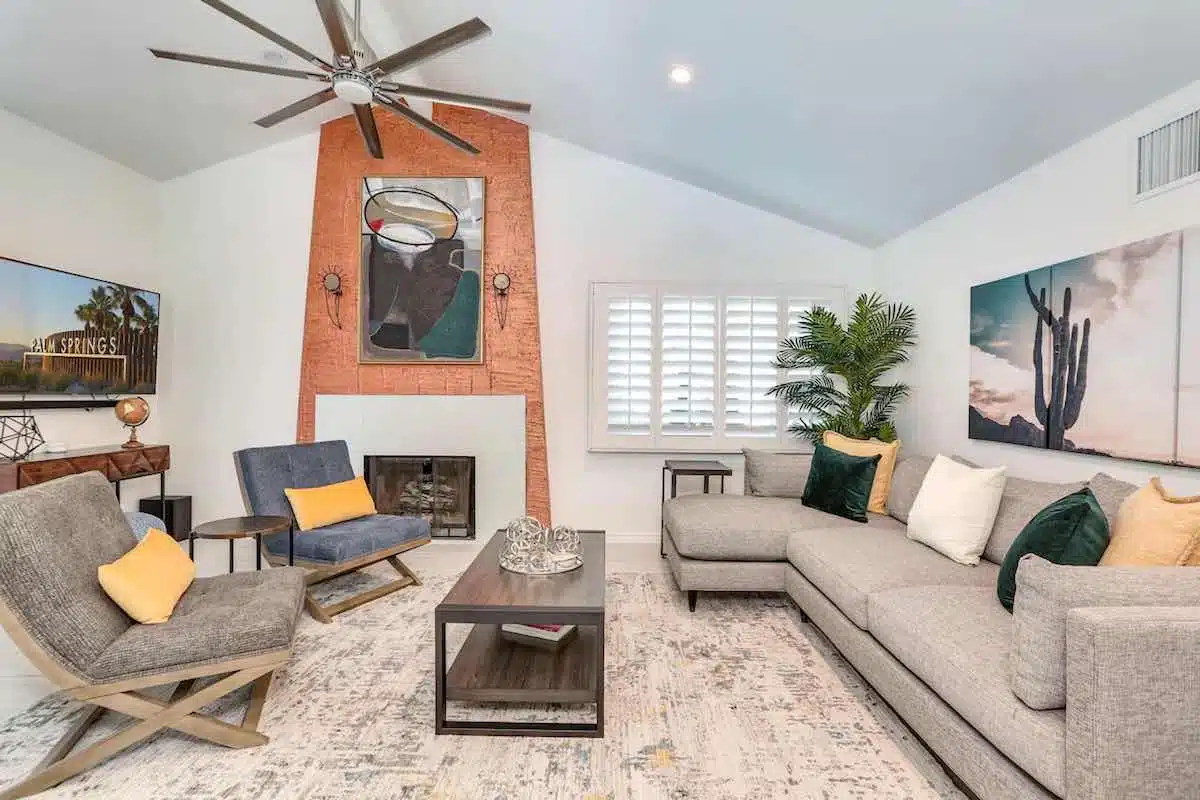 This quintessential mid-century home is perfect for a large group vacation.
The house has a spacious floor layout with three bedrooms, a lounge, and a swimming pool. Furnished with Scandinavian-inspired decor, the home is minimalist and has earth-tone interior finishes.
Spend your day playing games like foosball and connect-four in the sun-filled entertainment room. Prepare lunch or dinner on the back patio that comes with a BBQ gas grill and fireplace. Then wrap up your day with cocktail sundowners in the jacuzzi.
Location: Sunrise Vista Chino
Situated on E Via Escuela street, the house is a few miles from Downtown. Take a short drive to the CBD, where you'll experience local cafés, museums, and other activities.
Happy Days: Colourful Oasis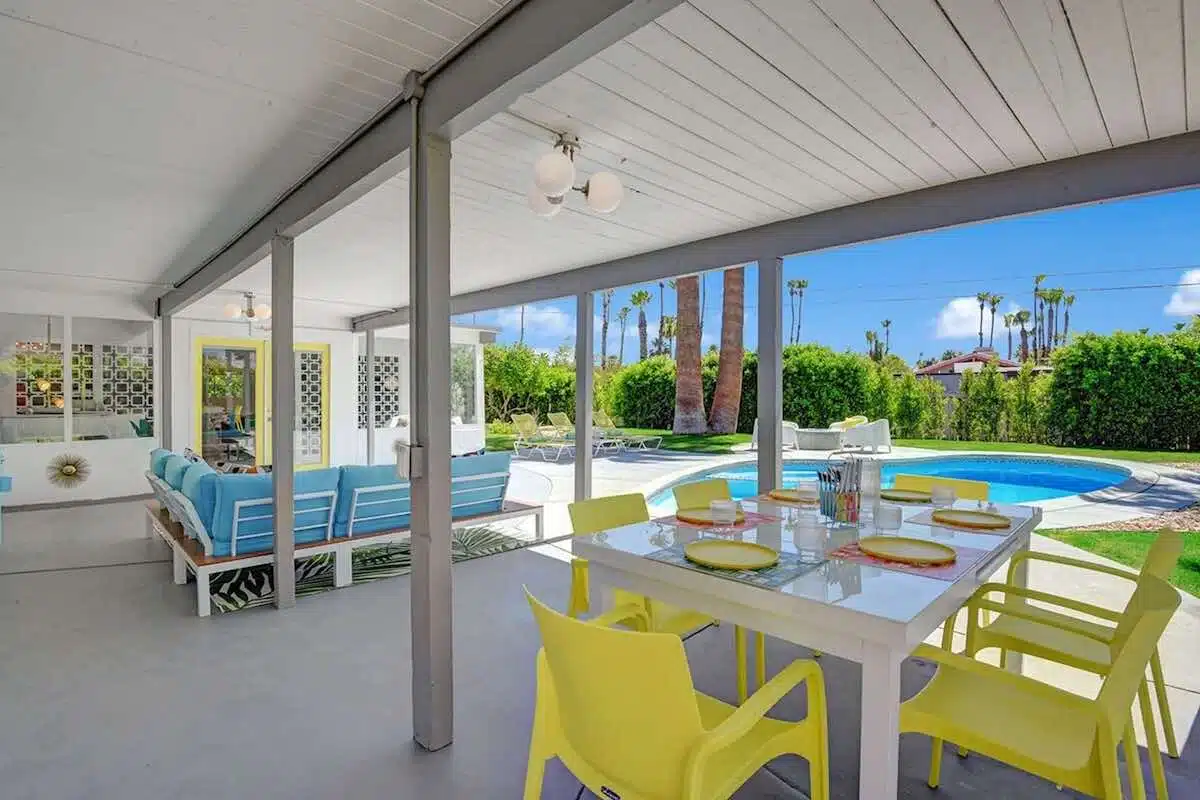 Nestled amongst palm trees, this modern home is in the heart of Palm Springs. The all-white house features yellow, green, and blue accents, providing a pop of colour in a dominantly minimalistic home.
Influenced by the 1950s, Happy Days is the perfect spot for relaxing on lazy days. Enjoy your meals on the outdoor patio before taking a dip into the crystal clear pool and laying under the warm Palm Springs sun.
Location: Sunrise Vista Chino
This home is in the centre of Palm Springs, just minutes away from the CBD. The colourful oasis is merely 12 minutes away from Palm Canyon Drive where you can go horseback riding and hike across the mountains.
Mid-Century Orange Bungalow: Funky Escape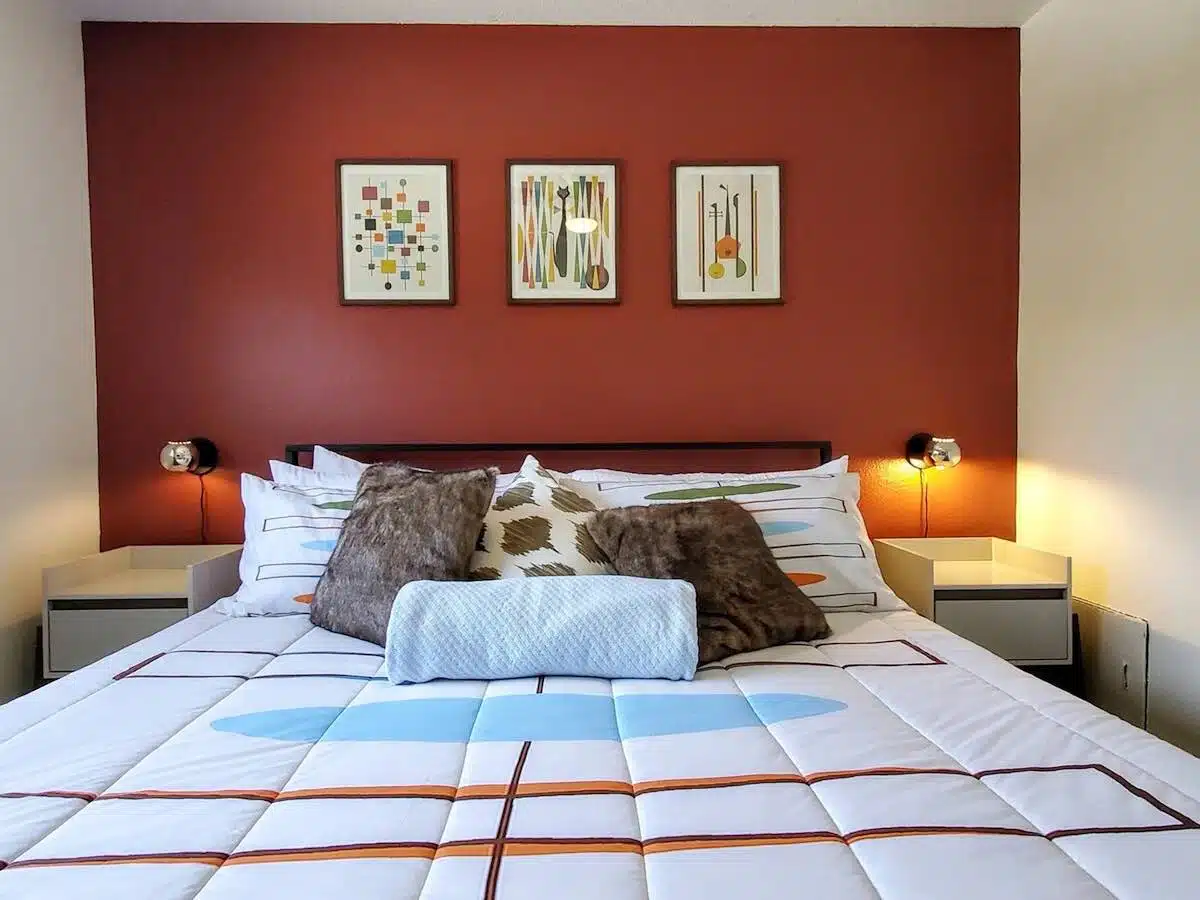 This mid-century Palm Springs Airbnb offers a striking contrast between the dark, understated exterior and the funky colourful interior. This three-bedroom home has dazzling modern decor finished with leather features.
Start your morning with yoga by the pool before hopping on a beach cruiser for some daytime adventure. The poolside is ideal for sipping a glass of wine and features a private terrace, BBQ grill, and firepit.
Location: Sunrise Vista Chino
The Palm Springs Airbnb is an orange bungalow nestled between palm trees. Just a stone's throw away from Hollywood, the city boasts majestic golf courses and desert landscapes.
Dreamy Desert: Turquoise Oasis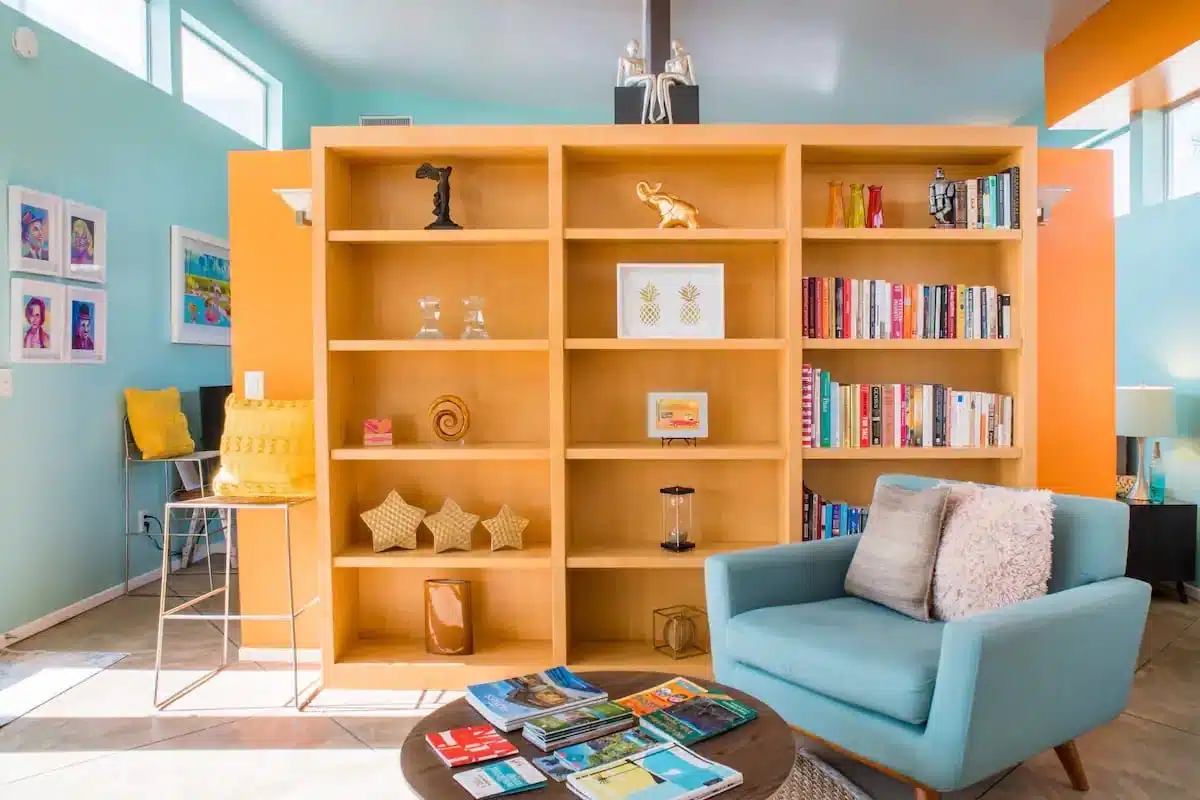 This beautiful home features yellow and turquoise accents that bring soft elegance and vibrance. The one-bedroom villa features a kitchenette, a full bathroom, and a study.
Outside you'll find a private patio, a hot tub, and a pool for enjoying the stunning view of the Palm Springs mountains.
Location: Sunrise Vista Chino
Located minutes away from the airport, this colourful desert oasis is the perfect Airbnb in California for catching red-eye flights. The neighbourhood is just a short drive from Sunmor Dog Park, so bring your furry friend along.
Smooth Move: Desert Oasis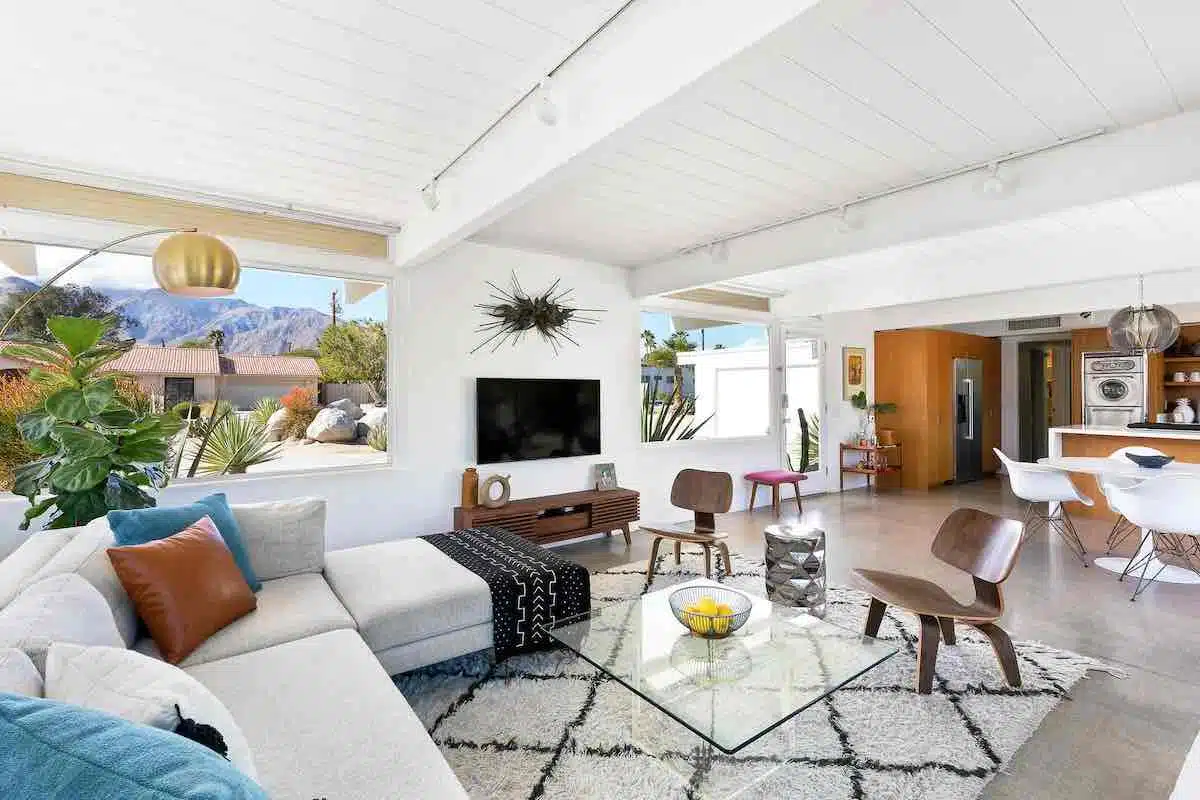 The Smooth Move offers a Southern Californian vibe with vintage decor creating a nostalgic feeling. The two-bedroom home features large windows throughout the living areas, creating a sensational indoor-outdoor feel.
The house has a free-flowing floor plan that opens up onto the terrace, where you can enjoy your morning coffee. Cool off from the warm climate by jumping into the saltwater pool, and spark up the outdoor fireplace or sit in the jacuzzi to keep warm in the evenings.
Location: Sunrise Vista Chino
The home, surrounded by mid-century landscapes, has stunning features and views of the San Jacinto Mountains right from the backyard.
Agave Universe: Pink Affluence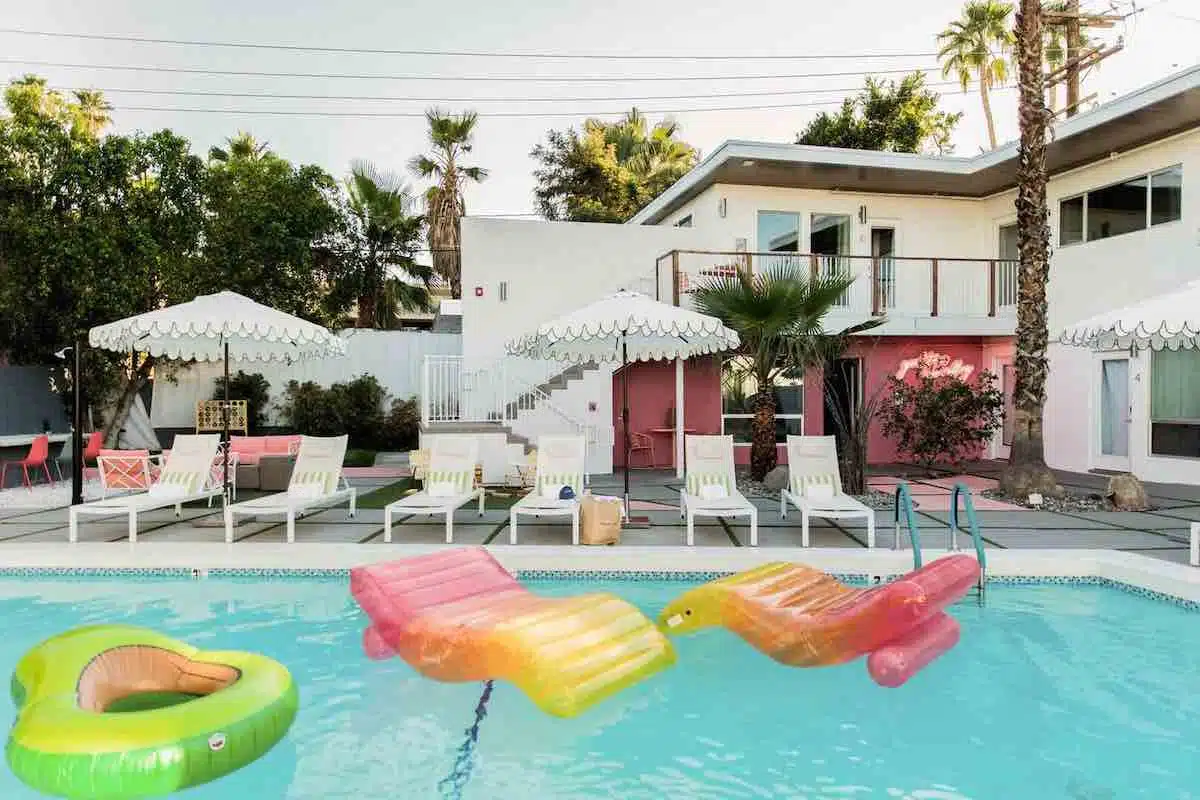 This modern home features ten-bedroom studios. Each comes equipped with private bathrooms, kitchenettes, and a patio with a gas griller perfect for intimate meals under the open sky.
Embellished with pink furnishings, the agave universe is ideal for a romantic couple's getaway or honeymoon. Each studio has a retro-chic decor featuring details like record players and rotary phones, making it one of the most unique Airbnbs in Palm Springs.
Location: Tahquitz River Estates
Located in the beautiful Tahquitz River Estates, the home is minutes south of Downtown and provides free bikes to explore the neighbourhood's mid-century architecture.
Mountain Shadows: 1960s Glam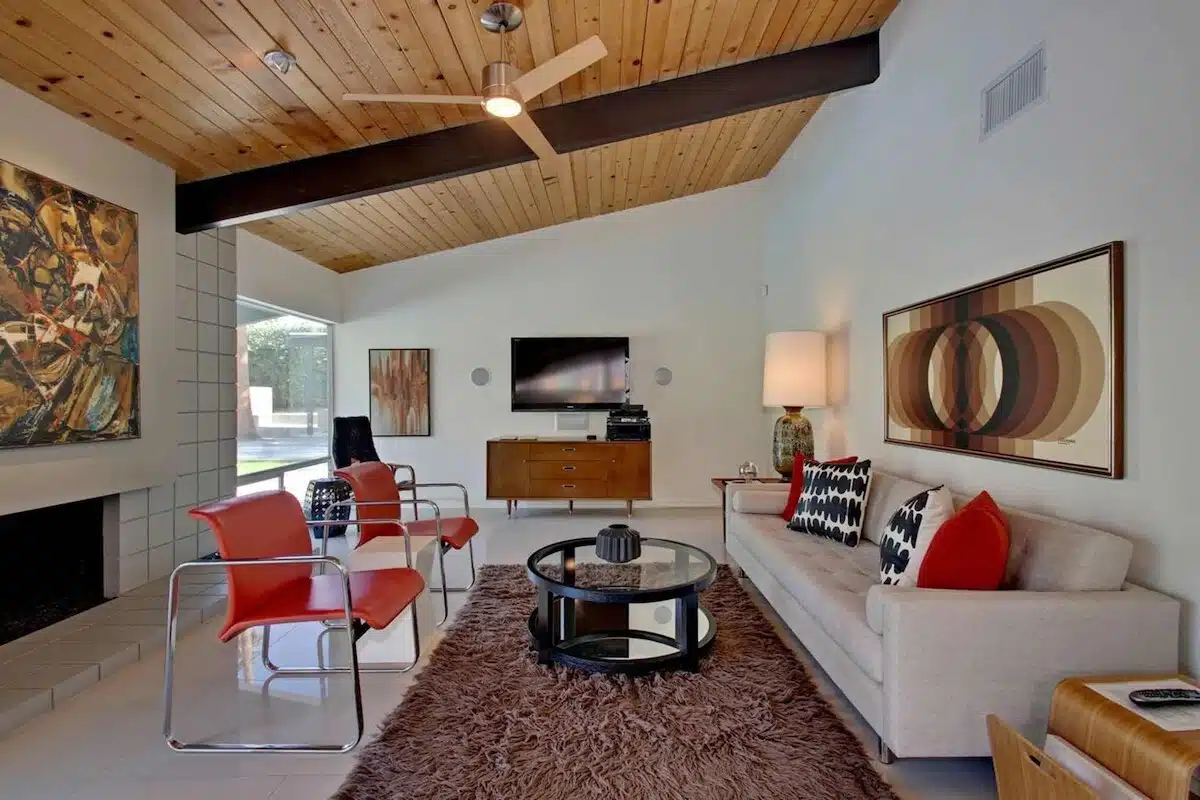 This three-bedroom home offers eclectic-style decor with exposed beams and modern furnishings. The wooden accents and large glass doors give a modern twist to the 1960s house.
The Palm Springs house with pool also features a hot tub and a Bocce court perfect for lazy days. Explore Coachella Valley, filled with golf courses and hiking spots, for an adventurous outing.
Location: Vista Las Palmas
Located in north-eastern Palm Springs, this multifaceted home features floor-to-ceiling glass doors.
Mesmeria: Elegant Palm Springs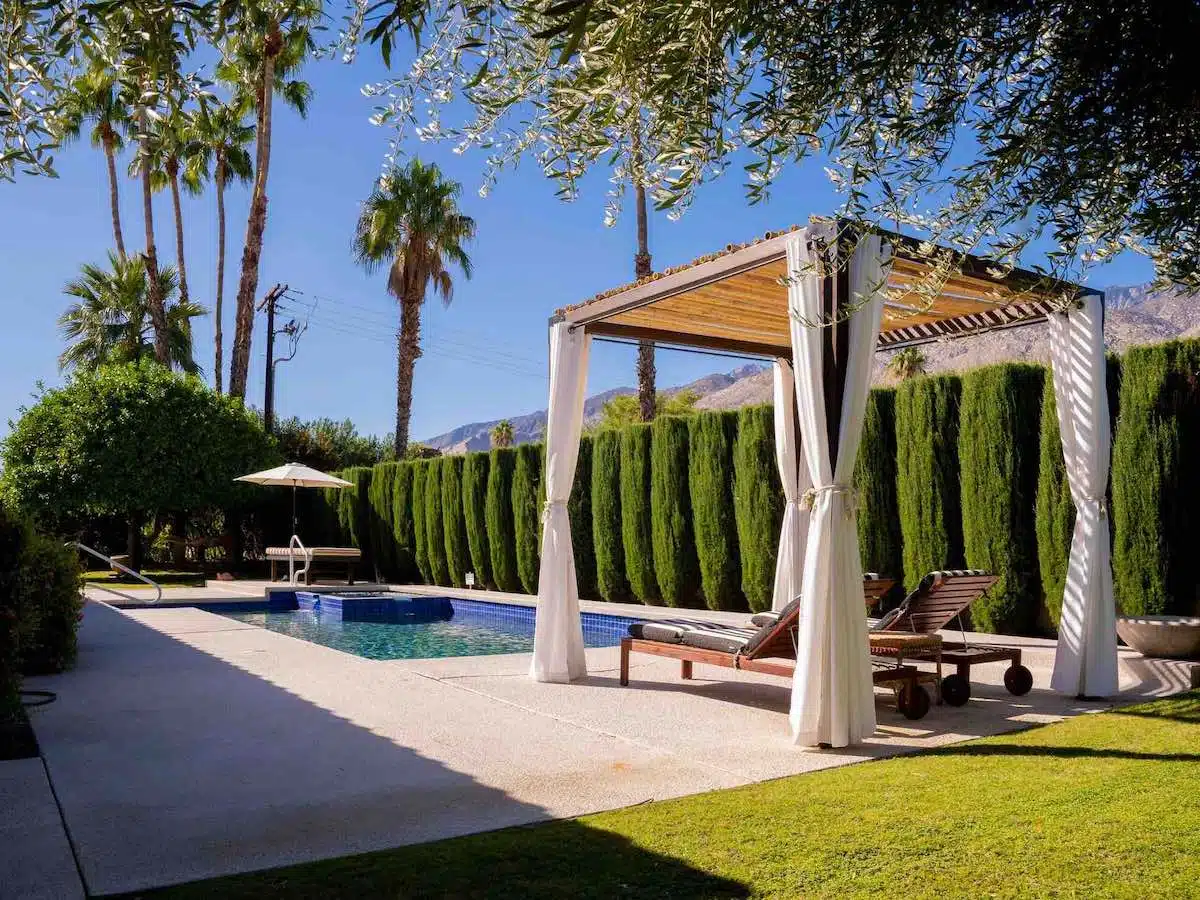 The Mesmeria features hammocks, poolside cabanas, and tall lush hedges. The modern-decorated home has colourful finishes and rustic accents.
This Palm Springs house with private pool features a patio, an outdoor kitchen, and stunning views of the mountains.
Location: Sunrise Vista Chino
Mesmeria is in north-western Palm Springs. Just a few minutes away from Downtown, you can enjoy a range of specialty shops and restaurants.
Paradise Casita: Retro Art Oasis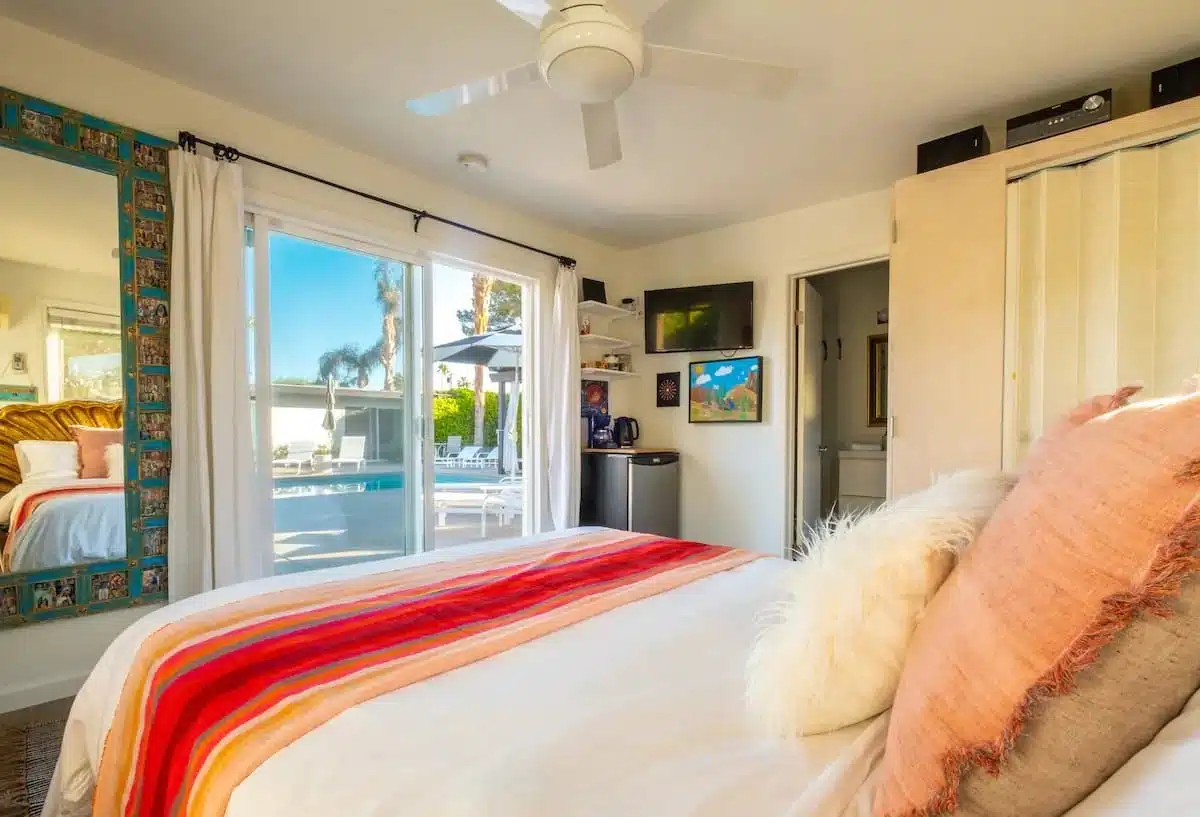 Paradise Casita is an all-white house with a black corrugated roof. The one-bedroom home features a shared patio, outdoor shower, and large pool. The suite provides a queen bed, a mini-fridge, and a private bathroom with a walk-in shower.
It certainly deserves its place among the others in this guide to best airbnb Palm Springs has to offer.
Location: Sunmor
Sunmor is minutes away from the airport and offers many adventurous activities, like the aerial tramway and Joshua Tree National Park.
Private Casita: Mountain Getaway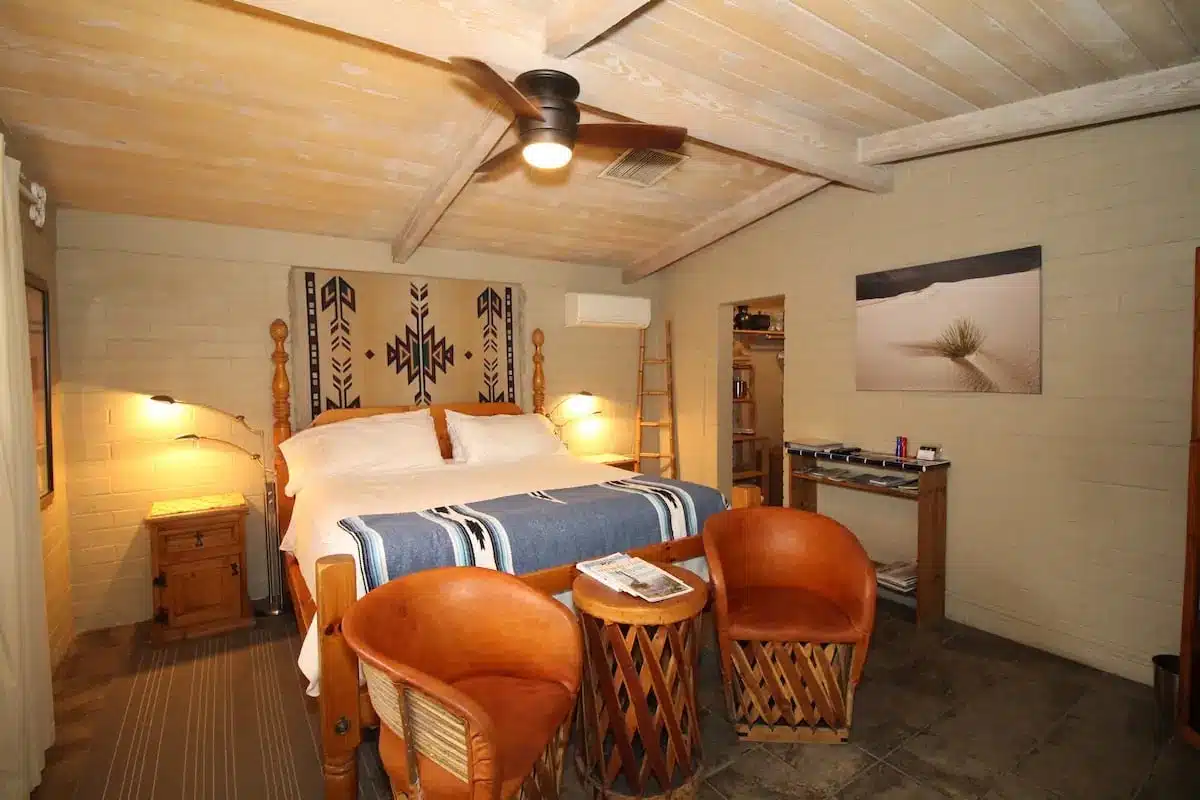 This private casita features rustic interior decor and an array of indoor plants. The one-bedroom house secluded by hedges provides privacy while enjoying the pool, hot tub, and zen garden.
It might just be the cosiest Airbnb Palm Springs offers.
Location: Sunrise Vista Chino
The home is located a short drive away from the Palm Springs Air Museum.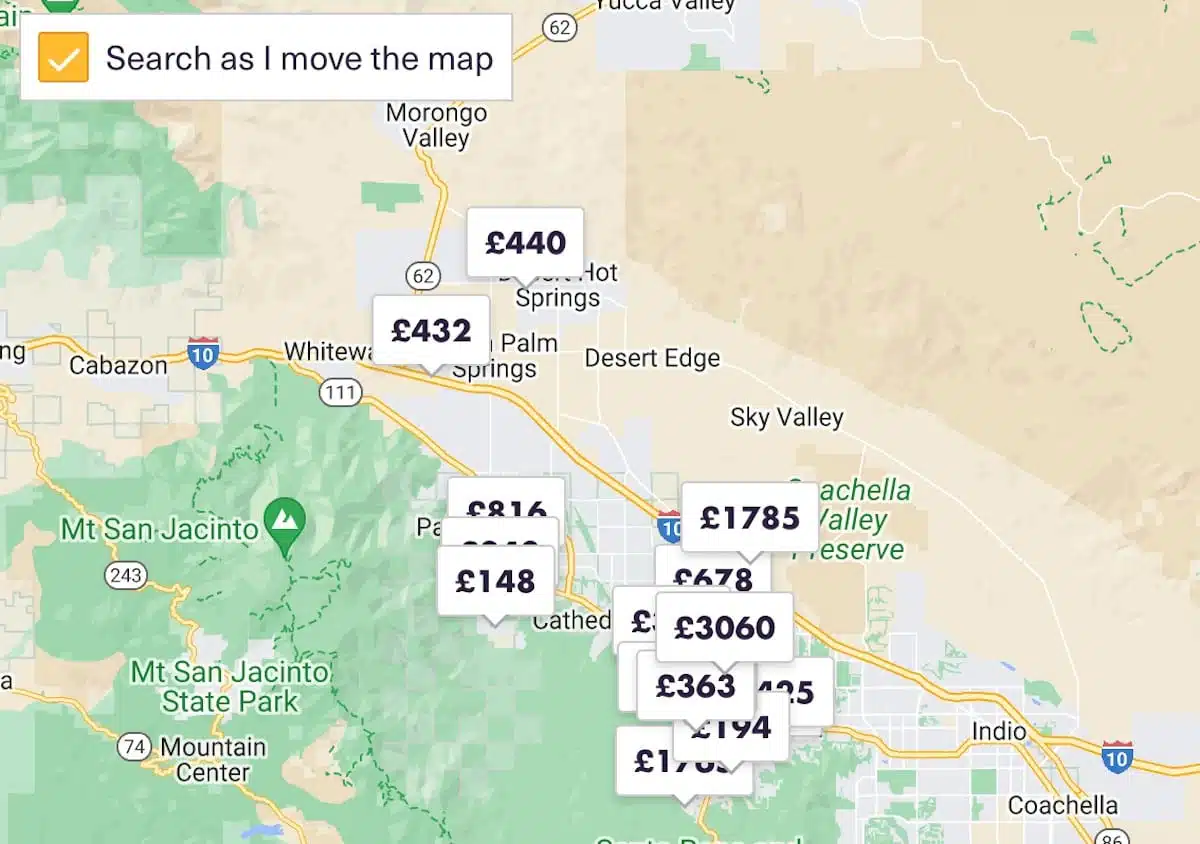 Discover More California Guides