Ready to discover the best hikes in Carmel-by-the-Sea? These are the trails not to be missed.
Carmel-by-the-Sea is a beautiful town on California's coast known for its charming cottages and vibrant art scene.
But, did you know that it's also home to some fantastic hiking trails? If you didn't, let me introduce you to some of the top trails in the region.
Whether you fancy a quick and easy walk to catch the sunset, a moderate trail that'll have you dabbing your brow, or even a full-on all-day hike that will leave you breathless, Carmel has plenty of routes to choose from.
So, lace up your hiking boots and get ready to explore all that beautiful Carmel has to offer.
Best Hikes in Carmel
Bird Island Trail
Length: 0.8 Miles
Time: 20 Minutes
Difficulty: Easy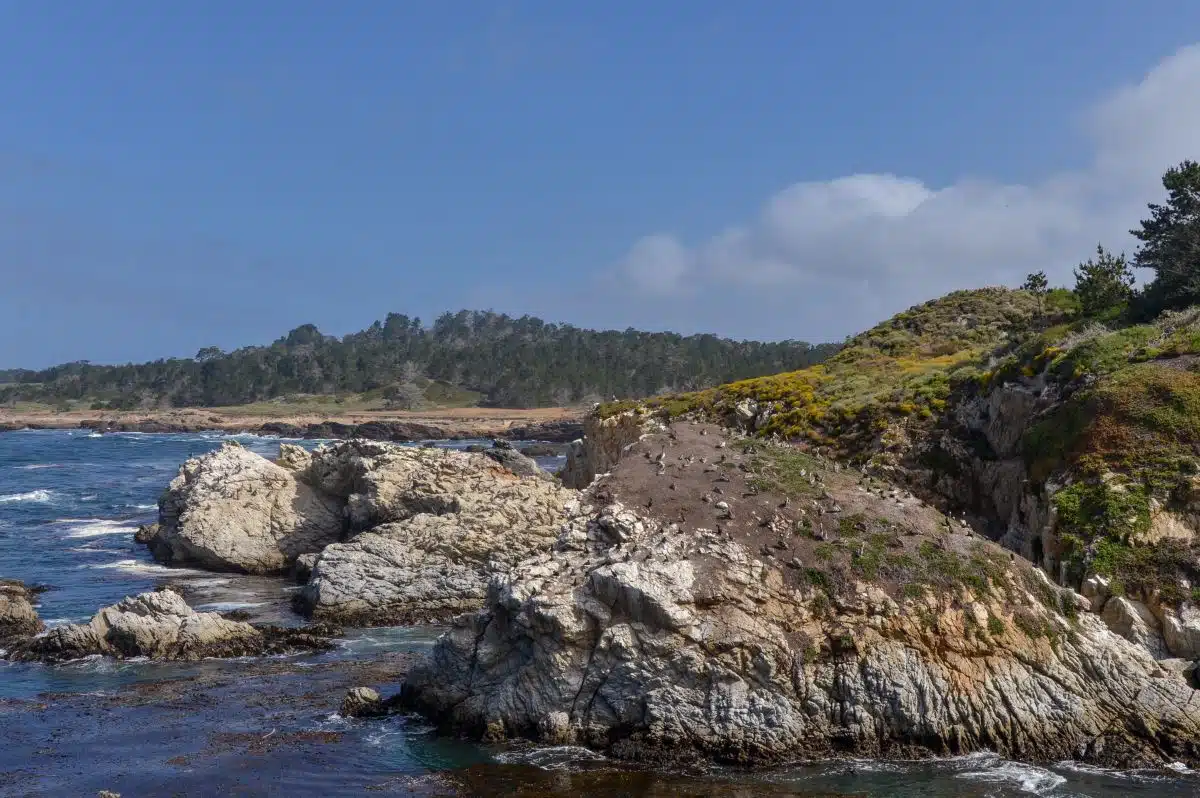 If you're looking for an easy hike that won't leave you sweaty, the Bird Island Trail is the most popular option.
This trail leads you to a small island home where various birds like Western gulls and Brandt's cormorants reside.
The hike is easy, and you'll get to see the Insta-worthy China Cove en route to this accessible and flat trek. You'll also pass Gibson Beach's overlook and see the yellow wildflowers that call Pelican Point home. At the end of this flat trail, you'll see the rocky shores of Bird Island.
Suggested Map
Top Tip: This easy 0.8-mile hike gets busy, but you can still avoid the crowds if you wish – I recommend visiting in the early evening when it's much quieter.
Snivley's Ridge Trail
Length: 14.2 Miles
Time: 8 Hours 30 Minutes
Difficulty: Hard
Ok, after a couple of easy options it's back to the big hitters. And I'm not exaggerating when I say that this is one of the most challenging hikes in Carmel-by-the-Sea. Snivley's Ridge Trail climbs over 4,000 feet to the top of a ridge and offers stunning views of the surrounding mountains and valleys.
While it's a difficult trek, this is a well-maintained trail with various terrain, including forests, meadows and creeks. The trail will push you to your limits, but the panoramic views are well worth the aching muscles.
It takes, on average, eight hours and thirty minutes to complete, meaning you'll most likely need to find a place to stay overnight in Carmel.
Point Lobos Loop Trail
Length: 6.3 Miles
Time: 2 Hours 30 Minutes
Difficulty: Medium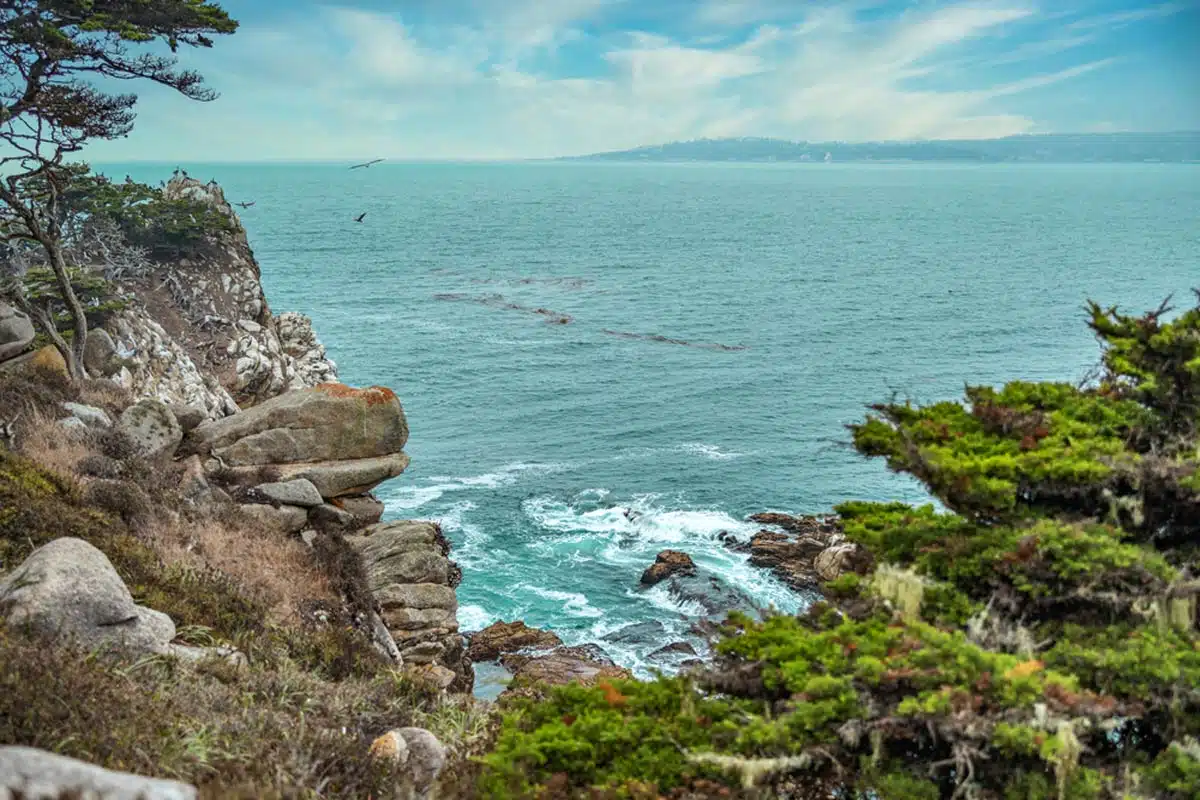 If you've got the time, I urge you to tackle the Point Lobos Loop Trail. It's my favourite hike near Carmel – this gem of a route will have you falling head over heels for the Pacific Ocean coastal scenery.
The Point Lobos Loop Trail winds through the Point Lobos State Natural Reserve and offers views of sea caves. While here, check out the delightful hermit crabs and sea urchins at the Weston Beach tide pools at the 1.6-mile mark.
While there aren't many hills to climb, this trail can get slippery. I recommend wearing the right shoes and having some hiking poles, just in case. It makes the elevation gains much easier to traverse.
Soberanes Canyon Trail
Length: 2.8 Miles
Time: 1 Hour 20 Minutes
Difficulty: Medium
Only got time for one Carmel-by-the-Sea hike? The Soberanes Canyon Trail is where you should start.
This is an out-and-back trail that winds through a lush canyon, treating you to stunning views of the surrounding mountains and valleys. Even better, you might just spot deer, cute rabbits and other wildlife along this well-maintained trail.
One of the reasons that this hike is so popular is thanks to its varied scenery – from wildflowers blooming in the arid soil to moss and streams in the redwood forest.
While it's moderate in difficulty, don't underestimate the trail. I recommend resting in shaded areas if you tire during your trek – the gorgeous views will help shimmy you along.
Suggested Map
Note: This was a loop trail but is now an out-and-back one. The western part of the Rocky Ridge Trail experienced hazardous conditions, making it dangerous for hikers.
Sea Lion Point Trail
Length: 0.4 Miles
Time: 10 Minutes
Difficulty: Easy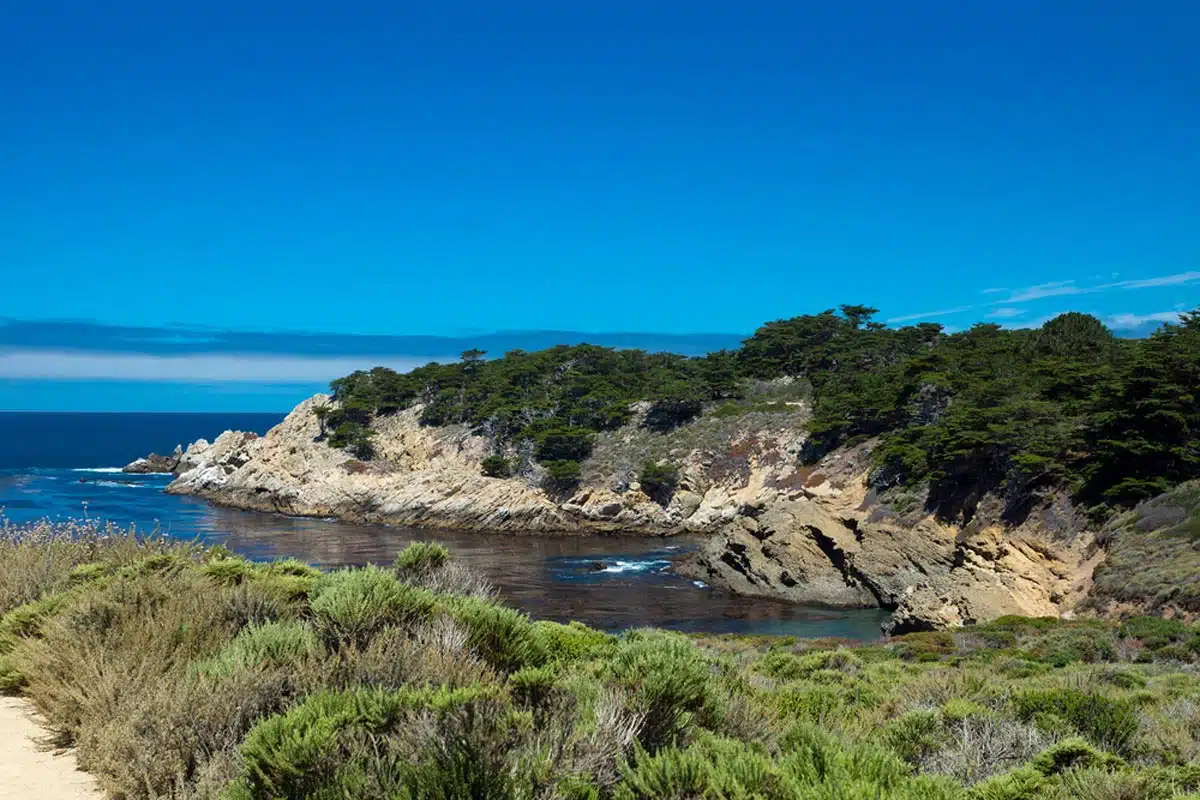 Another easy trail not to sniff at is the Sea Lion Point Trail. The well-maintained, dirt-packed trail takes less than ten minutes to complete and offers spectacular views of sea lions, harbour seals and other marine life near the end.
This pint-sized trail packs a punch with some stairs and elevation gains of 26.2 feet and easily connects to the North Shore. You can even add the Cypress Grove Trail for an extended hike if you'd like.
Let me add that it gets pretty cold here — especially as you ascend a little. So, I recommend bringing a jacket to keep you warm (especially if you're hiking at sunset).
Cypress Grove Trail
Length: 0.8 Mile
Time: 20 Minutes
Difficulty: Easy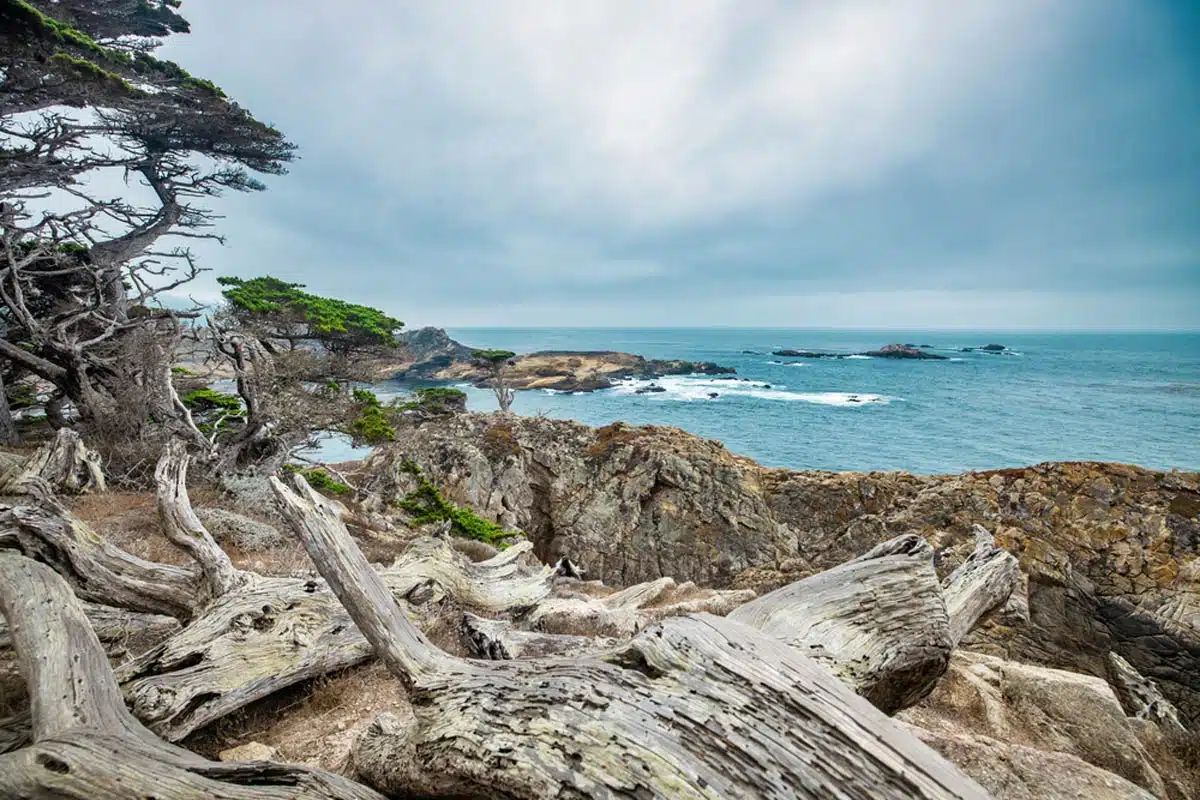 This aptly named short and easy hike winds through a grove of cypress trees, and you can complete it in under twenty minutes – what's not to love? The elevation gain on Cypress Grove Trail might not seem like much, but it'll still have you sweating.
The route takes you through a serene forest, where the dappled sunlight filters through the foliage, creating a tranquil atmosphere. You'll get to enjoy the ethereal ambience as you escape into nature's wonderland on the Cypress Grove Trail.
Mitteldorf Preserve Loop
Length: 5.3 Miles
Time: 6 Hours 20 Minutes
Difficulty: Moderate
Carmel-by-the-Sea hikes boast unreal beauty, and the Mitteldorf Preserve Loop is the finest example of this.
Mitteldorf Preserve Loop combines the beauty of nature with a dash of adventure. The route promises a memorable outdoor experience that will leave you feeling invigorated and connected to the great outdoors.
As you wander through the preserve, prepare for enchanting redwood groves, vibrant wildflowers and the soothing melodies of chirping birds to dazzle you.
The Mitteldorf Preserve Loop is a moderately challenging route, so you must stretch those legs and get your heart pumping. If you're not a fan of crowds (who is?), you'll enjoy not seeing too many people on this lesser-known trail.
Best Carmel Hikes: Practical Tips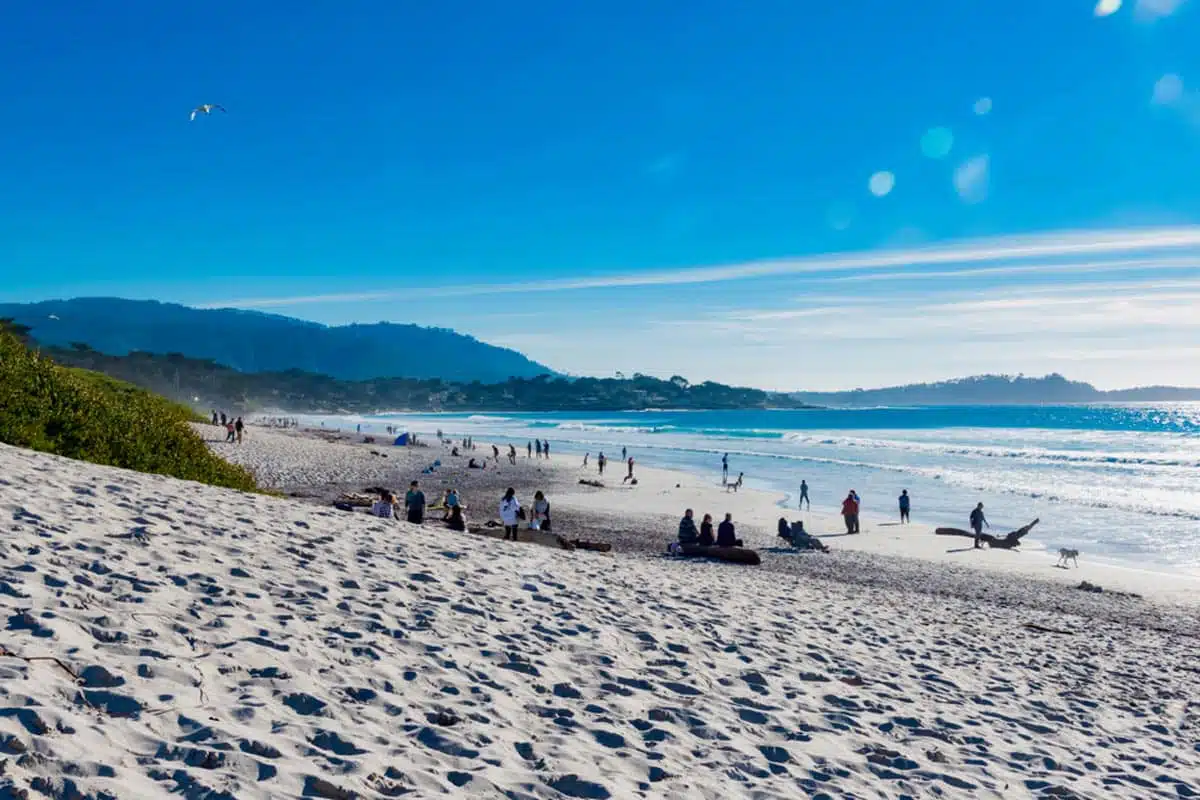 Check trail conditions and closures beforehand to save you turning up to a closed trail.
Don't underestimate the need to wear comfortable hiking shoes. Many of the Carmel hiking trails are rocky and uneven and proper shoes will give you good foot support. I love the Tropicfeel Geyser Waterproof Hiking Trainers.
Take bear safety seriously. There haven't been any recent reports, but I think it's safe to be on the lookout anyways. A bear horn can help you scare away any bear that approaches you.
Bring plenty of water. I recommend a hydro flask water bottle that'll keep your water cooler for longer.