Discover the best day trips in Los Angeles with this handy guide – San Diego, Palm Springs, Disneyland and plenty more.
La La Land is filled with attractions and distractions, but don't let that make you pass up some incredible gems that are close by, begging for exploration.
I've travelled to LA plenty of times, and would like to think I've covered many of the best things to do. Which means that, when I visit LA now, I get to spend more time exploring the nearby towns and cities and everything they have to offer.
And guys, believe me when I say that California is blessed with so many brilliant places – staying just in LA on your next trip would be a huge mistake.
Luckily, I've written this guide to epic day trips from LA to help you get started.
Some offer brilliant natural scenery, while others offer exclusive experiences – there's no right or wrong answer here. Just pick whatever tickles your fancy from my fabulous guide to the best day trips from Los Angeles, and you're sure to have a holiday you won't forget any time soon.
Ready?
The Best Day Trips From LA
Joshua Tree National Park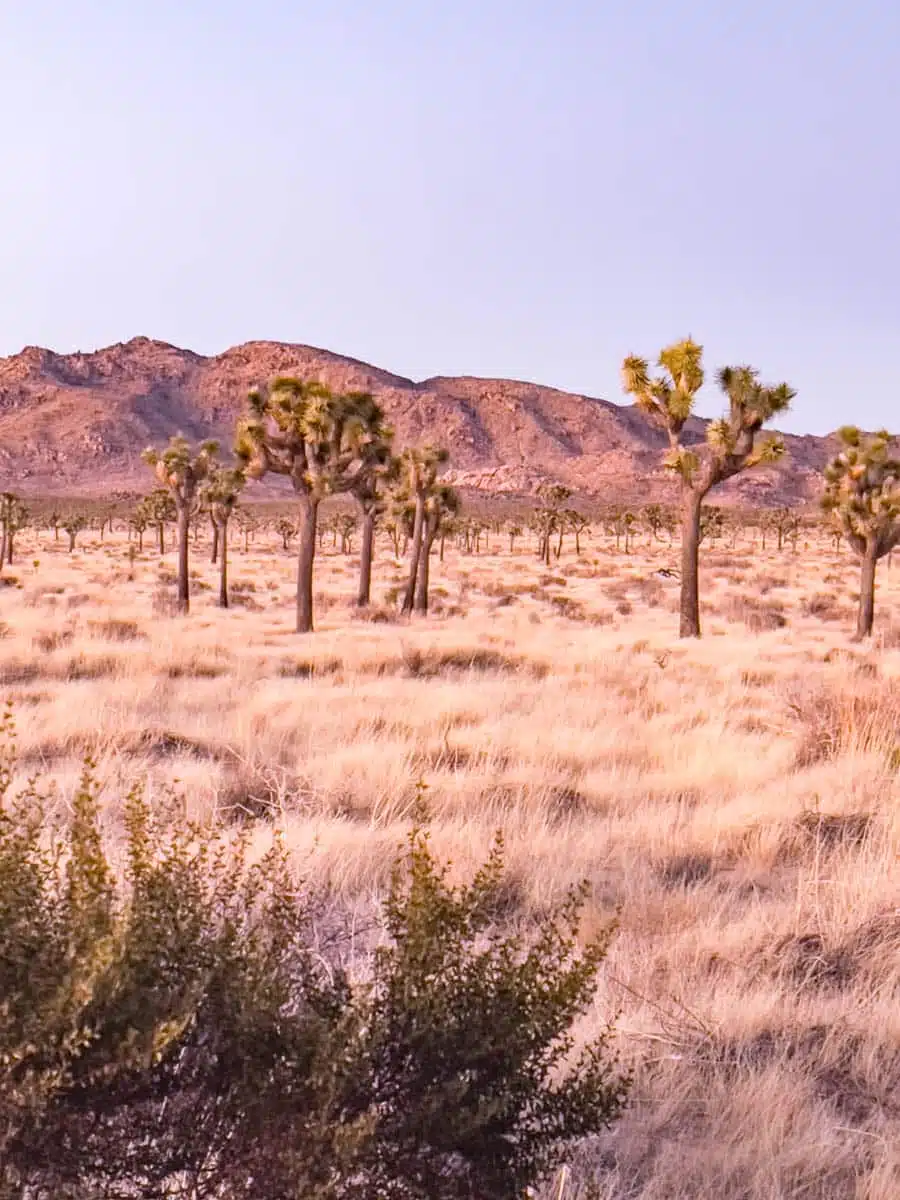 Trust me on this – visit Joshua Tree. This little slice of desert paradise is a must-see on a day trip from LA.
Why? Well, first of all, there are plenty of Joshua Tree hikes with the stunning flora and fauna of the arid climate to gawk at as you stroll.
Take the Hidden Valley Nature Trail for a pleasant trek, or explore the Cholla Cactus Garden (watch out for prickles). Getting a selfie with Skull Rock is also a fun must-do, as is hanging out at Keys View for sweeping vistas of Coachella Valley below.
If you fancy levelling up your trip a little bit, scrambling over boulders is also a popular pastime here.
This is one of the Los Angeles day trips you won't forget soon. Now, I don't want to sound like your mum but bring sensible shoes and sun cream – the heat is no joke.
How to Get There: Take the bus from Los Angeles Downtown to Indio, then a taxi to Joshua Tree.
Average journey duration: 3 hours and 40 minutes.
Disneyland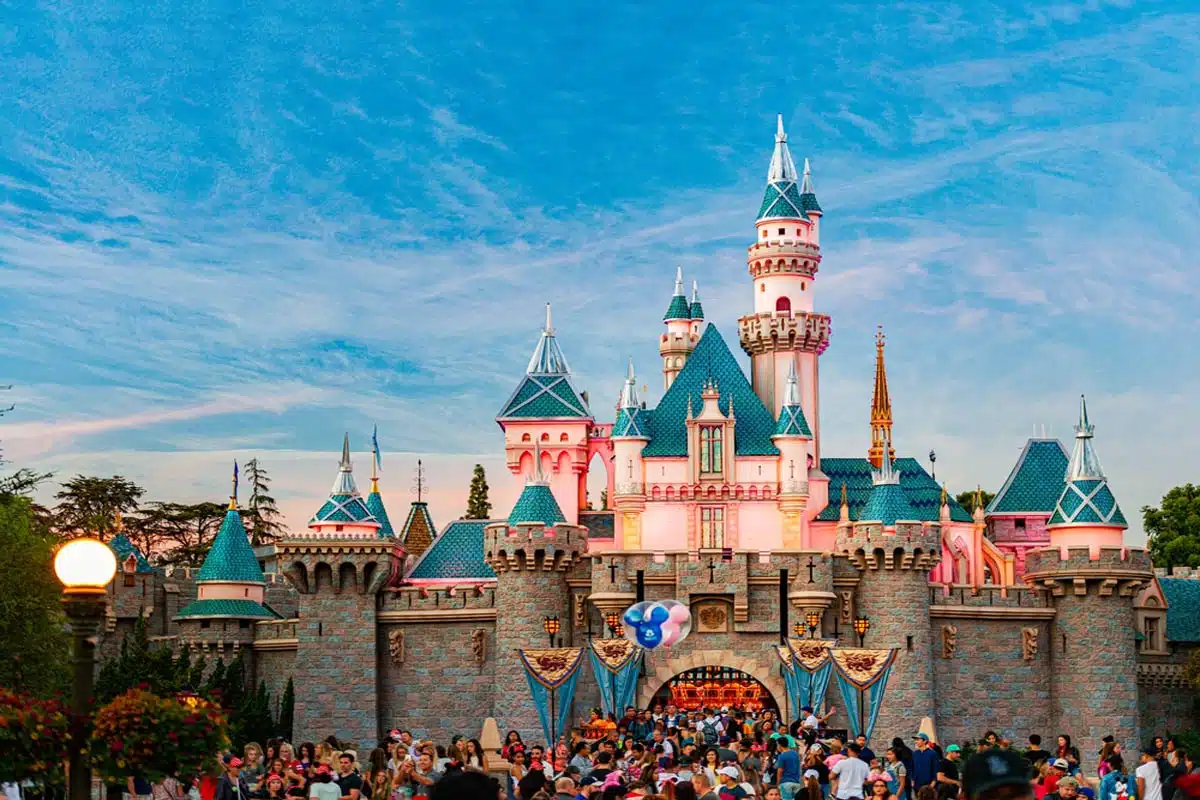 Grab your favourite pair of mouse ears and head for the happiest place on earth: Disneyland. The Space Mountain and Star Wars roller coasters are fan favourites, but there are more gentle rides that'll recall your childhood in a heartbeat.
Whether you hang out at the Downtown Disney District, Adventure Park, or the main theme park, you will surely have an incredible day. Meet Disney princesses and Marvel characters, snack on Mickey-shaped snacks, and get ready for a lot of walking and selfies in front of Sleeping Beauty's castle.
Stick around for the character parade and, once the sky darkens, admire the light show on the castle, complete with hundreds of fireworks. LA day trips don't get better than this.
Top Tip: Pick your spot to watch the fireworks and parade early because prime locations fill up fast.
How to Get There: Take the bus from Flower and 7th to Disneyland.
Average journey duration: 1 hour and 40 minutes.
Hassle-free option: Book This Private Transfer from LA.
Santa Barbara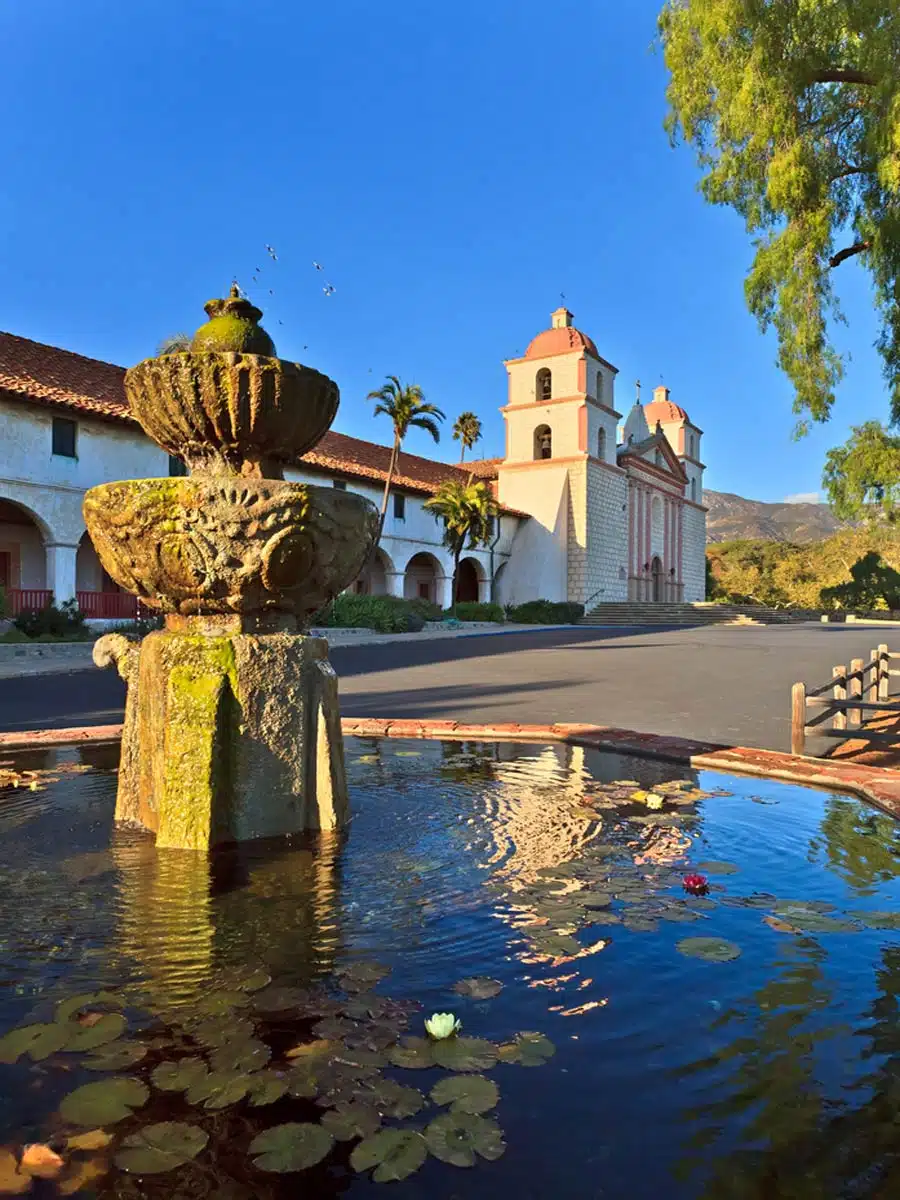 It's no secret that I fell in love with Santa Barbara on a recent visit to the states. So, it's a no-brainer that you should make some time for a day trip here from LA.
There's some incredible architecture at the Santa Barbara County Courthouse (Spanish Revival) and the Old Mission from 1786 (also Spanish, surprise surprise). Or you can hang out with the animals at the Santa Barbara Zoo or visit the Museum of Natural History for a different look at nature.
Spend some of your hard-earned money shopping up a storm on Stearns Wharf, and then settle in for a delightful appetiser. Slip in a little wine-tasting opportunity and you have the perfect day trip from LA.
Top Tip: Check out my amazing 1-day Santa Barbara itinerary for even more details.
How to Get There: You can take the train from Los Angeles Union Station to Santa Barbara Amtrak.
Average journey duration: 2 hours and 40 minutes.
Hassle-free option: Book This Santa Barbara Wineries Tour from LA
Palm Springs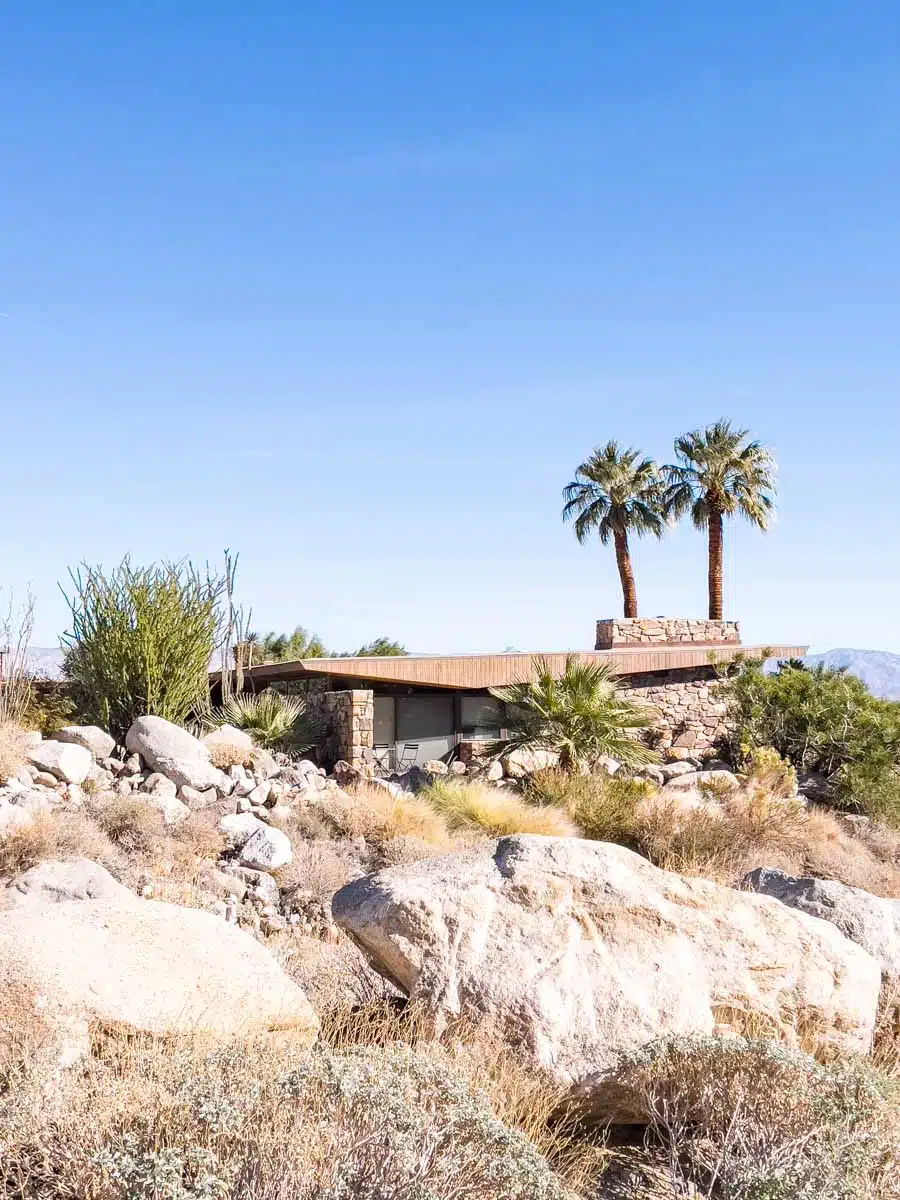 Okay, so your first stop has got to be the Aerial Tramway in Palm Springs. I'm telling you, this day trip from Los Angeles has a lot to offer, but sailing over the Chino Canyon in a flying gondola is top of that list.
Afterwards, you can head to the Palm Springs Art Museum, do some hiking (the Cactus to Clouds Trail is chef's kiss perfection), or visit the Coachella Valley Preserve.
The Air Museum is also pretty fascinating for aviation enthusiasts. And for the vino-lovers, there are always more wine tastings in Temecula.
If you want to do something unique, check out the Cabazon dinosaurs and snap a selfie with a raptor because why the heck not?
How to Get There: Take the bus from Los Angeles Downtown to Palm Springs Downtown.
Average journey duration: 3 hours and 15 minutes.
San Diego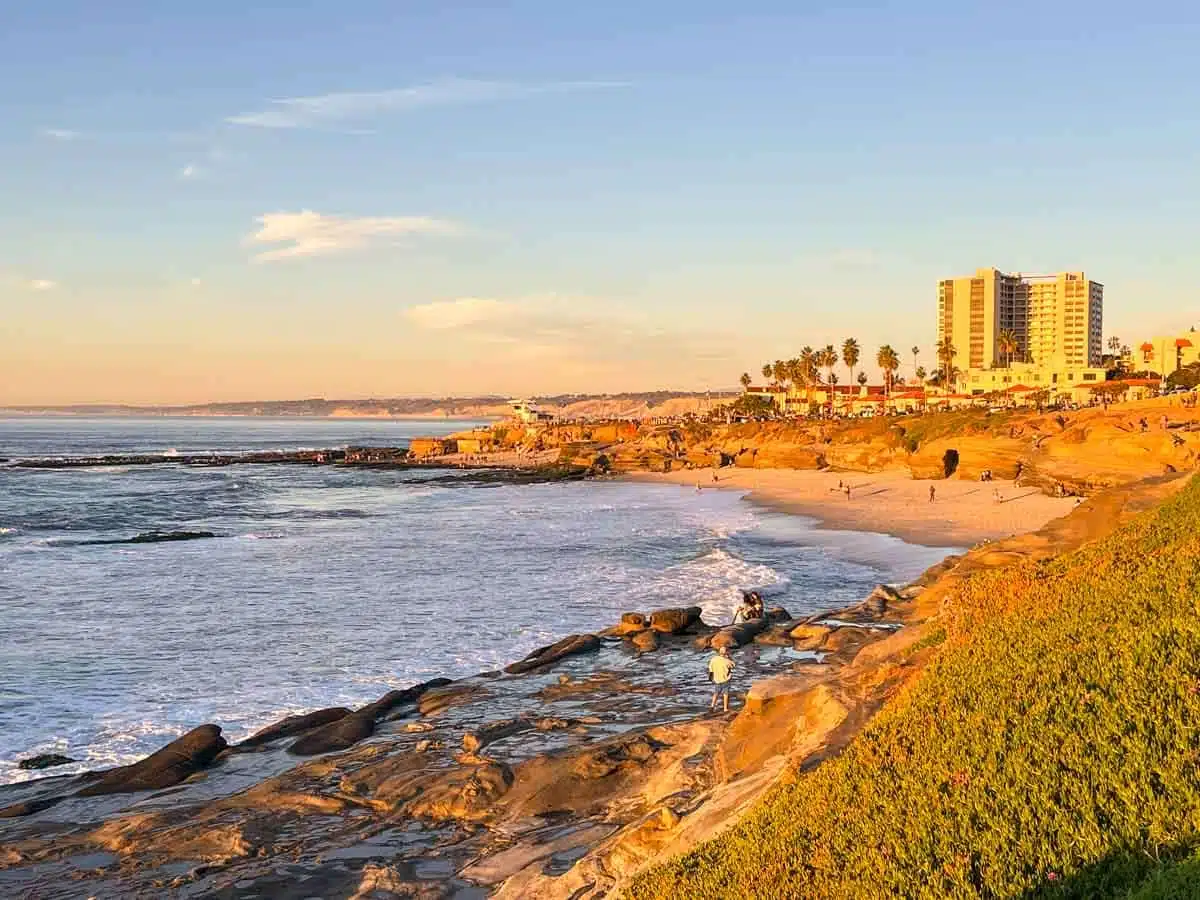 Next up: San Diego.
The San Diego Zoo is one of the most iconic places in the city, with over 4,000 animals as residents, making this one of the fun day trips from Los Angeles. Zoos aren't usually my vibe, but this one has open-air exhibits with no cages.

The Museum of Art is awesome on the inside and outside, and Balboa Park is a must for whimsical gardens (the Japanese Garden is a stunner) and museums.
Once you've explored the cultural side of the city, La Jolla Cove is a natural marvel at sunset with its rocky cliffs and seaside restaurants, and Seaport Village is a charming stop during the day when shopping is your top priority.
Need more convincing? Look at these incredible activities in San Diego — it's a one-day trip from Los Angeles that you won't regret.
How to Get There: Take the bus from Los Angeles to San Diego Bus Station.
Average journey duration: 2 hours and 20 minutes.
Hearst Castle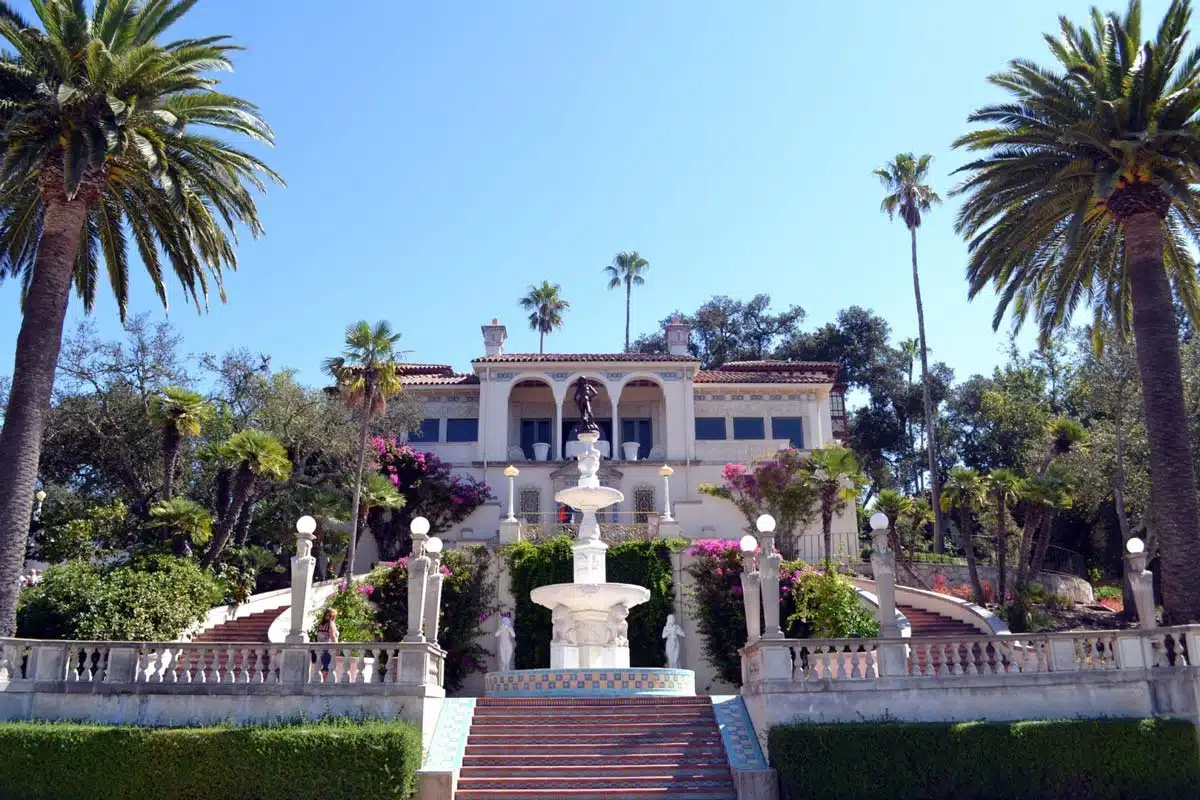 On the hunt for a totally off-beat day trip from LA? The incredible Hearst Castle in San Simeon is one of the greatest showpieces of architecture and design, not to mention an accredited museum.
The interiors are sumptuous, like a modern-day Versailles — a triumph of Julia Morgan, the architect.
There are various tours that will take you through the grand rooms, including the Morning Room, Theatre, and Refectory, or upstairs to the main library, Hearst's Gothic study, and the suites.
Look out for all the sculptures, tapestries, paintings, and antiques dotted around the castle.
How to Get There: Take the train from Los Angeles to Paso Robles Amtrak Station. From there, take a taxi to Hearst Castle.
Average journey duration: 8 hours and 15 minutes.
Santa Monica Mountains National Recreation Area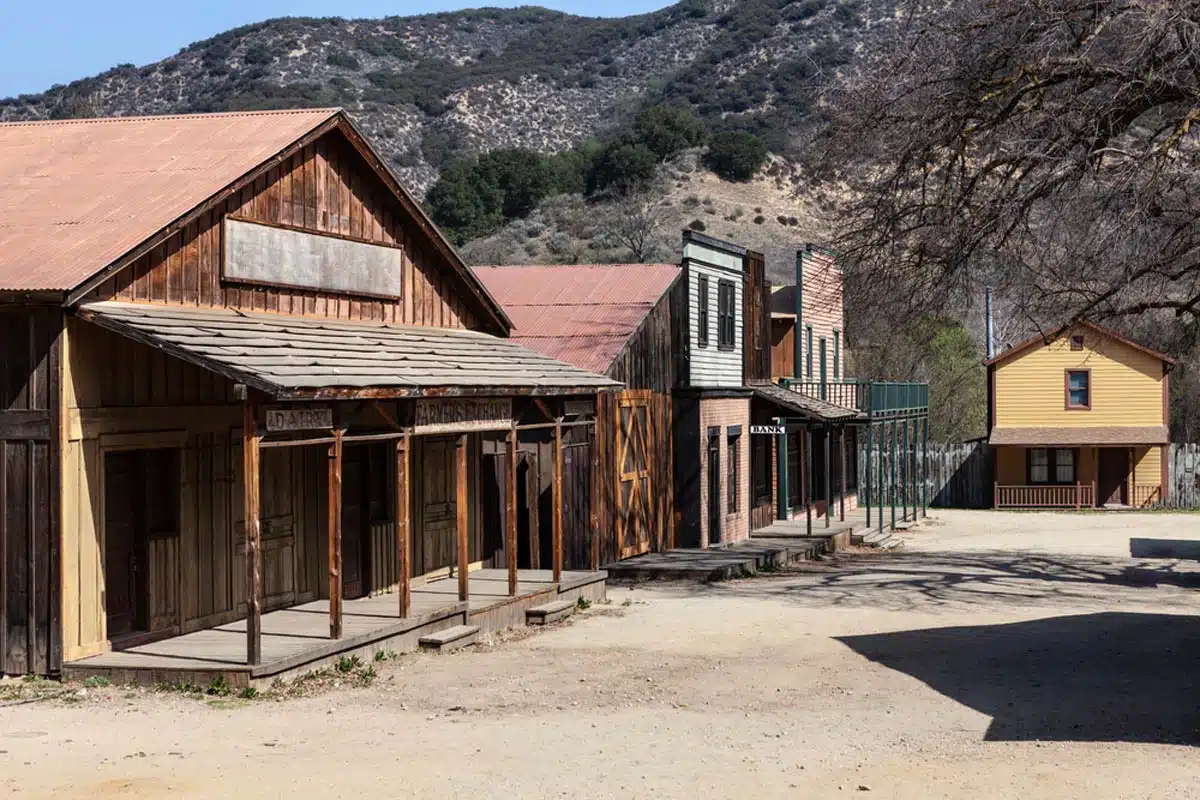 One of the best day trips from Los Angeles takes you to the Santa Monica Mountains. You'll particularly enjoy this option if you feel like burning off some energy. There's hiking (the Backbone Trail is amazing), biking, horseback riding, and even rock climbing.
If you're more of a beach bum, grab your swimsuit and get ready to kayak and surf, or play beach volleyball after a warming suntan session.
Oh, and if you're a child of nature like me, spend your time admiring the wildflowers, whale watching, enjoying the sunset, and stargazing.
See why it's hands down one of the best day trips around LA?
How to Get There: Take the bus from Broadway and Temple St to Thousand Oaks Boulevard, then grab a taxi to the recreation area.
Average journey duration: 1 hour and 30 minutes.
Solvang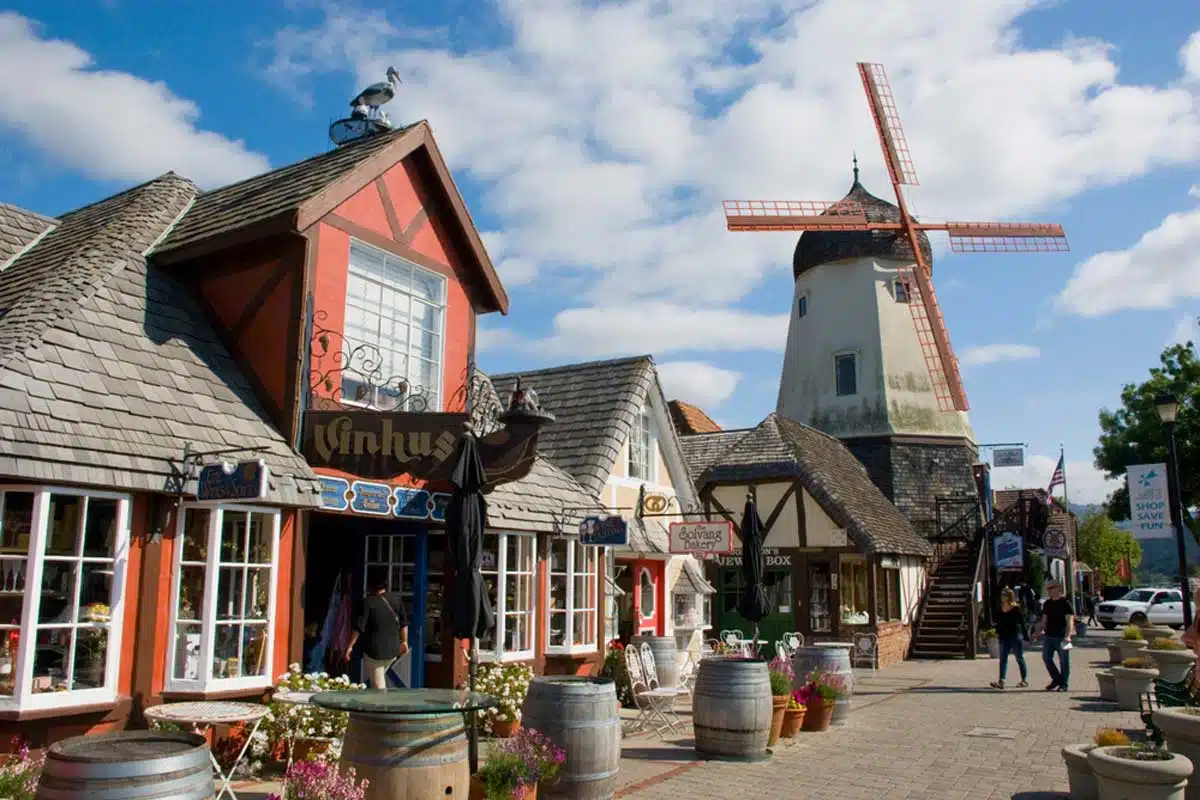 You'd swear you were in Europe, but no, it's Solvang — a city packed with history and charm. Danish architecture abounds, giving it that Euro-feel and museums by the score are here for your delight.
See the Elverhøj Museum of History & Art or the Japanese, American, and European motorbikes at the Solvang Vintage Motorcycle Museum. The Old Mission Santa Ines from the early 1800s is also a popular attraction.
Stick around for the Hans Christian Andersen Museum and the Ostrich Park for some close encounters of the bird kind (see what I did there?).
How to Get There: Take the bus from Los Angeles to the Solvang Amtrak Bus Stop.
Average journey duration: 3 hours and 50 minutes.
San Luis Obispo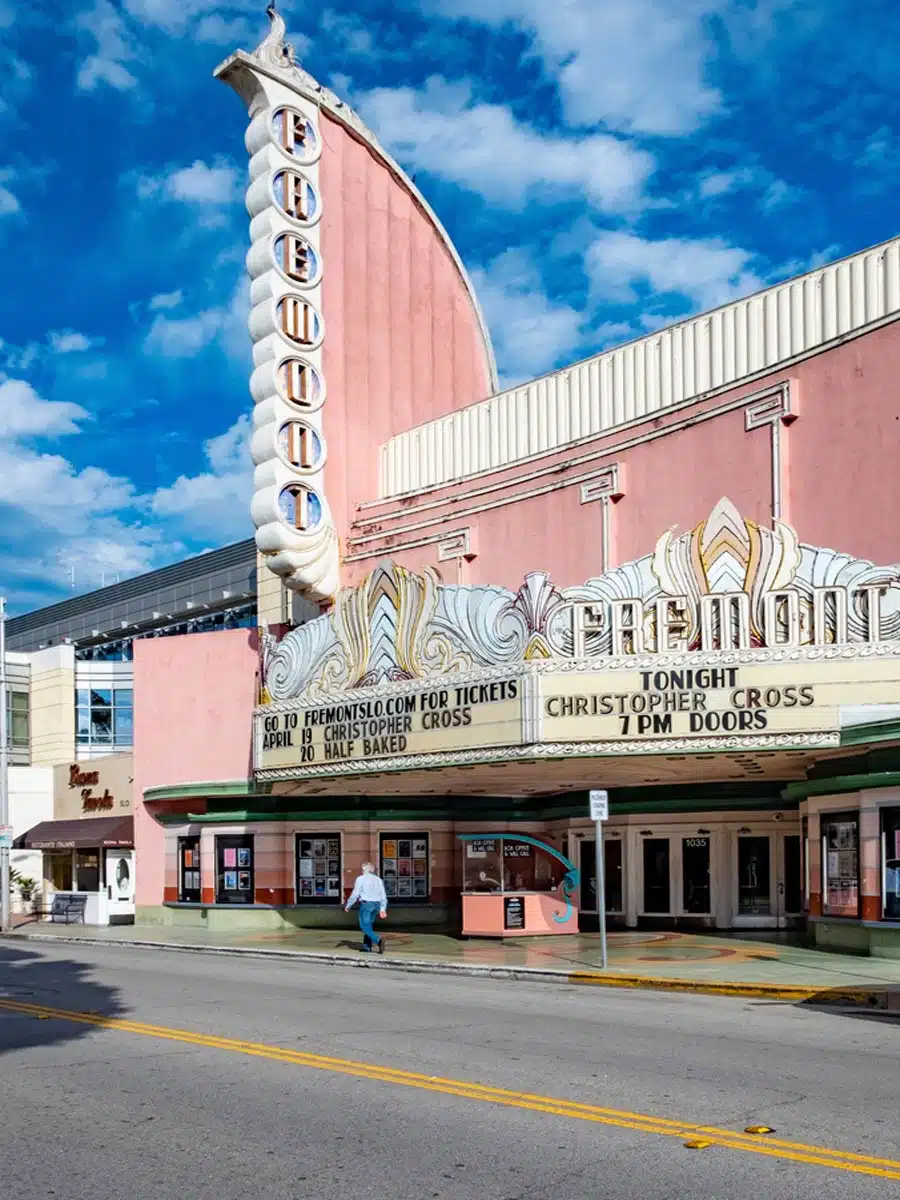 The mission San Luis Obispo de Tolosa is the first stop on this one-day getaway from Los Angeles. It's a 1700s Spanish mission, and boasts an impressive museum.
Nearby, you'll find Bubblegum Alley – a very weird but cool spot. It's pretty unique with its walls covered in chewed-up pieces of gum (and honestly, kind of icky), but hey, at least you can say you were there.
You can even add your own piece to the "art" if you feel like it (wink wink).
The Downtown SLO Farmers Market in Higuera Street is charming (buy the flowers, the food, and the produce), and the San Luis Obispo Museum of Art is a vibrant cultural hangout.
How to Get There: Take the bus from Los Angeles Downtown to San Luis Obispo Station.
Average journey duration: 4 hours and 40 minutes.
Temecula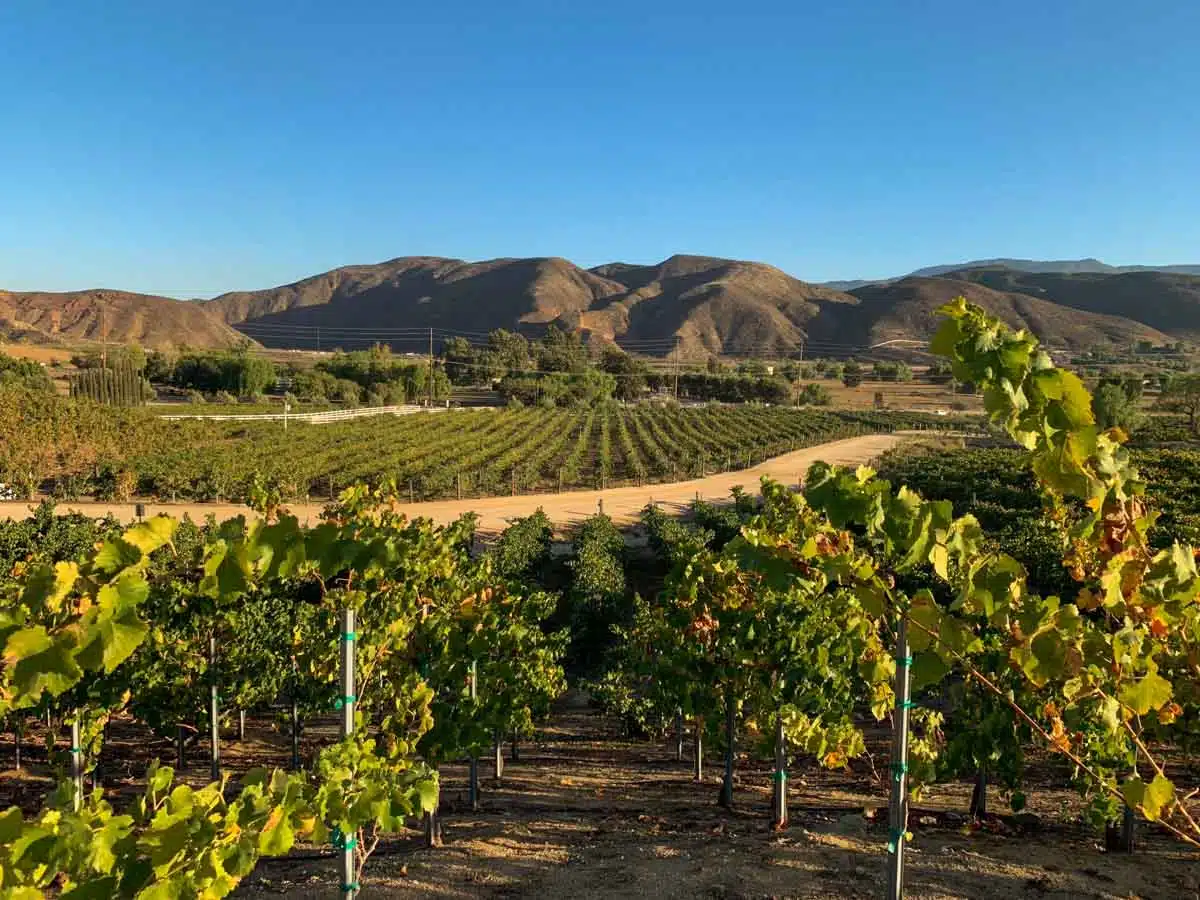 For a sophisticated culture-filled weekend, Temecula calls. And, with over 50 wineries, just imagine how many wine tastings you can enjoy (my knees feel wobbly just thinking about it).
Hot air balloon flights are also popular in the valley, especially around sunrise when the light is perfect over the vineyards and scents from the orange groves fill the air. Granted, you would need to begin your day trip ridiculously early. It's worth it, though.
Old Town Temecula is the next perfect stop, with quaint restaurants, speciality shops, and historic buildings to explore.
Speaking of shopping, Temecula has some incredible opportunities to find unique artisan gifts, so get spending. Pssst… Old Town and the Promenade have some of the best deals.
For something totally random – Want to meet an Alpaca? Head to The Alpaca Hacienda for a close-up experience, or hang out at the Pechanga Resort Casino to try your luck.
To finish your day, ride on horseback through dreamy vineyard landscapes at the CRC Ranch Company at sunset.
How to Get There: Take the train from LA Union Station to Promenade Mall.
Average journey duration: 3 hours and 30 minutes.
Anza-Borrego Desert Park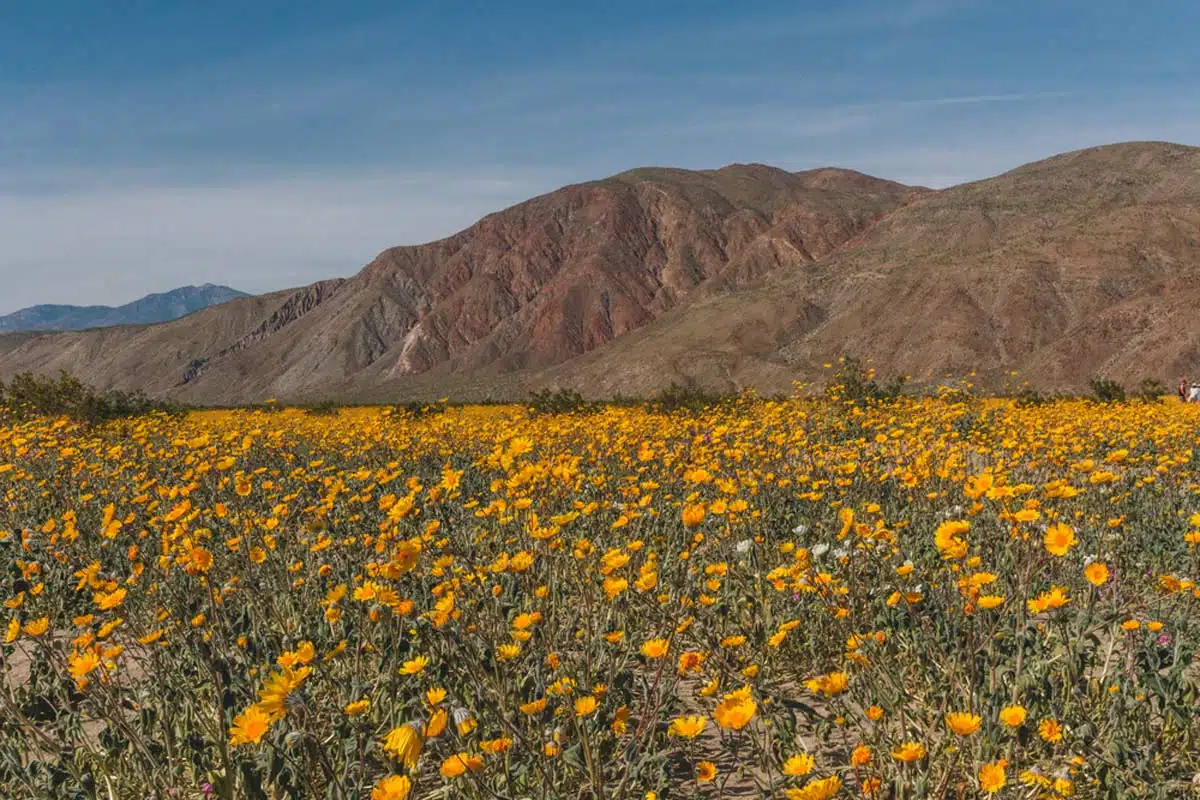 Sitting pretty in the Colorado Desert, the Anza Borrego Desert Park gets its name from an 18th-century Spanish explorer and a sheep. Go figure.
If you start early enough, catch the sunrise at Font's Point — it's practically the best spot in California, with views to the Salton Sea.
Make sure to take a 4×4 trip through the badlands, as they're part of what makes Anza-Borrego famous, and seriously, they are stunning. The Wind Caves are also a unique oddity, whether named for how they formed or how the wind sounds moving through them.
Enjoy the 5.5-mile out-and-back Hellhole Canyon hike (just maybe not in summer), where you'll see a palm oasis, bighorn sheep, and Maidenhair Falls at the end.
But don't miss the Galleta Meadows Sculptures — the 130 metal sculptures by Ricardo Breceda are Insta-worthy, from The Serpent to camels, scorpions, and tortoises.
How to Get There: Take the bus from Los Angeles Downtown to San Diego University. From there, continue to Yaqui Pass and take a taxi the rest of the way.
Average journey duration: 7 hours and 40 minutes.
Crystal Cove State Park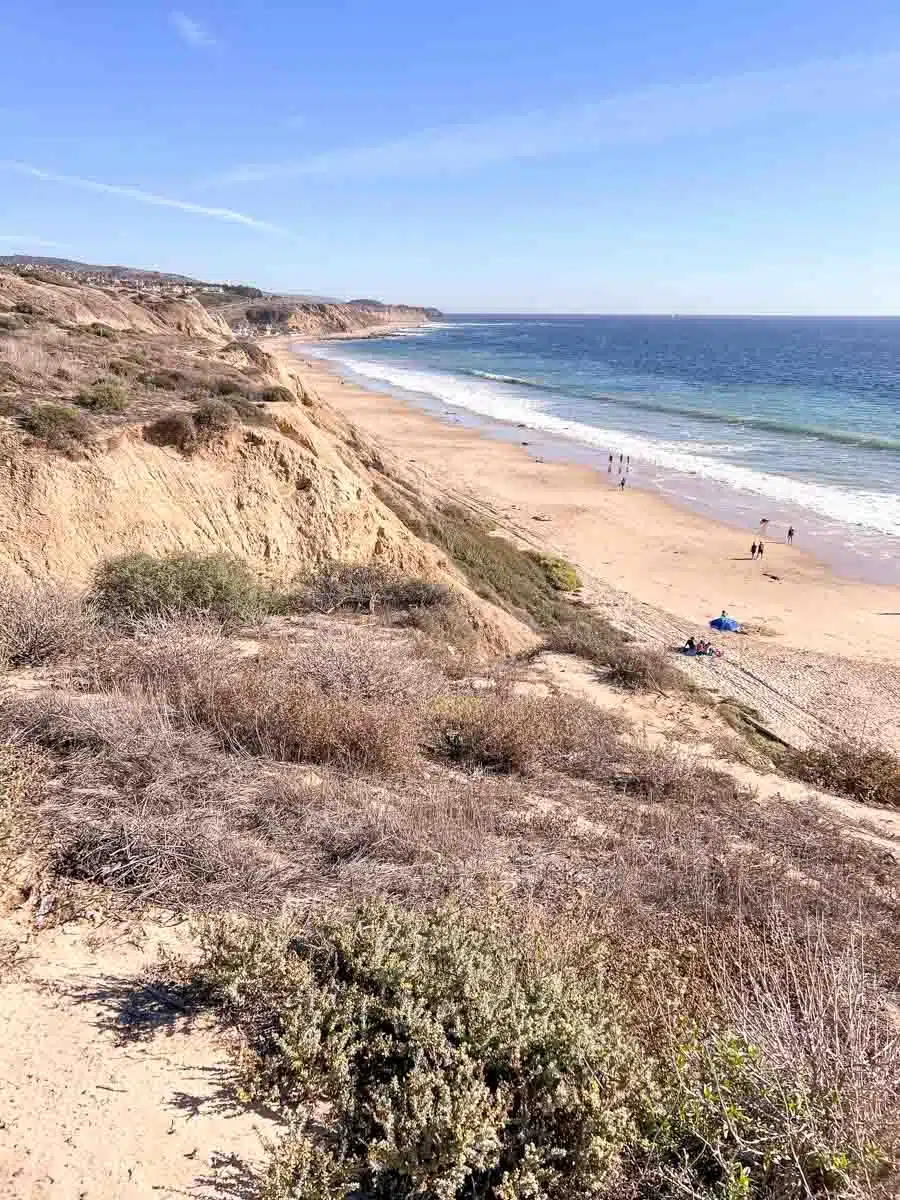 If you're a nature enthusiast, this could be the best day trip from Los Angeles. Hiking enthusiasts will melt at the 18 miles of trails across a mighty 2,400 acres.
But there are also beaches and tidal pools to get the sand between your toes and a refreshing dose of salt-tinged ocean air.
The Historic District is a hidden gem you shouldn't bypass, with 45 coastal cottages from the 1930s as part of a seaside colony. Afterwards, hit the trails.
The Moro Canyon Trail is a delightful 3-mile trek, while the Park Perimeter Trail Loop is more gruelling, at 9 miles. But oh, the scenery you'll encounter!
You can also enjoy the naturally gorgeous tide pools when the tide goes out, but they're slippery, so keep your feet steady. The park is a protected area, so no picking up shells or touching the sea life.
After your hiking adventures, hit the Shake Shack, a popular restaurant in the park with ocean views. Order their famous Chocolate Shake and Cove Burger, and thank me later.
How to Get There: Take the train from Los Angeles to Irvine and then a taxi to Crystal Cove.
Average journey duration: 1 hour and 30 minutes.
Big Bear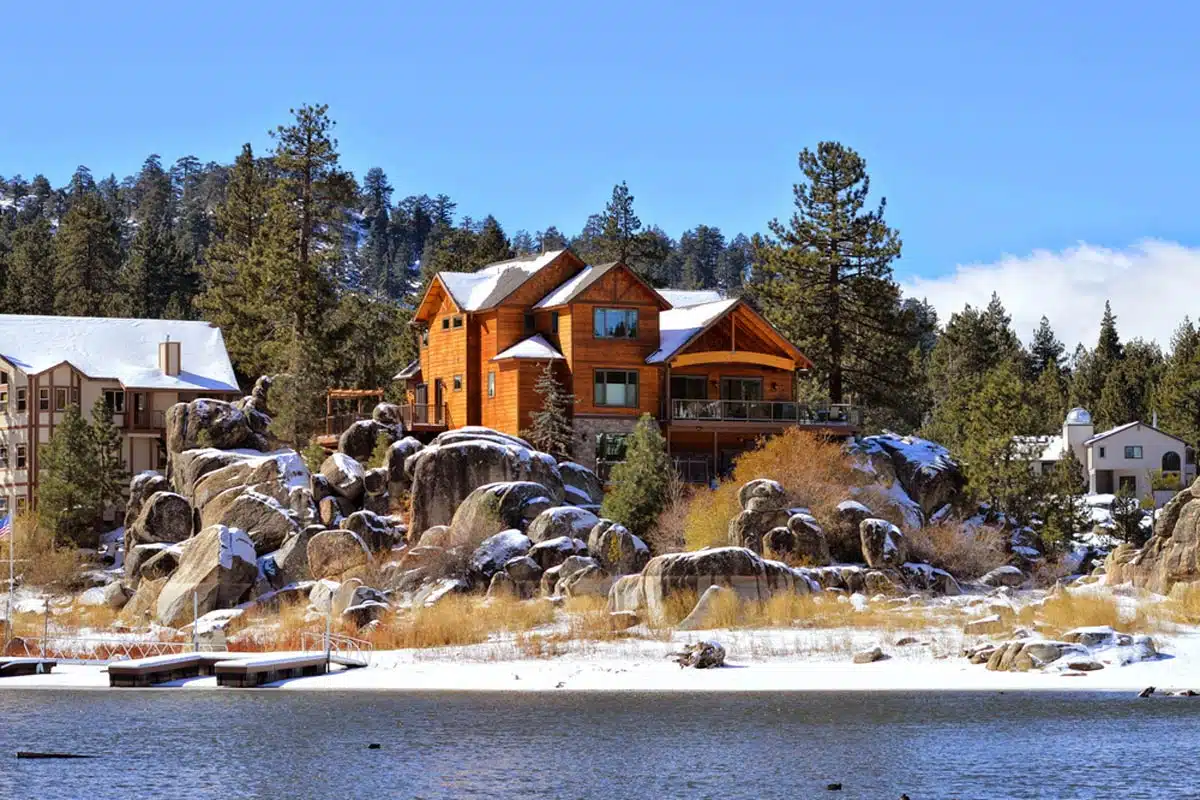 Big Bear makes for another epic LA day trip. Kick off your visit by heading to Big Bear Alpine Zoo, which opened in 1959 as a rehab centre for animals hurt by a forest fire.
To this day, it still mainly takes in ailing animals with the end goal of returning them to the wild. But you can still visit and see the bobcats, snow leopards, golden eagles, grizzly bears, and mountain lions that sometimes call this place home.
You can also take a trek along the Castle Rock Trail for a stunning view over Big Bear Lake, where watersports are in abundance. Later, enjoy a picnic at Boulder Bay Park, which offers picture-perfect vistas of Big Bear Lake up close.
Adrenaline junkies, I haven't forgotten about you – there are zipline tours to speed through the air above Big Bear. Gentler souls can stroll along one of the most popular 6.2-mile paths, Pine Knot Trail.
How to Get There: Take the train from LA Union Station to San Bernadino Depot, then the bus to Big Bear Blvd.
Average journey duration: 4 hours.
San Juan Capistrano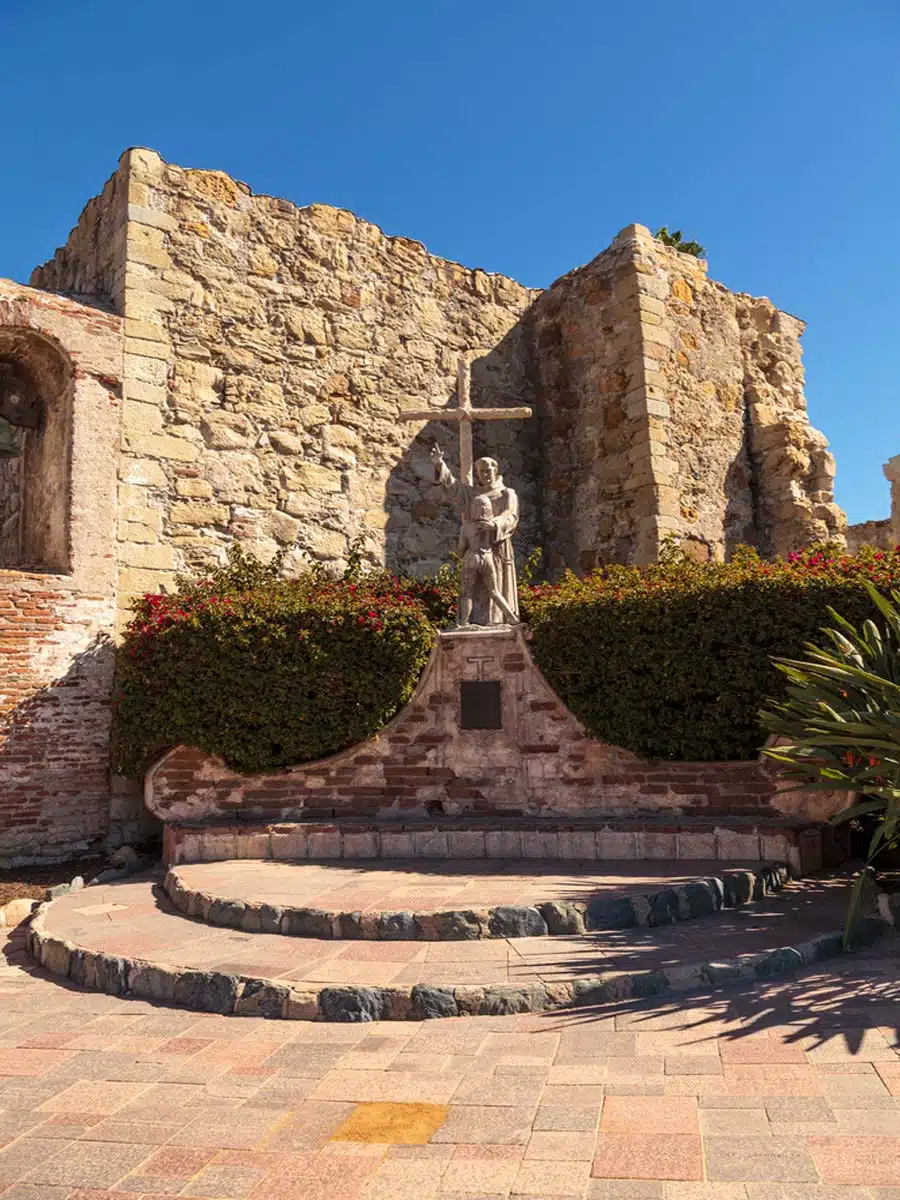 One of the ultimate things to do in San Juan is a visit to Mission San Juan Capistrano. It's a landmark, a museum, and a historic chapel all in one, where thousands of cliff swallows build their nests each spring.
Seeing the Return of the Swallows Celebration on 19 March with your own eyes is something special.
But you can also see some incredible gold detailing in the Mission Basilica, built in 1986, or visit the Los Rios Historic District, the oldest neighbourhood in the state, for some historical vibes.
With the Arley Leck House, Esslinger Building, and Montanez Adobe, there are plenty of historic places for lovers of the past to go into full fan mode.
There's also a delightful Goods and Goats Market, where you can pet baby goats, chickens, bunnies, and guinea pigs and even participate in a Baby Goat Yoga session. Who could say no to that?
How to Get There: Take the train from Los Angeles to San Juan Capistrano Amtrak Station.
Average journey duration: 1 hour and 15 minutes.
Ojai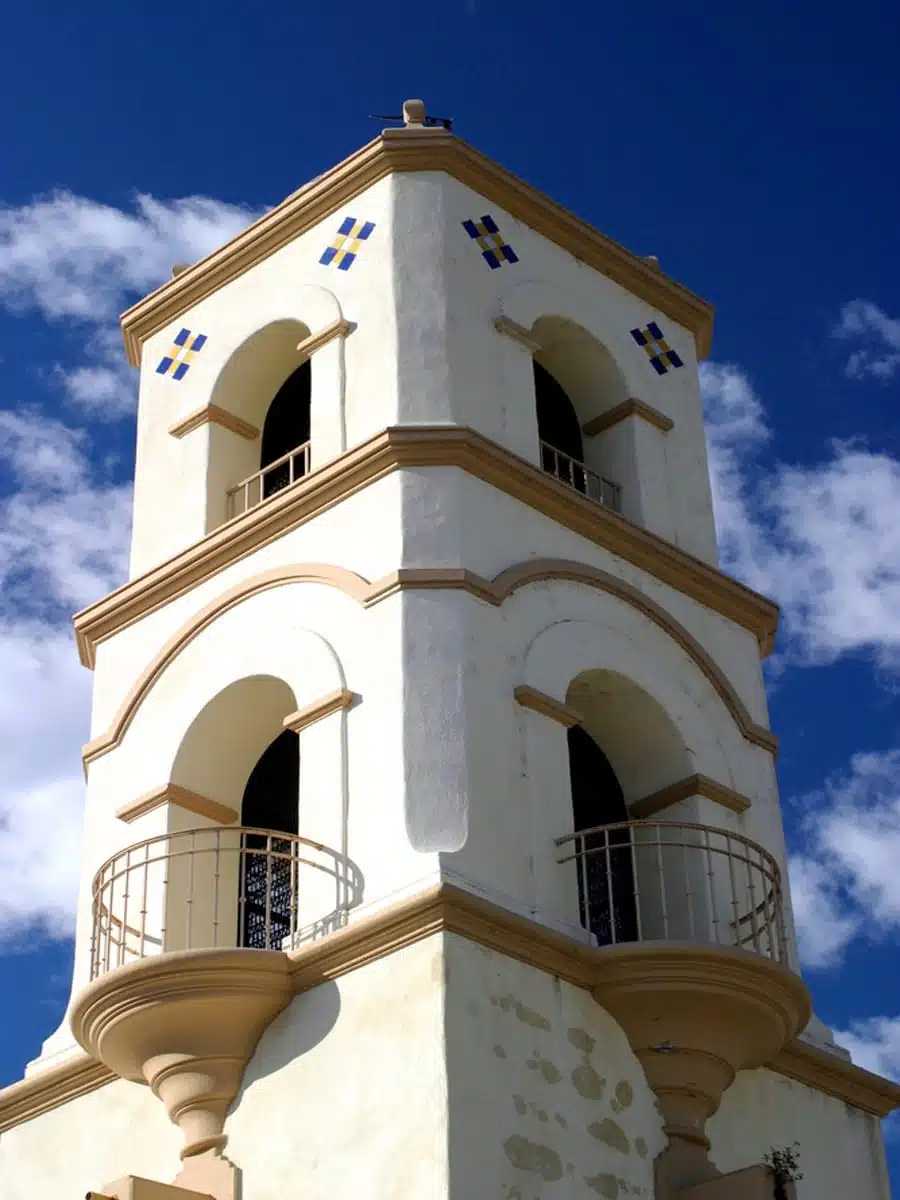 Looking for some rustic charm? I love a good small-town getaway, and this delightful village with Spanish colonial buildings in its Downtown area is divine.
Art galleries, exclusive boutiques, and restaurants line the streets, begging you to enter.
There are also local vineyards, and what better way to spend an afternoon than sipping a glass of wine and enjoying the mountain views?
The Ojai Valley Trail is a special place to end your day, as the valley runs from east to west. When sunset arrives, a colourful phenomenon known as "The Pink Moment" occurs; for an instant, the Topa Topa Mountains burst into a vibrant magenta.
Get your camera ready because it doesn't last long.
How to Get There: Take the line 16 bus from Los Angeles Downtown to Ventura Station and then Ojai Avenue.
Average journey duration: 3 hours and 25 minutes.
Laguna Beach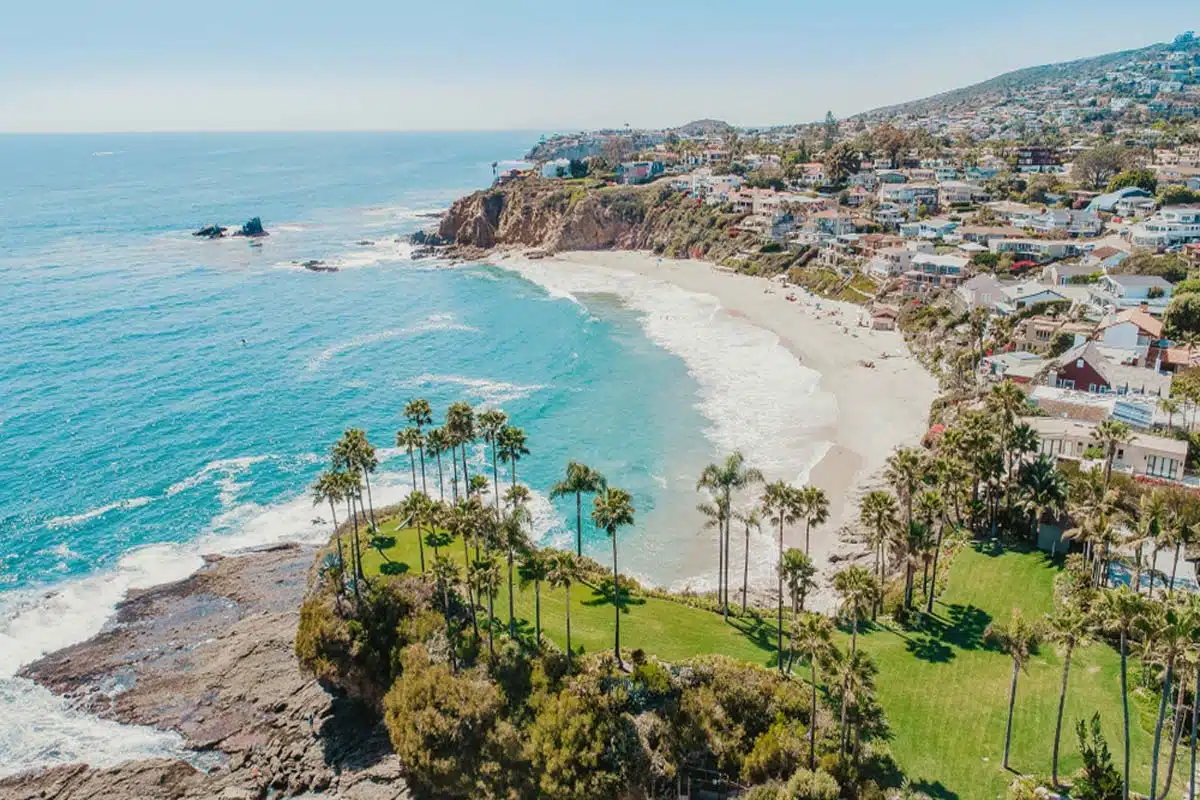 Laguna Beach has beach resort vibes with a Bohemian artistic community feel. Start your day at Main Beach and stroll along the boardwalk, or take off your shoes and enjoy the sand between your toes.
Head a little north to Heisler Park, a lush green place where incredible sculptures and staircases that lead down to rock pools await you. Grab some food on the go and picnic at Crescent Bay Point Park atop the bluffs overlooking the coast.
The Sawdust Art Festival takes place in summer and winter, and art stalls populate the area for your perusal. Take an art class if you feel so inclined.
How to Get There: Take the train from Los Angeles to Irvine, then a taxi to Laguna Beach.
Average journey duration: 1 hour and 15 minutes.
Practical Tips for Easy Day Trips from Los Angeles
While the bus or train is a practical way to get around if your day trip is close to Los Angeles, those farther afield might require a rental car. This cuts down on travel time and gives you more freedom. To be totally honest, it's my favourite way of travelling around Cali.
If you plan on going to a location for hiking, be prepared – bring a good pair of boots and pack plenty of water and snacks.
Map of Day Tours from Los Angeles