Planning a trip through California? Discover what you need to add to your Santa Barbara day trip for an unforgettable day in the California sun.
Santa Barbara is criminally underrated. I know that's a pretty bold statement, but its colonial architecture and historic eateries will attest. And that's before I even mention the wine.
Whether you decide to venture inland to Santa Barbara's picturesque vineyards or hit up the glorious beaches, a day spent in Santa Barbara won't disappoint.
So, let me help you plan the ultimate day trip in Santa Barbara that's worthy of making it onto any US West Coast road trip.
Handy Tips for Planning Your Santa Barbara Day Trip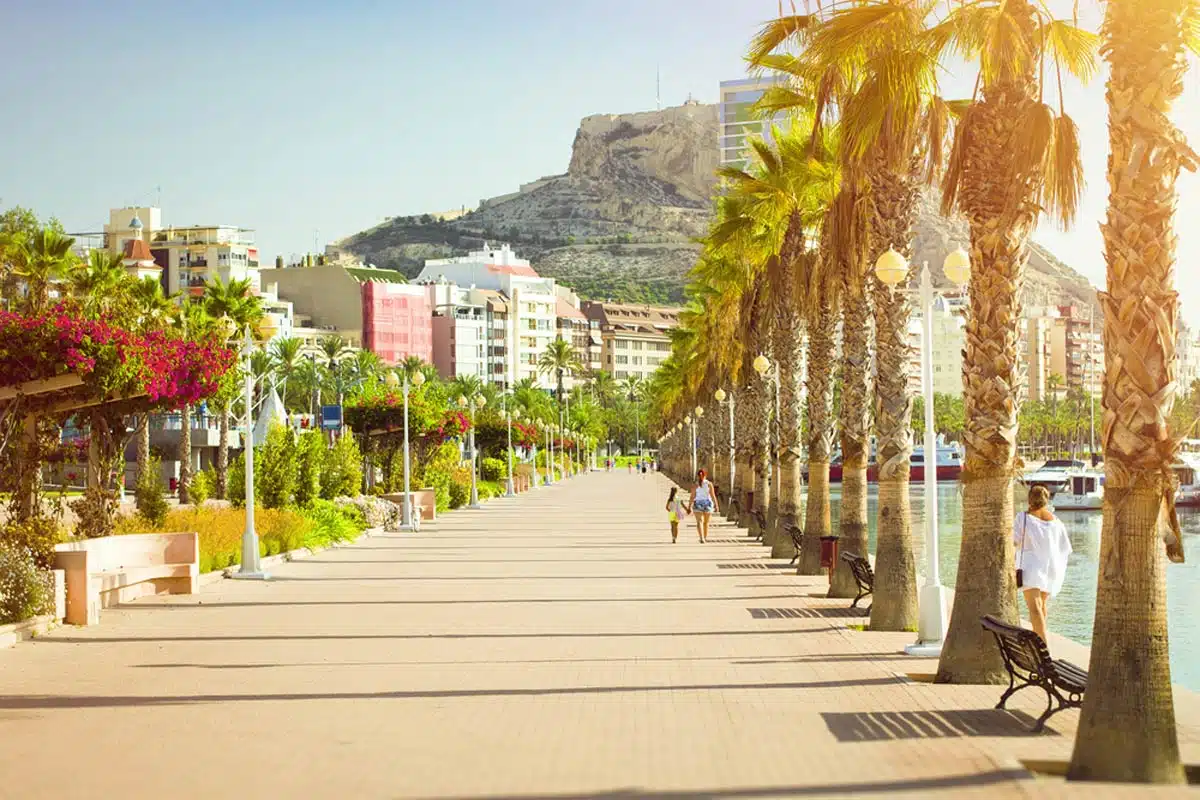 Top Tours for Your One Day in Santa Barbara Itinerary
Santa Barbara Wine Country Tour — If you've seen Sideways, you need no encouragement to visit Santa Barbara's wine country. There's no better way to experience Santa Barbara than a wine-tasting tour through the Santa Ynez Valley. The wine is one thing, and then the views are a whole other, as Santa Barbara's landscape will captivate your imagination. Now, who doesn't want that?
Santa Barbara Catamaran Sunset Cruise — Did somebody ask for romance under a California sunset? If so, then a catamaran cruise is for you. Admire a tapestry of colour lighting up the sky, Santa Ynez Valley, and the Channel Islands. You may even spot some dolphins or whales. It's hard to top an experience like this.
Santa Barbara Electric Bike City Tour — A day in Santa Barbara is more than just visiting pretty beaches and drinking tasty wine. And you'll learn just that on an electric bike tour past the top attractions in the city. You'll see all the top things to do in Santa Barbara, from its famous sights to hidden gems. Do I need to say more?
What to Pack for Your Santa Barbara Day Trip Itinerary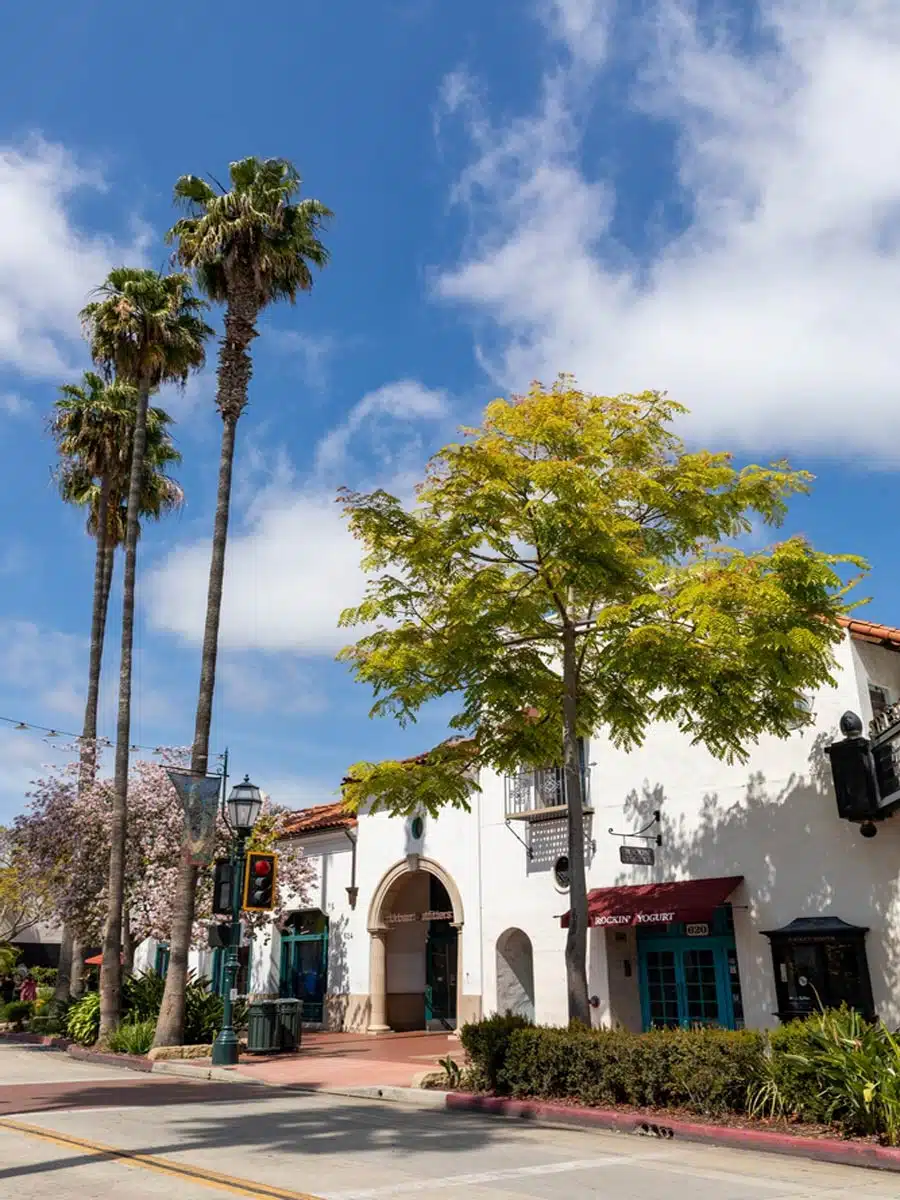 To help you out, here are some of my top essentials for all Santa Barbara day trips:
Comfortable Sandals — This is a beachy destination, so rather than lugging along the golden sand in shoes, grab yourself a pair of high-quality Birkenstock sandals.
Beach Towel — Although the sand is soft, it often sticks to you way too easily, no thanks to the seawater. So lounge around in comfort with your larger-than-life beach towel.
Lightweight Daypack — The last thing you need is to feel like a clutz trying to keep track of all your valuables. To avoid this, store everything in one place with your lightweight daypack.
Sun Tan Lotion and Bug Spray — Santa Barbara is a haven for all, even pesky mosquitoes. Make sure you stock up on bug spray and sun tan lotion to avoid bug bites and sunburn.
Where to Stay for Your Day Trip to Santa Barbara
El Encanto, A Belmond Hotel
If it's a five-star stay in the heart of Santa Barbara's Lower Riviera you seek, then look no further than El Encanto. It's a place that takes opulence to the next level with its glorious gardens and spacious rooms.
What happens when you blend Mediterranean class with hearty American hospitality? You get an El Encanto room that oozes luxury.
Although it's not on the beach, you're five minutes away from the vibey downtown district and 10 minutes away from East Beach.
Top Of The Pops
When you plan a day trip to Santa Barbara, you may not want to stay in a hotel, and that's where Top Of The Pops comes in.
This is an accommodation that considers your comfort first and foremost, with spacious lounges and bedrooms fit for royalty.
They even provide all the beach essentials, so say goodbye to a cramped road trip. The private pool, hot tub, and outdoor fireplaces are a bonus. And it's proximity to the trendy Coast Village Road makes it a standout accommodation.
Quick Info for Your Santa Barbara Day Trip
Time Zone: Pacific Time Zone (GMT-8)
Currency: US Dollar ($)
Plugs: Types A and B
Nearest Airport: Santa Barbara Airport
5 Must-See Spots: Old Mission Santa Barbara, Stearns Wharf, Arroyo Burro Beach, Santa Barbara Museum of Art, Leadbetter Beach
Top Tip: Visit between March and May or September and November to skip the crowds but still have fantastic weather. You can also enjoy some whale watching during this time.
Getting Around
Bus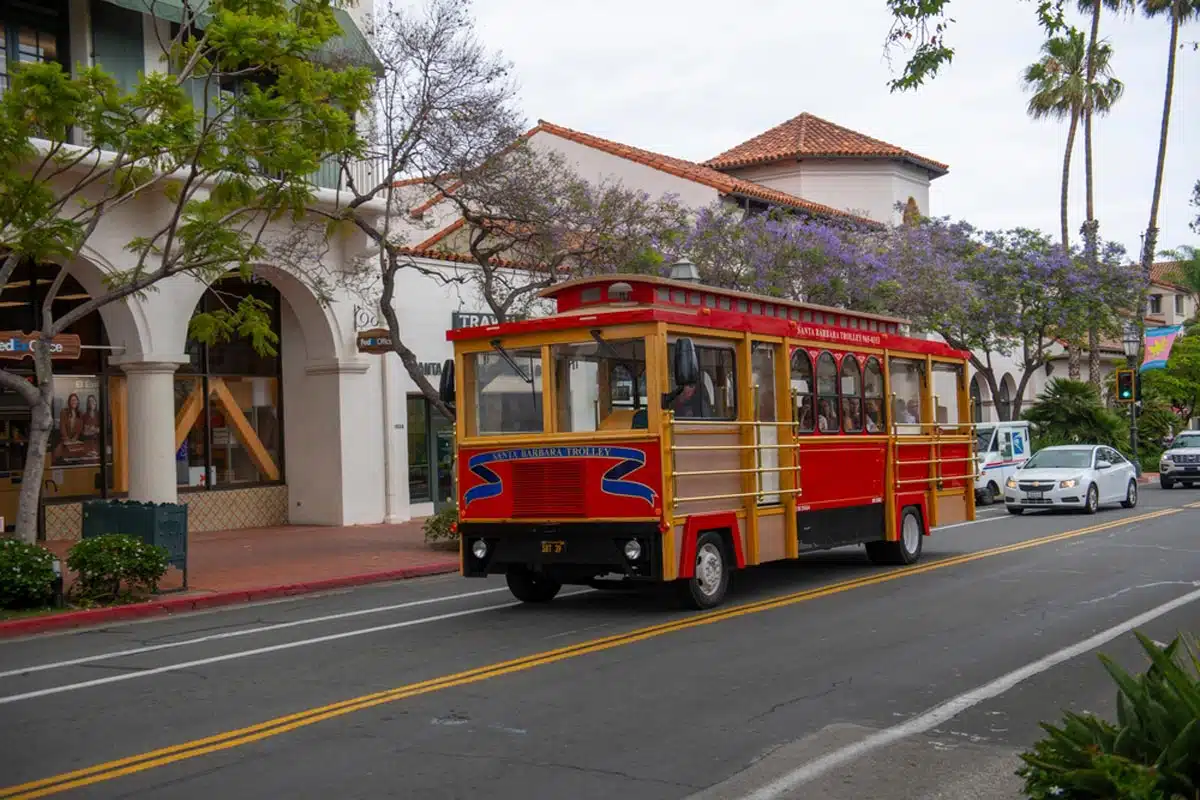 Santa Barbara has one of the best bus systems in California. You simply need to look at their maps and schedules website to see what I mean.
The buses cover just about every square inch of the city. It's also super affordable, as you can get a day pass for just $6 per person.
There is some waiting time for specific bus routes, but it's a great option if you plan on exploring the city without a car.
Car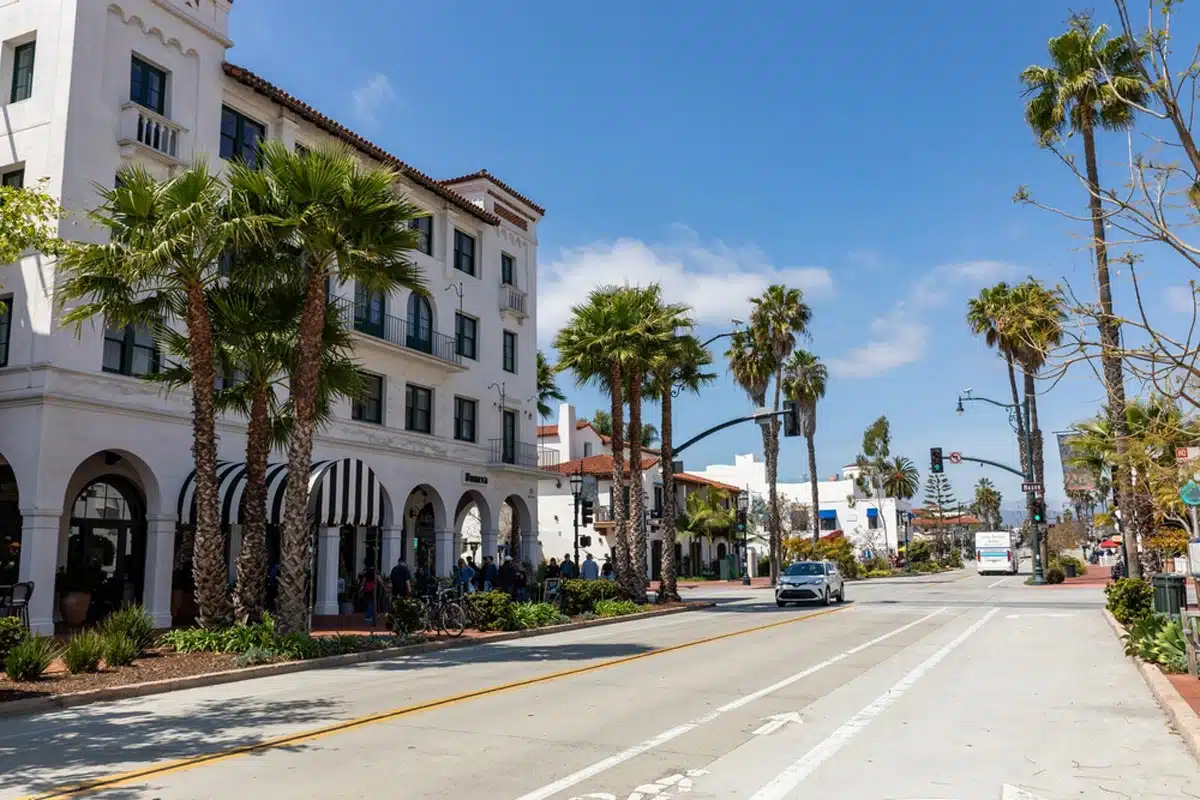 A car is a handy way to get around the city, especially if you're planning to travel to the city's outskirts. You'll need a car to get to the wine region in Santa Ynez Valley, but otherwise, a car is optional in the city.
However, if you're on a California road trip and already have a car, there are some things to keep in mind…
Garage parking downtown is pricey, but you can avoid these by parking on the street. There's plenty of street parking throughout Santa Barbara, so finding a spot should be easy.
Electric Bike
Santa Barbara is a city that loves its bikes. No, seriously, you'll see people peddling away all over the place. And it's easy to see why, as bike rentals offer a cost-effective and easy way to get around.
A standard bike rental will cost around $34, while an e-bike — say goodbye to burning calves — is roughly $65 for the day. This gives you the freedom to explore the city and its glorious boardwalks effortlessly and in style.
Taxi
Using a taxi is easily the most expensive option, but it's also slightly quicker than a bus or cycling. Green Taxi, Himalayan Taxi, and Yellow Cabs are the main old-fashioned services you can find in the city.
Alternatively, online apps like Uber and Lyft are common. I'd only use these as a last resort, but if that's your preferred transportation method, there's no judgement here.
Santa Barbara One Day Itinerary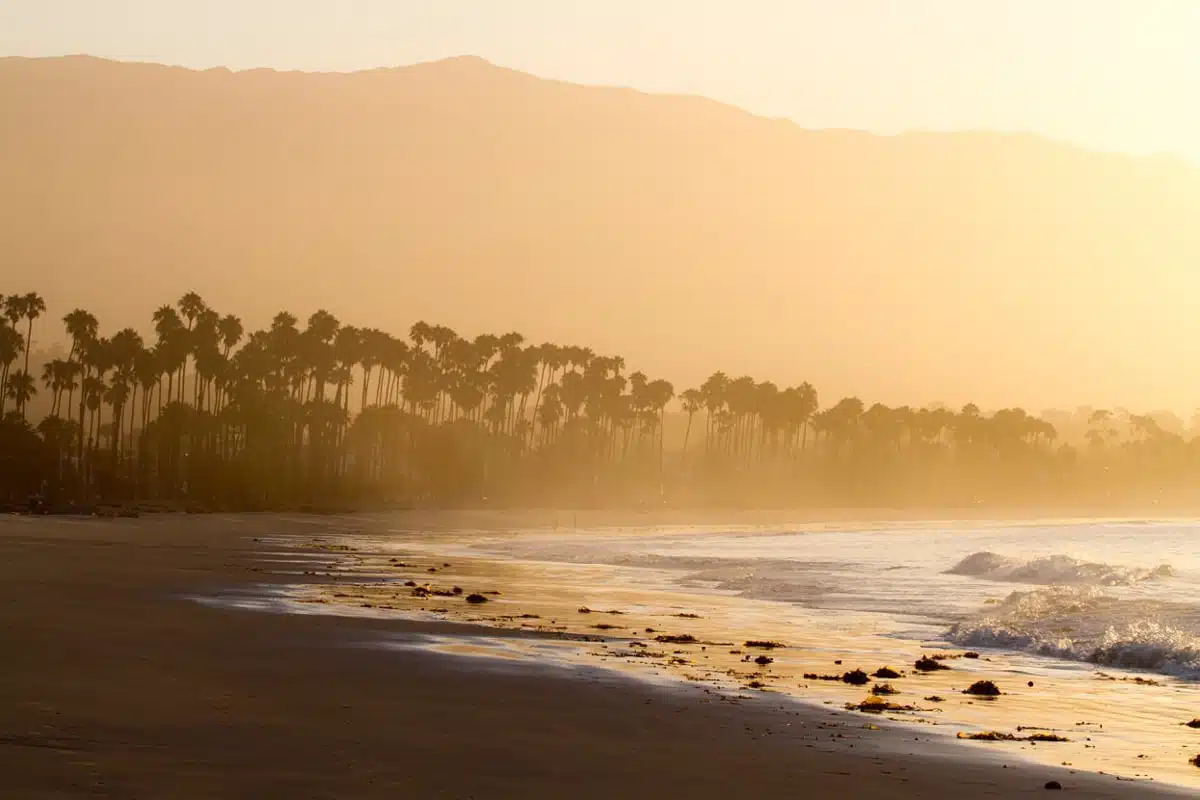 Okay, enough about the nitty-gritty details and time to dive into the fun stuff.
You'll want to spend a lot of the day exploring the downtown region, where many historic sites exist. But that's not all, as you can also enjoy its effervescent beaches.
And to end off the day, how about enjoying the Urban Wine Trail?
Explore Santa Barbara's Old Colonial Buildings and Parks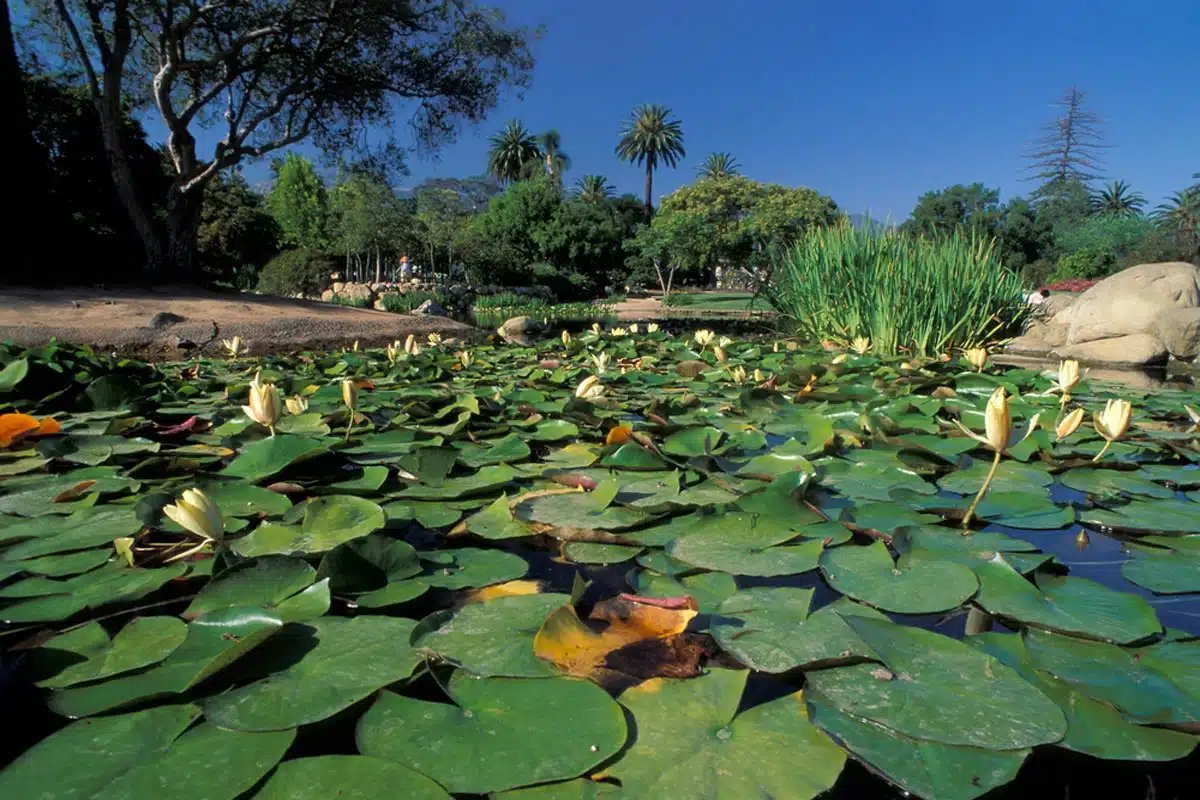 All the Santa Barbara day trip ideas you'll read will include exploring the city's old colonial buildings. And no, it's not a cliche. These architectural wonders are spectacular.
You'll want to start at the Old Mission Santa Barbara, where architecture and landscaping merge beautifully. There's a lot to see here, from its history at the Mission Museum to the breathtaking frescoes and mosaics in the St. Barbara Parish.
Once you've had your fill of Spanish-California history, take a 5-minute walk to the Alice Keck Park Memorial Garden. You'll be able to admire 75 species of flora. You may even consider dipping into the koi pond.
Okay, don't do that. But what I'm getting at is this is a park that'll have all your senses tingling. You simply need to walk through the sensory garden to catch my drift.
Alice Keck Park sounds lovely, right? Wait until you walk two minutes down the road to the Superior Court of California County.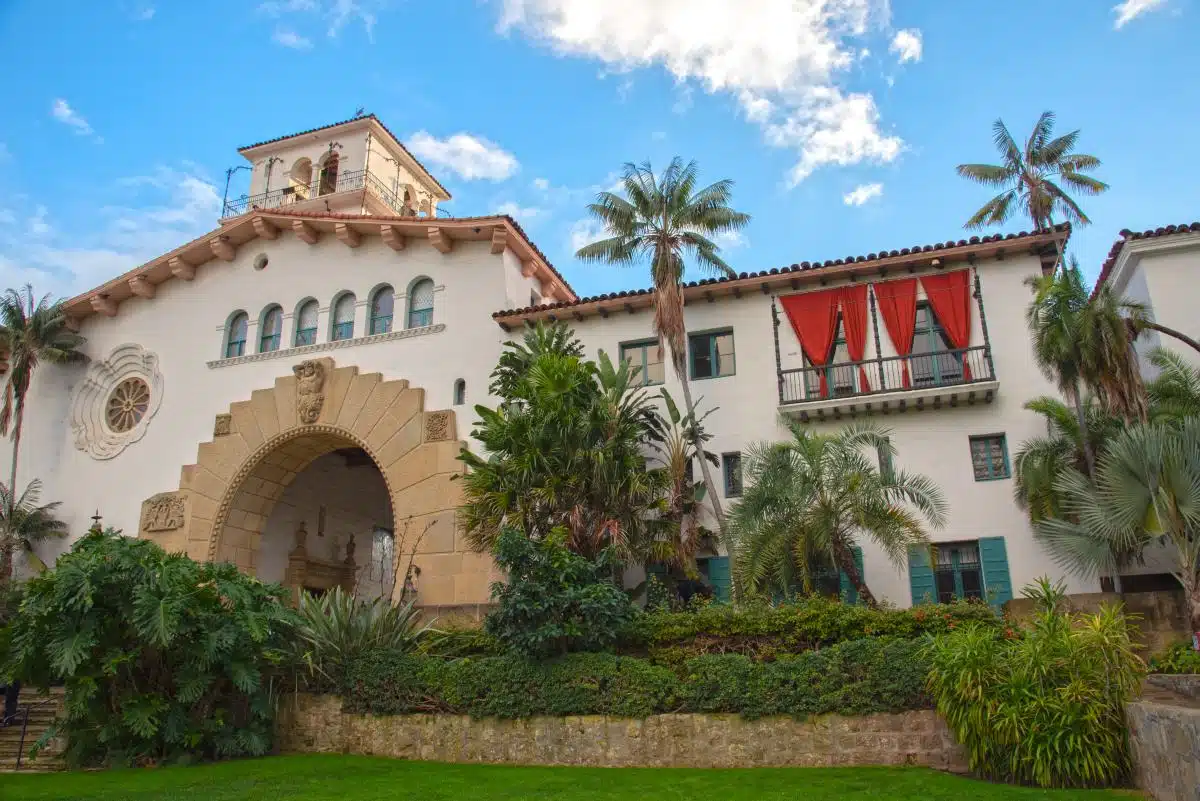 It may not sound extraordinary, but this Spanish revival-style building has plenty of surprises. The main halls' gold and blue ceilings create a moody atmosphere, while its mesmerising frescoes will take you to a whole other world.
Alternatively, you can book this self-guided audio tour of Santa Barbara and see all these sites and more.
Admire the Santa Barbara Museum of Art
Walk across the road from the Superior Court of California County and find the Santa Barbara Museum of Art. What makes this museum so unique? Where do I begin?
For starters, it has a collection of over 25,000 works that date back as far as 3,000 BC. You'll find famous names like Max Ernst and Henri Matisse.
But what may surprise you is the extensive collection of ancient artefacts, such as sculptures from the Maya civilisation to ceramics from Pakistan.
With such a range of art to admire, this may all seem pretty overwhelming. But to help you out, the museum space regularly hosts exhibitions that look into a specific period or style of artwork.
For example, you can explore a room dedicated to American and European art. Or how about diving into the rich history of East Asian art?
Although you can spend hours wandering through this maze of historic art, I recommend spending around two hours here. You'll still want a chance to discover the rest of the city anyways.
Discover Santa Barbara's Best Beaches on a Waterfront Bike Ride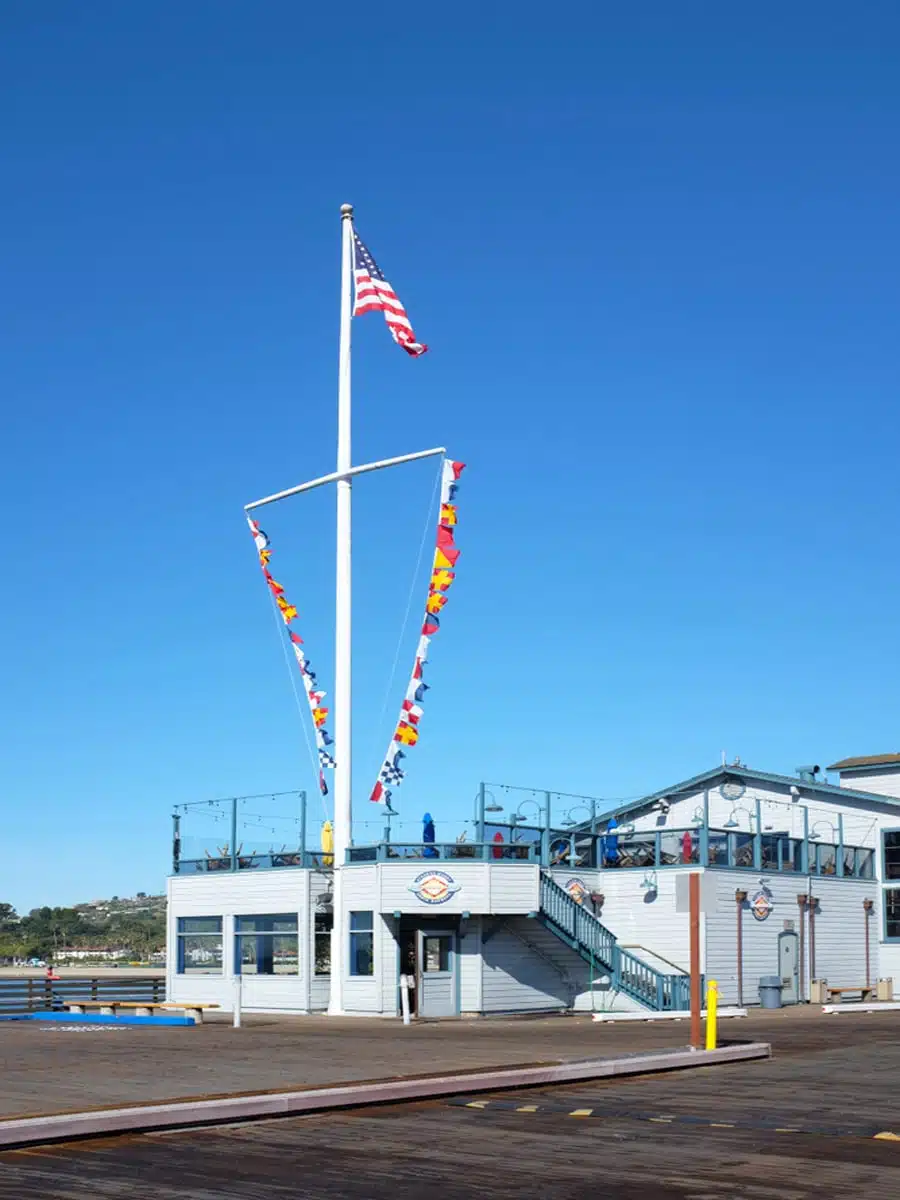 Now you don't think I've forgotten about Santa Barbara's iconic beachfront? Let me put your mind at ease because the next destination is the sandy shores of this picturesque city.
Stearns Wharf is calling out your name. And, as it's only 1.6 miles from the Santa Barbara Museum of Art, it's a great place to start.
Walk along the Pier Santa Barbara and enjoy the ocean breeze, or grab a bite to eat – I'm sure you're hungry by now – at one of its fantastic restaurants. I highly recommend the Santa Barbara Shellfish Company for the freshest seafood around.
The best way to explore the beachfront is with an electric bike rental, which you can get near East Beach. From here, you can ride north, passing Stearns Wharf, West Beach, and Leadbetter Beach.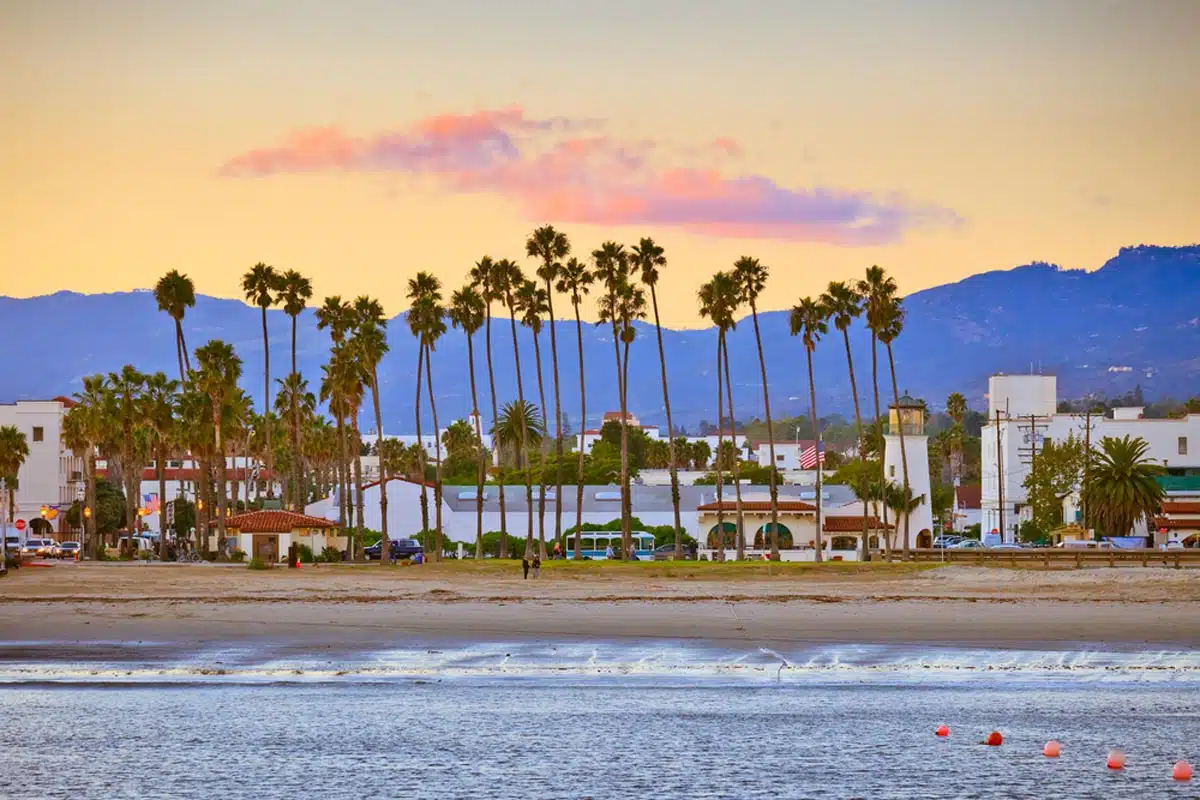 All these sights have a pristine coastline, and I'm sure you'll want to stop at each one to feel the sand beneath your feet. But the main attraction is yet to come, as you cruise up to 20 miles per hour towards More Mesa.
This is a glorious park region with yet more beachfront. At the top of the hilly outcrop, stunning coastal views greet you. You can see Santa Cruz Island in the distance, and if you're lucky, you may see some whales breaching.
You'll then head back to East Beach, where the next activity awaits.
Drink Up Along the Urban Wine Trail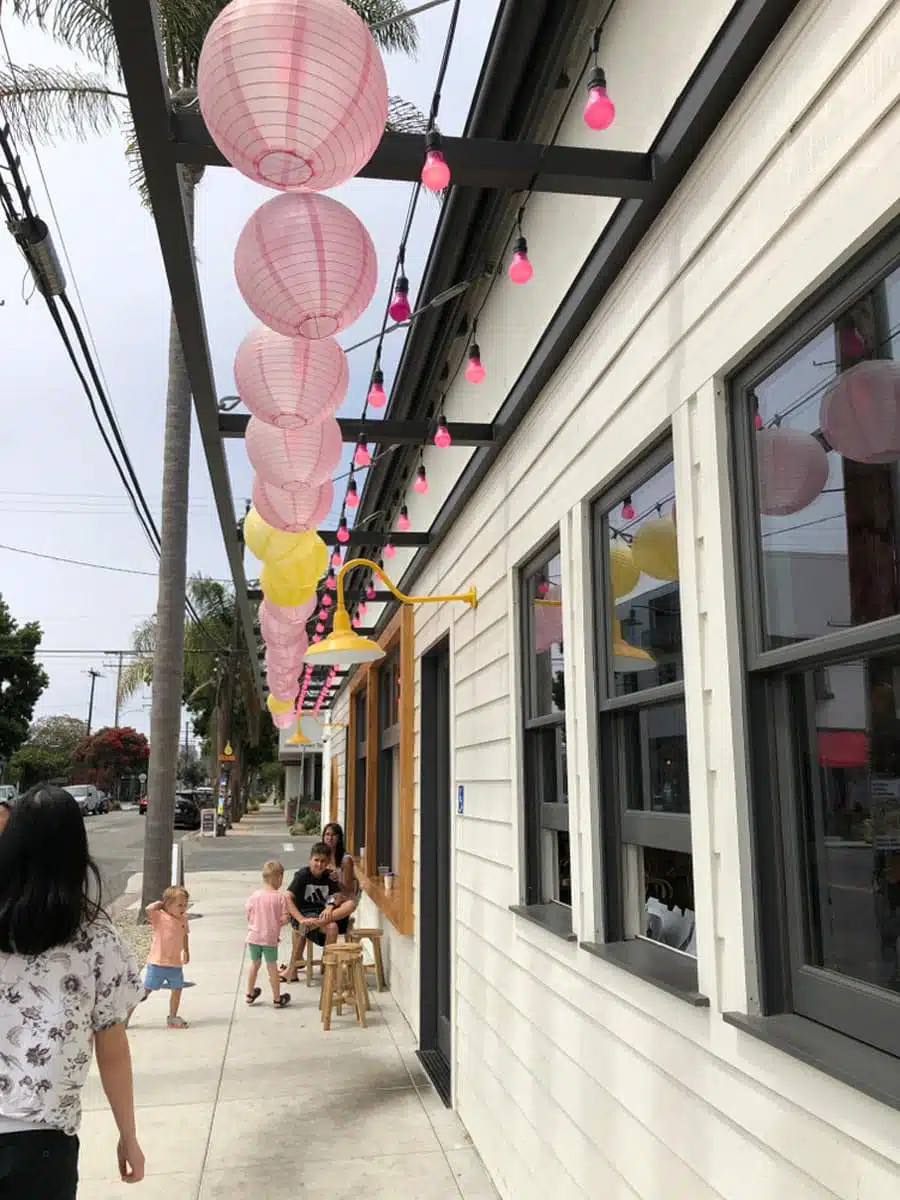 Your 1-day trip to Santa Barbara wouldn't be complete without tasting the region's fantastic wines. And you don't have to venture into the Santa Ynez Valley to do so, as the Urban Wine Trail is the next best thing.
Over twenty wineries have a spot in town where you can sip on California's best beverages. They spread out across the city, but if you want access to most of them, head to the Funk Zone.
There are nine iconic winery rooms for you to enjoy, and hopping from one to the next is the only way to do it. Indulge in a rich Pinot Noir at Pali Wine Company, or taste some earthy Sauvignon Blanc at Margerum Wine Company.
No matter where you go, excellent aperitifs will also be on the menu. Doesn't that sound like the perfect way to end your Santa Barbara Day Trip?
Santa Barbara Trip Itinerary – Map
Santa Barbara Day Trip: Read Next