Discover the best things to do in Santa Barbara with this handy guide. Add these activities to your Santa Barbara itinerary.
Hands up if you love a stunning beach…
I'm expecting everybody's hands to be firmly in the air, BTW.
So, my question is: Why on earth haven't you got yourself down to Santa Barbara yet?
Not to worry – if you need a little bit of a push, I'm here to tell you everything that Santa Barbz has to offer.
From epic hikes to fascinating museums and galleries, plus a couple of those breathtaking beaches I've already hinted at, Santa Barbara makes for a dreamy weekend getaway.
Read on to discover what you need to add to your Santa Barbara itinerary.
Want to know the best place to stay while dipping your toes into the iconic landscapes of Santa Barbara? It's the Best Western Plus Santa Barbara. Right in the heart of the city, what more could you want?
Top 5 Things to do in Santa Barbara
Go Wine Tasting in Santa Barbara County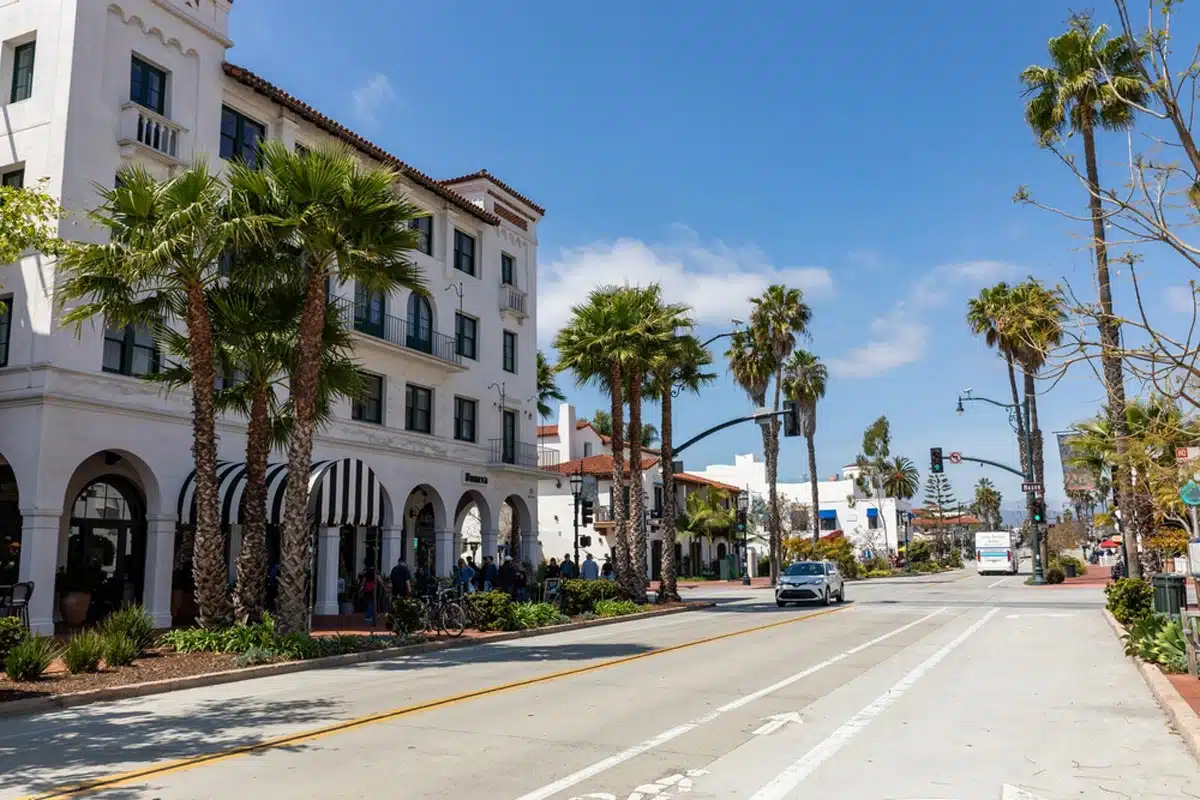 Wondering what to do in Santa Barbara? My first answer is go wine tasting, of course.
Known locally as the Urban Wine Trail, indulging in the finest of the county is the best Santa Barbara activity. Extending from Summerland through to Goleta, this well-known trail encompasses 40 wineries and tasting rooms.
Or how about visiting sites from the iconic Sideways film like Sanford Winery or Kalyra Winery?
Better yet, get tantalisingly lost in the tasting rooms of Kunin Wines, one in the Funk Zone and the other in Goleta. Cap things off with a visit to The Society, a dedicated Foley Food & Wine Society tasting room. Are you thirsty yet?
Spend an Afternoon at Stearns Wharf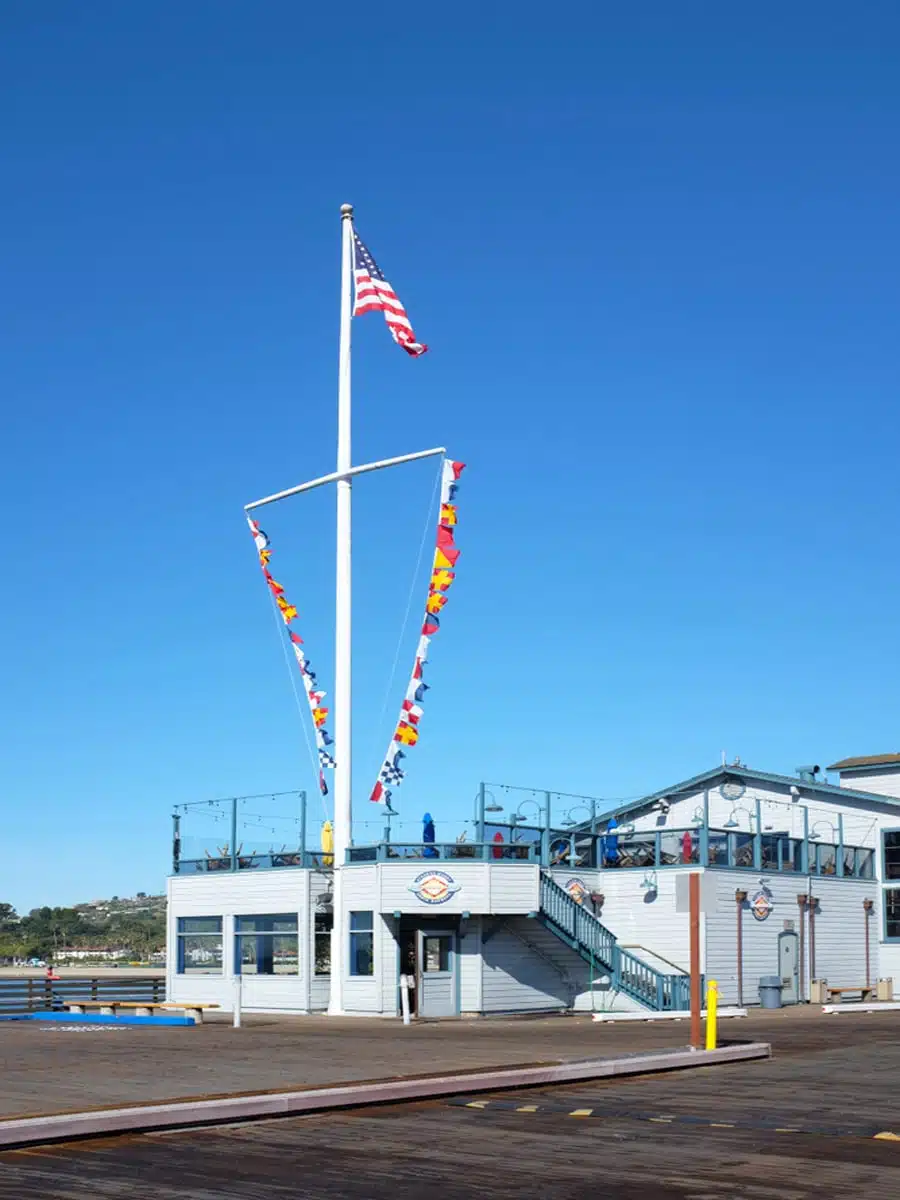 Construction on Stearns Wharf ended in 1872, making it the oldest wharf in the entire state. Okay, that's a remarkable little fact, but this veteran is the only wooden pier still in use today.
Better yet, if you head there in the early morning, you can grab the (and I mean the) freshest seafood directly off the boats as they dock.
But the wharf takes on a new life during the afternoon and early evening. Sitting on the very popular State Street, it's home to more than 17 businesses, an educational facility, and a bustling market dedicated primarily to Santa Barabara seafood.
Strolling along the harbour is a literal walk down memory lane, and while stretching your legs, indulge in some ice cream from one of the iconic parlours that call it home. Eating ice cream with the backdrop of the Santa Ynez Mountains. Count me in.
See the Santa Barbara Mission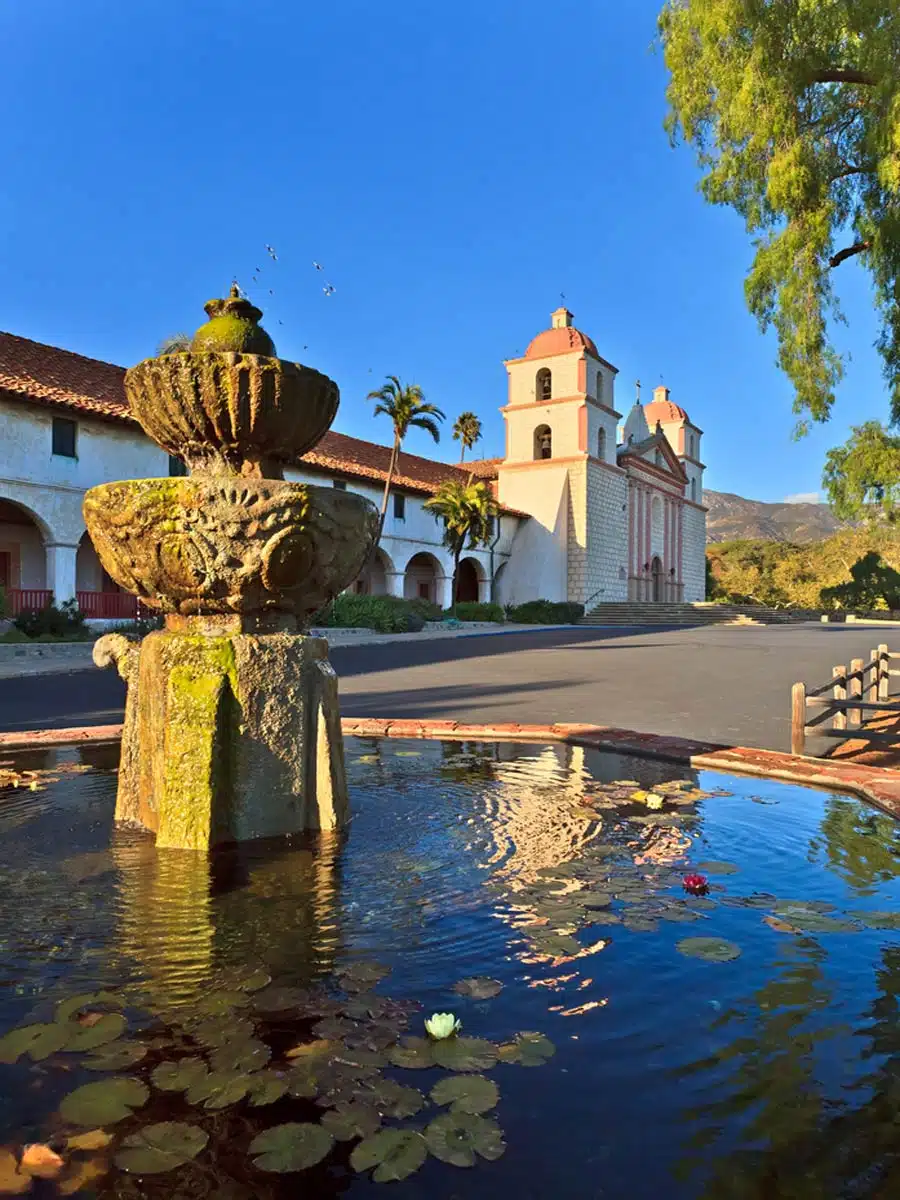 Ever wondered where the city got its name? Well, I doubt you'd be the first.
Dating back to the 18th century, the Old Santa Barbara Mission became one of the first of its kind and is still as famous as ever. It's even called the "Queen of the Missions".
It's undoubtedly the most iconic landmark in Santa Barbara, and its graceful, picturesque architecture, paired with a distinctive design, shaped much of the city. Highlights include the church building with its Roman temple facade and the exquisite La Huerta Historical Garden.
Those heading out on an electric-bike mission tour should stop by the cemetery (grim, yes, cool, very much so). It's a sobering reminder of those who found their final resting place here. 
And don't forget a stroll through the deliciously fragrant Mission Rose Garden for a lighthearted ending to your trip.
Head Out and Go Whale Watching
I know there are many fantastic things to do in Santa Barbara (obviously), but you absolutely need to experience its whale-watching extravaganzas. To put it lightly, few things are as thrilling as witnessing a humpback whale breach from the waters of the city's coastline.
The Santa Baraba channel sees more than 27 species of both whales and dolphins grace its waters annually. This makes the city one of the best places to grab a front-row seat to this magical display.
Time your trip from May to November to see humpback and blue whales feed here while grey whales migrate through the channel.
The beauty of this is that even if you don't see the whale breach, you'll catch glimpses of playful dolphins, sea lions, and even orcas across the coast.
So if a whale-watching tour wasn't on your itinerary, it should be now. 
Road Trip Along Big Sur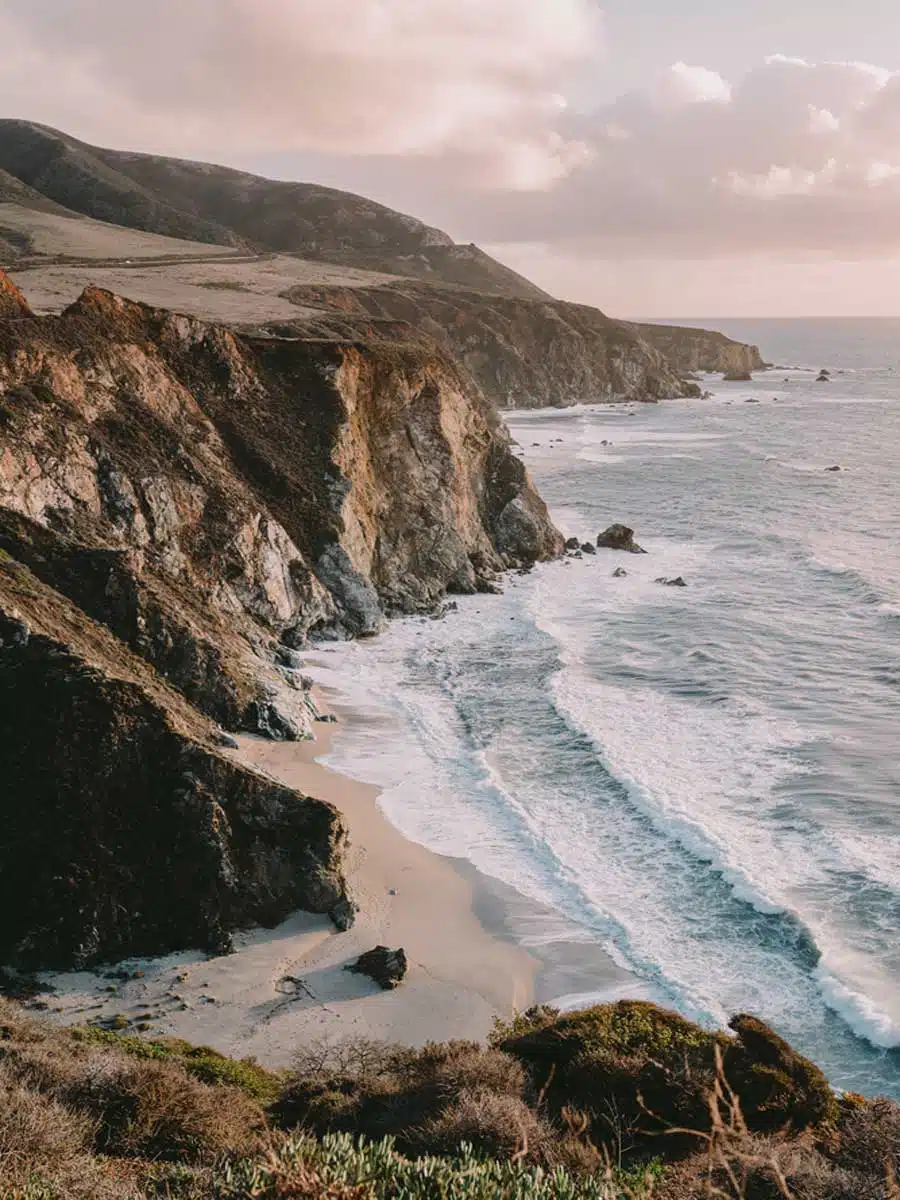 From the coastline of Santa Barbara to an epic road trip along one of the USA's most iconic stretches of road. Welcome to Big Sur.
Now, this isn't just an ordinary road – this work of engineering art stretches from Carmel all the way to San Simeon. This 90-mile-long road connects the Santa Lucia Mountains with the Pacific Ocean in a showcase of unparalleled natural beauty.
Whether you know it as Highway 1 or the Pacific Coast Highway, dedicating nearly 5 hours to driving along its winding roads will never leave your memory.
If you've ever pictured yourself with the Pacific winds in your hair, blasting some 80's music from your car radio and throwing your cares to the wind (no? Just me?), there is no better place to do so.
Brilliant Things to See & Do in Santa Barbara
Get Lost at the Santa Barbara Botanic Garden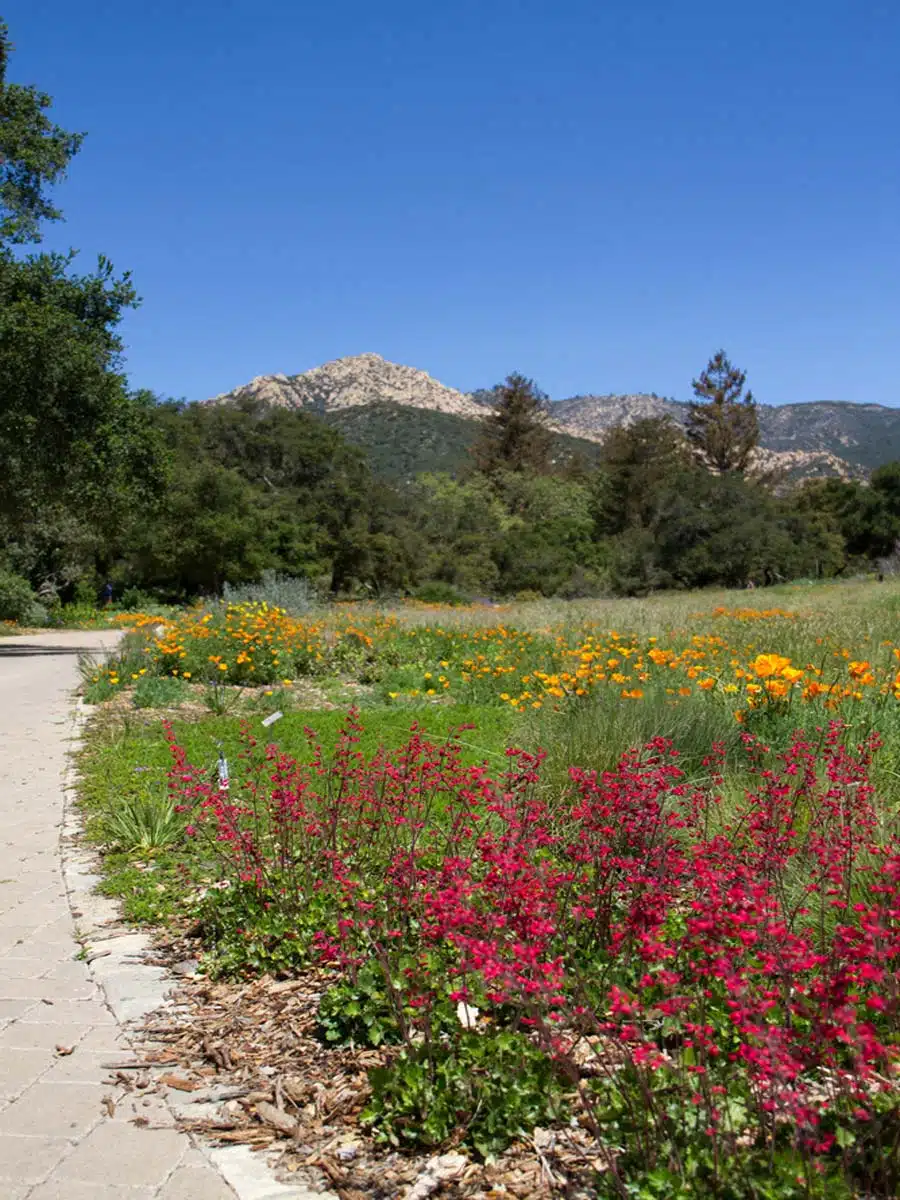 A craving for nature in a place like Santa Barbara is only natural. And with a sprawling 78 acres of woodland, stunning views, and gardens showcasing blooming spectacles, you're in the right place.
The Santa Barbara Botanic Garden boasts more than 5.5 miles of pathways that wind through enticing pine-scented woodland. Include a stop at the Mission Dam, the redwood grove, and the wildflower meadow.
Or catch some serenity at the Japanese teahouse and garden.
Visit the Seals of Carpinteria Harbor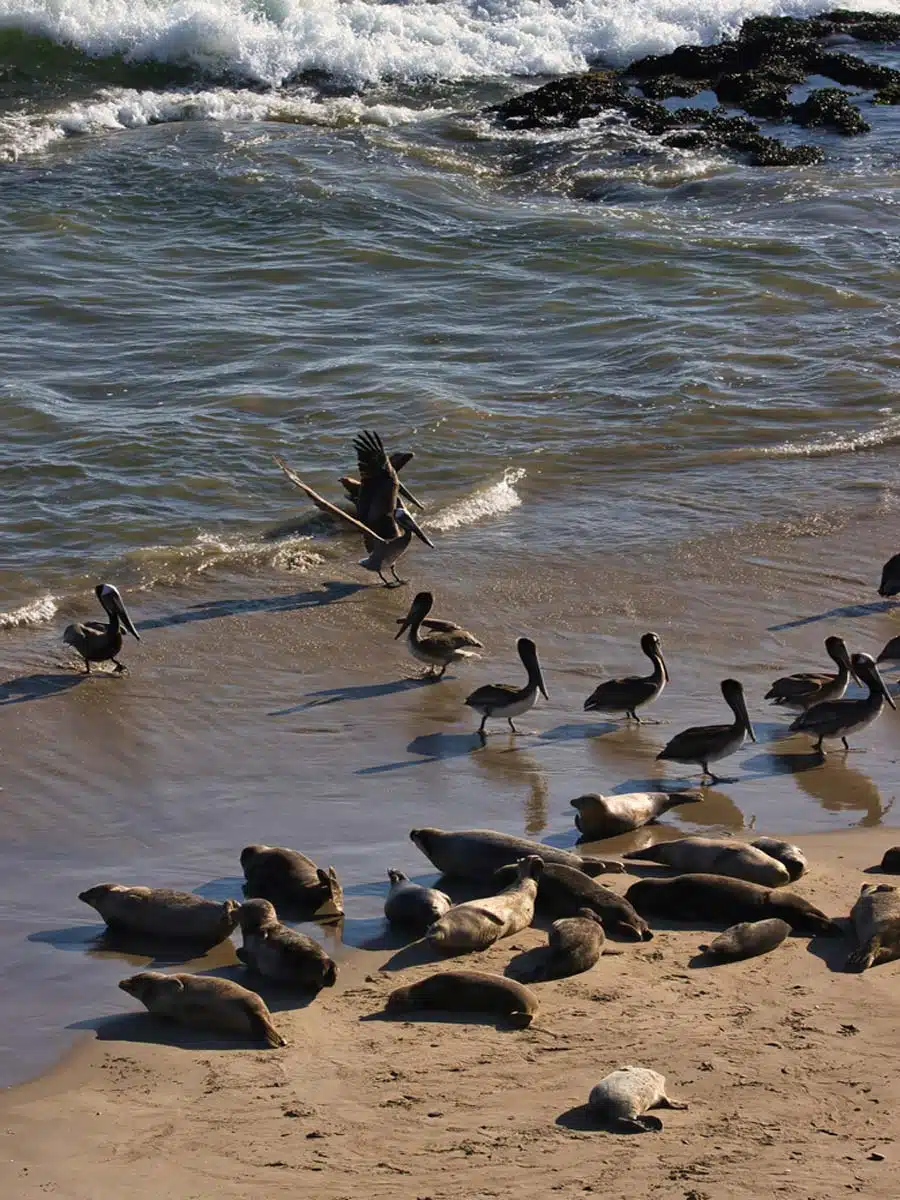 Ask any hiking enthusiast, myself included, what the eventual reward is for some sweat-inducing trekking. Mostly it's striking views and a sense of accomplishment.
However, as part of the Coastal Vista Trail, you'll have all of that and something special as an added extra at Carpinteria harbour.
The several lookout points that gaze upon Anacapa, Santa Cruz, and Santa Rosa Islands are out of this world.
But the star attractions are the community of harbour seals, mainly focused around the respected Carpinteria harbour Seal Reserve. More than 100 adult seals play around and brighten your day with flapping fins and bellowing calls.
Beach Bum at East Beach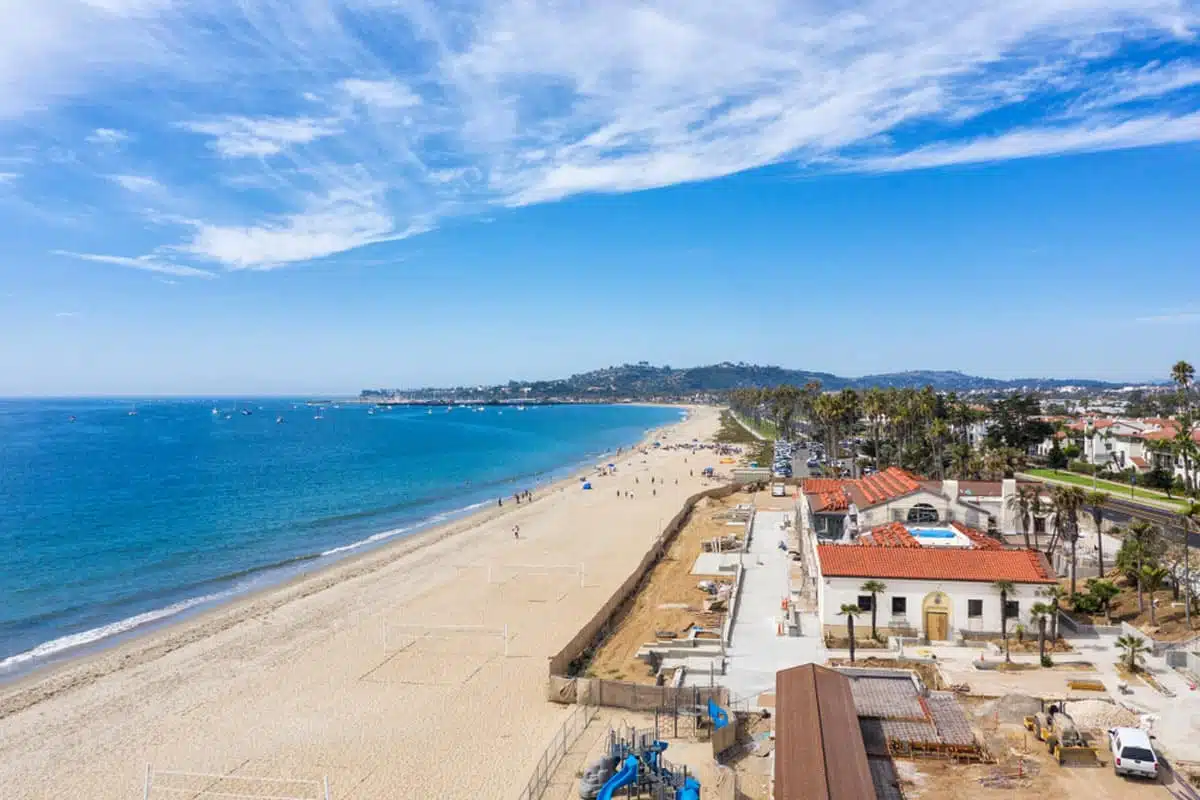 Of the many free things to do in Santa Barbara, heading to one of its famous beaches crowns any list.
Three of these rank as the best of the best. But it's the least crowded one you should visit. And for some unforgettable beach bumming, East Beach is heaven on Earth.
Thanks partially to its location, you won't have to sardine through thousands of eager sun soakers to enjoy this beauty. While the jury might still be out on which beach is best, East Beach boasts an impeccable stretch of ocean second to none in Santa Barbara.
Explore The Santa Barbara Museum of Natural History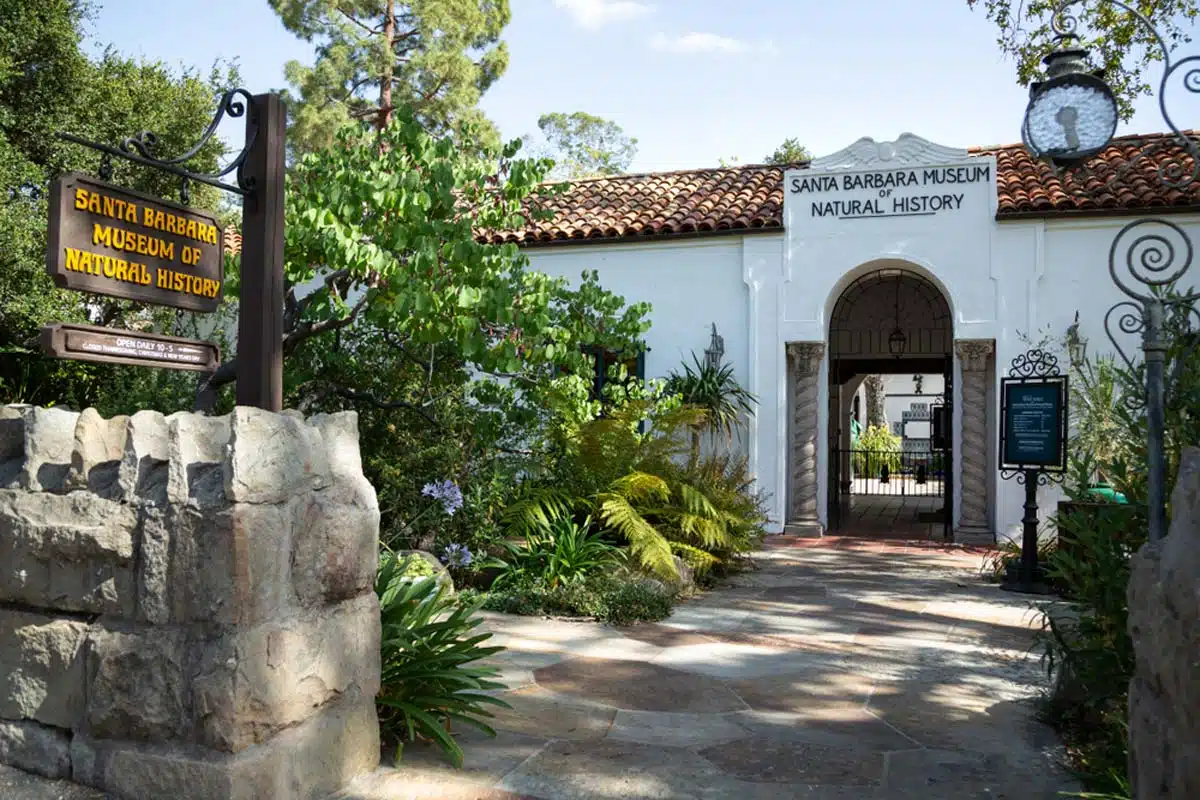 As far as places to see in Santa Barbara go, I have to argue that the Santa Barbara Museum of Natural History takes the cake.
Technically this isn't just one attraction because it is actually two separate (but both must-visit) campuses. The first is the Mission Canyon Campus along Mission Creek, and the second the Sea Centre on Stearns Wharf.
The highlight of the Mission Canyon Campus is a life-size 72-foot blue whale skeleton that welcomes you at the entrance. And for whale watchers, this is a must.
Add to your itinerary some famous exhibits, including the Gladwin Planetarium, the Creek Woodland Nature Trail, and the seasonal Butterflies Alive! Exhibit.
Feast Your Eyes on The Santa Barbara Orchid Estate
Beyond usually costing an arm and a leg, orchids have a reputation for being incredibly gorgeous, challenging to keep alive, and your mom's favourite flower.
But, the Santa Barbara Orchid Estate is a wow-worthy 5-acre piece of orchid heaven nestled along the city's beaches.
Regardless of your level of orchid love, this is one of the best places to visit in Santa Barbara. Specialising in temperate orchids that quickly grow outdoors and, surprisingly, don't need much help to do so, it's a feast for the senses.
Yes, walking through the fields is one thing, but you can buy as many as you want here. And there is a lot to choose from, so take your time.
Discover The Santa Barbara Zoo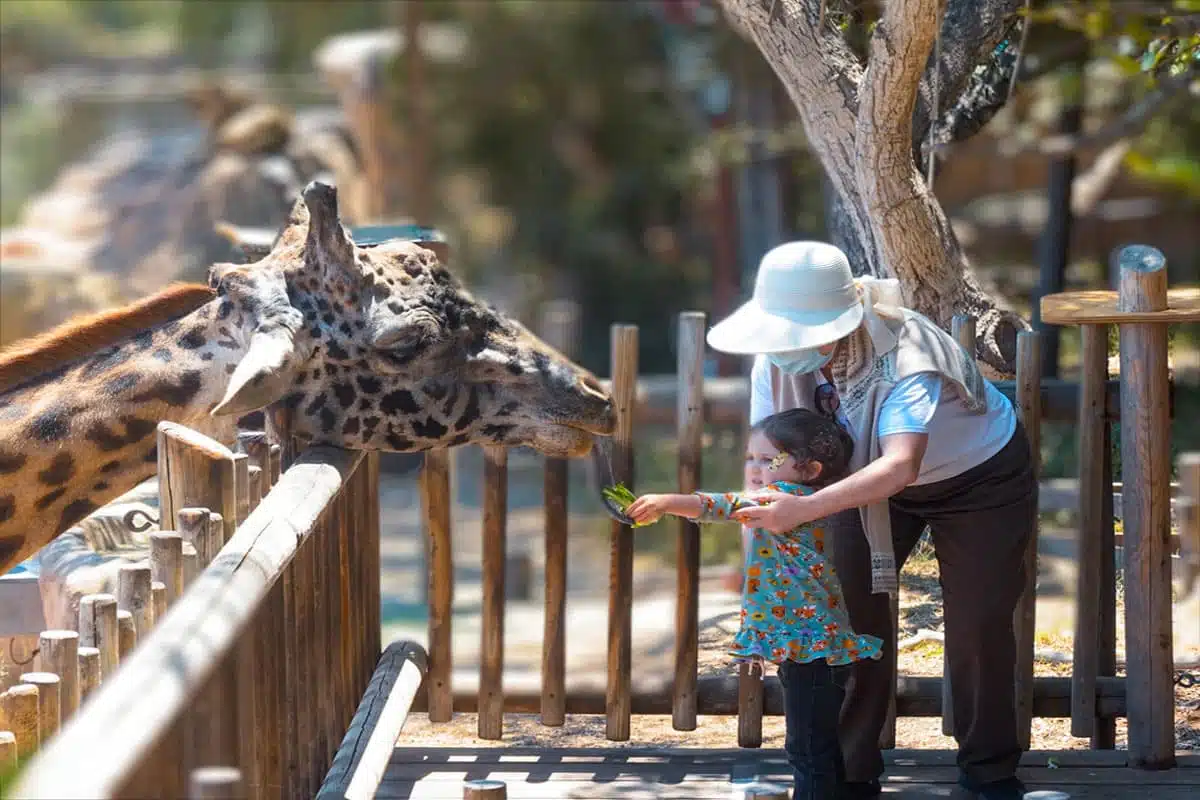 I'd love to say I've saved the best for last, but Santa Barbara keeps throwing heavy hitters. Visiting the zoo is one of those activities in Santa Barbara you can't miss.
In fact, it's a staple attraction on most California sightseeing excursions. I mean, 30 acres of land teeming with wildlife, how could it not be?
A whopping 500 animal species call this slice of the urban jungle (pun intended) home, including more than 140 different mammals, birds, reptiles, and, yes, even insects.
Composed of lush botanic gardens that each display rare and exotic plants, from succulents to trees, it's a wilderness escape you never knew you needed.
Get Artsy at The Santa Barbara Museum of Art
In perspective, Santa Barbara isn't a big city. Sure, it's not tiny either, and with the incredible amount of unique things to do in Santa Barbara, it drips with allure.
Want to know what else drips from its hinges? Art. And lots of it. Especially at the Santa Barbara Museum of Art.
Here, a massive collection of more than 27,000 is on display and spans 5,000 years. But, the museum is most famous for its extensive collection of Claude Monet paintings and classical antiques.
Then there's its trove of American and Asian art and photography. You really couldn't ask for more.
Spend a Night at The Hilton Beachfront Hotel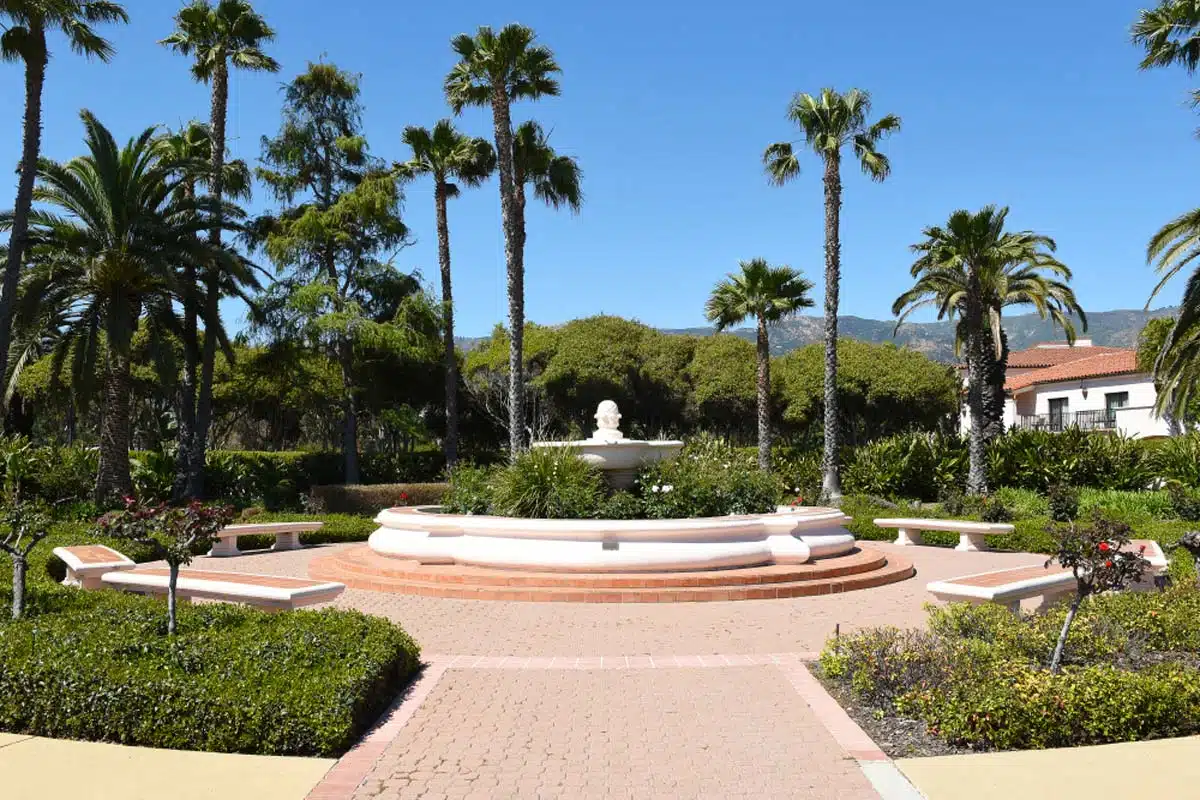 Sitting along the breathtaking Pacific Ocean and a few steps from the city's most loved boutique stores, you have to spend a night (or more) at the Hilton Beachfront Hotel. 
Now, while there's a plethora of top things to do in Santa Barbara surrounding the resort, you'll most likely never want to leave its premises.
You can lounge around the breathtaking outdoor pool, play a game of tennis on its manicured courts, or partake in a fitness class or two. But if you'd much rather just unwind, the world-famous Spa Del Mar awaits within.
And if you're stuck wondering what to eat, there are four award-winning restaurants on site.
Unique Things to See & Do in Santa Barbara: Hidden Gems That are Off the Beaten Track
Hike to Inspiration Point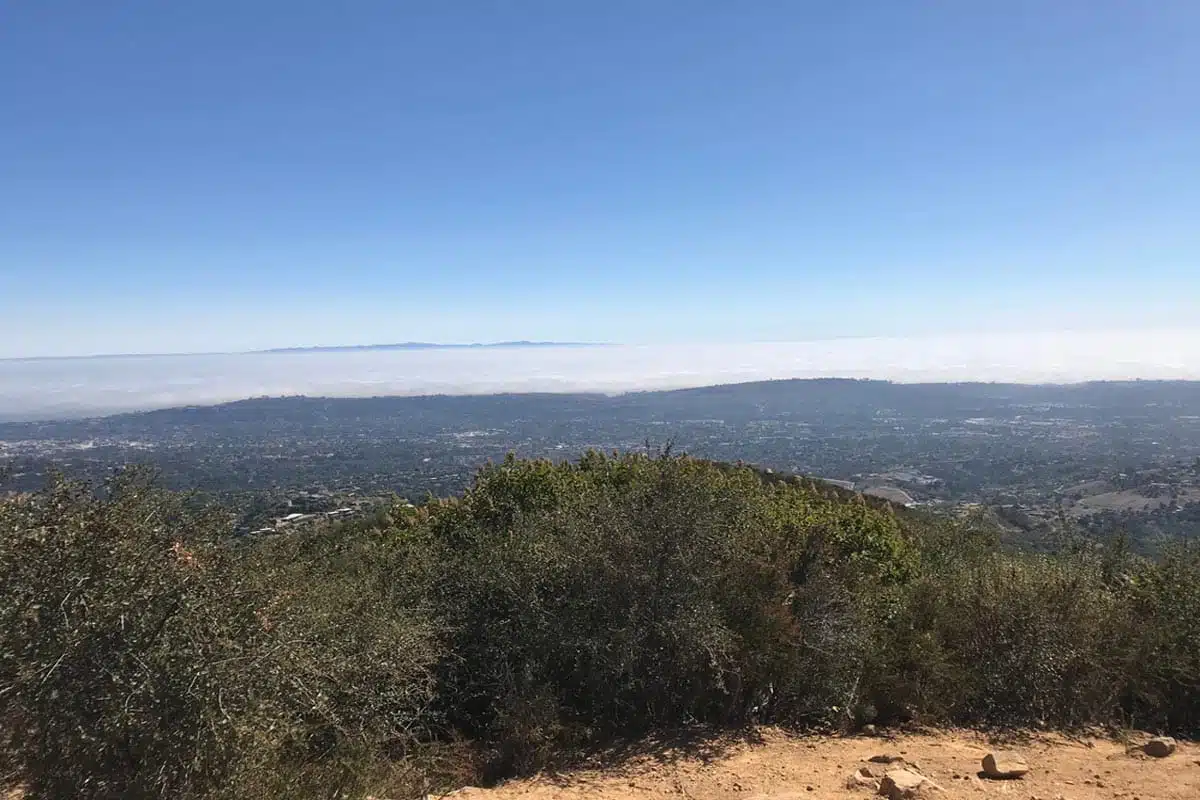 Maybe I'm taking off the beaten path a bit literally, but I don't care.
If you want to clear your mind, take astounding landscapes, and tick one of the best things to do in Santa Barbara off your USA bucket list, welcome to Inspiration Point. While you'll reach the same point, there are two ways of getting here.
The first is a scenic trip to an outlook that overlooks the picturesque Santa Barbara coastline, including spectacular views of the Channel Islands in the distance.
Although it's the shorter hike, the Tunnel Trail is the second option and winner here. This 3.5-mile roundtrip does have a few steep sections, but nothing the payoff doesn't justify.
Visit MOXI – The Wolf Museum of Exploration + Innovation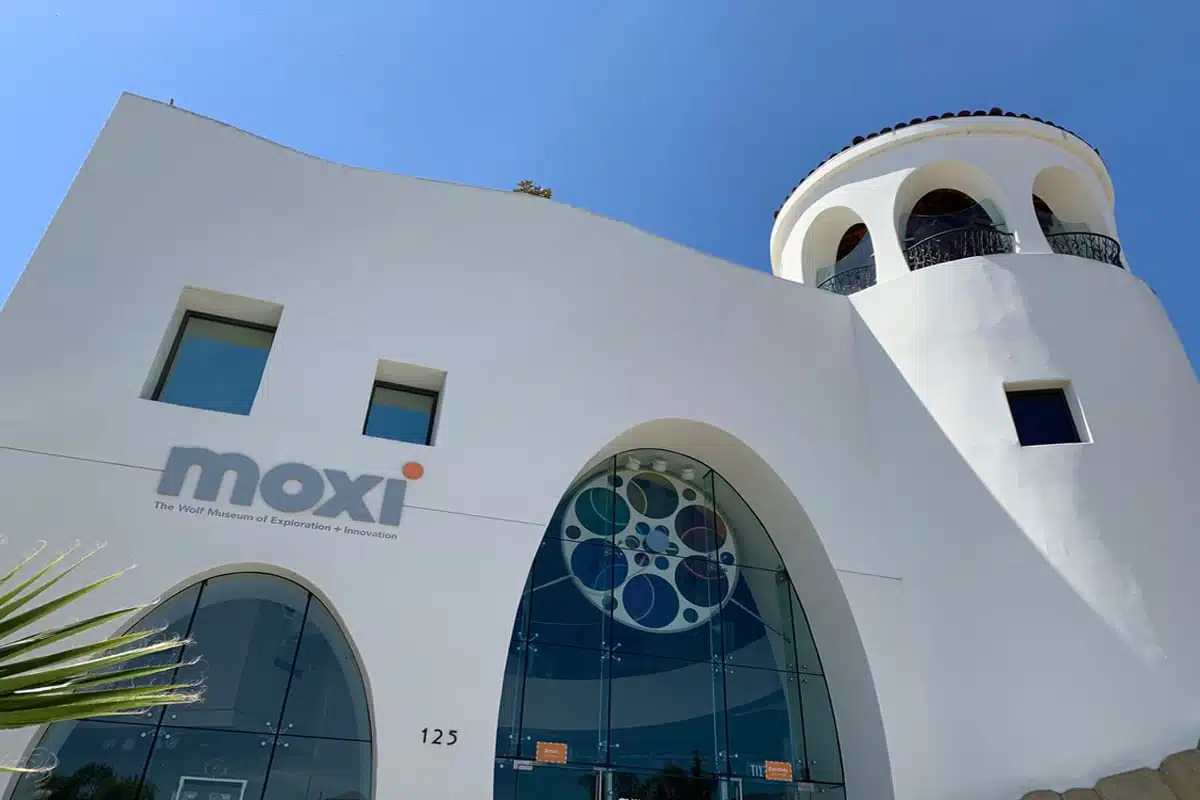 How badly do you want to create a complete musical score for a future Hollywood blockbuster? How about running around inside a giant guitar?
If this is your idea of a cool thing to do in Santa Barbara, I don't know why your ticket to MOXI remains unbooked.
At The Wolf Museum of Exploration + Innovation, a playground of fun awaits. Spreading across three floors, the individual exhibits Light, Speed, Interactive Media, and more will bring out the child in anyone.
Head to the Innovation Workshop and print your own 3D creation, or take a selfie that's turned into a fully customised mosaic.
Vibe at The Santa Barbara Funk Zone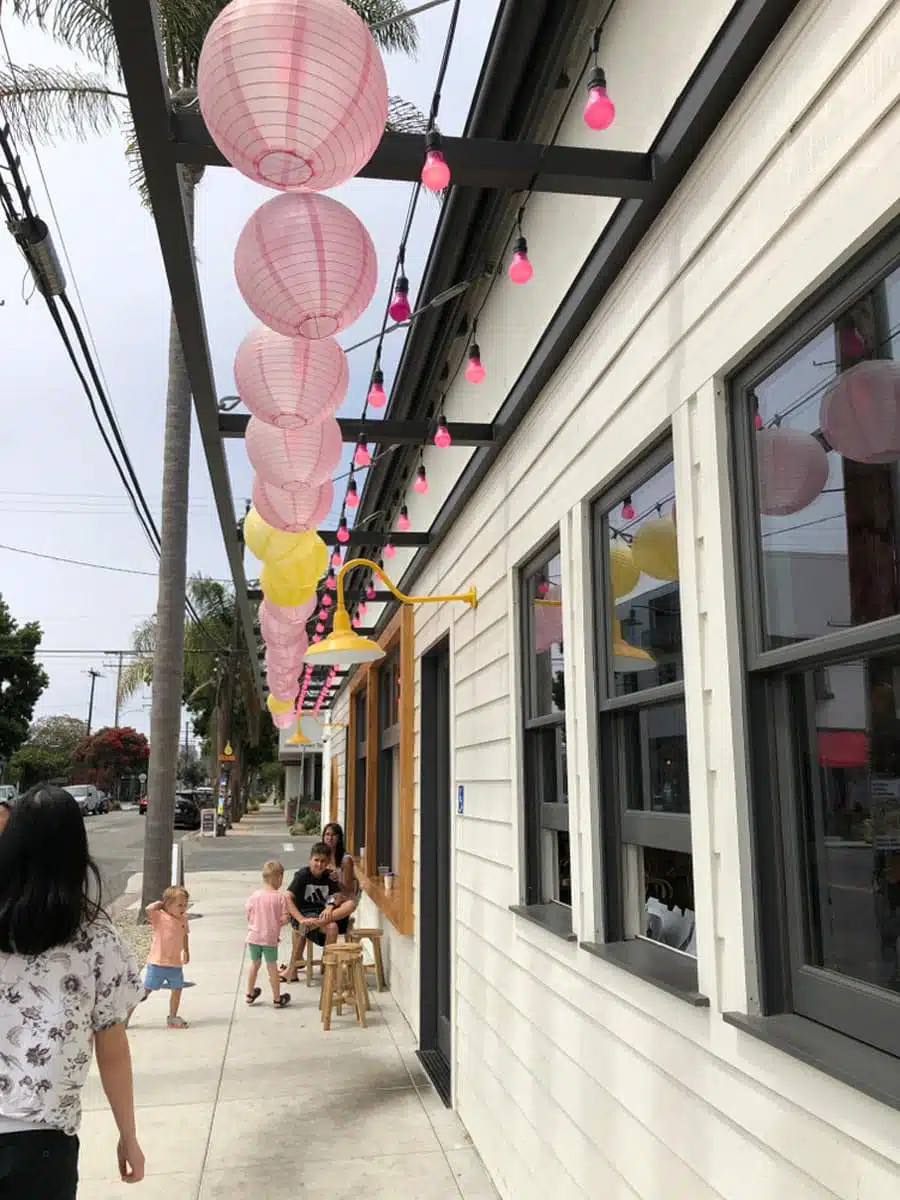 Do you know what urban renewal is? No? Okay, don't worry. All you need to know is that the Santa Barbara Funk Zone is the best example you'll ever witness.
Within this neighbourhood, you'll find dozens of boutique shops, state-of-the-art and cutting-edge art galleries, and the city's best restaurants and thirst-quenching bars.
If you're after incredible things to do in Santa Barbara at night, you're in for a good time. The vibrant, lively, and enticing nightlife scene here is unlike anything you've ever experienced.
And if you want to indulge in some culinary delights, food tours of the Funk Zone have no limits. Now for those yearning for a souvenir of your time here, icons such as LOVELORN and The Blue Door are your go-to shopping destinations.
Marvel at Lotusland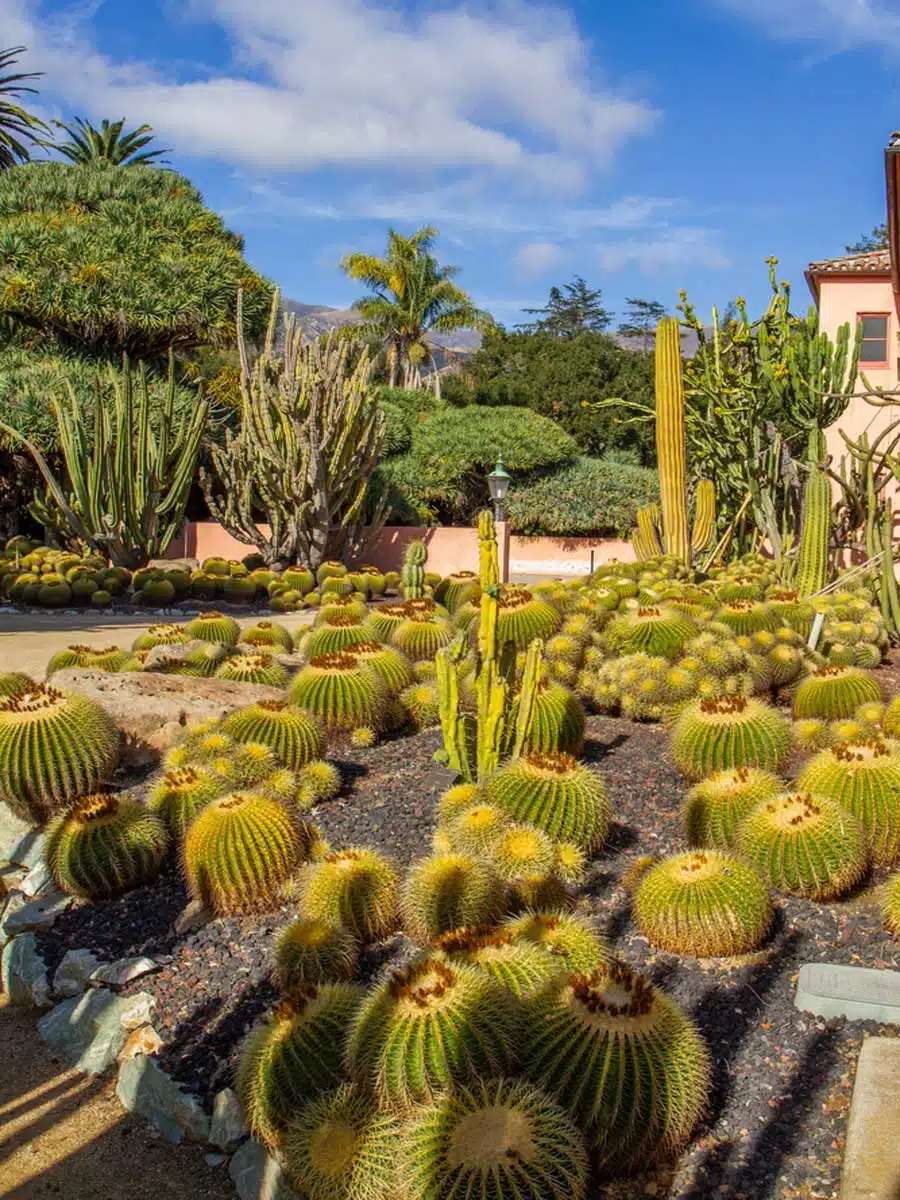 What the f… is Lotusland? Okay, maybe that's not your first (or fourth) question, but I'm sure you're a little confused about a name like that. Lotuses in Santa Barbara? Let me say that Lotusland has many say it's the most beautiful garden in the world.
Although the cumulative creation of a number of people, it was the flamboyant Polish opera singer Madame Ganna Walska that turned it into the exuberant display it is today. From gardens of sculptural agaves to contorted cacti, your eyes won't have a moment's rest.
Other highlights here include the Blue Garden, the Japanese Garden, and the Theatre Garden.
Discover Knapp's Castle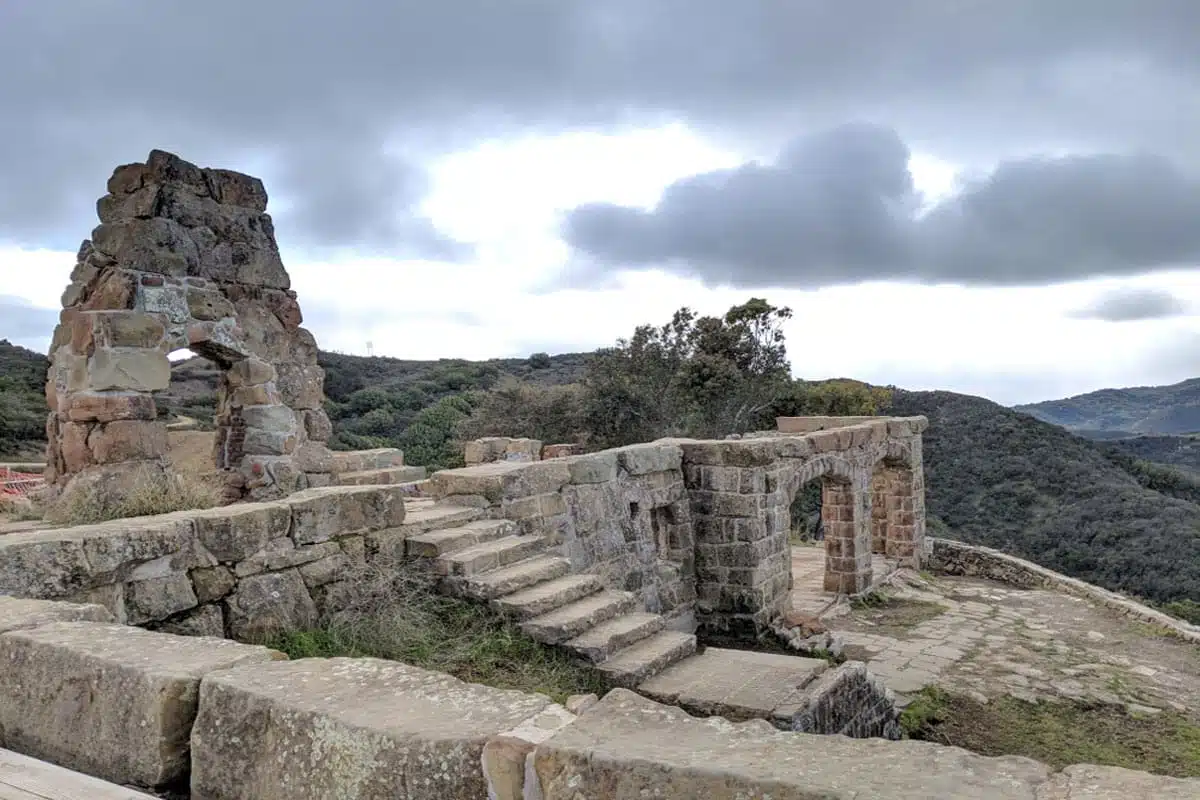 Concealed within the region's hills, venturing out like Indiana Jones to Knapp's Castle is one of the best things to do near Santa Barbara.
Union Carbide founder George Knapp finished construction on this landmark in 1916, and shortly after he moved out in 1940, it burned down.
Today, although private property, it is a recognised landmark of the city and thus remains untouched. But, it is a favourite amongst avid hikers who tour around Santa Barbara.
You don't have to love hiking to get something from this gem, as it's a popular spot for photographers eager to take snapshots of the building's eerie skeleton.
Stay Within the Salt Cave of Santa Barbara
The Salt Caves should top your list regarding must-see things in Santa Barbara. But that doesn't mean it isn't one of the city's most unique attractions, albeit not the most popular. Its eclectic charm and out-of-this-world atmosphere have no equal.
But what are the Salt Caves? Here, you can book a private session to stay in a calming cave. Sounds boring, right? Wrong. Each distinct cave features subtle lighting and walls carved from thousands of pounds of pink Himalayan salt crystals.
Some of them even date back 200 million years. You can meditate, nap, or lounge in zero-gravity chairs to the sound of ambient music.
Things to do in Santa Barbara, California: Practical Tips for Your Trip
Where Should I Stay in Santa Barbara?
The Presidio (Mid-Range)
Presidio fits the mid-range budget-friendly category amongst the best places to stay in Santa Barbara like a glove. It's insanely close to Stearns Wharf, at only a 6-minute drive, and boasts a range of facilities. 
You can relax at the outdoor sun deck or rent a bicycle because you can't visit the city without cycling along its beaches.
Hotel Milo Santa Barbara (Luxury)
Now for something more luxurious, or actually uber-luxurious. The Hotel Milo, some might even say, is the crown jewel of downtown Santa Barbara, and I agree. 
It has opulence, modern comforts, and finer touches that ensure the best stay imaginable. And you can even bring along your dogs (because even they deserve the Santa Barbara sun).
Recommended Tours in Santa Barbara
Things to do in Santa Barbara: Map 
Things to do in Santa Barbara: Read Next