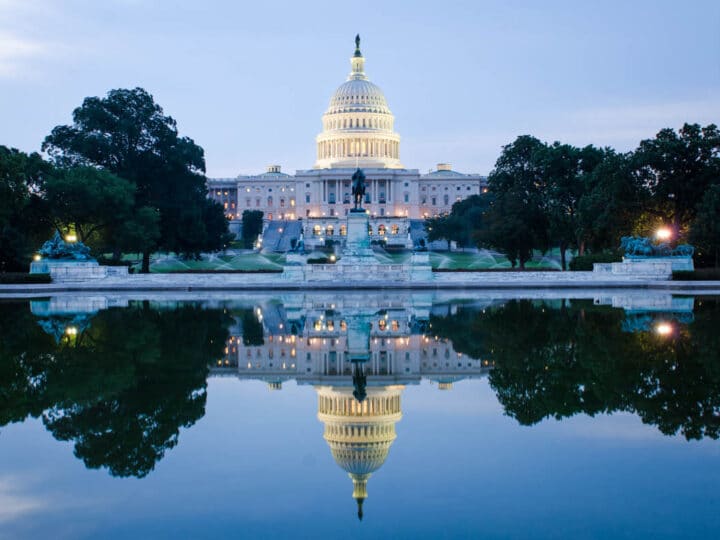 Planning a weekend in Washington D.C. and not sure where to start? Use this step-by-step weekend Washington D.C. itinerary, that's been written by a local.
When you think of Washington DC, you might think of light gray buildings, iconic monuments, and family-friendly museums.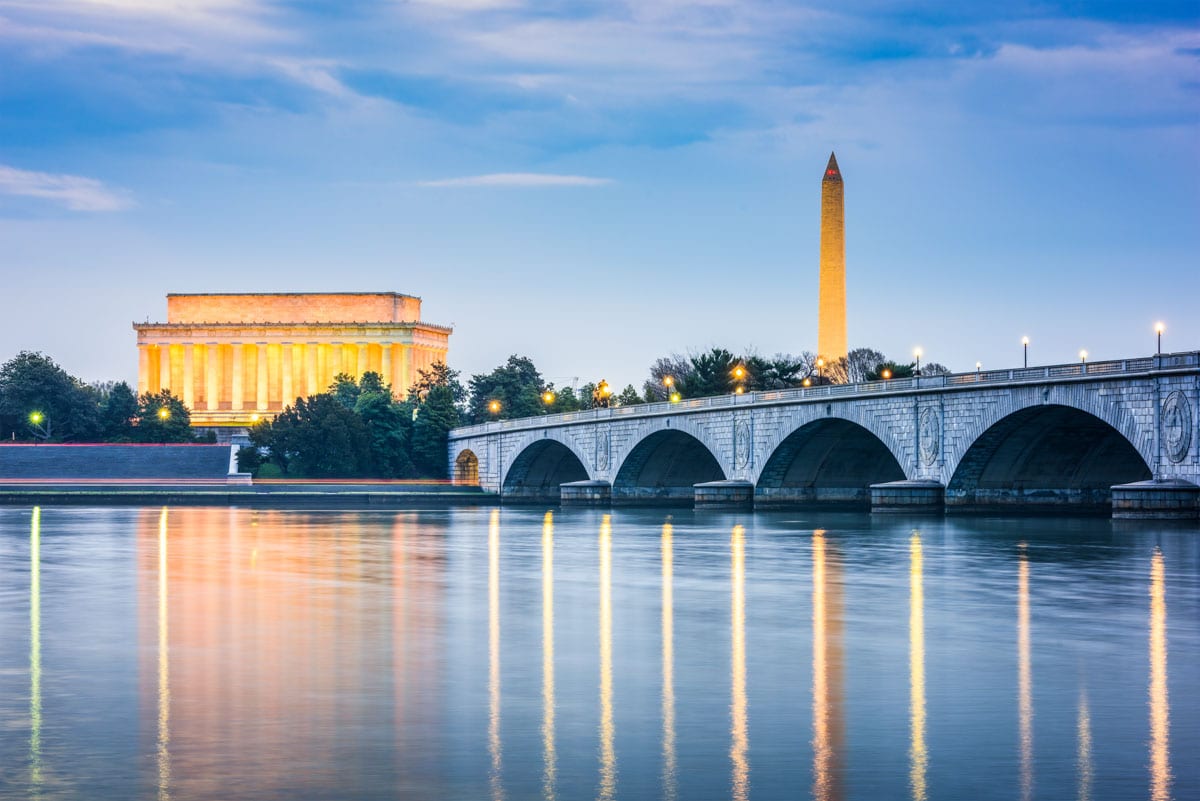 I don't blame you for any of that, but what most people miss when they visit is the more unconventional things to do in DC, like the city's charming neighborhoods, vibrant parks, delicious food, and fun, quirky art displays.
Straying not far out of the main tourist drags will take you to these unique hidden gems that not many visitors get to see.
Instead of bringing you the obvious "2 days in Washington DC" post that everyone and their mother writes for the Internet, here are my less-conventional recommendations for how to spend a fun weekend in Washington DC.
Rather than museums and monuments, you'll find local art, food markets, and hidden alleyways in our guide.
So, ahem, what are you waiting for? Read on for my top tips on how to spend an awesome weekend in Washington DC!
Weekend in Washington DC: Travel Tips to Know Before You Go
When to Visit Washington DC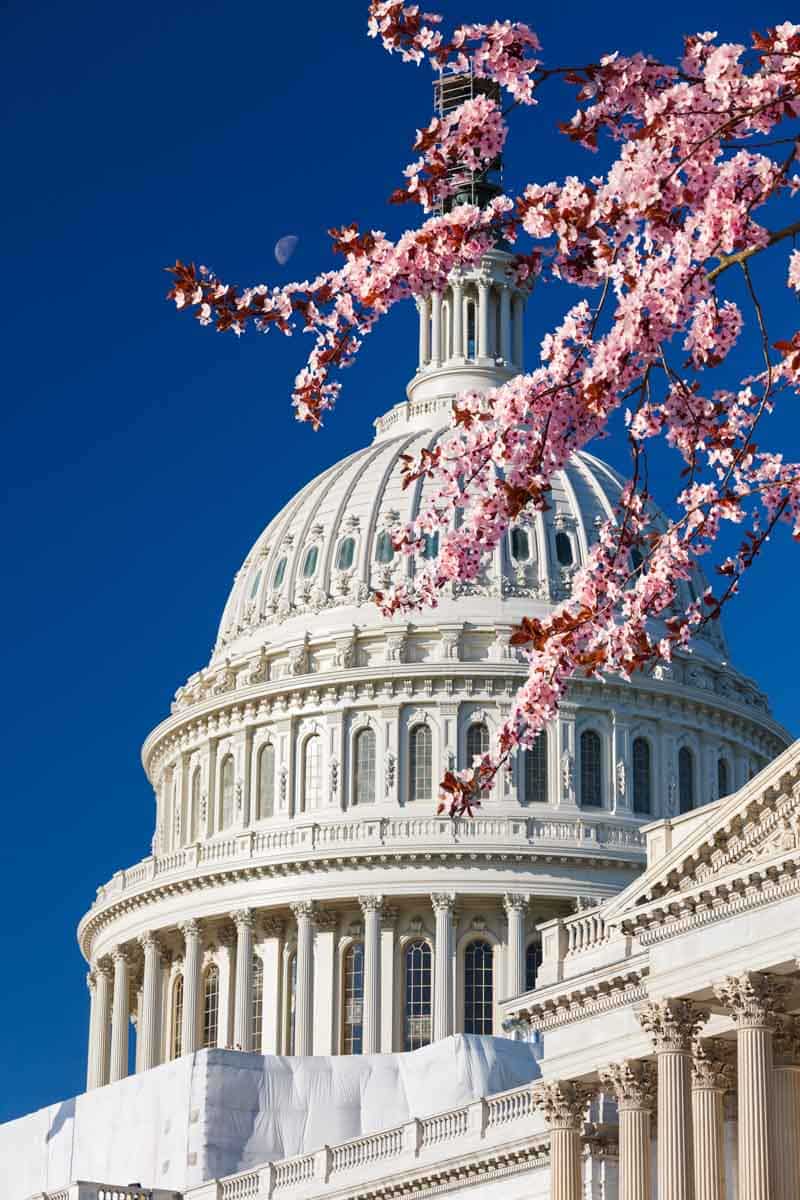 Washington DC is a great year-round destination. However, if you want to maximize mild weather and fewer crowds, I recommend coming to the city in the fall (September-early November).
During the fall, the trees are all different colors, the weather is cool and breezy, and the summer break crowds have died down around the better-trodden areas of the city.
Spring time is also a nice time of year to explore, since the DC cherry blossoms begin to bloom around many areas of the city. However, it does get a bit crowded due to the annual Cherry Blossom Festival.
I created a complete guide on cherry blossom season in DC – check it out for the top local tips!
How to Get to Washington DC
Getting to Washington DC is a piece of cake.
There are three airports in the DC area – Reagan National Airport (DCA), Dulles Airport (IAD), and Baltimore-Washington Airport (BWI). By far, the easiest airport to get to and from is Reagan National Airport – it's about a 15 minute drive or 20 minute metro ride from the city.
The others are a little more difficult to get to, but there are many shuttles, public transit, and ride sharing options to get into the city.
Washington DC also has a train station (Union Station) that services most of the other major cities on the East Coast via Amtrak, and also serves as a hub for several bus companies like Megabus and Greyhound that you can take to get to the city.
What to Pack for Washington DC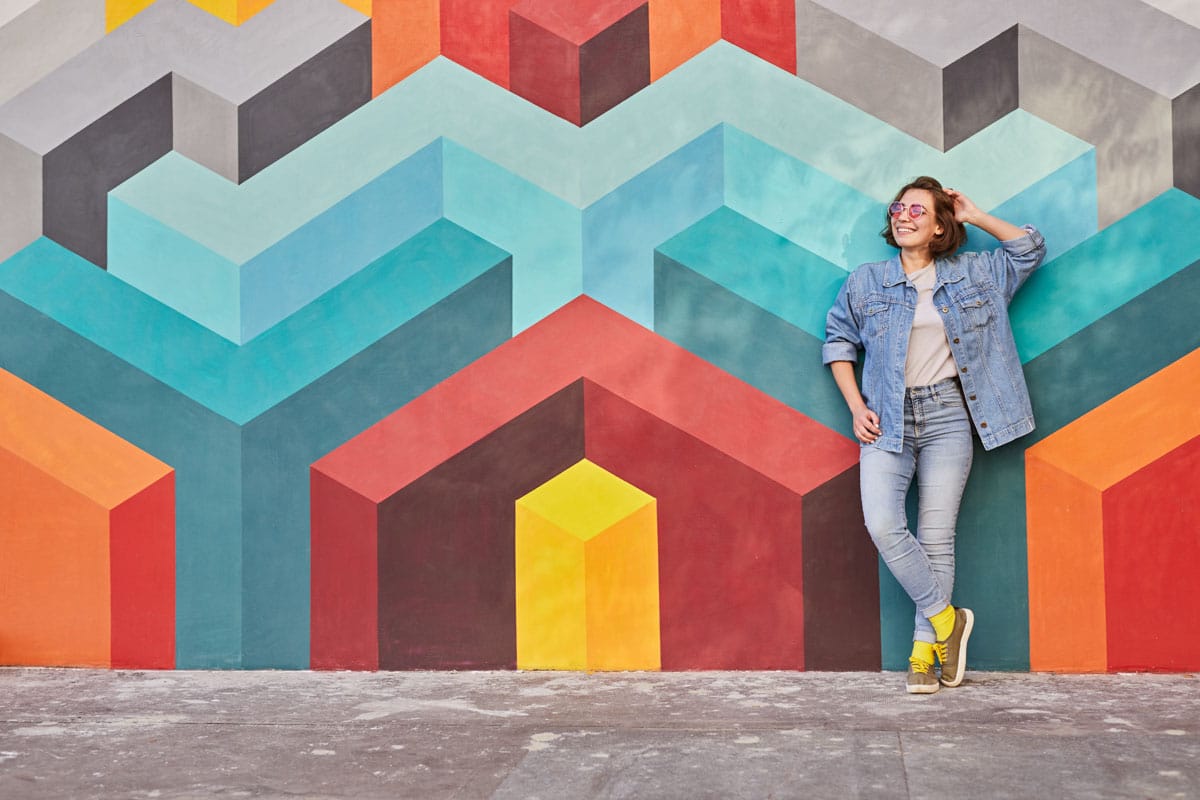 The weather in Washington DC can be pretty unpredictable, so in addition to your typical travel wardrobe, I recommend bringing the following:
Umbrella, raincoat, and/or waterproof boots – It rains a lot in the city and you don't want to be caught unprepared!
Battery pack – You'll be on the go most of the time, so bring a portable charger to keep your phone and camera happy.
Water bottle – You'll be doing a lot of walking, so be sure to stay hydrated with a reusable water bottle. I love my Hydro Flask water bottle for travel – it keeps my water icy cold the entire day.
Sunglasses and sunscreen – In some parts of the city, there isn't great tree cover. Take care of your skin and eyes by bringing the appropriate protection.
Cash – In some of the places/locations we'll recommend, cash is preferred.
Where to Stay in Washington DC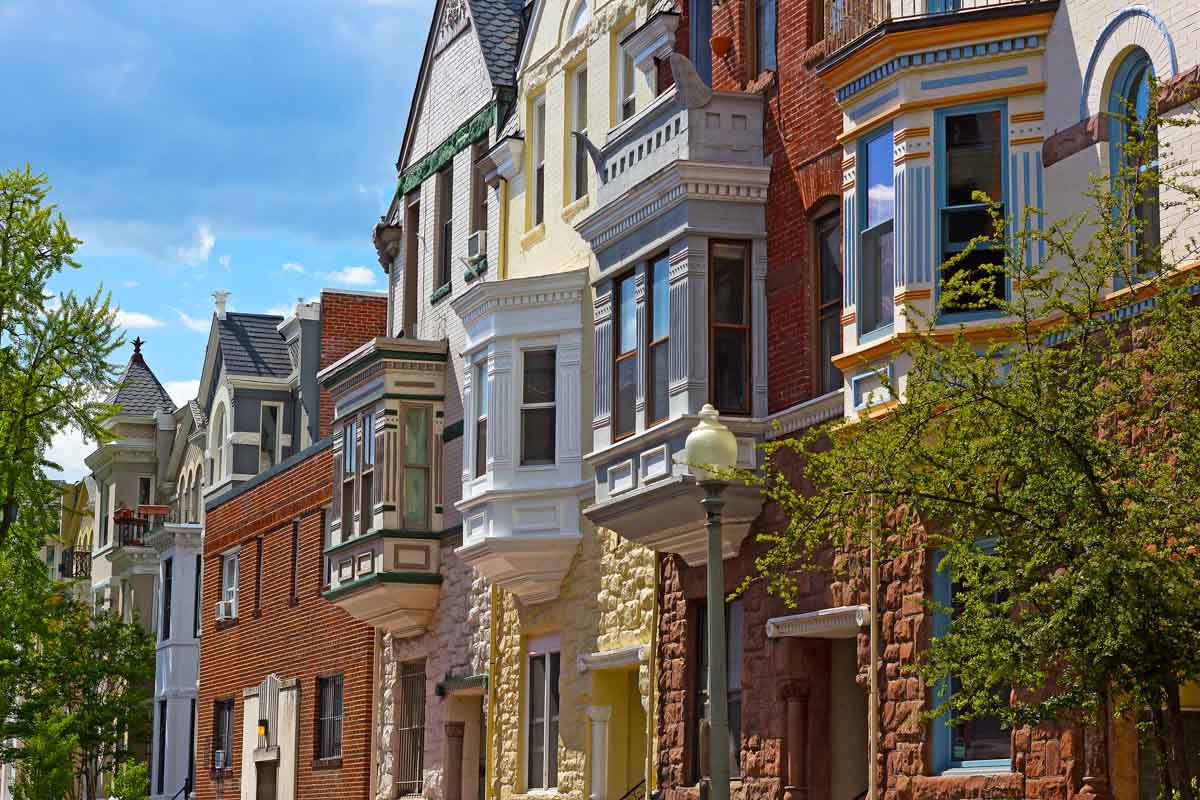 With over 500 different hotel options in the city, and even more opportunities to rent an Airbnb, it can be overwhelming to figure out where to stay in Washington DC. But don't fear! There are a couple of neighborhoods in the city that are prime locations for those of you who want to stay in a central area, but not too close to the highly touristed parts.
If you're hoping to be able to walk places but still want the neighborhood feel, I recommend staying on 14th street near Logan Circle, or somewhere in the Dupont Circle/Adams Morgan area. These popular neighborhoods have plenty of green spaces, restaurants, shops, and nightlife to explore.
One of my favorite hotels in the city is The LINE Hotel in Adams Morgan. It's a local hangout, and you can often see locals hanging out over a cocktail or with an open book in the lobby. Built in a converted church, The LINE is a lovely, chic boutique hotel to stay in during your weekend in Washington DC.
Click here to check reviews and compare prices for hotels in Washington, DC
Getting Around Washington DC
You don't need a car in Washington DC, and having one here may actually cause you more frustration and irritation. Unless you're planning on taking a day trip out of the city, I strongly recommend you skip the car rental and use public transportation or ride sharing instead.
The DC Metro System is much easier to use during your short stay in the city. DC Metro fares typically range from $2-4 per ride depending on your entry and exit points, what time of day or day of the week you're riding, and how many different lines you use.
To use the metro, you'll need to purchase a SmarTrip card and fill it with money, which costs $2 + the amount you'd like to load.
You can also catch Uber, Lyft, or Via here, with the option to share (pool) your ride. And, of course, there's always a taxi or two cruising the streets should you need to hail one.
Weekend in Washington DC: A Step by Step Itinerary
Arrival: Chinatown and Monuments by Night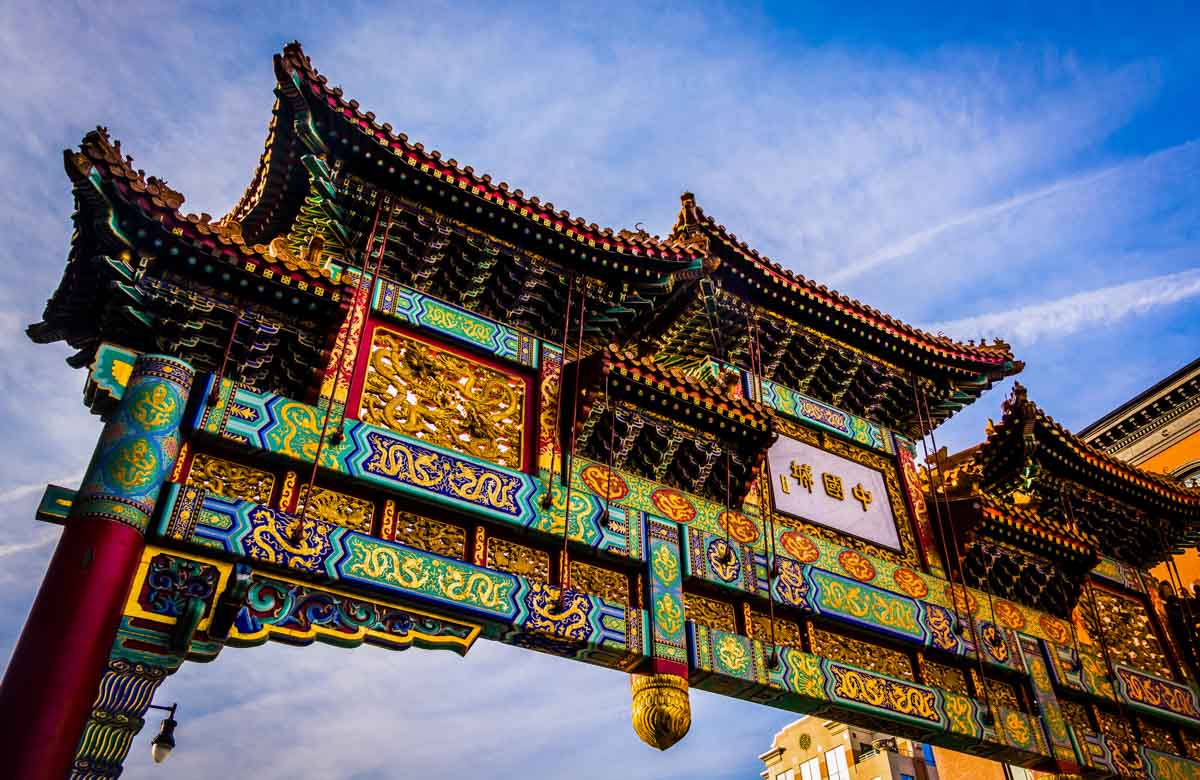 One of the classic things to do in DC, if you arrive early enough on a Friday night, is to hit up a local bar for happy hour. Happy hour is one of DC's greatest traditions, with discounts on food and drinks almost anywhere you go.
Since many people here work in the government or in nonprofits, the bars start to fill up on weekday evenings at 5 pm on the dot. Some of my favorite happy hours in Washington DC are at Church Key, Commissary, and Boqueria.
Afterward, make your way to Chinatown. Although this area gets a lot of tourist crowds due to the Capital One Arena and the Convention Center, there are a few small gems in this historically Asian neighborhood of DC.
The first is xiao long bao, a steamed traditional pork soup dumpling you can find in a few places around the city. Reren Lamen, a restaurant in Chinatown, serves this elusive, flavorful treat.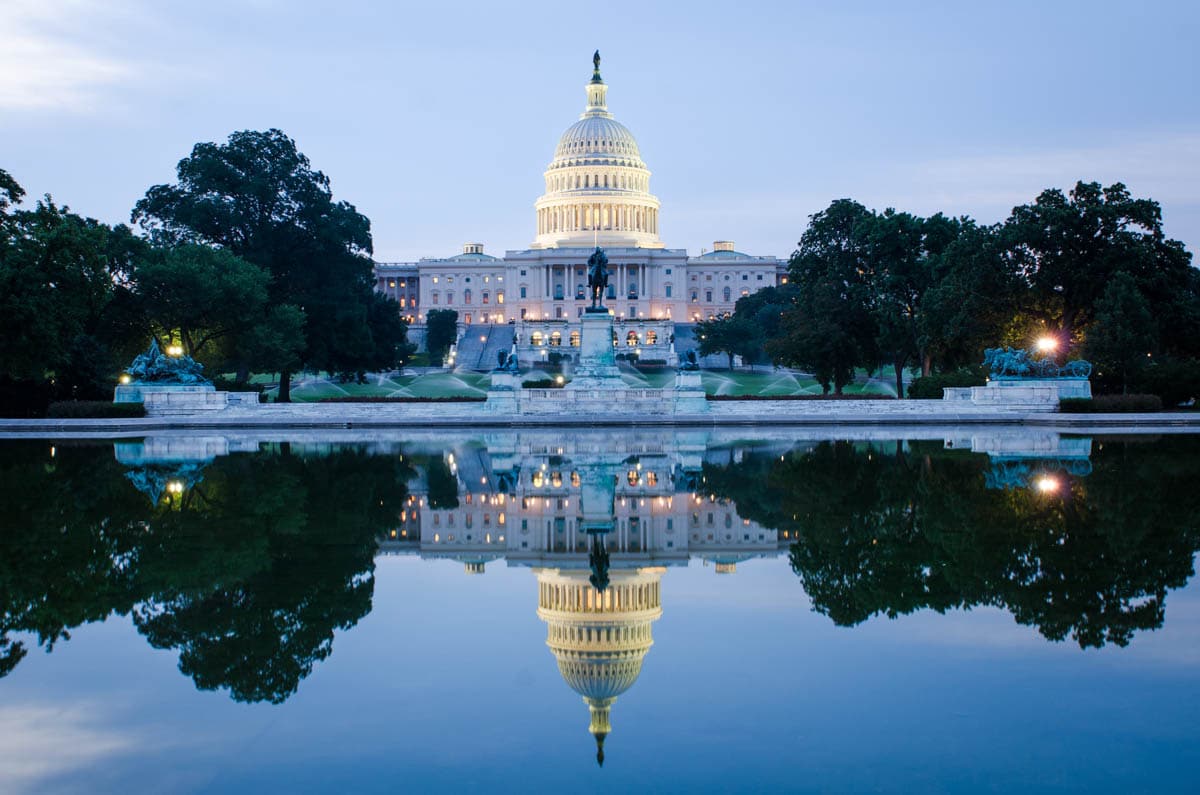 In my opinion, one of the best ways to see some of the city's most beautiful monuments and buildings is by night, when the city streets empty out but the structures still stand beautifully lit.
After dinner, take an evening stroll in the National Mall area, where you can see the Capitol building, the Smithsonian museums, the Washington Monument, the WWII Memorial, and the Lincoln Memorial illuminated against the night sky. You can also take a guided night tour of DC, which will bring you around to all of the best sights by night in the city.
Weekend in Washington Day 1: Underground Art, Neighborhood Charm, and Pop Up Bars
Morning: Local Art Galleries & Renovated Industrial Spaces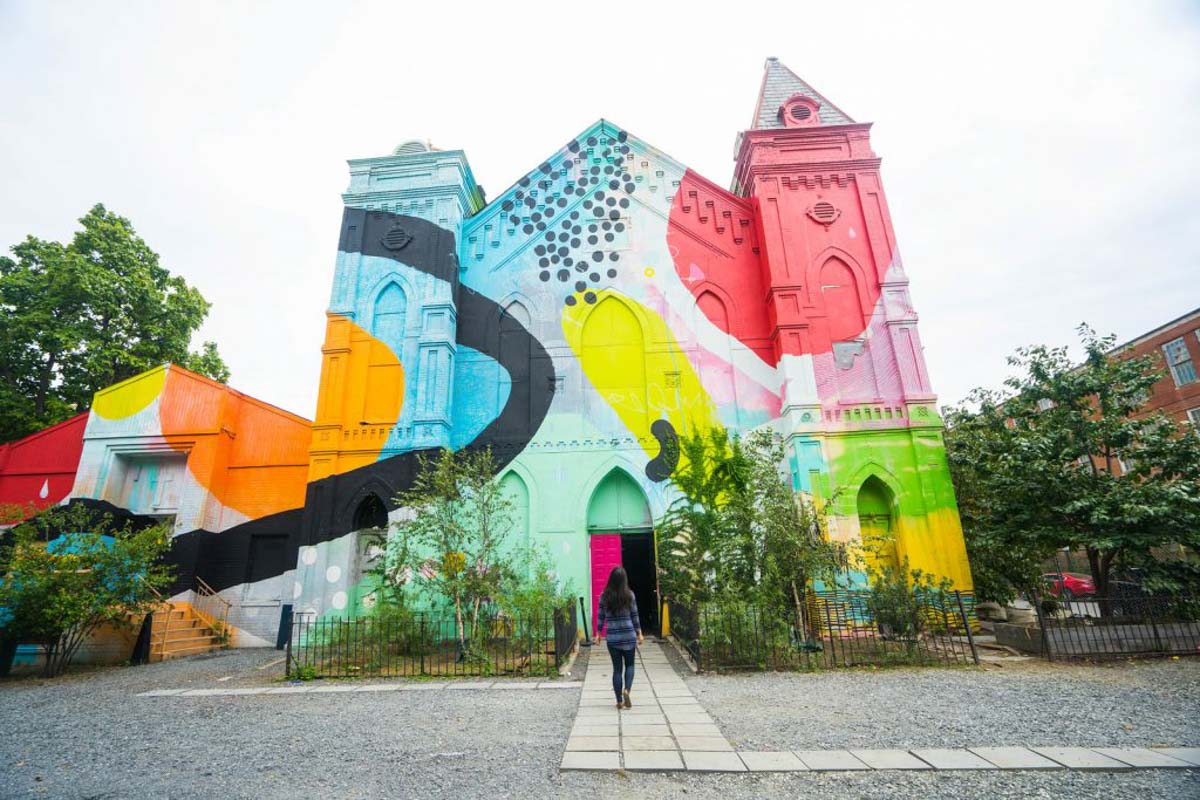 If you're willing to forego the main art museums on the National Mall for something a little more local, start your weekend in Washington DC by heading to some of the city's more local exhibits.
Artechouse offers interactive exhibits, usually with engineered light displays and wild colors. Dupont Underground is a converted urban industrial space that features rotating local art exhibits, talks, and musical performances.
Or, if you're looking for something different, head to the Renwick Gallery or Blind Whino for some fascinating (and free) art installations.
Even if you're not an art aficionado (I'm definitely not), you can find something you love or find fascinating in one of these places!
Afternoon: Explore DC's Local Neighborhoods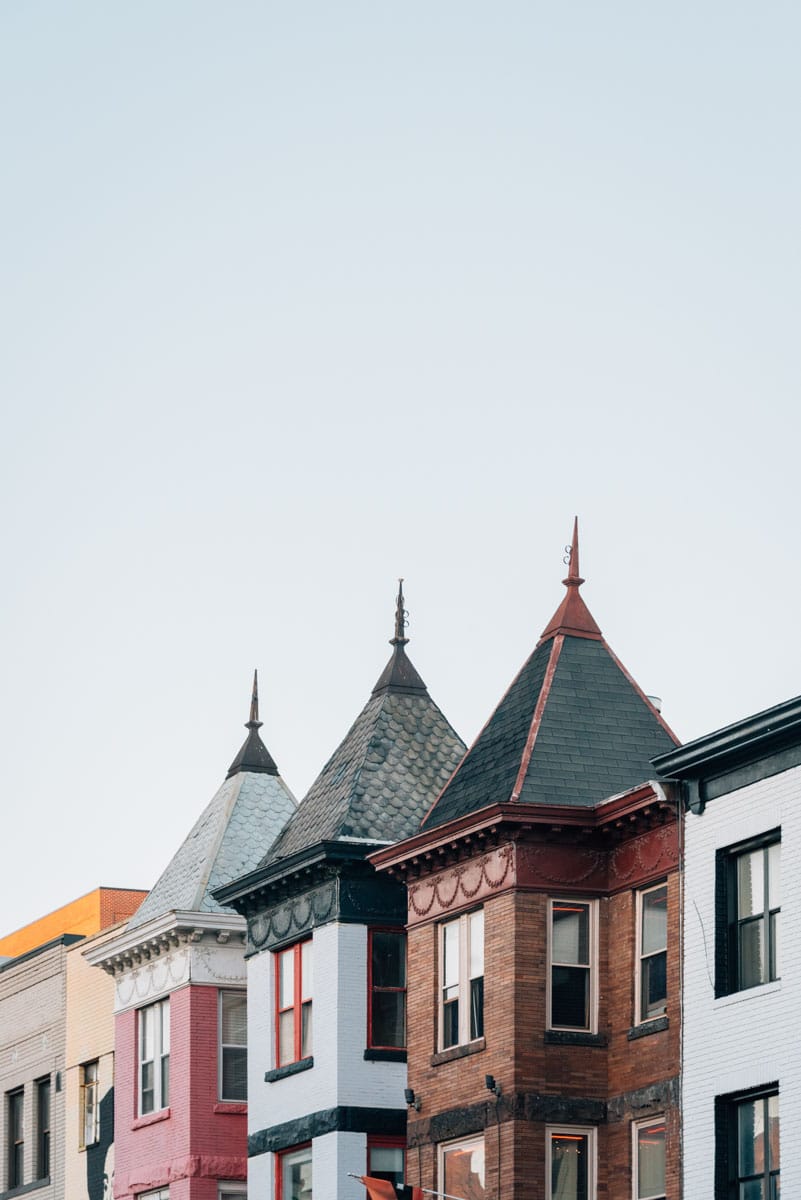 One of the best things about Washington DC is its fun, quirky, and unique neighborhoods. Home to some of the best photo spots in DC as well as many local businesses, the neighborhoods are a great place to see a different side of the city.
After you explore some of the city's weird and wacky art installations, head to Shaw, one of my favorite up-and-coming neighborhoods in Washington DC. Here, you can stop into Blagden Alley and pick up a coffee from La Colombe, or grab a delicious dinner at Tiger Fork.
Afterward, head to the famed, Instagram-worthy 7th Street Pop Up Bar to see what the latest decor is looking like – in the past, themes have included cherry blossoms, Game of Thrones, Halloween, and more.
If you still have some daylight hours left, I recommend simply wandering around one of the many vibrant neighborhoods in the city. Some fun and interesting neighborhoods to explore in DC include Takoma Park, Adams Morgan, Georgetown, Capitol Hill, and U Street Corridor.
Speaking of U Street, if you're hoping to go out and experience some of DC's nightlife, this is a great place to end up. Packed with local bars and clubs, U Street is where all of the locals go to party. Plus, it's home to my favorite speakeasy (yes, like a legit hidden bar) in the city, The Gibson.
Day 2: Brunch, Urban Markets, and Green Spaces
Morning: Farmer's Markets and Foodie Brunch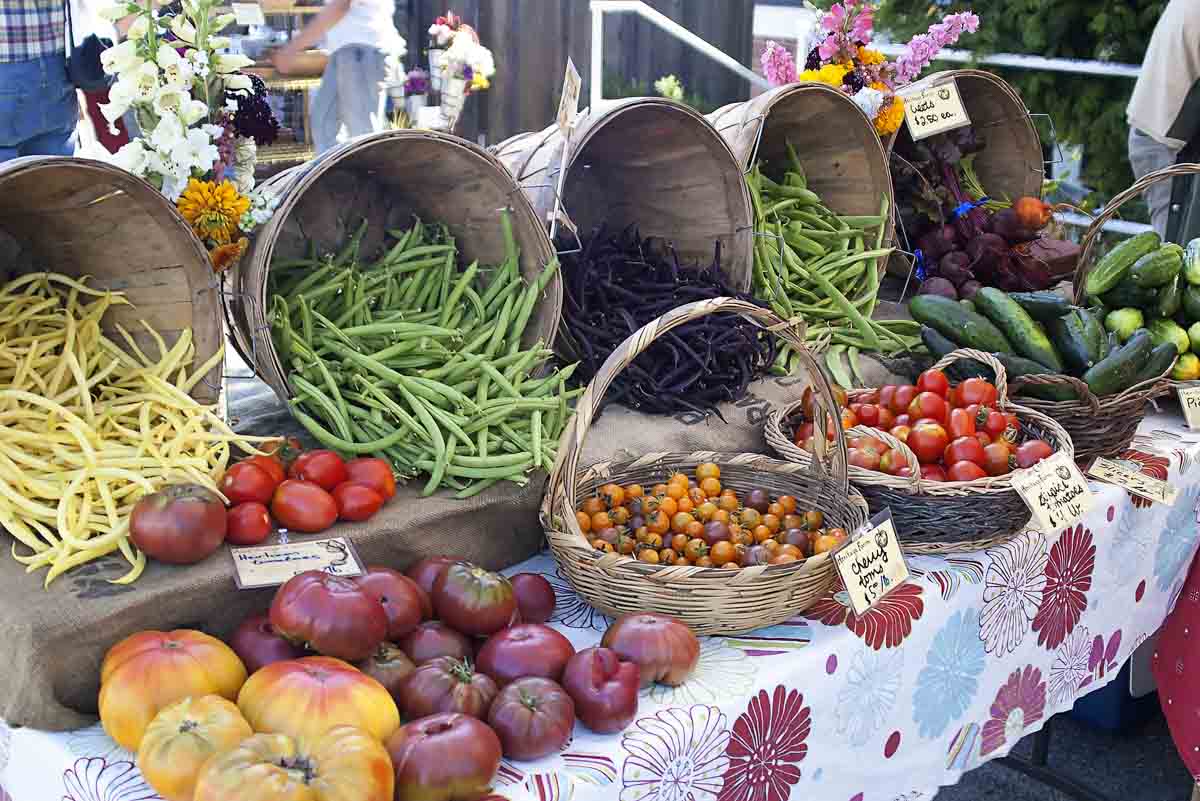 What comes as a surprise to many people is that DC actually has a ton of markets. From farmer's markets to indoor food halls, flea markets, and more, there is a lot to see on weekend mornings before the partiers wake up for their Sunday brunch.
For fresh produce and local food items, check out the Dupont Circle Farmer's Market. Alternatively, if you're looking for international snacks and food stalls, try Union Market in NoMa.
If you're looking for a hybrid, which boasts produce, food items, and artisan goods, head to Eastern Market and peruse the many street stalls. There's really no shortage of markets in DC… the trouble is deciding which one to actually visit!
Next, head to brunch at one of DC's famous brunch spots. Purple Patch is a local favorite for Filipino fusion foods (the ube chicken and waffles is to die for!), and Rose's Luxury is the perfect new American style brunch. Founding Farmers and its subsidiary restaurants also offer a fantastic buffet brunch, but be sure to come hungry as it's fixed price.
If you prefer to wander around the city, some great neighborhoods to find brunch places are Capitol Hill, 14th Street, and Dupont Circle.
Afternoon: Outdoors & Green Spaces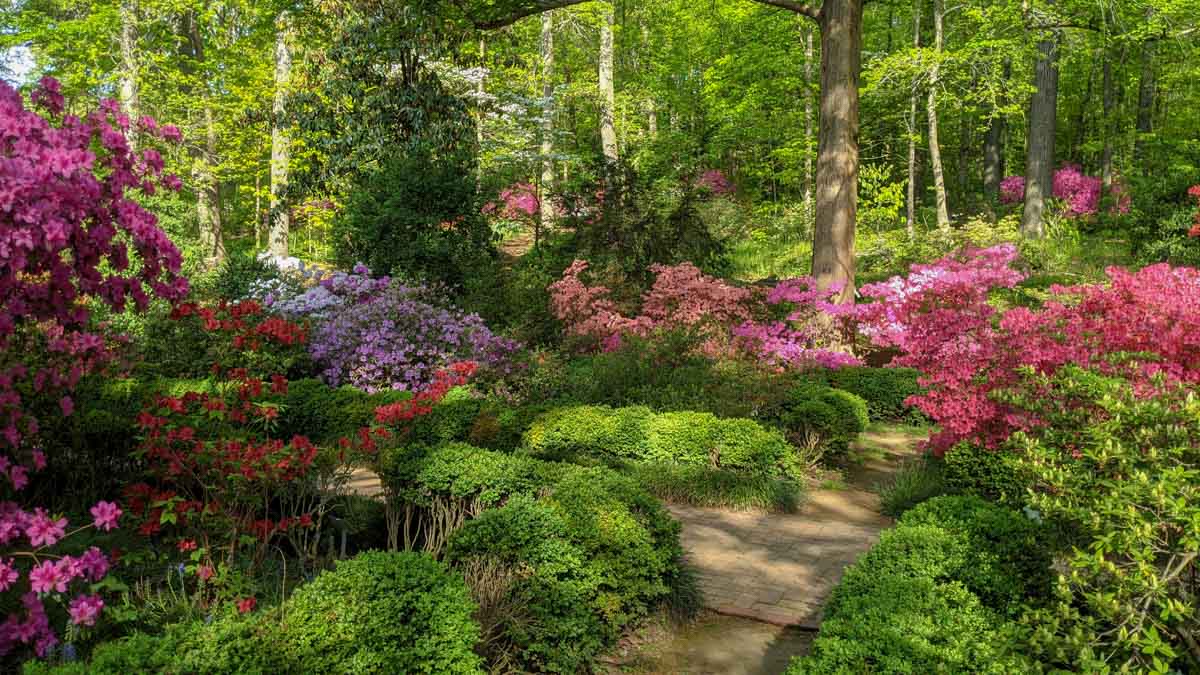 After brunch (weather permitting), spend the afternoon outdoors, exploring some of Washington DC's green spaces and parks. There are so many in the city, which offer respite from the concrete sidewalks and the gray buildings all over. Some of the city's most beautiful green spaces include:
Rock Creek Park
The C&O Canal
Great Falls (~30 minutes outside the city)
Meridian Hill Park
If you head to Meridian Hill Park around 3 PM on a Sunday, you'll likely run into a huge drum circle. This is one quirky DC tradition you can't miss if you're in the area! Sit down and join in the rhythm-making, hula-hooping fun, or simply spectate and people-watch from the sidelines.
Evening: Local Eats
Finish off your weekend with a final dinner in one of DC's fabulous 14th Street restaurants. There are loads to choose from here, for all different price points and flavor palates.
My absolute favorite is Compass Rose, which offers delicious drinks and international small plates from many corners of the world (think South Korea, Georgia the country, and the Mediterranean) in a cozy, home-owned environment. Toast to your fabulous 2 days in Washington DC!
A Weekend Break in Washington DC: If You Have More Time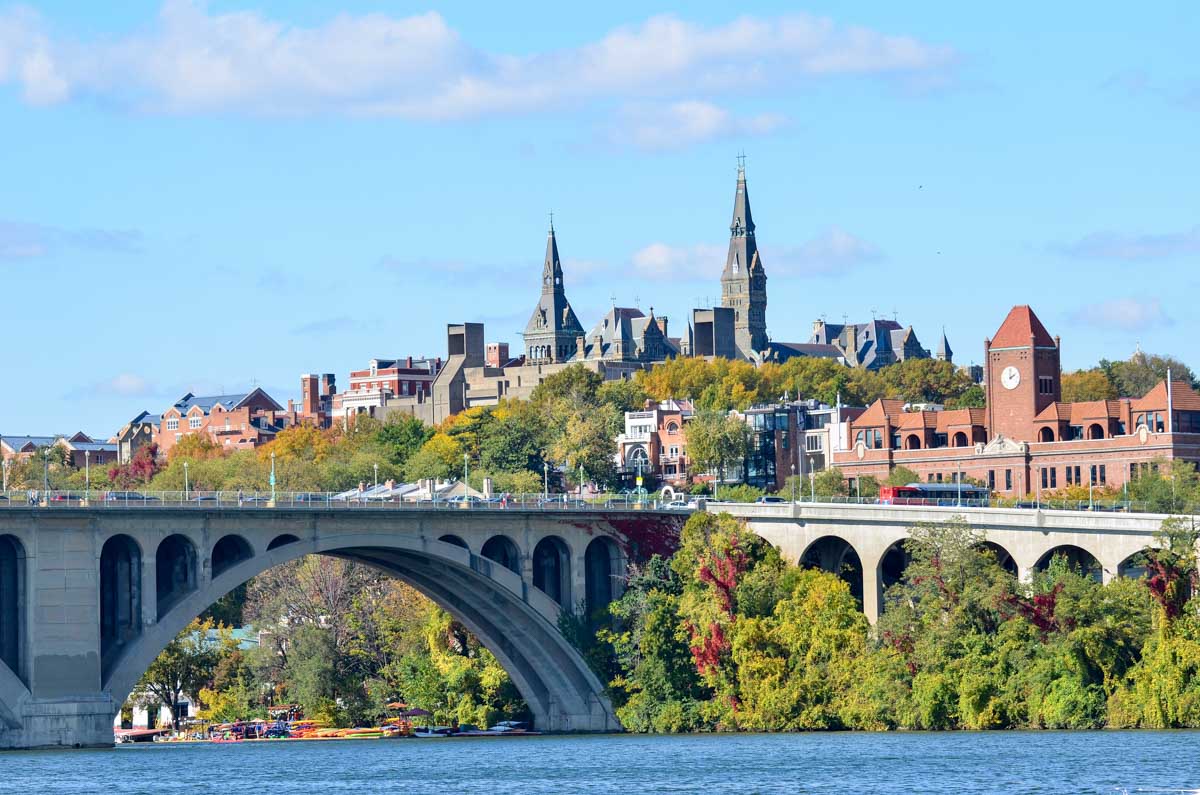 With 3 days in Washington DC (or more!), you can head to the National Mall on a weekday, when it is much less crowded, and check out some of the Smithsonian museums. If you're traveling with family and are looking for things to do in Washington DC with kids, the museums are a fantastic option.
The newest Smithsonian museum, the National Museum of African American History and Culture (NMAAHC) is a fantastic one, but you need to make a reservation in advance in order to get a ticket. Alternatively, you can head to the Newseum (my favorite museum in DC) to learn about current events and how the media has shaped our history.
But, if you're starting to get a little tired of the city, don't worry! There are also several fabulous day trips from Washington DC that you can take.
If you like hiking, there are several national and state parks with dozens of hikes near Washington DC. History lover? There are a ton of beautiful historic sites to explore. Farms and flowers more your thing? We've got those nearby, too. There's literally something for every kind of traveler during a weekend in Washington, DC!
Perfect Weekend in Washington D.C: Read Next