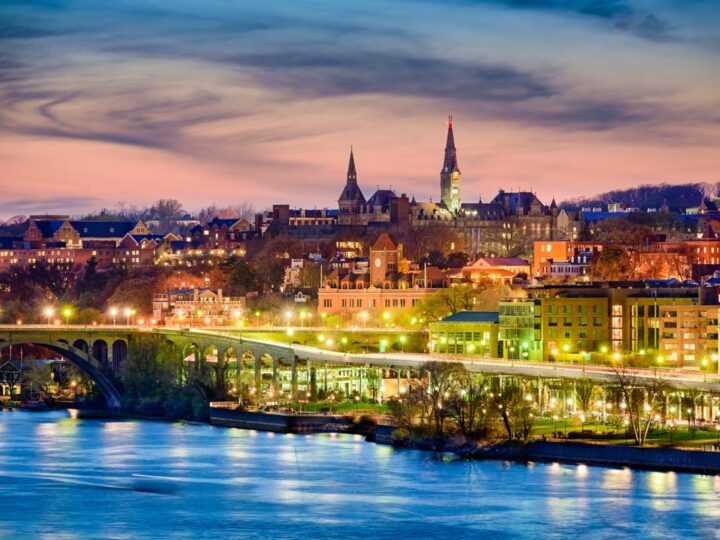 Planning your trip to Washington D.C and not sure where to stay? This guide will walk you through the best places to stay in Washington D.C with recommended hotels for each area.
It's no surprise that Washington D.C welcomes a lot of visitors each year. In addition to being the heart of government, it is home to some of the country's most famous historic sites, museums, and monuments – and boasts a wealth of things to do.
However, there's a lot more than these to see and do in this city. Wandering around the different neighborhoods will bring you to local restaurants, cute coffee shops, farmers markets and art galleries.
Because of its local charm and the difficulty of driving and parking inside of the city, it's important to choose where you stay wisely. Here are a few of m top recommendations for where to stay when visiting Washington, DC.
Best Places to Stay in Washington DC Near the Main Attractions
Downtown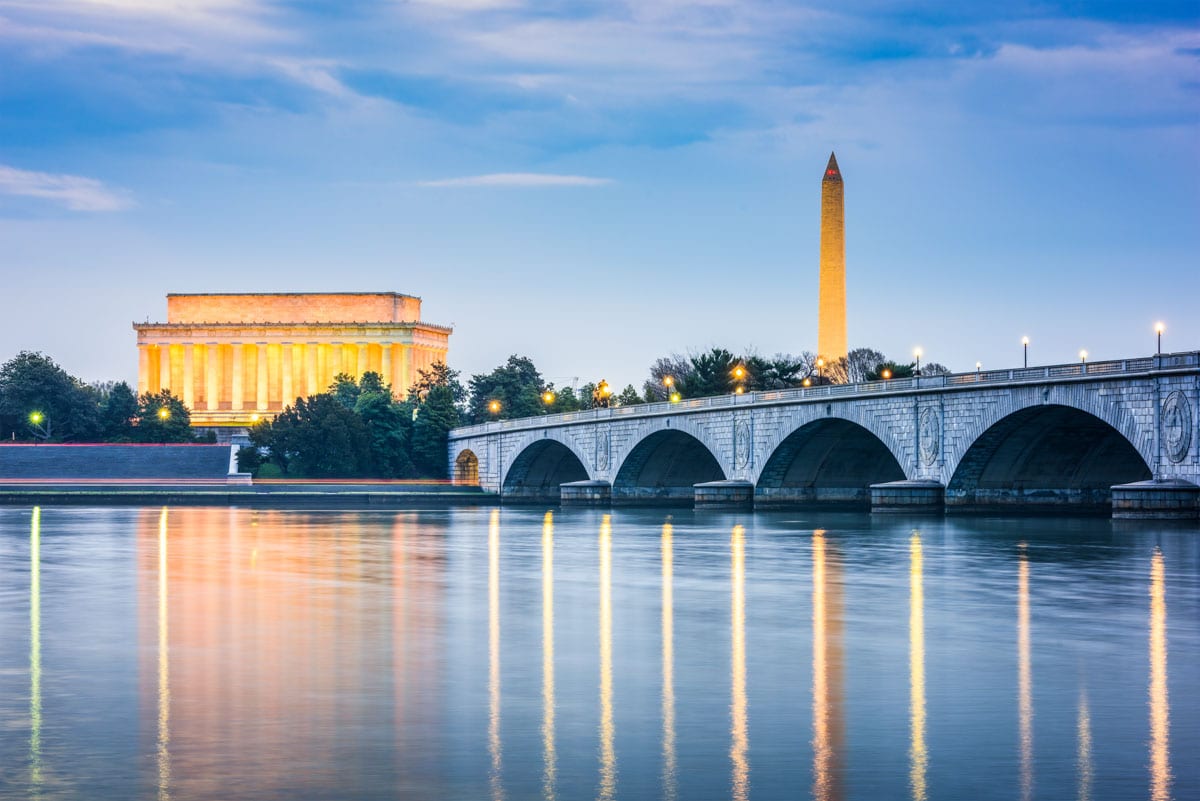 Bustling, corporate, and strategically located, the downtown area of DC is by far among the best places to stay in Washington, DC if you want easy access to the Smithsonian Museums, the most famous monuments, and the Potomac River.
For travelers without a car, the Downtown area grants particularly easy access to public transportation – buses, metros, and bike shares.
Additionally, Downtown houses the largest concentration of hotels, where you'll often find international diplomats, business people, and tourists alike.
However, because of its proximity to the main stretches of Washington DC, it is also the priciest area to stay. If you're looking for one of the most convenient and accessible places to stay in Washington DC, consider staying in the Downtown area.
Where to Stay in Downtown DC
Budget: Because Downtown is the prime location for tourists and business travelers, budget options are extremely limited and there are no hostels. However, occasionally you can find a central Airbnb at a decent price (if you are new to Airbnb and book with that link, you can get $40 off your first stay!).
Mid-Range: If you're traveling in a group or want a comfortable and affordable hotel option, The Normandy is highly reviewed and a great value for the price.
Splurge: There's no luxury hotel in Washington, DC that I like better than The St. Regis Hotel. It is beautiful, historic, and comfortable, with spacious suites and free champagne toasts.
Chinatown/Mount Vernon Square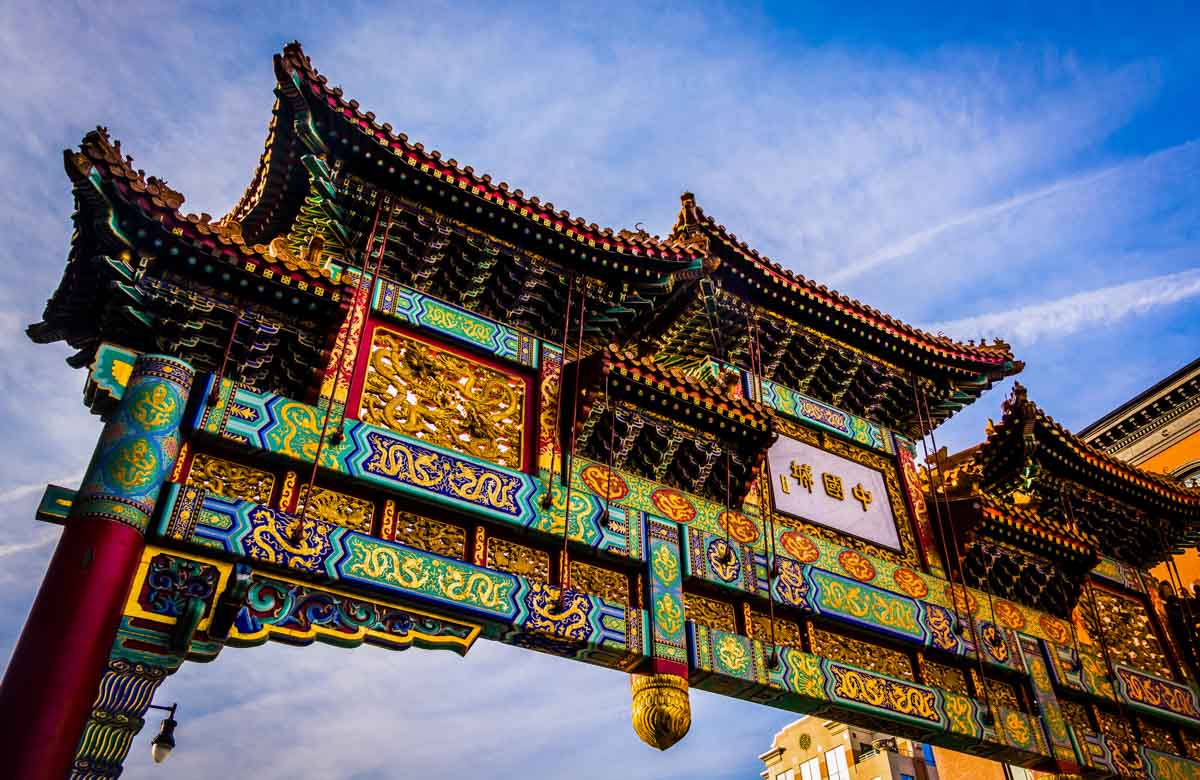 Located just above the National Mall is the Chinatown area, characterized by its signature, Chinese-style gate. Although there are sadly better places in the city to actually eat Chinese food, Chinatown is right in the middle of all of the action.
Within Chinatown, you can find the International Spy Museum and the National Portrait Gallery, as well as several restaurants and shopping areas. It's also a fantastic place to stay if you're planning on attending a concert, as many of the city's main concert venues are within walking distance.
With easy access to the Green, Yellow, and Red metro lines, as well as several bus lines, Chinatown is a wonderful place to stay if you're looking for something outside of the main downtown area. This neighborhood is walking distance to the Verizon Center, the Convention Center, and other museums in the central part of the National Mall.
Note that although this is not the downtown area, it is still pretty touristy.
Where to Stay in Chinatown/Mount Vernon
Budget: For solo backpackers looking to save money and meet people, HI – Washington, DC Hostel is a great hostel choice. For budget travelers traveling in a group, I recommend getting an Airbnb – it's likely cheaper and more comfortable than staying in a hostel.
Mid-Range: If you're looking for a cozy and affordable abode for your trip to DC, many travelers to Chinatown recommend staying at the Pod DC Hotel.
Splurge: If you're looking for a "treat yourself" kind of hotel, the Willard InterContinental Hotel is a luxury estate located within walking distance of Chinatown AND Downtown. It's the best of both worlds!
Logan Circle/Shaw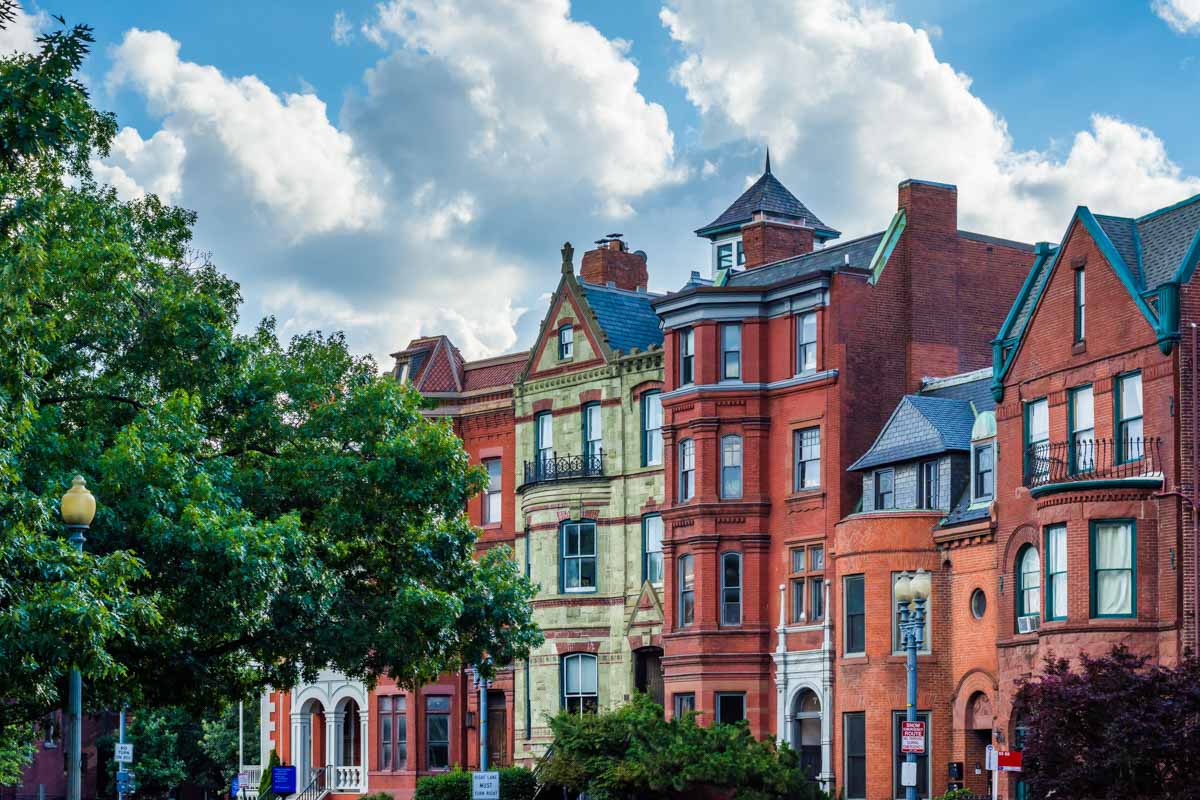 If you're a young professional or a group of friends looking for a neighborhood with amazing food, relaxed vibes, bumping nightlife, and hordes of other young people, Logan Circle is one of the best places to stay in Washington DC for you.
Incredible dining and shopping is available on buzzing 14th Street, the heart of the Logan Circle area. The happy hours and nightlife of U Street are a short walk away.
Located within walking distance of Chinatown, Mount Vernon Square, Farragut Square, Dupont Circle, and more, Logan Circle is a perfect neighborhood to stay in to experience the best that Washington, DC has to offer.
Logan Circle and Shaw are accessible by public transportation via the Red or Green/Yellow lines.
Where to Stay in Shaw/Logan Circle
Budget: If you're looking for a budget hostel experience, the Duo Housing Hostel is located in the Shaw neighborhood (right next to Logan Circle) and is well-rated by fellow backpackers.
Mid-Range: A cozy, affordable hotel in the middle of the Logan Circle/Shaw area, the Washington Plaza Hotel is a great option for those who seek comfort without blowing up their wallets.
Splurge: If you're looking for a swanky and chic hotel to try (and reserve the bragging rights, too), The Jefferson Hotel is a beautiful and luxurious centrally-located hotel on the outer edge of Logan Circle near Downtown.
Dupont Circle/Adams Morgan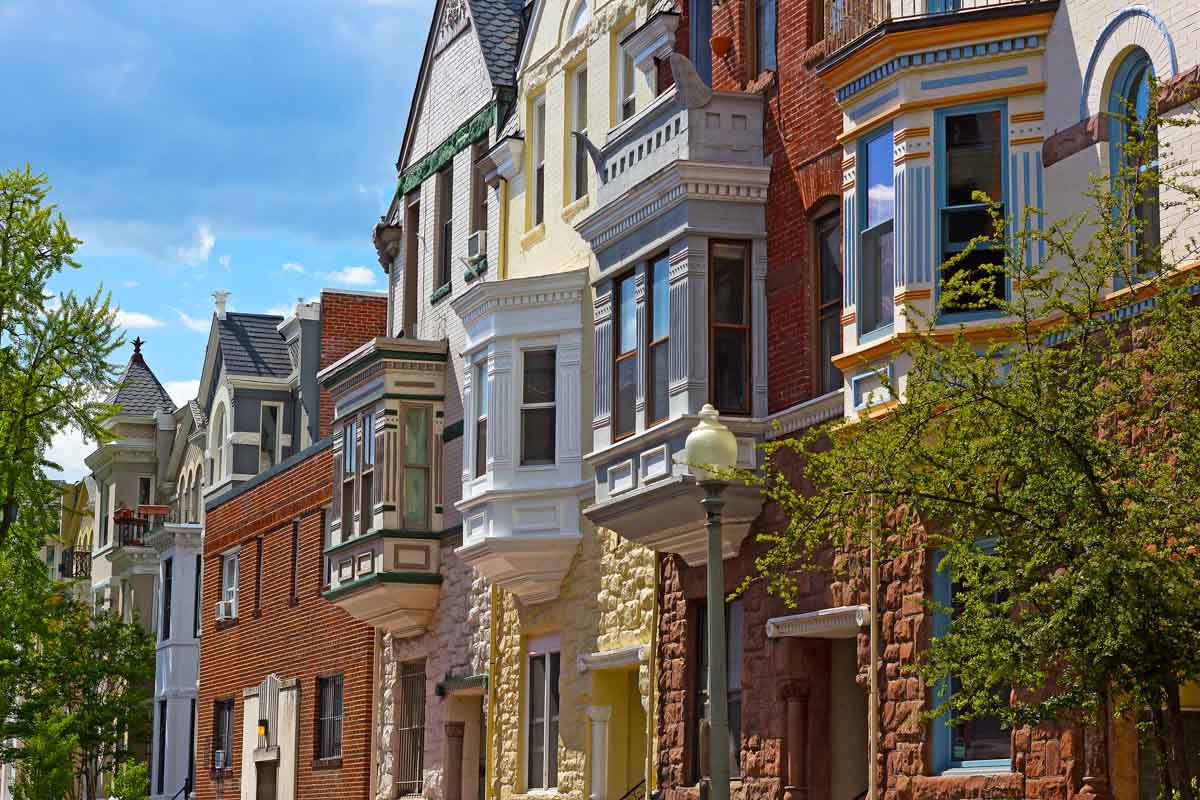 Situated in the heart of buzzing nightlife, friendly neighborhood farmers markets, and a more laid-back vibe than Downtown, Dupont Circle is the perfect place to spend a weekend. There are a lot of local businesses and fun events that happen in this area, so it's great for young people who want to explore or families who want a bit more of a neighborhood vibe.
Be sure to check out some of DC's most famous restaurants here, including Duke's Grocery, a popular local eatery.
Dupont Circle is located on the Red metro line, for easy access to the Downtown tourist areas or Union Station (Amtrak and buses). It's also a wonderful place to get lost in the nearby residential areas like Kalorama and Woodley Park, with their charming row houses and tree-lined sidewalks.
Where to Stay in Dupont Circle/Adams Morgan
Budget: If you're looking for an ultra-budget option in the Dupont Circle area, HighRoad Hostel & Suites is the perfect choice for you that won't break the bank.
Mid-Range: My favorite boutique hotel in Washington, DC, The Line Hotel, is located in Adams Morgan and is an affordable and stylish place to stay in the area. They have a fantastic restaurant and bar, too!
Foggy Bottom/Georgetown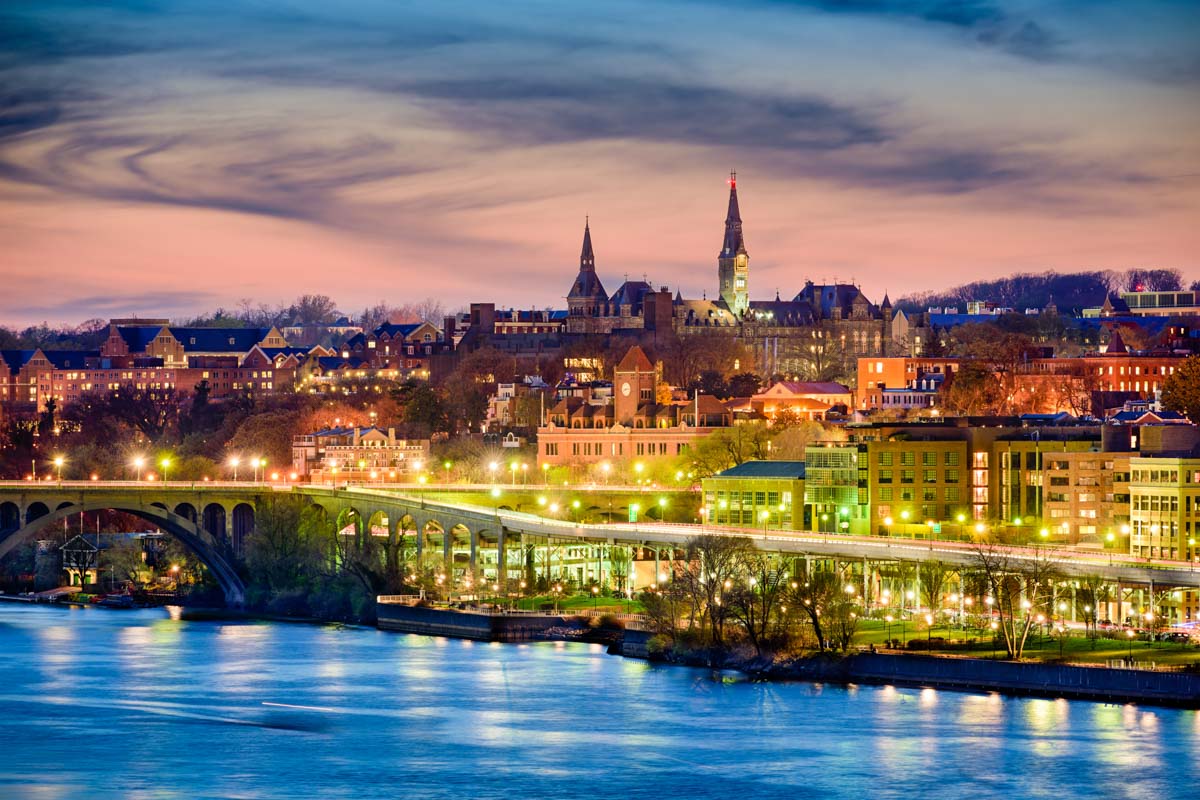 If high-end shopping, university vibes, or waterfront strolls on the Potomac are your jam, Georgetown is likely one of the best places to stay in Washington DC for you.
Georgetown is always full of energy, and whether it's people dancing on the banks of the river or runners darting through crowds of shoppers, it's a really fun place to be as a visitor in DC.
With its dozens of shops, famous bakeries, and historic significance, there's a lot to see and do in Georgetown itself. It's home to some of the city's oldest homes and canals, and many of its institutions have been around a long time.
While there's no metro in Georgetown proper, it's not far from the Blue/Orange/Silver lines at Foggy Bottom. Additionally, the Circulator bus will take you from Georgetown to the main sightseeing areas.
Where to Stay in Foggy Bottom/Georgetown
Budget: There aren't any hostels or ultra-budget hotels in Georgetown as it's a fairly upscale part of Washington, DC. However, you may be able to find an Airbnb at a decent price.
Mid-Range: For an affordable, well-located, and comfortable hotel in the Georgetown area, the Washington Marriott Georgetown is the perfect choice.
Splurge: If you're looking for something fancy, The Four Seasons is Georgetown's premier luxury hotel. In addition to all the five-star amenities, it's also in the perfect spot for access to both Georgetown and Foggy Bottom.
Navy Yard/Waterfront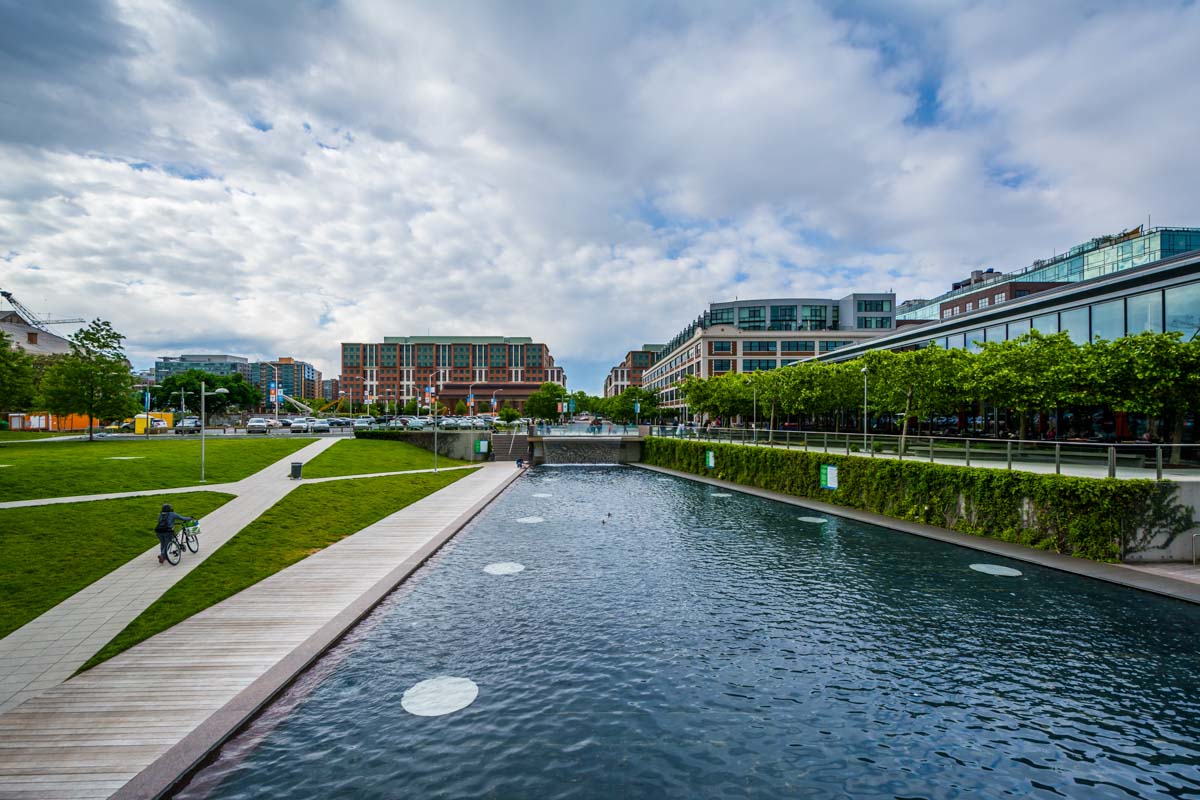 Within walking distance of the Nationals stadium is the up-and-coming neighborhood of Navy Yard. Here you can find a swath of young professionals hanging out at bars, breweries, or the newly-renovated waterfront. Marked by industrial buildings-turned-apartment complexes, this part of the city is currently undergoing a huge revival.
Navy Yard is one of the most up-and-coming neighborhoods in the city, making it one of the best places to stay in Washington, DC if you're looking for a local vibe. Accessible by the Green metro line and several bus routes, you can get to the main tourist areas fairly easily, but with all of the exciting things to do nearby, why not stick around?
Where to Stay in Navy Yard/Waterfront
Mid-Range: For a solid mid-range hotel that's affordable and highly rated, the Hampton Inn and Suites Navy Yard is the perfect choice.
Best Places to Stay in Washington D.C: Practical Tips
Want to book a different hotel than the ones we've recommended? Booking.com is a great place to start. I recommend checking prices for a few dates if you're flexible.
Trying to find a flight to DC? Compare flights on CheapoAir and Expedia to snag the best deals.
Planning on renting a car? Hertz has got you covered.
Did you find this post helpful? Pin it for later!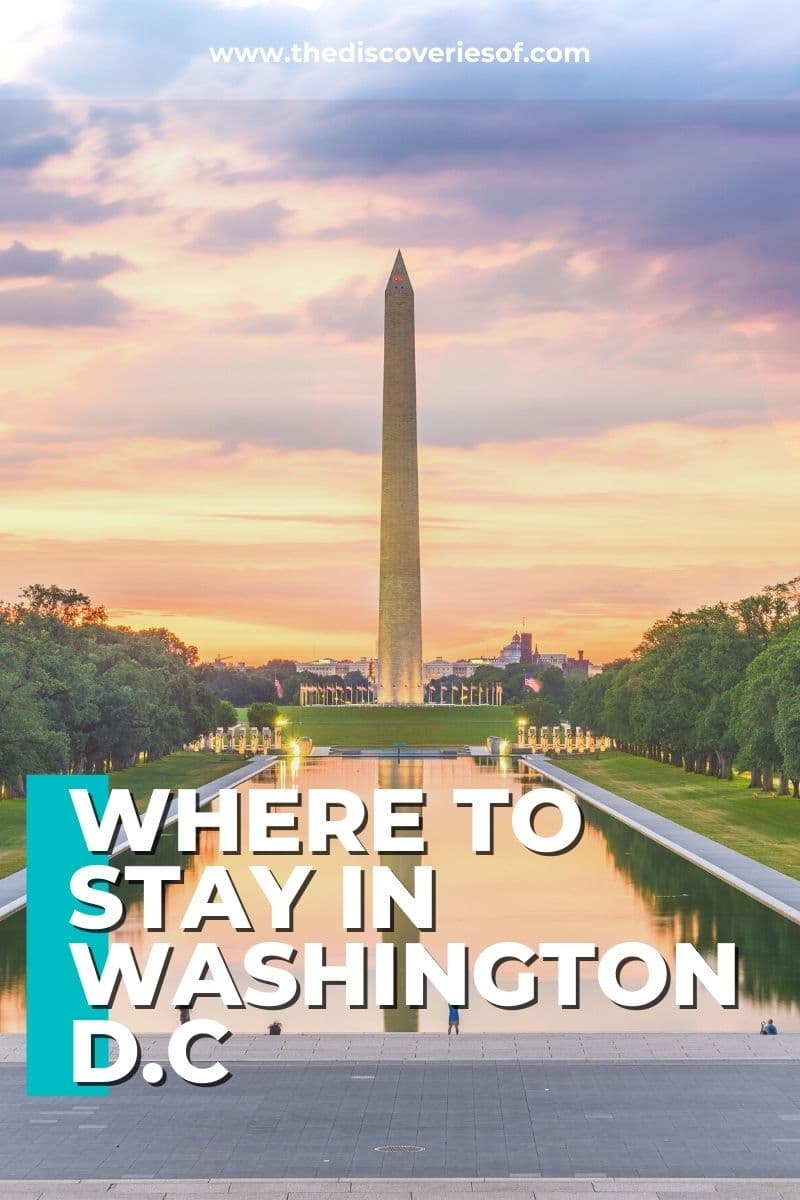 Where to Stay in Washington D.C: Read Next