Looking for the best day trips from Washington DC? This guide is packed with 17 brilliant day trip ideas for you to explore.
There are a ton of wonderful day trips you can take from Washington D.C – we've coined them "daycations" that you can use to hop out of the city.
Whether you're a seasoned DC local or just visiting, if you want to escape the city for a quick adventure, try one (or all!) of these easy and fun day trips from Washington DC.
The Best Day Trips from Washington DC: Top Picks
Baltimore, Maryland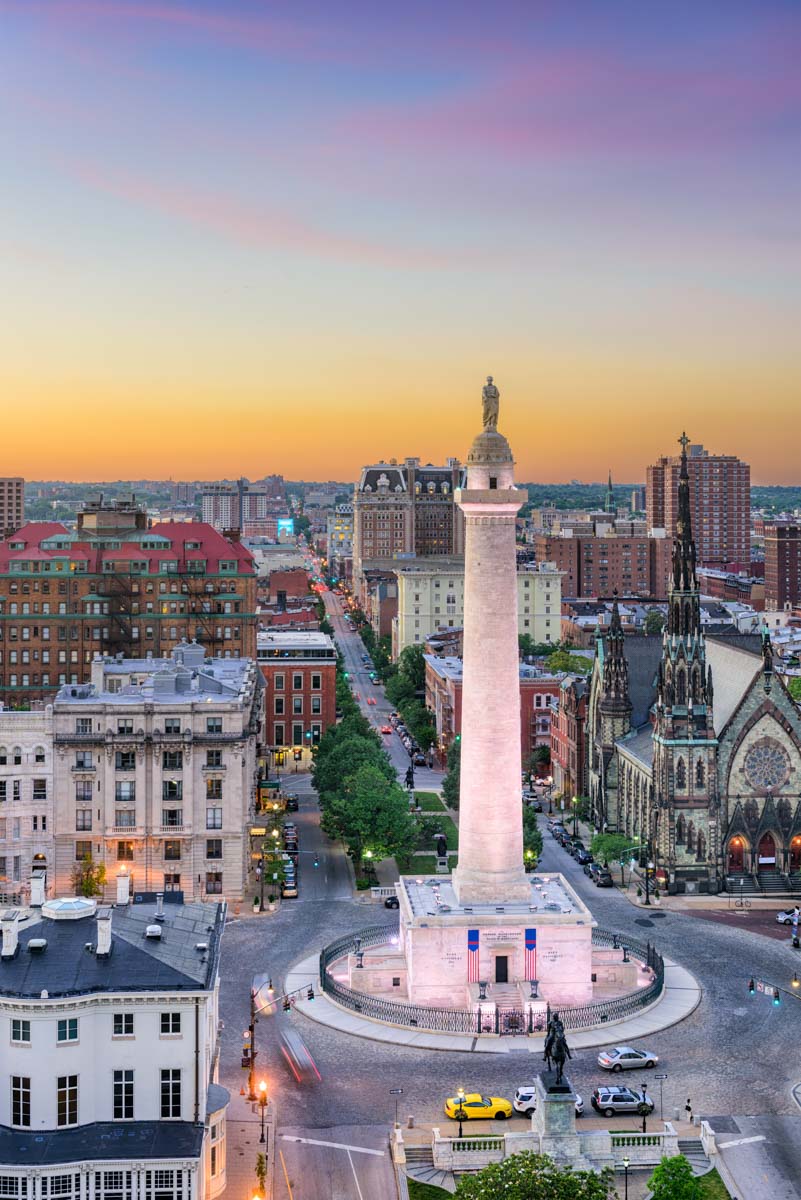 Distance from Washington: 45 miles (1 hour)
At just a one-hour drive from Washington, DC, Baltimore is Maryland's largest city and one of the most popular day trips from Washington DC.
Situated on the banks of the Chesapeake Bay, Baltimore has many things to offer day trippers. Some of the main sights in Baltimore include the Inner Harbor, the National Aquarium, several museums, Fort McHenry, and the Orioles Stadium.
You might think that the extent of Baltimore's attractions lie in the Inner Harbor, but that's totally untrue.
While there are a lot of touristy activities in the city, if you're looking for a more local or low-key experience, you can find it in some of Baltimore's many charing neighborhoods.
Fell's Point is full of bars and restaurants, and Hampden is home to the famous winter lights of 42nd Street, some alternative boutiques, and the delicious Golden West Cafe.
If you're looking for more foodie treats, try Mount Vernon Market, which has several food stalls to try, including some delicious raw oysters.
Philadelphia, Pennsylvania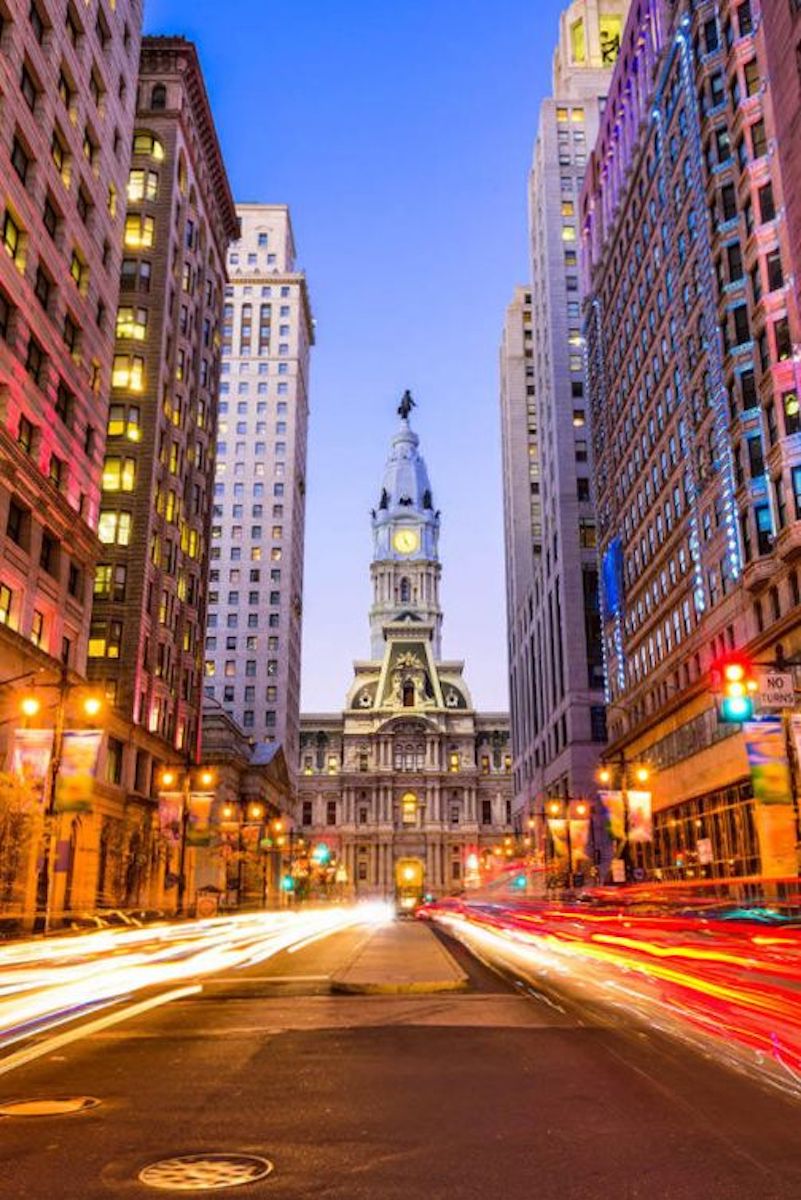 Distance from Washington: 139 miles (2 hours, 45 minutes)
As one of Pennsylvania's largest cities, Philadelphia is one of the best long day trips from Washington DC.
Home to some of the country's most historically significant sights, the city definitely does not have a shortage of things to do for first-time visitors – even if you only have one day in Philly.
For the history buffs out there, head to Independence Hall to experience the famous Liberty Bell in person.
Foodies have to try a world-renowed Philly Cheesesteak or some other local eats at the Reading Terminal Market or the South 9th Street Italian Market.
Or, if you prefer being outdoors, take a stroll or bike ride along the Schuykill River.
Shenandoah National Park, Virginia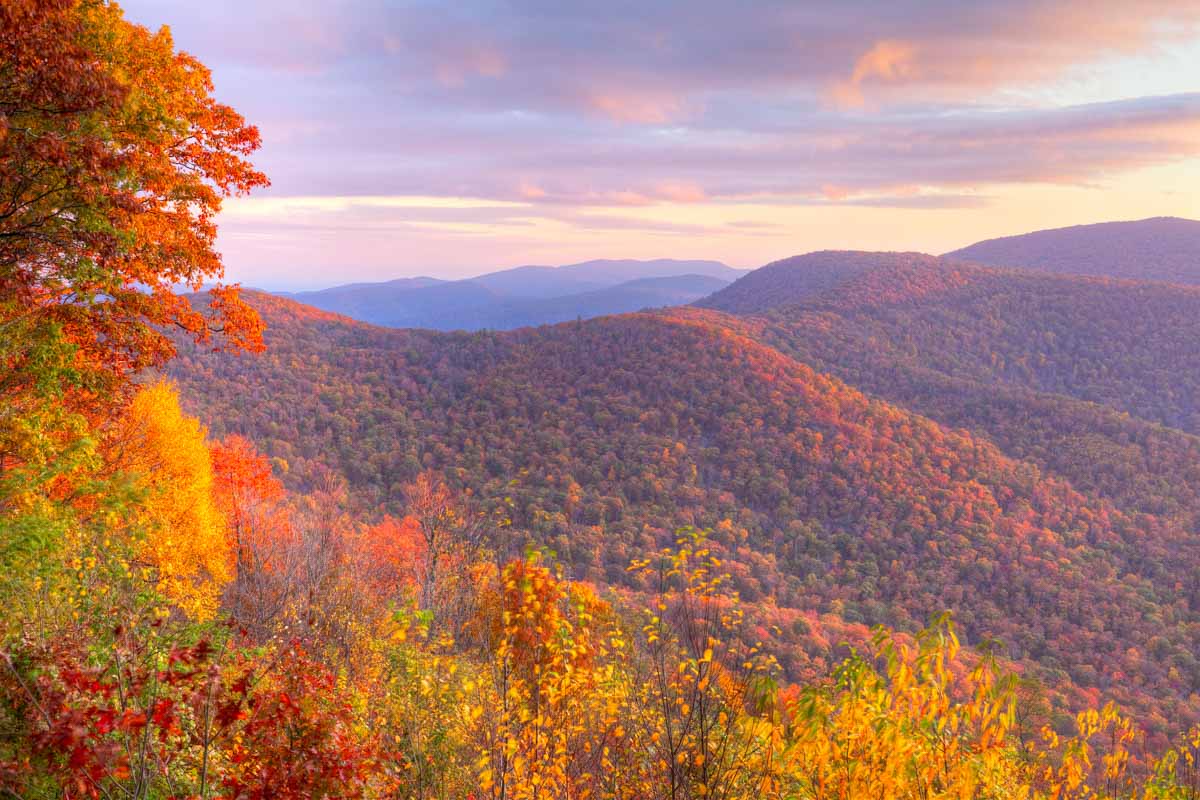 Distance from Washington: 70-90 miles (1.5 to 2.5 hours)
Nature lovers, rejoice! At around 2 hours from Washington DC, Shenandoah National Park is a fairly easy day day excursion (or weekend trip) from the city.
With miles of gorgeous Virginian hiking paths, sites for camping (if you wish to spend the night), and the famed Appalachian Trail, Shenandoah National Park has so much to do for those of you who are hoping to get outdoors, with some of the best hikes near Washington DC.
It's also a perfect place to experience spring and fall in Virginia.
If you're feeling ambitious, tackle the long Old Rag Trail, which can span from 6-8 hours (depending on your hiking level and speed). Or, opt for a shorter hike, like one of the Devil's Stairs hikes.
If hiking isn't your thing, Shenandoah is still worth a visit – take a drive on the Skyline Drive and admire the many views of the Blue Ridge Mountains.
Day Trips from Washington D.C: Historic Destinations
Annapolis, Maryland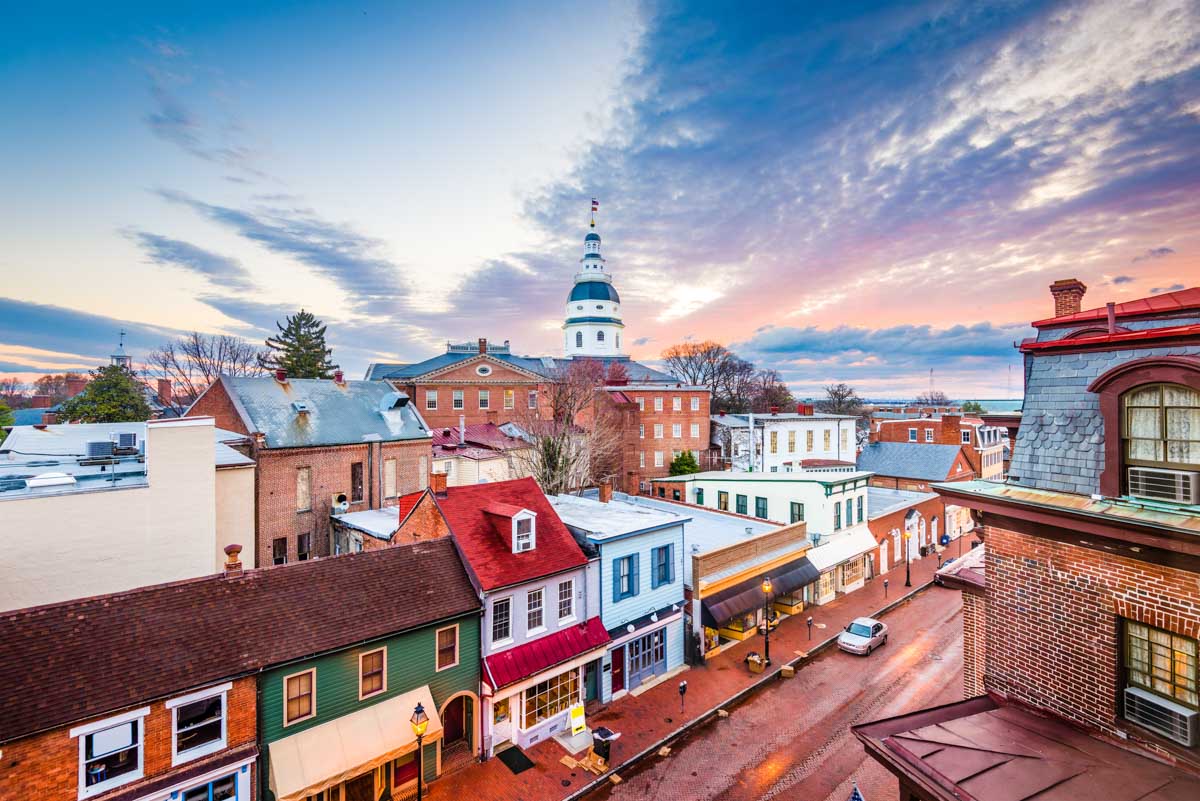 Distance from Washington: 32 miles (45 minutes)
In my opinion, one of the most fun and charming day trips from Washington DC is to nearby Annapolis, Maryland.
Located on the Chesapeake Bay, Annapolis is a maritime town, home to the US Naval Academy, several marinas full of sailboats, and lots of cobblestoned sidewalks and streets to walk around.
At less than an hour from Washington, DC, you could visit Annapolis for lunch or spend and entire day there exploring.
During your day trip, you can visit the Maryland Capitol Building, sample some of Maryland's most delicious seafood, or go for a stroll in some of the colorful back alleys of the city.
Historic Northern Virginia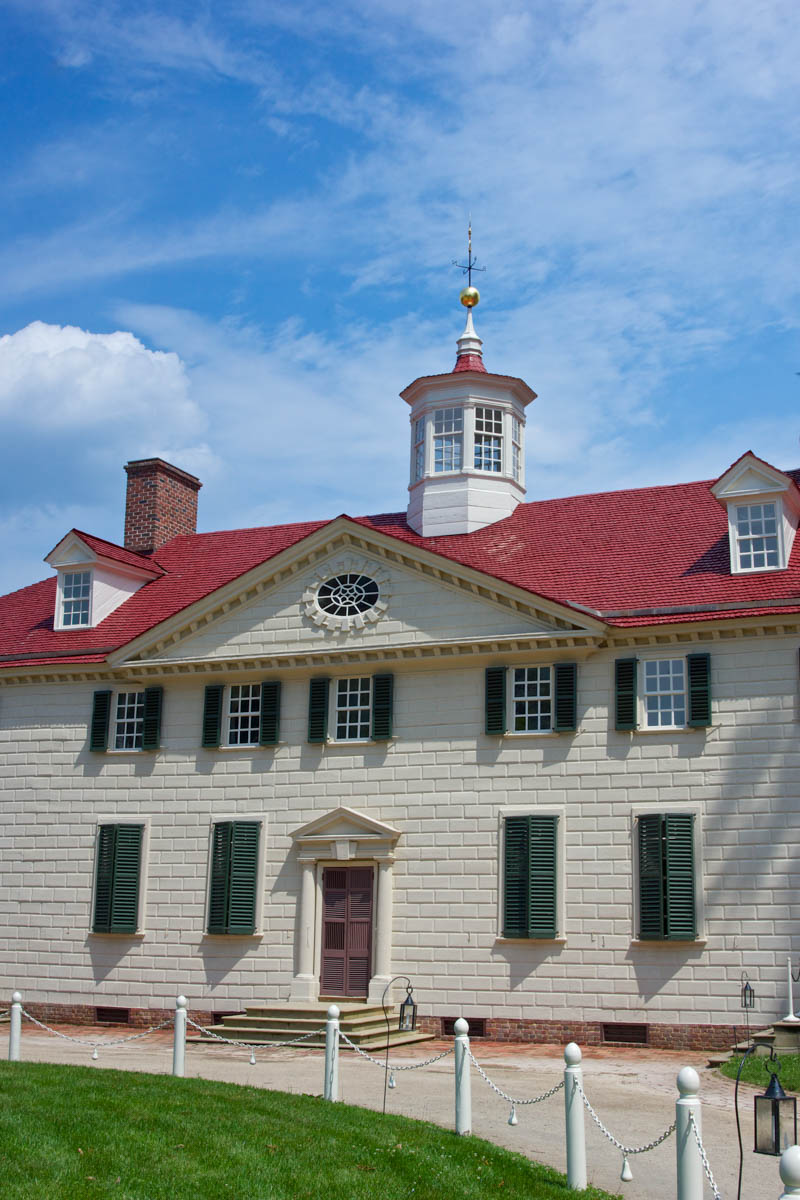 Distance from Washington: 21 miles (30 minutes)
Washington DC is a city that's perfect for history lovers, but it doesn't stop there.
Located in Northern Virginia, Mount Vernon stands as an important monument to America's history. Home to George Washington himself, Mount Vernon's grounds consist of a beautiful mansion, several pathways and trails through the campus, and beautiful views of the Potomac River.
Just a short drive from the city, it's surprisingly easy to take a Mount Vernon day tour from Washington, DC.
Alternatively, you could arrange a Pentagon tour to see where all of the action happens! (I've never been on one, but my friend Ashley (linked above) has a great post on how she organized her trip!).
On your way back to DC from your historic day trip around Northern Virginia, consider stopping in Old Town Alexandria for a charming afternoon walk, or visit Arlington Cemetery to experience its serenity and solemnity and see the changing of the guards.
Fredericksburg, Virginia
Distance from Washington: 53 miles (1 hour)
About halfway from Washington DC to Richmond lies Fredericksburg, Virginia, a smaller city with some quaint areas to see.
With many historic areas to tour and walk around, it's a relaxing place for a full day trip or a short jaunt from Washington DC.
Here, you can experience some of the Civil War battlefields, grab some snacks or peruse the boutiques on the main street in downtown, or visit some of the historic homes and taverns in the area. Alternatively, there are some lovely restaurants and shops in the city, as well as some trails bordering the Rapahannock River.
Day Trips from D.C: Nature & Outdoor Daycations
Ocean City, Maryland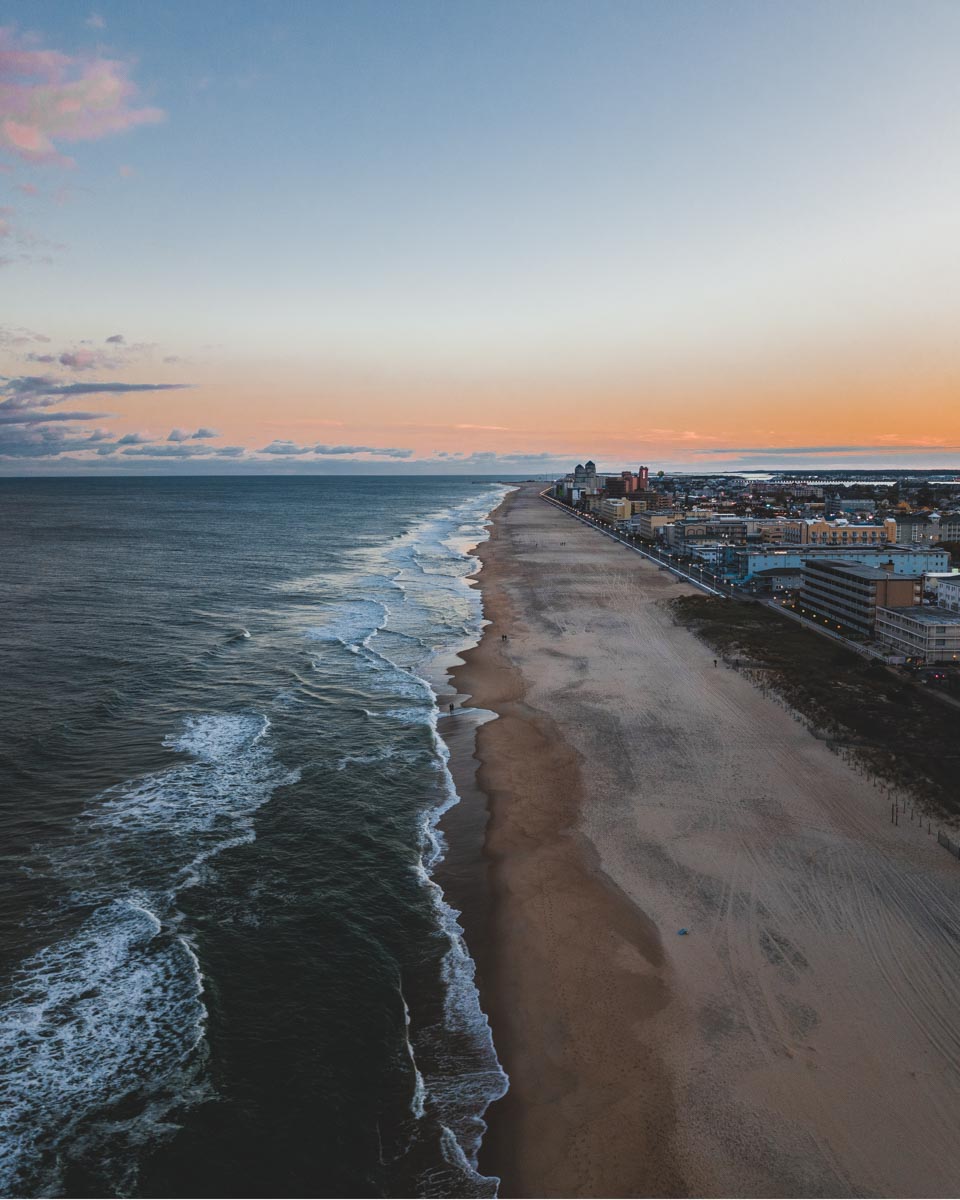 Distance from Washington: 140 miles (2 hours, 45 minutes)
Looking for a beach break, but don't want to pay for a hotel? During the summer, Maryland's Ocean City is the perfect day trip for sea-lovers.
It's a bit far from DC, at just under 3 hours each way, but it's the closest ocean beach to the city. Plus, access to the sun, sand, and sea is completely worth the drive.
While in Ocean City, the natural thing to do all day is to lay out a picnic blanket and umbrella, sit in the sun, and go for a swim. However, the area also boasts many other activities as well, like mini golfing, water sports, amusement parks, and seafood restaurants.
Although it's pretty much par for the course with other beach towns on the East Coast, Ocean City is a wonderful place to escape the daily grind of Washington DC for a little while.
East Coast Ski Trip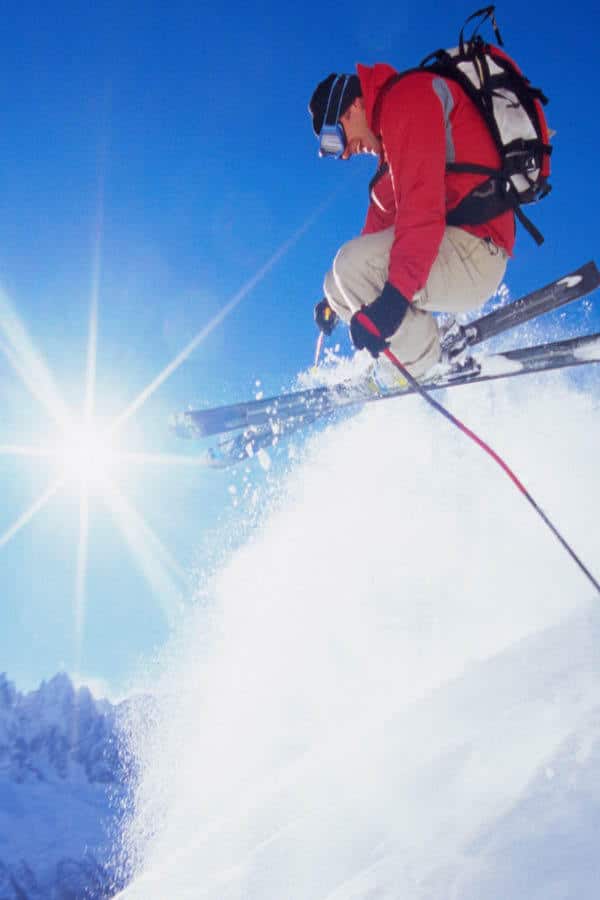 Distance from Washington: 78+ miles (1 hour, 30 minutes+)
In the winter and early spring, many city dwellers flock to the slopes to take advantage of the short skiing and snowboarding season. Luckily, the East Coast has a few ski resorts located within a few hours of the capital city.
If you're looking for an active way to spend a cold winter's day, try taking a skiing day trip from Washington DC.
Although there are many ski resorts scattered around Virginia and West Virginia, the closest ski resorts to Washington DC are actually in Pennsylvania.
The two skiing centers nearest to Washington DC are Liberty Mountain Resort (PA – 78 miles // 1.5 hours) and Whitetail Ski Resort (PA – 90 miles // 1 hour, 45 minutes).
Rehoboth Beach, Delaware
Distance from Washington: 121 miles (2 hours, 30 minutes)
Situated a bit of a drive away from Washington DC, Rehoboth is a charming beach town that fills up during the summer with families and friend groups. However, it's also a reasonable day trip from DC if you leave early and plan ahead.
Here, along with the many allures of East Coast beach towns, the beaches are clean and perfect for a day of sunbathing.
While many people opt to spend a weekend or more here, a day trip to Rehoboth can be a perfect way to decompress, especially outside of the peak season when the beaches are crowded.
Day Hikes in Northern Virginia or Maryland
Distance from Washington: Varies (but usually no more than 100 miles/2 hours)
We all need a break from the city sometimes, to unplug and refresh before a long week ahead. Our favorite way to do this is by going on a day hike in a beautiful place, perhaps through a nature conservation area, or a state or national park.
What many DC dwellers don't know is that all around Virginia, Maryland, and West Virginia are trails to explore.
All-Around Amazing Day Trips from Washington D.C
Harpers Ferry, West Virginia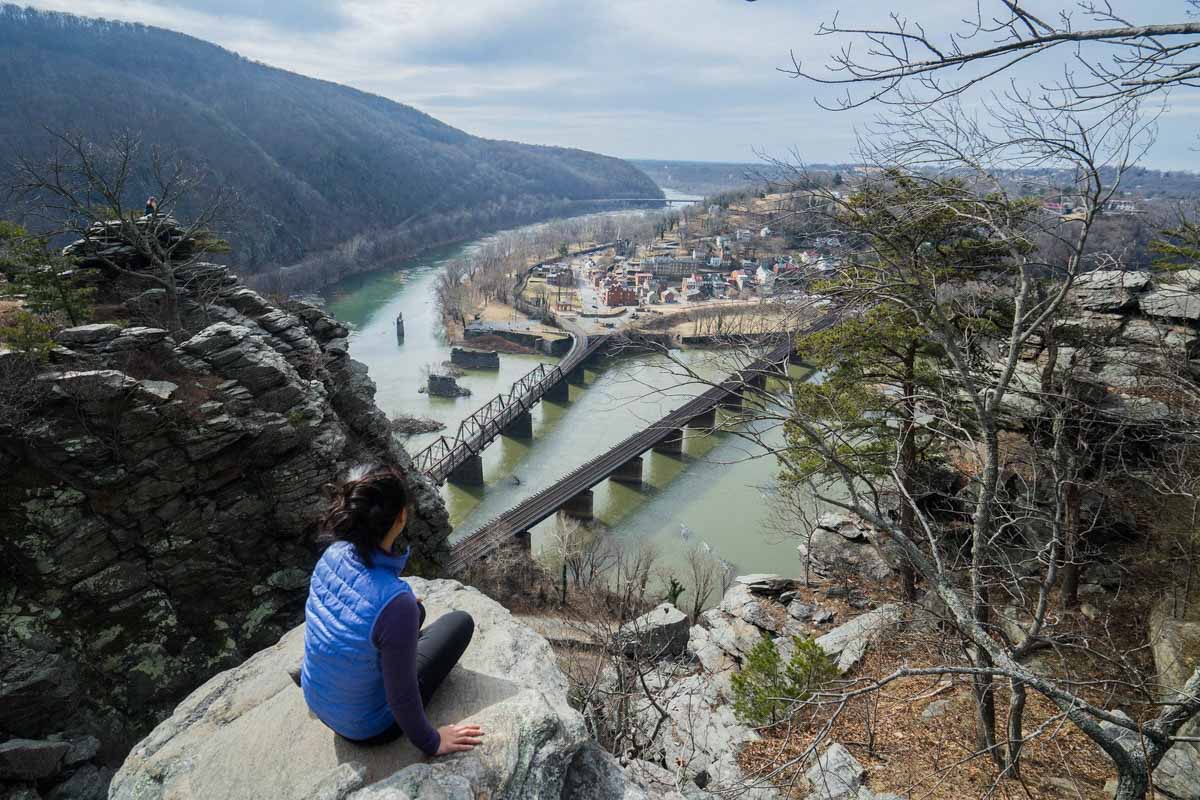 Distance from Washington: 67 miles (1 hour, 15 minutes)
One of the United States' National Historic Parks, Harpers Ferry was a crucial site during the Civil War as it was located on the border of the Union and the Confederacy.
Today, it is a park situated on the borders of West Virginia, Maryland, and Virginia. It houses a historic town, a railroad, a river crossing, and several miles of beautiful hiking trails for visitors to explore.
A trip to Harpers Ferry warrants a stroll through the town's cobblestoned streets. You can grab a coffee at one of the full-service cafes or simply wander around.
While you're in town, be sure to head up to the Jefferson Rock and peruse the grounds of the St. Peter's Church. Alternatively, hike the Maryland Heights Trail for a dose of nature and spectacular views of the town and the rivers below.
If you're planning on sticking around for the evening, don't miss the Harpers Ferry Ghost Tour, which happens each night at 8 PM during the peak season (spring and summer).
Great Falls Park and C&O Canal, Virginia and Maryland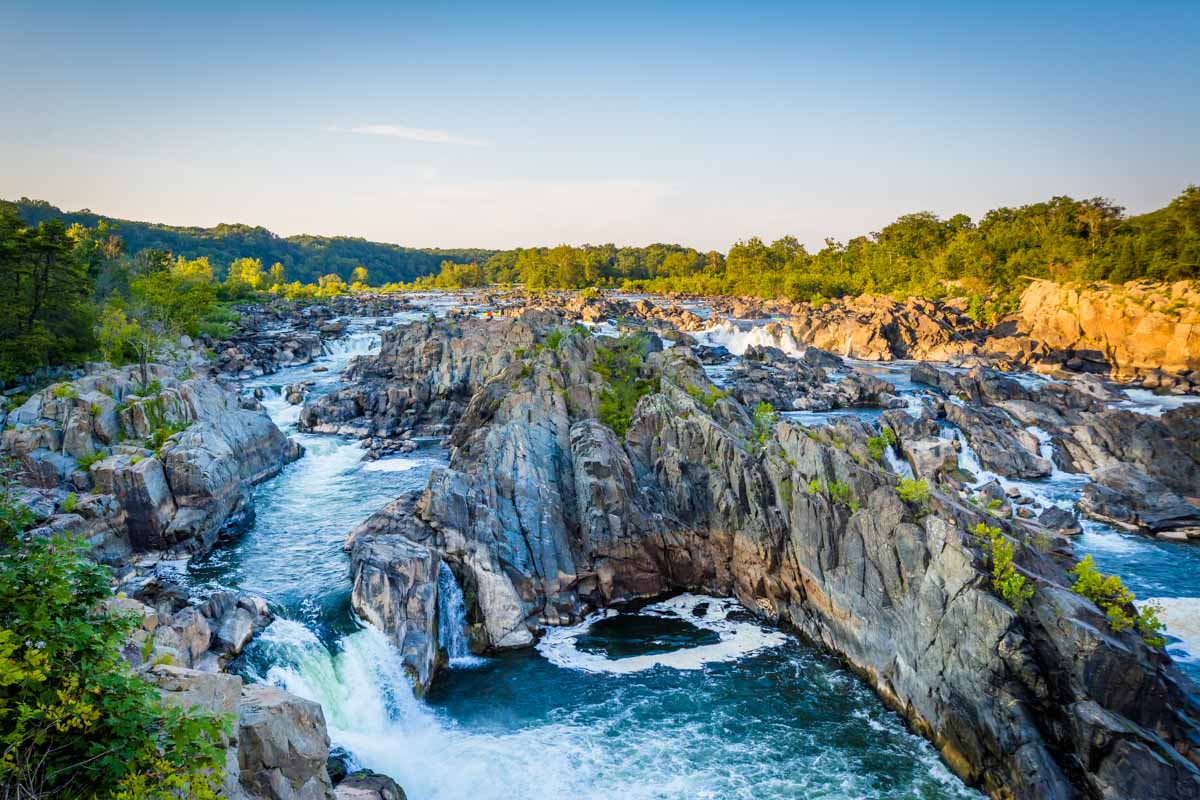 Distance from Washington: 19 miles (30 minutes)
If you're hoping to get some fresh air, explore a beautiful place, and avoid the crowds at the National Mall, Great Falls is the perfect option for you.
On a breaking point of the Potomac River, there's a magnificent cascade of water over craggy rocks below. This is Great Falls.
The best part? Many DC-dwellers don't know this gem of a park even exists.
There are two sides of the Great Falls area to explore – Maryland's C&O Canal National Historic Park, and Virginia's Great Falls Park.
Serious hikers will want to head to the Maryland side, which is home to the Billy Goat Trail, a moderate to difficult trail that involves a little bit of scrambling up a rock wall.
For those who just want to catch a glimpse of the falls, both the Virginia and Maryland sides of the river have overlook points where you can see the river and the falls below.
If you can, plan a visit during the fall to see the perfect foliage scenes – Great Falls might just be the best place in the DC metro area to see the fall colors.
Richmond, Virginia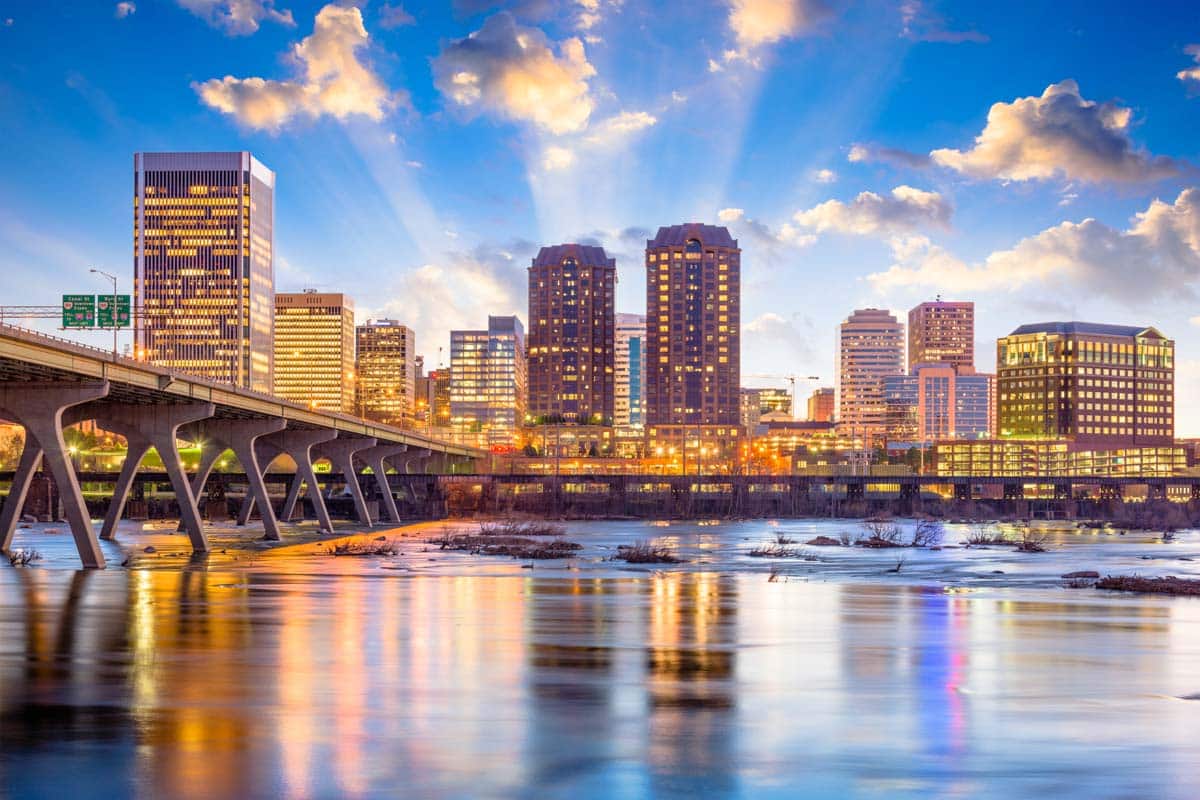 Distance from Washington: 110 miles (2 hours)
At just 2 hours from the city, Richmond is one of the most compelling day trips from Washington DC because there's truly something for everyone there.
Admittedly, we hesitated putting Richmond on this list. Why? Because there is so much to see and do in this city, it's impossible to complete it all in one day!
Richmond's activities span a variety of interest and travel types. Like beers and fine eats? Richmond's food scene has got you covered, with local favorites like Supper.
Enjoy hiking and outdoor adventures? Go for a bike ride by the James River, or enjoy some of the city's best parks, Belle Isle and Maymont.
Want to see a show? Hit up The National or the Carpenter Center for shows ranging from pop music to classical and opera.
Charlottesville, Virginia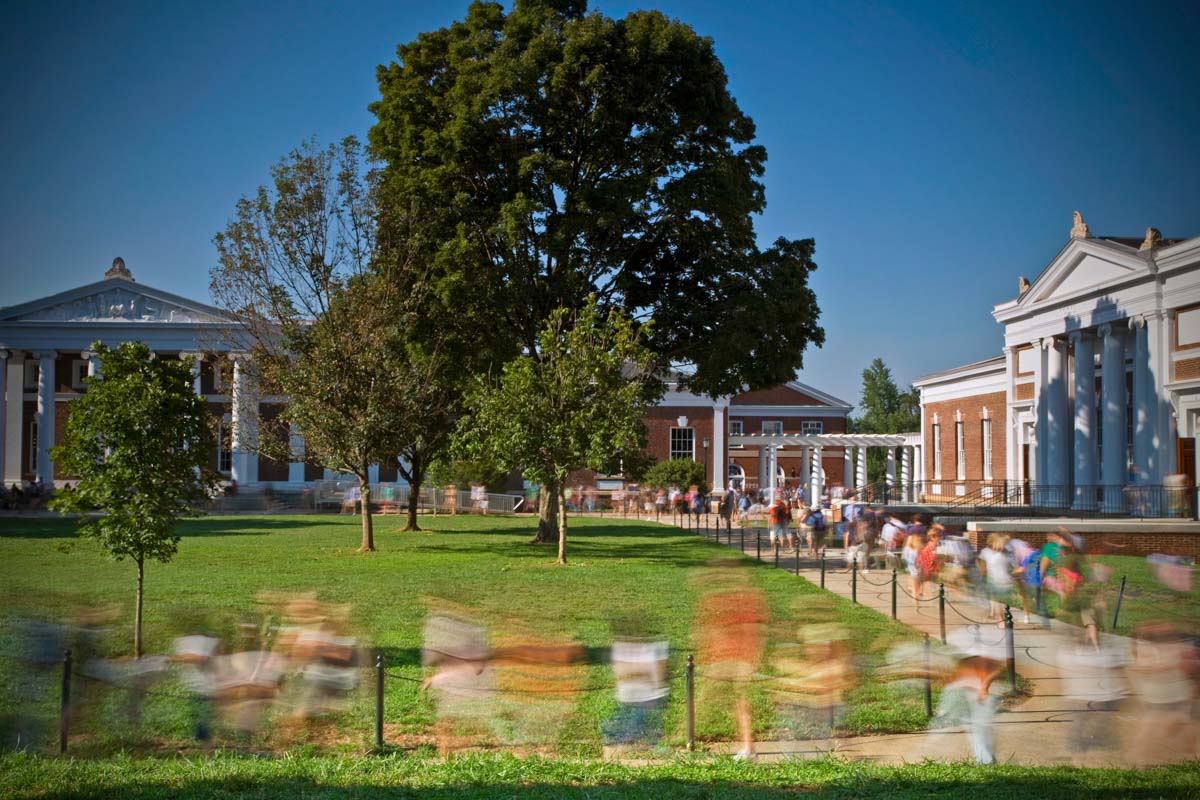 Distance from Washington: 116 miles (2 hours, 30 minutes)
An easy day trip from Washington DC, Charlottesville is a place where history, nature, and cuisine collide.
One of the best ways to spend a day in Charlottesville is by strolling through the lawn of the historic University of Virginia. Thomas Jefferson founded this university, and the architectural marvels certainly reflect his preferences.
Charlottesville's city center is home to the Mall, which has a variety of shops, restaurants, and bars to explore. There are also a handful of epic food tours in the area.
Outside of Charlottesville lies a huge concentration of wineries, breweries, and distilleries in the Blue Ridge Mountains. Most tastings range from $5-15 and include a variety of different wines, and you can book a hop-on-hop-off wine and beer tour so you don't have to drive.
If you're hoping to end your day trip on a high note, a winery tour can be one of the best ways to do it. (Just make sure you're covered for driving back to Washington DC!)
Unusual Day Trips from DC
Luray Caverns, Virginia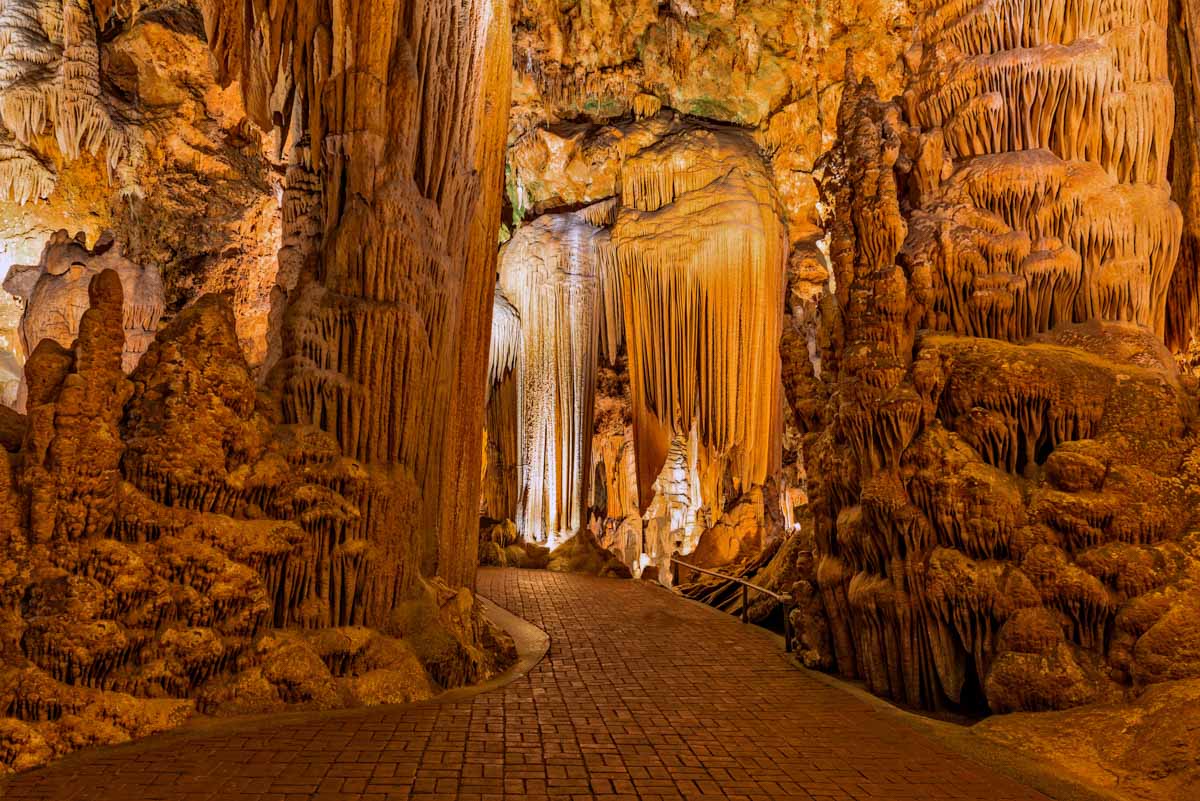 Distance from Washington: 95 miles (1 hour, 45 minutes)
One of the most unique day trips from Washington DC is at Luray Caverns, a cave system underneath the Blue Ridge Mountains.
On a tour of the caverns, visitors can see magnificent, well-lit displays of stalactites and stalagmites, with paved trails and an elevator for easy access. Of all of the caverns in Virginia, Luray is definitely one of the most spectacular.
One of the most unique aspects of the caverns, which you can experience first-hand on the tour, is the construction of the 'Stalacpipe Organ,' an organ created from the tones of hitting the different cave formations. Nifty, huh?
Gunpowder Falls State Park, Maryland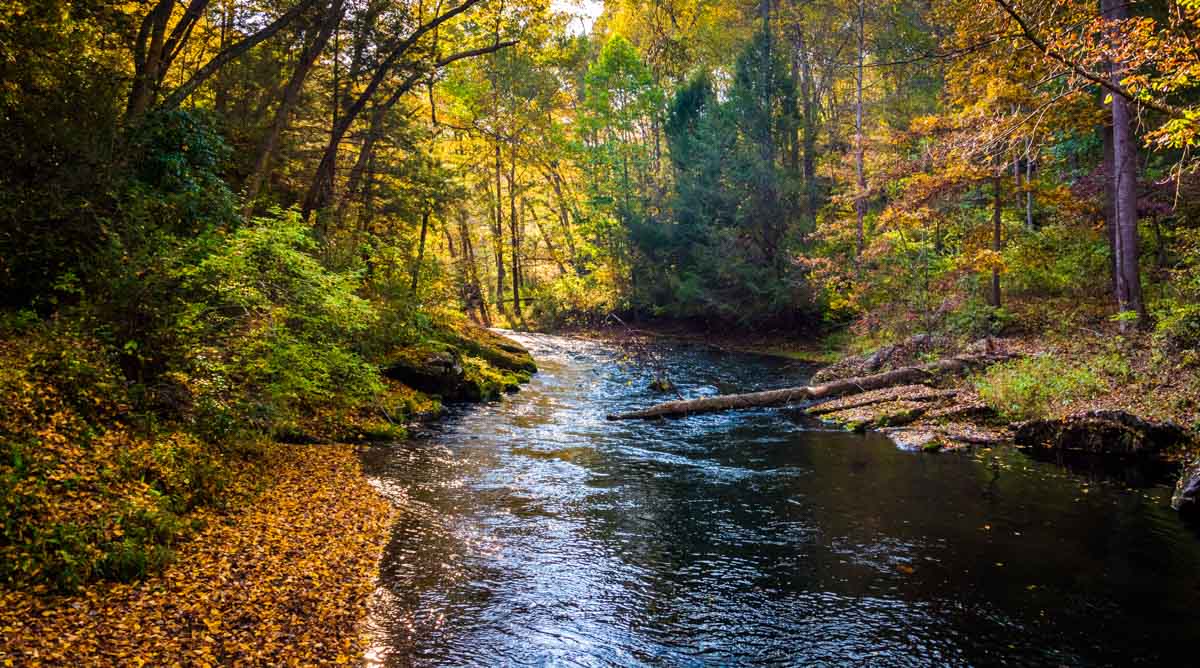 Distance from Washington: 55 miles (1 hour, 15 minutes)
Many people are familiar with Baltimore, but few know about the beautiful Gunpowder Falls State Park, located just outside of its city limits.
At just over 1 hour from Washington DC, it's a perfect park to explore on your own or paired with a day trip to Baltimore.
In the park, there are creeks, forests, bridges, and historic structures aplenty. Once you leave the industrial grind of Baltimore, nature and forestry await.
For hikers, there are several different trail to tackle, bringing visitors over stunning bridges and cool, shady forests. There are also several waterfalls and waterways to look out for.
Rustic Farms and Fields
Distance from Washington: Varies (but usually no more than 100 miles/2 hours)
In the spring, summer, and fall, there's no shortage of fresh produce to fill Washington DC's farmer's markets. Where do you think that all comes from? Nearby farms, of course!
There are several farms and gardens near Washington DC, where you can frolic in the flowers (sunflowers, lavender, tulips, and more!), pick some apples, or harvest a pumpkin or two. If you're looking for a laid-back way to get some time outside, consider one of many day trips to a nearby farm.
Did you enjoy this post? Find it helpful? Pin it!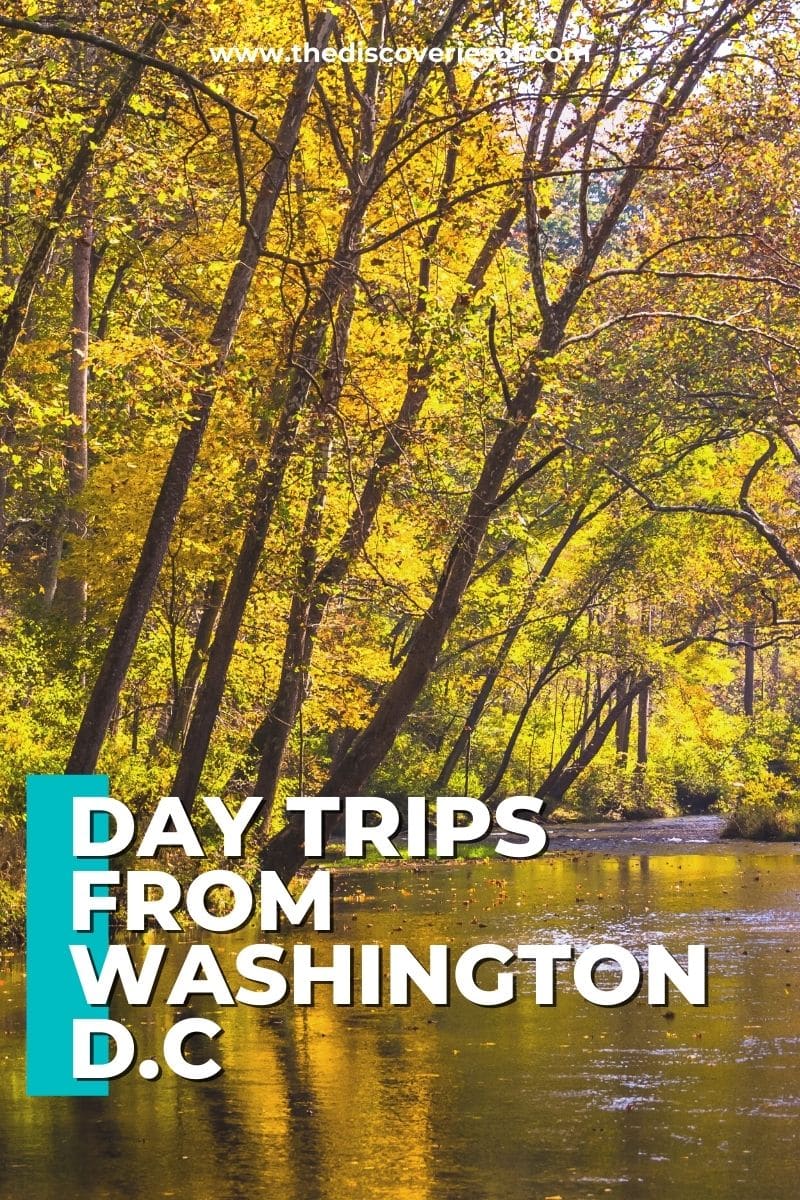 Day Trips from Washington DC: Read Next
Looking for unconventional things to do in the city?

Try our list of

37 things to do in Washington DC

that aren't museums, memorials, or monuments.

Need a place to rest your head? Here are our suggestions for the best neighborhoods and hotels to stay in Washington DC. (Or, just book our favorite, The Line Hotel in Adams Morgan)