Ready to discover the best hikes in Northern Virginia? These are the destinations you shouldn't miss.
On the weekends, many city dwellers around the world hit the trails to get some much-needed fresh air. In the Washington DC area, we're no different.
With its nature reserves, national parks and monuments, and more, hiking and day trips in Virginia is a fantastic way to ditch the city and get outdoors for a bit.
Why Go Hiking in Northern Virginia?
Whether you live in Washington DC, or are just visiting, it's so easy to get stuck in the city. However, the DC – Maryland – Virginia area has so much to offer in terms of outdoor activities.
From wildlife refuges to rocky canyon-like landscapes, there's so much more to Virginia's hiking scene than meets the eye.
After several months of living in Washington DC and exploring many nearby hiking trails in the surrounding states, I've picked my favourite 14 wonderful places to go hiking in Northern Virginia.
Best Hikes in Northern Virginia
Great Falls Park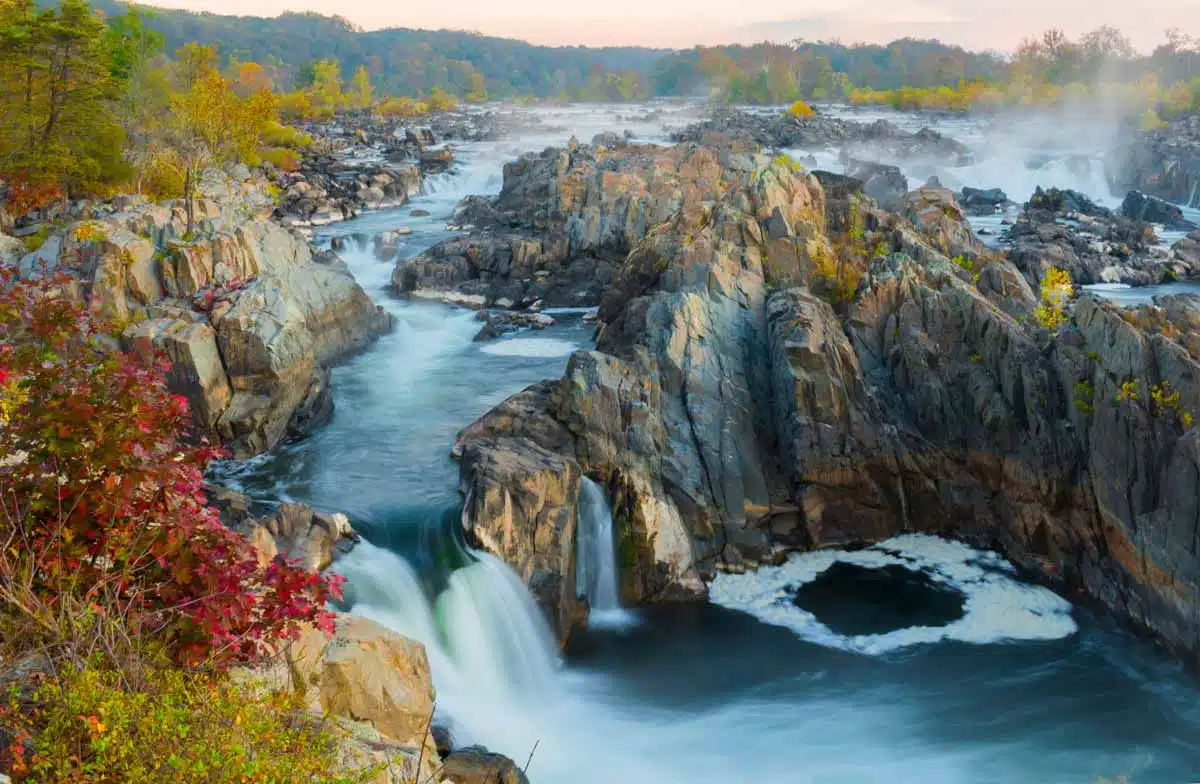 Located on the border of Maryland and Virginia, Great Falls Park is both a historic and natural gem that's just a 30 minute drive from downtown Washington DC.
In this park, you can experience the massive Great Falls cascade, and catch glimpses of the Potomac River and its surrounding rock formations.
Here, you can also find some of the most interesting hikes in Northern Virginia, including the River Trail (1.5 miles, moderate difficulty), which borders the Potomac River atop the craggy rocks, and the Patowmack Canal Trail (1.25 miles, easy difficulty), which runs through a historic canal.
Riverbend Park
Just down the street from Great Falls Park is yet another beautiful nature area called Riverbend Park. The park is actually so close by that you can hike from Riverbend to Great Falls (or vice versa) in about 3.5 miles round trip.
Strolling down the Potomac most of the way, this is definitely one of the nicer hikes in Northern Virginia.
Although it is close to Great Falls, this park is unique because it is located – surprise, surprise – on a bend in the river, giving rise to some amazing plant life, animal life, and scenery.
Burke Lake Park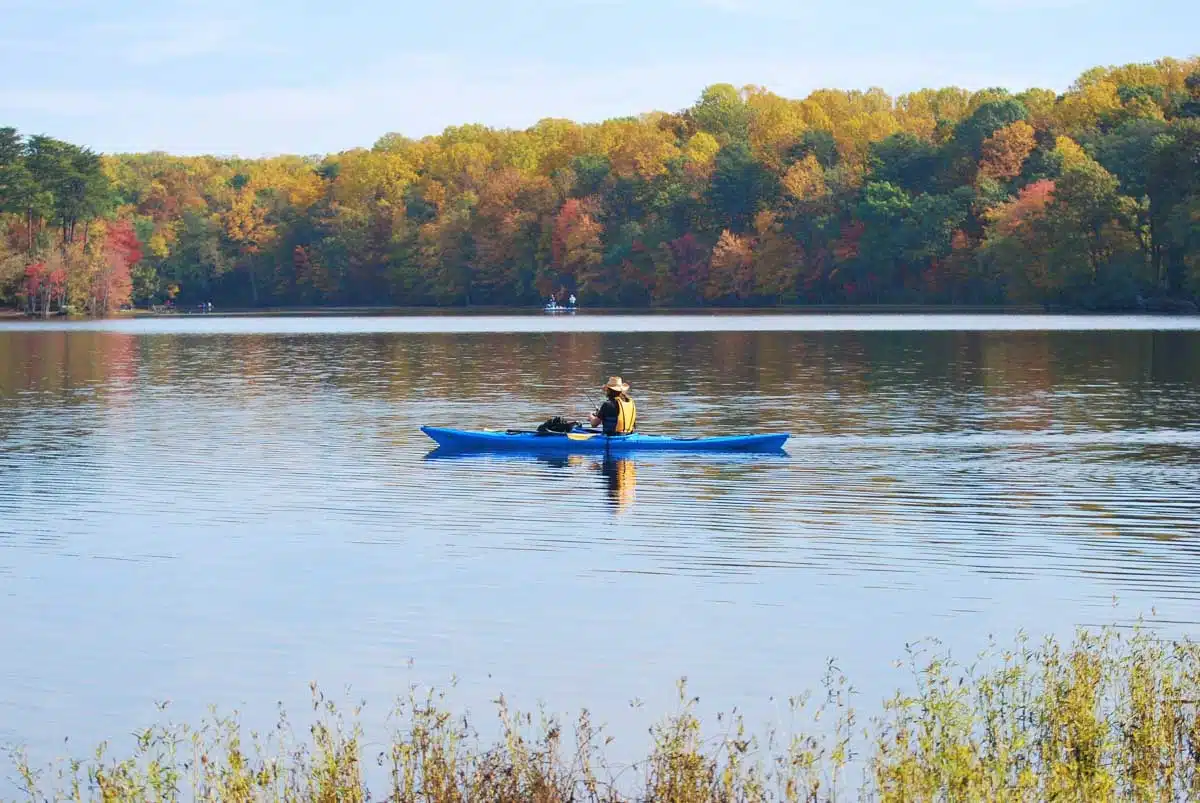 With 888 acres of lake, forests, and recreational areas, Burke Lake Park is perfect for hikers of all levels.
One of the nicest trails in this park spans the 4.7 mile perimeter of the lake, and is a perfect, laid-back place to go hiking in Northern Virginia, especially in the warmer month. Alternatively, you can rent a boat and explore the lake by water.
The C&O Canal National Historic Park
This park is actually on the Maryland side of the Potomac, but I thought I'd include it on this list because it is home to one of my favorite hiking trails in the Washington DC area.
Home to the Chesapeake and Ohio Canal, there are many historic locks, boats, and buildings scattered throughout the park area. There are several trails in the park, including a lookout trail over Great Falls.
The best hike in the park is the Billy Goat Trail, a challenging but rewarding trail that takes visitors atop the rocks bordering the Potomac River. And yes, that means there's some rock scrambling required! If you're up for the challenge, I highly recommend the Billy Goat Trail for any avid hikers.
Mason Neck State Park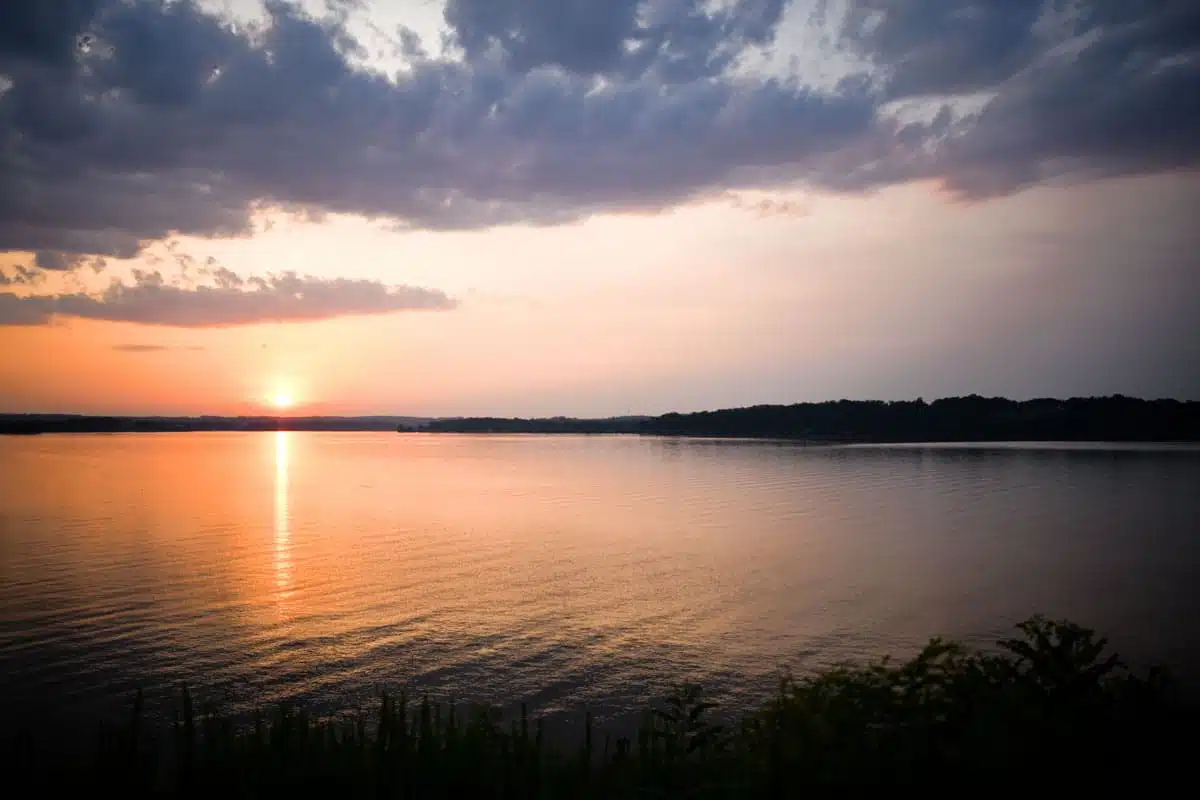 As one of the only state parks in Northern Virginia, Mason Neck State Park is a fabulous place for a day hike or a weekend camping trip.
Located between the Potomac River and Belmont Bay, it is a sanctuary for many species of bird life, wildlife, and plants.
If you are a bird lover, you'll be happy to know that it is one of the best places in Virginia to see bald eagles. There are 10 hikes in Mason Neck, which take you past the shores of Belmont Bay and up towards the calm banks of Kanes Creek.
This is truly one of the best places for animal lovers to go hiking in Northern Virginia.
Bull Run Regional Park
Although it is a wonderful year-round destination, Bull Run Park is especially beautiful in the spring, with its incredible wildflower displays. As a hot spot for activity during the Civil War, Bull Run combines historic significance with natural beauty.
With over 1500 acres of park land and several miles of trails, Bull Run is home to one of the most notable hikes in Northern Virginia – the 19.6 mile Bull Run Occoquan Trail.
Harpers Ferry National Historic Park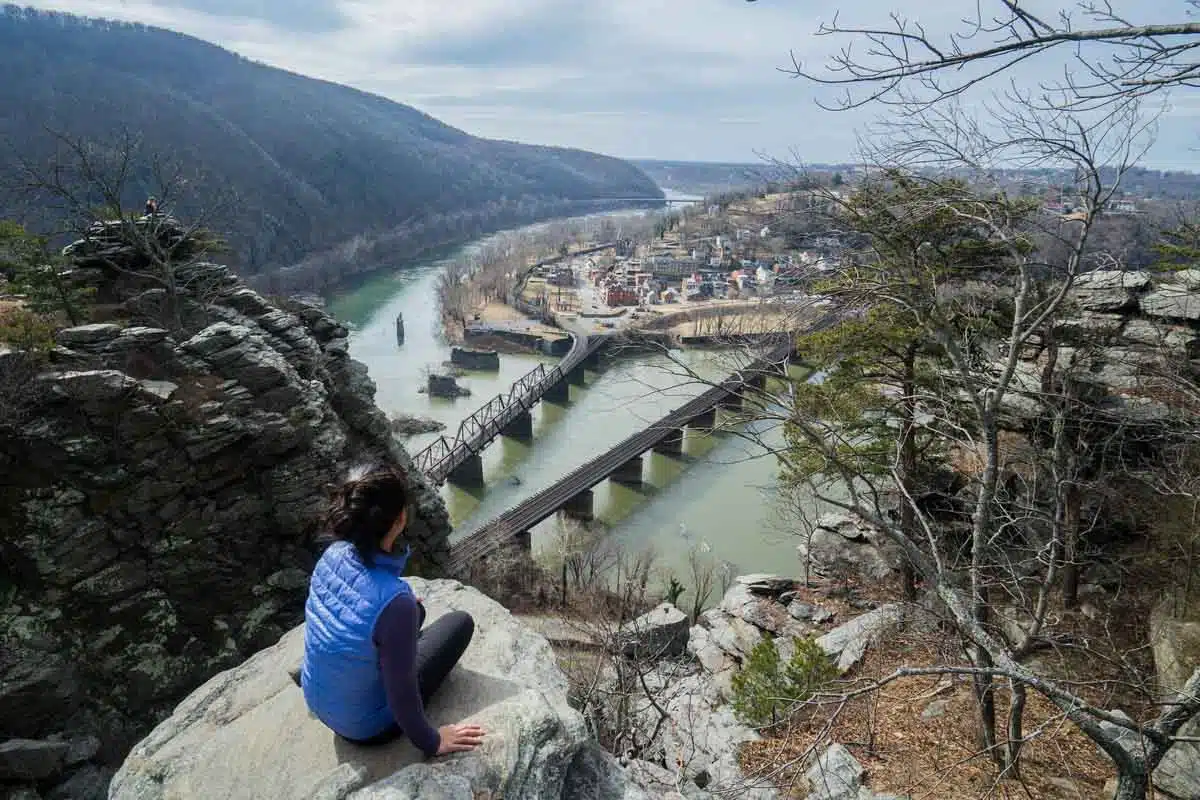 A visit to Harpers Ferry enables you to enter the world of historic Civil War era towns, industrial ruins, trains, and more.
Although the town of Harpers Ferry is technically in West Virginia, it is located on the border with Virginia and Maryland. Consequently, there are trails in the area spanning all three states, including several hikes in Northern Virginia and Maryland.
One of my favorite trails in this area is called Maryland Heights, which affords amazing views of the river and Harper's Ferry town down below.
Mount Vernon Trail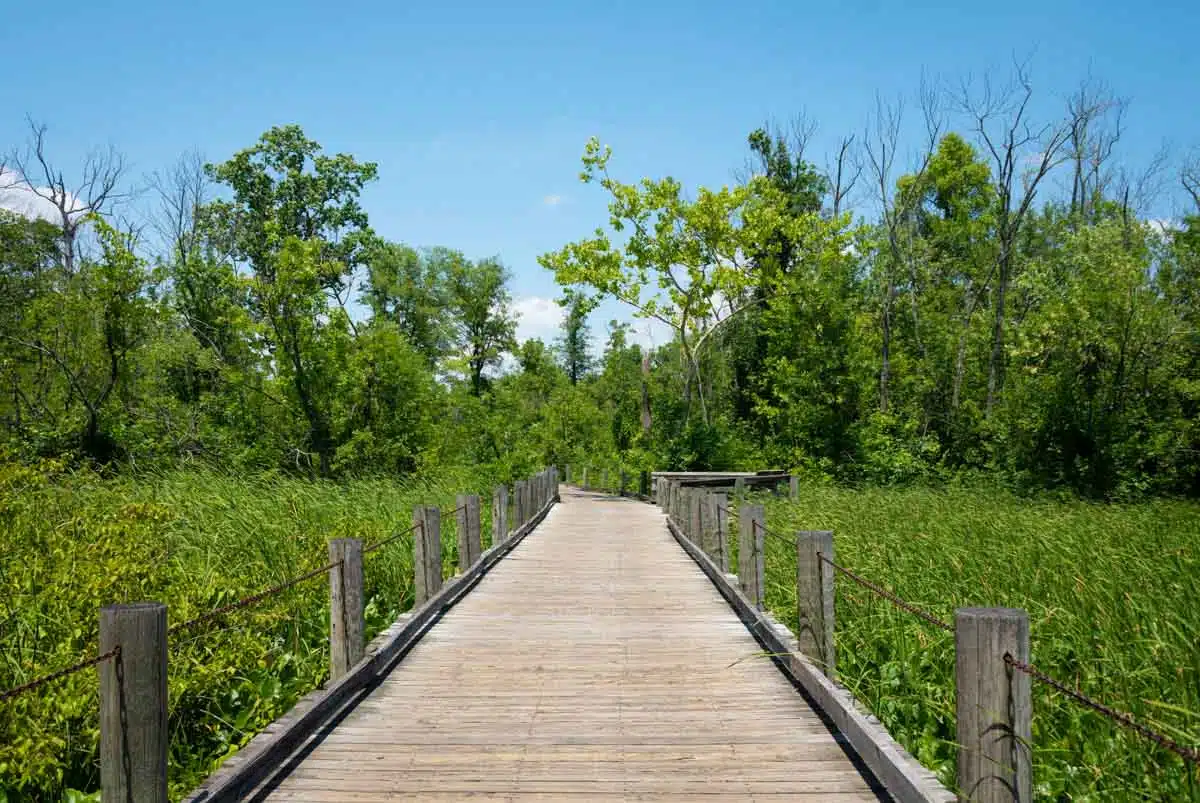 Although it isn't a traditional forested hiking trail, the Mount Vernon Trail deserves a place on any list of hikes in Northern Virginia due to its scenic place by the Potomac River and its stunning views of the Washington DC skyline.
As a connector between Mount Vernon and Roosevelt Island, this 18-mile trail is the perfect place if you're looking for a scenic morning stroll not far from the city.
Occoquan Bay Wildlife Refuge
Animal lovers rejoice! With its prime location at the intersection of the Occoquan and Potomac Rivers, the Occoquan Bay Wildlife Refuge is a fabulous place to see bald eagles and other migratory birds in the wild.
It is a quiet, tranquil place that takes on a different environment depending on the time of year. However, with several hiking trails and observation areas, the Occoquan Bay Wildlife Refuge is a relaxing place to spend some time admiring the beauty of nature.
Scotts Run Nature Preserve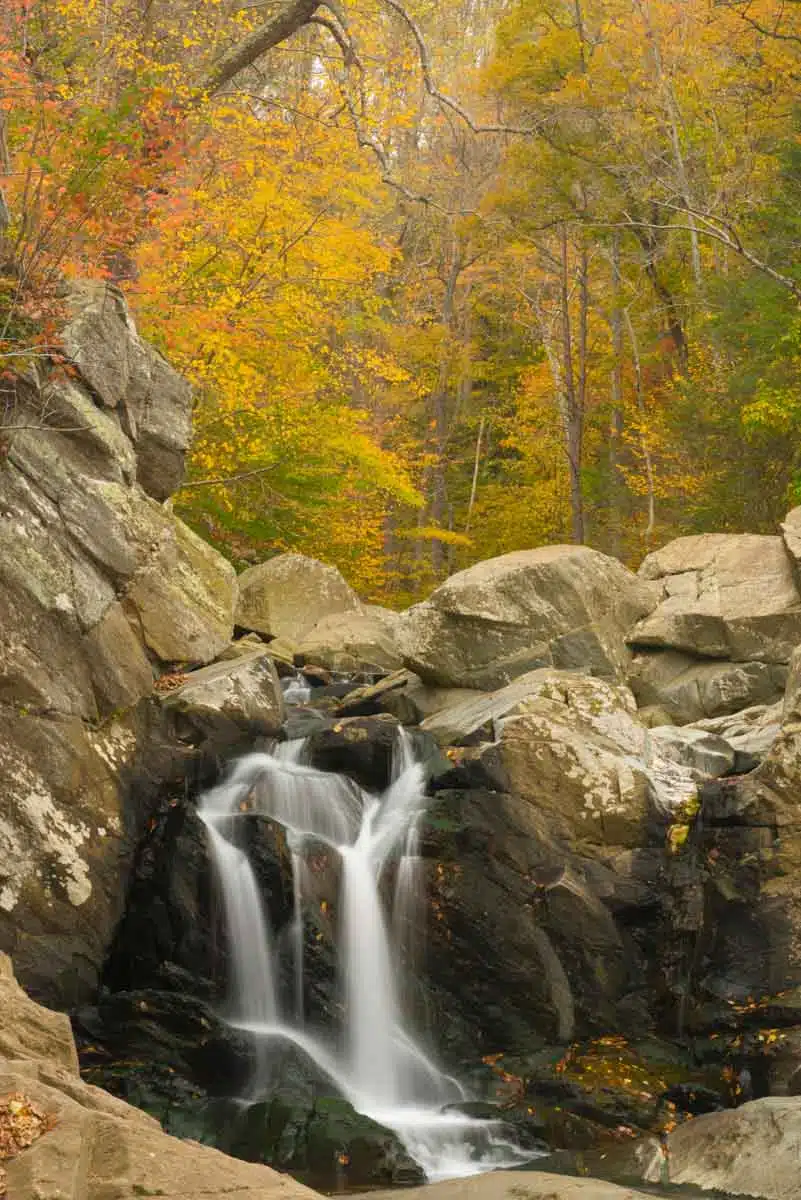 Located in McLean, Virginia, Scotts Run Nature Preserve is a lovely forest hiking area with interwoven several trails to enjoy.
There's an out-and-back waterfall hike that takes hikers from the West parking lot to the Potomac River, passing over rivers and by small waterfalls along the way.
There are also several other trails that will take you through the woods and past the historic Burling House ruins. Whether you're new to hiking or simply want to stroll near the river, Scotts Run Nature Preserve is the perfect low-key place to spend a morning.
Huntley Meadows Park
Located just outside of Alexandria, Virginia, Huntley Meadows Park is a place where history, nature, and wildlife intersect.
On the park grounds, you can find wildlife viewing areas with trails spanning through the marshy lands. The Cedar Trail, Deer Trail, and Heron Trail Loop is a lovely 2.1 mile hike that goes through some forest and wildlife areas.
If you'd rather just hang out or learn more about the park's history, you can check out the Historic Huntley house, which was built for the Alexandria mayor in 1825.
Shenandoah National Park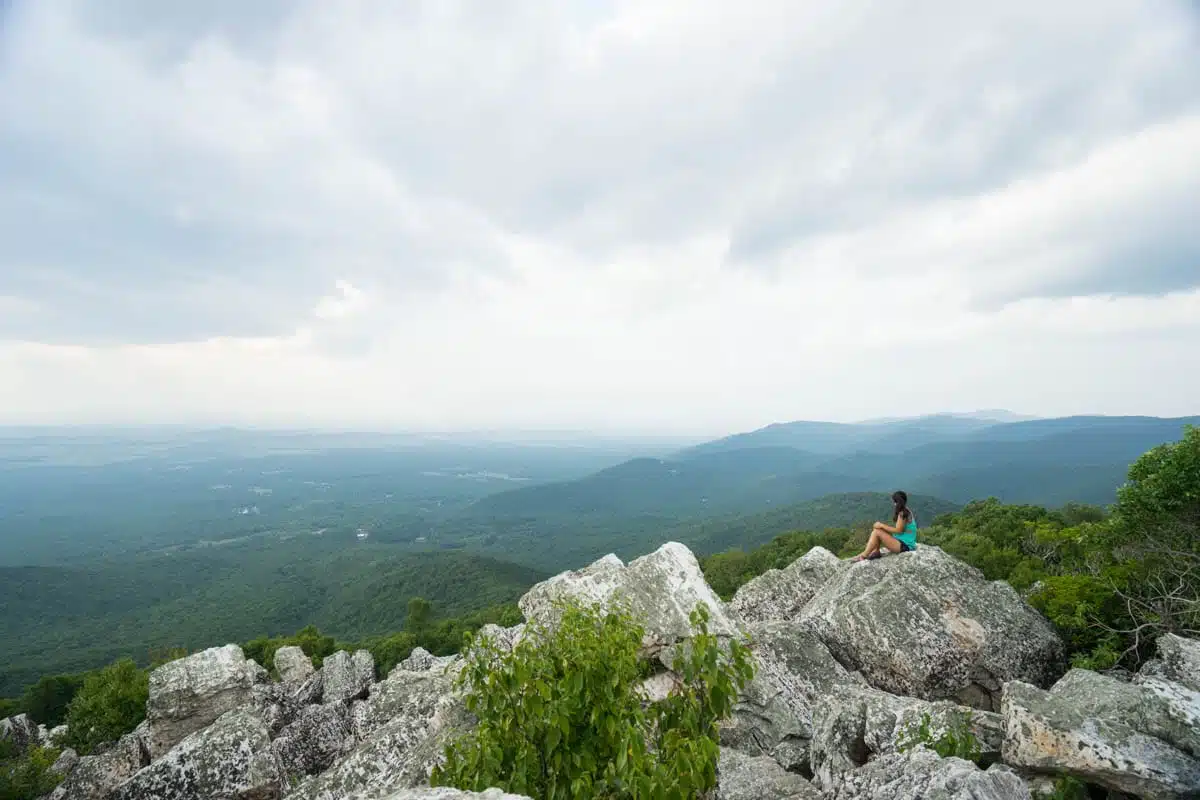 At a mere 75-mile drive from Washington DC, Shenandoah National Park is one of the most beautiful parks on the East Coast, and is located in Northwestern Virginia.
Not only does the Appalachian trail run through here, but there are several other incredible and scenic hikes to try here. Some of these include Old Rag and Little Devils Stairs, among many, many others.
If you're looking for a perfect outdoor weekend trip, Shenandoah has trails and activities for all levels.
Sky Meadows State Park
Created from a historic farmland, the 1,860 acre Sky Meadows State Park is full of things to do, from hiking to camping and much more.
With over 22 miles of trails, including access to the Appalachian trail, this park is the perfect blend of history and nature. Here, you can find rolling hills, colorful pastures, and beautiful forested areas to explore. Some of the best hikes in the area include Whitehouse Overlook and Sky Meadows Gap Run.
George Washington & Jefferson National Forests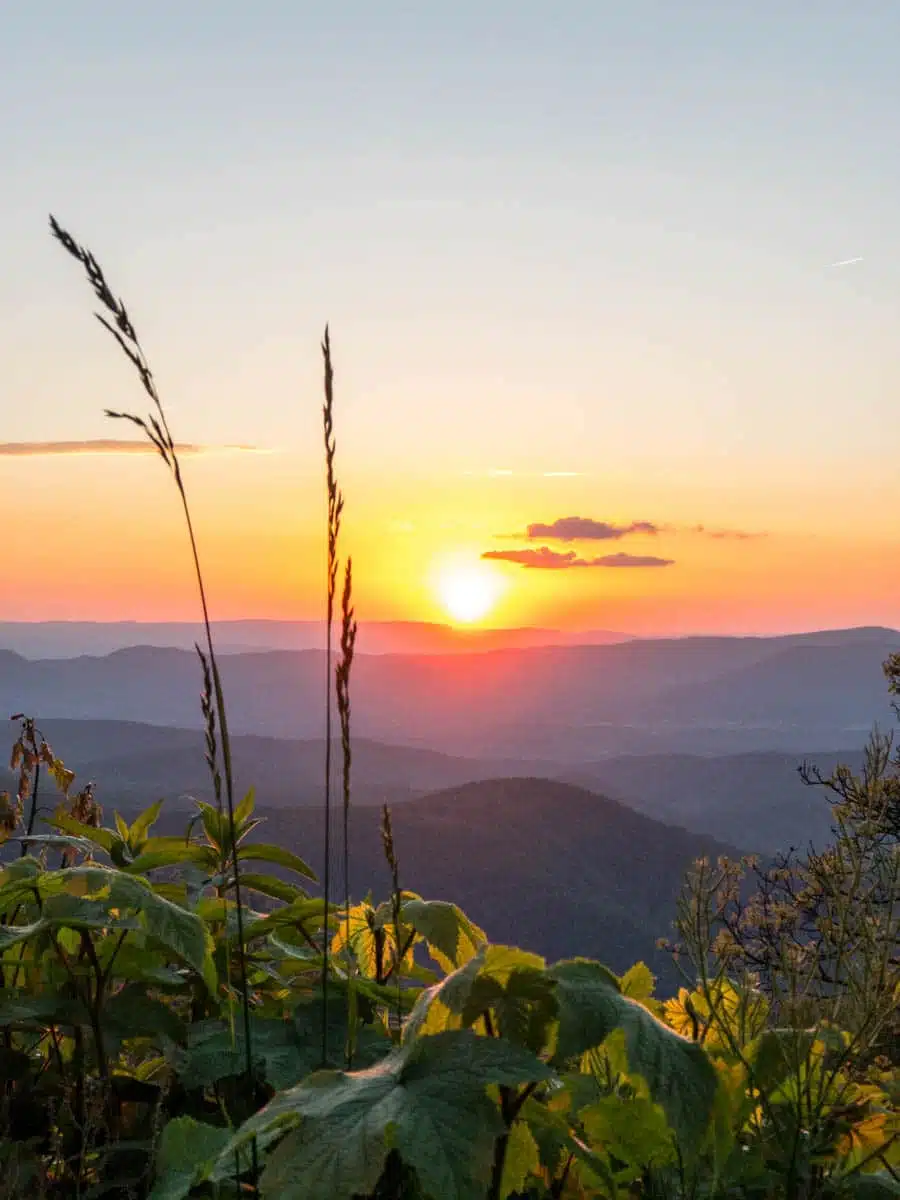 Located even farther west of Shenandoah are the George Washington and Jefferson National Forests.
These forests boast hundreds of miles of hiking trails and scenic drives, which pass by rocky outcroppings, stunning waterfalls, and amazing fall foliage during the autumn months. There are dozens of hikes to try here, but some of the most rewarding trails include Humpback Rocks and Crabtree Falls.
Although this is the farthest area on our list from Washington DC, it is one of the most rewarding areas to visit for a weekend of outdoor adventures.
Best Hikes in Northern Virginia: Read Next