Planning a Colorado road trip? Don't miss this step-by-step 10 day Colorado itinerary – complete with everything you need to know, practical tips and maps to help you plan your trip.
Errrmagawd people. Can we talk about Colorado? I've just returned from an epic Colorado road trip with Visit Colorado and am already itching to go back.
It's no surprise really is it – from the urban hipster chic of Denver to the foodie paradise of Fort Collins and a big dollop of national parks and forests (including that little-known range called the Rocky Mountains), Colorado has a hella lot going for it.
So… that's the why you want to go deal with then (if I didn't make it clear enough, the WHY is because it's epic – a word that you better believe that I don't use lightly).
Now's time to look at the how.
IMHO a road trip is the best way to tackle seeing some of Colorado's biggest sights (as well as a few offbeat inclusions too) – there's the joy of being on the open road and the opportunity to explore the Centennial State at your own pace.
I'll level with you – ten days is pretty tight for a Colorado road trip.
Given my own way, I'd dedicate at least two to three weeks to discovering the state but hey, this is the real world, with pesky little things like holiday allowance and budget to consider – so a 10 day Colorado itinerary it is.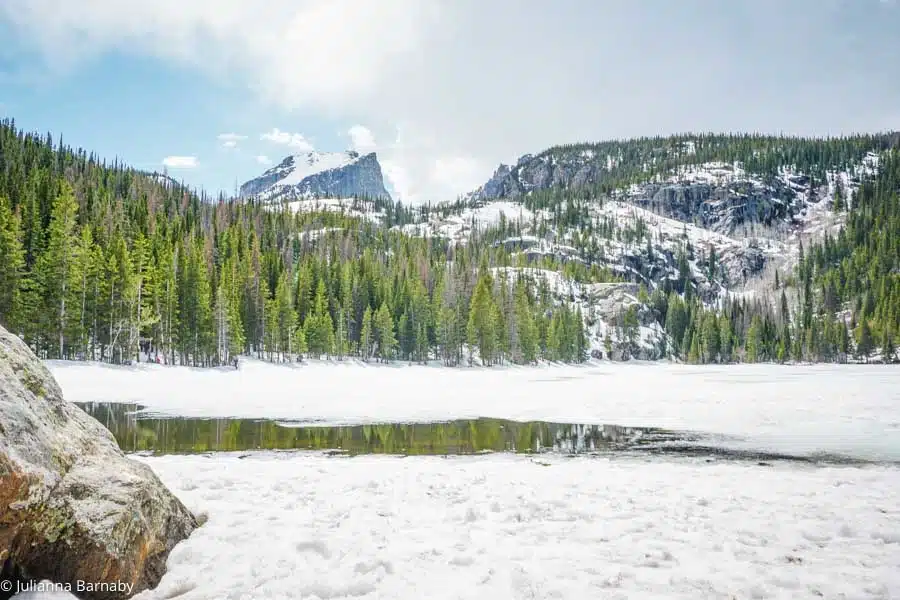 That's also why we are pretty much going to stick to the area of Northern Colorado: I don't want you haring around the whole state clocking up the miles at the cost of the actual experience.
I will, however, include a couple of smaller stops on this Colorado road trip planner that I think really give you a peek into a different side of Colorado life (ahem did anyone say hanging out on a DUDE RANCH).
Be warned, this isn't your bog standard Colorado road trip, but then again, you're not bog standard kind of people are you?
Kick back and enjoy the ride, it's time to set off on an epic Colorado road trip.
Colorado Road Trip Map
10 Day Colorado Road Trip Itinerary
Colorado Road Trip Days 1 + 2: Denver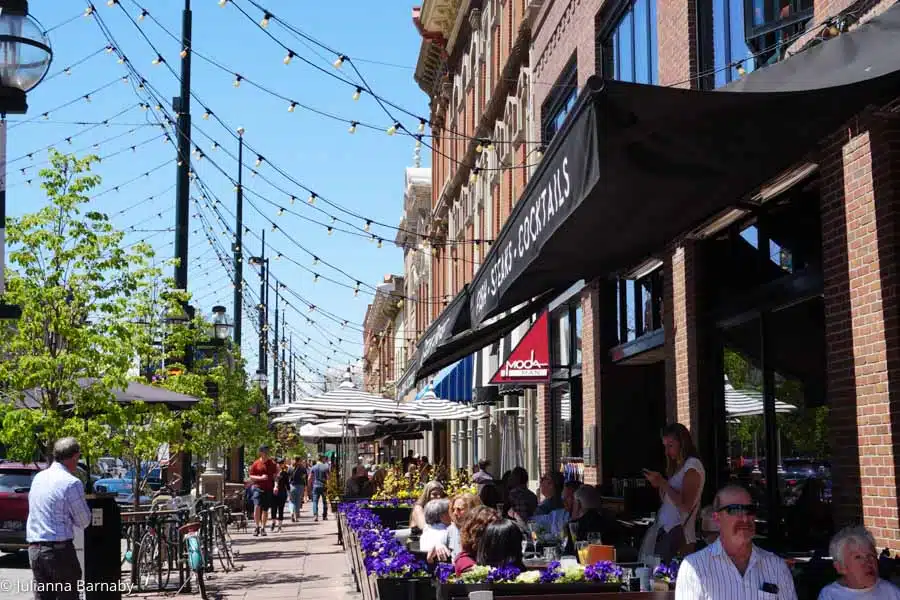 You're about to kick off your Colorado itinerary in Denver.
Denver seriously took me by surprise – in the absolute best way possible.
Blending hipster cool, an incredible food scene, cultural attractions and a ridiculous number of craft breweries, it's the perfect introduction to Colorado.
It was clear from the moment I stepped outside that Denver is a city that loves the great outdoors – pretty much a given seeing as you can see the Rockies looming high from most points in the city.
Cool Things to do in Denver on Your Colorado Itinerary
Discover Denver's Popping Street Art Scene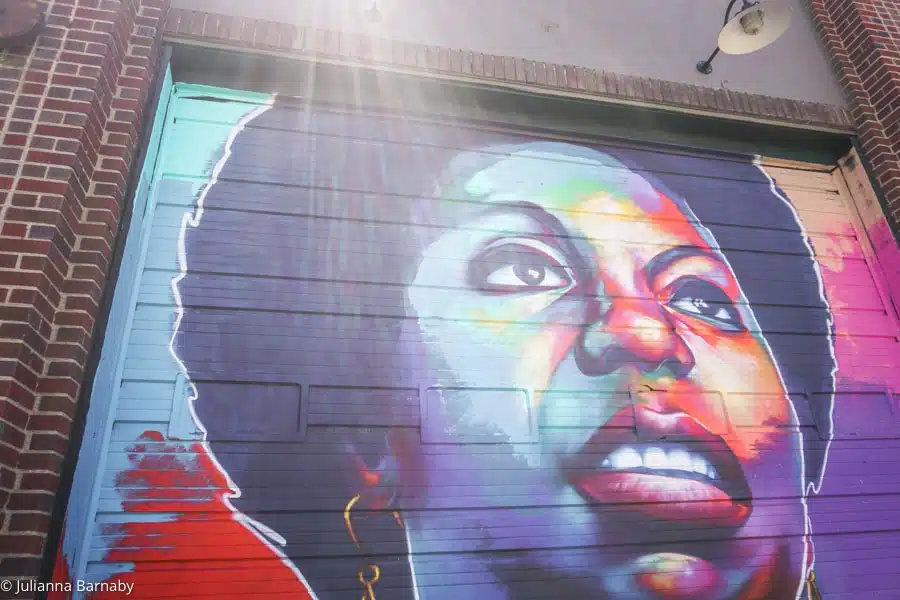 Love street art? I have one word for you. RiNo.
Denver's street art scene is on another level (the only place I've seen to rival it is Shoreditch in London) but as you're short on time, you should head to the RiNo district, which boasts the biggest concentration of pieces.
Local names such as Pat Milbery and Detour 303 sit alongside international street art stars like Obey Giant (the dude who designed that iconic Obama poster in 2008) and Mr Cenz (a long-standing favourite of mine).
It's colourful and straight up awesome.
Fair warning though: CRUSH Walls, which sees a huge mural festival takeover in RiNo each year, is coming to an end. CW holds the right to decorate the area until 2023, and then after that, they're parting ways.
Who knows what will become of Denver's street art scene? Sniff. Check it out while you still can.
Read More: Finding the Best Street Art + Urban Murals in Denver
Take E-Tuk Tour of the City
Denver is pretty spread out, so I'd recommend starting your time in the city with a tour.
Not just any tour though, the cool Denver e-tuk tours not only whizz you around the city in their eco-friendly and rather quirky contraptions, but just so happen to have some of the funniest guides I've ever met. ROFL funny meets a wealth of history and unique insight into some of Denver's coolest spots? I'm sold.
Explore Denver's Museums
Denver has a lot of museums.
I'll be honest, as we only had a couple of days in the city, I skipped visiting most of the museums in favour of mooching around RiNo and goggling at street art.
However, if you'd prefer to head to a museum instead, I've heard rumour that the Denver Art Museum has a cool collection of Native American art, while the Clyfford Still Museum is an impressive showcase of the works of the abstract expressionist artist of the same name.
See the Big Blue Bear and More 'Grammable Spots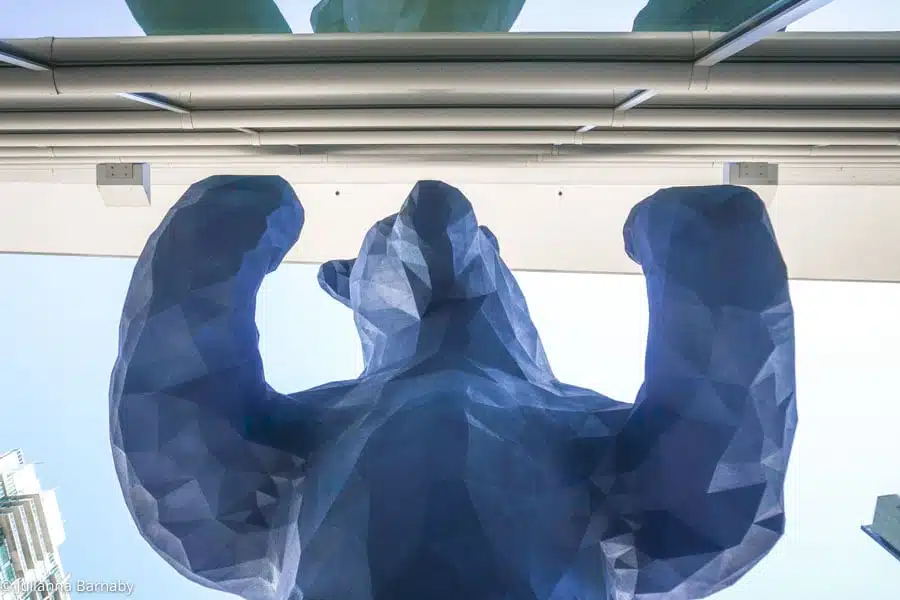 There's a tonne of public art in Denver thanks to a programme that requires each new construction project in the city to donate 1% of the proceeds to a public art fund. How cool is that?
We saw a lot of art on the e-tuk tour but if you only have time to see one it has to be the Big Blue Bear (actual name I See What You Mean) by Lawrence Argent.
The bear represents the outdoors sitting right on Denver's doorstep – pretty fitting given the city's location.
Gorge on the City's Farm to Table Cuisine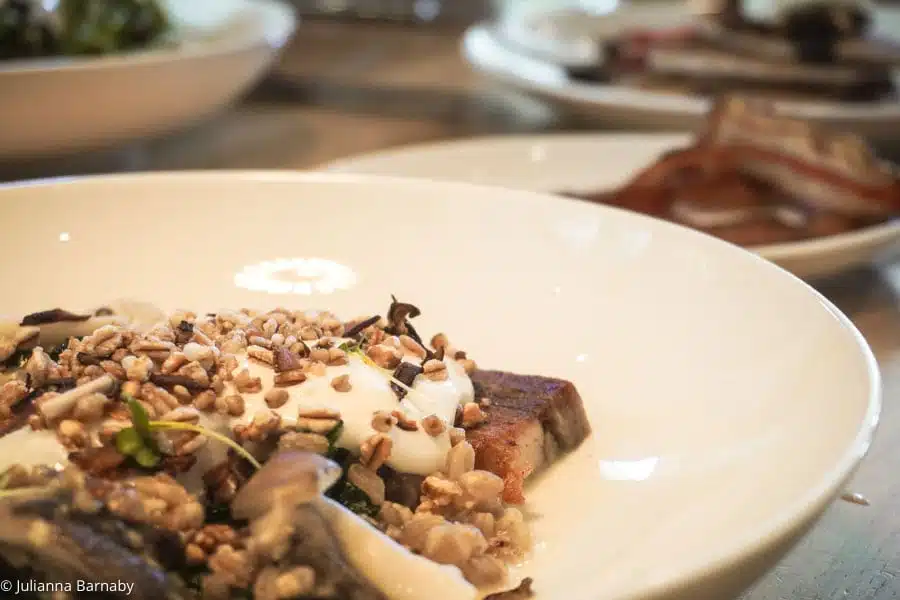 Can we take a moment to pay homage to the good chefs of Denver keeping the city's inhabitants and visitors fed in the best way possible.
Thank you people. My stomach thanks you. My tight jeans, not so much.
Farm to table is kind of a big deal in Denver – no wonder when there is such a wealth of local ingredients for chefs to use in all kinds of inventive and wonderful ways.
Mercantile in the iconic Union Station serves fresh flavours and innovative contemporary American cuisine – book ahead – it's very popular (deservedly so).
Denver Central Market in RiNo has numerous traders serving great food from around the globe.
I also loved El Five, whose quirky Mediterranean dishes came with a side of some of the best views in the city.
Explore Denver's Different Districts (And Have a Giggle at their Names Too)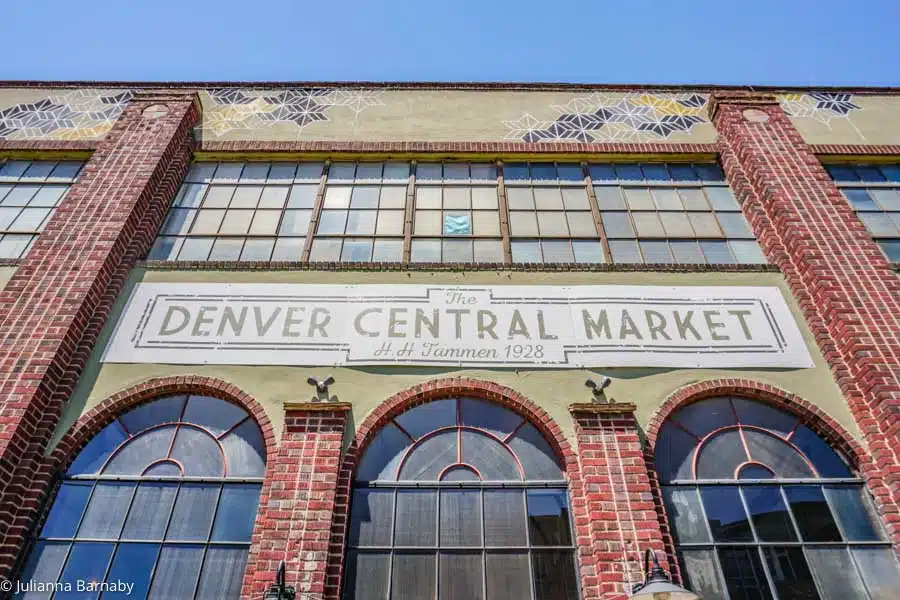 LoDo (Lower Downtown), RiNo (River North), SEEmo (OK, the last one's a joke), Denver has a lot of districts with some rather amusing nicknames – so much so that there's even a South Park episode mocking the locals with the made-up SoDoSoPa.
Funny as their names might be, Denver's districts each have a distinctive vibe of their own – take as much time as you can hanging out in each of them.
RiNo totally captured my heart though, if only for the epic street art.
Where to Stay in Denver – The Sheraton Denver
The Sheraton Denver – The Sheraton Denver is one of the biggest hotels in Denver and where I stayed during the Denver leg of the trip.
It's everything you'd expect from a Sheraton – high-end, comfortable and a great location downtown (plus beds so comfortable that you never want to get out of them).
Colorado Road Trip Day 3: Loveland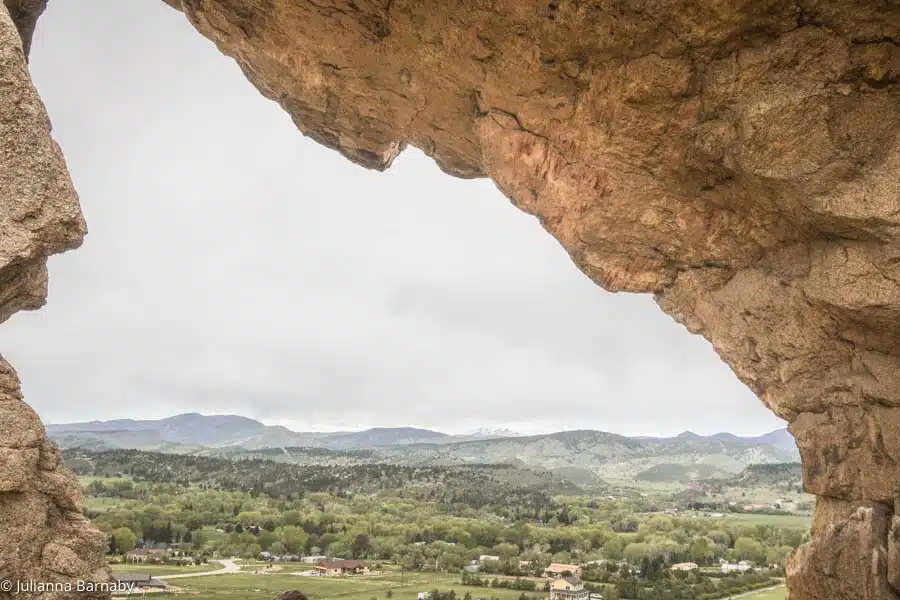 Loveland is a cool little spot with a compact downtown that you can explore in the matter of a morning and a nice contrast to Denver.
It's one of those spots that you could pass through as you rush to get to the Rockies – but you'd be missing out if you did.
Though the downtown is pretty and has plenty to keep you entertained Loveland is really a place where you need to get out and explore.
Put on your hiking boots and attack the stunning Devil's Backbone trail – a ridge of rocky outcrops that comes complete with views of the Rocky Mountains.
Cool Things to do in Loveland
Visit Sweetheart Winery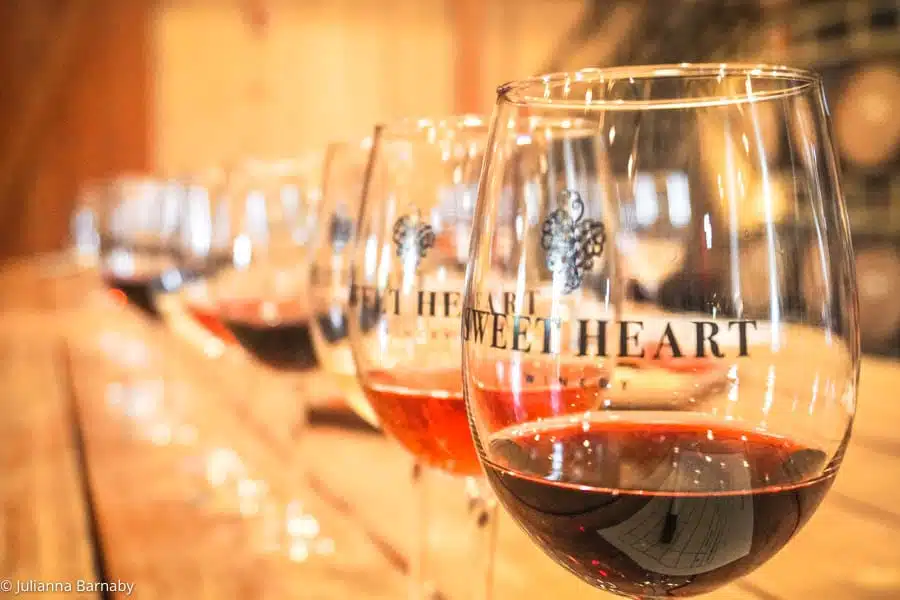 A winery in Colorado? Surely I've got it confused – do I mean California? Nope.
Sweetheart Winery was one of my fave stops in Loveland and a welcome shift from the craft breweries that dominate the state.
The winery was started by a wine enthusiast who honed his craft, he turned to selling the wine he produced at independent wine fairs – turns out that the wine started winning more than a few awards and he took the leap (along with his wife) into starting a full winery.
That's a story and a half right? Wait until you try the wine.

Hike the Devil's Backbone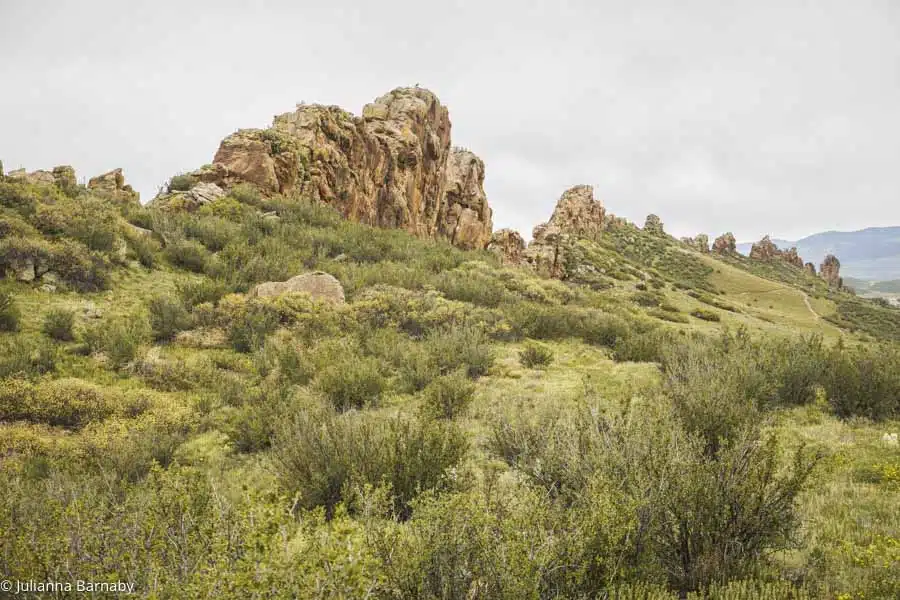 No, not the film by Guillermo del Toro (creepy AF), this Devil's Backbone happens to be a cool 12-mile Colorado hike along a series of impressive rock formations that looks (you guessed it), like the Devil's sinuous and scaled backbone.
The hike isn't tough and the trail is well marked – go as far as you wish before turning back to do the return hike but I would recommend going at least as far as The Keyhole. This an opening in a rocky outcrop through which you can peek at the Rocky Mountains on the horizon.
Your Insta will thank you for it.
Visit one of Loveland's Sculpture Gardens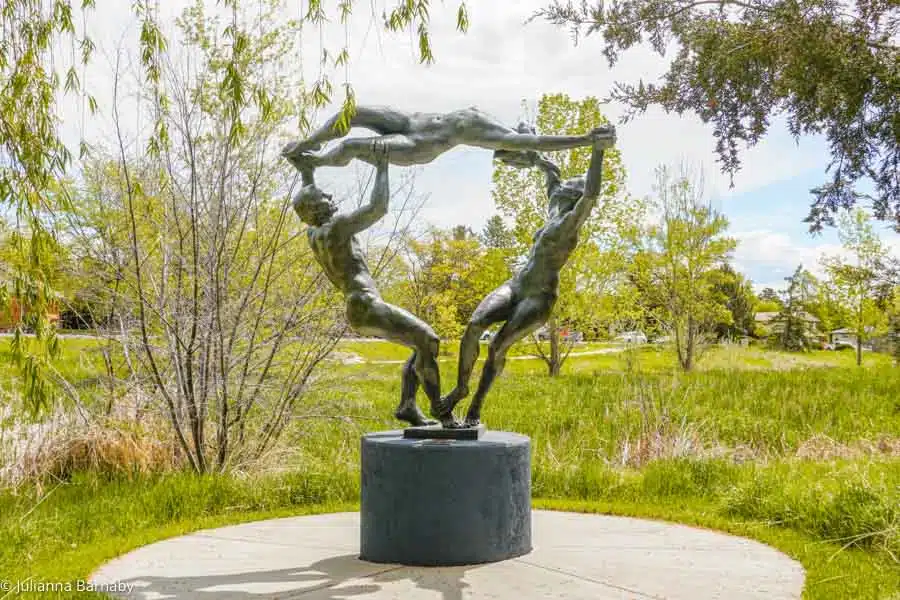 Away from its mega-cute name, Loveland sits at the heart of the American sculpture scene.
The town itself has over 380 pieces of public art, many of which are located in its sculpture gardens: Benson Sculpture Garden and Chapungu Sculpture Park.
Benson is the biggest of the two and the one I visited during my stay – it opened in 1985 and has been showcasing the best pieces in local and international sculpture ever since.
It's pretty cool – with a range of styles and mediums that I just wasn't expecting to find – I still am not sure which of the 148 pieces currently displayed was my favourite.
This piece "Menage a Trois" was certainly a close contender.
Chapungu Sculpture Park is just as cool (I'll be heading there on my next trip fo' sho), boasting more than 80 stone sculptures with themes like the spirit world and village life playing a huge role in the park.
Have a Cheeky Night out on the Town
Loveland is pretty sprawling but the compact downtown area is where it's at when it comes to keeping you out of (or getting you into) trouble of an evening.
Start with dinner at Door 222 – where the dishes display a masterful balance of flavours familiar and unusual.
Think tapas but with an international twist – embodied by dishes such as shaved brussels sprouts with a maple and sherry glaze, bacon-wrapped dates – followed up by hearty mains including Gold Canyon Flatiron with grilled asparagus and lemon hollandaise.
Plus the cocktails are pretty ace too #justsayin'.
Post-dinner, I'd be remiss if I didn't at least mention that local arcade The Flipside and Wicked Tequila Room are mere paces away from each other.
I'm flat out not spilling the tea on that particular night (what happens in Loveland stays in Loveland) but I'll leave it by saying you might not want to schedule too early a start the next morning if you do decide to have a cheeky night out.
Where to Stay in Loveland – The Courtyard by Marriott
I was pretty much ready to flop and drop by the time we checked into the Courtyard by Marriott in Loveland – it's a new hotel with spacious bedrooms and (most importantly) ridiculously cosy beds.
There's a gym (not sure you'll need it if you've been doing this itinerary) and a hot tub (that's more like it) and comfortable love-seats in-room for you to nestle up on and enjoy the views.
Colorado Road Trip Day 4: Fort Collins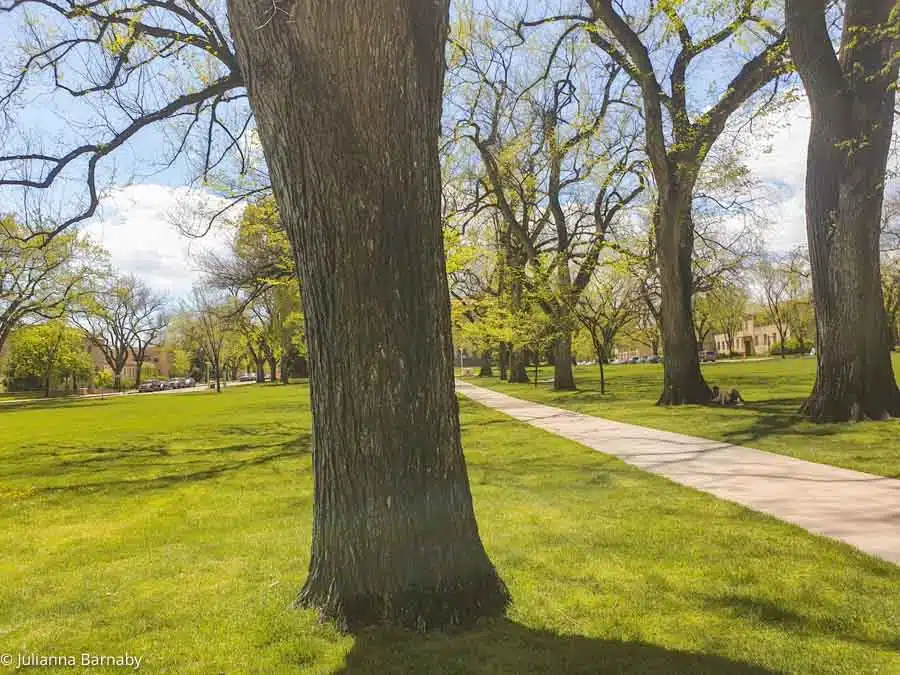 Fort Collins is a quirky city with a vibrant heart. Even though it's actually pretty big, it's maintained the welcoming feeling of a small town – in no small part thanks to the fact that it is home to Colorado State University.
I wasn't sure what to expect from Fort Collins after having fallen for Denver and Loveland so hard but it totally won me over.
Where Denver is hectic and sprawling, and Loveland has its low-key vibe, Fort Collins feels like a sip of cool water – complete with boutique shops, independent bookstores and (yet more) locally-sourced and totally delish food.
Cool Things to do in Fort Collins
Discover the Ghost Signs of Times Past Trail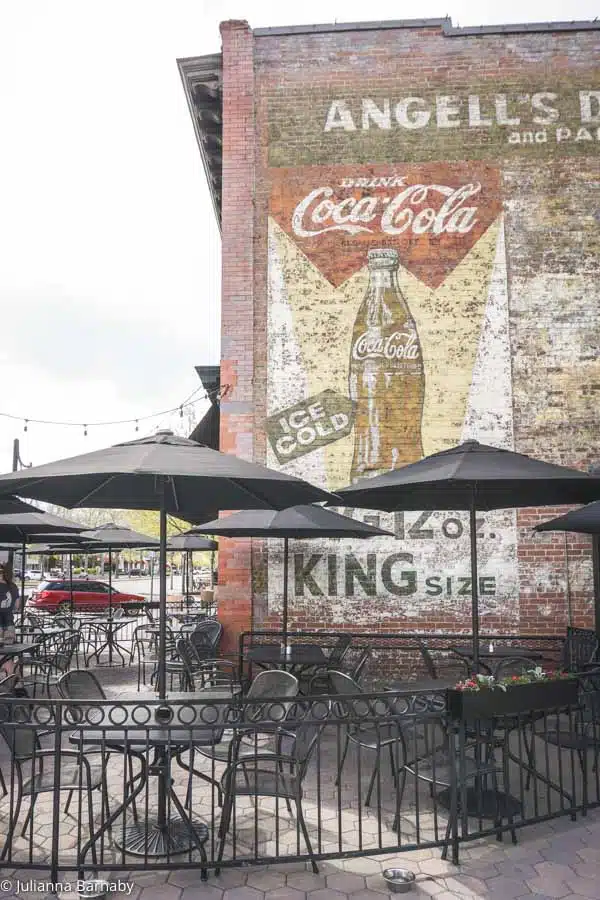 Where Denver has street art, Fort Collins has ghost signs. What's a ghost sign? This should give you a clue.
Alright, I'll tell ya. Fading retro posters from the yesteryears plastered on the sides of buildings.
There are nine of the signs hidden on old walls around town advertising famous brands like Coca Cola to local gems like Damm's Bakery, and the oldest one dates from the 1880s. Go hunt them out!
Cycle the Experience Platinum Route
Fort Collins is an outstanding place to explore on two wheels, with miles and miles of cycle trails that take you through the city and its beautiful surrounding areas.
I'll be honest. I'm always a bit touch and go on a bike. Of course I can ride a bike (just about) but there's only so much coordination a notoriously klutz-bound girl like me can pull out on the fly.
All of that is to say that I was a bit nervous before we set off on the 7 mile Experience Platinum path.
It turned out there was no need to worry at all.
The route takes you alongside the state's only designated wild & scenic river (I can confirm that it was both wild and scenic) and into the heart of the city.
If you're nervy – don't be. The terrain is pretty flat in town and the bike lanes are generous. Take it slow and you'll get the hang of it in no time.
We rented e-bikes, which was totally the way to go.
Indulge in Fort Collins' Fabulous Foodie Scene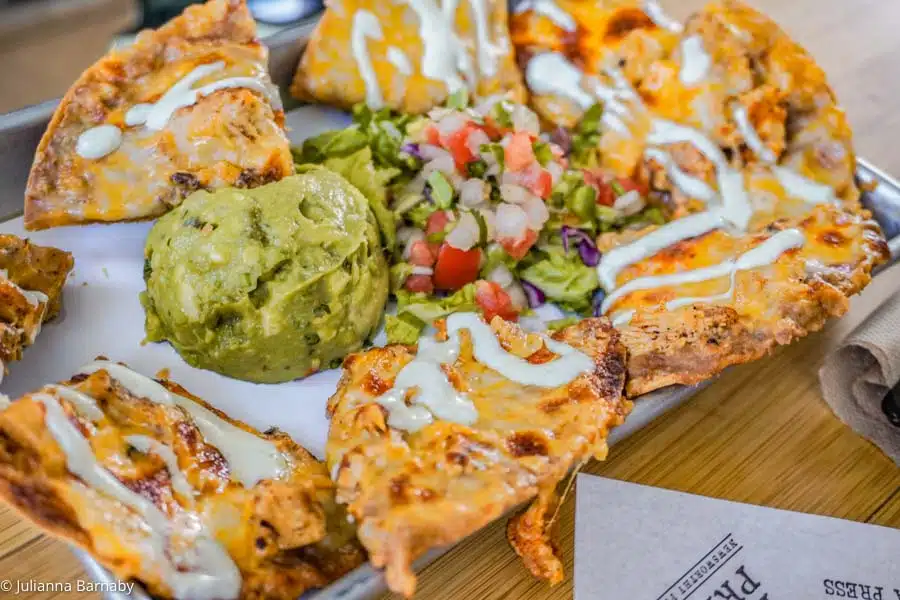 Fort Collins might not look like the likeliest contender for a shipping container street food market but I'll let you in on a little secret…. The Exchange is one of the coolest places in town.
There's craft beer (of course there is, this is Colorado after all) from the Crooked Stave, insanely moreish spicy chicken bites from Chick'n'Cone, pizza from The Pizza Press and OMG, the most delicious doughnuts and ice cream from Foco Doco and Old Town Churn respectively.
The best part of being an adult? There's no one there to shout at you to tell you to eat some veg or not to go straight to dessert.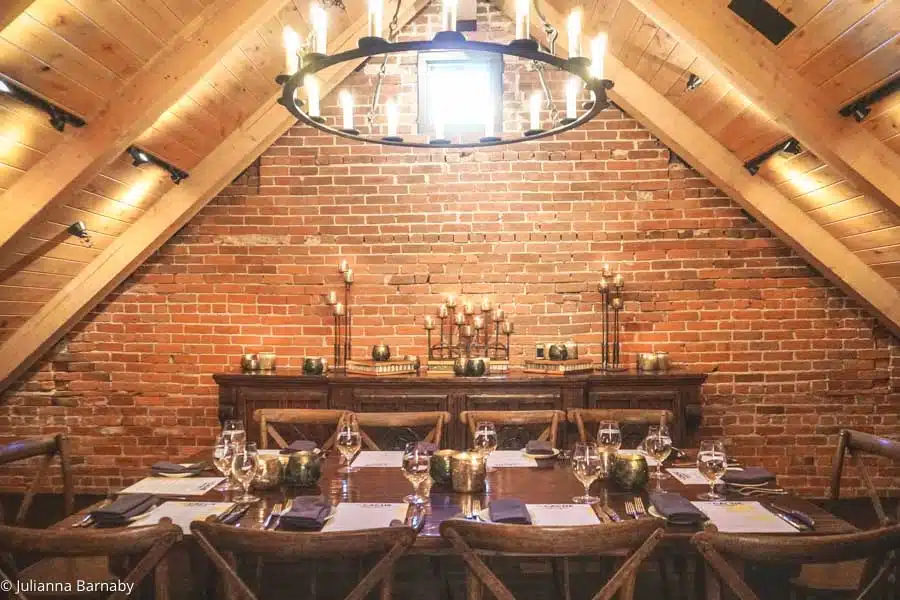 Have some cash to splash? Make a beeline for Ginger & Baker for a feast of locally-sourced high-end cuisine.
There's a reason why this is one of the biggest names in town. Opt for the tasting menu for a culinary journey of Colorado's finest flavours.

Sample the Local Drinks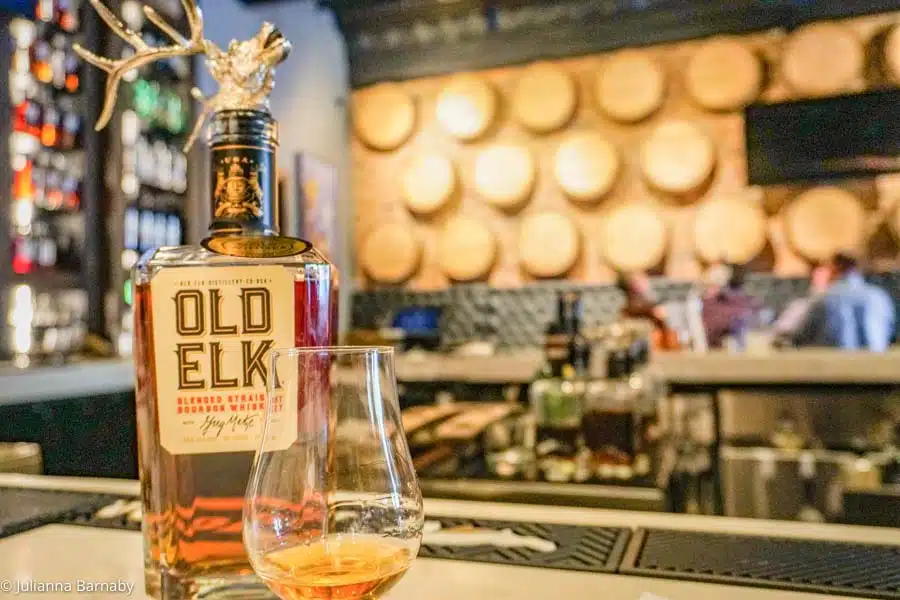 Fort Collins has more than its fair share of craft breweries (man, I had not realised how much Coloradans love their craft beer) but there are also a few distilleries dotted about too.
If you know me, you'll know that a good whisky is a pretty direct way to my heart (there's a reason I go to the Islay Whisky Festival every year) – so it's no surprise that I was ridiculously keen to try out the tipples at Old Elk Distillery.
Not satisfied with making an unbelievably smooth bourbon, they also make gin and vodka. Of course they do.
Where to Stay in Fort Collins – The Armstrong Hotel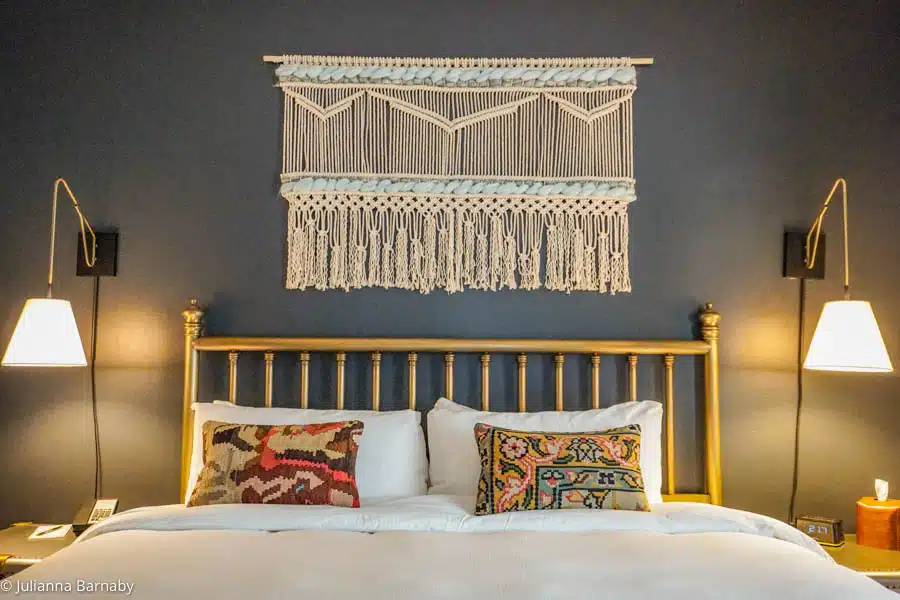 I'm a total sucker for a gorgeous boutique hotel and The Armstrong gives it just the right amount of strong quirky-comfy-chic vibes.
From the art-filled reception downstairs (keep your eyes out for the Napoleon Dynamite portrait – YAS) to the high-end suites, this isn't the kind of hotel you forget in a hurry.
Colorado Road Trip Days 5 + 6: Sundance Trail Dude Ranch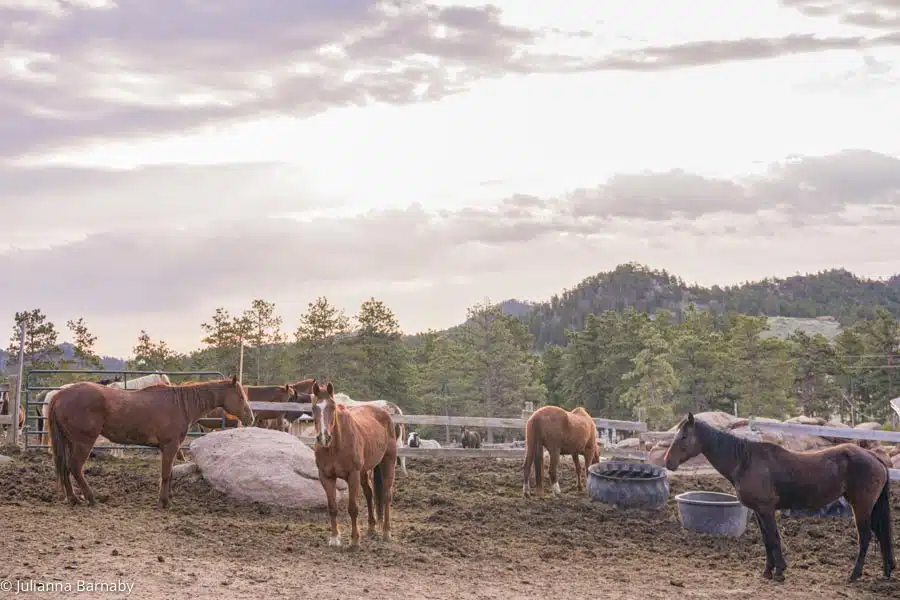 I've been dipping into the great outdoors on this Colorado itinerary – but you'd better know that sh*t's about to get REAL.
The next five days are about exploring the varied terrains and spectacular landscapes that Colorado has to offer.
I hope you're ready – this is going to leave you exhilarated, exhausted and your eyes stuffed with wonder*.
*yes, I absolutely stole that phrase from Ray Bradbury
There are a couple of places on this itinerary that you'll find plastered everywhere.
It's not exactly a revolutionary statement to suggest that if you're going to Colorado you should stop off in Denver or the Rockies. But our next stop is somewhere really special – Sundance Trail Guest Ranch.
Do you ever find a place where the moment you set down your bags, you know it's a home away from home?
Where you segue into its rhythm of life without any effort – as if you were meant to be there all along. Sundance is that place.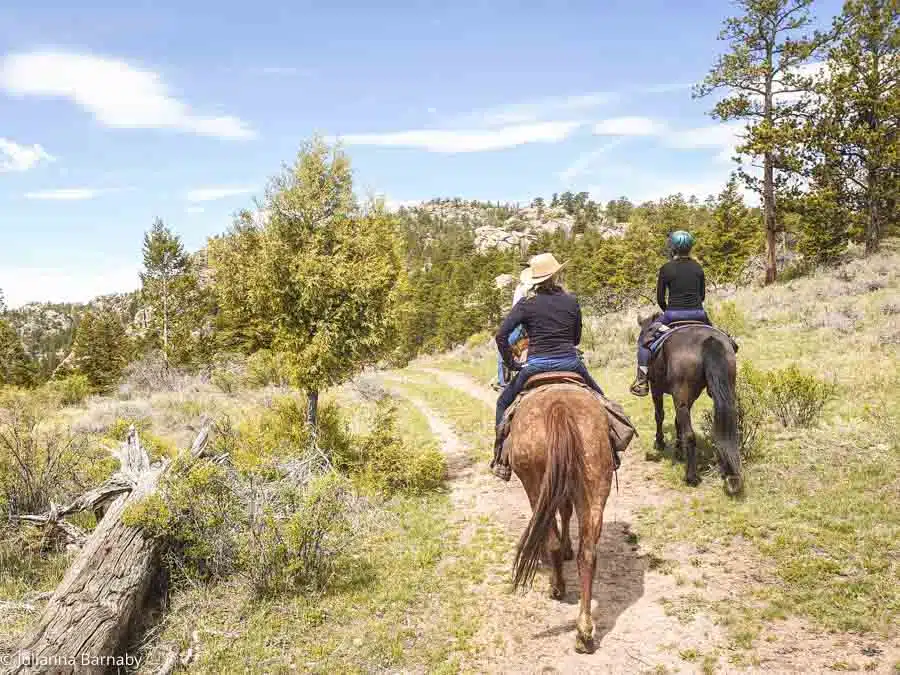 It's hard to pinpoint the exact appeal: I think it's a combination of so many elements rather than one individual thing.
The welcoming owners, Dan and Ellen Morin, the communal dining – tables sinking under the weight of good ol' American cuisine, the numerous activities to get you outdoors – from campfire songs, square dancing and axe-throwing – or last, but certainly not least, the horseback riding.
This is the place to learn to become a rootin' tootin' whip-crackin' cowboy and explore the local surrounds – including the Roosevelt National Forest, on horseback.
I love riding but no fear if this is your first time on a horse, Sundance will make you fall in love with the freedom of horseback riding into the wild on a trusty steed.
Each day we'd saddle up (my horse, Mouse, was just the right combination of personality and calm to make him a pleasure to ride) and set off for a new destination.
We meandered through valleys, to panoramic outlooks – all the while accompanied by the friendly and impossibly cool ranch hands (if ever I had serious job envy, it was of those guys).
You'd think that after a day in the saddle, your day's work would be done.
Incorrect.
"You're supposed to fall exhausted into your bed at the end of the day," Dan cheekily told us on the first day – safe to say that is exactly what happened.
Don't know how to square dance? You will do by the end of your stay (as an aside, I will say that this was a hell of a lot more fun than I thought it could possibly be).
We even learnt to forage the local flora in the capable hands of a brilliant local couple before settling around a campfire, singing traditional cowboy songs and making s'mores.
It was magical and I cannot recommend it enough.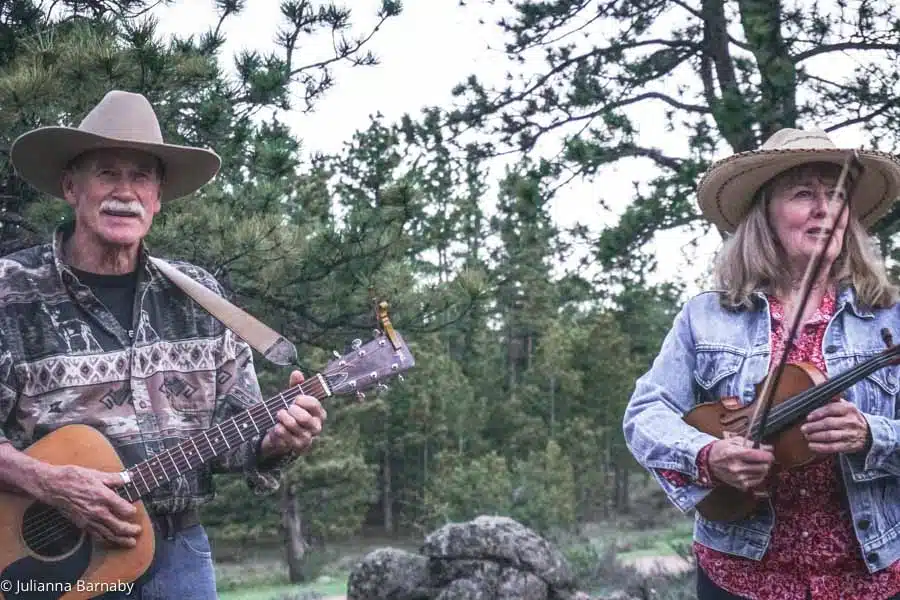 Dude Ranches are an alien concept at home in the UK, but they form the backbone of rural frontier Colorado life in times present and past – it was the point where I felt most immersed in a culture so distinct from London life, and I loved it. You will too.
Read More: Why You Need to Plan Your Colorado Dude Ranch Vacation
Colorado Road Trip Days 7 – 9: Estes Park and Rocky Mountain National Park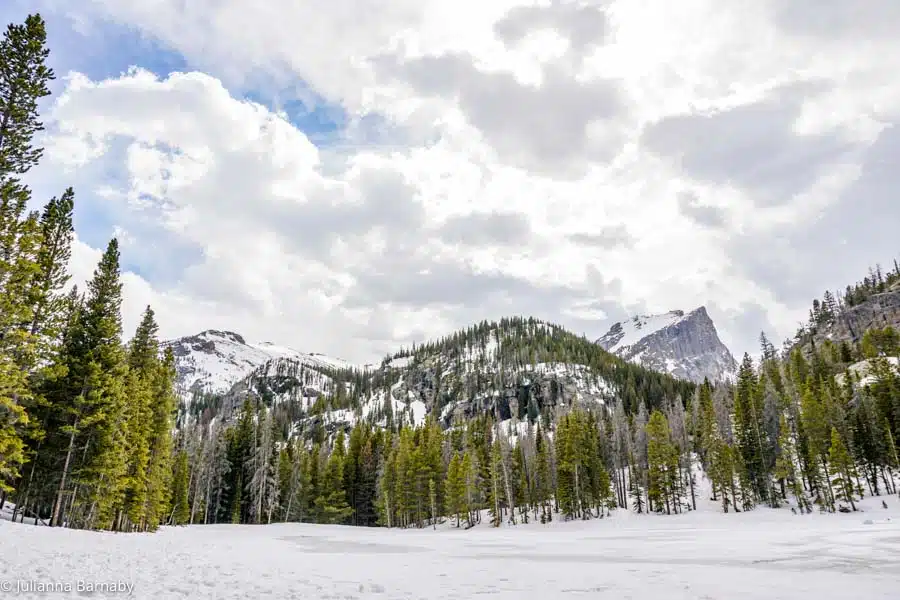 Rocky Mountain National Park, The Rockies, RMNP – whatever you want to call it, the end result is still the same. One of the spectacular national parks on the West Coast and a great place to try glamping in Colorado.
Let's face it – the Rocky Mountain National Park is no secret – last year it received over 4.5 million visitors, making it the third most visited national park in the US.
By all accounts, the park is heaving in the summer months so the best time to visit is spring or autumn to beat the crowds.
I'm always aware of the danger of us loving the world's beautiful places to death – literally – so please be aware and take care to leave no trace when you're visiting so that future generations will also be able to marvel at the beauty of this treasured destination too.
Preachy pedestal aside, this is the place to get outside and explore.
Strap on your hiking boots and hop onto one of the hundreds of hiking trails – if you're travelling in peak months, start early or late to avoid the biggest crowds.
A Few Cool Spots in Rocky Mountain National Park
We were pretty limited for time in Rocky Mountain National Park, so didn't have as much time to explore as I'd have liked (I pretty much could have stayed there for two weeks and still whinged that I didn't have enough time though to be fair).
Here are a couple of spots I visited – rest assured there are endless more – as many as you will ever need to fill your time in the park.
Rainbow Curve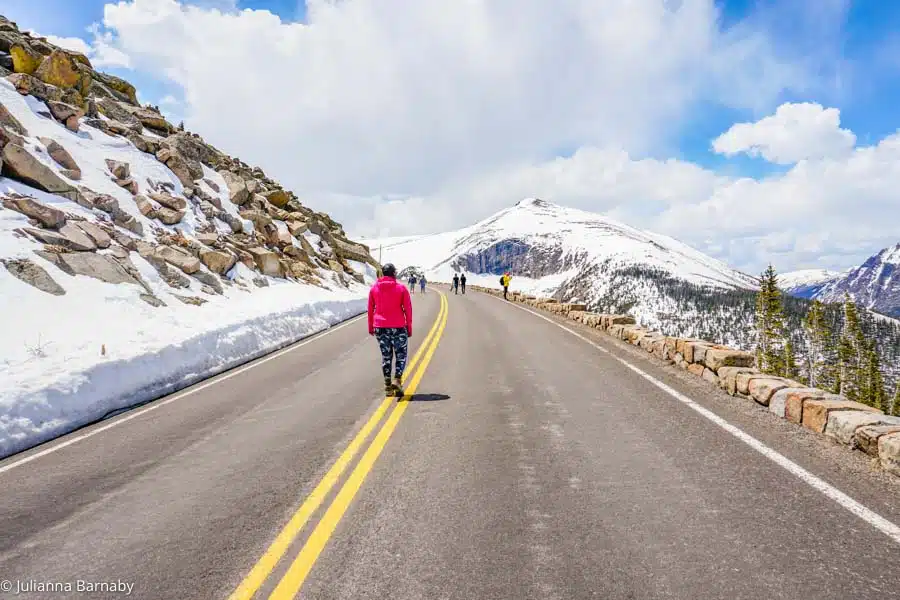 Standing at 10,875 feet (that's 3,300 metres to my metric peeps), Rainbow Curve is one of the outlooks that you can drive to using the Trail Ridge Road.
It's about 13 miles from the Beaver Meadows Entrance to the park and a great place for a striking overview of some of the park's peaks.
You can see nine peaks from the lookout, as well as the Hidden Valley and Horseshoe Park below. I might have gotten RIDICULOUSLY excited when I saw the lookout. I mean, you've got to be a bit dead inside not to.
It was still snowing and the road was closed, so we got to frolic along the road taking arty pics without being ploughed down by oncoming traffic. Win.
Hike to Nymph Lake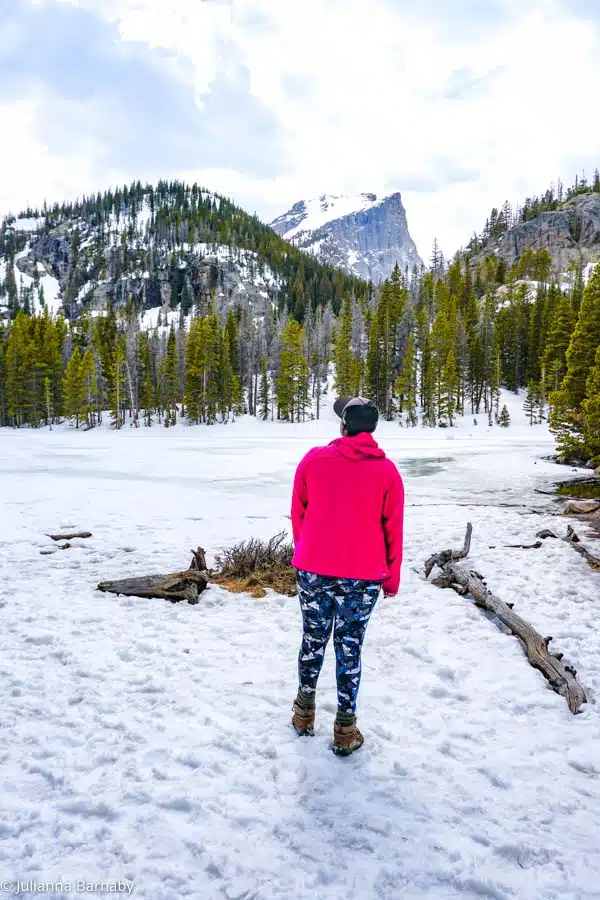 This is a short hike in Rocky Mountain National Park but big on views.
First up you park at the Bear Lake Trailhead (this is serviced by the park shuttle – recommended in high season) and make your way to Bear Lake – this section takes a couple of minutes.
You could leave it there, but where's the adventure in that?
So it's on to Nymph Lake, which is only a mile further along the trail. I say it's only a mile further but depending on the time of year, it can be snowy – it was when I did it – cue display for my best Bambi vibes as I tried to stay upright and not land on my ass.
All that skittling and baby-stepping was worth it though – I turned the last corner to see the frozen Nymph lake with Hallet Peak peeping out in the background. Pretty brilliant right?
Estes Park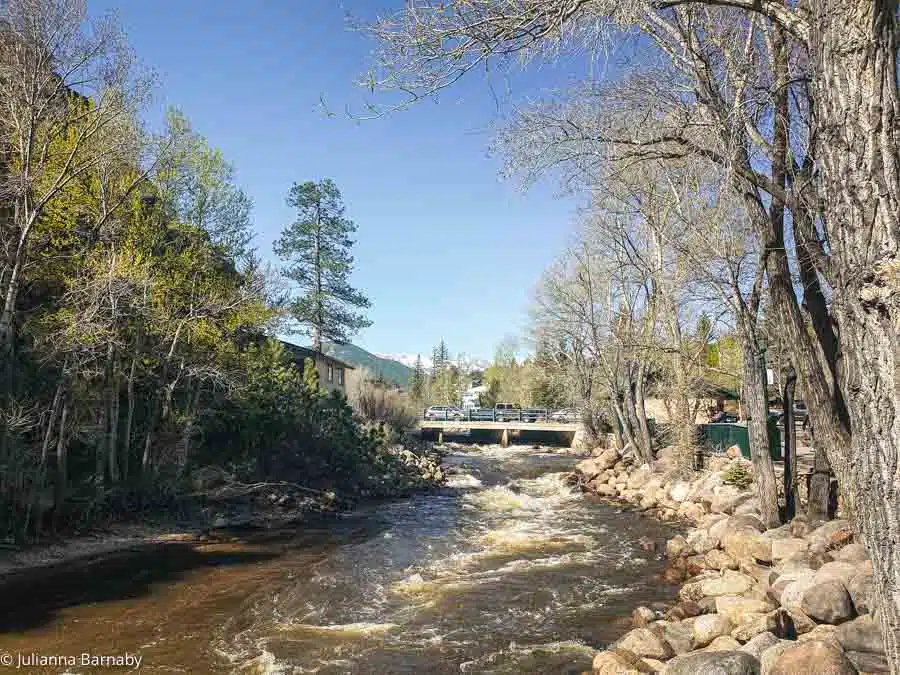 Don't be fooled by the name – Estes Park is actually a town – and pretty much the best place to base yourself for your Rocky Mountain National Park adventures if you're not camping within the park itself (you'll need to book a whopping six months ahead if you want to give that a try).
It's got a quaint downtown area, filled with all manner of indie shops – including, somewhat bizarrely, three Christmas shops. At Christmas-time the area boasts ice rinks and markets galore – heading back here during the festive season is near the top of my Colorado bucket list.
There's also a tonne of choice when it comes to places to eat – The Bird & Jim sources produce from local farms and transforms them into sustainable and healthy dishes that are full of flavour.
Kick back afterwards at The Barrel, which has mead, cider and kombucha on tap – as well as a diverse wine-list.
I was more than a little excited to see a malbec from of my favourite Argentine wineries Bodega Colome pop up, so of course, that's what I went for (to put it into context, I've only ever seen this once outside of Argentina itself).

Where to Stay in Estes Park – The Evergreens on Fall River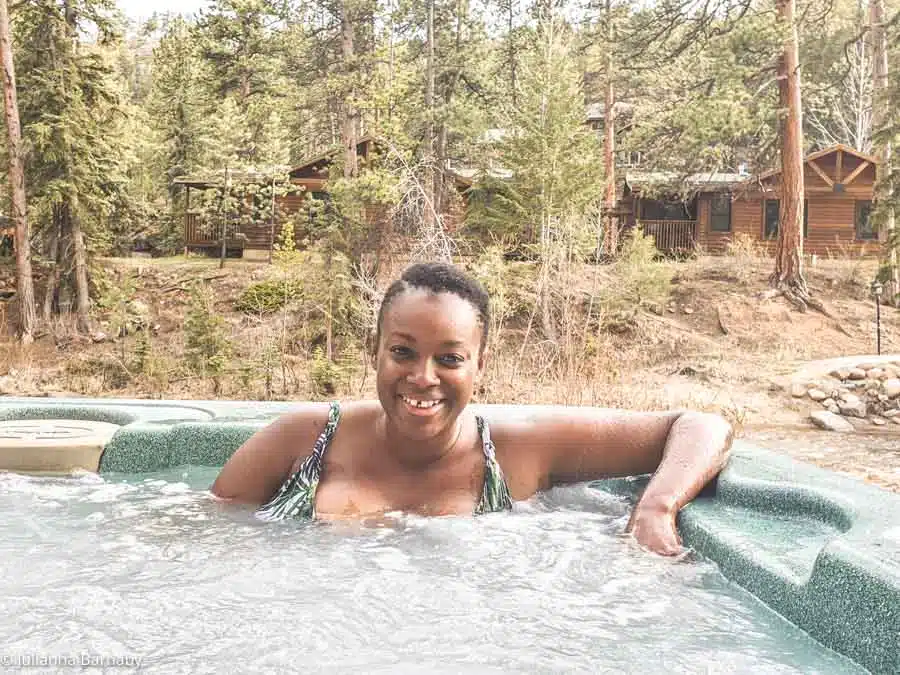 The Evergreens on Fall River offers suitably rustic lodges with gorgeous views overlooking the Fall River.
It's the perfect base for exploring the Rocky Mountain National Park – and when you get back from a long, sweaty day on the mountains, the hot tub beckons – I certainly couldn't resist.
Colorado Road Trip Day 10: Boulder then Back to Denver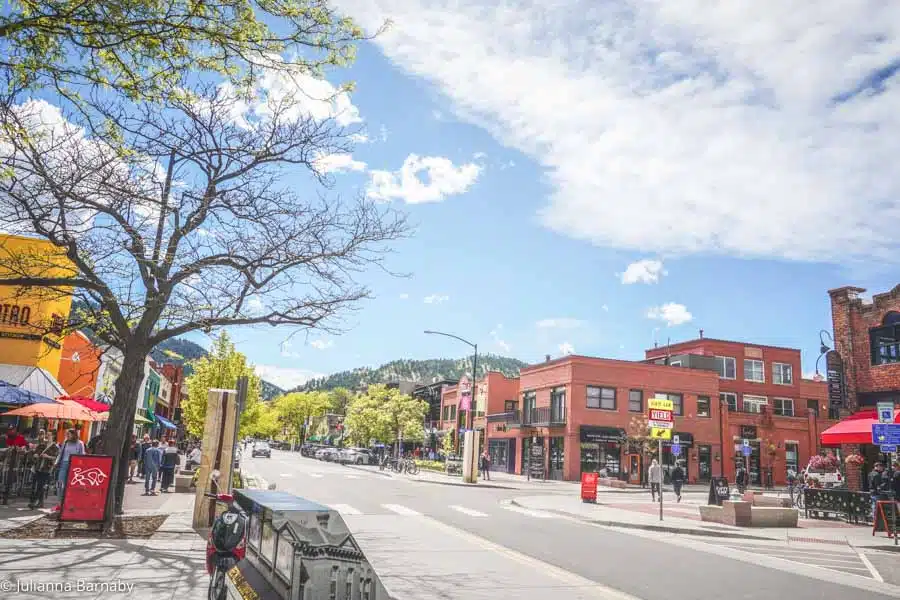 It's almost time to go home.
I know, I know – who knew a 10-day Colorado road trip would go so fast? If you have enough time, I'd recommend popping into laid-back Boulder, which is certainly having a real heydey at the moment.
I did pop into Boulder and had a lovely walk around the town, plus a few chill cups of coffee and glasses of wine (when in hipsterville…), but I will be honest and say that I really didn't do it justice.
If you have more time, spend an extra day or two here – walk along Pearl Street, which sits at the heart of the town before venturing out to explore The Flatirons – those huge sandstone outcrops that dominate the town's vistas or meander your way along Boulder Creek Path.
There are breweries, distilleries, hiking paths, cycling paths – basically all the things you could need to make you fall in love with Boulder's small-town vibes.
The University of Colorado's Boulder Campus is also home to the Fiske Planetarium and the Museum of Natural History, which is perfect if you're desperate to get inside after spending the best part of ten days hiking, riding, and climbing. Not to mention that both of these museums are stuffed with fascinating history and cool facts.
Once you're done, hit the road and truck on back to Denver to finish this Colorado road trip back where we started. Enjoy!
Additional Colorado Road Trip Ideas and Destinations
I've tried to keep things relatively simple for this Colorado road trip itinerary.
Changing destinations every night can be pretty exhausting, but if you want to up the pace, or you have more than 10 days to play with, you can also add these cool Colorado road trip ideas to your list.
Colorado Springs and the Garden of the Gods – CS is a cool town with iconic highway snaps. Garden of the Gods is a nearby sandstone formation park with impressive views – you can take a chilled-out (and relatively easy hike) or kick things up a notch with guided rock climbing excursions and Segway tours.
Mesa Verde National Park – Known for boasting amazing cliff dwellings and petroglyphs carved out of the rocks by the Ancestral Pueblo people, this is one of the top national parks in Colorado and I highly recommend you allot some time to see it. For gorgeous panoramic views head to the Sun Point Overlook, or embark on the Petroglyph Point Trail to spot carvings.
Great Sand Dunes National Park – Located in South Colorado, the national park boasts sand dunes on an unbelievable scale. But it's much more than just an incredible photo spot, the national park is home to incredible hikes and various ecosystems (many of which you'll get to gawk at during a visit).
Aspen – The ski hounds and snow bunnies among you need no introduction to Colorado's chi chi winter sports haven. There's no better place in Colorado to indulge in snowsports – and a whole lotta Apres Ski. Aside from the slopes, make sure to check out the impressive Wheeler Opera House.
Red Rocks Park and Amphitheatre – Ten miles west of Denver lies an amphitheatre carved into soaring red rocks. It's still used for performance today and is one of the most impressive sights in Colorado.
Planning Your Colorado Itinerary: Practical Tips
Stay hydrated – they don't call Denver the mile-high city for nothing and the elevations just get higher – plus the air is incredibly dry. There were points in the Rockies where I could barely walk and breathe at the same time because the altitude was so high. All of this means that it is incredibly important to drink lots of water and stay hydrated.
If you show signs of altitude sickness, go to a lower elevation and take it easy. If it's serious, seek medical help. This isn't likely to be an issue in Denver but altitude sickness can come into play in other parts of the state like the Rocky Mountain National Park.
Flights
Denver is well served by national and international flights (including direct flights from the UK) – hence why I've chosen it as the place to start and finish the Colorado road trip.
Check flights to Denver on Skyscanner.
Renting a Car
Chances are you're planning to rent a car for your road trip – here are a few good options.
Colorado Packing List
Your packing list for your Colorado road trip itinerary is going to vary seriously from season to season, but it pays to be aware that the weather in Colorado is changeable and fluctuates between extremes quickly.
Want an example? Well I've just returned from my trip a few days ago (in May) – it snowed the week before we arrived, was gorgeously sunny for the duration of my trip but the state has just experienced a huge snow dump again this week – as in Denver airport is currently closed kind of snow.
So, just like the Girl Guides and Boy Scouts, it pays to be prepared when you're packing for the Colorado road trip.
Colorado Road Trip Packing List
Light jacket / heavy jacket depending on the season. I recommend a windproof softshell as the lighter jacket.
Trainers / sneakers
Camera
Sunscreen / suncream
Reusable water bottle (there are places to refill everywhere, don't be that person still using disposable bottles when it's completely unnecessary).
Swimsuit (for that sweet hot tub action).
PS: Still not sure? Read My Ultimate Road Trip Packing List or my Torres del Paine Hiking List for hiking in the Rockies (same same, but different).
Discover More Colorado Road Trip Guides
Love this? Save and Share on Pinterest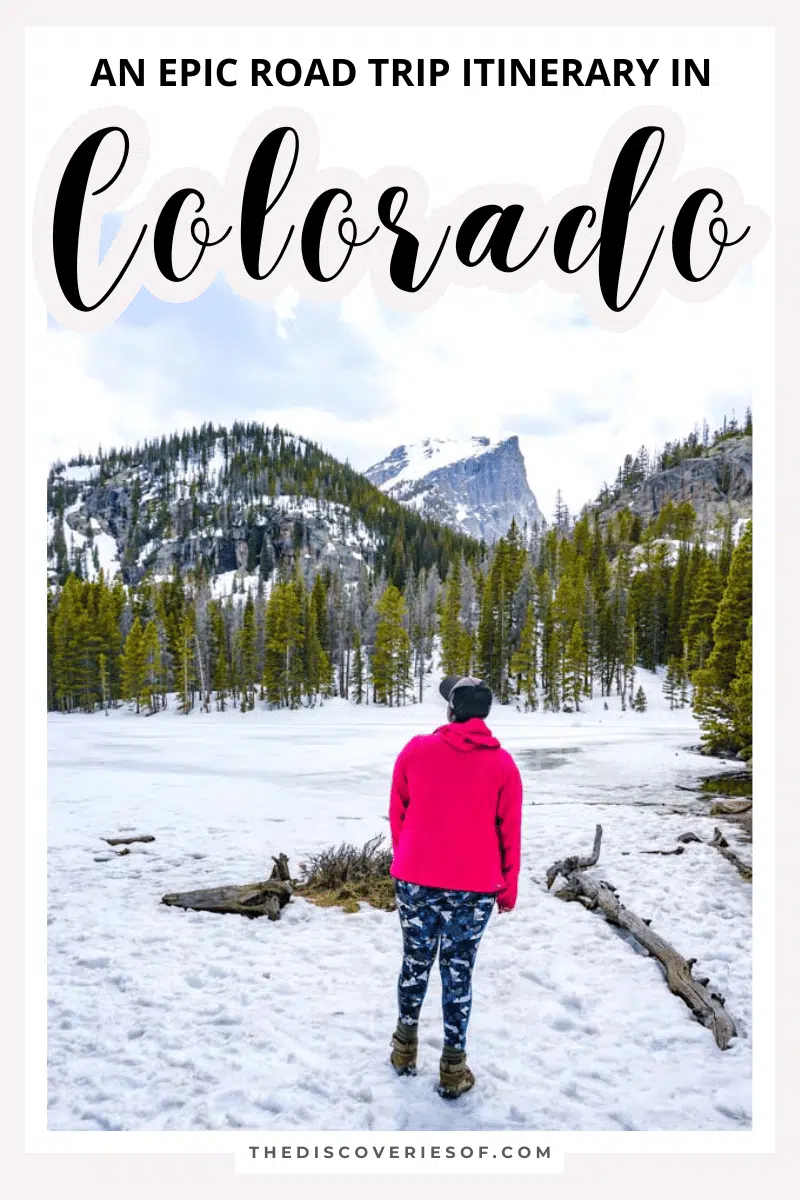 I was kindly hosted by Visit Colorado on this trip but as ever, all of my thoughts and opinions are very much my own. As if you couldn't tell.