Need some inspiration for your next trip? Pull on your cowboy boots – here's why you need to visit a dude ranch on your next holiday.
I cannot explain how excited I was when I found out that we'd be visiting a dude ranch during my recent Colorado road trip.
It was pretty much the first thing I told anyone who'd listen "Hi! My name is Julianna and I'm going to a dude ranch in [this is the point where I'd insert the relevant number of days]". Hearing this, you'll begin to understand why playing it cool has never been my forte.
An actual dude ranch – riding horses all day, evenings by the campfire, dollops of good old-fashioned Western food. I *may* have even carried out an overly-excitable fist pump or two as I packed my checkered shirts and tasselled trousers…
So you can imagine my disappointment when reactions to my excitement about going to a dude ranch ranged from "a what?" to "is that, like, the thing from City Slickers?" to a simple blank face of incomprehension.
Turns out dude ranch is not a thing that has really made it over into British parlance. Sigh.
I hear you. If it wasn't for my long-lasting love of horse riding, I probably wouldn't have known what a dude ranch was either.
So, before I get started on the intricacies of why a dude ranch is about to become your new favourite holiday, let me start by telling you what the heck a dude ranch actually is.
What is a Dude Ranch?
Dude Ranches (also known as guest ranches) are ranches that are geared up towards receiving paying visitors.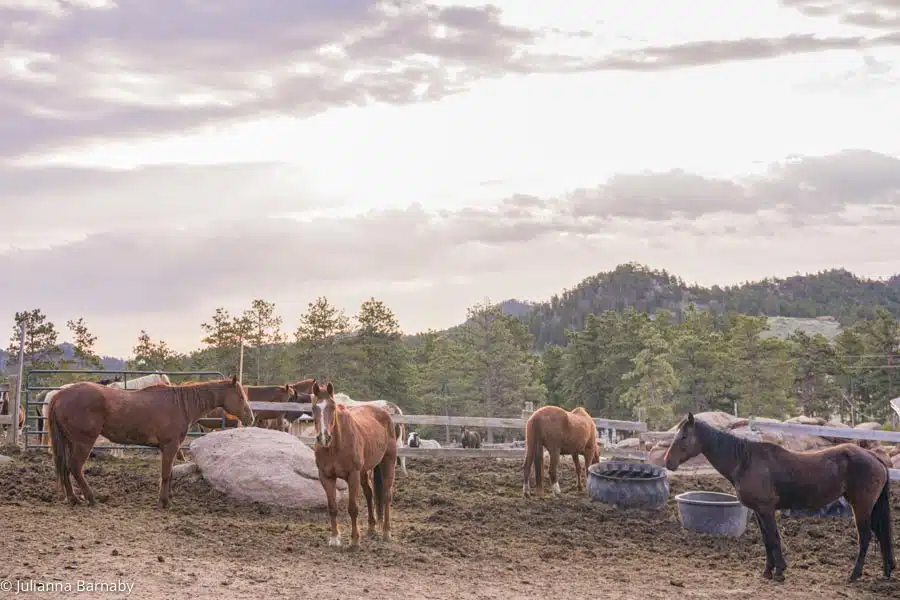 It really is that simple.
They have the facilities and the accommodation to allow (practically) anyone to book a room, turn up and participate in ranch life. Sounds awesome right? Yee haw!
Dude ranches came about towards the end of the 19th century when an increasing number of people (particularly urban dwellers from the East of the US) started visiting ranches to get a taste of what ranch life would be like.
They wanted to escape the draining monotony of living in the city and swap it for the great outdoors. To become, if only for a short time, rootin' tootin' hollerin' cowboys and forget that really they were just desk clerks who punched in and out on the clock and had no meaning to their lives. As a former lawyer, I can relate.
As time passed (and the number of Westerns and figures like Teddy Roosevelt increased the visibility of the romanticised cowboy life), more and more visitors spent time at the ranches – and so the dude ranch became an established tradition in the US.
Resort Dude Ranch vs Working Dude Ranch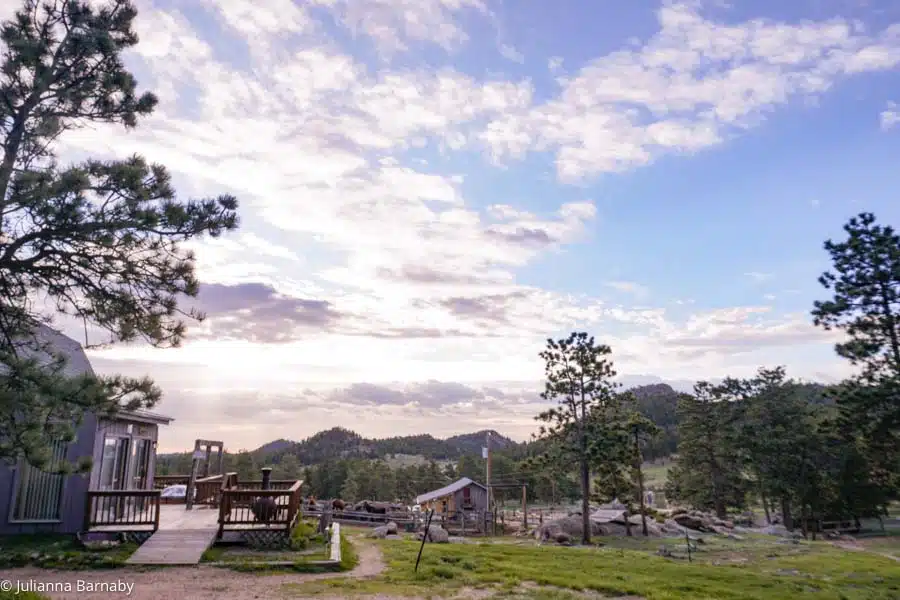 Although dude ranches are a pretty simple concept to get your head around, you should be aware that there are two main kinds of dude ranches: working dude ranches and resort dude ranches.
Resort dude ranches generally offer a more relaxed experience. There are the traditional ranch activities like riding, but it's more "slice of Western ranch life" than "work as hard as a cowboy for a week" vibes.
By comparison in working dude ranches, guests stay on a fully operating ranch and participate in helping to run the ranch through activities like helping with cattle drives.
In truth, it's a bit of a false distinction as each ranch is very different and it's up to you to find a ranch that suits you.
But how do you do that? Think about the kind of terrain you'll be riding on, location, the style of accommodation, the other activities on offer and use your preferences to help choose your ranch.
For your first dude ranch holiday, I'd recommend staying on a resort dude ranch – particularly if you like a few luxurious touches thrown in too.
Experiencing a Dude Ranch Near Denver, Colorado – Sundance Trail Ranch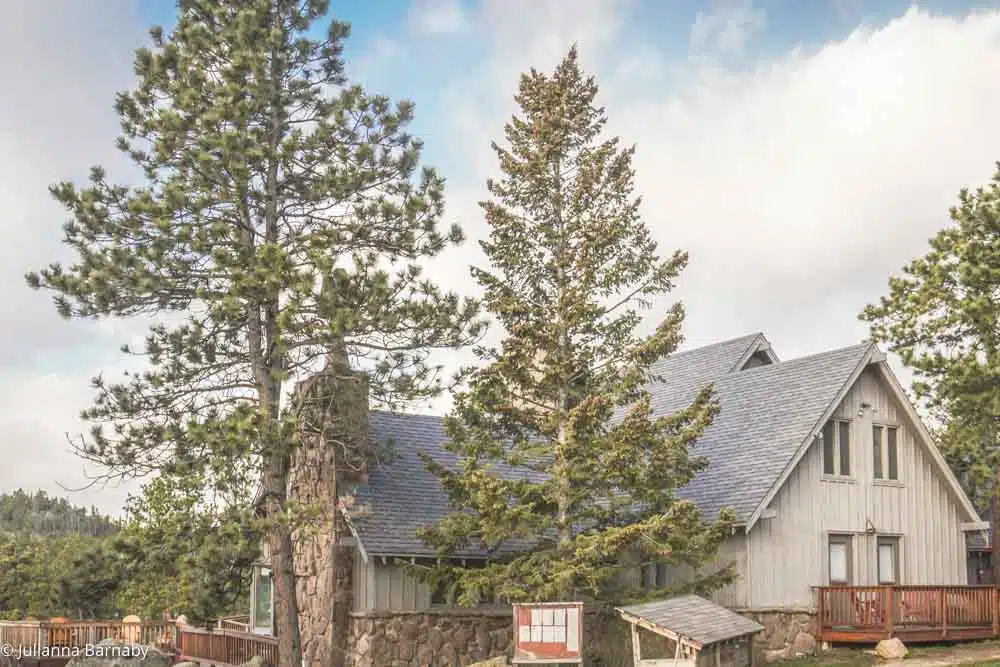 So now that you know what a dude ranch is, the natural question is what's it like to stay on one?
I spent three days on Sundance Trail Ranch – a dude ranch in Colorado and pretty close (a couple of hours drive) to Denver. I highly recommend you put this on your Colorado bucket list.
To put it bluntly, if you'd asked me to stay a month longer at the end of that time, I would have. Gladly.
It was a blast. The owners Dan and Ellen welcomed us to the ranch with open arms – extending their warm hospitality to our ragtag group of riders of varying abilities.
It was with a rather sly grin that Dan told us of their three very serious objectives for our stay at Sundance:
To get us very dirty;
To make us very tired; and
To make us just the tiniest bit sore.
Can't say I had a problem with any of that. From galloping across the tobacco plains of northern Argentina to cutting my way through the Costa Rican rainforest, it's those very same reasons why riding holidays always have a special place in my heart.
Horseback Riding at Sundance Trail Ranch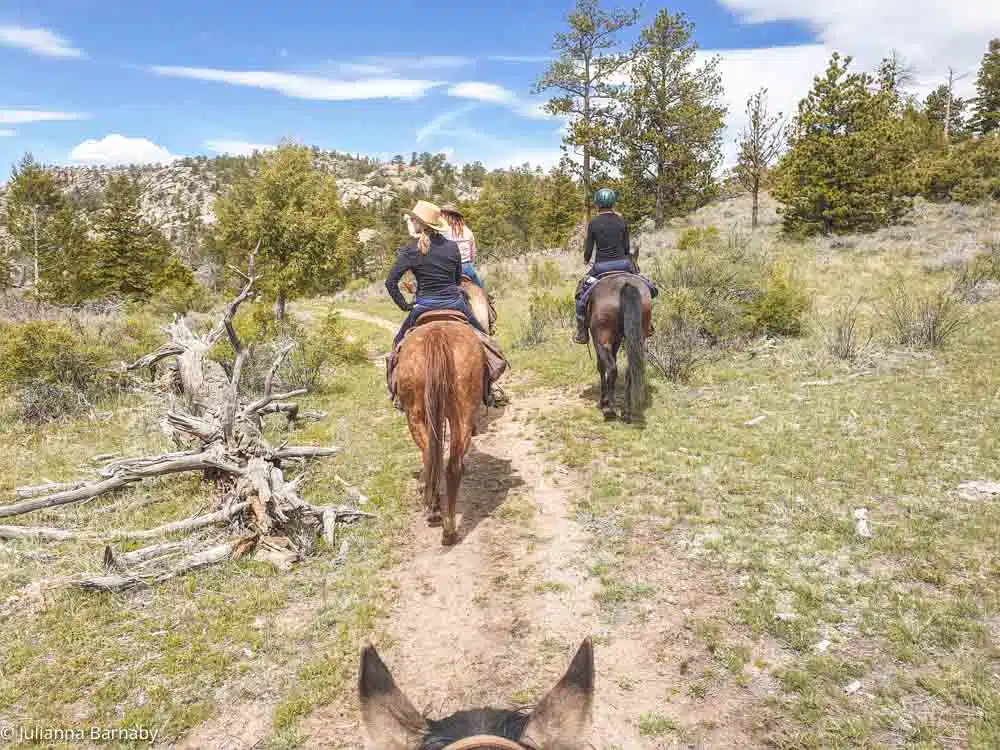 Riding sits at the heart of ranch life and our time at Sundance was no different.
After a hearty lunch, we were shown the most memorable – and useful – horse safety video I've seen (watch it and it's clear that Dan should have his own YouTube show).
From there, it was a matter of heading down to the stables, being matched with our horses and setting off.
Rides at Sundance vary in length and can cover a large variety of terrains. The ranch sits on the edge of Roosevelt National Forest, where there are gorgeous rides up to scenic viewpoints, through forests – accompanied the whole time by those welcome companions peace, quiet and lungfuls of fresh air.
That first evening we stuck to the ranch's own property (still sizeable enough for a few hours riding) as everyone got to know their horses.
Mine, a pretty dappled stallion called Mouse, was just the right combination of friendly, spirited and calm to make him a real pleasure to ride.
Throughout the three days, Mouse and I became best buddies (or so I like to think, he's probably already forgotten me – c'est la vie) as we spent long hours exploring the landscapes around the ranch.
What Activities are Offered on a Dude Ranch?
Much as I thought I knew about dude ranches, one of the things that really surprised me was the number of activities that weren't horse riding you could participate in at Sundance.
In fact, the other activities played just as large a role in creating an unforgettable experience as the riding itself.
The activities vary from ranch to ranch – tomahawk throwing, mountain biking, fly fishing, rifle shooting, archery, rock climbing, hiking, yoga – the beauty of a dude ranch is that you get your pick of activities and can create an itinerary of the things you like the look of the most.
These were a few of my favourites…
Square Dancing
I wouldn't be being honest if I said that I had ever thought about trying my hand at square dancing.
In fact, if you'd asked, I'd have probably said it was the kind of fuddy duddy dancing whose death warrant was signed by the arrival of discos and clubs. Boy, was I wrong.
Knock me down with a feather but it just so happens that square dancing is all kinds of awesome. What do you get when you get 20 or so people trying to learn a few dance steps to carry out in perfect synchronicity in a square formation? The very best kind of organised mayhem, that's what.
Foraging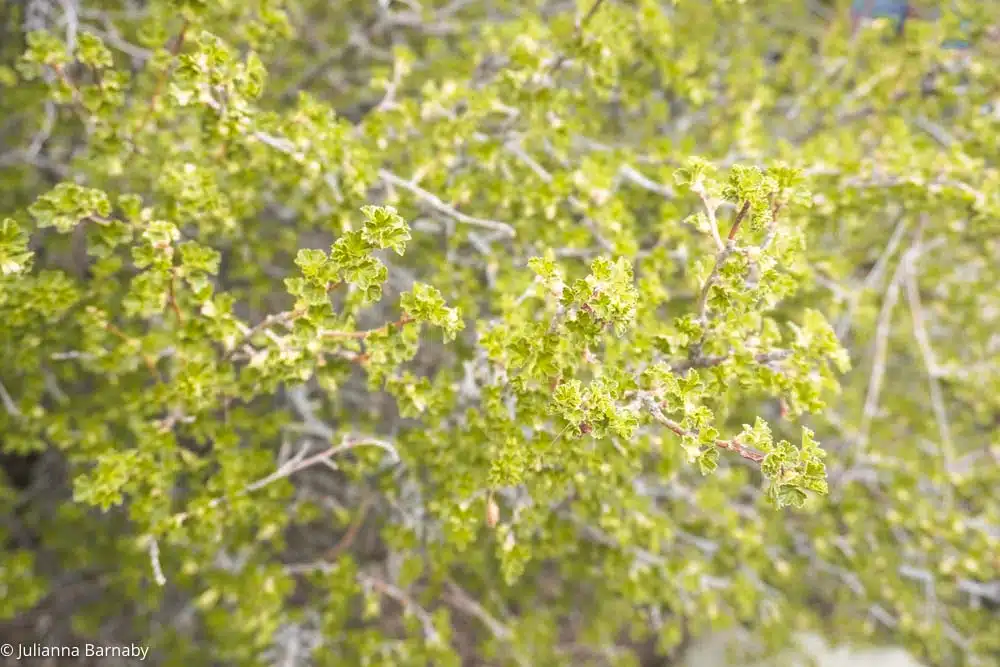 It's hard to put your finger on a simple concept that defines ranch life, but the idea of working with, rather than against, nature is a strong contender.
Perhaps that is why the foraging and nature walk with local couple Amy and Lars Larson worked so well as part of the stay.
There was nothing wild that Amy (who was born and raised in this part of Colorado) couldn't identify, delving into the medicinal uses of the plants and trees we came across as we walked across the ranch.
Campfire Nights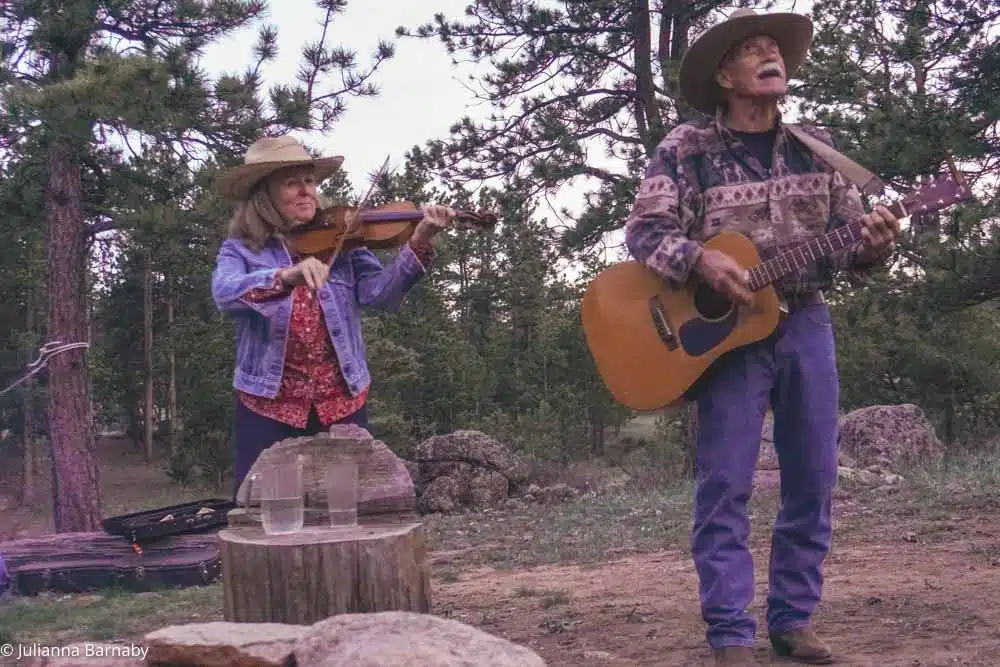 What could be more evocative of Western ranch life than a night spent by the campfire?
An evening singing songs that have been passed down from generation to generation, toasting s'mores (bleurgh) and watching as the sky turns dusky and the stars come out – it's every bit as magical as you'd think.
Amy and Lars sang and strummed in front of the fire, pulling up (very willing) members of the audience to help with the performance.
All of us around the campfire had only known each other for a short period of time but the ranch inspired an easy camaraderie that was a million miles away from the guarded privacy of city life.
6 nights at Sundance Trail Ranch in the summer costs $2,750 (roughly £2170) per adult or $1,470 (£1160) for 3 nights. This reduces to $1,955 (£1,550) and $1,200 (£950) outside of peak season.

Check rates and availability
Dude Ranch 101: Frequently Asked Questions
Where in the US Can I Spend a Couple of Days on a Ranch?
You can spend a couple of days on a ranch in many parts of the US: Colorado, Wyoming, Utah, Texas, Arizona are the main ones, but there are so many more.
Obviously, I'm a huge fan of the time I spent at Sundance in Colorado (cough cough, hint hint) but you have options.
Why's it called a Dude Ranch Though? Are Women Welcome Too?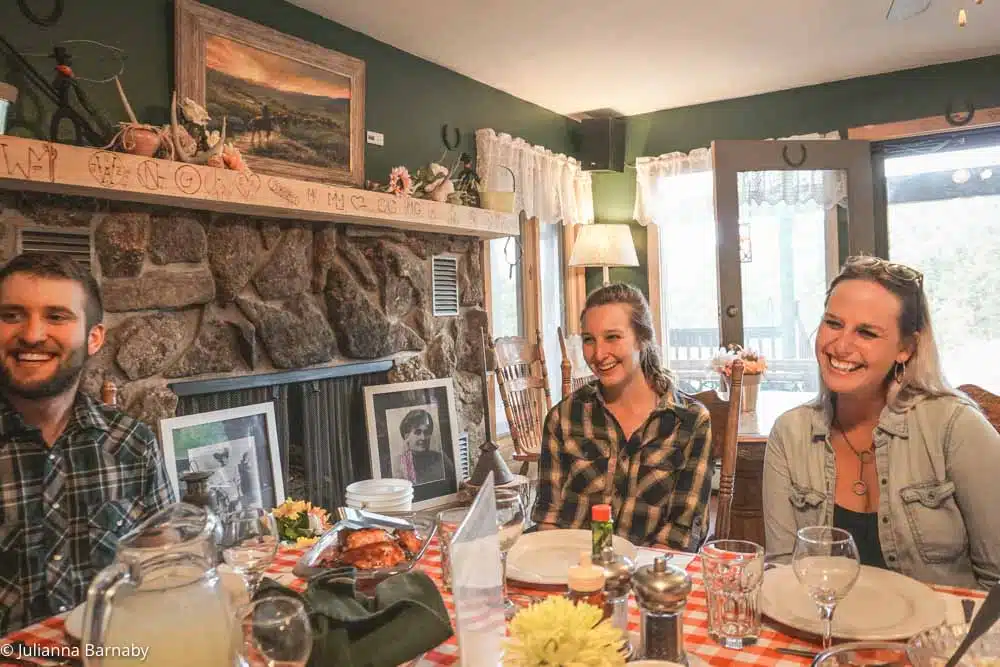 Women are totally welcome at dude ranches (otherwise it would be pretty impossible for me to be writing this piece… that would be awkward) but the question of why they're called dude ranches is a pretty interesting one.
It all comes from a change in the definition of the word dude.
Unlike the way we now interpret the way dude as the kind of surfer or skater, relaxed kind of guy who's basically like The Dude from The Big Lebowski, dude actually had a different meaning back in the day.
"Dudes" were the names the cowboys gave to the city slickers who turned up without any idea of what to do and a bit green behind the ears to come and spend time on the ranches.
It wasn't a particularly flattering name – but it kind of stuck in the way that unflattering names tend to.
Whatever the interpretation, the upshot is that dude ranches are most certainly not for the guys.
What's the Difference Between a Guest Ranch and a Dude Ranch?
Mainly semantics. They're mostly used to refer to the same thing.

---
There we are I hope I've convinced you of the reasons why dude ranch holidays are the way forward.
It's time to embrace dude ranch life people. I have a feeling that once you do, a flop and drop holiday is never going to have quite the same appeal again.
Love this? Save and Share on Pinterest.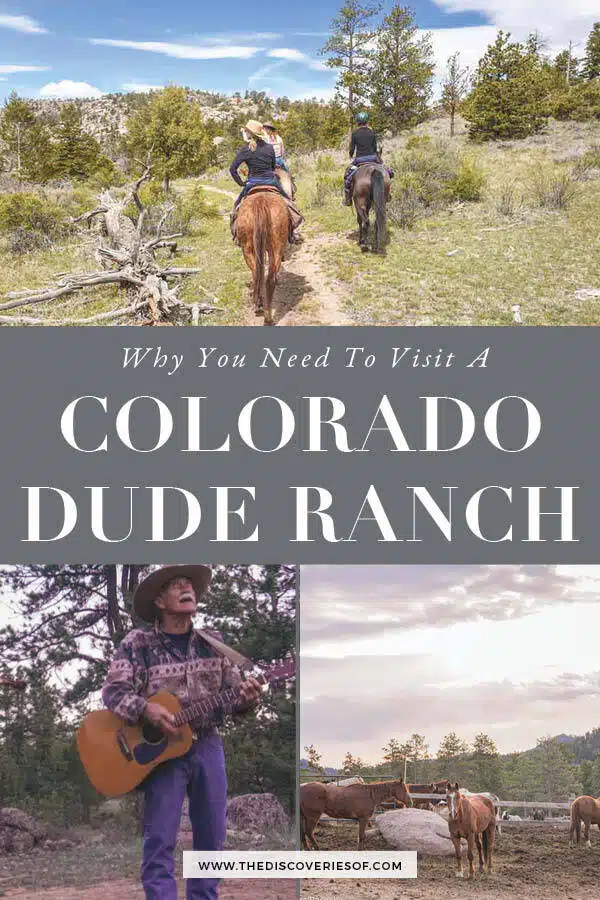 Looking for more Colorado travel tips and ideas? Check these out!
I was hosted on my Colorado trip by the Colorado Tourism Office. As ever, my thoughts and opinions are very much my own.