Deciding where to stay in Bruges can be a difficult task. Not sure where to start? Don't miss this handy guide to the best areas and hotels to stay in Bruges before you plan your trip.
My love affair with Bruges has been widely documented.
The city, a charming maze of pretty canals and postcard-perfect architecture captures the heart of many who visit – and that's before you add in the wealth of history, cool things to do, chocolate and beer that make Bruges such a popular city break.
So that's the "why" you should visit Bruges, but what about the "how"?
There are so many boutique hotels, B&Bs and luxury properties that it can be difficult to know where to start. That's why I've created this guide to the best places to stay and best hotels in Bruges – everything you need to know to help you find your perfect stay.

Looking for more Bruges guides? Check out my Bruges Destination Guide: What to See + What to Skip During Your Trip or my guide to Planning a Day Trip to Bruges.
Pssst… I love using Plum Guide to find brilliant rental properties in Belgium. Each apartment is hand-picked by the staff at Plum Guide to ensure that only the very best make it onto the website. Quality is guaranteed.
Where to Stay in Bruges
Although it's a relatively compact city, Bruges still has distinct areas with their own character and feel. This gives you a few options for the best place to stay in Bruges.
Markt & Burg: The Best Area to Stay in Bruges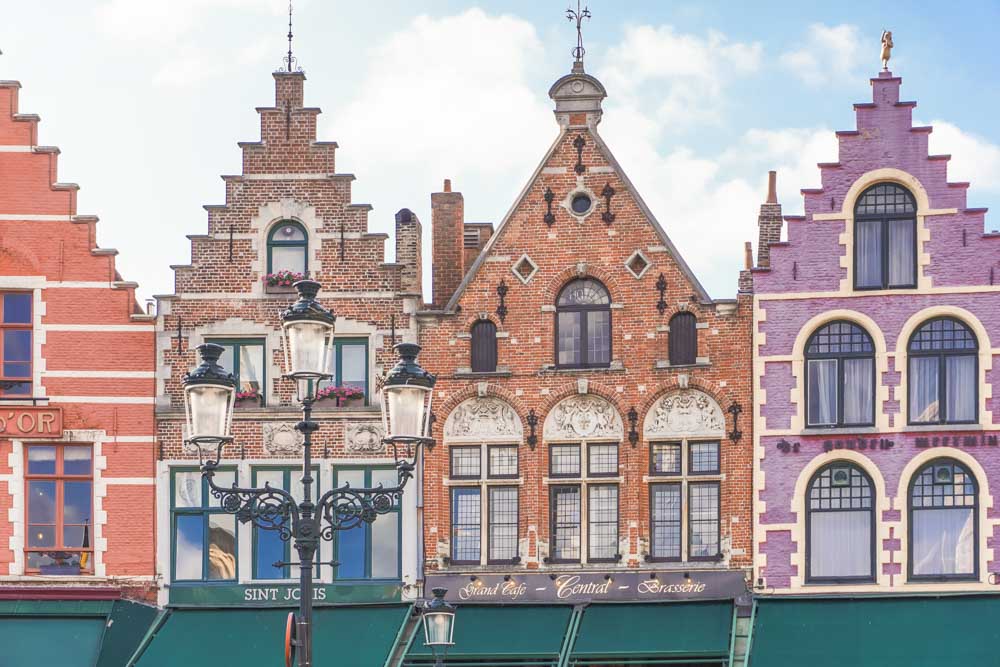 To make the most of your time in Bruges, it doesn't get much more central than the squares of Markt and Burg. Whichever one you choose, you'll be mere metres from the best the city has to offer.
Markt is considered the physical and cultural heart of Bruges. No prizes for guessing where its name comes from – yep, it's the Market Square.
The Medieval market might be gone, but there's still plenty to tempt you to open up your wallet. With fabulous restaurants, cafes and bars as well as cute little shops and boutiques, it's still a definite shopping hub.
Burg is just a few minutes away, and is home to the Town Hall. It's lined with many Gothic buildings that a guidebook would probably call "handsome" – I prefer pretty darn cool.
While it's a little more formal in character, Burg is very beautiful and just a short stroll to the city's best attractions. The areas surrounding both of them are great choices for where to stay in Bruges.
Markt and Burg Highlights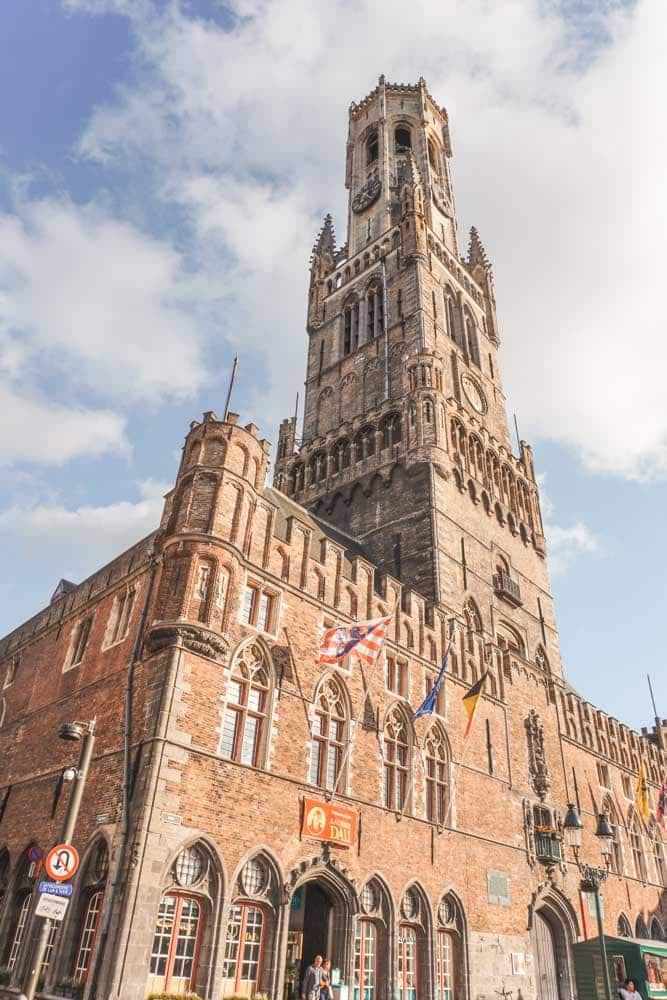 Wednesday Market – pick up some grocery items or souvenirs when Market Square hosts a large market.
Belfort (Belfry Tower)- one of the Markt's most recognisable buildings, the 83 metre tall tower is an icon of Bruges, with an amazing view from the top.
Town Hall – there's many beautiful buildings around Burg, but the 14th Century Gothic Town Hall is perhaps the most striking.
Suggested Hotels in Markt and Burg
B&B Speelmansrei – a charming, centrally located B&B in a historic old house.
Hotel Dukes' Palace – a luxurious and beautiful hotel in Bruges city centre located in a 15th century palatial residence.
Hotel Aragon – centrally located with recently renovated rooms offering a contemporary stay in the heart of the city.
Minnewater & Astrid Park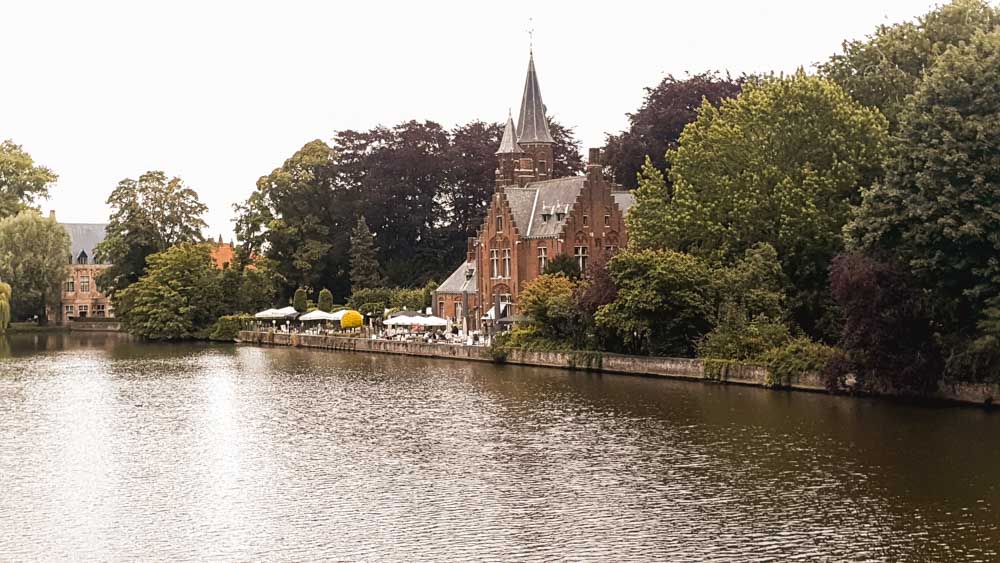 Looking for somewhere ultra-romantic to stay in Bruges? Or perhaps just seeking out a little peace and quiet? If so, Minnewater and Astrid Park are great choices.
Minnewater is really one for the romantics. A local legend says that the Park is named after a local lass, Minna, who was in love with a warrior from a neighbouring tribe. When she was betrothed to another man by her father, she ran away.
Her dash from unhappy matrimony eventually ended near Minnewater Lake, in the arms of her lover Stromberg. Alas, as with most "romantic" stories, things took a sour turn when she died of exhaustion.
Didn't any love stories have a happy ending back in the day?
Anyway, today Minnewater is a beautiful park that's popular amongst couples taking romantic strolls, and anyone who's a fan of green spaces.
Another beautiful park is nearby Astrid Park, so named after Astrid of Sweden, Queen of the Belgians.
While these areas have a calm and peaceful atmosphere, they are still within easy reach (10 minute walk) of the city centre with its many attractions.
Minnewater Highlights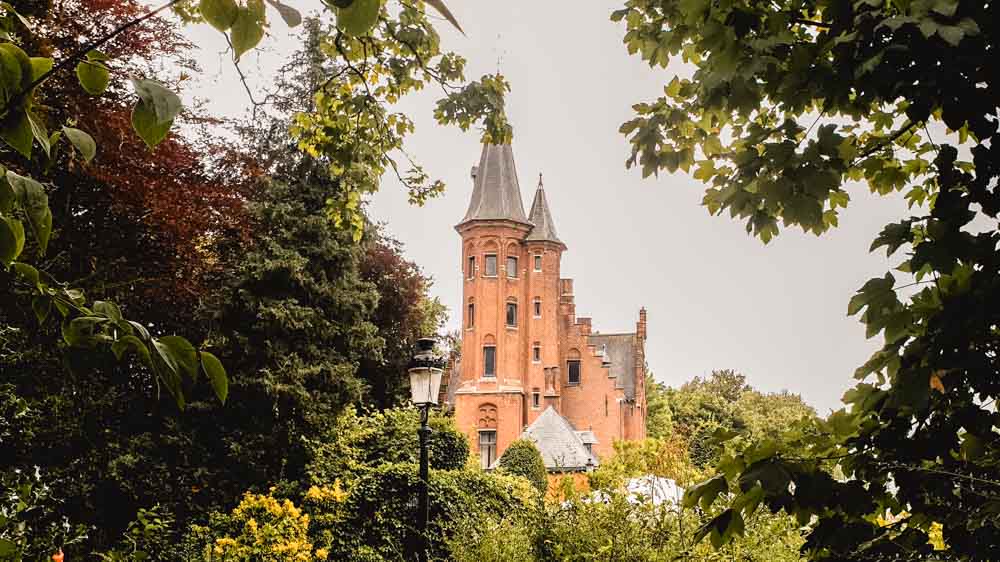 Lake of Love and Love Bridge – cross the beautiful lake via the picturesque Love Bridge – apparently if you do it you'll experience eternal love. So, be careful who you cross with.
Minnewaterpark – if your romantic stroll across the bridge isn't enough, you can explore the whole beautiful park
Astrid Park – if staying in the area, you can't miss exploring this park as well. Keep a look out for the beautiful fountain.
Suggested Hotels in Minnewater
De Tuilerieen – this romantic and luxurious hotel fits in perfectly with the sweet vibes of Minnewater.
Hotel Academie – a modern and comfortable hotel that's located less than a hundred metres from Minnewater park.
Boutiquehotel Fraeyhuis – contemporary and sleek hotel where every room has beautiful garden views.
Sint Anna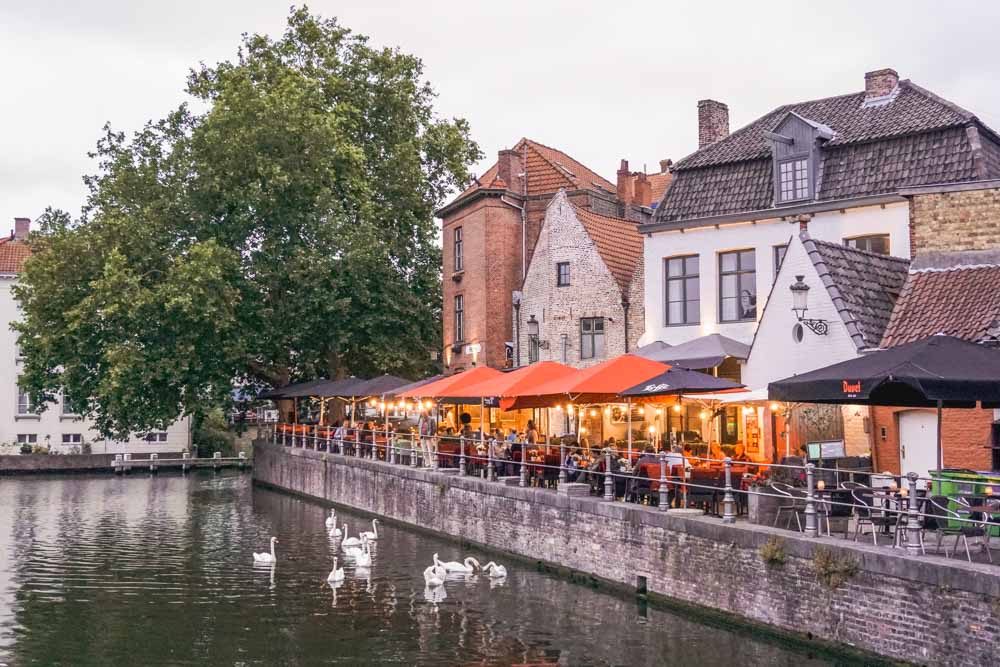 Things are so picturesque in the neighbourhood of Sint Anna it's hard to work out why it's not crowded with tourists. Well, they do say not to look a gift horse in the mouth (or something like that.)
Perhaps one of the reasons that Sint Anna is quieter than other parts of Bruges is that it has traditionally been considered a more working class area. However, few cute European neighbourhoods have escaped gentrification and Sint Anna is no exception.
It was only a matter of time before the secret got out, really, with its beautiful canals and historic buildings.
Today, it's a popular residential area with many adorable shops, restaurants and cafes along Langestraat – not to mention one of the more affordable places to stay in Bruges. If you prefer going where the locals go, then this cute neighbourhood may be right up your alley (or straat.)
Sint Anna Highlights
Sint-Annakerk – this beautiful 17th Century Gothic church is an icon of the neighbourhood, with its stunning interior.
Jerusalem Chapel – an even older church that dates from the 15th century, making it one of the oldest buildings in Bruges
Kantcentrum – learn about the art of making delicate, handmade lace in an old factory building.
Suggested Hotels in Sint Anna
Flanders Hotel – an excellent midrange hotel that offers great value for money
Sint Gillis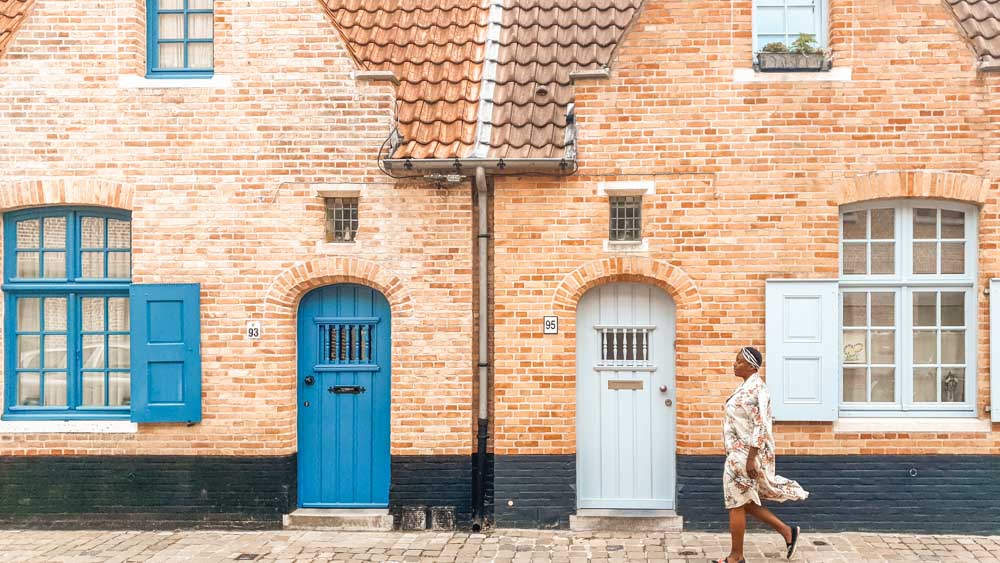 Another Bruges neighbourhood that's undergone a reinvention without losing its heart is Sint Gillis.
Located to the south of the city, this hotspot is popular with students and artsy types – always a fair indication that things are looking good.
Great food options abound, from hole-in-the-wall street food vendors to more fancy restaurants. You can expect plenty of mussels, as well as sprouts: they're kind of a local icon.
It's not just the food that's influenced by the effortless cool factor. There are also plenty of fabulous vintage shops where you can grab something to seriously up your style stakes.
All in all, Saint Gillis is definitely on the best places to stay in Bruges, especially if you like food or fashion.
Saint Gillis Highlights
Parc Pierre Paulus – enjoy the fresh air and open green space at this beautiful city park.
Café Des Spores – If you fall on the "love 'em" side of the divisive mushroom debate, you've got to check out this cafe with a seriously fungi-inspired menu.
Musée Victor Horta – View some amazing works by "the father of Art Nouveau in Brussels", Victor Horta.
Suggested Hotels in Sint Gillis
B&B de Corenbloem – a beautiful and elegant B&B with bucket loads of historic charm
B&B de Sterre – another charming and warm property with plenty of character and wonderful staff
Best Hotels in Bruges
Hotel Aragon: Markt / Burg (Mid-Range)
The recently renovated Hotel Aragon is one of the best Bruges hotels for singles, couples and families. With 42 rooms including a six-person apartment, it's ideal for groups.
The location is also a huge plus for this Brugge hotel. Located just steps away from Markt Square, you'll really be in the heart of the city with this accommodation.
Inside, the hotel has been recently refurbished and is modern and stylish. The apartments are self-contained: perfect if you're travelling with any picky eaters.
Enjoy a scrumptious breakfast buffet every morning and then step right out into one of the most beautiful and atmospheric parts of Bruges.

Check Rates and Availability for Hotel Aragon
Hotel Academie: Minnewater / Astrid Park (Mid-Range)
Looking to stay in oh-so romantic Minnewater and Astrid Park? If so, Hotel Academie is a great choice, less than one hundred metres from Minnewater Park.
This comfortable boutique hotel in Bruges is located in a quiet residential area, however you can still easily walk to the main attractions in the city.
The hotel itself has a beautiful exterior and charming decor, only adding to the romantic vibes. There's also a great buffet breakfast so you can get your coffee or sugar kick before a day exploring Bruges.

Check Rates and Availability for Hotel Acadamie
Hotel Dukes' Palace: Markt / Burg (Luxury)
Hotel Dukes' Palace is a hotel in Bruges city centre that is sure to impress. From first glance, the palatial and slightly quirky hotel in Bruge looks like something out of a fairytale. There's even a picturesque garden tea house.
Step inside and the hotel is modern and luxurious with fine hardwoods and elegant furnishings. It's no surprise that the building was originally built in the 15th Century for a famous duke.
Today, you can live like the aristocracy and enjoy all that's on offer at the hotel. Plus, as it's located less than 300 metres from Markt, you'll be well located for the best of Bruges – certainly one of the best hotels in Bruges city centre.
Check Rates and Availability for Hotel Dukes' Palace
B&B de Corenbloem: Sint Gillis (Luxury)
Bruges is such a beautiful city that it makes sense to stay somewhere with bucket loads of charm. That certainly described B&B de Corenbloem.
This boutique hotel in Bruges is set in a historic mansion, with each room tastefully decorated to pay homage to its past. With beautiful antique furnishings and charming wallpaper, it's a total delight.

As if things weren't already gorgeous enough, there's also a beautiful garden to enjoy in summer and a roaring fire to warm up in winter. I love it.

Check Rates and Availability for B&B de Corenbloem
B&B Speelmansrei: Markt / Burg (Mid-Range)
If you want to feel like you're staying in a warm family home rather than an impersonal hotel, you'll love B&B Speelmansrei. Located in a historic house, this B&B boasts a great location and plenty of character.
If you're looking for a hotel in Bruges centre, this B&B is a great choice. It's got a gorgeous garden that's popular not just with hotel guests, but also some local swans as well.
Inside, this B&B is stylish and sleek, but preserves much of the original character of the property.
While B&B Speelmansrei is a little slice of home in Bruges, it's well located right in the centre of the city. Just a short walk will have you on the doorstep of Bruges' best attractions.

Check Rates and Availability for B&B Speelmansrei
De Tuilerieen: Minnewater / Astrid Park (Luxury)
One of the 'small luxury hotels of the world', De Tuilerieen is a pint-sized luxury hotel in Bruge that really impresses. Full of charm and uncompromising luxury, this is a fabulous place to stay in the city.
Fittingly for a hotel in the most romantic part of Bruges, De Tuilerieen has plenty of charming touches like chandeliers and traditional, homely wallpaper.
Conveniently, De Tuilerieen is one of the few hotels in Bruges with parking.
The location of the hotel is a great base not just for exploring the green spaces of Minnewater and Astrid Park, but also wider Bruges. The city centre is just a short walk away, with its many amenities and attractions.

Check Rates and Availability for De Tuilerieen
Flanders Hotel: Sint Anna (Mid-Range)
For those seeking a central location while also keeping costs down, Flanders Hotel is a great mid-range option in trendy Sint Anna.
This stylish hotel is modern and comfortable, with a dazzling swimming pool if you're looking to cool off after a day exploring the city. Other amenities include a charming garden and a bar for those times when you want a cocktail, but don't want to walk far for it.
Located in Sint Anna, Flanders Hotel enjoys a slightly quieter location but still within easy access of Bruges' main highlights. If you're looking for Brugge accommodation on a budget, this is a great choice.

Check Rates and Availability for Flanders Hotel
Boutiquehotel 't Fraeyhuis : Minnewater / Astrid Park (Luxury)
A modern and sleek hotel located just steps from Minnewater, Boutiquehotel 't Freayhuis is a great choice if you're wondering where to stay in Bruges, Belgium.
Every room in the hotel has views out over the pretty garden, making it a great hotel and location for those who love green space. Just a short walk from the hotel's front door will find you amongst the tranquility of Minnewater Park.
Of course, if you're craving a little more hustle and bustle, the city centre and Markt Square are within easy reach as well.

Check Rates and Availability for Boutiquehotel 't Freayhuis
Novotel Bruges Centrum: Markt / Burg (Mid-Range)
Located in the heart of Bruges, the Novotel Bruges Centrum is a classic choice for those seeking a great location without totally breaking the bank.
The hotel enjoys an excellent location, which is quiet and peaceful yet an easy walk to the famous Markt Square. If all that exploring gets you working up a sweat, there's a sparkling swimming pool to dive into to cool off.
Inside, the hotel is modern and comfortable, with everything you'd need for a fabulous place to stay in Bruges including free Wi-Fi for updating your Insta with all those gorgeous snaps.

Check Rates and Availability for Novotel Bruges Centrum
B&B De Sterre: Sint Gillis (Mid-Range)
If plenty of charm is your thing (and why wouldn't it be?) then you're sure to love B&B De Sterre. A midrange B&B in Sint Gillis, it is one of the best hotels to stay in Bruges if you love history.
Located in an 18th century summerhouse, the B&B just oozes historic charm and character. You'll feel like you're entering a real home as you step inside and take in all the gorgeous character features of the property.
The friendly hosts are a credit to the property and cannot do enough to help make your stay in Bruges wonderful. A delicious fresh breakfast is also a great way to start every new day in the city.

Check Rates and Availability for B&B De Sterre
Where to Stay in Bruges: Frequently Asked Questions
What is the Best Area to Stay in Bruges?
The short answer? Markt and Burg.
If you ask me, the ideal place to stay means you can easily see the main attractions without rushing from place to place. No-one wants to arrive at Our Lady of Bruges looking like you've just run to get a bus.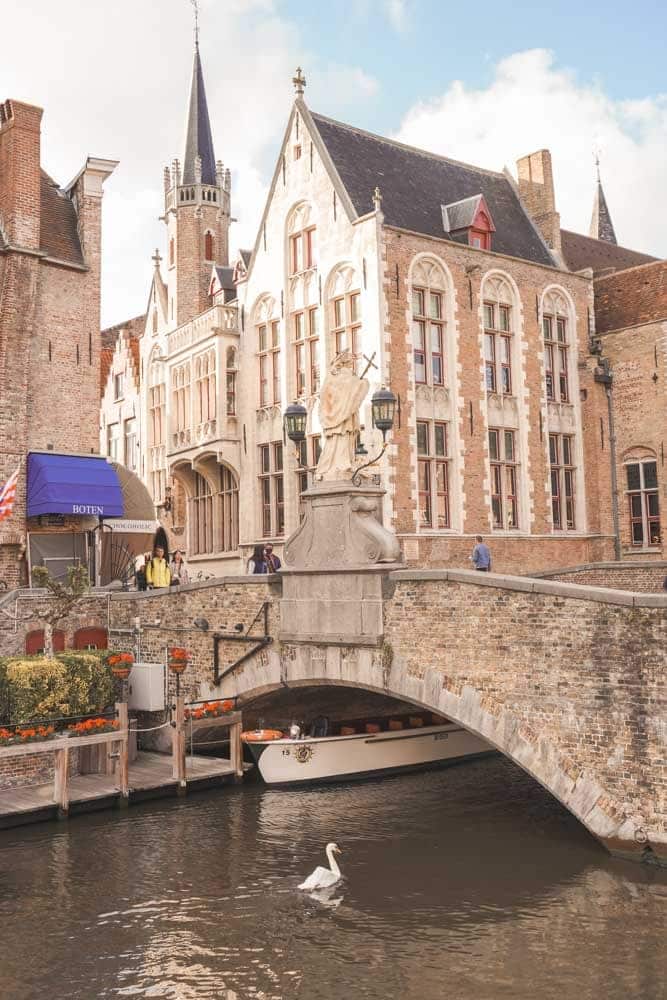 The location doesn't get much better than Markt and Burg. They're central, meaning all of the city's attractions are within a short stroll.
Then there's the fact that they're also really, really beautiful. All good if you ask me.
How Many Days do you Need in Bruges?
Bruges is a relatively modest sized city, meaning you don't need oodles of time to see the main highlights. It's perfect for a city break, with more than enough to keep you busy for a weekend.
At a push, a day in Bruges will give you the chance to see some highlights of "the Venice of the North".
On the other hand, if you have more time then Bruges is one of those 'best explored slowly' places. You'll get a better insight into local life if you can stay three or more days.
How Do You Get Around in Bruges?
The easiest way to get around in Bruges is pretty simple – just walk!
Like most European cities that well and truly pre-date cars, a vehicle = endless parking-related frustrations. If you can, leave the car behind and opt for exploring the city on foot. Your blood pressure will thank you.
Bruges also has a pretty good public transport system, which can be used to explore the city or to venture a bit further out for a day trip. Or, if you're comfortable on a bike, you can opt to cycle around instead.
Practical Tips to Consider Before Booking Your Bruges Accommodation
Bruges is busy, especially between March and November (I blame Colin Farrell). During this time, I recommend getting in and booking early to make sure that you get the best selection of hotels for your stay.
While Markt and Burg is my recommendation for the best all-around place to stay in Bruges, this depends a fair bit on your own interests. It's worth making a short list of things to see and then taking that into account when choosing accommodation.
It's difficult to choose the best hotel to stay in Bruges. Rather, I would consider your budget and preferred style of travel is and choose somewhere accordingly. All the options featured in this article make for a comfortable stay. 
Like with most cities, you can score some great deals if you're willing to travel outside of peak season. If you're flexible with dates, this is a great way to stretch your money in Bruges – I've visited at several different times of the year and my favourite was September, when we had good weather but many of the crowds were gone. 
I love using Plum Guide to find rental properties – they are of a much higher quality than the homes on other rental sites.
Bruges Accommodation Guide: Map
Click here for a map of the hotels featured in this guide.
Love this? Save and Share on Pinterest!