Planning your travels to Bruges? Don't miss this handy Bruges travel guide – what to see, the best time to visit, where to stay and other travel tips for the perfect trip.
Bruges (Brugge in Flemish) is, quite frankly, one of the most beautiful cities in Europe.
A maze of gorgeous canals twinkling in the sun, quirky buildings with stepped roofs and elaborate patterns – it's no wonder that it's an eternally popular city break destination.
The old capital of Flanders, the interesting buildings and picturesque canals make it easy to picture what Bruges would have looked like in medieval times – and also form the basis of its nickname "The Venice of the North".
I've visited Bruges a number of times and yet, I never tire of its views. But don't just think of this as a pretty place, a bland backdrop for Insta poses and not much else. Once the epicentre of Belgium's cloth industry and a commercial hub, you can spy relics of the city's former importance around every corner.
Add to that a quiet charm and more than its fair share of quirky spots and you have a destination that should go straight to the top of your European travel bucket list.
It's time to discover Bruges.
Bruges Map
Click here to open my guide to Bruges attractions – complete with an accompanying Google Map for you to save to your phone.
Where Is Bruges? Why Should I Visit?
Bruges is a mid-size city in northwest Belgium. It's the capital of the West Flanders region, and has a population of around 110,000.
This means it's a relatively small city but with a big reputation.
Another reason for Bruges' popularity is that it is super easy to get to from a number of other cities/ ports both within Belgium at from further afar. Some of the cities within two hours' travel from Bruges include Amsterdam (Netherlands), Brussels (Belgium) and Dunkirk (France).
How to Plan Your Travel to Bruges: Before You Go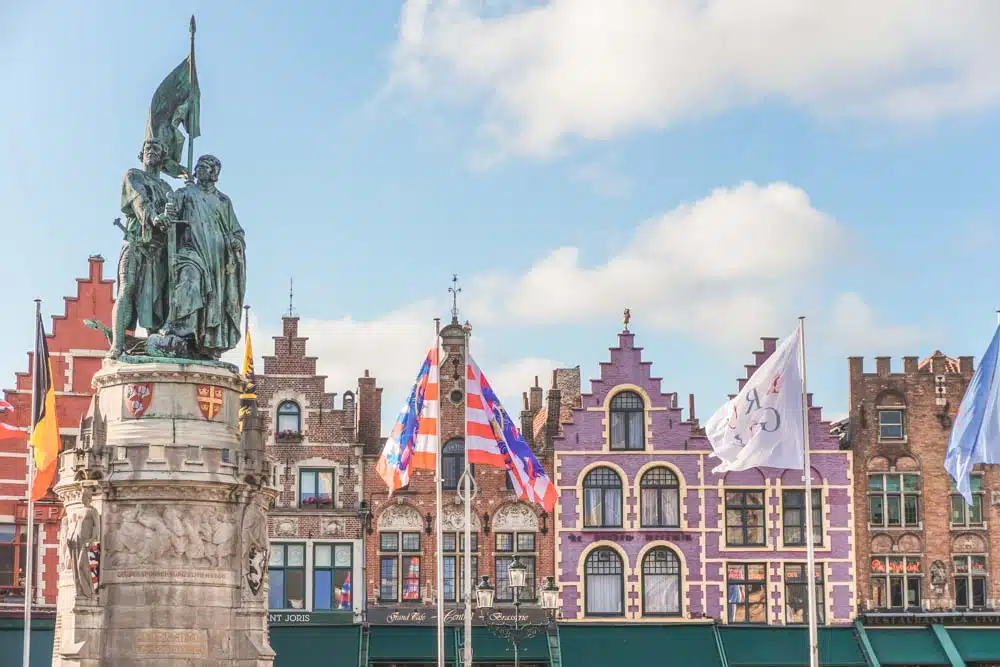 Best Time to Visit Bruges
Overall, Bruges has a pretty mild climate – meaning things can get chilly but not totally freezing, even in the winter. The reverse is also true – summer is definitely on the warm side, but not scorching.
Whenever you can go! Okay, moving away from the travel blog cliches to give you a proper answer.
This means you do have a fair bit of choice as to the best time to visit Bruges. Personally, I like travelling in the spring – around April/May.
At this time, things are warming up and the flowers are out in force. However, the mad crowds that arrive in June/July/August loom further away on the horizon, giving you a little more room to breathe.
The only time I would potentially avoid Bruges is January. You can certainly visit at this time, and it's a quiet time to go – but some attractions are closed.
So, if you have anything you absolutely must see, make sure you check it's open before you book your January journey.
Read Next: When is the Best Time to Visit Bruges? A Step by Step Guide
Handy Resources for Getting To Bruges
Since Bruges is so close to various transport hubs, getting there is pretty much a piece of cake.
If you're wondering "how do I get to Bruges", you'll be happy to hear that there are plenty of great options.
By Air
The nearest airport is Oostende-Brugge International Airport (OST). It's a half-hour drive to the centre of Bruges or you can get a bus/train combination that takes around 45 minutes (excluding connections).
By Train
Bruges' Centrum station is about a 20 minute walk to the centre of town. It's connected to the UK via the Eurostar (you need to change in Brussels to a normal train – the cost is included in your ticket) and to many other European destinations by train.
Here are some handy resources to help you on your way to gorgeous Bruges:
Skyscanner – the best website for finding cheap flights to Bruges. It instantly compares various booking sites and airlines, and will even let you search the whole month so you can snap up a bargain.
Eurostar – worried about your carbon footprint or just not keen on flying? I love catching the Eurostar. It's convenient from central London, fast and you get to admire some scenery on the way.
Rail Europe – if you're coming from elsewhere in Europe, then you'll probably want to book your ticket via Rail Europe. There's lots of connections from France, the Netherlands and more.
Where to Stay in Bruges
Bruges is a fairly compact city, meaning even if you stay on the outskirts you won't be hiking for miles to find the main attractions.
That said, I personally recommend staying around the Markt/Burg area when you travel to Bruges. This is the most happening part of the city, and you'll have tons of cool stuff right on your doorstep.
This means less time walking between destinations and more time spent actually seeing the sights of Bruges.
I understand that staying in the centre can be pricey (and bustling), so if you are looking for a more affordable or quieter option, there are other choices. The area around Minnewater Park is peaceful and relaxing, while Sint Anna is a good choice if you're looking for value for money.
High End – Hotel De Orangerie
De Orangerie is the perfect option if you're looking for a high-end stay in the centre and boasts luxury rooms in a converted 15th century monastery.
Check rates and reviews for Hotel De Orangerie
Mid-Range – Novotel Centrum
The Novotel isn't going to set anyone's world alight but it is contemporary and comfortable, and very well-priced for its location.
Check rates and reviews for Novotel Centrum

Read more: Where to Stay in Bruges: The Best Neighbourhoods and Hotels in the City
Packing for Your Bruges Trip
Bruges' mild climate and tendency for rain (ah, just like London) means you'll probably want to pack a few layers and a brolly any time of year. However, exactly what to pack does depend a fair bit on the season and forecast.

Read more: My Comprehensive Europe Packing Guide.
Bruges City Guide: What to Do During Your Bruges Trip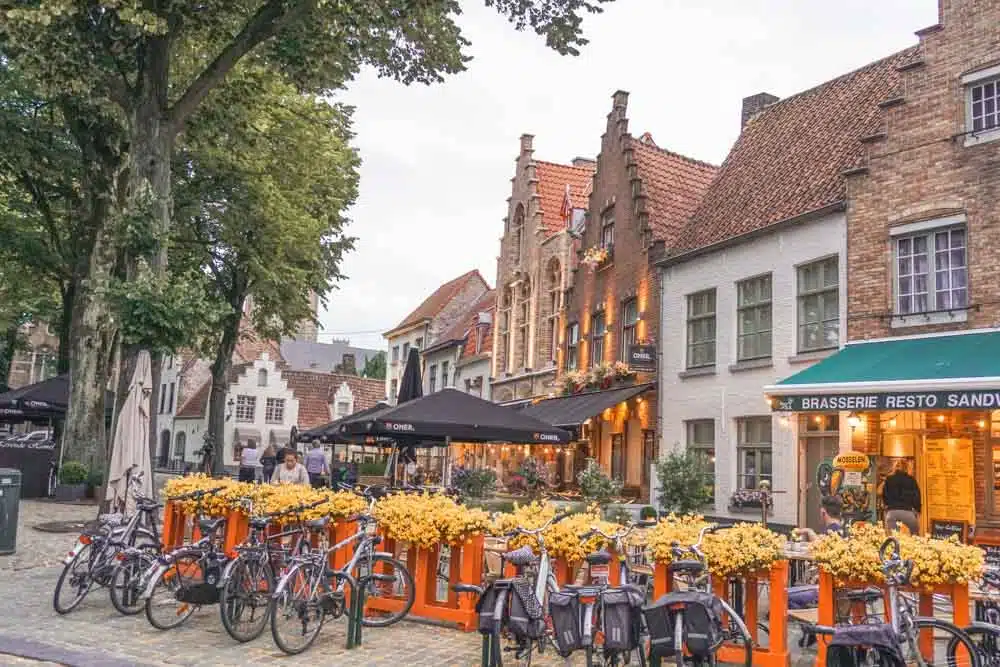 Top 5 Things to do in Bruges
Short on time and keen to see the absolute most unmissable spots in Bruges? I've got you.
Belfort
It simply would not be a Brugge travel guide unless I recommended a visit to the Belfort Tower. It's Bruges most iconic attraction, and a definite must see.
The tower is 86 metres high and was built back in 1240, and then expanded significantly in the 15th century.
Today, it is most famous for the amazing view you can get from the top. You'll have to climb over 300 steps to make it, but trust me – the sore legs are totally worth it for the gorgeous views.
Markt & Burg Squares
Bruges boasts not one but two gorgeous squares. The first is Markt Square, where you'll also find the Belfort.
It's one of the prettiest market squares in Europe – and anyone who's been to Europe knows that the continent isn't short on market squares. It's particularly charming with its Flemish buildings and market stalls.
Within an easy walk is Markt's little sister, Burg. Archaeological evidence shows that people have lived here for close to 2000 years – although most of the buildings you can see are from the 14th century onwards.
Minnewater Park/Lake of Love
Most Brugge travel blogs describe the city as 'romantic' and that's pretty accurate. But things get sickly sweet over at Minnewater Park.
Local legend says the park is named after Minna, a local girl who's father tried to marry her off to a man who wasn't her true love. To escape the wedding, Minna ran away towards the parkland, eventually falling, exhausted, into the arms of her love – and promptly dying.
Romantic? Depressing? You decide. Either way, the park is very beautiful and a must-see in Bruges.
Within the park you'll find a pretty lake crossed by a bridge. Rumour has it you'll find everlasting love with whoever you cross it with, so cross carefully.
Canal Cruise
Bruges is one of a couple of cities known as 'The Venice of the North' and it's arguably the most beautiful.
It makes sense, then, that canal cruising would be an unmissable activity on any Bruges vacation.
Taking a canal cruise will let you see some of the most beautiful views in Bruges from the water. Plus, it's relaxing and peaceful – so what's not to love?
Try A Few Local Delicacies
Bruges may not be an obvious choice for one of the great foodie cities of the world, but there are great places if you know where to look.
The city boasts plenty of fabulous local delicacies that you should definitely try while in Bruges, Belgium.
First and arguably most importantly – Belgian beer. If you are even a little bit keen on a good pint, you've simply got to try it.
Equally tempting is delicious Belgian chocolate which is a true revelation, particularly when paired with a scrummy waffle or two. If you're going the savoury route then mussels or Flemish stew are musts.

Read More: Things to Do Bruges, the Venice of the North
Or check out these brilliant guided tours and activities.
Suggested Bruges Trip Itineraries
Looking for some ideas for how to spend your time during your travels to Bruges? Look no further.
One Day
If you've got just one day in the city, then pop on your walking shoes and get ready to explore.
I recommend concentrating on the central area, around Markt and Burg squares. You'll be able to check out Bruges icons like the Belfort and the Basilica of the Holy Blood, as well as soak up the atmosphere of the squares themselves.
Make sure to try some chocolate and beer as you wander.
Read More: A Day Trip to Bruges: What to do in Bruges in One Day
Two Days
Two days – perhaps a weekend – in Bruges will give you a little more time to explore the city. With two days, you'll be able to see the central highlights above, as well as head out further.
A little further away from the city you'll be able to enjoy more unusual sights including the Beguinage, Minnewater Park, Sint Janshospitaal and the City Ramparts. This will give you a pretty good perspective on what Bruges has to offer.
And don't forget the all important beer, chocolate and mussels.
Read More: Weekend In Bruges – The Perfect Itinerary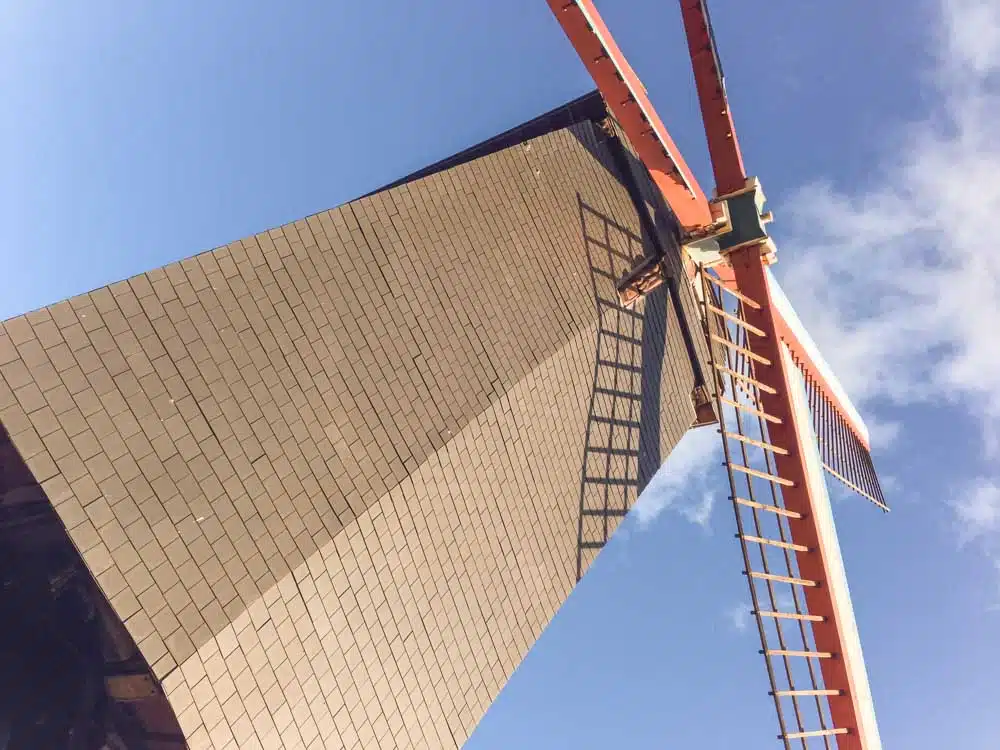 The crowds can get a tad overwhelming in Bruges, so shake them off by heading out to these hidden gems.
Sint Janshospitaal
Who doesn't want to spend their holiday checking out a medieval hospital in Bruges?
Lots of people, apparently, which is why this is one of my favourite hidden gems. It's such a quirky look at history, and a fabulous attraction in Bruges.
Frietmuseum
Whoever dreamed up a museum devoted entirely to French fries was a genius, in my opinion.
If you're looking for something different to what's usually featured in Bruges, Belgium travel guides, then I highly recommend paying a visit to the Frietmuseum. Just maybe not when you're hungry (or when you are – you get free fries at the end of your visit).
City Ramparts
If the concrete and crowds of Bruges ever get too much, just head to the city ramparts on the outskirts of town (otherwise known as Windmill Walk).
Here you'll find plenty of locals jogging and walking, but far fewer tourists. Those who skip over this are doing themselves a disservice if you ask me, as you get a gorgeous view of four old windmills as you walk.
How to See the Best of Bruges for Free
Trying to save your euros? With my Bruges travel tips, you'll be able to see the best of the city – without spending a single cent.
DIY walking tour – Bruges is a compact, flat city that is easily walkable. Take a look at my Bruges tourist map and hit the road – you'll easily be able to explore the highlights of Bruges without spending a penny.
While some of Bruges' attractions have entry fees, plenty don't. In particular, if you focus on visiting the parks, squares and churches, then you'll find that Bruges can be very easy on the wallet.
Once a year on Flanders Heritage Day, many of the attractions in Bruges waive their entry fee. It's a budget dream come true – although the crowds can be enormous.
Where to Eat in Bruges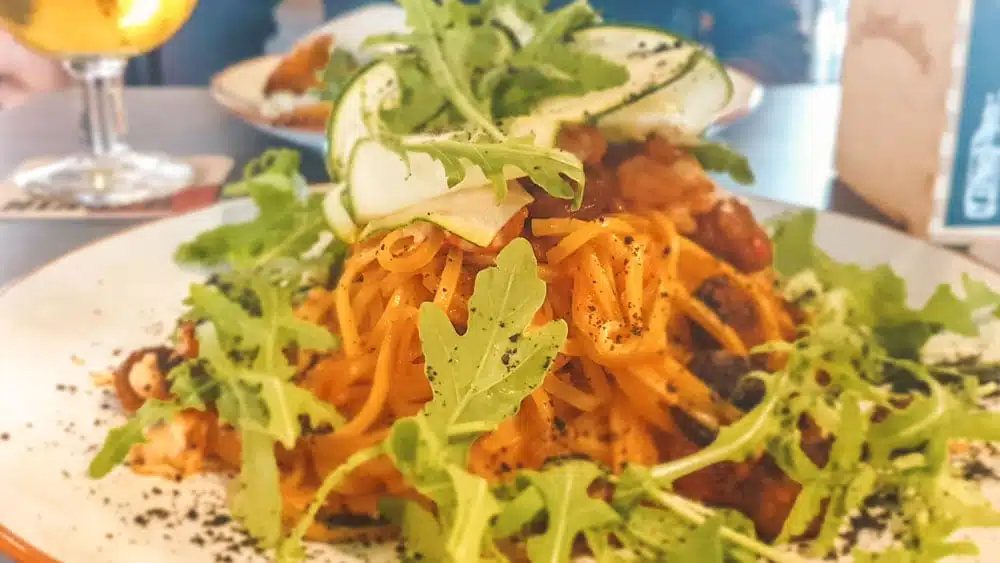 For a pretty small city, Bruges seriously punches above its weight in the food stakes. Here are some of the best restaurants in the city.
Park Restaurant – if you're looking for a place to splurge (you are on holiday after all) then you'd better snap up a sought-after table at Park Restaurant. This innovative restaurant serves up classic European fare with a twist, and is mouth-wateringly good.
Fred's Waffles – chocolate, ice cream and waffles – ah, the holy trinity. It doesn't get much better than enjoying a delightfully decadent dessert from the humble shop of Fred's Waffles. Prepare to be dazzled by the choice (and the deliciousness).
'T Bagientje – it may be difficult to believe, but one of Bruges' best (and most affordable) restaurants is hidden away near the train station. Locals and visitors alike love this place, so if you're looking for some classic Belgian dishes – you better head on over.
Read More: Where to Eat in Bruges – 7 Must-Try Restaurants and Cafes
Where to Drink in Bruges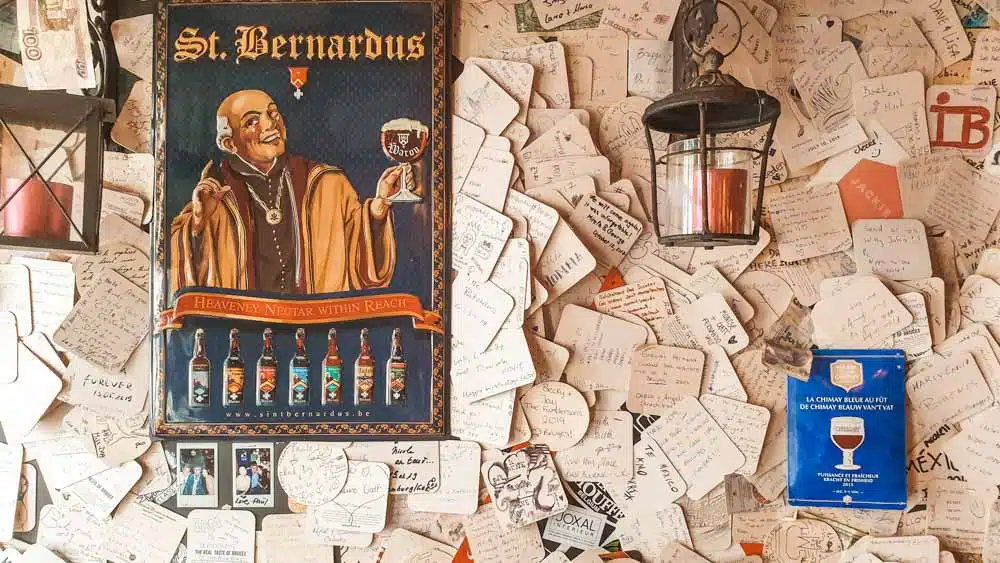 Beer is kind of a big deal in Bruges – but even if you're not a fan, you'll find alternatives on the menu at Bruges' best watering holes.
From chic cocktail bars to grungy pubs (always a winner in my book), there's plenty to choose from. Here are my favourites.
The Beer Wall at 2Be – the secret is kind of in the name. A great place to drink beer is a must on any Bruges city guide, and this one will give you a dazzling amount of choice. If you're overwhelmed, ask the staff for some recommendations for local varieties.
Bourgogne des Flandres – get right to the source of Belgium's amazing beer and enjoy it straight from the brewery. This one recently returned to the city after a 60 year absence, and boy am I glad we got it back.
De Garre – what could be better than Belgian beer, you ask? Well, how about Belgian beer served up with some delicious cheese to the side. That's what you'll get from the cosy bar, De Garre.
Read Next: The Bruges Beer Guide: Where to Find the Best Beer in the City.
Day Trips from Bruges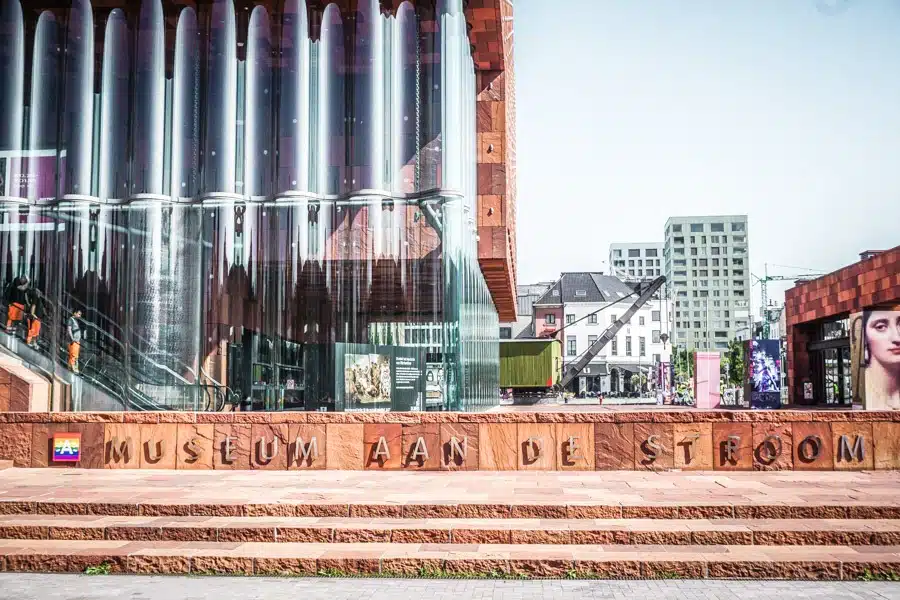 Good transport links and proximity to other cities makes Bruges a great base for day trips. Here are some of the best to add to your Bruges tourist guide:
Antwerp – to experience a different Belgian city, I say make the hour and a half journey to Antwerp. This stylish city has a very different feel than Bruges, not least because it's five times the size. If you love culture or fashion, this is a great option.
Domburg – if the sun is shining (or you aren't deterred easily) then a trip to the seaside is one of my top day trips from Bruges. The picturesque town of Domburg is particularly popular with local holidaymakers, and has some great sandy beaches.
Lille – funnily enough, the closest day trip on this list is actually in France, not Belgium – but don't let that deter you. It takes just an hour to get to the picturesque little town of Lille. Although it is distinctly French in character, you may also notice that it has plenty of Flemish influence too.
In need of Bruges day trip inspiration?
Bruges Travel Guide: Basic Tips and Tricks for Making the Most of Your Stay
Top Bruges Travel Tips
A common piece of Bruges travel advice is to book in advance if you're visiting in summer – and oh boy, is it true. The city really struggles to deal with the number of tourists it receives, so make sure you snap up some good accommodation early.
If there are any "must sees" on your itinerary, check their opening hours. In particular, many restaurants close Sunday to Tuesday, while some attractions shut down during the month of January.
Although mild, Bruges' weather can be unpredictable. Don't just rely on general trends, but check the weather forecast before you go.
Tipping In Bruges
Tipping is not customary in Bruges or anywhere in Belgium. The bill that you receive will include VAT (tax) as well as a service charge, and it's fine not to pay anything else. That said, a small tip – around 5% or a couple of euros – is appreciated, especially if you feel the service was exceptional.
Facts About Bruges
You probably know that Bruges was the setting for the Colin Farrell film In Bruges. His overall grumpiness about Bruges doesn't seem to have deterred the crowds, however.
This year, Bruges has decided not to hold their usual ice sculpture festival or build the usual ice rink, due to climate change.
Bruges is a city that really values education – it's home to several world class educational institutions, and you can't leave school until you are eighteen years old.
Handy Phrases for Travelling to Bruges
The local language in Bruges is West Flemish, a unique language which is basically the same as Dutch. Luckily, English is widely spoken in Bruges – but you can win some brownie points with the following phrases.
Hey, oe est? (Hi, how are you?)
Klappe ghy Ingels? (Do you speak English?)
Merci (Thank you)
Santé (Cheers – when drinking beer)
Read More Bruges Travel Guides
Bruges Travel Guides and Tips
Read the full collection of Bruges travel guides and articles from The Discoveries Of.
Love This? Save and Share on Pinterest!