Compact and brimming with culture, Antwerp is northern Belgium's jewel. Planning a trip and want to know what to visit in Antwerp? Don't miss my guide to the best things to do in Antwerp for your trip.

Brimming with history and culture, Antwerp may be a compact city, but that doesn't mean that you are going to be short of things to do while you're there.
I recently took a solo jaunt to Antwerp, curious to see what Belgium's second city was all about. A short hop on the Eurostar to Brussels and a quick train transfer and there I was – ready to explore the best things to see in Antwerp.
During the course of my time in the city I walked, ate, drank and visited my way around all of the city's sights to create this guide for what to do in Antwerp. Here's what I found.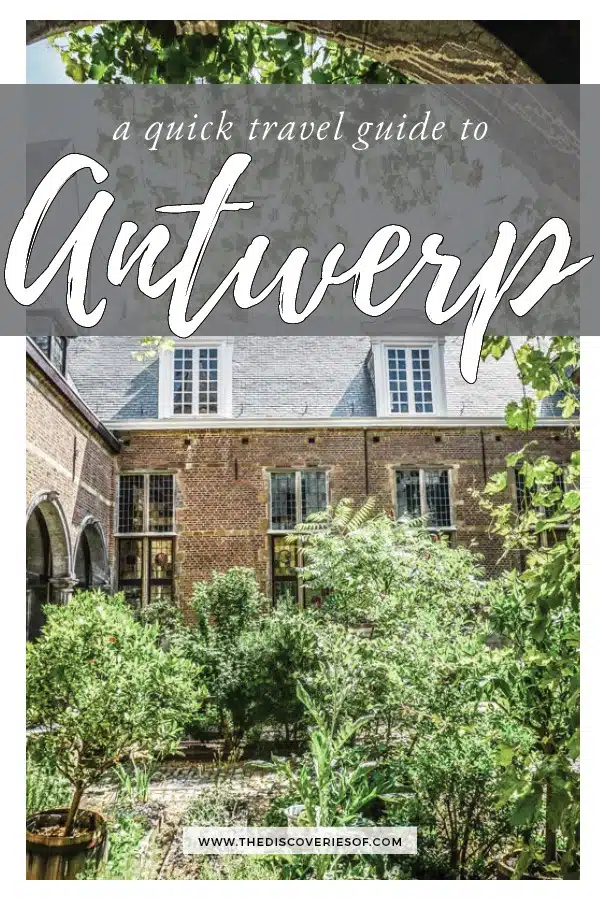 Looking for more European city break inspiration? You might also want to read…
Cool Things to do in Bruges
24 hours in Madrid
What to see in Luxembourg in three days
The perfect London two day itinerary
A day trip to Oxford
Top 10 Things to do in Antwerp: At a Glance
Antwerp Central
Rubenshuis
Grote Markt
Cathedral of Our Lady
Museum Aan de Stroom
Snijders & Rockoxhuis
Saint Carolus Borromeus Church
Museum Plantin Moretus
And more…
Antwerp Central
Antwerp certainly knows how to welcome visitors in style. Chances are you will begin your time in Antwerp in the glorious art-deco Antwerp Central station.
I was feeling pretty sleepy when I arrived in Antwerp thanks to an early start from London, but you can believe that I sat up and paid attention when I pulled into this station.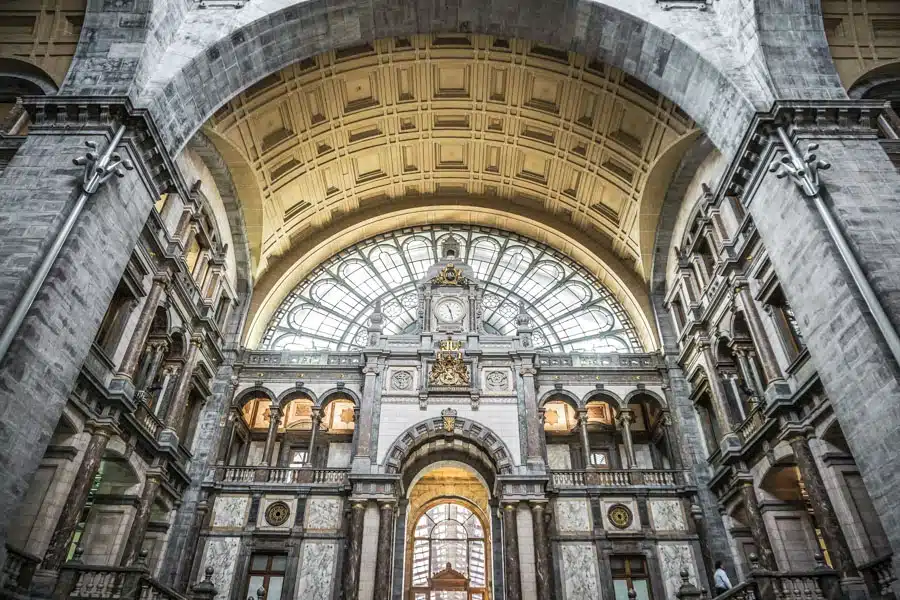 Antwerp Central is frequently named as one of the most beautiful train stations in the world. I think we can all see why.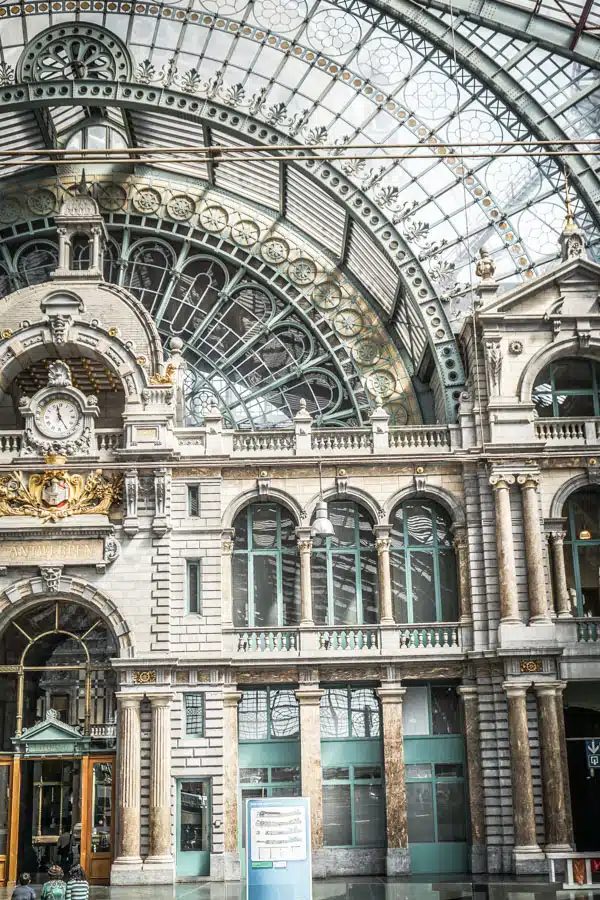 Even if you're not travelling by train, I'd recommend a visit to the station as one of the best things to do in Antwerp. Just don't forget your camera.
Recommended time to visit: 15 mins
Rubenshuis (Rubens House)
If you are going to come away from Antwerp knowing one thing, it is that Peter Paul Rubens lived and worked in Antwerp for the large majority of his life.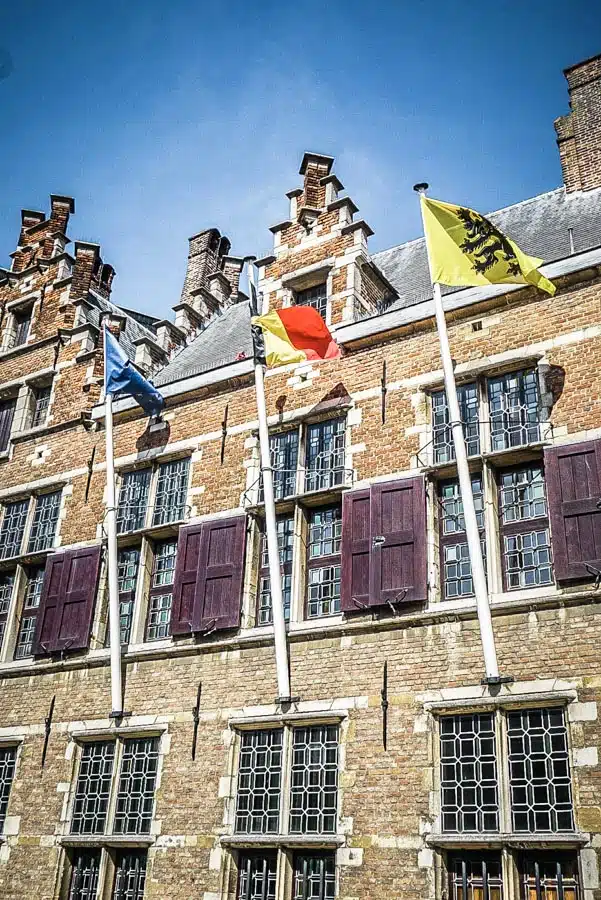 The city is very (very) proud of its association with Rubens – one of the great Flemish Masters and Baroque extraordinaire. You can barely turn a corner without coming across a place associated with Rubens in one way or another.
I couldn't exactly write an article about Antwerp's top 10 things to do without including Rubenshuis.
Rubenshuis stands at the pinnacle of Antwerp's Rubens-centred sights. The old mansion where Rubens lived and worked, hosted important dignitaries and generally set the art world alight makes for an interesting visit.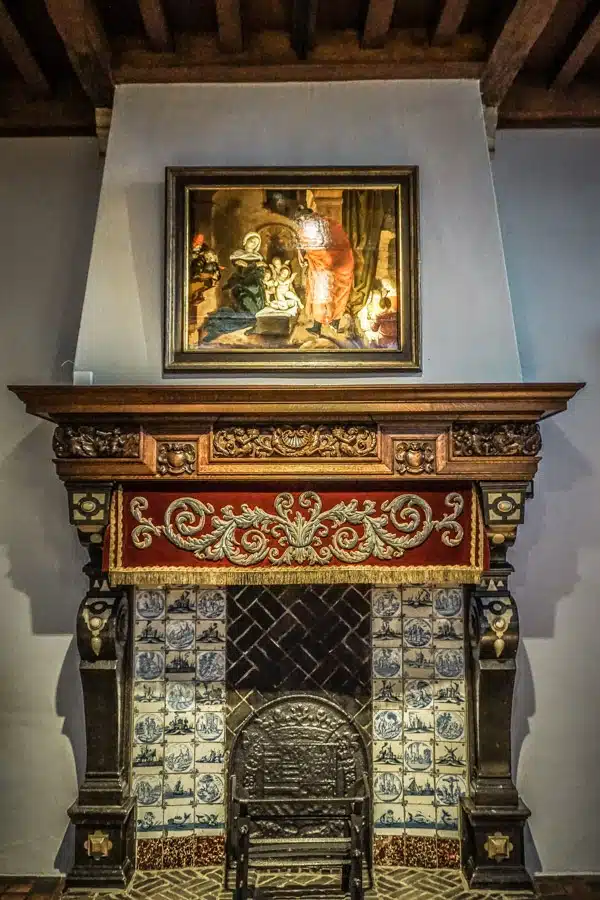 Walk in the footsteps of the master painter as you move from room to room.
The Rubenshuis boasts an extensive collection of fine arts by Rubens himself, as well as many pieces from the artist's private collection.
Recommended time to visit: 2 hours

Grote Markt
No self-respecting European city is worth anything without a grand central square and Antwerp does not disappoint. Let's forget the fact that it's actually triangular, the Grote Markt is home to the UNESCO World Heritage-designated City Hall.
Visiting this Flemish-Italian Renaissance building is one of the best things to do in Antwerp. Even if you don't, head over to Grote Markt for a peek at the exterior.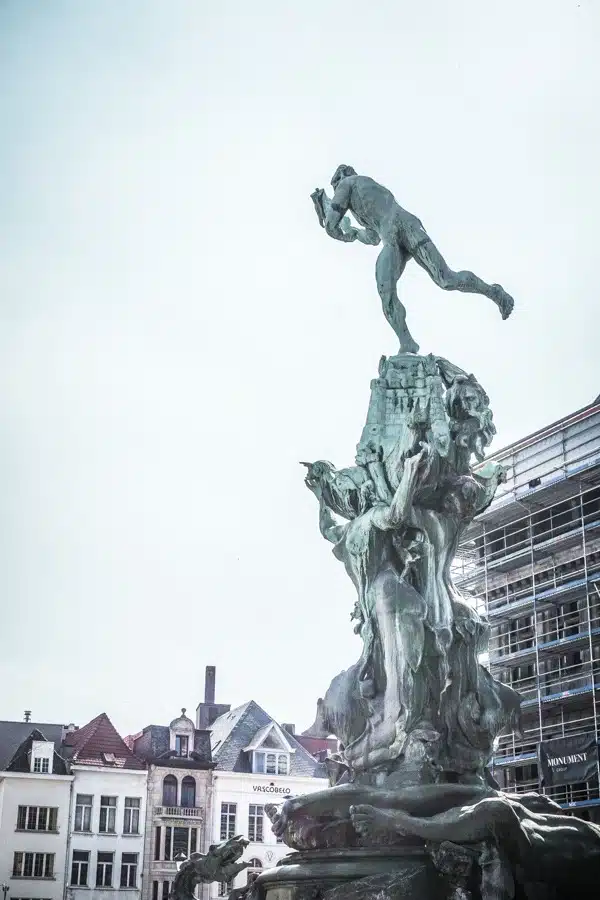 Grote Markt's other big draw is the Brabo statue that stands proudly in its centre. Who's Brabo? Brabo was a legendary giant who is the subject of a rather gory tale involving chopping off hands and the like. Only fitting really that he's depicted throwing a dismembered hand then.
Recommended time to visit: 15 minutes
Cathedral of Our Lady
You can't miss Antwerp's impressive Cathedral of Our Lady. 123 metres tall, it towers over the centre of the city, its spire visible pretty much everywhere you go.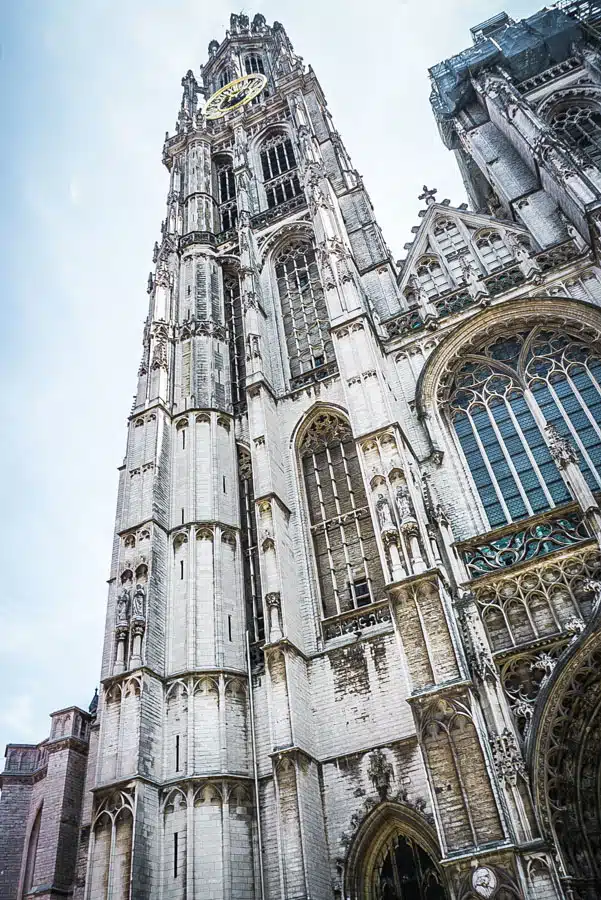 I love a Cathedral – Antwerp's is particularly gorgeous. It's no wonder that it's another of the city's UNESCO World Heritage sites.
The dominating Gothic architecture makes an impressive statement: when it was completed it was the biggest Gothic structure in the Low Countries.
If the Cathedral's exterior doesn't tell you that this was one of the most important cities in Europe, its interior certainly will.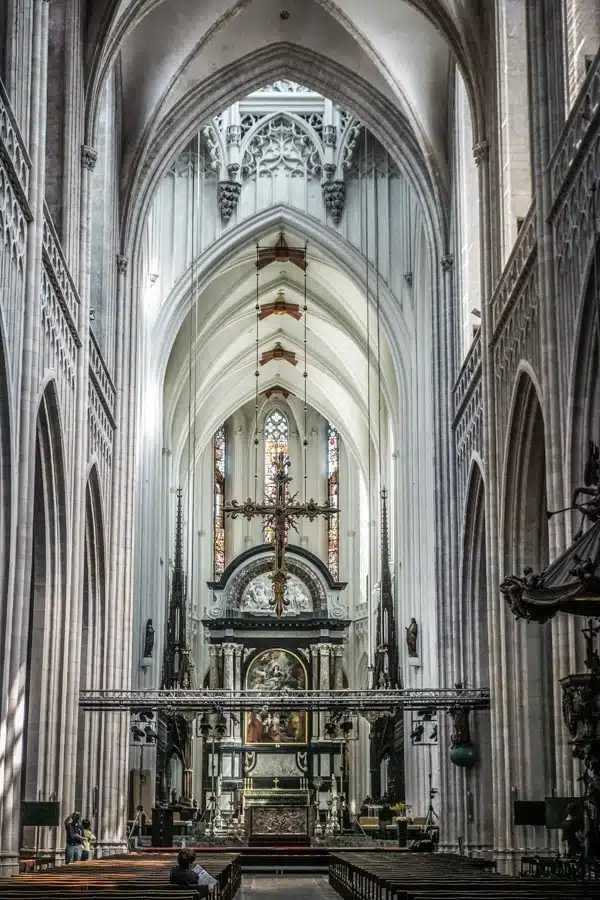 Filled with masterpieces by (go on, guess) Rubens and other painters, the inside of the Cathedral is as much a walk through the works of the great Flemish masters as it is a religious building.
Be warned, there are a lot of renovation works going on in on the cathedral's exterior at the moment but you can still take an awesome snap or two from the right spot.

Recommended time to visit: ½ hour
Museum Aan de Stroom (MAS)
Discover Antwerp's living history at the Museum Aan de Stroom (MAS for short). A towering redbrick building overlooking the river Scheldt – the museum is a striking sight in itself.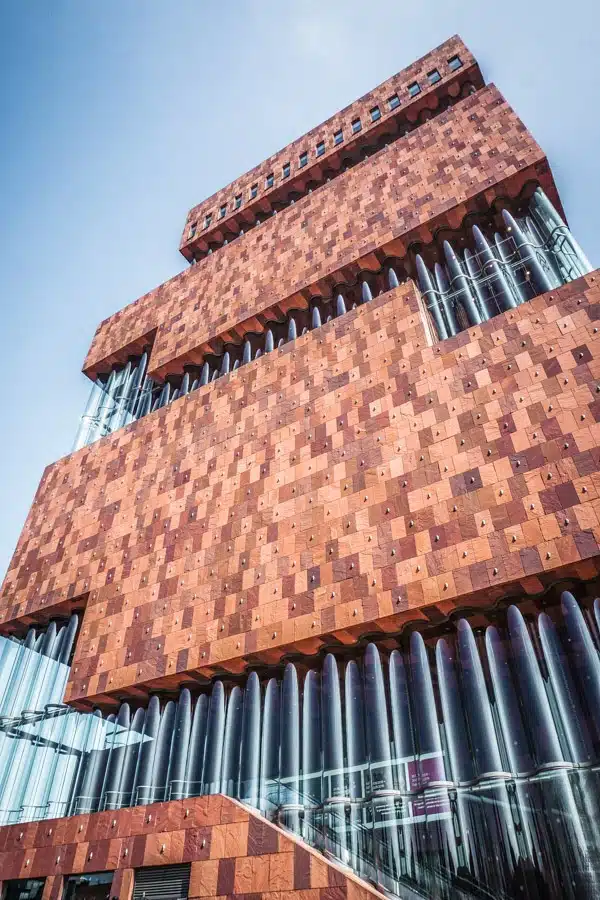 Hop on the elevators to the museum's roof to see the panorama of Antwerp spread out below. It's free to access the roof – but I'd recommend paying the entrance fee to go and see the museum's exhibits too.
MAS Museum tells the story of the city and the world: from its historical fairs to the snack shops that line the streets. You learn about the lives of Antwerp's inhabitants throughout the ages.
MAS also hosts an ever-changing range of temporary exhibitions. During my visit the temporary star of the show was Michaelina – Baroque's Leading Lady exhibition.
The exhibition features a collection of works by the rather enigmatic 17th century painter Michaelina Wautier. I'd highly recommend catching it if you can – it's on until September 2nd.
Recommended time to visit: 2-3 hours

Snijders & Rockoxhuis
What used to be the Rockox House has been expanded and rebranded as the Snijders & Rockoxhuis.
Both men were important figures in Antwerp's past – Snijders as a painter known for his still lifes and animal paintings, Rockox as a patron of the arts.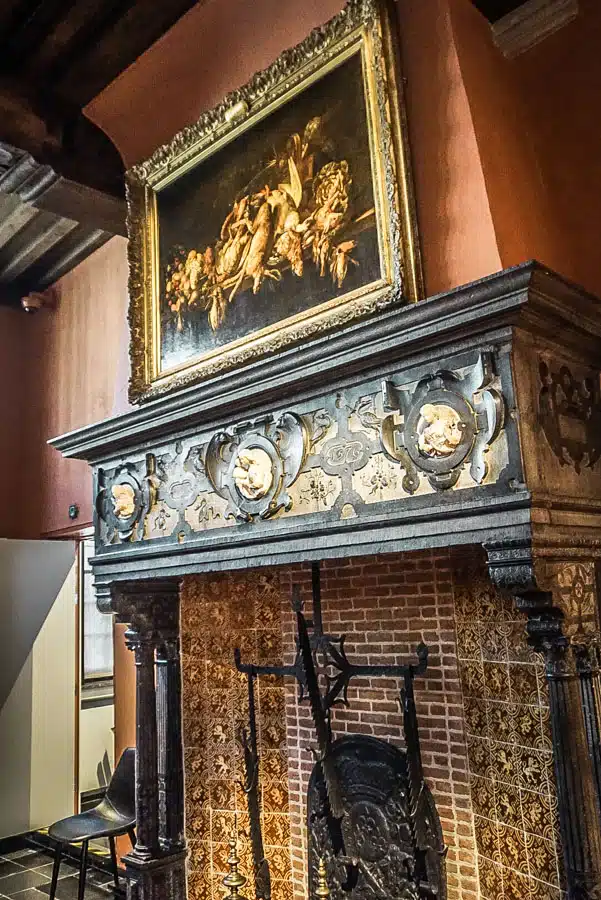 I wasn't sure what to expect from the Snijders & Rockoxhuis. I went in wondering if I really needed to see more works by Rubens and came out enthralled.
The museum exhibits artwork, furniture and other objects from the Baroque era – all interesting enough.
What really sets the Snijders & Rockoxhuis apart is its innovative use of technology that allows you to learn about the details and history behind all of the pieces in the museum.
You're given a pre-programmed tablet – simply point it at an exhibit and a full description appears, along with an interactive image you can tap to reveal the meaning of details you might otherwise have missed.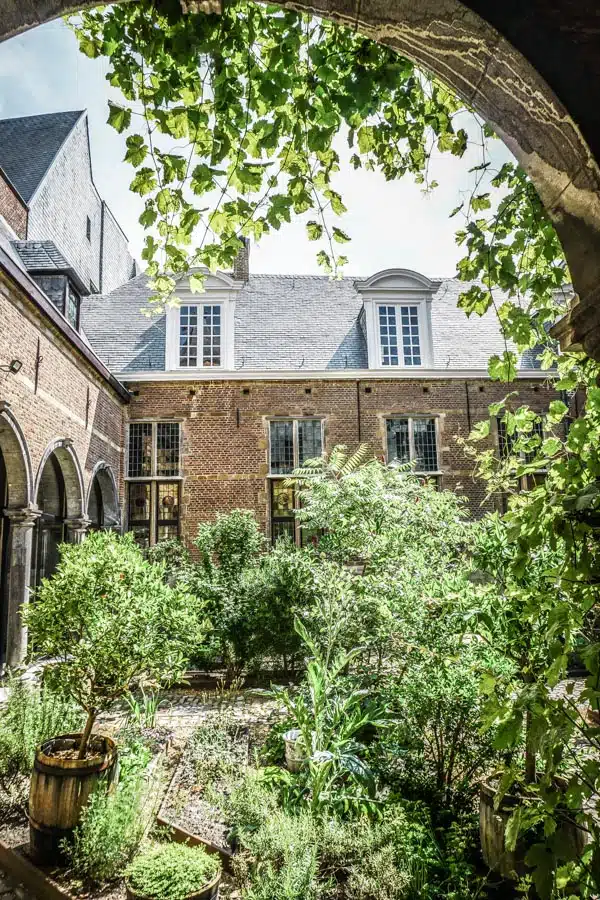 This interactive element really brought the museum to life. So much so that if you're wondering what to do in Antwerp in one or two days, I would totally recommend putting this firmly on your list.
Recommended time to visit: 1 ½ hours
Saint Carolus Borromeus Church
It's a tough call but I'm going to be the teeniest bit controversial and say that I preferred the Saint Carolus Borromeus Church to the Cathedral (say what?!).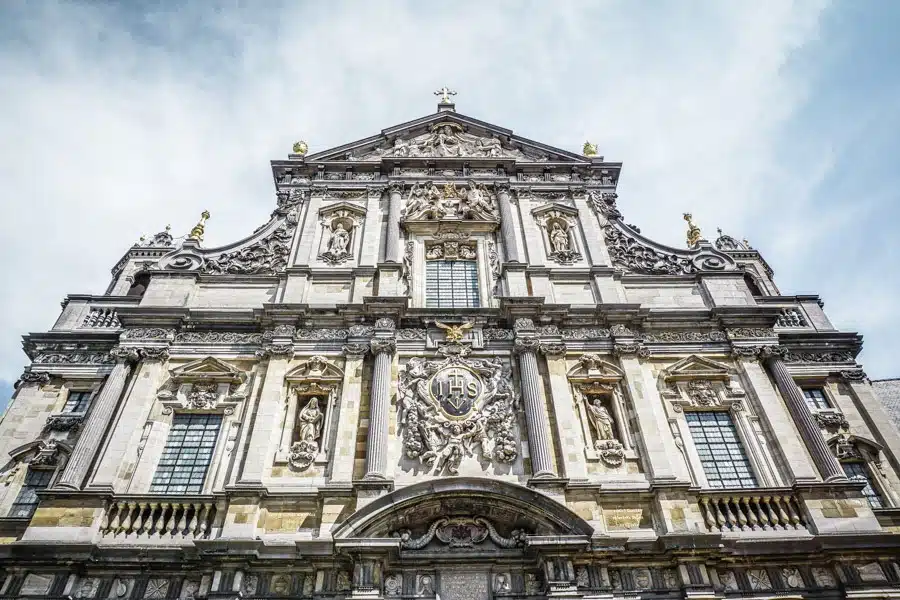 OK, the outside of Saint Carolus Borromeus doesn't hold a candle to the Cathedral's, but the inside is a sight to behold.
A decadent interior, rich in baroque detailing and exuberant expression, I was captivated from the moment that I walked through the door.
Is it too dramatic to call a church glorious? I'm going to say it anyway. This church is glorious! Don't forget to pop into the antechamber to spot more works by none other than Rubens himself.
Recommended time to visit: ½ hour
Plantin Moretus Museum
The UNESCO Heritage Plantin Moretus Museum is another museum in the house of one of Antwerp's important former inhabitants. This time Christopher Plantin.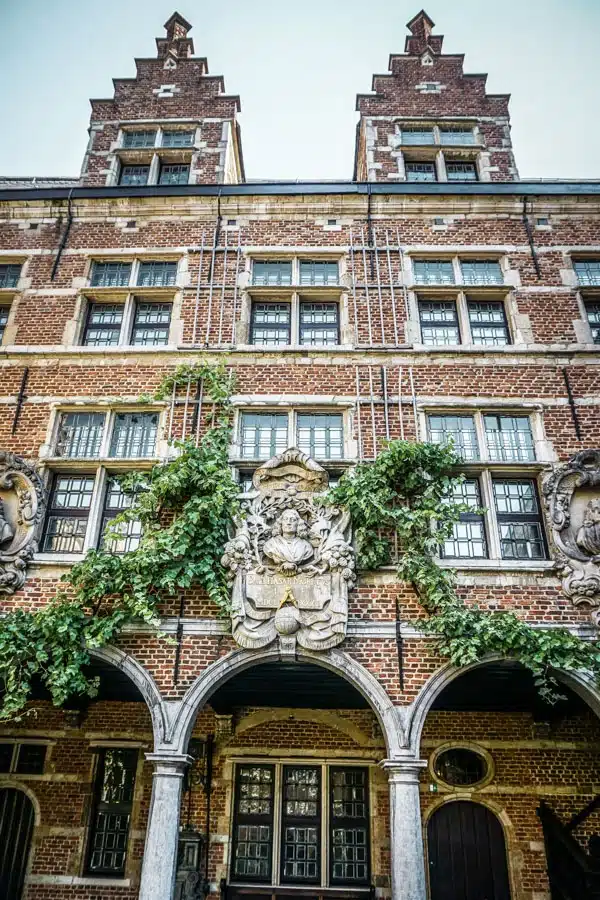 Unless you know a lot about the history of printing, I wouldn't blame you if you were wondering who Christopher Plantin and why you'd want to go to a museum dedicated to him.
The short answer is that Plantin founded the city's most important printing house. The museum isn't so much dedicated to him as a glimpse into the history of printing and Flemish life in the 16th century.
It's interesting enough for a quick spin, but I wouldn't allot too much time for this stop. In truth, I did think that the museum was a little, well, dry. Even as a dedicated bibliophile, there's only so much I ever want (or need) to know about the history of the printing press.
That said, Plantin was one of the city's wealthiest inhabitants – and it shows. The museum's well worth a visit if only for a glimpse at the sumptuous interiors alone.
Recommended time to visit: 1 hour

Groenplaats
It feels fitting that Rubens' statue sits in the heart of the Groenplaats, in the shadow of the Cathedral of Our Lady.
Apart from the statue, there isn't much to do per se on Groenplaats but during the summer months it's a hive of activity, with locals sitting outside drinking their Belgian beers in the sun and tourists buzzing between nearby sights.
Join the throng and spend a bit of time, beer in hand as you watch the world go by.

And More…
Unfortunately there were quite a few museums that were closed during my visit, so I didn't feel comfortable recommending them. I was pretty sad about missing both the Red Star Line Museum and The Royal Museum of Fine Arts.
The Red Star Line Museum reopens on the 21st September 2018 and the Royal Museum of Fine Arts reopens in 2020. Some of the Royal Museum's art is on display in the Cathedral, so you can still get a taste of what you've missed out on there.
---
Where to Eat and Drink in Antwerp
Butcher's Coffee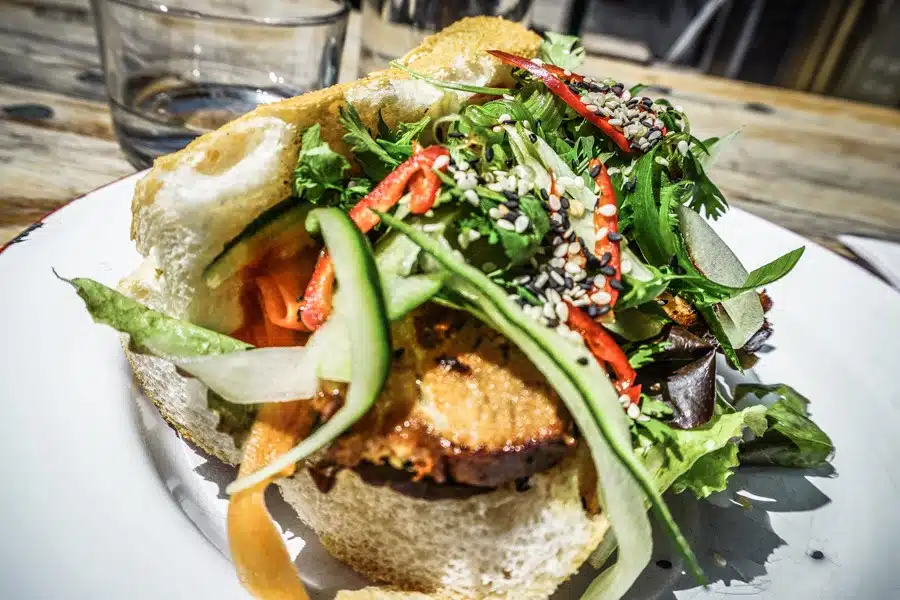 Antwerp isn't short on cool coffee shops serving perfectly-brewed cups of delight. I popped into Butcher's Coffee on a whim for a quick afternoon pick-me-up and ended up staying for lunch (an absolutely delightful Banh Mi – yum). Grab a spot on one of the outdoor benches if the sun is out.

Fiskebar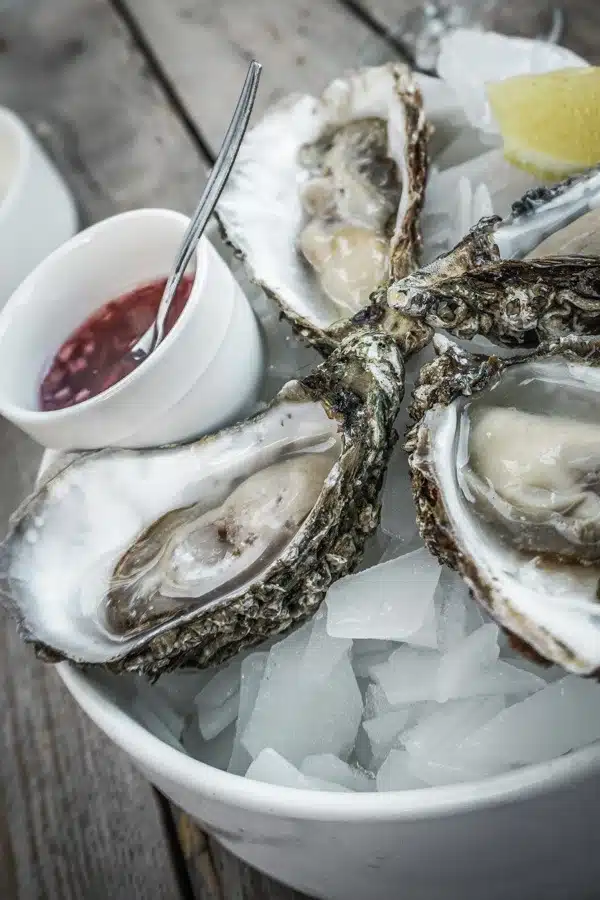 I'm a total sucker for some delicious fish and seafood. Fiskebar totally lived up to its reputation as one of the best restaurants in Antwerp during my visit. Start off with a few oysters then take your pick from the menu of super-fresh fish, bursting with flavour – perfection.
Bia Mara
The original might have its home in Dublin, but Antwerp's outpost of Bia Mara is a great place for a good value lunch in the centre of town. Fish and chips have been given a new lease of life. Cast off your ideas about a traditional cod and chips, how about panko crumbed fish or lime and lemongrass tempura fish with seaweed salted chips? It's every bit as tasty as it sounds.
---
Don't Forget to Pack
---
Need to Know: Practical Information for Planning What to Visit in Antwerp
There are a number of visitor centres dotted across Antwerp – one in Central Station and another in Grote Markt. You can pick up a free city map from the centres.
Most museums are closed on Mondays. Many of Antwerp's best things to do and see are museums, so it's worth taking this into account when you are planning your trip.
There aren't lots of free things to do in Antwerp but several museums are free on the last Wednesday of the month. Museums include the Snijders & Rockoxhuis, Museum Plantin Moretus, MAS and the Rubenshuis.
Download the handy Antwerp Museum app before you go. It includes audio tours of most of the city's museums. It's just like having a personal guide – leaving you to explore each museum at your own pace.
Getting to Antwerp
You can get to Antwerp via Eurostar or train to Brussels and then taking a short (30-40 minute) connecting train to Antwerp Central.
You can fly to Antwerp's own airport Antwerp Deurne or fly to Brussels International and connect from there. Check flights on Skyscanner.

Get an Antwerp Card
Antwerp isn't exactly an expensive city but if you are planning on visiting a number of museums and sights as I suggest, the costs do build up.
The Antwerp City Card is a great-value way to explore the city. The card gives you free access to all of the main museums, free access to public transport and discounts at other attractions such as Antwerp Zoo.
With the exception of the restaurants and bars (obviously) all of the things to do in Antwerp that I've covered in this article are free of charge with an Antwerp Card.

How much does an Antwerp Card Cost?
Suggested Stay – Hotel Pilar
The gorgeous Hotel Pilar is located in the trendy Het Zuid neighbourhood.
A boutique design hotel, the emphasis here is on relaxed luxury, with an eclectic but stylish range of rooms at reasonable prices.
The high-ceilinged rooms are filled with light, with touches of pure fabulousness – think gold geometric panelling and baths of near swimming pool proportions. I loved bedding down here during my time in Antwerp. Oh, and I should mention that the breakfasts are pretty wonderful too.

Check reviews and prices for Hotel Pilar
Alternatively, check all accommodation in Antwerp.

So there we are: the best things to do in Antwerp. I hope that you have a wonderful trip!
Don't miss these related travel guides
---
Love this? Save and share on Pinterest!