Nevis is a Caribbean island that exudes charm and personality. With a distinct cuisine that's shaped by the abundance of natural ingredients that grow on the island, here's a peek into the food and drinks you shouldn't miss while you are in Nevis.

I totally loved Nevis. So OK, it might measure just 36 square miles but don't be fooled by this island's small size.
Nevis lures visitors in with the promise of crystal clear waters, powdery sandy beaches and lush tropical vegetation – and then it charms them with its vibrant culture and totally delicious food.
Of course, the Caribbean is a great destination for flopping and dropping, but dig a little deeper and there's a lot more to see and eat.
Planning your trip to Nevis? You may also want to read…

Nevis travel guide: what to see and do on this Caribbean island

The best islands in the Caribbean for your next trip

Visiting the Nevis Heritage Village – A Walk into History
I visited just in time for the annual Nevis Mango & Food Festival.
The festival is a celebration of one of the island's most bountiful natural ingredients – mangoes – and is scheduled to coincide with the peak of mango season on the island. It's also a celebration of the culinary culture of the island in general.
It's held in a variety of locations around the island – with a number of local and international chefs hosting workshops, cooking demonstrations and special dinners where they marry local ingredients and recipes, sometimes with a dash of international cuisine too.
Here are the culinary experiences you shouldn't miss on the island.

Mangoes
Nevis during peak mango season is a sight to behold. Mango trees stand by the side of the streets, in everyone's backyards, laden with ripe fruit.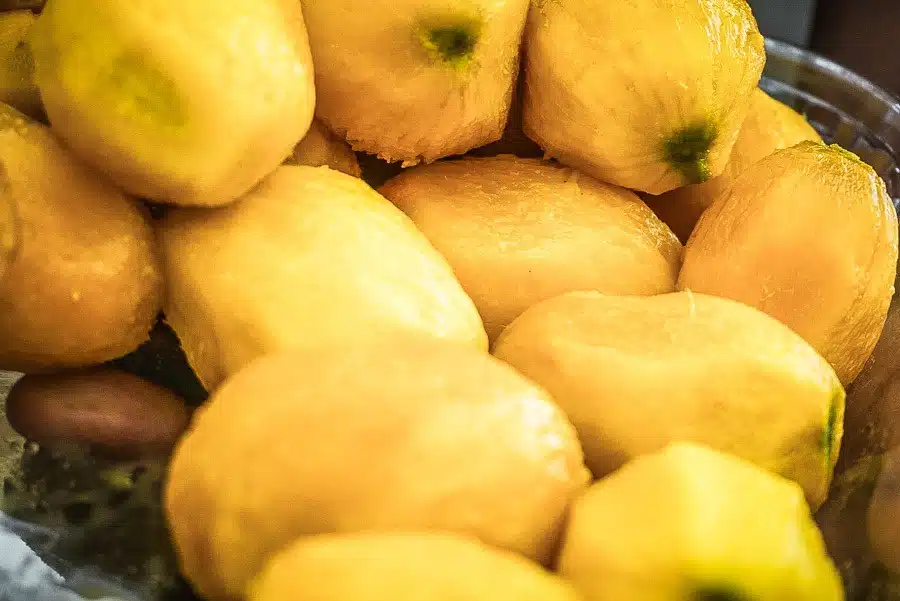 Monkeys wait in the shade of the tree, waiting for that perfect moment when the mango is ripe – sweet and soft but before it turns to a mushy pulp. If they're lucky, the island's inhabitants will get there before the monkeys do.
With so many mangoes on the island, it's no wonder that the fruit finds its way into many of the island's dishes.
Llewelyn's hot mango and pepper sauce, cubes of mango tossed in a salad to go with some mahi mahi, or just eaten on its own – you can barely move an inch without coming across a mango in one guise or another, and why would you want to?

Did you know…

That more than 100 varieties of mango grow on Nevis. Each variety has its own unique flavour and texture. Here are a few to watch out for.

Julie Mango
This grafted mango is sweet and firm. It's my personal favourite mango (and no, not just because of its name). It's great for slicing and eating, or, if you're willing to get your hands a bit messy, peeling and munching.

Graham Mango
Another local favourite – the Graham mango is a tiny bit tarter than the Julie mango but is great to eat just as it is too.

Amory Poly Mango
This is the island's favourite mango and the most expensive to buy on Nevis. It's very sweet and perfumed, with a nice texture (not hairy) – it's also one you're less likely to find at home so you should hunt it out if you can.
Killer Bee at Sunshine's Beach Bar & Grill
Probably Nevis's most famous cocktail, Killer Bees are served up long, cold and refreshing at Sunshine's Beach Bar and Grill – they're the ultimate summery cocktail. If you only have one cocktail while you are on Nevis, this should be it.
A returning visitor enthused about Killer Bees on the plane, locals mentioned it several times – by the time I got to try it, my curiosity was well and truly piqued.
Once I did, I totally got what all the fuss was about. Sunshine never discloses the exact recipe, but the combination of passion fruit, honey, rum, orange juice and other ingredients is one of the definitive tastes of the island.
Just watch out, true to their name, Killer Bee's have a sting in their tail.

Mahi Mahi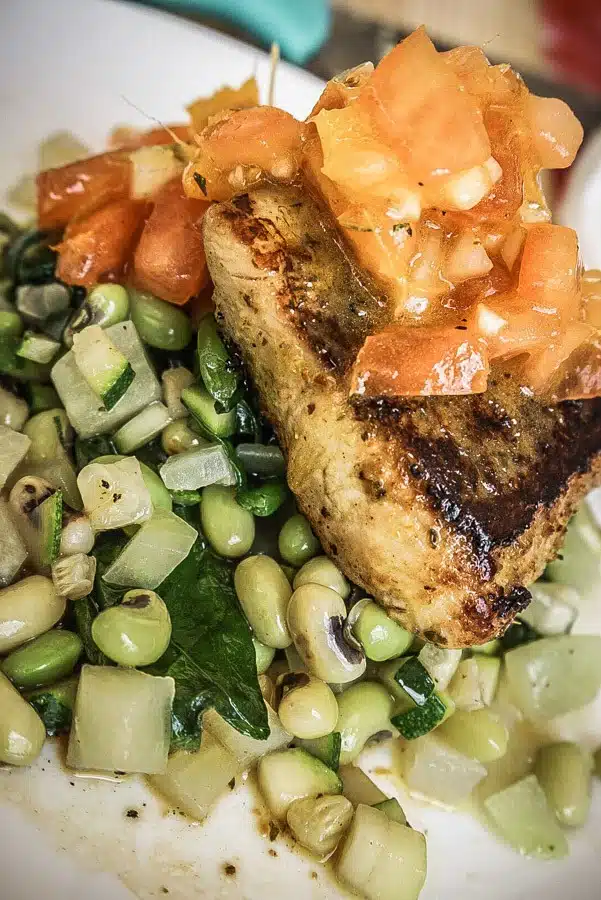 Mahi mahi is one of the mainstays of the island's cuisine – a tropical fish that is served up fresh from the boat each day.
Mahi mahi translates in Hawaiian to strong strong – this large fish is fast and firm and makes a great base for a simple dish with a tropical salsa (with mango of course).

Goatwater Stew
Goatwater might sound a bit odd but trust me when I say that it is delicious. Made with goat and breadfruit, along with some papaya and dumplings – it's a rich and hearty stew that is served in rather alarmingly large portions. Leave lots of space.

Fruit
Mango season might be one of the island's favourite times of year, but it's just one slot in the annual fruit growing calendar. There's barely a tropical fruit that doesn't grow on Nevis.
Bananas, passion fruit, starfruit and breadfruit are popular options – there's nothing better than a tropical fruit salad to start your day.

Macaroni Pie
Love Macaroni Cheese? Wait until you try Macaroni Pie, which I can only describe as Macaroni Cheese on crack. So what makes it so special?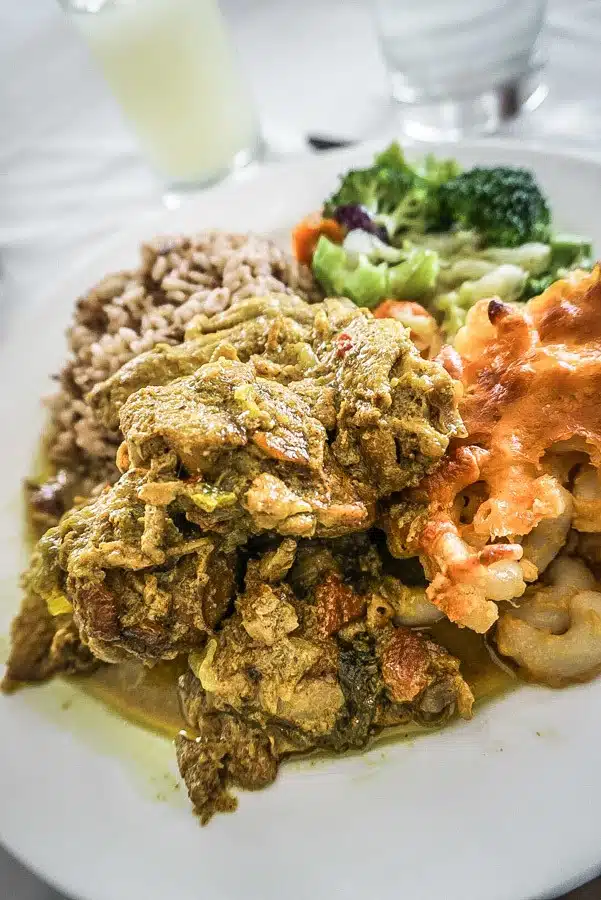 To be honest, it's the addition of evaporated milk into the mix, which lend it an additional level of gooey indulgence and decadence. Not one to pick if you're on a diet, but with something this delicious, who cares.
Curried Chicken
No, not an Indian curry. West Indian curry is one of my favourite foods (probably because it always reminds me of my Grandmother's cooking). Chicken is marinated in curry spices and then cooked until tender and falling off the bone. You have to try it.
Rum Punch
You can't come to the Caribbean and not have a Rum Punch or three.
Although each bar makes their own variation, it's generally a mix of ingredients in the proportions of one part sour, two parts sweet and three parts rum.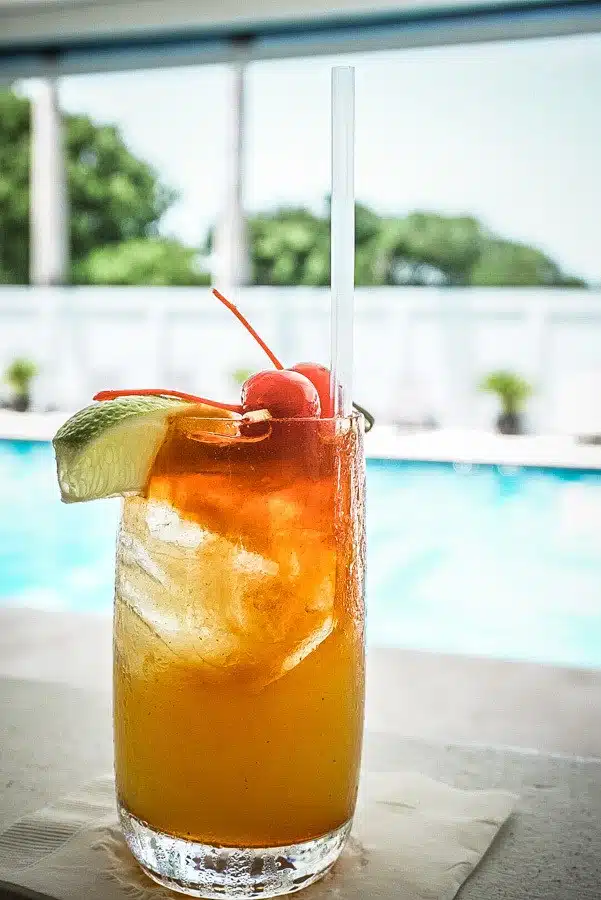 The rum has to be golden rum, the sour is normally lime and/or orange juice and the sweet a simple syrup made with brown sugar. Finish with a flourish of grated nutmeg and some Angostura bitters. So. Much. Tasty.

Spiny Lobster
You can find Spiny Lobsters, or Rock Lobsters on many spots on the island. With a firmer texture and slightly less rich flavour than New England Lobsters, Spiny Lobster works incredibly well with the tropical flavours found on Nevis.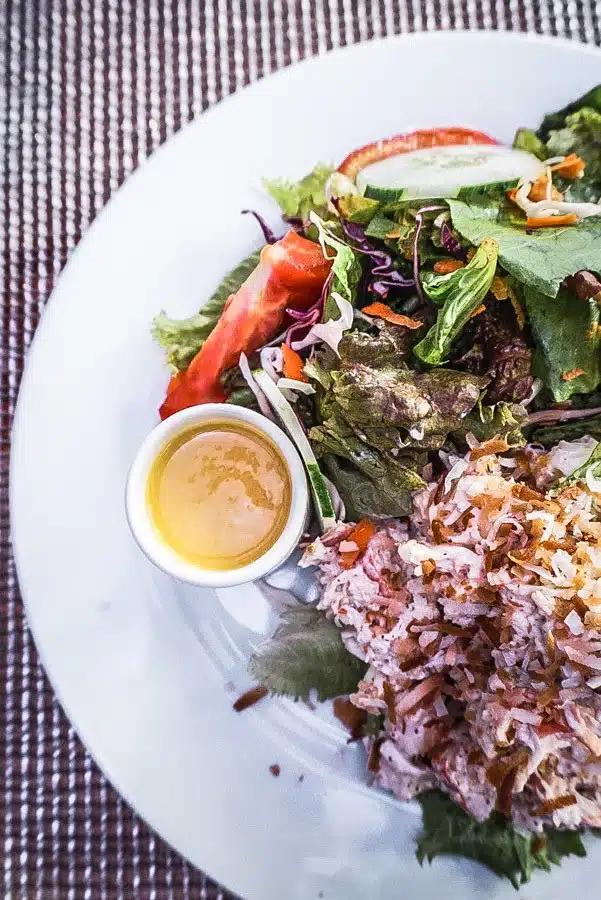 Head to Golden Rock Inn for their decadent spiny lobster salad – you won't regret it.

Hog Roast
Angostura for the carnivores, a hog roast is kind of a big deal on the island. Now, you might be able to inveigle your way into a local's backyard roast – but no worries if you don't.
Each Wednesday, The Hermitage Plantation Inn cooks up a hog roast, accompanied by lots of local specialities. The setting is magical, the food is divine.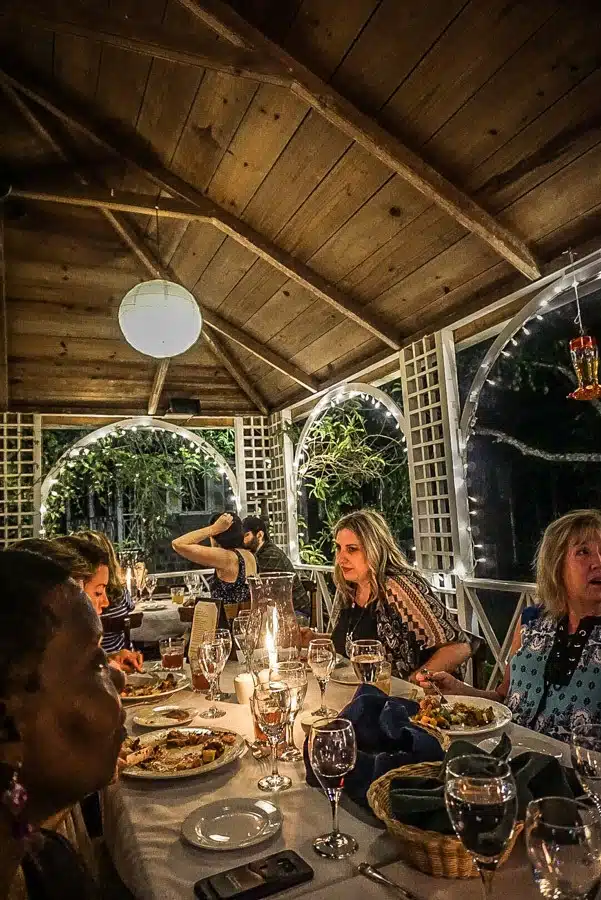 I was hosted on my trip to Nevis by the Nevis Tourism Authority. As ever, my views and opinions are well and truly my own.