Buza Bar is one of the best bars in Dubrovnik and a must for anyone visiting the city. Here's what you need to know before you go.
Heading to Dubrovnik? You're in for a treat.
This walled city, resplendent in white marble and stone rising from the deep blue of the Adriatic Sea is one of the most beautiful in Europe.
Dubrovnik is also a city that knows how to party… Ask anyone in the know about Croatia's nightlife and they'll give you an enigmatic smile – the type that suggests you're in for a very pleasant surprise.
You are. Whether you're into lounging around, cocktail in hand and catching up with friends old and new, or dancing in the club until the break of dawn, Dubrovnik has you covered.
Read more of my Croatia travel guides:

The Best Things to do in Dubrovnik

Three Days in Dubrovnik

The Perfect Croatia Travel Itinerary

Game of Thrones Self Guided Tour of Dubrovnik

Hidden Gems in Dubrovnik

Zagreb: 24 Hours in Croatia's Capital

Buza Bar Is About to Become Your Favourite Bar in Dubrovnik
Even with all of this, Buza Bar was hands down my favourite bar in Dubrovnik.
What makes Buza Bar so special? Three words. Location, location, location.
It can be a bit of a task finding Buza Bar and when you do, the hole in the wall entrance doesn't give anything away.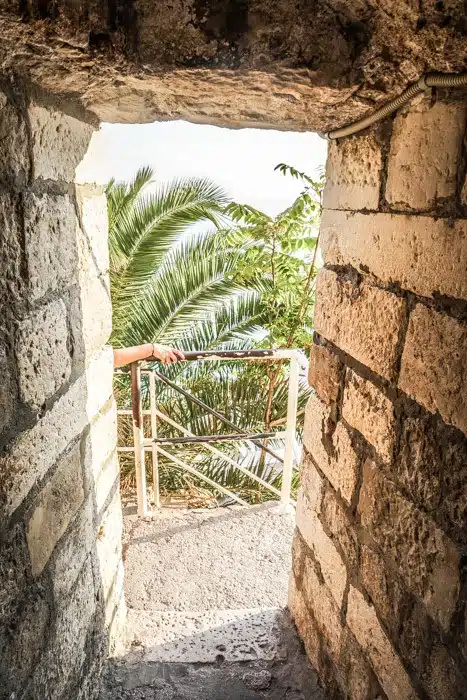 Tucked away in a small archway in the side of the city walls marked only by a small sign simply reading "bar", there's not much to see from the pavement. A glimpse of palm leaves waving gently in the breeze – if you're lucky, you may even catch a riff of music or two.
Yet when you go inside, Buza starts to reveal itself, level after level of small concrete terraces supporting small huddles of tables and chairs. All facing outwards to the real star of the show: the views of Lokrum island and the unwavering cerulean of the Adriatic Sea.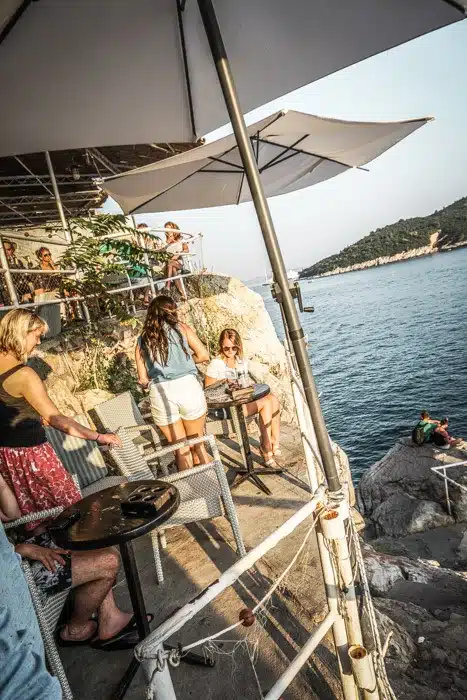 We spotted a couple of spare chairs a couple of levels down, a bit of kind repositioning from the two girls sitting next to us and we had the perfect spot, ready for a few hours of chilled drinks with some of the most beautiful views in Dubrovnik.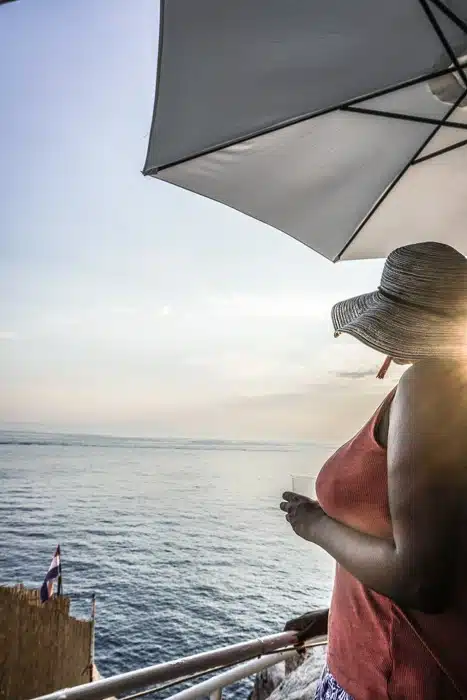 Cocktails and Cliff Jumping?
Buza is also one of Dubrovnik's popular cliff-jumping spots – those up to the challenge of plunging off the cliffs and into the water couldn't choose a better location.
There's a captive audience more than willing to cheer you on and you can reward yourself with a well-deserved drink once you finish.
Every few minutes, we'd hear a big splash (or a smooth ripple depending on the skills of the particular jumper) as another person braved the jump.
Sunset at Buza Bar
I'd been impressed from the get-go but as the sun started to set, the cocktail bar took on another life. The views really were incredible. It was *dare I say it* magical.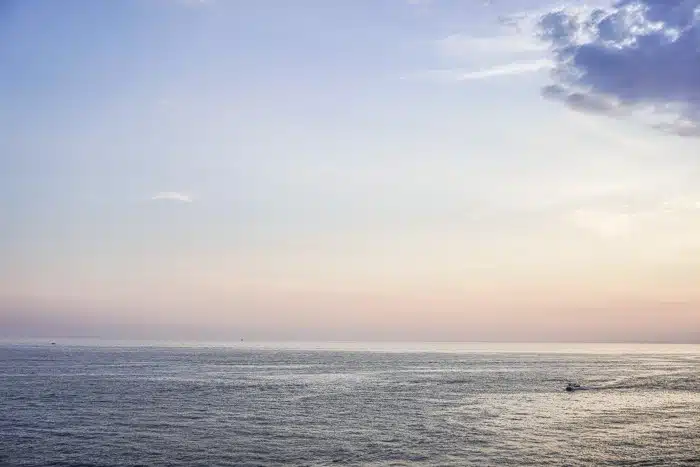 The sun painted the water with its rosy hues. The sea perfectly still apart from the fluorescent yellow kayaks of adventurers returning back to the city after a day on the water, rippling through the glassy water.
And all the while, we relaxed, with music in the background and a warm breeze tickling our cheeks.
Hopping up to get a refill (there is table service but it's patchy and you might die of thirst before your next drink arrives. Staring at the sunset, chatting to the Australian couple living in London who were also visiting Dubrovnik for a few days.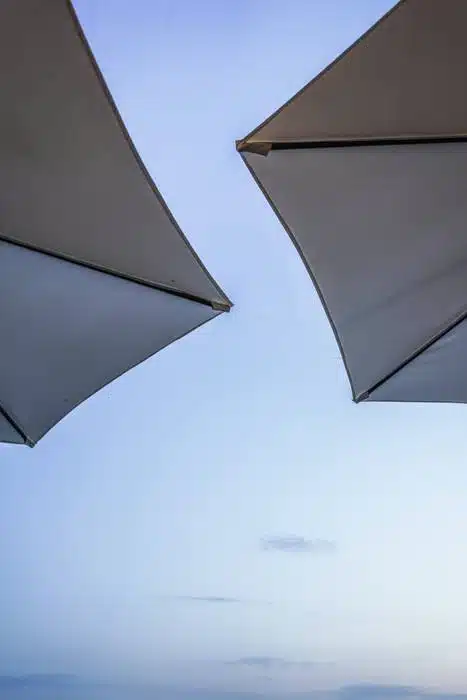 No, Buza Bar isn't the hidden spot it once was – the secret is well and truly out of the bag and it's on many a visitor's list of things to do in Dubrovnik, but once you visit, you really won't care.
What's the Service Like?
Pretty friendly considering that they were rushed off their feet the whole time we were there. There is table service but it's sporadic and very slow – you're better off going to the bar for your drinks.
Is Buza Bar Expensive?
If Buza Bar were in London, we all know that it would be eye-wateringly expensive.
As someone who's still reeling from the shock of paying £25 for a standard cocktail at the Shangri La in The Shard, I was surprised to see that the prices at Buza Bar were completely reasonable.
A small bottle of wine cost around 60 kunas, while a local beer was around 44. Yes, it's pricier than other spots in Dubrovnik but not crazily so.

Is Buza Bar Worth the Money?
Depends on what you are looking for…
Are the drinks brilliant? No.
Both my white and rose wines were warm and clearly hadn't been in the fridge very long. They'd sold out of red wine, so the barman advised me to go for a beer as that was the only cold drink they had.
Is it going to be the cheapest place to drink in Dubrovnik? No again.
Is it worth it? Yes. The views are really too good to pass up, the staff were friendly and the crowd was too.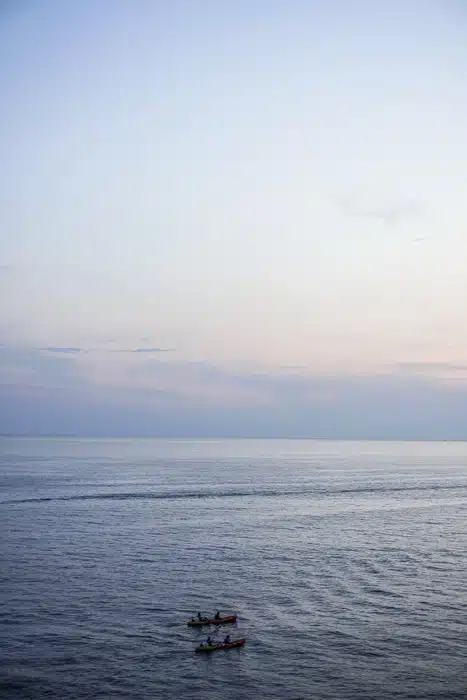 At the end of the day, the views are worth the money alone.

Visiting Buza Bar Dubrovnik: Top Tip
Get there in the early evening, at least 45 minutes before sunset if you want to get a seat.
I hopped off the boat from the island of Lokrum and made a beeline to Buza at around 6pm (in August).
It was early enough to nab a chair and table straight away, but when I glanced around fifteen minutes later, there wasn't a spare chair to be found and the bar had filled up quite a bit.

Practical Information: Address, Telephone and Map
Crijevićeva ul. 9, 20000, Dubrovnik
Telephone: 095 883 1750