Discover everything you need to know about visiting Plitvice Lakes National Park in Croatia – when to visit, a brief history and the best walking trails for you to check out.
Looking for a breathtaking natural wonder that will leave you speechless? Say no more – Plitvice Lakes National Park in Croatia has got it covered.
I heard about Plitvice during my time in Zagreb a few years ago. Unfortunately, that visit was too short to work the national park into my trip… but it was enough to more than convince me to make it a priority the next time I visited Croatia.
And I did. Here's why you should too.
Why Should I Visit Plitvice Lakes National Park?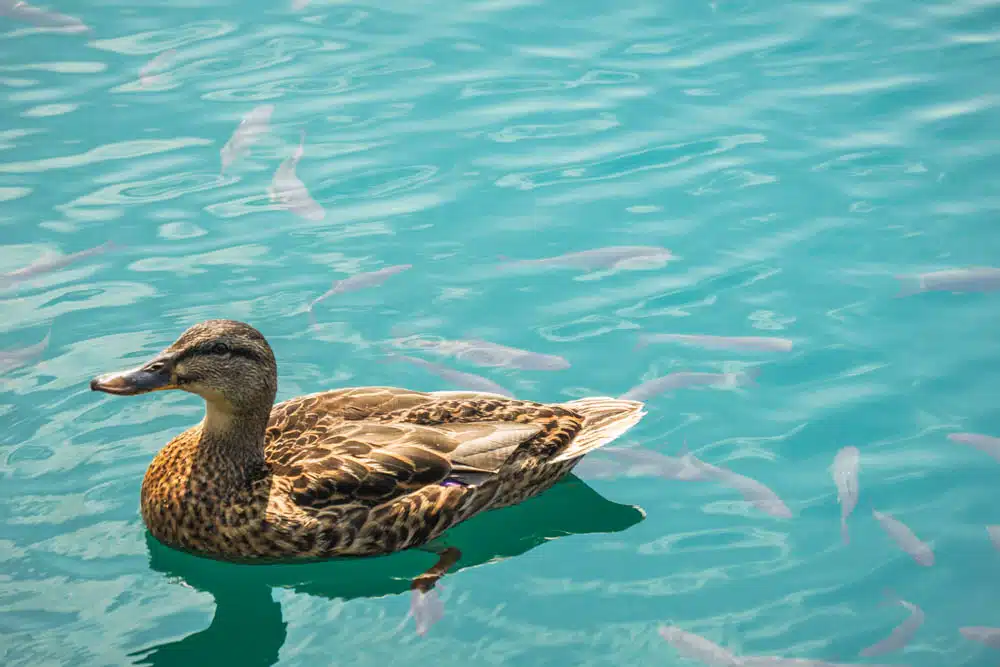 To put it quite simply, you should visit Plitvice Lakes because Croatia's first National Park is also hands-down one of its most beautiful places.
Nestled in the lush forested mountains of central Croatia, Plitvice Lakes is a must-visit destination for nature lovers and outdoor enthusiasts. The park is a wonderland of crystal-clear waters, vibrant flora and fauna, and dramatic limestone cliffs
There are a lot of places all over the world that are described as something special. But believe me when I say, Plitvice Lakes National Park is really special.
Read Next: 10 Days in Croatia – How to Plan Your Trip
A Brief History of Plitvice Lakes National Park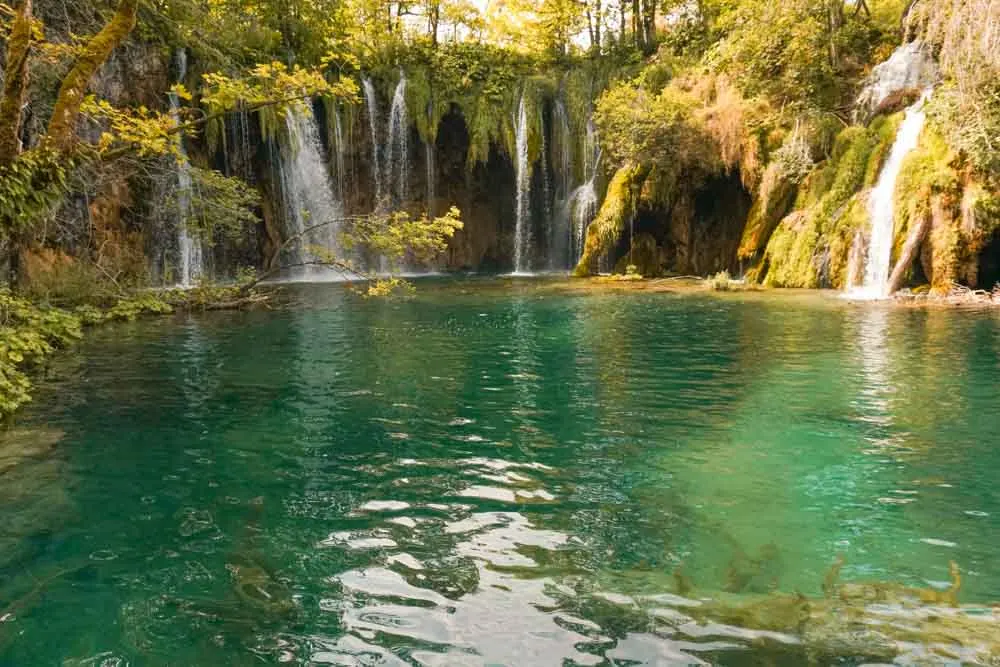 The Plitvice Lakes National Park was declared Croatia's first National Park back in 1949. Of course, the geology of the park is way, way older.
The main feature of the park's staggering beauty is its lakes – 16 in total. They are all interconnected, snaking their way through the park.
While the lakes are the most famous feature – hence the name – they actually only cover about 1% of the total park area. The rest is dense forest, with walking trails throughout.
Plitvice Lakes is highly unique because of the structure of the earth. The ground is heavy in limestone, and movement of the earth formed "tufa" barriers that directed water.
Gradually, over thousands of years, the water wore away at the earth, creating deep lakes.
The result is a national park that is absolutely spectacular and highly unique.
In order to allow local and international visitors to soak in the sights, it was declared Croatia's first National Park back in 1949. It is also the country's largest.
In 1979, Plitvice Lakes Croatia got an even bigger honour when it was placed on the UNESCO World Heritage List.
This helped to increase its international profile and today it draws in visitors from all over the world to come and be dazzled by it – and inspire more than its fair share of beautiful lake quotes.

How Much is the Entrance Fee to Plitvice Lakes National Park?
The Plitvice Lakes tickets situation is a little complicated.
To make sure that the park isn't damaged by tourism, entry is regulated and limited to a certain number of tickets every day.
As a result, it's highly recommended that you book your tickets ahead of time. You'll need to book them for a particular day and entrance time, so make sure to firm up those plans before you book.
You can buy either a one day or a two day ticket. The two day ticket is much better value, and while there is no set answer for how long it takes to visit Plitvice Lakes, two days gives you ample time to explore.
It's also worth noting that the price for visiting Plitvice Lakes depends on what time of year you are making your trip.
One Day Tickets to Plitvice Lakes National Park
| | | |
| --- | --- | --- |
| Months | Adult Tickets | Child Tickets |
| January – March, November and December | 10 Euro | 4.50 Euro |
| April, May and October | 23.50 Euro | 6.50 Euro |
| June, July, August and September | 40 Euro | 16 Euro |
Two Day Tickets to Plitvice Lakes National Park
| | | |
| --- | --- | --- |
| Months | Adult Tickets | Child Tickets |
| January – March, November and December | 15.50 Euro | 7.50 Euro |
| April, May and October | 39.50 Euro | 10 Euro |
| June, July, August and September | 59.70 Euro | 22 Euro |
While the prices to enter the National Park might seem a little steep, they do have quite a few inclusions. As well as entry to the park, you get a sightseeing tour in a vehicle and a boat ride, as well as accident insurance.
Top tip: discounts are available for concessions and students. If you're purchasing tickets on the day, remember to bring the relevant ID with you.
The Walking Routes Through Plitvice Lakes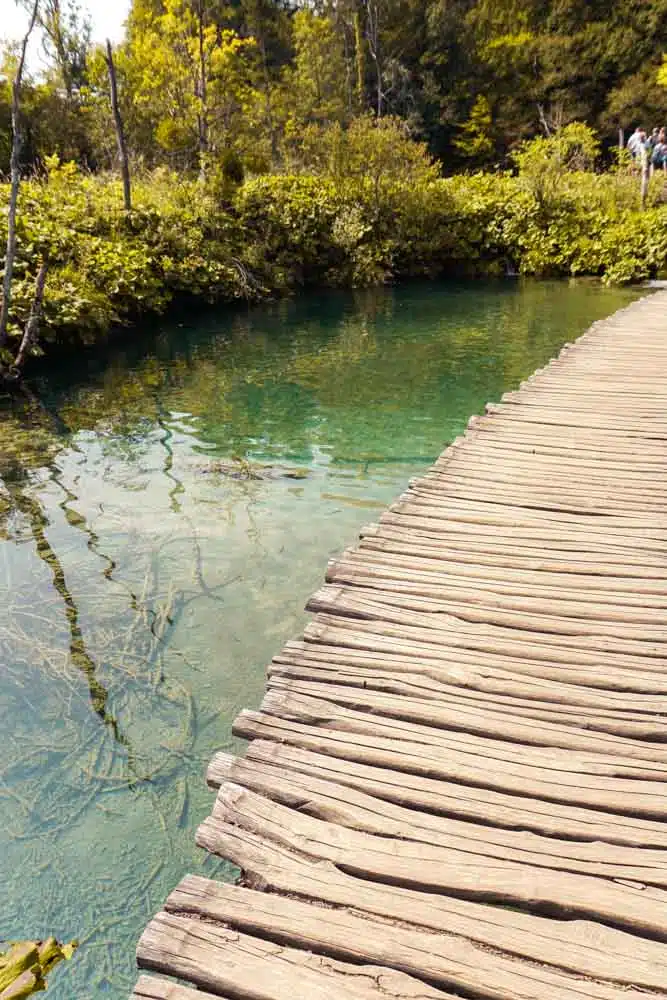 There are a total of eight well-known Plitvice Lakes walking routes. They can be divided up into the top lakes and the lower lakes trails.
Lower Lakes Walking Routes
The Lower Lakes walking routes tend to be the most popular, and all begin from Entrance 1.
Trail A
This is an easy 3.5 kilometre hike that starts and finishes at Entrance 1. It should take around 2.5 – 3 hours to walk the total trail.

On this trail, you'll go past the Great Waterfall and to Kozjaka Bridge. It only takes in the Lower Lakes, but it is really beautiful.

This is pretty good bang for your buck, meaning you'll see some amazing things without breaking out too much of a sweat.

While most people choose to hike back to the starting point, there's also a shuttle bus which is great for families or people with mobility issues.
Trail B
Trail B follows a similar route to Trail A, but it continues across Lake Kozjaka. The benefit of this is that you get to take a sailing boat ride on Lake Kozjaka.

Like with Trail A, you can either hike back up to the entrance to enjoy a little more of the scenery, or get the shuttle bus.

In total, this route is 4 kilometres long and usually takes around 4 hours to complete.
Trail C
This trail covers the same ground as A and B, and then continues on to take in more of the park.

Specifically, once you cross over the river by sailboat you continue on – taking in three more of the lakes in the upper section of the park. This means you get a good variety on this trail.

This hike is a little more challenging, and you'll probably want to have some level of fitness or experience before you try it. In total, it's 8 kilometres long and takes about 4 – 6 hours to complete.
Trail K1
If you're feeling brave and want to take in as much as you can from Entrance 1, you'll want to follow the signs for the Trail K1.

It's the longest trail from Entrance 1, covering just over 16 kilometres. Parts of this hike are quite demanding – long sections uphill and some very uneven terrain – so it's best suited to more experienced hikers.

Those who do take this trail will be treated to the most complete tour of the Lower Lakes. As well as everything that trails A, B and C take in, this also hikes around the Proscansko Jezero.

This is a full day hike, usually taking between 6 and 8 hours to finish.
Upper Lakes Walking Routes
These trails begin from Entrance 2, also known as the South Entrance. They tend to be less busy in the peak season, so are a good option if you're looking to escape the crowds.
Trail E
If you're looking for an upper lakes walking route that won't totally tucker you out, Trail E is a great choice.

In total, Trail E is 5.2 kilometres long. The terrain is fairly easy, and most people complete this hike in around 2 – 3 hours, making it the shortest hike from Entrance 2.

The hike begins with a boat ride across Kozjak Lake, before you start the hike around the upper lakes. You'll also get as far as the Poscansko Jezero.

From the end of the trail, you can either hike back or there is a shuttle bus if your feet have had enough.
Trail F
Although Trail F is the shortest hike in terms of distance, the terrain is a little more challenging so it is longer in time than Trail E.

In total, this trail is 4.6 kilometres long and usually takes about 3 – 4 hours to complete.

In that time, you'll be treated to a beautiful view of the upper lakes. The trail begins with a long boat ride across Kozjak Lake.

From there, the trail crosses the Kozjak Bridge and makes its way past the Great Waterfall, which is a particularly dashing highlight.

At the end of the trail, if you walk a little further you'll find the shuttle bus stop which can bring you back to the entrance. It's possible to walk, but it will add on a lot of time and you'll just be backtracking.
Trail H
One of the quieter trails (although they all get pretty busy in peak season), Trail H begins with a bus ride to your starting point.

From here, you'll walk to Kozjak Lake and sail across it before exploring some of the Lower Lakes and visiting the Great Waterfall.

In total, Trail H is 8.9 kilometres long and is usually finished in about 4 – 6 hours depending on your speed. And how much time you spend chasing that perfect shot (so a lot of time, in my case.)

At the end, you get the shuttle bus back to the entrance to avoid backtracking.
Trail K2
The longest and most comprehensive trail starting from Entrance 2, Trail K2 – unsurprisingly – covers a lot of the same ground as K1. It just has a different starting point.

Taking this trail will allow you to take in most of the highlights of the park since it's pretty extensive.

The total distance is 18.3 kilometres, and you should leave the whole day as it takes around 6 – 8 hours to complete.

Parts of this trail are pretty demanding, so like K1, it's probably best to hit the gym or at least the pavement before you leave home in preparation for it.
Which Walking Route Should I Choose?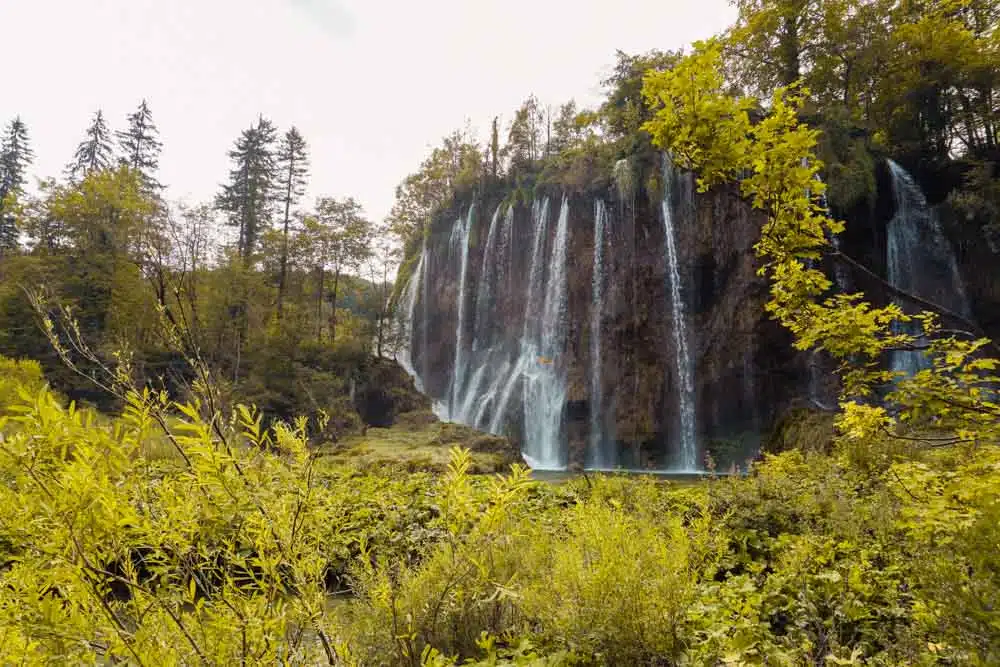 Trying to pick a favourite Plitvice Lakes walking route is a bit like trying to pick a favourite child. They're all different, with their own charms (or at least that's what our parents tell us.)

The best walking route will also depend a little on your fitness and hiking experience. The K1 and K2 trails are the most comprehensive, but they do require a fair bit more determination and fitness.

If you're unsure and not keen on a mid-hike breakdown, you might want to choose a more moderate hike.

Of the more moderate hikes, Trail C takes in perhaps the best variety. It explores the beautiful Lower Lakes region, but also takes you past some of the Upper Lakes as well.

At 8 kilometres/4 hours, it's more than a walk in the park but it's definitely do-able for most people.

Plitvice Lakes Map
Here is a map of the four lower lake trails
Although you are given a free map with your ticket, it's not very detailed and the signage along the routes can be poor at times, so I would either recommend buying the better map sold at the entrance or downloading the handy Plitvice Lakes App – it's available on both Google and Android.

The Best Places to See the Plitvice Lake Waterfalls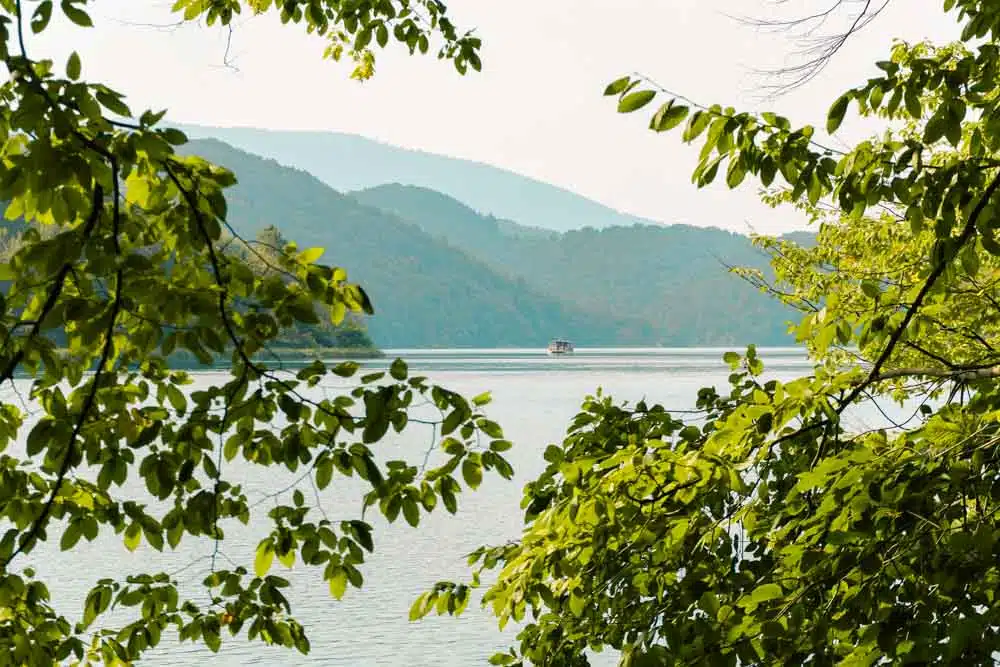 Plitvice Lakes has many beautiful waterfalls – it's kind of famous for them – so you're in luck if you're hoping to see them.
The most well-known waterfall is Veliki Slap, more commonly known as "the Great Waterfall". With a name like that, it's no surprise that it's the tallest one in the park at 78 metres. Trails including A, B and F take in the waterfall.
Another famous waterfall is Galovački Buk. Although it is much smaller than Veliki Stap at just 16 metres, it is arguably more beautiful. Several streams cascade down it, making it a favourite of photographers.
Route E will take you past Galovački Buk, and it's pretty much impossible to miss.

Which Entrance Should I Go To?
The best entrance for Plitvice Lakes depends on what you are hoping to see and what walking route you're taking. The quickest way will be to enter the gate that corresponds with the starting point of your hike.
Arguably, Entrance 1 has more impressive views immediately, but absolutely no one would say Entrance 2 is ugly.
There is also a little known Entrance 3 which is mainly a service entrance. You can enter through there are it is significantly less crowded, however note there is almost no parking there which can make things difficult if you're driving.

Plitvice Lakes Accommodation – Where to Stay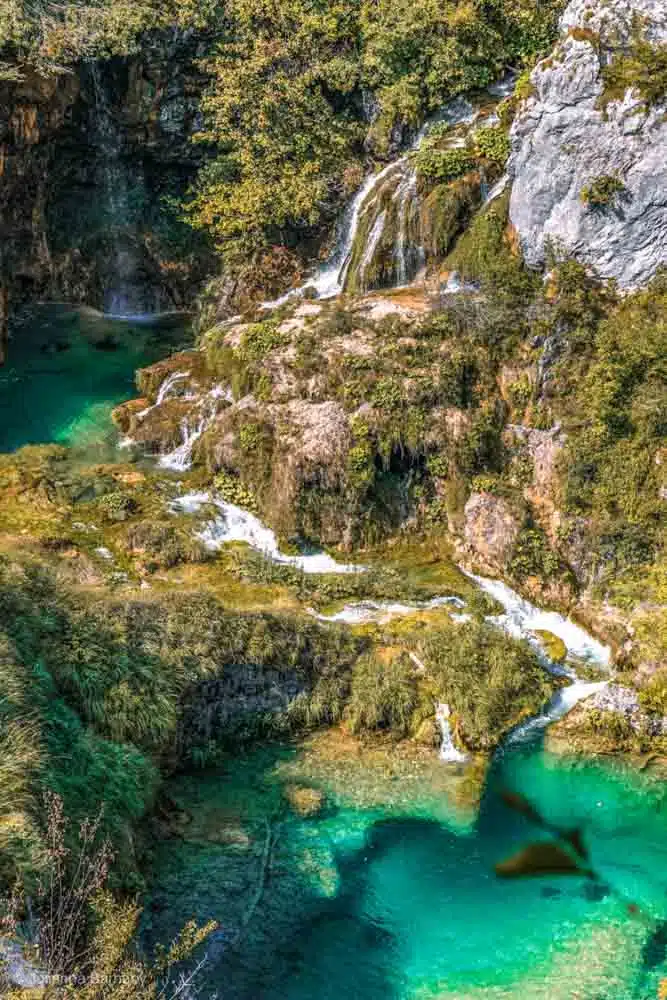 Rooms IVKA (Mid-range)
Simple and cozy, Rooms IVKA's major strength is its great location. As well as being within walking distance of the park entrance, it has everything you need including free wi-fi (because have you even completed a hike if it's not posted on social media?).
Green Lakes Guesthouse (Mid-range)
If you're looking for a great location then it doesn't get much better than Green Lakes Guesthouse. Located about a mile and a half from Entrance 2, you can pretty much roll out of bed and into the stunning park.
Plitvice Chalet (High End)
Plitvice Chalet is a self-contained chalet that has a pretty amazing location, with a small river outfront and plenty of green space all around. Pretty fabulous.
How to get to Plitvice Lakes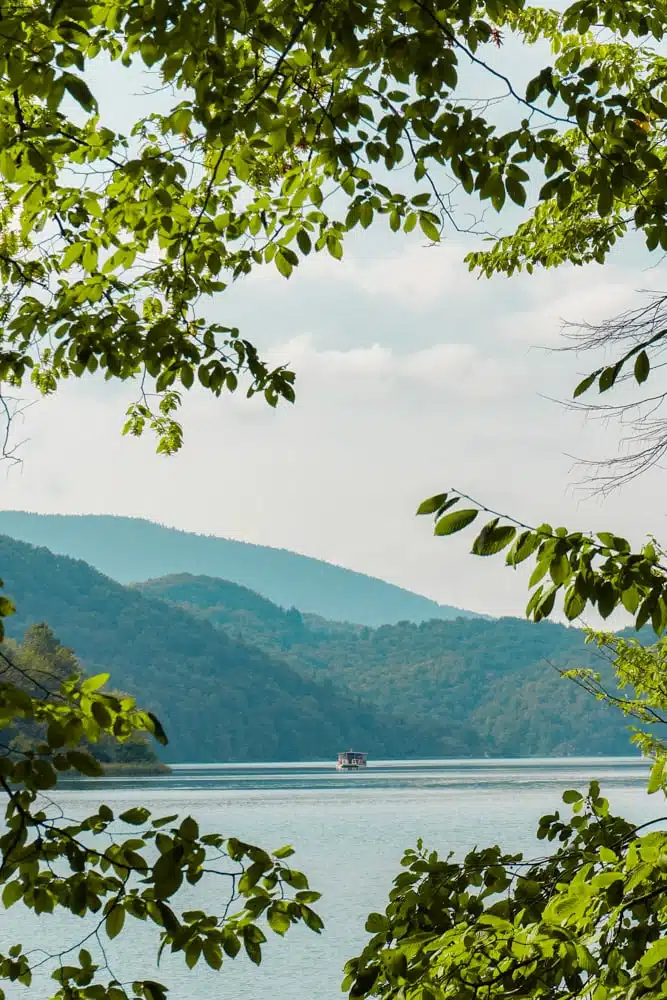 Split to Plitvice Lakes
Split to Plitvice Lakes is just under 250 kilometres, or about two-and-a-half hours by car. The road is well sign-posted and there is parking at the National Park if you bring a vehicle.
If you don't have a car, then there are fairly regular buses between Split and Plitvice Lakes. It does take quite a bit longer – up to 4 hours. The tickets vary but are in the region of €15 – €20.
Another option is to take a day trip. These are great because you'll get a bit of information about the park on the way, and don't need to worry about getting lost in the lakes.
Read Next: The Split City Break Guide: What to Do + See
Zagreb to Plitvice Lakes
The drive from Zagreb to Plitvice Lakes is around 130 kilometres, and takes about two hours in total. It's an easy drive if you've got a car.
If not, then there are about 10 daily buses between Zagreb and Plitvice Lakes. It's worth booking your ticket ahead. They start from about €10, so pretty reasonable.
Booking ahead is especially important in high season as it gets pretty busy – and you don't want the devastation of missing out because of a lack of seats.
There are also plenty of great day tours that you can go on from Zagreb. You can also combine it with a visit to the picturesque village of Rastoke.
The beauty of this is that everything is organised for you, and you don't need to worry about sorting a return bus fare when your legs are aching from the hike.
Zadar to Plitvice Lakes
Another popular launching-off point for Plitvice Lakes is Zadar. Zadar to Plitvice Lakes is only an hour and a half, or 118 kilometres – so it can be done as a day trip.
If you're not driving yourself (which is super easy), you can also get the bus. As per usual the bus is a bit slower than driving – it takes around 2 hours – but it's cheap and easy.
You can either book ahead or chance it arriving at the bus station on the day. If you've pre-booked your park entrance ticket then I recommend doing the same for the bus, as you'd hate to miss out.
Again, getting an organised day trip to Plitvice Lakes from Zadar is another good option.
Dubrovnik to Plitvice Lakes
Dubrovnik is one of the world's great human-made wonders while Plitvice Lakes is Mother Nature at her best, so I highly recommend adding them both to your itinerary.
Dubrovnik to Plitvice Lakes is a bit of a trek, since they pretty much book-end the country. In total, it's about 463 kilometres, or a five hour drive (in reality, it's likely to take much longer than this).
Another option is to fly from Dubrovnik to Zagreb, and then take the bus.
If you don't mind being on a bus for a lo-o-o-ong time (time to catch up on those podcasts) then you can go the whole way from Dubrovnik to Plitvice Lakes. It takes about 9.5 hours in total but you do take in some nice scenery.
Pula to Plitvice Lakes
Another popular route to Plitvice Lakes is from charming Pula. From Pula, Plitvice Lakes is about 230 kilometres in-land.
It's a fairly straightforward drive, although there are some tolls. Your other option is to get a bus between the two, which takes around 5 hours.
It is possible to do it as a very long day trip, but I'd highly recommend staying overnight so you're not rushed and/or exhausted while exploring the park.
If you do want to do it as a day trip then I recommend getting an organised tour instead. This will cut down your transport time so as to maximise the time spent actually in the park (much more fun than sitting on a bus.)
Can You Swim in Plitvice Lakes?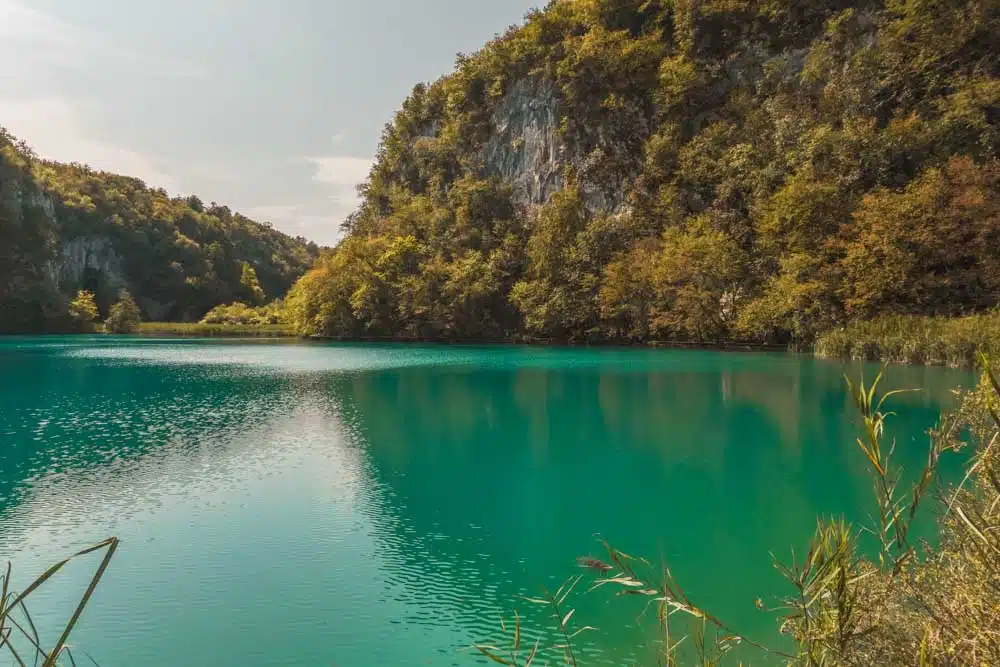 While checking out those dazzling blue and green lakes, chances are you'll find yourself wondering: can you swim in Plitvice Lakes in Croatia?
I hate to be the bearer of bad news – but unfortunately, no.
It's all part of the effort to keep the park pristine and beautiful, which is fair enough really.
If you're desperate to get out into the water, then your best bet is to hire a rowboat and get paddling. It's not quite the same, but it will give you the chance to take in the beauty from a different angle.
If your heart is set on going for a dip, the closest place is the nearby village of Korana.
You'll get to cool off, and avoid the embarrassment of being chased out of the Plitvice Lakes by a very angry park ranger.

Plitvice Lakes National Park Croatia: Practical Tips
Helpfully, there is a designated FREE (!) luggage storage area at each entrance. This is super helpful if you're travelling with bags, but you'll want to arrive early as space is given out on a first come, first served basis.
If you drive, be aware that driving in the park is forbidden. You'll need to leave your car at the paid parking at either Entrance 1 or 2 (there is no parking at Entrance 3).
Opening Hours
Plitvice Lakes opening hours do vary throughout the year. They are as follows:
Summer (1/6 – 20/8): 7am – 8pm
Autumn (21/8 – 30/9): 7am – 7pm
Autumn (1/10 – last Saturday in October): 8am – 6pm
Winter (first Sunday in October – last Saturday in March): 8am – 4pm
Spring (first Sunday in March – 31/5): 8am – 7pm
Love this? Save and Share on Pinterest