Visiting Dubrovnik and want to explore a few destinations in a day-trippable distance? Don't miss these fabulous day trips from Dubrovnik – 12 easy excursions for you to add to your trip.
We all know that Dubrovnik is a dream destination. Game of Thrones, handsome architecture, not to mention an eye-popping position on the edge of the azure Adriatic – there's no denying its appeal.
With so much going for Dubrovnik, it's easy to forget that the region surrounding Dubrovnik is full of treasures waiting for you to explore. Take Croatia's other large Adriatic coastal city, Split, as an example – bursting with Roman ruins and a distinct culture.
What about UNESCO-Heritage Listed Kotor in neighbouring Montenegro? Or laid-back Korcula, whose main town is often referred to as Little Dubrovnik thanks to its similar architecture – but without the crowds of people to go with.
Of course, you're not going to be able to explore Dubrovnik and take all of these trips – if you're in Dubrovnik for four days, I'd recommend doing one, if you're lucky enough to be there for a week, maybe do two.
The plan is to explore enjoyably, not to come back so exhausted that you need another holiday again (we've all been there).
In need of inspiration? Here's where to start.

The Best Day Trips and Excursions from Dubrovnik
Lokrum, Croatia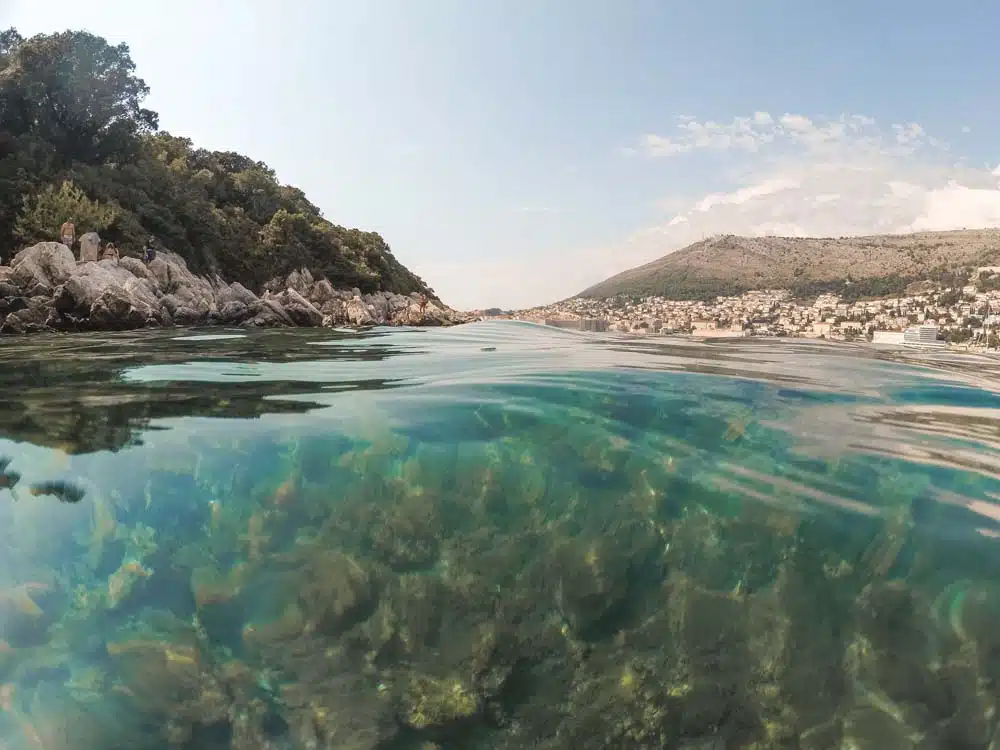 Let's start with the easiest day trip from Dubrovnik – Lokrum. If you've seen pictures of Dubrovnik's coastline, chances are that you have seen Lokrum winking away in the background too.
Just a few short minutes on the boat on one of the most iconic Dubrovnik boat trips and you swap the gleaming marble streets of the city for a pine-forested island with rocky sun-drenched inlets demanding to be sunbathed on. Not to mention peacocks roaming freely across the island's vegetation.
Hike up to Fort Royal at the top of the island for stunning views of Dubrovnik and its surrounds – make sure you stock up on water before you set off – it is hot work.
Don't forget to pop into the ruins of the Benedictine Monastery either.
How to Get There: A day trip from Dubrovnik to Lokrum is simply a matter of catching the 15-minute ferry from Dubrovnik's Old Town Port or you can book onto a sea kayaking tour around Lokrum and Dubrovnik.

Read Next: Cool Things to do in Dubrovnik
Korčula, Croatia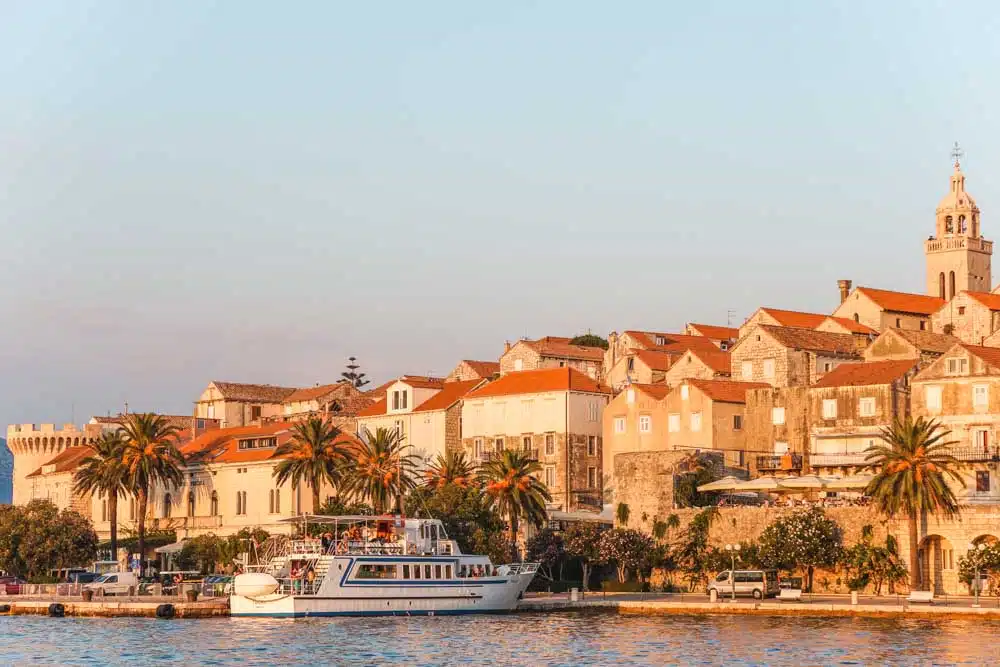 Korcula was one of my favourite stops during my Croatia itinerary last year. Although it is one of Croatia's most prominent islands, it lacks the party reputation of Hvar, or the Mamma Mia appeal of Vis… meaning that it's a lot quieter, yet no less fruitful to explore.
But why plan a Dubrovnik to Korcula day trip?
Korčula Town is reputed to be one of the best-preserved medieval towns in Europe – not difficult to believe once you've clapped eyes on it. A sea of red terracotta roofs and marble streets – it sounds like Dubrovnik, and maybe it is how Dubrovnik was before it was discovered by the masses.
Today you'll find a laid-back town with a few museums, tantalising restaurants and the true Adriatic life.
Korčula is also famed for its high-quality wine production – head to Lumbarda – one of the region's main wine villages to try the Grk wine local to the area. All in all, one of the best island day trips from Dubrovnik.
How to Get There: You can book ferry tickets with Krilo, Nona Ana or Vida – the journey is 1 hour 45 minutes each way and you have to buy tickets from an agency/ booking desk in advance. Alternatively, book onto this tour.

Read Next: 10 Days in Croatia – A Perfect Itinerary
Split, Croatia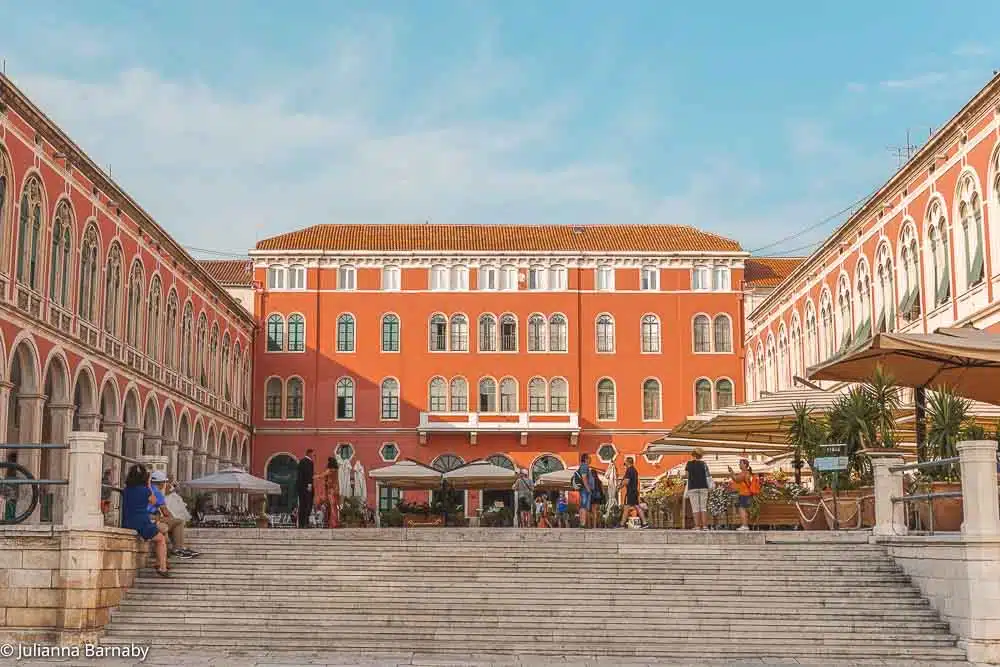 Split sometimes feels like it plays second fiddle to Dubrovnik, which is rather ridiculous as it is a gorgeous city that will steal its way into your heart if you give it the chance (hint: you should give it the chance).
This is one of the longest day trips from Dubrovnik in this guide – in truth, I'd recommend staying at least one night in Split if you can. But sometimes you're too tight on time and Split is completely worth the long day.
The UNESCO Heritage Diocletian's Palace is the big showstopper – where else will you find Ancient Roman ruins interwoven throughout the Old Town, providing a stunning backdrop as Split's inhabitants go about their everyday lives?
Take some time to stroll around, stopping off to admire central buildings such as the Perestil and Diocletian's mausoleum (later, rather cheekily, transformed into Split's Cathedral).
Game of Thrones fans should head to the cellars to see a couple of Split's most prominent filming locations – even if you aren't a fan, you should head to the cavernous (and blessedly cool) chambers to take a peek.
After that, it's a matter of a leisurely walk along the Riva, the Venetian promenade that is Split's best people-watching hub or, if you really want to test your legs, head to Marjan Park for beautiful views of the city.
How to Get There: You can book ferry tickets (though it's 4 hours 40 mins each way – so you won't really get much time actually in Split), take the bus (if you do, make sure it's one of the fast ones of around 3.5 hours as there are slow ones that take 5 hours+) or book onto a tour of Split from Dubrovnik, which includes a walking tour around Split.

Read Next: Brilliant Places to Visit in Split
Elaphiti Islands, Croatia
Ever wanted to go island-hopping between a smattering of pretty islands without having to travel to far-flung destinations such as South East Asia? The Elaphiti Islands are the answer: Croatia's very own salty hair, don't care island paradise.
Even in a country with so many islands and coastal hideaways, the islands' idyllic calm warm waters, quiet villages and scented forests stand out as a great pick for a Dubronik day tour.
Only three of the 14 islands are inhabited: Koločep, Lopud and Šipan – each has its own vibe and appeal – chances are that your tour will hop off at all three along with a spell spent snorkelling and (if you're PADI Qualified) diving in the waters.
How to Get There: You have to book onto a tour to explore the Elaphiti Islands – many, like this one, stop at the three biggest islands and include lunch and drinks.
Mostar, Bosnia-Herzegovina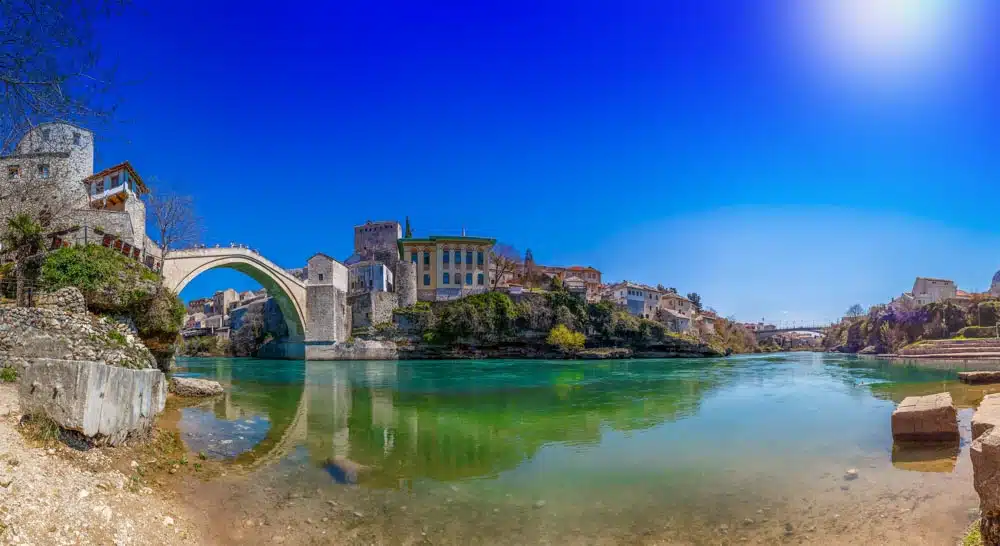 Unlike many of the other day trips from Dubrovnik on this list, Mostar is not on the coast, has no beaches – it's not even in Croatia. But what it is is magical – add bucketloads of charm, a pretty setting and a unique cultural identity and the final result is Mostar.
It's hard to believe that postcard-perfect Mostar in Bosnia-Herzegovina has such a tumultuous history. Today it's famed for the iconic Stari Most (Old Bridge) that tempts daring divers to take the plunge into the Neretva River below – if you're lucky you'll get to see this nail-biting feat first hand.
Away from the bridge (it's difficult to pull yourself away, but rest assured the rest of the town warrants exploration), the town is a maze of Ottoman buildings, cute craft stalls and Balkan heritage – there's nothing nicer than to walk around, taking a Split Mostar Day Trip, stopping for a coffee or two along the way.
How to Get There: You can get the bus (the fastest journey time is 3 hours 20 minutes, book ahead in high season) or take a tour to Mostar and Kravice waterfalls from Dubrovnik – with a guided tour of Mostar
Kotor, Montenegro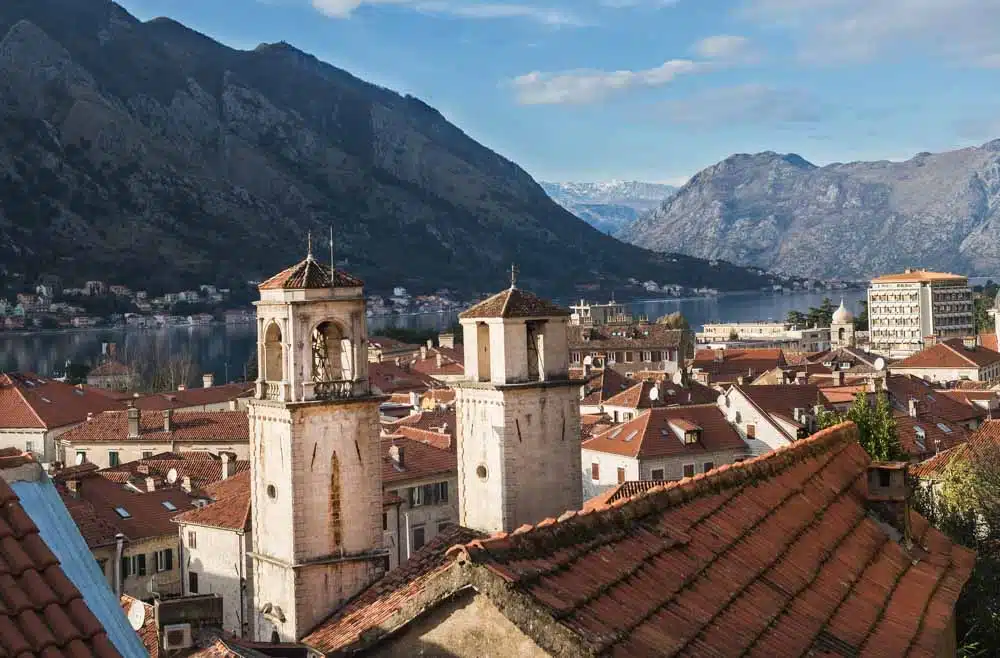 Kotor is the jewel in Montenegro's heavily-laden crown and one of the most popular Dubrovnik excursions.
The UNESCO World Heritage old town is a fairytale – winding cobbled streets, old churches and sun-drenched squares. The city walls date all the way from the 9th century and walking around them is a must during your Dubrovnik to Kotor day trip.
I'll warn you. Like Dubrovnik, Kotor is a cruise ship port and it can be heaving in the summer months – and can feel a little overwhelming. Try and time your visit to coincide with a day when there are no ships in harbour (you can check ahead) or go in the quieter months.
Even in the peak of summer, it is totally worth the effort and crowds.
How to Get There: A Montenegro day trip from Dubrovnik is easy – the bus to Kotor takes around 2 hours each way (more if there are hold ups at passport control), or you can choose a tour like this one visiting Kotor, along with some other Montenegrin treasures like Budva and the St Stephan Peninsula before returning to Dubrovnik by boat.
Peljesac Peninsula, Croatia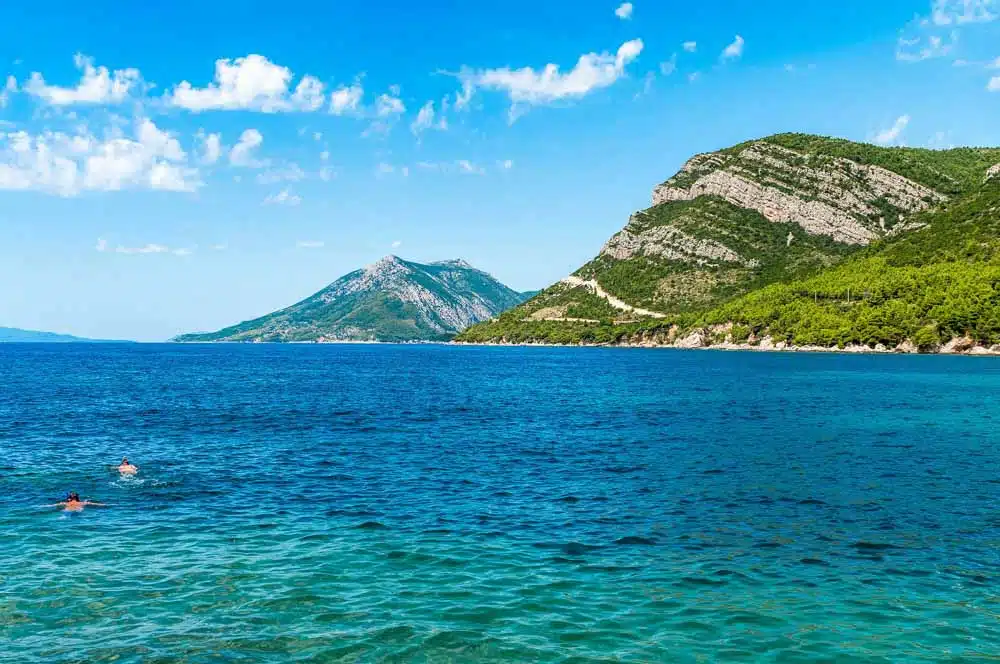 I always love getting recommendations from locals – so when a taxi driver suggested that we take time to take a trip from Dubrovnik to the Peljesac Peninsula, there was no way that I wasn't going to follow his advice.
Thankfully so – this area of breathtaking coastline is home to some of the best food and drink in Croatia (anyone who's ever been to Croatia will know that is saying something). Oysters from Ston, wine from the numerous wineries dotted about the region – let's just say you're not going to go hungry.
How to Get There: You can hire a car and drive to the Peninsula yourself – this is the easiest option. Your other choices are to book a driver or take a tour combining a trip to Korcula with the Peljesac Peninsula in one day.
Mljet National Park, Croatia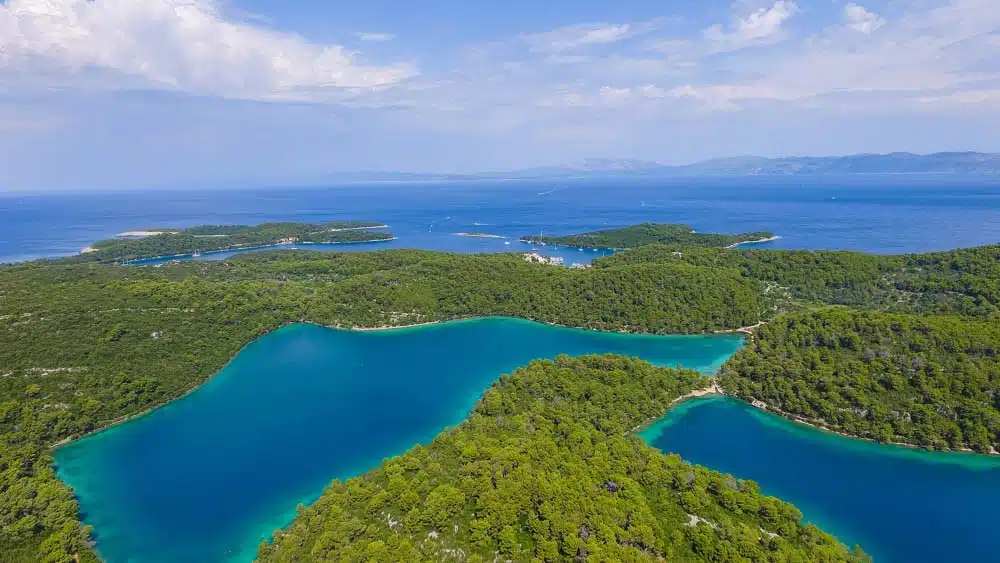 Mljet is one of eight National Parks in Croatia (if you're planning to visit Plitvice, one of the others, be sure to read my guide here). Technically the National Park covers one half of the island, but it is all incredibly picturesque – what's more, it's one of the easier Dubrovnik excursions as it's just a short boat ride away.
It's an island where nature meets folklore – visit Odysseus' Cave – famous for being the very spot where the Ancient Greek hero Odysseus was seduced by the goddess Calypso.
Croatia's beaches can often be a bit disappointing – rocky rather than sandy, which doesn't necessarily make for the most comfortable day. Not so here – gorgeous beaches like Sapalunara and Blaće are some of the best you'll find in the country and arguably the continent.
In the National Park itself, Big Lake and Small Lake garner most of the attention, but there are lots of easy hiking trails to scope out a wider section of the park.
How to Get There: You can catch the ferry from Dubrovnik to Mljet with Krilo or Nona Ana – check times and book ahead in high season – I wouldn't necessarily recommend this as the island isn't the easiest to navigate without your own transport.
Alternatively take a guided tour, including catamaran transfers and a guided walk around a section of the National Park.
Cavtat, Croatia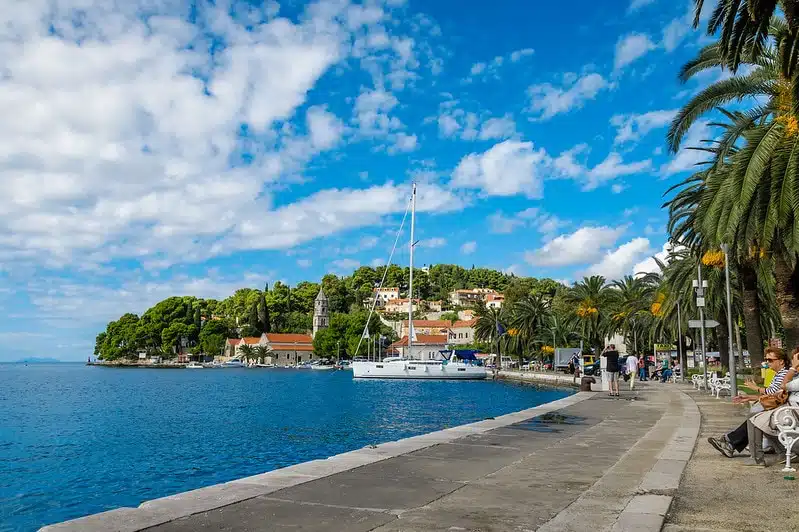 Even though Cavtat is only a hop away from Dubrovnik (it's so close in fact, that I recommend it as a quieter option for accommodation in my Where to Stay in Dubrovnik guide), it's got a completely different vibe to its bigger neighbour.
There are similarities – an Old Town complete with cobbled streets and terracotta roofs and bags of history being two – but it's the differences that make Cavtat really special. There's no rushing around, no dodging the crowds, no eye-watering prices – just a cool little Croatian town you'll never want to leave.
Cavtat's beaches are appealing enough, but before you stake out your spot in the sand, be sure to visit the town's historical treasures – The Rector's Palace and St Nicholas Church are worth a look, as is the Racic Museum – designed by my favourite Croatian sculptor Ivan Mestrovic (you'll find his works all over Croatia).
How to Get There: This is one of the easiest Dubrovnik day trips. You can catch the bus (number 10) or boat to Cavtat from Dubrovnik – boats depart from the Old Town harbour – both take about 30-40 minutes.

Read Next: Exploring Dubrovnik's Hidden Gems
Budva, Montenegro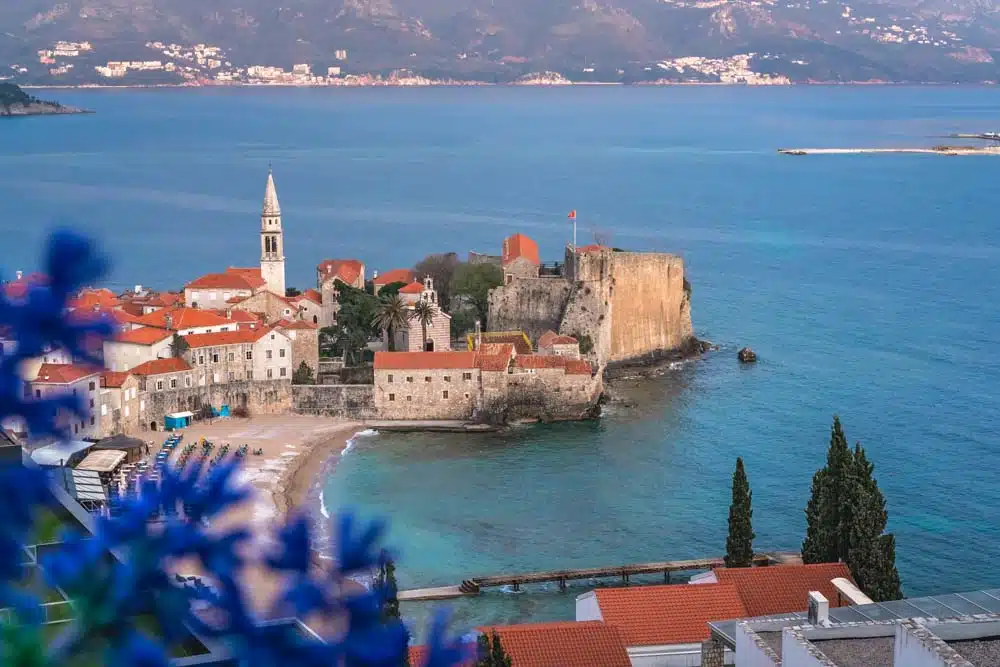 Dubrovnik knows how to party hard, but it doesn't have a patch on Budva – Montenegro's biggest party spot. Brimming with cool nightlife spots, it's an easy win if you're looking to up the pace a little bit.
Luckily, Budva is more than a one-dimensional party place – in fact, its too cool for school reputation often overshadows the fact that it's jaw-droppingly gorgeous, with a cultural heritage to rival those of its close neighbours.
Once you're done exploring the town, flop onto one of the sandy beaches for a spell of sun-worshipping and a taste of that famed nightlife before hopping back on a boat to Dubrovnik. Simple.
How to Get There: You can get the bus to Budva (roughly 3 hours 15 minutes) – there are ferries but details are vague so check ahead. Otherwise, take a tour from Dubrovnik to both Kotor and Budva.
Brač, Croatia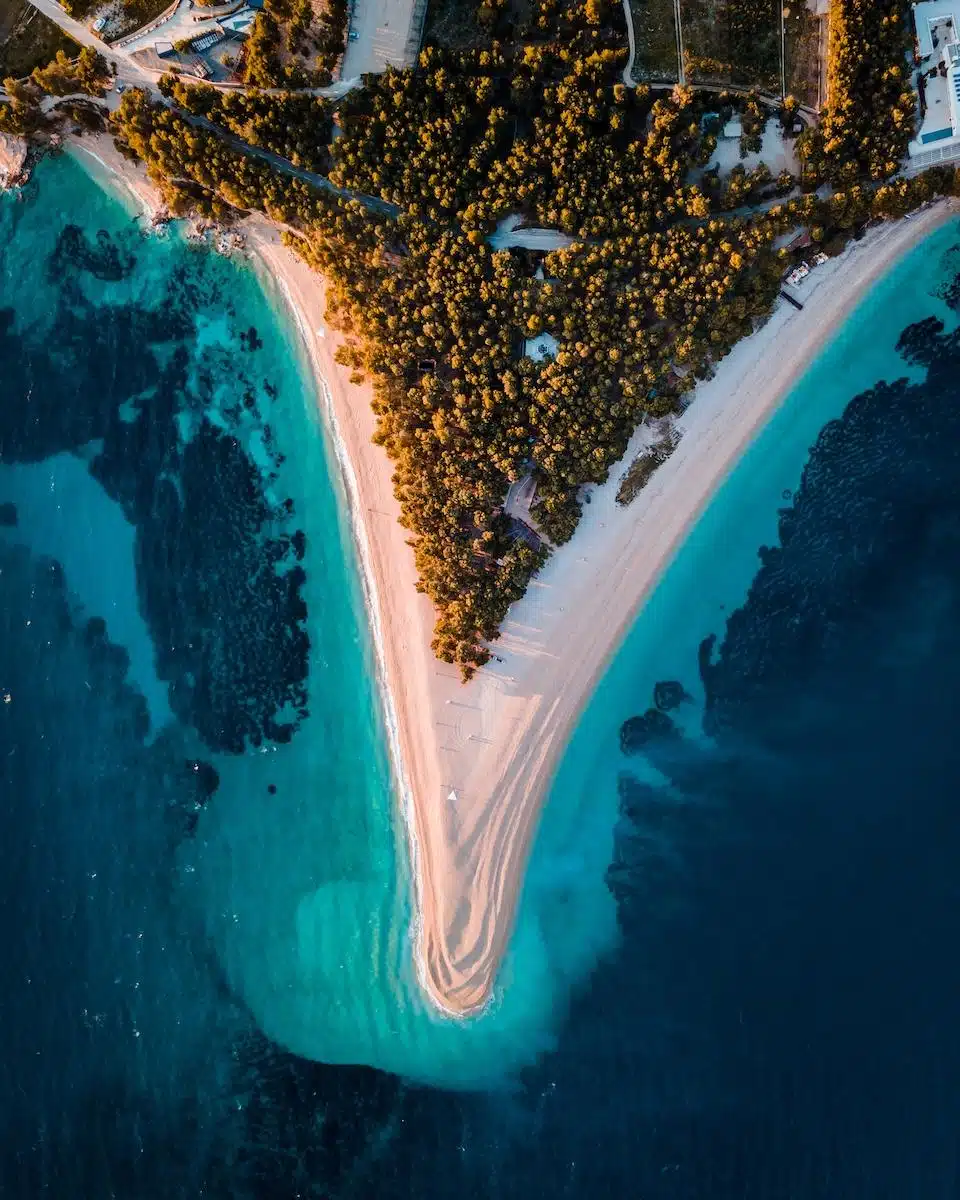 To be totally honest, I actually think you should spend a few days on the island of Brač, as there's so much to do. However, for a slower pace of life, you can also head to Brač for a day trip.
First up on your day trip should be a visit to Zlatni Rat – or Golden Horn – Beach. It's known for its unique shape that changes with the direction of the wind and currents, not to mention it's the perfect place to unwind in paradise.
Another place you cannot miss when on the island of Brač is Bol, a charming town on the southern coast.
Stroll through the narrow streets, admire the white-washed buildings and picturesque harbor and stop in at one of the many cafes or restaurants for a delicious meal – of which, Brač is known for its tantalising grilled lamb and octopus dishes.
How to Get There: During high season, you can book a ferry to Milna (Brač) through either Kapetan Luka or TP Line. the journey takes around 3-4 hours.
Trebinje, Bosnia-Herzegovina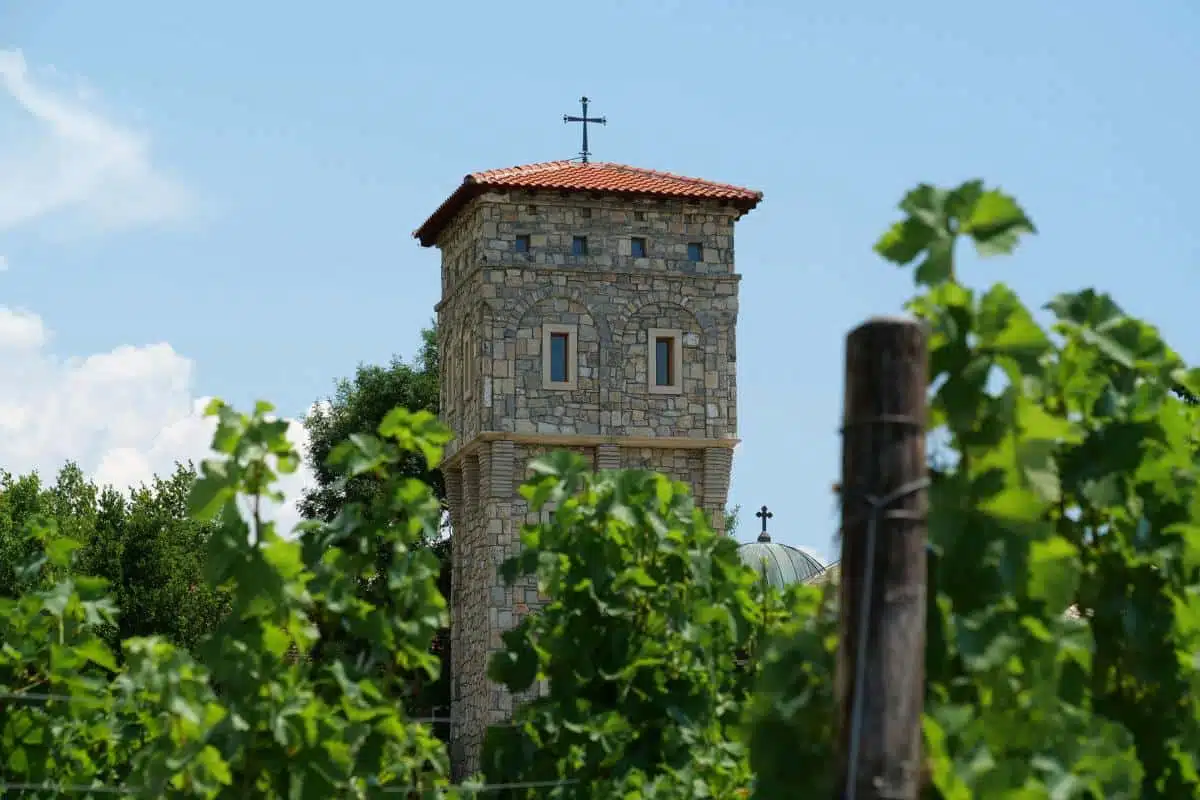 Sure, Dubrovnik's City Walls are pretty cool – but Trebinje's old fortifications rival them. Located in southeastern Bosnia and Herzegovina, not far from the Croatian border, this charming city boasts a rich history and stunning architecture to boot.
The Trebinje City Walls are the main reason I recommend you visit on a day trip from Dubrovnik. Built in the 18th century to protect the city from invaders, these walls offer a glimpse into the city's past, as well as stunning views of the surrounding hills.
But Trebinje isn't just about history and culture, as it has foodies and wine lovers covered. Make sure to taste some of the delicious local wines, such as Vranac and Plavac, or to try some of the mouth-watering local cuisine, such as cevapi (grilled meat), burek (a savory pastry) or pita (a type of pie).
How to Get There: Trebinje is only a forty-minute taxi ride from Dubrovnik and this is the easiest way to get there. Though there is a bus service that runs between the two infrequently.
Dubrovnik Excursions: Frequently Asked Questions
Can You Do a Day Trip from Dubrovnik to Venice?
You can do a day trip from Dubrovnik to Venice – either by air or by ferry.
Given that there are only a couple of flights per day, and they don't leave at the right times, I'd advise against doing it without an overnight stay.
Ferries take between 3 hours to 3 hrs 15 minutes – check times and be sure to book ahead.
What is the Best Island to Visit from Dubrovnik?
The best island to visit from Dubrovnik will depend on what you are looking for. I'd recommend Korcula but Mljet and the Elaphiti Islands are great options too.
Day Trips from Dubrovnik: Map
Looking for More Dubrovnik Guides and Tips? You'll Love These….
Love This? Save and Share on Pinterest