Ready to explore where to stay in Hvar? These are the best areas and hotels around the island for your Croatia trip.

The island of Hvar is rich in culture, history, architecture, and cuisine. It's also no secret that the dance parties and beach clubs are something of legend.

With so much to do on the gorgeous island, it's no surprise you'll have many accommodation options lining the Dalmatian Coast. Naturally.

So where is the best place to stay in Hvar? I'll fill you in on everything you need to know about this picture-perfect island in Croatia and where you should plan your holiday.
Best Places to Stay in Hvar: At a Glance
Where to Stay in Hvar
Choosing where to stay in Hvar is no easy feat. Luckily I'll give you a glimpse into what each area offers and some things that set the different towns and regions around Hvar apart.

Whether you want to experience the nightlife, history, and culture of the city or wish to truly get away from it all, Hvar has something for everyone along the rocky coastline of the Adriatic Sea.
Hvar Town: Where to Stay in Hvar Old Town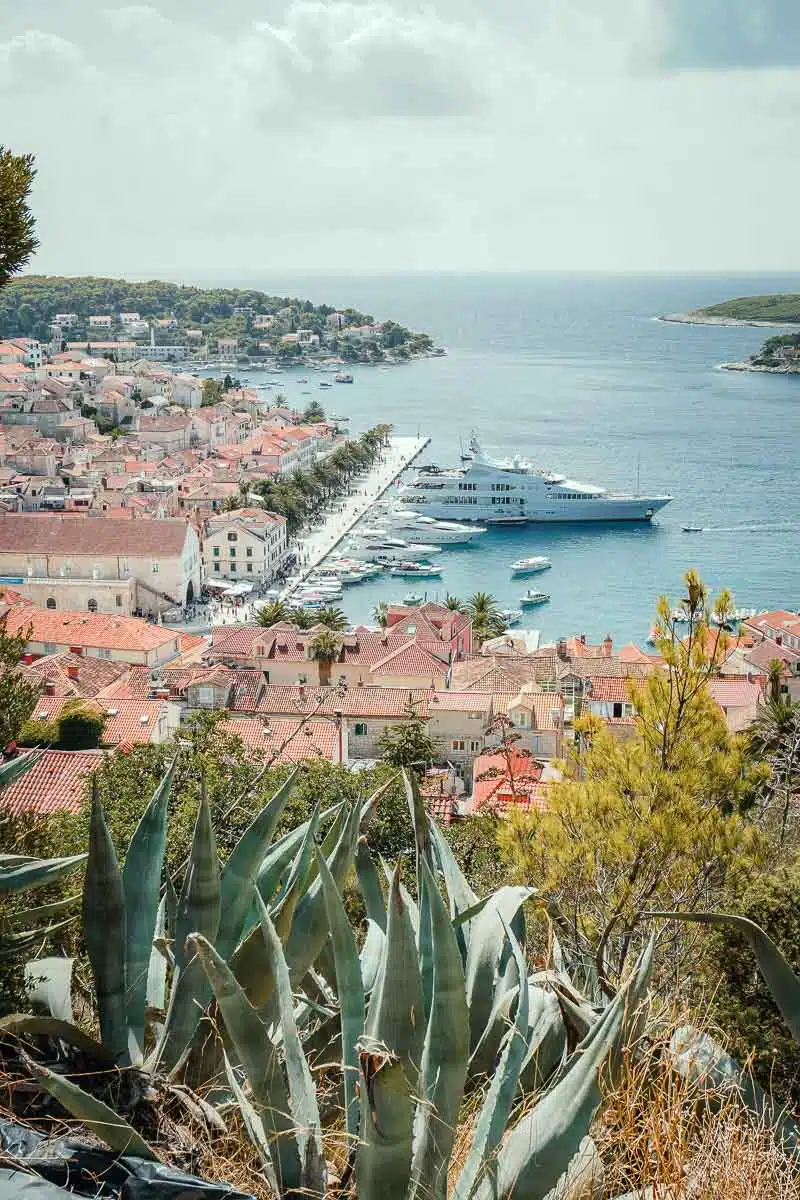 If you're looking for where to stay in Hvar for nightlife, I have two words for you: Hvar Town. The nightclubs are famous here amongst 20-somethings and yacht lifers looking to get away for the weekend on this famous Croatian Island. Understandably.

But trust me, Hvar Town is so much more than a place to get lost in the rhythmic thumping of drum and bass in the otherwise quiet Mediterranean night.

If you're searching for the best place to stay in Hvar overall, you've found it. Here you can walk around and find surprises around every corner of the white marble streets lined with stone-walled houses.

From the incredible hillside fortresses to the family-run restaurants serving up mouth-watering plates of locally grown vegetables and freshly caught seafood, you won't want to miss a chance to stay in Hvar Town on your trip to Croatia.
Hvar Town Highlights
Fortica Fortress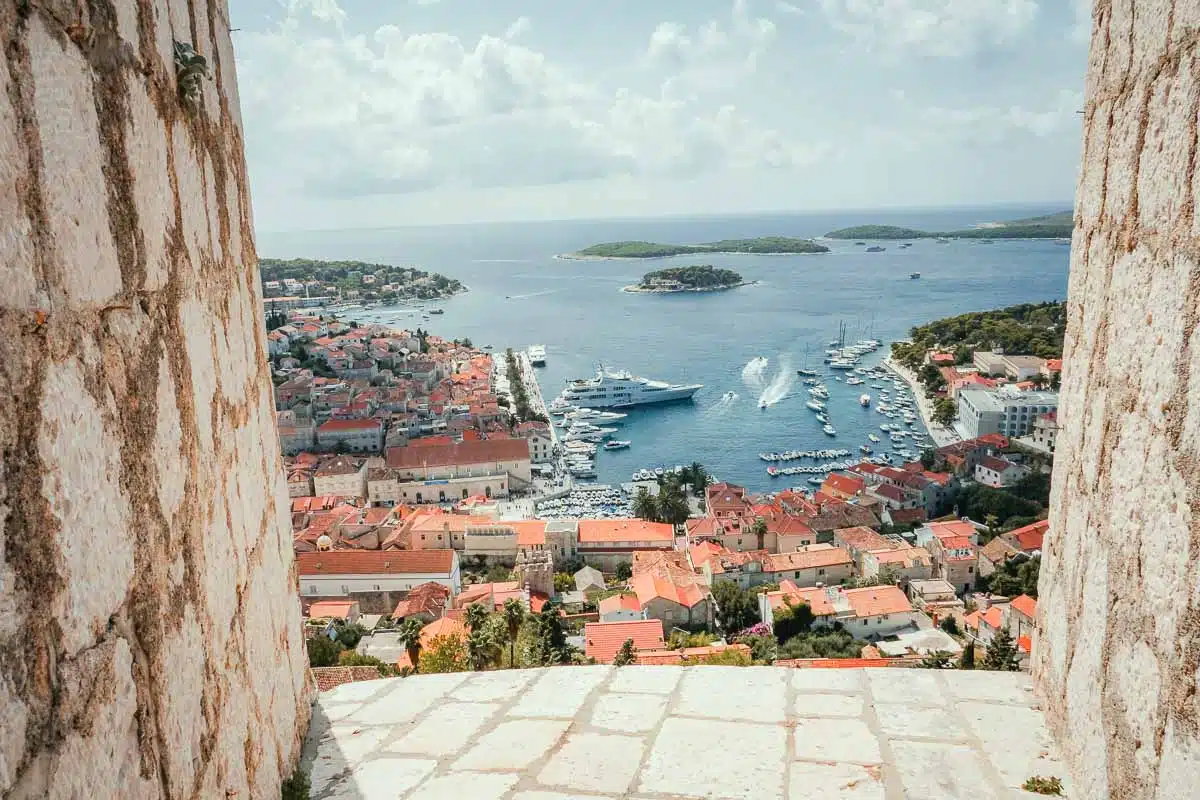 Hike up to the 16th-century fortress to admire the harbour below (preferably earlier in the day) and take in the gorgeous views of Hvar Town high up on the hillside.
Franciscan Monastery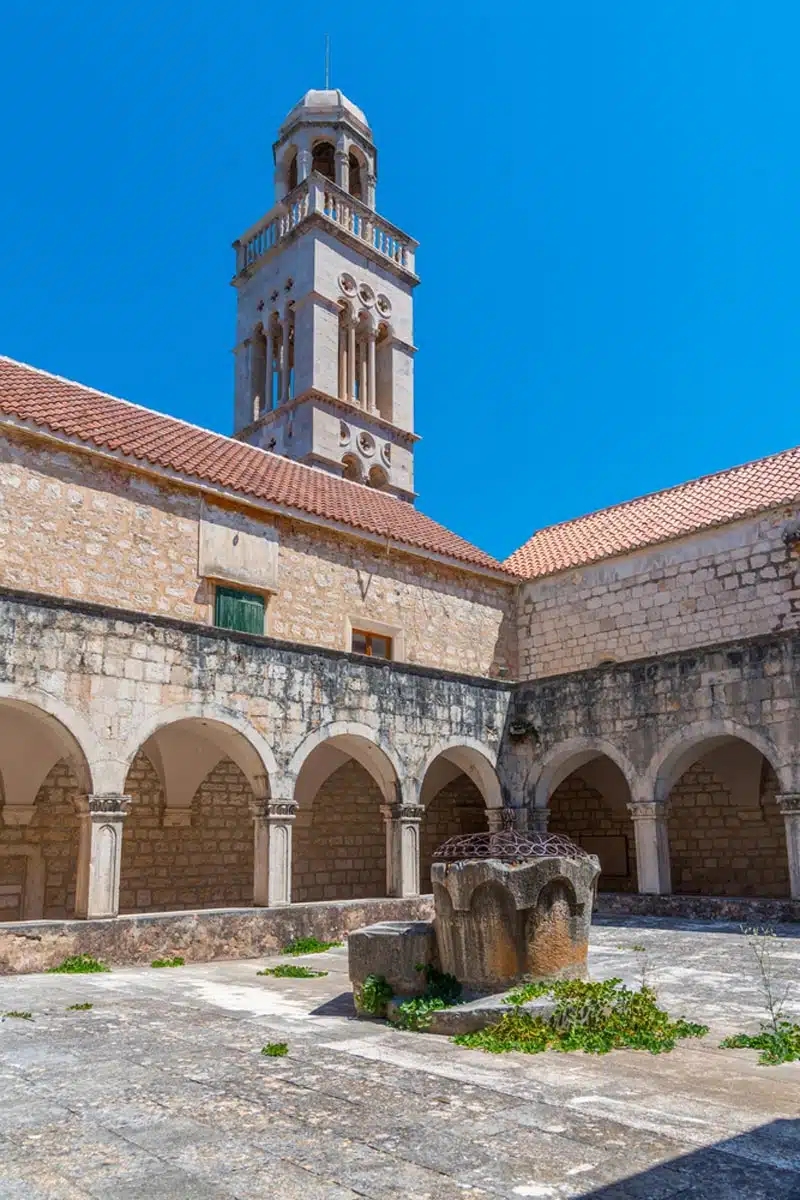 Walk along the waterfront of Hvar, and you'll reach the Franciscan Monastery, where you can admire the picturesque 15th-century gothic architecture on the edge of the Adriatic Sea.
Beach Club Hvar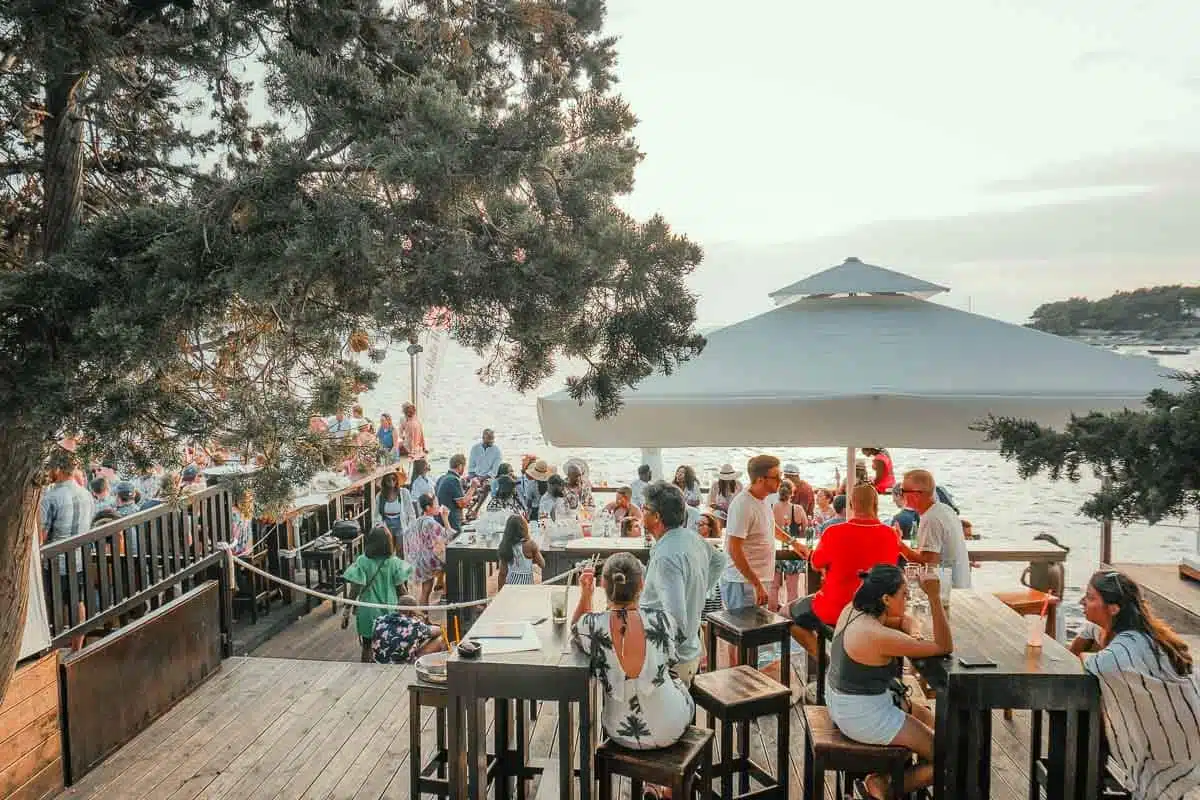 A trip to Hvar isn't complete without a visit to the beach. Beach Club Hvar, nestled on the iconic Bonj Beach, is the perfect place to rent a beach chair or cabana and live it up along the Dalmatian Coast.
Suggested Boutique Hotels in Hvar Town
Heritage Hotel Park Hvar
Hotel Park Hvar is within walking distance from some of the top landmarks and beaches in Hvar Town and features a vegetarian-friendly breakfast buffet, harbour views, and stunning guest rooms that feature exposed stone walls with light hardwood floors and an airy ambiance that's perfect for a romantic getaway.
Amfora Hvar Grand Beach Resort
If a beachside resort is more your speed, Amfora Hvar Grand Beach Resort is situated on a quiet cove along the Dalmatian Coast about 5 minutes from Hvar Town city centre. The outdoor pool, laid-back beach, and beautiful views from Windows on Hvar restaurant are perfect for couples looking for where to stay in Hvar Town on a seaside retreat.
Beach Bay Hvar Hotel
Beach Bay Hvar Hotel is a popular eco-friendly 4-star hotel overlooking the idyllic Hvar coastline near the Franciscan Monastery and Bonj Beach. 
Stari Grad: Where to Stay in Hvar Old Town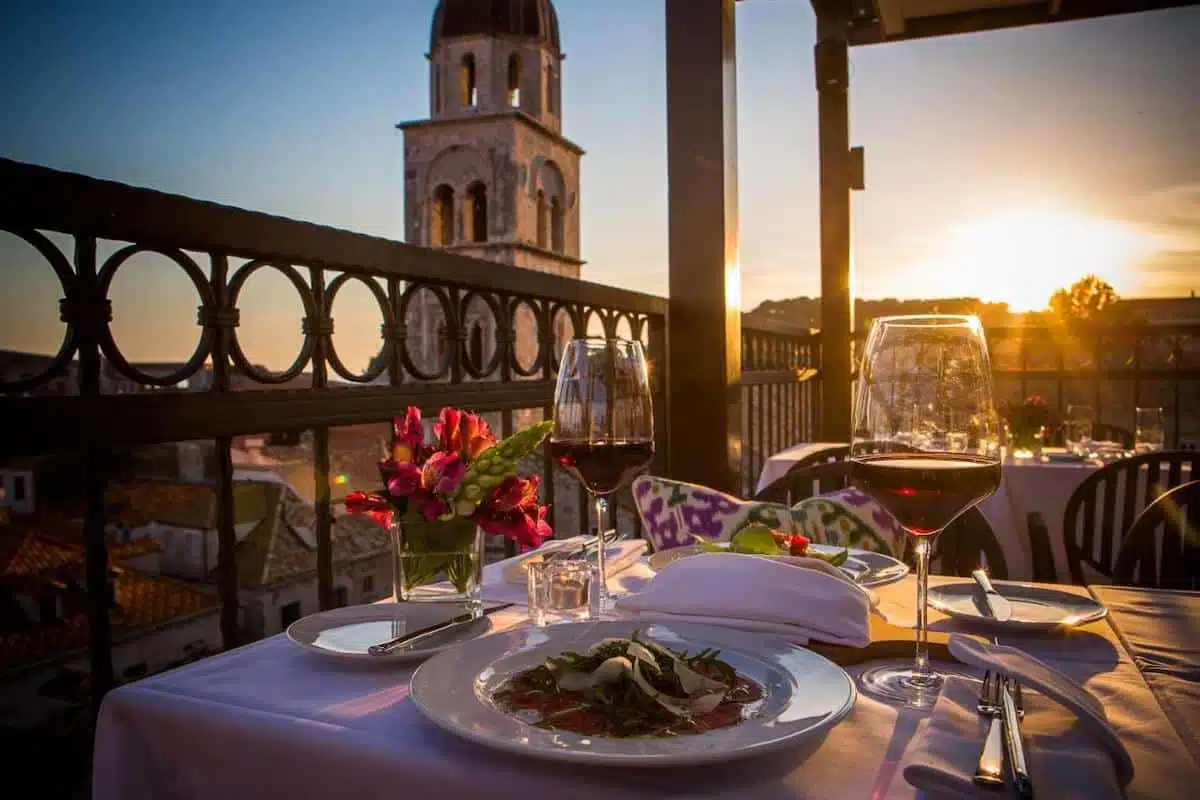 Stari Grad is the oldest town on the Croatian Island of Hvar, and it's famous for the Stari Grad Plain – an intricately designed section of land dedicated to farming that's been active since the Ancient Greeks first designed it.

Stari Grad (Old Town) is one of the best places to stay in Hvar for an idyllic seaside town famous for its architecture, history, and harbour setting.

What to do while you're here? You can stroll the Riva (promenade) or explore the narrow lanes in town to find the best dining and shopping. Or head to the countryside nearby for wine tasting, hiking, and biking. Perfect.

Also, keep your eyes open for stunning architectural sites like the Fortress of Petar Hektorović, St. Stephens Church, and the White Cross on Glavica Hill.

Don't sleep on the beaches either. Žukova Beach and Beach Lanterna are excellent choices not far from the centre of Old Town, making it a perfect place to stay in Hvar for a fun-filled seaside escape.
Stari Grad Highlights
Stari Grad Plain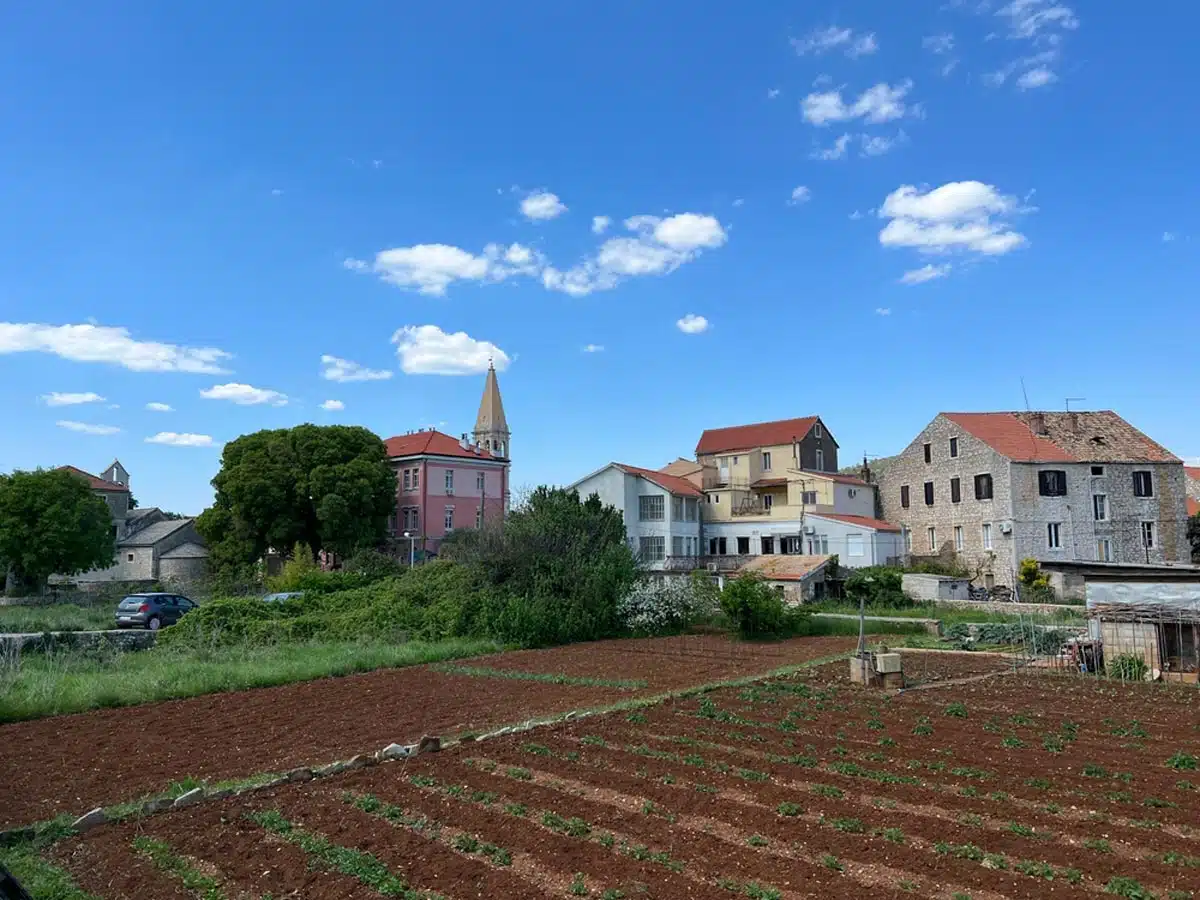 Head out to the countryside on your way to Vrboska, where you can walk the ancient fields in Stari Grad Plain.

Pay attention to the stone walls dividing the land parcels filled with vineyards, olive groves, and fruit trees, which date as far back as the 4th century BC. It's an excellent place for a hike or a bike ride, with several places in town renting out bicycles.
Fortress of Petar Hektorović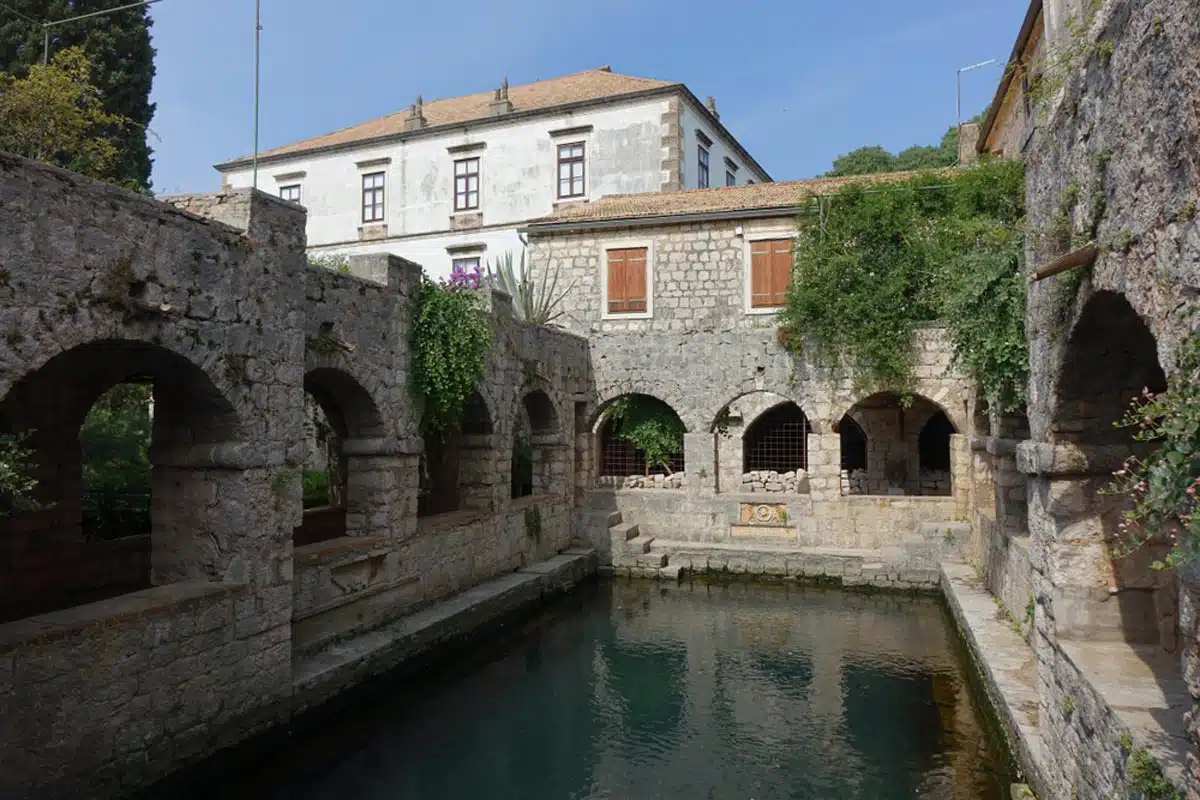 Located in the centre of Old Town, the Fortress of Petar Hektorović (Tvrdalj Castle) is a 16th-century castle famous for its interior courtyard and ancient fishpond.
Stari Grad Waterfront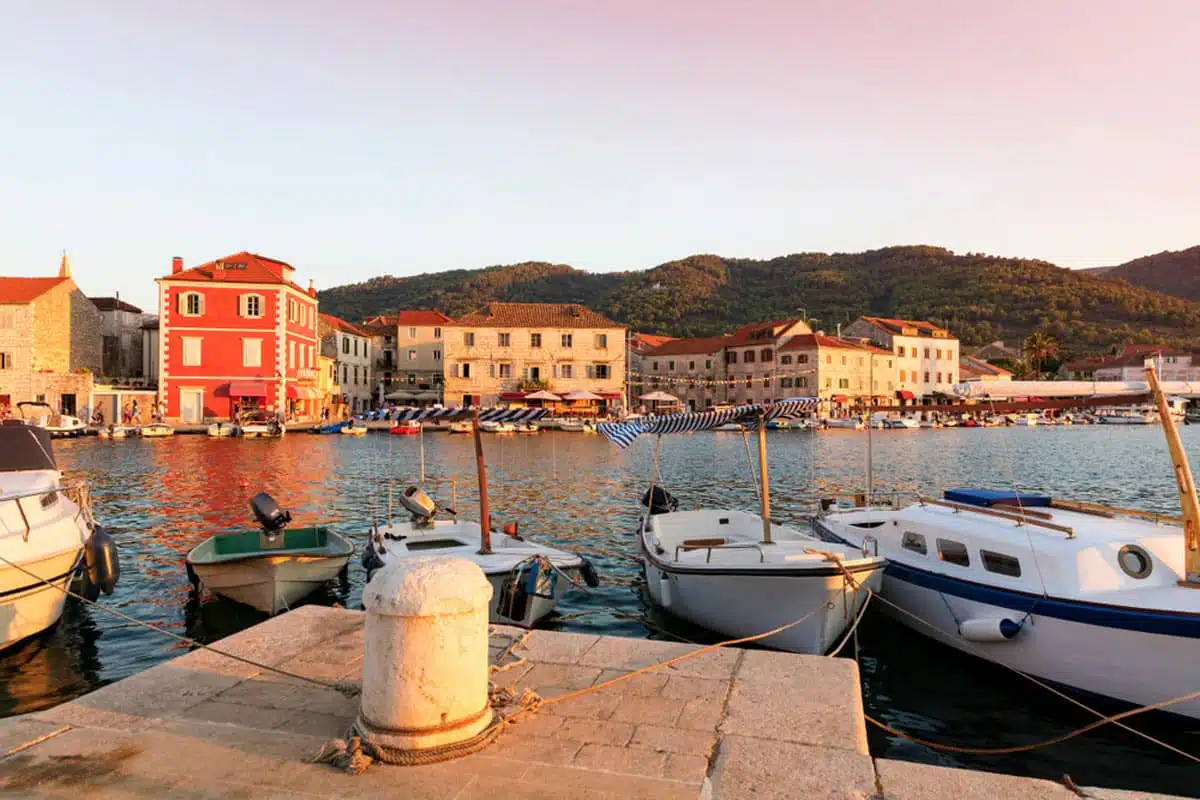 Walk along the cobbled streets and seemingly endless promenade at Stari Grad and enjoy the window shopping, restaurants, and cafes that make Stari Grad a charming place to bed down for a few nights.
Suggested Old Town Hotels in Stari Grad
B&B Heritage Villa Apolon
The former villa of the famed Croatian archeologist and author Don Šime Ljubić, B&B Heritage Villa Apolon is located in the heart of Stari Grad, featuring six private rooms in a stunning setting.
​​Hotel Antica
Hotel Antica offers guests an oceanside property with an outdoor pool, cosy rooms, and a seafood-focused Mediterranean restaurant. 
HVAR [PLACESHOTEL] by Valamar
The all-inclusive HVAR [PLACESHOTEL] by Valamar offers well-appointed rooms and suites with private balconies overlooking the gardens below.  
Jelsa: Where to Stay in Hvar for Wine Tasting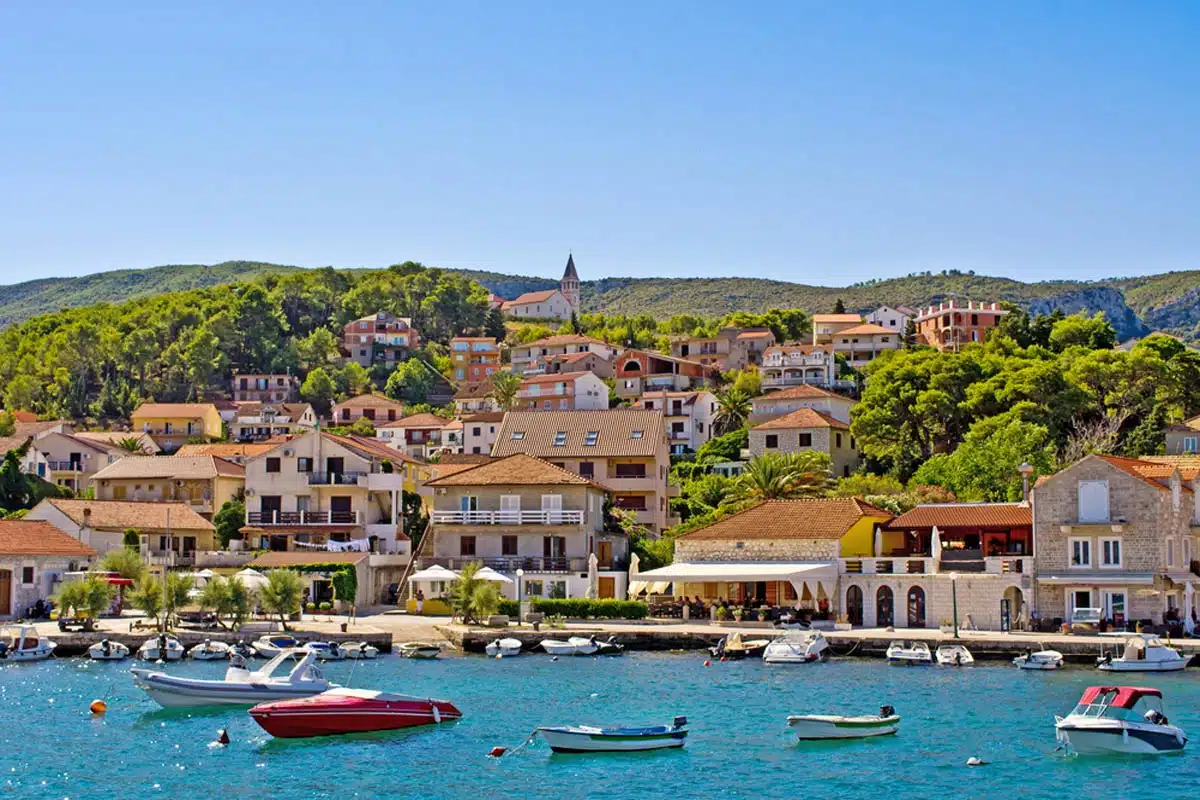 Just down the road from one of the most popular places to stay in Hvar (Stari Grad), Jelsa is a charming oceanside community famous for its rich history and culture near the Adriatic Sea. 
Once a bustling fishing, the town is now a quiet village filled with eye-catching architecture, delicious cuisine, and a slower pace of life than nearby Stari Grad and Hvar Town.

Being right on the coast, there are several excellent spots to relax near the shores of the Dalmatian Coast and spend hours taking in the beauty of this peaceful village on the Charming island of Hvar, Croatia. 
Jelsa Highlights
Wine Tasting
There are several small wineries around Jelsa, with the most popular near the centre of town being Duboković Winery, Vina Tomić, and Family Farm Marijan. You can go wine tasting on your own or arrange a tour – both give you a chance to try unique grapes like Pošip and Kuč.
Grapčeva Cave
Though technically in Humac, you can take the half-hour drive before hiking to Grapčeva Cave to see evidence of the oldest civilization in this region in the picturesque cave setting in rural Hvar when staying in Jelsa. Drawings inside date back to 3,000 BC.
Explore the Beaches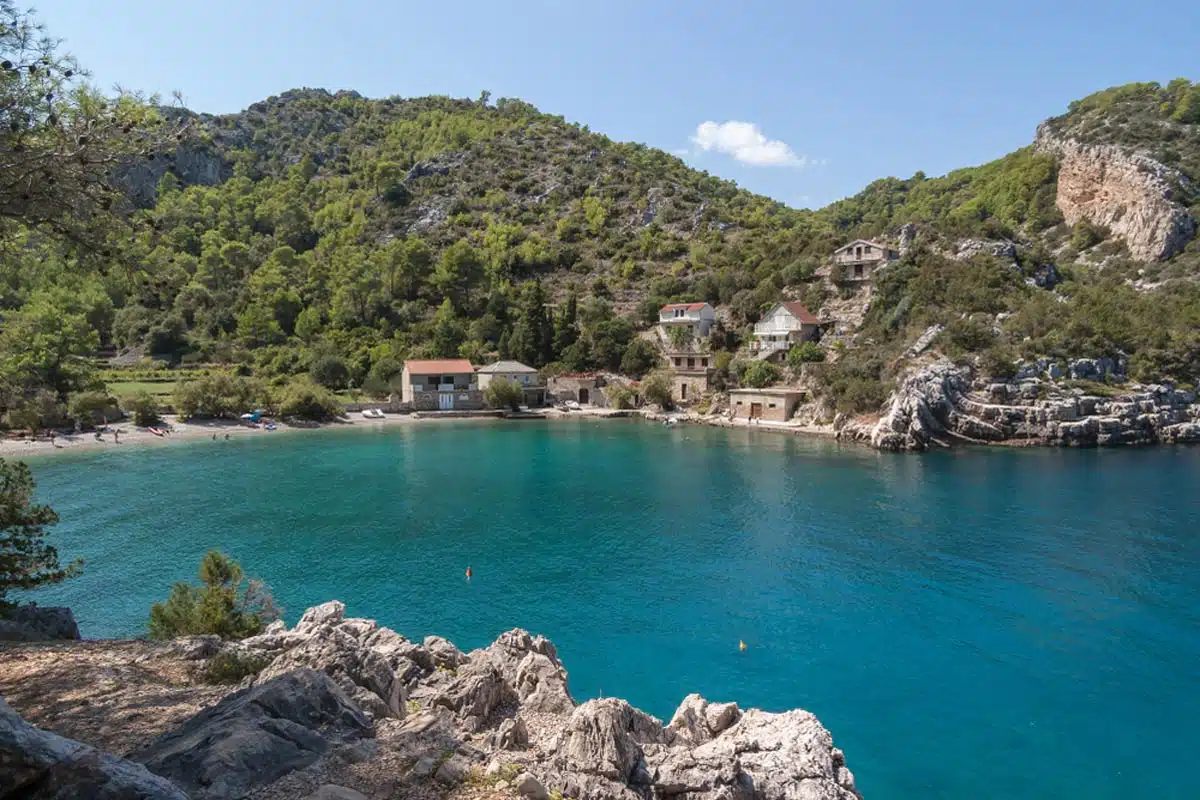 If you want to stay near some of the best beaches in Hvar, you'll find some excellent choices near Jesla. Beach Mina, Beach Prapatna, and Mala Stiniva all offer excellent swimming areas not far from the hotels and town.
Pjaca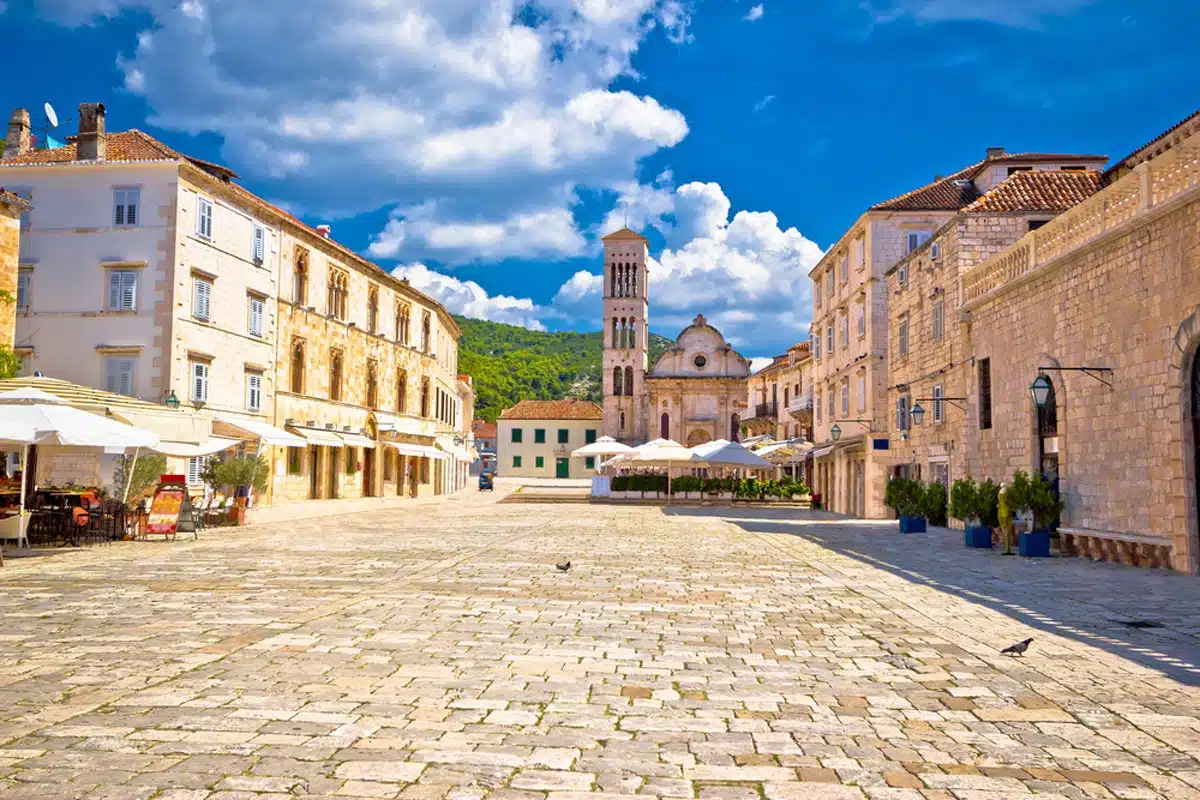 The town square is a perfect place to wander around, sightsee, and have a coffee or snack at one of the many cafes and restaurants in the city centre. Caffe bar PJACA Jelsa and Konoba Nono are two popular choices nearby.
Suggested Hotels in Jelsa
Adriatiq Resort Fontana
Adriatiq Resort Fontana (Fontana Resort) is an inexpensive option for budget-conscious travellers looking for a popular place to stay in Hvar along the coast.
Hotel Hvar – All-Inclusive
Hotel Hvar is an all-inclusive resort located near the stunning Beach Mina. Rooms are small but well-maintained and a total bargain when you factor in the food and drinks included.
Covahouse
Covahouse is a quaint vacation rental featuring ocean views, a private terrace, and a full kitchen to make your meals in. You can get to the nearest restaurants and attractions in less than 10 minutes on foot.
Pakleni Islands: Where to Stay in Hvar on a Private Island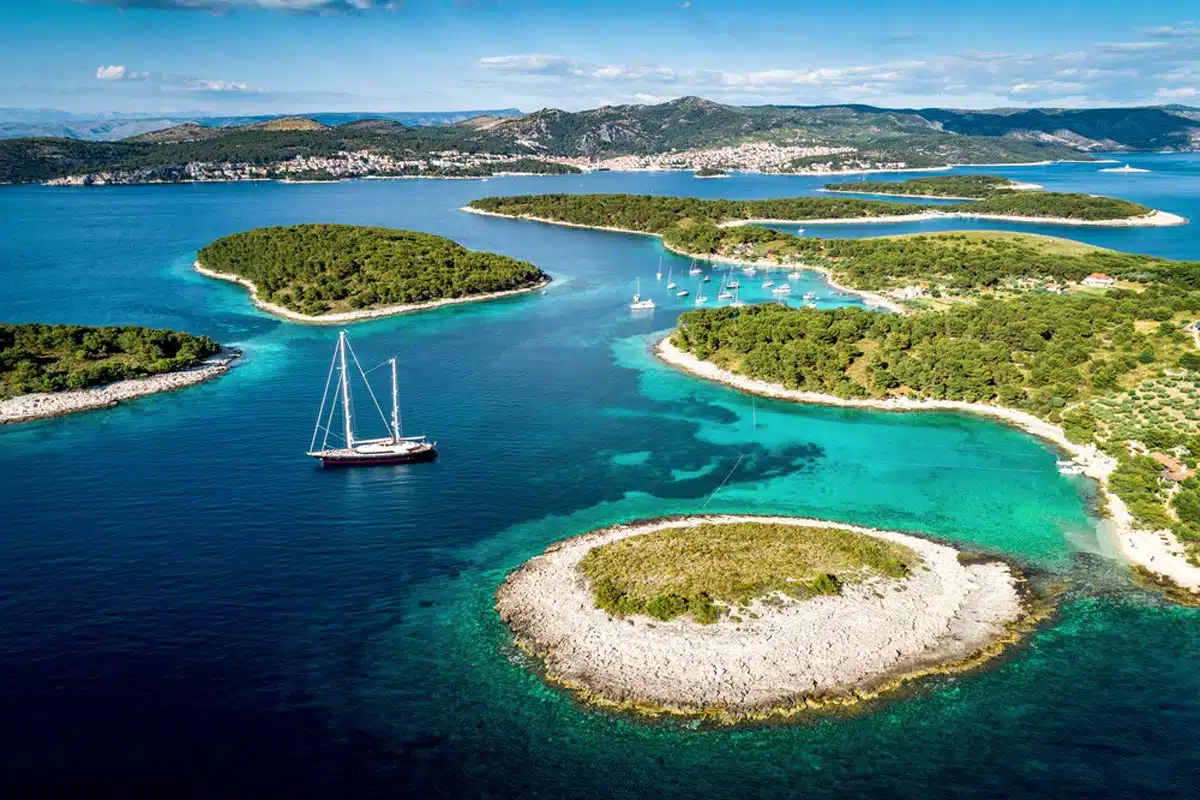 Ok, so technically, you won't be on a private island, but the Pakleni Islands, which you can only access by boat, are about as close as you'll get when choosing the best place to stay in Hvar.

There are 16 Pakleni Islands, but only a few of them actually have any restaurants or vacation rentals. I really like the idea of heading to the largest island, ​​Sveti Klement, where you can enjoy the serene bays, coves, and beaches that make it a favourite for holidaymakers near and far.

It's most popular to visit the Pakleni Islands on a day trip, but I'll let you in on a well-kept secret. It's also one of the best places to stay in Hvar, Croatia.
Pakleni Island Highlights
Perna Bay (Sveti Klement)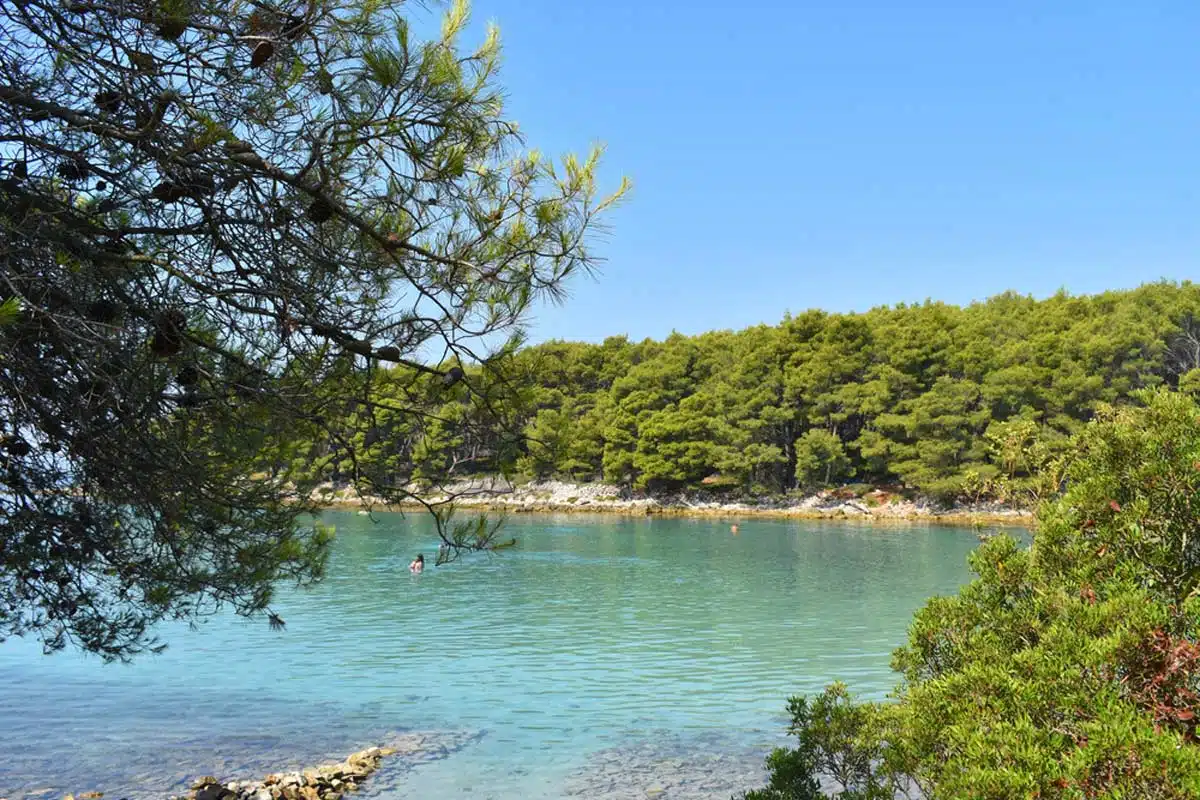 Sveti Klement, the largest Pakleni Island, is home to gorgeous beaches, many of which are a bit rocky (as you'll find all over Hvar). But the beach at Perna Bay has a small but sandy cove that's excellent for swimming.
Marinkovac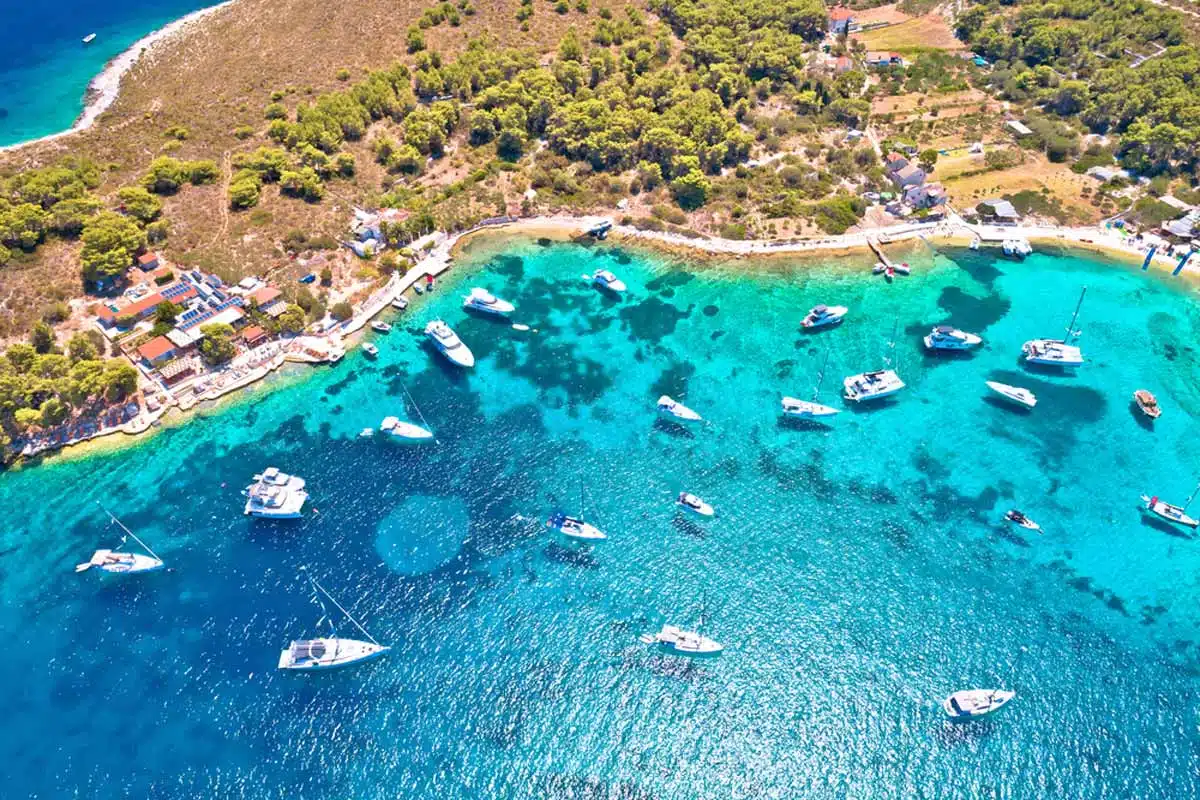 Marinkovac is a smaller island than Sveti Klement, but it's definitely worth a visit. Not only does it have the world-famous Beach Club/ Night Club (Carpe Diem), but it's also home to some of the most scenic beaches in Hvar. Be sure to stop by Mlini Beach to enjoy the beautiful clear blue waters it's famous for.
Jerolim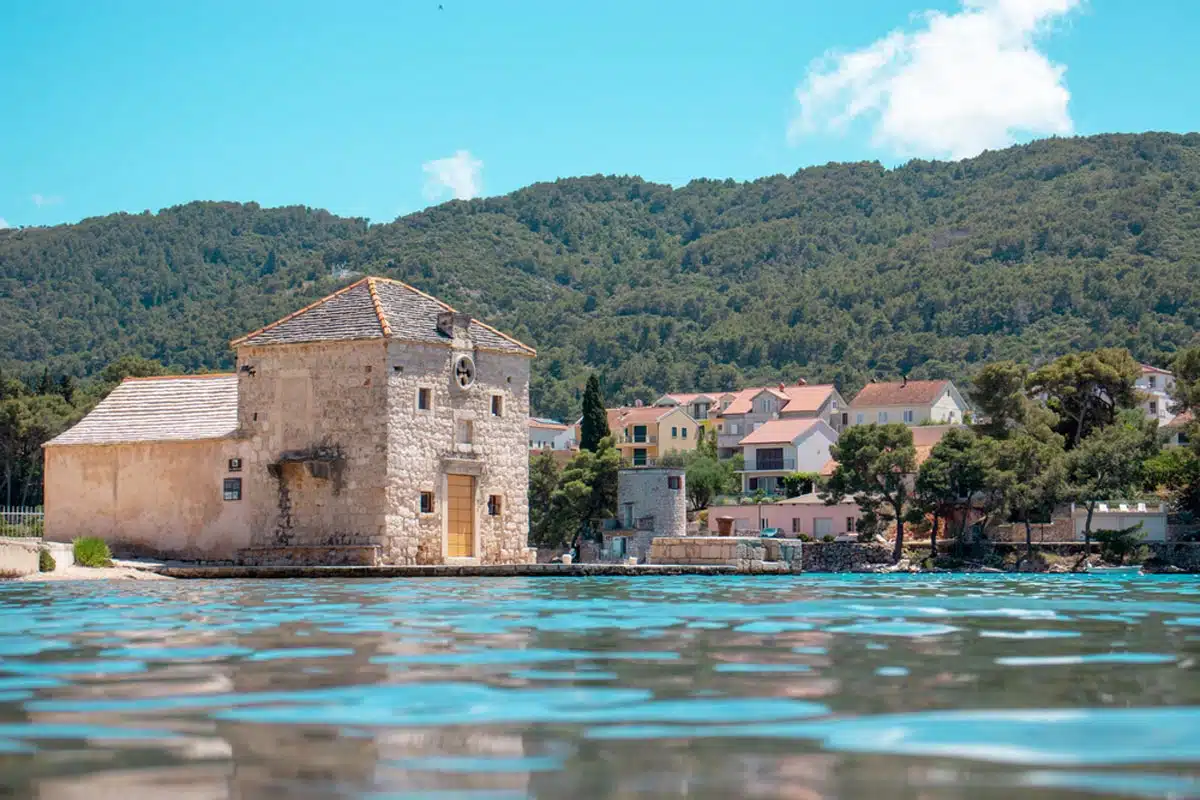 Jerolim is a smaller island you can reach by kayak or boat that's famous for its nudist beach.
Suggested Oceanside Hotels in Pakleni Islands
Konoba Pension PARADISO
Konoba Pension PARADISO is on a historic property near Soline Bay in Sveti Klement, where guests are treated to a whisper-quiet setting on a calm section of the island with stunning views of the Adriatic Sea from the comfortable rooms in this boutique B&B. 
Zori Timeless Hotel
Zori Timeless Hotel is a luxurious escape from Hvar Town on the island of Sveti Klement, which enchants guests with its 5-star service and stunning rooms overlooking the Dalmatian Coast. Stare out at the yacht-filled cove from private balconies with private hot tubs or pools flanked by palm trees and hammocks. Timeless and priceless, indeed.
Hvar Cricket House Pakleni Island
Hvar Cricket House Pakleni Island is a private 4-bedroom villa surrounded by a quiet garden near the coast. Walk down the path towards the ocean and discover a private beach where you'll likely spend most of your day. 
Milna: Where to Stay in Hvar for a Low-Key Trip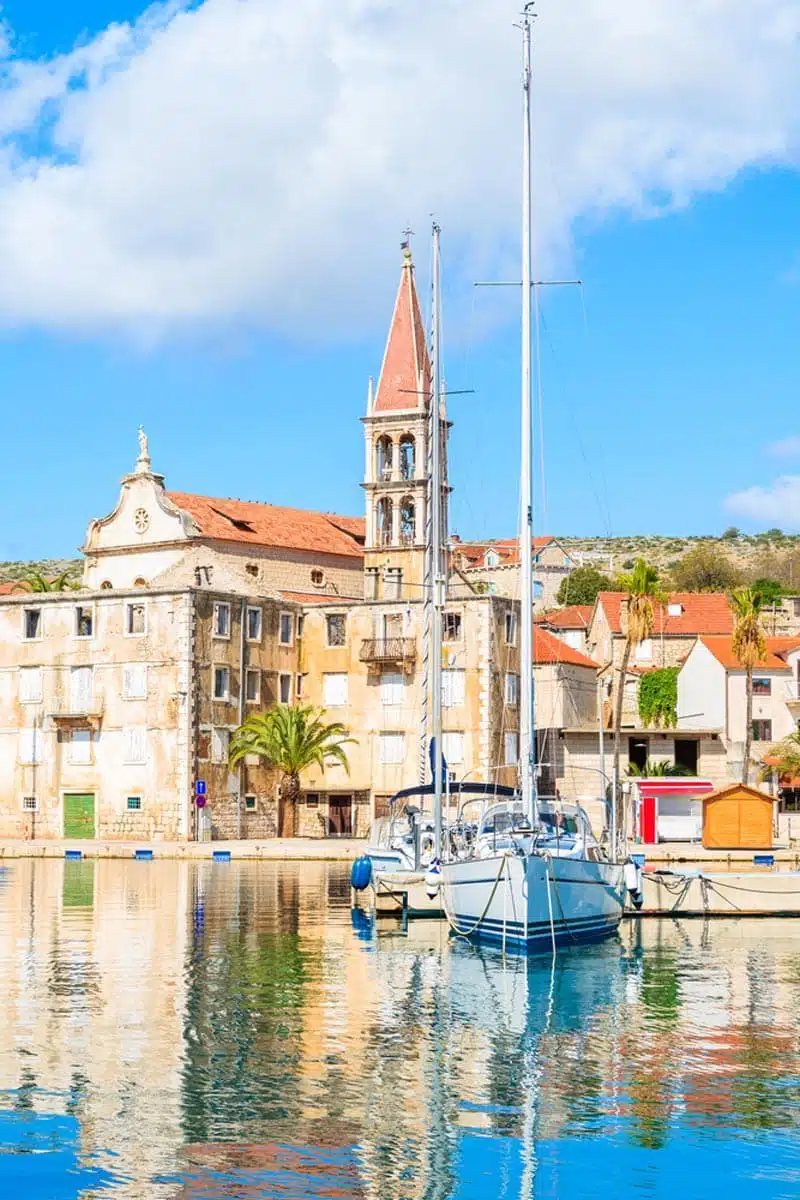 Just down the coast from Hvar Town is Milna, one of my favourite locations to discover hidden hotel gems in Croatia.
Because it's outside of Hvar Town, you won't need to compete quite as much to get the best ocean-view rooms in Milna. You'll need to venture further to get to the most famous landmarks and restaurants, but Milna is the spot to stay for travellers wanting million-dollar views on a bargain budget.

If you're looking for some of the best beaches near Hvar Town, Milna is the perfect area to visit in Hvar, Croatia. 
Milna Highlights
Beach Paščuka
Beach Paščuka is a famous hidden beach in Hvar, and you'll understand why shortly after arriving. The small cove has crystal clear waters and plenty of spots to find shade under the famous tree-lined shores Croatia is known for.
Draulik Diving Center
Where is the best to stay in Hvar for scuba diving? The Draulik Diving Center in Milna gives you a chance to take aquatic expeditions or lessons right from the harbour.
Beach Mala Milna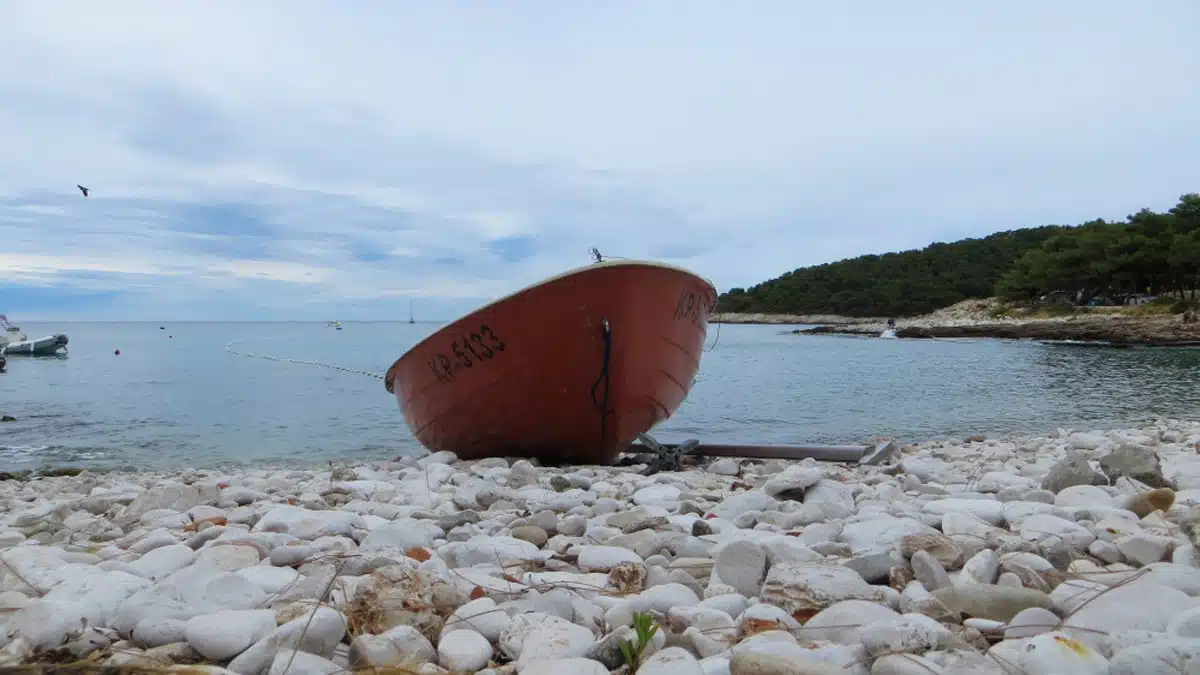 Beach Mala Milna is a popular spot for lying down a beach towel and soaking up the sun near the clear blue waters overlooking the Adriatic Sea.
Suggested Hidden Gem Hotels in Milna
Hotel Milna Osam – Adults Only
Hotel Milna Osam is an adults-only hotel that's a well-kept secret just a short drive from Hvar Town. You'll enjoy on-site beach access, an outdoor pool, and a restaurant with magical views of the Dalmatian Coast in Milna.
Hotel Fortuna
Hotel Fortuna offers an intimate setting with coastal views from private balconies overlooking the beaches and bay of Milna from your room. 
Villa Stonehouse
Perched just above the bay near Mala Milna beach sits Villa Stonehouse. The boutique accommodation offers cosy apartment-style lodging in quiet rooms with a full kitchen, living room, and outdoor space.
Vrboska: Where to Stay in Hvar for Beaches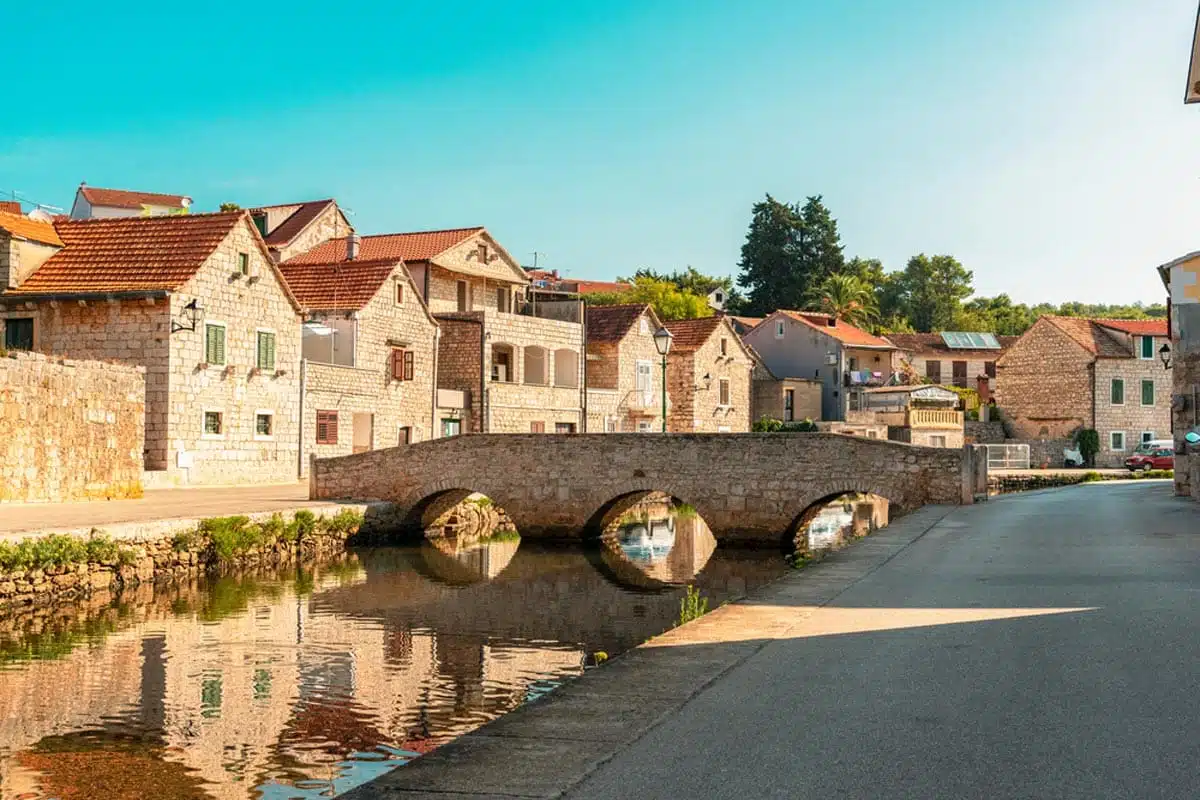 Located about 10 minutes from the livelier (but still laid back) Jelsa, Vrboska is a perfect place to call home for a week (or longer) in Hvar.

Known for the gorgeous (often hidden) beaches, oceanside location, and stone houses – the small village has plenty to see and do on your holiday in Croatia. Evidence of the ancient town shines through with stone houses, cobbled streets, and the idyllic walking bridge over the famous canal in "Little Venice."

Be sure to walk around the town centre and climb the hills through the winding alleys, or stroll alongside the canal and harbour while sampling the cuisine and wine the region offers.
Vrboska Highlights
Maslinica Beach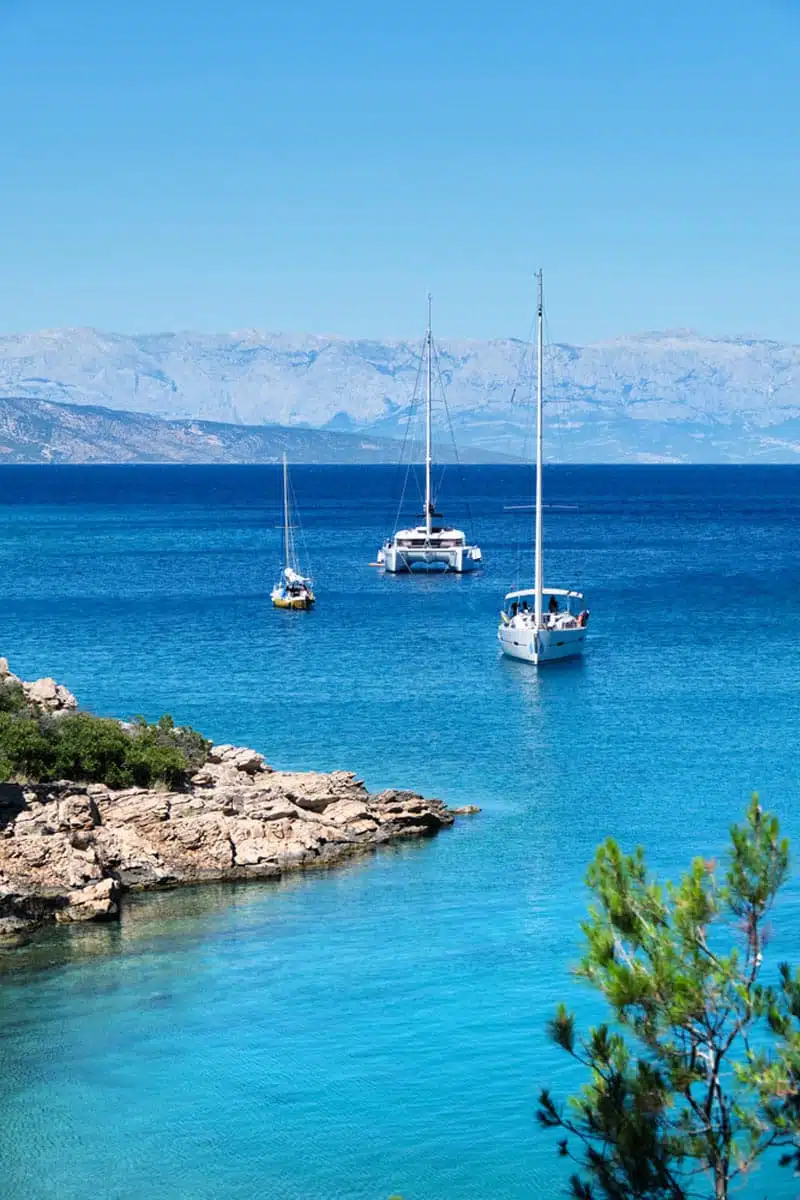 Hvar is full of hidden beaches, but none perhaps quite as charming as Maslinica Beach. The crystal clear blue-green waves lapping up onto the rocky edges of the idyllic cove offer everything you need to get lost in the coastal charm of Vrboska.
Zečevo Island
Take a short boat ride to Zečevo Island to experience some of the more secluded (and often naturist) beaches in Hvar. Snorkelling and scuba diving are excellent, and Zečevo Beach has clear, shallow waters ideal for wading and swimming.
St. Mary's Church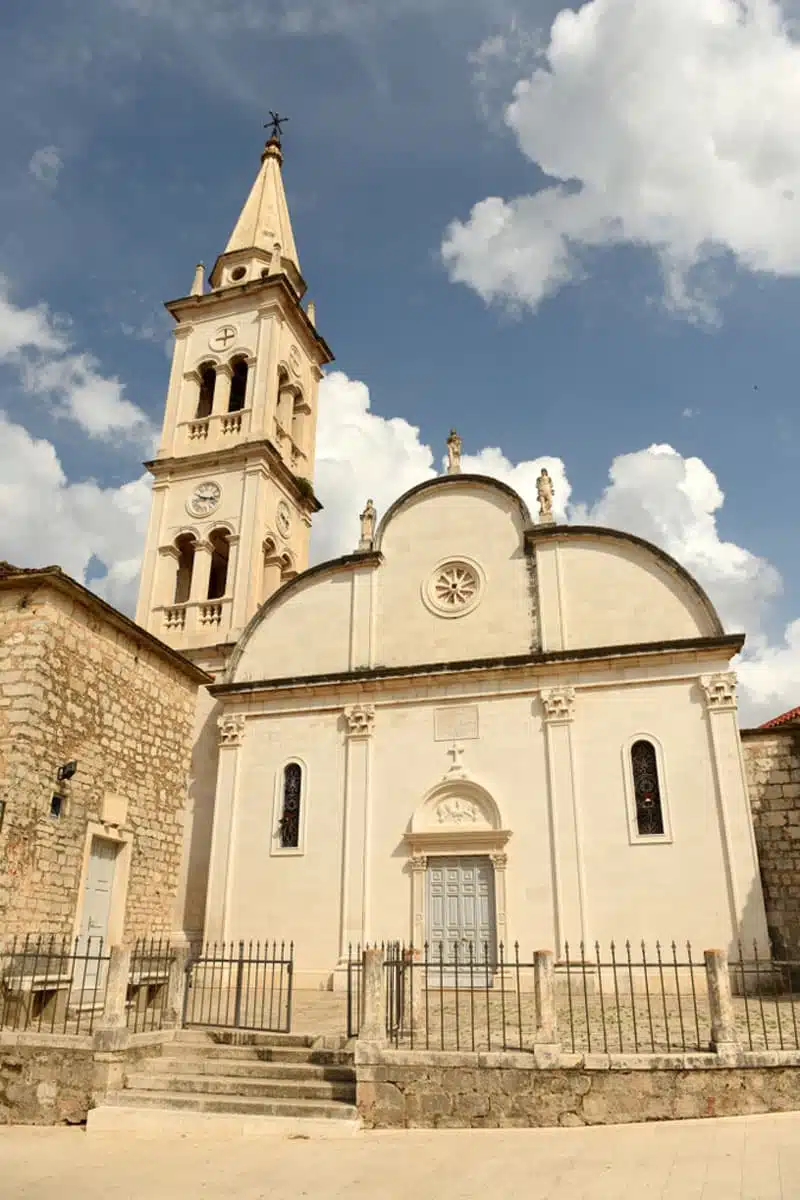 The most important architectural landmark in Vrboska is St. Mary's Church, a 15th-century Gothic building famous for its single tower and fortress walls is a popular stop while staying in Vrboska.
Suggested Beach Hotels in Vrboska
Labranda Senses Resort
Labranda Senses Resort is the best choice for a luxury hotel in Vrboska. The location is near the centre of town, and you have access to a spa, outdoor pool, bar and restaurant, and diving site. 
Plage Cachée – Glamping
A short drive from some of the best (and least crowded) beaches in Hvar is Plage Cachée, is a Glamping resort right along a quiet stretch of the Adriatic Sea on its own private beach (squeal).

You won't be roughing it. This is 100% glamping with full kitchens, running water,  comfy beds, and gorgeous views of the Dalmatian Coast.
Guest House Lucijo
Stay in a traditional stone house in a garden setting near the restaurants and beaches of Vrboska. You'll enjoy a full kitchen, AC, and television in the rustic yet charming Guest House Lucijo.
Where to Stay in Hvar: Frequently Asked Questions 
Related Searches FAQs 
Practical Tips to Consider Before Booking Your Hvar Accommodation
Look for rooms during off-peak months. October and May get similar weather as in the summer, with more reasonable room rates. 
Hvar is relatively small, so anywhere you stay will allow you to see most of the most famous landmarks by car or boat. 
Looking for where to stay in Hvar for nightlife? Hvar Town has most of the dance clubs and bars on the island.
Love This? Save and Share on Pinterest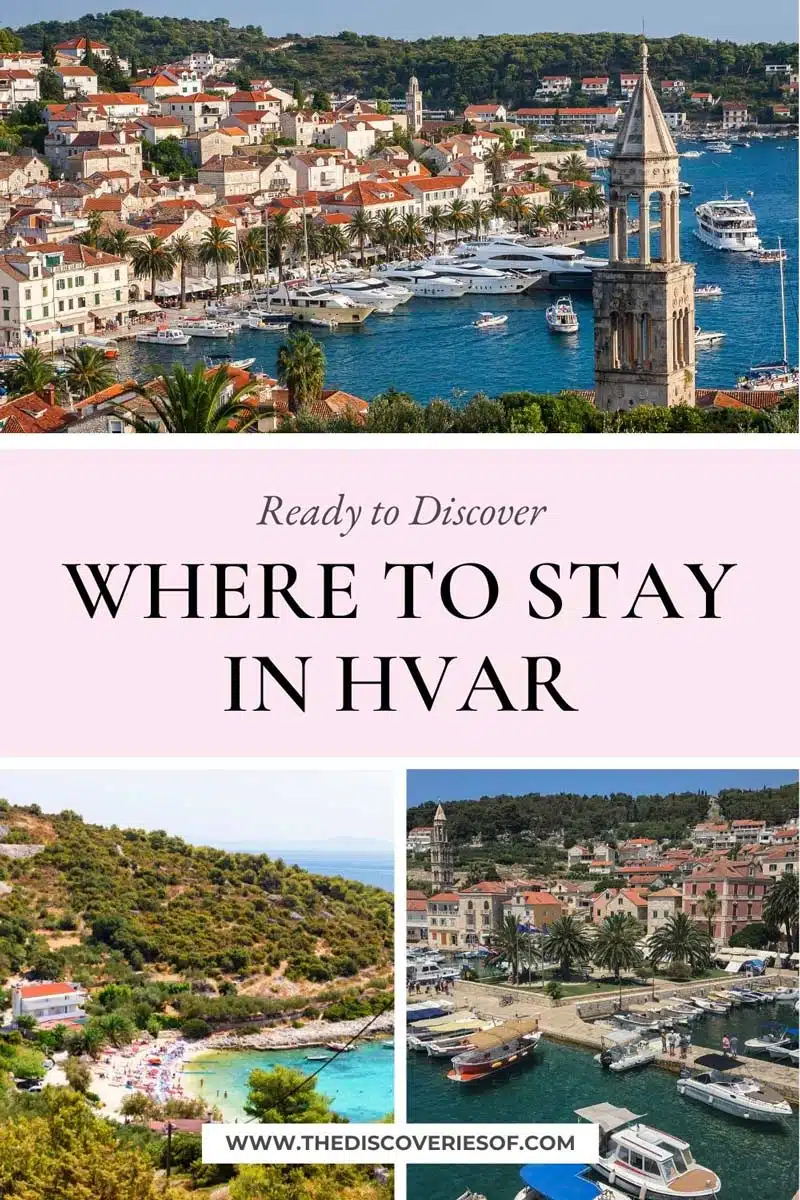 Now You Know the Best Places to Stay in Hvar, Read These