Dubrovnik is a jewel of a city: a maze of gleaming marble streets and gorgeous views on the Adriatic coast. Looking for the best things to do in Dubrovnik? Here's what you need to know.
Let me tell you one thing.
No matter how many good things you've heard about Dubrovnik, no matter how many pictures you've looked at, you'll still catch your breath the first time you see the city in real life.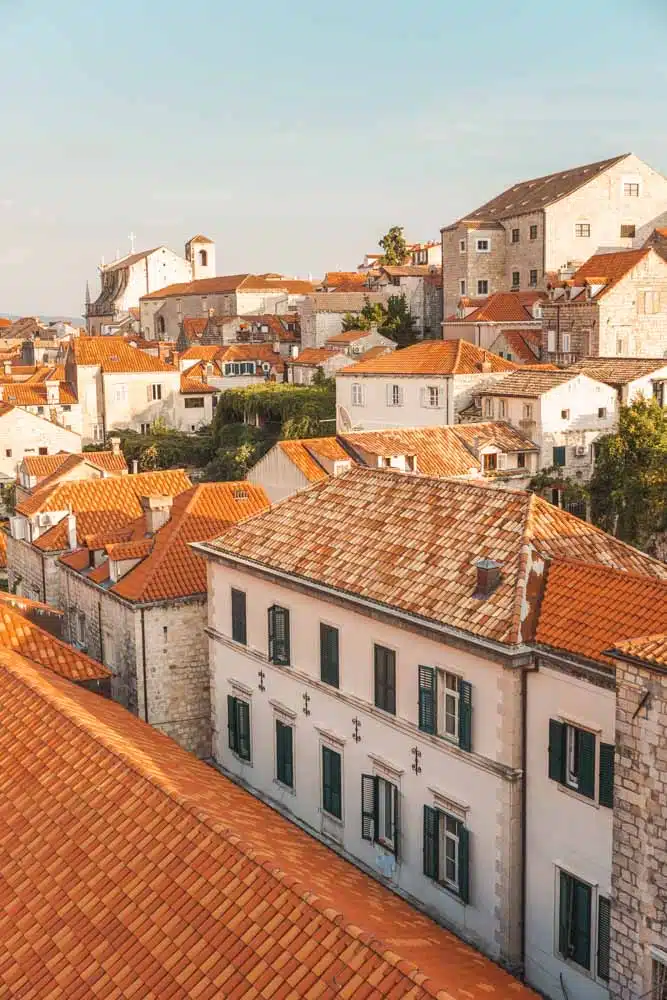 You'd have to be a bit dead inside not to: the sight of the walled old town, fitted snugly against the Adriatic Coast is so famous for good reason.
It would be a mistake though, to think that Dubrovnik's charms lie just within its looks.
Though small, this Croatian city bursts with a vibrancy and life that sweeps you up in a whirlwind of activity, only pausing to set you down when you're ready to leave.
Ready to explore? These are the places to visit and things to see in Dubrovnik that you shouldn't miss on your trip.
PS: Check out my guide to where to stay in Dubrovnik to walk you through the different areas in Dubrovnik and which one is best for you.
Top 5 Things to do in Dubrovnik
No matter how short your time in Dubrovnik is, there's a few things you just can't miss.
Here are my picks for the top 5 things to do in Dubrovnik, Croatia.
Game of Thrones Tour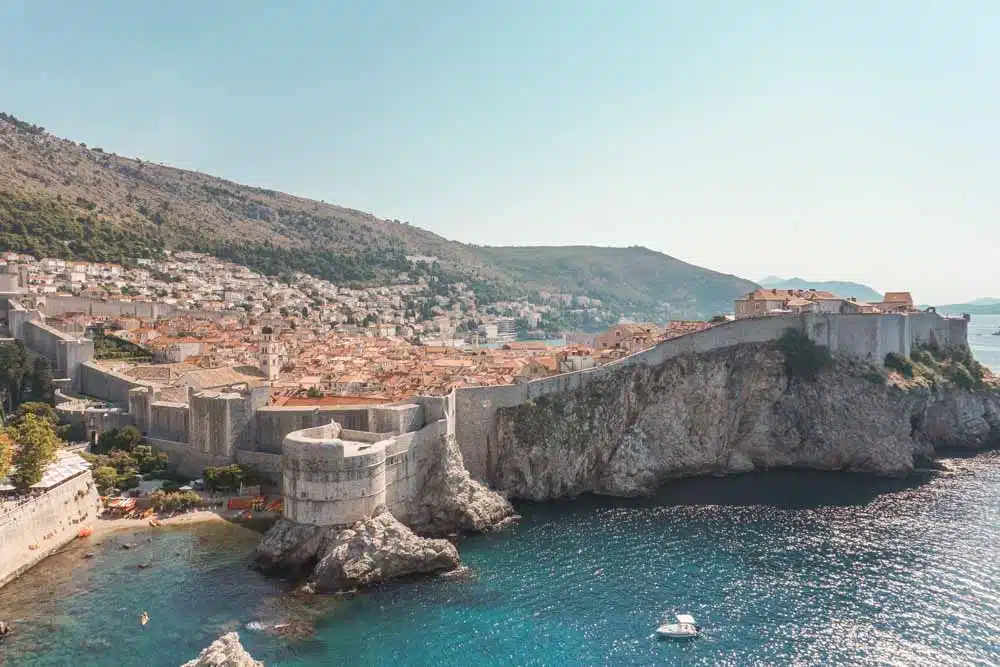 It took hundreds of years to build Dubrovnik and just a decade to send its popularity into the stratosphere. That's what hosting the pop culture phenomenon of Game of Thrones will do for you.
I totally get it. As a self-confessed Game of Thrones fanatic, you bet I was going to check out as many familiar sights as I could.
Turns out, it's not hard – turns out a fair chunk of the top sites in Dubrovnik have doubled up as the backdrop for everyone's favourite TV saga.
Now the series is over, it's time to relive all of the excitement by heading off on a Game of Thrones-inspired walking tour. I've even put one together for you – you can thank me later.
There's no doubt in my mind that checking out the filming locations is one of the most fun things to do in Dubrovnik. I mean, come on. It is Game of Thrones. In real life.
This was the tour I took and it was great. Highly recommended!

Read Next: Game of Thrones in Dubrovnik – Everything You Need to Know
Walk the City Walls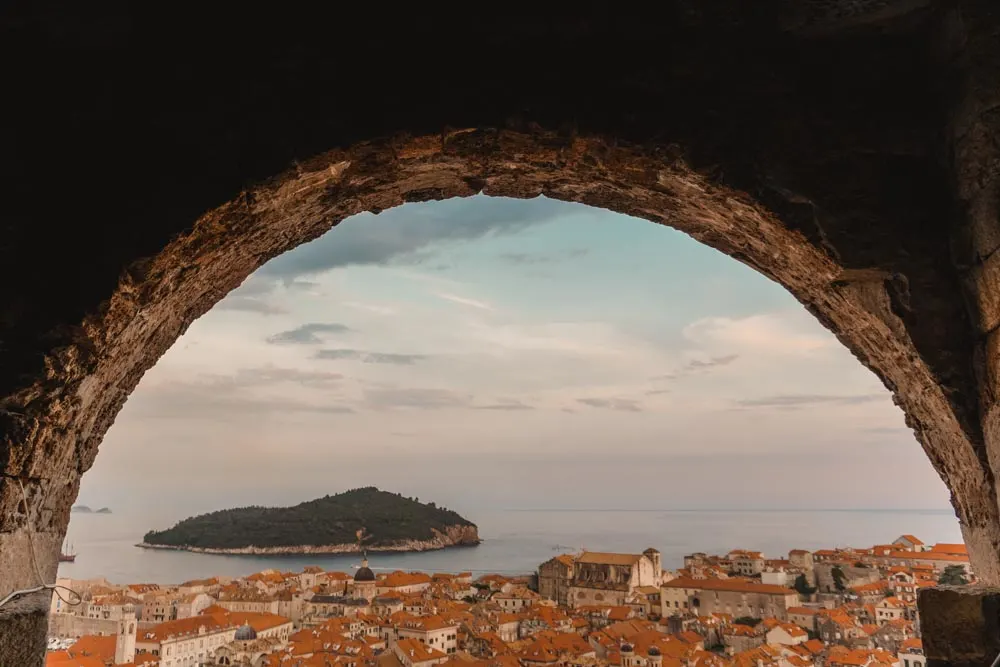 Wondering what to do in Dubrovnik? Three words – the city walls.
Have you even been to Dubrovnik if you haven't made your way around the city's spectacular walls?
Now, we've all visited "must dos" that turned out to be kind of overrated. Trust me when I say that Dubrovnik's city walls are not one of those attractions.
They're an amazing way to take in the fascinating history of Dubrovnik as well as soak in its beauty.
The walls were first constructed way back in the 13th century, although they have been added to over the years.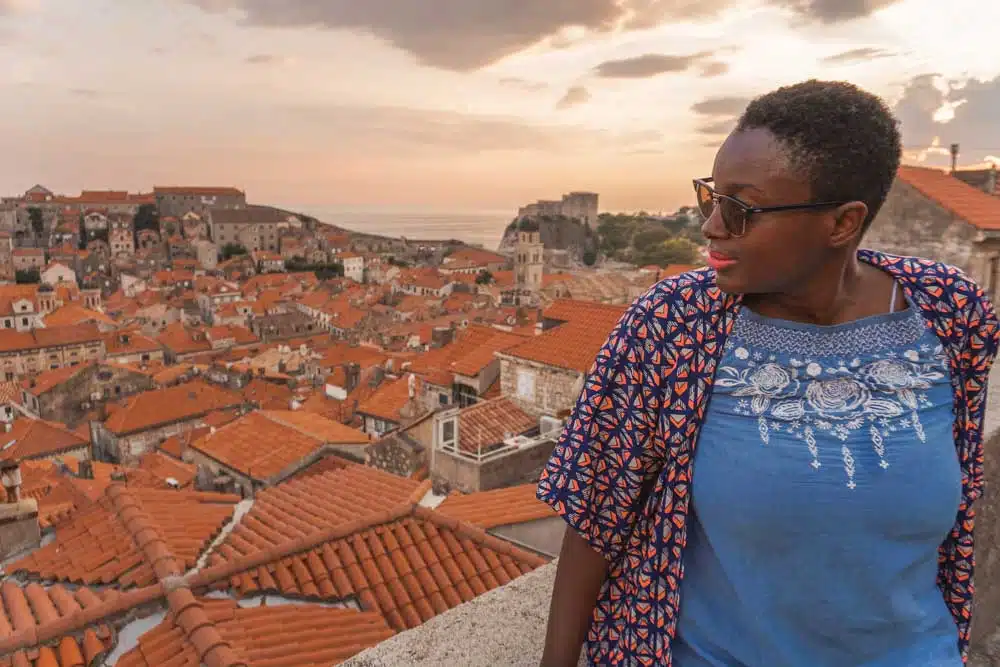 As you complete the two kilometre-long loop around the city, you'll pass numerous guard towers, bastions and even the famous St John Fortress.
You definitely start to feel a little like you've stepped back into Medieval times – until you whip out your phone to post it up on the 'gram, of course.
Word of warning: if you are the kind of person who gets annoyed shuffling behind a very lo-o-o-ng line of people, you'll want to get to the walls super early to beat the crowds.
Or you can face the fact that it's going to be busy and go up there just before sunset when the golden hour makes the city gleam.
Book a Sunset Tour of the City Walls
Wander Around the Old Town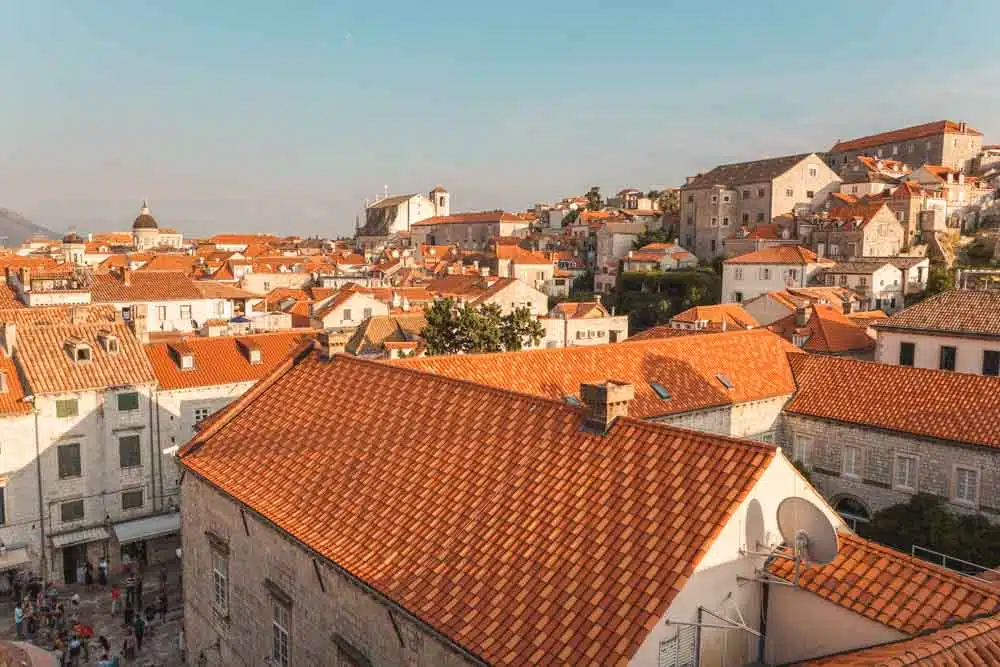 So what was so amazing that it had to be protected by sky-high walls and soldiers who were pretty handy with a bow and arrow?
The Old Town, of course.
One look at this amazing place and it will be very clear why so much effort was put into protecting it. It is absolutely, dazzlingly beautiful.
Once you've got over the shock of how pretty it is, it's time to take a deeper dive and explore.
You'll find many different types of architecture represented throughout the Old Town.
Try to spy the different Gothic, Renaissance and Baroque buildings – not only are they beautiful, but you're sure to impress with your fancy new knowledge.
Placa (Stradun) is the main street and a good starting off point, although I highly recommend wandering further afar down the backstreets.
You can also stop by the Old Port and watch everyday life go by in one of the most beautiful cities on earth.
Want to know all about Dubrovnik's Old Town? Book onto this cool walking tour of the city's main sights.
Sunset from Mount Srd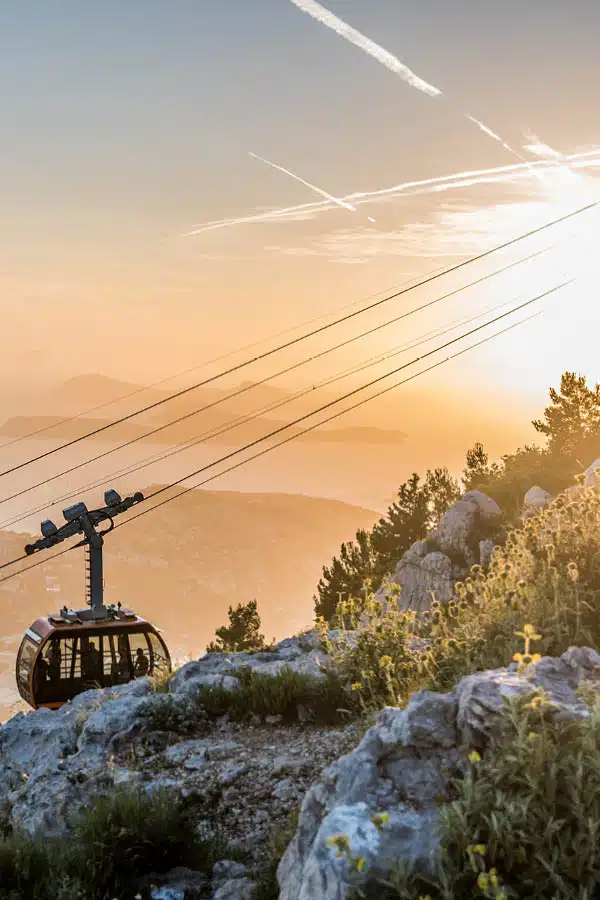 So in case Dubrovnik wasn't so-pretty-you-could-cry already, it really turns things up a notch at sunset.
The best way to take it all in is from above, and Mount Srd is pretty perfectly located to take in some awe-inspiring views. There is a cable car, but it's shut at the moment – you can always hike up though.
From the top, not only will you have a gorgeous view of the ochre roofs of Dubrovnik, but also the surrounding sea.
Then there's the bistro/cafe where you can grab a snack and/or a glass of vino. Wine in hand, watching the sunset over glorious Dubrovnik? Yeah, I'm pretty sure heaven looks something like this.
Don't miss it – it's definitely one of the coolest to do in Dubrovnik
PS: Park Orsula is a much quieter spot also with great views of the city – I've featured it in my guide to Dubrovnik's Hidden Gems.
Visit Lokrum Island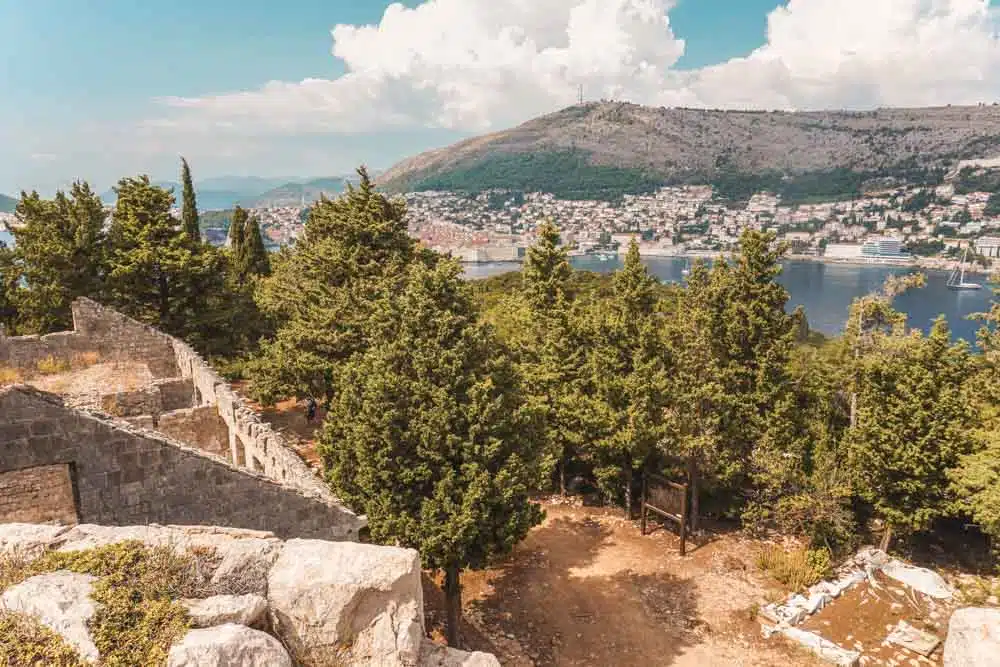 I know, it's hard to pull yourself away from Dubrovnik – but trust me, there's more good stuff not too far away.
I'm talking about Lokrum Island, a charming island that's just as popular with locals as it is with tourists (always a good sign.)
Lokrum Island is located just 600 metres off the coast of the city, so it's easy to reach as a day trip from Dubrovnik. That's lucky, because it's actually prohibited to stay overnight on the island.
As a result, it's been well looked after and is a large nature reserve. While just enjoying the fresh air is a great way to spend a day, there are a few other unmissable spots.
The climb to the highest point on the island is totally worth it to check out the beautiful Old Fortress overlooking the island and back towards Dubrovnik.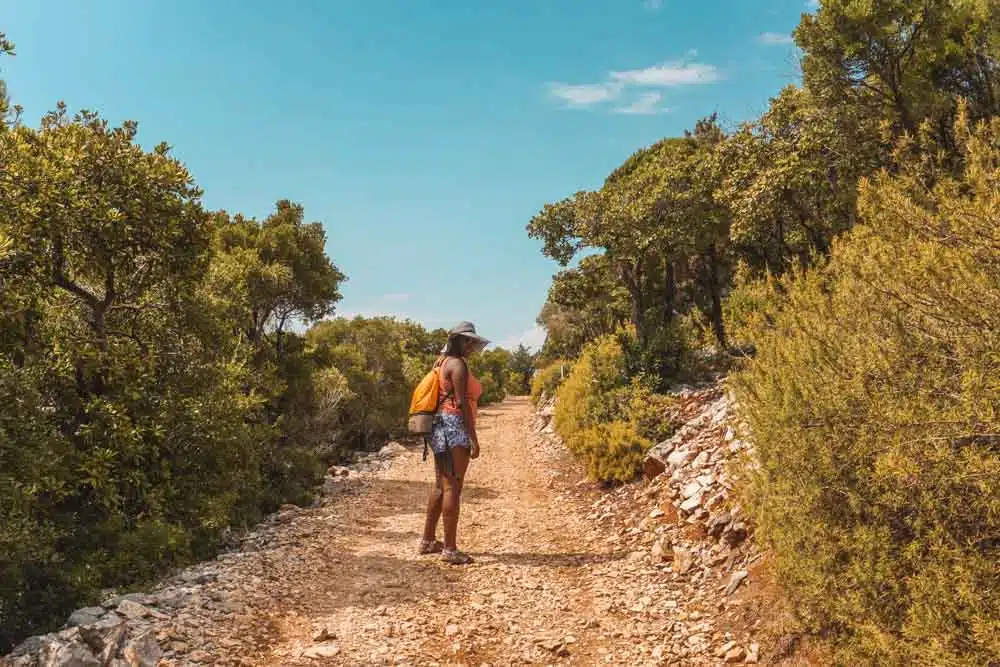 Then there's the beautiful Monastery, complete with a 12th century basilica. You can't miss it if you're looking for amazing things to do in Dubrovnik.
Do keep in mind that Lokrum Island is only open to the public between April and October. Also, check the boat timetables ahead of time – you don't want to end up stranded on the island!
Recommended Tour: Lokrum and City Walls Tour
Things to do in Dubrovnik in the Day
Take a Trip to the Elaphiti Islands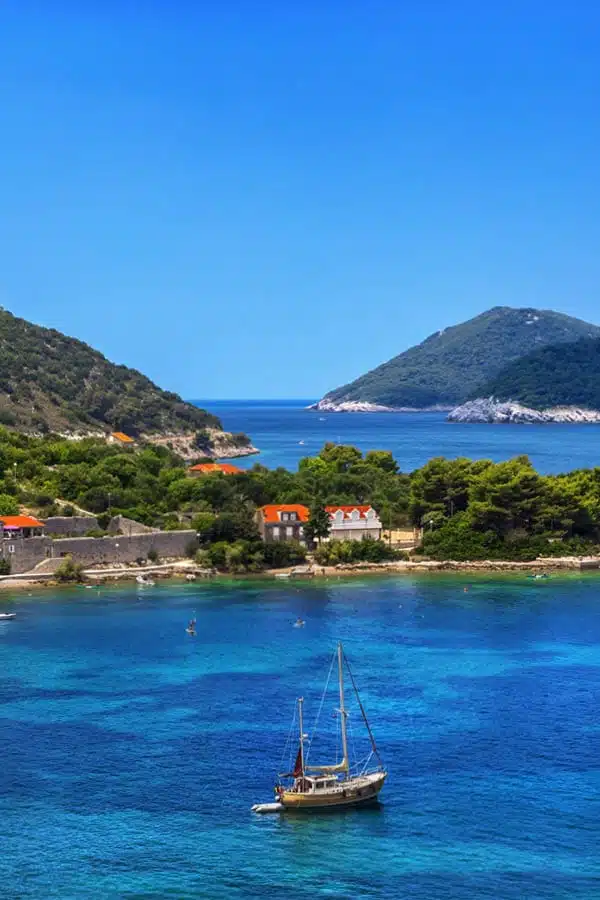 One of the best things to do in Dubrovnik is to go on a tour to the Elaphiti Islands – thirteen islands located just off the coast of Dubrovnik.
The islands are a paradise for nature lovers, with crystal-clear waters, stunning beaches, and lush forests.
The best way to explore the islands is on a boat tour. You can choose from a range of different tours, including half-day or full-day tours, sunset tours, and even wine-tasting tours.
The boats usually stop at several of the most popular islands – including Kolocep, Lopud, and Sipan. Plus there's normally plenty of time to swim, sunbathe, and explore a village or two.
Book This Elaphiti Islands Hiking and Swimming Day Trip
Walk Down Stradun
While you're in Dubrovnik, I can almost guarantee you'll end up Stradun. It's the main street of the city, and all roads lead towards it.
Honestly, it can get crowded and toasty warm when the sun bears down on the cobblestones and visitors. Nonetheless, it's a must do Dubrovnik attraction.
It's the heart of Old Town and lined with shops, cafes and restaurants all beckoning you in. Personally, if you're hungry, I recommend heading a few streets back – but you could totally indulge in an ice cream from one of the vendors.
It's certainly incredibly beautiful (where in Dubrovnik isn't?) and there can be some great people watching to boot. Make sure you schedule in at least one stroll during your stay in the city.
Chill out at Fort Bokar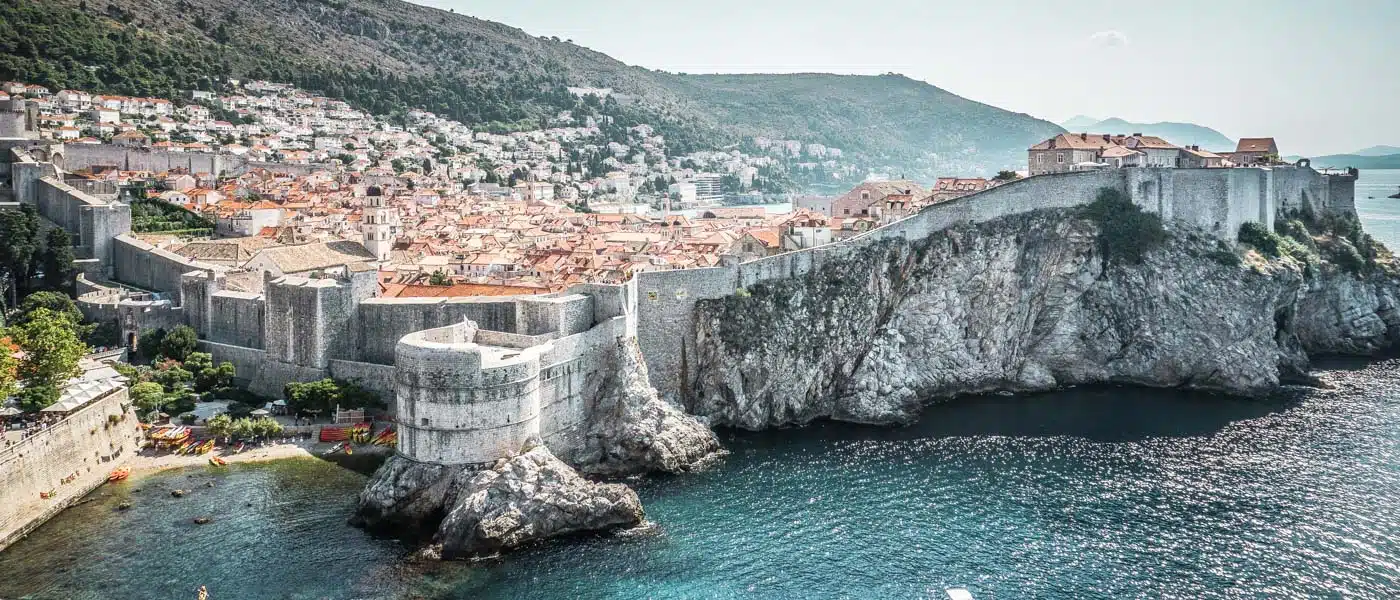 The phrase "it blends beautifully with its natural surroundings" is one often overused in real estate ads, but it's totally fitting for Fort Bakar.
This defensive castle and wall around Dubrovnik blends so well with the cliffs on the coast that it's hard to tell where one starts and the other begins.
As well as observing from afar, it's well worth paying a closer visit and soaking up some of the good vibes.
It's particularly popular in summer, and it plays host to the Dubrovnik Music Festival in mid-July.
Go Kayaking in the Bay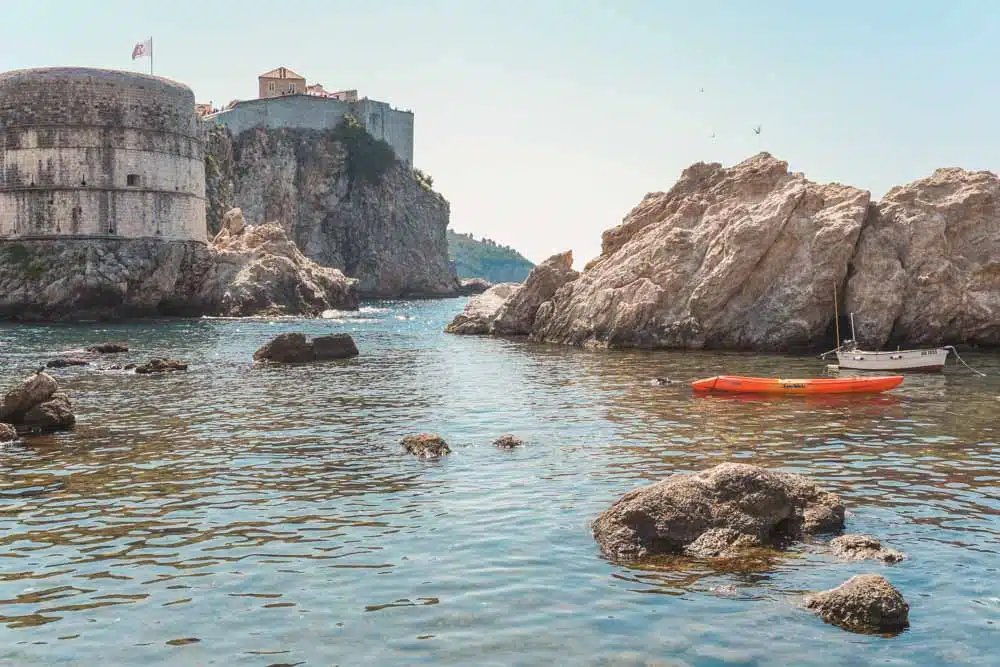 In case I haven't made it obvious by talking about it ad nauseum, Dubrovnik is really, really pretty. Really pretty.
Things are pretty amazing from inside the Old Town, but they're arguably even better from the sea – and you get a workout too. What could be better?
Don't worry if you're not a strong kayaker, the section of the Adriatic outside Dubrovnik tends to be calm – nice and easy for your trip.
It's a super relaxing way to spend a few hours to a whole day. You might even get to paddle out to the beautiful island of Lokrum.
Grab your spot on a guided kayaking trip.
Visit Dubrovnik Cathedral
I couldn't write a guide on what to see in Dubrovnik without pointing you to the city's gorgeous 17th century cathedral.
Entry to the grand old building is free, and it is generally open from dawn to dusk except when mass is underway.
Entry into the cathedral's treasury will only set you back 15 Kuna, and you're likely to be dazzled by all the treasures that have been amassed during its lifetime.
In particular, the cathedral guards some pretty incredible historic antiquities, including relics from the 11th century. Not bad for the equivalent of 2 euros.
Buy Fresh Fruit at the Old Town Market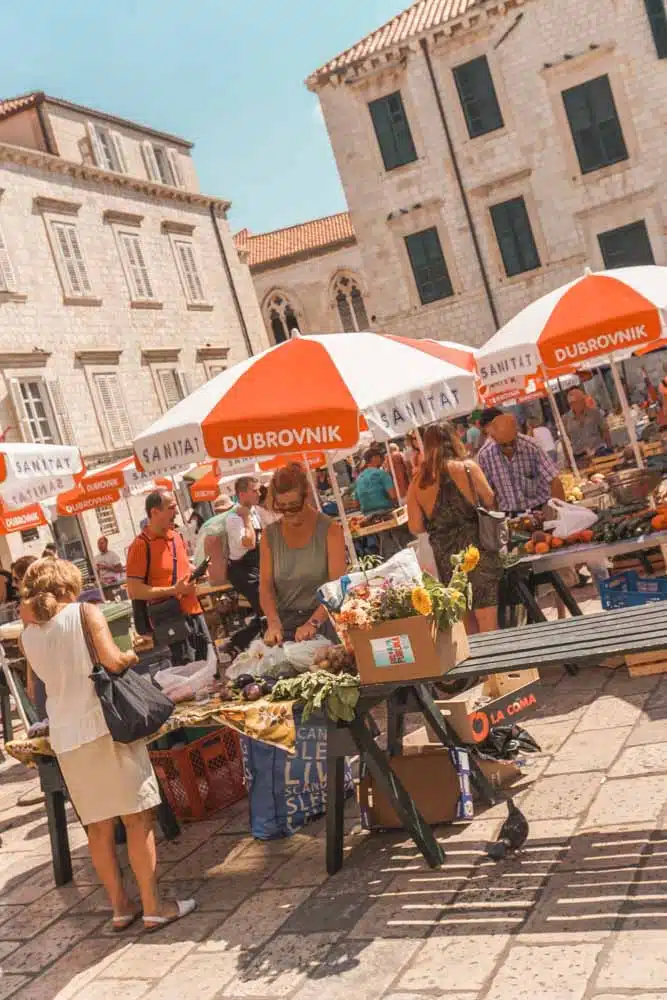 Tucked away behind the Church of St Blaise you'll find a sprawling food market covering pretty much the entire square of Gundulićeva poljana.
Here you'll find more than enough to tempt your tastebuds, but I couldn't go past the delicious fresh fruit.
It's the perfect accompaniment to a warm day in Croatia and it gives you an excuse (if you need one) to do the rounds checking out all of the stalls.
The market is on six days a week, and as well as scrummy fruit you'll also find produce like honeys, jams, peppers and spices, if that's more your thing.
Check Out The Old Pharmacy Museum
This museum is located in the old pharmacy building on St. Dominic Street, and it's one of the most interesting museums in Dubrovnik.
It contains exhibits about the history of medicine, including anatomical displays and a collection of medical instruments.
Planning a Longer Trip to Croatia? Don't Miss My 10 Day Croatia Itinerary
Head to the Beach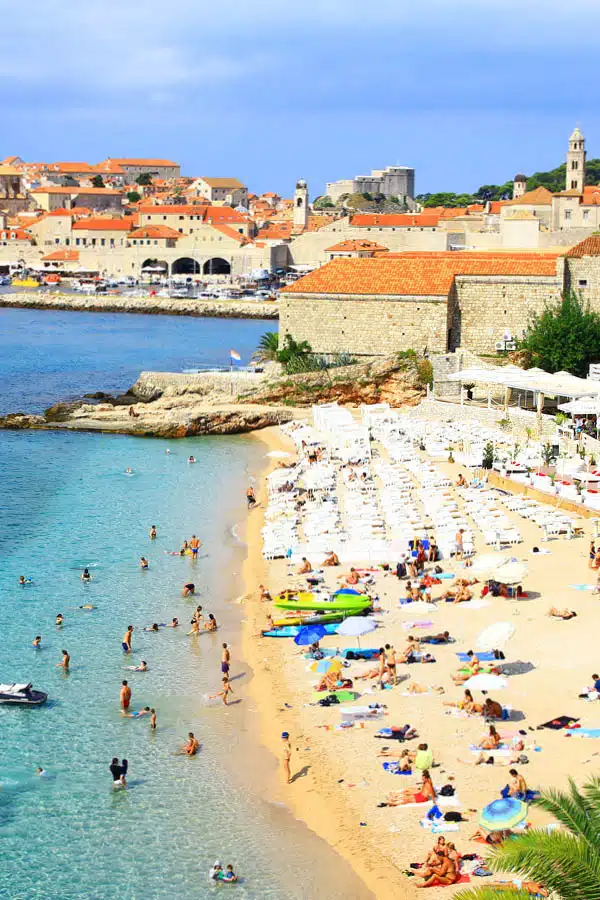 Croatia's beaches have reached near mythical status worldwide, and it's well deserved. No matter how long your visit to Dubrovnik is, you've got make time to hit up the beach.
While a lot of the attention is focused on the (jaw-droppingly awesome) islands, Dubrovnik also offers some pretty great beaches.
There sea, sand and surf, of course, but the best ones also offer up brilliant and kind of mesmerising views of Dubrovnik.
The most popular is Banje, owing to its beauty and central location, while Buža and Danče are also good options.
That was in the 17th century, and it was built atop the ruins of an older church that was destroyed by an earthquake. A fire followed not long after, but miraculously a beautiful sculpture of St Blaise survived both.
It's still on display in the church, and perhaps a good place to direct your wishes to one day return to Dubrovnik!
Hit Up One of Dubrovnik's Craft Beer Breweries
Like much of the rest of the world, craft beer is becoming increasingly popular in Croatia, and Dubrovnik has a few great breweries of its own.
Dubrovnik is home to a few great craft beer breweries, and if you're a fan of craft beer, you definitely won't want to miss them. Check out the following breweries for some of the best beer in Dubrovnik:
Sv. Nikola Craft Beer Brewery
Lokal Craft Beer Brewery
Buža Brewing Company
Pivara Medvidovic
Birell Craft Beer for some delicious local brews.
Take a Peek at the Church of St Blaise
The market's location means it's super easy to combine with a visit to the Church of St Blaise, another of the top things to see in Dubrovnik.
The Church's beauty is one reason it's such a drawcard of the city – then there's that it's namesake, St Blaise, is the patron saint of Dubrovnik.
It's a beautiful Baroque-style church, that was built back when Dubrovnik was actually a separate republic.
That was in the 17th century, and it was built atop the ruins of an older church that was destroyed by an earthquake. A fire followed not long after, but miraculously a beautiful sculpture of St Blaise survived both.
It's still on display in the church, and perhaps a good place to direct your wishes to one day return to Dubrovnik!
Soak Up the History at Sponza Palace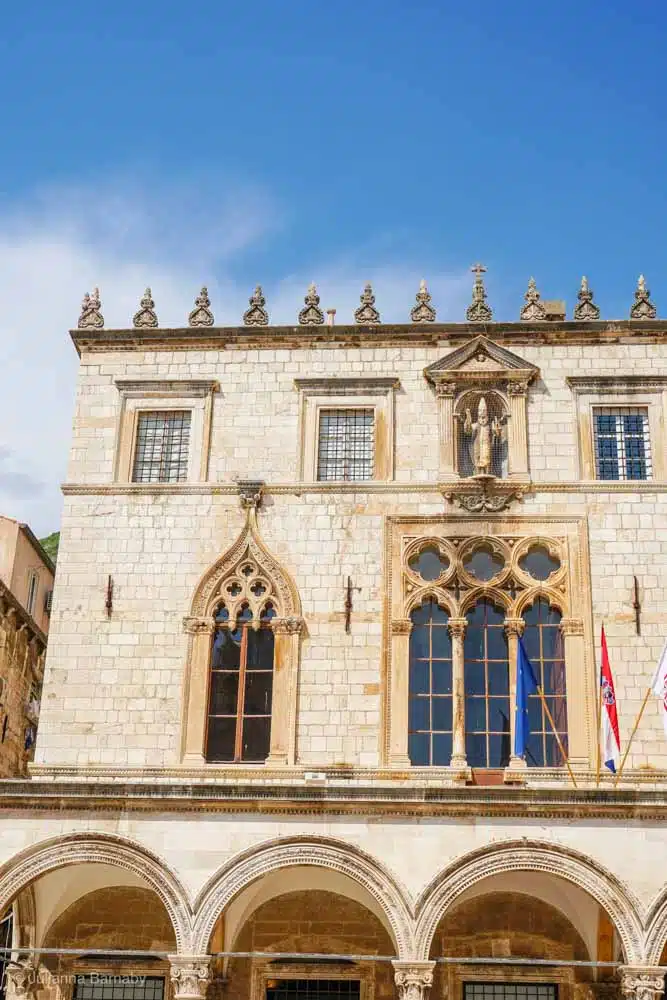 If you want to get a feel for what it would have been like to be aristocracy back in the 16th century Dalmatia (spoiler: pretty awesome), then head for Sponza Palace.
The character of this palace is a bit different than the norm in Dubrovnik. This is due to the fact that it was one of the few buildings to survive the massive earthquake of 1667.
Since its construction, it's had a varied career serving as a mint, treasury, armoury and bank.
Today, it famously holds some pretty incredible books, including a manuscript from way back in 1022.
A little disappointingly, but not surprisingly, it's not on public display – but the building itself is a gorgeous sight.
People Watch at the Onofrio Fountain
One Dubrovnik attraction that's seen its fair share of history is the Onofrio Fountain.
Built in 1483, it was a huge feat of engineering back in the day, bringing water into the heart of the city (pretty important, I'd say.)
It was built so well that it managed to mostly survive the earthquake of 1667, although a few carved characters got knocked off their perches.
It remains one of the cities most iconic sights, and attracts large hordes of tourists.
Once you've paid a glance at the fountain, it's time to settle in for a spot of people watching. You never know what you might see.
Climb Up to Fort Lovrijenac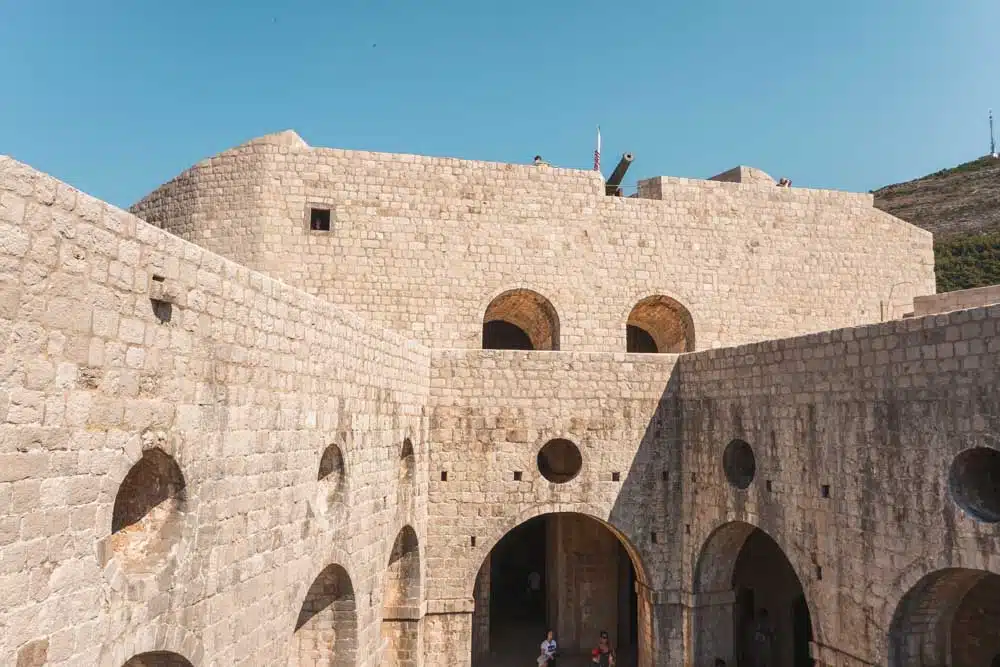 Yet another Dubrovnik point of interest that may be familiar to GOT fans is Fort Lovrijenac. Not only is it one of the most picturesque sights in the city, but it's also one of the oldest.
In fact, the base of the fort dates way back to somewhere between 1018 and 1038. Given how old it is, you've got to forgive the historians for being a tad fuzzy on the dates.
Throughout history there have been numerous additions and re-fortifications. My favourite is the installation of the very dramatic slogan NON BENE PRO TOTO LIBERTAS VENDITUR AURO – freedom is not sold for all the gold in the world.
George R. R. Martin couldn't have written it better himself.
Read More: The Game of Thrones Guide to Dubrovnik
Learn About the Region's History in Dubrovnik During the Homeland War
Looking at the beauty of Dubrovnik today, it's hard to forget that it wasn't that long ago that it was caught in the grips of a country-wide conflict.
During the early 1990s, Croatia battled for independence from Yugoslavia. Dubrovnik didn't escape the brunt of the conflict, and it was bombed extensively in late 1991.
Croatia eventually won its independence, and Dubrovnik's wounds were largely healed. There are still, however, both physical and emotional scars of this difficult time.
Visit the Homeland War Museum to learn more about this turbulent period in Croatia – a moving experience.
Be Wowed by the Rector's Palace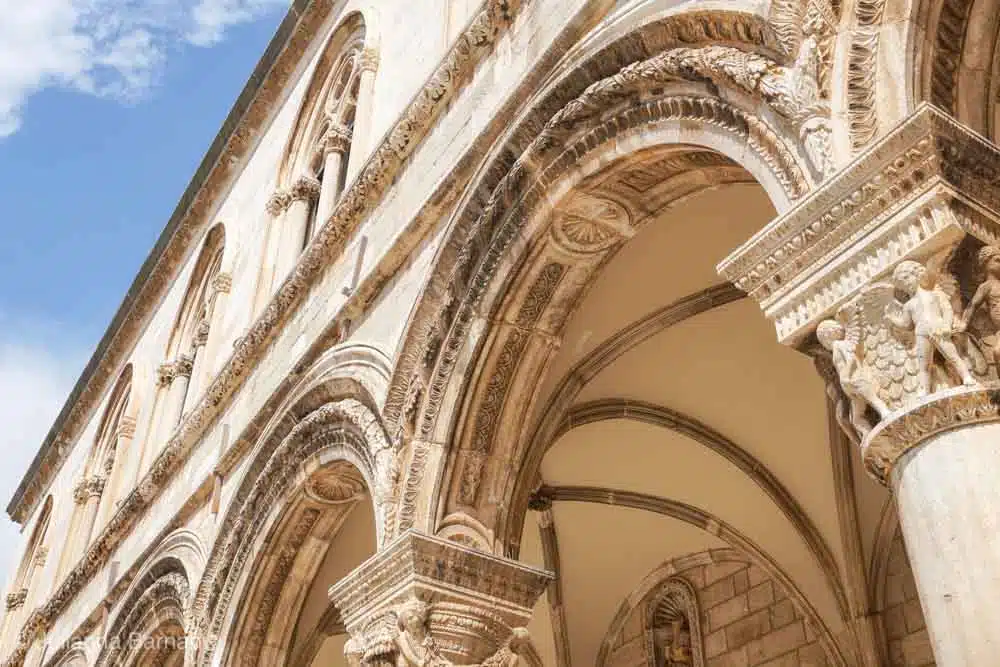 European history sure isn't easy to wrap your head around with the way it's totally changed throughout the last millennia.
Take Dubrovnik for example – did you know that 200 years ago it was the capital of its own republic known as the Republic of Ragusa?
Not just for a hot minute, either – the republic (which at its height was around 30,000 strong) lasted from 1358 until 1808. Pretty amazing.
During this time, the Rector's Palace was the epicentre of political and social affairs in Ragusa. It functioned as a parliament, prison and armoury – talk about multitasking.
Today, it's one of the top things to do in Dubrovnik and a great place to learn about the history of southern Croatia.
Through the many different objects such as clothes and homewares, you can learn a lot about life in Dubrovnik in centuries past.
Pop Into the Ethnographic Museum
Once you've wandered around the city and been dazzled by the ancient beauty, you might find yourself wondering what life was actually like in Dubrovnik back in the day.
Luckily, you can easily find out by paying a visit to the Ethnographic Museum, one of the more unusual Dubrovnik activities.
Located in a 16th century building, this museum opened up way back in the 1950s. In this time, it's intrigued many with its eclectic collection of exhibits.
Unlike many museums that focus on famous and notable people, I love that the Ethnographic Museum focuses mainly on everyday people.
Enter the Old Town at the Pile Gate
As with pretty much all walled cities the number of entrances to the Old Town of Dubrovnik is limited (that was kind of the point).
That means you'll need to head through one of the entry points to reach the Old Town itself – my favourite is the utterly stunning Pile Gate.
While I'm kind of devastated they did away with the drawbridge, there's still plenty of old charm at this 15th century gate.
Visit War Photo Limited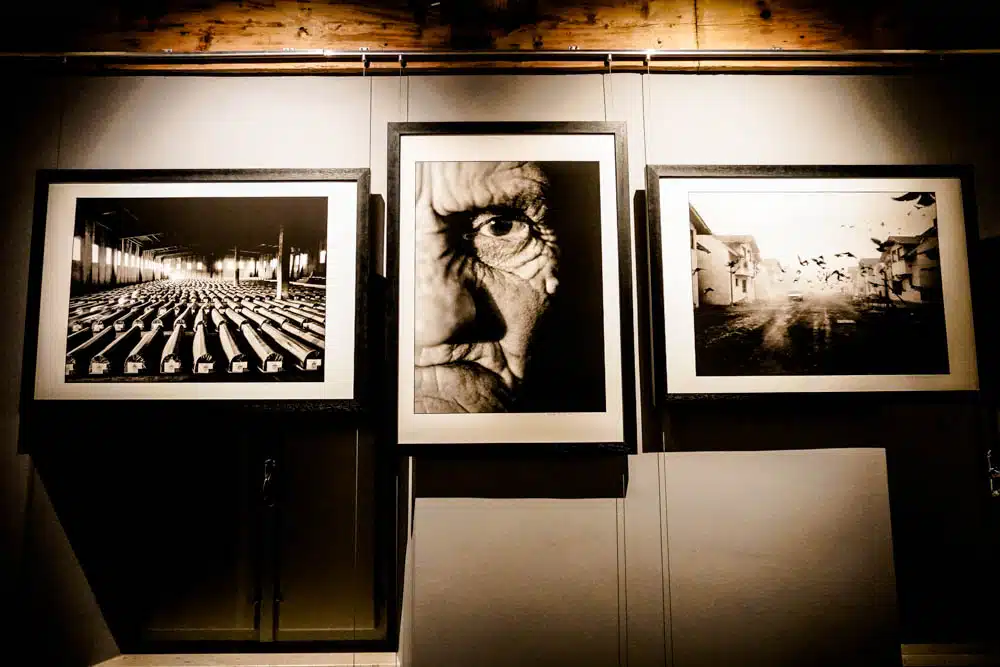 No matter how beautiful Dubrovnik is, it's hard to forget that it is a city that has witnessed many conflicts, most recently in the 90s.
It's a fitting setting for the moving War Photo Limited exhibition.
This exhibit gives an unflinching and sometimes confronting look at conflicts around the world, from a camera lens.
Each photo freezes in time a dramatic moment, and it's impossible not to feel moved by this place.
Whether covering local conflicts or those afar in places like Iraq, it's an unapologetic and authentic look at war around the world.
Lunch at Taj Mahal – a Cute Bosnian Restaurant in the Old Town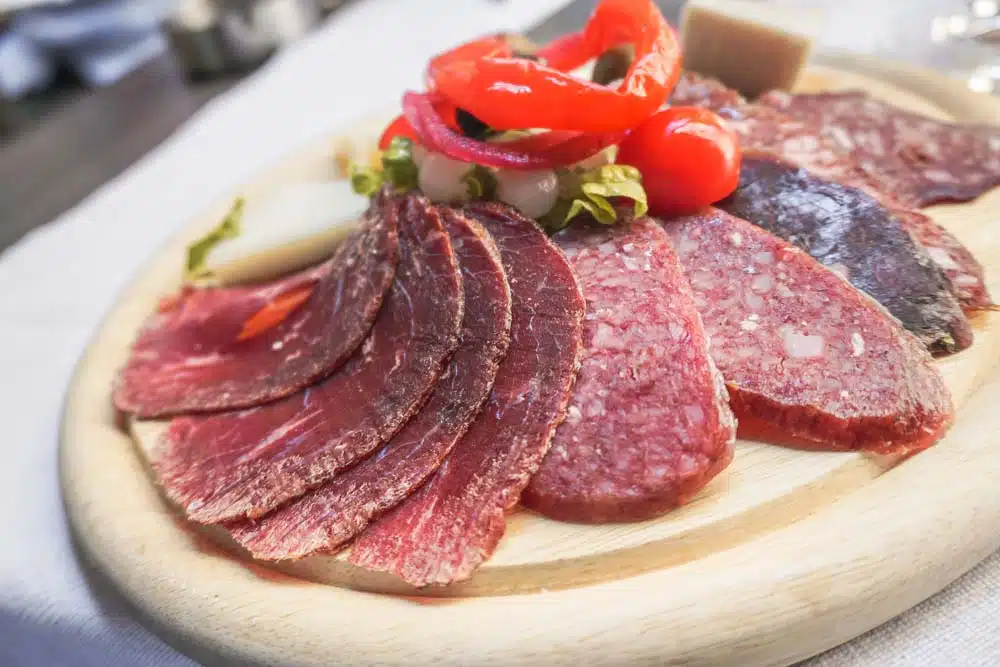 Once you've had plenty of Croatian skewers, it's time to fill up on delicious Bosnian cuisine. For this, you can't miss the Taj Mahal.
Yes, it's a Bosnian restaurant, in Croatia, named after an Indian icon. Why not?
The food here is totally delicious – my mouth is watering just thinking back to that amazing Klepe (homemade egg pasta) and the delicious Bosnian charcuterie and wines.
They have a particularly good vegetarian selection, with a vegetarian platter that's to die for.
Trsteno Arboretum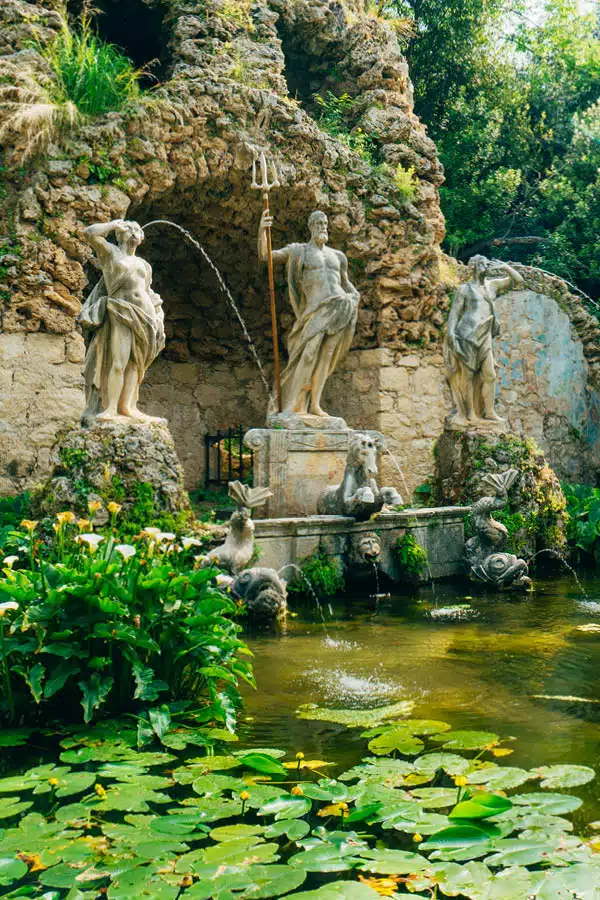 Old is kind of Dubrovnik's thing, so it may come as no surprise to know that the city is home to one of the oldest arboretums in Eastern Europe.
It may well be the oldest, but it's hard to know – there is no record of when exactly it started. We do know, however, that it was in existence by at least 1492.
While the Arboretum sustained some damage during the Croatian War of Independence in the early 90s, it's been restored. Today, it's a gorgeous spot filled with lush plants and lots of flowers.
Keen eyed GOT fans might even recognise it from the third and fourth seasons. All in all, it's one of my favourite places to visit in Dubrovnik.
Things to do in Dubrovnik at Night
Buza Bar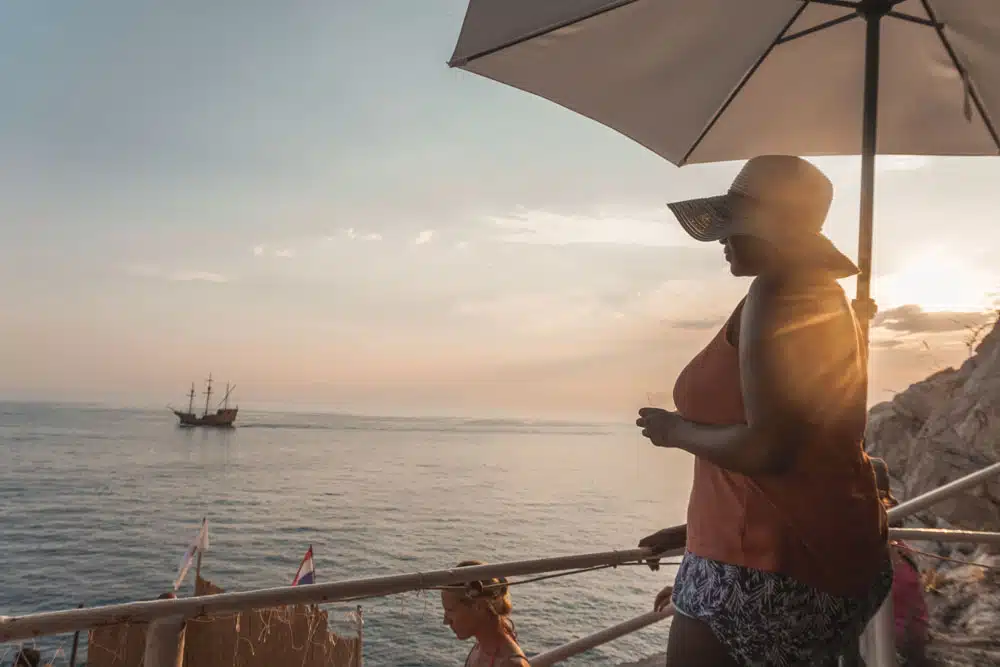 As far as settings for a tipple go, it doesn't get much better than the Buza Bar.
Apparently in the old Dubrovnik dialect, Buza means hole. It's a fitting description since you have to literally climb through one to get to the bar.
It's totally worth it because the view here is drop dead gorgeous. It overlooks the harbour, and you feel like you are floating over the sea as you sip your drink of choice.
Don't miss this place – it's one of the best things to do in Dubrovnik once the sun goes down.
Read More: Visiting Buza Bar, Dubrovnik's Stunning Cliff Bar
Wine Tasting at D'Vino
Technically D'Vino offers up their drops all day and night, but there's a certain romance to sipping wine once the sun has set.
Nestled in the heart of Old Town, D'Vino is a totally charming wine bar with an amazing selection of wine.
Most of it is local from Croatia and the neighbouring countries, although you'll find a few drops imported from further afar.
As well as doing a tasting of the wine on offer, I'm also slightly obsessed with their divine platters. Definitely the perfect accompaniment for the vino.
Dinner at Restaurant Orsan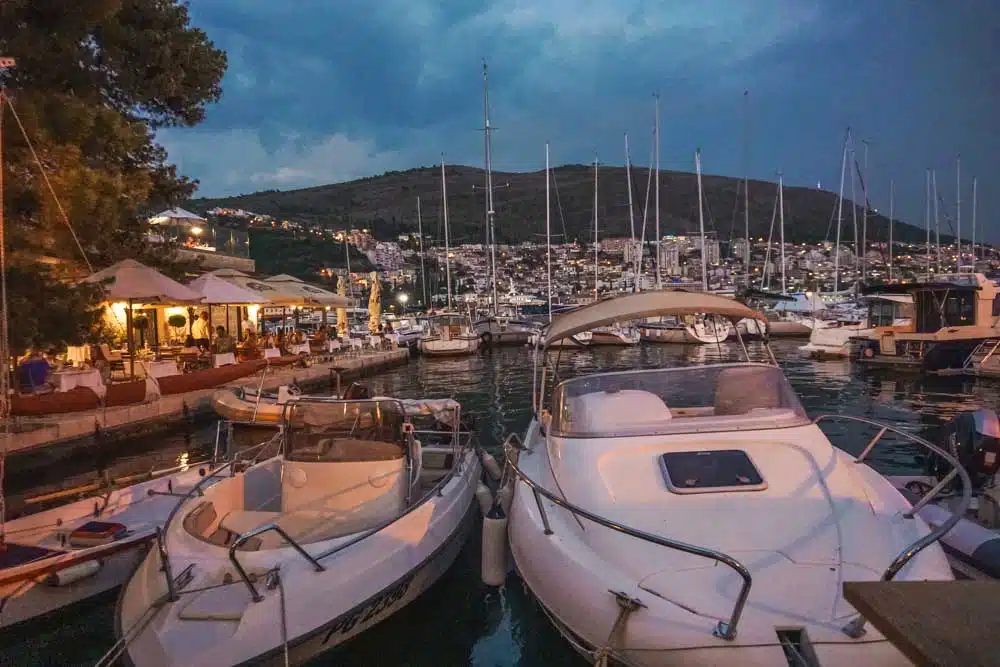 While the crowds might flock to the restaurants on Stradun, I personally know the gems are usually found a few streets away.
That's certainly the case with Restaurant Orsan – my pick of the best things to do in Dubrovnik at night. While it's easy to get to from the centre of Dubrovnik, it's not quite as frenetic as the places downtown.
This is the kind of place where you can stop and have a long, lazy dinner, feasting on amazingly fresh seafood.
A glass of white wine and a pretty sumptuous view of the marina are the final ingredients for a fabulous evening.
Stroll the City Streets (When it's Much Quieter!)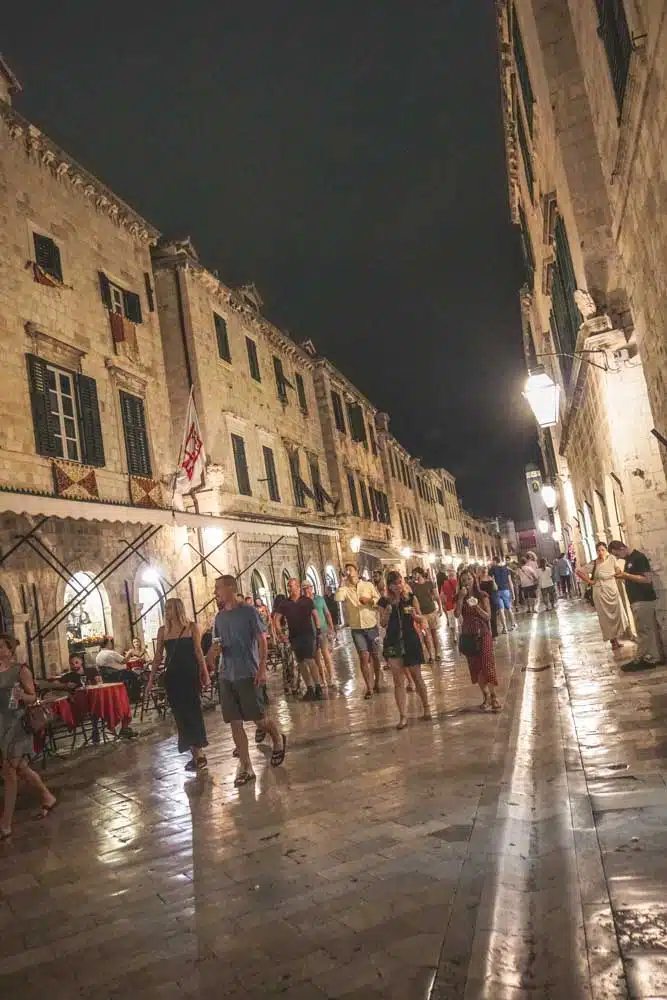 It's hard to complain about tourists when you are, in fact, a tourist, but I've got to admit the crowds can be a little overwhelming in Dubrovnik by day.
That's why I fell madly in love with the city by night – once most of the tourists are safely tucked up in bed, have hopped back onto their cruise ship or revelling in bars and clubs, the streets are nearly deserted.
As a result, you can wander through at your own pace, stopping to imagine what it must have been like through the centuries.
No matter how much your feet hurt from exploring the city by day, if you're looking for cool things to do in Dubrovnik then be sure to set aside plenty of time to explore at night. The atmosphere is totally different and totally amazing.
Cave Bar
While the name might conjure up ideas of a dark and gloomy hole-in-the-wall, Cave Bar is a totally different kind of cave. My kind of cave, in fact.
A natural cave that clings to the coast in Dubrovnik, this gorgeous bar is an amazing spot any time of day. I'm particularly partial to it at night, however, when it's a great spot for a relaxed drink – or many.
Nothing says "I'm on holiday!" like sipping your favourite beverage while hearing the sea lap at the coast and the breeze in your hair.
Troubadour Jazz Cafe
What is the perfect musical accompaniment to a stupidly beautiful city with a lively and dynamic atmosphere?
Jazz, of course. And if you're looking for jazz – you've got to check out the Troubadour Jazz Cafe.
There's outdoor and indoor seating, and in either case you'll be able to enjoy the music.
While the food is a little hit and miss, the drinks are exceptional with a great wine list and plenty of cocktails as well. It's the ideal setting just to soak in everything that makes Dubrovnik so amazing.

Things to do Near Dubrovnik: Easy Day Trips
Day Trip to Mostar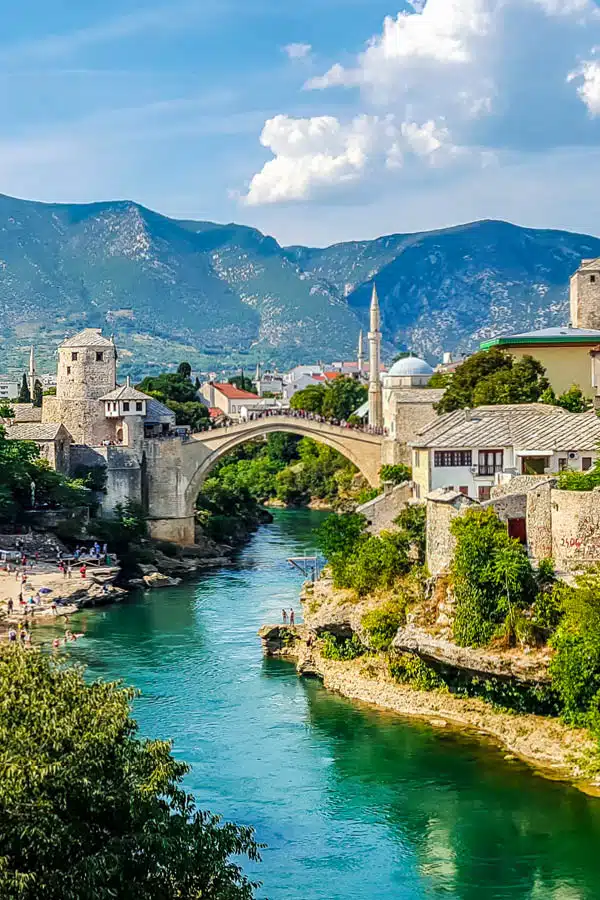 Mostar might lay across the border in Bosnia and Herzegovina, but it's an accessible day trip from Dubrovnik.
This city is a magical place to visit – and also possibly a hair-raising one, depending on your choice of activities.
Every year, many young men jump of the famous Stari Most bridge and into the water below to show their bravery to eligible young ladies. Well, that's one way to do it.
I had no intention of jumping off it, but I did spent plenty of time admiring the beauty of the Stari Most bridge as well as Mostar's other attractions like the Neretva river.
It's easiest to do the day trip on a guided tour – I'd recommend this one, which also stops at the beautiful Kravice Falls.
Day Trip to Kotor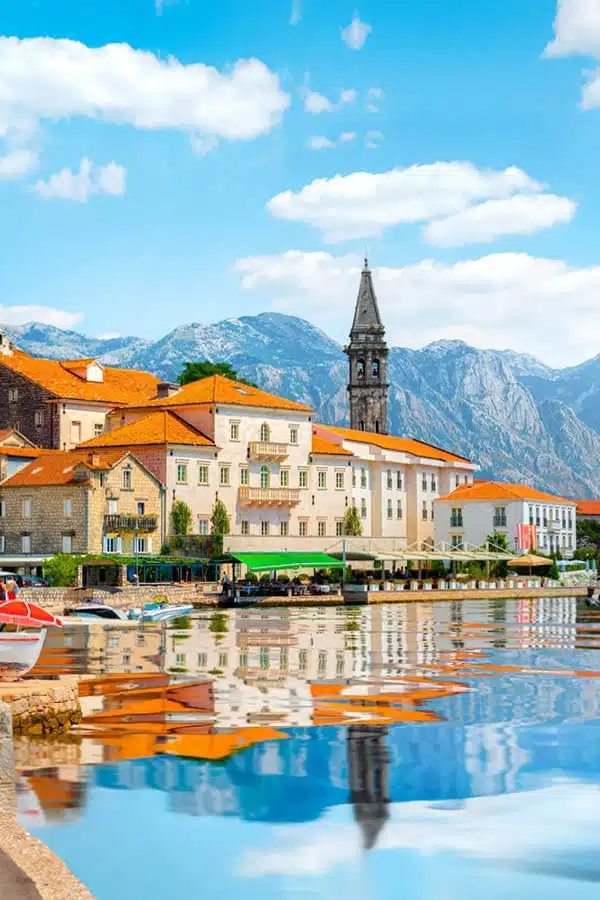 Also just across the border is Kotor, a beautiful coastal town in Montenegro.
A stunning and historic city lying between dramatic mountains and the sea, it's just as beautiful as Dubrovnik and definitely worth a trip.
Although Kotor is another cruise ship port, when the cruises are out, it's much quieter than Dubrovnik (I guess Game of Thrones wasn't filmed there, so there's that.)
While I'm sure the secret will be out soon and you're unlikely to be lonely in Kotor – I say visit before everyone else finds out just how spectacular this city is.
Places to Visit in Dubrovnik, Croatia – Practical Tips for Your Trip
I'm normally a big advocate of exploring places alone, but Dubrovnik has so much history that I would recommend booking a guided tour.
Dubrovnik does get really busy, not helped by the fact that it's a popular cruise ship destination. Try and time your visit for days when the cruise ships aren't in port. You can check the schedule here.
Staying in the centre of Dubrovnik can be expensive, particularly during peak season. Neighbouring Cavtat is often better value and is well connected to Dubrovnik itself.
If you really want to explore the city when it's at its quietest, get up early – you'll pretty much have it all to yourself.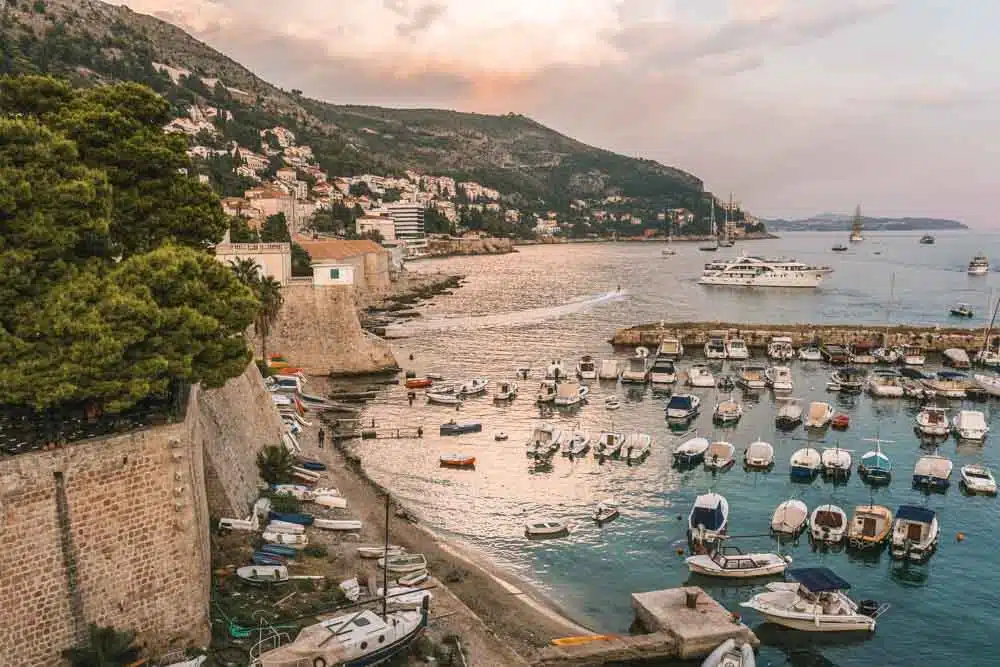 Where to Stay
The Old Town – Hotel Stari Grad
Hotel Stari Grad is one of the best hotels in Dubrovnik's Old Town, a historical hotel with plenty of contemporary charm.
Ploce – Villa Orsula
Villa Orsula has just 13 (very in-demand) rooms and boasts spectacular views of the Old Town.
Cavtat – Hotel Croatia
Hotel Croatia's unmistakable modernist building is a peaceful haven in Cavtat and offers brilliant value compared to rooms in Dubrovnik itself.
Dubrovnik Attractions Map
Love this? Save and Share on Pinterest