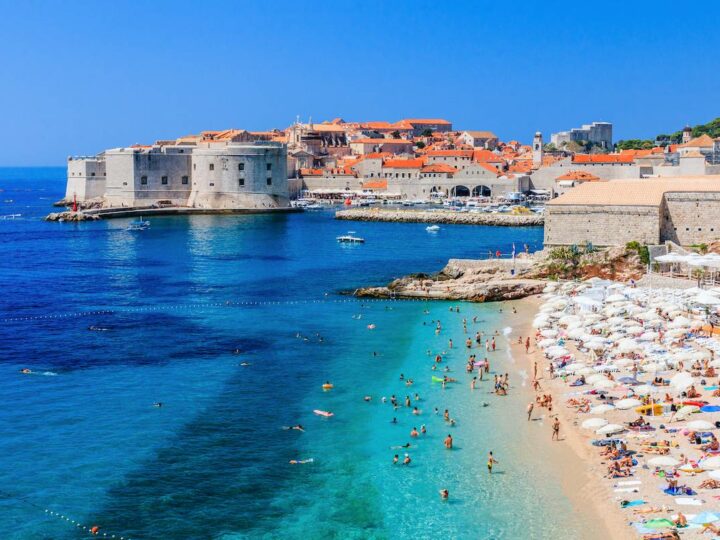 Discover the best of Dubrovnik's beautiful beaches with this guide.
Dubrovnik has a lot going for it. Whether it's gleaming as King's Landing as Game of Thrones, or luring visitors with its heady mix of cliffside bars and stunning architecture, there's no shortage of things to love about this city… and that extends to its beaches too.
Not sure where to start? I'll guide you to the best beaches in Dubrovnik.
You'll find out what these beaches have to offer, how to get to each location and what the vibe's like when you do.
The Best Beaches in and Around Dubrovnik
St. Jacob's Beach, Dubrovnik
St. Jacob's Beach is one of the most attractive spots in the entire city, so you'll definitely want to spend a day here. A rocky cliff surrounds this beach and you can see the ancient walled city far off in the background.
If you're staying in the city, it will take you about 30 minutes of walking to get to this beautiful beach. To get there, take the road leading to St. Jacob's Beach which ends at a church. You'll need to go around the church and down the stairs to get to the water.
Once there, you'll find a gorgeous beach (of course) plus a restaurant serving tasty fast food meals and cold drinks. This beach also has restrooms and a place to rent umbrellas and lounge chairs.
Besides sunbathing, you can take up a boat or kayaking tour to really give yourself an unforgettable time.
Banje Beach, Dubrovnik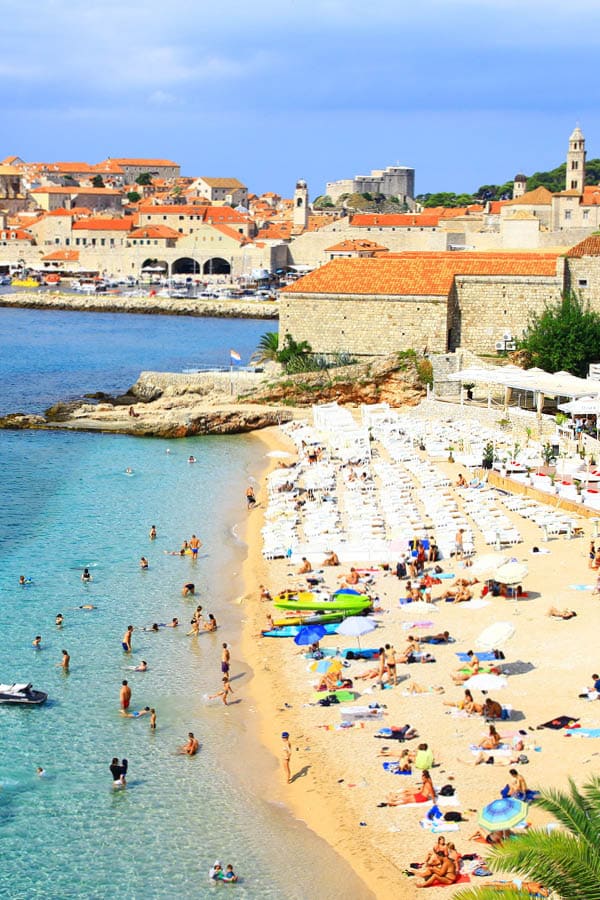 Banje Beach is a family-friendly and trendy beach in Dubrovnik. This has made it the most popular beach destination in the region.
Although Banje Beach has lots of pebbles and no sand, it does boast crystal clear blue waters as well as a beach club in Dubrovnik.
However, if you want to visit a sandy beach in Dubrovnik, then consider checking out Lapad Bay or Copacabana Beach in Dubrovnik.
You can reach Banje Beach from Old Town by taking a staircase down to the ocean waters. The beach club has a restaurant and a rental place to get lounge chairs.
If you'd prefer a more active visit to this pristine location, there is a guided sea kayak tour available.
Dance Beach, Dubrovnik
Dance Beach is one of the best hidden beaches in Dubrovnik.
Its seclusion makes it a great place to sunbathe and you likely won't encounter many tourists.
Out of all Dubrovnik Croatia beaches, this one is one of the oldest and includes restrooms and showers. It also offers a delightful small beach bar in Dubrovnik that provides snacks and drinks as well.
You can find this beach by walking through Gradac Park and taking a narrow trail downhill to the sea. A beautiful church overlooks the beach on the left side.
There is a sightseeing guided walking tour that extends to Dance Beach.
Book Your Guided Walking Tour Here
Sulic Beach, Dubrovnik
The Sulic Beach lies right outside the town walls and is one of the oldest areas for swimming in Dubrovnik.
Venture there and, you'll find majestic views of the open seas, beautiful cliffs, and the gorgeous Lovrijenac tower right nearby.
Amenities include restaurants, a beach bar, public showers, and restrooms.
If you want to visit this beach from Old Town, walk out through Pile Gate, head down the steps of Ulica Svetog Djurdja on the left side, and then turn left at Ulica od Tabakarije.
After a couple of minutes, you'll find the steps for walking down to Sulic Beach.
Dubrovnik Walls Public Beach
Out of all the beaches near Dubrovnik, the public beach near Dubrovnik's walls is one of the few with an opening right into the Adriatic Sea with many boats floating by.
With deep and crystal-clear water, it's hard to resist the urge to jump in and take a long swim.
There are few facilities available here except for some public showers.
This beach lies on the outside of the city walls on the southern side of Dubrovnik. You can find it on the corner of Old Port and St. Ivana Tower.
Secret Beach in Dubrovnik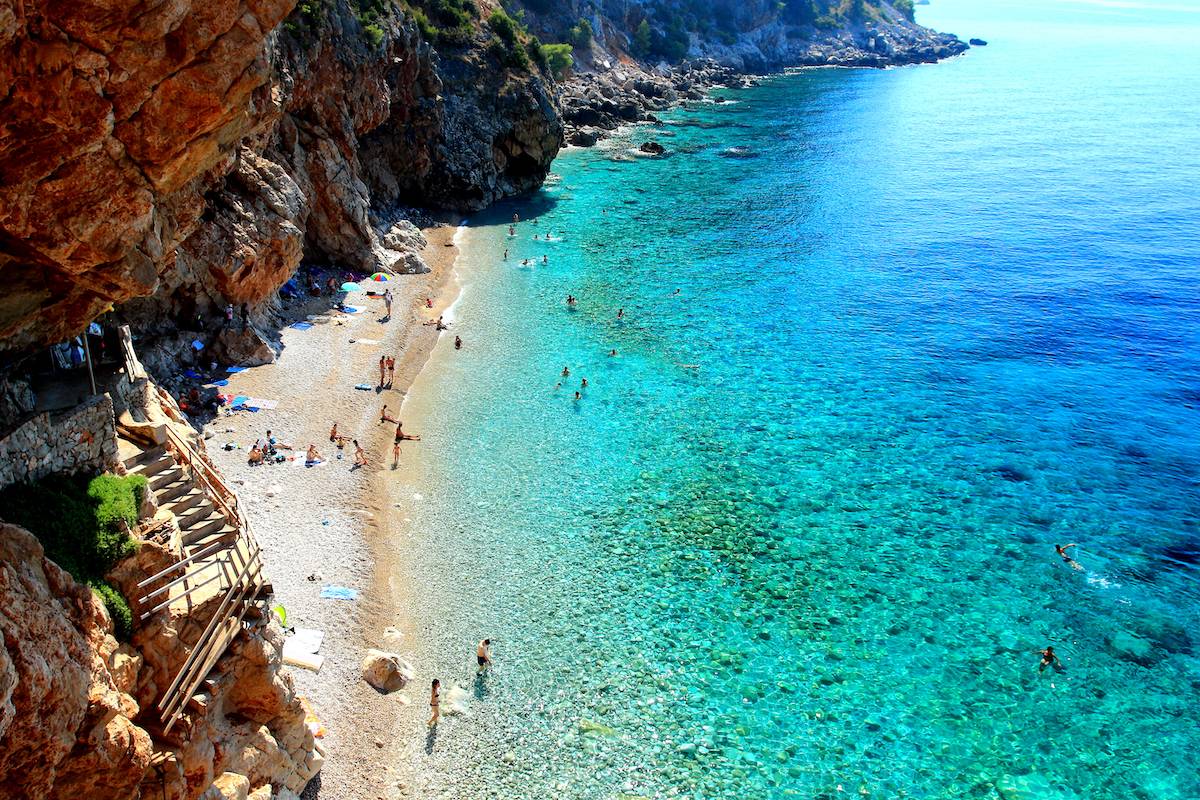 Secret Beach lives up to its enigmatic name and is one of the most secluded spots in the whole city.
Despite its mystique, you can thankfully find it by using the following beach map. To get to your destination, you'll need to use a staircase and head down a paved trail.
Once you arrive, you'll have an unforgettable perspective to soak in the gorgeous views of ancient city buildings from afar.
There are also plenty of trees offering shade on hot, summer days. There aren't any cafes or restaurants here, so you will want to bring your food or drink.
Fancy arriving there in style? You can also take a speedboat tour in Dubrovnik.
Koločep Island
This island is a perfect place to visit if you're looking to avoid crowded beaches.
With a rocky beach and several caves, it's a fantastic destination to both hike and sunbathe. The blue, clear waters are great for a nice swim.
You will also find several restaurants by the harbour. To reach Koločep Island, you'll need to use a ferry boat.
Practical Tips for Visiting Dubrovnik's Beaches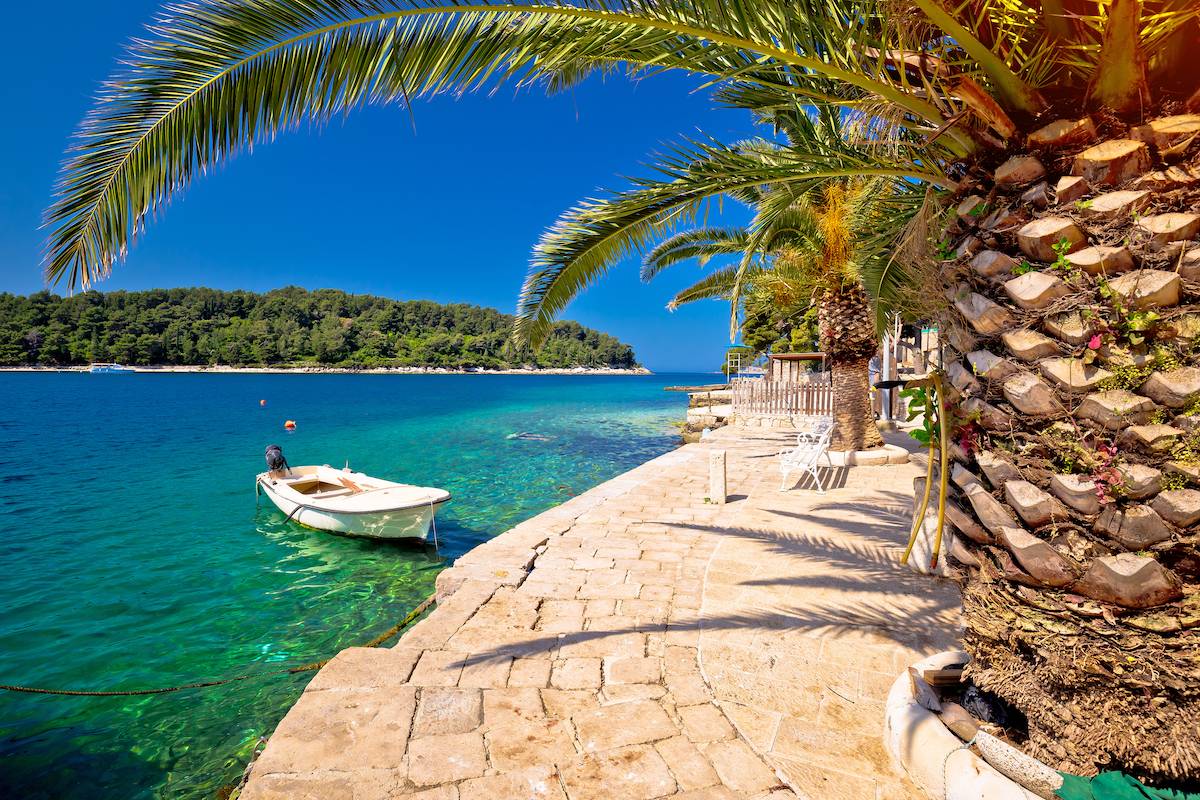 One of the most important things to bring to Dubrovnik's beaches is waterproof shoes. These will protect you from sea urchins and pebbles (which can be scorching when the weather is intemperate).
If you're visiting during summer, don't forget to bring a hat and sunscreen.
Lastly, it never hurts to have a water-resistant bag or backpack on hand to ensure your belongings don't get dirty or damaged.
Dubrovnik Beach Map
Looking for More Things to do in Dubrovnik, Croatia Aside from the Beaches?