Let's navigate the best islands in Croatia – from the sun-drenched shores of Hvar to the unspoiled wilderness of Mljet, Croatia's islands are the ultimate adventure. Here's where you shouldn't miss.
While Croatia's cities like Dubrovnik and Split hog a lot of the limelight, the country's gorgeous islands have been getting a lot of attention recently.
For good reason. With over 1,200 islands, these gems offer unique experiences highlighting the history, culture and cuisine of the Adriatic Sea.
But which ones should you add to your Croatia Island hopping itinerary?

Not to worry, friends. We're going to take a jaunt through the best Croatian Islands so you can sit back, relax, and get your beach bag ready for an adventure in the Adriatic Sea.
Gorgeous Islands in Croatia
Hvar: Best for Sunshine and Sundowners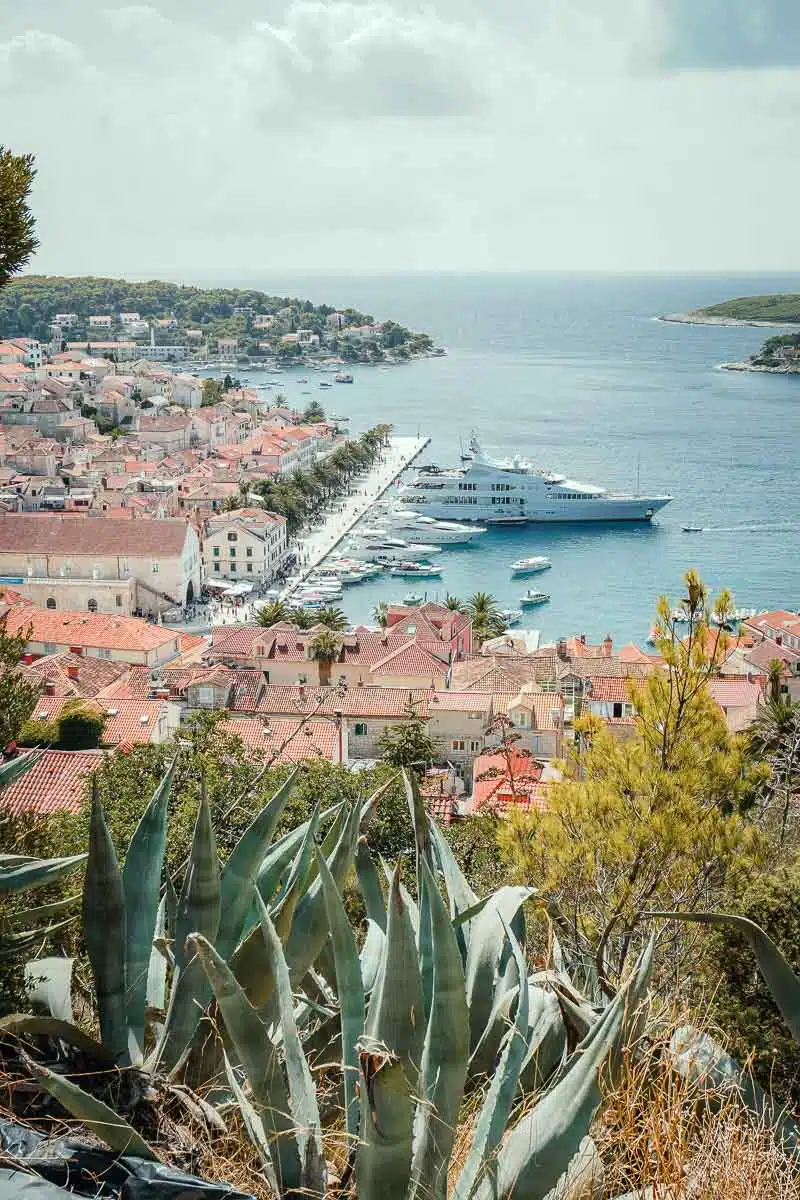 I'll just get this out of the way up front. If you want to spend a night (or several) dancing til the break of dawn with a few thousand strangers ranging from spring breakers to early retirees, head to Hvar.

Some clubs are frankly horrific, but others, like Hula Hula and Kipa, were pretty cool.
Don't worry, it's not all EDM and overpriced Red Bull and Vodkas. It's an ideal place to catch some winter sun or enjoy the heat of the summer on rocky but charming beaches.

Hvar Town is also quite charming, with the views from the fortress well worth the somewhat strenuous hike up. Dine at Lungo Mare later for some delicious seafood at reasonable prices.
Away from Hvar Town, the island is a surprisingly quiet haven – complete with rolling lavender field and serene beaches.
How to Get There: You can take the ferry from Korčula numerous times of the day for an excellent Croatia island-hopping itinerary.
Suggested Stay: Heritage Hotel Park Hvar
Brač: Best Croatian Island for Exploring Culture and Beaches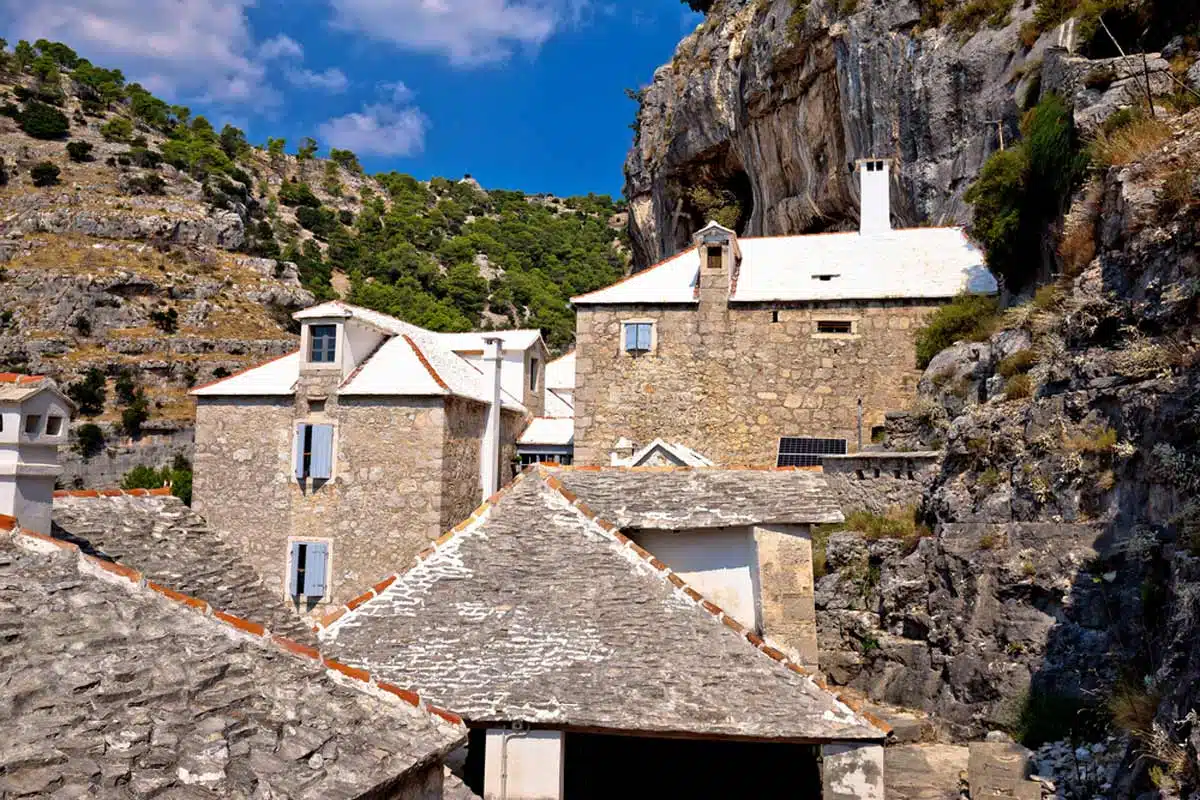 Couples who want to explore one of the most exciting Croatia islands for a day trip or several nights will want to head to Brač.

The island is home to some of the most unique beaches, restaurants, and architecture you'll find when island hopping Croatia.

Visit Zlatni Rat Beach (which changes shape with the wind and tides), visit the Olive Oil Museum, and have a meal in Bol, known for delicious surf and turf like Grilled lamb and octopus.
How to Get There: Ferries run from Dubrovnik through the Kapetan Luka or TP Lines during peak tourism season. Or take this tour from Split.
Suggested Stay: Villa Giardino Heritage Boutique Hotel Bol
Korčula: Best for a Day Trip from Dubrovnik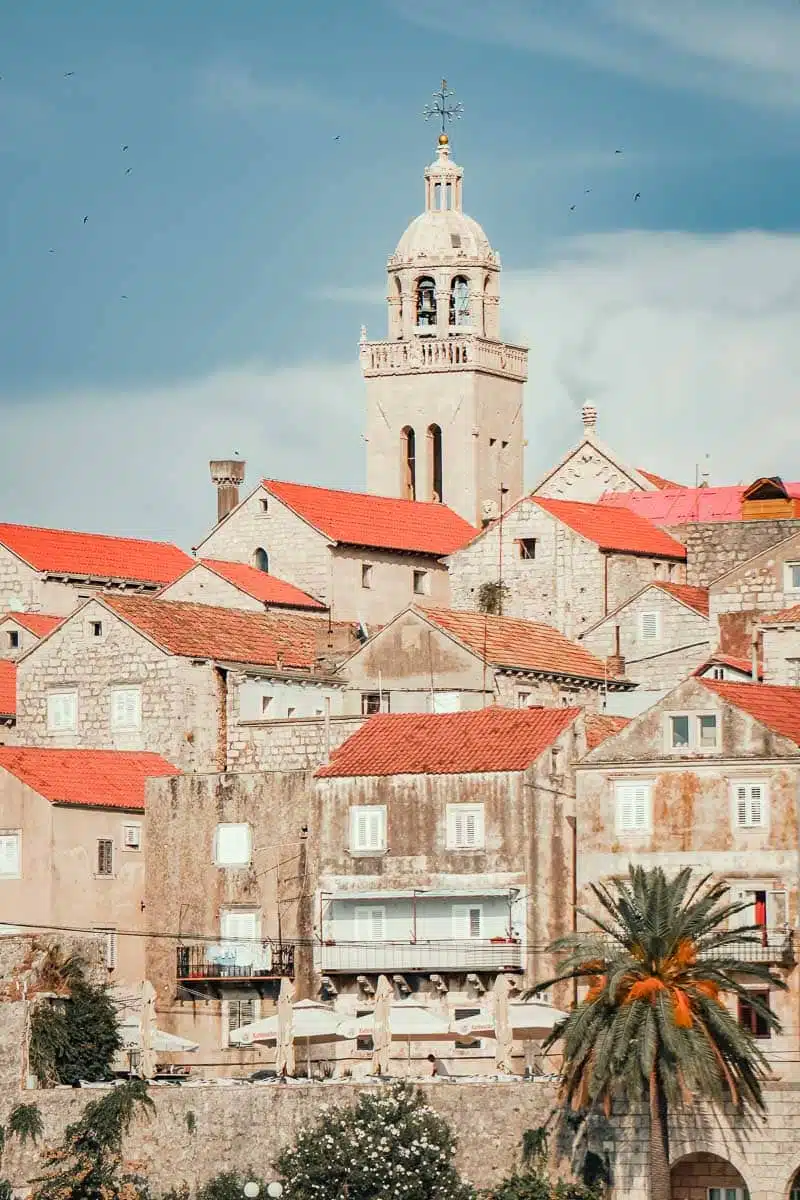 Korčula is one of my favourite Croatian Islands because it offers plenty of intrigue for any type of traveller.

History buff? The island is rumoured to be Marco Polo's place of birth.

Fancy some good food and drink? There are numerous places to chill out and enjoy fabulous wine and handmade Makaruni pasta. Visit Lumbarda to see a wine village on the island and try some Grk wine.

Or, if you want to explore nature, there are plenty of hiking trails for people of all skill levels.
How to Get There: Book a guided tour like this one or check the ferry schedule from the Dubrovnik Ferry Port, which changes seasonally.
Suggested Stay: Hotel Korsal
Vis: Best for a Remote Croatian Island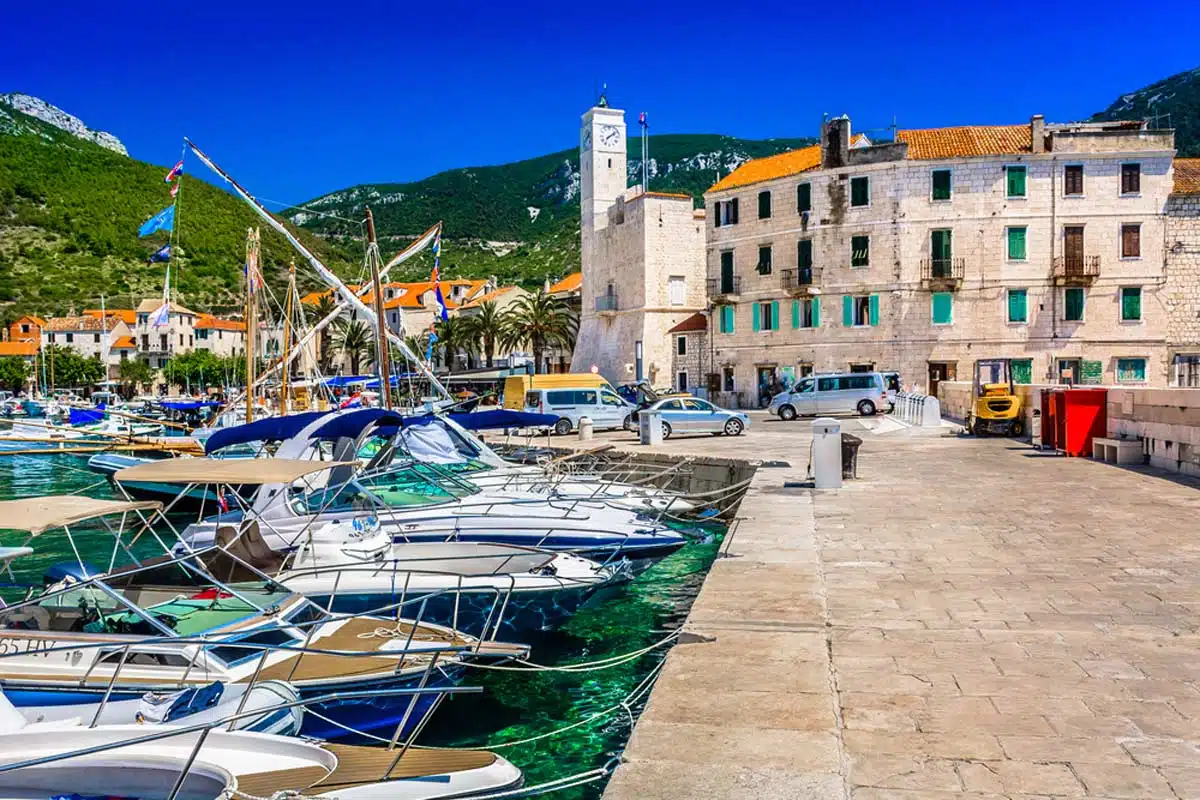 Vis has a reputation for being a well-preserved Croatian Island where you can escape from the hustle and bustle of mainland Europe or even the now not-so-secret collection of the best islands in Croatia.

It's an island Croatia offers for travellers looking for a chilled-out experience with nice beaches and close access to Blue Cave and Green Cave. There are also small villages worth a stop for lunch and sightseeing.
How to Get There: You can't find an inhabited Croatian Island further from the main continent, but luckily you can take a ferry or charter a boat from Split.
Suggested Stay: Hotel San Giorgio
Mljet: Best for an Island in Croatia With a National Park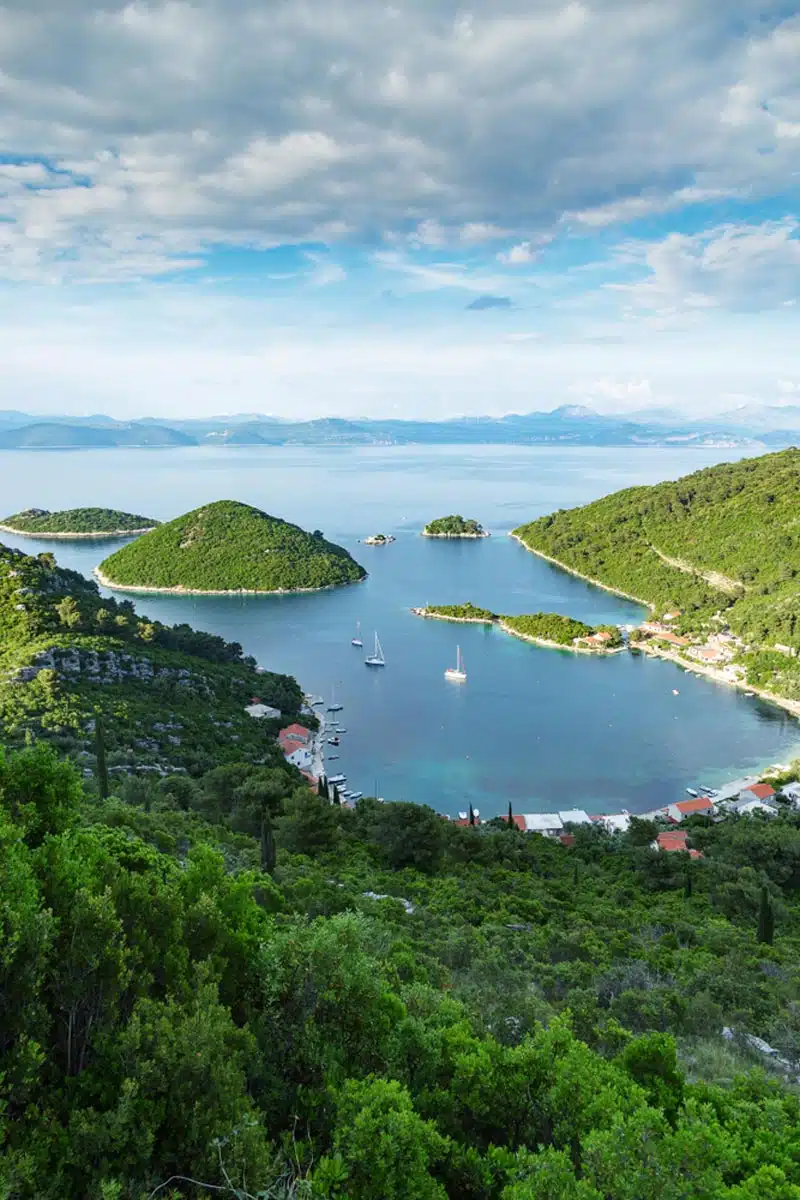 Mjet is a wonderful island to take a day trip or spend a couple of nights. Outdoor adventurers and nature lovers will fall head over heels, as over half the island is a national park.

Be sure to see both Big Lake and Small Lake and the stunning beaches of Sapalunara and Blaće for some of the finest white sands in Croatia.
How to Get There: Take a day trip tour from Dubrovnik, check the Dubrovnik ferry schedule, or book a private charter boat from Split.
Suggested Stay: Hotel Odisej
Cres: Best for Architecture and Nature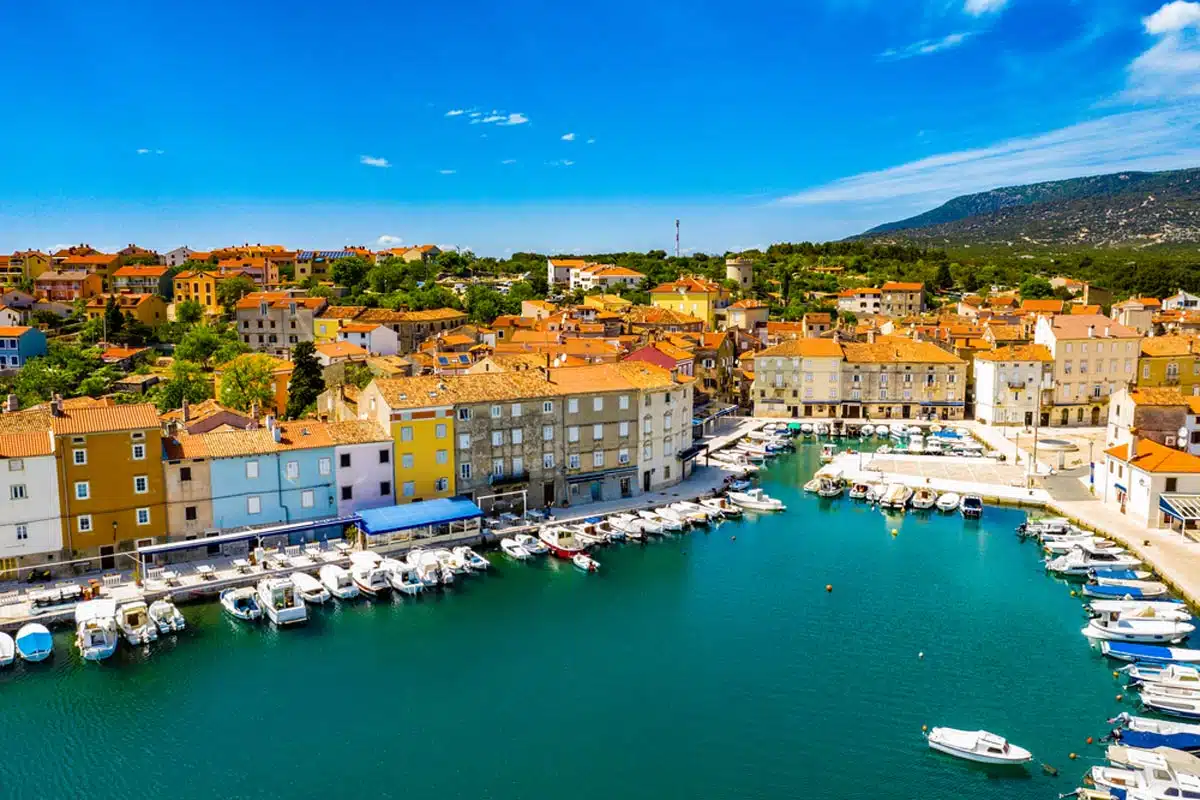 Where else in Croatia can you see one of the world's rare birds (the griffon vulture), explore a 4,000-year-old village perched high on a rocky cliff, and uncover Roman treasures and ancient Glagolitic texts? Thought so.

I'm willing to get Cres is the only spot, and it's well worth a visit on your trip to Croatia.
How to Get There: Book a Croatia island-hopping tour from Krk, where you get to see the famous Blue Cave on your way, or take a ferry from Rijeka on Krk. The Valbiska Merag Ferry is the most reliable option.
Suggested Stay: Hotel Kimen – Annex
Krk: Best Easy Access to a Croatian Island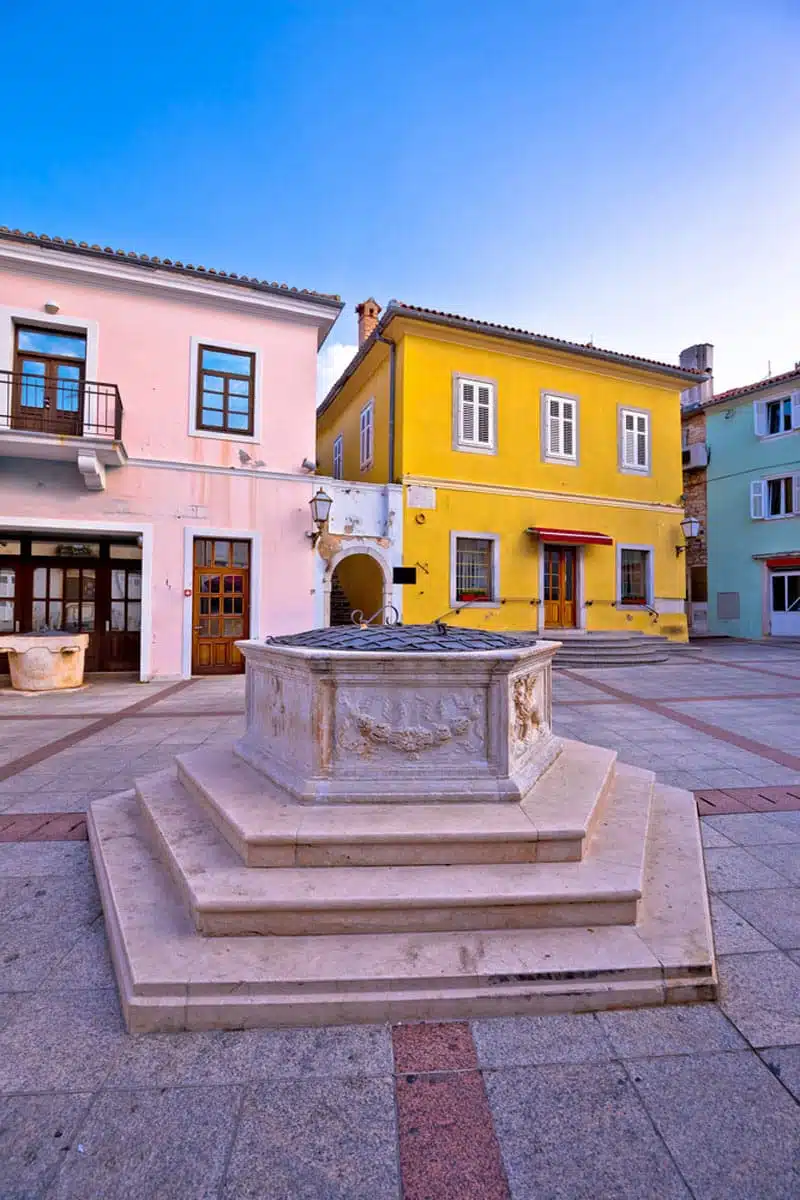 Looking for the best islands to visit in Croatia any time of year? Because you can drive or fly into Krk, you aren't limited to ferries and seasonal hours the way you are on other Croatian Islands.

Krk is a favourite weekend getaway for sandy beaches, exploring underground caves at Biserujka and enjoying some delicious seafood and wine. Ready to book a trip? I thought so.
How to Get There: The easiest way to Krk is to fly into Rijeka International Airport or drive in. You can also reach the island by bus or ferry.
Suggested Stay: DESIGN hotel VERBENICUM
Pag: Best for the Beach Parties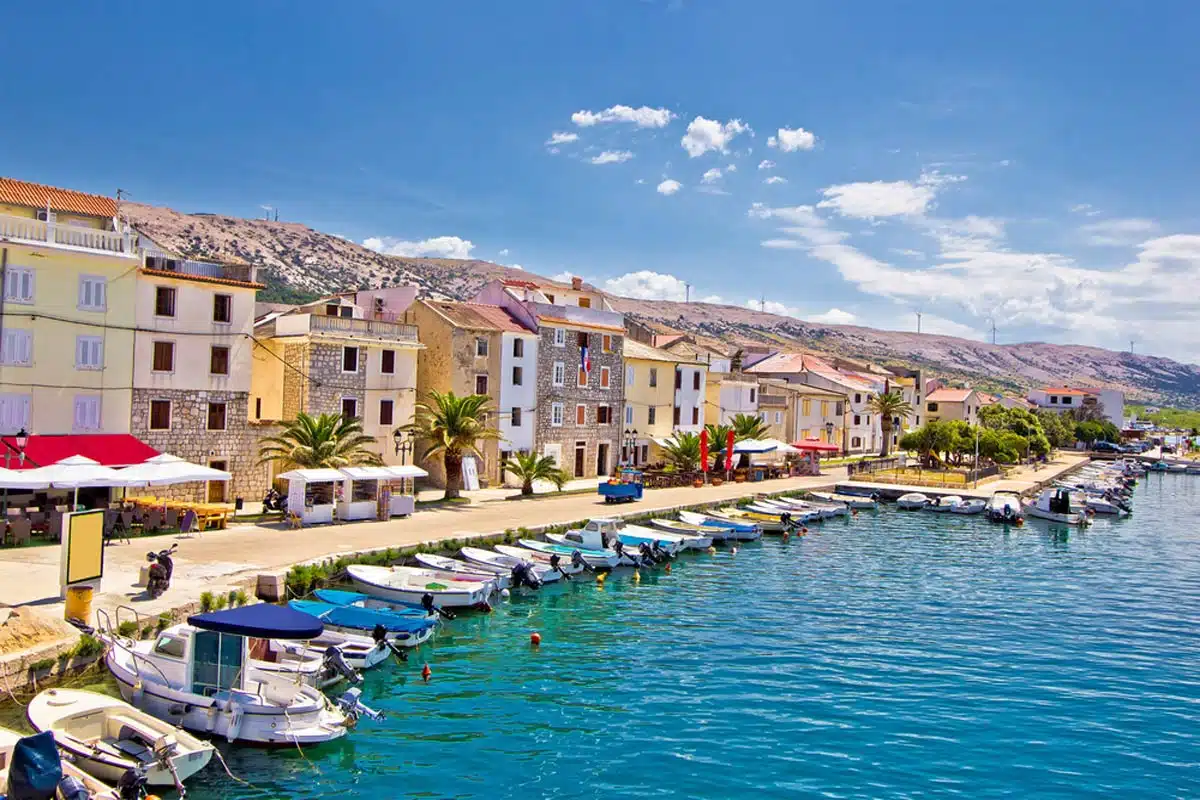 You may have heard of the epic parties beachside at Zrće on the Croatian Island of Pag. They're a reason to visit for many European travellers.

But the island also offers amazing food, interesting sightseeing, and plenty of history as well.

Dine on local lamb, go bird watching at Veliko Blato, or go olive oil tasting at the Olive Gardens of Lun. Thank me later.
How to Get There: You can drive to Pag from mainland Croatia, making it an easy and enjoyable holiday.
Suggested Stay: Boutique Hotel Boškinac
Rab: Best Croatian Island for Beaches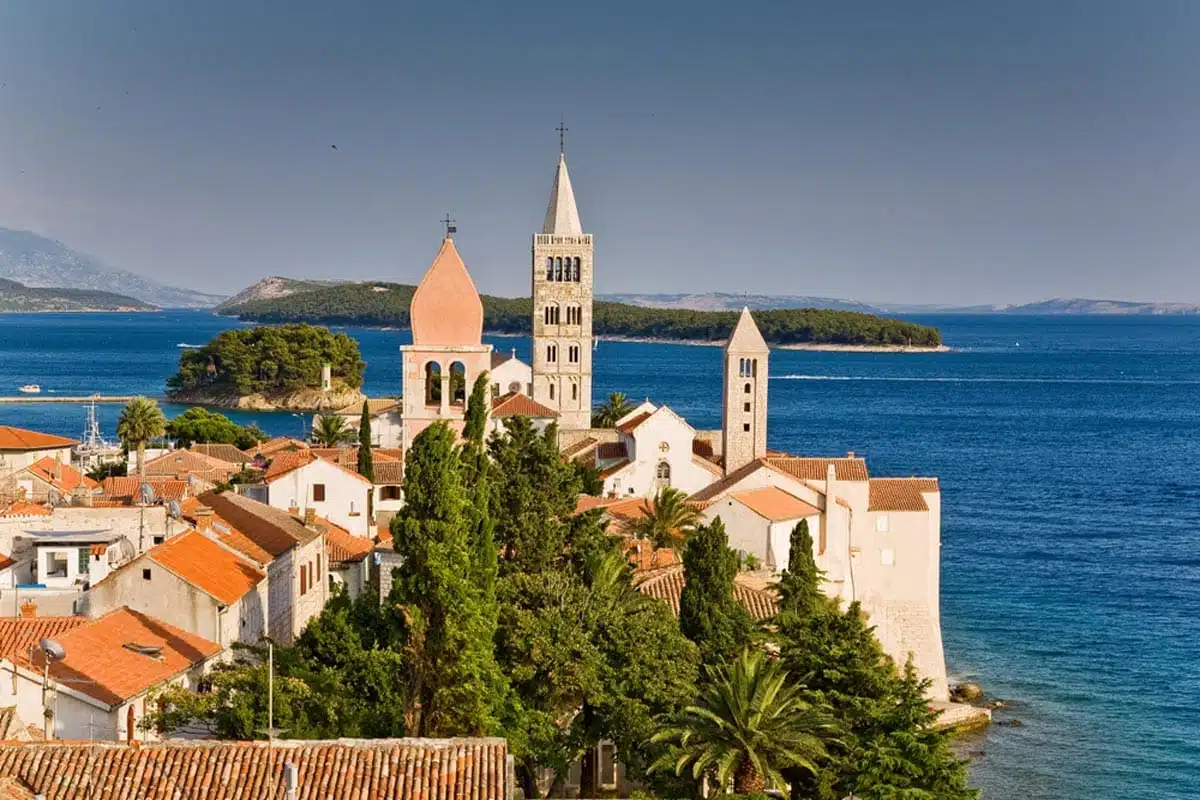 If you're looking to pack your beach bag to find which Croatian Island to visit for the most idyllic stretches of sand, I have one word for you. Rab.

The beautiful bays, coves, and Lopar Peninsula will keep you plenty busy on the beach. But don't worry, there's plenty to do inland, too.

Have a snack at the cafes near Komrčar Park, observe some Romanesque architecture of the Cathedral of the Assumption of Blessed Virgin Mary, and have a meal in a 19th-century palace at Restaurant Santa Maria. Sounds perfect, doesn't it?
How to Get There: Take the ferry from Krk, which usually has a few routes each day. Or book a tour like this one from Lun on the Island of Pag.
Suggested Stay: Arbiana Heritage Hotel
Lastovo: Best for Carnival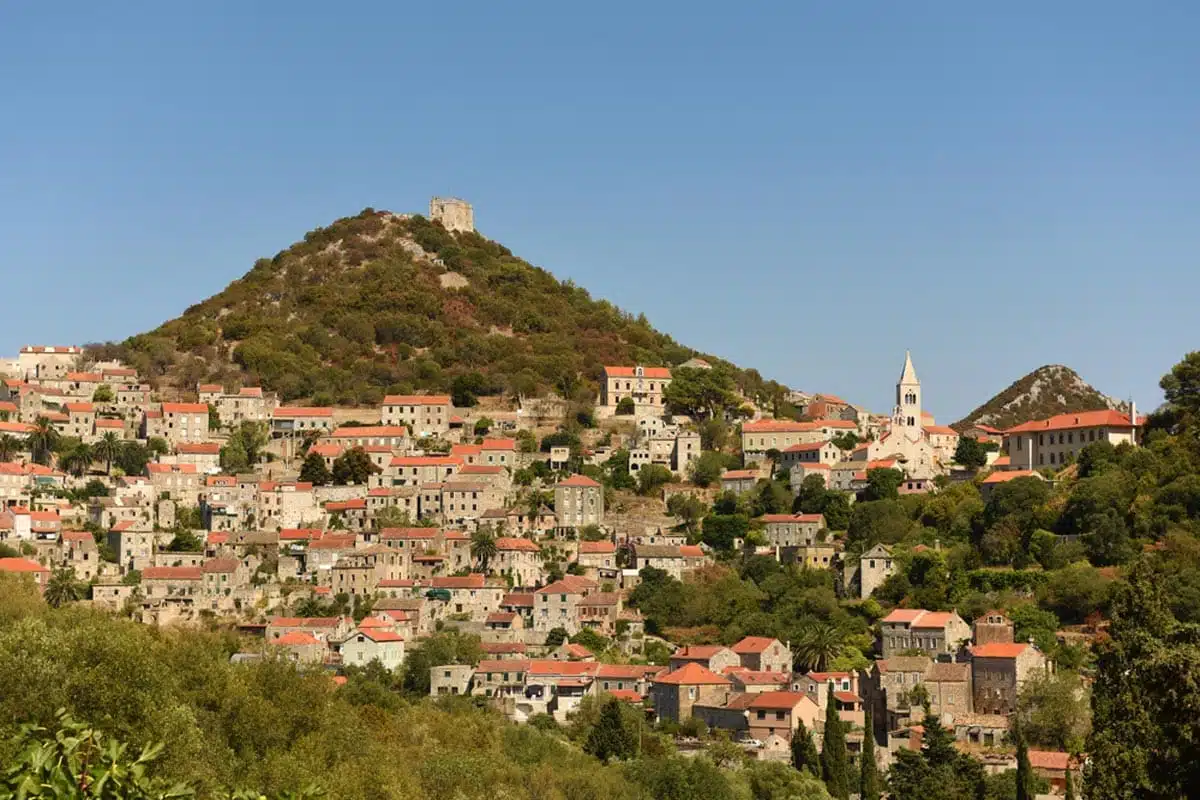 You can see Carnival in several regions of Croatia, but the one in Lastovo is especially famous. Why? Participants stay true to ancient traditions celebrating a fierce local pride after an attempted conquest was stopped by dedicated residents in the 15th century.

Don't worry. If you don't make it on Tuesday prior to Ash Wednesday, the beaches, hiking trails, and villages offer plenty for visitors to enjoy whenever you go.
How to Get There: You can access Lastovo any time of year from ferries from numerous cities in Croatia.
Suggested Stay: Accommodation Triton
Šolta: Best for Charming Villages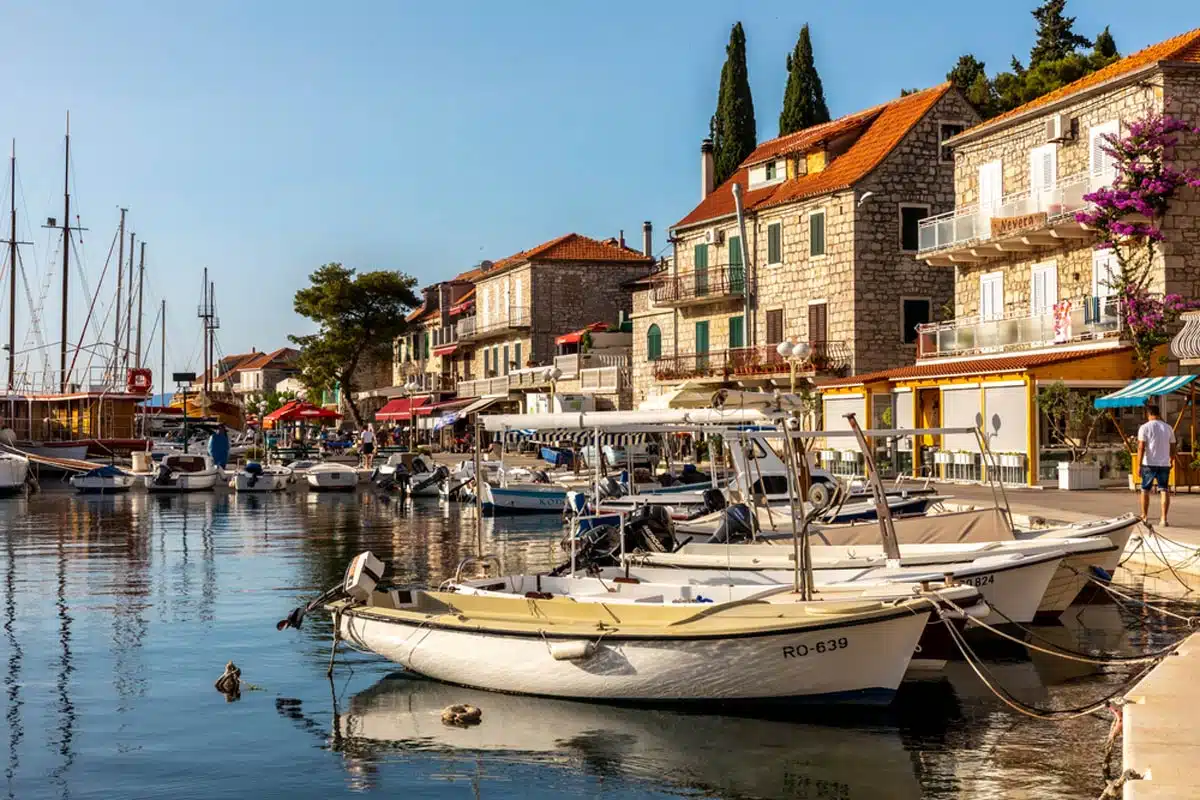 The Dalmatian Islands have lots of gorgeous spots to choose from, but Šolta is easily one of the best Croatian Islands to visit that you might not have heard about yet.

It's a great place to spend a day or two visiting small towns like Maslinica, Rogac, and Grohote.

Note: these are small towns, so you won't have an array of choices for shopping and dining. But the outstanding olive oil is worth saving some room in your suitcase for and a reason to visit in iteslf.
How to Get There: From Split, you can take a ferry any time of year. But this tour allows you to snorkel near a shipwreck before visiting Šolta.
Suggested Stay: Heritage Hotel Martinis Marchi
Dugi Otok: Best for Swimming in Croatia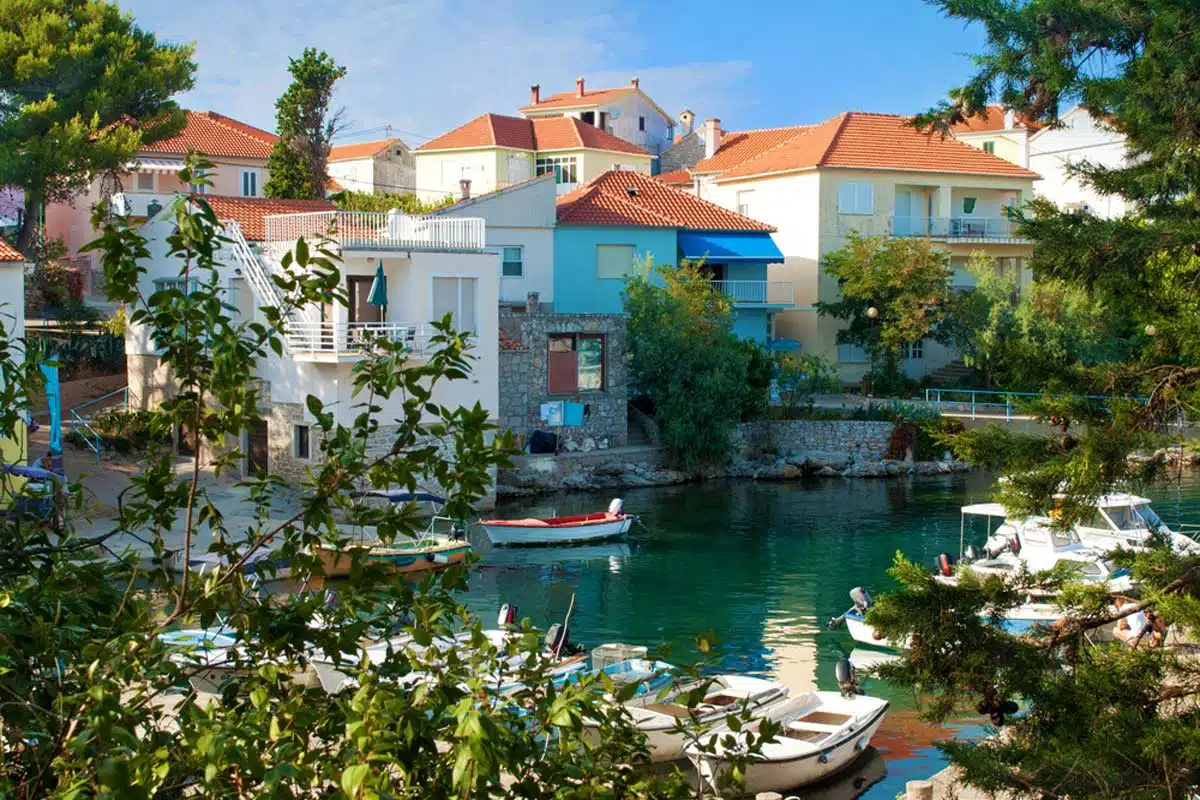 If you didn't know, as beautiful as the Adriatic Sea is up on the pine-laden cliffs in Croatian villages and islands, the beaches aren't always ideal for fun in the sun.

Dugi Otok is an exception, and the stretches of calm waters along Telašćica Bay in the namesake national park are calm enough to swim and perfect for a lazy day at the beach.

Summers are hot, and the water stays warm, making it a popular location to hang out along the water for much of the year.
How to Get There: Take a G&V ferry from Zadar, which takes less than an hour during the summer. You can also take a Jadrolinija car ferry year-round.
Suggested Stay: Hotel Agava
Kornati: Best for Scuba Diving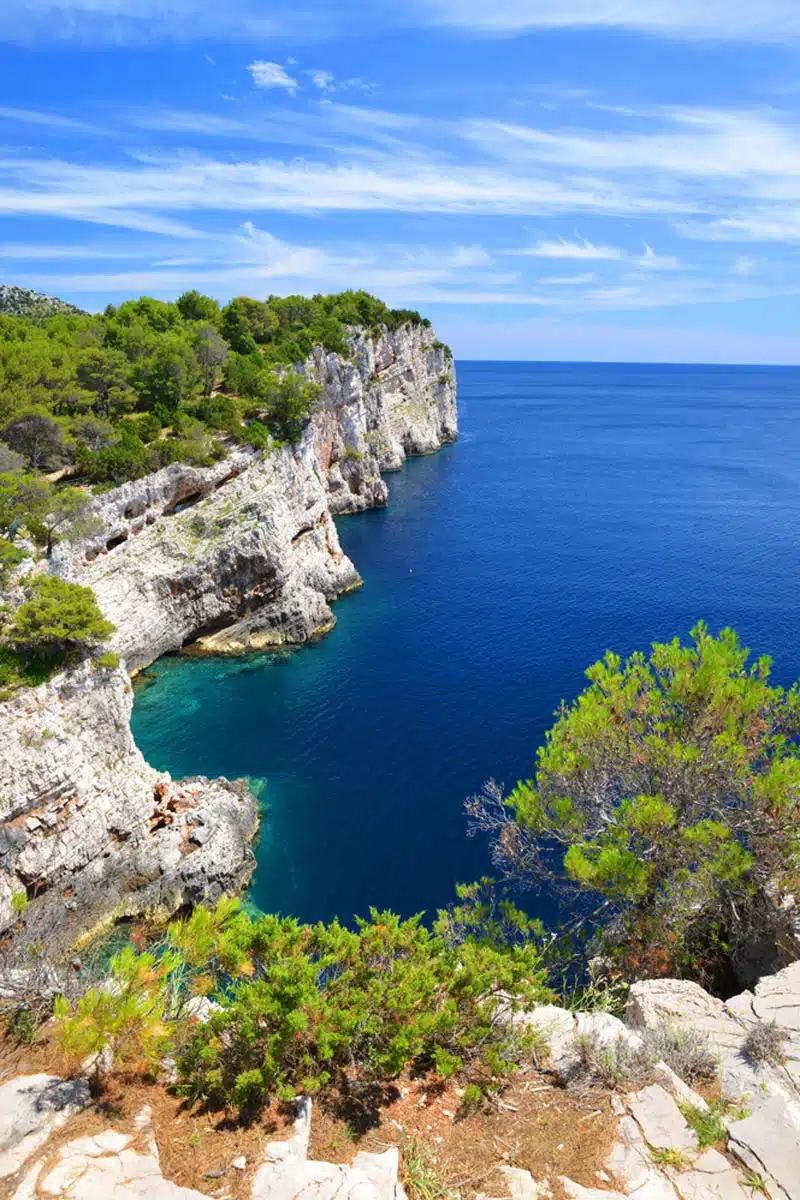 Scuba divers looking for the best island in Croatia to head underwater and explore will want to head to National Park Kornati.

You'll need to go with a professional guide, so check with a diving centre but the underwater scenery is simply out of this world.

Accommodations are limited but you can camp or stay at nearby Hotel Kornati.
How to Get There: A guided tour from Zadar is the easiest way to access this Croatian Island.
Suggested Stay: Hotel Kornati
Lokrum Island: Best for Game of Thrones Fans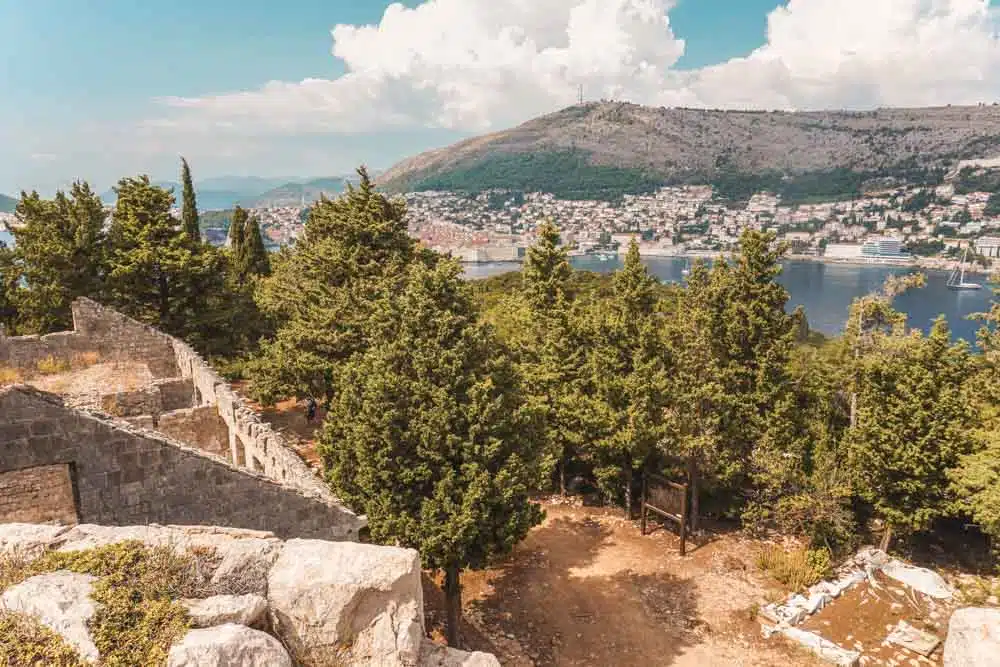 My love for Game of Thrones is well-documented. Though I didn't intentionally schedule a world tour of the filming sites, I've somehow subconsciously hit many of the set locations, but Dubrovnik is next-level.

Nearby Lokrum Island is one of the best. Take a day trip to one of the most beautiful islands of Croatia, and you'll see small coves that are perfect spots to take an afternoon plunge in the Adriatic or wander around the lovely gardens.

But for GoT aficionados, the chance to sit on the Iron Throne at the Game of Thrones Museum is pretty special.

I don't blame you if you get lost in the moment. I did.
How to Get There: The island is only open from about April to November, when you can take a ferry from Dubrovnik. You'll need to return to Dubrovnik the same day, as there are no accommodations on the island.
Suggested Stay: Rixos Premium Dubrovnik
Lošinj: Best for a Peaceful Getaway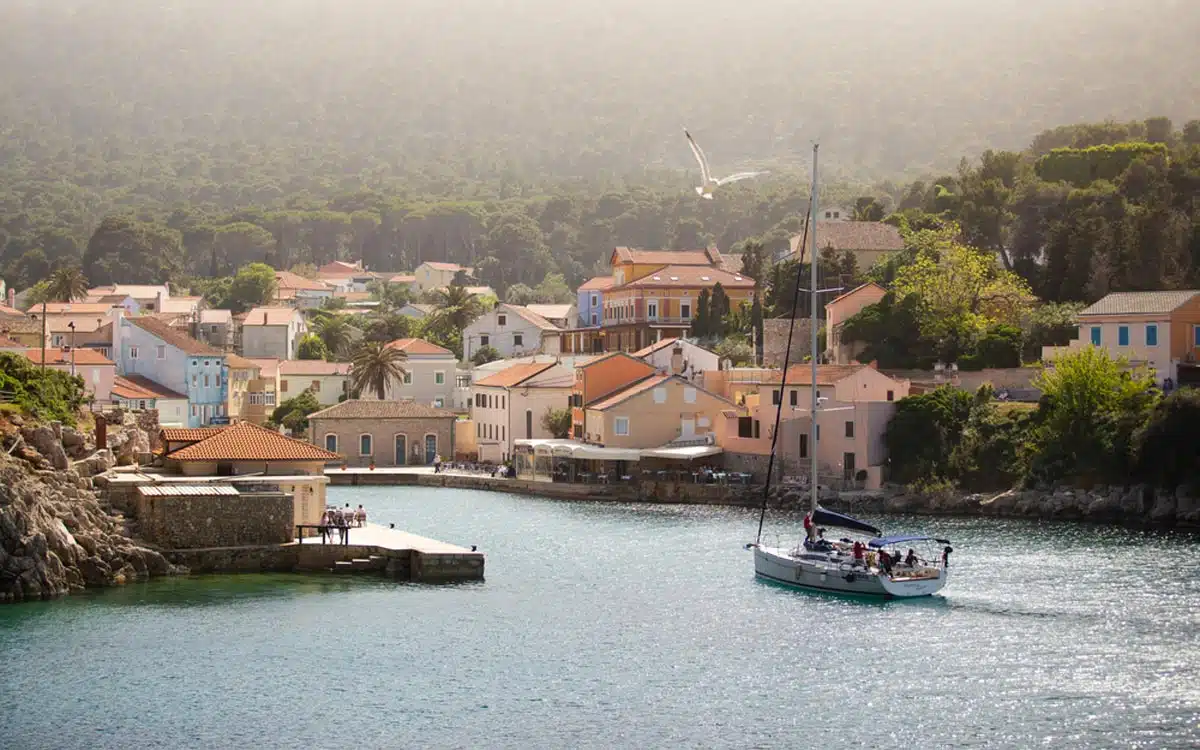 Nature enthusiasts will want a few days on this Croatia Island.

Enjoy peaceful views in Cikat Forest Park, visit a Roman Amphitheater constructed sometime around 27 BC in Pula Arena, and spend the afternoon at the charming Plaža Plieski Beach.

Simply put, there's plenty to see and do on this laid-back island in Croatia.
How to Get There: Looking at a Croatia Island map, you'll see Lošinj is connected to the larger island of Cres. Take a ferry or boat to Cres from Rijeka, and then you can arrive at Lošinj by boat or car.
Suggested Stay: Hotel Bellevue
Silba: Best Croatia Island for Avoiding the Crowds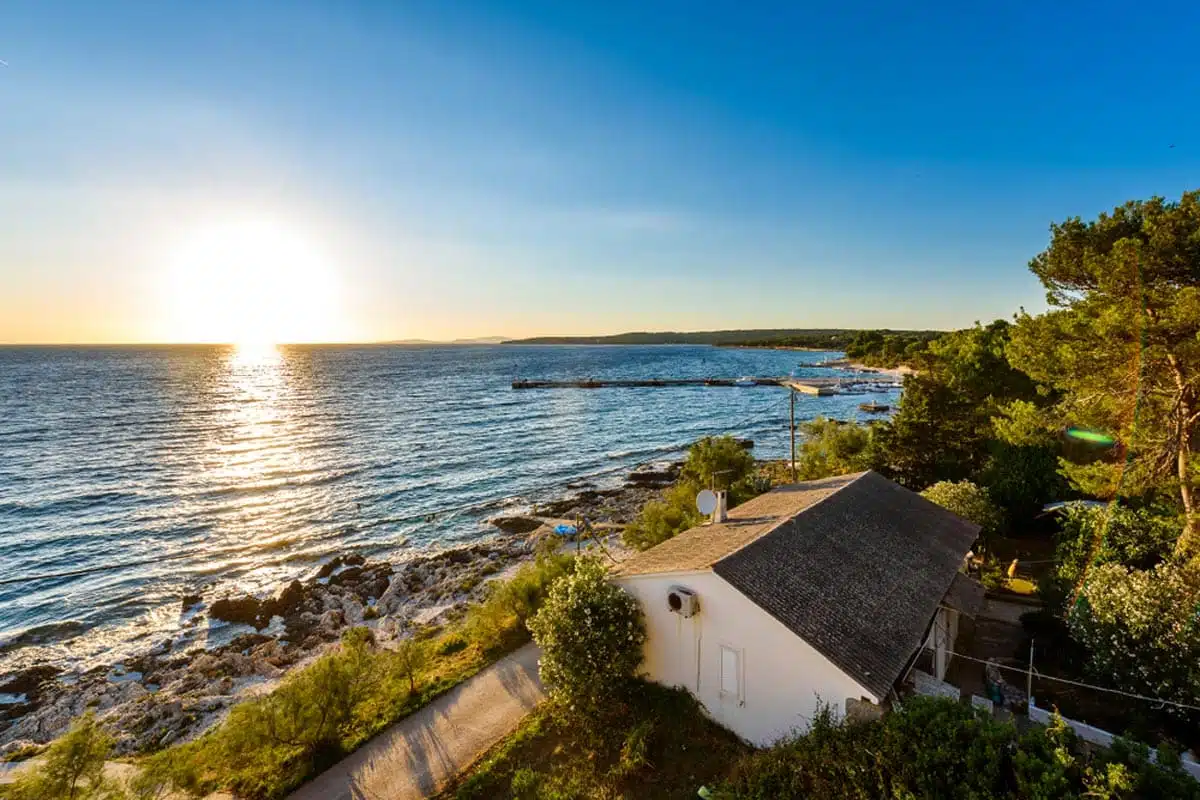 This sleepy island is a great day trip from Zadar and offers visitors one of the most relaxed (and car-free) locations in Croatia.

Enjoy the quiet coves and beaches, explore underwater Roman ruins while snorkelling, or traverse the steps at the Tower of Love. Trust me, it's worth spending an afternoon on Silba.
How to Get There: Take a guided tour or the ferry from Zadar.
Suggested Stay: Silba Otium
Practical Tips for Exploring the Best Islands in Croatia
If you want to avoid coordinating ferry schedules and booking tickets, schedule a guided tour like this one that goes from Split to Hvar, Bra, and Pakleni.
The best islands near Split, Dubrovnik, and other Croatian cities get very busy from June through August. But you can avoid crowds during this time of year by heading to less developed islands like Vis and Silba.
Shoulder season is a wonderful time to visit popular Croatian Islands, with September and October offering decent hotel rates and fewer tourists.
Ferries run daily (often multiple times a day during peak seasons) from the mainland and also island to island in some cases. Check the local ferry schedule for exact times.
Croatia Islands: Map
Love This? Save and Share on Pinterest 
Ready to Discover More Croatian Islands and Towns? Read These