Picture this: You're listening to your new favourite DJ with your feet in the sand, the sun on your back and your choice of drink in hand. Where are you? At one of Ibiza's legendary beach clubs, of course.
Whether you're after a tranquil oasis or an afternoon rave, Ibiza's beach clubs have you covered. From sleek and modern establishments to bohemian-inspired havens, each club has its own personality and allure. Not going to lie, I think they're straight-up fabulous.
Pair this with the fact that the island is home to some of the best beaches in Spain and it's no wonder these beach clubs are such iconic destinations. Let's explore the best beach clubs in Ibiza.
Best Beach Clubs in Ibiza
Blue Marlin Ibiza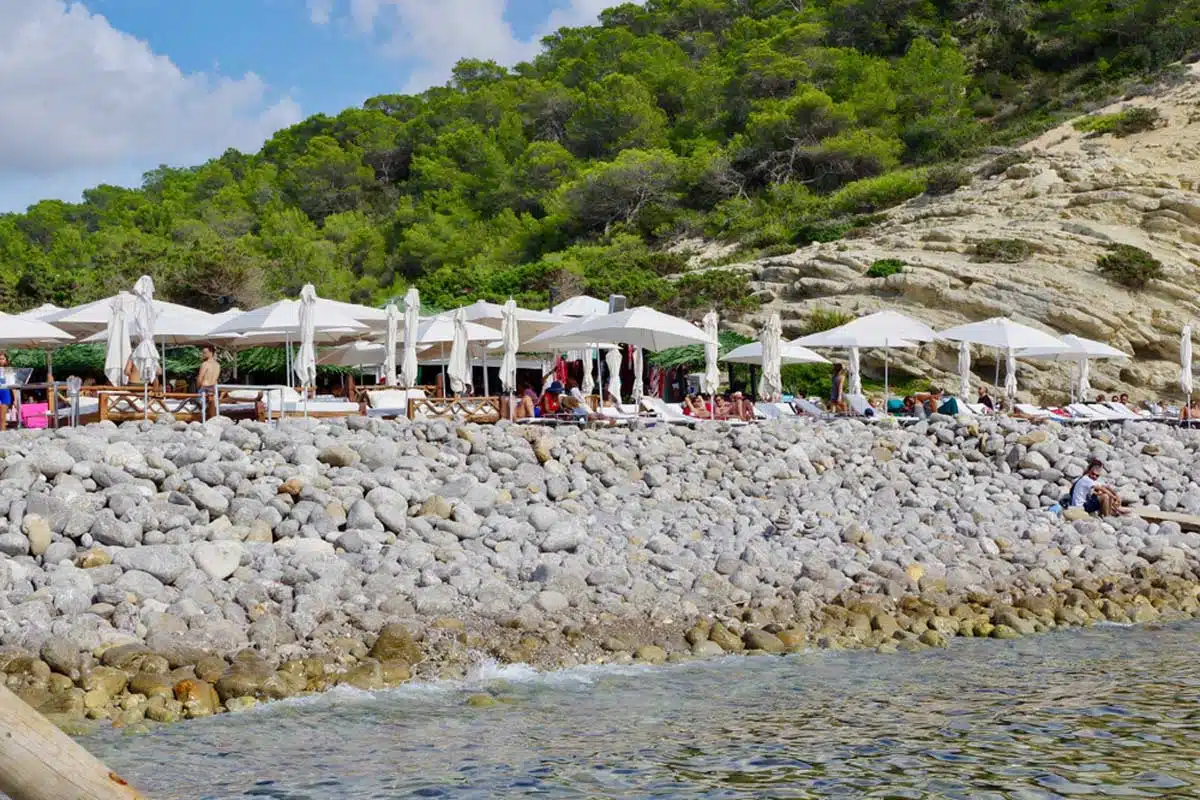 As one of the best beach clubs in Ibiza, the Blue Marlin Ibiza is the glitz and glam you've always dreamed of, hence why it's such a popular playground for the wealthy and famous.
Complete with a chic lunch terrace, the Blue Marlin beach club Ibiza is the perfect place to spend your afternoon sipping on delicious cocktails and devouring mouth-watering cuisine. Come nighttime, head indoors to a mini sound-proofed club where you can continue the party until sunrise.
Nassau Beach Club Ibiza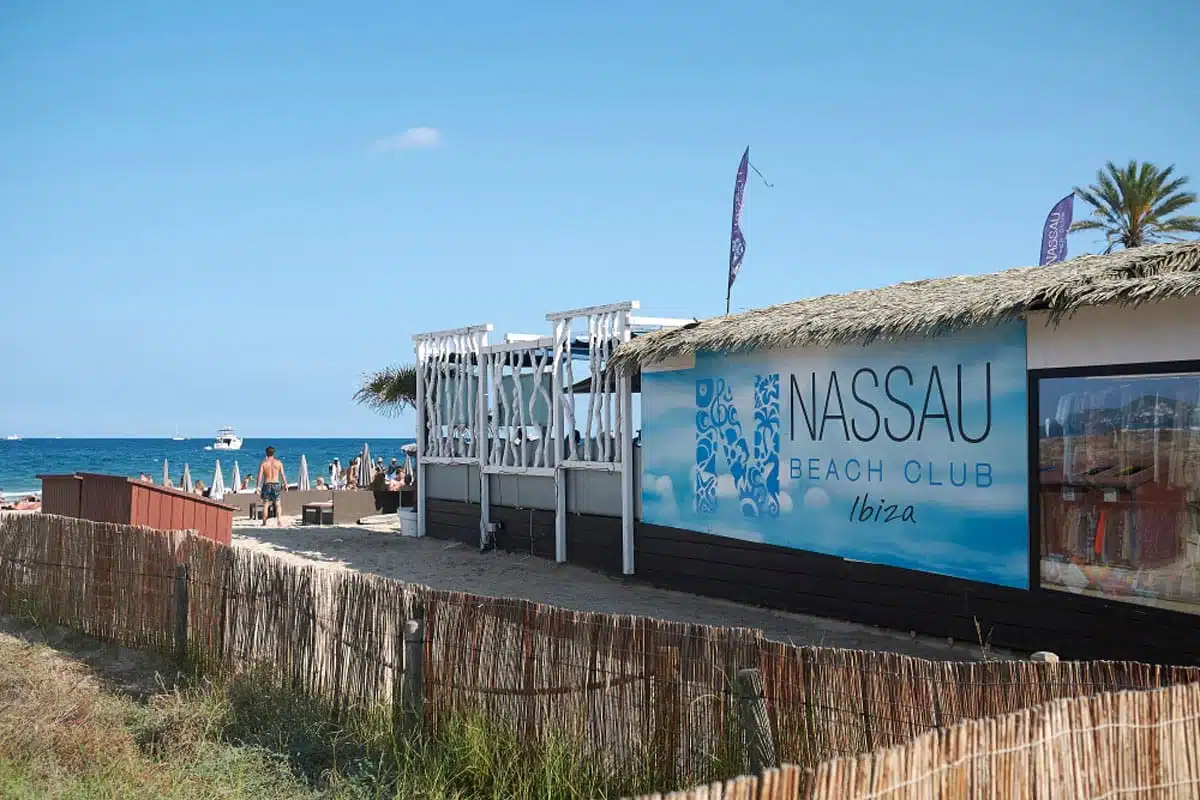 On the stunning Playa d'en Bossa, Nassau Beach Club Ibiza is stylish and contemporary. There's always a variety of special events happening here, not to mention its relaxing and cool vibe makes it a must-visit for any Ibiza itinerary.
Three spaces divide the club: the elegant nautical-themed restaurant, the chic lounge, and the sunny beach area. Spend the day lolling under the sun just an arm's length away from the ocean.
Forgot your sunglasses? Don't worry. The beach club has its own boutique with some of Nassau's brands.
Amante Ibiza
Imagine going to a beach club in a secluded cove that's surrounded by rugged cliffs and calm, turquoise waters. Well, that's exactly the reality of Amante Ibiza, an enchanting haven in Sol den Serra Bay — one of the most beautiful beach clubs in Ibiza.
The premise trickles with exclusivity and boasts more of a holistic atmosphere than its neighbouring rave clubs. That doesn't mean you can't park off on a gorgeous sun lounger for the day and enjoy the club's wide range of fine cocktails and magnificent wine.
Nikki Beach Ibiza
Nikki Beach Ibiza is iconic, and it's clear to see why due to its classic Mediterranean blue and white colour scheme. Tucked away in beautiful Santa Eulalia, famous Nikki Beach is one of the best day clubs in Ibiza.
During the day, listen to fun beats from an array of DJs on the decks while you snack on some delicious sushi made from freshly caught fish. Nikki Beach is the perfect place to unwind without the high energy of other beach clubs.
Ocean Beach Ibiza
If you're after an outrageous pool party with aerial performers and electrifying house music, Ocean Beach Club Ibiza in San Antonio is the place for you. The crowd here tends to be younger and more party-oriented, creating a thrilling atmosphere of hip-swaying fun.
Drinks and food prices here are more affordable than at other beach clubs. If you're staying outside San Antonio, consider taking a disco bus to the venue. The buses leave from Ibiza Old Town and Playa den Bossa but only run from June until September.
Beachouse Ibiza
You know what they say about tasty food? It brings eternal bliss. Just like the cuisine at Beachouse Ibiza. Their food is seasonal, local, and cooked on an open-char grill. Try some of their morning beach yoga followed by a nutritious terrace breakfast.
The club has its Boho Experience every Thursday from 6 pm to 12 am, where you'll have sundowners on the beach followed by dinner and downtempo beats. These chilled late afternoon vibes give way to a buzzing party atmosphere at night.
Cotton Beach Club
Perched high on a cliff in Cala Tarida is Cotton Beach Club, a venue with an impressive all-white theme complete with 100% cotton materials (of course). If you're the type of person who gets tomato sauce down their shirt after eating one chip, do be warned.
If you fancy an afternoon of true extravagance, Ibiza's Cotton Beach Club even offers luxury boat rentals with the option of heading to Formentera for a secluded private lunch.
Experimental Beach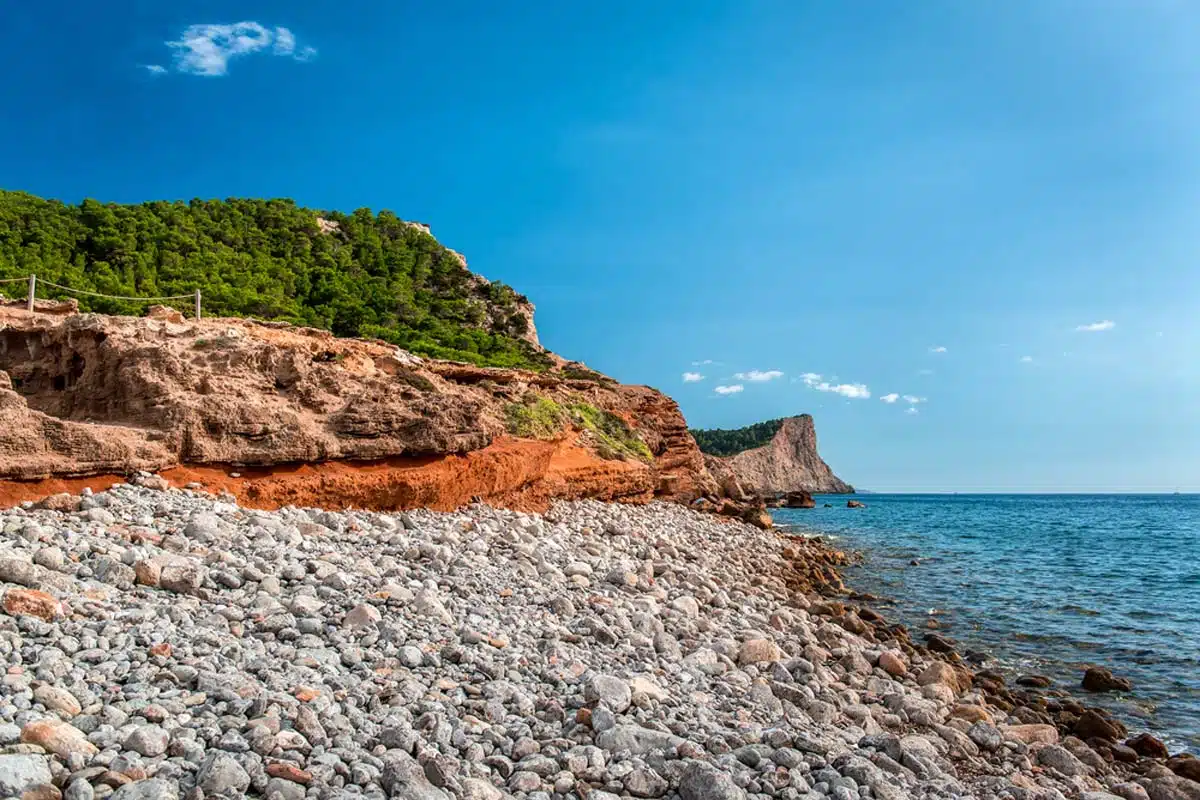 Ever heard the quote, "adventure is a mindset, not a destination"? Well, Experimental Beach is both. In the heart of Ses Salines salt flats, journey along a bumpy, secluded dirt road to reach this spectacular beach club. Upon arrival, you'll get the best sunset views in Ibiza.
Try the lobster risotto with black garlic aioli and saffron — a clear stand-out on their menu. With laidback festivities and farm-to-table food, it's a must-visit for a more rural experience.
El Chiringuito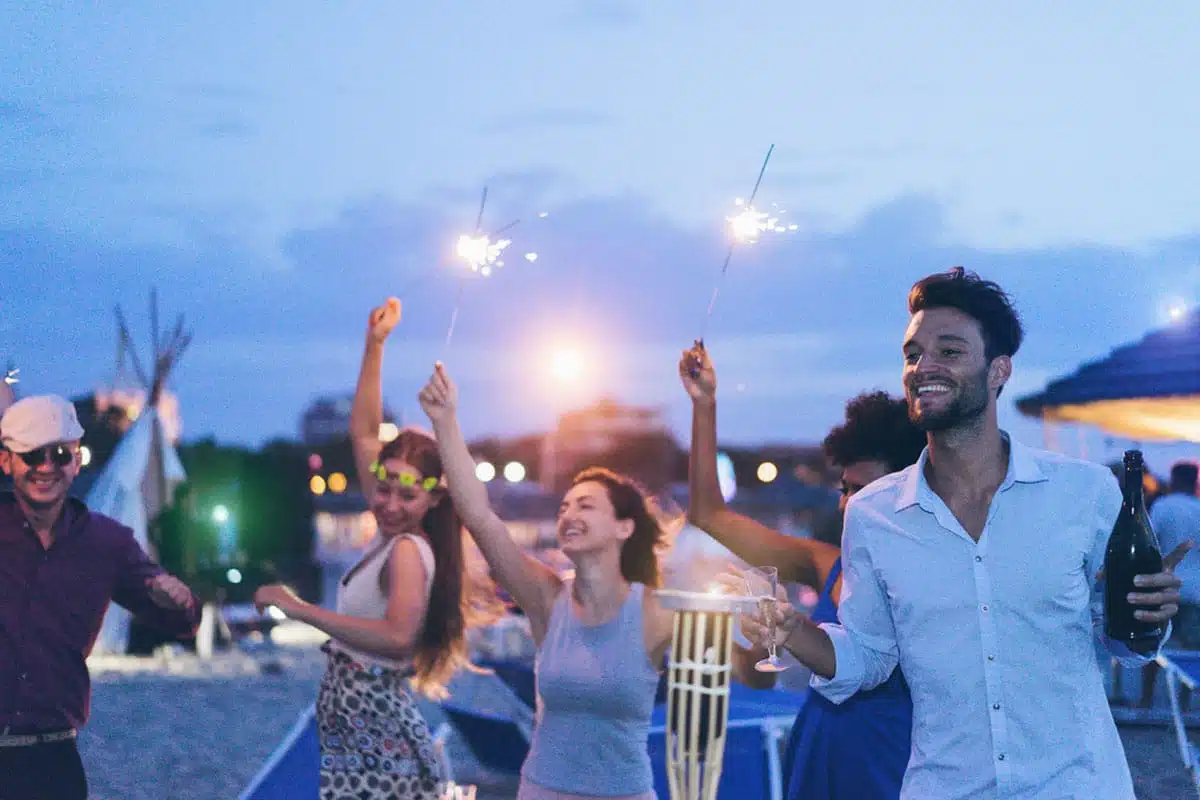 At El Chiringuito on Es Cavallet beach, feast your eyes upon an array of salt pans, dunes, and crystal waters. Apart from its stunning setting, the venue's warm and welcoming atmosphere sets it apart from other Ibiza beach clubs.
Relax on the stylish wooden terrace or grab a luxe sun lounger on the sand. Sample the finest Mediterranean lobster and Ibicenco prawns while sipping your custom cocktail under the sun.
Sunset Ashram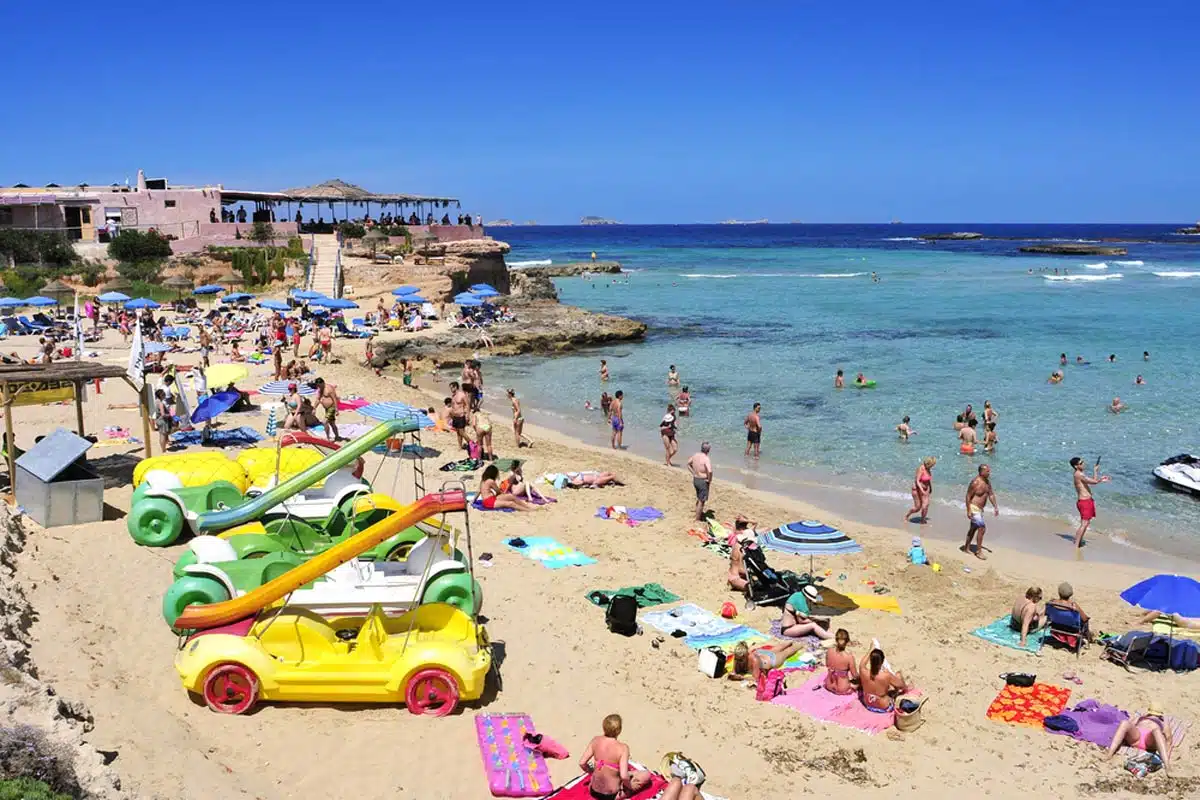 Sunset Ashram is a haven of tranquillity and spiritual rejuvenation on the picturesque Cala Conta beach. Open your mind and heart while enjoying a relaxed, self-service menu on the club's sandy terrace.
Their music is fresh and diverse, so stick around for the sunset sessions each evening. With rustic charm, cosy seating areas, and ambient music, Sunset Ashram provides an idyllic setting to connect with nature and reflect on life's beauty. Namaste!
Aiyanna Ibiza
If you need help deciding between laidback and luxe, head over to Aiyanna Ibiza — the perfect combination of both. Located in Cala Nova Bay, this beach club's panoramic views and breathtaking dining space make it so that few can forget.
Complete with earthy tones and a barefoot-chic theme, Aiyanna Ibiza is beautifully authentic. Enjoy holistic harmony as you dine on the health-conscious menu incorporating vegetarian and vegan options.
Cala Bassa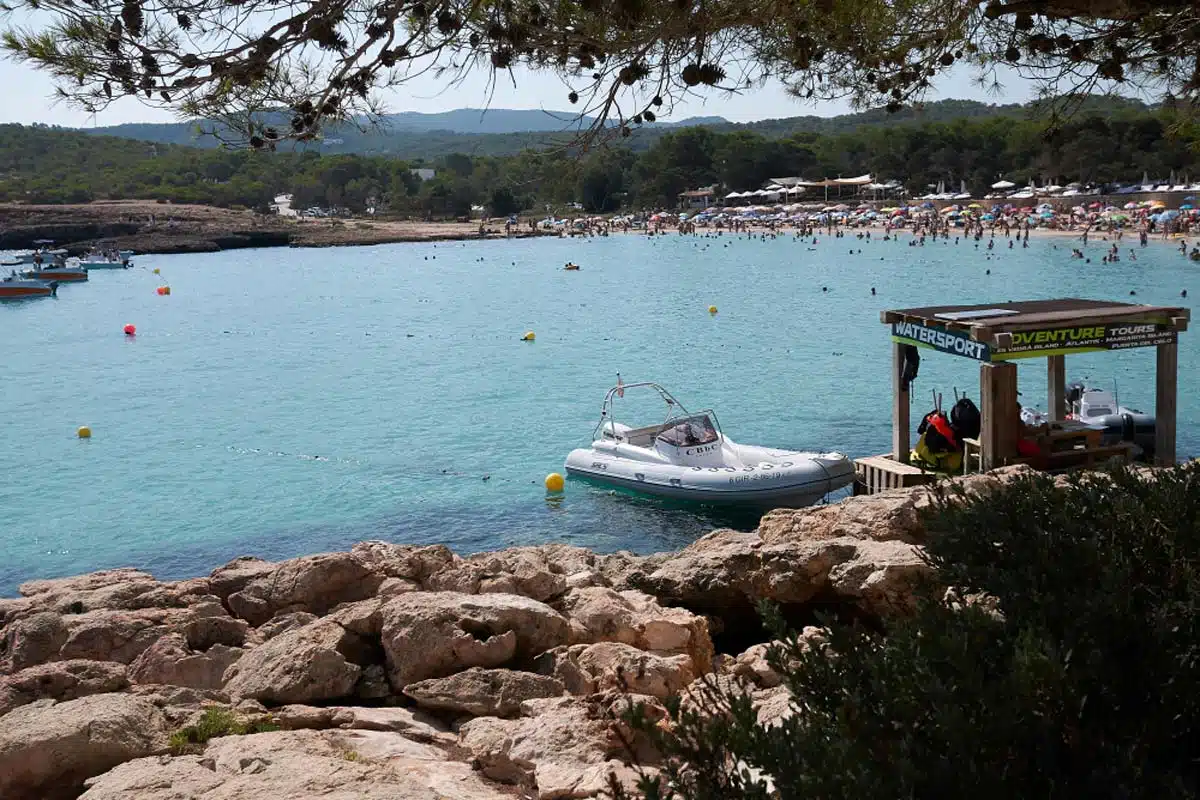 If water activities are what you're after, head over to Cala Bassa beach club. Found on the exquisite Cala Bassa beach, this club has a delicious range of signature dishes and a perfect ambience.
There are two types of people on holiday: Those who ride jet skis and those who get massages on the beach. Fortunately, at Cala Bassa, you can do both. And might I just add, the massages here are to die for.
Jockey Club Ibiza
Jockey Club Ibiza in Ses Salines is a firm favourite among tourists and locals because of its humble, down-to-earth vibe. So throw on your favourite swimsuit, grab your island state of mind, and head over to this quirky beach bar for a glorious afternoon of fun and good vibrations.
Seriously, though. If you're after an authentic Ibiza beach party, you won't miss this beach club's killer DJ sets which make for some of the best beach sunset parties in Ibiza.
Ushuaïa Beach Club Ibiza
What do house music, pool parties, and smoke machines have in common? Ushuaïa Beach Club in Ibiza. With an impressive capacity of 7,000 people, the establishment has a polished reputation as one of the best Ibiza day clubs.
The venue even hosts artists such as Calvin Harris and David Guetta. And, when you're finished, you can conveniently head across the road for a wild afterparty at Hï Ibiza.
Practical Tips for Exploring the Best Beach Clubs in Ibiza
Best Beach Clubs in Ibiza: Map
Now You've Hit Up Ibiza's Beach Clubs, Read These: