Explore the best things to do in San Antonio, Ibiza. Sunsets, beach clubs, restaurants and nightlife await.
Let's be honest: who isn't seeking an escape? Thankfully, we have the sun-soaked shores of San Antonio (known by locals as Sant Antoni de Portmany) to getaway to.
What's not to love about this lively resort town, packed with some of Ibiza's banging clubs, chic restaurants and sun-drenched beaches?
Top Tip: If you need help deciding where to stay in paradise, check out Grand Paradiso Ibiza – Adults Only. It's one of many fab adults-only hotels in San Antonio, Ibiza.
Top 5 Things to Do in San Antoni de Portmany
Hit Up the Sunset Strip for Sundowners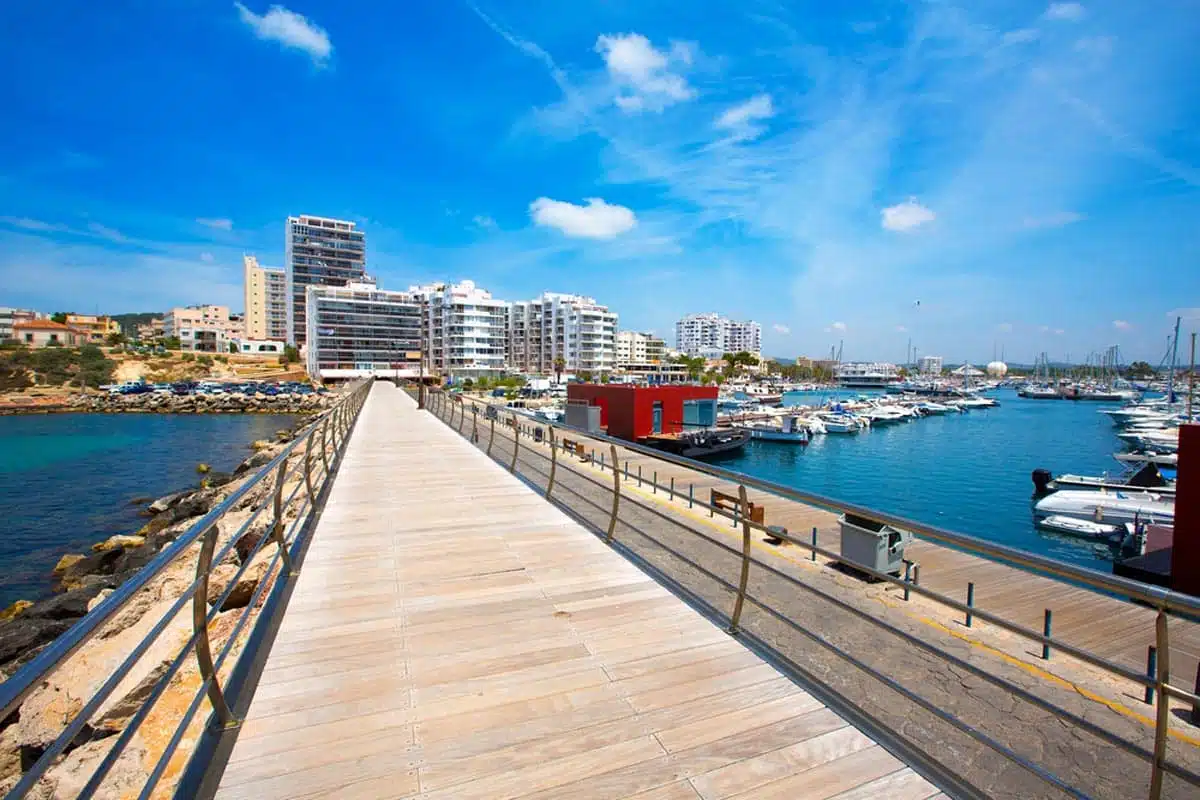 Seeing the sun go down from one of the many bars in San Antonio's sunset strip is a rite of passage for anyone visiting Ibiza.
As the name suggests, the strip presents an unobstructed view of the setting sun – there's pretty much nothing better than watching the last rays of the day with a cocktail in hand.
Hit up classic hotspots like Cafe Mambo – which has been going strong with its special blend of DJ sets and pre-parties since 1994 – or Cafe del Mar, the OG sunset bar best-known for its chilled out music sets and relaxed vibe.
Other popular bars on the strip include Savannah Beach Club, Mint Lounge and Golden Buddha.
Top Tip: Arrive early if you want to nab a seat, especially during peak season.
Party at Es Paradis
San Antonio (like most of Ibiza) is well-known for its nightlife, and Es Paradis is no exception to that rule. This is where you'll blur the lines between reality and raving fun.
While here, don't miss their famous Fiesta del Agua (Water Party). It's where you'll witness acrobats soar through the air and have performers put on a show. This nightlife spot in Antonio, Ibiza, is an absolute must if you want to party it up during your trip.
Tuck into a Japanese Feast at Okasan Restaurant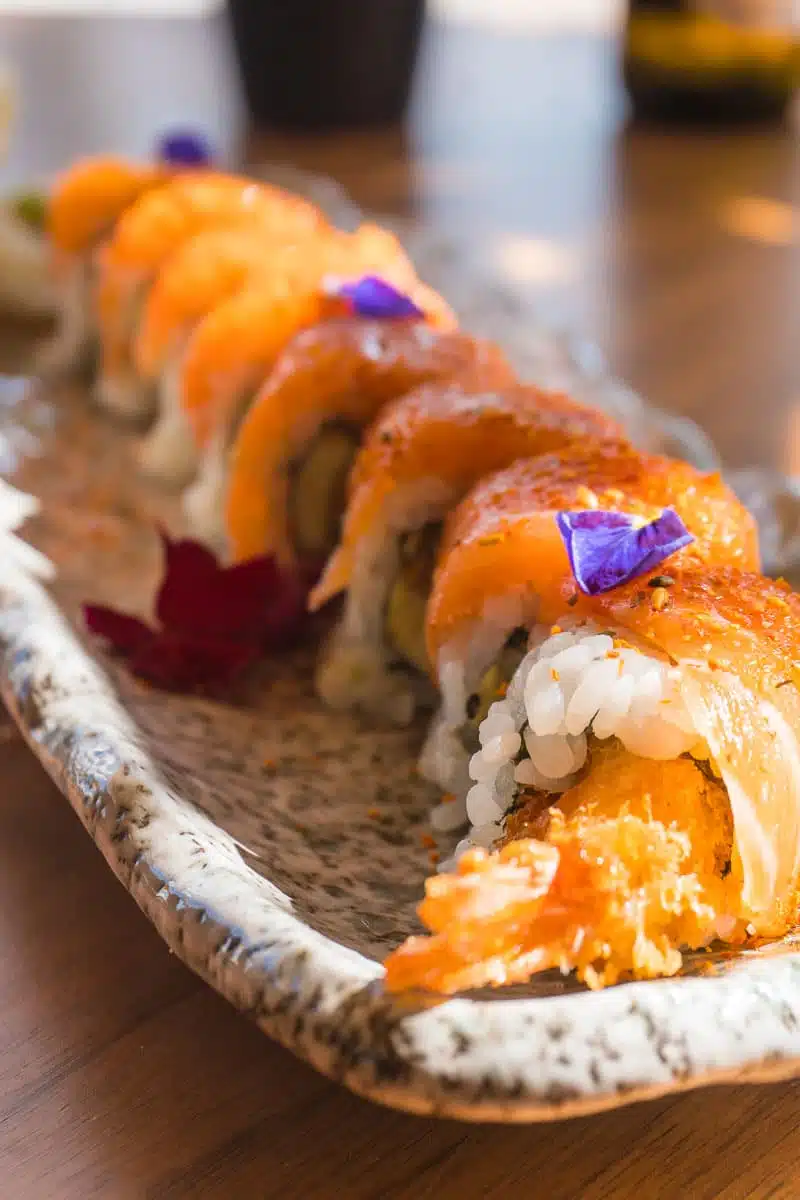 I hate to play favourites (who am I kidding, I kinda love it) but Okasan was one of the real highlights of my most recent Ibiza trip.
The food is straight-up delicious – think of it as a little slice of Japan brought straight to San Antonio. That translates to mounds of perfectly-prepared sushi, sizzling robata grill delicacies and *perfectly* seasoned veg.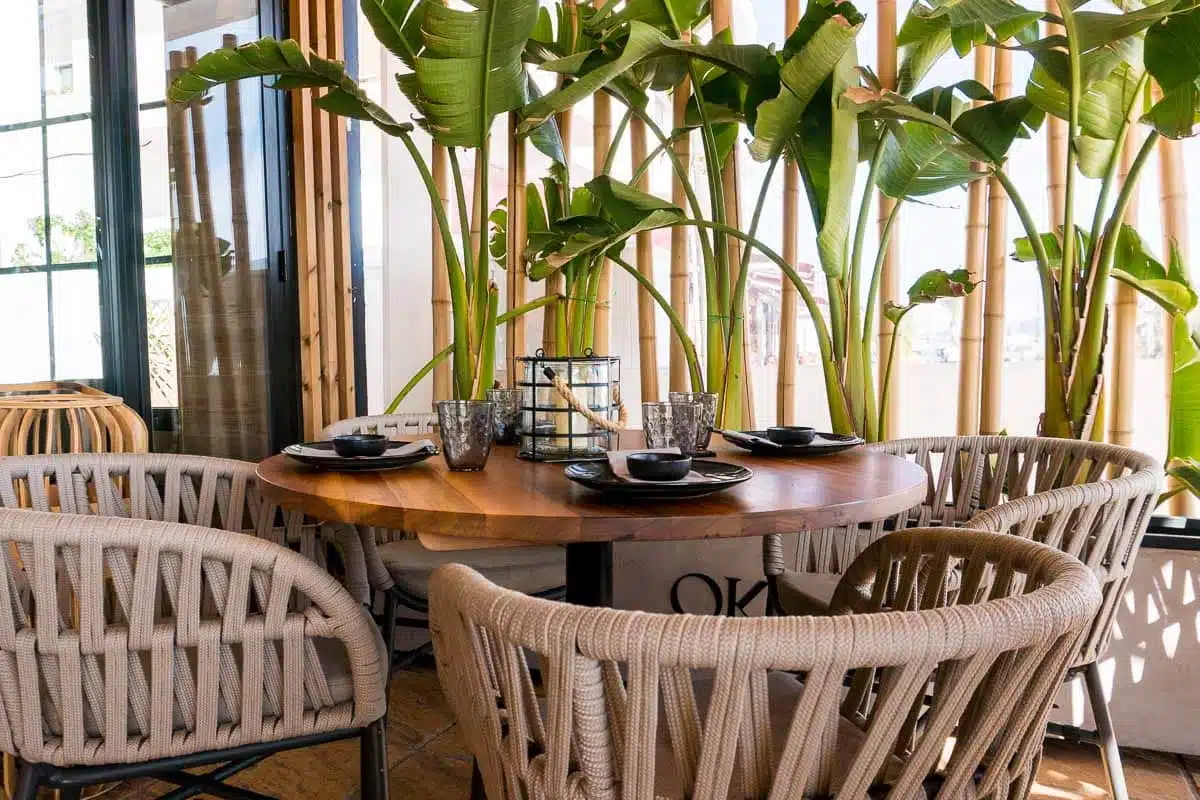 When you throw in beautiful views of the harbour (definitely grab a table on the covered terrace if you can) and some stellar Japanese-inspired cocktails, you know you're onto a winner.
Top Tip: It does book up, so reserve your table well in advance.
Go Beach Hopping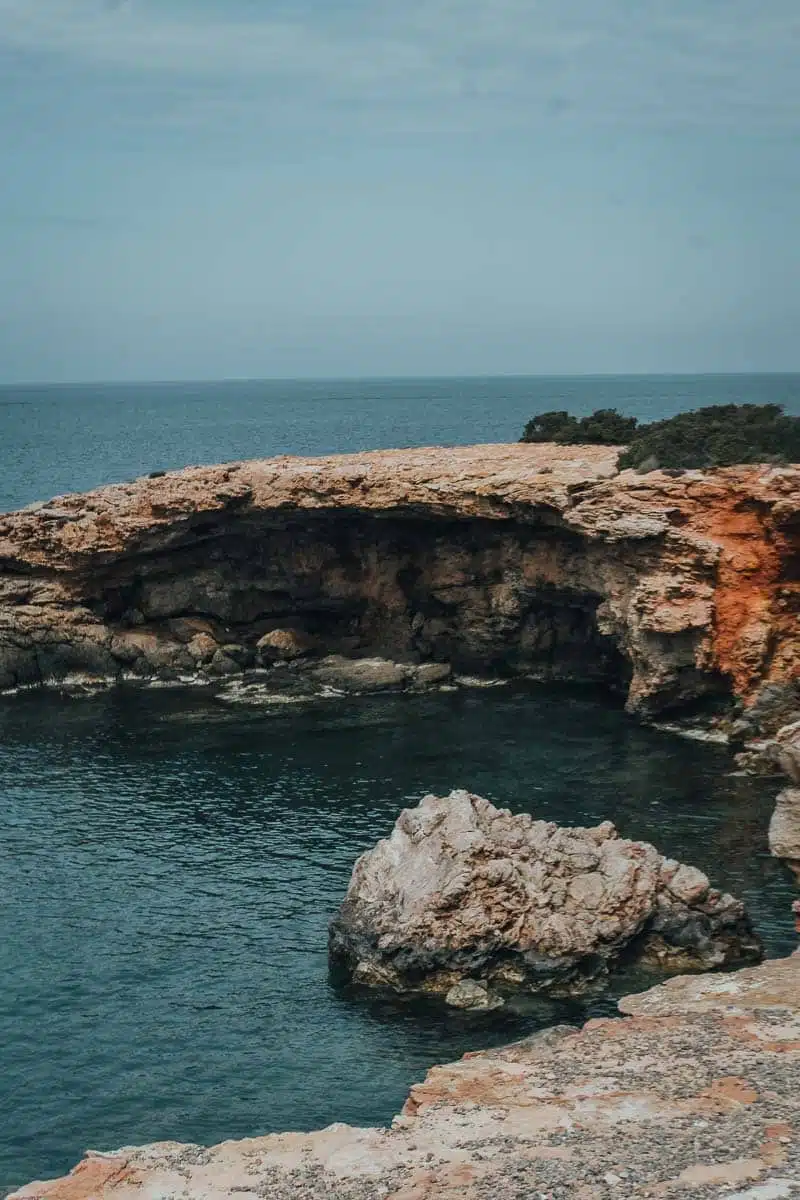 What better way to experience the best beaches in San Antonio, Ibiza, than a beach-hopping cruise?
This cruise takes you to the breathtaking Cala Tarida and the equally gorgeous Cala Bassa. You'll also have some serious water action by swimming, snorkelling, and sunbathing in the Mediterranean sun.
Plus, you'll enjoy complimentary drinks (hello, sweet sangria) and snacks like fresh fruit throughout your day.
Top Tip: There's no hotel pick-up and drop-off, so I recommend meeting at San Antonio Harbour for this beach-hopping adventure.
Visit Cap Blanc Aquarium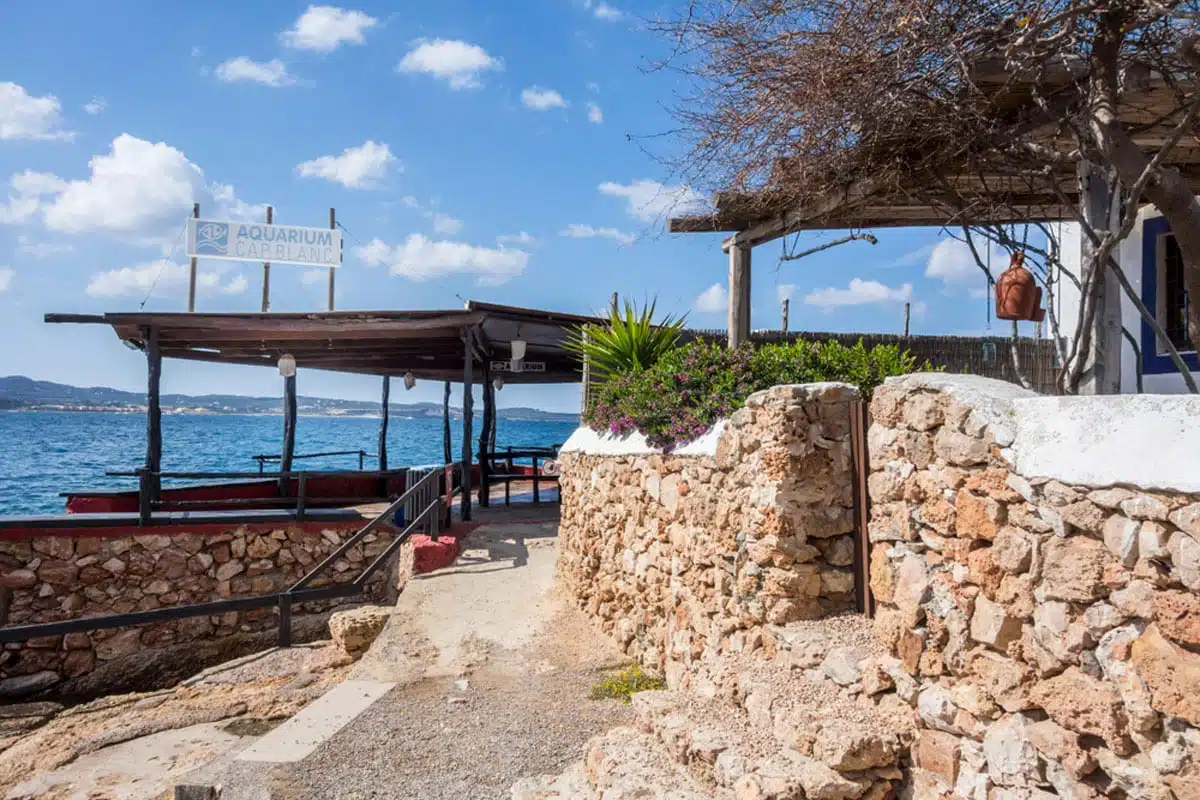 Cap Blanc Aquarium is not your average aquarium. You'll get to watch a beautiful display of marine life on a trip to this unique, educational attraction. Colourful tropical fish and graceful rays glide through the water, showing off the best of the diverse species here.
Being in an underground cavern, a cool highlight of this trip is walking in its transparent underground tunnel and marvelling at the breathtaking underwater views surrounding you.
Brilliant Things to See & Do in San Antonio, Ibiza
Rave the Night Away at one of San Antonio's Famous Nightclubs
I've already talked about the sunset strip, but don't think that as the night falls San Antonio runs out of steam. Not at all. This is one of Ibiza's prime clubbing hotspots, packed with iconic clubs (and iconic nights) that put the island on the international dance music scene.
Aside from Es Paradis, other top spots include superclub Eden, with its crazy parties and pumping sound system, Ibiza Rocks Hotel, where the poolside gigs are always popping, O Beach and Plastik.
Go Scuba Diving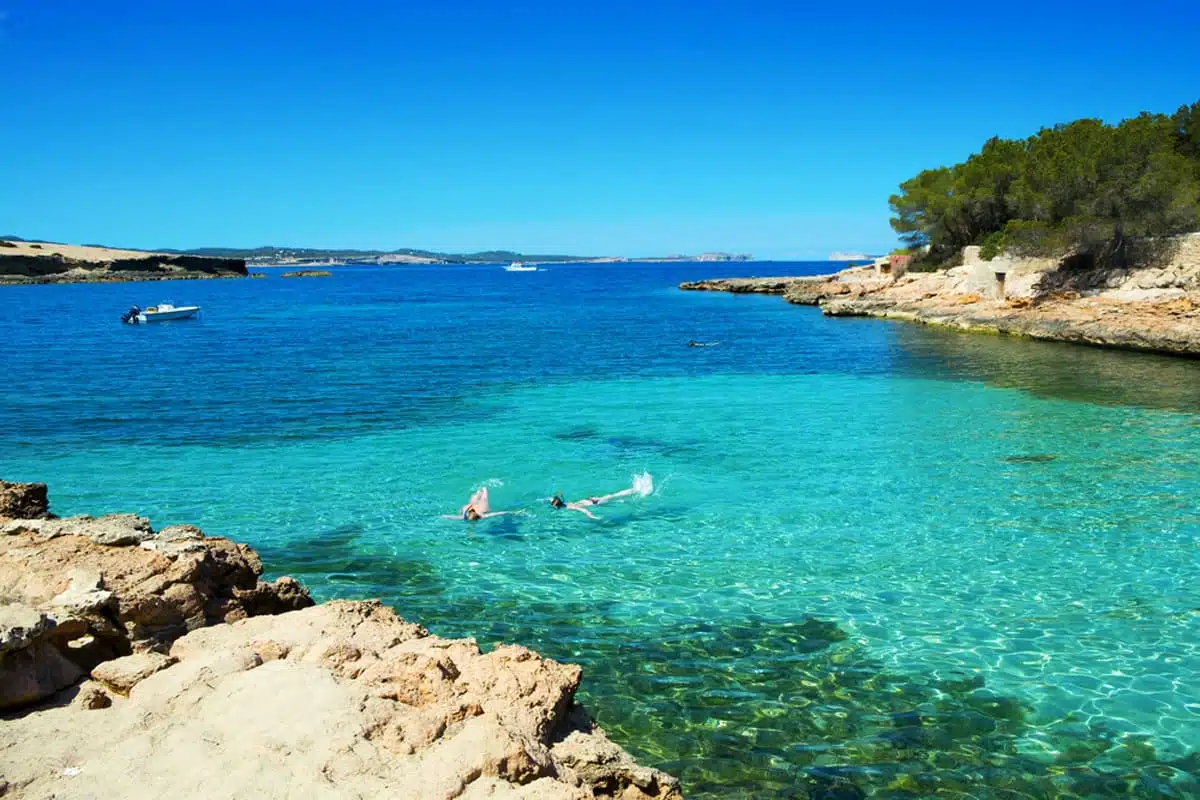 Ibiza might not be the first place you think of when you think of scuba diving, but there's some pretty cool dive spots dotted around the island.
Located near Sant Antoni de Portmany's Scuba Diving Pier in front of Palapa Bar is where you'll begin this exhilarating yet easy scuba diving tour. Over 3.5 hours, you'll learn diving theory, followed by an instructor and diving master showing you the ropes.
Once you've learnt the ropes you'll descend 26 feet (8 metres) and navigate the coral reef and colourful and diverse marine life, including octopus and fish.
Hike in Punta Galera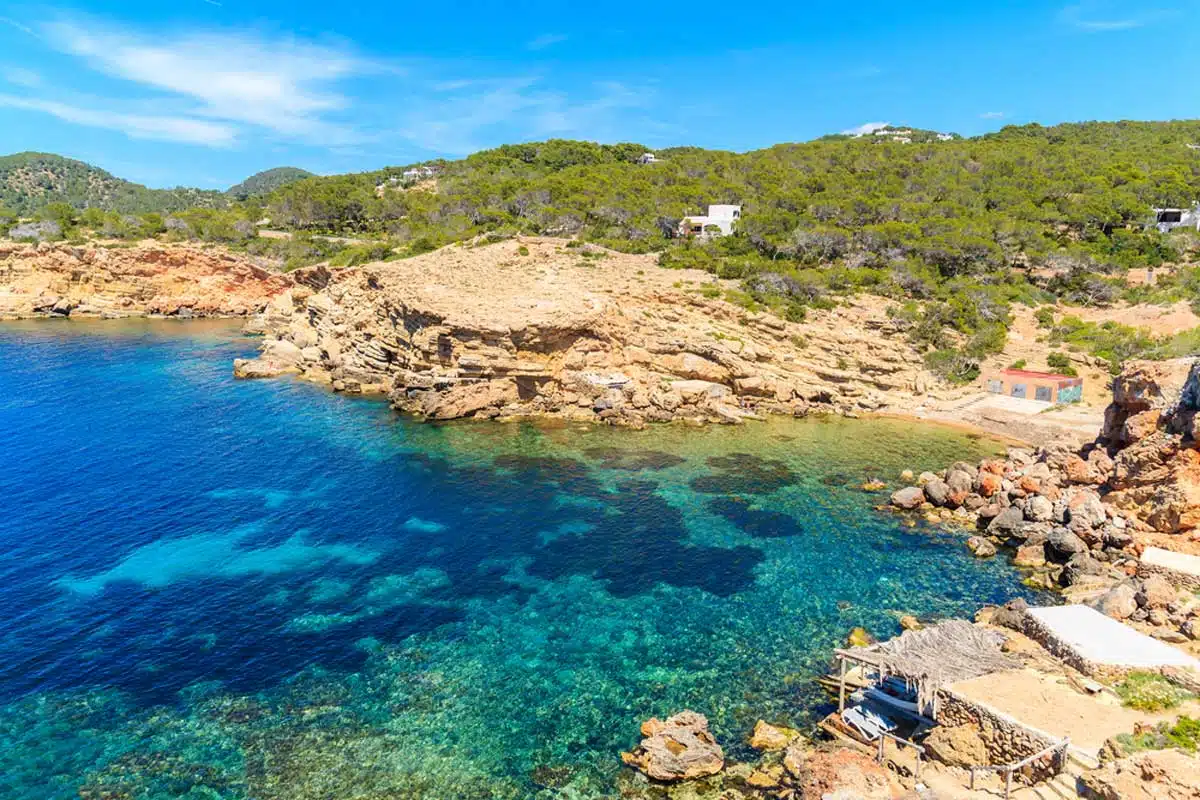 A 10-minute drive from San Antonio, you'll find serenity in nature's embrace. Punta Galera boasts scenic trails, perfect for clearing your mind while hiking.
With its rugged cliffs and clear waters, you can't help but take up the challenge to lace up your hiking shoes and set off on any of its 14 picturesque trails. While hiking, remember to catch your breath and take in the sheer beauty of Punta Galera's dramatic rock formations and secret coves.
Get Your Adrenaline Fix at Slingshot Ibiza
For an experience that'll get your heart pumping, look no further than Slingshot Ibiza. This amusement park is near the renowned Es Paradis nightclub and has all the rides you'd need for a thrilling time.
Try to keep it together as you're flung 236 feet (72 metres) high up into the air on the popular slingshot ride. If you'd like milder rides, try out their fun bumper cars.
Go Shopping in San Antonio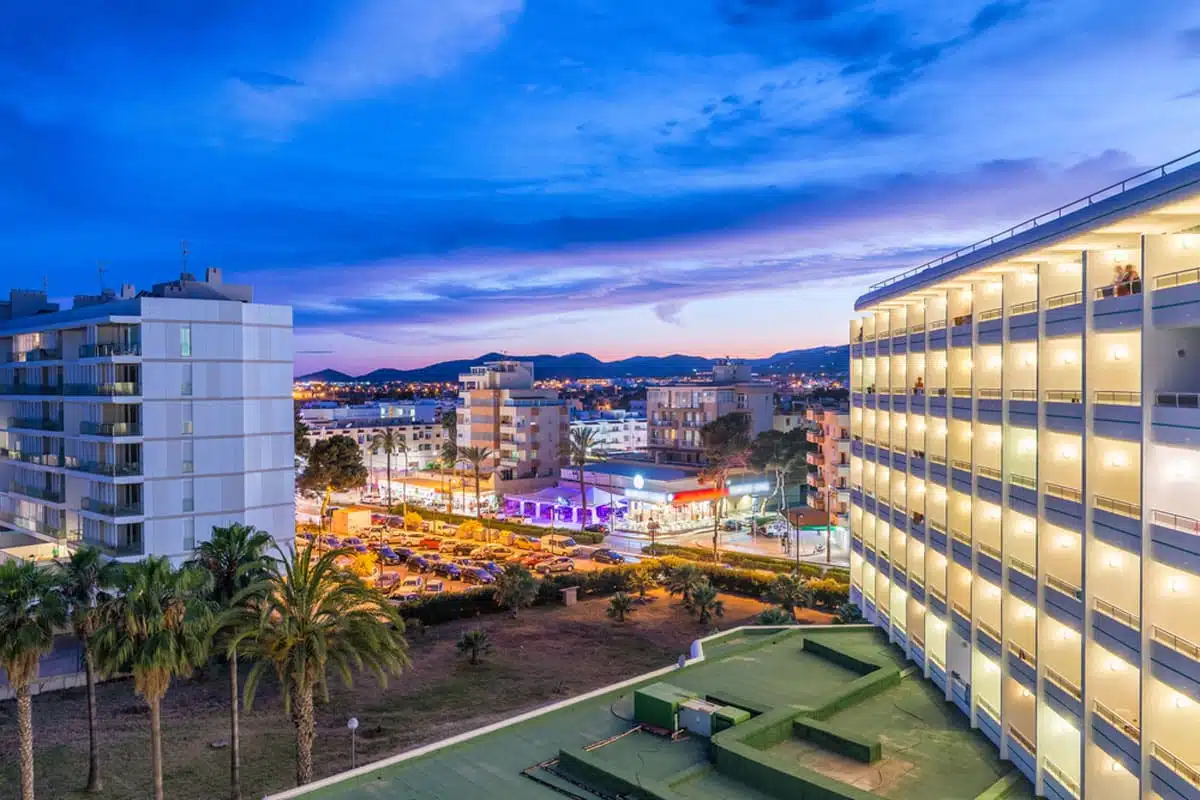 With an equally eclectic shopping scene, why not shop up a storm in San Antonio?
No shopping trip is complete without heading to Sunset Strip. The famous street has several beachwear stores and high-end boutiques brimming with the latest styles. This shopper's paradise will have what you want, no matter what you're looking for. Just remember to keep an eye on your account balance.
Rent a Villa in Ibiza's San Antonio and Throw a Party
San Antonio, Ibiza's nightlife is something you must experience, even if it's just once, as it's one of Spain's best things to do. But you can take it up a notch by throwing a party at a rented villa with friends.
Cue Can Vistabella Boutique Resort. This luxurious hideaway has a beautiful garden with enviable views of the Mediterranean Sea. You'll also unwind and stay fit with various amenities, including a spa, gym, and swimming pool.
Must-Try Bars & Restaurants in San Antonio, Ibiza
Es Tragon
For fine Ibizan dining, head to the Michelin-starred eatery, Es Tragon, and try out their innovative dishes like Ibizan fish and rice.
While they change their menu seasonally based on locally sourced ingredients, you'll always enjoy impeccable dining in its elegant and sophisticated atmosphere.
Tapas Ibiza
Tapas Ibiza is one of the best restaurants in Ibiza, San Antonio. Enjoy Spanish meals like montaditos and tapas in this lively tapas bar.
You'll find all your Spanish favourites here, including hearty patatas bravas (spicy fried potatoes).
Best Hotels in San Antonio, Ibiza
TRS Ibiza Hotel – All Inclusive Adults Only
With a prime location on the San Antonio, Ibiza beachfront, TRS Ibiza Hotel is the ultimate haven for adults. You'll have plenty of amenities at your fingertips in its luxurious setting. Here, you'll enjoy the vibrant nightlife without worrying about noise or disruptions from children.
Hotel Tropical
Just a short walk from Caló des Moro beach, Hotel Tropical offers stunning views of the Mediterranean Sea. Plus, it's a short stroll away from San Antonio Port and the bus station, which makes getting around the island an absolute breeze.
Wi-Ki-Woo Hotel Ibiza
With its own outdoor swimming pool, staying at the stylish Apartamentos Wi-Ki-Woo allows you to enjoy frolicking in the water without worrying about the crowds. It's also close to the iconic Café Mambo restaurant and bar, offering endless entertainment with good food.
Sant Antoni, Ibiza: Practical Tips for Your Trip
Recommended Tours in San Antonio, Ibiza
I recommend checking out the tours below:
Things to do in San Antonio: Map
Love This? Save and Share on Pinterest!