Wondering where to stay in Malaga? This guide covers where to stay in this gorgeous destination on the Mediterranean coast – packed with the best areas for sightseeing, beach chillin' and more.
Look, Malaga isn't exactly Spain's best-kept secret… more like one of its worst kept. But – and hear me out on this – it is one of the country's biggest surprises.
As it's such a popular spot, I was cautious before my first visit… but I didn't need to be.
Moorish, Gothic, Baroque and even ancient Roman architecture help paint the picture of this charming province in Andalucia. Go to experience a laid-back lifestyle with plenty of incredible food, customs and attractions (it was even the birthplace of Pablo Picasso – more on him later).
I've talked about why Malaga is such a great destination, but the real question is where should you stay for your trip to the city?
Do you want to bed down in the Old Town, which comes complete with a historic palace and Roman theatre? Or would you prefer the artier enclave that is Soho?
This guide walks you through the most popular areas (along with a few hidden gems) for your time in Malaga.
Best Places to Stay in Malaga
Old Town
Best For: First Timers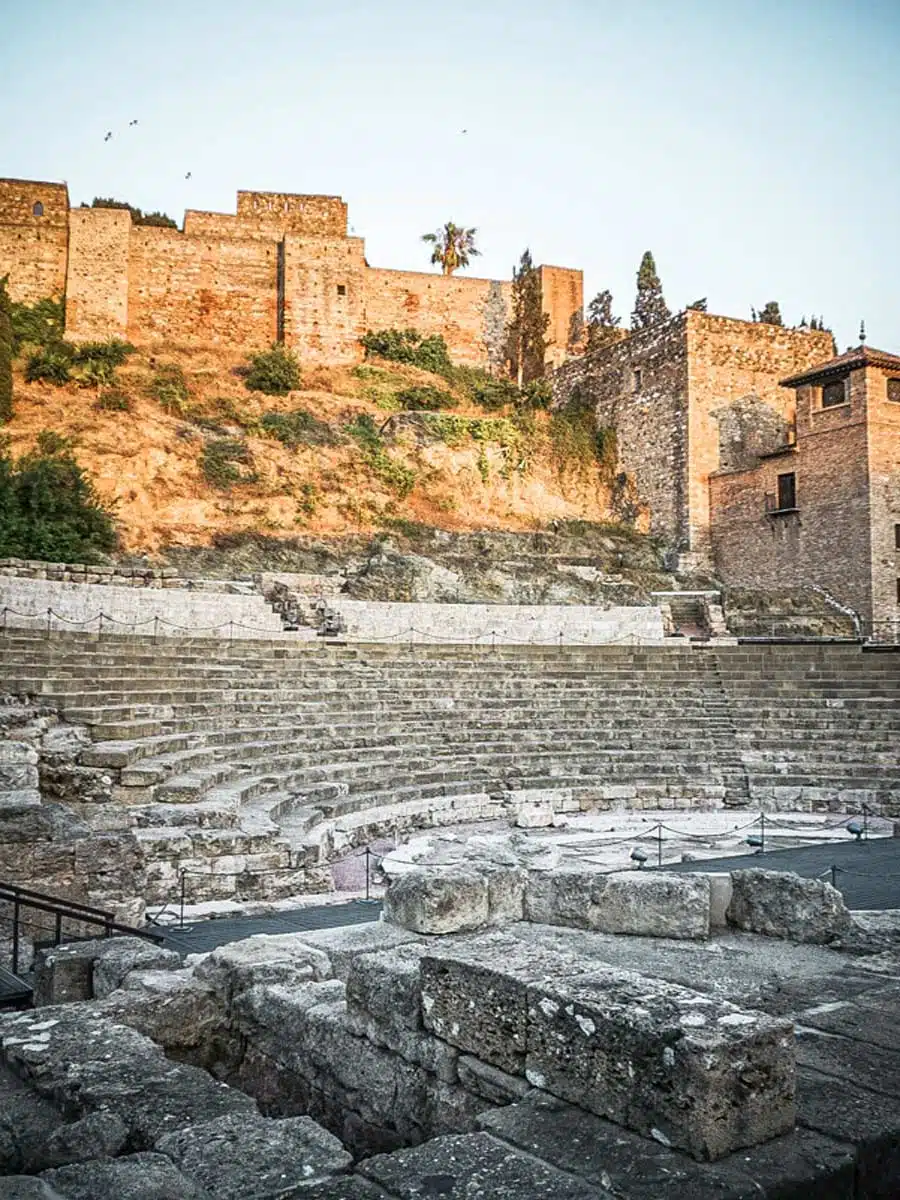 Old Town – the city's historic centre is brimming with Malaga's most famous architecture and is an absolute charm to walk around.
Be sure to familiarise yourself with the unique buildings, meandering cobblestone streets, and places to stop for a refreshment along the way (order the Tinto de Verano and thank me later).
If that all sounds a little on the sedate side, the Old Town is also one of Malaga's nightlife hubs. Not only is it a joy to walk the streets by day, but they become plenty lively at night.
From the absolutely bonkers Sala Gold to late-night tapas joints, you'll find loads to do in the historical centre of Malaga. El Pimpi is the most talked about, but I prefer lesser-known spots like Bar LA TRANCA, where the food is every bit as enticing.
Old Town Highlights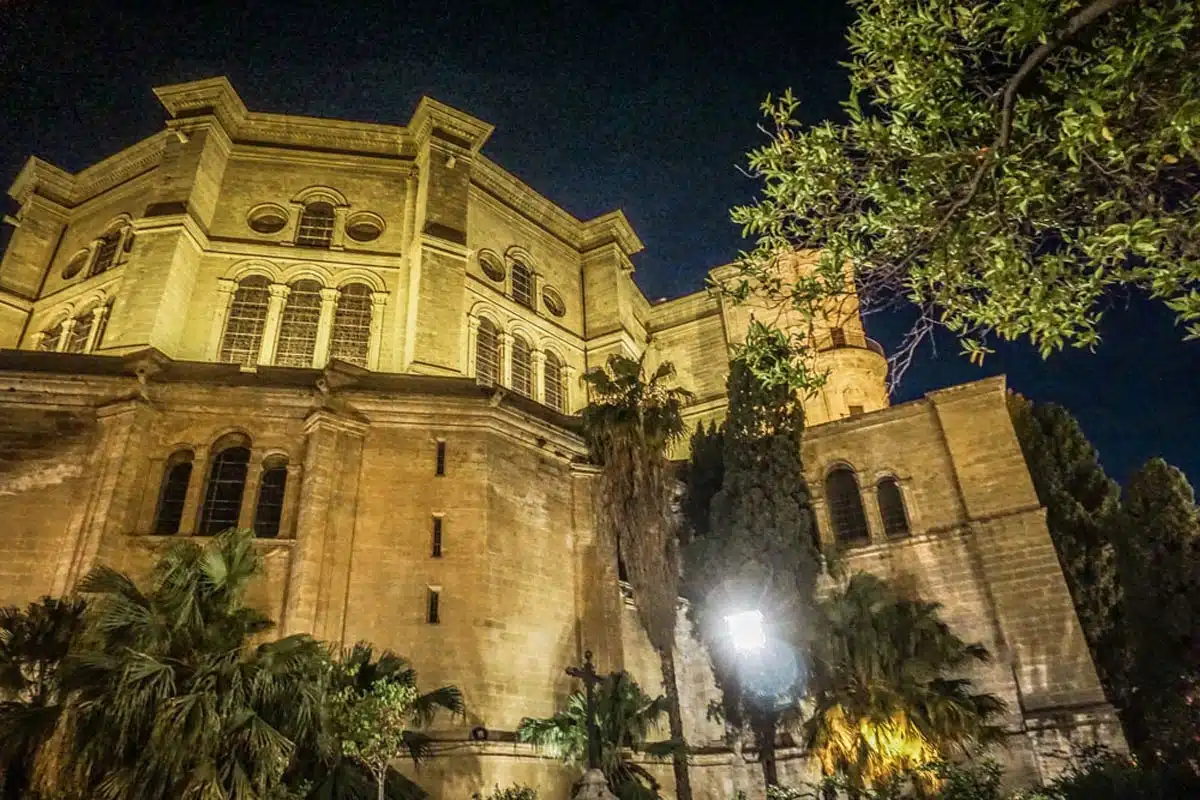 Alcazaba – If you're in Malaga, visit the ancient Moorish palace in the city centre – Alcazaba. It's not as large as other famous ruins in Spain, but you're still better off booking a tour to learn about the structure's storied past.
Roman Theatre – Another place you need to visit is the Malaga Roman Theatre – these ancient ruins are among the oldest in Spain and just a stone's throw from the Alcazaba.
Malaga Cathedral – No trip to Malaga's Old Town is complete without visiting the architectural marvel that is Malaga Cathedral. It's nicknamed La Manquita, or the one-armed woman as only one of its two proposed towers stands today.
Carmen Thyssen Museum – Visit the Carmen Thyssen Museum to explore one of the best collections of Spanish art at this lesser-known art hub in Malaga.
Picasso Museum Malaga – See a comprehensive collection of the famous artist's works in this bright and airy museum.
Suggested Places to Stay in Old Town
Luxury
Just down the street from Málaga Cathedral and the Picasso Museum, AC Hotel by Marriott Malaga Palacio is a modern 4-star hotel that blends comfort and convenience.
Book for the rooftop pool, an inviting Spanish restaurant with unrivalled city views, and charming rooms with private balcony views.
Mid-Range
Every room in this hotel projects a modern urban feel that's uniquely Malaga. Book for romantic private balcony views and features like double vanities and outstanding breakfasts.
Mid-Range
Another excellent choice with hardwood floors, botanical wallpaper, and modern furniture give every room a youthful cool at a budget-friendly price point.
Top Tip
The rooftop bar at the Malaga Premium Hotel is a fantastic place to start or end your evening in the historic centre of Malaga.
La Merced
Best For: Experiencing Malaga's Many Museums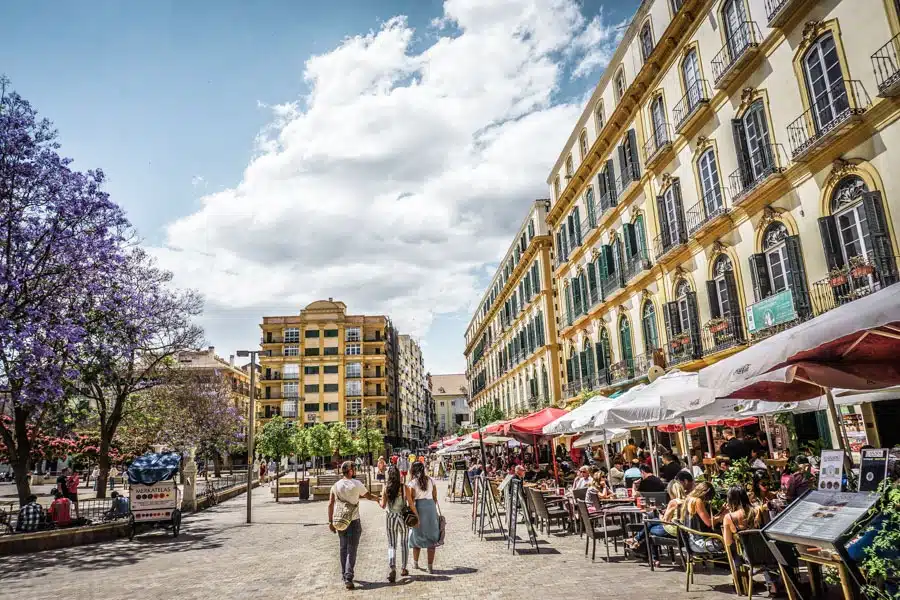 Remember when I mentioned that Pablo Picasso was born in Malaga? Well, if you want to hone in on the exact part of the city he was from, it's La Merced.
The house he was born in is in the bustling Plaza de la Merced and is now a museum (though the main Picasso Museum is a short walk away).
The area has so much to offer besides being the home of a world-famous artist, and is a great place for you to base yourself during your Malaga trip.
La Merced Highlights
Plaza de la Merced – Isn't it at the top of every traveller's list to kick it in a Spanish plaza for a few hours while taking in all the sights and sounds? Well, it is on mine, and Plaza de la Merced is the place to do it.
Casa Natal – You can't come to Malaga and not take a peek at the place where Picasso was born.
Mercado de la Merced – A real Malaguin market that sits at the heart of the La Merced neighbourhood. Go to stock up on tasty treats and nibbles.
Suggested Places to Stay in La Merced
Luxury
This 18th-century palace blends historical architecture with a discerningly modern touch. Reserve a seat at the acclaimed restaurant Restaurante Balausta, featuring the food of the renowned chef José Carlos García.
Luxury
A charming boutique hotel that offers some great standard rooms, which make the most of the smaller spaces. Wanna splurge? Opt for the Suite with Hot Tub – a two-story suite that feels like a luxury condo with cosy brick-lined walls, vintage furniture and a private spa bath upstairs.
Mid-Range
If you're on more of a budget, consider Hotel del Pintor. Steps away from the most famous sights in Malaga, your modern and boldly decorated room is the perfect landing spot for your city break. 
Soho
Best For: Culture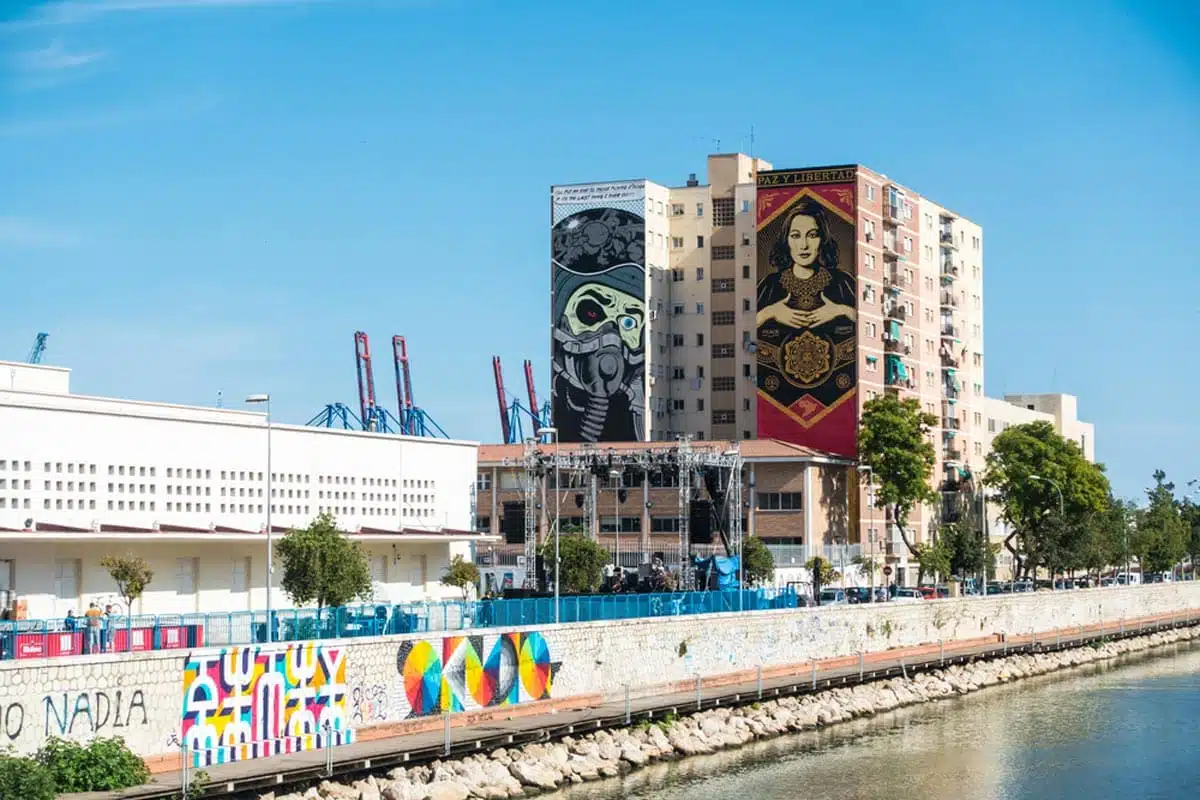 Malaga is clearly an artistic hub (again, Picasso), but no neighbourhood's doing it better when it comes to contemporary art and culture than Soho.
If you travel to Malaga and want to find the place to be, it's Soho.
Culture seekers, look no further; Soho is the best area to stay in Malaga to experience food, art galleries, street art (check out ridiculous murals by artists like D*Face) as well as one-of-a-kind boutique shops.
Sounds right up your alley? Let's look at where you need to go in Soho.
Soho Highlights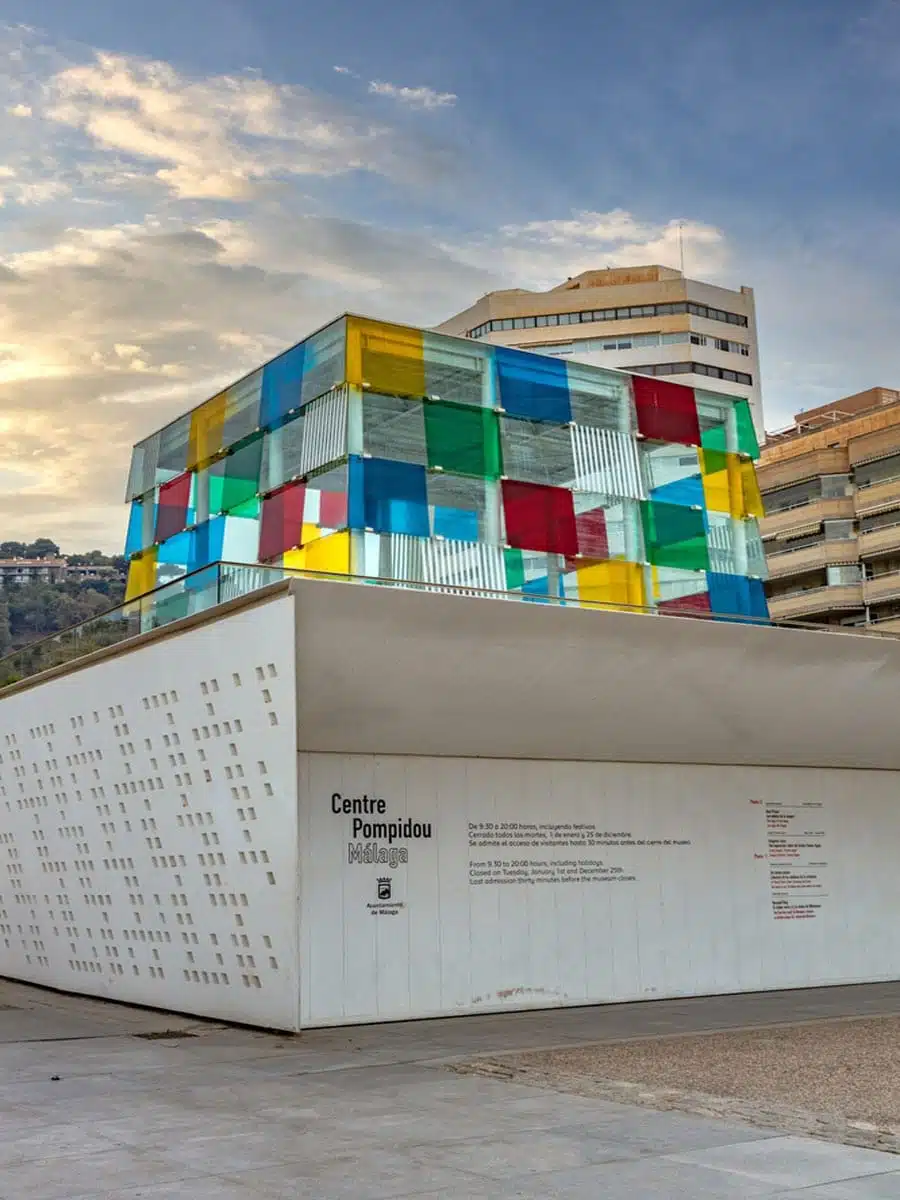 Contemporary Art Center of Malaga – A cavernous art centre that's worth spending at least a few hours exploring.
MAUS Project – Think of this as an open-air art gallery featuring some of the best street art in the world. Running along the walls near the Guadalmedina River, the art has literally shaped the neighbourhood into what it is today.
Malaga Park – This is a beautiful outdoor space that's been around since the turn of the 20th century. Walk around the gardens and check out the statues and fountains.
Suggested Places to Stay in Soho
Luxury
Youthful while feeling grown up, this hotel perfectly represents the local style. From the sophisticated interiors of the rooms to the stunning art deco-inspired shared spaces indoors and out, this is where you want to stay in Soho. Period.
Luxury
Another stylish and modern choice where rooms have a city meets seaside decor. Neural walls and hardwood floors are offset with striking design accents for a distinctive property.
Mid-Range
Looking for contemporary style with a bit of old-world charm hiding somewhere between the urban Soho walls? This hotel showcases artwork and decor that evokes Malaga past and present.
La Malagueta
Best For: Beach Lovers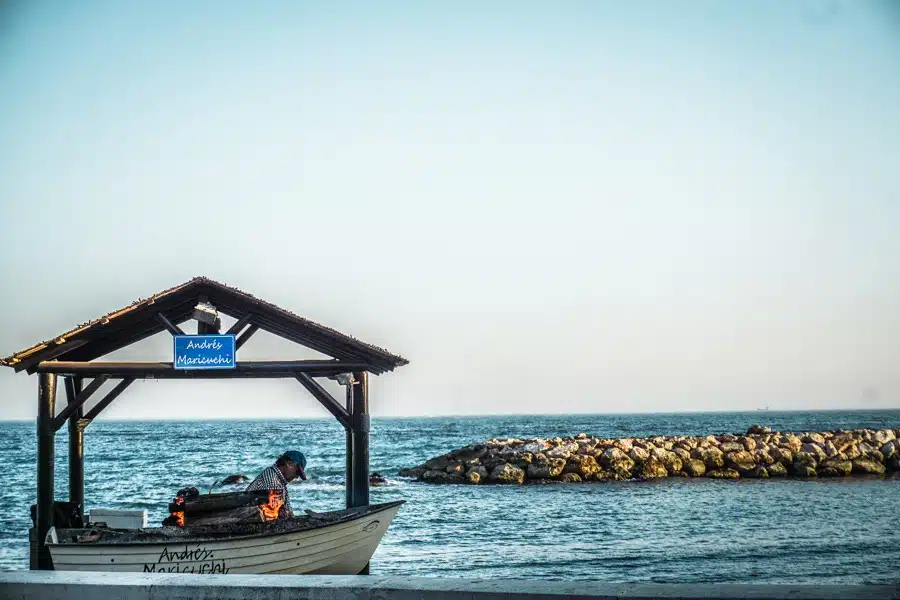 There are straight-up stunning beach spots on the Costa del Sol (Nerja springs to mind), but if you want to stay near the water while you're in Malaga, my pick is La Malagueta.
What was once an area known for fishing, bullfighting, and industrial factories is now home to popular restaurants and bars and the most famous beach in Malaga, Playa de la Malagueta. But you can still sense the area's past while walking through the urban streets along the coast. 
As you may well know, food is on my mind when I visit Malaga (or anywhere in Spain). And if you're looking for one of the best areas to discover underrated gems for seafood, look no further than Maricuchi. Be sure to try the boquerones fritos (pictured below) and octopus while you're here.
La Malagueta Highlights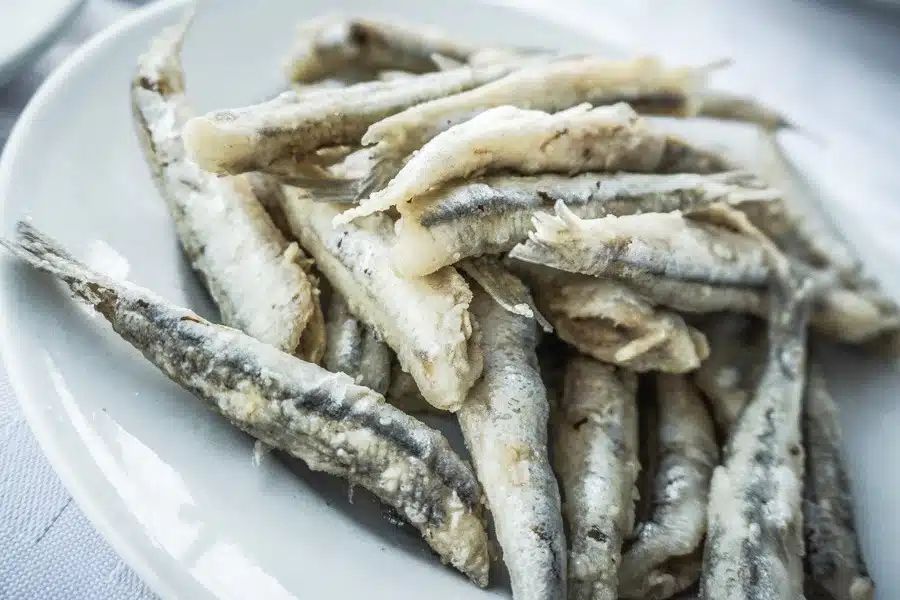 La Malagueta Beach – a picturesque beach at the epicentre of the neighbourhood. Be warned, it's often crowded due to its proximity to the city centre, so arrive early to nab a great spot. Book a table at Maricuchi for stellar food.
La Farola de Malaga – a lighthouse that dates back to 1817.
Plaza de Toros La Malagueta – Malaga's bullfighting ring is still operating today, nearly 150 years after the first bullfights took place inside.
Castillo de Gibralfaro – Although it's not in Malagueta, this ancient fortress boasts epic views of La Malagueta and the most storied landmarks in Malaga.
Suggested Places to Stay in La Malagueta
Luxury
This nearly 100-year-old property is a short walk from Playa de la Malagueta and Playa de la Caleta.
It resembles a palace inside and out, with each guest in the 190 rooms treated like royalty. The hotel is decked out with opulent event spaces, lavish grounds, and views of the Mediterranean Sea that may just leave you speechless.
Luxury
You can't get much closer to the shores of Costa del Sol in Malaga than this 4-star property. When you're not lounging on the beach, enjoy the city views from the rooftop jacuzzi overlooking the famous bullring below.
Luxury
This 5-star hotel is a bit removed from Malagueta. Still, staring down at the deep blue waters and beaches below from the infinity pool, you won't mind the 20-minute trek into town. Book the Junior Suite with Terrace for the best views of the sands and shores of Costa del Sol.
El Perchel
Best For: Staying in Malaga Like a Local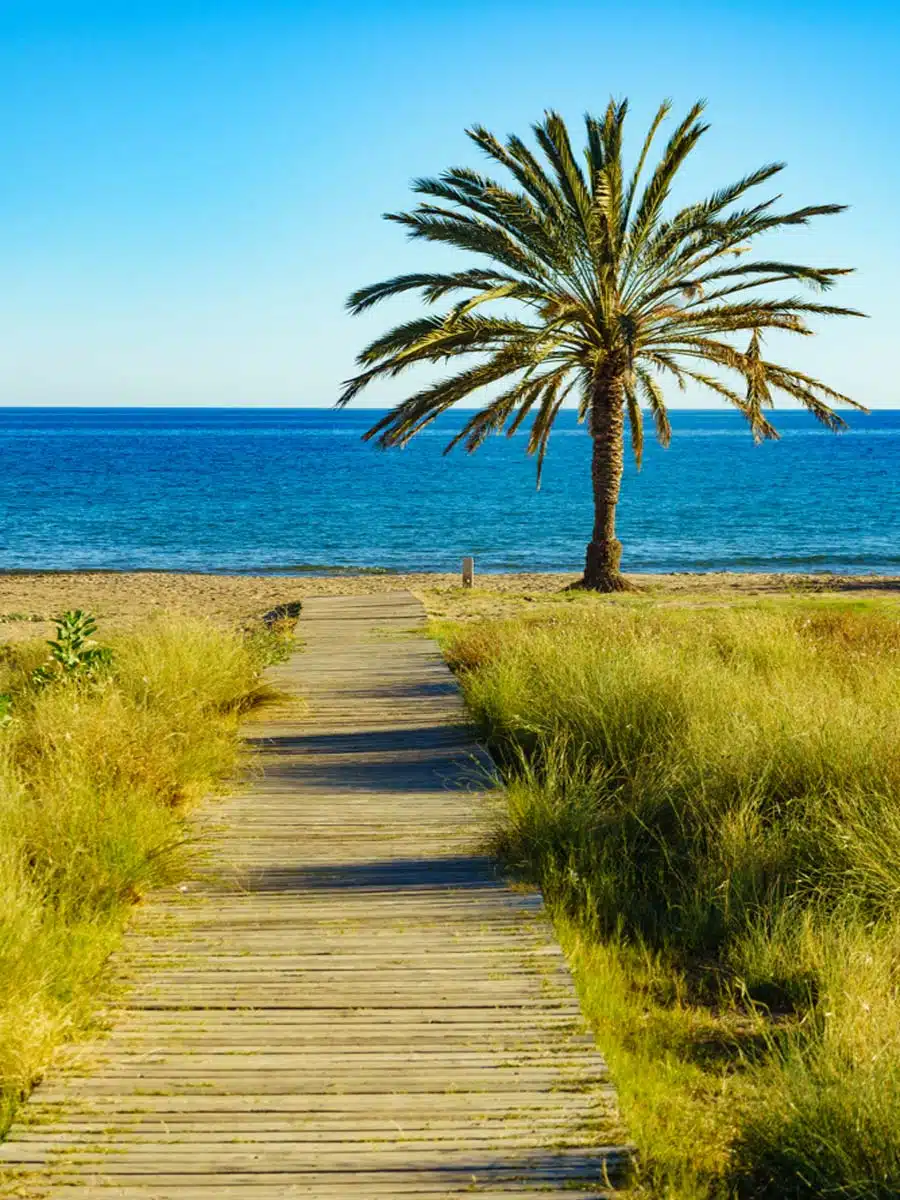 I don't blame you if you haven't heard of this charming neighbourhood in Malaga. Right across the river from Old Town and Soho is a wonderful slice of Malaga life that ranks up with the best places to stay anywhere.
Perchel is one of Malaga's oldest neighbourhoods and is home to underrated restaurants, architecture, and shopping. It's also a short walk from the most famous areas in Malaga, making it a great choice if you want to be close to the action at a reasonable price.
El Perchel Highlights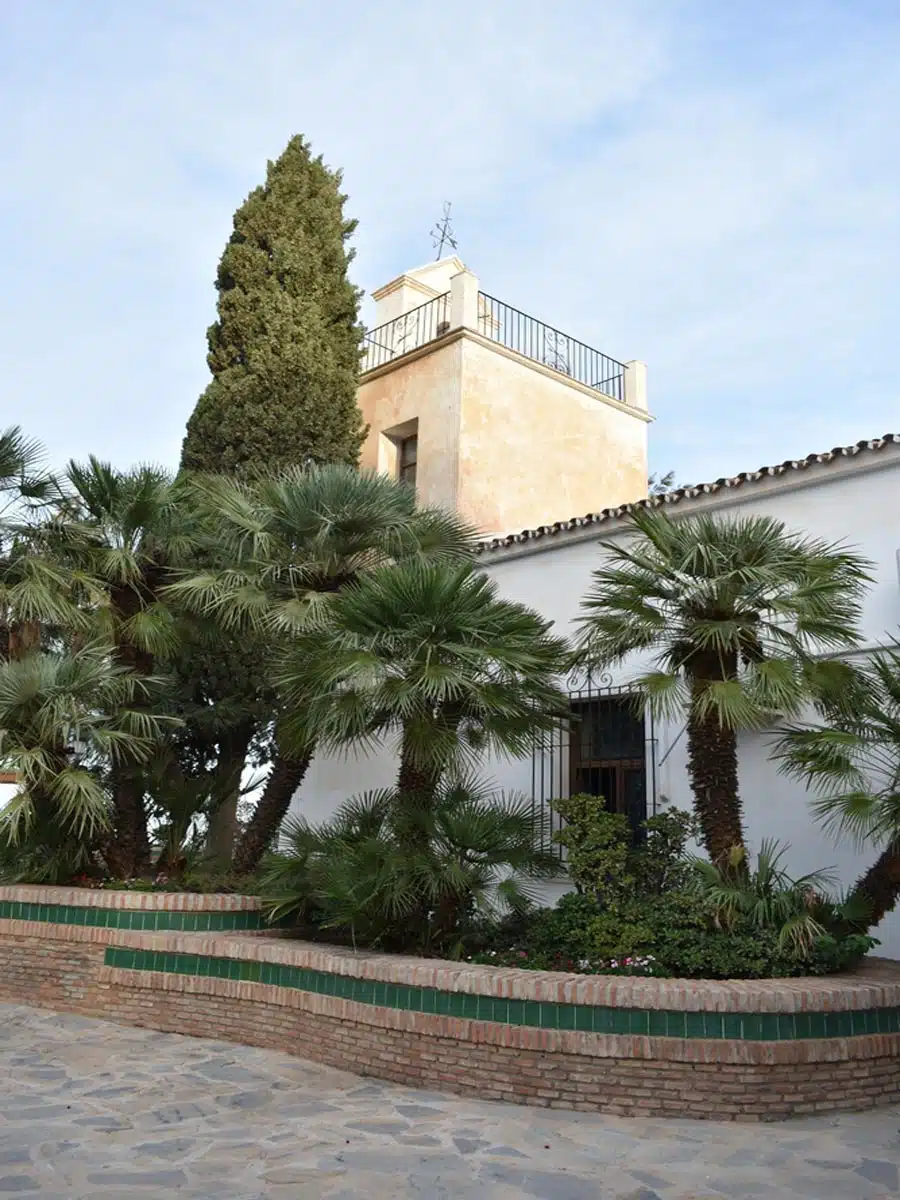 Mercado El Carmen – Located in the traditional fishing village of Pechel Sur, you can't miss the freshly caught seafood at this active marketplace.
Santo Domingo de Guzmán – One of the more beautiful churches in Malaga, it's a neoclassical construction on a centuries-old religious site.
Picasso Garden – Spend a couple of hours admiring flora and fauna, people watching, or checking out the two statues paying tribute to the local legend Pablo Picasso.
Suggested Places to Stay in El Perchel
Mid-Range
Stylish, good value and understated accommodation across the river from the Center of Contemporary Art.
The rooms are spacious, while the proximity to the train station makes it an excellent choice for business travellers or those who want to venture beyond Malaga.
Luxury
Dreamy views? Say no more. One advantage of staying in Perchel Norte is the incredible vantage point of Malaga Centro across the river.
The rooftop pool is a perfect place to lay out in the warmer months. While fresh and vibrant rooms come with hardwood floors and botanical wallpaper setting up the city views outside your window.
Luxury
The perfect choice to be near all the action in a quiet, comfortable setting. The bar has a stylish and modern look and personalised service. Opt for a room with a balcony view.
Frequently Asked Questions About Staying in Malaga
Read More Malaga and Spain Guides
Love This? Save and Share on Pinterest