Madrid's graffiti scene is taking strides and really coming into its own.
It's a pleasure to watch a city's street art landscape grow – starting with just a few pieces here and there, then a few more, until its a bright tapestry of artistic statement, woven between the everyday neighbourhoods and sightseeing spots that form the fabric of any city.
It's something I've seen evolve in my hometown, London, as well as many others – Lisbon, Lima – the list goes on. Now it's the time for street art in Madrid to shine.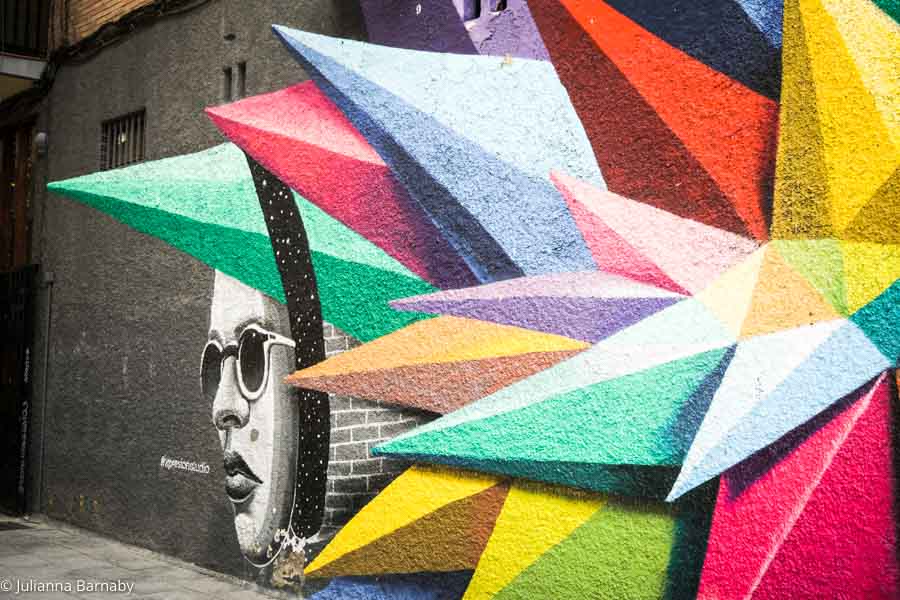 Exploring Madrid's Graffiti Spots
Street art has given new colour to the Madrid, bringing statement pieces and thought-provoking works to previously unloved buildings. Eyes focus on what they would have previously glazed over, people stop where they would have hurried on.
I've always loved Madrid, but had never really taken the time to really dig into the city's street art world. I know, I know – it's such a shame as the city's small centre makes it ideal for long wanders, moving between canvases scattered across different neighbourhoods.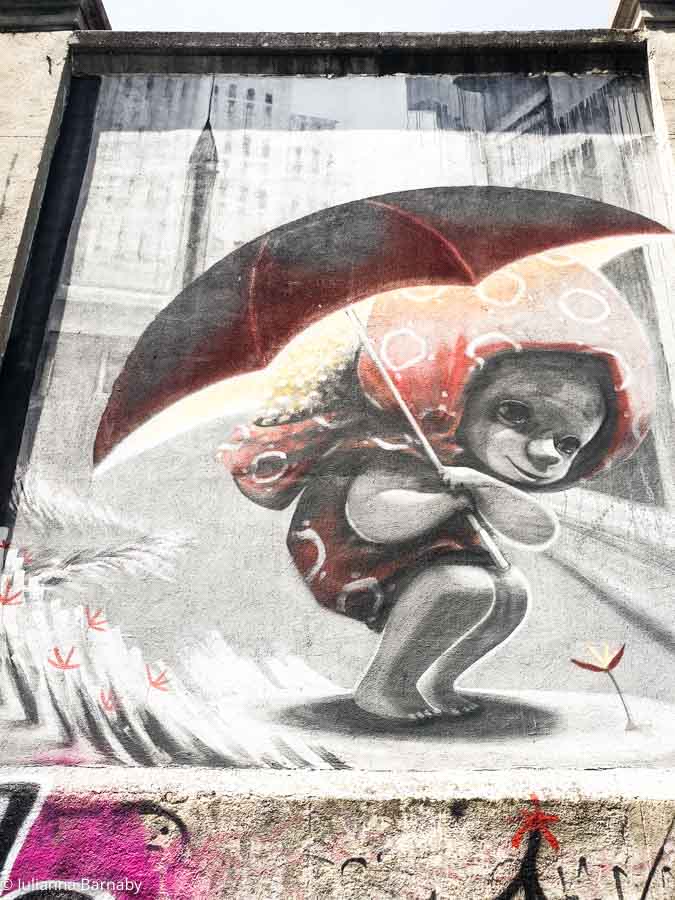 So that's exactly what I set out to do last week during my trip to Madrid.
I've been enough times to have checked off the museums, palaces and parks that you check off on a standard Madrid itinerary – and instead seeing some of the pieces that are helping build the city's reputation as an artistic hub.
Mooching around neighbourhoods and looking at street art? Pretty much my kind of a perfect day – I'll take a punt and say that it's going to be yours too.
Looking for more ideas for your time in Madrid? Check out my guide to the best things to do in Madrid.
Calle de Embajadores
If there is a centre to Madrid's graffiti scene, the adjoining neighbourhoods of Embajadores and Lavapies would have good claim to the title.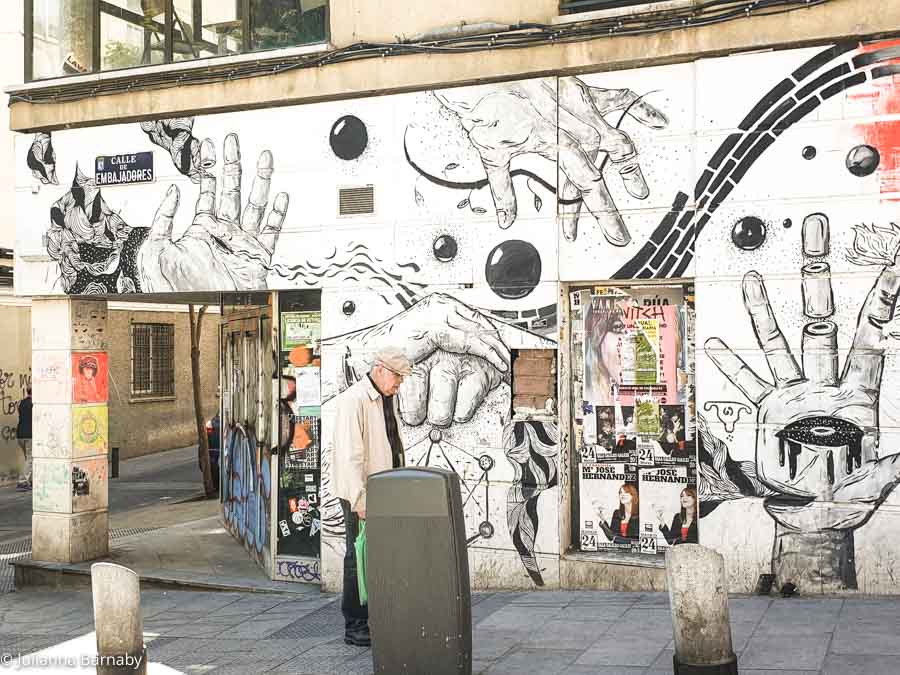 Cool pieces sit on shutters, above playgrounds, behind markets – every time I'd turn a corner or walk onto a new section of the road, boom, there would be another piece that would make me stop in my tracks.
Never more so than on the Calle de Embajadores, which winds its way down to Embajadores station. I was fleeing the horror of El Rastro Market (if you're thinking about going, my advice is… don't bother) but it was hard to still feel spiky about it when I was confronted by so many colourful pieces.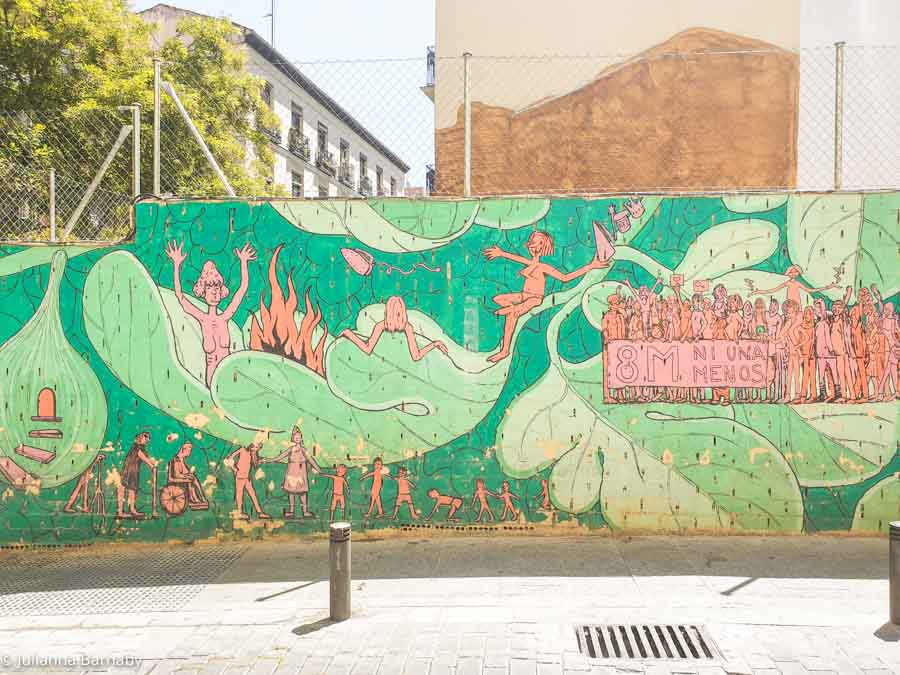 First up, I found this feminist piece by Doa Oa and Maz, illustrating the continuation of the feminist struggle through beautiful flowing lines and vibrant colours.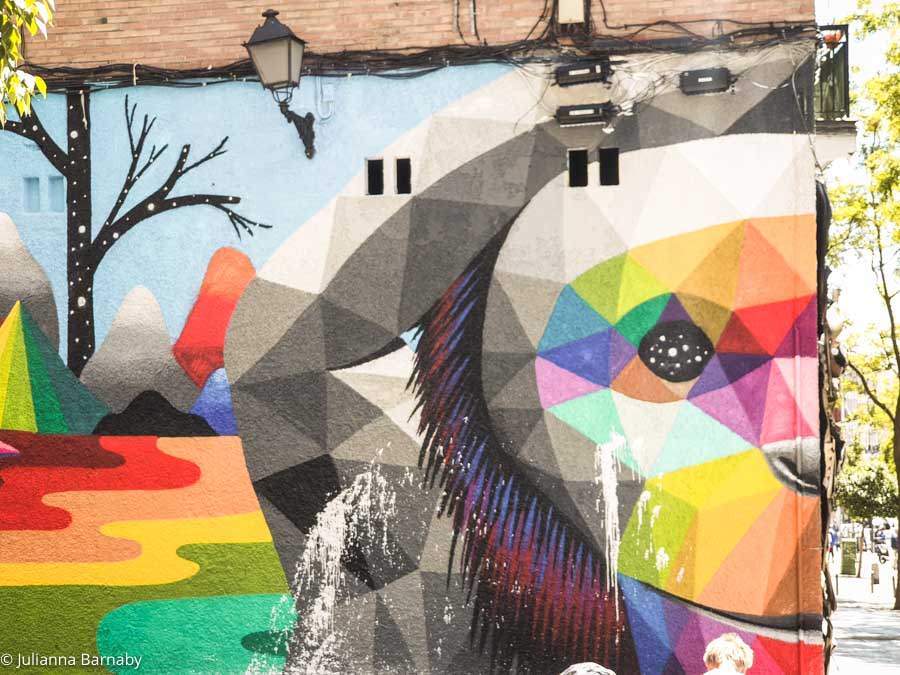 I particularly loved this Mixed Chimp by Okuda San Miguel and Bordalo II. Standing on the corner to look at the two perspectives taken on the same subjects by the two artists using their respective mediums it was cool to see both the clash and harmony that really make this piece work.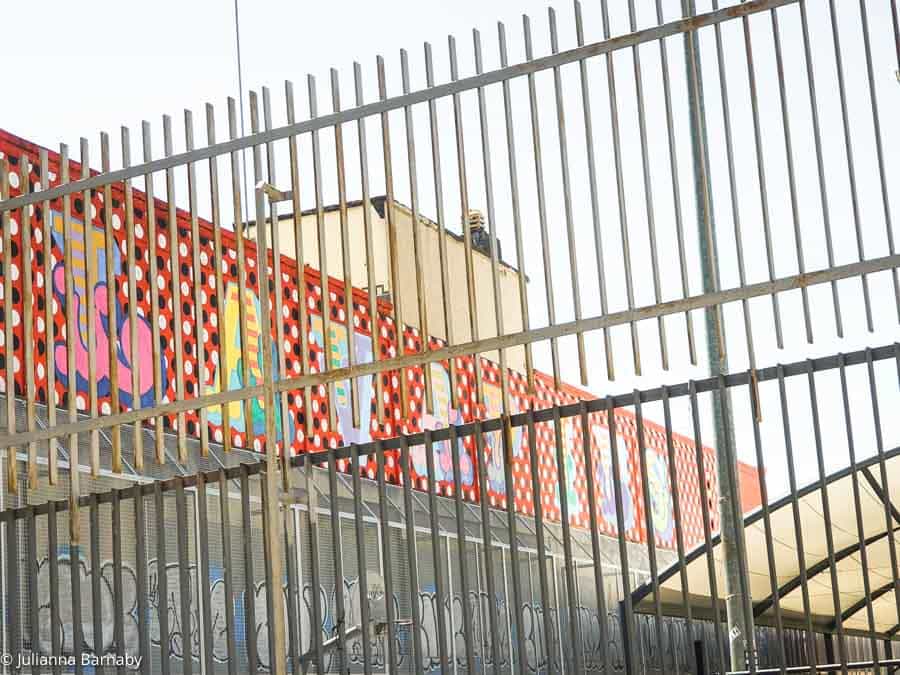 Another familiar style – this time from Ben Eine, whose unmistakable colourful lettering loomed down from the top of a building. The art, like the neighbourhood, is full of contrast and energy.
Peeking lower down, I found this piece – couldn't see who the artist was though.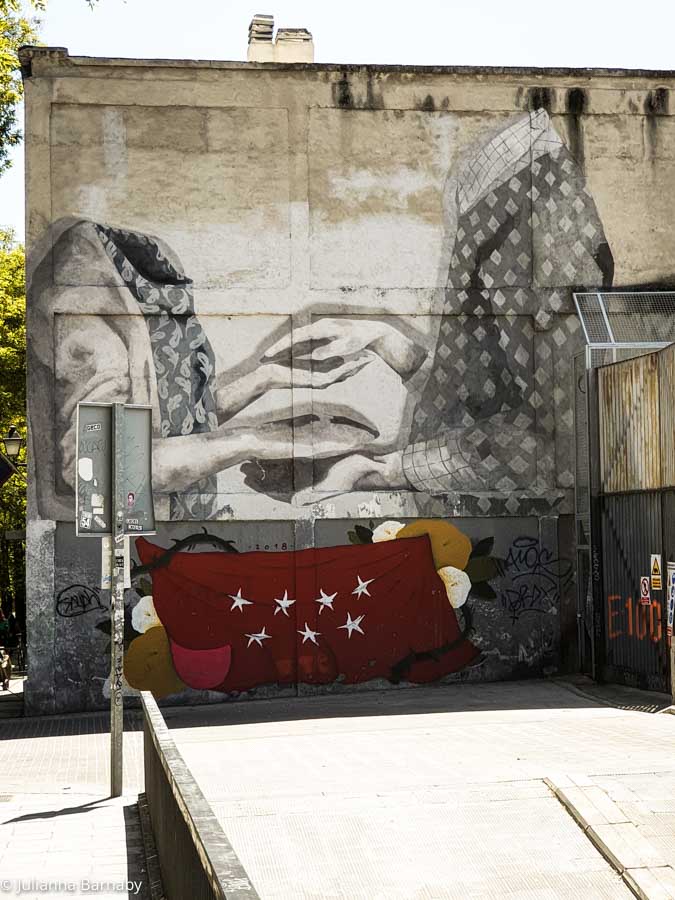 Fábrica de Tabacos Street Art Walls
We walked for a while, stopping off for a thirst-quenching tinto de verano (between that and Sangria, I think it's safe to say that the Spanish know how to do summer drinks right) and then came across the Fabricas de Tabacos – Madrid's graffiti walls on Calle de Miguel Servet.
Honestly, if you only have time to see one street art spot in Madrid, make it this place. It was my absolute favourite, simply because of the sheer diversity and number of pieces displayed on the walls.
See what I mean.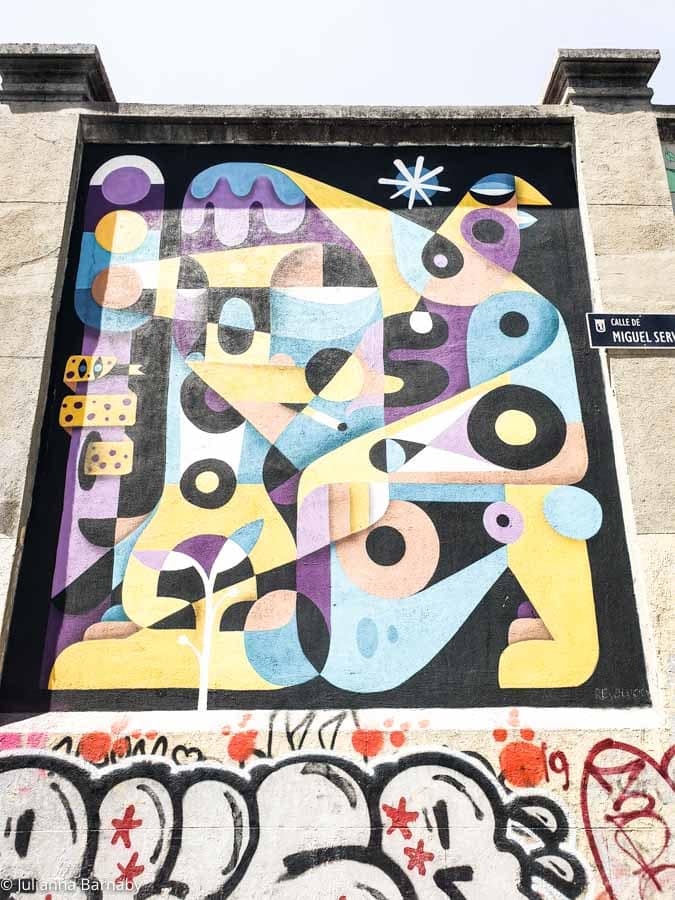 The Madrid Street Art Project created the walls in 2014 and they have been hosting pieces by some of the biggest names in street art, as well as up-and-coming talent, ever since.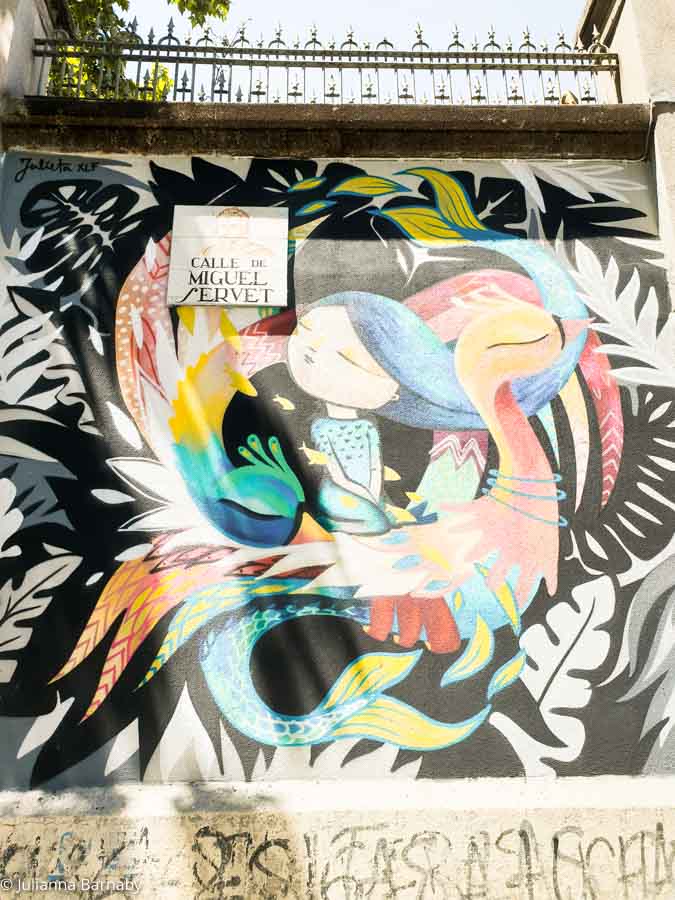 Julieta XLF serves up rainbow mermaid meets bird vibes on her vibrant canvas. Love the framing with the monochrome work leading to the explosion of hues in the middle. What a piece.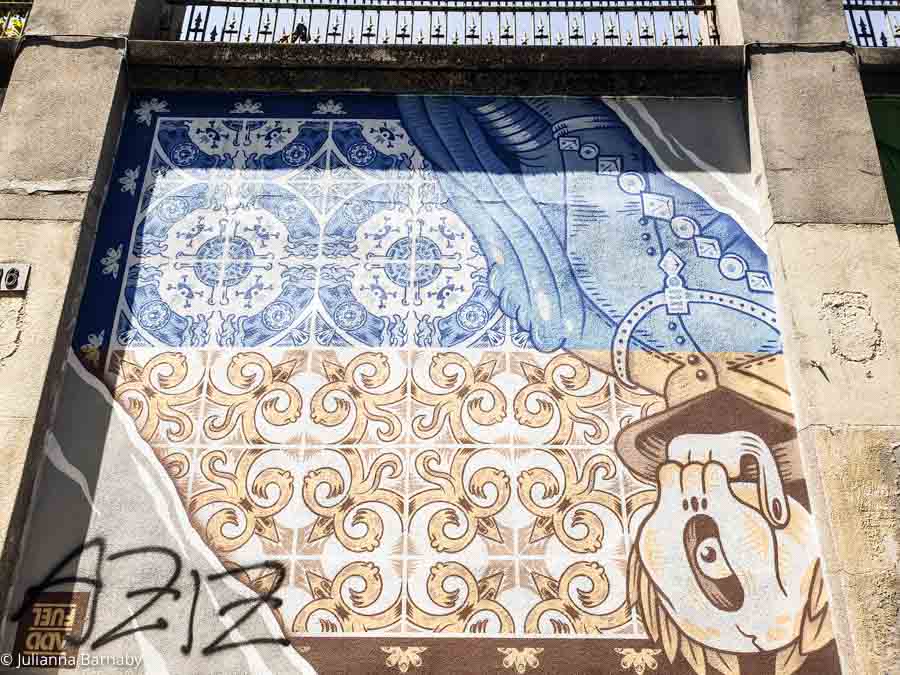 Add Fuel (Diogo Machado) adds a modern overlay to the striking azulejo tiles you find across Spain and Portugal – rip off the contemporary covering to discover the traditions hidden behind.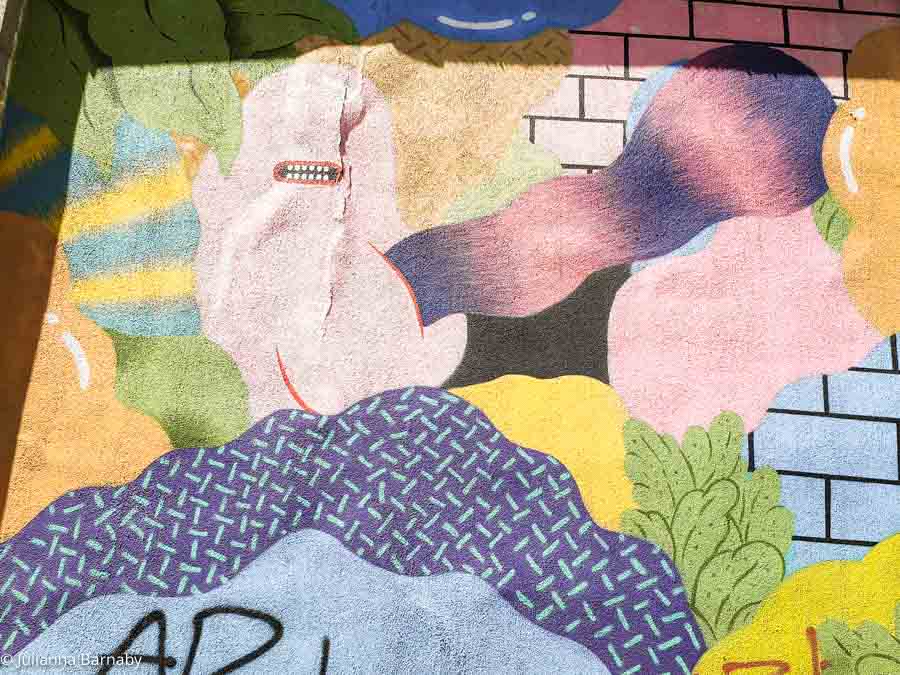 More colour from Grip Face.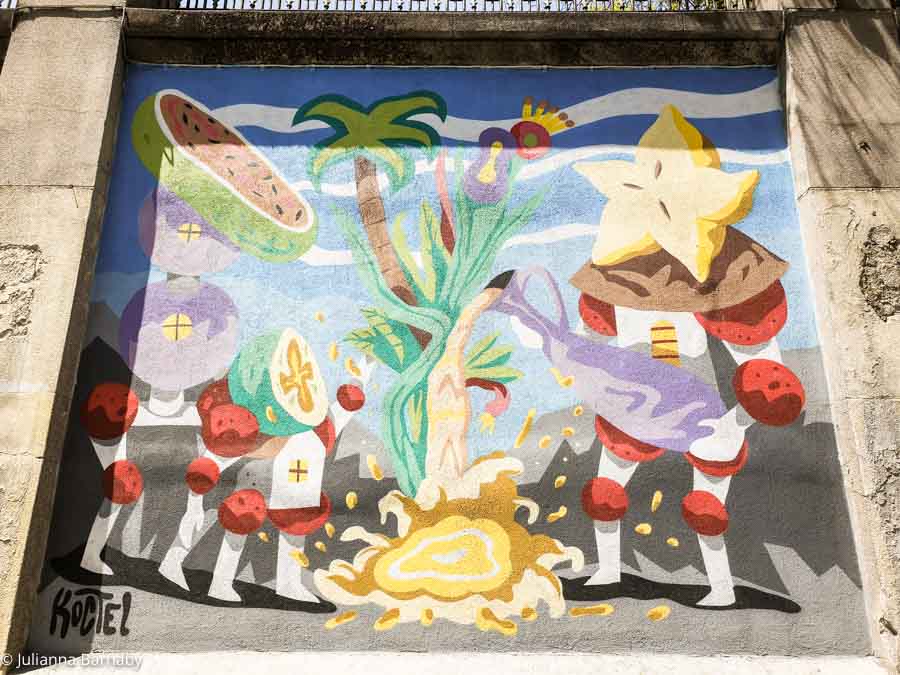 Welcome to the alternative world of Koctel, can you spot the Dali influences?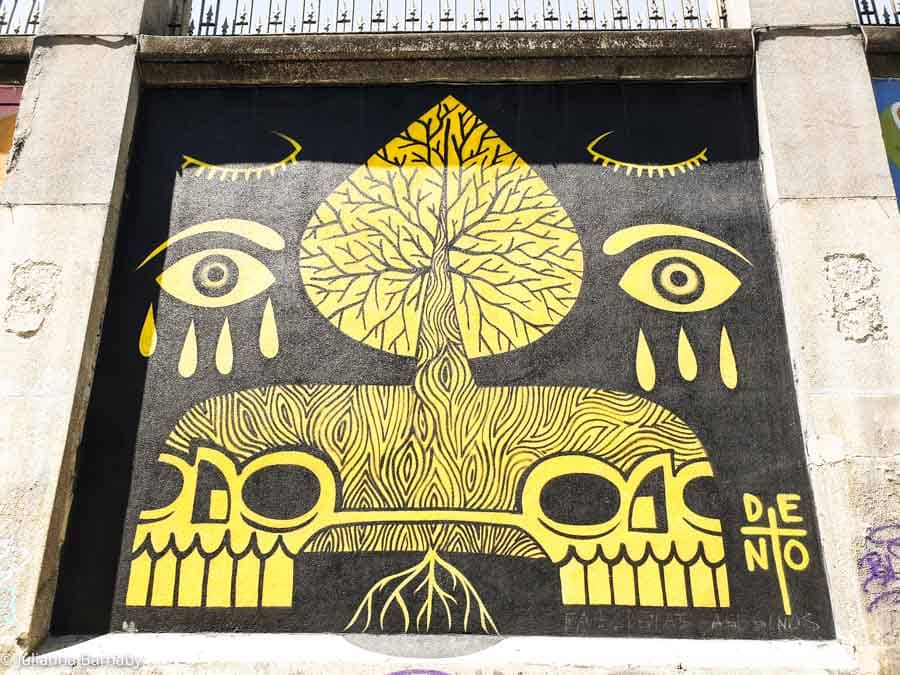 Deno reminds us that where there is life, there is death – using black with pops of yellow.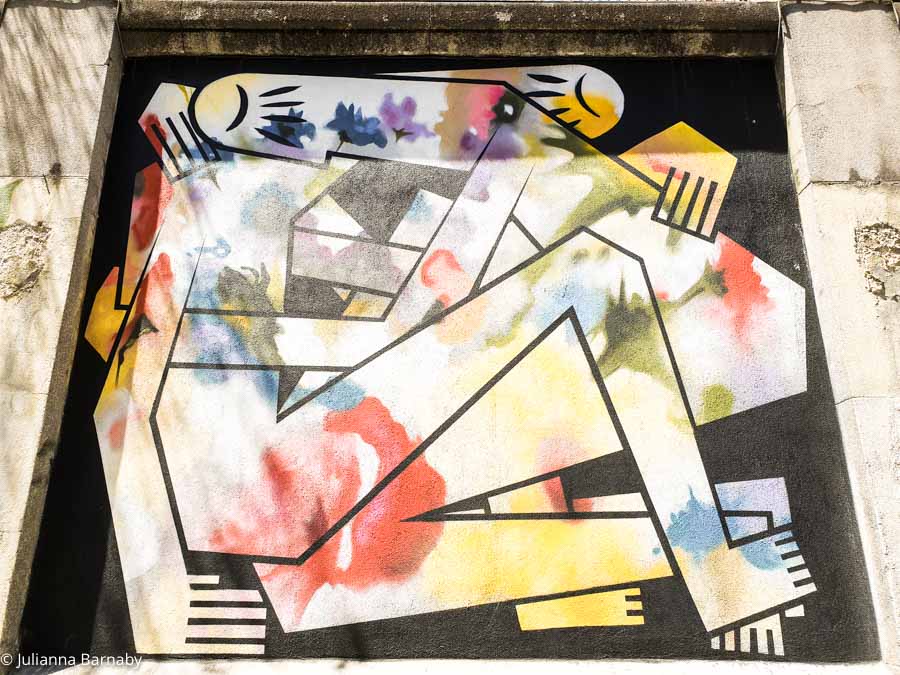 Lucid lines and blurred colours from Digo Diego.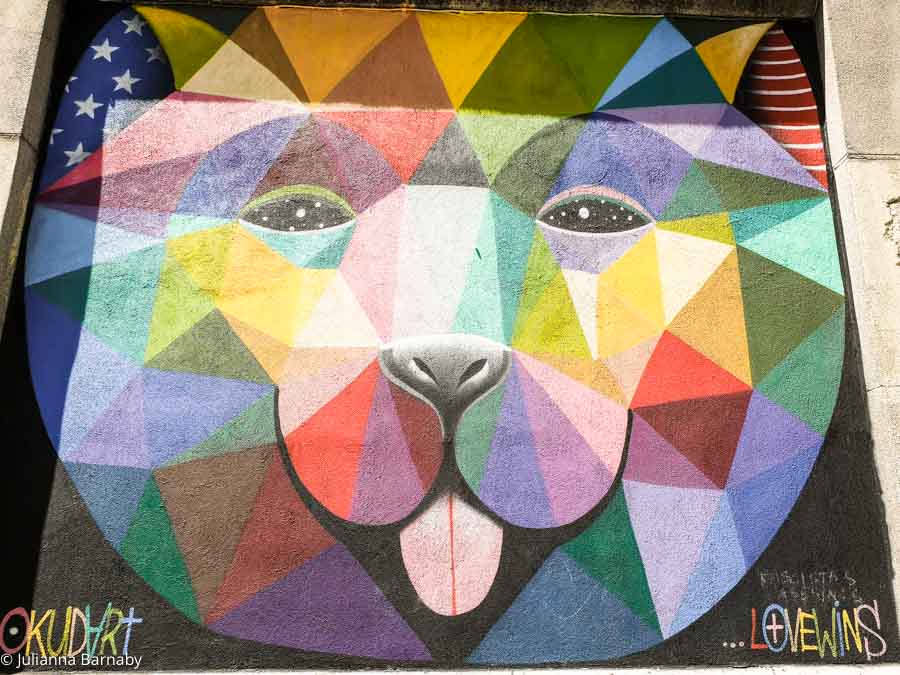 And another from Okuda Art – with a sassy little statement from the stars and stripes alongside the statement "Love Wins". Let's hope so Okuda, things look pretty bleak sometimes.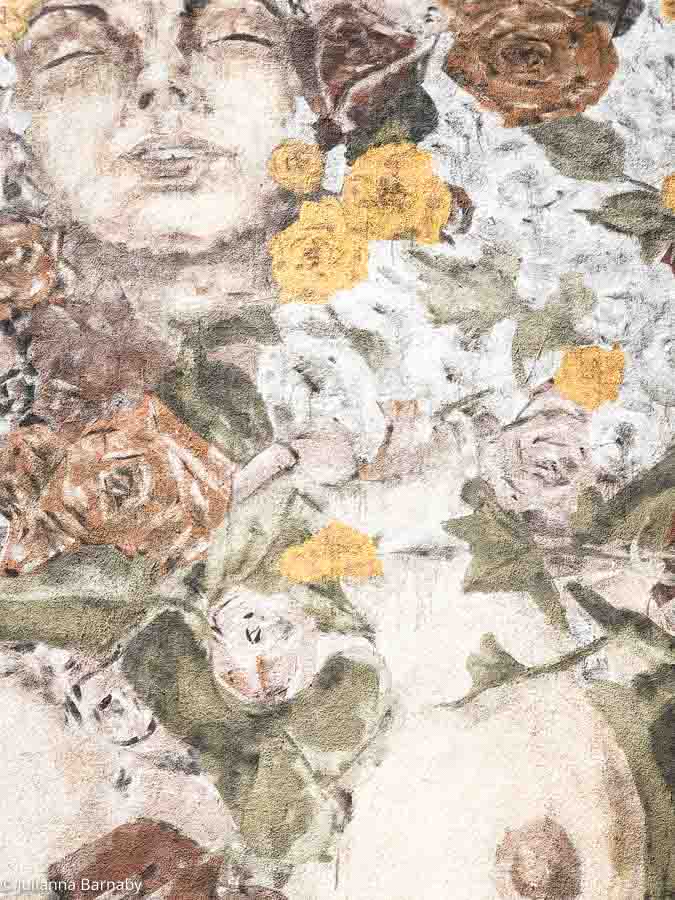 Instagram might not have freed the nipple but Cassasola certainly isn't afraid to in this intimate portrait of private joy, sunken into larger than life roses.
There was so much to see. 24 pieces in total from 24 artists.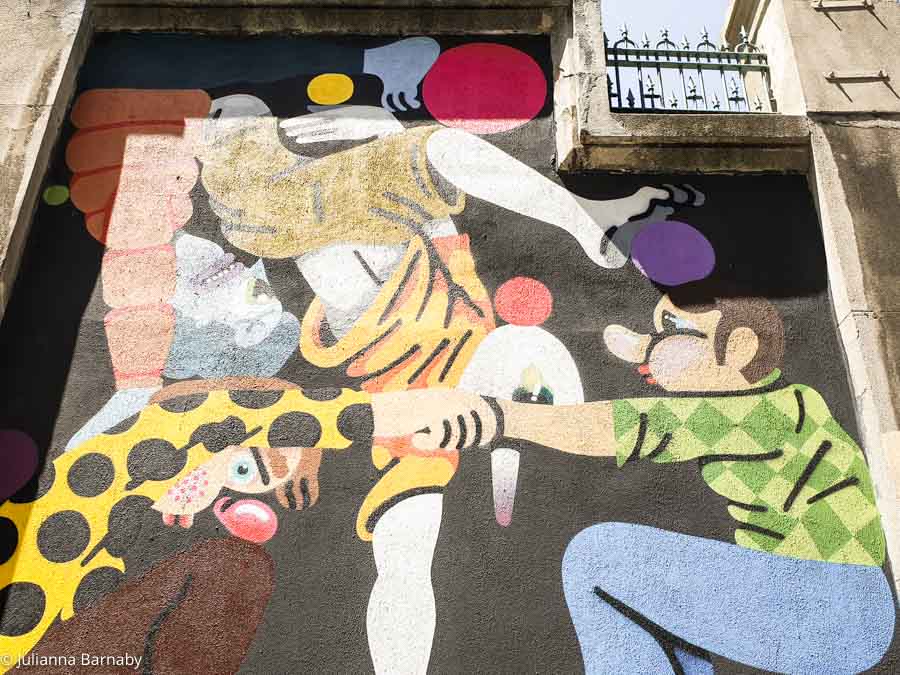 Like any art, each street artist has their own unique style and vision, but to me, it's never more striking than on walls like these, where their statements are literally larger than life – jostling for attention but telling their individual story with a clear and unfettered voice.
Calle de Fuencarral
Where do you go from there? I'd poked around Lavapies and those were my favourite pieces and places.
While I saw a lot of other pieces during the week, I still think the quality of the pieces in Embajadores and Lavapies was the best – apart from this impressive work "About this Town" by Artez sitting above the shopping street of Calle de Fuencarral.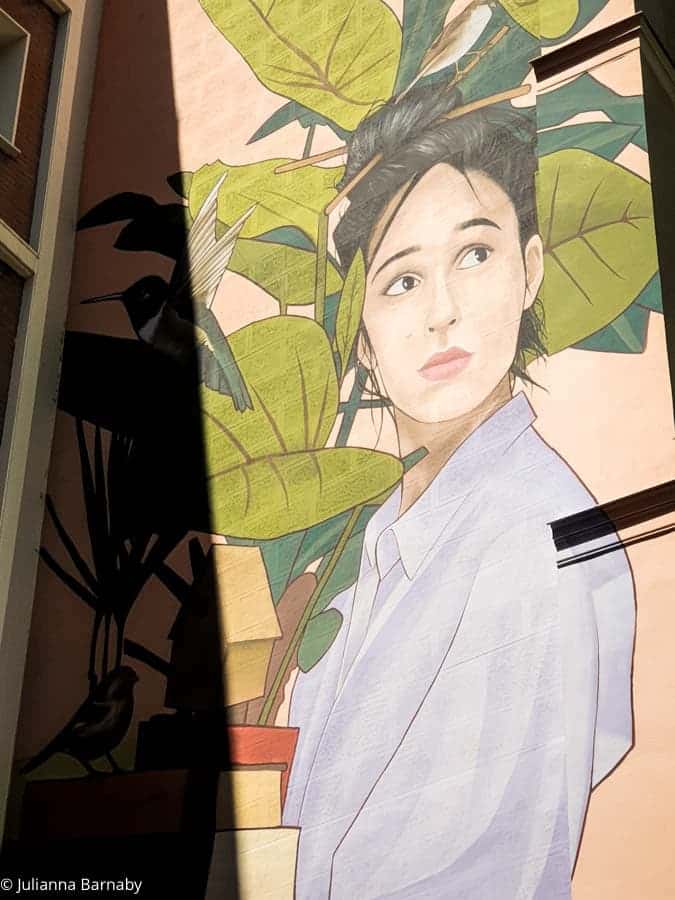 Artez describes the piece as telling the story of Madrid, a global city where visitors come to enjoy the arts and culture that give it its personality. The shopping street location isn't an accident either "Instead of carrying shopping bags, girl depicted on the mural is holding a pile of books important for the history and culture of the city, and a plant with a small birdhouse that is inviting all the "birds" to come and feel like home!".
It's cool to hear the artists talking about the meaning of their works – so often street art is so fleeting and fast or deliberately anonymous that you're left to interpret things in your own way. No bad thing – we can all do with exercising our grey matter a bit more and mindlessly scrolling a bit less – but it does make a refreshing change to view the piece through the artist's own words.

That was pretty much where I got to on this trip – there were other spots that I really wanted to go and see, but somehow in between eating ALL of the tapas, hanging out on rooftop bars, in markets and all of the cool spots that make Madrid, well, Madrid, I ran out of time.
I know – not sure how it happened either. I did however, make a note of so many more street art hotspots to visit on my next trip and have put them below (as well as the places I did get to), as well as a map so you can put together your own self-guided tour.
If you do really want to learn as much about the artists and the history of the places, I'd recommend booking onto a guided Madrid Street Art Tour like this one.
Places to Visit on a Self-Guided Madrid Street Art Tour
Calle de Embajadores (Embajadores)
Esto Es Una Plaza (Lavapies)
Calle Lavapies (Lavapies)
Fabrica de Tabacos Street Art Wall (Lavapies)
Calle de Fuencarral (Chueca)
The Subway of the Plaza de los Cubos (Malasana)
Calle de las Almortas (Tetuan)
Calle de la Palma (Malasana)
Calles de Alcobendas (Alcobendas – Need to get the Metro)
Mercado de la Cebada (Centro)
Paco de Lucia Station (El Sacarel)
The Malasana neighbourhood to see pieces created in the Pinta Malasana street art festival.
Solar Antonio Grilo (Lavapies)
Calle Corredera Alta de San Pablo (Malasana)
Plaza del Dos de Mayo (Malasana)
Avenida de la Albufera (Vallecas)
Plaza del Poeta Leopoldo de Luis (Tetuan)
Calle Marques de Viana (Tetuan)
Madrid Street Art Map

Love this? Save and Share on Pinterest.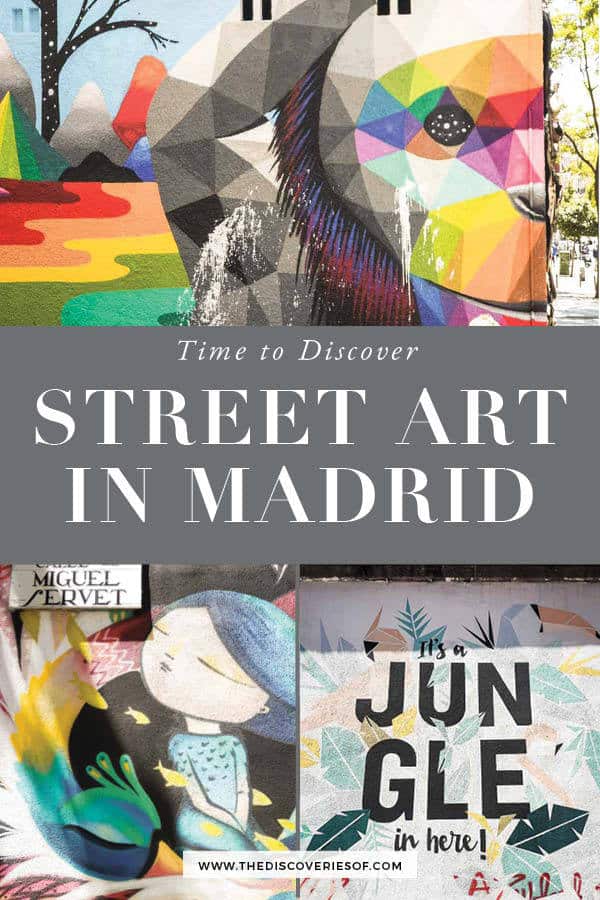 Looking for more Madrid tips and guides? You'll also like…