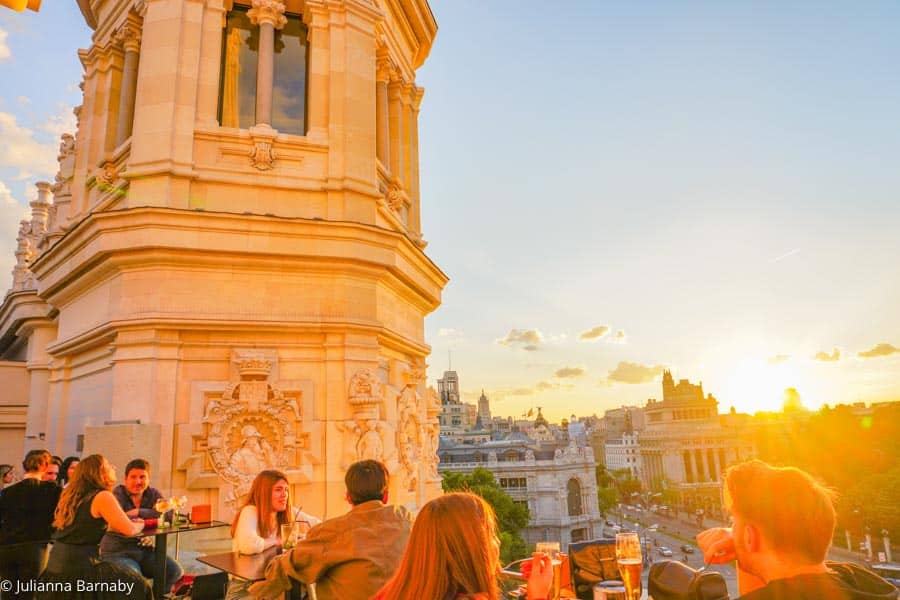 Ready to discover the best rooftop bars in Madrid? I've got you covered with this incredible guide to the top boozing spots. Epic views are guaranteed.
Madrid is a pretty fabulous city – drenched in sunshine – it's no surprise that it has more than enough rooftop bars for you to soak up the views and sip on a drink or three.
Much as I love my hometown of London, we just don't do rooftop bars very well – blame it on the unpredictable weather, the chilly nights… whatever really – they never quite work.
Not so in Madrid. Madrid's rooftop bar scene is popping – fancy drinking in a pool and hanging out with the party crowd? They've got you covered.
What about a few chill cocktails with beautiful views? Done and dusted. Don't miss my pick of the best rooftop bars in Madrid that you shouldn't miss from your Madrid itinerary.
PS – Looking for more ideas for your time in Madrid? Check out my guide to the best things to do in Madrid.
The Best Rooftop Bars in Madrid
Radio Rooftop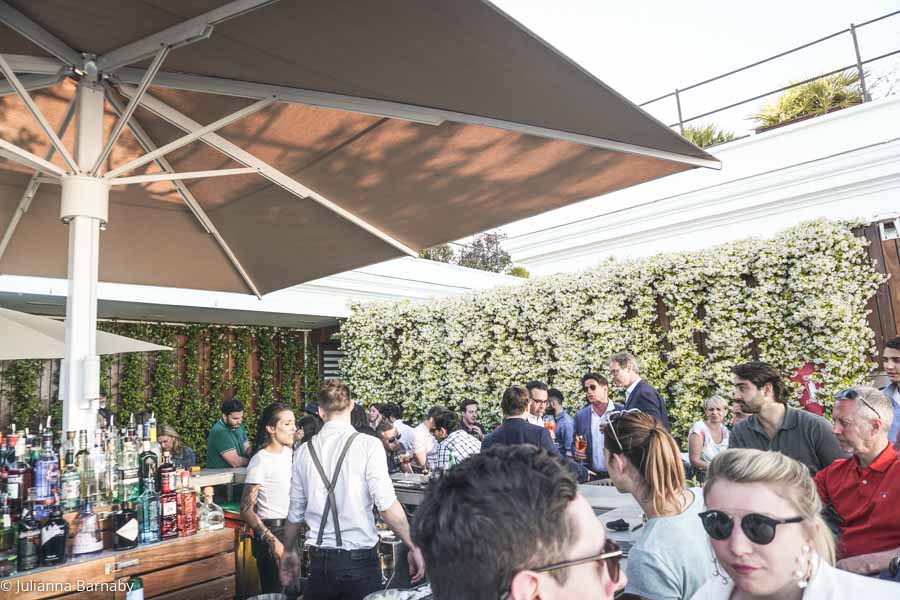 Rooftop bars are all about the views, really – and they don't get much more impressive than Radio Rooftop.
Enjoy panoramic views of one of the world's most vibrant cities, as you sip on delish cocktails and enjoy the tunes. I can't think of many better ways to fiesta in Madrid.
Dancing is strongly encouraged, but if you're more of a "sit and sip" person, you'll be pleased to hear that table service is on offer. You'll need to book ahead to secure it.
This dazzling bar is located atop the effortlessly chic Hotel ME Madrid Reina Victoria. It's one of the city's best pre-club hotspots – you'll want to dress up as it attracts a well-heeled crowd. So swap your sturdy shoes for some killer stilettos, and join the hottest party in town.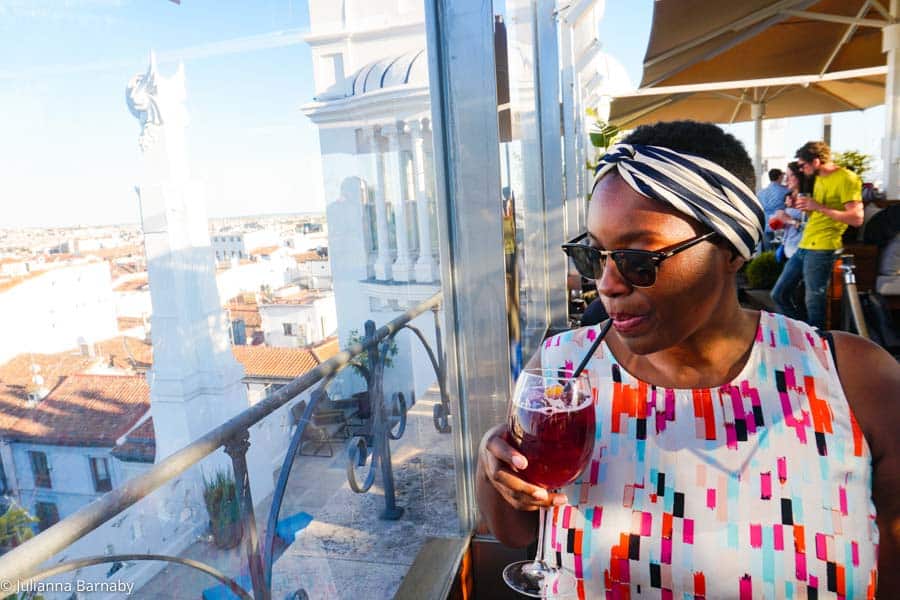 Let's just say that if you rock up in a fluorescent yellow bumbag and trainers (ahem, like I did), you're going to get a few weird looks.
The signature cocktails are a point of pride, but you can also enjoy some delectable vinos as well, sourced from Spain and abroad.
My tip? Get a tinto de verano – the taste of the Spanish summer – refreshing and totally perfect for a hot day.
PS: You can also check out my review of Radio Rooftop in London…
The Mint Roof
For somewhere slightly more understated, The Mint Roof in Madrid is popular with a far more laidback crowd.
Sitting above Gran Vía, this rooftop terrace grants you stunning views of the skyline – not to mention the colourful furniture and retro food truck that have got your Instagram shots covered.
Global street food and craft cocktails are on the menu, so this one's perfect for a mid-afternoon snack or early-evening drink.
360 Rooftop
What happens if you combine stellar cocktails, incredible views, and tapas? You get the 360 Rooftop in Madrid, duh.
Are you feeling brave? Once you've had a shot of liquid courage, step out onto the glass platform where you can see the city below (don't worry, pals – it's totes safe).
It's a knee-wobbling experience that only gets more magical once the sun sets and the twinkling lights come out to play.
This Madrid bar gets pretty busy, so reserve a table in advance (especially if you're heading there on a weekend or later in the evening).
Palacio de Cibeles at Centro Centro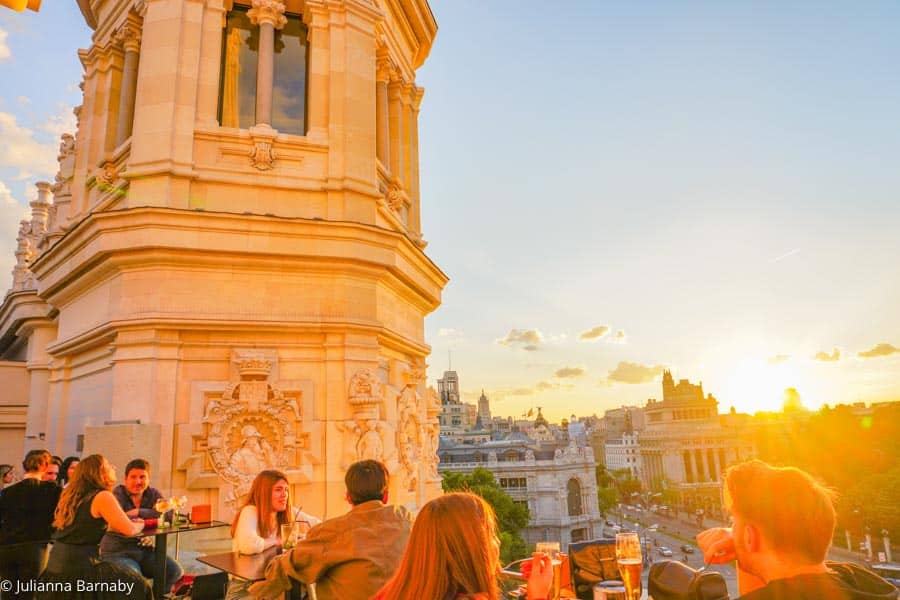 Head to the top of the beautiful old building known as Palacio de Cibeles to find the gorgeous Terraza Cibeles.
I'm letting you in on a bit of a local gem here – when the nearby Circulo de las Bellas Artes is heaving with a massive queue, you can smugly walk around the corner and make your way up to this cool rooftop gem – no queues, no fuss.
Its sixth-floor location means it's got views that are gorgeous but not quite dizzying – you can even do a bit of people-watching as you drink a cocktail.
The cocktail list is extensive, but there's also wine and some beer, as well. Oh, and then there's the sparkling… always a good addition to a beautiful view.
There's a cover charge of €4.50 to get up to the rooftop, but it's redeemable on the purchase of a drink. And really, who goes to a rooftop bar without at least a bit of a tipple?
Things can get a bit chilly in the cooler months, but Terraza Cibeles has got you covered with heaters and even some blankets to cozy up under. There's no excuse not to visit this fab rooftop bar.
Circulo de Las Bellas Artes
It's fitting that a building devoted to the world's most beautiful arts would also offer some of the world's best views.
Undoubtedly, Circulo de Las Bells Artes is one of the best rooftop bars in Madrid – it's hard to get past those panoramic views.
Towering 56 metres above the street below, you'll have an amazing view out over the tops of Madrid's most famous buildings. As a big city kind of girl, I love feeling right in the midst of a sprawling metropolis – and that's definitely the vibe here.
Keeping with the "fine arts" theme, keep your eye out for is the bronze sculpture Minerva, the work of the famous Spanish sculptor, Juan Luis Vassallo.
Once you've checked out the views, you'll surely want to check out the bar. There's a fabulous drinks list with cocktails, wine and beer.
It's the perfect stop for after you've checked out the exhibitions down below. Or, make a special visit – just keep in mind it closes early by Spanish standards. Things pack up by 9pm daily – just in time to party on at some of Madrid's other bars (maybe another rooftop?).
There is a €4 charge to get up to the rooftop, but I guarantee you'll think it's money well-spent once you set eyes on those 360 degree views.
Be warned though – the queues do get long.
The Hat
Love them or hate staying at them, you've got to agree that hostels know how to put on a good party. Bonus points if said party happens on an ultra-cool rooftop, like it does at The Hat.
You don't need to stay at the hostel to enjoy the vibe at this great bar just off of Plaza Mayor.
Being on top of a hostel, the atmosphere here is laidback and friendly. It's easy to strike up a chat with some fellow travellers, or simply sit back for a relaxing afternoon or evening.
The decor here is rustic and comfortable, the kind of place to take your best friends and settle in for the long haul. No best friends? No problems – after a few cocktails you'll probably meet them.
The cocktail list features plenty of classic crowd-pleasers like pina coladas and mojitos. I don't think they're earth shattering, but this place is more about the views and vibes anyway.
Plus, it's hard not to enjoy a cocktail when it's accompanied by a sunny Madrid afternoon.
Don't worry if you want to experience it in winter, though. Some industrial-strength outdoor heaters ensure the rooftop is cozy all year-round.

Mercado San Anton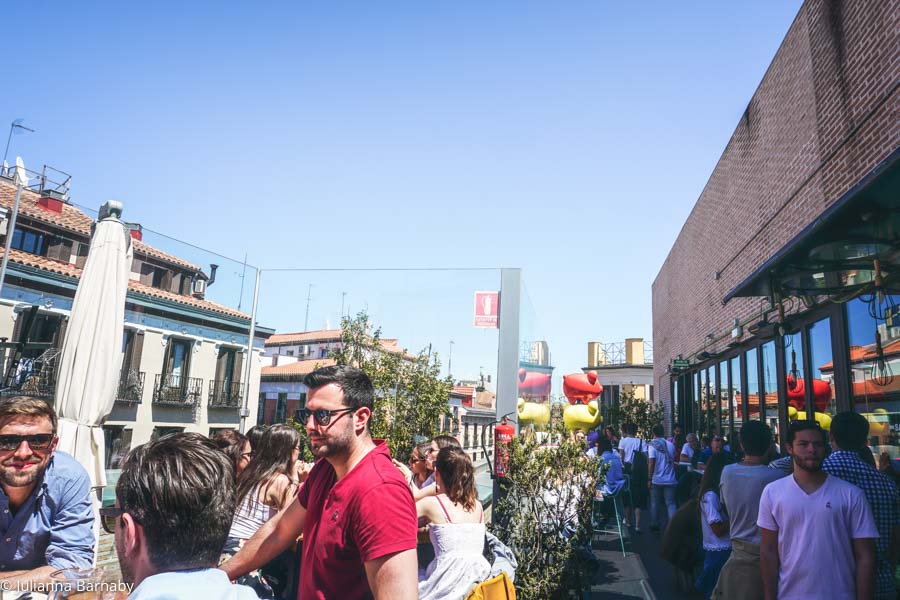 Madrid is a foodie's paradise and you can't leave the city without checking out a market like Mercado San Anton.
Located in uber cool Chueca, it's a hip three-level market boasting some fab street food as well as smallgoods and other produce.
Now, I love a good foodie market about as much as I love a good rooftop bar. So, you can bet I was thrilled to find out the market not only boasts amazing produce but – you guessed it – a pretty phenomenal rooftop bar as well.
I mean, what could be better?
Yep, once you've loaded up on foodie favourites, make your way to the top of the building where you'll find the bar.
The views are great for people watching, and the prices are really reasonable as well – so it's perfect once you've spent all your euros on fancy Spanish ingredients from the market. The cocktail list is full of classics like Negronis and Capirinhas, or you could try a wine or craft beer.
The pours are generous – two gin and tonics down and don't be surprised if you find yourself ready to party hard #justsaying.
Gymage
Why be one thing when you can be many? At least, that's the ethos of Gymage, a lounge resort in central Madrid.
This 'multifunctional space' boasts a theatre, hair salon, fitness centre and more… but I've got to admit my favourite offering is their excellent rooftop bar.
Come to think of it, a day checking out all their offerings doesn't sound too bad either. A blow-dry then a bubbly? How very glam.
This high-tech bar looks a tad futuristic and it is in some ways. The temperature here is carefully controlled, meaning it's toasty warm all year-round.
In summer, in particular, the sun streams in… yet the air-conditioner keeps you comfy.
The bar opens at midday daily, and serves up a selection of drinks until 1:30am (2:30am on Friday and Saturdays).
You'll find all your classic cocktails on offer, but if the emphasis on wellness gets you inspired – there are also some pretty delicious, freshly blended smoothies to enjoy as well.
An extensive menu of Spanish classics as well as other favourites like burgers means you'll never go hungry. It might seem like an interesting choice to go with the smoothies… but hey, I'm not complaining.
Oh, and then there is the lounge area, complete with a plunge pool. Just don't blame me if you never want to leave.
El Viajero
If your idea of the perfect rooftop experience means relaxed vibes, tasty comfort food and tasty drinks, then you will probably love El Viajero. I know I did.
This laidback rooftop bar is located in the La Latina neighbourhood of Madrid, and is cozy and welcoming.
The views aren't sky-high so you don't need to worry about any dizziness as you peer over the side, but there's definitely sun and fresh air – the key ingredients for a fabulous rooftop bar.
The drinks list features classic cocktails as well as a good selection of wine and a few cervezas.
One of the highlights is the food menu – full of tasty comfort foods that go perfectly with a relaxed afternoon with friends. The pizzas in particular are perfect for sharing (or gobbling up all to yourself).
In all, there are three storeys to this restaurant/bar, but I'm sure it won't surprise you when I recommend swiftly making your way to the rooftop terrazza.
Axel Hotel Madrid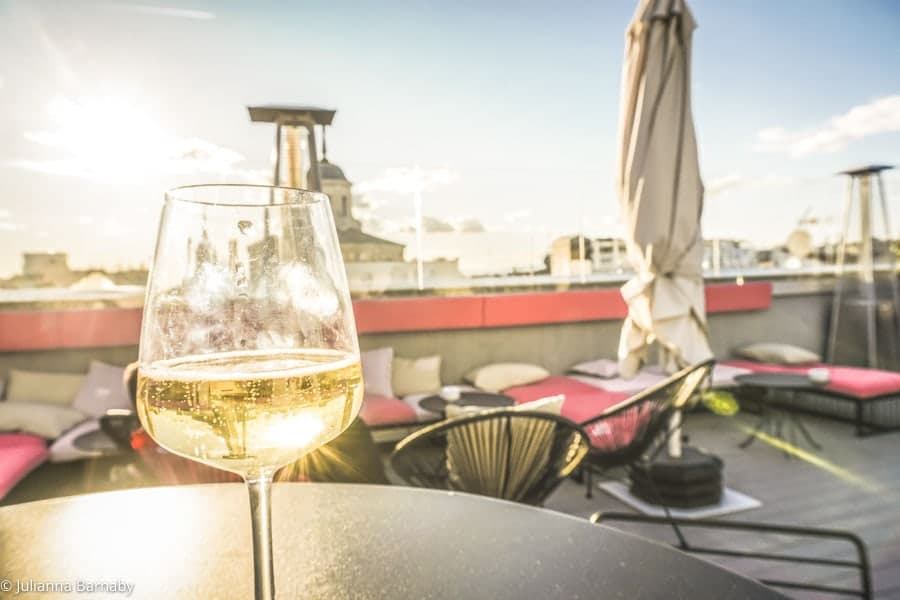 This stylish space at Axel Hotel is surely one of the best rooftop bars in Madrid, thanks to its effortless switch from daytime hangout to night-time fave.
By day, the terrace is the perfect place to relax, soaking up the sun and perhaps taking a dip in the swimming pool or relaxing on the nearby sun lounges.
All the while, you're sure to be impressed by the gorgeous, panoramic views on offer from the rooftop terrace of this stylish hotel.
I stayed at the Axel during my last trip and it's such a cool hotel. It's a gay hotel but is totally hetero friendly and has a brilliant vibe that most high-end hotels totally lack – the rooftop bar is no exception.
As the sun begins to drop the atmosphere gets turned up – and this lazy hangout space suddenly becomes one of Madrid's best spots for a cocktail.
So, grab a drink, hang out with your new bezzie and watch the sun set over the city. I can certainly think of worse places to drink.
RT60 by Hard Rock
Don't write off this rooftop bar as a tourist cliche just because it comes from the Hard Rock brand – this is one of the top spots to booze in Madrid.
It's retro in theme, but not quite as garish as the iconic cafes. Think red mood lighting and comfy sofas to accompany the pretty tiled floors.
What's more, there are food trucks on the rooftop where you can grab a bite to eat (you'll need it to soak up those boozy cocktails) and chow down as you enjoy the incredible 360 views of the city.
Expect tacos, empanadas, and every other kind of delectable Spanish street food you could imagine.