Ready to go sightseeing in Barcelona? Get ready to take a jaunt to the city's must-see sights with this practical guide – packed with insider tips and suggested itineraries – everything you need to see the best of the city.
I've just finished up three months in Barcelona and boy, do I have a lot to share with you. Awe-inspiring architecture, Catalan culture, THAT food – it's not exactly hard to see why the city has carved a spot as one of Europe's must-visit destinations.
Although I've been publishing guides about Barcelona throughout the course of the three months (like this one on Gaudí's Barcelona), I wanted to wait until I left until I wrote this one – the mothership that will help you navigate the city, leaving the hapless and the unprepared far behind.
Enough about me. I hope you're excited about your Barcelona trip – I'm pretty damned certain you will be after this guide. Let's dive in!
Top Tip: Want even more practical tips before you visit? I have a full travel guide to Barcelona you should absolutely check out.
Top Sightseeing Spots in Barcelona
Sagrada Familia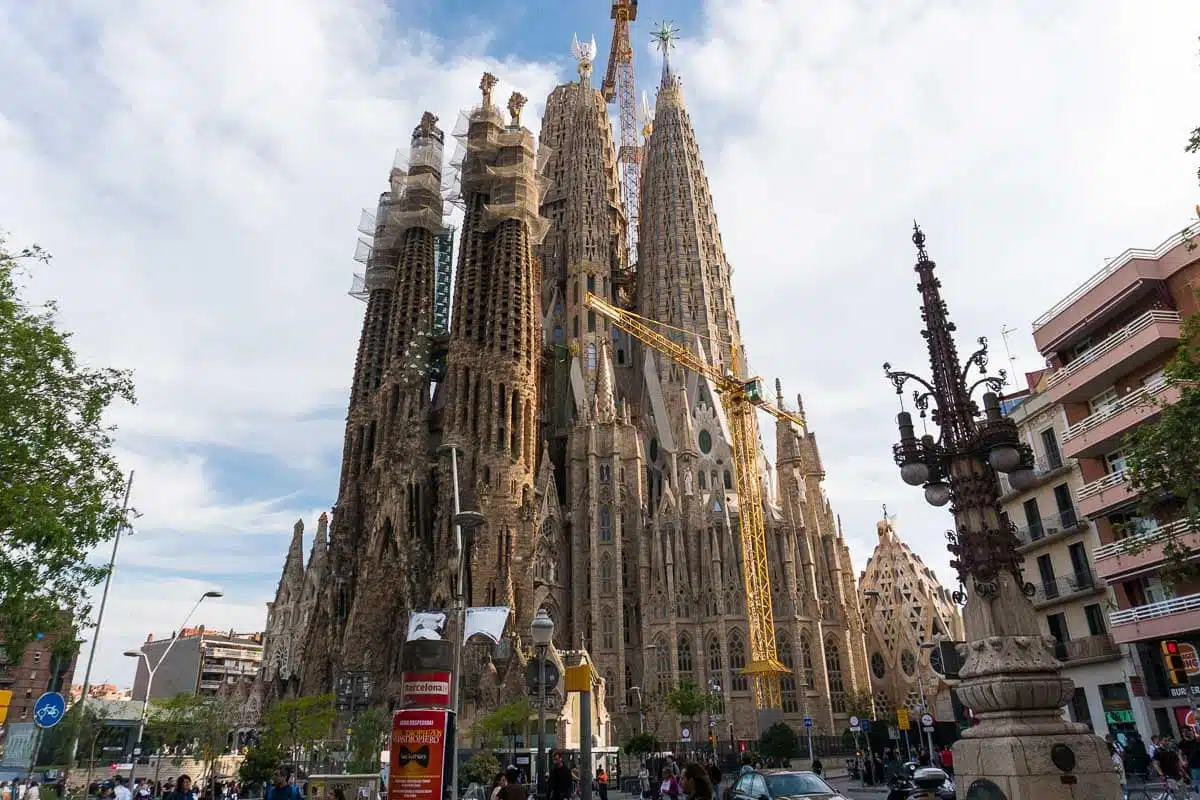 It's not exactly a surprise when I say that the Sagrada Familia is one of the most famous places in Barcelona. Designed by Antoni Gaudí, it's one of the most bonkers (and wonderful) structures in the city and an absolute must-visit.
Although Gaudí only lived to see the Nativity Façade completed, his wide-ranging vision is stamped over every centimetre of the Sagrada – whether it's the exuberant flow of the Nativity Façade to the more restrained and angular design of the Passion Façade.
If you want to see the church in full glory, go before 11:30 am or between 5 and 6 pm to see the sunlight streaming through the stained glass windows. This landmark also sells out fast, so book tickets far in advance.
Top Tip: Standard tickets do not include entrance to the towers, you need to book a towers ticket for that and choose whether you want to visit the tower in the Passion Façade or Nativity (no ticket includes both).
Park Güell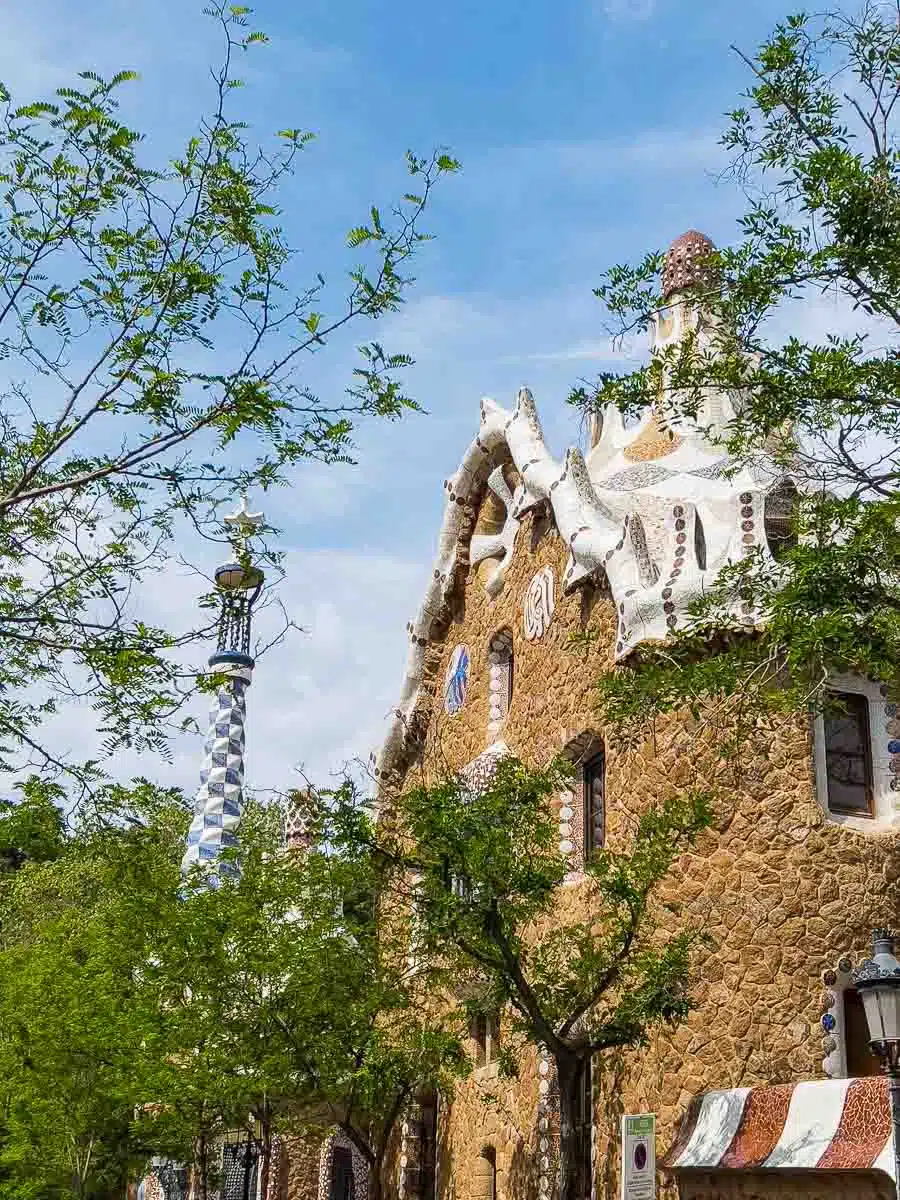 If you've heard of Barcelona, then you've almost certainly heard of Park Güell, another of the most famous spots in Barcelona, which just so happens to have also been designed by Antoni Gaudí.
If you think of a standard park and have to stifle a yawn, let me stop you there. Park Güell's mosaic-covered structures, winding tunnels, grottos, and pillar-filled halls up the ante from average park to something akin to magic.
The first time I visited Park Guell when I was 18 I was completely blown away. Several (and I mean several) years later, that still hasn't changed.
The views are *almost* as good as the park itself – head to the highest point (Turo de las Tres Cruces) for extensive views of the city spread out below, leading all the way to the sea.
Top Tip: I recommend visiting early in the morning when the weather is cooler. Book tickets as far in advance as possible – they do sell out.
Casa Batlló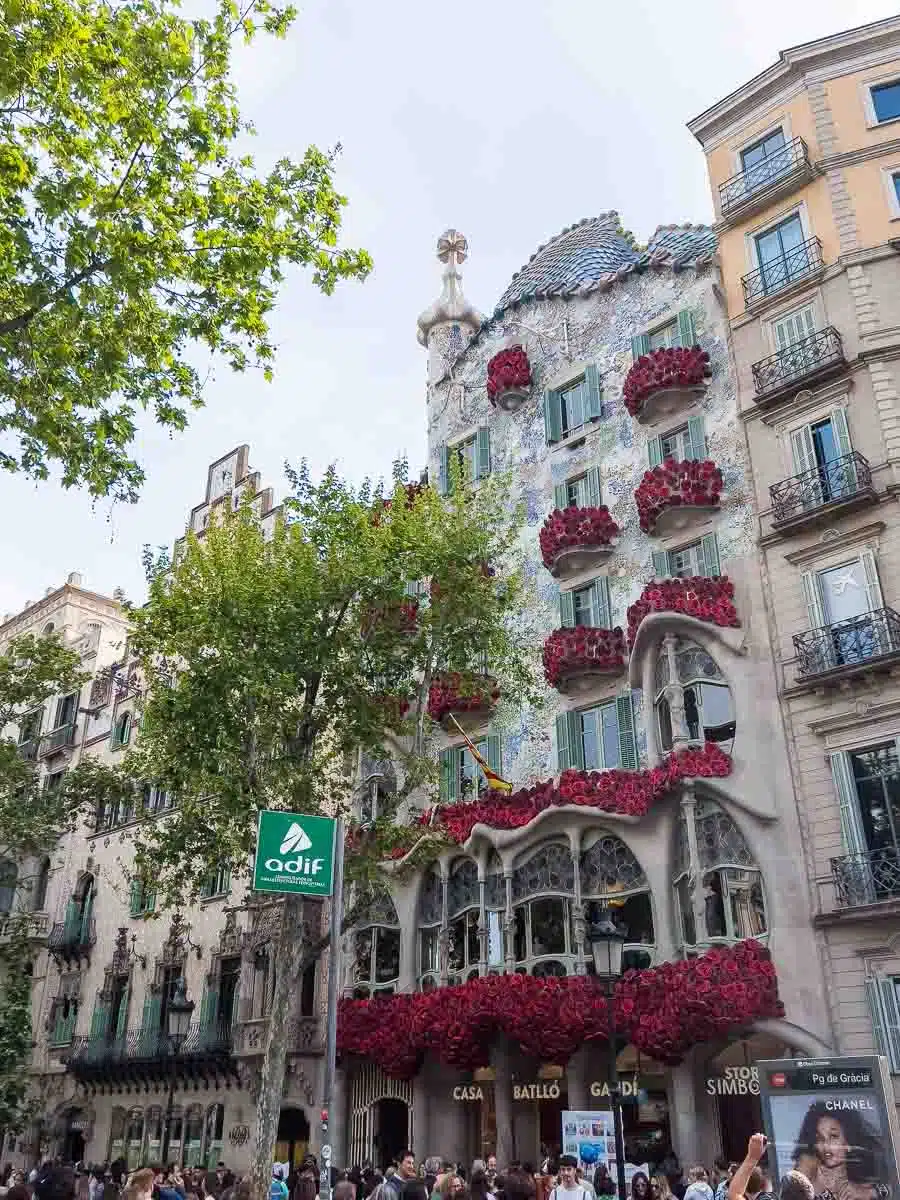 Another Gaudí design, it says a lot that Casa Batlló is also known as the House of Bones. Gaudí was famous for his weird and wonderful creations, and this landmark's skeletal design is no exception.
This landmark is certainly worth visiting on your trip to Barcelona. However, expect it to be busy, as this UNESCO World Heritage Site welcomes around 1 million tourists annually. Book in advance!
La Pedrera (Casa Milà)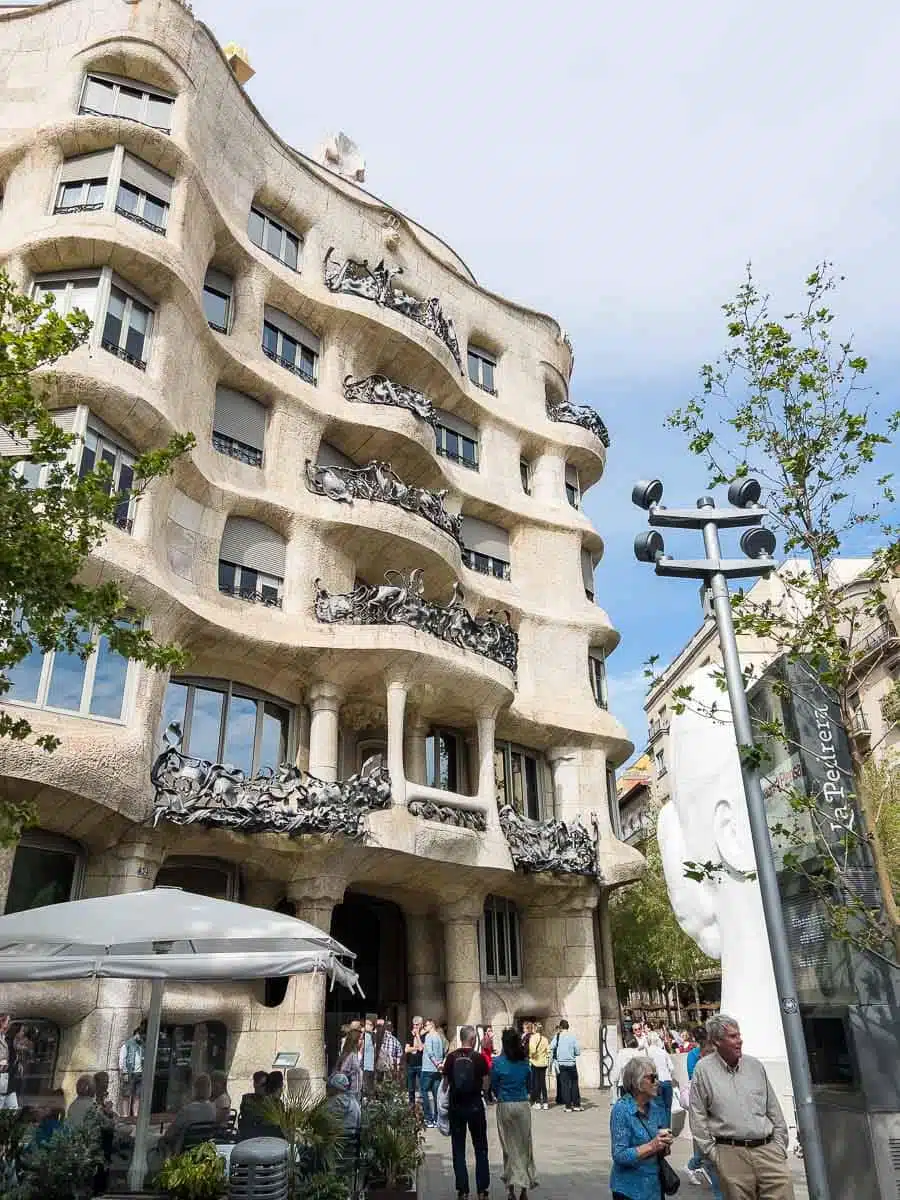 Gaudí's Barcelona strikes again. La Pedrera, also known as Casa Milà, is another Gaudí design that's just a hop, skip and a jump away from Casa Batlló.
This was the last civic project that Gaudí ever worked on and stands in contrast with some of his earlier works like Casa Vicens further north in Gràcia.
It's famous for being his most iconic work of architecture due to the functional and construction innovations used to create this design. Most tickets to La Pedrera include a self-guided tour where you can learn about the work and inspiration that Gaudí put into this building.
Top Tip: Check the website to book the special events they often hold on the rooftop at La Pedrera. This summer, for example, they're holding a series of jazz concerts on Thursday and Friday evenings – the setting is straight-up gorgeous.
Barcelona Cathedral
Stride into the hectic heart of the Gothic Quarter to find the magnificent Catedral de Barcelona. This stunning church is a must-see when visiting the city.
Designed by August Font I Carreras and Josep Oriol Mestres between 1298 and 1448, the Barcelona Cathedral is built in a striking blend of Gothic and Gothic Revival architectural styles.
The people dedicated the cathedral to Saint Eulalia, a martyr who lost her life after refusing to dismiss her belief in Jesus being the son of God. You can find her tomb in a crypt within the church.
Top Tip: If you want to avoid the crowds when visiting this magnificent landmark, head over there on a weekday, either in the morning or at noon.
Montjuïc Castle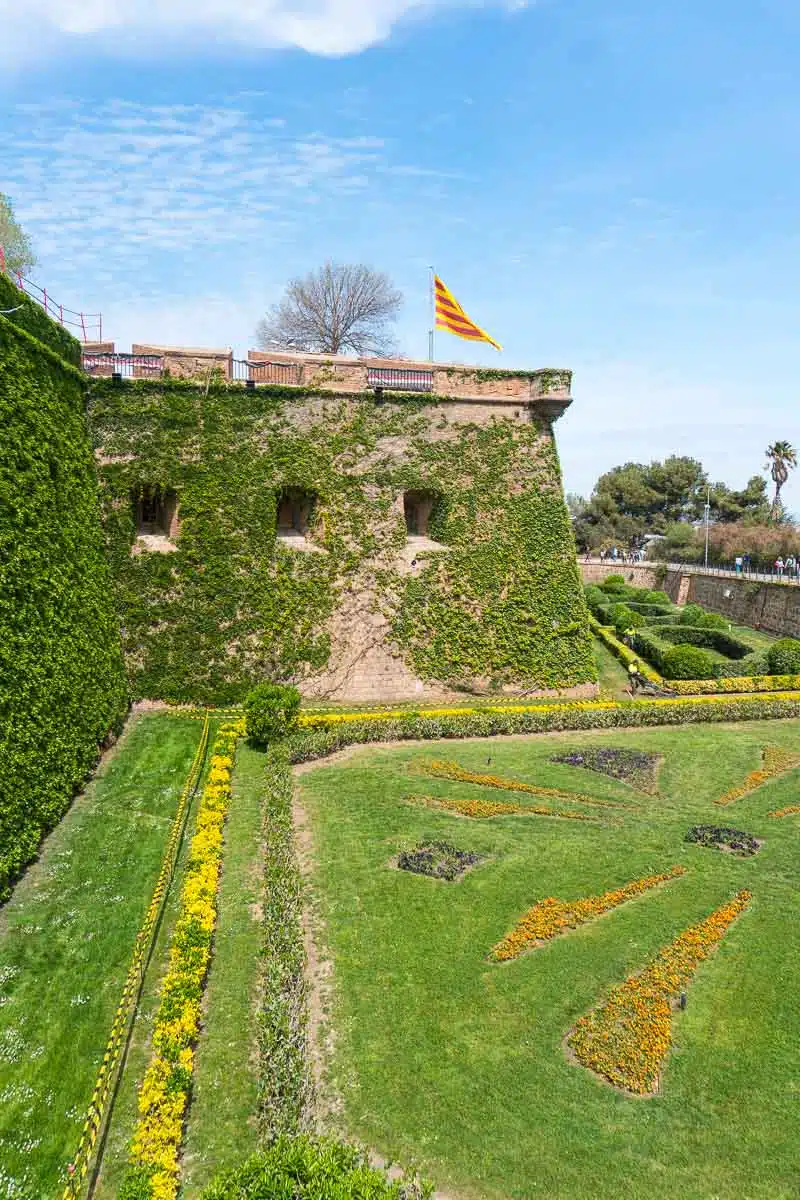 Montjuïc Castle is a rather imposing building that stands at a vantage point 173 metres above the port – which, of course, makes for spectacular views.
Once a fortress, it remains a symbol of repression and Barcelona's struggles through different historical periods. Today however it's also a symbol of peace.
The people commissioned military engineer Juan Martín Cermeño to restore the castle in the 18th century due to the damage it had received in various wars. Go inside to find out more about the structure's history, or just head up there via the brilliant Montjuïc Cable Car and take in the views of the city sprawling down to the sea.
Picasso Museum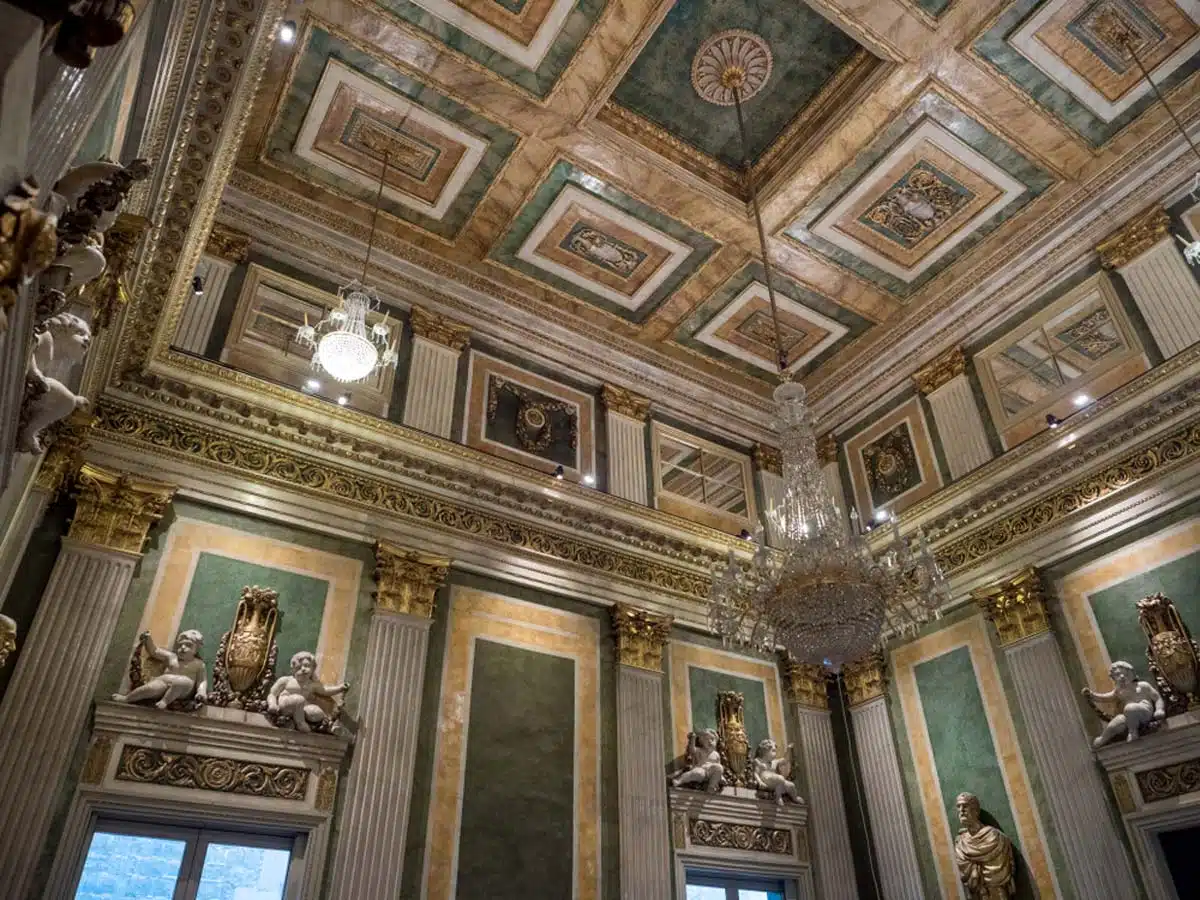 Pablo Picasso spent many years of his youth in Barcelona studying at the prestigious art academy La Llotja. His father was even a professor there.
So it makes sense that Barcelona would have a rather brilliant museum dedicated solely to Picasso. Book your ticket to the Picasso Museum to see works from the time he spent in Barcelona along with from his later creative phases.
The permanent collection has over 4,200 works by Picasso, most created between 1895 and 1904. Picasso himself donated the complete Las Meninas series that he created in 1957.
Moco Museum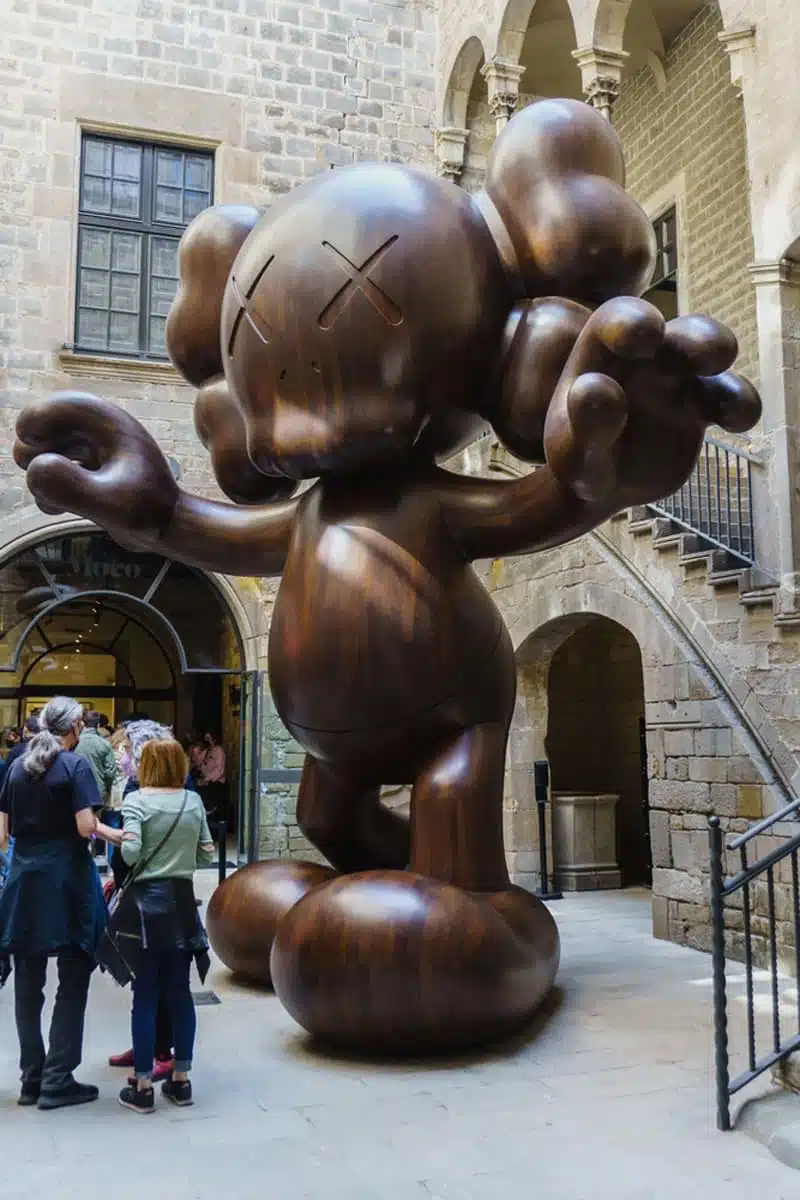 Want to dip your arty toes into something a little more modern? Make a beeline for the Barcelona branch of the Moco Museum.
This was one of the coolest museums I've been to in a long time – a thoughtfully-curated adventure through some of contemporary art's biggest names (Banksy, Yayoi Kusama, Kehinde Wiley to name a few).
Set aside a couple of hours – although it's small, the mighty collection deserves as much time as you can spare.
Top Tip: Into art? Plan to visit both the Picasso Museum and Moco Museum – they're right next door to each other.
Fundació Joan Miró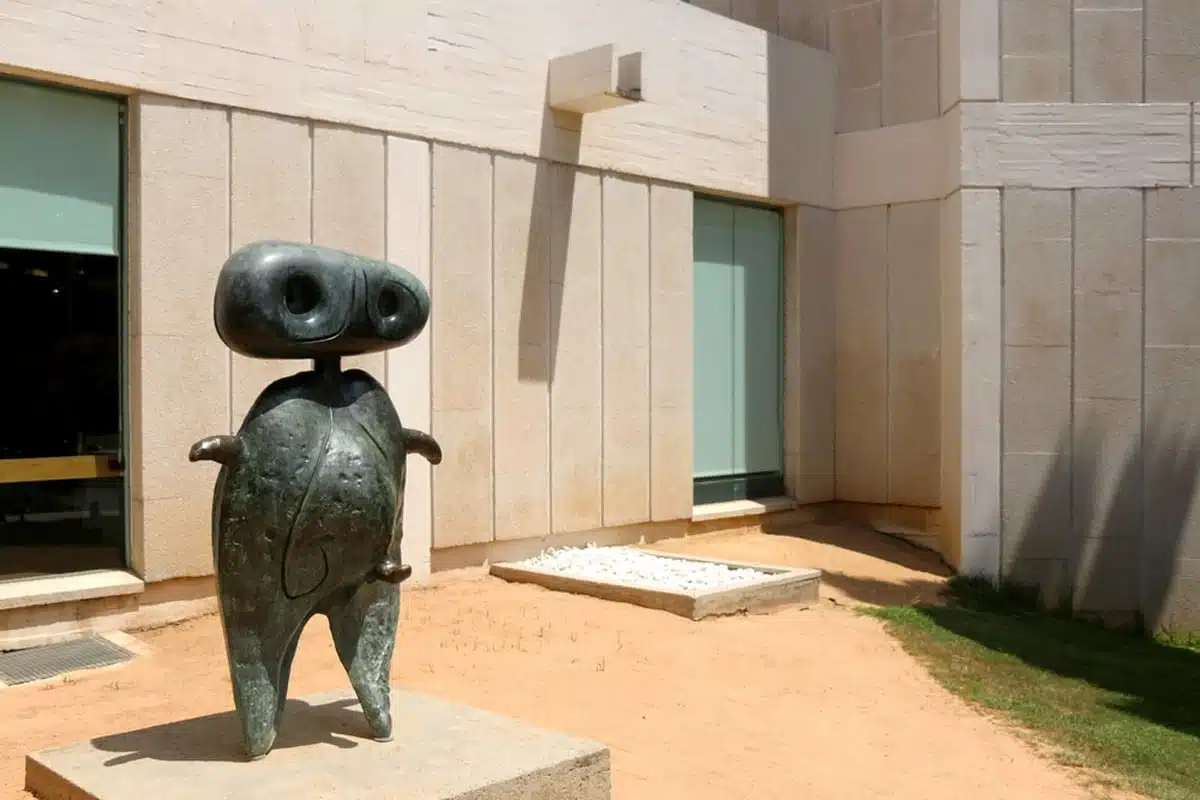 Let's set the scene. Joan Miró was a Barcelona-born Catalan sculptor famous for combining abstract art with surrealism and considered to be one of the most influential painters of the 20th century.
It's hard to miss Miró's influence on the city – not least because his work is one of the first things you see when arriving in Barcelona since Airport Terminal 2 features a 50-metre mosaic he designed.
All that's to say that you really should visit the Fundació Joan Miró, which was founded by the artist in 1975. This cultural institution holds the largest collection of Miró's work anywhere in the world.
Museu Nacional d'Art de Catalunya (MNAC)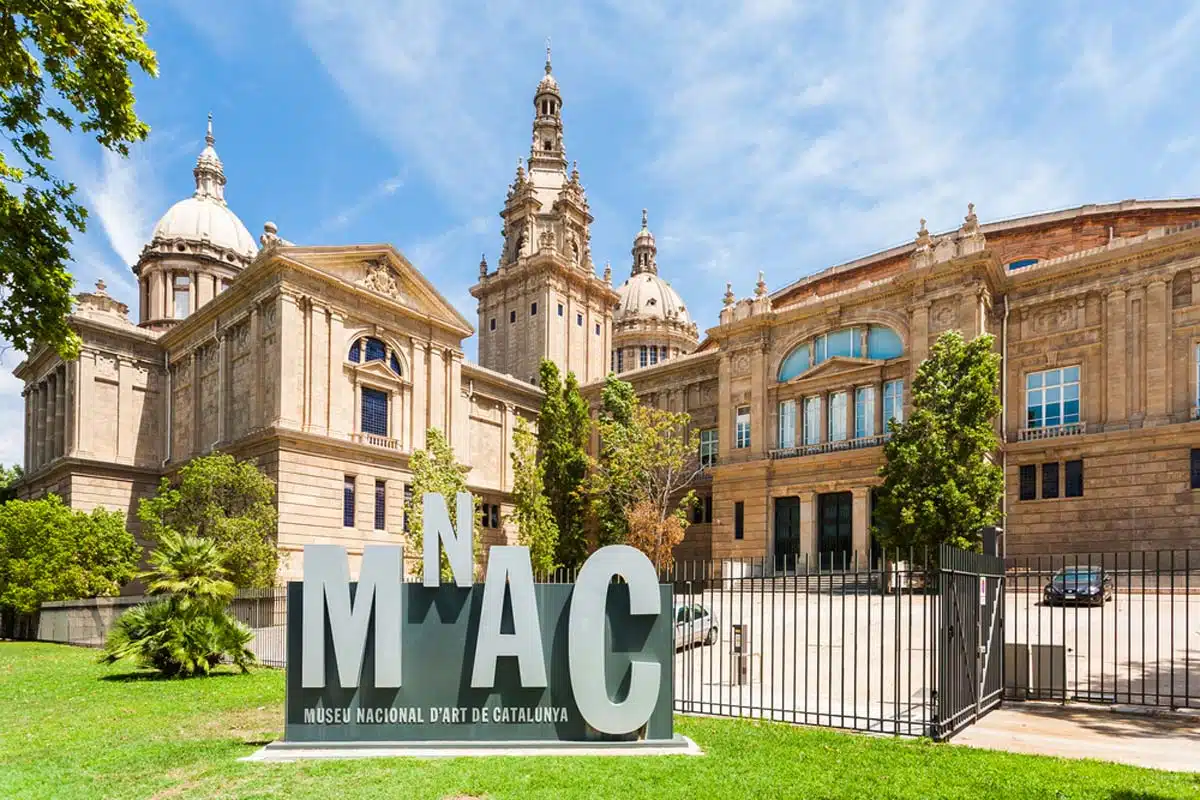 The Museu Nacional d'Art de Catalunya (MNAC) has become one of Barcelona's prime symbols of the region's separate Catalan identity.
Built in 1929 for the World Exhibition, it holds a vast collection of primarily Catalan art from the Middle Ages to the early 20th century.
They rescued most of the art from neglected country churches across northern Catalonia. The collection includes 21 frescoes, painted altar frontals, and wood carvings. There are Catalan Gothic paintings and works from other Mediterranean and Spanish regions, such as Bernat Martorell and Jaume Huguet.
Top Tip: Check out the museum restaurant after taking in all the gorgeous art. It's fab and has some spectacular views.
Barceloneta Beach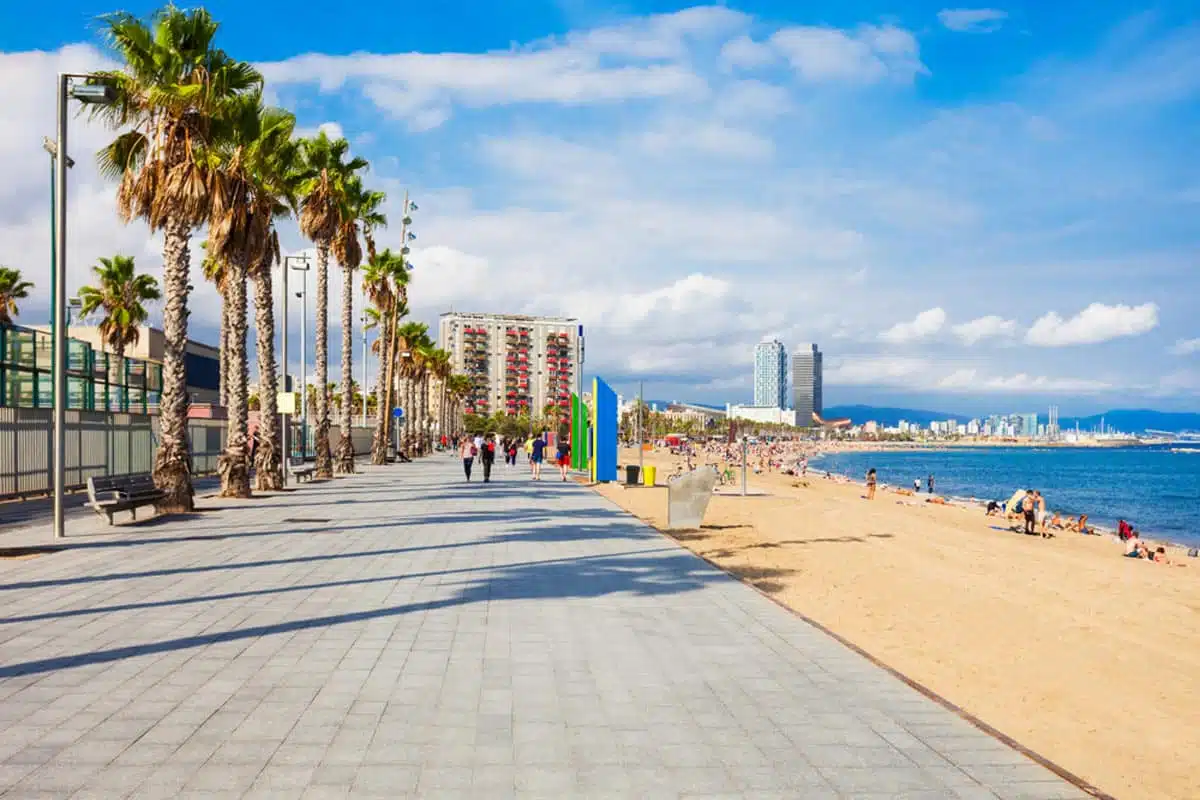 Edging the fishing quarter of the same name, Barceloneta Beach is the city's go to sunshine hangout.
This beach is a spot where the locals love to come to hang out and have some fun in the sun. There are sun loungers, sports facilities, restaurants, and ice cream kiosks to keep you cool in the Barcelona heat.
All sounds a bit too chill? Take part in a volleyball game or hire some skates to zip along the beach boardwalk, then settle in to watch the sunset with a cold caña of beer in hand.
Top Tip: The Barceloneta neighbourhood is home to some of Barcelona's best tapas restaurants. Hit up spots like La Bombeta, Bar Bitacora and La Cova Fumada for hearty Spanish fare.
Montjuïc Park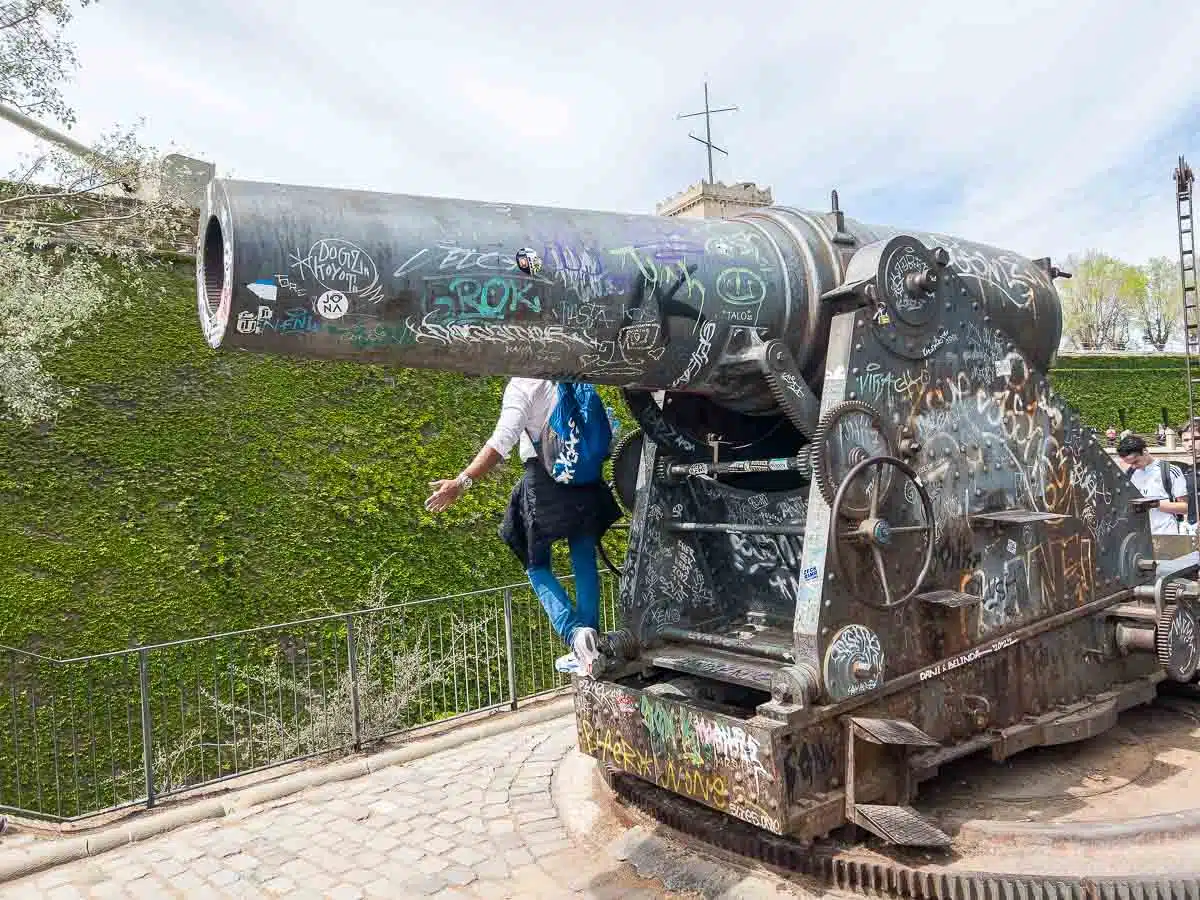 Montjuïc Park and Montjuïc Hill have witnessed many critical events that shaped Barcelona's history.
The 1929 International Exhibition held in Barcelona fostered the development of the area, while the 1992 Olympic Games brought major renewal and restoration to the site.
Head to Montjuïc to find spots such as the Fundació Joan Miró, the Museu Nacional d'Art de Catalunya (MNAC), and the Museu d'Arqueologia – not forgetting the amazing Barcelona Olympic Park, complete with the stadium, Arata Isozaki's sports palace and the Estadi Lluís Companys.
Parc de la Ciutadella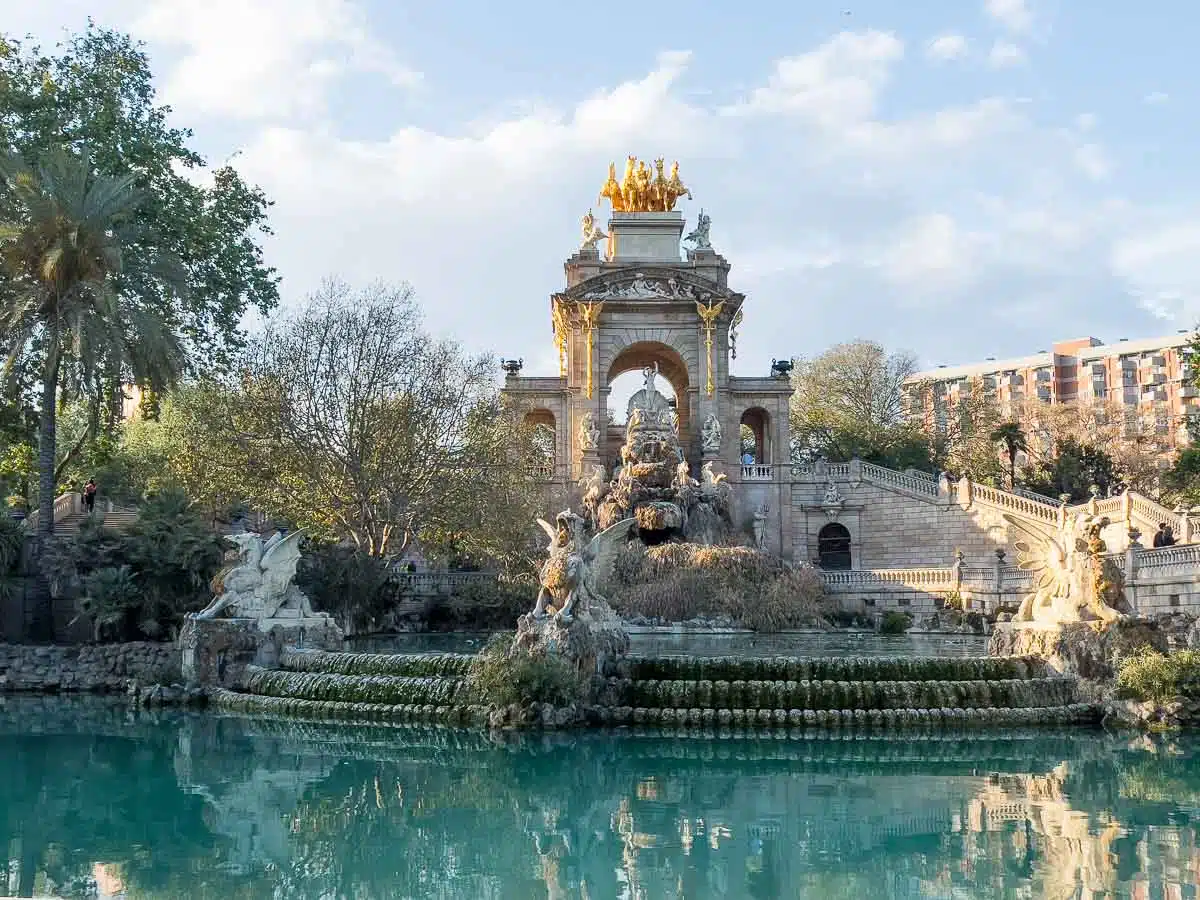 Every city has its park – and Barcelona's is the sun-drenched Parc de la Ciutadella.
Wanna take a relaxing picnic or boat ride on the lake? Do it. What about visiting the zoo or (rather contrastingly) the Catalan Parliament? Got you covered.
You'll also find the Museu de Geologia and The Zoological Museum here as well, plus the Museu d'Art Modern inside the parliament building. If it's starting to sound like the park is an eclectic hodgepodge of discovery – well, it's starting to sound about right.
La Boqueria Market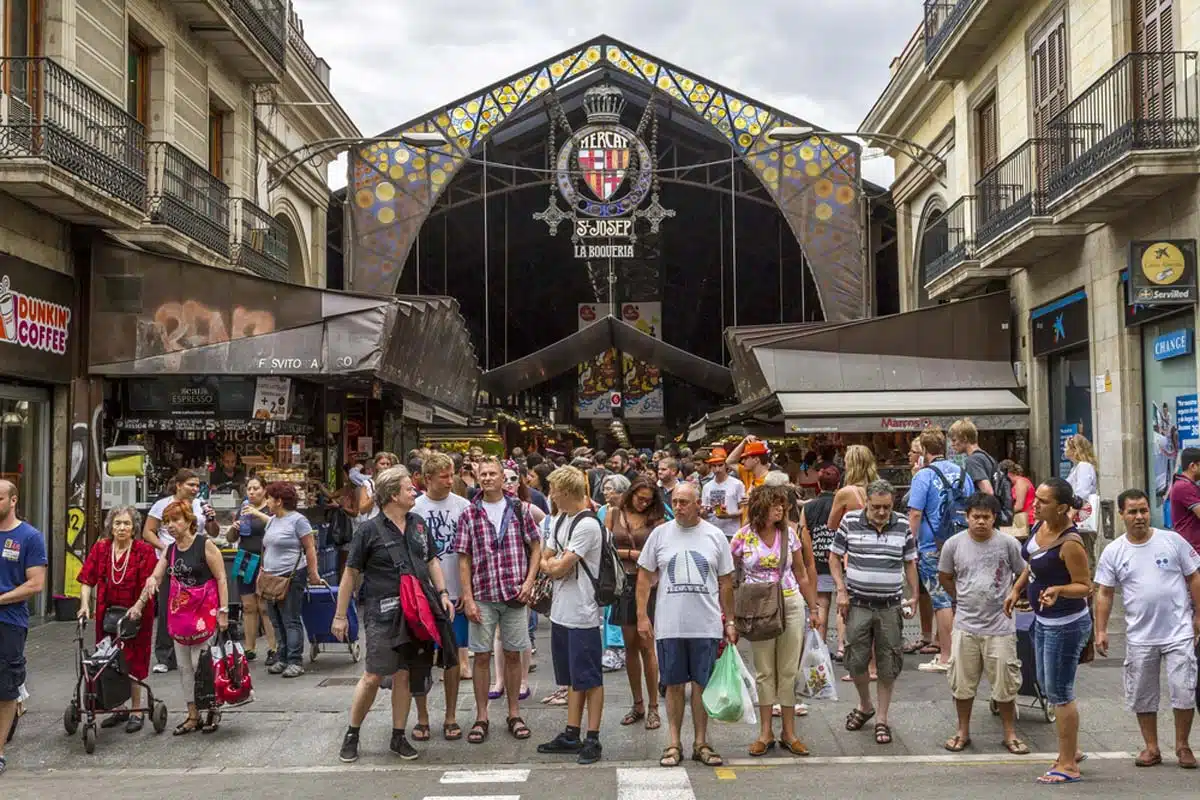 Veer off from the bustling crowds in La Rambla to step into the equally busy world of one of Europe's most famous food markets, La Boqueria Market. Because when sensational scents meet delectable tastes, it would be rude not to explore further.
The grand iron structure is a culinary choose-your-own adventure and I encourage you to choose with glee. A sliver of fat-laced jamon here, a plump little olive there, maybe a thimbleful of vermouth to wash it all down – it's yours for the taking.
Two words of advice? Go hungry.
Passeig de Gràcia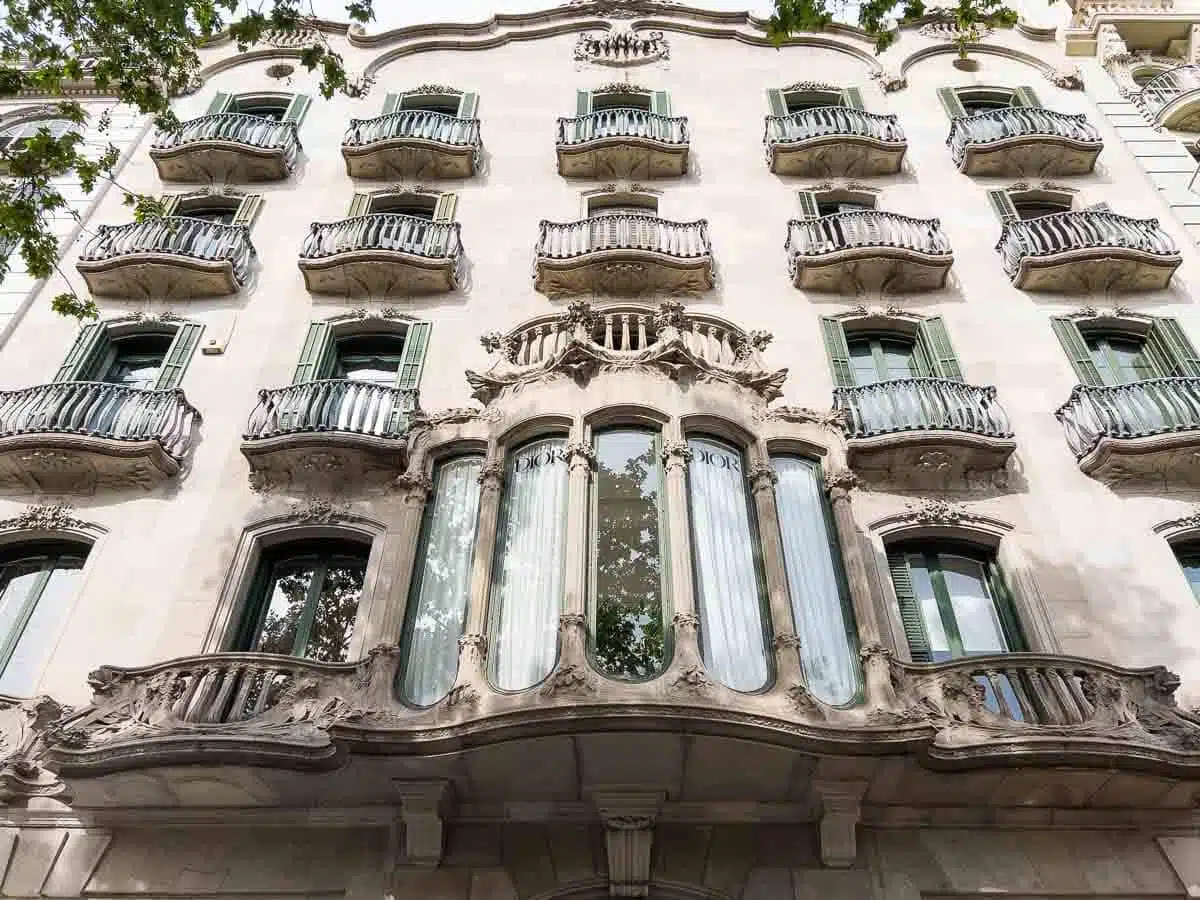 "If La Rambla is for the tourists, Passeig de Gràcia is where the locals go to shop" – Miquel, my tour guide told me in my early days in the city.
One of the most famous boulevards in Barcelona, Passeig de Gràcia must be on your list when visiting Barcelona, particularly if you like shopping as it's littered with designer shops.
Even if shopping is not your thing, you should spend some time here anyway – this stretch of road from Plaça Catalunya to Carrer Gran de Gràcia boasts some of the city's most commanding architecture, including Casa Battlo and Casa Mila that I featured above. Look down to see the Panot Gaudí that pave the walkway, a hexagonal-shaped tile that he designed in conjunction with Escofet.
El Raval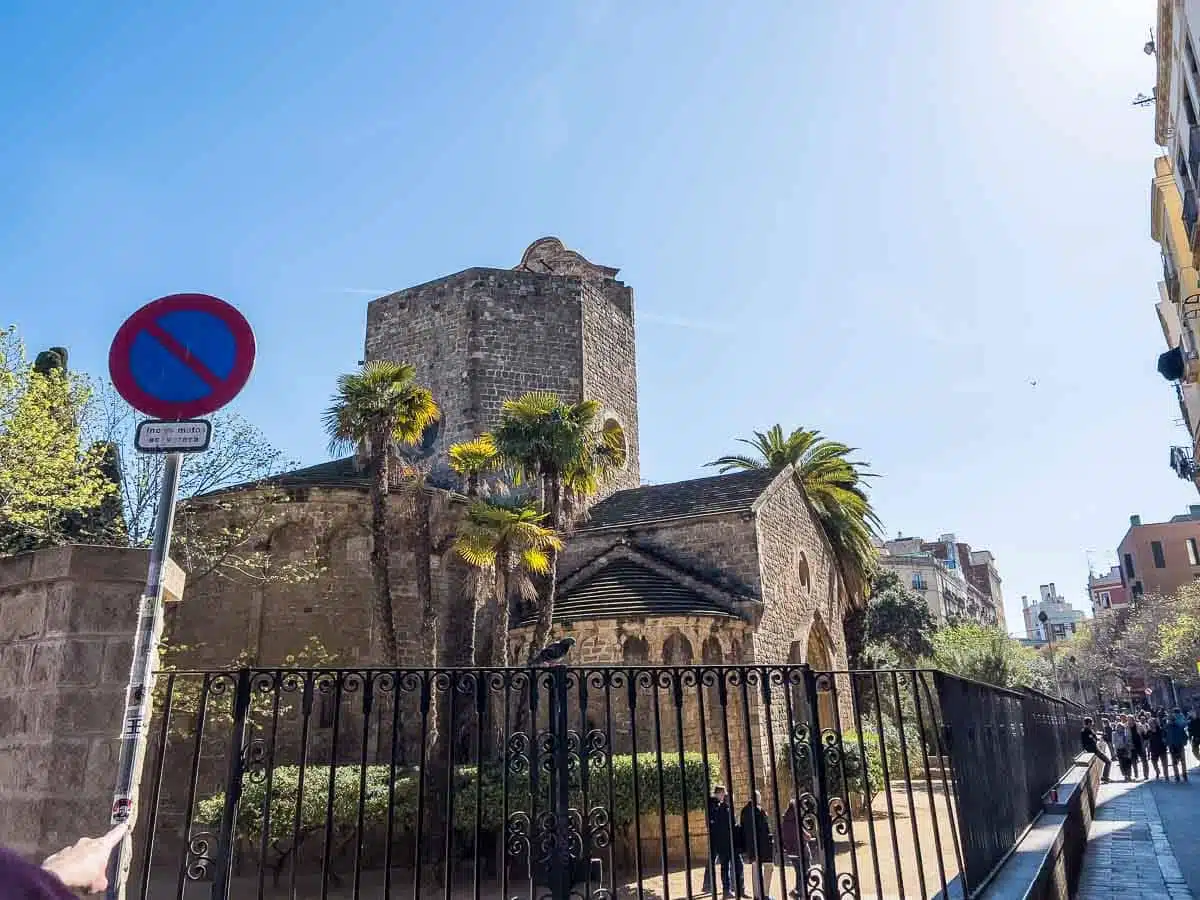 This vibrant multicultural neighbourhood is in the heart of Barcelona. It's well known for its bohemian and edgy vibe while housing some of the city's top restaurants and museums.
The name of this neighbourhood comes from the Arabic word rabad, which means outskirts.
This is because El Raval lay beyond the Roman walls of Barcino and the first set of mediaeval walls, leaving it on the outskirts. There is a vast amount of public art in El Raval, including Botero's Cat, a chubby bronze cat and some inspiring street art to boot.
Traditional Tapas Bars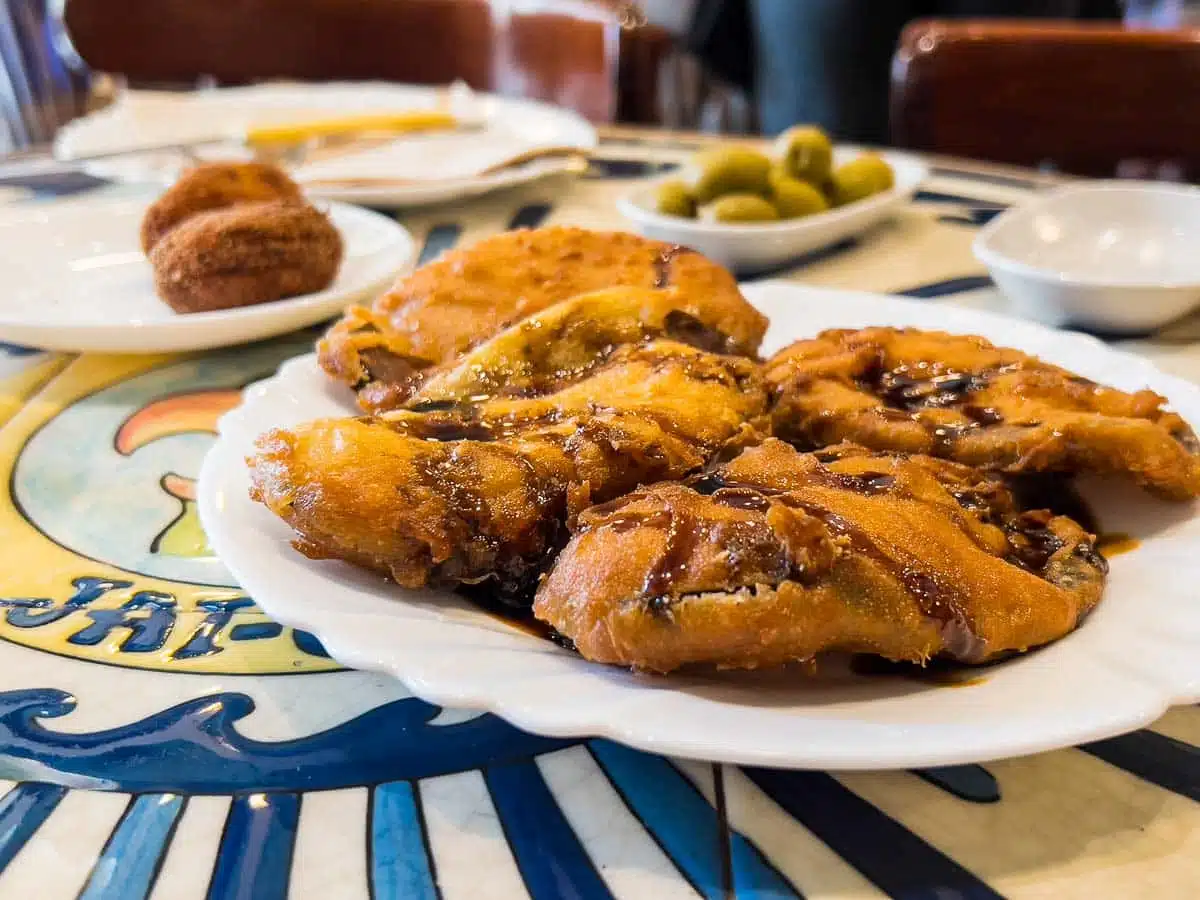 You cannot go anywhere in Spain without indulging in some delicious tapas. Luckily, Barcelona has a range of unique traditional tapas bars that you can visit.
Bar Pinotxo is one of the city's best tapas bars. Here you can indulge in anything from a slice of tortilla to an actual fried baby squid.
Tapas 24 has a retro feel with a traditional menu. You can choose between patatas bravas, chorizo and fried eggs, bombas (meatballs), Andalusian-style fried fish, and more.
Bar La Plata offers a classic menu. Anchovies are the speciality here, and you can wash it down with wine straight from the barrel. If you want to try some cava with your traditional tapas, head to El Xampanyet.
El Born District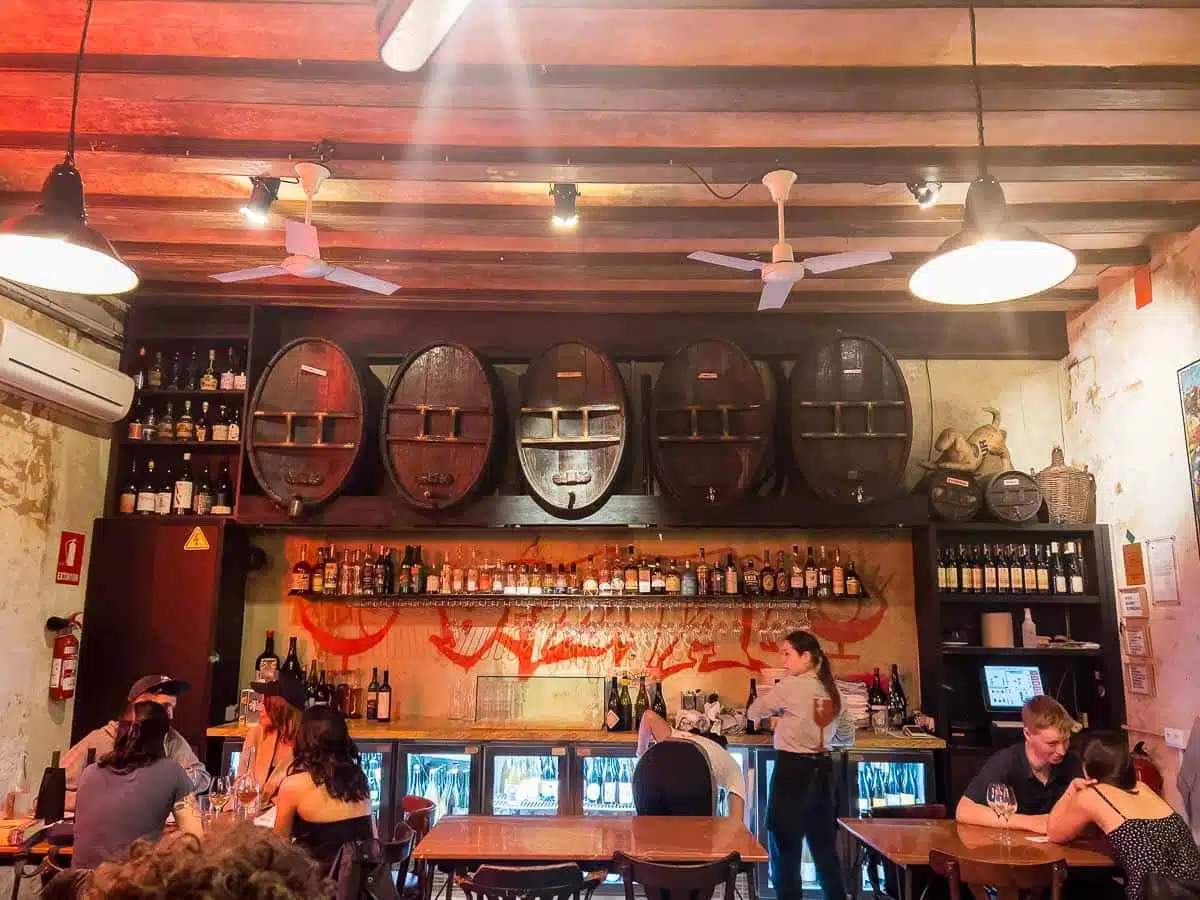 If La Rambla and the Gothic Quarter is a bit too intense for your liking, or you just want to delve deeper into Barcelona's history, head to El Born.
It has all the beauty of Barri Gòtic, such as the characteristic narrow streets, but it somehow has a completely different vibe – one that boasts more than a smattering of cool sights, restaurants and bars.
Go to see popular Barcelona tourist spots like the Picasso Museum, Moco Museum, Palau de la Música Catalana, Parc de la Ciutadella, Santa Maria del Mar and more.
It's no secret that I'm OBSESSED with the bar/restaurant combo Can Cisa/ Bar Brutal – I clocked up more visits during my stay than I'm willing to admit to. Book ahead to get a table and tuck into a delightful feast of natural wines and contemporary Catalan cuisine.
Flamenco Shows
Barcelona isn't the place that first springs to mind when it comes to seeing flamenco in Spain (you'd have Andalucian spots like Seville and Granada to thank for that), but there are some good places to see flamenco in the city.
The Tablao de Carmen is the most popular place to catch a show. The theatre pays homage to Carmen Amaya, the great Flamenco dancer. It's the same place where she made her dancing debut in 1929.
Tablao Flamenco Cordobes is another popular spot to catch a Flamenco show. A family of artists run it and dedicate themselves to ensuring that people have an unforgettable experience. It works.
Day Trips From Barcelona
Got a little more time to explore? Good! While you can totally come to Barcelona and not leave the city during your stay, if you do have time to squeeze a cheeky little day trip in there, you should. Here are some must-see places near Barcelona.
Montserrat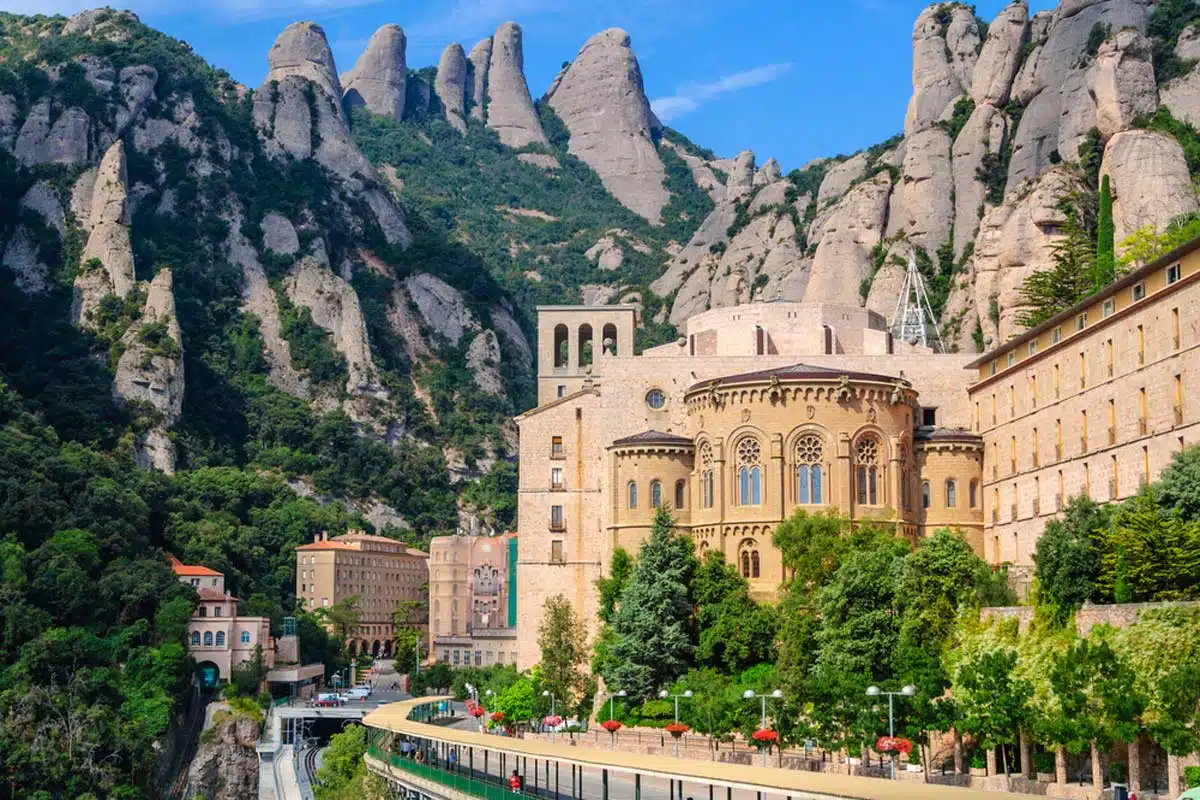 This rocky mountain range in Catalonia is gorgeous and a super popular day trip destination from Barcelona. Be sure to head to the Santa Maria de Montserrat, a Benedictine monastery. It's also a great hiking destination too.
Book your Montserrat day trip here
Sitges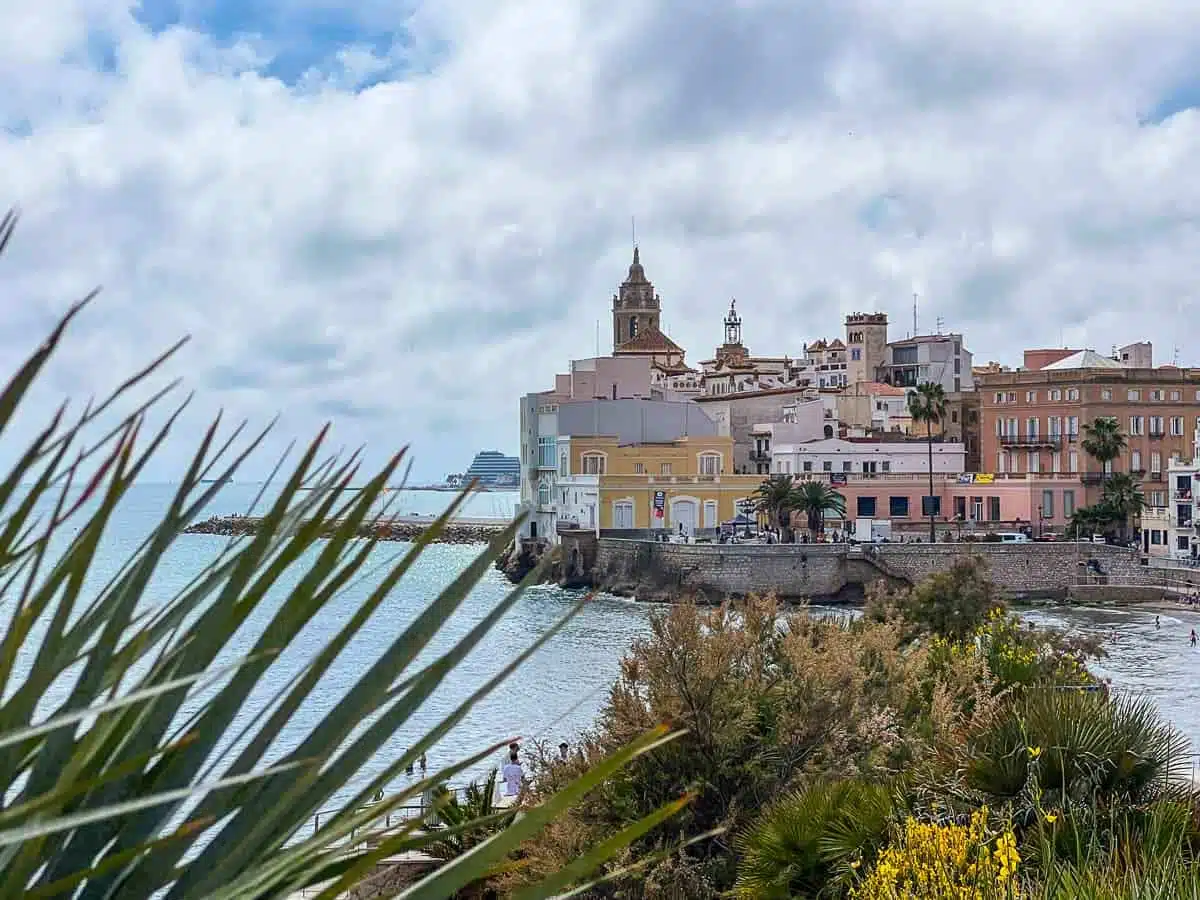 The gorgeous little coastal town of Sitges is another popular day trip destination that's perfect for beach bunnies and culture enthusiasts alike. Plan to visit the Museu Cau Ferrat, relax on the beach, or indulge in delicious seafood dishes. Sitges is also super LGBTQ+-friendly and has a vibrant and welcoming scene.
Book your Sitges day trip here
Girona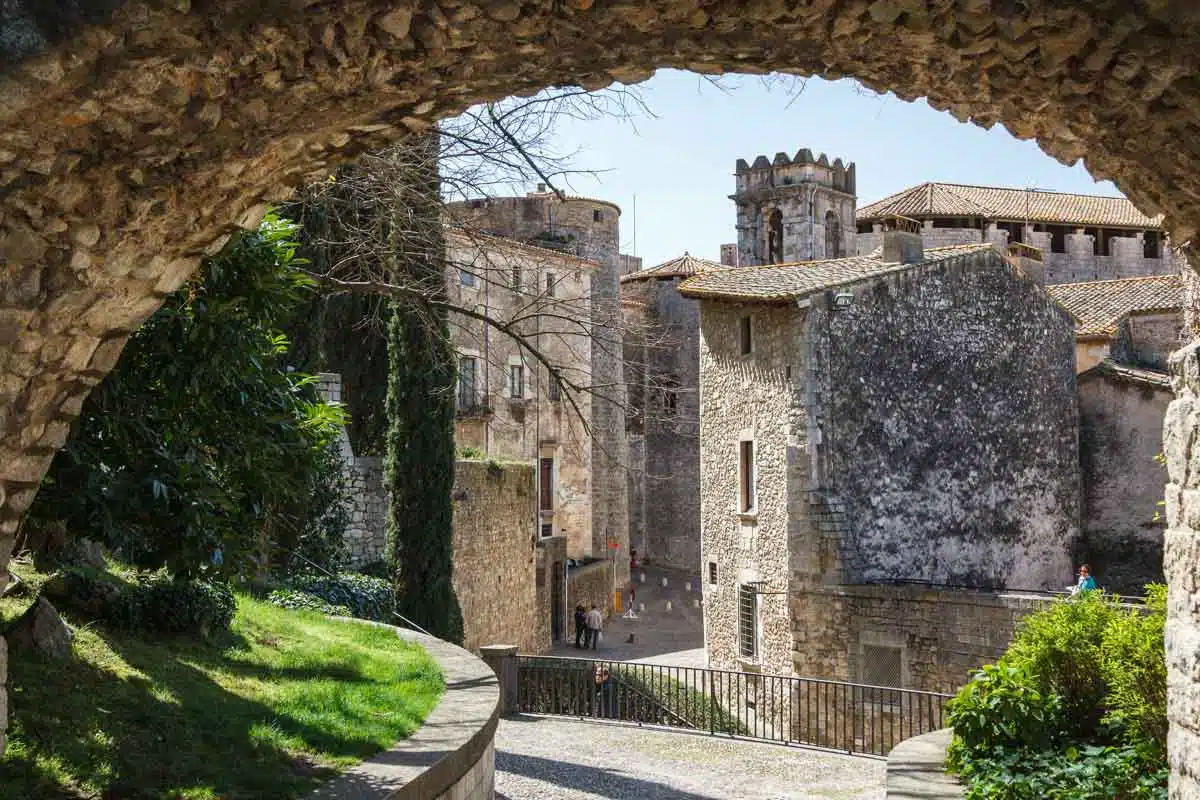 The winding medieval city of Girona is blessed with some extraordinary historical landmarks AND some very cool Game of Thrones filming locations too.
Walk the walls of the Passeig de la Muralla, visit the Girona Cathedral or wander through El Call de Girona (or do all three).
Book your Girona day trip here
Recommended Barcelona Sightseeing Tours
Skip-the-Line Sagrada Familia & Park Güell Tour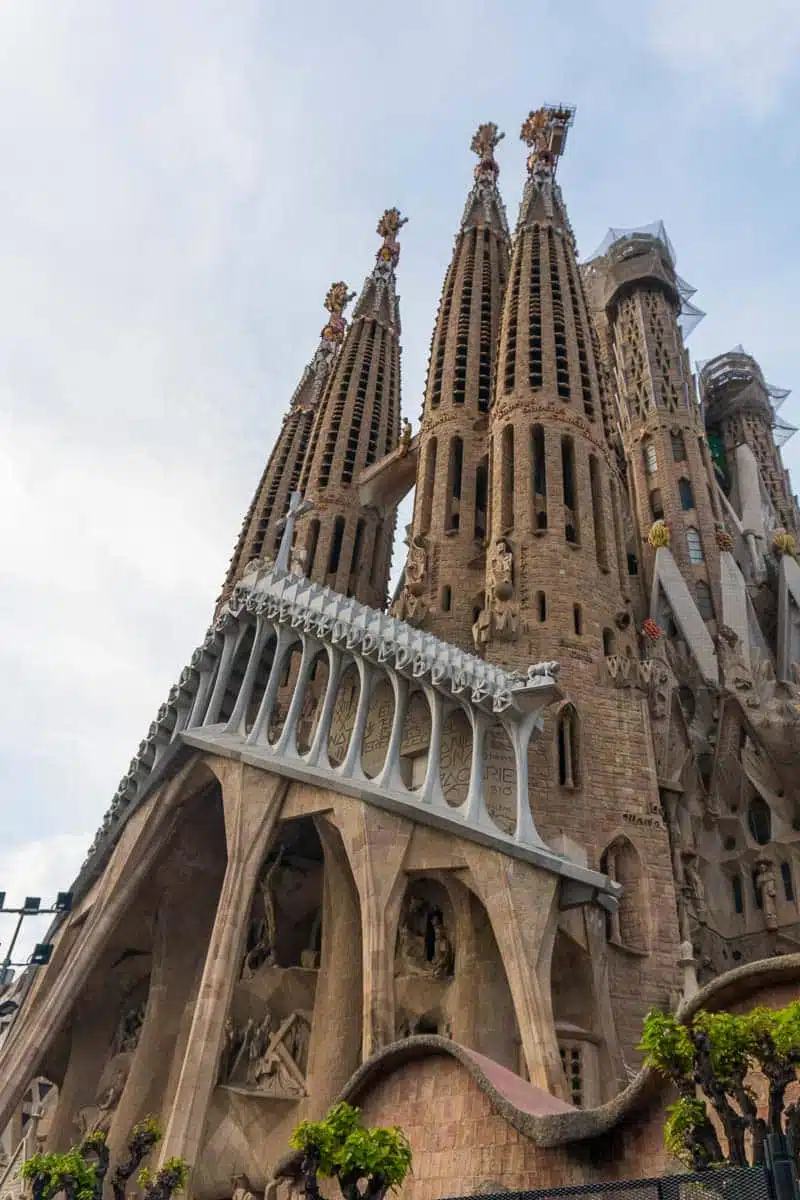 On this exciting tour, you will explore some of the best places to visit in Barcelona – both designed by Antoni Gaudí… and you won't have to wait in line to see them.
Main Sights 2.5-Hour Tour by E-Bike
Jaunt across Barcelona on an e-bike with this in-depth tour. You'll see some stunning tourist attractions in Barcelona, like the Arc de Triomf, the Santa María del Mar Basilica, the Barcelona Cathedral, and more. What are you waiting for?
Tapas and Wine Small-Group Walking Tour
What is Spain without tapas? On this small group walking tour, you'll explore the best Barcelona attractions while enjoying delectable tapas, dishes and delicious wines.
Montjuïc Cable Car Roundtrip Ticket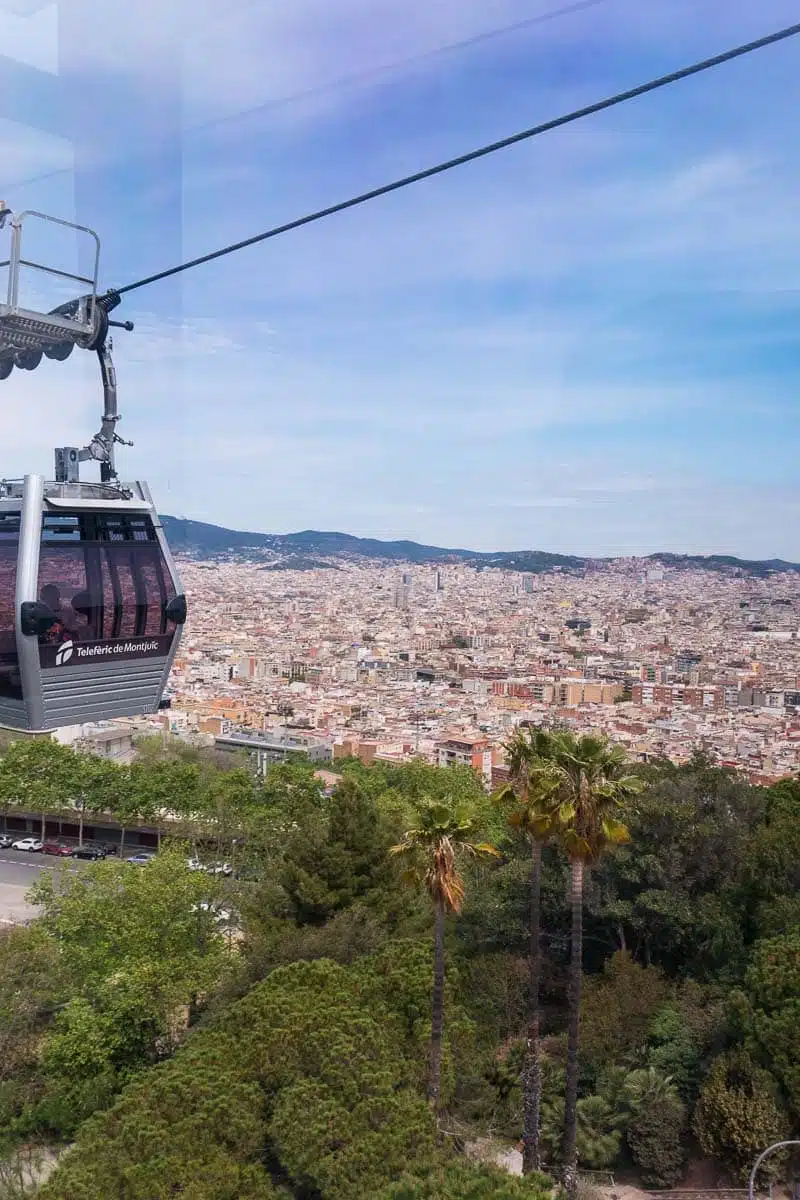 Honestly, who wouldn't love seeing the city from the sky? Book onto this Montjuïc Cable Car trip to admire the spectacular sights of Barcelona as you are whisked to the top of the hill (and back down again).
Montserrat Tour, Monastery & Optional Wine/Lunch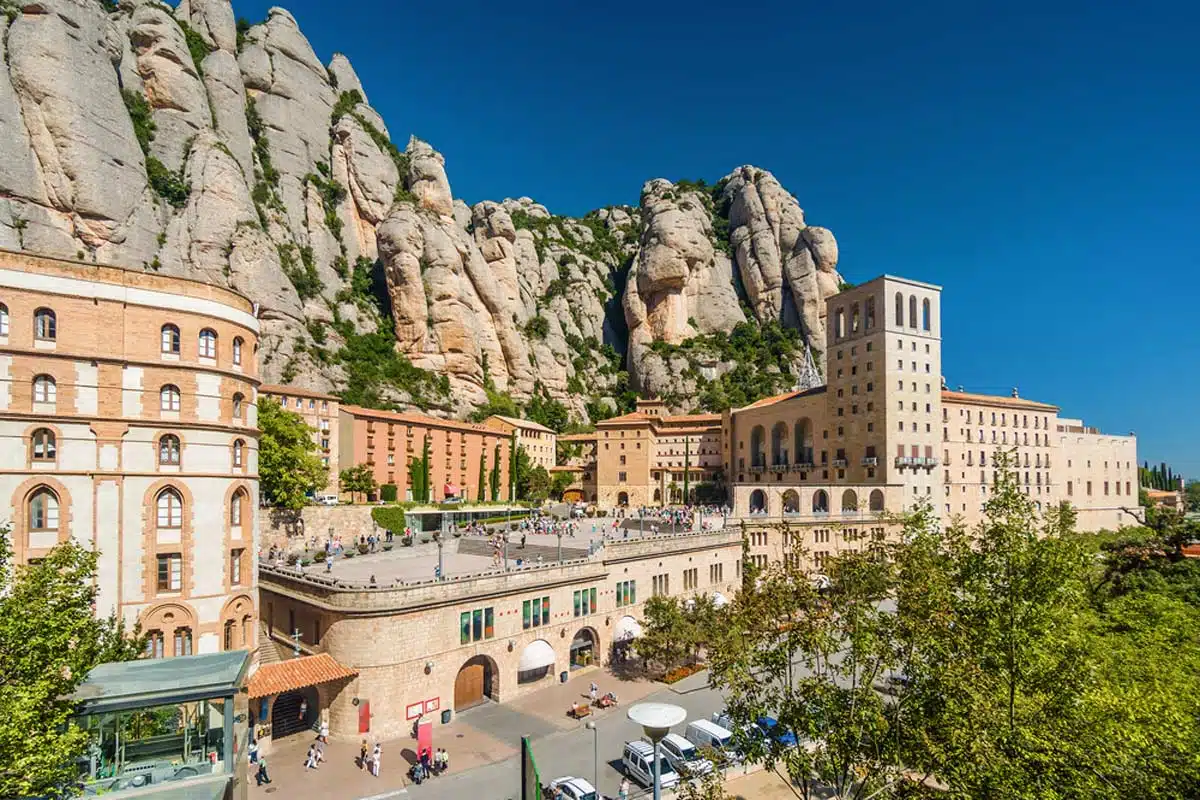 Want to head to Montserrat? Hop aboard a cogwheel train to visit the famous monastery in Montserrat. A guide will take you on a Santa Maria de Montserrat Abbey tour. You can see paintings by Picasso and El Greco and the famous Black Madonna. If you choose the full-day option, you'll also head to a gorgeous boutique winery.
Tips for Sightseeing in Barcelona
Transportation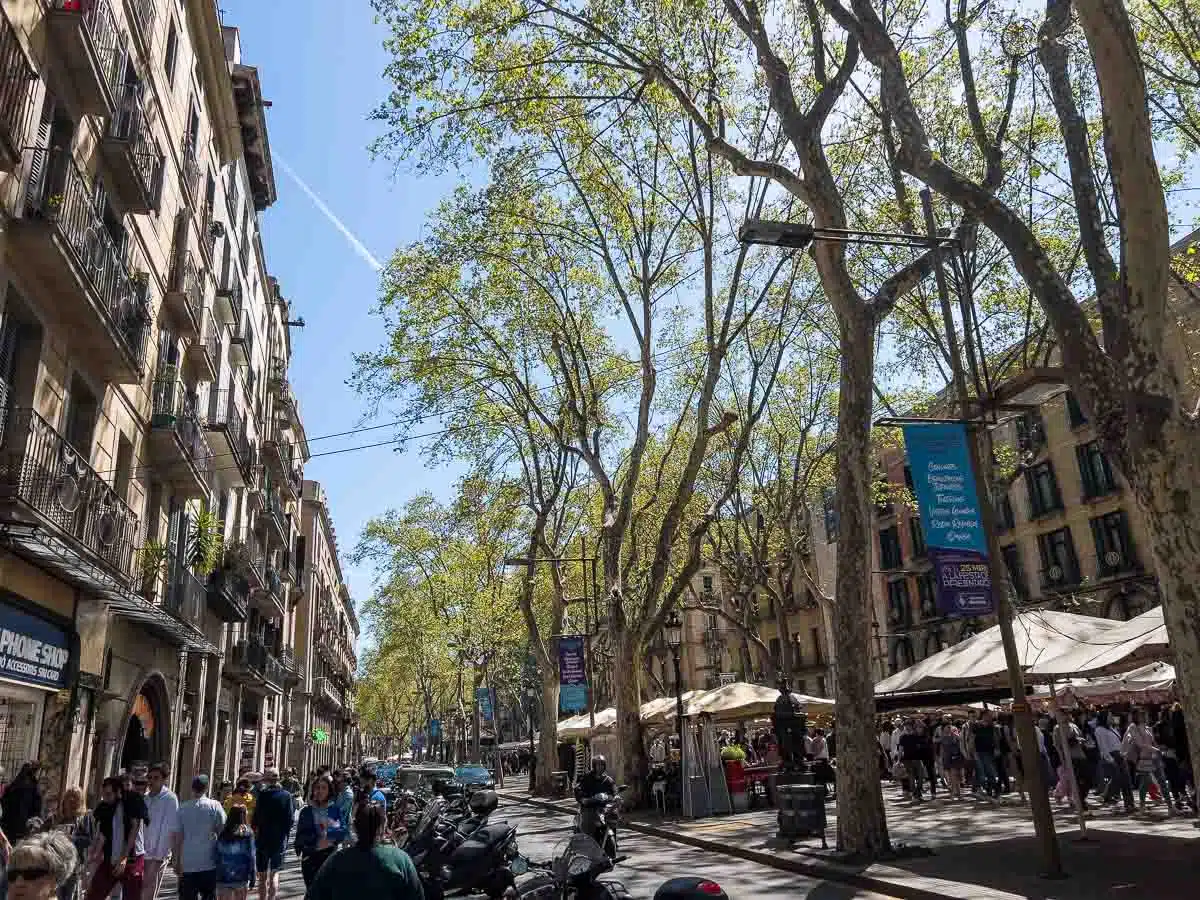 Getting around Barcelona is relatively easy with all the options available to you. There are many choices, from buses, trains, bikes, trams and renting a car.
If you plan to use the metro or bus, I recommend buying a T-Casual. It's much more convenient than buying tickets if you're making more than five trips, and it works better for your wallet. Getting a T-Casual is a must if you take the train to and from the airport.
You won't find many trams in the heart of Barcelona, but they are perfect if you want to take a trip outside the city centre.
CityBike is a system that has over 6,000 bikes and 420 stations, making it easy to find one if you want a more leisurely trip around Barcelona.
If you rent a car, RentalCars is one of the best options. They have cars available worldwide and offer great deals on their vehicles. To rent a car, you need a valid driver's licence, a credit card, and an international permit, and you must be at least 21.
Budgeting your Trip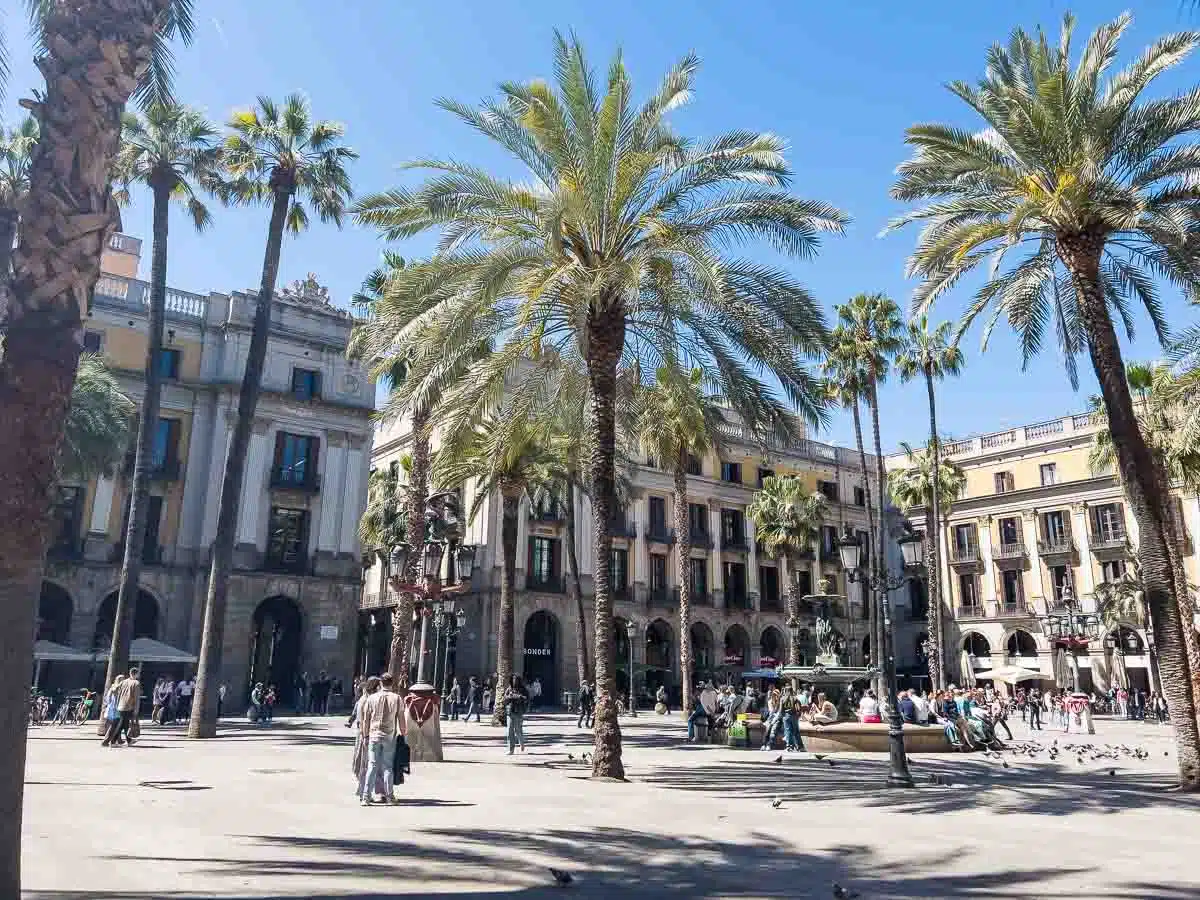 A trip to Barcelona is a costly undertaking. At the mid-range point, you should budget for a daily spend of around $170 (€156) daily excluding accommodation.
The average hotel price in Barcelona is around $210 (€192). Entertainment, tours, and Barcelona tourist attractions can take another $36 (€33) out of your pocket.
Adding all this together, a week's trip to Barcelona for two people will cost you around $2,383 (€2,178).
Here are a few ways you can save money while still enjoying the fantastic sights of Barcelona:
Get the Barcelona card. It offers free public transportation and discounts at nightclubs, museums, shops, restaurants, and more. A 3-day card costs $50.45 (€46), a 4-day card goes for $61.41 (€56), and a 5-day card costs $66.90 (€61).
Indulge in seafood at the tapas bars in Barceloneta. During the day, you can get a good plate of food at the beaches for under $21.93 (€20).
Visit the free sights. Many museums in the city are open to the public for free. On the first Sunday of every month, all city museums are free.
Go on a free walking tour. Many of these tours are available, and they're great for getting acquainted with Barcelona and learning about the city's history.
Sample Barcelona Sightseeing Itineraries
One-day Itinerary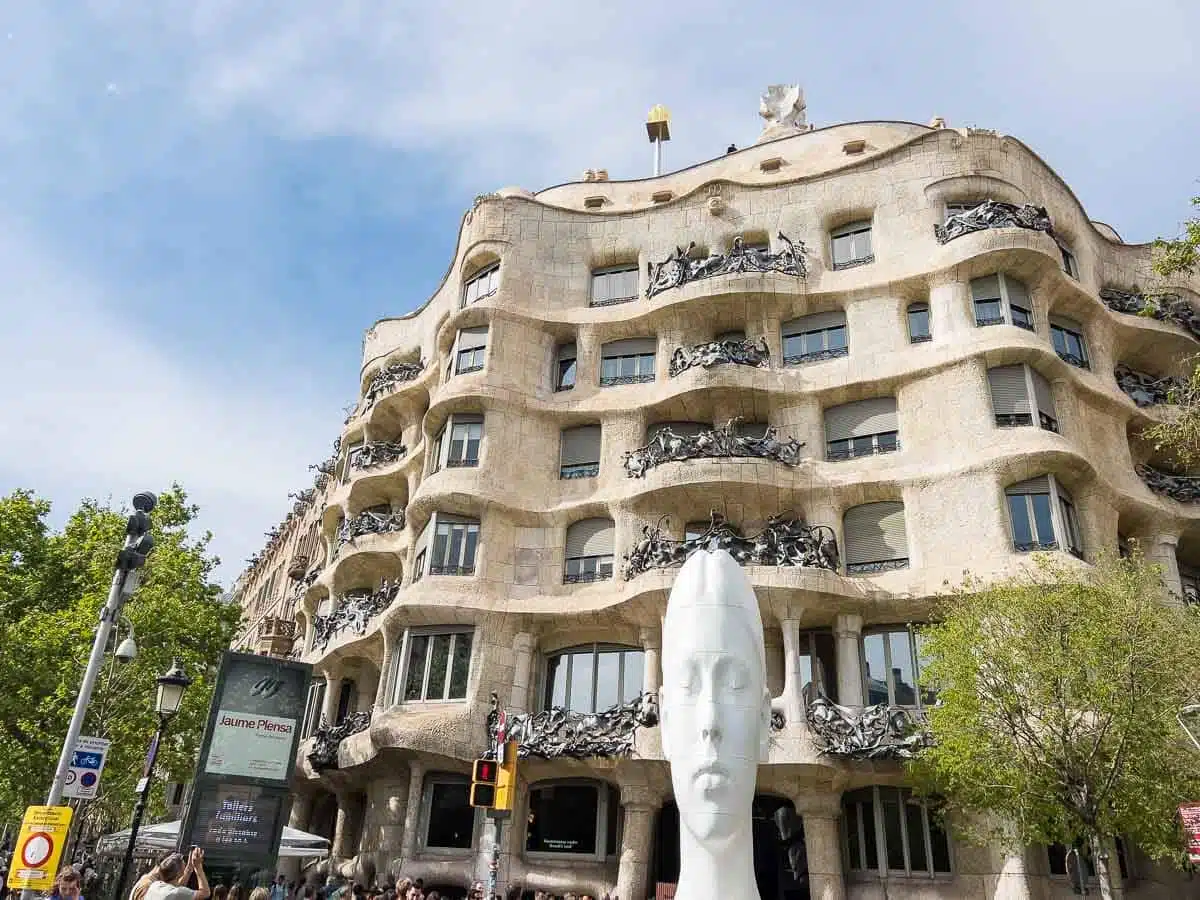 On this itinerary, you'll start the morning fresh and early at Plaça Catalunya, then make your way to Passeig de Gràcia for a morning walk, complete with stops at Casa Battlo and Casa Milà. Head over to the Sagrada Familia before the crowds set in.
If you're feeling super energetic, go to the cable car for a scenic trip over to Montjuïc mountain. Once back in the city, head over to dinner at El Chigre 1769 before enjoying a nightcap at one of the bars in the city.
Three-day Itinerary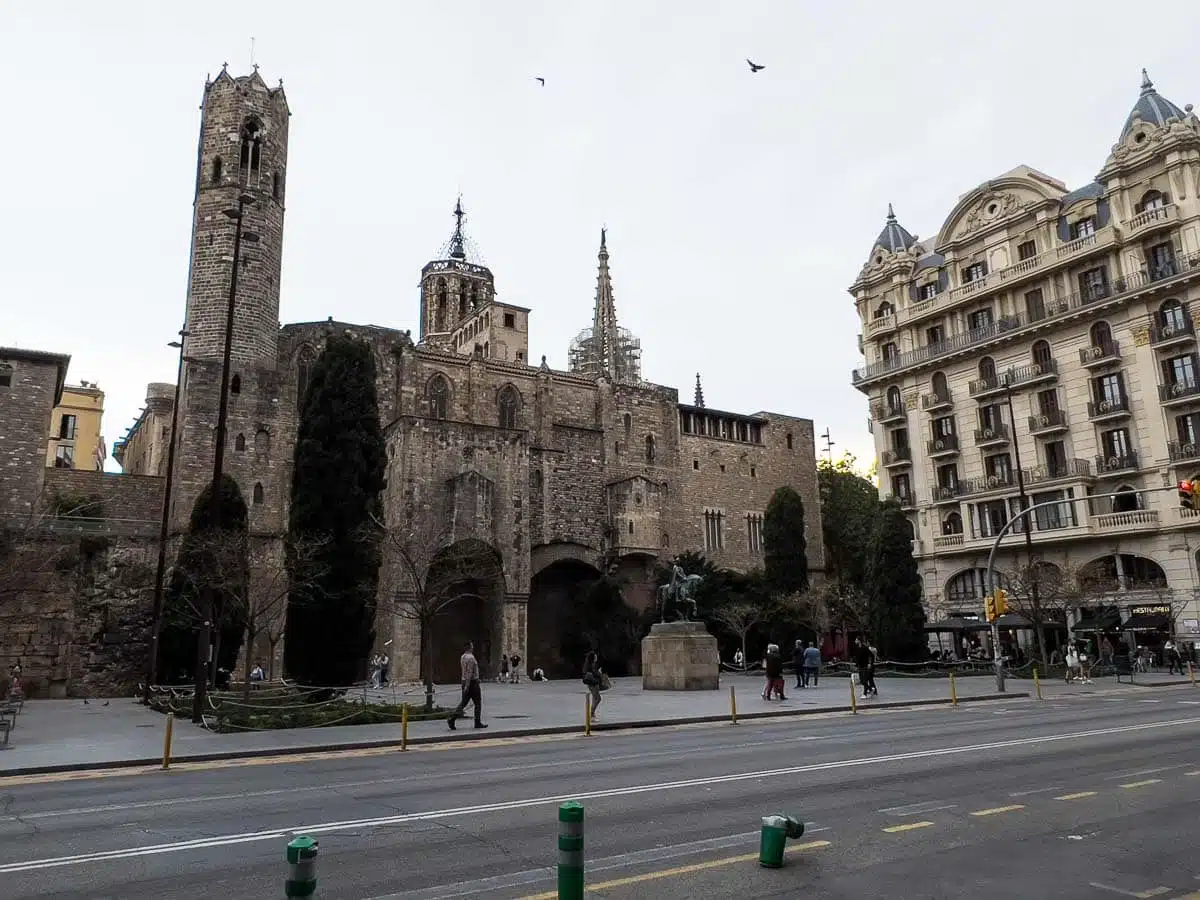 On day one, explore Las Ramblas, the Gothic Quarter, and the works of Gaudí including the iconic Sagrada Famila.
Then the next day's itinerary should include spending some time in El Born – with visits to the Picasso Museum, Moco Museum and dinner and drinks at Bar Brutal. On day three, explore Montjuïc Hill, go to Camp Nou, spend some time on the beach and see any other sights you missed.
Practical Tips for Seeing Barcelona's Top Attractions
Use the metro to get around the city as it's convenient and cheaper than driving or Uber. You can even get a T-Casual card to make life easier.
Catalan is the official language in Barcelona, and no, it's not the same as Spanish. English is also widely spoken, as is Castilian Spanish.
Many attractions in Barcelona fill up quickly, so research and book your tickets far in advance to ensure you don't miss out.
Avoid the high season (May – September) if you want to avoid the crowds.
Sightseeing Barcelona: Map
Love This? Save and Share on Pinterest