Granada is the jewel of Andalucia, a charming enclave of historic palaces, cobbled streets and unforgettable cuisine. Wondering where to stay in Granada? Read on to discover the top areas and hotels in this mesmerising city.
Let's talk about Granada for a second. This gorgeous city is a maze of narrow streets, whitewashed buildings and hidden courtyards – I dare you not to fall in love with it.
Best known for the striking Alhambra, a 14th century fortress complex and one of the best examples of Moorish architecture in Andalusia – it's little wonder that people flock to it from all over the world.
But there is much more to see and do in Granada beyond the Alhambra. And you would be a fool to miss out.
Don't worry – this guide is going to help you decide where to base yourself for your next trip. You're welcome.
Best Places to Stay in Grenada: At a Glance
Where to Stay in Granada
Deciding where to stay in Granada? Let's have a look to find out just where you should base yourself…
Albaicin: Best Neighbourhood to Stay in Granada, Spain for Views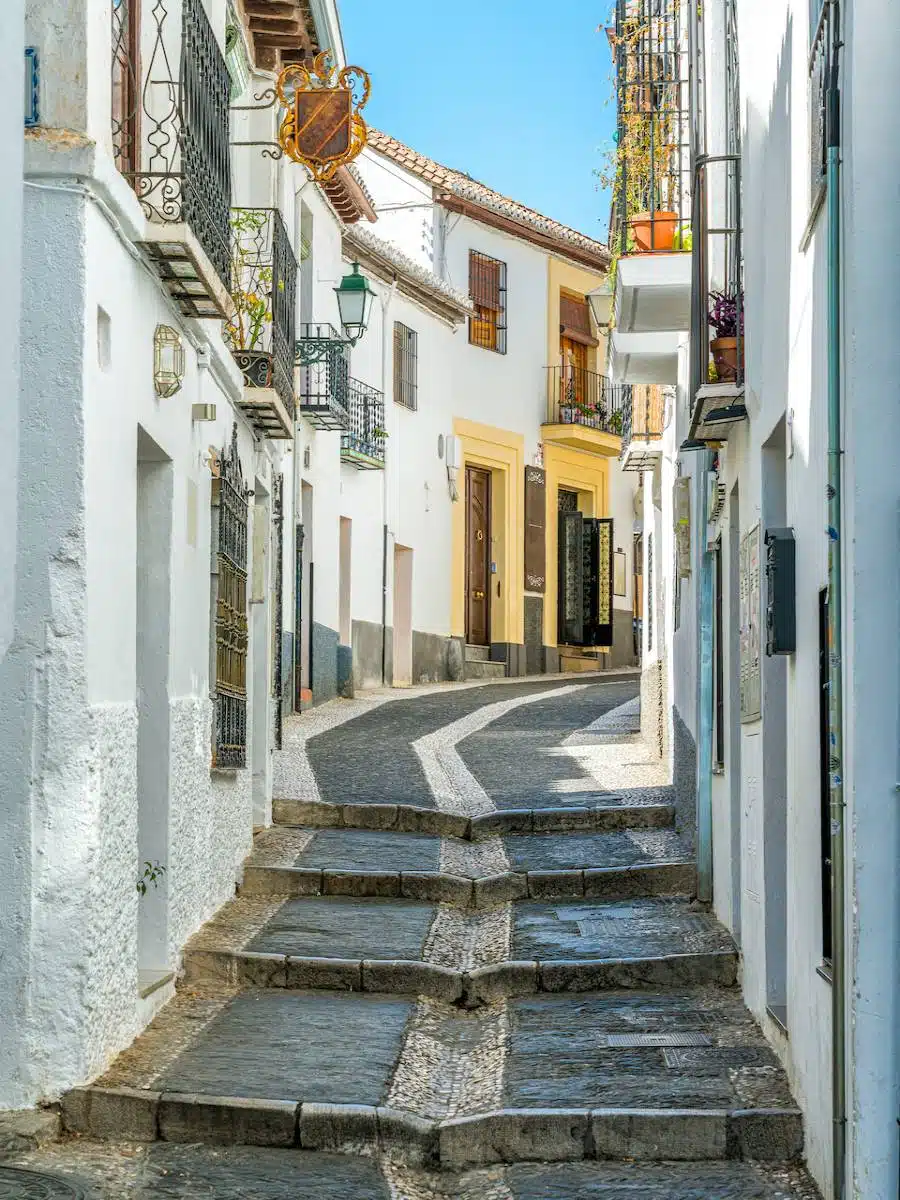 When you enter Albaicin, you'll quickly notice the ancient architecture and narrow alleys meandering through this charming Granada neighbourhood sitting up on a hill.

The churches, shops and restaurants fill nearly every corner amongst the cobbled streets and casa carmens (the homes built around lush gardens). But the views of Alhambra and the beautiful city around it make Albaicin one of the best places to stay in Granada, Spain.
Albaicin Highlights
Mirador de San Nicolás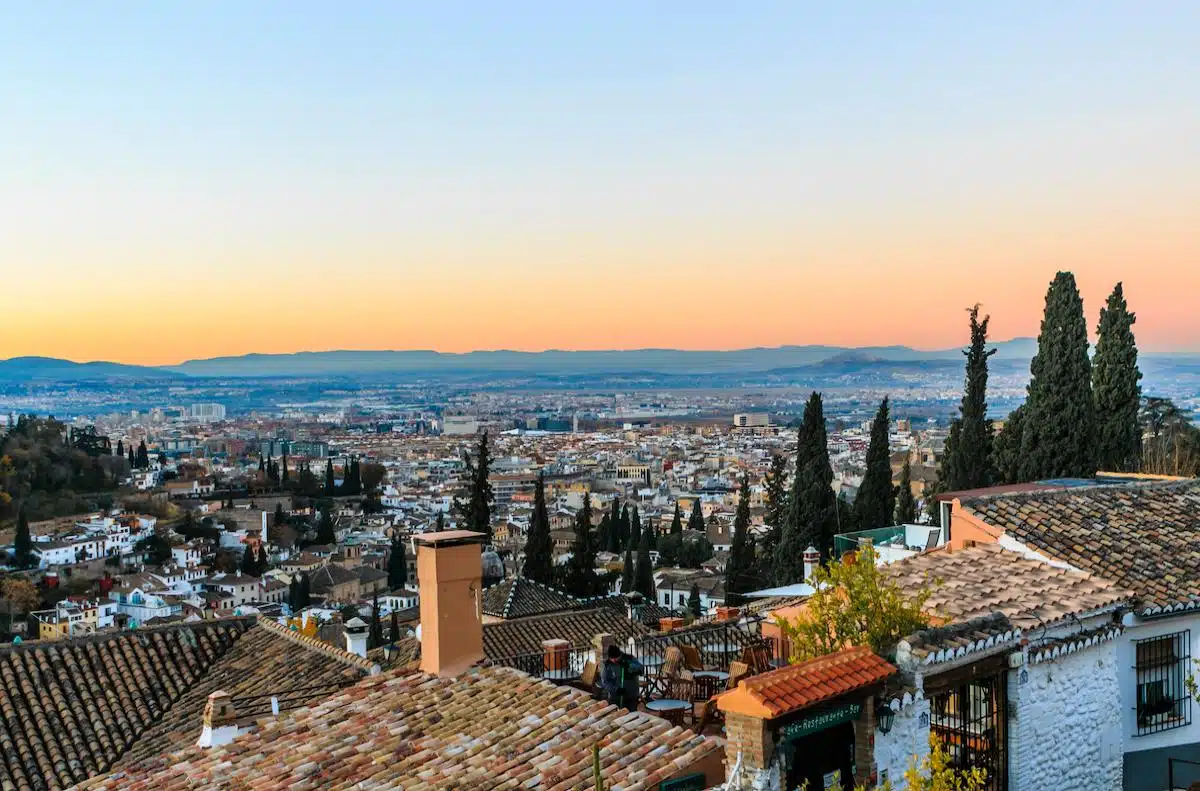 Is there a more famous viewpoint in Granada than Mirador de San Nicolás? Let me know if you find one. There's a reason why thousands of tourists flock here: it's one of the world's greatest lookout points.
Hammam Al Ándalus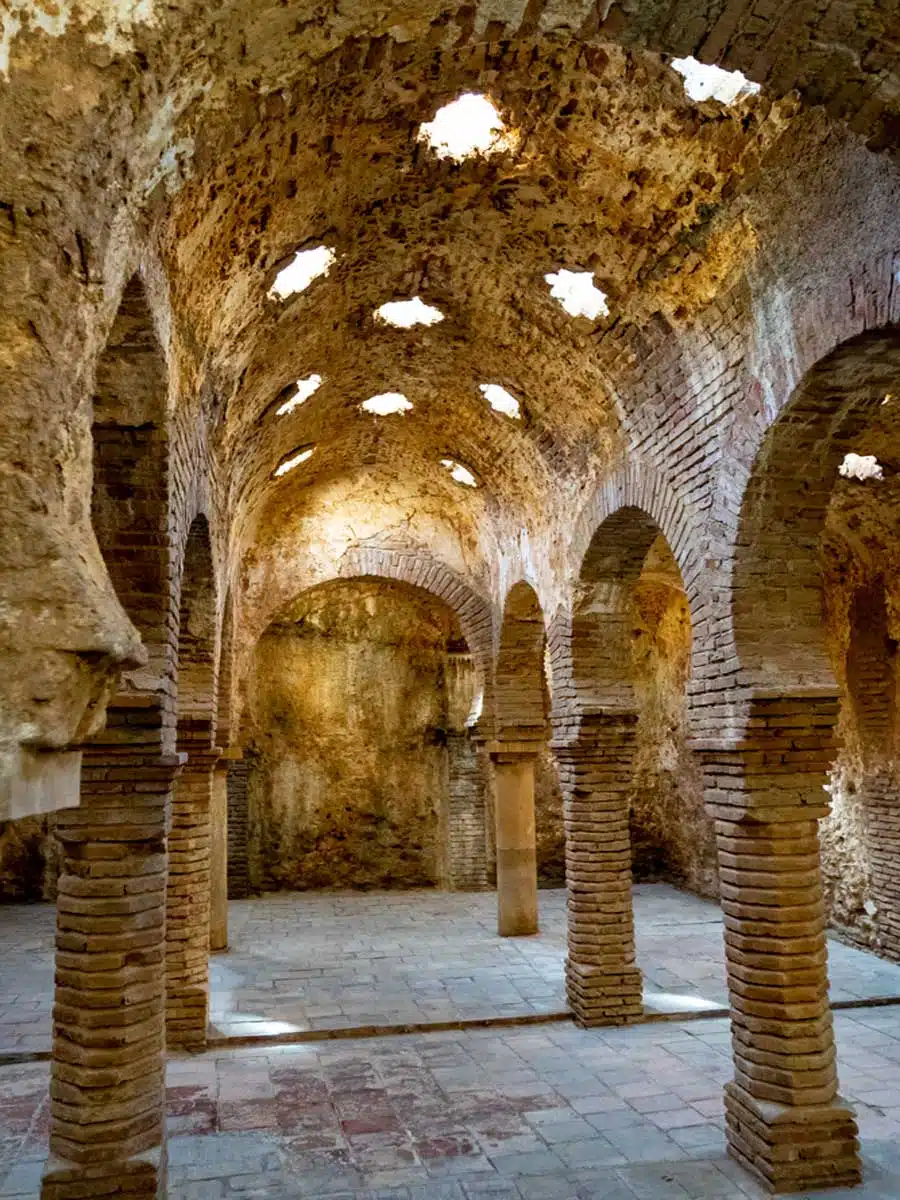 The Arab baths of Hammam Al Ándalus is a famous place to soak your aching muscles in a building dating back 800 years.

The stunning architecture and the spa treatments should transport you back in time. Relax and enjoy.
The Alhambra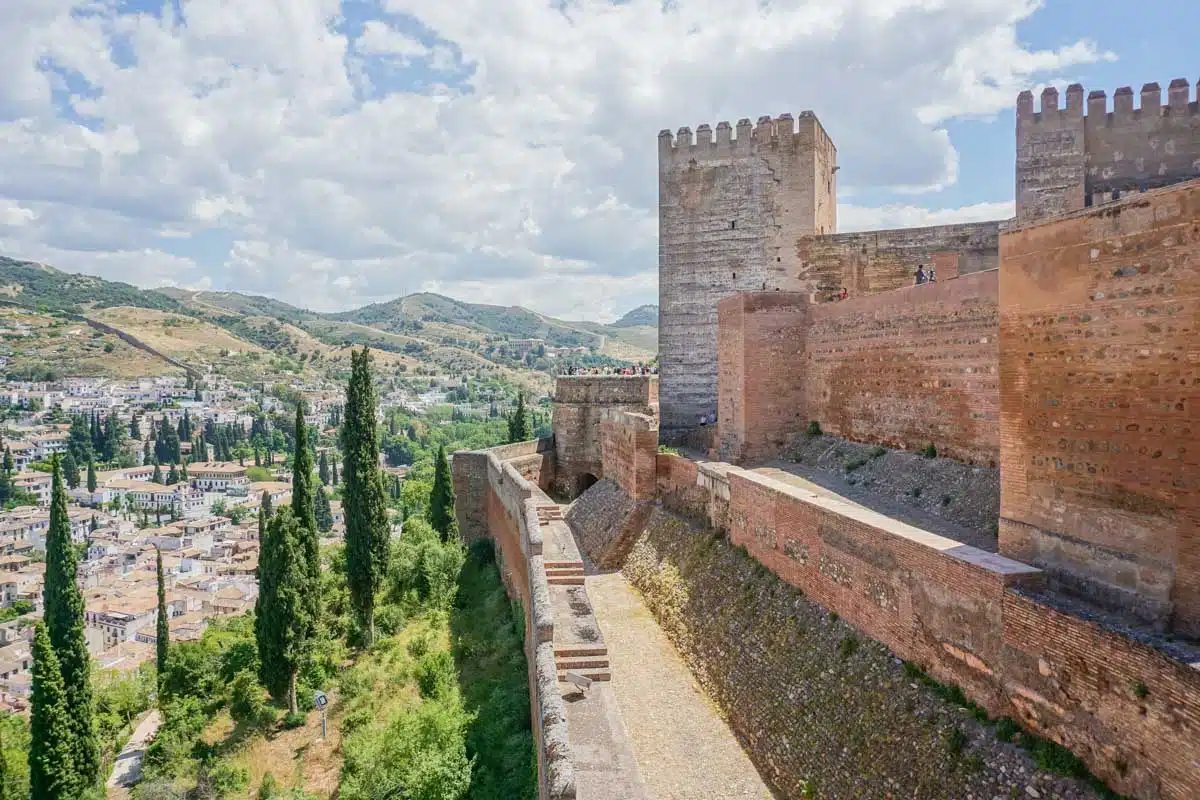 Take a short walk to the most famous landmark in Granada. The UNESCO World Heritage Site features stunning Moorish architecture from the 13th century. Also, be sure to walk over to Generalife Gardens nearby. Oh, and charge your camera. Trust me on this one.
Suggested Hotels With a View in Albaicin
Hotel Santa Isabel La Real
Hotel Santa Isabel La Real evokes the charming character of the ubiquitous casa carmen-style from outside the central Albacain location and in the garden courtyard.

Bonus? The complimentary breakfast will give you plenty of energy to roam the streets.
Palacio de Santa Inés
A short walk from Granada Cathedral, Palacio de Santa Inés is charming, convenient and some rooms feature incredible views of Alhambra. Book in advance.
Casa del Capitel Nazarí
The charming interior and affordable prices are only outweighed by the perfect location of the budget-friendly Casa del Capitel Nazarí in Albacain. Rooms are on the smaller side but are styled to perfection.
Sacromonte: Best Area to Stay in Granada for Flamenco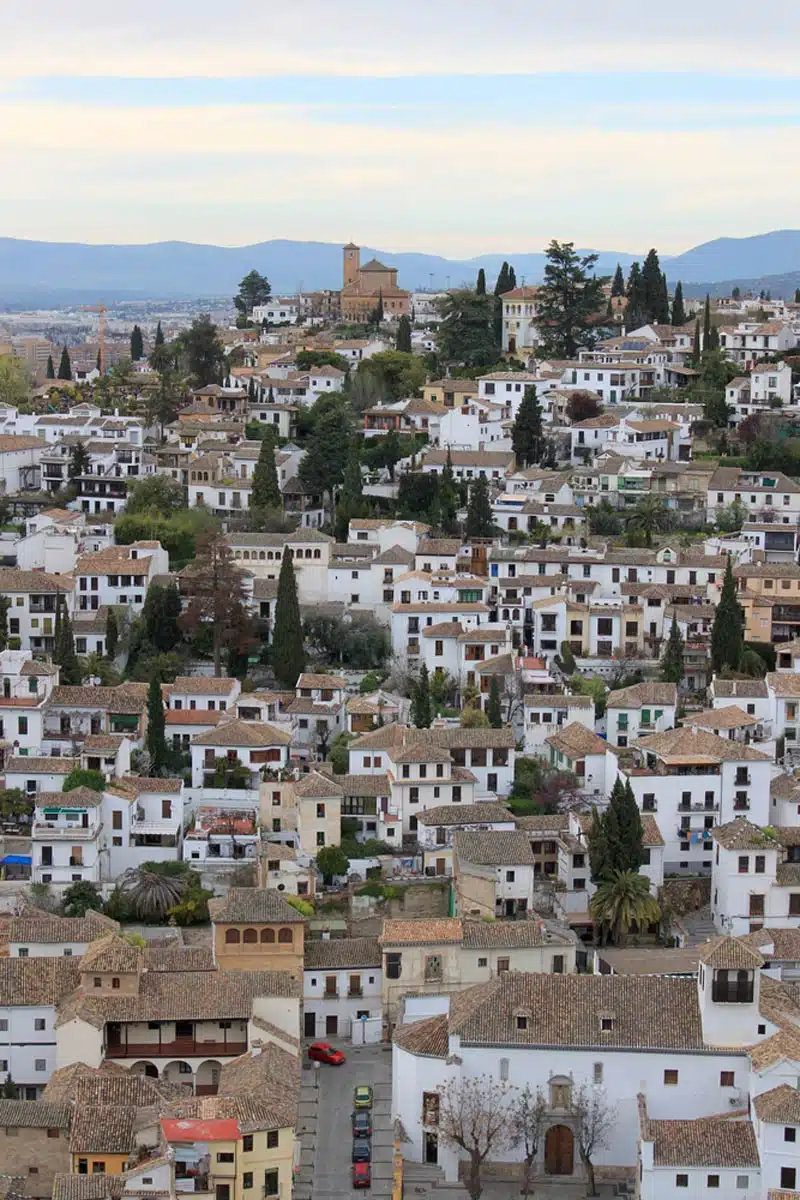 Looking for places to stay in Granada, Spain, with the best Flamenco you'll find in the charming Andalusian city? You'll want to stay in the quaint district of Sacromonte.

The caves (or Zambras) provide a spectacular – and somewhat magical – stage for Flamenco. The mesmerising blend of Gypsy and Spanish traditions is only heightened by the historical caverns and delicious cuisine found in Sacromonte.
Sacromonte Highlights
Cuevas Los Tarantos
A beautiful setting in a historic cave, Cuevas Los Tarantos is the perfect location for watching a Flamenco show. Sample local cuisine and enjoy a traditional Flamenco show in the most famous place in town.
Mirador Sacromonte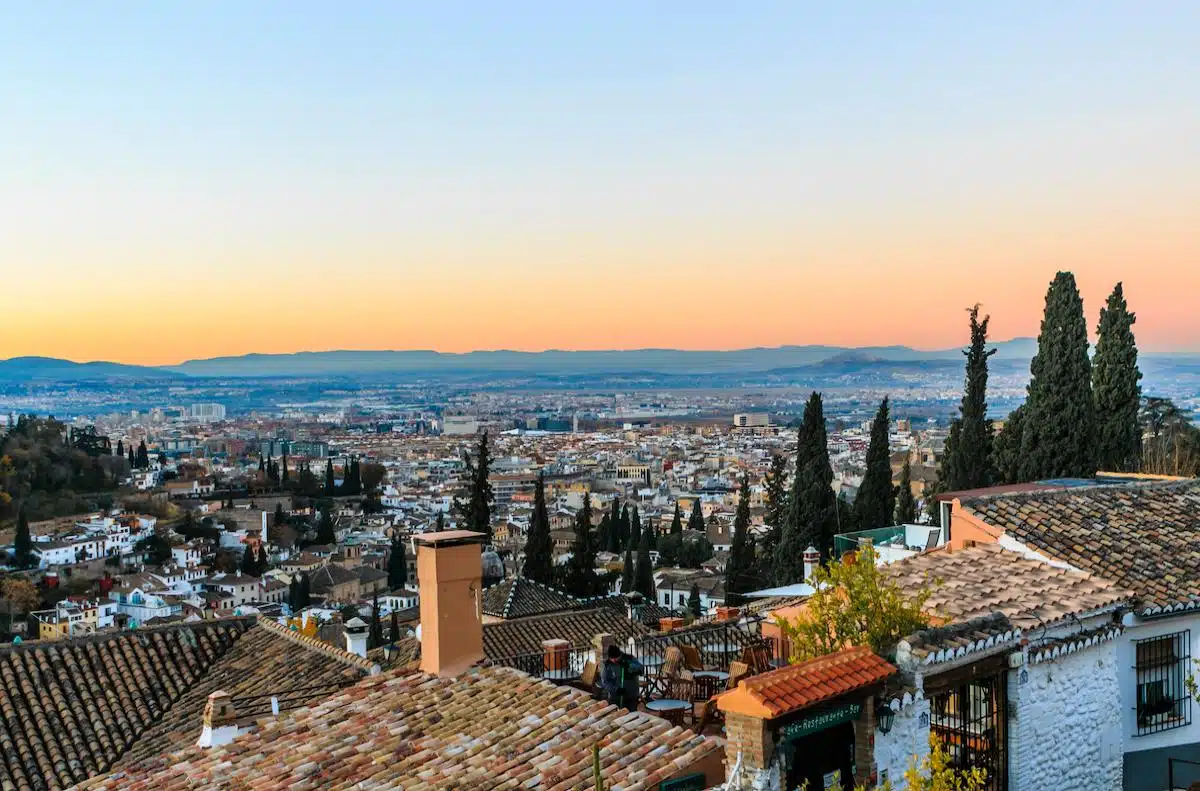 Don't skip out on visiting Mirador Sacromonte. Look out at the city and Alhambra from another beautiful angle at a lesser-travelled viewpoint in Granada.
Sacromonte Caves Museum
I promise, the Sacromonte Caves Museum isn't as dull as it may sound. It's actually pretty fascinating to discover the unique history of the Sacromonte caves and see artefacts used by the people living there in the 1400s.
Suggested Charming Hotels in Sacromonte
Alhambra en el Sacromonte
Outstanding views of Alhambra and a central location that's within walking distance of many of the city's most famous landmarks make Alhambra en el Sacromonte a top choice for the best place to stay in Granada.
The rooms are pretty tired and dated, but super clean nonetheless. And, for a bargain price, how could you argue?
Cueva el Duende
Looking for a place to stay in Granada near Alhambra? Head to Cueva el Duende, and you'll be within a short walk of the iconic Moorish palace. You'll also get the chance to stay the night in one of the fabled caves that make Sacromonte a place like no other.
Casa Bombo
Casa Bombo is situated on the edge of Albacain near Sacromonte. The rooms are spacious and uniquely decorated with geometric chandeliers and antique furniture.

Opt for a room with a view, as this boutique hotel is a budget-friendly choice with priceless Alhambra vistas.
El Centro: Granada Spain Where To Stay for Sightseeing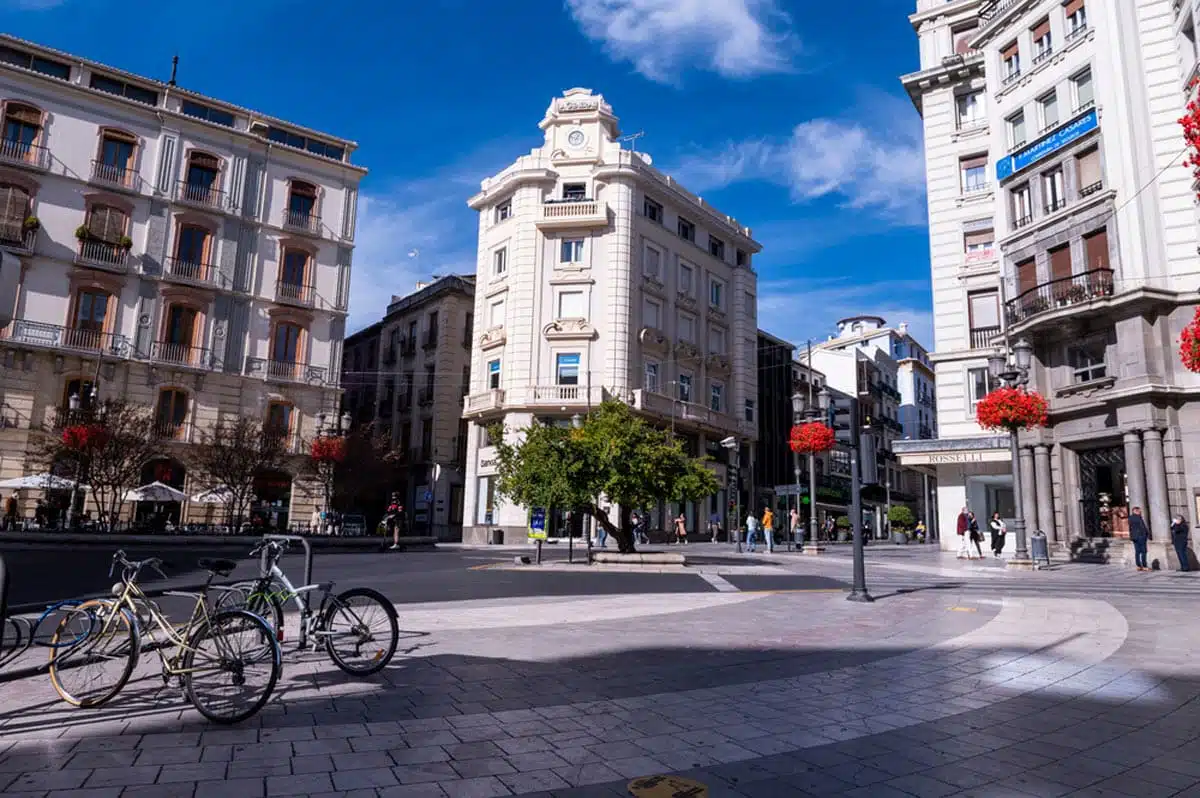 Located about 20 minutes away (on foot) from the world-famous Alhambra, the vibrant city-centre offers the most activities, dining and museums you'll find in Granada, Spain.

Moorish architecture, bustling streets and Gothic cathedrals are a few of the beautiful sights here. Booking yet?

El Centro is my choice when looking for where to stay in Granada for the best overall experience (especially if it's your first visit). So what should you see and where should you stay? I got you covered.
El Centro Highlights
Granada Cathedral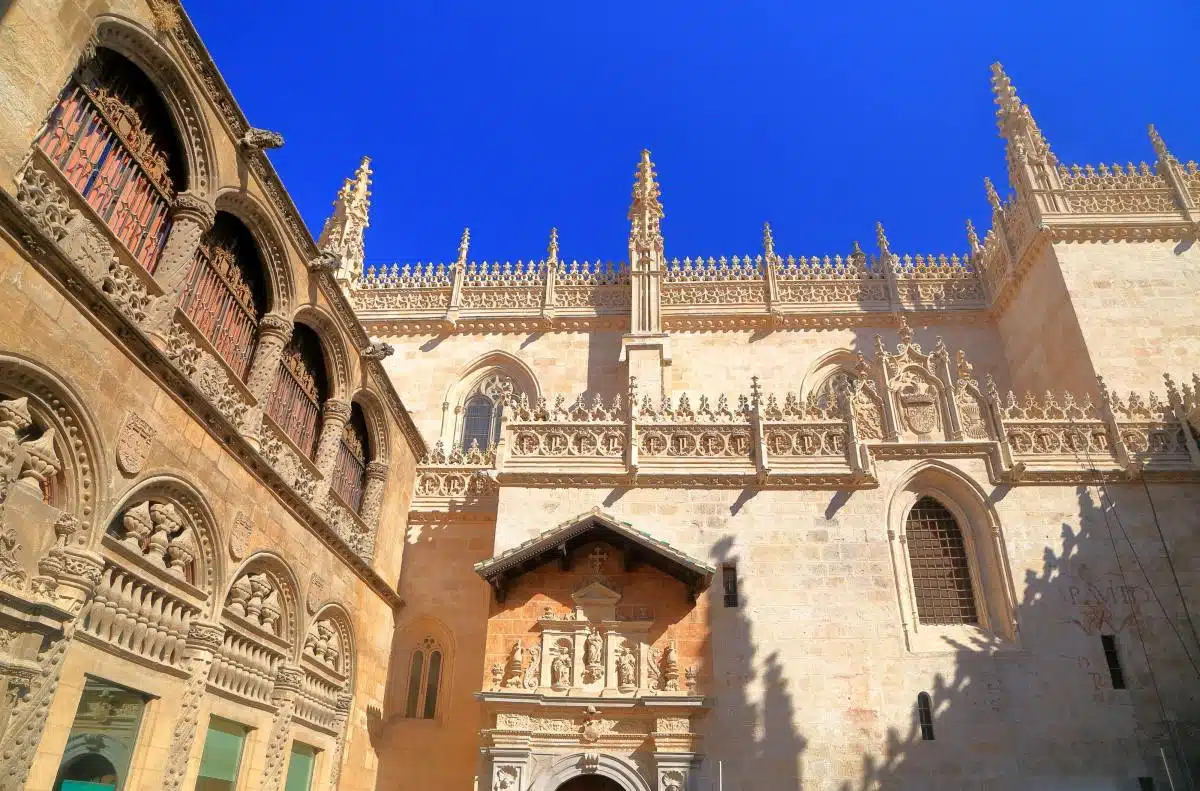 Granada Cathedral took nearly 200 years to finish, and the five naives and bell tower framing the cross in the centre are the signature of this stunning Gothic cathedral.
Basílica de San Juan de Dios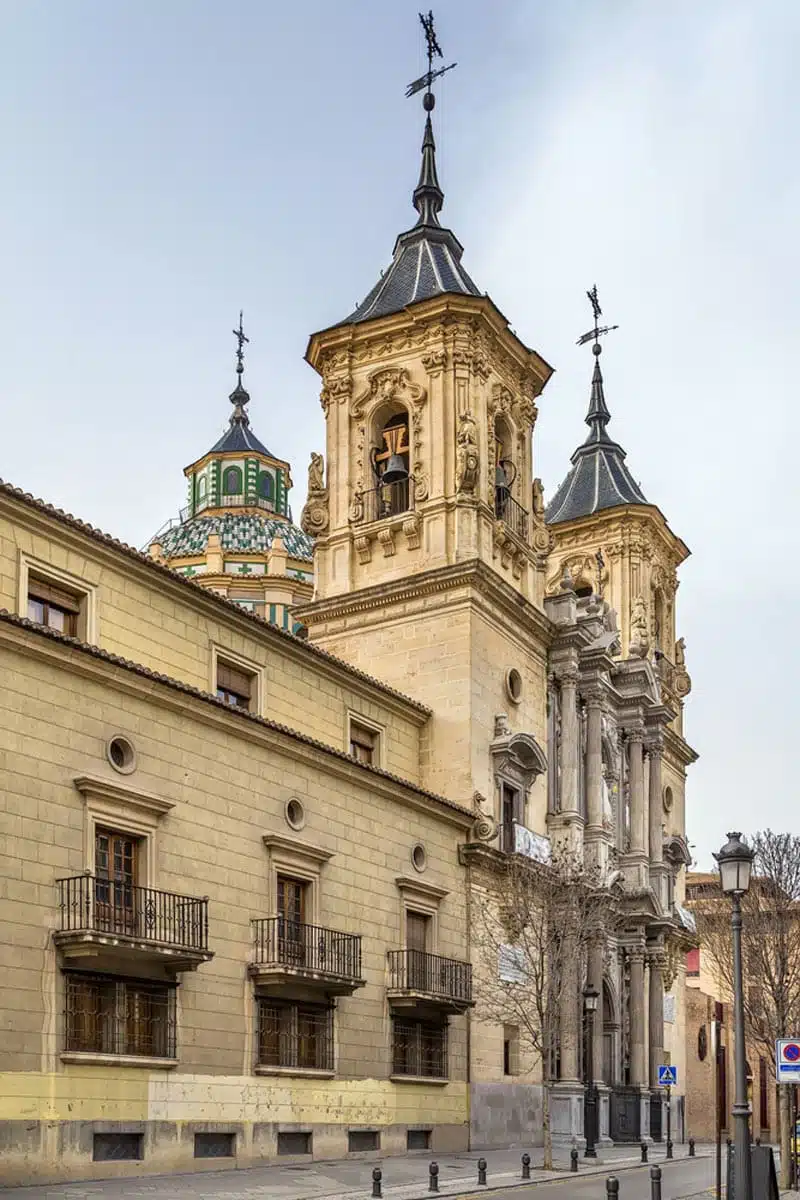 Less famous but absolutely mesmerising is the 18th-century Basílica de San Juan de Dios. Step inside the Baroque cathedral and pay attention to every brightly coloured mural and intricate detail etched in gold.
Plaza Bib Rambla
While Granada may not have a city square as grand as Plaza Mayor de Madrid, it has a perfectly charming one in Plaza Bib Rambla. Be sure to visit.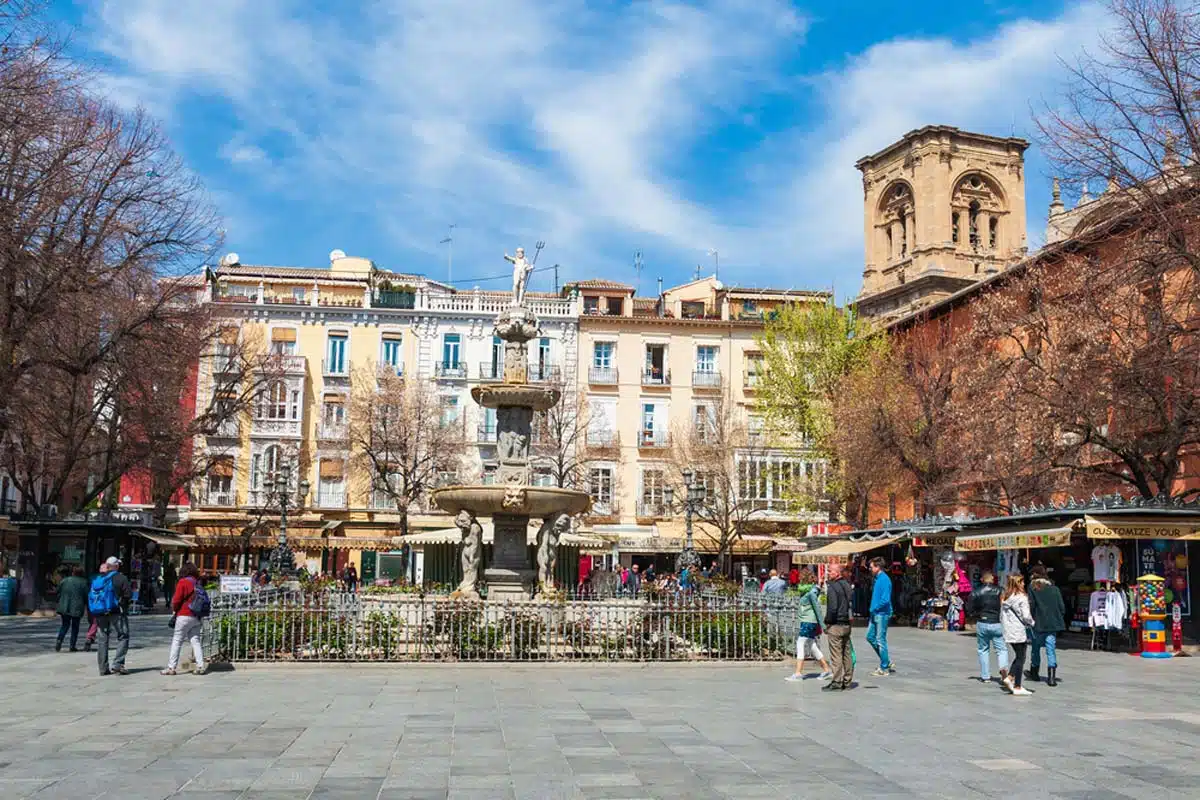 Suggested Luxury Hotels in El Centro
Áurea Catedral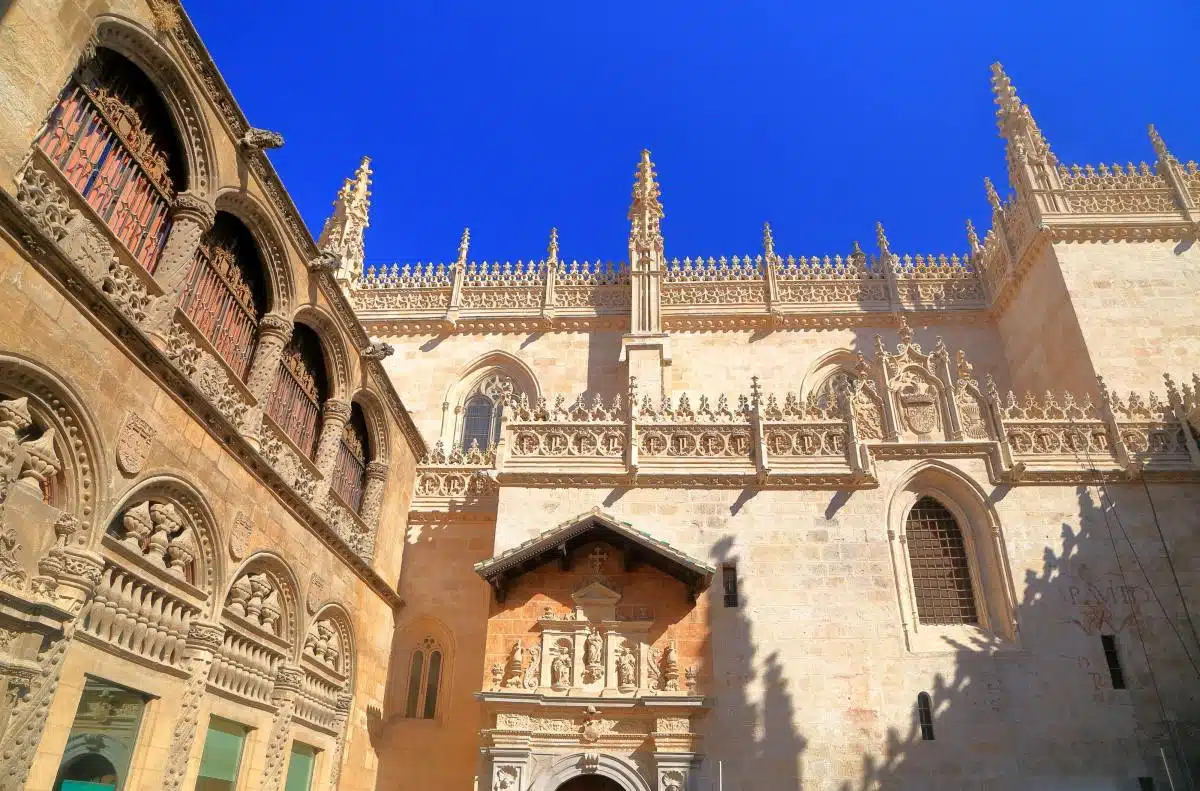 You can't get much closer to the main sights in El Centro than Áurea Catedral. But the soundproof rooms in this four-star hotel will allow you to rest up between sightseeing and tapas crawls.
Hotel Alhambra Palace
The five-star Hotel Alhambra Palace is steps away from Alhambra near El Centro. Rooms are opulent and romantic. Ask for one with a view of the storied Moorish palace.
Hotel Granada Five Senses Rooms & Suites
Enjoy the rooftop pool at this fabulous boutique hotel in El Centro. Hotel Granada Five Senses is stylishly decorated and features fantastic city views.
Realejo-San Matias: Where to Stay in Granada for Foodies
Admittedly, I've considered flying to Spain solely for the tapas. Walking the streets of Barcelona, Seville, or Malaga, it's not hard to find hunger-inducing aromas slowly making their way out of unassuming bars and cafes on just about every block.

But make no mistake, Granada is next-level when it comes to Tapas. From fork-tender pork cheeks to the iconic Jamon Serrano, many restaurants and bars in the Andalusian city have tapas down to a science.

So where to stay Granada-style for the best tapas? Realejo-San Matias is my favourite. The historic Jewish quarter has a rich history of different cultures over the years, and the food is next-level.
Realejo San-Matias Highlights
La Pajuana
My go-to recommendation for tapas in Granada is La Pajuana. This crowd-pleaser is well-loved for its affordable wine and sangria, while the small plates that seem to just keep coming (and I'm ok with that).
Iglesia de Santo Domingo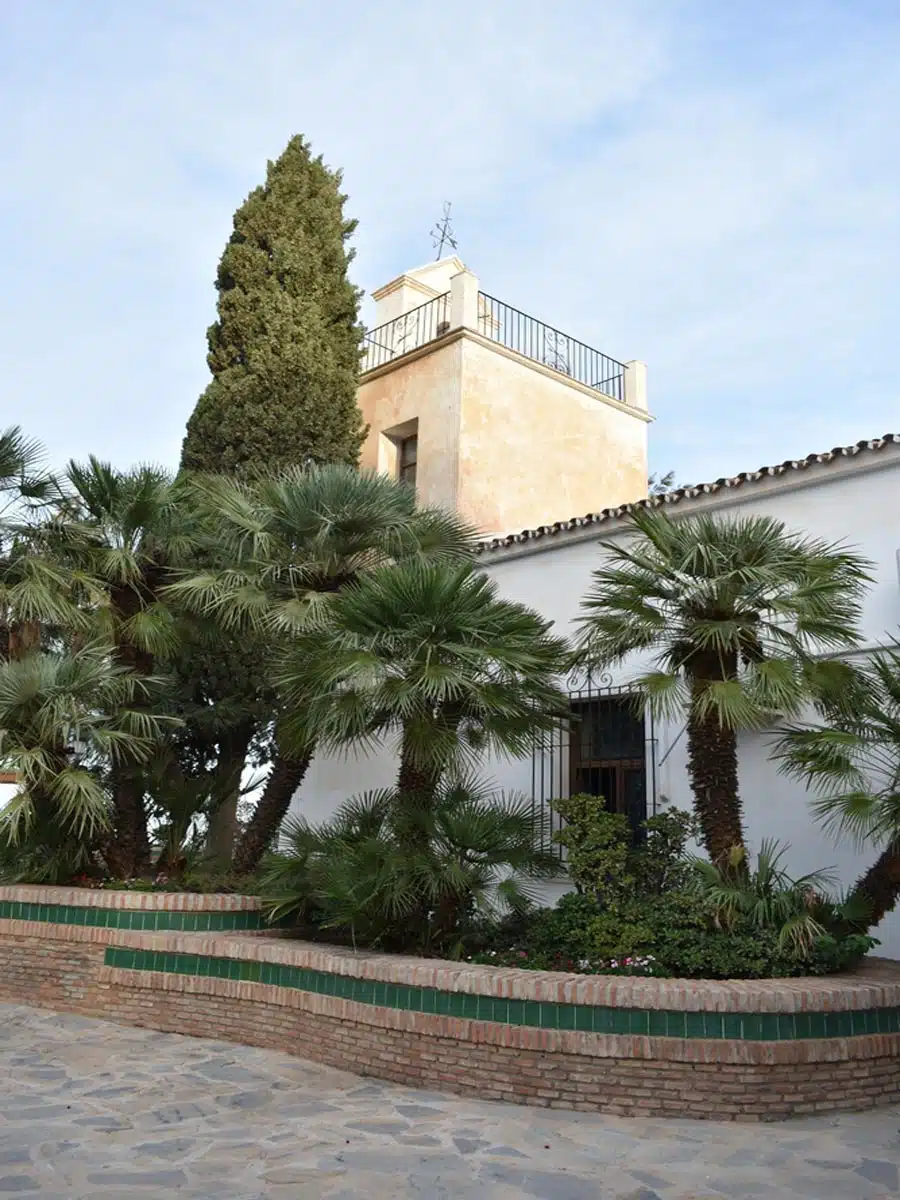 Many people have one church in mind when visiting Granada (El Cathedral), and I don't fault them for that. But if you want a welcome surprise check out this 16th-century cathedral with Gothic and Baroque details inside and out. Iglesia de Santo Domingo is a stunner.
Suggested Hotels Near Tapas Joints in Real San-Matias
Sercotel Palacio de los Gamboa
Take a short walk to the incredible Navas Street with more tapas restaurants than you can manage in one trip from the charming four-star hotel, Sercotel Palacio de los Gamboa. Rooms are spacious and no-frills, yet still very modern.
Meliá Granada
Nestled between Realejo San-Matias and El Centro, the charming Meliá Granada is a luxury hotel known for its luxury accommodations, excellent location and popular on-site restaurant. If you're looking for complete opulence, this is where to stay.
Gar Anat Hotel Boutique
Gar Anat Hotel Boutique is an excellent choice for an affordable stay in a stylish boutique hotel near the best tapas in Granada. Rooms are huge, with plenty of homely touches.
San Ildefonso: Best Place to Stay in Granada for a Quiet Holiday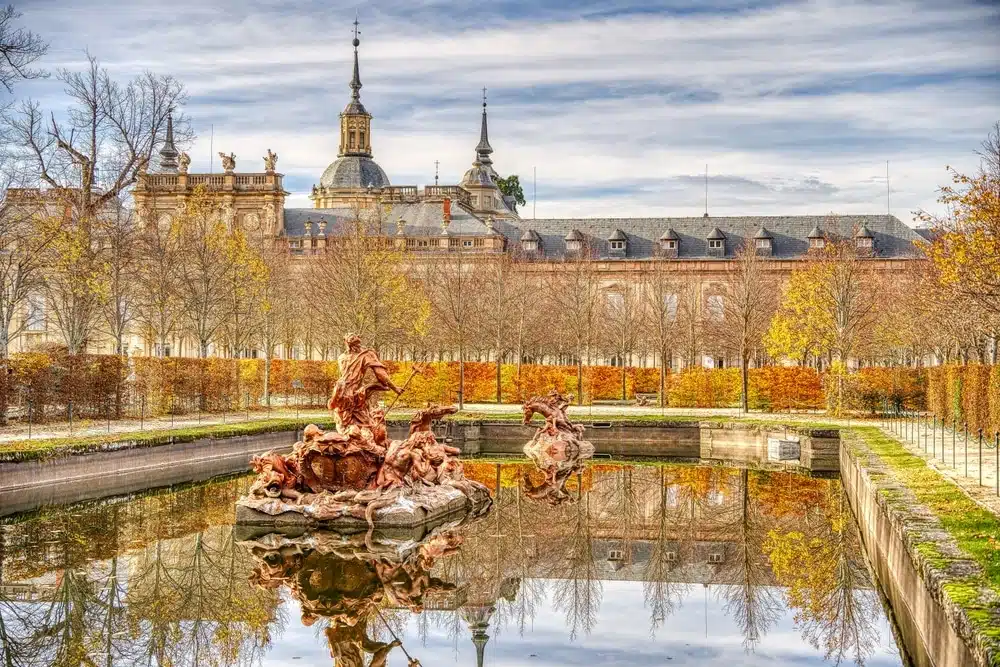 Located northwest of the main attractions in Granada, this lesser-explored neighbourhood has plenty of charm.
From the beautiful churches to the hidden gems found between residential neighbourhoods and boutique hotels, San Ildefonso offers a unique experience when staying in Granada.
San Ildefonso Highlights
Jardines del Triunfo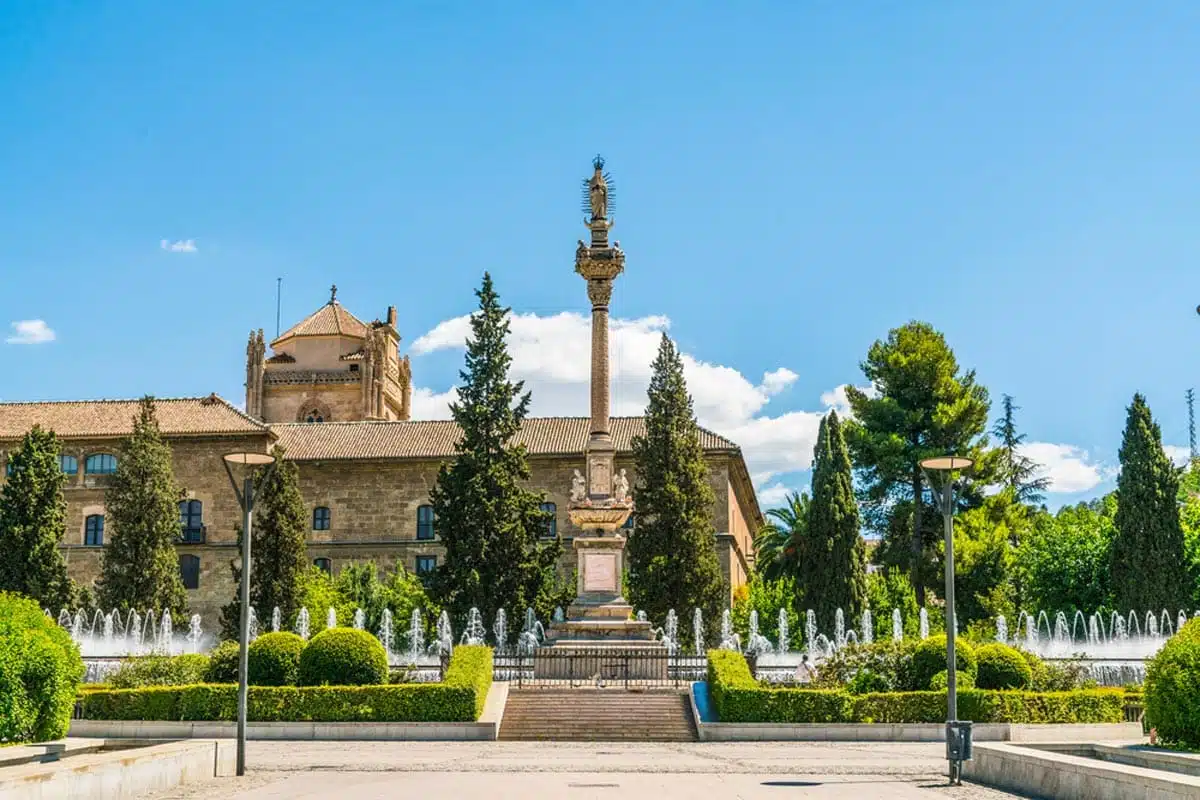 Jardines del Triunfo is a small park and a popular place for locals to take a walk. It's remained an important historical site over the years, and is now home to fountains, statues and manicured gardens.
Gate of Elvira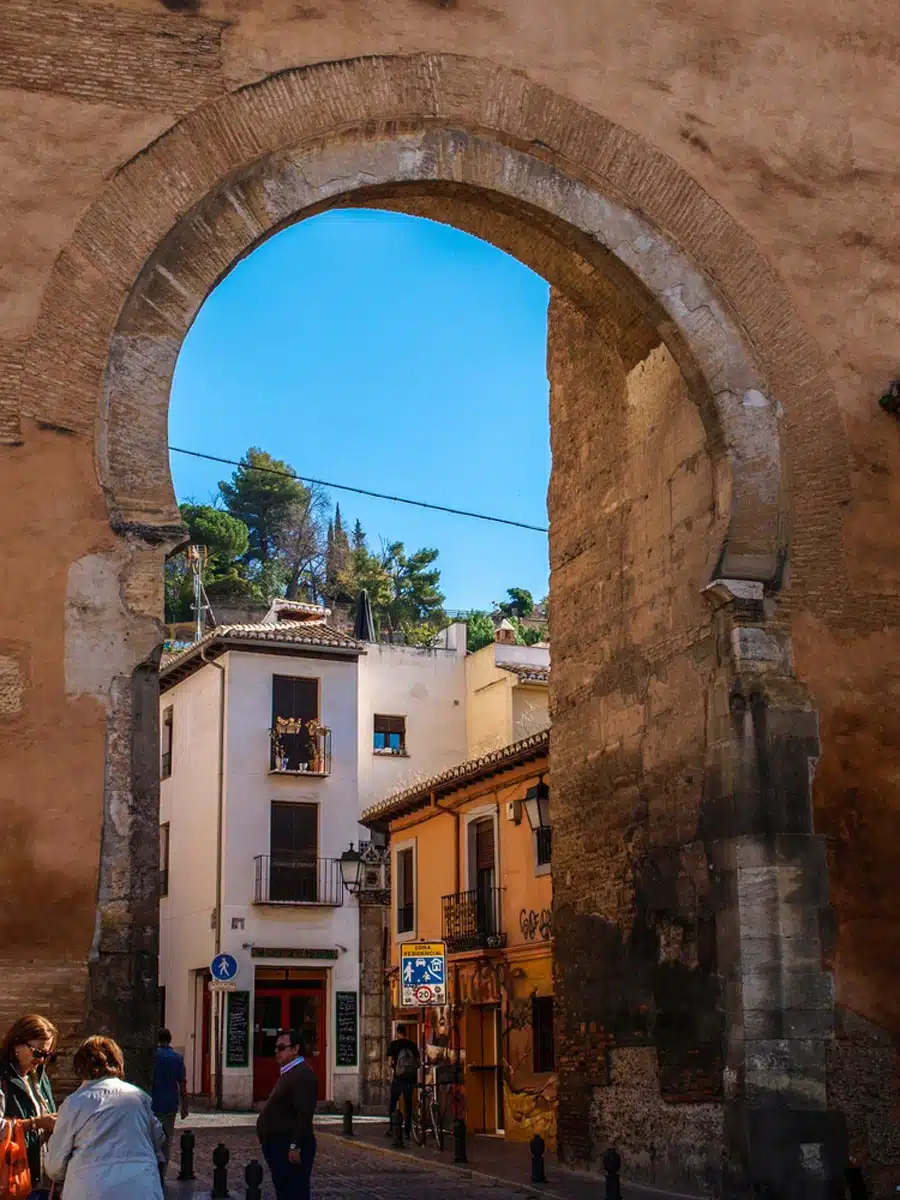 The Gate of Elvira, or Puerto de Elvira, is a small but important reminder of the city's ancient history. This wall's past can be traced back to the 11th Century but was updated in the 14th Century under the Nasrid Dynasty.
Suggested Boutique Hotels in San Ildefonso
Hotel Catalonia Granada
Catalonia Granada may not look opulent when walking up from the nearby AVE train, but this four-star property is stylish, sophisticated and elegant. Rooms are quiet, a spa and swimming pool are on-site and the restaurant offers a popular breakfast buffet.
Hotel Macià Cóndor
Hotel Macià Cóndor is an excellent option. Inner courtyard rooms are cosy and peaceful, with patio access and pretty views. If you want to be a short ride from the top attractions in Granada for an affordable price, this is a solid choice.
Abadía Hotel
The interior courtyard of the Abadía Hotel is perfectly charming, with tropical plants and fountains welcoming you off the nearby streets. Rooms are small but well-decorated with Moorish accents throughout.
Where to Stay in Granada: Frequently Asked Questions
Related Searches FAQs
Practical Tips to Consider Before Booking Your Granada Accommodation
Granada is a wonderful city with plenty to explore. Bring your walking shoes as you'll want to stroll through many of these neighbourhoods and get to know them first hand.
Plan your trip as far ahead as possible. Granada is quickly becoming one of the top travel destinations in Spain, and booking early ensures you get the best rates.
Where to Stay in Granada: Read Next