In need of some journey quotes to fuel your travel inspo? You've come to the right place.
The last few years have been nothing if not a journey. But now travel is well and truly back on the cards, it's time to get inspired for our next trips.
Travel isn't always easy, staying home isn't always easy, but with a few sage words in your back pocket, the road gets that little bit smoother.
That's where these quotes about a journey come in clutch.
PS. In need of more travel inspiration? Check out this bumper collection of 100+ inspirational travel quotes or 55 hilariously funny travel memes!
The Best Journey Quotes: At a Glance
Travel for Travel's Sake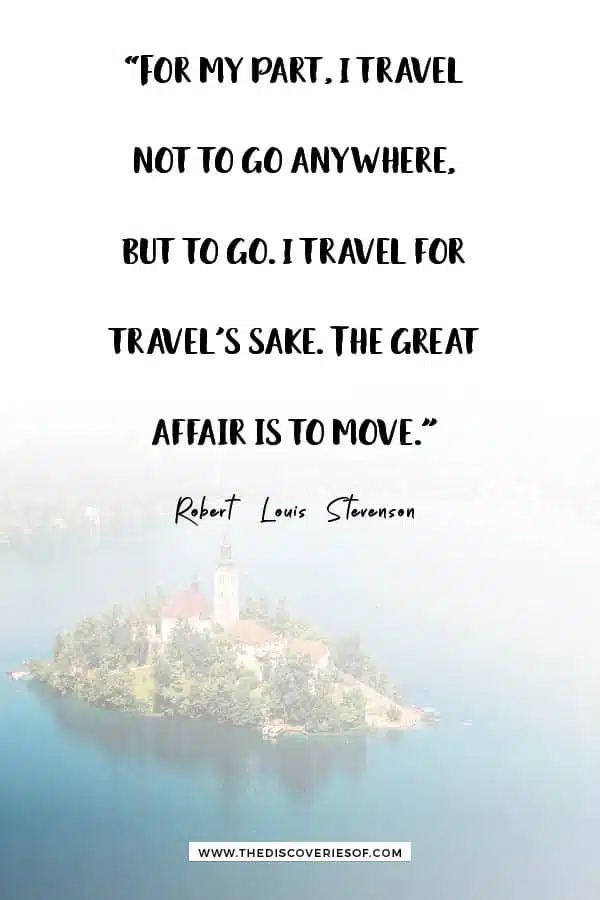 "For my part, I travel not to go anywhere, but to go. I travel for travel's sake. The great affair is to move." – Robert Louis Stevenson
Travel is not really about the destination. It's about the experience – and that includes the journey itself.
Our Footprints
"Our footprints always follow us on days when it's been snowing. They always show us where we've been, but never where we're going." – Winnie the Pooh
What a wise old bear.
The Travel Bug
"Once the travel bug bites, there is no known antidote, and I know that I shall be happily infected until the end of my life." ― Michael Palin.
I, too, have been bitten.
Courage to Lose Sight of the Shore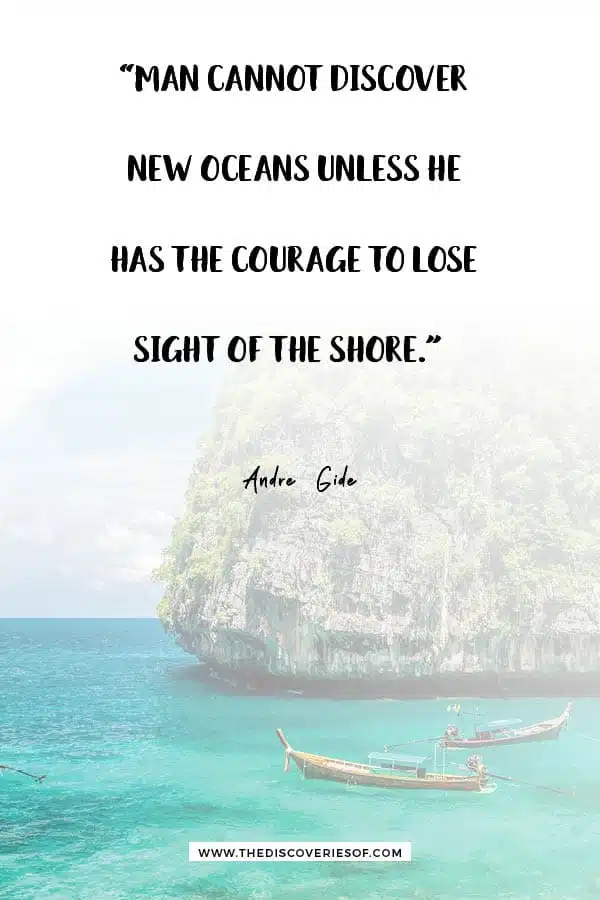 "Man cannot discover new oceans unless he has the courage to lose sight of the shore." – Andre Gide
Don't be afraid to leave your comfort zone – that's really where the adventure begins.
Roots Not Feet
"If we were meant to stay in one place, we'd have roots instead of feet." – Anonymous
My feet would very much like to be wandering around a new city RN.
Enjoy the Journey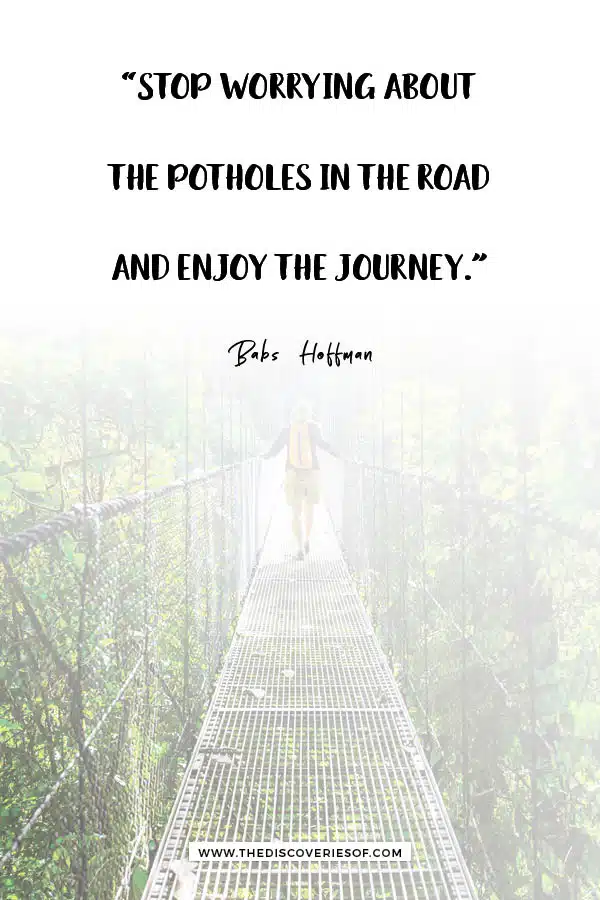 "Stop worrying about the potholes in the road and enjoy the journey." – Babs Hoffman
Journeys are not always smooth, or predictable. But you'll only be able to enjoy them when you embrace them in their entirety.
The Desire to Become Lost
"Part of the urge to explore is a desire to become lost." ― Tracy Johnston
Never be afraid to explore without a map, that's often how you find the coolest spots.
When a Man is a Traveller
"When a man is a traveller, the world is his house and the sky is his roof, where he hangs his hat is his home, and all the people are his family." – Drew Bundini Brown
'Nuff said.
Real Voyage of Discovery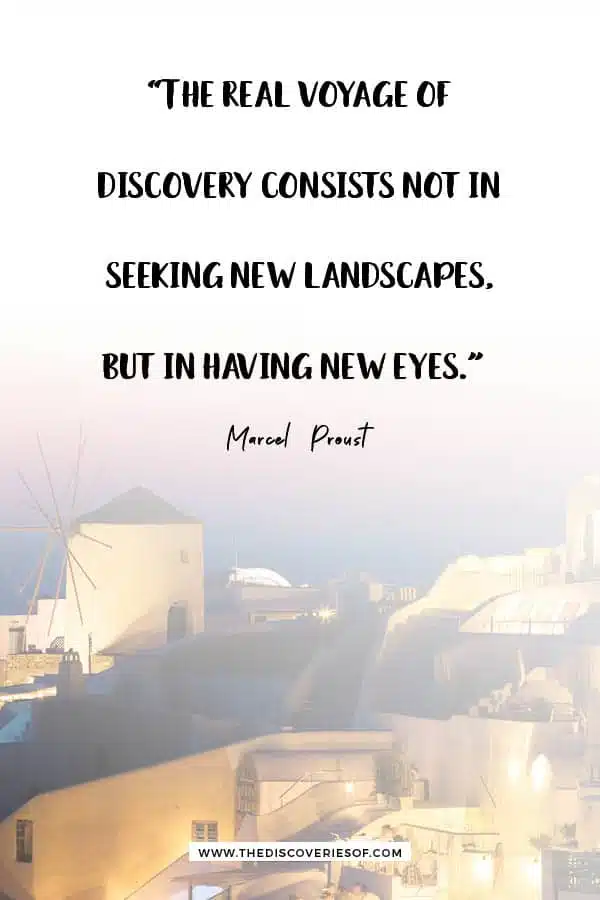 "The real voyage of discovery consists not in seeking new landscapes, but in having new eyes." – Marcel Proust
There's no point in journeying to new places if you're going to take the same jaded attitude.
Travel Changes You
"Travel changes you. As you move through this life and this world you change things slightly, you leave marks behind, however small. And in return, life – and travel – leaves marks on you. Most of the time, those marks – on your body or on your heart – are beautiful. Often, though, they hurt." – Anthony Bourdain
We're not going to discuss me getting bitten by a bat on a recent US trip. No we are not.
Most People Just Exist
"To live is the rarest thing in the world. Most people just exist." – Oscar Wilde
Go on… book that trip you've been dreaming of. I dare you.
Trips Take People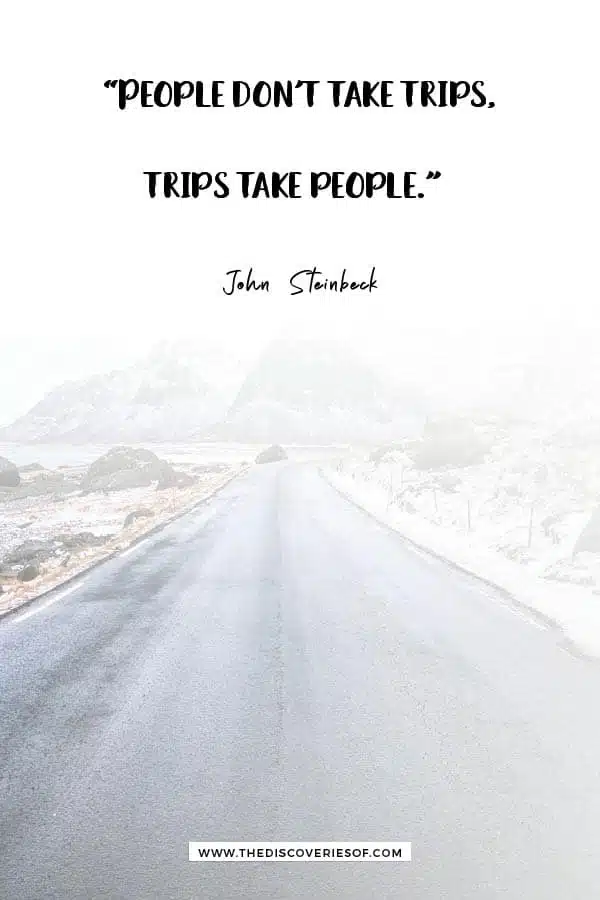 "People don't take trips, trips take people." – John Steinbeck
Total justification for your next big trip.
Let Your Memory be Your Travel Bag
"Own only what you can always carry with you: know languages, know countries, know people. Let your memory be your travel bag." – Alexander Solzhenitsyn
Forever wishing I paid more attention in French class at school. Je suis triste.
Find out Whether you Like People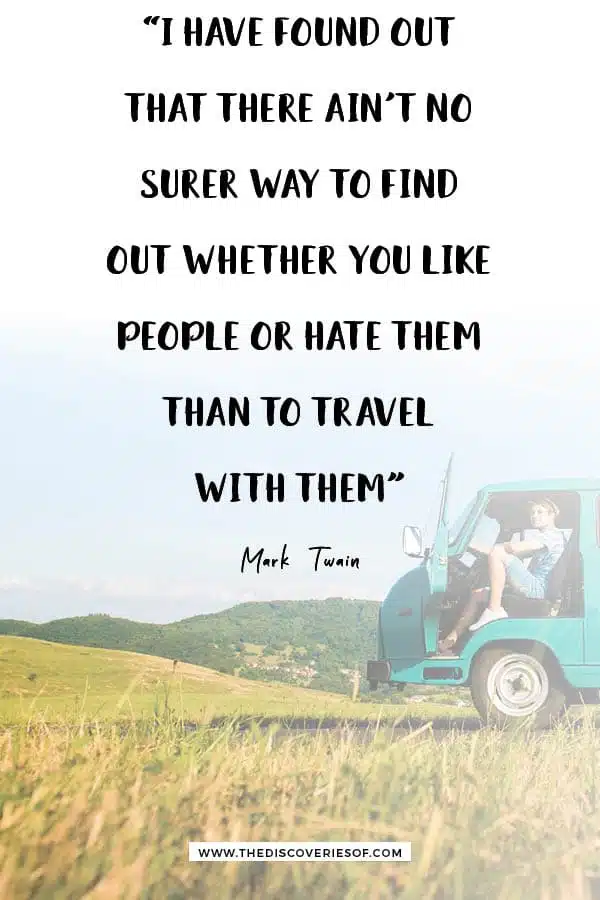 "I have found out that there ain't no surer way to find out whether you like people or hate them than to travel with them."― Mark Twain
Anyone who has ever travelled with another person will know that that is the straight up truth.
Quotes About Journeys For The Road
Everything I Will Be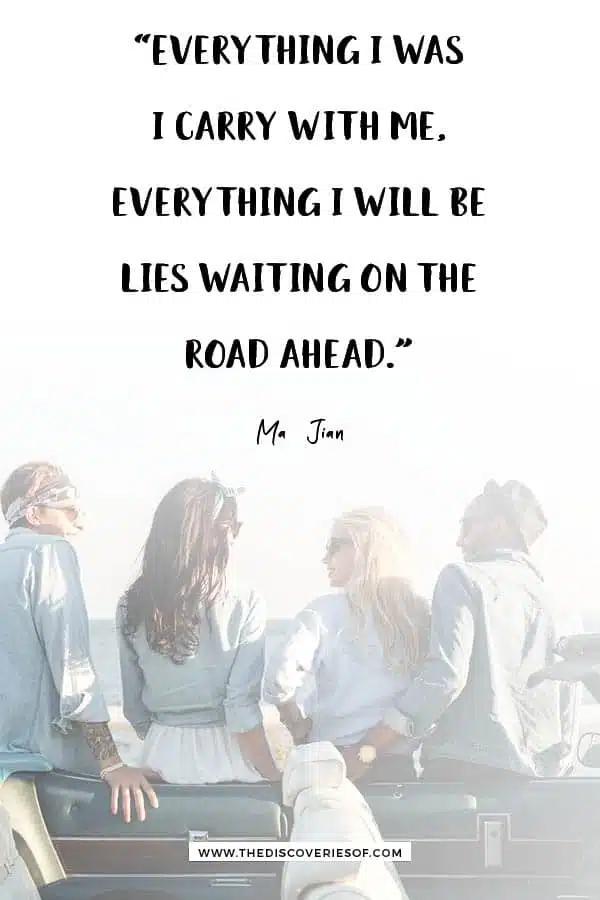 "Everything I was I carry with me, everything I will be lies waiting on the road ahead." ― Ma Jian, Red Dust: A Path Through China
It's not just the location and landscape that changes on your journey. You inevitably end up changing too.
Travel Makes You Richer
"Travel is the only thing you buy that makes you richer." — Unknown
An excuse to open up the Skyscanner app, if you ask me. It's an investment.
Adventure is Worthwhile
"Adventure is worthwhile." – Aesop
Short and sweet. I like it.
The Road is Life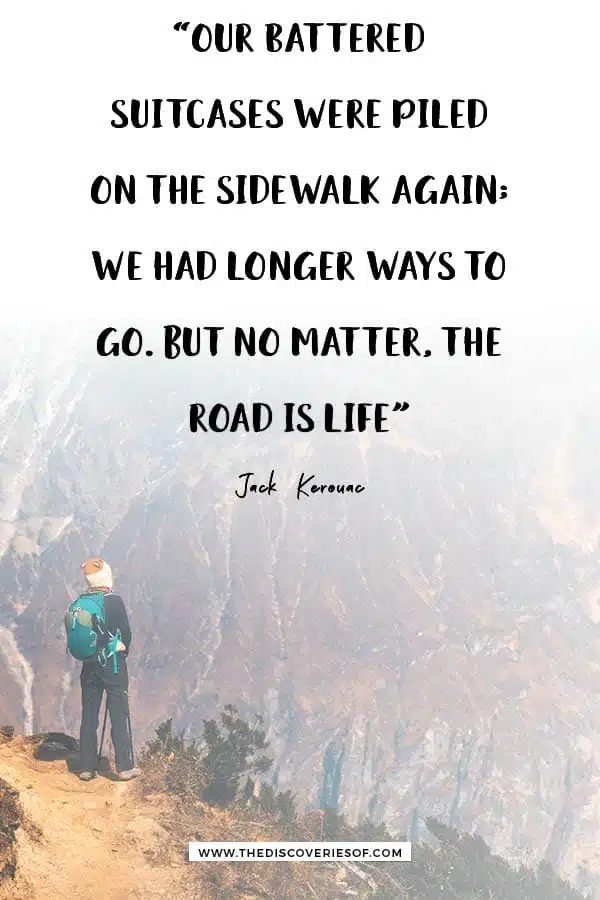 "Our battered suitcases were piled on the sidewalk again; we had longer ways to go. But no matter, the road is life" ― Jack Kerouac
You might not always make it to your destination the first time, or in the way you want to but that's the way of life on the road.
Own Little and See The World
"I would rather own a little and see the world, than own the world and see a little of it." – Alexander Sattler
Who needs a house when 5* hotels in Bali exist?
The Voyage Never Ends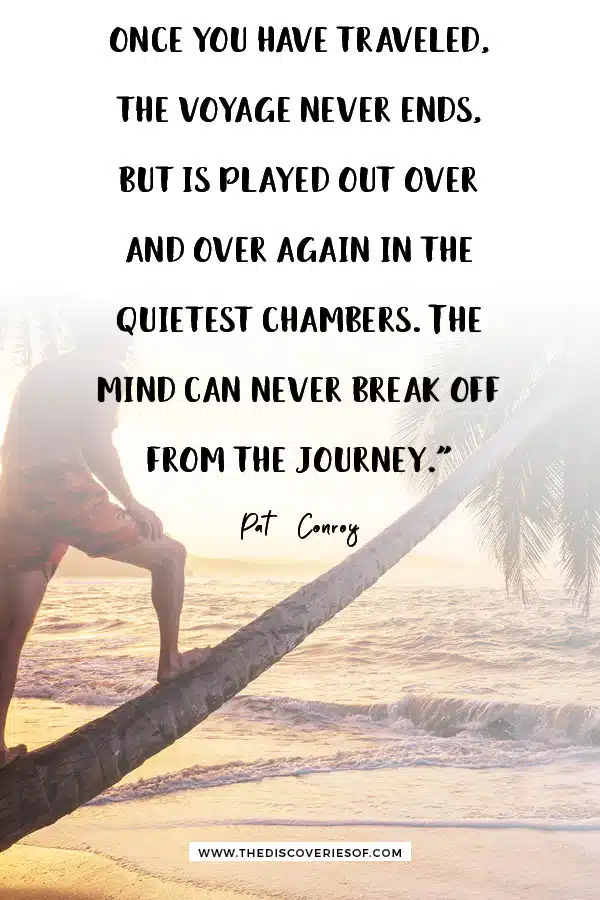 Once you have traveled, the voyage never ends, but is played out over and over again in the quietest chambers. The mind can never break off from the journey." ― Pat Conroy
The trip might end, but the memories, friendships and photos won't.
Time Flies
"Time flies. It's up to you to be the navigator." – Robert Orben
Come on, Captain – let's go on an adventure.
Beautiful Paths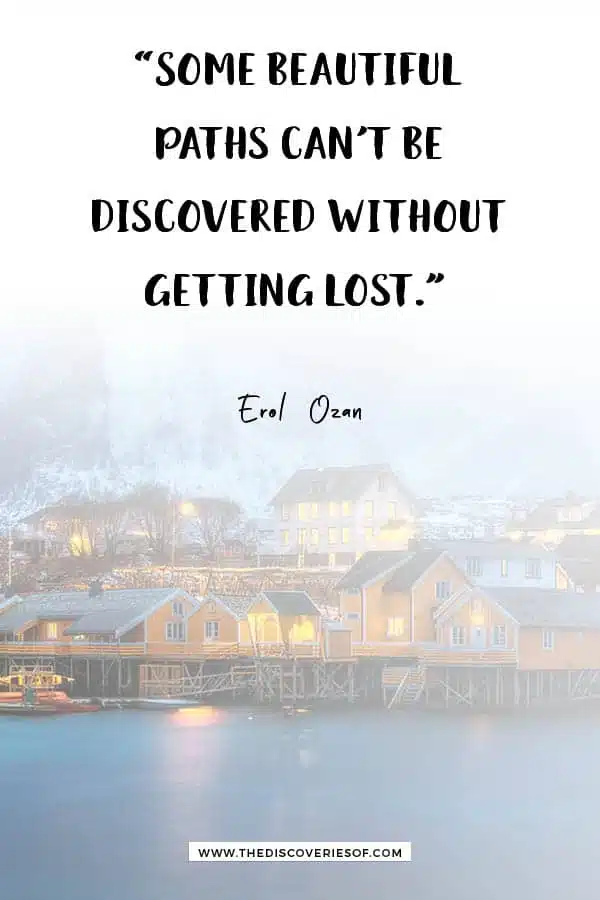 "Some beautiful paths can't be discovered without getting lost."― Erol Ozan
There's almost always a point where you get horribly lost or things go awfully wrong on your journey. Sometimes it's followed by something so brilliant, it balances it out. Sometimes it isn't and you just have to take it on the chin.
The Biggest Adventure You Can Take
"The biggest adventure you can take is to live the life of your dreams." – Oprah Winfrey
In the words of Oprah, YOU GET AN ADVENTURE… YOU GET AN ADVENTURE…
More Inspirational Journey Quotes
There's Nothing Else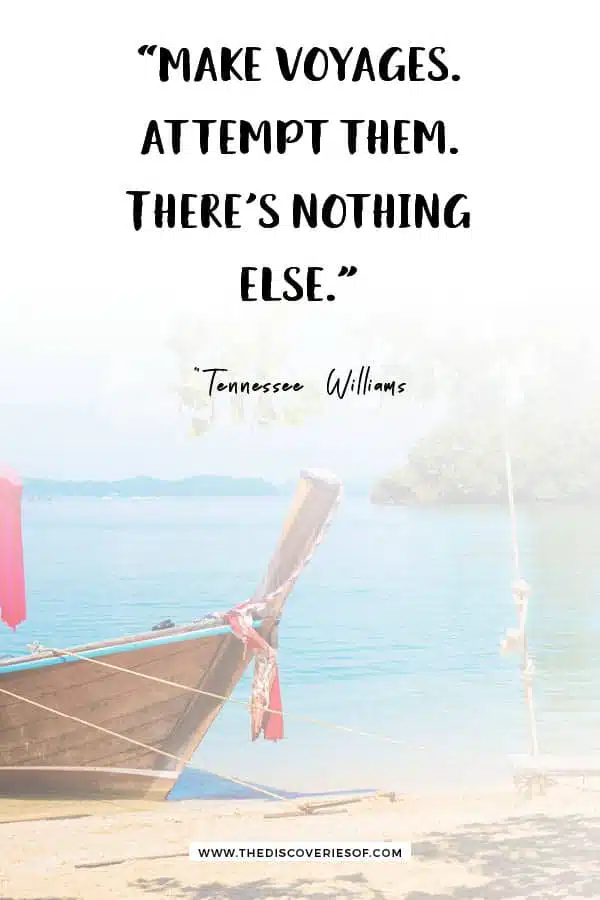 "Make voyages. Attempt them. There's nothing else." ― Tennessee Williams
Make, attempt – whichever way, you'll have a story to tell and an adventure to remember.
Into the Forest I Go
"And into the forest I go, to lose my mind, and find my soul" – John Muir
One of the greatest quotes of all time.
Why We Travel
"Why do you go away? So that you can come back. So that you can see the place you came from with new eyes and extra colors. And the people there see you differently, too. Coming back to where you started is not the same as never leaving." ― Terry Pratchett
The first night back in your own bed is always the sweetest, IMHO.
Travel is the Great Leveler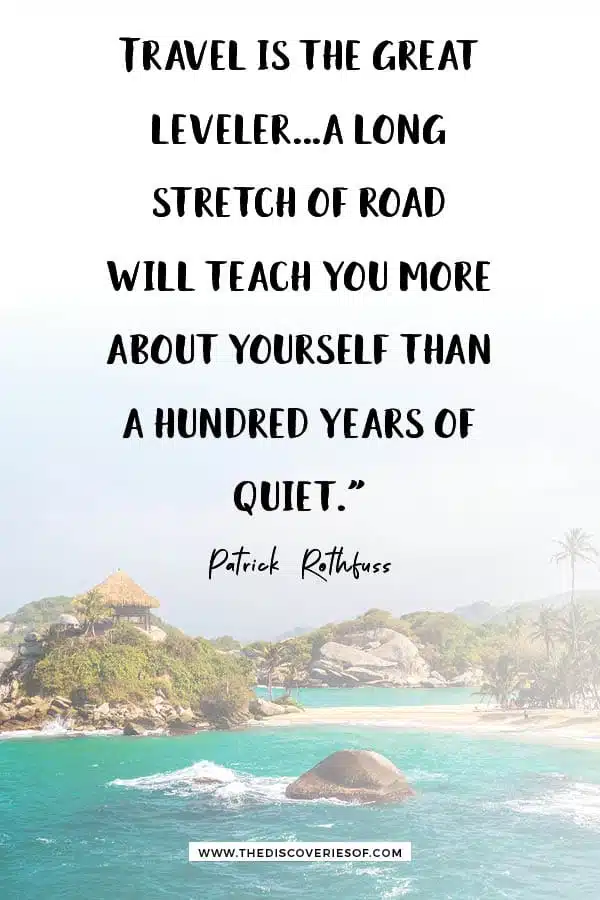 If you want to know the truth of who you are, walk until not a person knows your name. Travel is the great leveler, the great teacher, bitter as medicine, crueler than mirror-glass. A long stretch of road will teach you more about yourself than a hundred years of quiet." ― Patrick Rothfuss
A Secret Gate
"Still round the corner there may wait. A new road or a secret gate. And though I oft have passed them by. A day will come at last when I. Shall take the hidden paths that run. West of the Moon, East of the Sun." – J.R.R. Tolkien
Who are we to argue with Mr Tolkien?
Perpetual Journey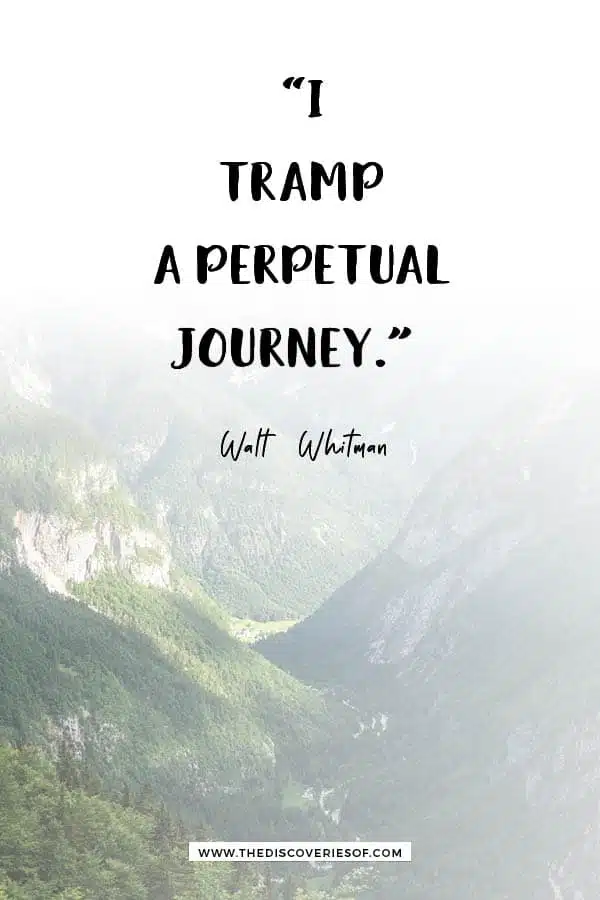 "I tramp a perpetual journey." ― Walt Whitman, Song of Myself
The journey of life goes on. Make it exciting with a trip or two.
Mishaps and Memories you Create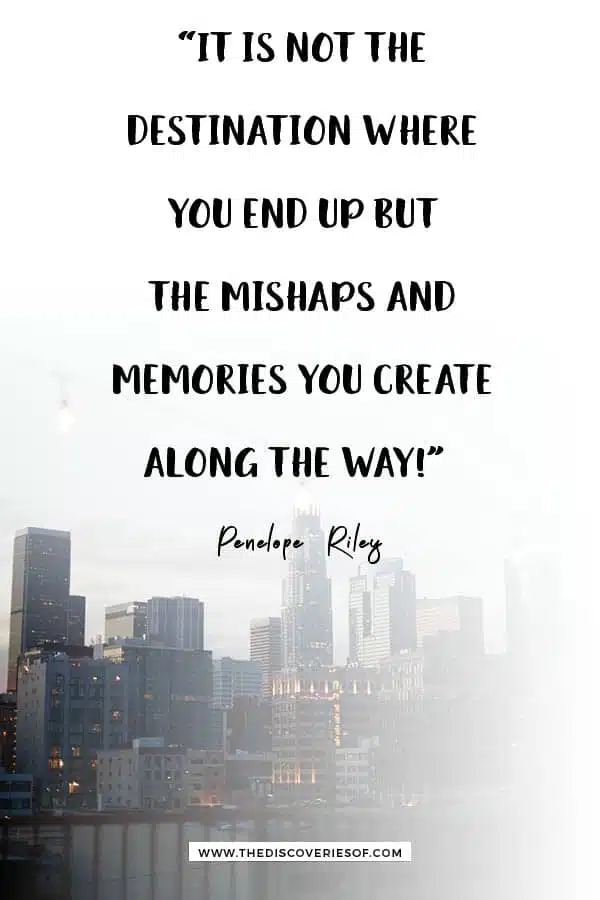 "It is not the destination where you end up but the mishaps and memories you create along the way!" ― Penelope Riley
Sometimes that's true. Sometimes, the mishaps and the mayhaps are a right pain in the arse and the destination saves the day.
Step One
"A journey of a thousand miles begins with a single step." ― Lao Tzu
Be brave – take the first step and the rest will follow.
Journey not the Arrival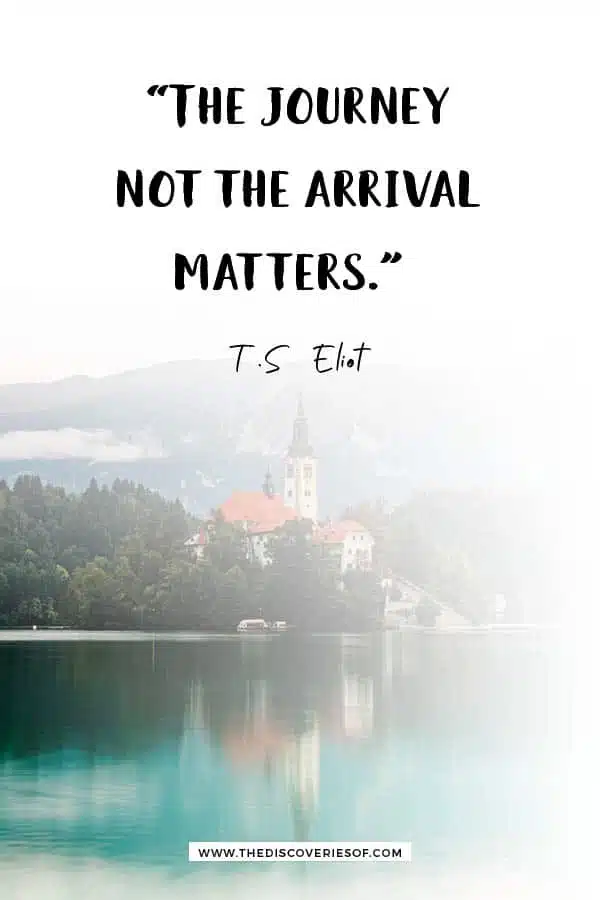 "The journey not the arrival matters." ― T.S. Eliot
Meet Yourself
"Travel far enough, you meet yourself." — David Mitchell
Do you ever really know yourself until you've travelled?
Serendipity was my Tour Guide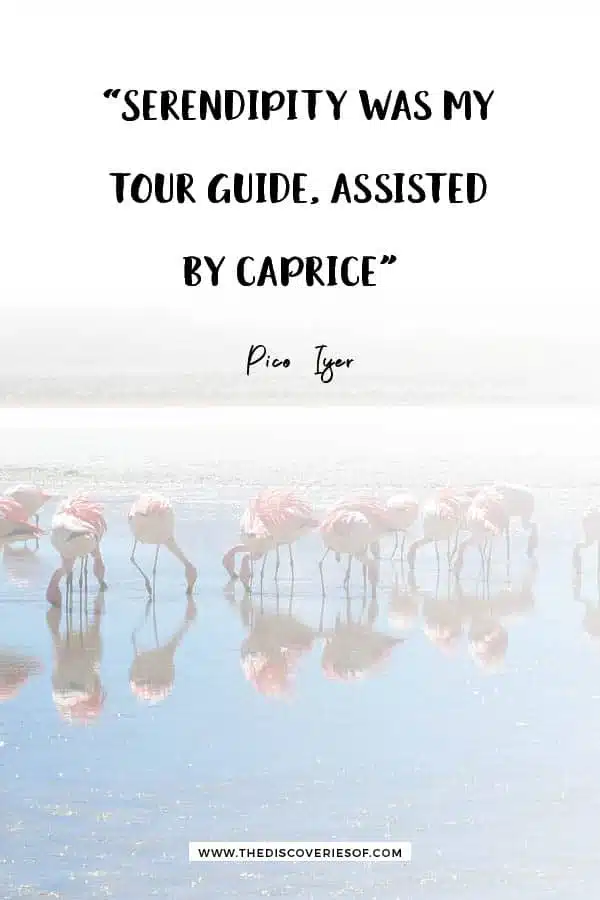 "Serendipity was my tour guide, assisted by caprice" ― Pico Iyer
No matter how much you plan your journey. Something will always interfere to railroad your plans and blow them into infinity. Roll with it.
Travel Turns You Into a Storyteller
"Travelling – it leaves you speechless, then turns you into a storyteller." — Ibn Battuta
Book those flights – you'll have a great story to tell afterwards.
The World is a Book
"The world is a book, and those who do not travel read only one page." — Saint Augustine
Finish. The. Book.
What a Ride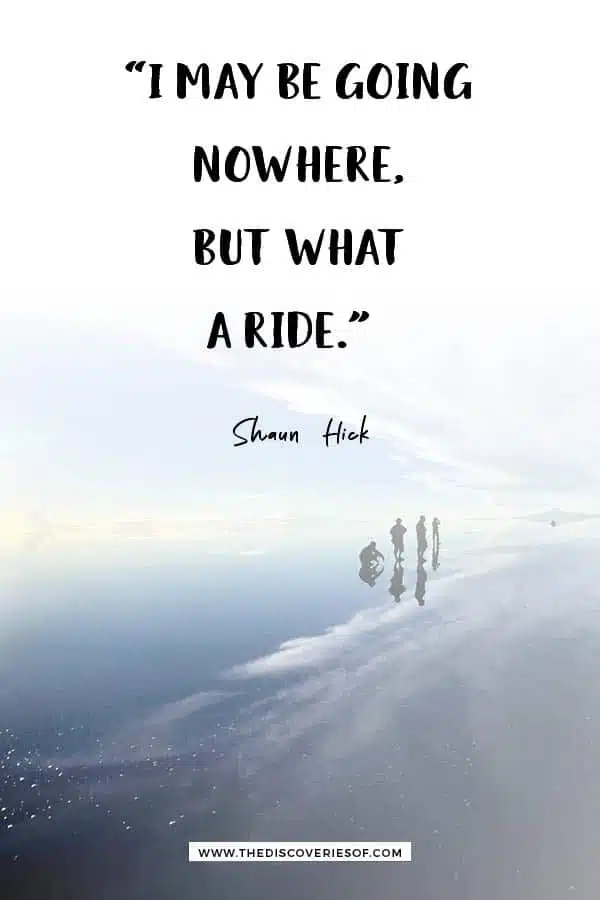 "I may be going nowhere, but what a ride." ― Shaun Hick
You might be a travel bum, but you're a bum with a story to tell at the end of it.
Live a Life You're Proud Of
"I hope you see things that startle you. I hope you feel things you never felt before. I hope you meet people with a different point of view. I hope you live a life you're proud of. If you find that you're not, I hope you have the strength to start all over again." – Eric Roth
One of my favourite things about travelling is meeting people from all over the world, immersing myself in the richness of other cultures.
The Road Embraced me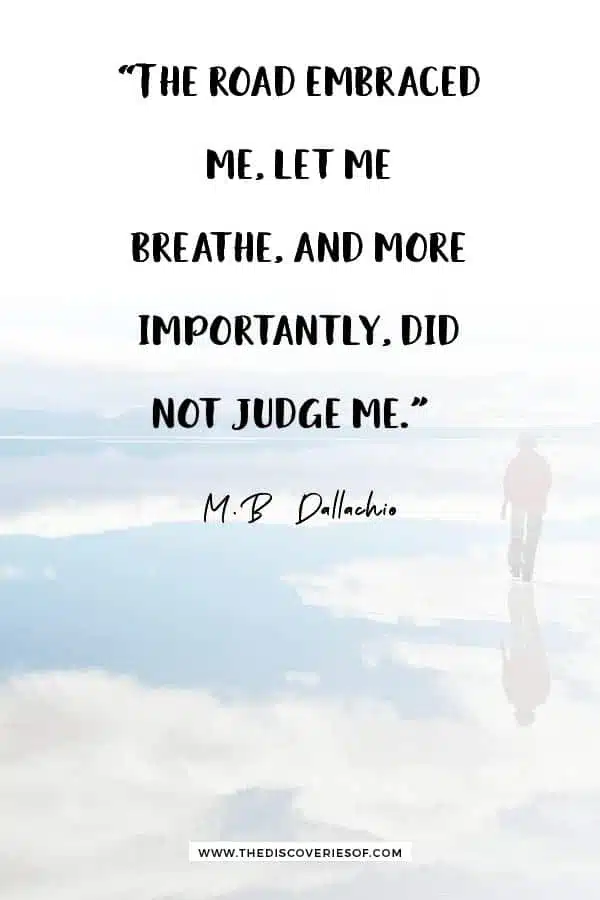 "The road embraced me, let me breathe, and more importantly, did not judge me." ― M.B. Dallocchio.
Escape your everyday surroundings and hit the road. It will love you for it.
The Whole World Before you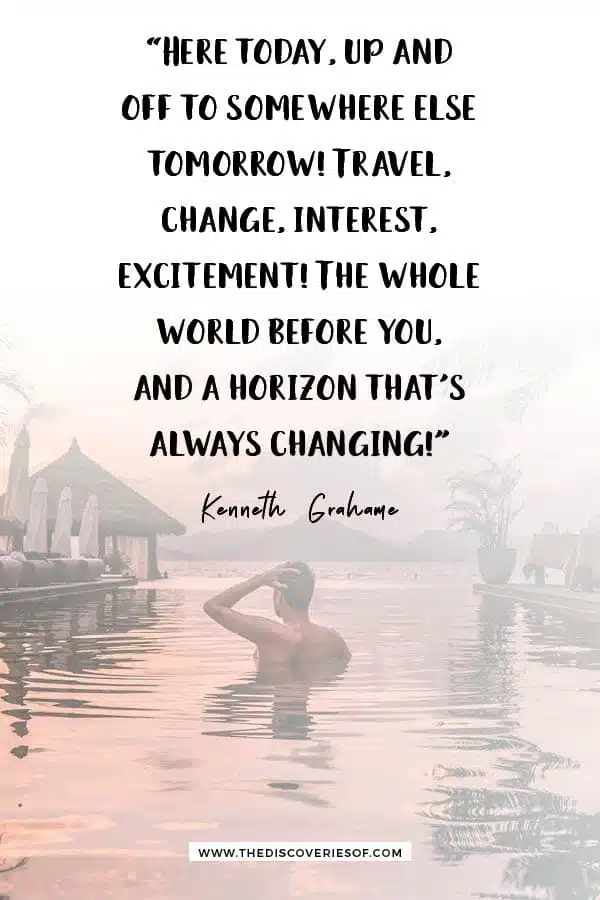 "Here today, up and off to somewhere else tomorrow! Travel, change, interest, excitement! The whole world before you, and a horizon that's always changing!" ― Kenneth Grahame
We can always do with being a little more "Toad of Toad Hall" and a little less beige. Just maybe without the constant accidents.
Routine Disruption
"I travel a lot; I hate having my life disrupted by routine." ― Caskie Stinnett
Same, Caskie, same.
More of the Best Journey Quotes
Life is a Highway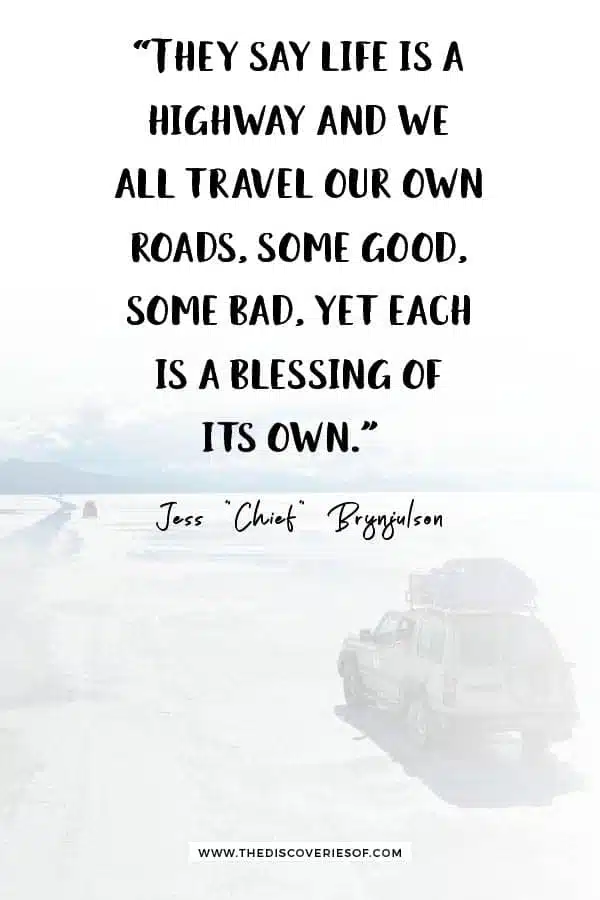 "They say life is a highway and we all travel our own roads, some good, some bad, yet each is a blessing of its own." ― Jess "Chief" Brynjulson
Leave a Trail
"Do not go where the path may lead. Go instead where there is no path and leave a trail." — Ralph Waldo Emerson
Make your own path – stay safe though, kids.
The Place to get to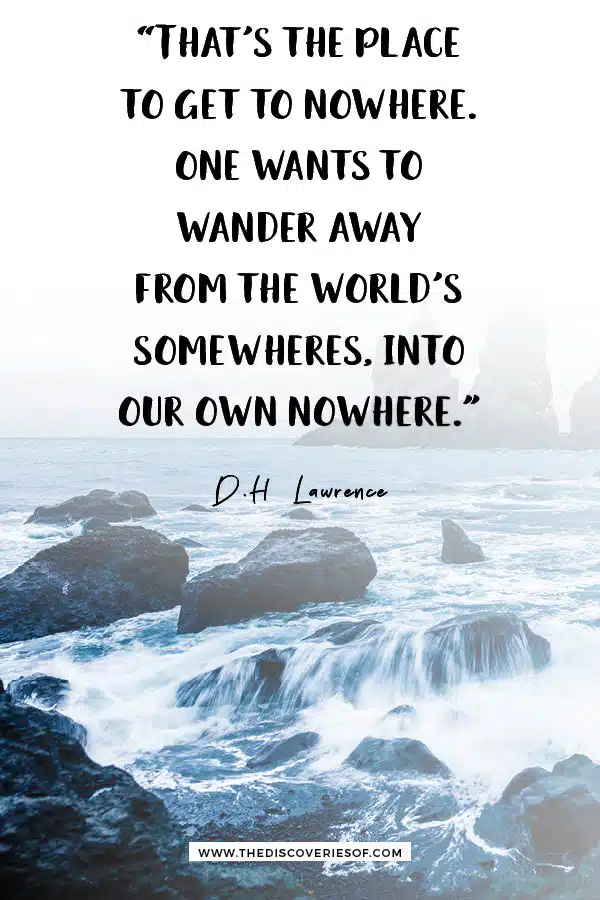 "That's the place to get to—nowhere. One wants to wander away from the world's somewheres, into our own nowhere." ― D.H. Lawrence
Journey quotes tell you that you don't travel the world to end up in exactly the same place, time and situation you left.
Right Path, Rough Road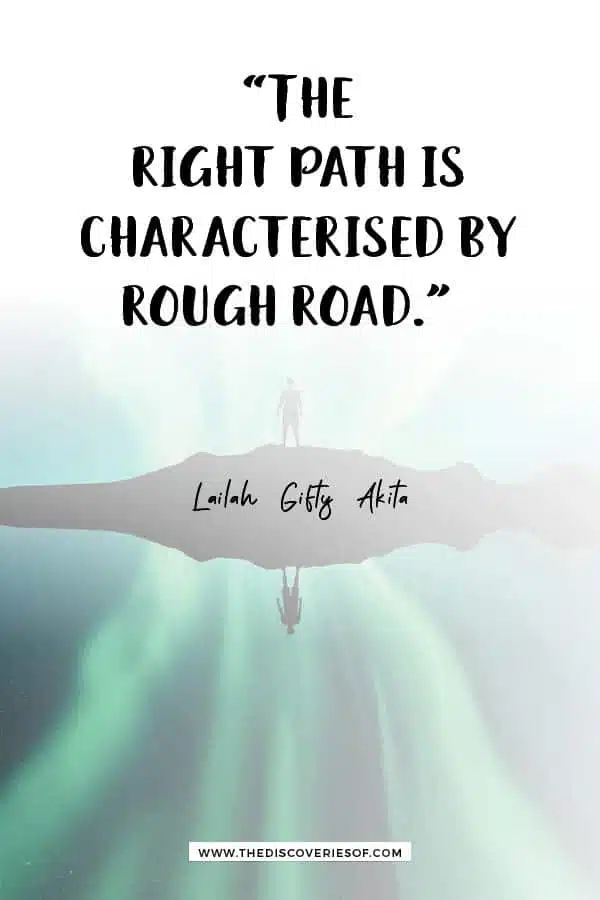 "The right path is characterised by rough road." ― Lailah Gifty Akita
Akita obviously spent a lot of time on buses in South America. Bump, bump, grind.
Routine is Lethal
"If you think adventure is dangerous, try routine, it's lethal." – Paulo Coelho
You're right, Paulo. The 9-5 grind was never for me either. When it comes to famous quotes about journeys, this one might just be my fave.
Stuff Your Eyes With Wonder
"Stuff your eyes with wonder, live as if you'd drop dead in ten seconds. See the world. It's more fantastic than any dream made or paid for in factories." – Ray Bradbury
Here's a reminder to forget about material goods and spend money on experiences instead.
A Little Piece of Everywhere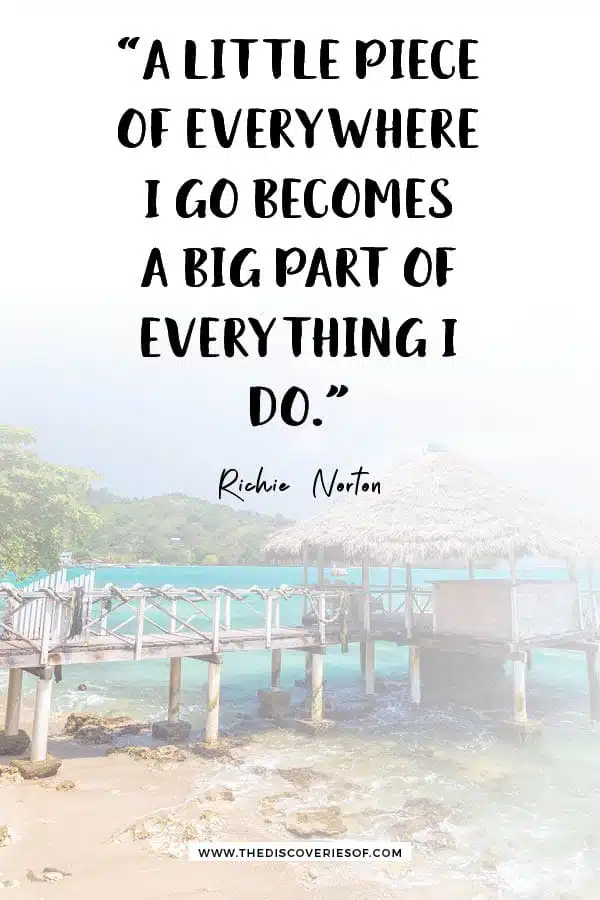 "A little piece of everywhere I go becomes a big part of everything I do." ― Richie Norton
Now isn't that the truth?
Money Returns
"Travel. Because money returns. Time doesn't." — Unknown
You can make more money, but you can't make more time.
And there we have it. 49 amazing journey quotes to inspire your next trip.
Looking for More Travel Inspiration + Journey Quotes?