Who doesn't love a good travel quote? When I'm feeling a bit glum or stressed (let's face it, we all do from time to time), I love reading inspirational travel quotes from travellers of centuries past.
I'll admit – I used to dismiss travel quotes as trite sayings that were clichéd and overused – and you know what, some are. But there's a lot to be learned from the words of Maya Angelou, Ibn Battuta, T.S. Eliot, John Steinbeck and their ilk.
Somehow, there's always that one travel quote that is just what you are looking for to brighten your day, the one that reminds us we can really go out and conquer the world – or that taking that first solo trip is never as scary as it seems.
So here we are, the best travel quotes, inspirational travel quotes, journey quotes, adventure quotes and solo travel quotes to help perk up your day. Are you ready?
20 Best Travel Quotes
"The World is a Book and Those Who do not Travel Only Read One Page." – Saint Augustine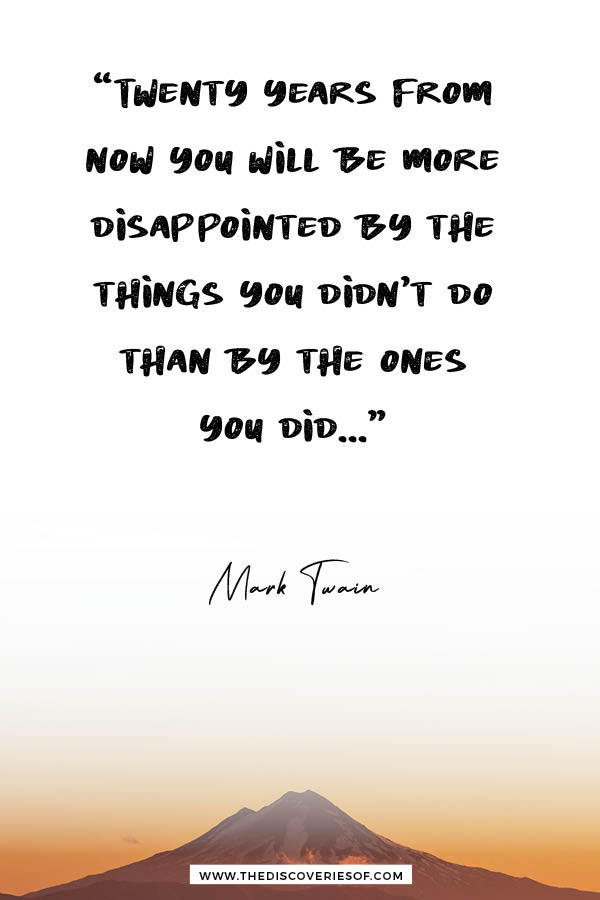 "Twenty years from now you will be more disappointed by the things you didn't do than by the ones you did do. So throw off the bowlines, sail away from the safe harbor. Catch the trade winds in your sails. Explore. Dream. Discover." – Mark Twain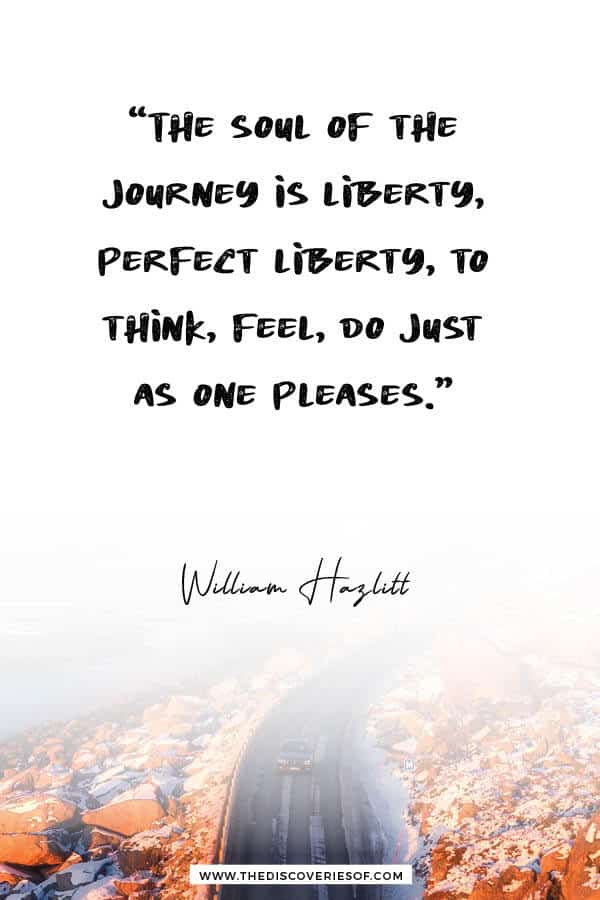 "The soul of the journey is liberty, perfect liberty, to think, feel, do just as one pleases." William Hazlitt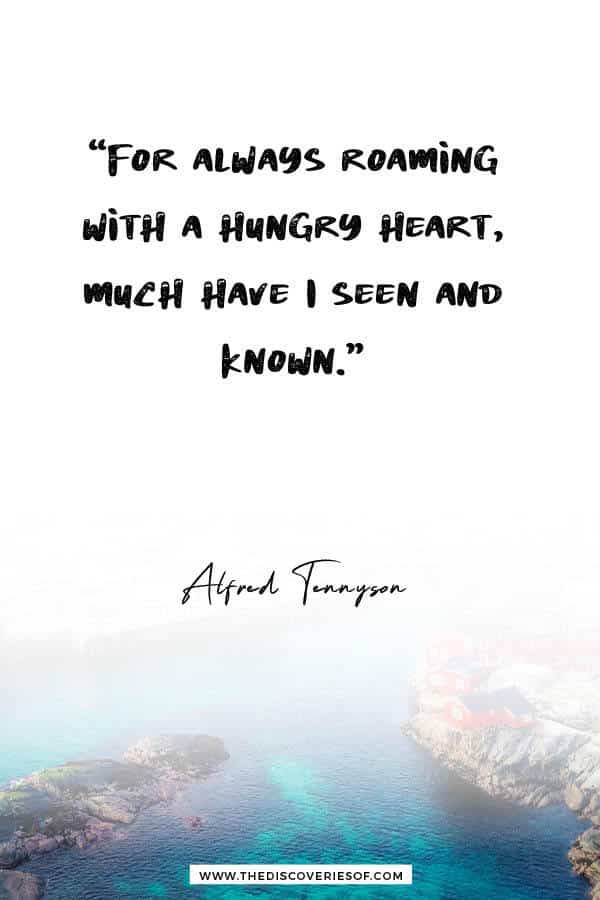 "For always roaming with a hungry heart, much have I seen and known." Alfred Tennyson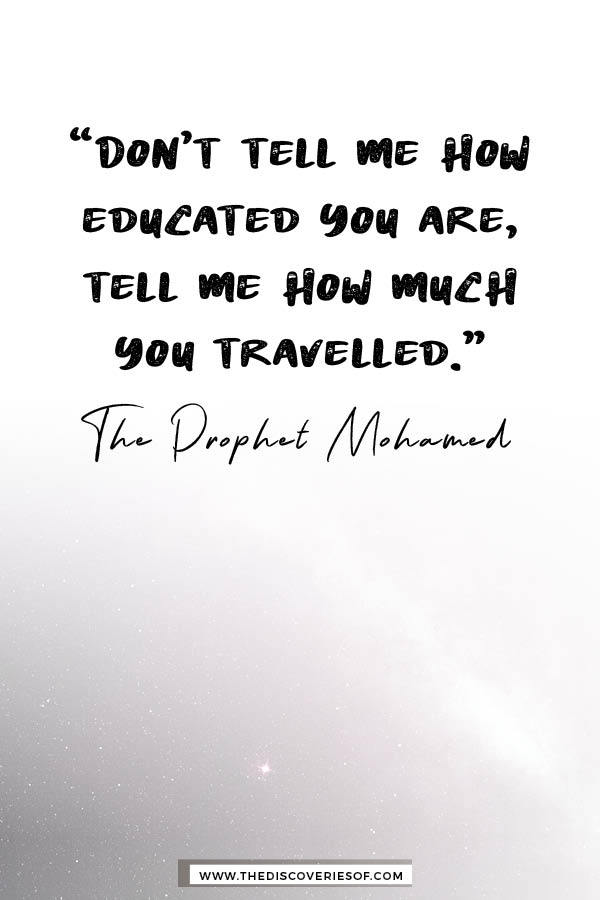 "Don't tell me how educated you are, tell me how much you travelled." The Prophet Mohamed
"A journey is like marriage. The certain way to be wrong is to think you control it." John Steinbeck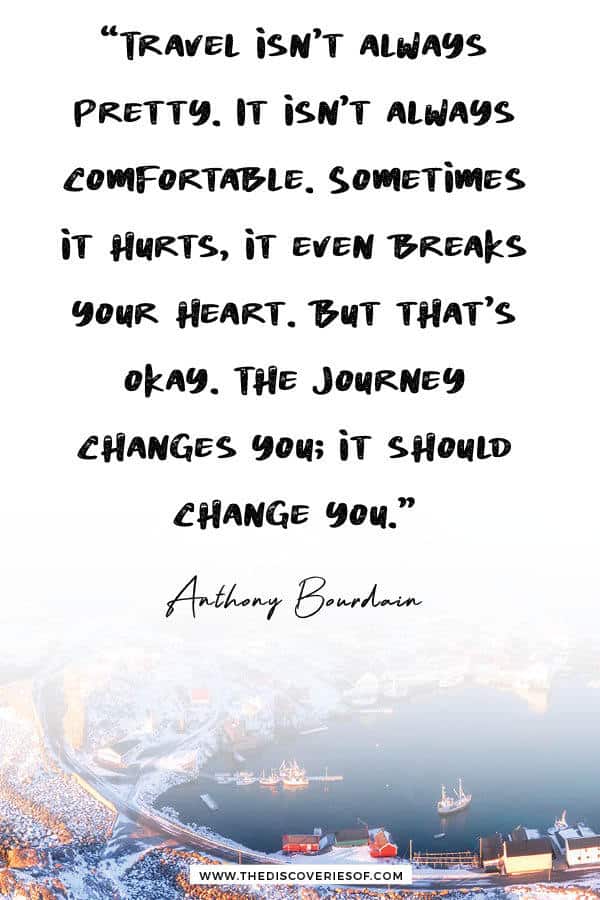 "Travel isn't always pretty. It isn't always comfortable. Sometimes it hurts, it even breaks your heart. But that's okay. The journey changes you; it should change you. It leaves marks on your memory, on your consciousness, on your heart, and on your body. You take something with you. Hopefully, you leave something good behind." – Anthony Bourdain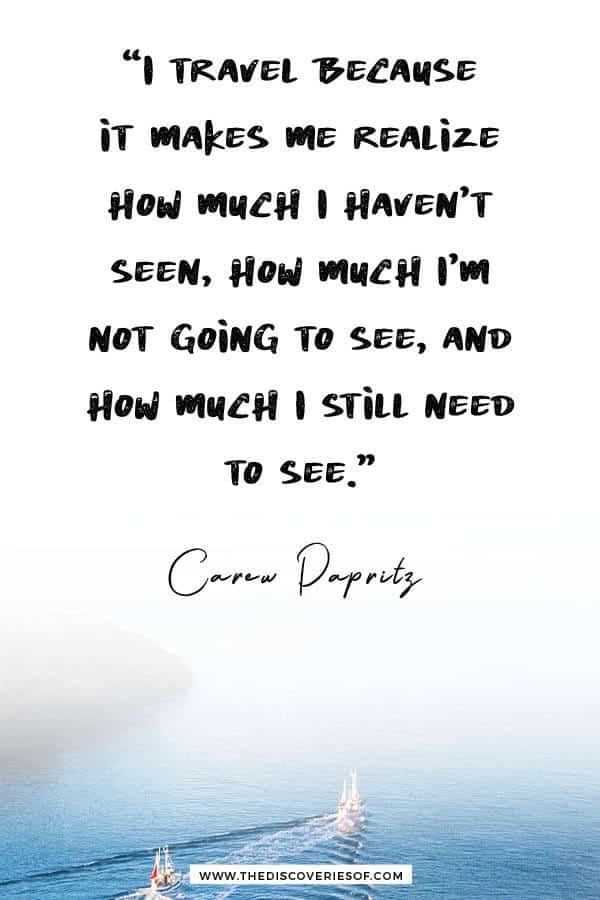 "I travel because it makes me realize how much I haven't seen, how much I'm not going to see, and how much I still need to see." – Carew Papritz.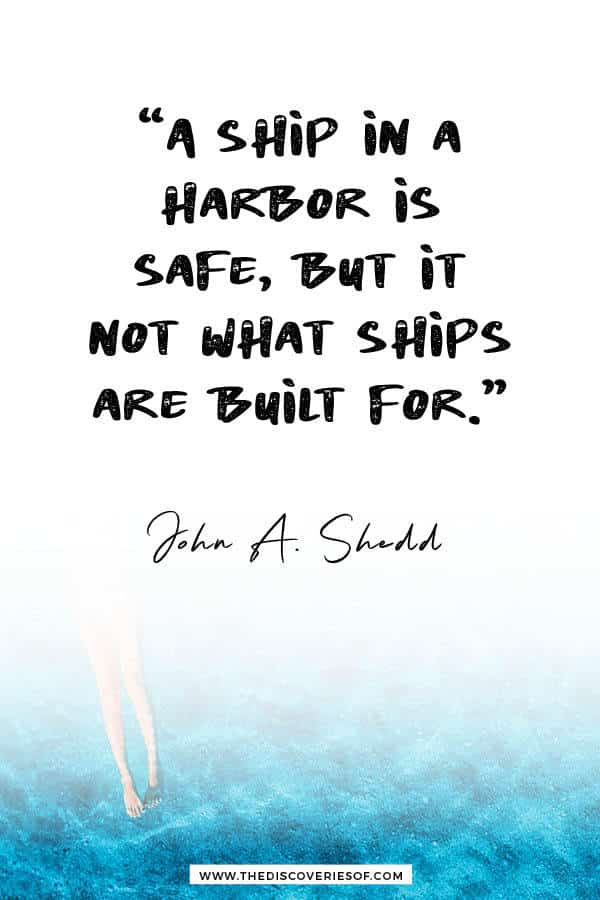 "A ship in a harbor is safe, but it not what ships are built for." – John A. Shedd.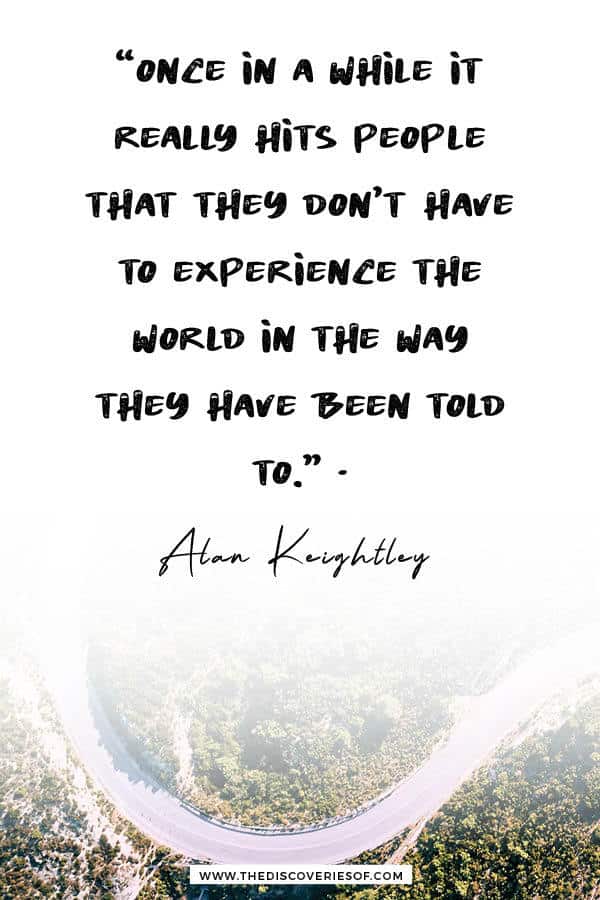 "Once in a while it really hits people that they don't have to experience the world in the way they have been told to." – Alan Keightley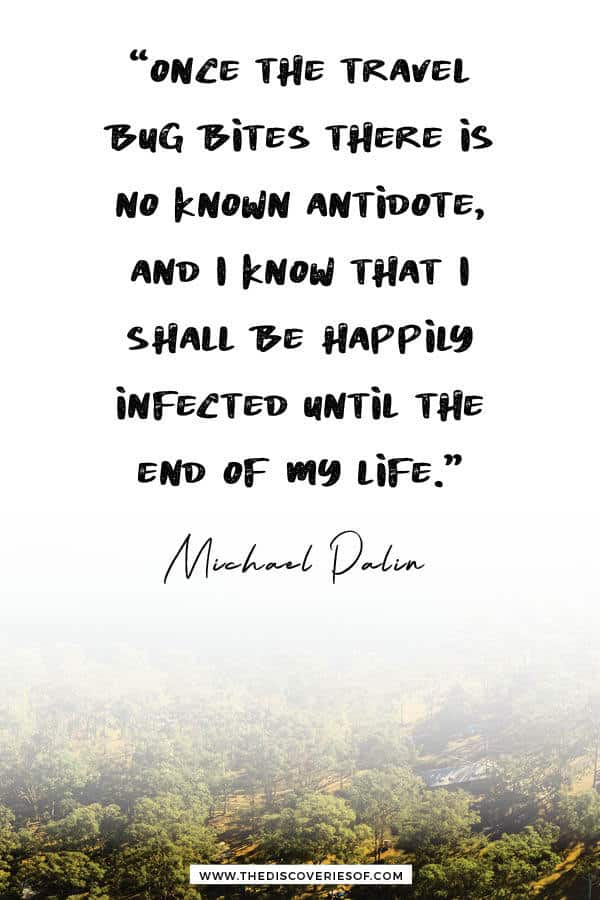 "Once the travel bug bites there is no known antidote, and I know that I shall be happily infected until the end of my life." – Michael Palin.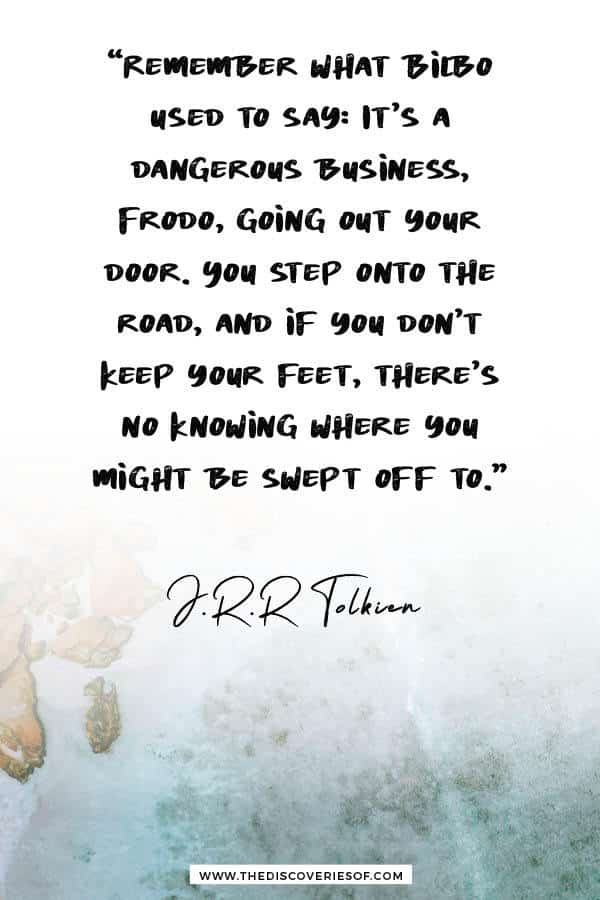 "Remember what Bilbo used to say: It's a dangerous business, Frodo, going out your door. You step onto the road, and if you don't keep your feet, there's no knowing where you might be swept off to." – JRR Tolkien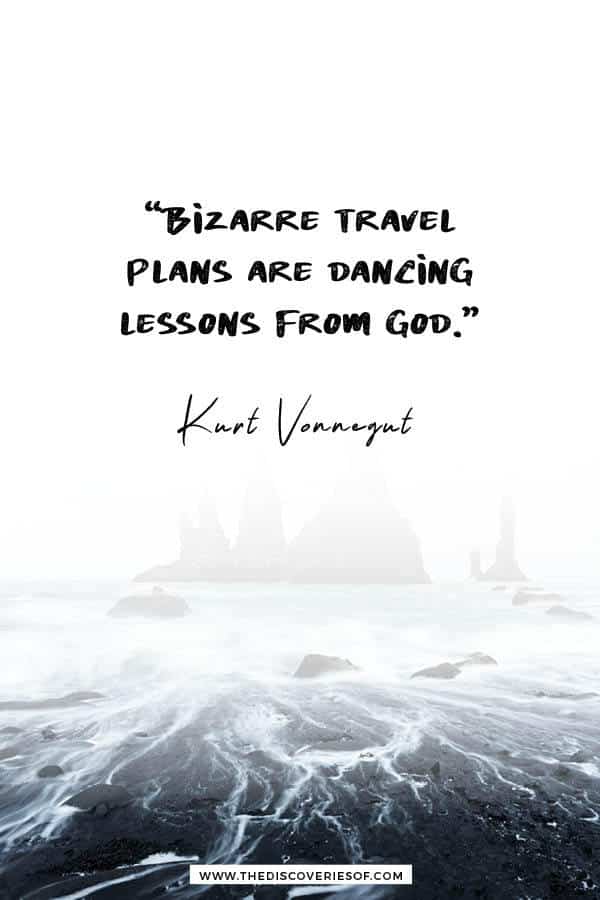 "Bizarre travel plans are dancing lessons from God." – Kurt Vonnegut.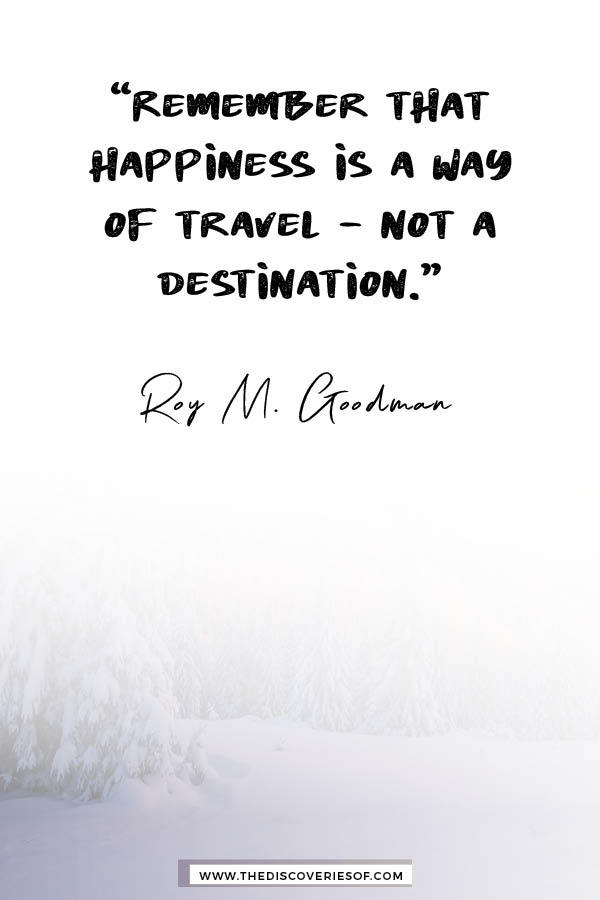 "Remember that happiness is a way of travel – not a destination." – Roy M. Goodman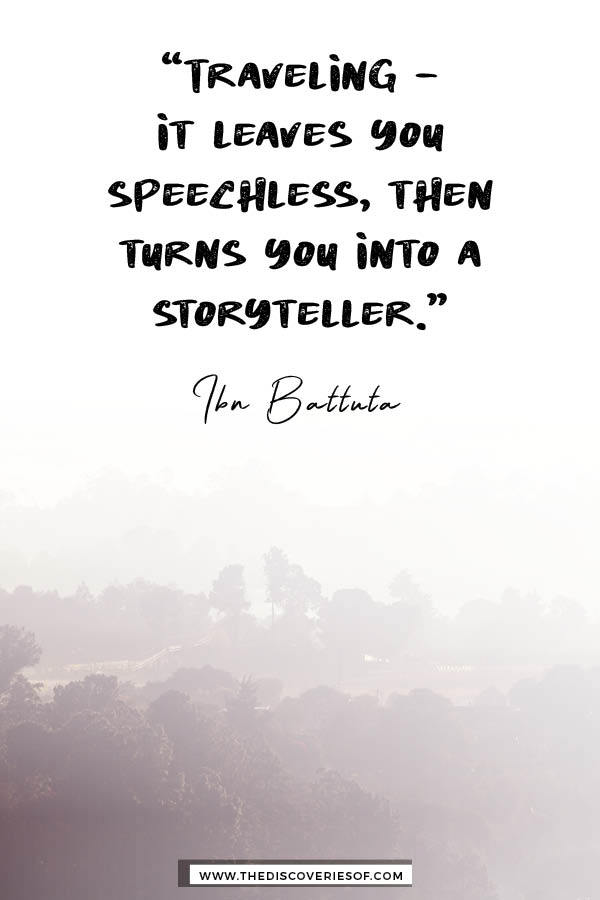 "Traveling – it leaves you speechless, then turns you into a storyteller." – Ibn Battuta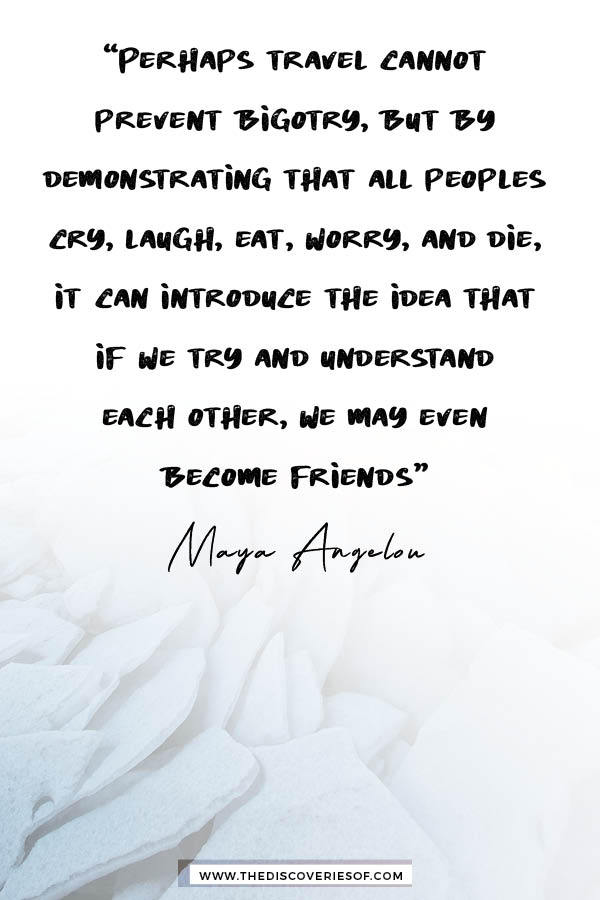 "Perhaps travel cannot prevent bigotry, but by demonstrating that all peoples cry, laugh, eat, worry, and die, it can introduce the idea that if we try and understand each other, we may even become friends" – Maya Angelou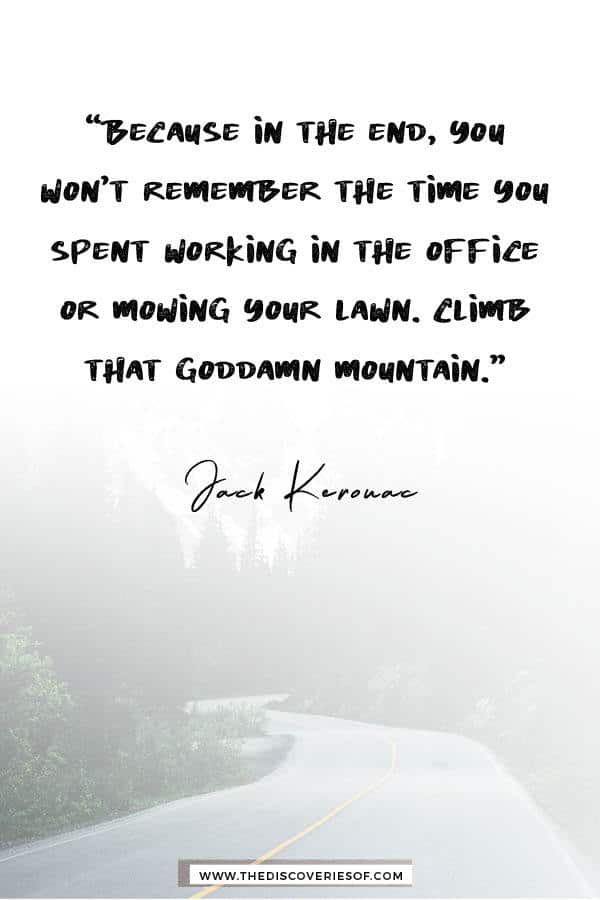 "Because in the end, you won't remember the time you spent working in the office or mowing your lawn. Climb that goddamn mountain." – Jack Kerouac.
"Traveling is a brutality. It forces you to trust strangers and to lose sight of all that familiar comfort of home and friends. You are constantly off balance. Nothing is yours except the essential things: air, sleep, dreams, sea, the sky – all things tending towards the eternal or what we imagine of it." – Cesare Pavese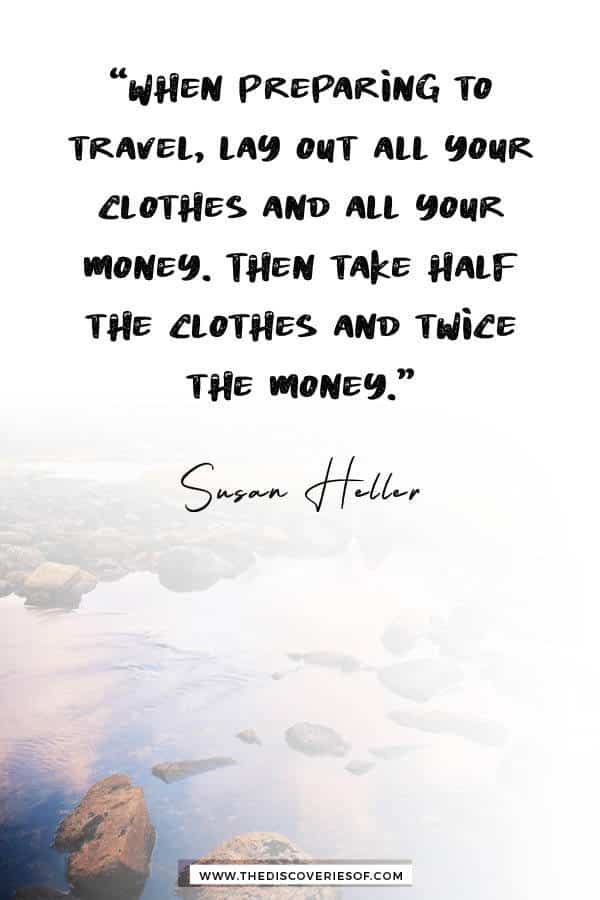 "When preparing to travel, lay out all your clothes and all your money. Then take half the clothes and twice the money." – Susan Heller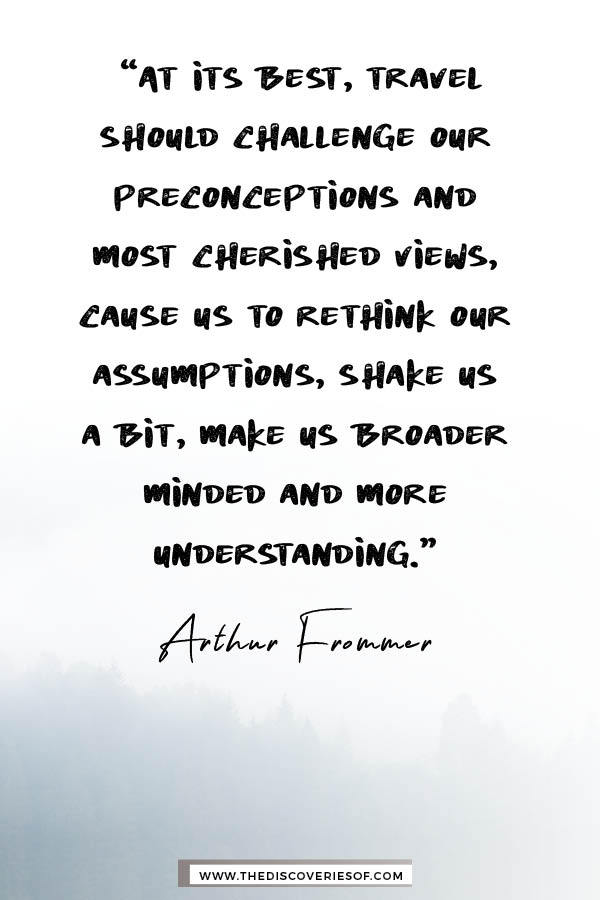 "At its best, travel should challenge our preconceptions and most cherished views, cause us to rethink our assumptions, shake us a bit, make us broader minded and more understanding." – Arthur Frommer.
Travel the World Quotes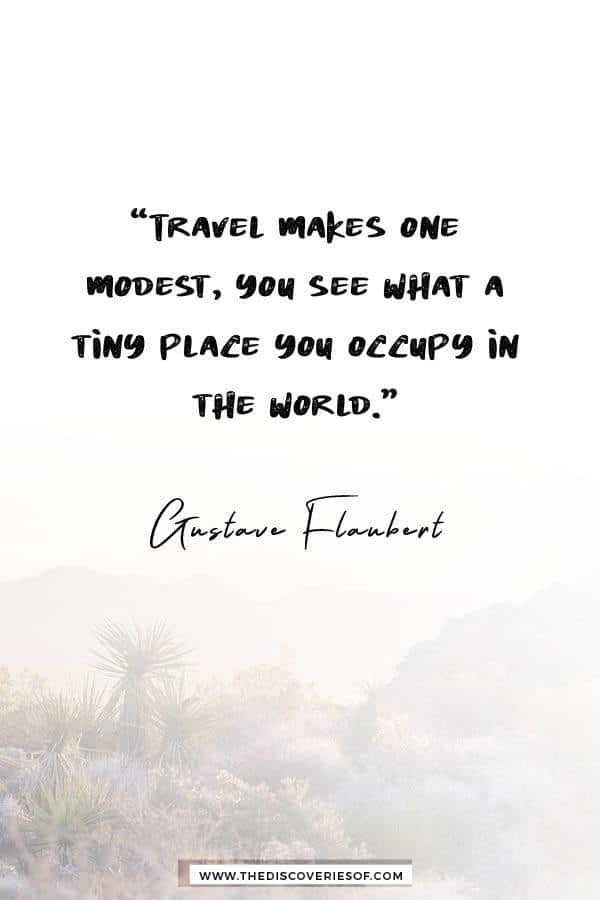 "Travel makes one modest, you see what a tiny place you occupy in the world." – Gustave Flaubert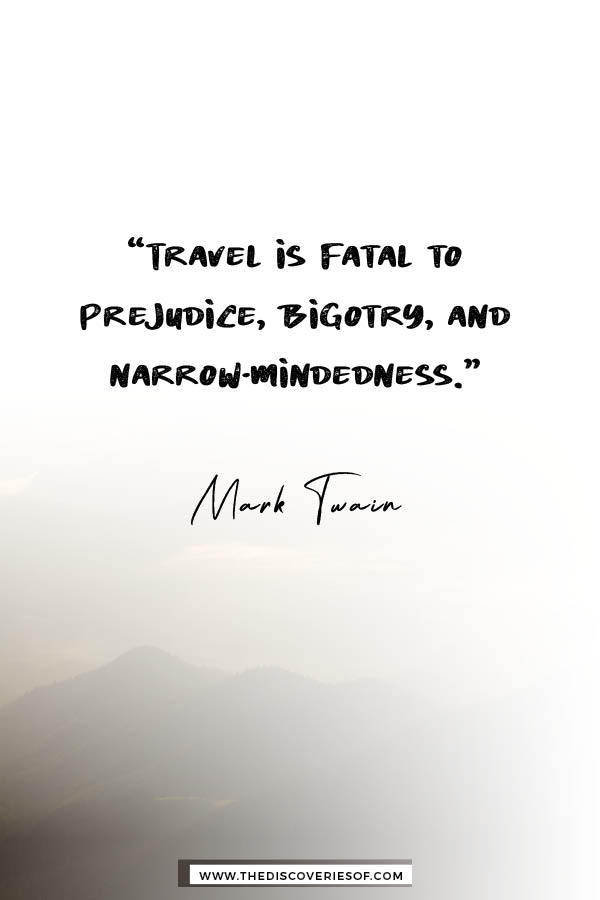 "Travel is fatal to prejudice, bigotry, and narrow-mindedness." Mark Twain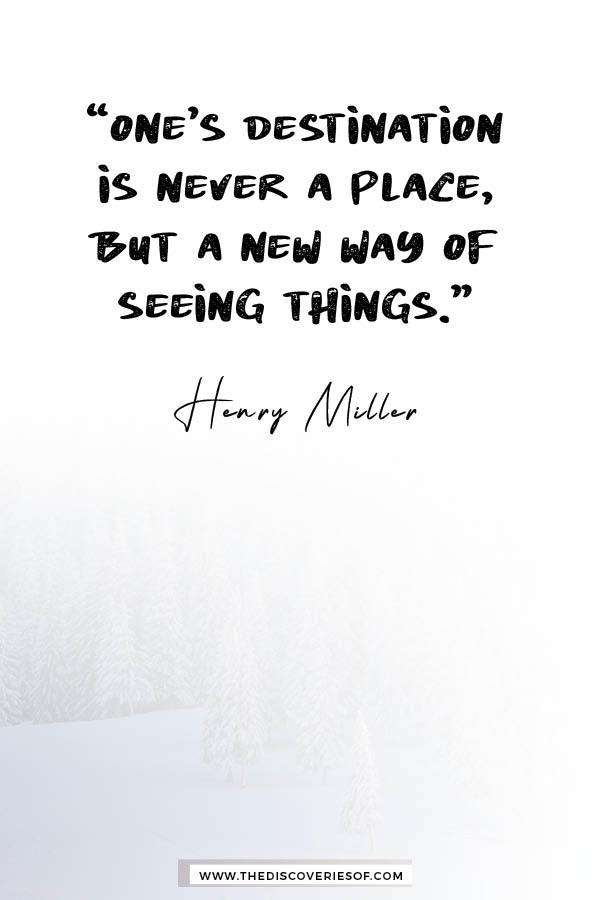 "One's destination is never a place, but a new way of seeing things." Henry Miller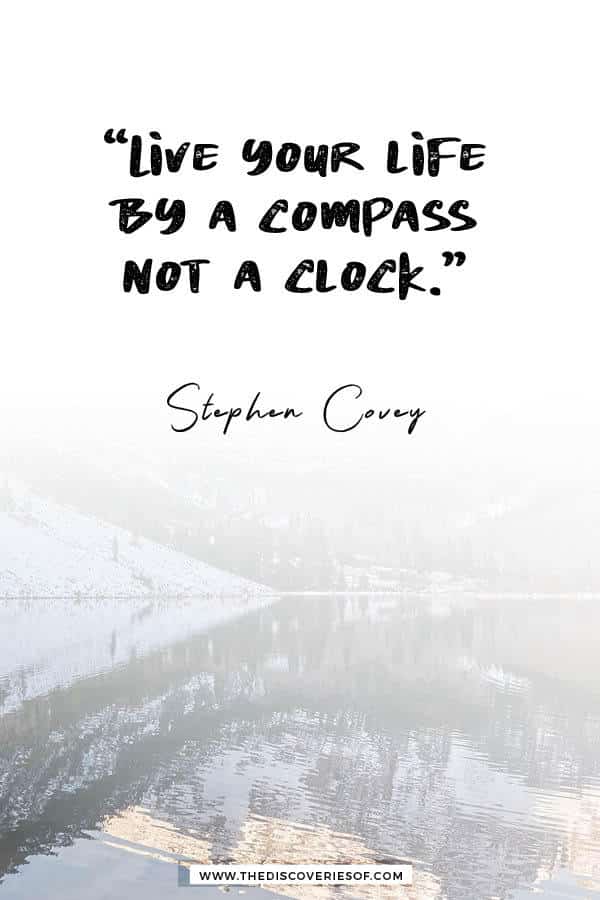 "Live your life by a compass not a clock." – Stephen Covey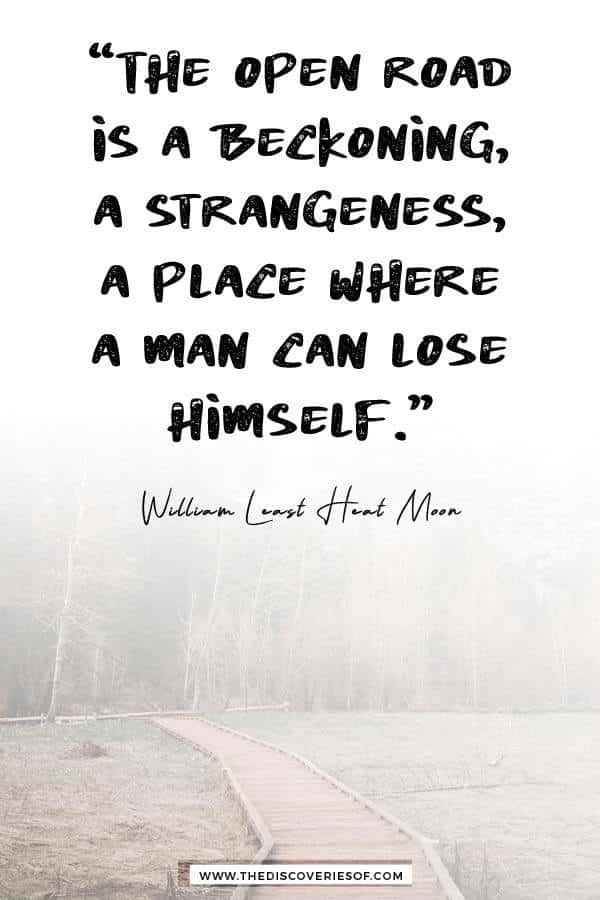 "The open road is a beckoning, a strangeness, a place where a man can lose himself." – William Least Heat Moon.
"If you're twenty-two, physically fit, hungry to learn and be better, I urge you to travel – as far and as widely as possible. Sleep on floors if you have to. Find out how other people live and eat and cook. Learn from them – wherever you go." – Anthony Bourdain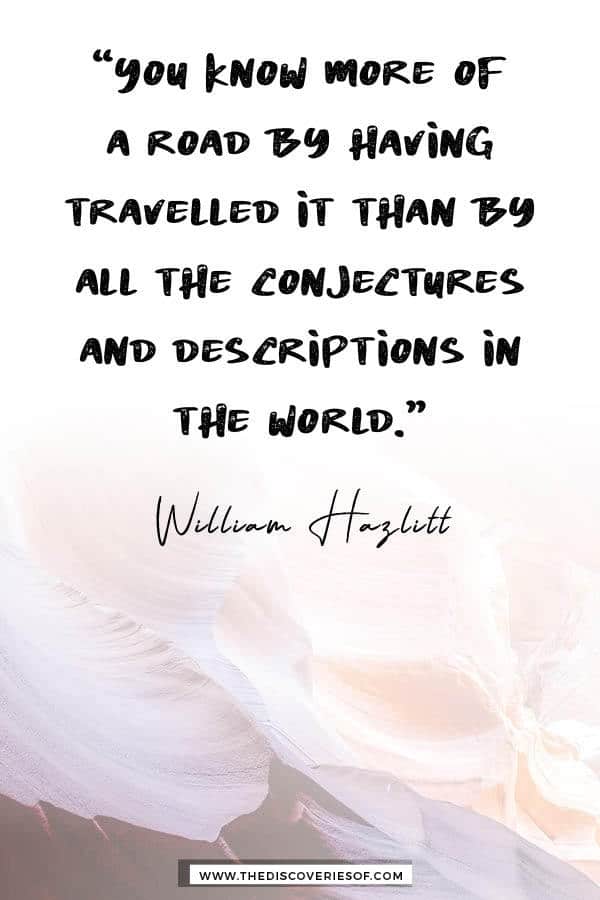 "You know more of a road by having travelled it than by all the conjectures and descriptions in the world." – William Hazlitt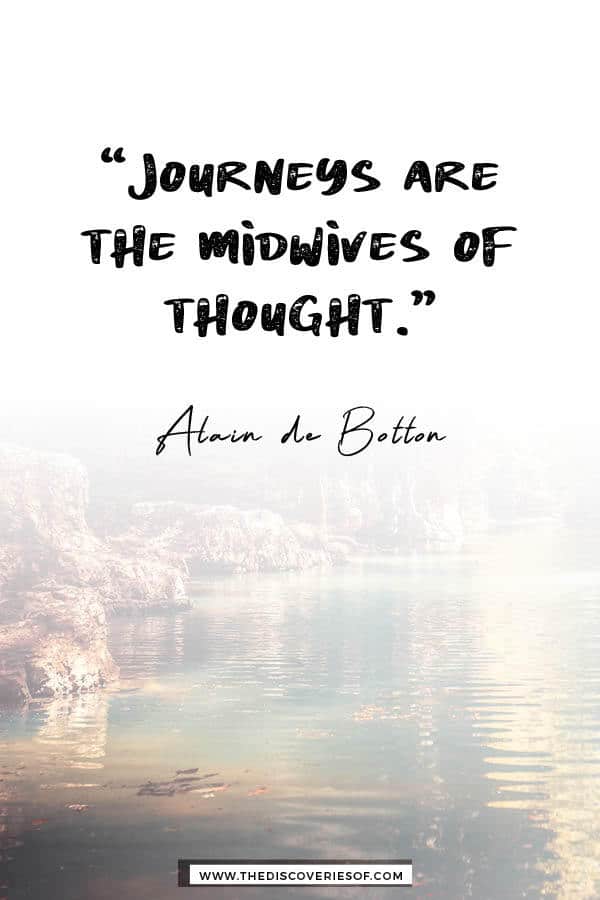 "Journeys are the midwives of thought. Few places are more conducive to internal conversations than moving planes, ships or trains." – Alain de Botton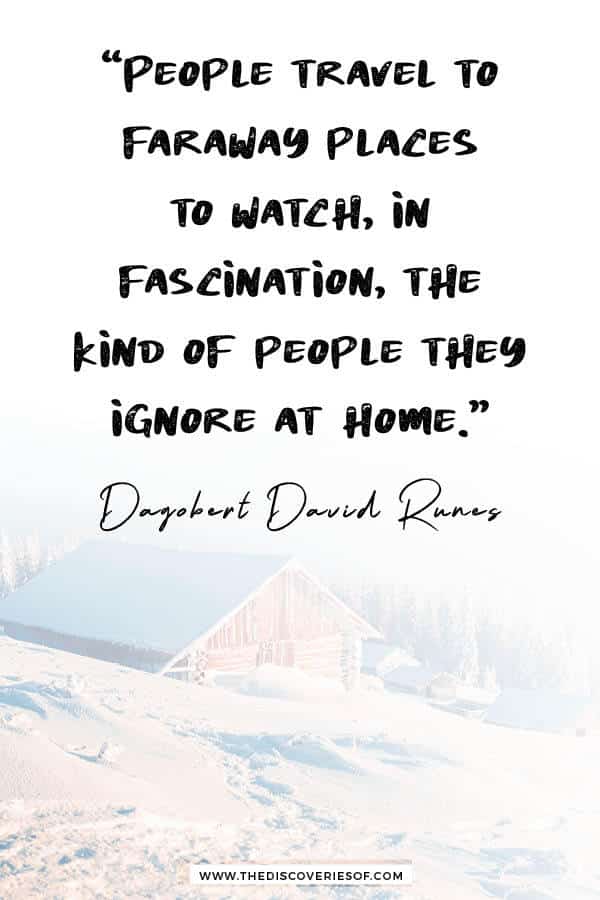 "People travel to faraway places to watch, in fascination, the kind of people they ignore at home." – Dagobert David Runes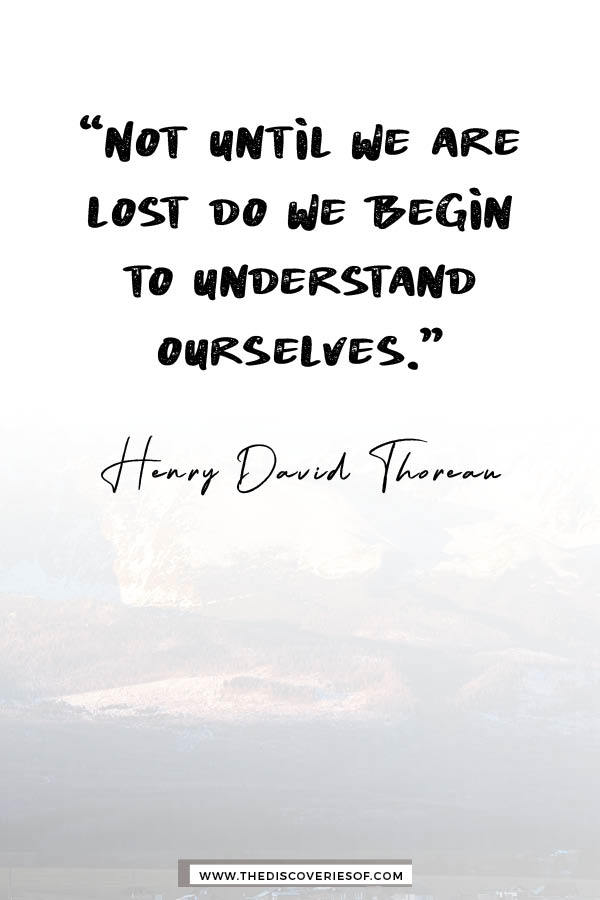 "Not until we are lost do we begin to understand ourselves." – Henry David Thoreau
"How you live your life is up to you. You have to go out and grab the world by the horns. Rope it before it ties you down and decides for you." – Sarah Reijonen
"To move, to breathe, to fly, to float; to gain all while you give; to roam the roads of lands remote; to travel is to live." – Hans Christian Andersen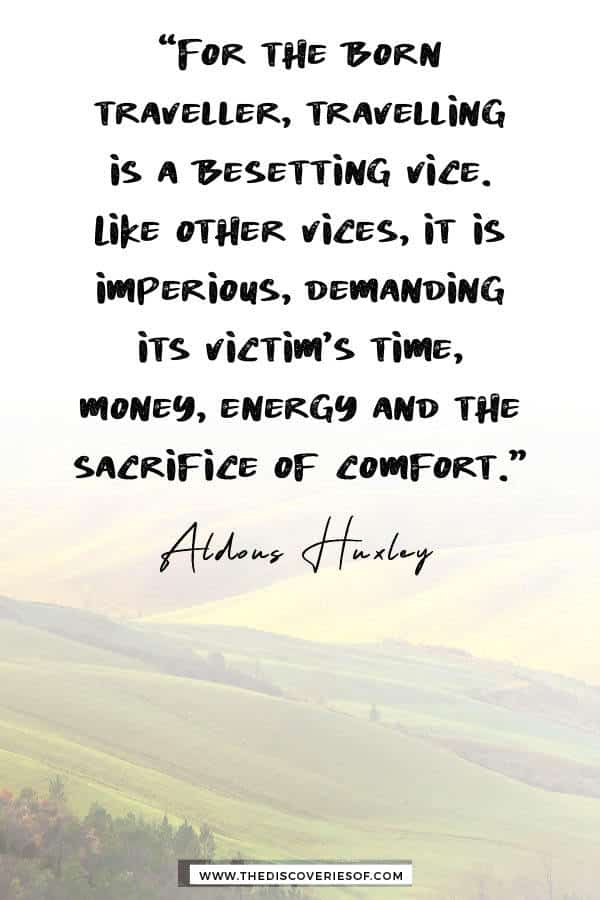 "For the born traveller, travelling is a besetting vice. Like other vices, it is imperious, demanding its victim's time, money, energy and the sacrifice of comfort." – Aldous Leonard Huxley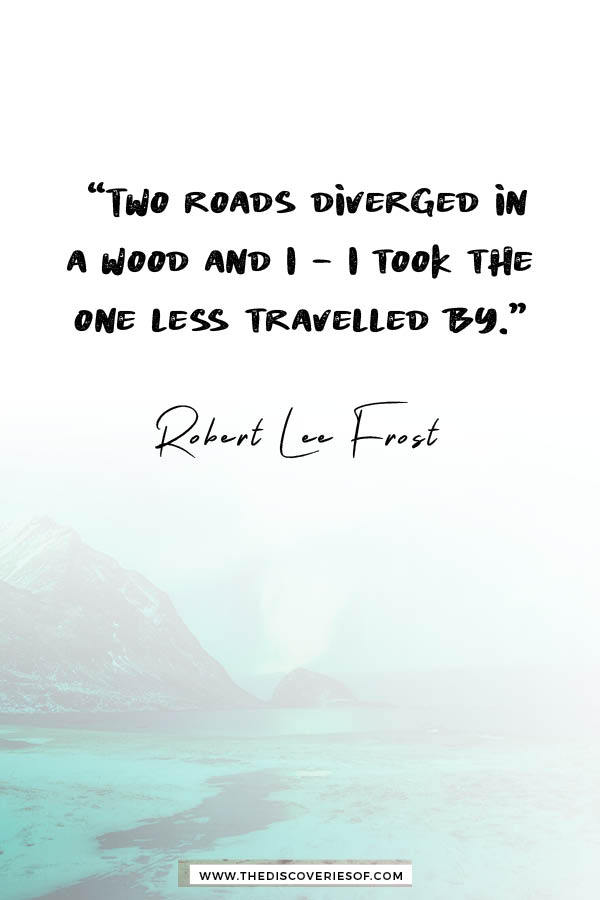 "Two roads diverged in a wood and I – I took the one less travelled by." Robert Lee Frost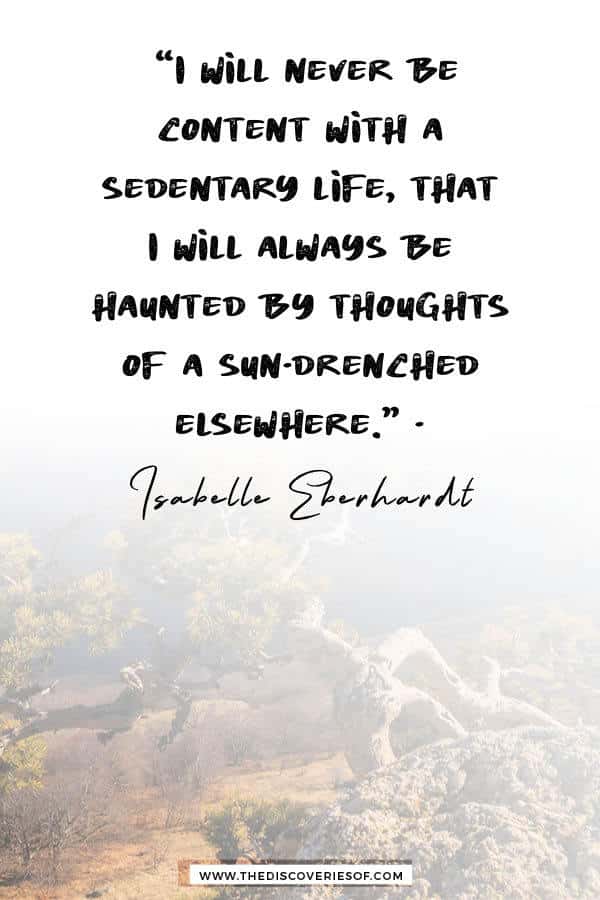 "Now more than ever do I realize that I will never be content with a sedentary life, that I will always be haunted by thoughts of a sun-drenched elsewhere." – Isabelle Eberhardt
"Without new experiences, something inside of us sleeps. The sleeper must awaken." – Frank Herbert
"Stuff your eyes with wonder, live as if you'd drop dead in ten seconds. See the world. It's more fantastic than any dream made or paid for in factories." – Ray Bradbury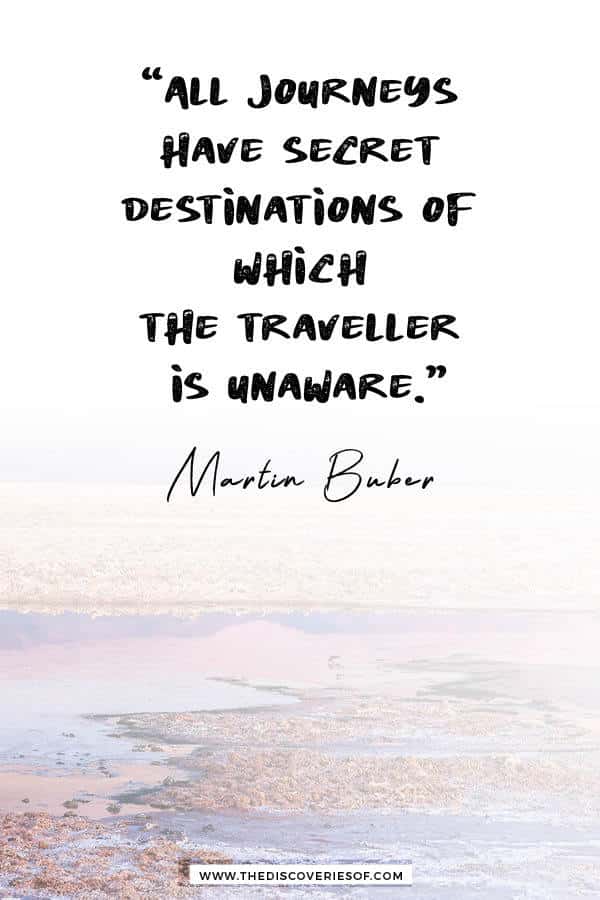 "All journeys have secret destinations of which the traveller is unaware." – Martin Buber.
"Jobs fill your pocket, but adventures fill your soul." – Jamie Lyn Beatty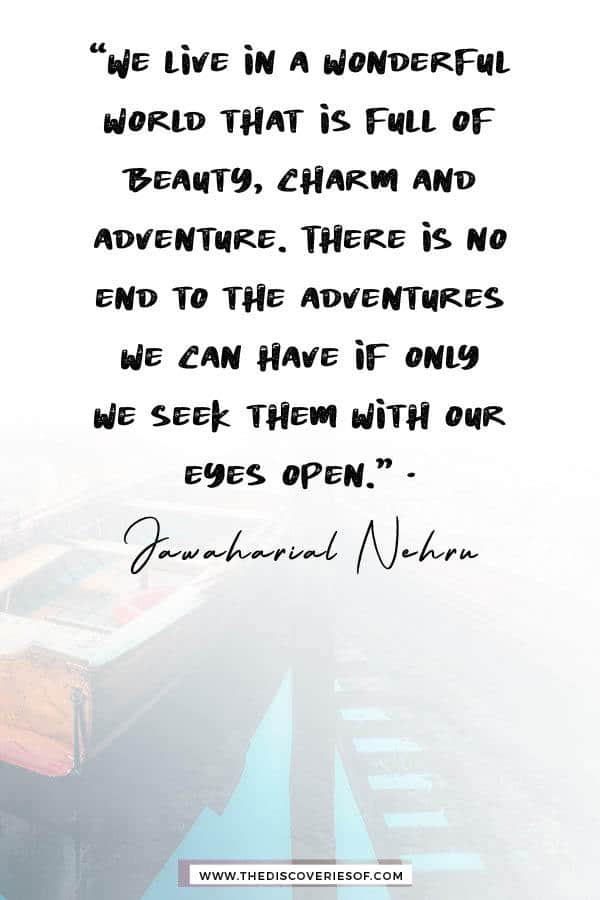 "We live in a wonderful world that is full of beauty, charm and adventure. There is no end to the adventures we can have if only we seek them with our eyes open." – Jawaharial Nehru.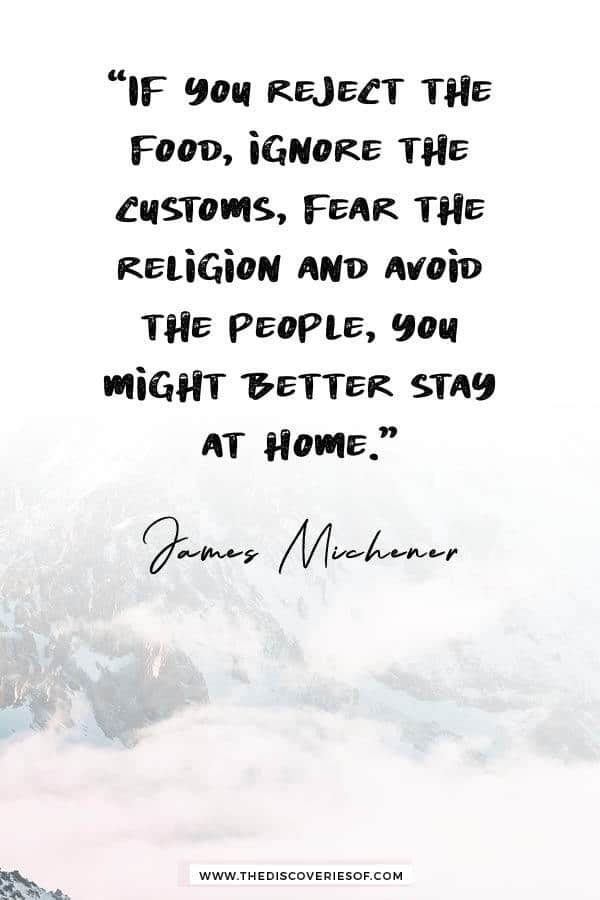 "If you reject the food, ignore the customs, fear the religion and avoid the people, you might better stay at home." – James Michener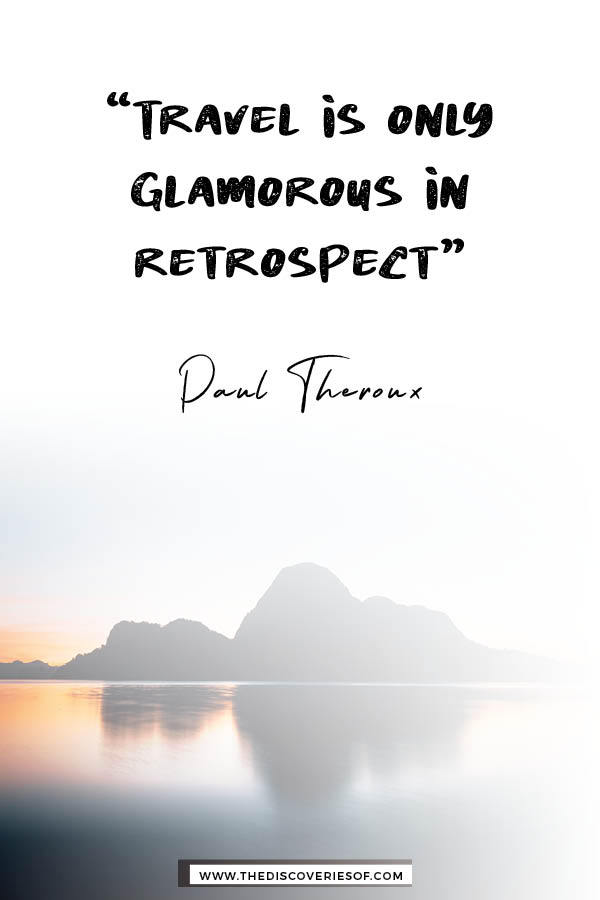 "Travel is only glamorous in retrospect" – Paul Theroux
"What you've done becomes the judge of what you're going to do — especially in other people's minds. When you're traveling, you are what you are right there and then. People don't have your past to hold against you. No yesterdays on the road." – William Least Heat Moon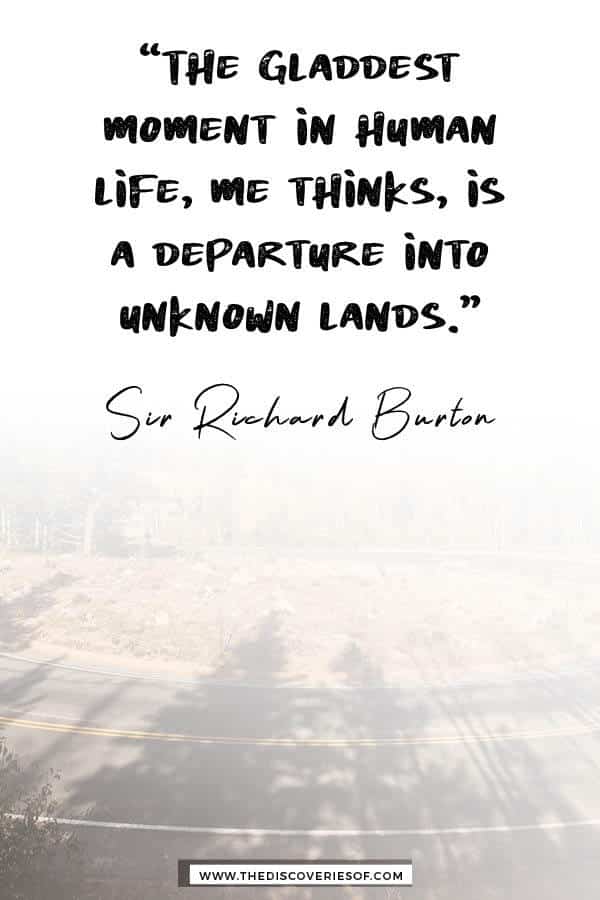 "The gladdest moment in human life, me thinks, is a departure into unknown lands." – Sir Richard Burton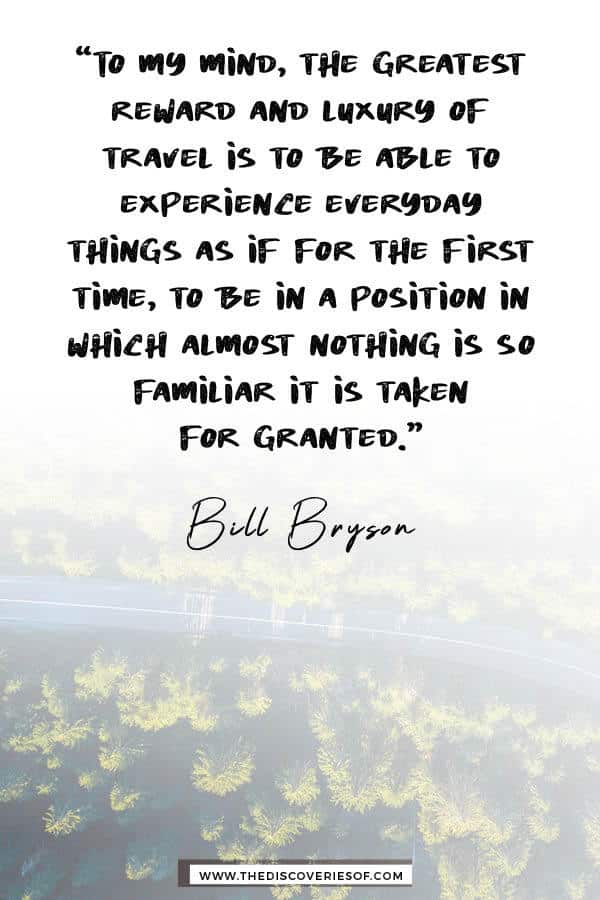 "To my mind, the greatest reward and luxury of travel is to be able to experience everyday things as if for the first time, to be in a position in which almost nothing is so familiar it is taken for granted." -Bill Bryson
"Own only what you can always carry with you: known languages, known countries, known people. Let your memory be your travel bag" – Alexandr Solzhenitsyn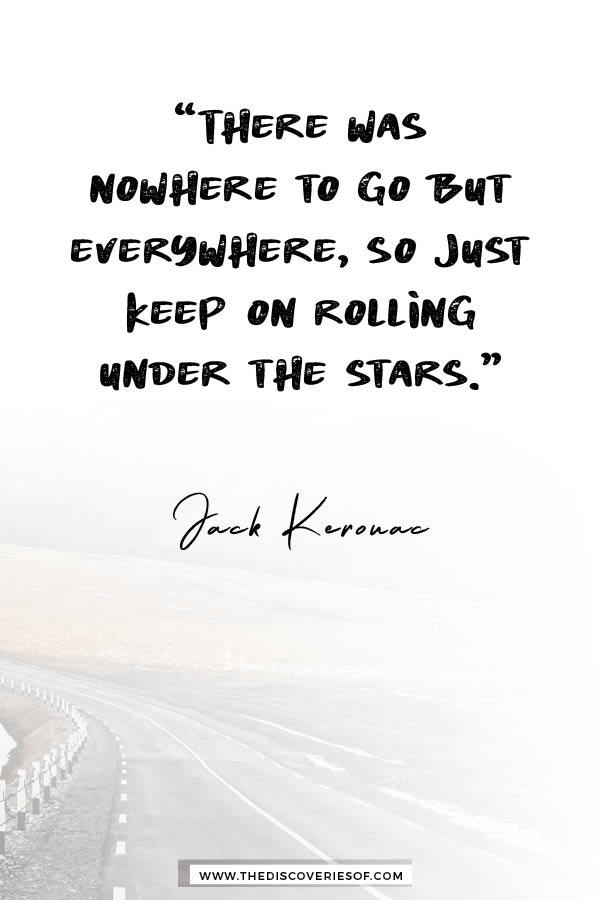 "There was nowhere to go but everywhere, so just keep on rolling under the stars." – Jack Kerouac
"Travel has a way of stretching the mind. The stretch comes not from travel's immediate rewards, the inevitable myriad new sights, smells and sounds, but with experiencing firsthand how others do differently what we believed to be the right and only way." – Ralph Crawshaw
"Every exit is an entry somewhere else." – Tom Stoppard.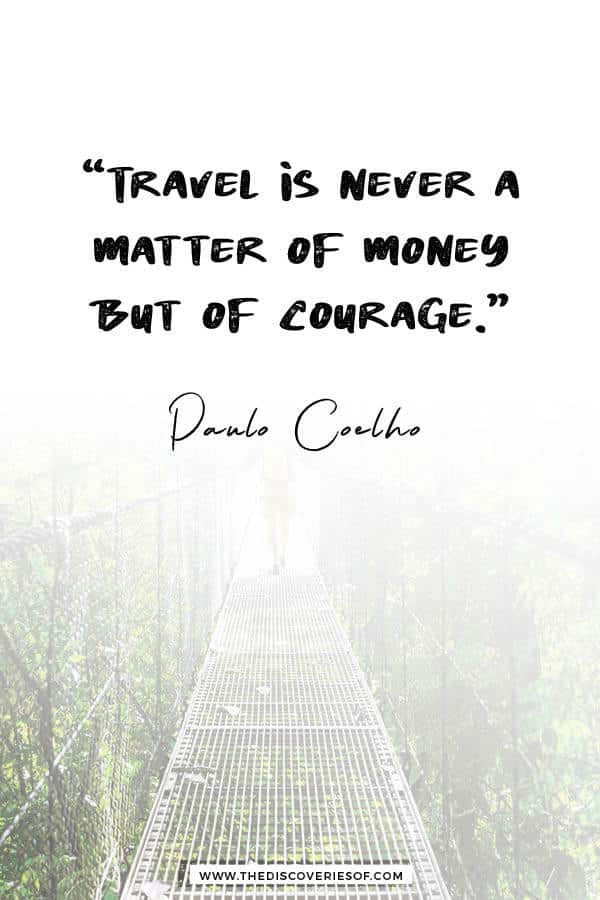 "Travel is never a matter of money but of courage." – Paulo Coelho
"Focus on the journey, not the destination. Joy is found not in finishing an activity but in doing it."- Greg Anderson
"The journey itself is my home." – Bashō Matsuo
Inspirational Travel Quotes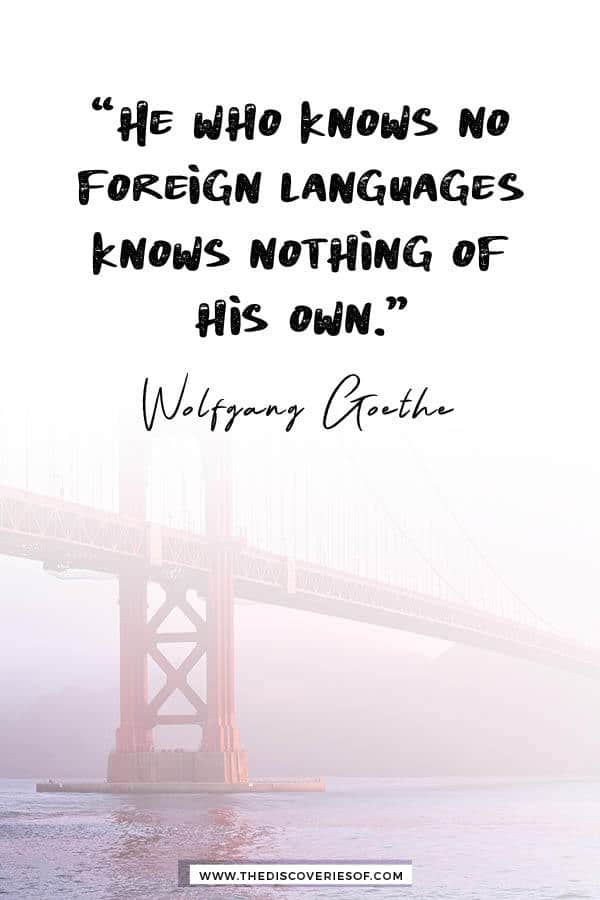 "He who knows no foreign languages knows nothing of his own." – Wolfgang Goethe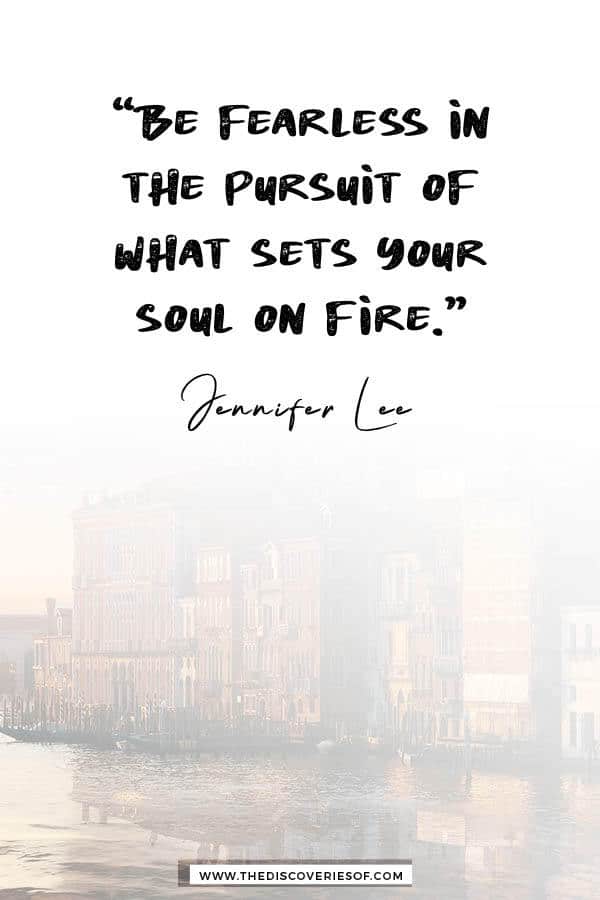 "Be fearless in the pursuit of what sets your soul on fire." – Jennifer Lee
"All journeys have secret destinations of which the traveler is unaware." – Martin Buber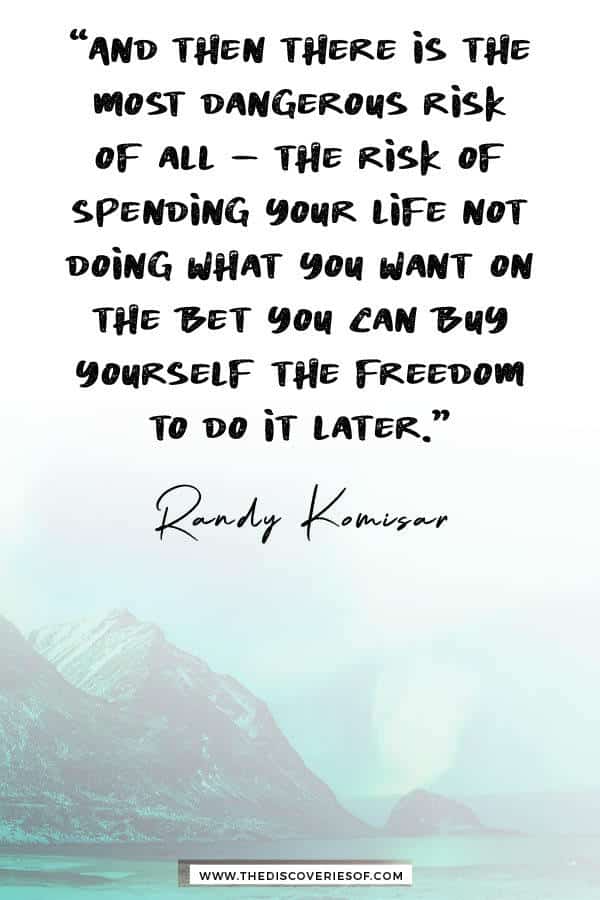 "And then there is the most dangerous risk of all — the risk of spending your life not doing what you want on the bet you can buy yourself the freedom to do it later." – Randy Komisar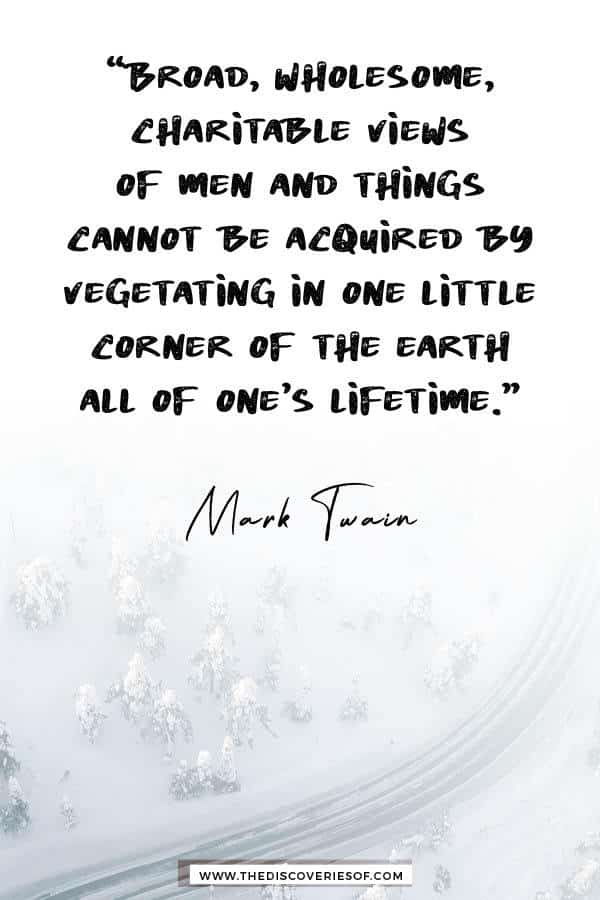 "Broad, wholesome, charitable views of men and things cannot be acquired by vegetating in one little corner of the earth all of one's lifetime." – Mark Twain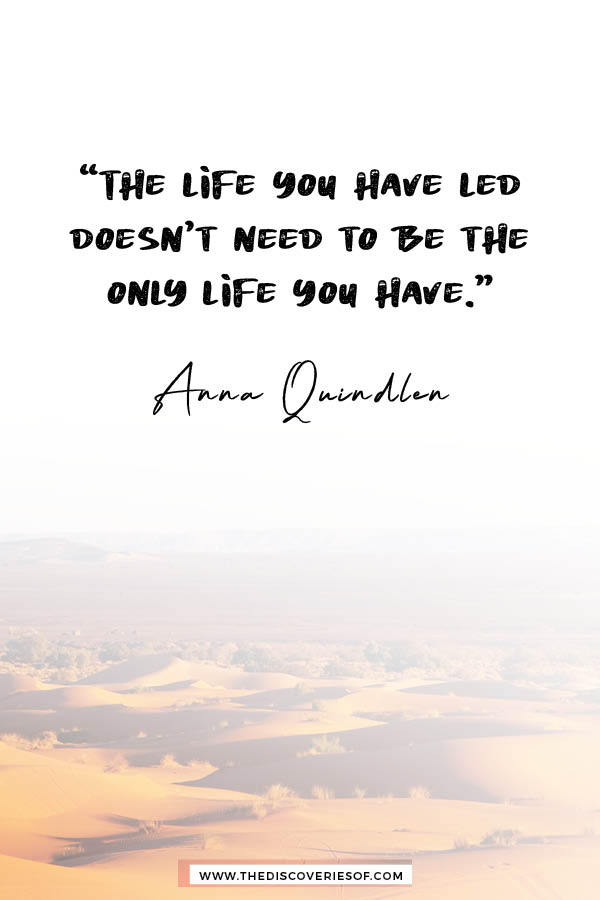 "The life you have led doesn't need to be the only life you have." – Anna Quindlen
"The impulse to travel is one of the hopeful symptoms of life." – Agnes Repplier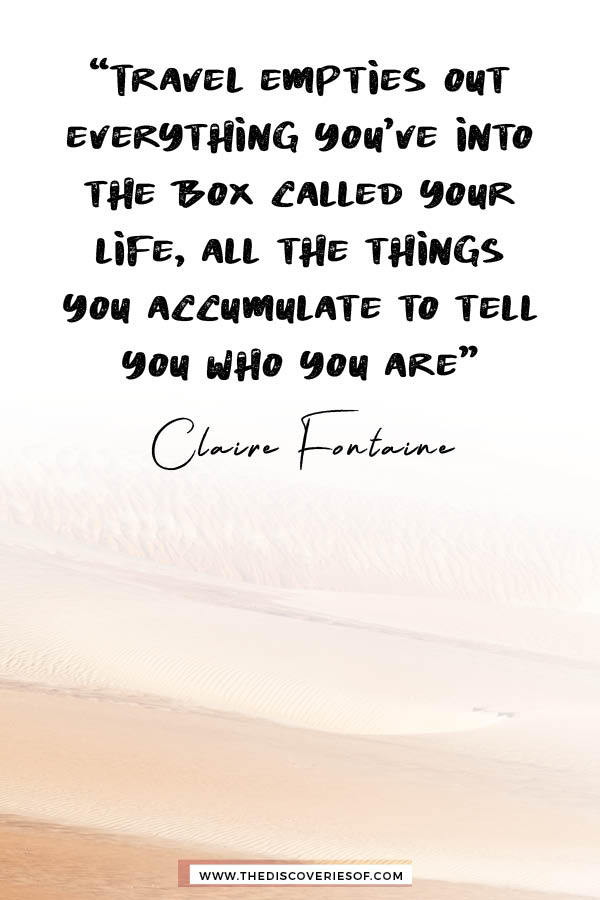 "Travel empties out everything you've into the box called your life, all the things you accumulate to tell you who you are" – Claire Fontaine
"Nobody can discover the world for somebody else. Only when we discover it for ourselves does it become common ground and a common bond and we cease to be alone." – Wendell Berry
"Adventure is allowing the unexpected to happen to you. Exploration is experiencing what you have not experienced before. How can there be any adventure, any exploration, if you let somebody else – above all, a travel bureau – arrange everything before-hand?" – Richard Aldington
"I can enjoy society in a room; but out of doors, nature is company enough for me. I am then never less alone than when alone."- William Hazlitt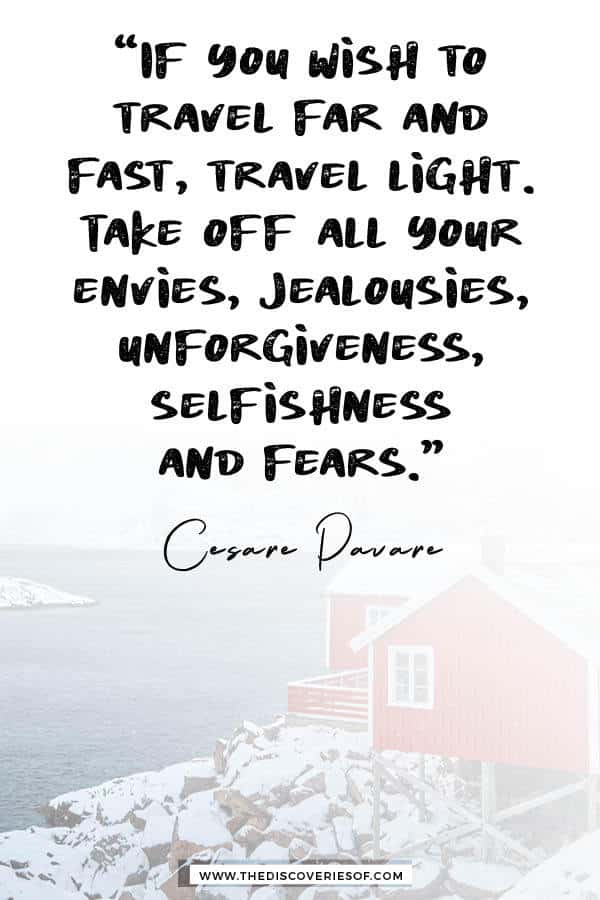 "If you wish to travel far and fast, travel light. Take off all your envies, jealousies, unforgiveness, selfishness and fears." – Cesare Pavese
"Do not follow where the path may lead. Go instead where there is no path and leave a trail." – Ralph Emerson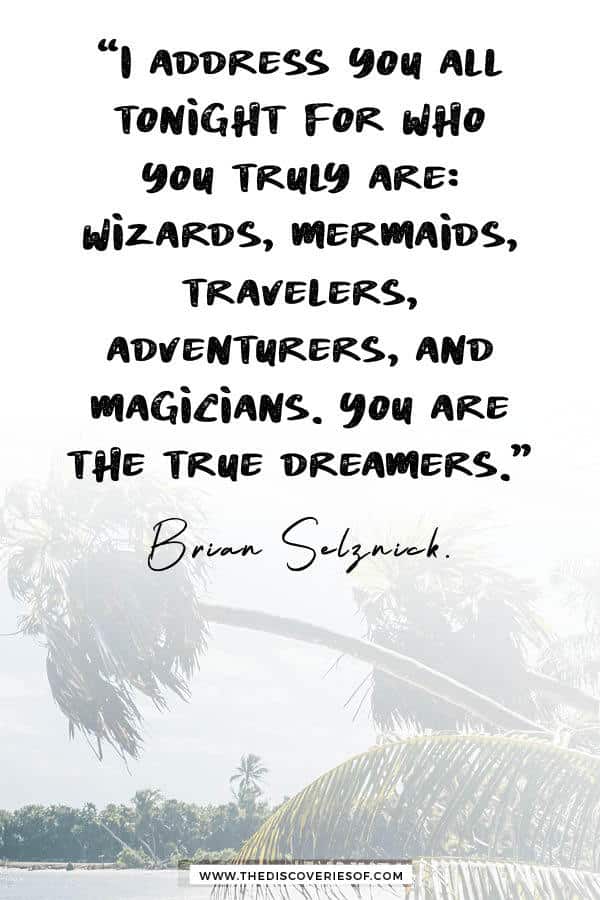 "I address you all tonight for who you truly are: wizards, mermaids, travelers, adventurers, and magicians. You are the true dreamers." – Brian Selznick.
"Your true traveler finds boredom rather agreeable than painful. It is the symbol of his liberty-his excessive freedom. He accepts his boredom, when it comes, not merely philosophically, but almost with pleasure." –-Aldous Huxley
"Traveling outgrows its motives. It soon proves sufficient in itself. You think you are making a trip, but soon it is making you – or unmaking you." – Nicolas Bouvier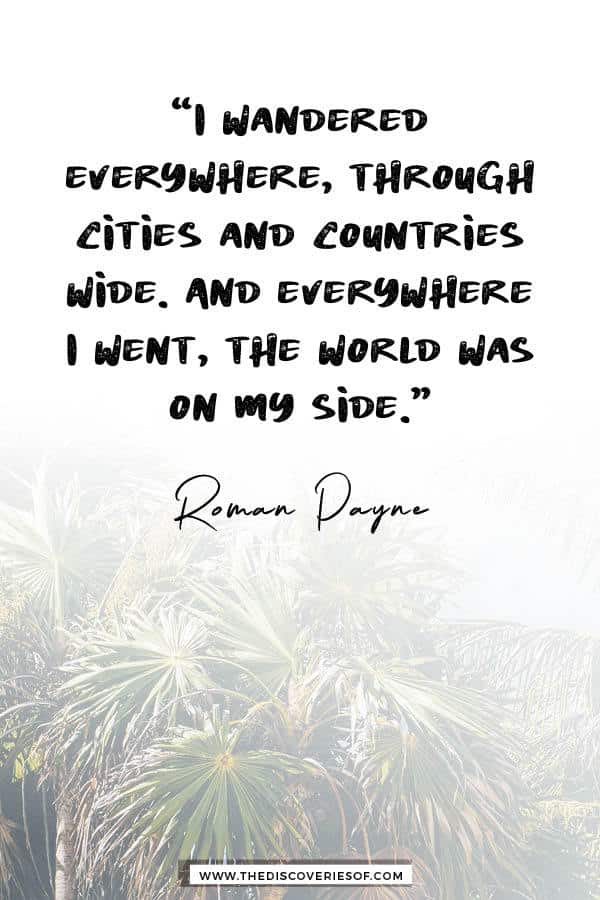 "I wandered everywhere, through cities and countries wide. And everywhere I went, the world was on my side." – Roman Payne
"Whenever you go on a trip to visit foreign lands or distant places, remember that they are all someone's home and backyard." – Vera Nazarian
"The journey is part of the experience – an expression of the seriousness of one's intent. One doesn't take the A train to Mecca." – Anthony Bourdain
"I am not the same, having seen the moon shine on the other side of the world." – Mary Anne Radmacher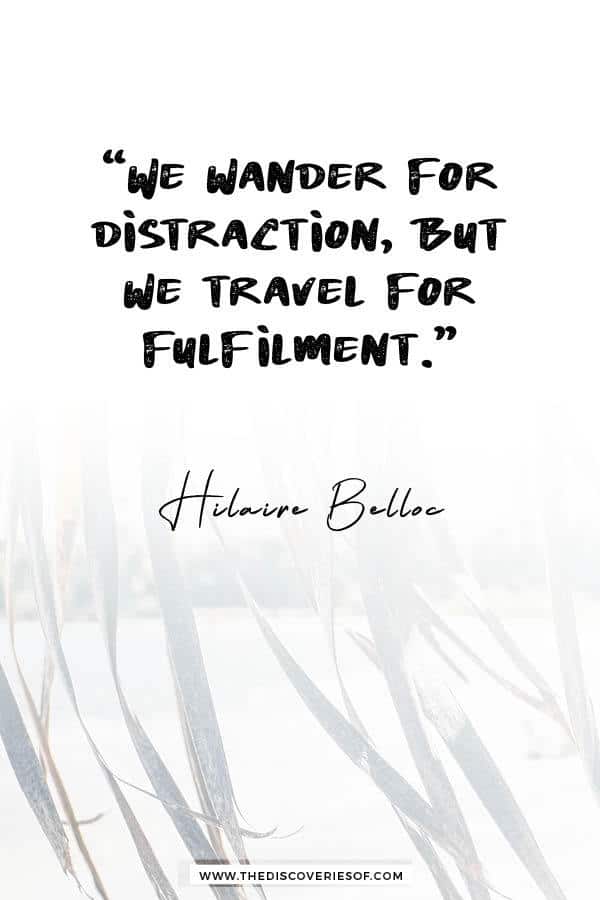 "We wander for distraction, but we travel for fulfilment." – Hilaire Belloc
"Why do you go away? So that you can come back. So that you can see the place you came from with new eyes and extra colors. And the people there see you differently, too. Coming back to where you started is not the same as never leaving." -Terry Pratchett.
"To get away from one's working environment is, in a sense, to get away from one's self; and this is often the chief advantage of travel and change." – Charles Horton Cooley
"Too often. . .I would hear men boast of the miles covered that day, rarely of what they had seen." – Louis L'Amour.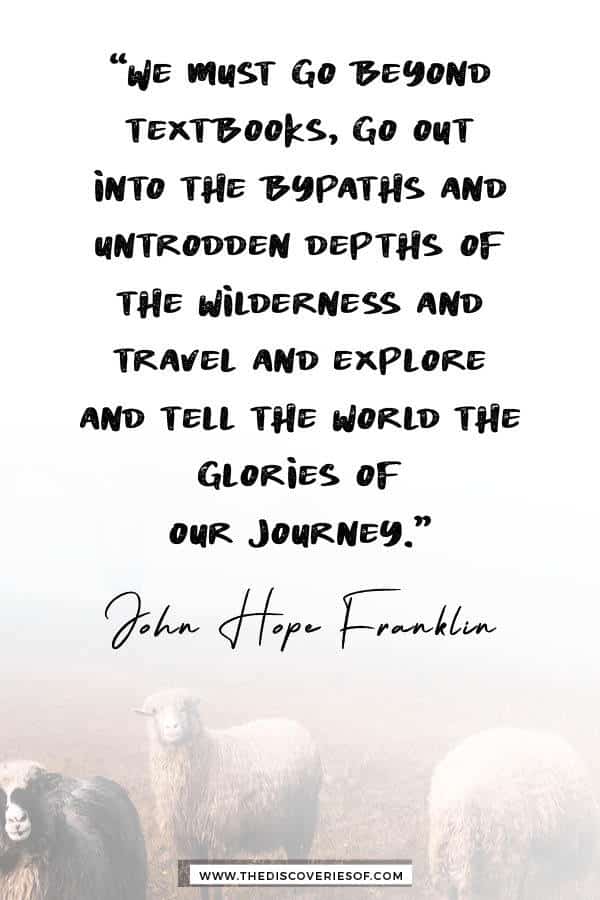 "We must go beyond textbooks, go out into the bypaths and untrodden depths of the wilderness and travel and explore and tell the world the glories of our journey." – John Hope Franklin
"Only by going alone in silence, without baggage, can one truly get into the heart of the wilderness. All other travel is mere dust and hotels and baggage and chatter." – John Muir
"People who don't travel cannot have a global view, all they see is what's in front of them. Those people cannot accept new things because all they know is where they live." – Martin Yan
"The more I traveled the more I realized that fear makes strangers of people who should be friends." – Shirley MacLaine
"NOT I – NOT ANYONE else, can travel that road for you, You must travel it for yourself." – Walt Whitman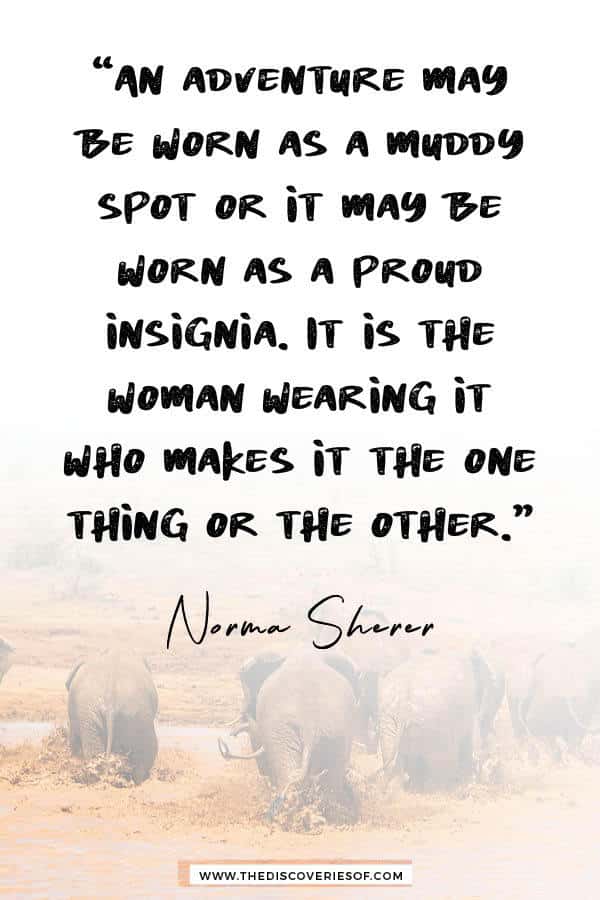 "An adventure may be worn as a muddy spot or it may be worn as a proud insignia. It is the woman wearing it who makes it the one thing or the other." – Norma Shearer
"Every dreamer knows that it is entirely possible to be homesick for a place you've never been to, perhaps more homesick than for familiar ground." – Judith Thurman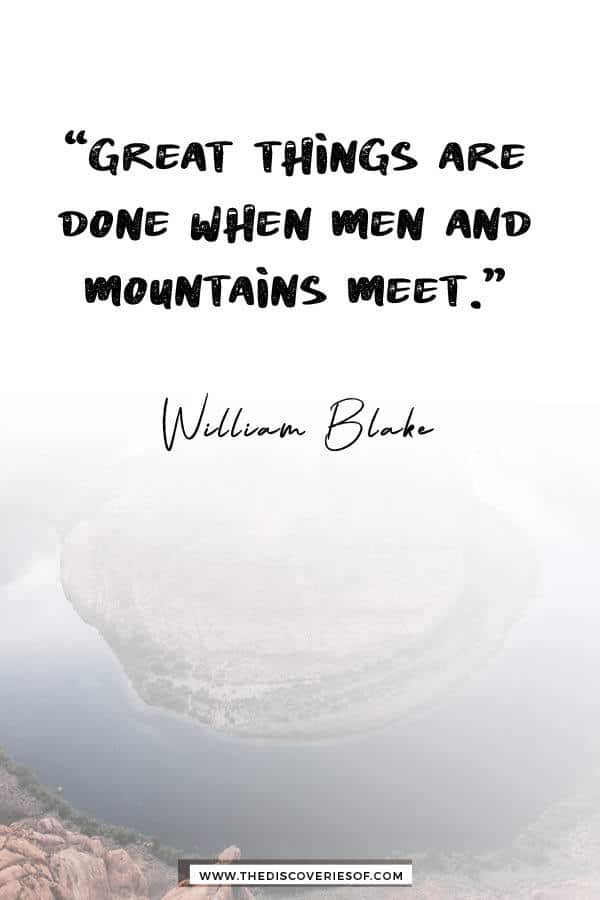 "Great things are done when men and mountains meet." – William Blake
More Travel Quotes to Fuel Your Wanderlust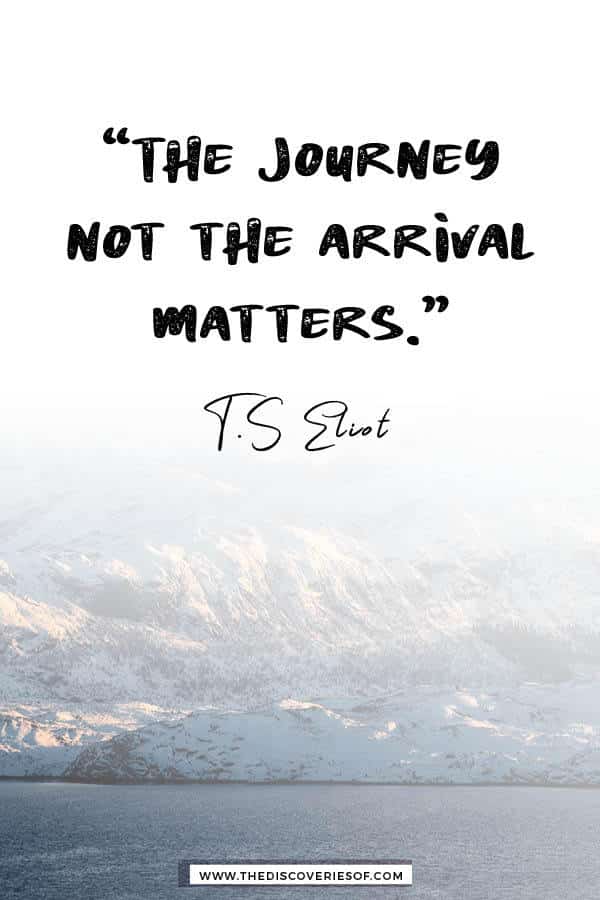 "The journey not the arrival matters." – T.S. Eliot
"Paris is always a good idea." – Audrey Hepburn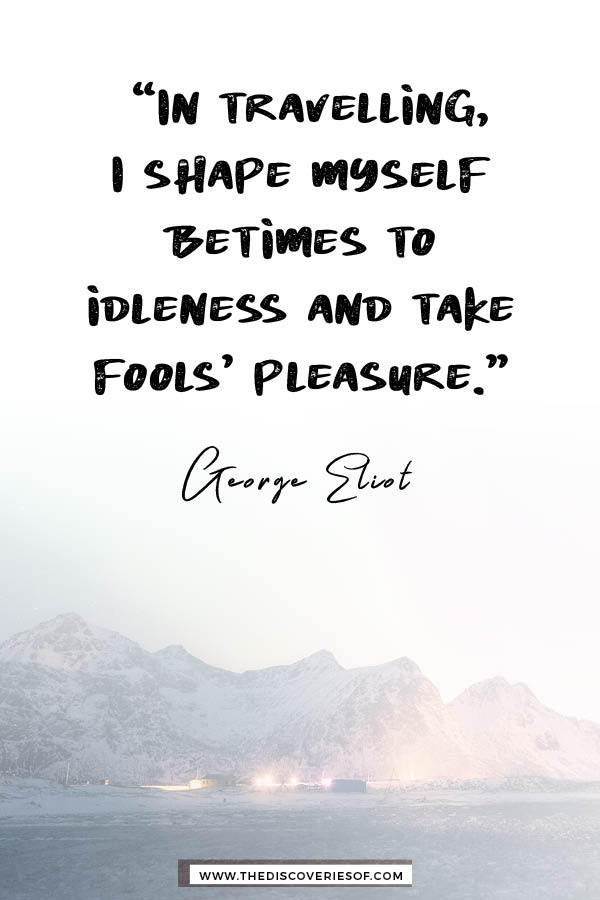 "In travelling, I shape myself betimes to idleness and take fools' pleasure."- George Eliot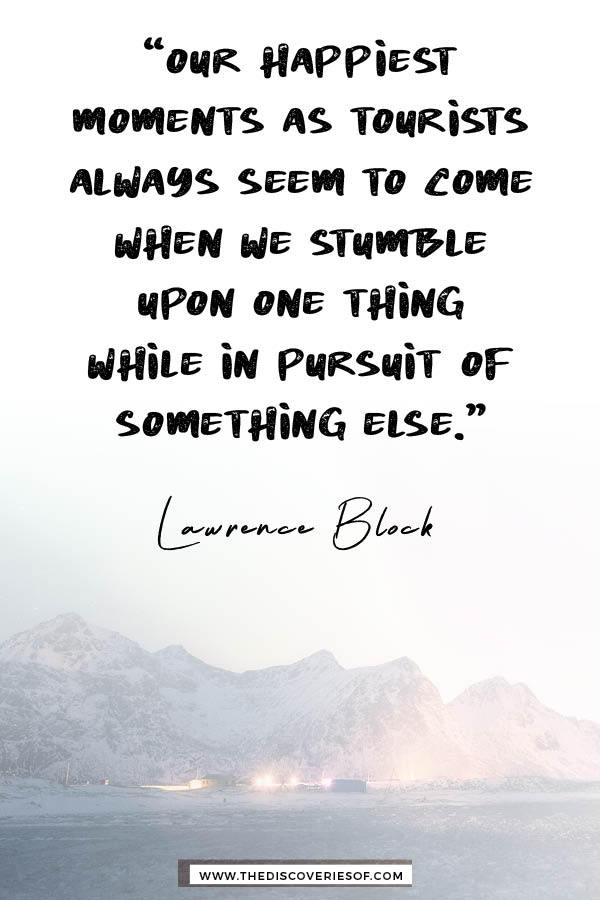 "Our happiest moments as tourists always seem to come when we stumble upon one thing while in pursuit of something else." – Lawrence Block
"In Life, It's Not Where You Go, It's Who You Travel With" – Charles Schulz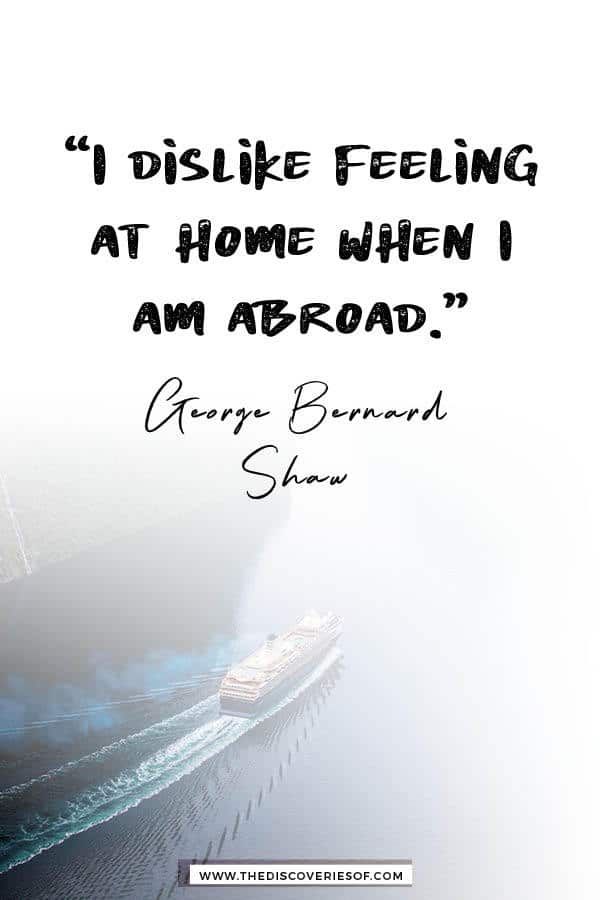 "I dislike feeling at home when I am abroad." – George Bernard Shaw
"Never go on trips with anyone you do not love." – Ernest Hemingway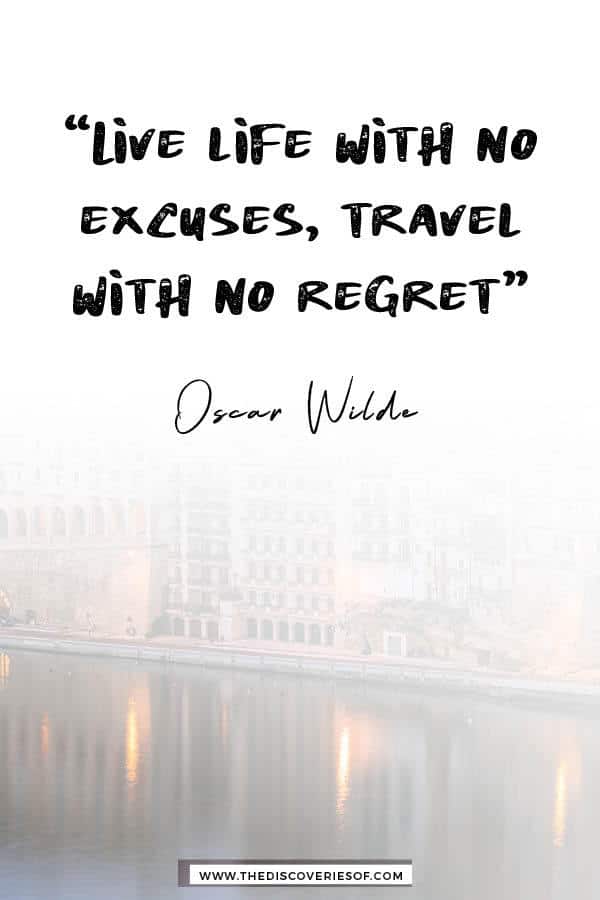 "Live life with no excuses, travel with no regret" – Oscar Wilde
"It is only in adventure that some people succeed in knowing themselves – in finding themselves." – Andre Gide
"We travel, some of us forever, to seek other states, other lives, other souls." – Anais Nin
"It is not down in any map; true places never are." – Herman Melville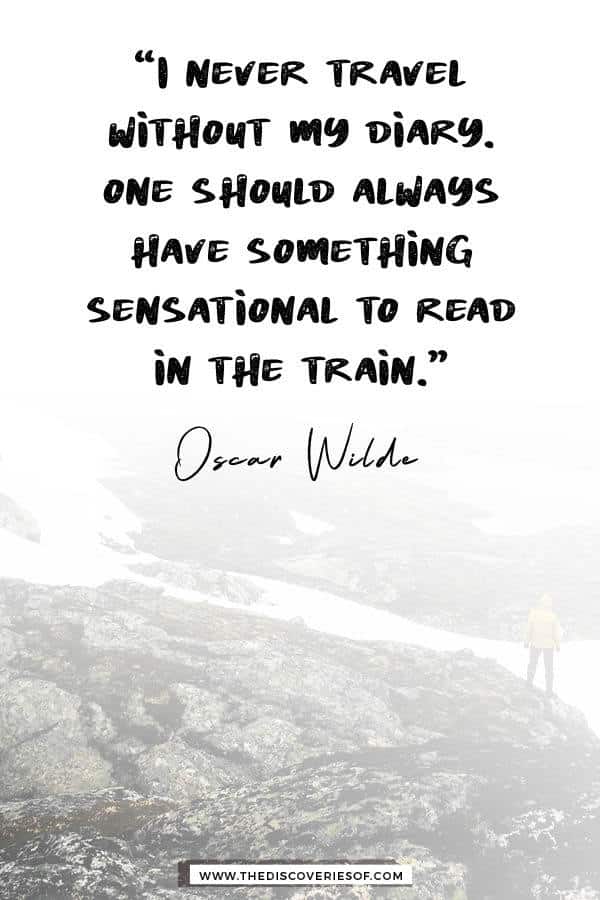 "I never travel without my diary. One should always have something sensational to read in the train." – Oscar Wilde
"A child on a farm sees a plane fly overhead and dreams of a faraway place. A traveler on the plane sees the farmhouse…and thinks of home." – Carl Burns
"I travel a lot; I hate having my life disrupted by routine." – Caskie Stinnet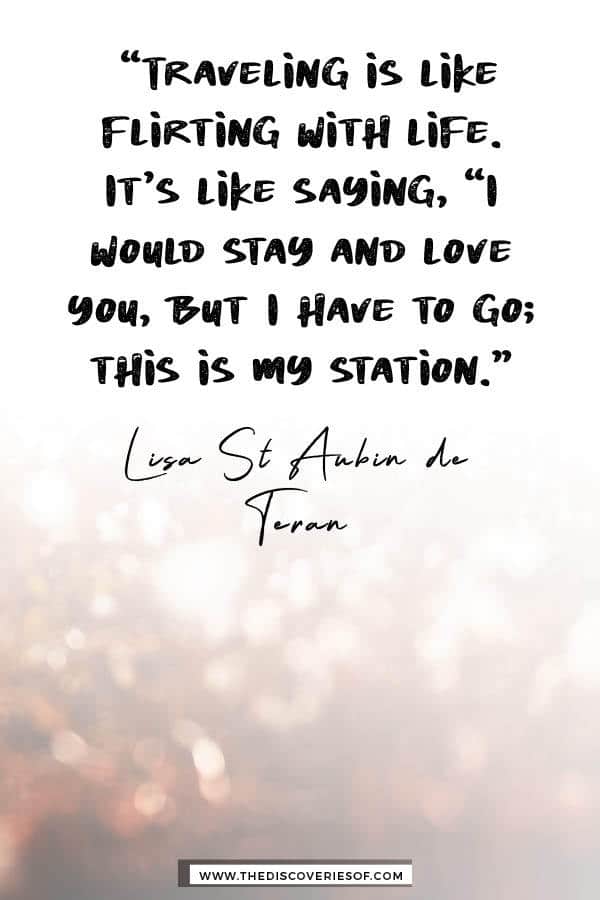 "Traveling is like flirting with life. It's like saying, "I would stay and love you, but I have to go; this is my station." – Lisa St. Aubin de Teran
"All travel has its advantages. If the passenger visits better countries, he may learn to improve his own. And if fortune carries him to worse, he may learn to enjoy it." – Samuel Johnson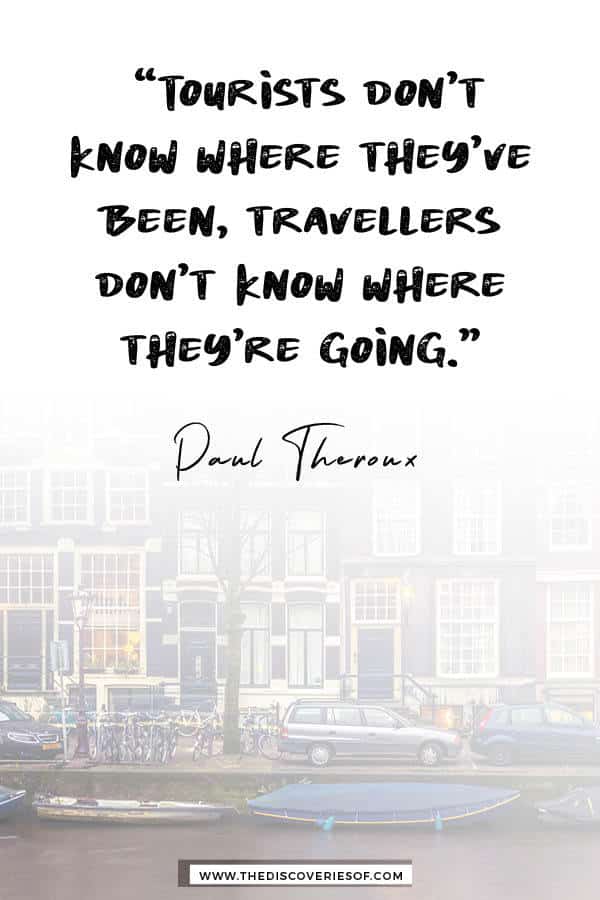 "Tourists don't know where they've been, travellers don't know where they're going." – Paul Theroux
"Remember that a foreign country is not designed to make you comfortable. It is designed to make its own people comfortable." – Clifton Fadiman
"A journey, after all, neither begins in the instant we set out, nor ends when we have reached our doorstep once again. It starts much earlier and is really never over, because the film of memory continues running on inside of us long after we have come to a physical standstill. Indeed, there exists something like a contagion of travel, and the disease is essentially incurable." – Ryszard Kapuściński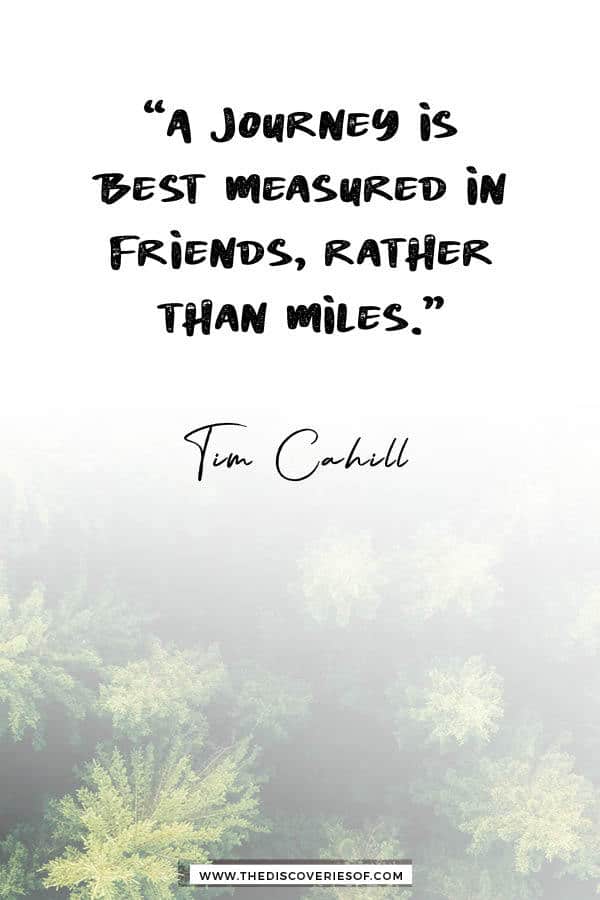 "A journey is best measured in friends, rather than miles." – Tim Cahill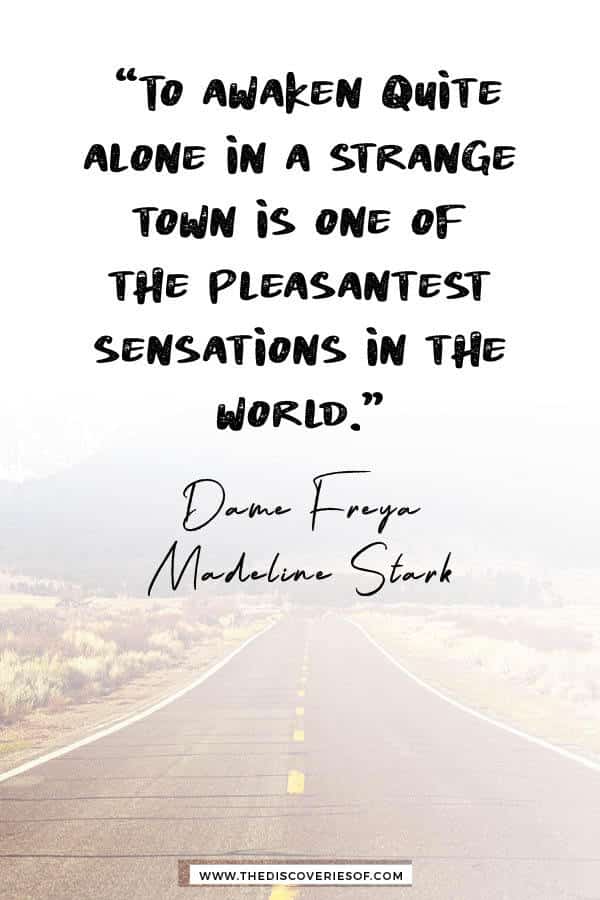 "To awaken quite alone in a strange town is one of the pleasantest sensations in the world." – Dame Freya Madeline Stark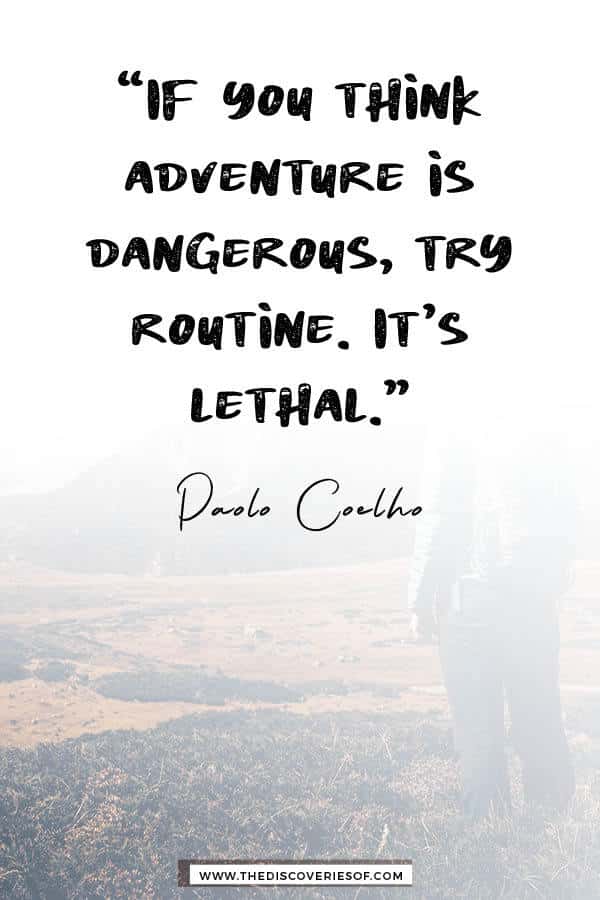 "If you think adventure is dangerous, try routine. It's lethal." – Paulo Coelho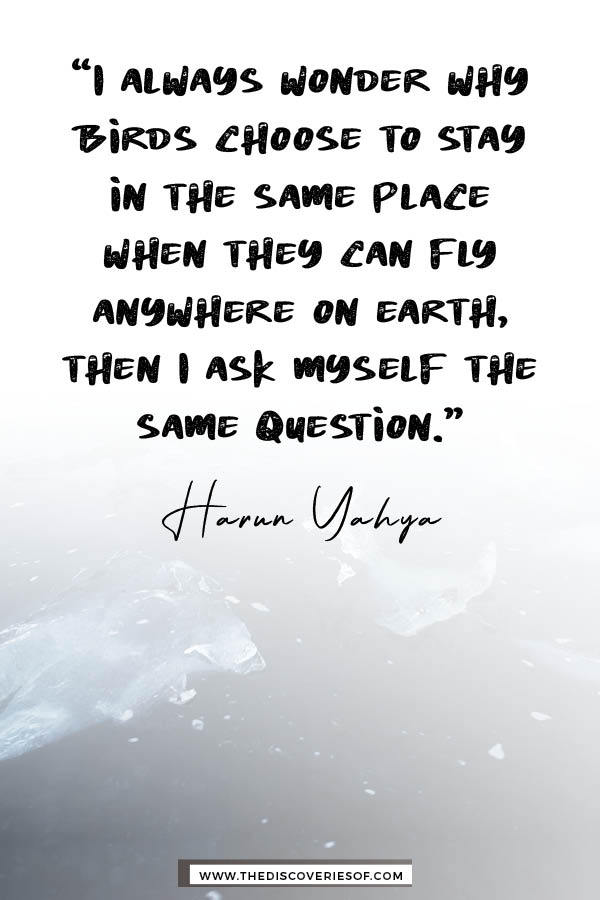 "I always wonder why birds choose to stay in the same place when they can fly anywhere on earth, then I ask myself the same question." – Harun Yahya
"The first condition of understanding a foreign country is to smell it." – Rudyard Kipling
"Travel, in the younger sort, is a part of education; in the elder, a part of the experience." – Francis Bacon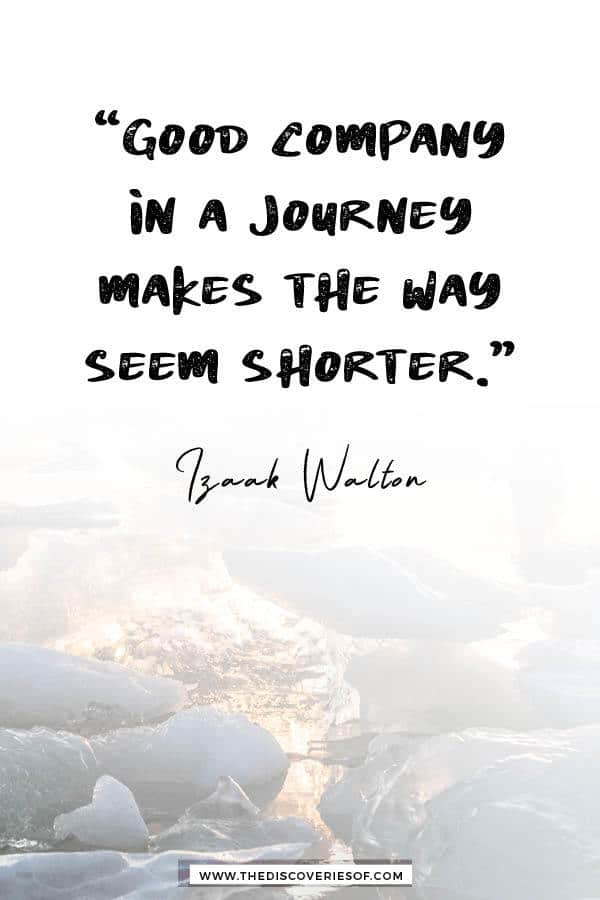 "Good company in a journey makes the way seem shorter." – Izaak Walton
"Surely, of all the wonders of the world, the horizon is the greatest." – Freya Star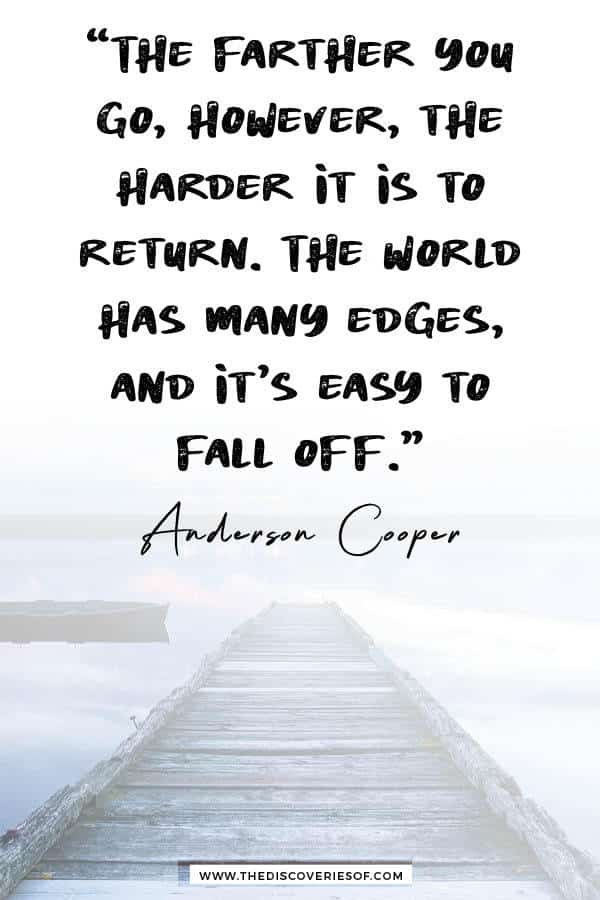 "The farther you go, however, the harder it is to return. The world has many edges, and it's easy to fall off." – Anderson Cooper.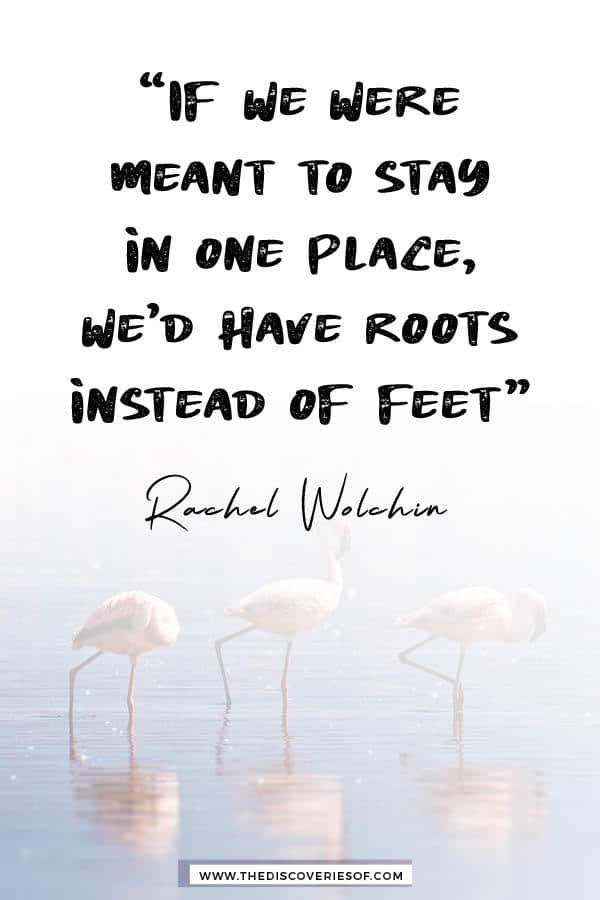 "If we were meant to stay in one place, we'd have roots instead of feet" – Rachel Wolchin
"The very basic core of a man's living spirit is his passion for adventure. The joy of life comes from our encounters with new experiences, and hence there is no greater joy than to have an endlessly changing horizon, for each day to have a new and different sun."- Christopher McCandless
"Never hesitate to go far away, beyond all seas, all frontiers, all countries, all beliefs." – Amin Maalouf
"You thought too hard. Same with travel. You can't work too much at it, or it feels like work. You have to surrender yourself to the chaos. To the accidents." – Gayle Forman
"No place is ever as bad as they tell you it's going to be." – Chuck Thompson
So, there we are – the best travel quotes to fuel your wanderlust! Looking for more travel inspiration? Check out the best travel memes.