Addo Elephant Park is one of the highlights of the Eastern Cape. Heading to Addo Elephant Park and looking for some inspiration? Here are three activities you shouldn't miss in the park and in the wider Addo Region.
Addo was one of the real showstoppers from my recent trip to South Africa. What started out as a convenient place to go on safari relatively close to Cape Town turned into a once in a lifetime experience discovering some of the unique landscapes and wildlife of the Eastern Cape.
Prior to visiting, like many tourists visiting Addo Elephant National Park, my main focus was on booking a safari – but spending some time in greater Addo region allowed me to see a different side of the Eastern Cape.
Of course, you should book onto a safari in the park itself, but if you have the time, spend a few more days exploring the Addo area – you won't regret it. Not sure where to start? Here are three unmissable Addo Elephant Park activities for your itinerary.
Go on Safari in Addo Elephant National Park
There's no way that you're going to visit the area and not go on a safari in Addo Elephant National park right? Right. Of all the Addo Elephant Park activities – safari is understandably number one.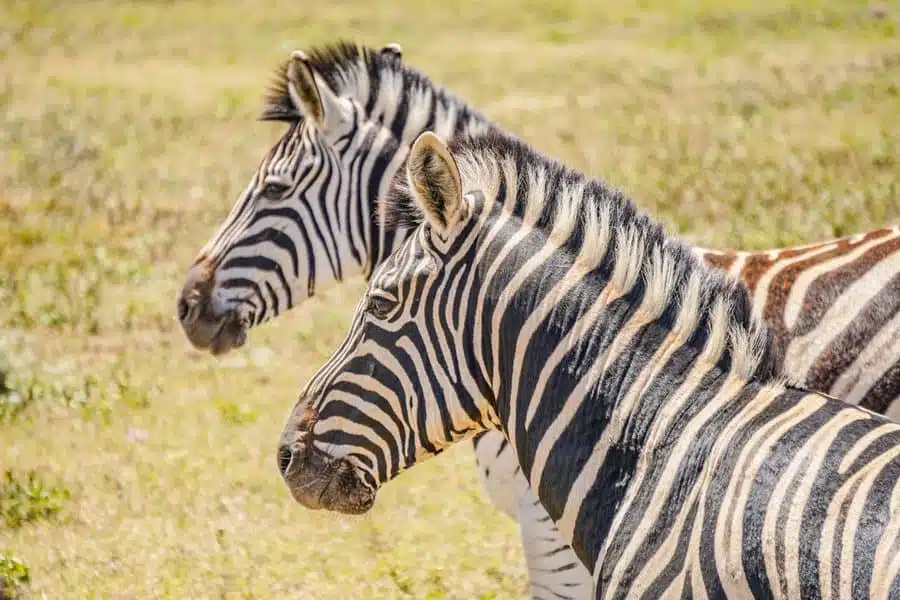 While it can be tempting to hire a car and drive around the park independently, I would really recommend booking onto a full safari. We spent a full day on safari in Addo Elephant National Park with Lungelo of Crisscross Adventures – during the course of that day, I learnt so much about the wildlife, history and habitats as we drove around.
Knowledge is great, but what about the wildlife? Lungelo's canny sense of where the animal action was at meant that we spotted more wildlife than I could have hoped for. Lions, elephants, warthogs, zebras, hawks – each time the Land Rover would stop and our eyes would follow the direction of his finger, something new would await.
You can book a full or half-day safari – do the first if you can. Going for the full day safari in Addo means that you can see the animals at different times of the day – increasing your chances of seeing a wider variety of the park's inhabitants. Although we spotted a lion in the middle of the day, it was a fleeting glimpse, caught between its long and leisurely naps. Later in the day, in the early evening, he was a lot easier to spot…

Read more: The Visitor's Guide to Addo Elephant National Park

Get Your Kicks Quad Biking Around the Addo Region
Now quad biking might not be the first thing you think of when you think of visiting Addo but you should definitely give it a try.
The rugged terrain of the Addo region lends itself very well to quad biking. Hopping on the powerful bikes, we were walked through the necessary safety procedures and shown how to operate our machines and then we were off.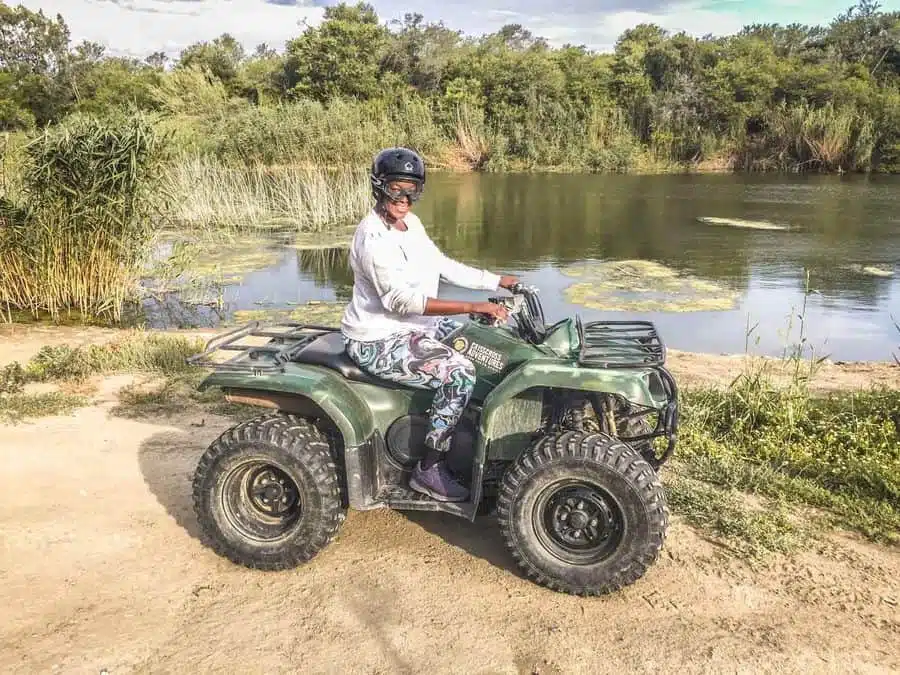 The quad biking tour lasts around two hours, starting with jaunts down mud tracks and dirt roads before progressing to increasingly tougher terrain – it was like Mad Max Fury Road but with slightly more sensible outfits and without the ridiculous power plays.
I was a bit nervous prior to hopping on the bike. As my driving instructor father has pointed out more than once, spatial awareness isn't exactly my forte but you know what.. I acquitted myself pretty well, aside from the slightly awkward moment where I slow-mo drove into the lower boughs of an orange tree.
Of course, not everyone is comfortable with the idea of cracking onto a quad bike and letting rip – no fear. I was a bit nervous before I started but our guide was perfect, showing us the ropes and then allowing us to take things at our own pace.
Final words of advice? Give it a try!
Head on a Water Safari down the Sundays River
When it comes to wildlife in the Addo region, much of the focus is on the park. So much so that it's easy to forget that the reason the park exists is because the Addo region has always been an area of thriving wildlife and a biodiversity hotspot.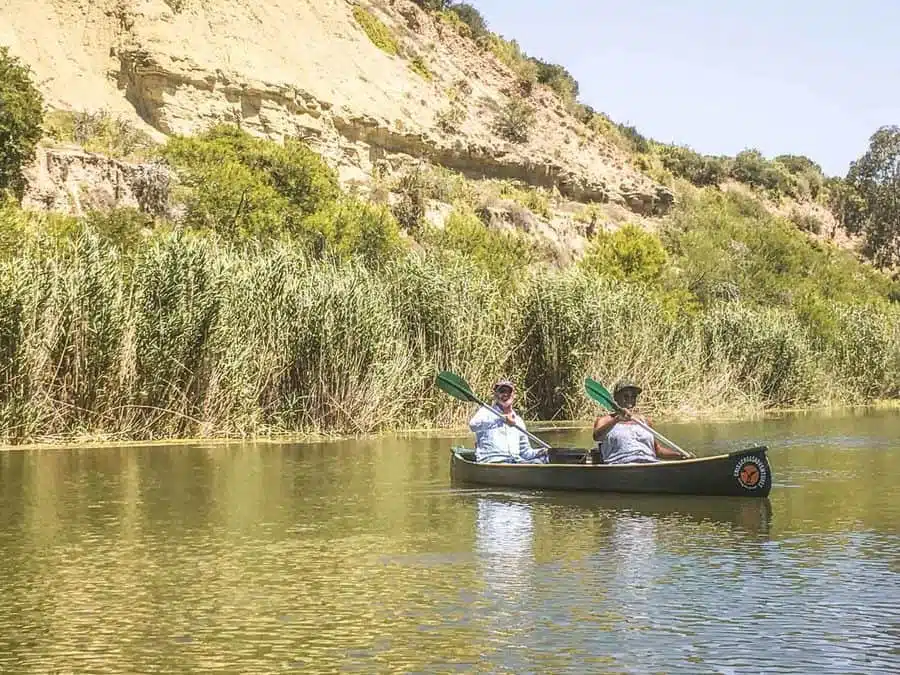 The Sundays River is one of the best places to go birding in South Africa – what better way to explore it than with a peaceful canoe safari downriver? The river flows for 250 kilometres from the Sneeuberge mountain range to the Indian Ocean: of which you tackle reasonable portion during your two- to three-hour bird watching safari.
The Addo river safari takes you through the (largely calm) waters of the Sundays River, with a guide to point out and explain the numerous species of birds and other wildlife you see along the way.
It seemed there was no end to our guide Chenjerayi's (Chen for short) knowledge about the species of bird we spotted as we paddled our way along the river. Kitted out with binoculars, we peeked into the trees to see kingfishers, terns, herons and other water birds.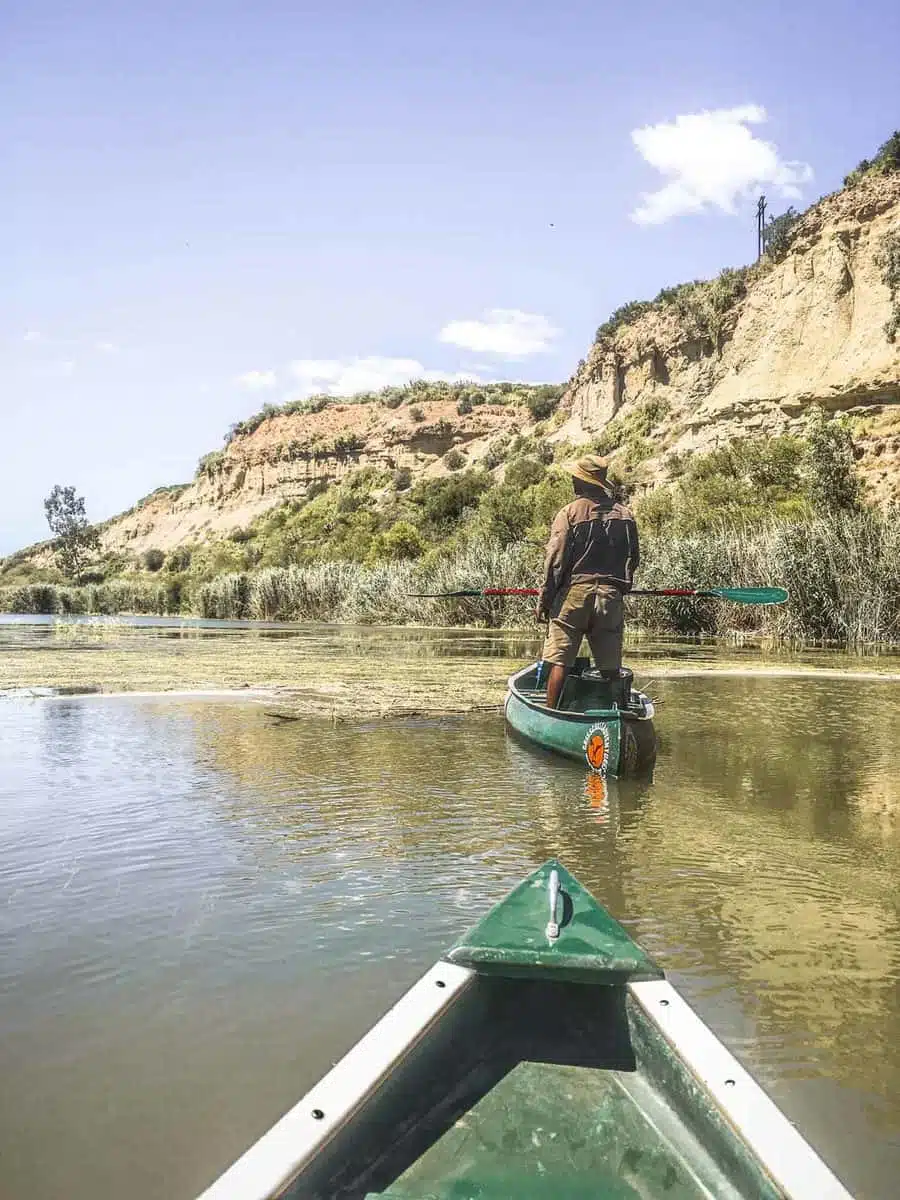 There are a couple of small rapids to keep you on your toes, but for the most part it's a totally relaxed way to soak up the beauty of the Addo region in complete peace and quiet.

Top Tips for Visiting the Addo Region
Accommodation in Addo can book up quickly, so you should book as far ahead as possible. You can stay in a game lodge within the park itself or in a nearby lodge. I stayed in Chrislin African Lodge, which is about 15 minutes drive from the park and would recommend it. The lodge works closely with Crisscross Adventures to organise any Addo Elephant Park activities you want to add to your itinerary.
Only guests staying in a tour operator's accommodation are allowed to go on safari in open-sided vehicles within the park. Otherwise you have to go in a closed vehicle. Check whether your accommodation is affiliated with an operator to allow you to ride in an open vehicle – it totally makes the experience.
Cover up. The South African sun is hot at the best of times but it felt like Addo was about 5 degrees hotter than other spots we visited on our Garden Route itinerary.
So there we are – three cool activities for your time in and around Addo Elephant National Park. Enjoy your trip.

I was hosted by Crisscross Adventures and Chrislin African Lodge while in Addo. As ever, my thoughts and opinions are very much (sometimes regrettably) my own.
Love this? Save and share on Pinterest!